Royal Caribbean International is one of the world's biggest and most popular cruise lines. With more than 50 years of experience, the brand is known for larger-than-life ships, adrenaline-pumping top-deck attractions, and family-friendly cruise experiences.
The legacy of Royal Caribbean began in 1970 with the launch of its first ship, Song of Norway. In the years since, the company has grown along with its vessels. According to its website, Royal Caribbean's original office in Biscayne Bay could now fit inside of a single conference room at Royal Caribbean Group's current Miami headquarters.
To help wrap your head around this crown-and-anchor cruise line and its expanding fleet, here is everything you might want to know about cruising with Royal Caribbean.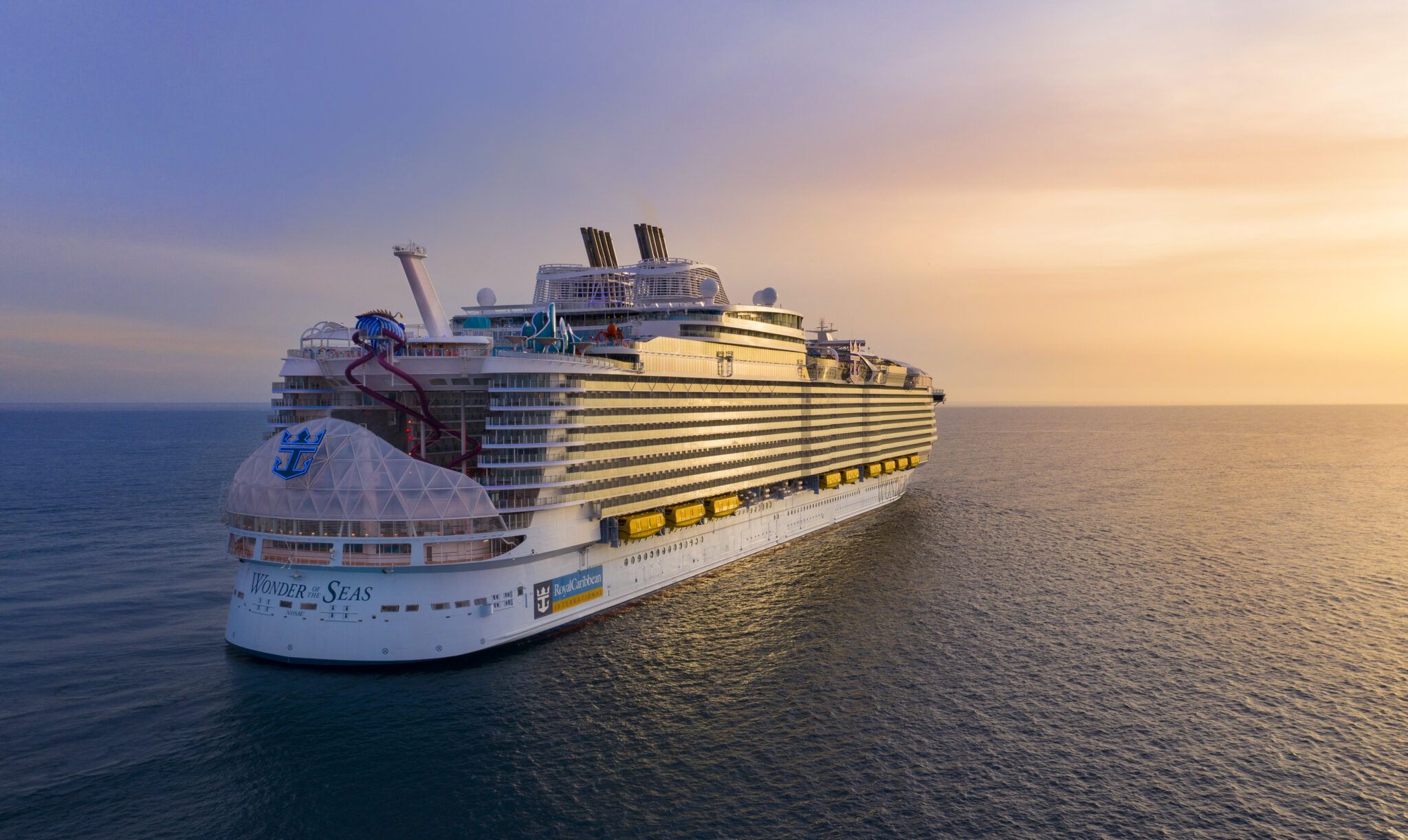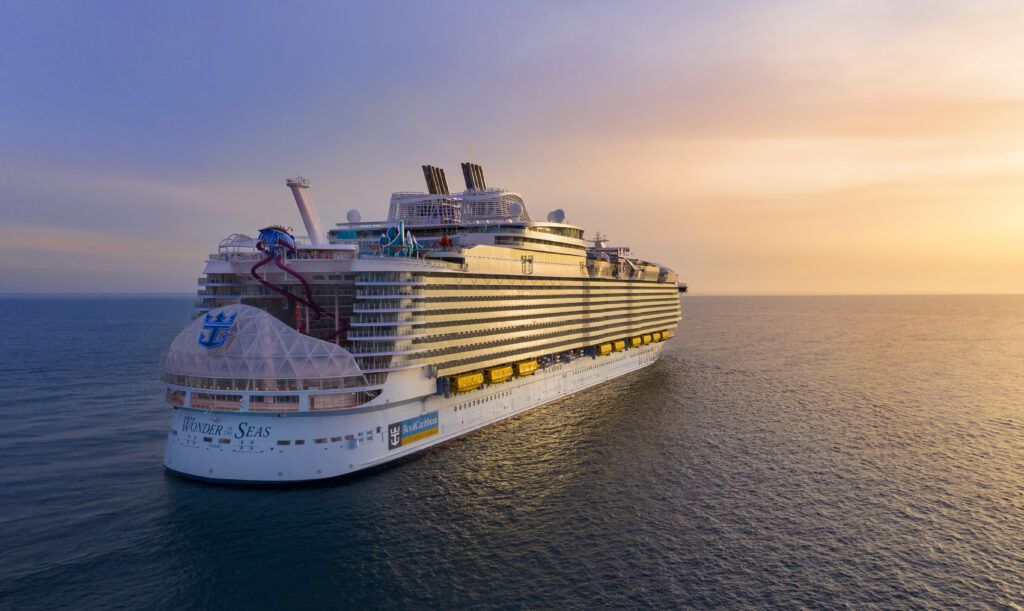 Call to Book Your Next Cruise Now: 1-855-228-5584!
Complete Guide to Cruising With Royal Caribbean
Who Should Cruise Royal Caribbean?
The reason why Royal Caribbean is so ubiquitous with cruising is because it appeals to many different types and demographics of cruisers. It is often awarded as one of the most kid-friendly cruise lines for its wide range of kid clubs (6 months to 17 years), water parks, attractions like climbing walls, Boardwalk-style amusements, family-friendly entertainment, and tailormade accommodations.
However, because so many of Royal Caribbean's public spaces are spread out, there are plenty of adults-only areas, luxury suites, a sprawling spa, and ample nightlife options to serve the couple or friend group.
Royal Caribbean is often flagged as an ideal option for multigenerational groups who can come together over a themed meal at Wonderland or a Broadway show but can also partake in plenty of age-appropriate amusements to keep any family occupied from day to night. Rooms are designed with families in mind, with many connecting cabins to expand your living space on vacation.
Not every ship is an overwhelming size; the Vision and Radiance Classes both average about 2,500 total guests. Still, the majority of Royal Caribbean's ships are quite massive, which means if you are not a fan of crowds or navigating tons of decks, you might want to choose your ship wisely, or go with another brand. The ships of the Oasis Class have a capacity of about 7,000 guests (and that's not including the crew).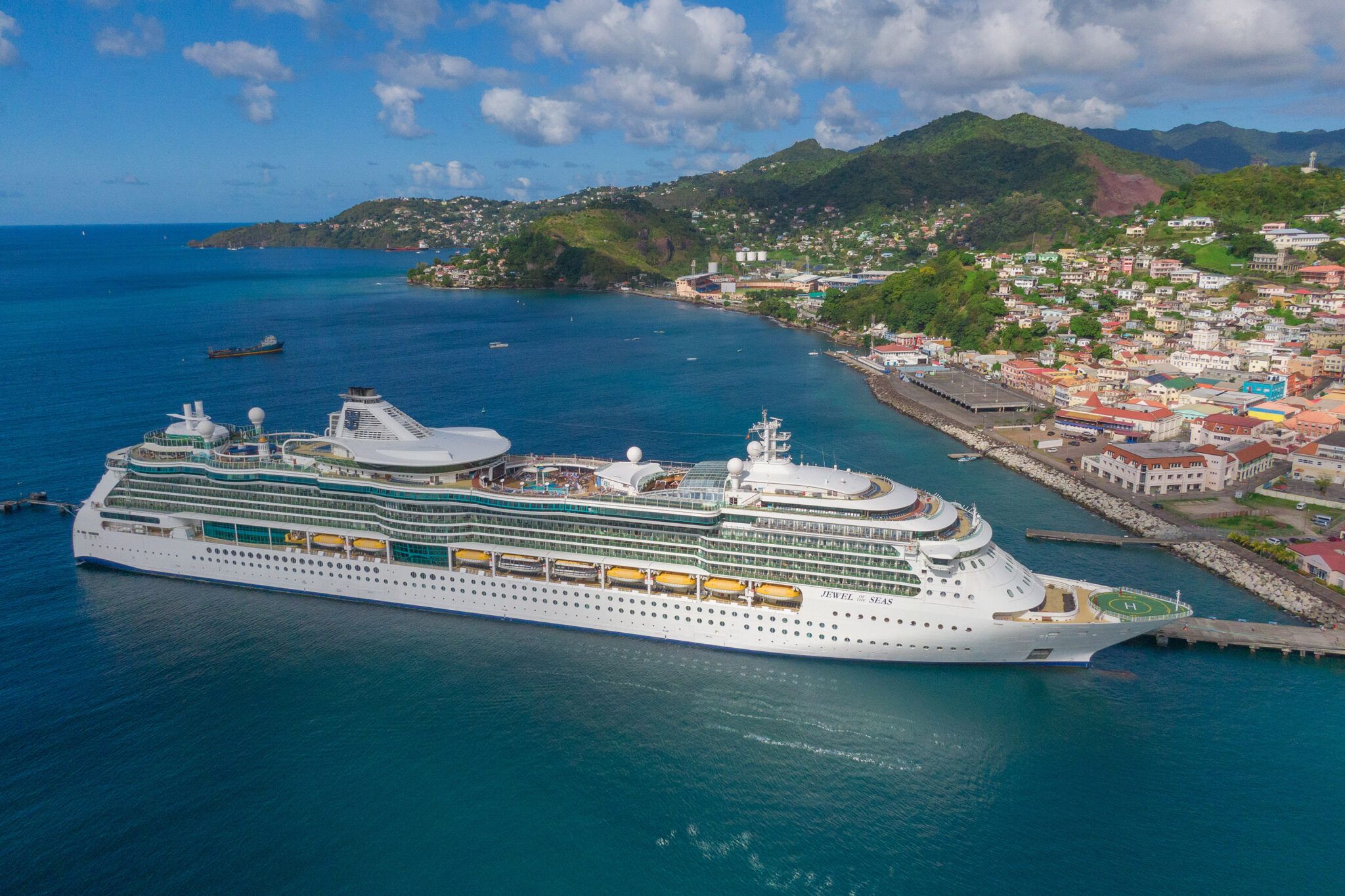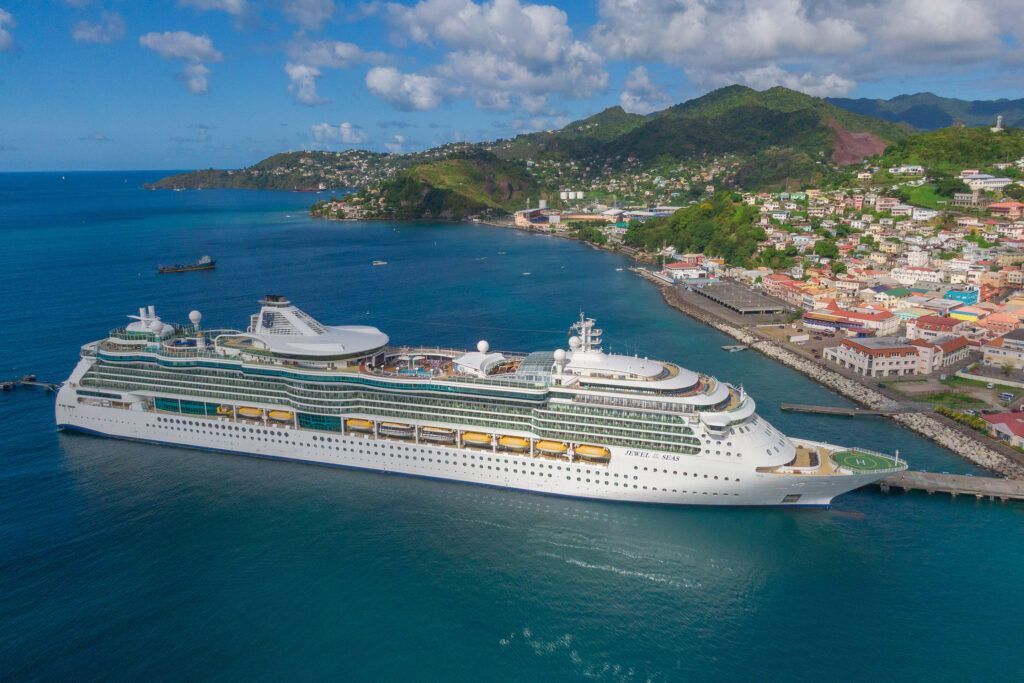 Royal Caribbean Cruise Ships
The Royal Caribbean International fleet will consist of 28 ships by 2024. The recently announced second Icon class ship, Star of the Seas, will debut in 2025.
Grandeur of the Seas (1996)
Rhapsody of the Seas (1997)
Enchantment of the Seas (1997)
Vision of the Seas (1998)
Voyager of the Seas (1999)
Explorer of the Seas (2000)
Radiance of the Seas (2001)
Adventure of the Seas (2001)
Brilliance of the Seas (2002)
Navigator of the Seas (2002)
Mariner of the Seas (2003)
Serenade of the Seas (2003)
Jewel of the Seas (2004)
Freedom of the Seas (2006)
Liberty of the Seas (2007)
Independence of the Seas (2008)
Oasis of the Seas (2009)
Allure of the Seas (2010)
Quantum of the Seas (2014)
Anthem of the Seas (2015)
Ovation of the Seas (2016)
Harmony of the Seas (2016)
Symphony of the Seas (2018)
Spectrum of the Seas (2019)
Odyssey of the Seas (2021)
Wonder of the Seas (2022)
Icon of the Seas (2024)
Utopia of the Seas (2024)
Star of the Seas (2025)
Royal Caribbean Ship Classes
Royal Caribbean has 28 ships across eight ship classes.
Vision Class
Grandeur of the Seas
Rhapsody of the Seas
Enchantment of the Seas
Vision of the Seas
Radiance Class
Radiance of the Seas
Brilliance of the Seas
Serenade of the Seas
Jewel of the Seas
Voyager Class
Voyager of the Seas
Explorer of the Seas
Adventure of the Seas
Navigator of the Seas
Mariner of the Seas
Freedom Class
Freedom of the Seas
Liberty of the Seas
Independence of the Seas
Oasis Class
Oasis of the Seas
Allure of the Seas
Harmony of the Seas
Symphony of the Seas
Wonder of the Seas
Utopia of the Seas
Quantum Class
Quantum of the Seas
Anthem of the Seas
Ovation of the Seas
Quantum Ultra Class
Spectrum of the Seas
Odyssey of the Seas
Icon Class
Icon of the Seas
Star of the Seas
Royal Caribbean Cabin Categories
Royal Caribbean is known for its wide range of cruise rooms, making it an industry leader in accommodations. There are so many categories of cabins that we won't tackle them all here, but instead provide a general overview of the types of rooms available across the Royal Caribbean fleet.
One general rule: You are more likely to find a balcony or suite accommodation on a newer vessel. Older ships have a much higher percentage of interior and ocean-view cabins.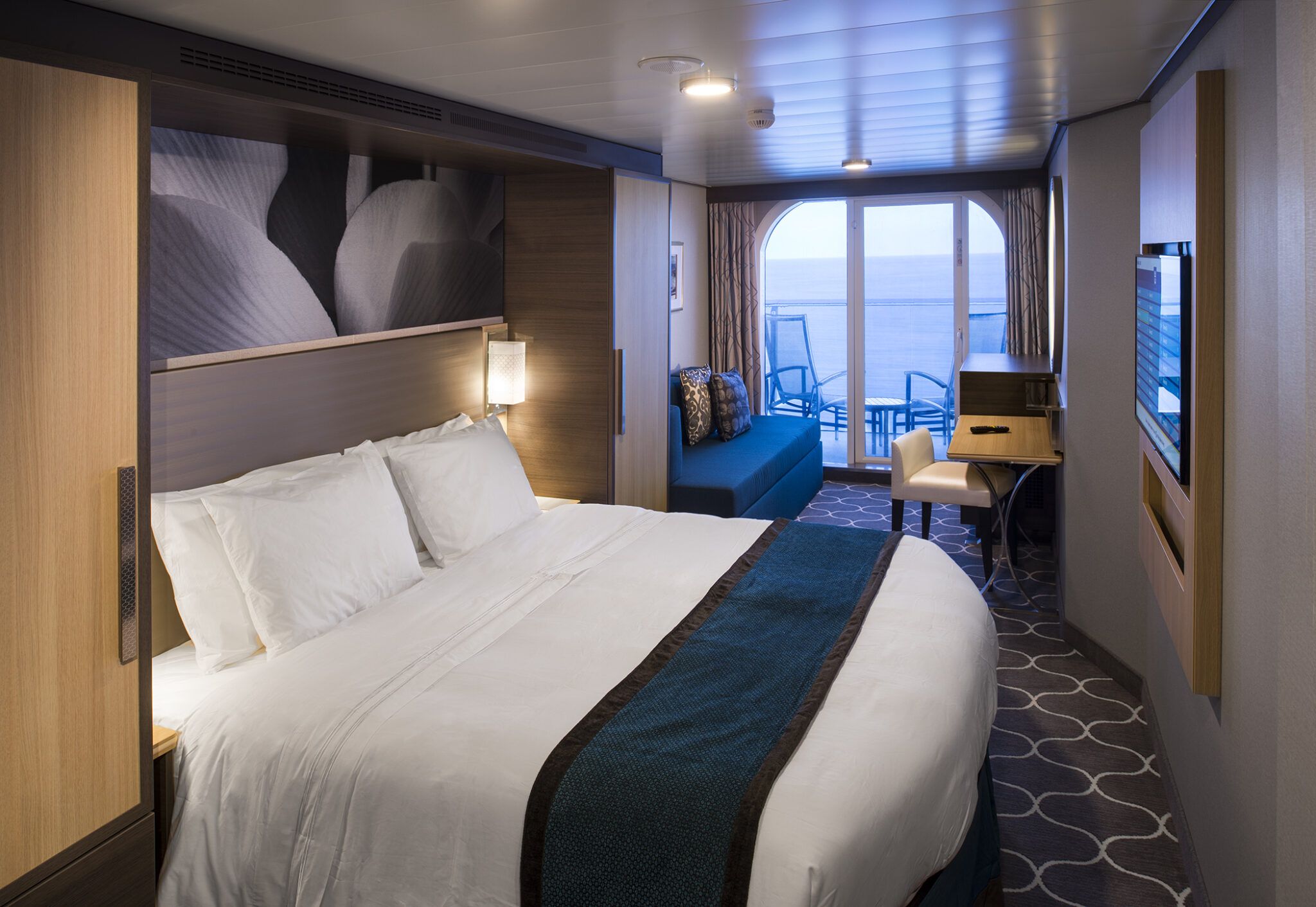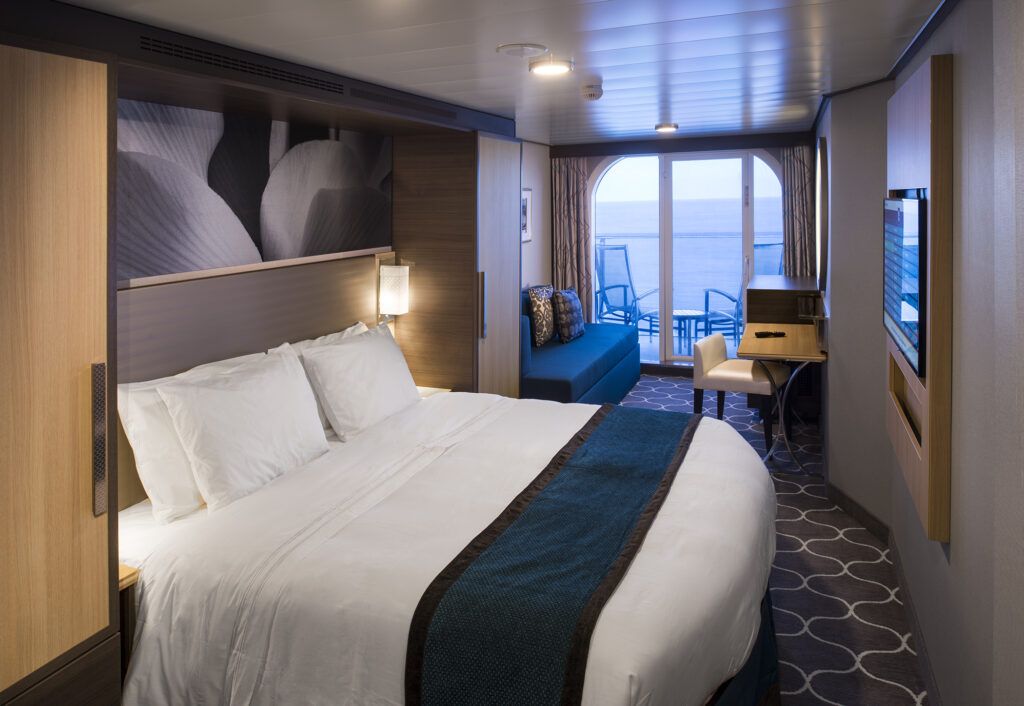 Interior
Across most cruise lines, interior or inside cabins have a reputation for being the least desirable because of their more confined space and lack of a view. However, Royal Caribbean has gotten creative with the idea of the interior cabin, offering rooms that are indeed on the inside of the ship but that offer a variety of exciting vistas.
Depending on the ship, you might be able to find an inside cabin with a view of the promenade, the busy central hub of the ship; or an interior room with a view of the lush gardens of Central Park (across Oasis Class). Of course, there are standard inside cabins across the fleet, but don't forget about the option to book an interior room with a view. One such category even features a virtual balcony, or LED panel that displays an exterior view from a screen, mimicking a balcony.
Ocean View
As befits the name, ocean-view cabins come with a glimpse of the sea. These rooms feature a porthole or picture window and are slightly larger in square footage, in general, than inside cabins.
As with interior rooms, Royal Caribbean has a few creative categories of ocean-view staterooms. There are rooms situated toward the front of the ship that feature sloping windows with views of the bow. There is also a popular category of Radiance-class staterooms called Ultra Spacious Ocean View, which as its name suggests is much larger than a standard outside cabin (319 versus 170 square feet) and also accommodates up to six guests.
Balcony
Probably the most popular stateroom type on any ship is a room featuring a balcony. Royal Caribbean leans into this with more and more balcony rooms with each new vessel. On Quantum-class ships, balcony cabins constitute nearly 70 percent of the onboard accommodations.
If you're looking to book a balcony on a Royal Caribbean ship, be on the lookout for location. Balcony cabins hover around 180 square feet and can be located at the front, back and both sides of the ship. A unique option, as with Royal's inside cabins, is a balcony cabin that faces one of its "neighborhoods." Guests on Oasis-class ships can book an open-air Boardwalk balcony room that overlooks the amusements below as well as a snippet of the sea.
Balcony rooms with an obstruction are available at a discount. But if it's sweeping panoramas you're looking for from your verandah, then reconsider booking a stateroom with something blocking your view.
Curious what it's actually like to stay in a Royal Caribbean balcony cabin? Read this review of a balcony room on Harmony of the Seas.
Suite
Royal Caribbean has some of the most innovative suites of any mainstream cruise line, from more affordable mini suites to multilevel penthouse rooms. The line's Ultimate Family Suite, complete with an in-room slide and an outdoor hot tub, is one of the most fun (and pricy) family-focused accommodations at sea.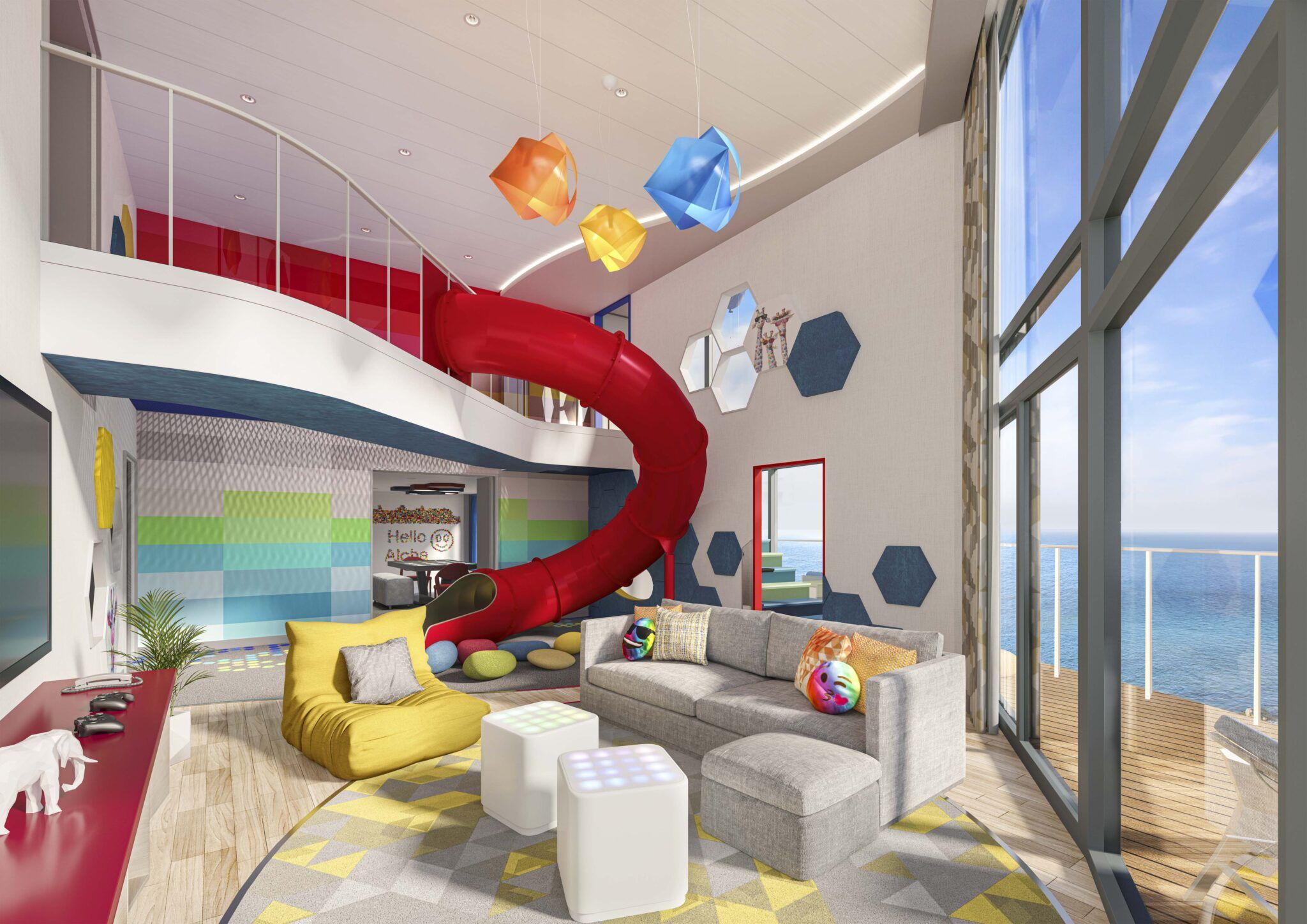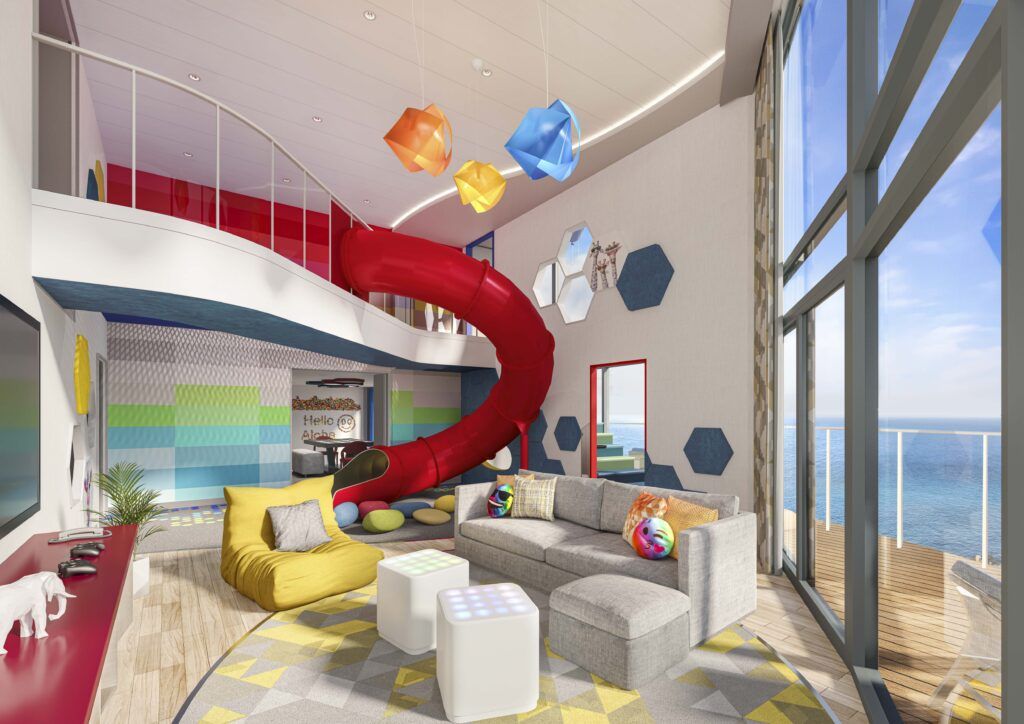 Types of suites range from Royal Suites to a Crown Loft Suite With Balcony.
Apart from the features of each individual suite, Royal Caribbean's suites are divided into classes with their own perks. In order of amenities, there is the Sea Class, Sky Class, and Star Class. Perks include priority boarding, luxury toiletries, and the use of the suite restaurant Coastal Kitchen. Sky Class also includes internet and a concierge, while Star Class offers guests top-tier perks like included gratuities, specialty dining, and a deluxe beverage package.
The use of a Royal Genie comes at Star Class level. This personal butler is assigned to you and your family to create one-of-a-kind experiences and cater to your every whim onboard.
Accessibility
Royal Caribbean offers staterooms across each ship that can accommodate passengers with physical mobility issues or other additional needs, like lighted alarms for the hearing impaired.
Accessible staterooms are available across all room types and range from 159 to 298 square feet. A five-foot turning radius is included in sleeping areas and bathrooms for wheelchair or scooter users.
Additionally, these rooms come with no doorsill and wide thresholds; shower benches; lowered closet rods and sinks; and bathroom grab bars. Accessible rooms have roll-in showers, except on Quantum ships, which have bathtubs.
To guarantee availability, cruisers are encouraged to contact Royal Caribbean when booking. For sign language interpreting, guests must provide notice at least 60 days in advance; 30 days for special needs equipment and services; and 72 hours if traveling with a group of passengers with a disability.
Select cruises offer Autism on the Seas staffed cruises and group cruises.
Service dogs are allowed onboard with the proper paperwork, but no other pets.
EXCLUSIVE SAVINGS: Get Deals on Your Next Royal Caribbean Cruise!
Destinations to Visit When Cruising with Royal Caribbean
As its name suggests, Royal Caribbean's bread and butter are short to weeklong itineraries in the Caribbean and the Bahamas. With many departures from Florida, these routes are frequent and year-round offerings.
But the cruise line offers much more beyond close, warm-weather ports. Royal Caribbean ships are deployed throughout:
Mexico
Hawaii
Pacific Northwest
Panama Canal and Latin America
Europe and the Mediterranean
Asia
South Pacific
Australia/New Zealand
Arabian Gulf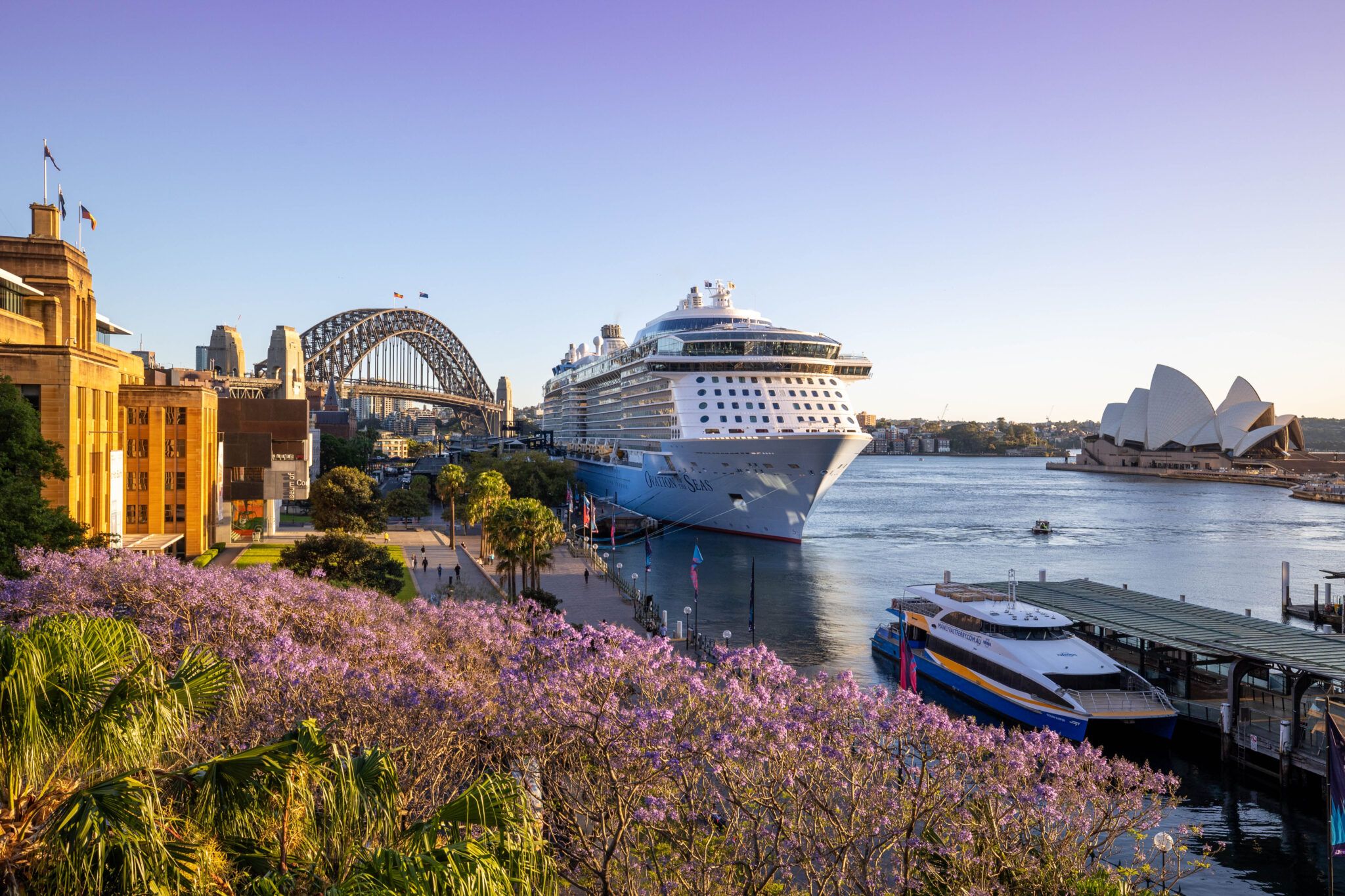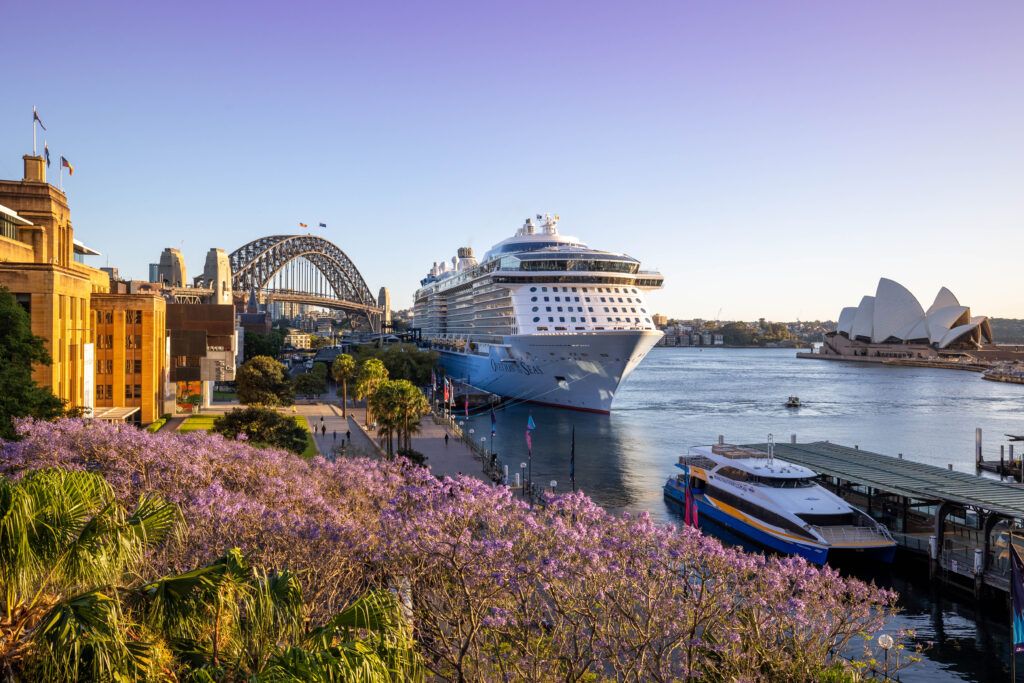 Departure Ports
To reach destinations worldwide, each one of Royal Caribbean's more than two-dozen ships shuffle seasonally and annually across various departure ports. While plenty of ports are located domestically in the U.S. or Canada, many also require international travel.
The following is a sample of Royal Caribbean departure ports and their possible itineraries:
Miami (Caribbean, Bahamas, South America)
Port Canaveral/Orlando (Bermuda, Caribbean, Bahamas)
Tampa (Panama Canal)
Galveston, TX (Mexico, Caribbean)
Vancouver (Hawaii, Alaska, Pacific Northwest)
Seattle (Alaska)
Boston (Canada/New England)
Cape Liberty, NJ (Bermuda, Canada/New England, Caribbean, Bahamas)
Baltimore (Bermuda, Bahamas, Caribbean)
Los Angeles (Mexico, Panama Canal)
Brisbane and Sydney, Australia (South Pacific, Australia/New Zealand)
Rome/Civitavecchia (Europe/Mediterranean)
Southampton, UK (Europe/Mediterranean)
Barcelona (Europe/Mediterranean)
Haifa, Israel (Europe/Mediterranean) *currently suspended
Singapore (Asia, Arabian Gulf)
Baoshan/Shanghai, China (Asia)
Dubai (Arabian Gulf)
Royal Caribbean Private Islands
Royal Caribbean International boasts two private islands and one on the way. Following an extensive, $250 million island-wide renovation in 2019, CocoCay in the Bahamas became Perfect Day at CocoCay. Since then, guests can expect most of Royal Caribbean's Bahamas and Caribbean itineraries to call here for an entire day.
Perfect Day at CocoCay
With sides of the island to thrill and chill, Perfect Day is everything you could want from a sunny, Bahamian afternoon in port. Whether it's a swim-up bar and a cabana on the beach or a splash area for the kids to play, families will find their ultimate vacation day here, where most of the food, drinks, and activities are included.
The Thrill Waterpark should be booked in advance, but features an impressive array of slides, water features and wave pools, as well as the tallest water slide in North America.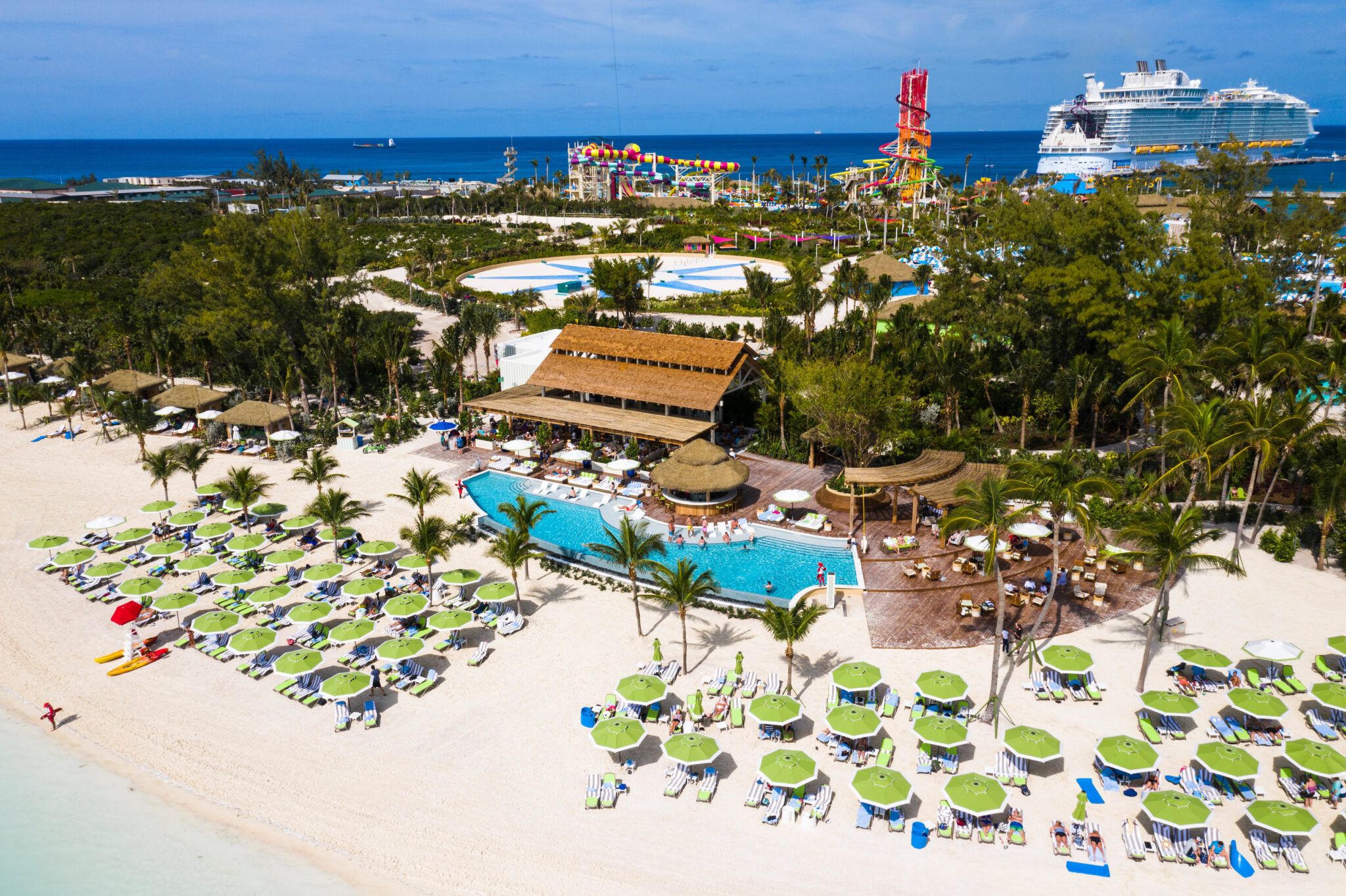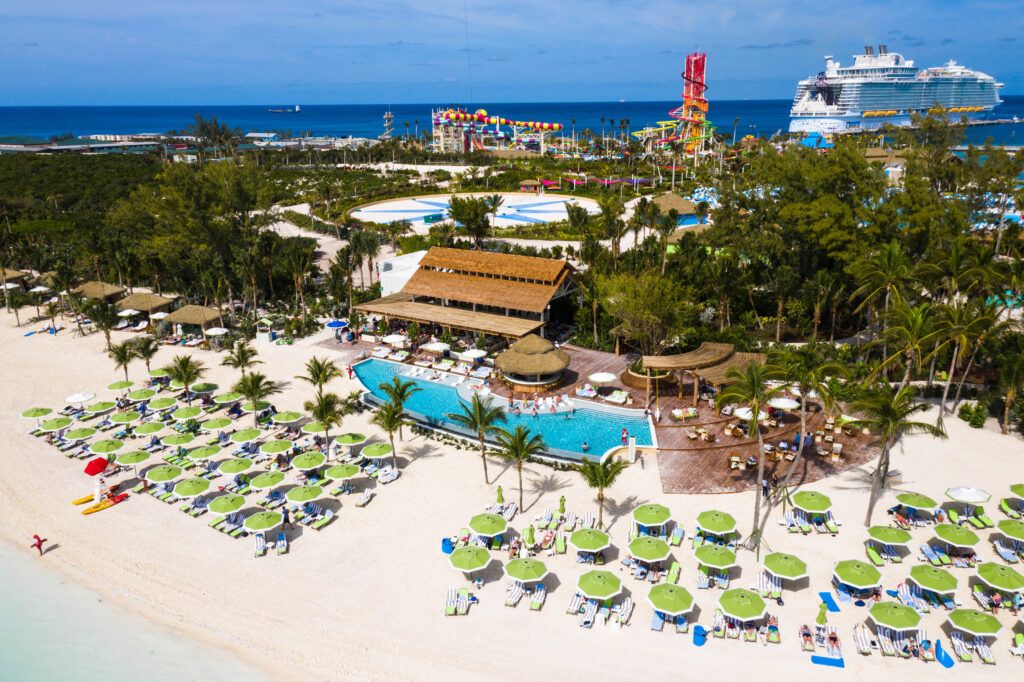 Labadee
Located in Haiti, Royal Caribbean's 260-acre private port features beach loungers aplenty as well as a zip line, a coaster, a playground for kids, and a straw market for shopping. Local vendors can be aggressive, but purchasing a souvenir helps to fuel their economy. Other bookable excursions include parasailing, fishing, snorkeling, and more.
Perfect Day at Lelepa
Not yet open to guests at the time of publication, Royal Caribbean is expanding its "Perfect Day" island concept all the way into the South Pacific. Lelapa will be a first-of-its kind cruise line private island located in New Caledonia, off the east coast of Australia.
Royal Beach Club at Paradise Island
Royal Caribbean is also in the process of developing its first Royal Beach Club experience in Nassau, Bahamas. Opening in 2025, the 17-acre Royal Beach Club at Paradise Island will marry the vibrance of the Bahamas with the cruise line's signature experiences to create the ultimate beach day with amenities for travelers of all ages.
Onboard Dining on Royal Caribbean Ships
Royal Caribbean cruisers can expect ample dining opportunities, whether you're looking for juicy burgers for the family or an upscale night out. On Icon of the Seas, there are more than 20 dining venues.
There are always included options for every meal, as well as one of the widest ranges of specialty dining on any ship. Prices for these extra-fee restaurants vary but can add up. Consider booking a specialty dining package to help offset the cost.
For a sample of what to expect at the MDR, check out these sample main dining rooms menus.
INCLUDED DINING
Main Dining Room: Every Royal Caribbean ship has main dining rooms large enough to accommodate all guests across two seatings. This is a more formal included option for dinner.
Windjammer Marketplace: Also referred to as the Windjammer Café, this is the onboard buffet, where stations are loaded with everything you could want to enjoy a full breakfast, lunch, dinner, or late-night bite.
Sorrento's Pizza: One of the most popular eateries onboard, Sorrento's offers up complimentary slices all day and late into the night.
Solarium Bistro: This sunny and bright space offers a buffet option for breakfast and Mediterranean-inspired fare for lunch and dinner.
Park Cafe: Located in Central Park on Oasis-class ships, this included option is a quiet place for some breakfast, lunch, or a snack. Deli sandwiches are available along with wraps, salads, muffins, and more. On Quantum-class vessels, this venue is Cafe Two70
Boardwalk Dog House: Located on the Boardwalk on Oasis-class ships, this Coney Island-style hot dog joint offers up customizable frankfurters as well as a chicken sausage option.
Johnny Rockets: This fast-food chain offers a la carte burgers, fries and shakes at lunch, but complimentary breakfast (an option that not many people catch on to).
Vitality Café: Located just outside of the spa and fitness center, this café offers free healthy fare like fruit cups and bran muffins as well as a for-fee juice and smoothie bar.
El Loco Fresh: Enjoy Mexican favorites like burritos, tacos, and a full salsa bar for lunch in open-air seating.
Cafe Promenade: Located in the promenade on several ships, Café Promenade is your go-to spot for snacks and coffee 24 hours a day. This venue serves up breakfast pastries, sandwiches, cookies, and other small desserts.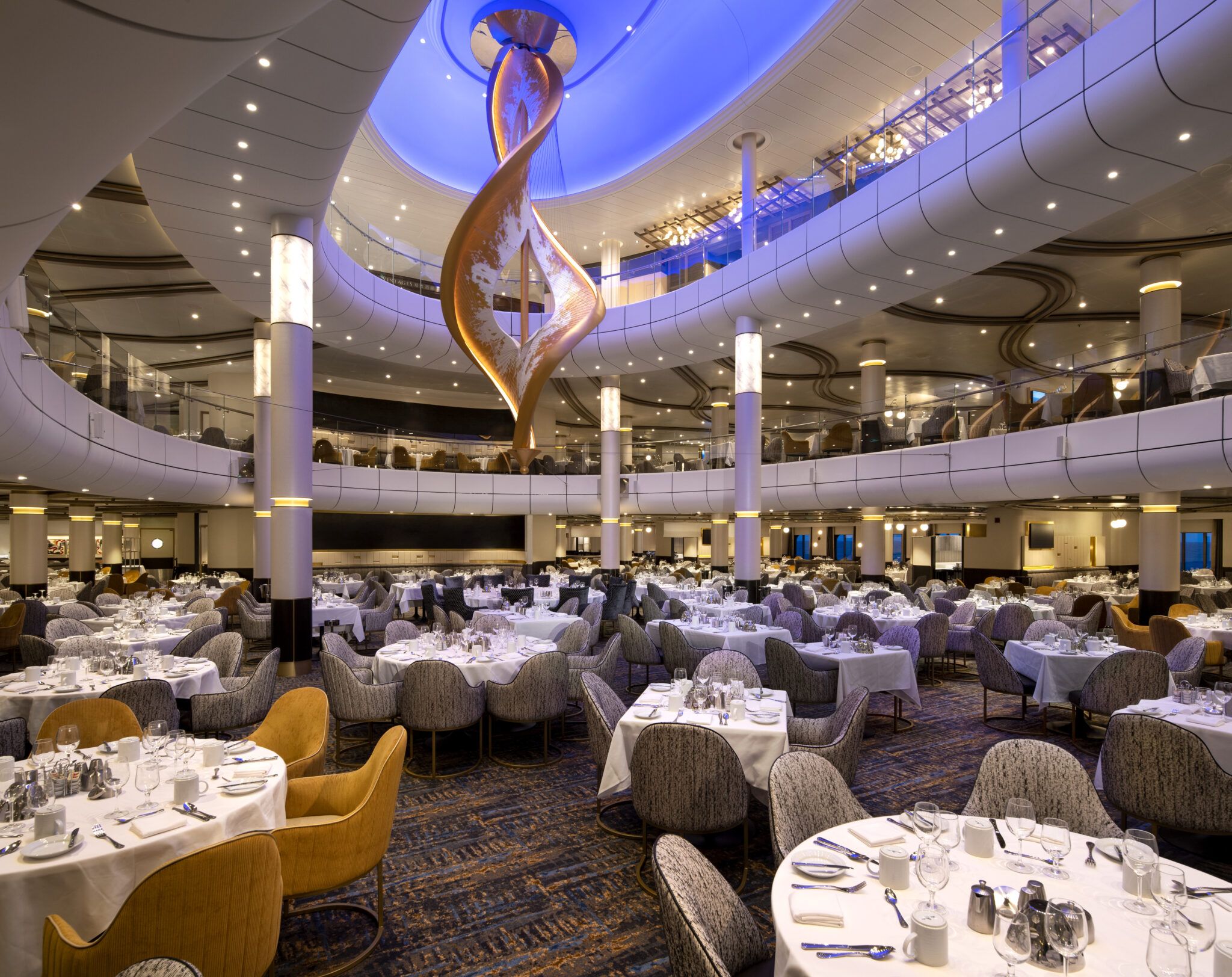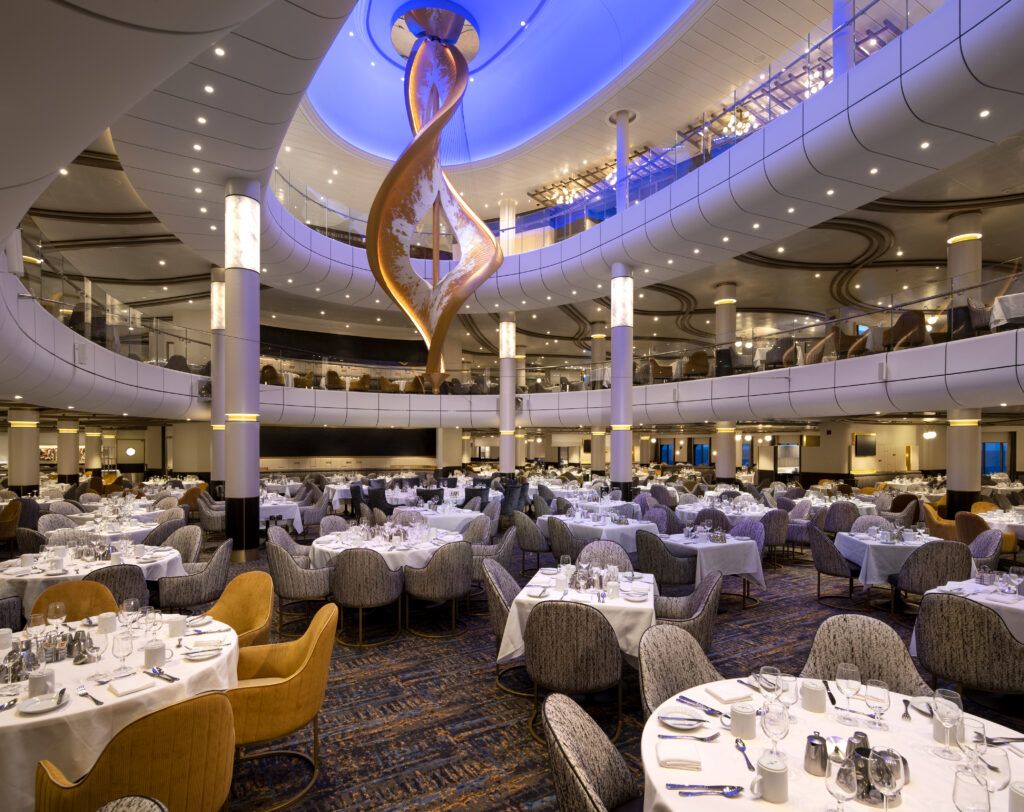 SPECIALTY DINING
Chops Grille: A classic American steakhouse, Chops is a fleetwide specialty dining option with all the best cuts and tasty sides like truffle fries.
Izumi: Passengers looking for sushi, sashimi or hibachi, should head to their onboard Izumi where Japanese dishes are their forte.
Giovanni's Table or Giovanni's Italian Kitchen: Italian favorites can be found at Giovanni's (don't miss the house focaccia) or on some ships, Jamie's Italian, created in partnership with celebrity chef Jamie Oliver.
Wonderland: As much of a whimsical experience as a meal, this imaginative culinary interpretation of "Alice in Wonderland" is for open-minded diners and those who've always wanted to meet the Mad Hatter. Even the cocktails are out of the box.
Hooked Seafood: Available on Navigator, Symphony, and Wonder of the Seas, Hooked is a New England-inspired seafood restaurant with its own cocktail menu as well as oysters three ways, lobster roll, fish sandwiches, and more.
150 Central Park: A romantic dining option, this fine dining restaurant spotlights New American fare and some entrees prepared tableside.
Chef's Table: An exclusive dining experience held at least once per cruise, the Chef's Table offer guests the chance to tour the galley, meet the chef and, go on a culinary journey.
Mason Jar: Among the recent additions to the fleet is the new Southern-style restaurant, The Mason Jar. Home to a bar with live country music, sea day brunch, and nightly dinner, you can't go wrong with any of the menu selections. Be sure to try to PB&J Old Fashioned cocktail.
Other specialty restaurants that you may find on select Royal Caribbean ships include Portside BBQ, Samba, Fish & Ships, and Sabor.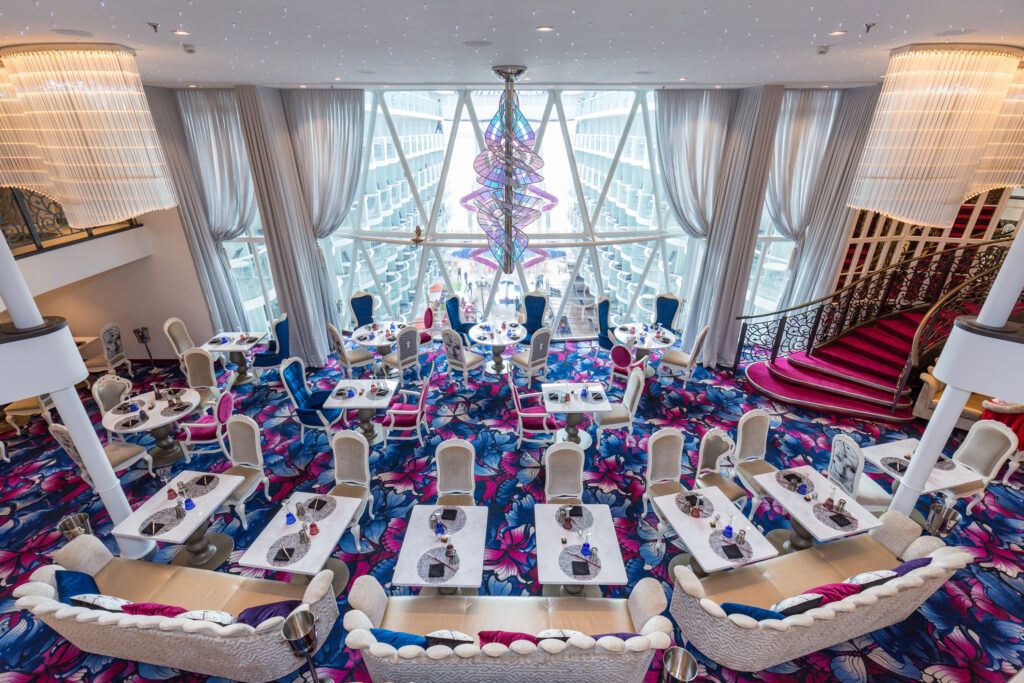 Bars & Lounges on Royal Caribbean Ships
From tiki-style spots and traditional pubs to mixed drinks made by robots, Royal Caribbean's assortment of bars and lounges is impressive on any ship. The following are several of the different signature Royal Caribbean venues.
Schooner Bar: A classic Royal Caribbean watering hole, this late-night bar is outfitted in nautical décor and typically hosts trivia or live piano music.
Trellis Bar: Located in Central Park on Oasis-class ships, this venue has the feeling of an alfresco wine bar and is well situated for a pre-dinner drink.
Boleros: If you enjoy Latin flavors both on and off the dance floor, Boleros hosts live salsa and samba music alongside Cuban mojitos and Brazilian caipirinhas.
The Lime and Coconut: Home to the signature namesake drink, the Lime and Coconut channels all the bright, Caribbean island vibes you desire to kick off your cruise.
Spotlight Karaoke: It's your time to shine; this bar offers the liquid courage you'll need to perform your favorite chart-topping ballads or simply stick around for the show.
Playmakers Bar and Arcade: The lively Playmakers is a sports bar and arcade with delicious pub grub at a la carte prices, beer flights, and plenty of TVs to watch the game.
Rising Tide Bar: Gimmicky but also beloved, the Rising Tide bar is a mobile cocktail lounge that rises between the decks of the Promenade like a tipsy elevator.
Vintages: This is the place for wine connoisseurs to congregate over a glass or bottle of their favorite vino; wine specials available daily.
English Pub: Sporting a different English-inspired name on each vessel, Royal Caribbean's English pubs serve up UK-inspired brews and drinks with live music in a laidback atmosphere.
Bionic Bar: Ever wondered what a cocktail would taste like if it were mixed by AI? Wonder no longer as robotic arms take orders and shake spirits at the futuristic Bionic Bar.
Bamboo Room: Found on select ships, this Polynesian-inspired tiki-room features a drink menu that is as exotic as the décor with favorites like the Royal Zombie and On the Run.
Pool Bar: That frozen concoction or that frosty beer can be found at any onboard pool bar, so your sun-bathing refreshment is only steps away. Attendants will take orders from your lounger. These pools bars go by several names depending on the ship, but all serve a similar menu. There's also a Solarium Bar located near this pool on several ships in the fleet.
Starbucks: On select Royal Caribbean ships, you can get your favorite caffeine fix at a Starbucks coffee bar. Note that drink packages do not apply to Starbucks beverage purchases. However, drink packages and the Cafe Select Coffee card do work on Starbucks brewed beverages purchased at Cafe Promenade.
Music Hall or Dazzles: This multi-story venue found on Quantum and Oasis-class ships features a live band, a dance floor, and a full bar for plenty of fun during your cruise.
Viking Crown Lounge: This top-deck lounge on several ships in the fleet offers aerial views of the pool deck, a bar for drinks and socializing, and entertainment like karaoke, a nightclub, and more.
On select ships in the fleet, you might still find older bar iterations like the R Bar or Champagne Bar. While other unique bars can be found on newer ships like Cantina Fresca and Vue Bar on Wonder of the Seas or the Attic comedy club on Oasis Class ships.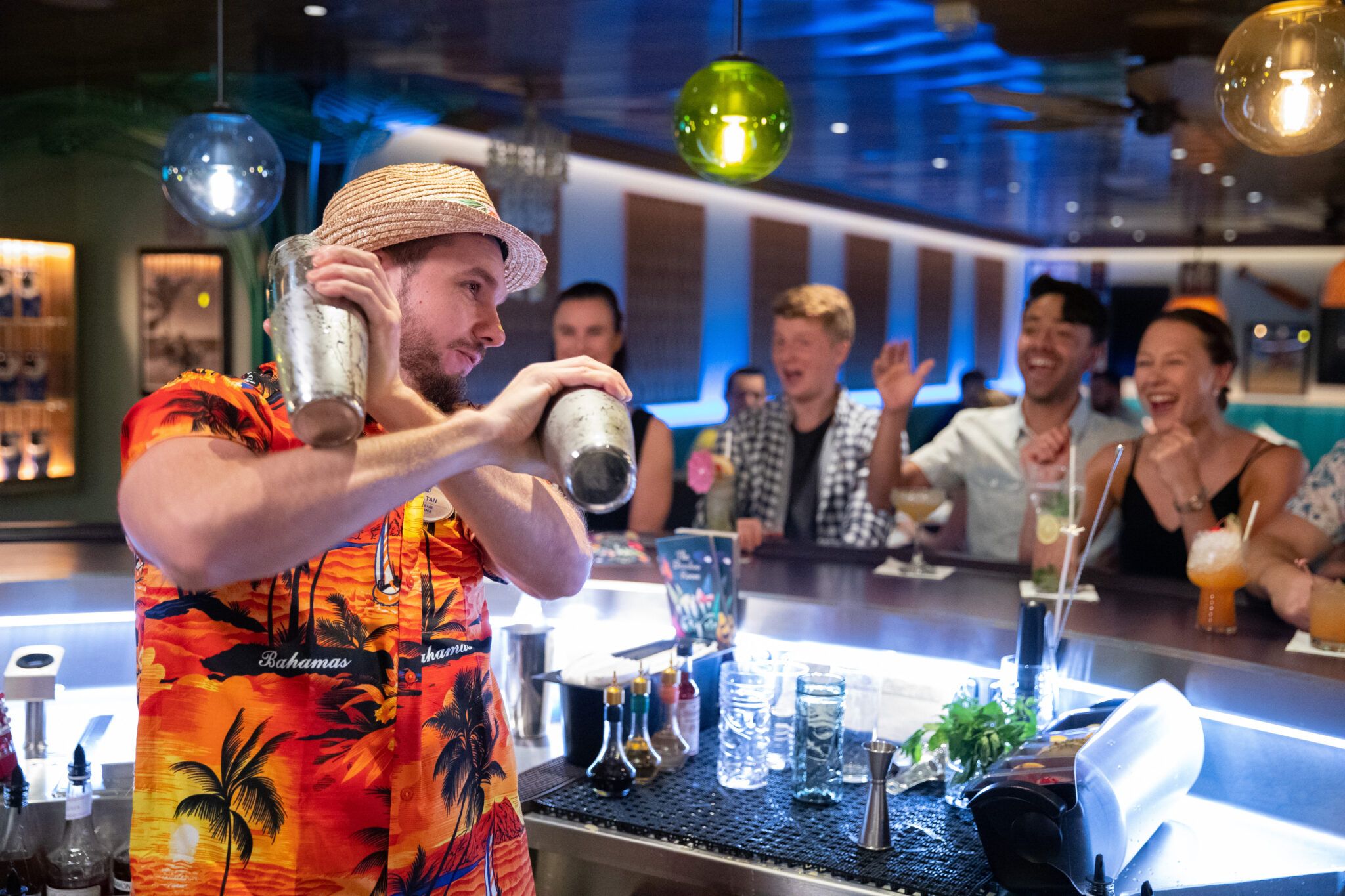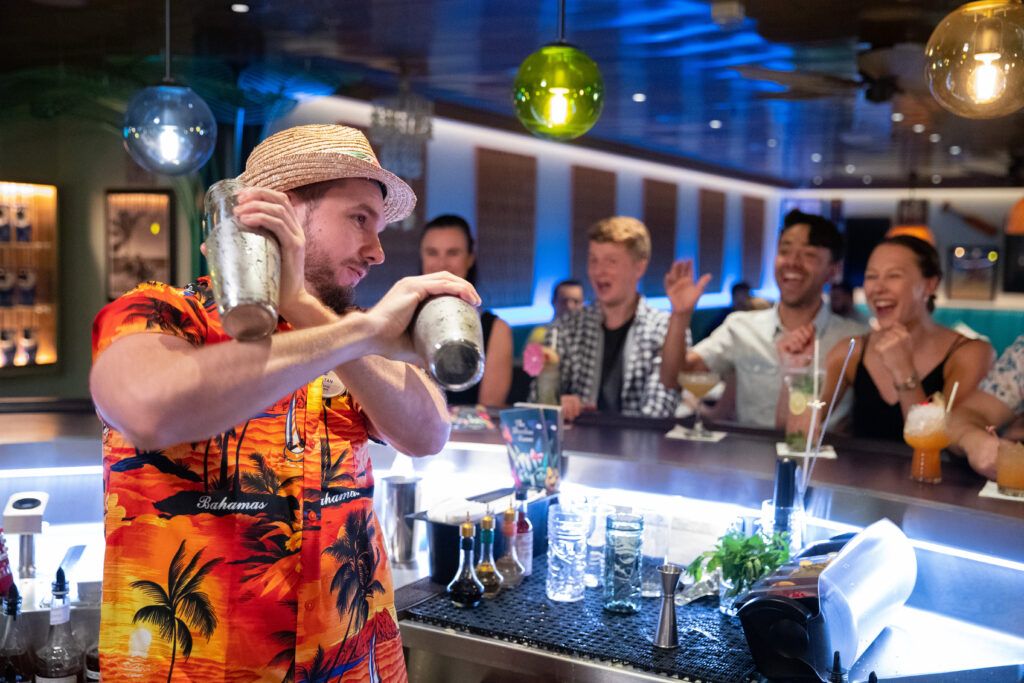 Beverage Packages
With so many bars and lounges, it makes sense that Royal Caribbean offers several different beverage packages to bundle drink purchases while onboard (and across the cruise line's private islands).
Curious about how much you'll spend if you purchase each cocktail or blended coffee a la carte? Check out this Guide to Royal Caribbean Drink Prices.
SCORE BIG ON ROYAL CARIBBEAN CRUISES!
Onboard Activities/Entertainment on Royal Caribbean
When it comes to head-turning attractions and cutting-edge entertainment, few cruise lines rival the onboard offerings of Royal Caribbean. Pioneers of such activities as sky diving and ice skating at sea, Royal likes to push the boundaries of what's possible aboard a cruise ship.
Apart from pools, arcades, mini golf, and deck parties, families can be on the lookout for escape rooms, performances in the Royal Theater, AquaTheater, and Studio B ice rink depending on the vessel, and so much more. If there's one thing that a Royal Caribbean vacation guarantees, it's that no one in your party will be bored.
Some of the signature entertainment options do require reservations (mostly on Quantum and Oasis Class ships). These reservations can be made pre-cruise using the online cruise planner or once onboard the ship.
Top-Deck Attractions
Most of Royal Caribbean's most impressive marquee attractions are located toward the top of the ship. The following is a rundown of what you might expect to find between the sky and sea on your next Royal Caribbean cruise. (A $ indicates an additional charge but most of them are free):
FlowRider surf simulator ($ only for private sessions)
Rock-climbing wall
A variety of waterslides (varies by ship)
Ultimate Abyss dry slide (Oasis Class)
Zip line (Oasis Class)
North Star observation capsule (Quantum Class) $
Ripcord by iFLY skydiving (Quantum Class) $
Mini-golf
Bumper cars in the SeaPlex (Quantum Class)
Splashaway Bay for the littles
Sports Court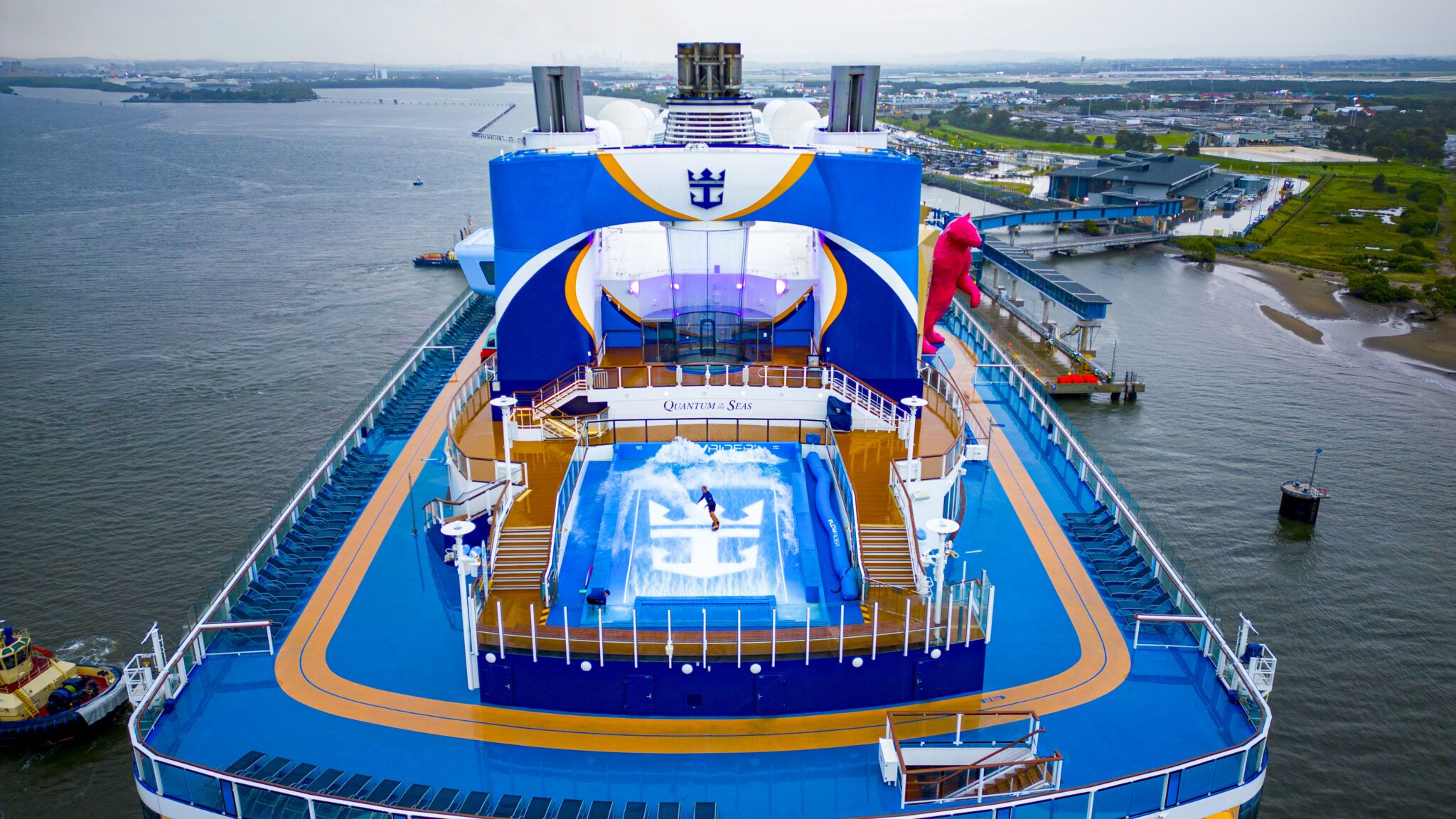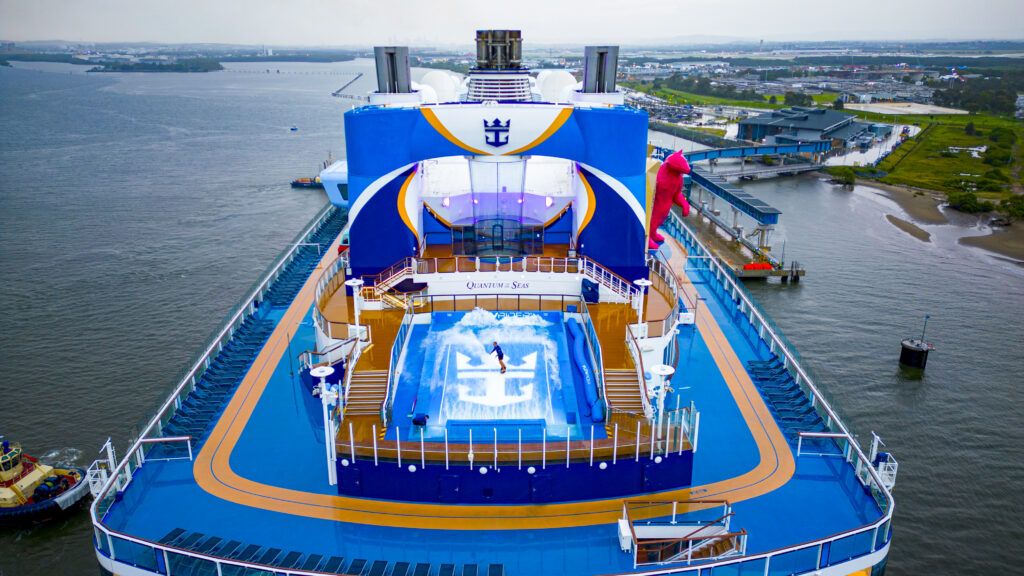 Casino
Casino Royale is Royal Caribbean's fleetwide casino, found on every ship. Filled to the brim with gaming tables and slot machines, gamers can collect with the Club Royale rewards program. Guests earn points based on the level of play and can redeem them for members-only benefits.
The Cruise Compass daily program is where you will find information about any onboard tournaments or other enticing gameplay.
Spa and Fitness
The Vitality Spa is Royal Caribbean's fleetwide spa experience with spacious offerings and more than 100 treatments available to book. YSpa is a special spa menu for teens ages 13 to 17 available with parental consent. Adults can purchase a spa or salon service or book a day pass to the spa to enjoy amenities including a sauna and steam room.
The fitness centers onboard Royal Caribbean are state of the art, with equipment by Technogym. Guests must be 16 years old to use the gym. Personal training and fitness classes, such as Pilates or spin, are available to book for an additional fee. The fitness center is free to use and typically connected to the spa; some also have direct access to a walking track.
Kids Clubs
Royal Caribbean excels at family cruising, because its youth programming extends beyond the kid clubs to art studios, a science lab, a theater for story time, a lounge for older kids/teens and babysitting for babies and toddlers.
Royal Babies and Tots is a comprehensive program for littles ages 6 months to 36 months, providing activities for you to enjoy with your baby as well as a drop-off nursery on most ships.
The Adventure Ocean Club is Royal Caribbean's formal youth program, divided into age-appropriate groups as follows:
Aquanauts (3 to 5): Preschoolers will learn to conduct science experiments and become certified junior adventure scientists.
Explorers (6 to 8): This age group can enjoy themed parties, storytelling and more.
Voyagers (9 to 12): These older kids can go wild with karaoke sessions, organized games and arts and crafts.
Teens can choose between spaces like the Living Room, a teen-only lounge with a pool table, video games and more; Fuel Teen Club for late-night dance parties; and of course, the arcade where vintage games sit alongside modern thrills. Older teens are welcome to come and go as they please from any teen space, allowing them the freedom to explore the ship with friends and family.
For a night out, parents can drop off their kiddos at After Dark Fun in Adventure Ocean and the teen spaces, where an hourly babysitting rate applies after 10 p.m.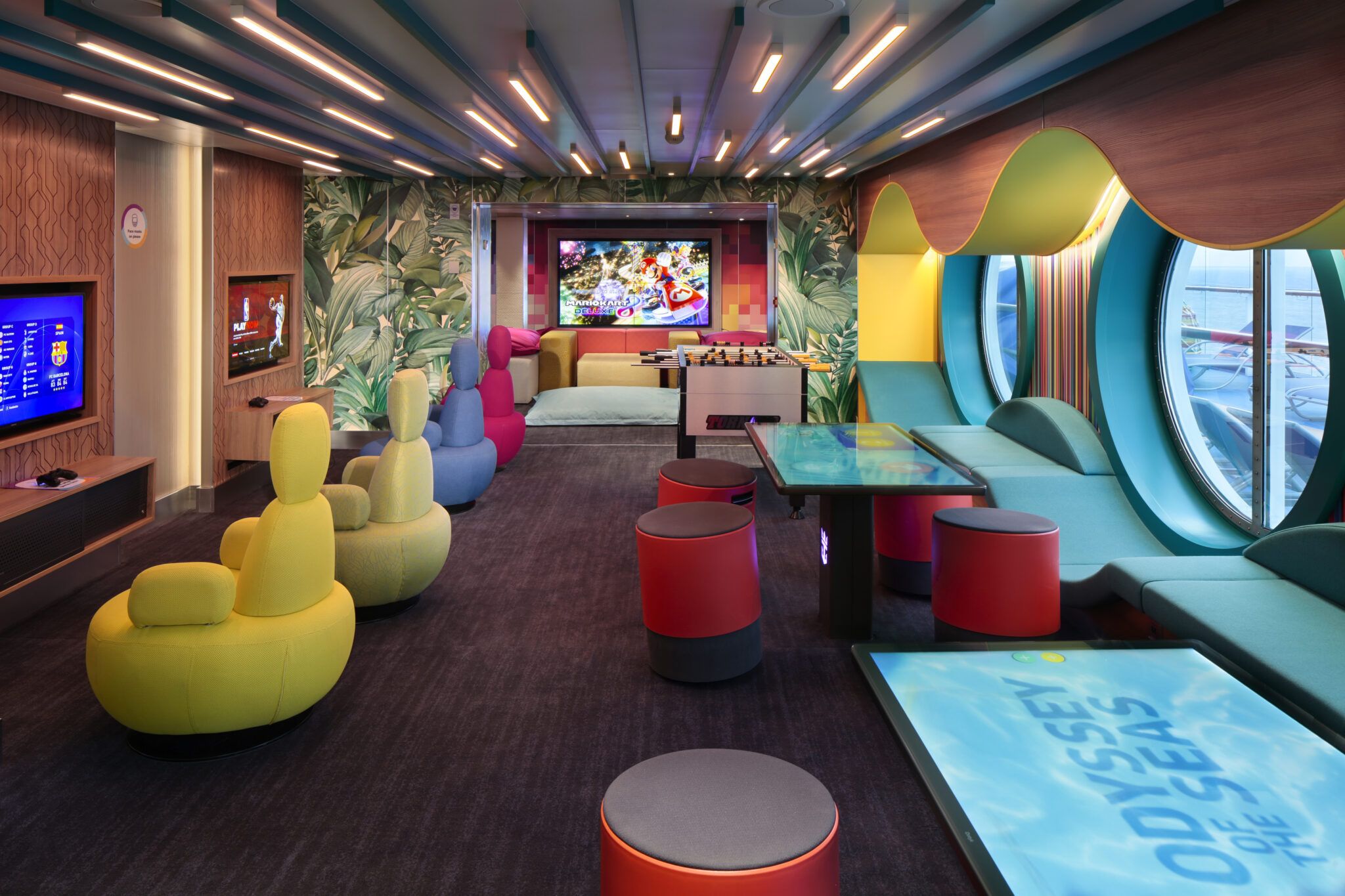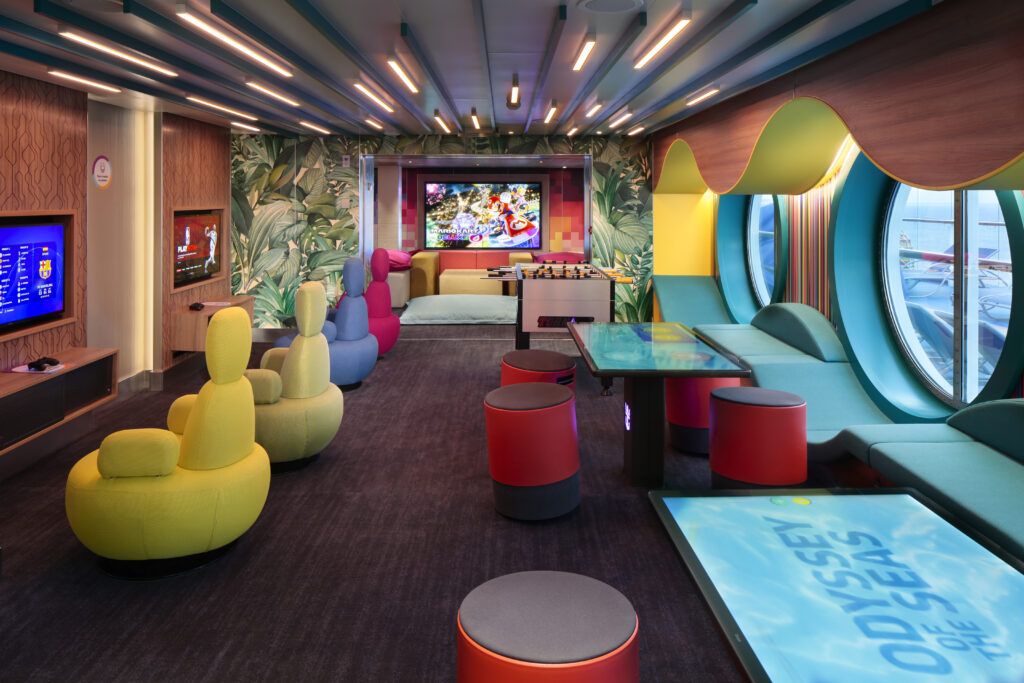 What's Included on Royal Caribbean
Cruise fare for a Royal Caribbean cruise includes the following:
Accommodations
All included dining (specialty dining carries an extra fee)
Continental breakfast ordered with room service
Basic beverages (water, lemonade, iced tea, juice, coffee)
Shows, including stage performances in the theater, Aqua Theater, comedy club, etc.
Ice skating shows and ice-skating sessions on available ships
Live music around the ship
Use of the pools and the water slides/dry slides
FlowRider surf simulator
Rock-climbing wall
Kids clubs
Dance parties
Karaoke
Mini golf
Basketball and pickle ball
Fitness center
Carousel rides (on select ships)
Zip line (on select ships)
Laser tag (on select ships)
Guest-to-guest chat function on the Royal Caribbean app
Wi-Fi
Royal Caribbean offers some of the fastest internet connection speeds at sea with its VOOM high-speed Wi-Fi. Now provided by Starlink satellite internet, Royal boasts connectivity six times faster than the Wi-Fi speeds on other cruise lines.
A VOOM Surf + Stream package offers 24-hour access on your devices to browse the web, chat on messenger apps, post on social media, video chat live, and even stream music, TV and more. Package prices vary by sailing, but averages $18 per day, per device. The package also applies off the ship on Perfect Day at CocoCay.
Gratuities
At the time of publication, Royal Caribbean's daily onboard gratuity for service is $16 per person, per day in standard staterooms and $18.50 per person, per day if booked in a suite.
Gratuities are automatically added to a guest's SeaPass account unless they make a request onboard at Guest Services to have them adjusted. Tips can be prepaid before boarding, but it is not recommended to reduce or eliminate the daily gratuity except in cases of extreme dissatisfaction.
An 18 percent gratuity is automatically added to all beverage purchases, mini bar items, or spa and salon charges.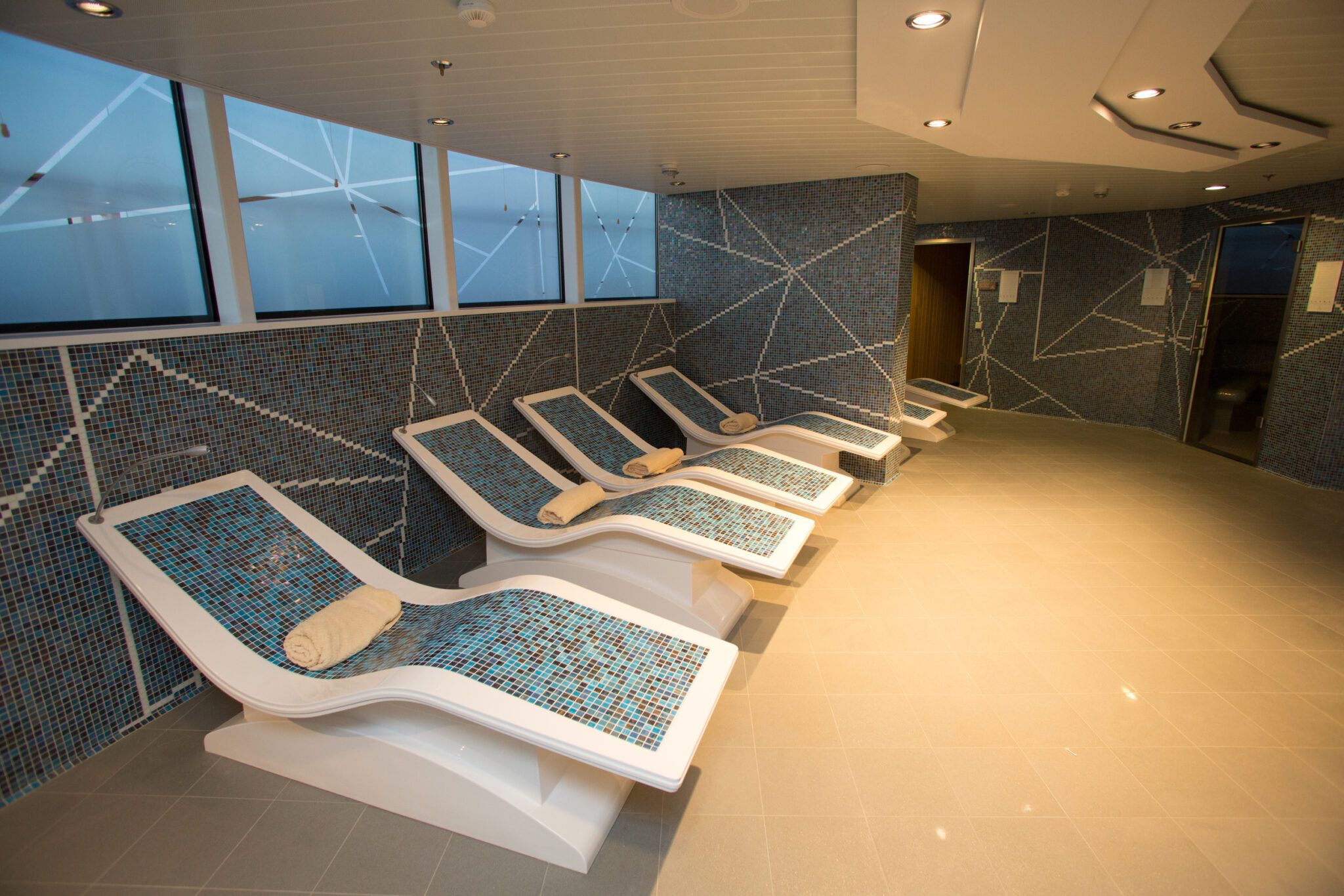 Royal Caribbean's Loyalty Program
Named after Royal Caribbean's iconic logo, the Crown & Anchor Society is the cruise line's tiered loyalty program. North American guests are automatically enrolled in the program when they sail on a Royal Caribbean ship, earning one point for every night onboard and double points if booked in a suite.
There are even youth member benefits pertaining to discounts on Ben & Jerry's ice cream, nonalcoholic beverages, and arcade credits.
Tiers and perks of the Crown & Anchor Society
Gold (3 points): Expect coupons for discounts on beverages, like half off a Johnny Rockets milkshake or a 25 percent discount on non-Starbucks coffee beverages; a 10 percent discount on any spa service and more
Platinum (30 points): At Platinum, guests receive slightly more discounts and perks, like robes upon request; a discount on dry cleaning; discounted balcony and suite cabins; and a loyalty party on cruises of five or more nights
Emerald (55 points): Emerald builds on those perks with complimentary welcome waters in your stateroom and a lapel pin
Diamond (80 points): At Diamond, loyalty guests receive up to four complimentary drinks per day; one free day of internet; Diamond Lounge (Crown Lounge) access with nightly happy hours and more
Diamond Plus (175 points): Perks include BOGO complimentary dining on the first night of the cruise; a 30 percent discount on the deluxe beverage package; priority access to theater events; up to five complimentary drinks per day and two included days of internet; a complimentary add-on spa treatment; a gift/amenity per household; reduced single supplement and more
Pinnacle Club (700 points plus): At the top level of the Crown & Anchor Society, guests receive all of the perks of the previous five tiers, plus daily breakfast at a specialty restaurants; discounts on specialty dining packages; free internet access for one device for the length of your voyage; Suite/Concierge Lounge access; flexible arrival to the ship; upgraded bath amenities; a personalized lapel pin; and a milestone cruising certificate for a 7N balcony stateroom at 700 and 1,050 points
BOOK NOW: Exclusive Rates on Royal Caribbean Cruises!
Comments
Did you find our complete guide to cruising with Royal Caribbean helpful? Do you have any other tips for cruising with Royal Caribbean to add to this list? Drop us an anchor below to share what you love about this cruise line.