Not only do cruise ships visit nearly every corner of the globe, there are also exclusive destinations that you can only visit on a cruise. Most major cruise lines offer stops at locales that are exclusive for guests sailing on their ships. These destinations have come a long way over the years. From re-imagined and upgraded islands to completely new private islands and beach clubs, these are the best cruise line private islands you can visit.
Call to Book Your Next Cruise Now: 1-855-228-5584!
Best Cruise Line Private Islands
What cruise lines have private islands?
If you are a first time cruiser or stay loyal to one cruise line, you may be surprised to hear that a majority of the major cruise lines now have private islands or private resort destinations. Most of these exclusive locations are located in the Caribbean and Bahamas.
Royal Caribbean, Norwegian Cruise Line, Holland America Line, Princess Cruises, Disney Cruise Line, MSC Cruises, and Virgin Voyages all have exclusive destinations for cruise passengers. Carnival Cruise Line also shares Holland America's and Princess' cruise line private islands in the Bahamas.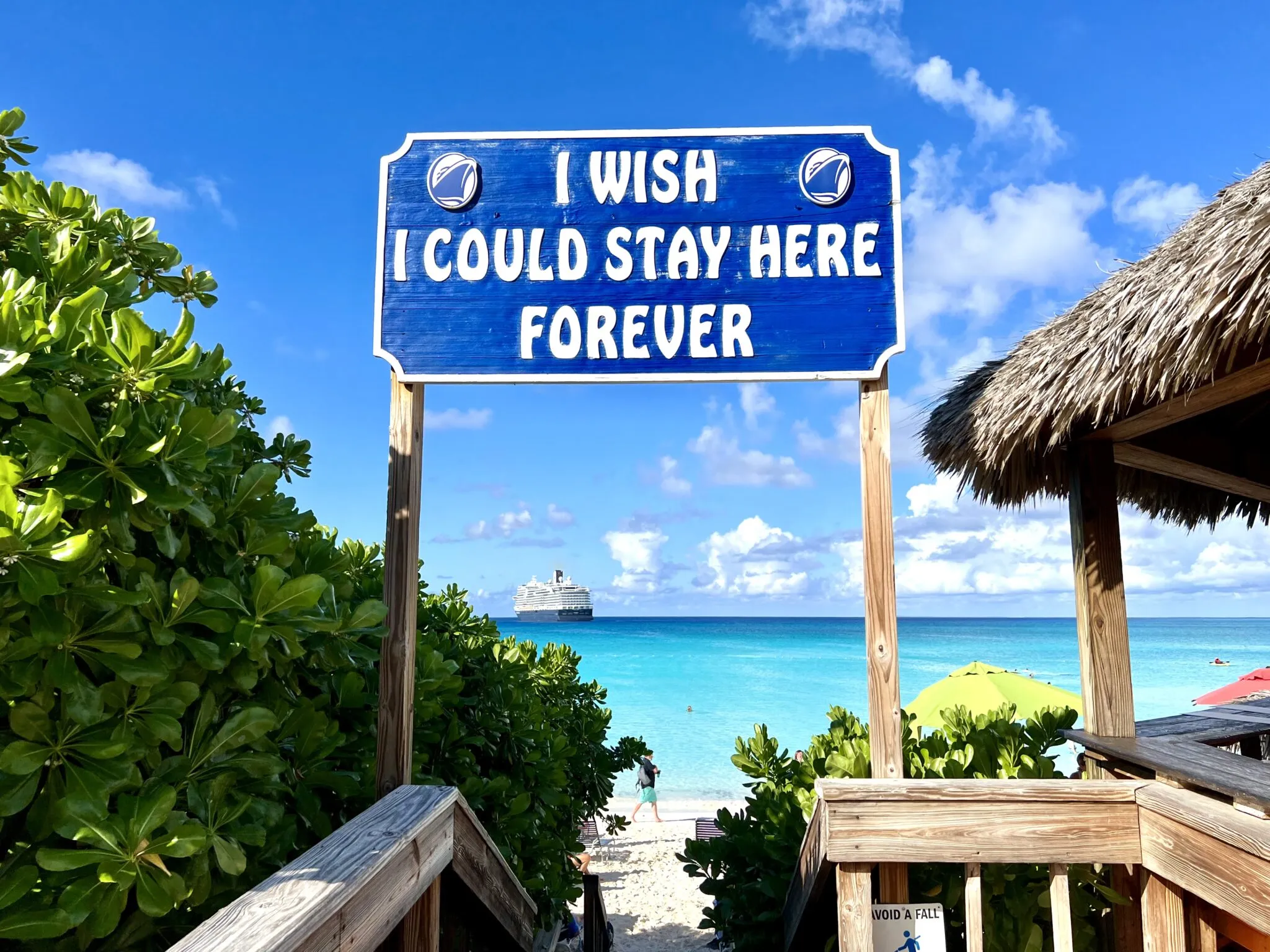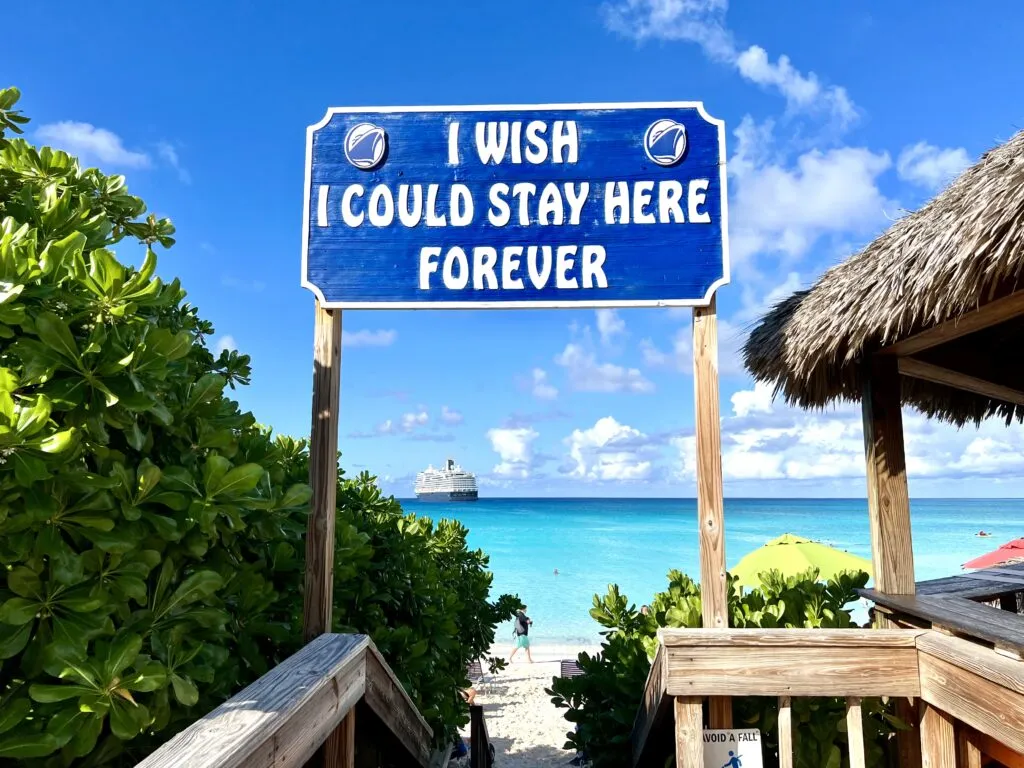 Further, there are other cruise ports that were built in partnership with the cruise lines to offer exclusive experiences for cruisers.
EXCLUSIVE SAVINGS: Get Deals on Bahamas Cruises!
Royal Caribbean's Private Islands
Perfect Day at CocoCay
One of the Berry Islands, Royal Caribbean's private island in the Bahamas underwent an extensive renovation in 2019. The destination was transformed into the tropical paradise known today as Perfect Day at CocoCay. Since the upgrade, tendering is now a thing of the past. Guests can simply walk ashore to enjoy all the island has to offer.
Perfect Day at CocoCay (previously Little Stirrup Cay) is available only for the company's cruise ships (and occasionally Celebrity Cruises). It is in close proximity to Nassau, making it an ideal stop on the cruise line's Bahamas and Caribbean itineraries.
Many of the attractions on Perfect Day at CocoCay are complimentary. Like most cruise line private islands, there are plenty of soft sandy beaches with loungers and umbrellas for the ultimate day of relaxation.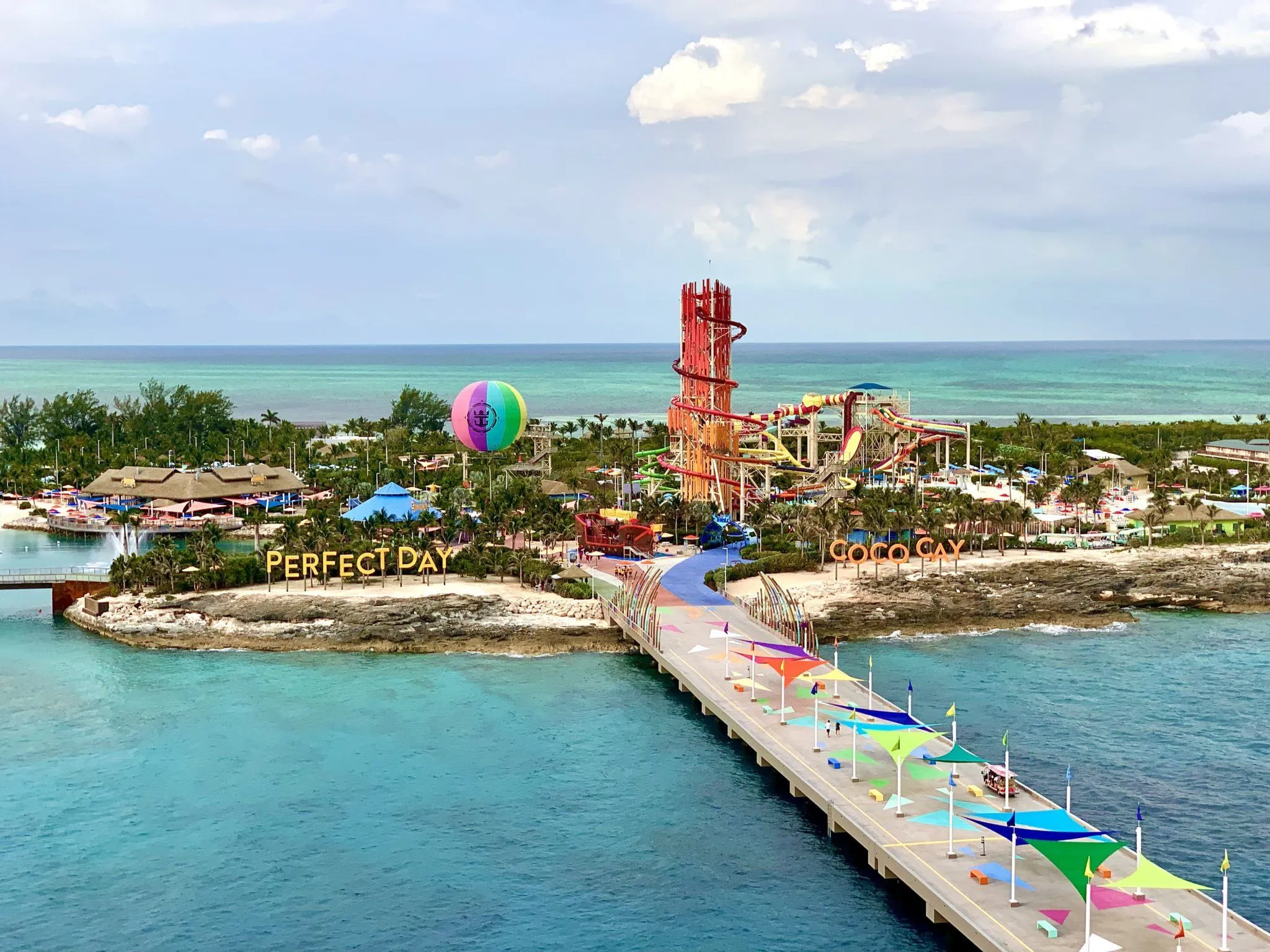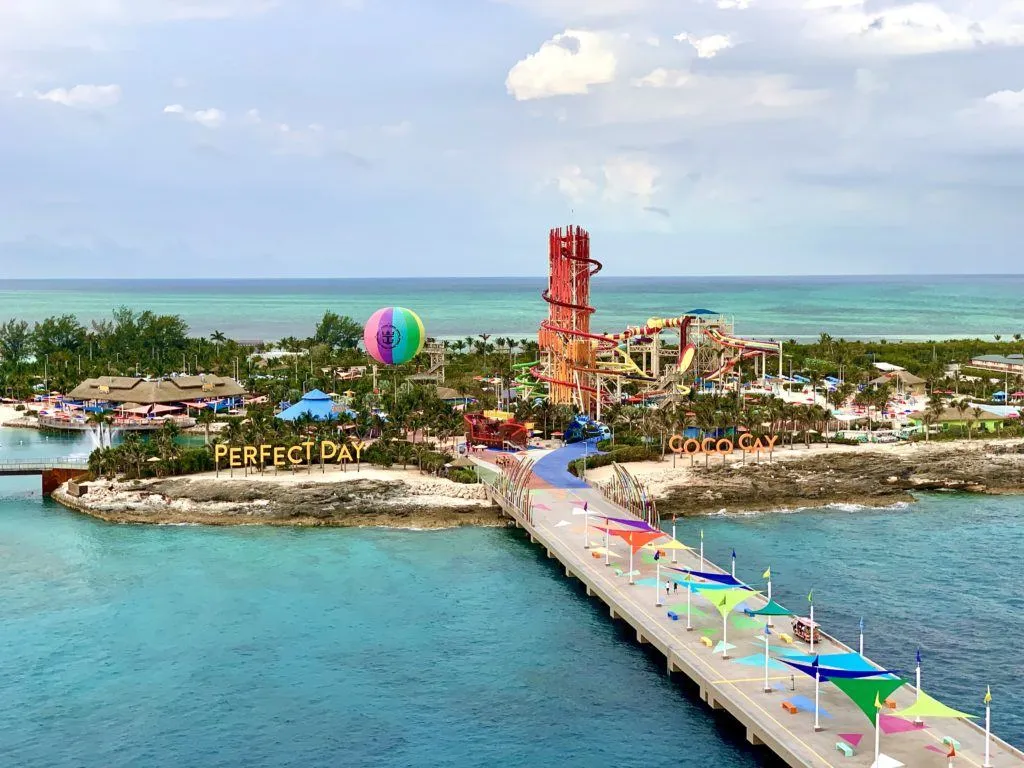 There is also the Oasis Lagoon Pool, the Caribbean's largest freshwater pool. This expansive oasis is open to guests of all ages and even features a DJ and swim-up bar. We'd say that sounds like a pretty Perfect Day at CocoCay!
This is truly a family destination. So, the kids will love the Splashaway Bay aquapark and the shipwrecked Captain Jill's Galleon located near the pier. Both water features are free for the little ones to enjoy.
You won't go hungry during your day ashore either. There are two island buffets, Chill Grill and Skipper's Grill. Perhaps our favorite spot for lunch though is the Snack Shacks located around the island. These quick service stands serve up hamburgers, chicken sandwiches, salads, mozzarella sticks, funnel cake, and more.
Another great feature of Perfect Day at CocoCay is that your ship's WiFi packages and drink packages work on the island. So, be sure to grab a coco loco while enjoying your day of fun in the sun.
While there are many complimentary activities on the island, admission to signature attractions like the Thrill Waterpark (featuring a wave pool and the tallest slide in North America), Zipline, and Helium Balloon will cost you extra money. There are also up-charge shore excursions available.
Finally, the luxurious Coco Beach Club requires an additional fee for entrance too. A Coco Beach Club pass will grant you access to exclusive facilities. These include an oceanfront infinity pool, private beach, and a restaurant.
Labadee
Also exclusively for travelers on Royal Caribbean ships, Labadee is located on a peninsula on the northern coast of Haiti. Labadee was the cruise line's original private destination.
Given its location, Labadee is more mountainous with lush vegetation than most of the other cruise line private islands. This affords for some unique experiences and shore excursions. Since Labadee is guarded and guests are not allowed to leave the property, all excursions must be booked directly with the cruise line.
If you are into adventure, then we highly suggest checking out the Dragon's Breath or the Dragon's Fire Flight Lines. The Dragon's Breath Flight Line is the original zipline option where you sit in a harness. The Dragon's Fire Flight Line is the newer option where you lay in the harness. Both launching platforms are located right next to each other up the mountainside and will have you racing over the ocean!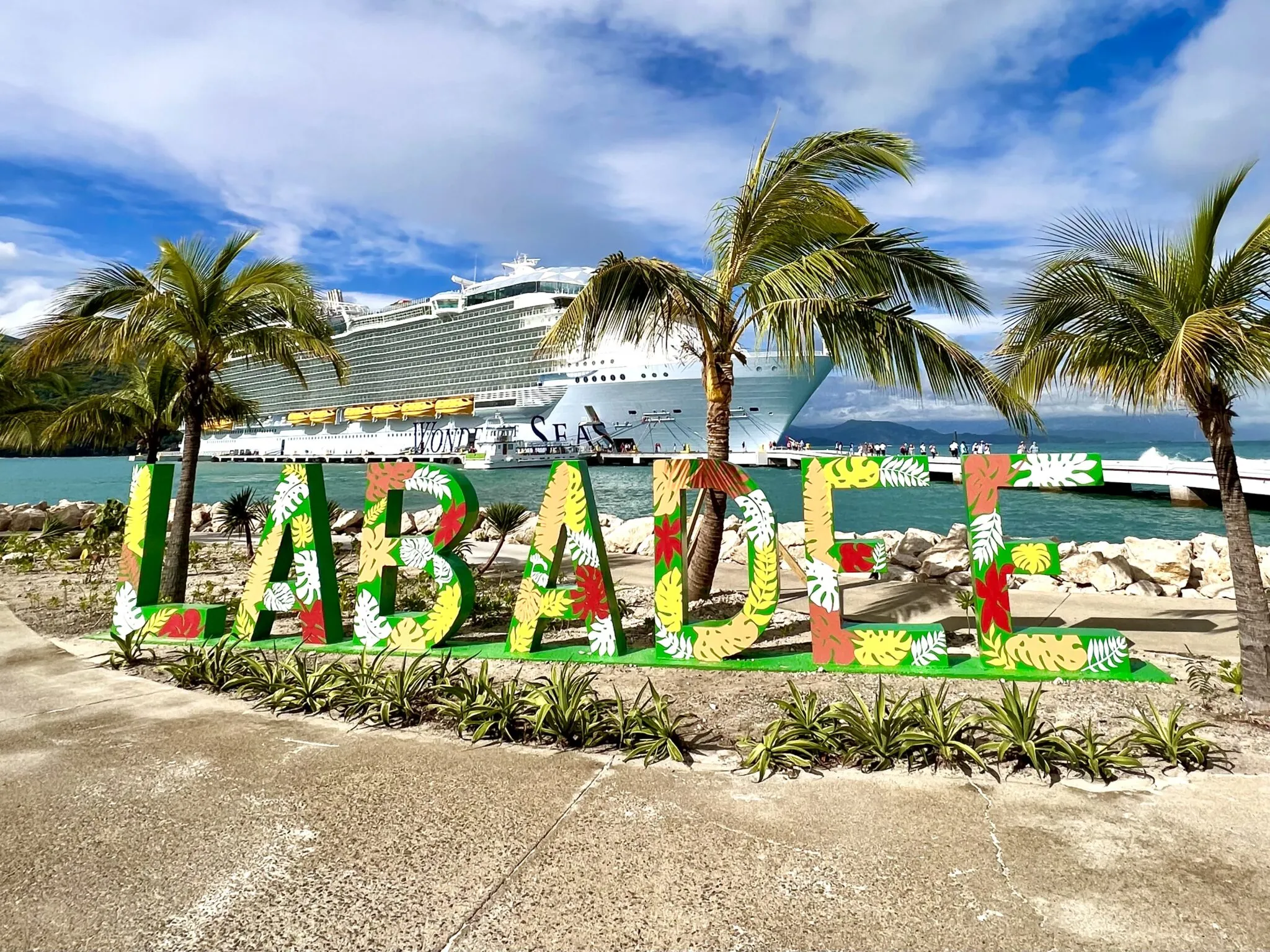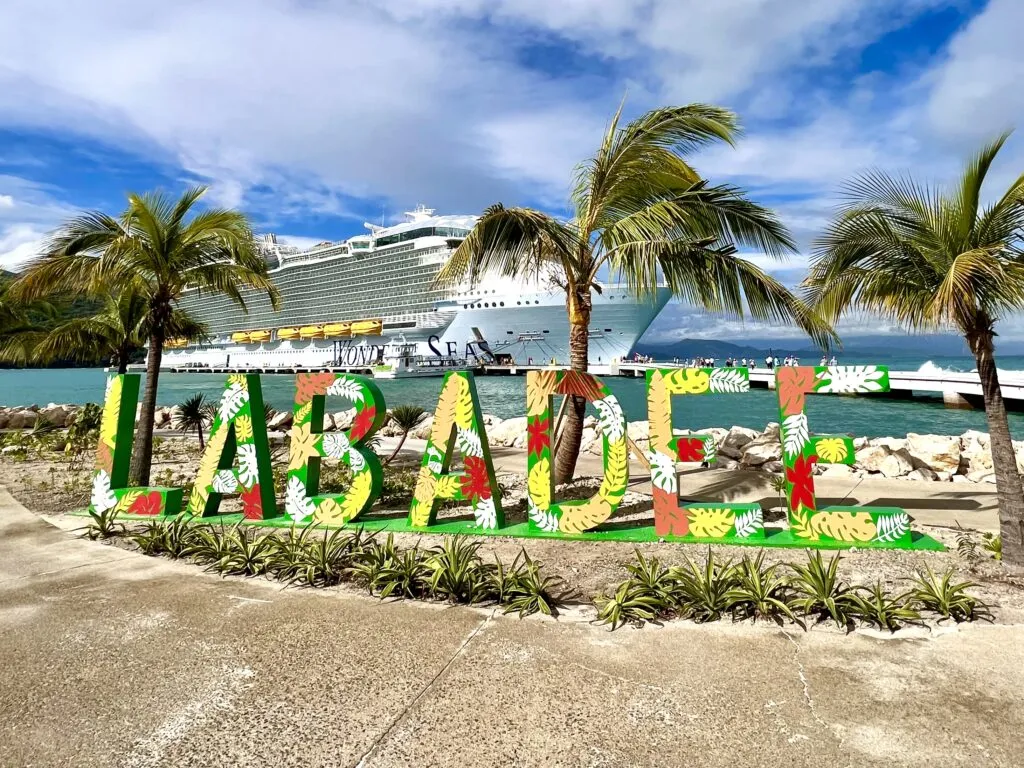 If this sounds like too much thrill for you, you may want to check out the Dragon's Tail Coaster. This ride is similar to an alpine slide. It is a 680 foot drop with speeds that can reach 30 mph as you twist and turn your way down through the mountainside. During the ride, you will be treated to gorgeous island views and sights of your cruise ship in the distance.
Of course, if you'd prefer a day of relaxation, there's plenty of beachfront space to do so. Across the five stretches of beach, you will find plenty of lounge chairs and the perfect vibe to fit your mood from the quieter Columbus Cove to the livelier Adrenaline Beach.
While ashore at Labadee, guests can enjoy an island BBQ and drinks from one of the many bars. Like Perfect Day at CocoCay, your Royal Caribbean drink package works here. So, be sure to grab the island's signature Labadoozie.
Norwegian Cruise Line's Private Islands
Great Stirrup Cay
Also located in the Berry Islands, not too far from Perfect Day at CocoCay, is Norwegian Cruise Line's private island. Great Stirrup Cay was the first cruise line private island when it was acquired back in the 1970's, but it has come a long way since then.
Unfortunately, guests will need to tender ashore to Great Stirrup Cay. This means that weather conditions may impact your ability to visit the island.
Great Stirrup Cay offers an expansive coastline full of sandy beaches for you to spend your day relaxing on the island. With recent updates, there are now plenty of lounge chairs to accommodate NCL's larger ships, newly planted palm trees for some added shade, and clamshells available for rent.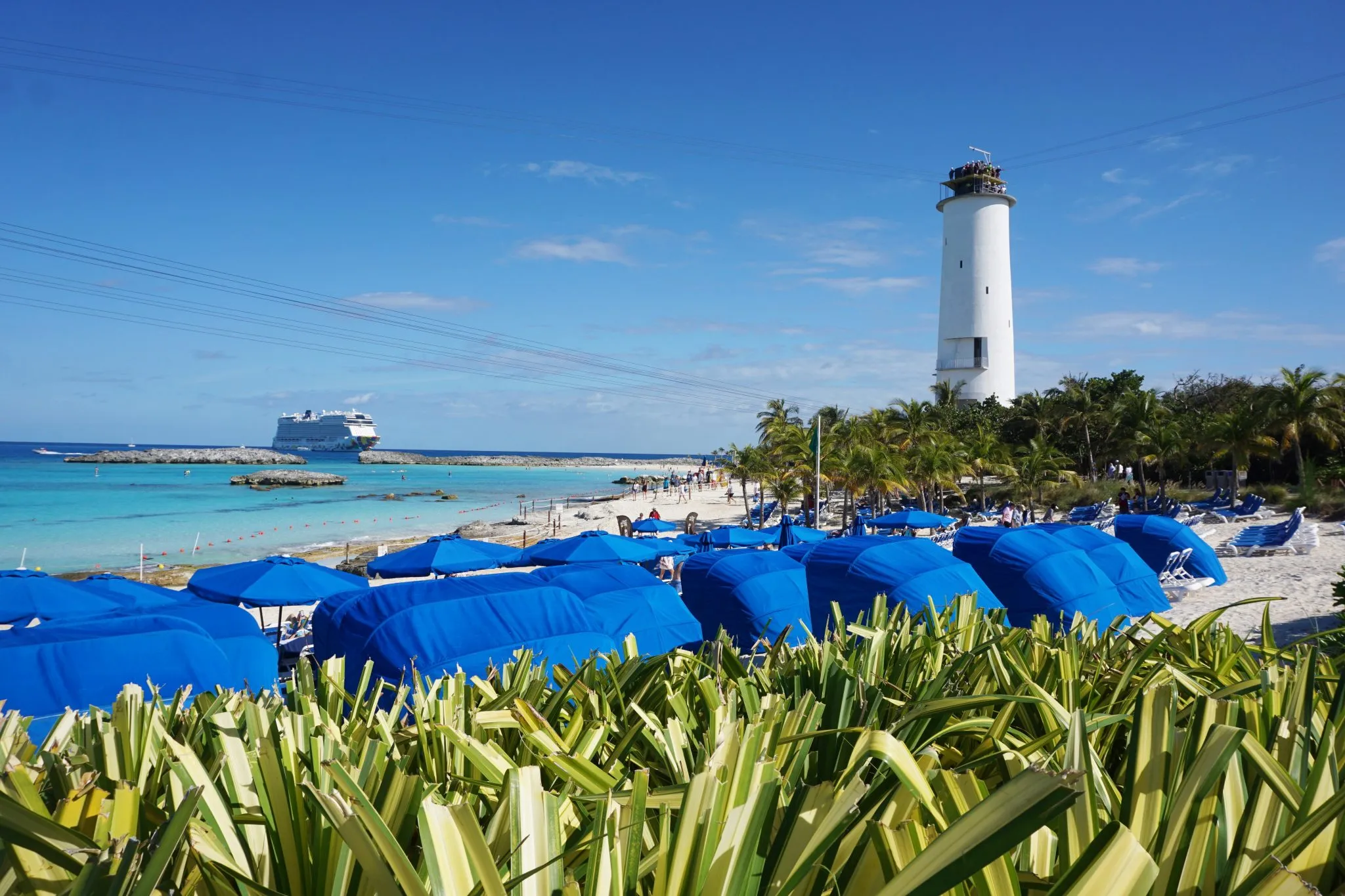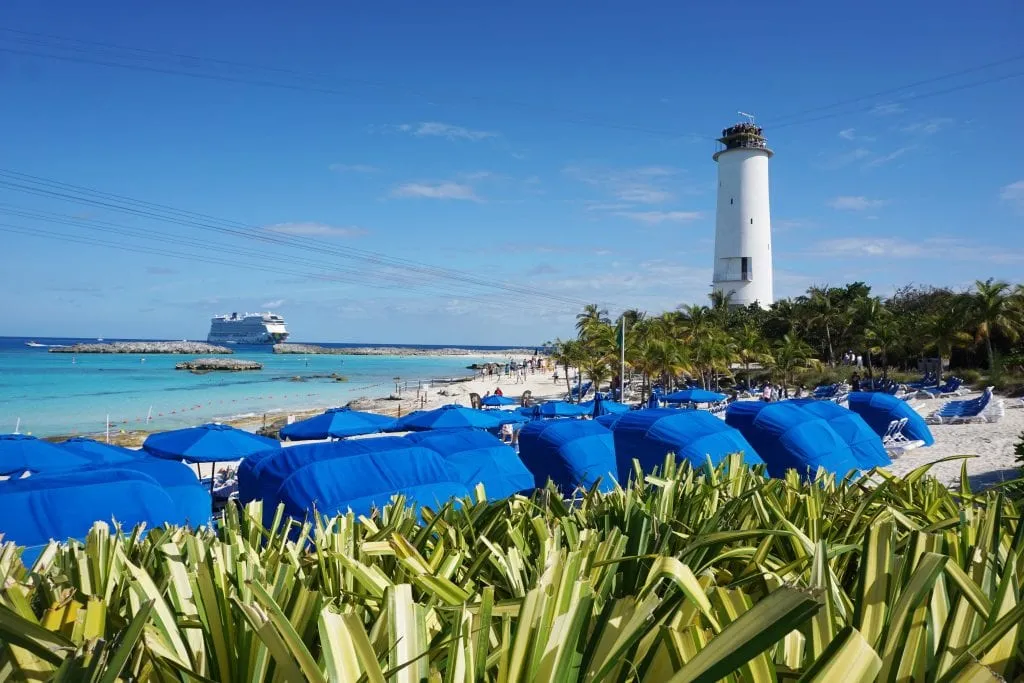 Guests can also go snorkeling, rent kayaks or jet skis, brave the ziplines, or even book an excursion off the island to swim with the pigs.
Dining options are plentiful on GSC as well. The Jumbey Beach Grill is the main island buffet offering hot dogs, hamburgers, jerk chicken, fresh fruit, salad, a pizza station, and desserts. Other additions to Great Stirrup Cay include the Abaco Taco stand and the Tropic Like It's Hot food truck. We particularly enjoy Abaco Taco.
To go along with your food, there are plenty of bar options, and the NCL drink packages work on the island too.
A newer addition to the island is the exclusive Silver Cove. This private retreat offers exclusive amenities for Haven guests, guests who book a villa, and guests who book treatments at the Mandara spa located in this area.
Silver Cove features a private restaurant, private Moet Bar, and private lagoon and beach area. Not to mention, the villas are the ultimate in luxury with private bathrooms, air conditioning, a television, and more.
Harvest Caye
Harvest Caye is Norwegian Cruise Line's private destination located in southern Belize. This 75-acre retreat opened in 2016 in partnership with the country of Belize as a hub to explore this Caribbean destination. While located only about a mile from the mainland of Belize, the only way to visit this island is on an NCL cruise.
Cruise ships are able to dock at Harvest Caye. This allows guests access to walk directly off the ship on to the island.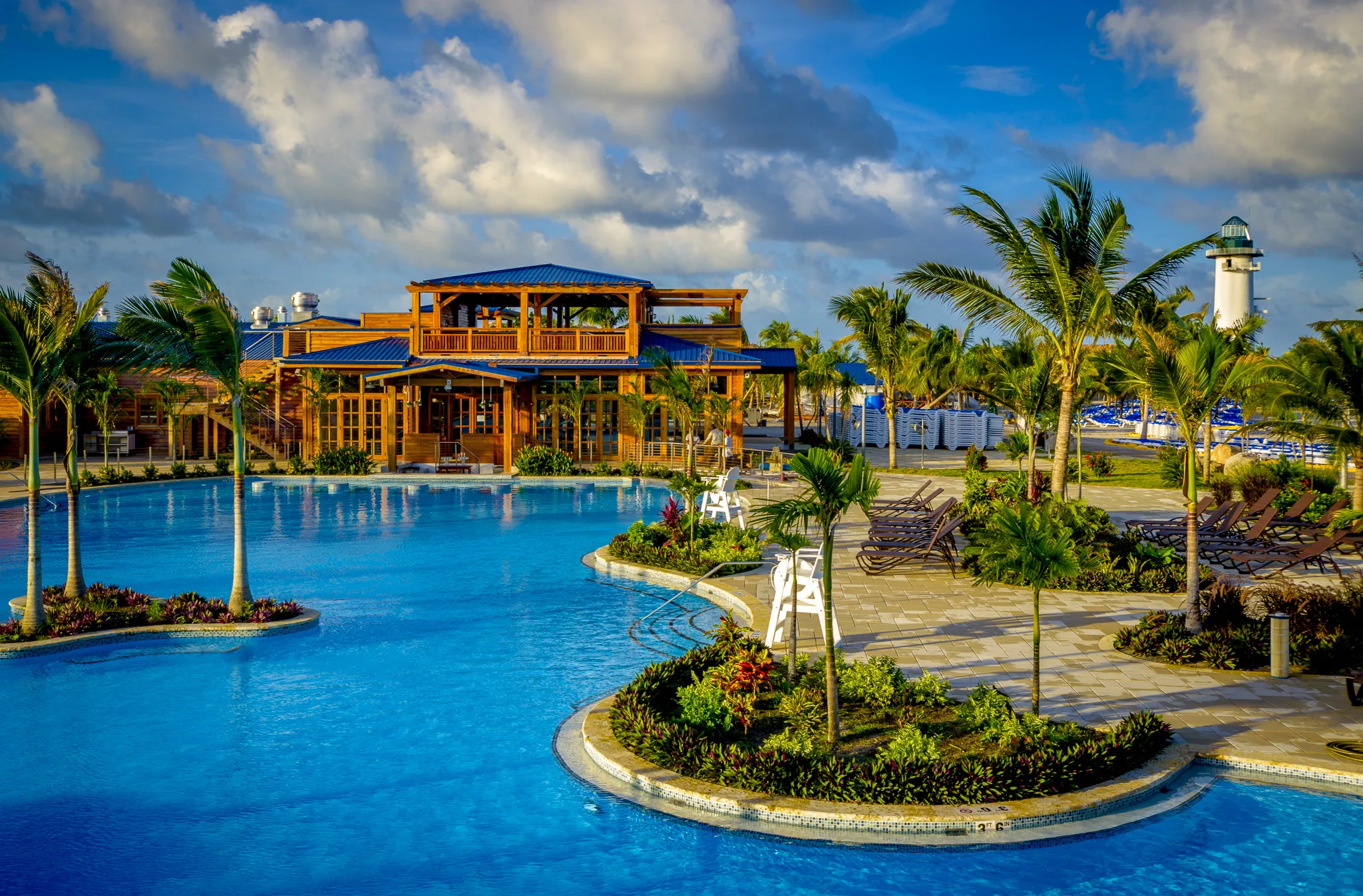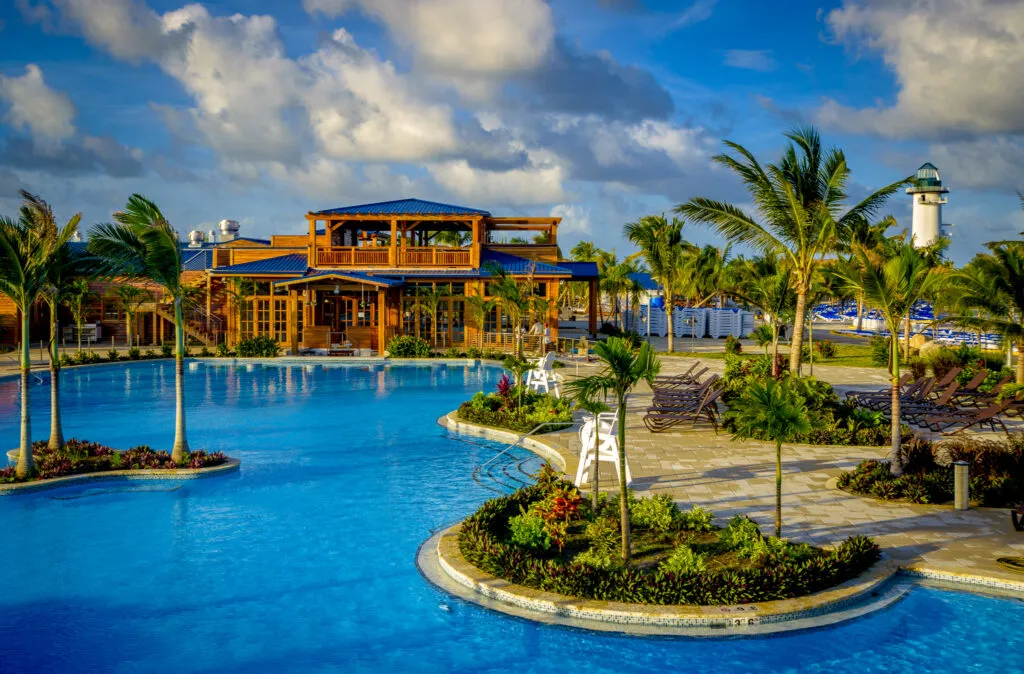 The island features a lagoon pool, a 7-acre beach, restaurants and bars, and a variety of shore excursion options. Perhaps the most popular spot is the 15,000 square foot resort pool. It features plenty of lounge chairs and umbrellas, a swim-up bar, and even a water feature. There is also a splash park for the little ones and a shopping center with local artisans, rum tastings, and the popular Moho Chocolates.
Additionally, Harvest Caye is home to a complimentary nature and conservation center with butterflies and birds and plenty of on-island up-charge experiences. Some of these options include the Flighthouse Zipline package, watersports, and parasailing. There are also excursions that take you to the mainland to visit Mayan ruins, snorkel the barrier reef, river tube, and more.
However, unlike other private islands, the food on Harvest Caye is NOT included. Your NCL drink package will NOT work on the island either. Still, there are plenty of food and drink options available for purchase.
BOOK NOW: Exclusive Savings on Bahamas Cruises!
Carnival's Private Islands
While Carnival Cruise Line doesn't have its own private island per se, the brand does share other Carnival Corp. private islands in the Bahamas. These include Holland America Line's Half Moon Cay and Princess Cruises' Princess Cays.
Half Moon Cay
Half Moon Cay is one of the 700 islands that make up the archipelago of The Bahamas. This small island is located approximately 100 miles southeast of Nassau and covers 2,400 acres. Though, only 50 acres has been developed into an exclusive beach resort. The rest of the area remains as a wildlife habitat.
Formerly known as Little San Salvador Island, the island's name was changed to Half Moon Cay to reflect its crescent-shaped beach.
Unfortunately, the water around Half Moon Cay is quite shallow preventing docking. Thus, you will need to tender to head ashore, which takes about 20 minutes.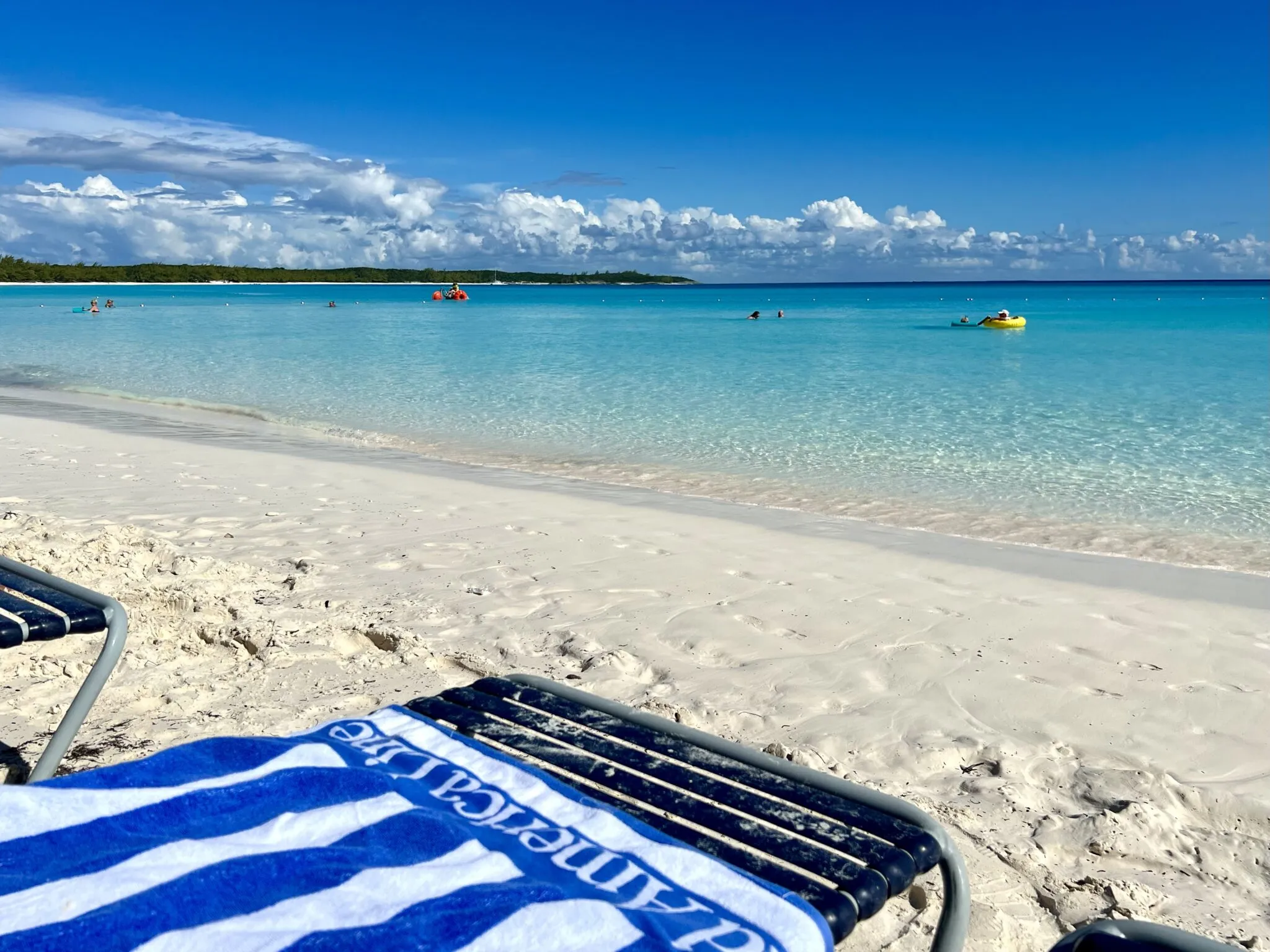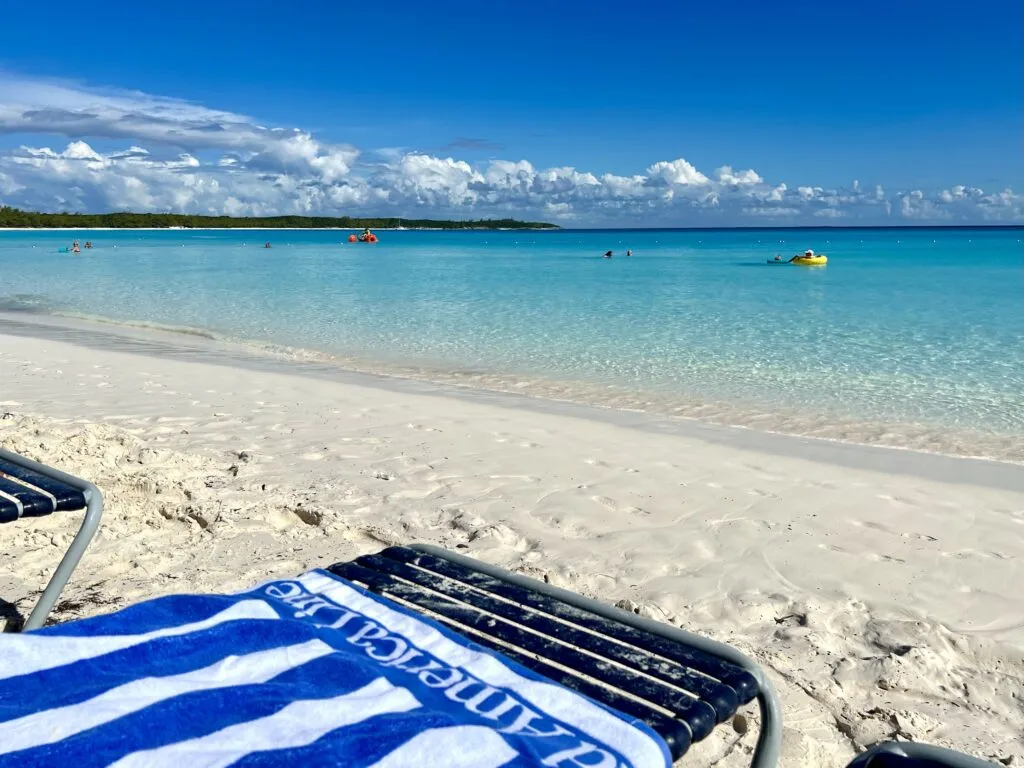 When you think of a cruise line private island, you probably envision stretches of beautifully manicured beaches. And Half Moon Cay is exactly that! Half Moon Beach is a stretch of approximately 2.5 miles of soft, sandy beachfront. However, there is no pool on Half Moon Cay.
Like most cruise line private islands, there is also a complimentary tropical island buffet and several bars on the island. However, your cruise line drink package will NOT work here.
If you are looking for a little activity while on Half Moon Cay, there are hiking and nature trails, bike tours, snorkeling, horseback riding, watersport rentals, and more.
Princess Cays
Princess Cays is Princess Cruises beautiful private island resort in the Bahamas, situated approximately 70 miles east of Nassau. This 40-acre retreat is located on the southern tip of Eleuthera Island and is often a stop on many of the line's Caribbean cruises.
Unfortunately though, Princess Cays is a tender port, meaning guests will need to take small tender boats ashore. This means that weather may impact your ability to visit the island.
Like most cruise line private islands, Princes Cays is known for its white sandy beaches, crystal clear waters, and lush greenery. The island has a half-mile of pristine beaches that are perfect for sunbathing, swimming, and snorkeling.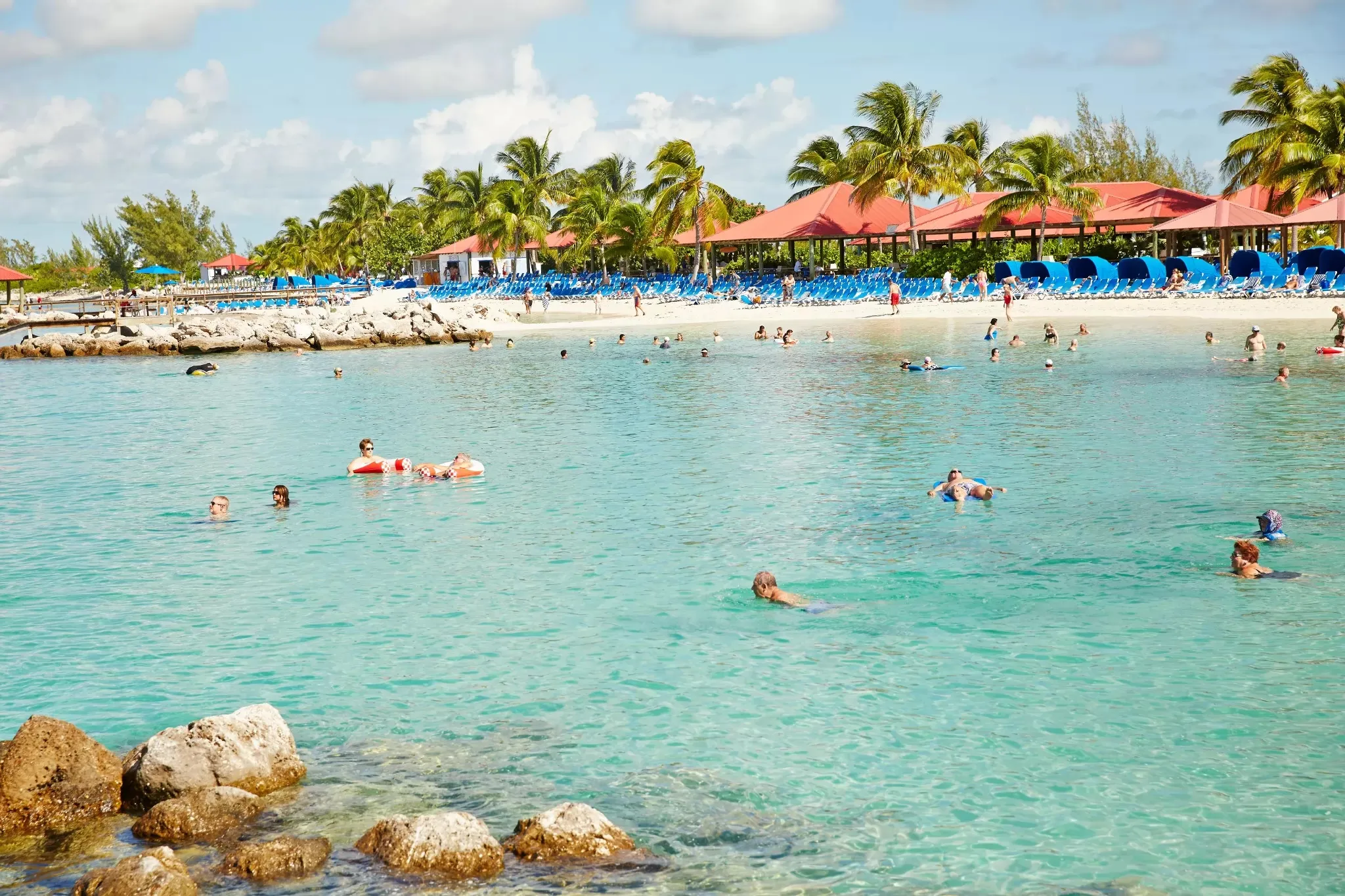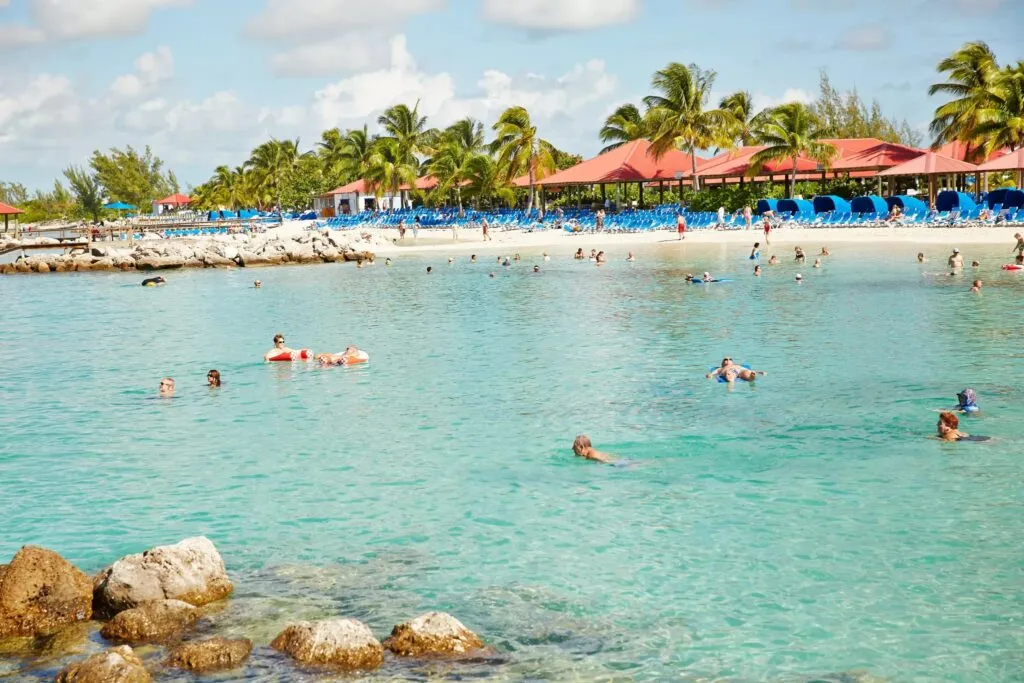 The island also offers a range of water activities, such as kayaking and paddleboarding. Cruisers can rent equipment, take guided tours including stingray encounters and bike tours, or simply relax during their day at Princess Cays. If you want to upgrade your day ashore, there are bungalows available to rent as well. Cruise passengers are also able to leave Princess Cays to explore the rest of Eleuthera if they choose.
Of course, there are also beach bars and restaurants where visitors can enjoy a refreshing drink or some BBQ lunch. There's also a Straw Market market with a collection of local vendors selling handmade souvenirs, jewelry, and other crafts.
If you are visiting Princess Cays on a Princess cruise ship, your cruise line drink package will work on the island. However, if you are visiting on a Carnival cruise ship, your drink package will not work on Princess Cays.
Disney Cruise Line's Castaway Cay
Castaway Cay is Disney Cruise Line's private island in the Bahamas, formerly known as Gorda Cay. This exclusive port of call for DCL is located near Great Abaco Island in the Bahamas. This 3-mile long island is just over 70 miles north of Nassau and covers 1,000 acres.
The good news is that Castaway Cay has a pier. Thus, cruisers can just walk ashore from the ship to experience stunning beaches alongside some Disney magic.
Family Beach is the largest of the Castaway Cay beaches. Here, you will find plenty of lounge chairs, colorful umbrellas, and hammocks scattered throughout the area. This is also where you will find many of the activities like watercraft rentals, snorkeling, and swimming.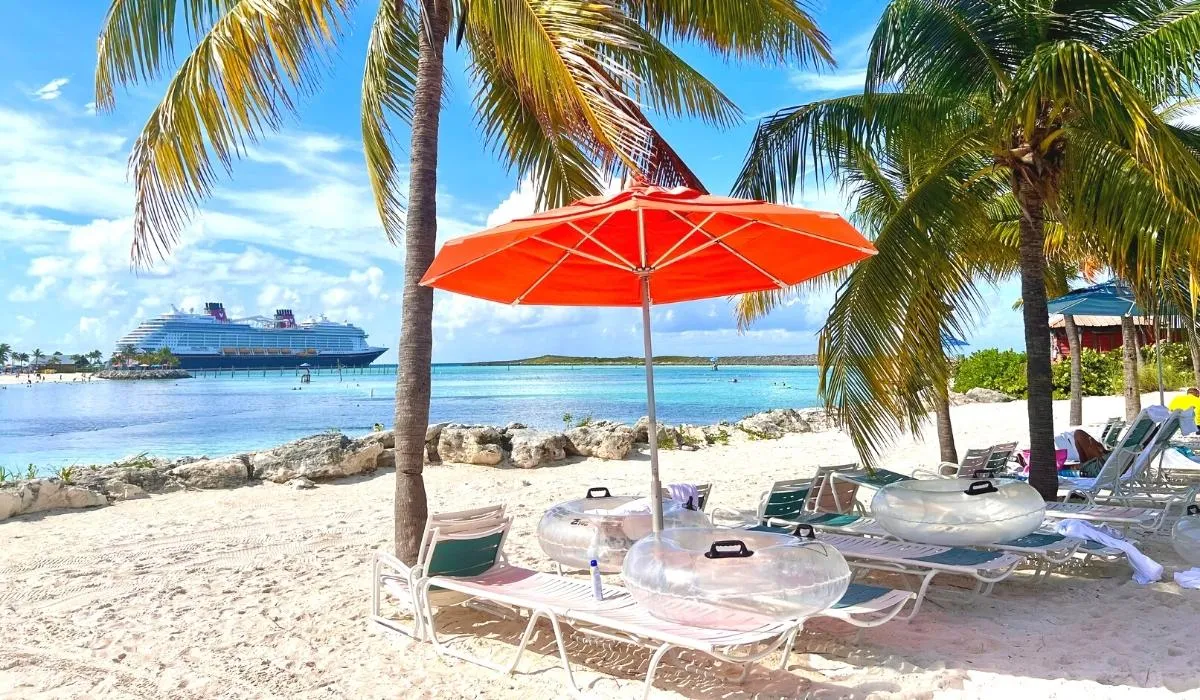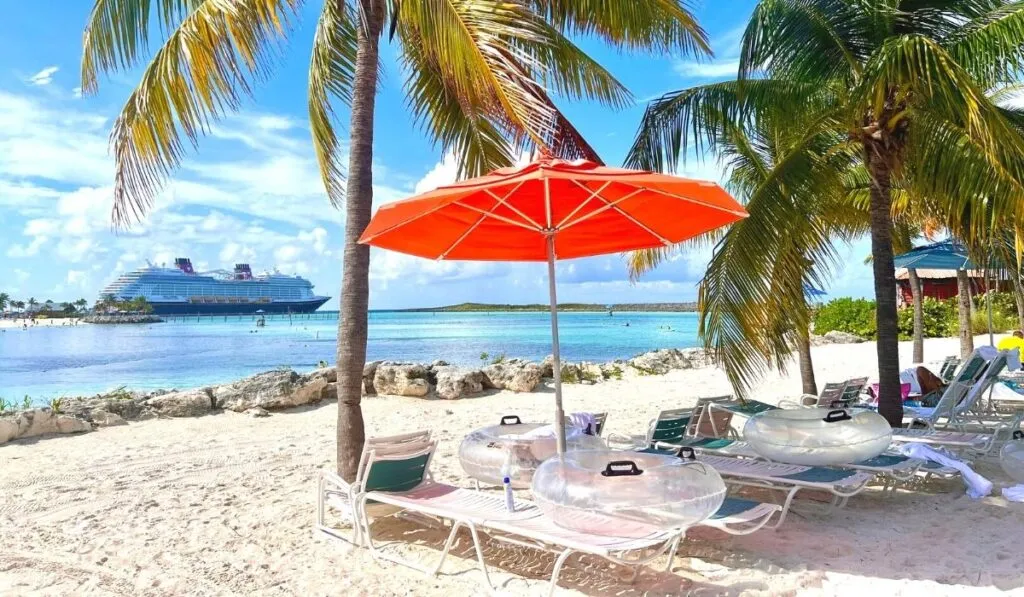 Serenity Bay Beach is the adults only area on Disney's Castaway Cay. This area is exclusively for guests 18+. While the adults are enjoying this slice of paradise, kids can enjoy supervised play in Scuttle's Cove and teens can hang out at their own exclusive space, the Hideout.
Cruisers can also partake in sports and various other complimentary activities during their day ashore, including basketball, beach volleyball, natural trails, and even a 5K. Additionally, families will love the Pelican Plunge water platform with two slides, a drench bucket, and water cannons.
Of course, there's also shopping and various shore excursions available. From bike rentals, to kayaks, to a Stingray Adventure and more, cruisers will have endless options to enjoy a day of fun in the sun.
After working up an appetite, guests can enjoy a complimentary BBQ lunch or grab a beverage at one of the bars scattered throughout the island.
MSC Cruises' Ocean Cay Marine Reserve
MSC Cruises' Ocean Cay Marine Reserve is the newest cruise line private island in the Bahamas. Ocean Cay is located about 20 miles from Bimini and can only be reached by booking an MSC cruise that calls on this private resort. While somewhat less developed than some of these other destinations, there is still plenty to do while visiting Ocean Cay.
This exclusive destination features 8 sandy beaches, teeming marine life, massage huts on the beach, authentic Bahamian cuisine, tropical cocktails, a Bahamian shopping village, and more.
Thankfully, there is a pier so guests can simply walk ashore to discover the pristine natural beauty of the area. There is also an area exclusively for Yacht Club guests.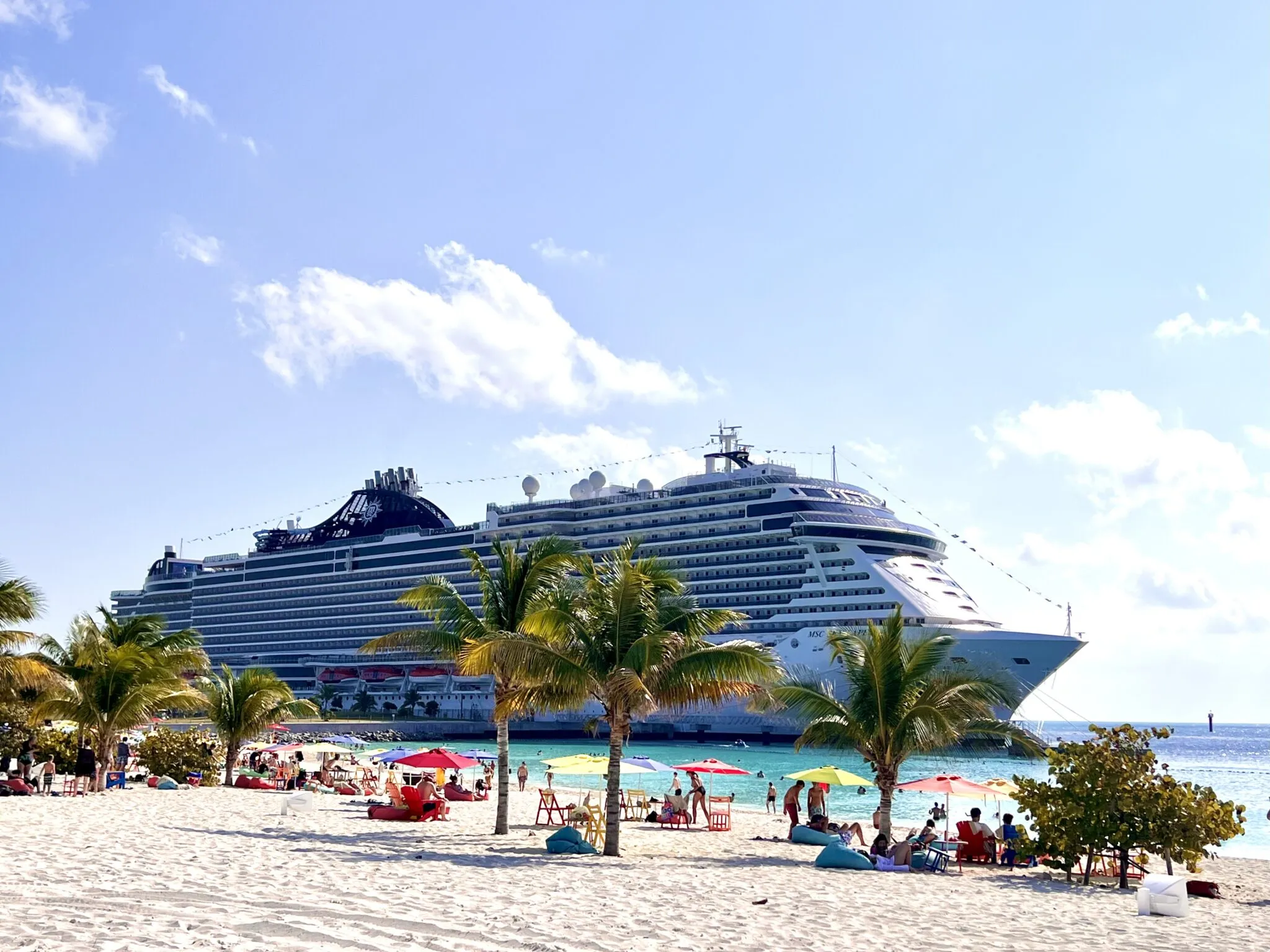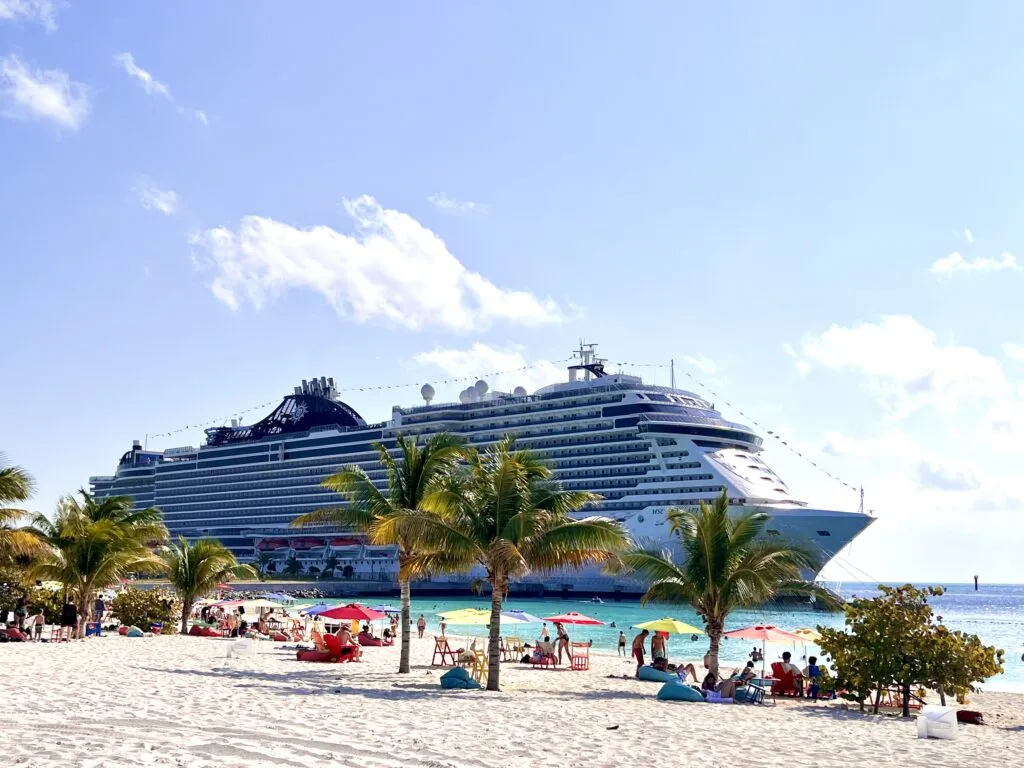 While ashore, guests can rent watersports equipment, go snorkeling, take a guided tour, or even climb the iconic Lighthouse for panoramic views of the island. There's even Junkanoo parades and an evening lighthouse show.
The Seakers Food Court is Ocean Cay's BBQ buffet with items like hamburgers, salads, and other Caribbean offerings. There are a few food trucks scattered around the island as well for a quick bite to eat. Of course, cruise passengers can also grab a drink at one of the many bars around the resort. Perhaps the most eye-catching bar is the Lighthouse Bar.
The good news is that your drink package and WiFi will work ashore on Ocean Cay. However, it's important to note that the coffee and ice cream at the Smiling Fish are not included.
In keeping with the cruise line's eco-friendly mission, there are also plans to open a conservation center on the island including a coral nursery and educational facilities.
Virgin Voyages Beach Club at Bimini
The Beach Club at Bimini is Virgin Voyages private resort in the Bahamas. In partnership with Resorts World, Virgin Voyages has exclusive access to this beach club whenever they have a ship in port. On alternate days, cruise passengers from other line's may be able to purchase Beach Club passes from Resorts World.
This exclusive 4.5 acre resort in the Bahamas overlooks the ocean and offers expansive lagoon-style pools. So, you can choose to spend your day on the beach or lounging by the pool. Either way, there are plenty of complimentary hammocks, loungers, and comfy furniture to relax, as well as private poolside and beach-side cabanas to rent. There's also an exclusive area for RockStar Suite guests.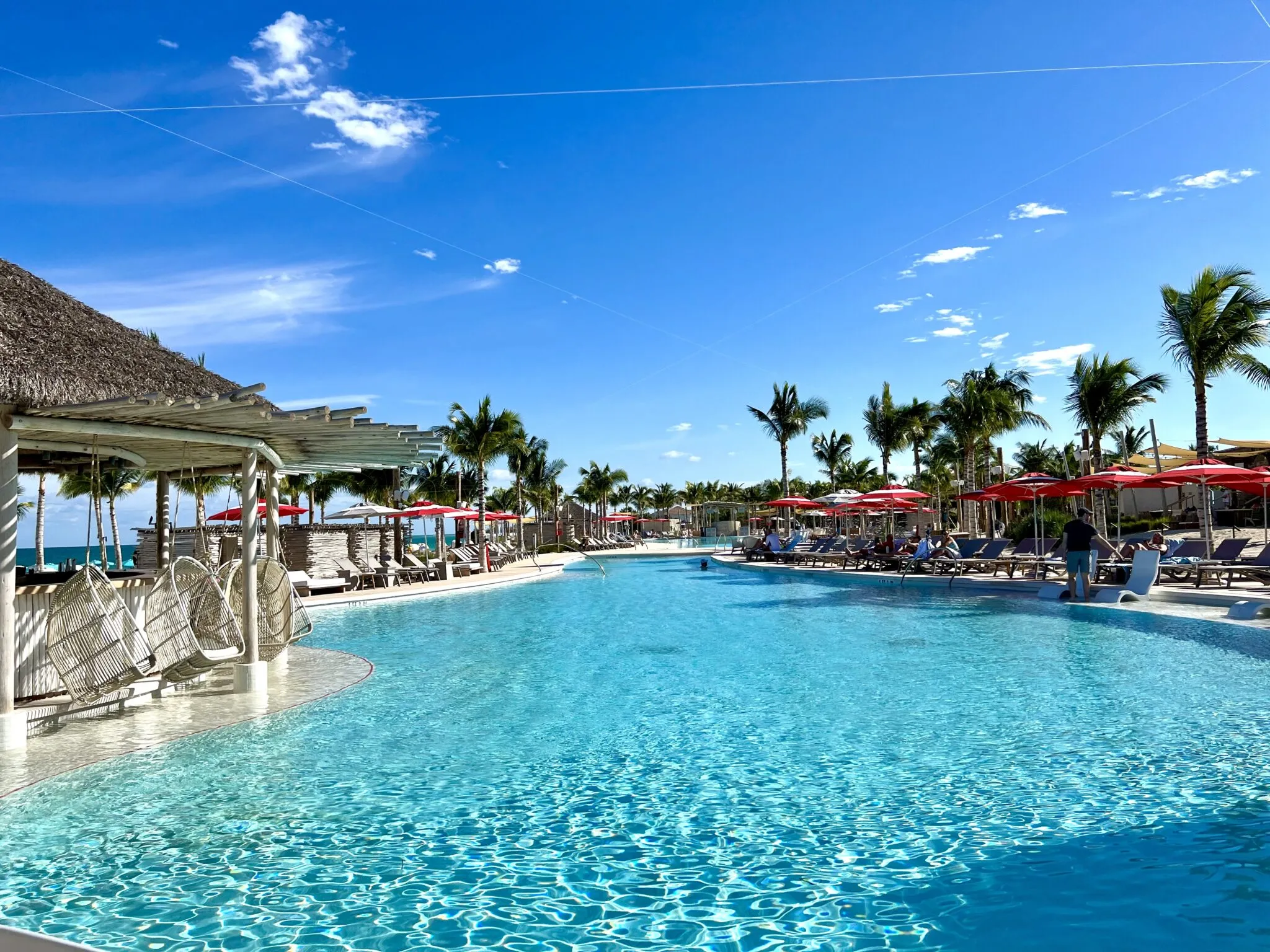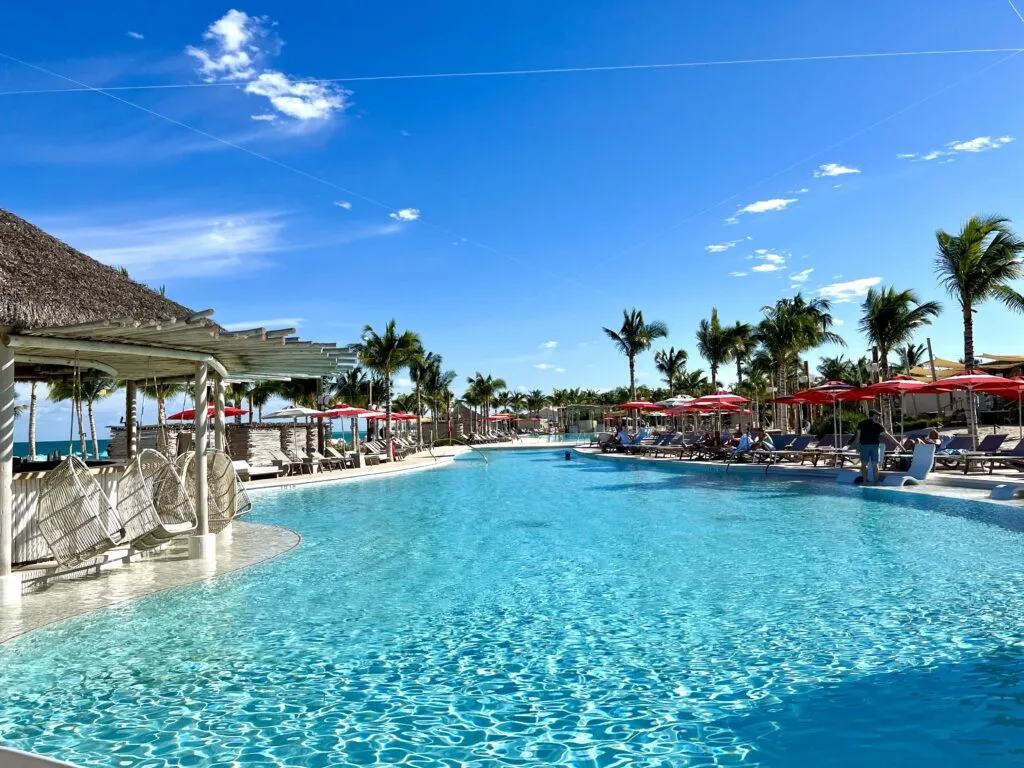 While you can technically walk to the Beach Club at Bimini, it is a bit of a hike. The best option is to hop onboard one of the trams that run between the cruise ship pier and the resort. These trams run continuously throughout the day, so you shouldn't have to wait too long for one to arrive.
Like most cruise line private islands, the Beach Club offers complimentary food options and three bars including a swim-up bar in one of the lagoon pools. The BBQ buffet features a variety of Caribbean-inspired dishes, but don't expect to find hamburgers or fries. Just like on the cruise ship, drinks will cost extra at the Beach Club. However, if you have a Bar Tab, it can be used on the resort.
The energy at the Club transforms throughout the day from relaxing and rejuvenating, to DJ-led pool parties, to beach bonfires to close out the evening. If you are looking for something other than a pool party scene, there are watersport rentals and excursions, or you can freely explore Bimini on your own.
Luckily, all of Virgin's Caribbean itineraries visit the Beach Club at Bimini with extended time in port. Thus, you will have plenty of time to enjoy all there is to do.
Other Experiences for Cruise Ship Passengers
In addition to the above mentioned cruise line private islands, there are also other experiences built in conjunction with the cruise lines in various destinations. These purpose-built cruise ports include:
SCORE BIG: Exclusive Rates for Your Next Cruise!
More Cruise Line Private Islands and Resorts Coming Soon
Lighthouse Point
Disney has begun work on a second island destination in the Bahamas. Located on the island of Eleuthera, Lighthouse Point will represent the natural beauty and rich culture of the Bahamas.
This relaxing beach escape is designed with families in mind. They can relax on pristine beaches, embark on active adventures, and discover the magic of the Bahamas alongside their favorite Disney characters.
Lighthouse Point will open for guests on select sailings in summer 2024. Details on signature entertainment, dining, retail, and excursions will be announced at a later date.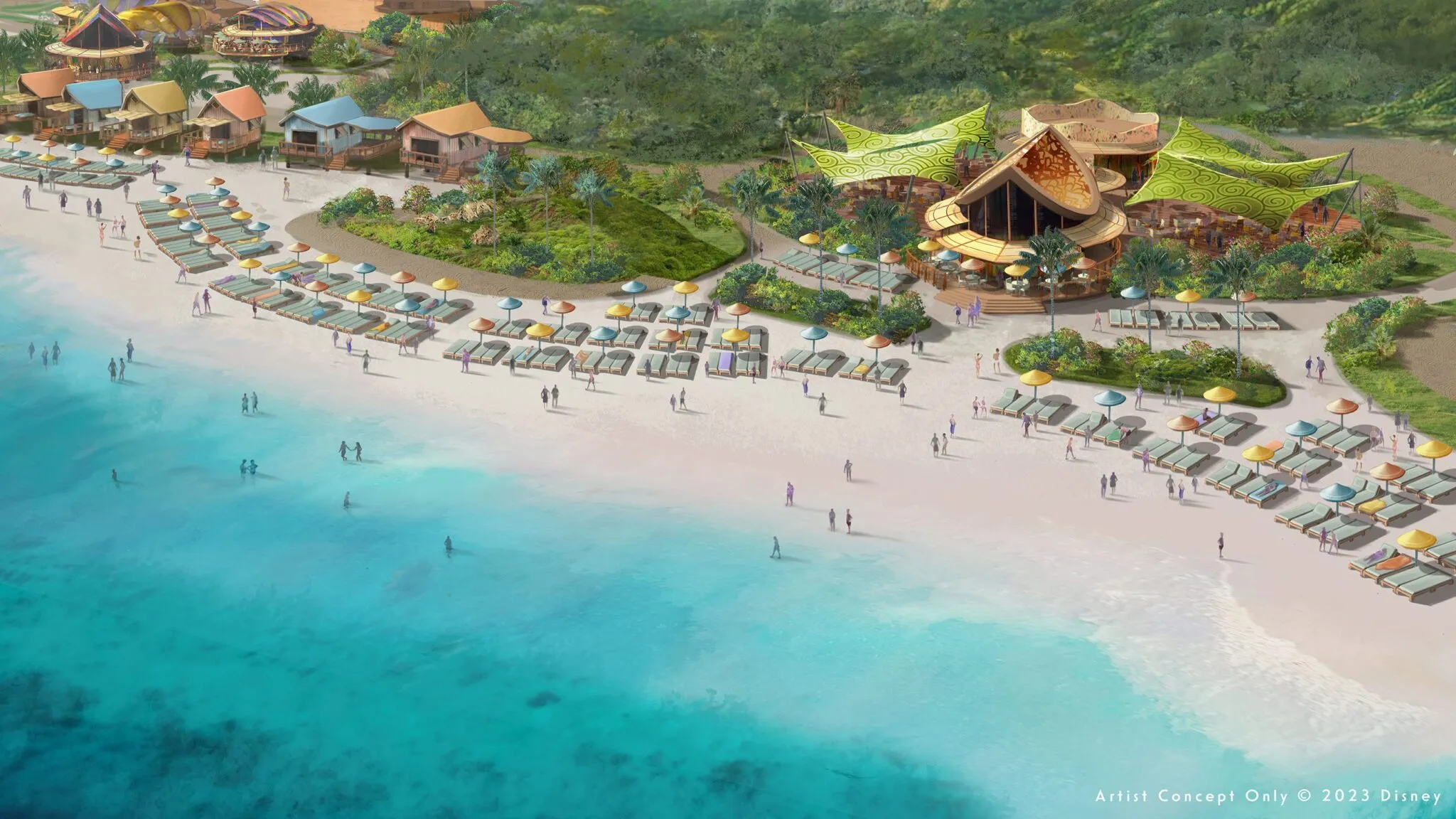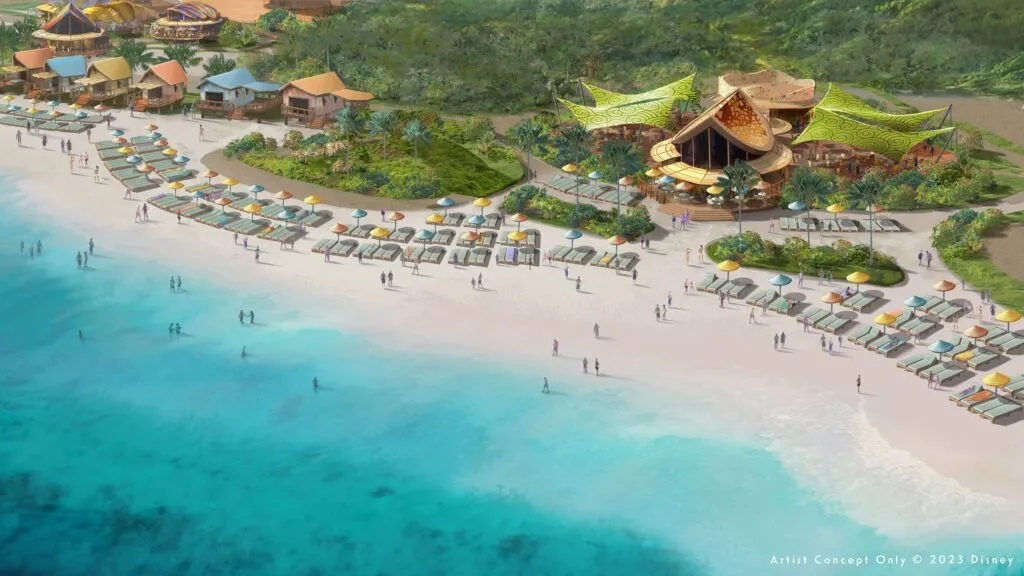 The Royal Beach Club at Paradise Island
The Royal Beach Club at Paradise Island is Royal Caribbean's new private destination coming to Nassau, Bahamas. This resort will combine the island's striking beaches with the cruise line's signature experiences to create the ultimate beach day.
The Royal Beach Club at Paradise Island will feature private cabanas, stunning pools, Bahamian fare, island-style barbecues, live music, local artisans, and more.
More details about The Royal Beach Club, set to open in 2025, are coming soon.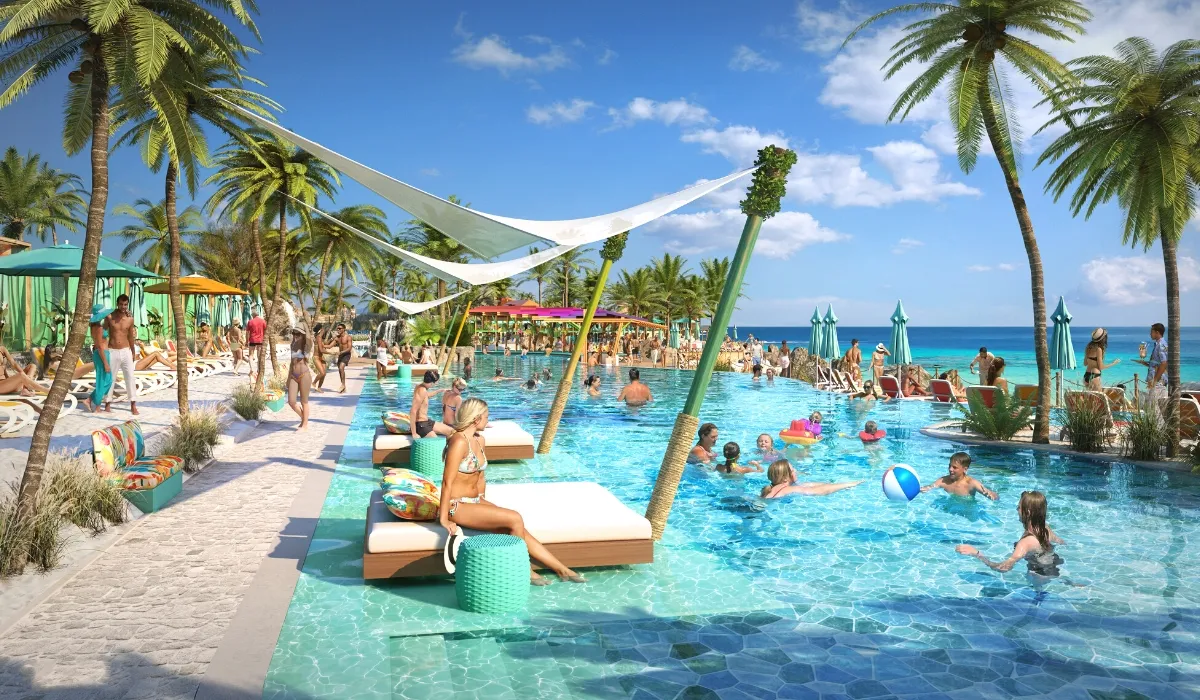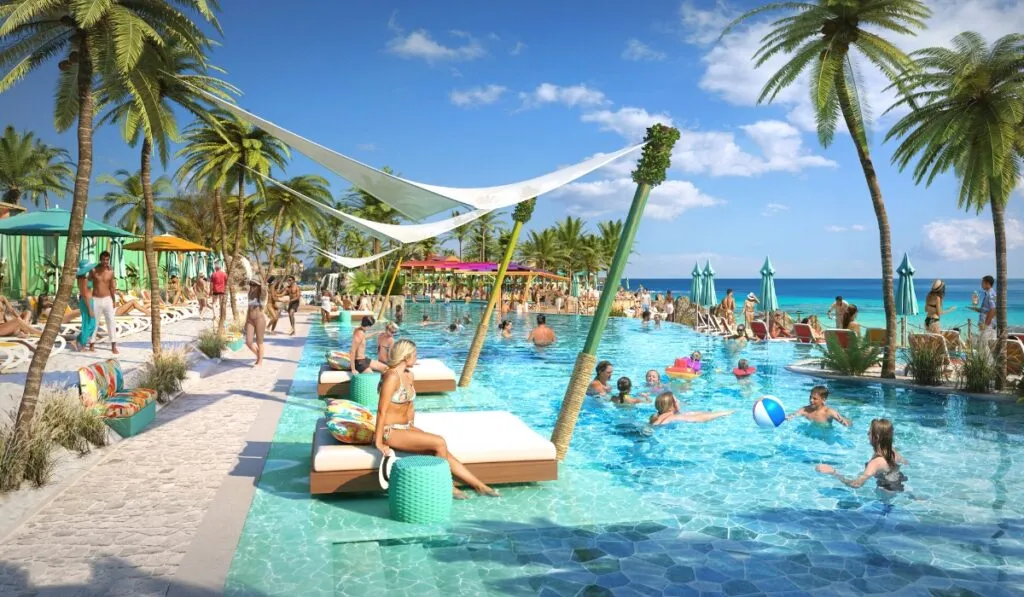 Celebration Key on Grand Bahama Island
Additionally, Carnival Cruise Line also recently broke ground on its new cruise port destination on Grand Bahama Island. The new Carnival Grand Bahama cruise port destination is being developed on the south side of the island and includes a pier able to accommodate up to two Excel-class ships at the same time.
Guests will be able to explore Grand Bahama via shore excursions, while the cruise port itself will also feature an area designated as a nature reserve, a pool, and many Bahamian-operated retail, food, and beverage options.
This port is expected to open in late 2024. Additional details on the design and features of the cruise port destination will be revealed over the coming months.
Comments
Do you enjoy visiting cruise line private islands? Which of these private destinations is your favorite? Drop us an anchor below to share your experiences visiting these exclusive retreats in the Bahamas and Caribbean.