For one set fare, a cruise vacation enables travelers to see multiple destinations while enjoying most of the onboard amenities. Although, what is included in each cruise line's standard price can fluctuate. To help cruisers planning a vacation with Royal Caribbean International, we have put together this list of What's Included on a Royal Caribbean cruise. See why we believe that a cruise is the best vacation value.


What's Included on a Royal Caribbean Cruise
Accommodations
Your cruise fare covers the cost of your stateroom for the duration of the trip. Included with your accommodations, you will have a friendly room attendant who will make up your room twice a day.
All Royal Caribbean ships offer a variety of room categories. Most ships offer interior cabins to suites, and everything in between. Choosing your cabin type will be the main driver of your total cruise costs. Royal Caribbean offers some very unique cabin categories. So, be sure to review all the options available on your particular ship.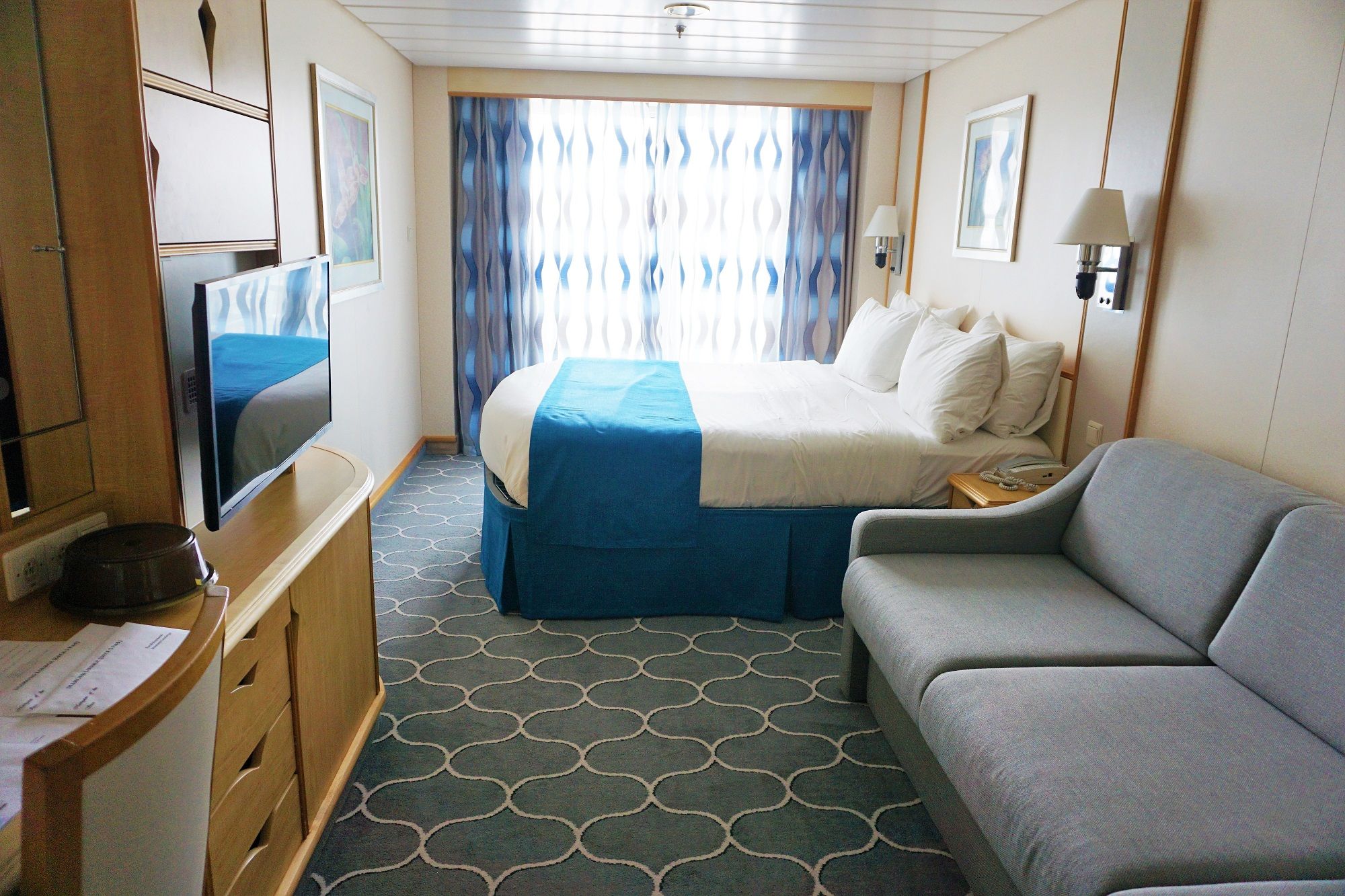 For instance, Royal Caribbean offers the only "virtual balcony" at sea. These floor to ceiling windows replicate the look and feel of a real balcony with live feeds of the current conditions outside. On Oasis-class ships, cruisers can get an inside view (or balcony) overlooking Central Park or the Boardwalk. Certain cabin categories will also entitle cruisers to additional perks. These may include special access to a private restaurant and lounge or even a Royal Genie.
Food and Dining
On every ship guests can enjoy three meals a day (with some snacks in between) at the casual Windjammer. This buffet is part of the cruise fare and offers a variety of menu items morning, noon, and night.
Other casual and complimentary fare varies from ship to ship. These options can include Cafe Promenade, Sorrento's Pizza, Park Cafe, El Loco Fresh, the Dog House, Cafe Two70, Solarium Bistro, and more.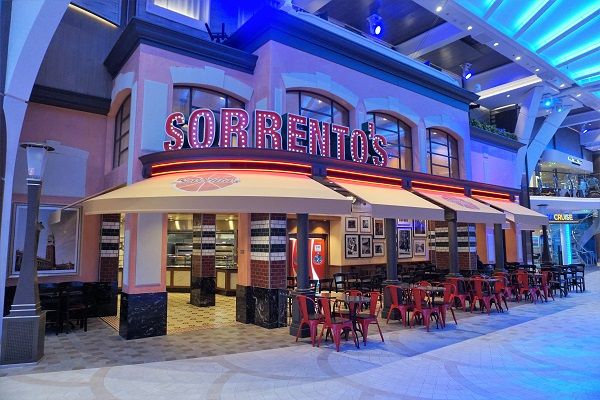 In addition to this casual fare, cruisers can also dine in the Main Dining Room. Royal Caribbean offers the traditional early and late dining as well as My Time Dining. This option gives guests more flexibility to dine whenever they want. The main dining room is always open for dinner, serving a different menu each night. The MDR is also open on select days/hours for a sit down breakfast and lunch.
When it comes to beverages on the ship, guests will have several options. Complimentary beverages include select drinks like iced tea, lemonade, filtered water, some juices, hot chocolate, and drip coffee/tea. While these items are complimentary, soda, bottled water, specialty coffee, and alcoholic beverages will cost extra money.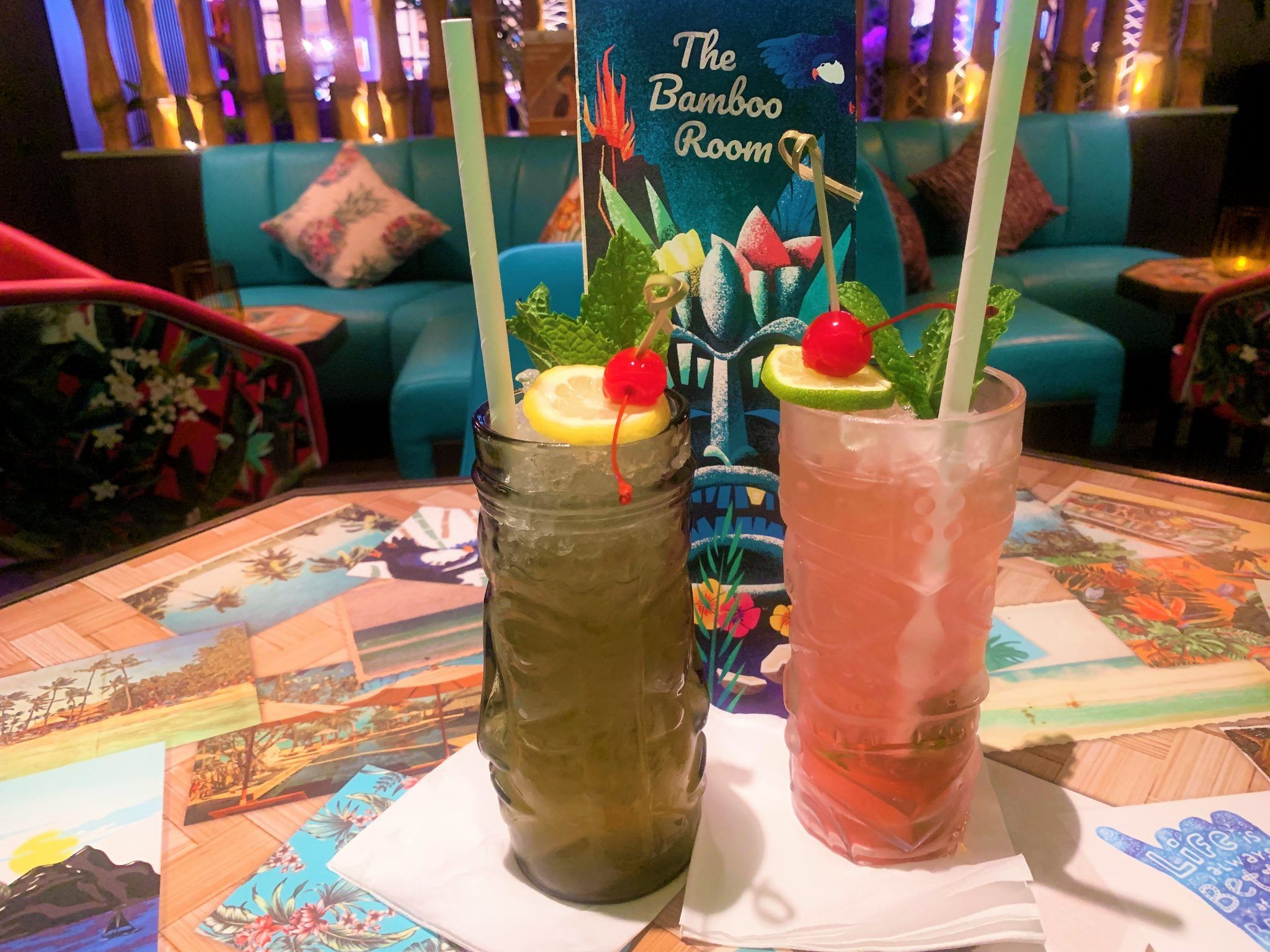 Remember, Royal Caribbean does allow guests to bring up to two bottles of wine per stateroom with them onboard the ship in a carry-on. However, corkage fees will apply if opened in a public venue.
Pool Deck and Sports Deck
All Royal Caribbean ships have a large pool deck for cruisers to enjoy at no additional cost. Offering at least one main pool, hot tubs, and loungers, the pool deck is the ideal place to spend your days at sea. We especially enjoy the Caribbean pool on the newly amplified ships.
Additionally, many ships in the fleet also offer other pool deck amenities like slides and a kid's aquapark. Royal Caribbean ships offer a variety of thrilling slides including the first boomerang slide at sea, the first ever head-first mat slide at sea, an aqua coaster, the Perfect Storm waterslides, and the 10-story Ultimate Abyss slide.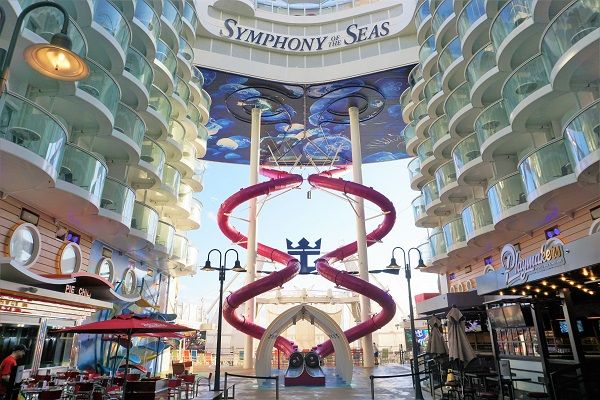 Further, most elements of the sports deck are included in the Royal Caribbean cruise fare as well. Activities like a basketball court, mini golf, the rock climbing wall, zipline, and the Flowrider surf simulator are all complimentary and fun for cruisers of all ages. Of course, there is also a jogging track and fitness center for those looking to stay active on a cruise.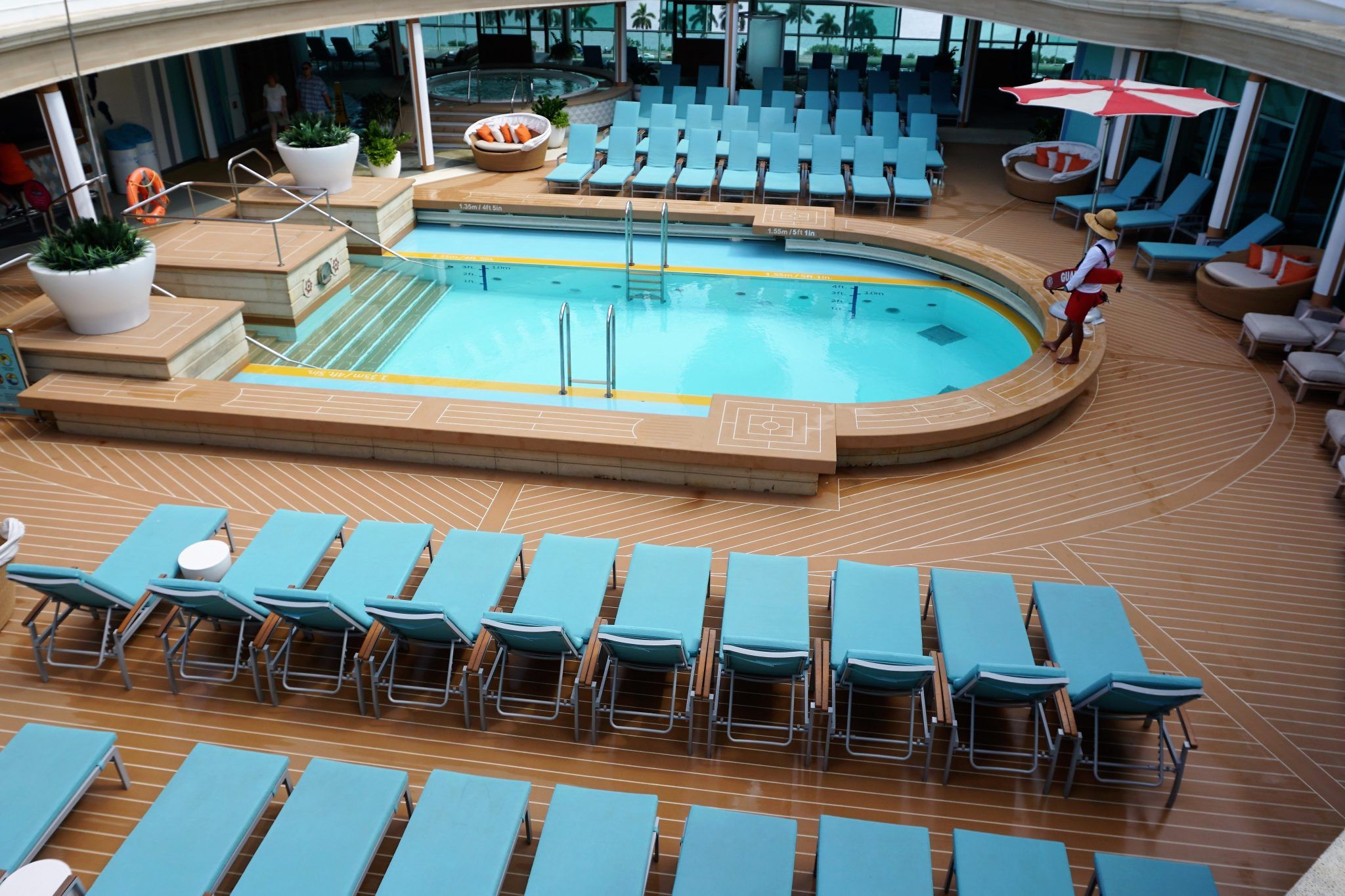 Finally, the Solarium is the adult's only area on Royal Caribbean cruise ships. Here, guests can relax in a tranquil area sans kids. Some Royal Caribbean ships have pools in the Solarium while some Oasis-class ships do not.


Onboard Activities
Modern cruise ships are a hub of activities and events. There is always something to do on a Royal Caribbean ship that will not cost anything.
There are various poolside activities, deck parties, and outdoor movie nights that occur when the weather permits. There are plenty of happening events on the indoor Royal Promenade as well. Not to mention, Royal Caribbean also hosts other events like trivia, game shows, and dance classes that are all included in the cruise fare. These events will be listed in the Cruise Compass left in your room each evening. So, be sure to check for the exact events occurring on your cruise.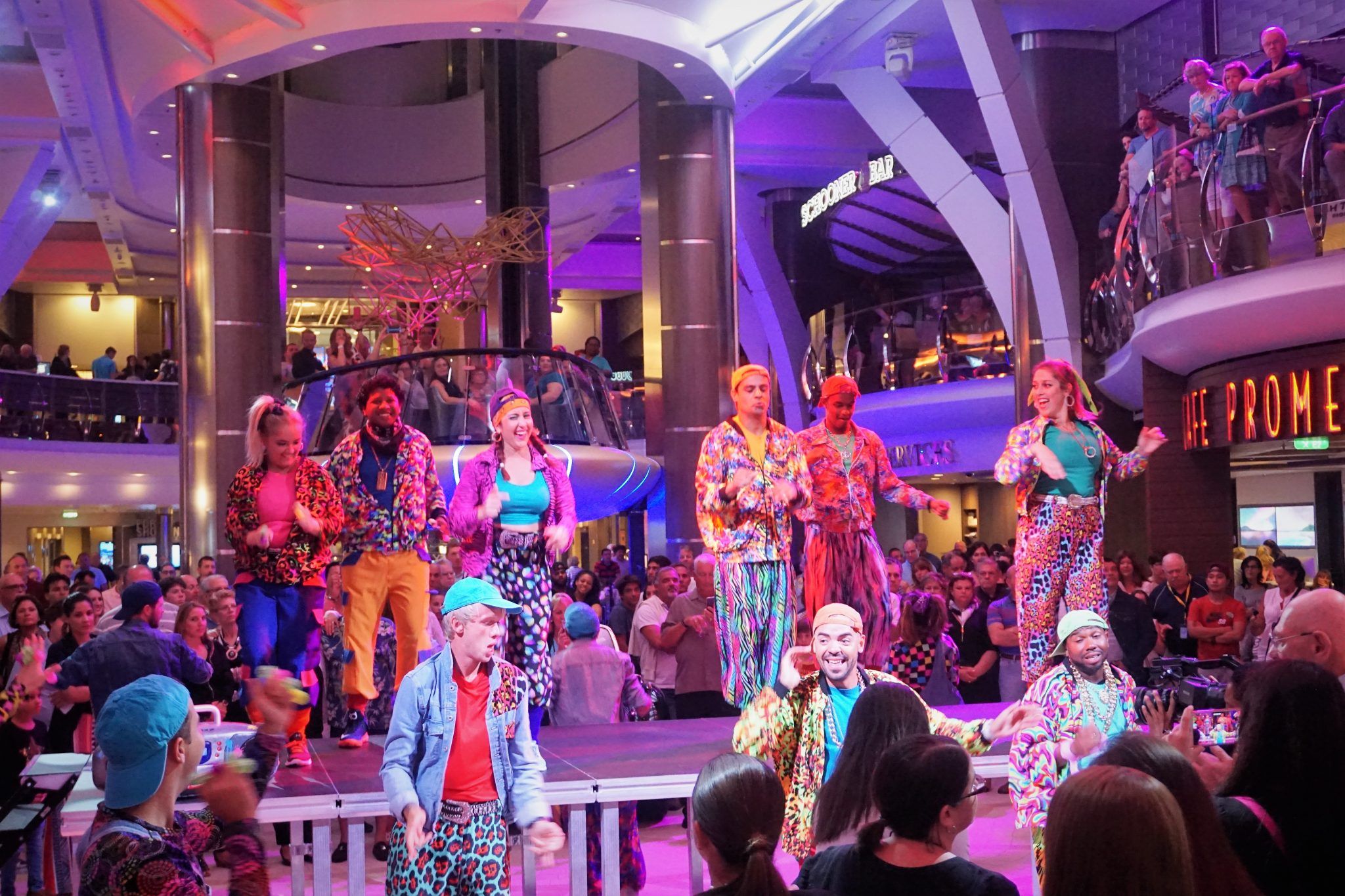 Some Royal Caribbean ships offer unique attractions that are not found on any other cruise line. Studio B is an ice skating rink that is home to a variety of production shows. In addition to featuring world-class skaters, you too can lace up some skates at this venue during open skating sessions on select days. Further, Studio B sometimes doubles as a glow in the dark laser tag arena that is also free for all guests to enjoy.
Quantum-class ships offer North Star, an aerial gondola that rises up to 300 feet above sea level for a bird's eye view of the ocean or the local port. These ships also feature Ricpord by iFLY, an indoor skydiving simulator that is one of the most hair-raising experiences at sea. Wait, there's more! How about the SeaPlex where you can roller skate or take a spin on some bumper cars.
Additionally, some Royal Caribbean cruise ships feature the complimentary Sky Pad, an outdoor bungee trampoline experience.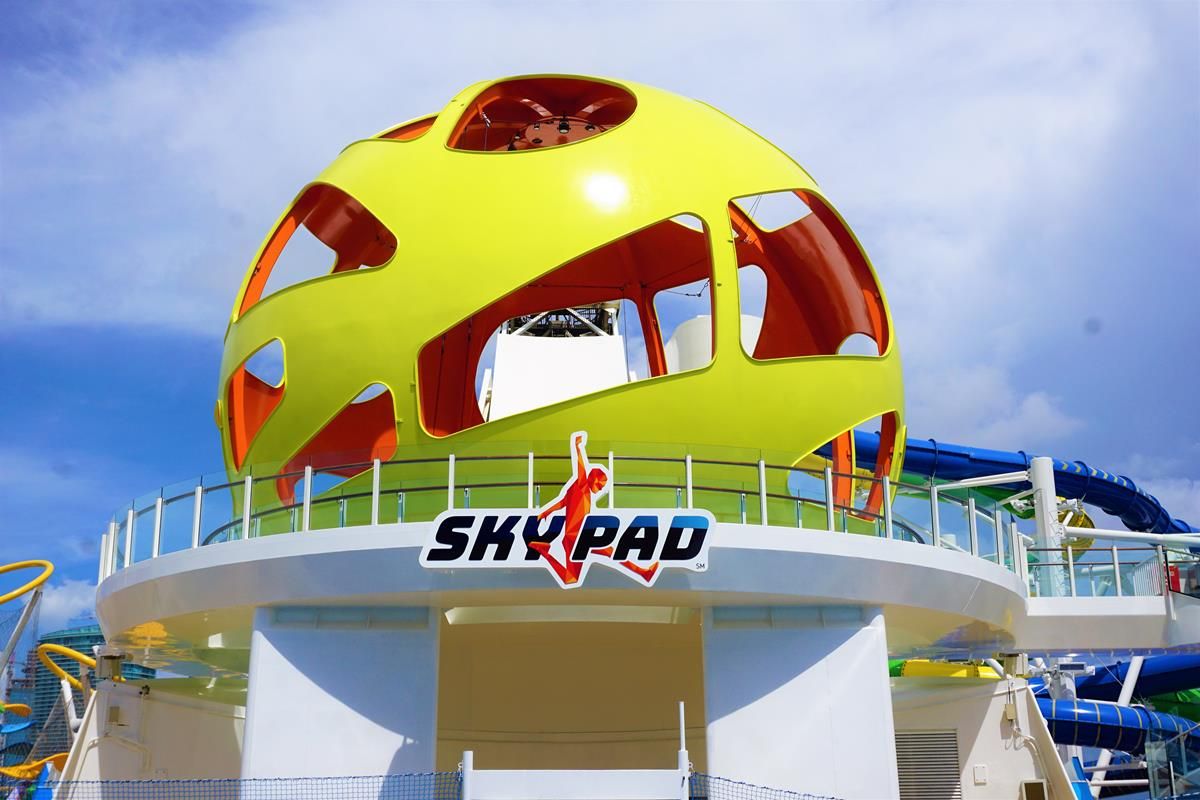 And the best part is that all of these top-notch amenities are included in the price of the Royal Caribbean cruise fare. Some attractions are limited to one time per person and require advanced reservations.
Nightly Entertainment
At night, your Royal Caribbean ship comes alive with plenty of entertainment options. In the ship's main theater, there will be headliner acts, revue shows featuring a cast of singers and dancers, and even Broadway productions. With hits like Hairspray, Grease, and CATS, Royal Caribbean has some of the best entertainment at sea, and it is all complimentary. Of note, reservations are required for some shows depending on the ship.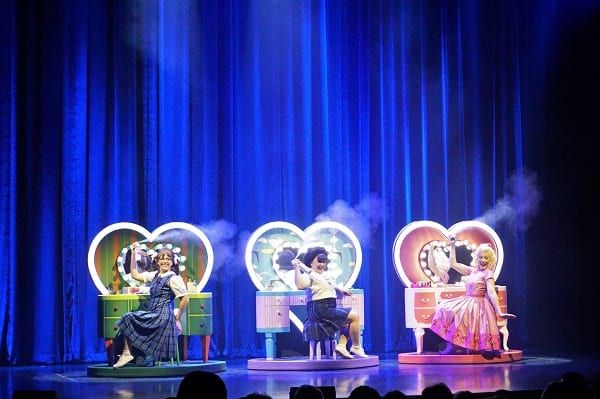 If that's not enough, Royal Caribbean ships also offer other one of a kind entertainment venues on select ships. On the four Oasis-class ships, you will find the Aqua Theater. This outdoor venue features a high-tech pool for unique water-based entertainment with divers, synchronized swimmers, and other acrobatics.
On Quantum-class ships, the Music Hall is where you can let your hair down. Groove to your favorite rock and pop music by first class tribute bands playing throughout the cruise. While the Two70 Theater features signature production shows that captivate audiences with a mix of the latest digital technology, music, dancing, and acrobatic performances.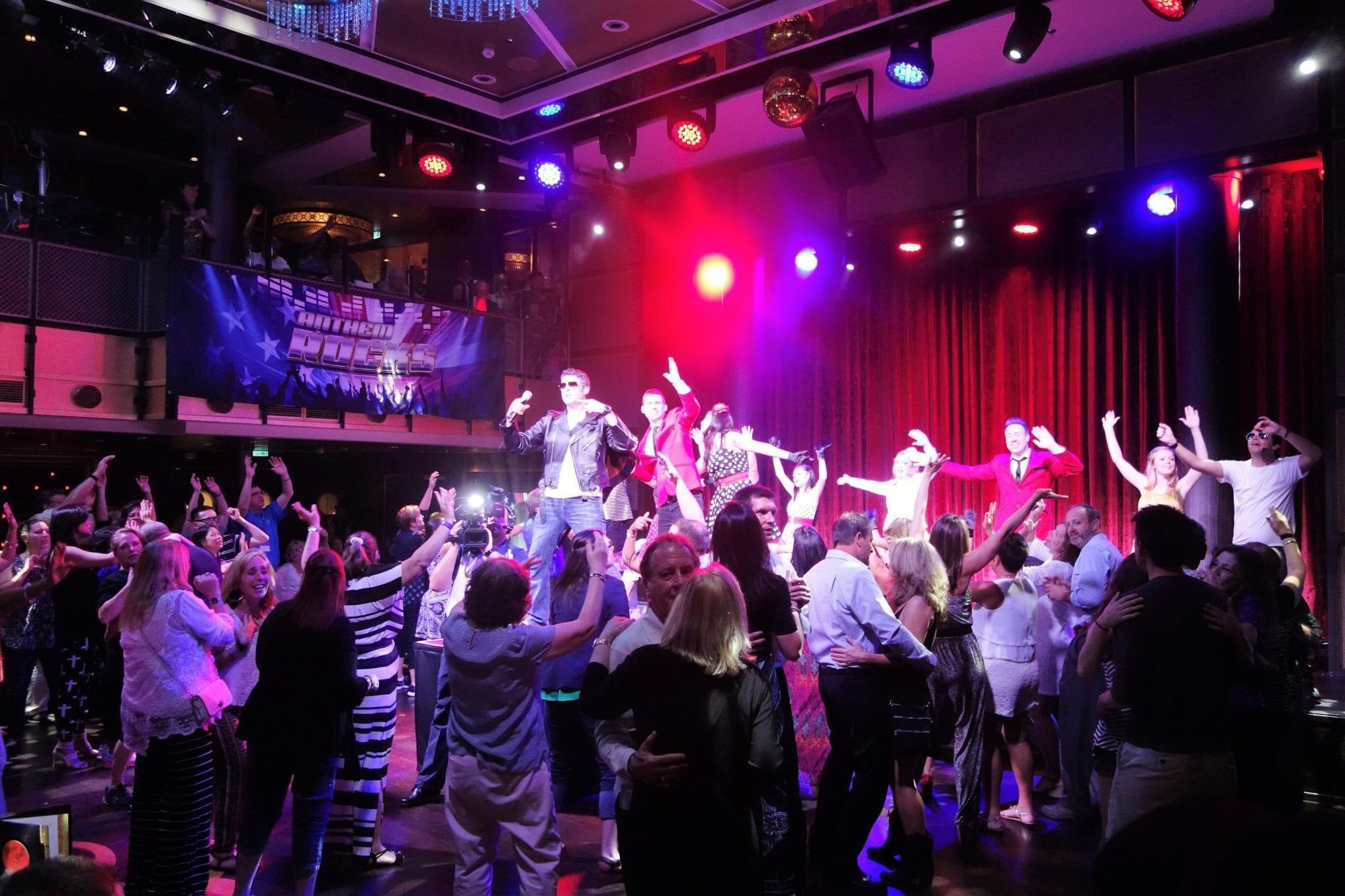 There's also Studio B that hosts regular ice skating shows, the Attic that hosts comedy shows on select ships, and dedicated venues for karaoke, sporting events, and live music throughout the ship.
Youth Programs
Included in the cruise fare on Royal Caribbean are youth drop-off programs for children aged 3-17 years old. Adventure Ocean allows your kids to engage in educational and fun activities during the cruise that are age appropriate. With groups consisting of ages 3-5 years, 6-8 years, and 9-11 years, your little ones will be supervised by trained staff as they participate in various edutainment offerings. There are also activities for teens 12-14 years and 15-17 years old. From sports tournaments, to scavenger hunts, and video games, they will never want to leave. There are additional services offered for babies and tots, but these will cost an additional fee.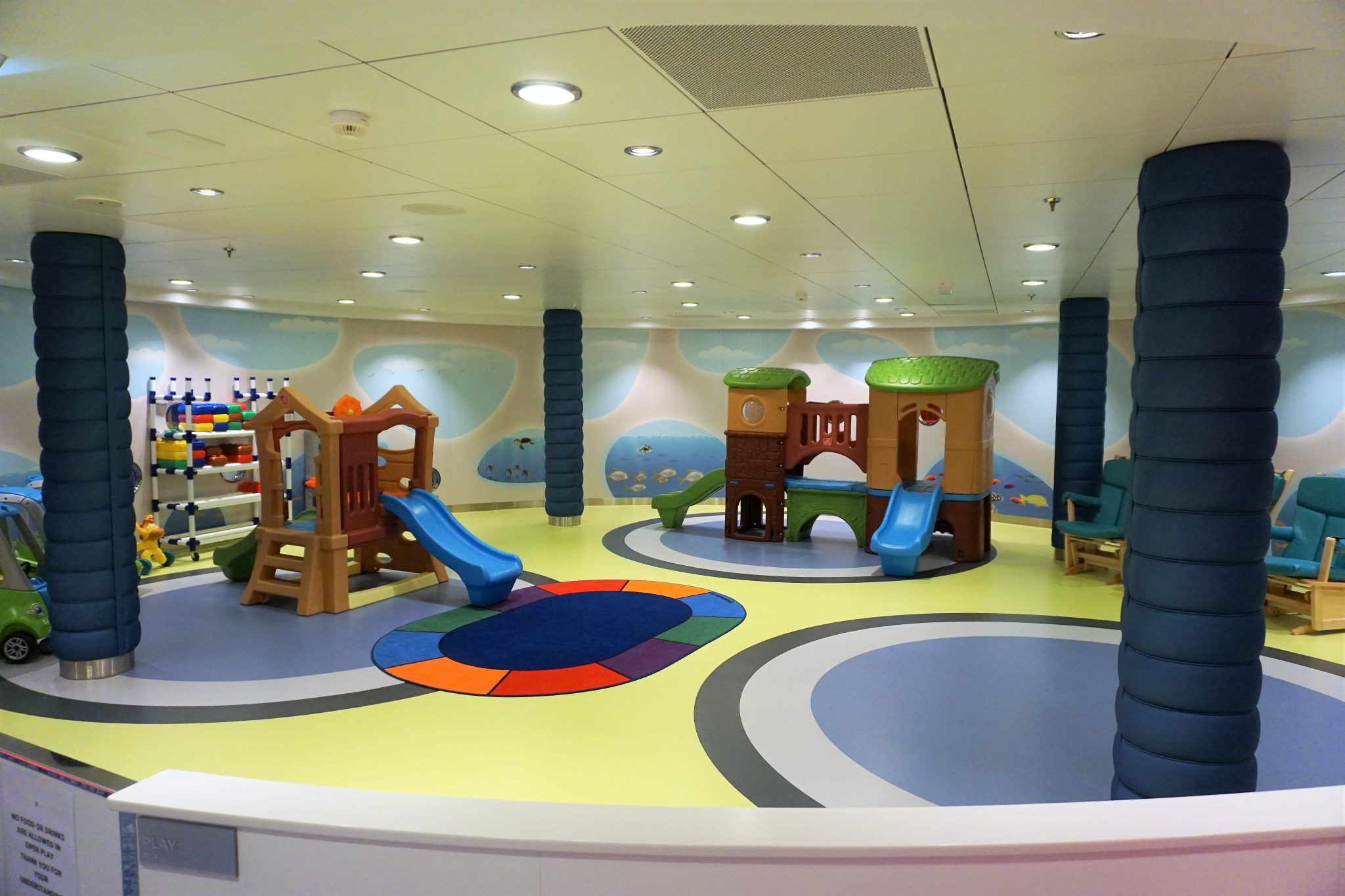 What is Not Included in Your Cruise Fare
While cruises do provide a great vacation value, not everything will be covered in the cruise fare. On a Royal Caribbean cruise, there are other amenities that can be purchased if cruisers choose to do so.
Shore Excursions
Your cruise ship will transport you to several exciting ports of call. Unfortunately, shore excursions are not part of the base fare. These tours and additional experiences can be booked through the cruise line or through third part retailers at additional costs. Shore excursions can range from inexpensive walking tours to several hundreds of dollars for unique experiences.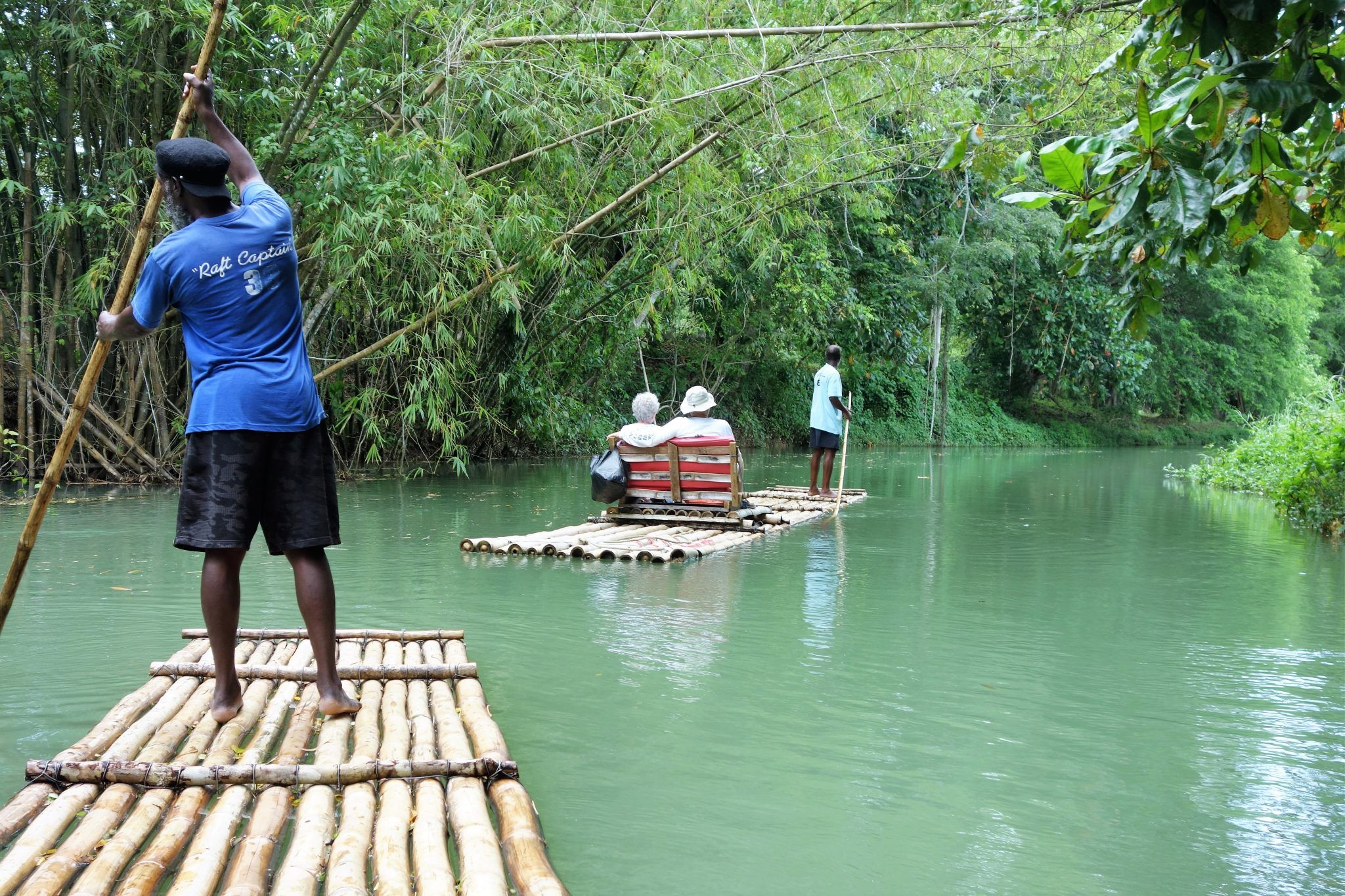 Alcoholic and Some Non-Alcoholic Beverages
As mentioned previously, alcoholic beverages, as well as some non-alcoholic beverages, are not part of the cruise fare. On Royal Caribbean ships, beer, wine, cocktails, soda, specialty coffee and tea, and bottled water will all cost additional fees. Depending on your drinking habits, purchasing one of the beverage packages available might be a better option than paying the a la carte pricing.
Royal Caribbean now offers one alcoholic package called the Deluxe Beverage Package. The offerings in this package include most beers, wines, and cocktails $13 or less. There is also a Classic Soda package and the Royal Refreshment package which covers most non-alcoholic drinks.
Related Post: Royal Caribbean Drink Package Guide
Specialty Dining
While there are many dining venues covered in the cruise fare, Royal Caribbean also offers up-charge dining options. Specialty venues like Chops Grille, Izumi, Wonderland, Hooked Seafood, Playmakers, and the new Portside BBQ will all cost an additional fee. Some of these restaurants have a flat-fee cover charge while others are a la carte pricing.
If you do want to dine at one or more of these restaurants, reservations are highly recommended and can be made prior to your sailing on the Royal Caribbean website. Reservations can also be made on the ship, but space will be limited.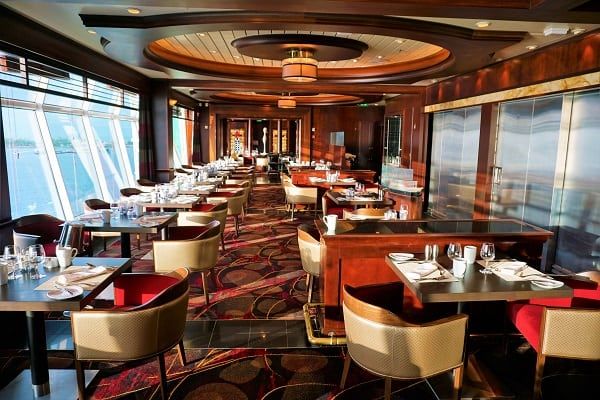 Other onboard venues like Starbucks, Ben & Jerry's, and Johnny Rockets are also not included in your cruise fare. Starbucks is not included in any of the beverage packages either. Room service also has associated fees.
Some Entertainment and Onboard Activities
While there are several included activities and entertainment, many ships offer additional classes and activities that cost an up-charge. These can include Bingo, fitness classes, cocktail tastings, and onboard activities like escape rooms, video arcades, cooking classes, or all access tours. Spa treatments and access to the thermal suite are also an additional fee.

Of course, any shopping in the retail stores onboard the ship or gaming in the casino are all at your own expense as well.
Other Add-Ons
For you will need to purchase an internet package if you want to stay in touch with family and friends, WiFi is not part of the cruise fare. If you would like clothing washed or pressed, these laundry services will cost you extra money as well.
Other add-ons like the previously mentioned beverage packages or a dining package are additional fees. Likewise, so are photo packages, special celebration packages, and transportation to and from the cruise port.
Gratuities
Finally, there will be a daily service charge added to your onboard cruise account. These daily gratuities are currently $14.50 per person per day for standard staterooms and $17.50 for suite guests. These charges go towards the hardworking staff on the ship. Of course, you can always tip special crew members above and beyond this required amount. Of note, an 18% gratuity is automatically added to all beverages and spa purchases.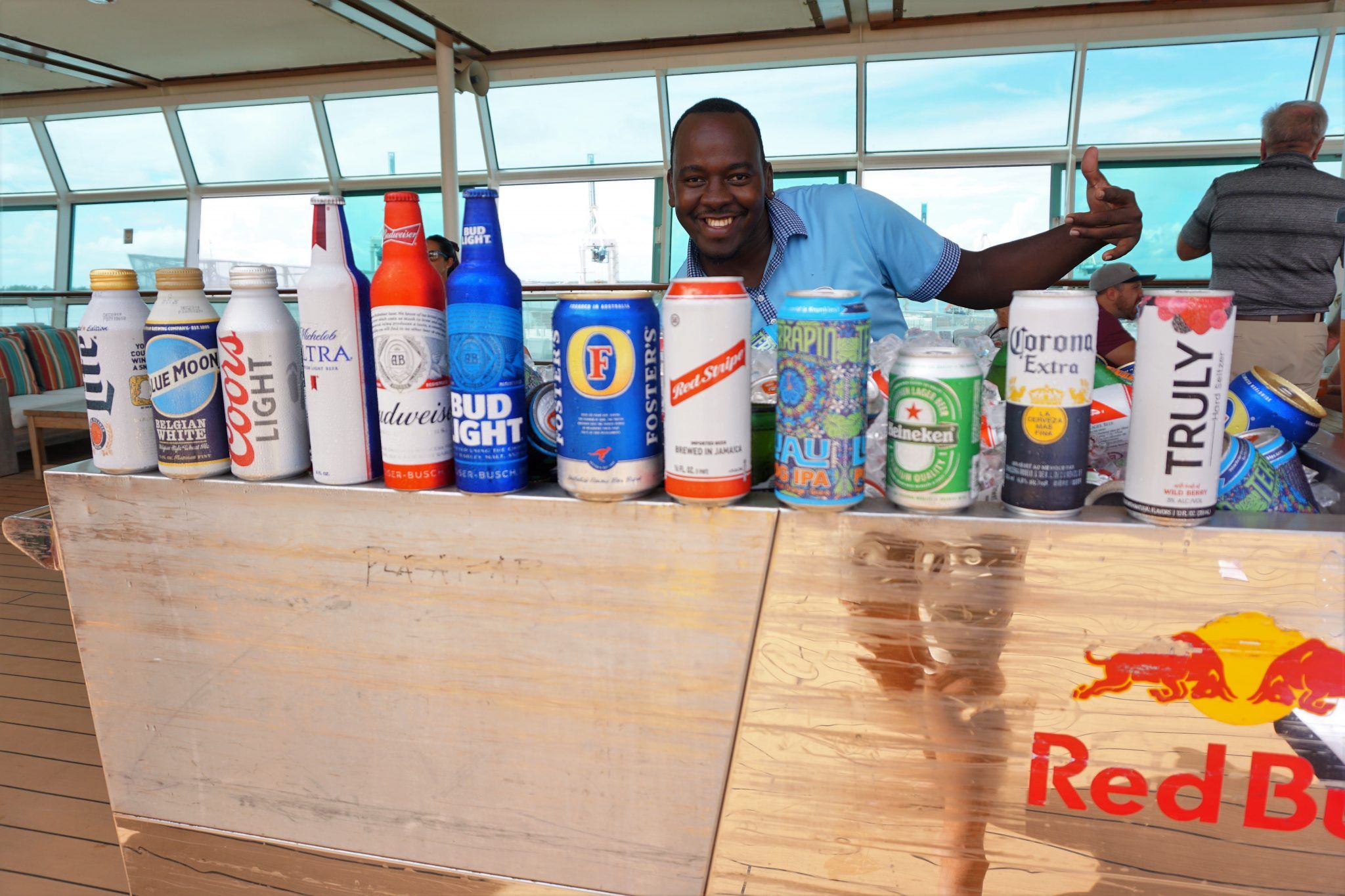 Comments
Have you sailed on a Royal Caribbean ship? What are your thoughts about what's included on a Royal Caribbean cruise (and what's not)? Drop us an anchor below to share your experiences cruising with this brand.