Recently, Royal Caribbean completely revamped its main dining room menus. These new dining room menus were launched earlier this year and can now be found on all Royal Caribbean cruise ships. If you want to know what's for dinner (and breakfast and lunch), we have copies of all these Royal Caribbean Main Dining room menus.
Royal Caribbean Main Dining Room Menus 2023
BRAND NEW VIDEO REVIEW OF THE NEW ROYAL CARIBBEAN MAIN DINING ROOM MENUS!
Royal Caribbean Main Dining Room Breakfast Menu
Currently, the main dining room breakfast menu on Royal Caribbean has not changed. It still contains a number of classic breakfast options. Among the specialties are French Toast and the breakfast burrito, along with other standard options like cereal, eggs, and continental items.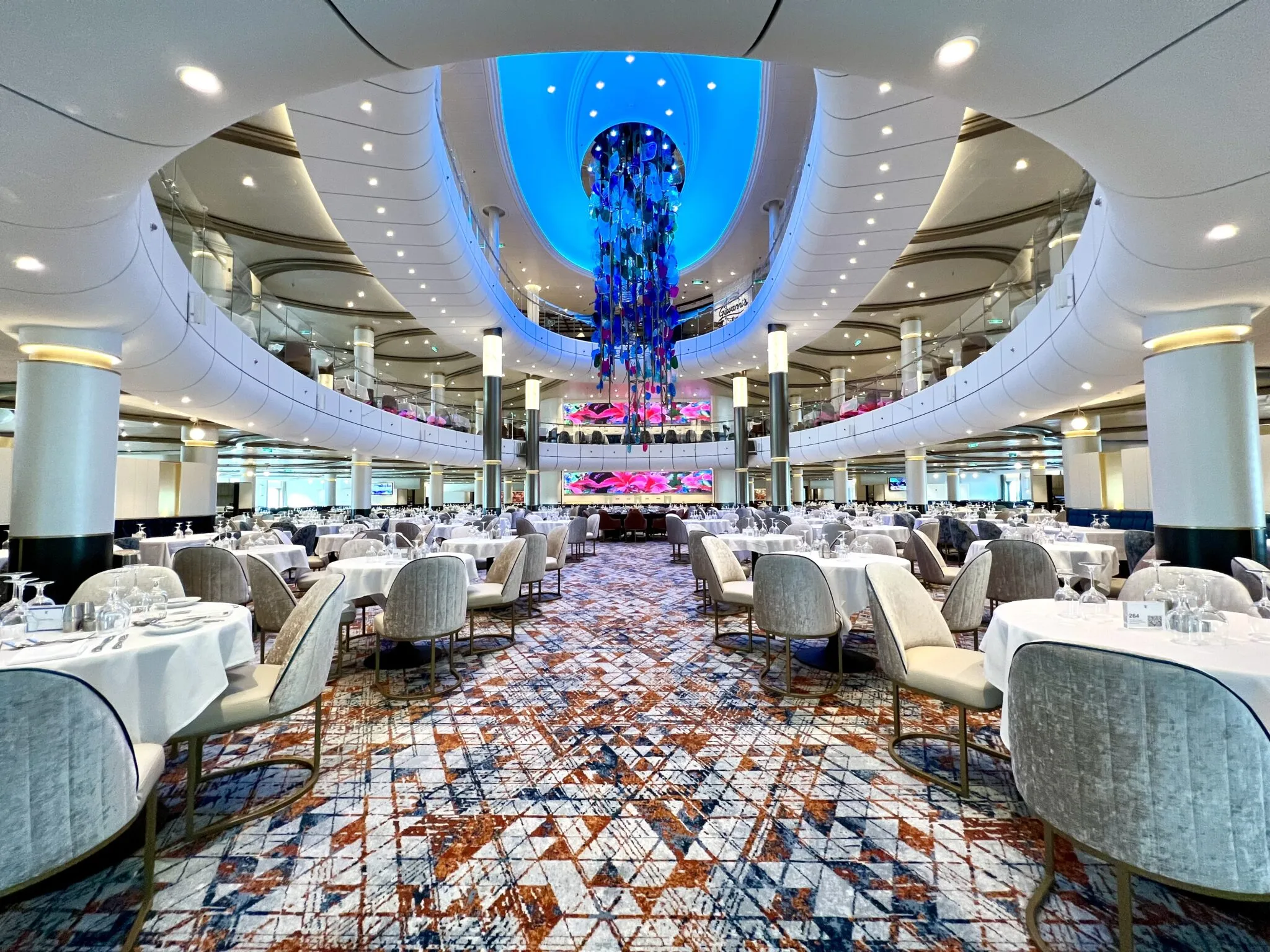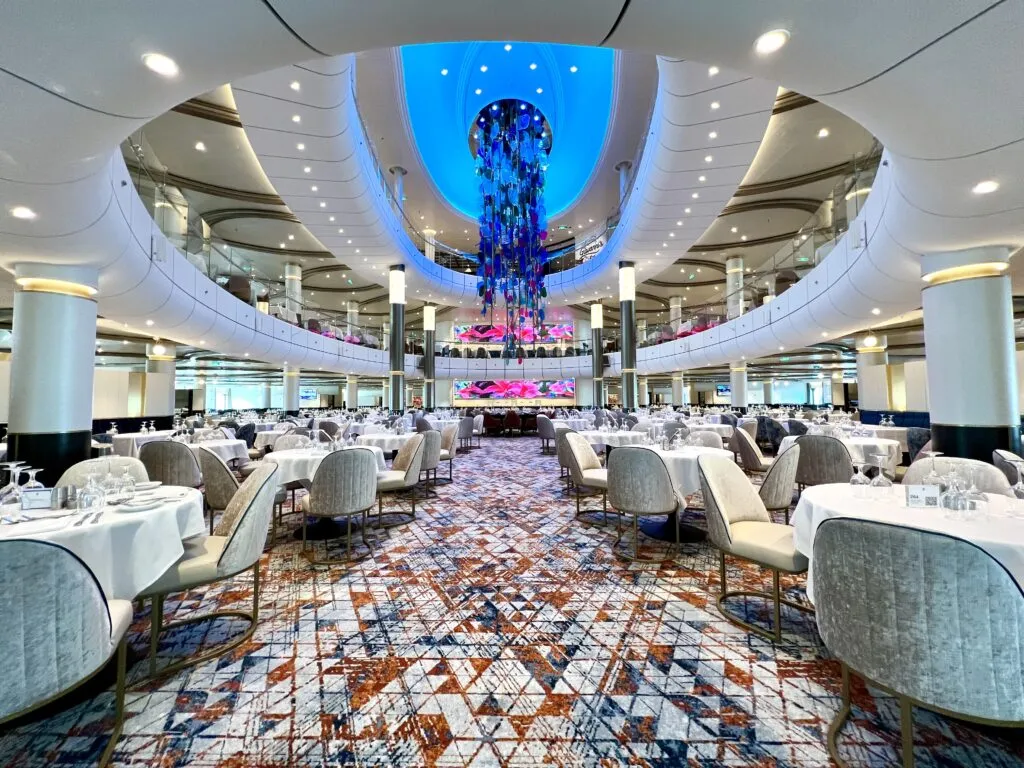 The dining times on Royal Caribbean ships do vary slightly based on ship and itinerary.
For breakfast, the main dining room typically opens between 7 AM and 8 AM and stays open for about 90 minutes. So, it typically closes between 8:30 AM and 9:30 AM.
CRUISE DEALS: BOOK NOW AND SAVE ON YOUR NEXT ROYAL CARIBBEAN CRUISE!
Royal Caribbean Main Dining Room Lunch Menus
On most itineraries, the main dining room hosts lunch on sea days and later port arrival days. On a typical 7-night cruise, this usually means lunch occurs twice in the main dining room.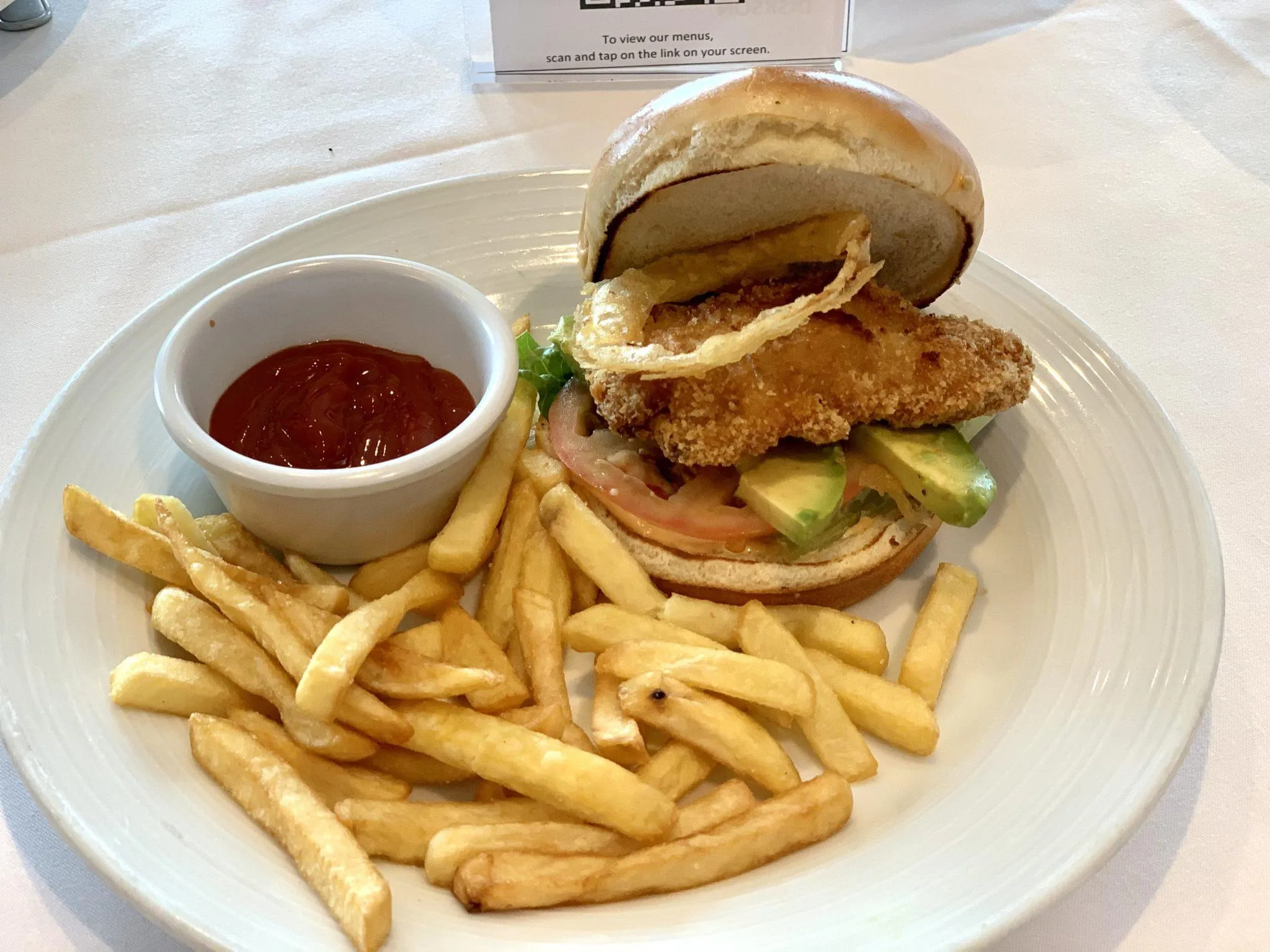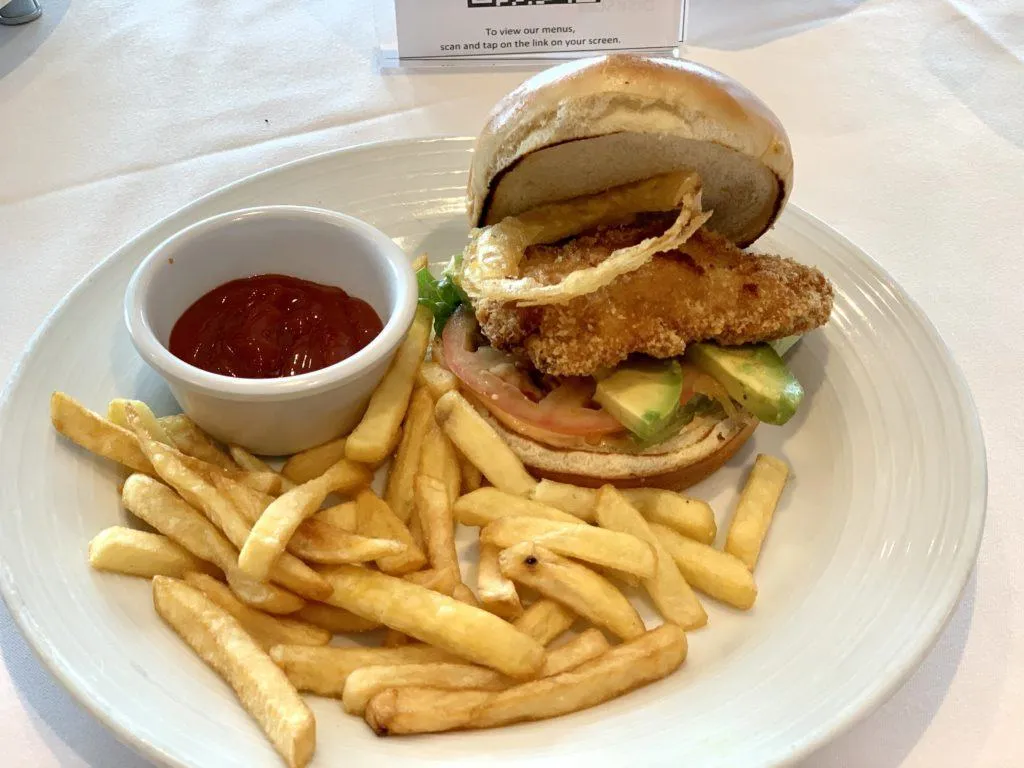 Similar to breakfast, these options have not changed with this latest menu update. Thus, these menus still offer classics selections, with spaghetti Bolognese, the Royal Chicken sandwich, and steak frites on both days.
Likewise, sit-down lunch in the main dining room is available for an hour and a half on sea days and late port of call days. Typically, the main dining room is open for lunch from about 11:30 AM to 1 PM.
Royal Caribbean Main Dining Room Dinner Menus
Unlike breakfast and lunch, the Royal Caribbean main dining room menus for dinner are considerably different from the previous version of menus.
Now, these new Royal Caribbean main dining room menus are themed. Each night, there is a new central focus across the starters, entrees, and desserts.
Welcome Aboard Dinner | A Taste of France | A Taste of Italy | A Taste of the Caribbean | A Taste of Mexico | The Royal Night | Bon Voyage
The rotation might change based on your itinerary, but all cruises should start with the Night 1 Welcome Aboard dinner.
For our 7-night Western Caribbean cruise, our remaining rotation included A Taste of France on Night 2, which was the first formal night. Then, the menus followed with a Taste of Italy on Night 3, Taste of the Caribbean on Night 4, and Taste of Mexico on Night 5.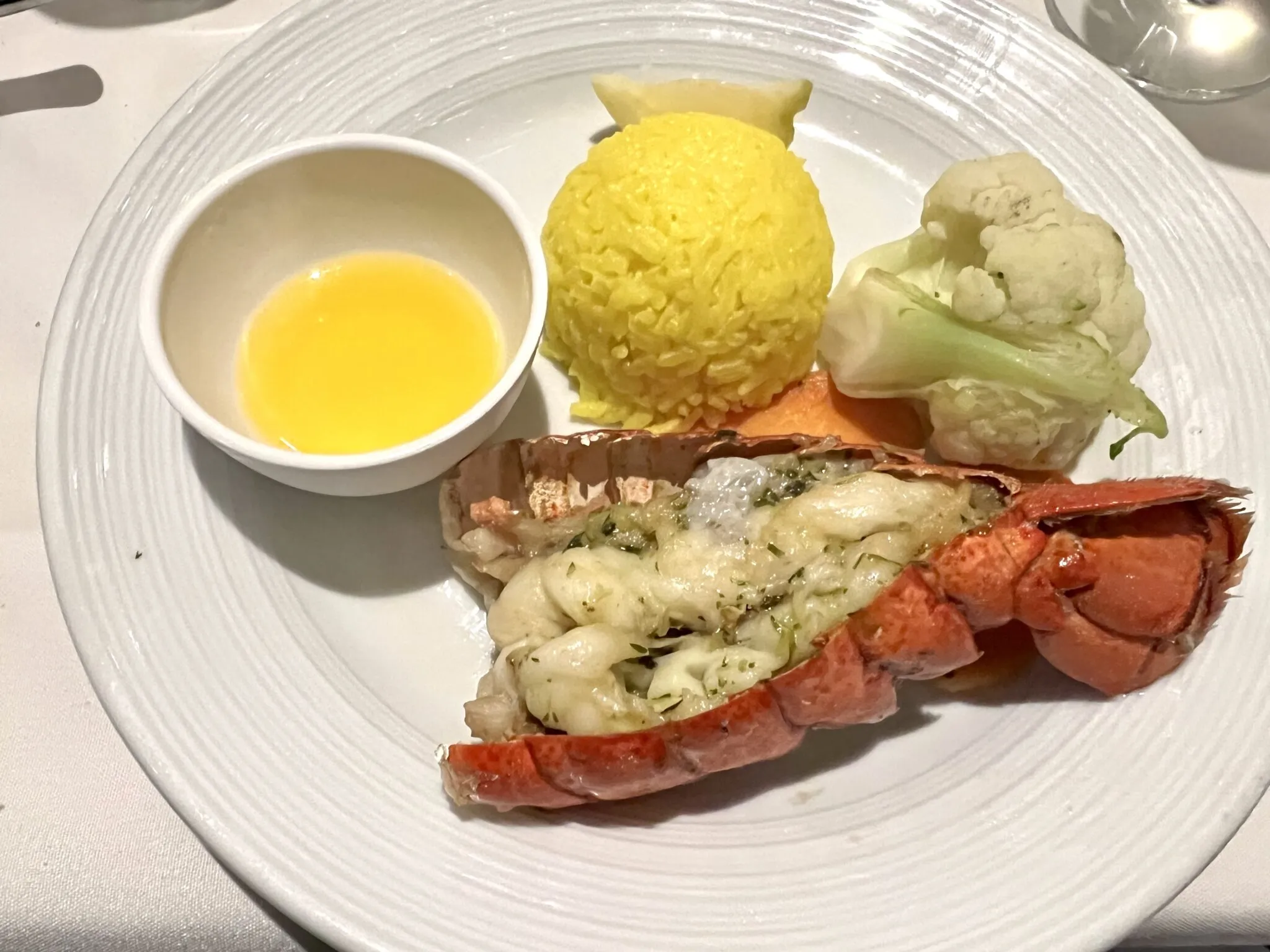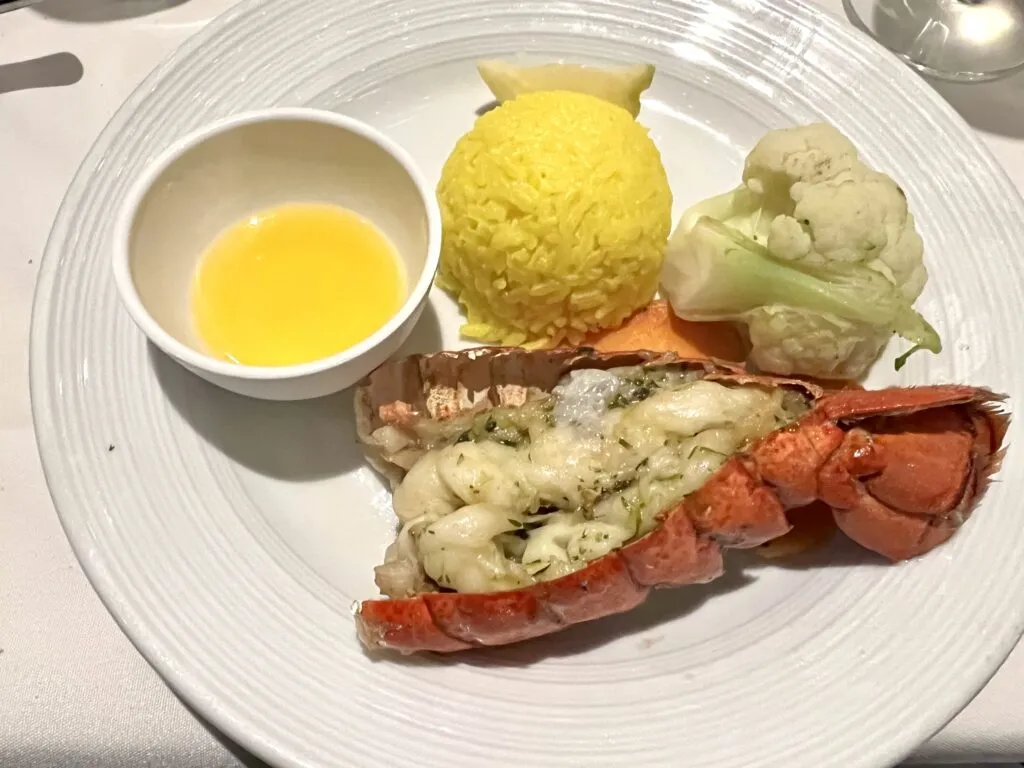 Day 6 was our second formal night, so we had the Royal Dinner, featuring lobster tail and other typical formal night menu items.
Finally, Night 7 was the Bon Voyage dinner. Thankfully, these new menus did feature the wife's favorite final meal, the Autumn Turkey Dinner.
Of note, the main dining room still offers two dining options, traditional dining or My Time Dining.
With traditional dining, there is an early seating around 5:30-6 PM and a late seating around 8-8:30 PM. Cruisers with traditional dinner have the same table assignment and waitstaff throughout the cruise.
With My Time Dining, cruisers can dine at a different time each night and/or with a different table configuration. Royal Caribbean does allow guests to pre-make reservations for each evening with My Time Dining. These guests will have a separate line from those without reservations when entering the dining room. Of course, cruisers can walk up to the host without reservations to request a table when hungry as well.
Dining hours for My Time Dining are typically around 6:45 PM to 9 PM each night.
EXCLUSIVE SAVINGS: SCORE ADDITIONAL PERKS WHEN YOU BOOK YOUR NEXT CRUISE NOW!
No More Classics on the Menu
As mentioned above, the new menus now feature themes. Although, this does not mean that all menu items align with the new name. For instance, while the Taste of the Caribbean menu offers a jerk seasoned pork chop, it also has a pesto tagliatelle dish.
Another big change is the removal of the nightly classics menu. While the rest of the menu always rotated, these standard selections used to stay the same all cruise.
Previously, the classics menu consisted of 6 starters, like Caesar Salad, shrimp cocktail, and escargot each night. Cruisers could opt for one of 4 classic entrees as well, including roasted chicken, a NY strip steak, and herb-crusted salmon. Finally, there were six classics for dessert, like apple blossom a la mode or the royal chocolate cake.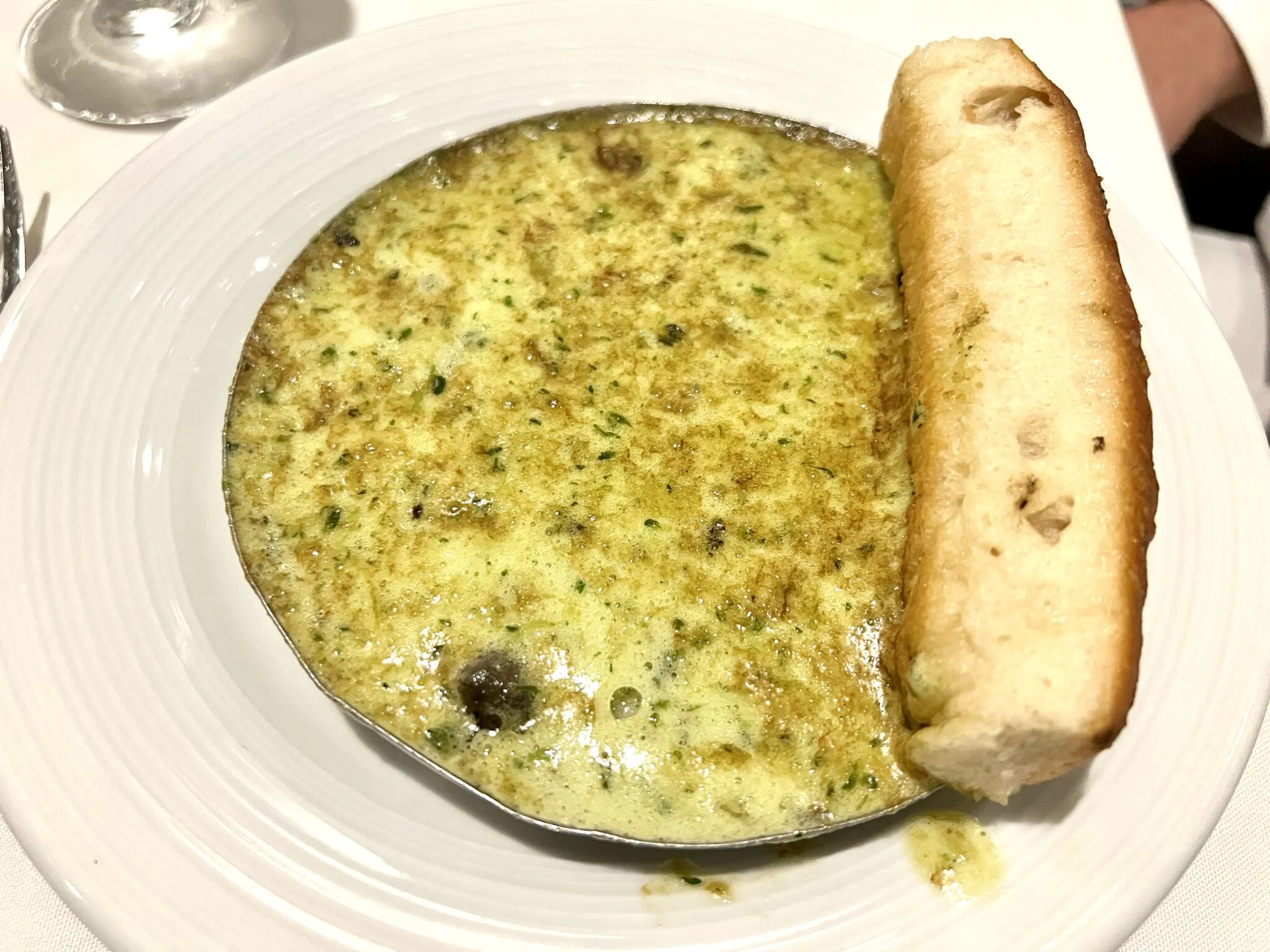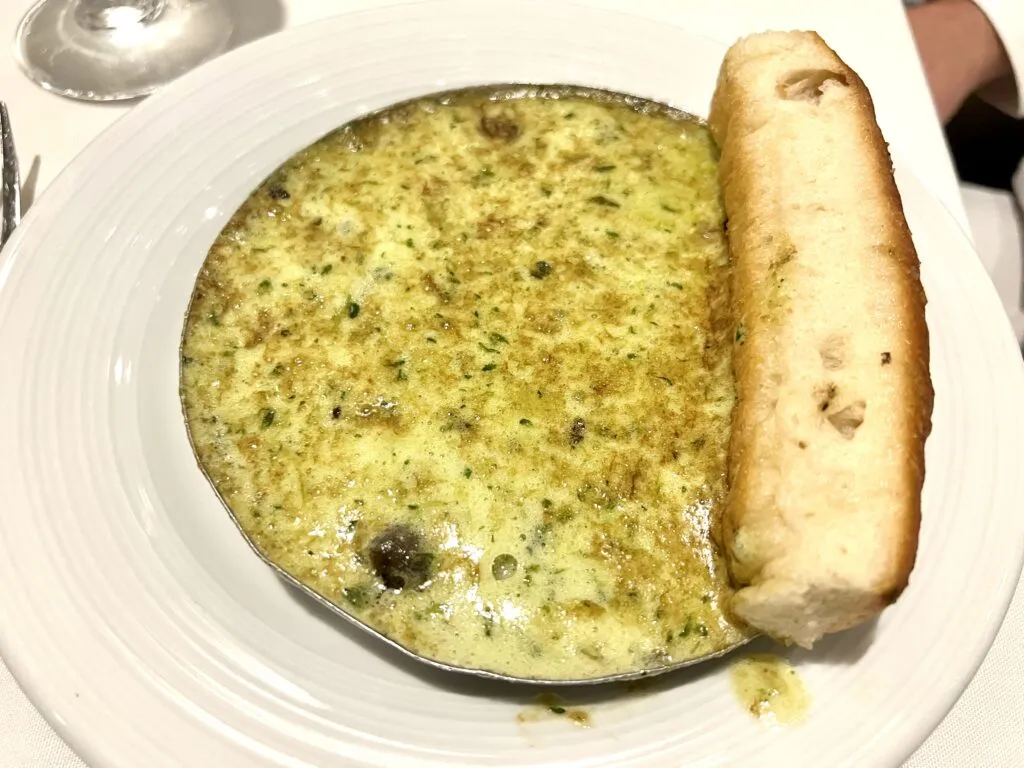 Those selections no longer exist on these new menus. Overall, this means that each night the menu is over 30% smaller, giving cruisers fewer options. Previously, the older menus offered 28 selections each evening– this included 10 starters, 9 entrees, and 9 desserts. Now, the menus include 6 starters, 7 entrees, and 6 desserts.
However, even though Royal removed the classics section, many of these dishes still appear on the new menus on various nights.
For instance, cruisers can enjoy shrimp cocktail on four evenings. Likewise, escargot is now available on three occasions: the Welcome Aboard, A Taste of France, and The Royal Night menus. Further, Spaghetti Bolognese was available three times.
Salmon was offered on three nights as well. With only a few other fish-centric dishes, it felt like there needed to be more seafood options though. Further, the cheese plate, one of our staple starters for the table, was gone from the menu completely.
Although, Harmony of the Seas did offer a grilled chicken option each evening. This option was a substitute for that evening's featured poultry item, like chicken marsala or the autumn turkey dinner.
New Additions to the Royal Caribbean Main Dining Room Menus
While some items have been removed from the Royal Caribbean main dining room menus, there have been some new menu items added. Now, there is a featured vegetarian option each evening, like the spring pea and asparagus risotto or the stuffed red bell pepper.
Also, each evening features an Indian dish. This was a great addition for me. I enjoyed the aromatic chicken saag and the shrimp jalfrezi.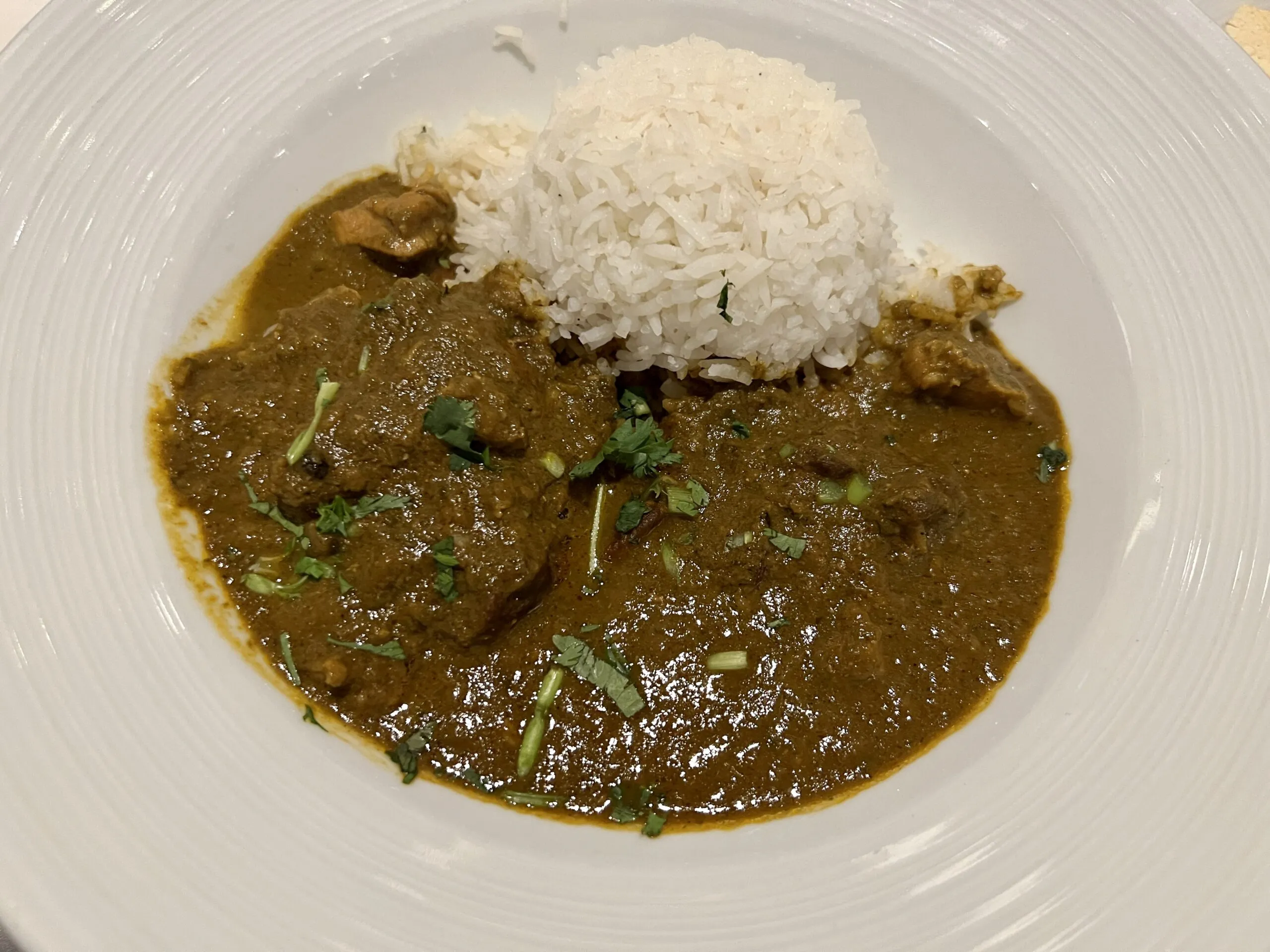 Many of the other menus items will be familiar to Royal cruisers, they are just on different nights/themed menus. The Welcome Aboard dinner still includes prime rib, and the second formal night (The Royal Night) still has the hallmark lobster tail. In 2023, additional lobster tails beyond the first one will cost $16.99 each.
While all these changes might sound like bad news, it really wasn't in our opinion. When compared to our last Royal Caribbean cruise on Navigator of the Seas in December 2022, we actually thought the food preparation was much better.
For instance, the pork chop was a thick cut with plenty of spicy seasoning. The prime rib was perfectly roasted to a medium rare, served juicy and warm.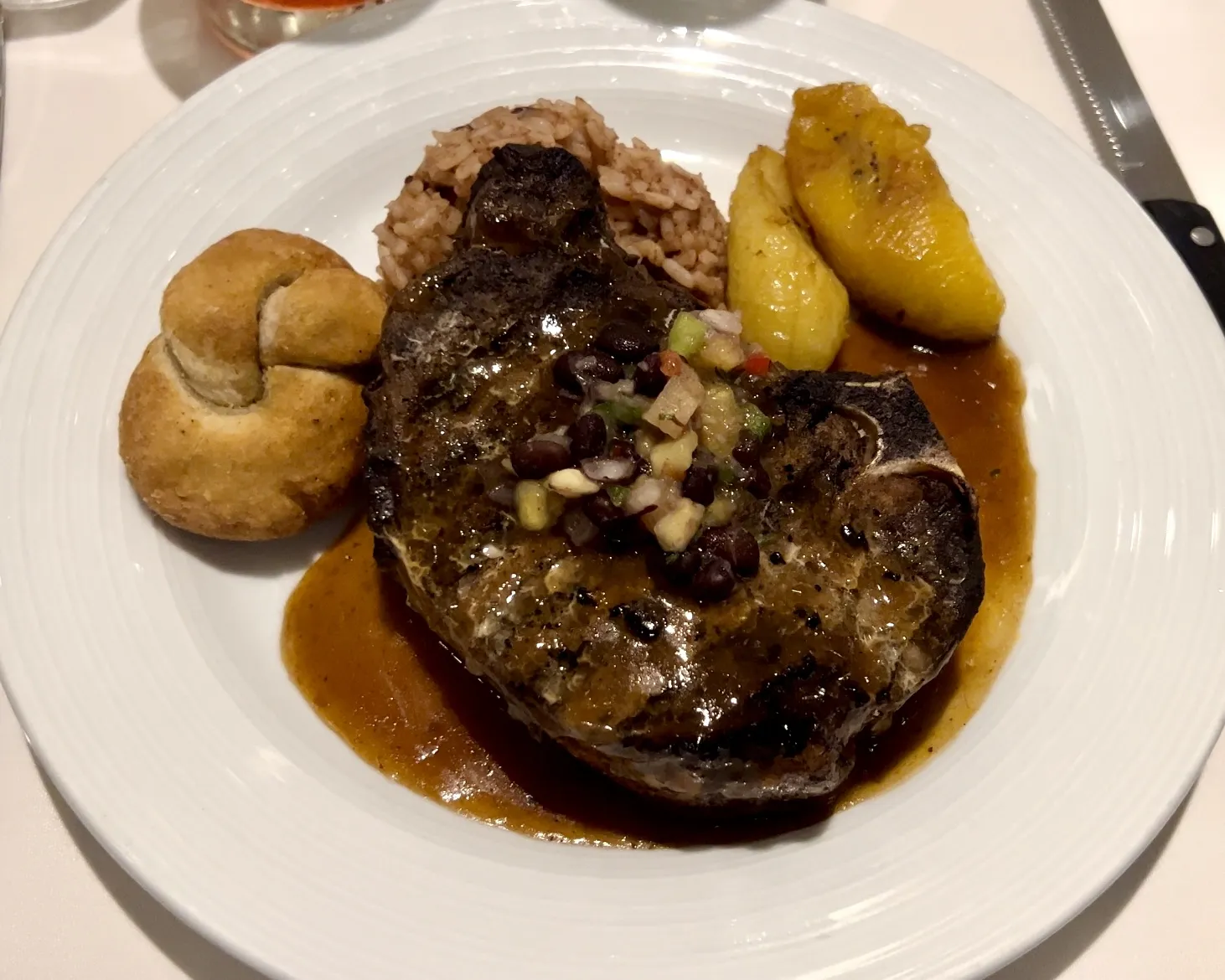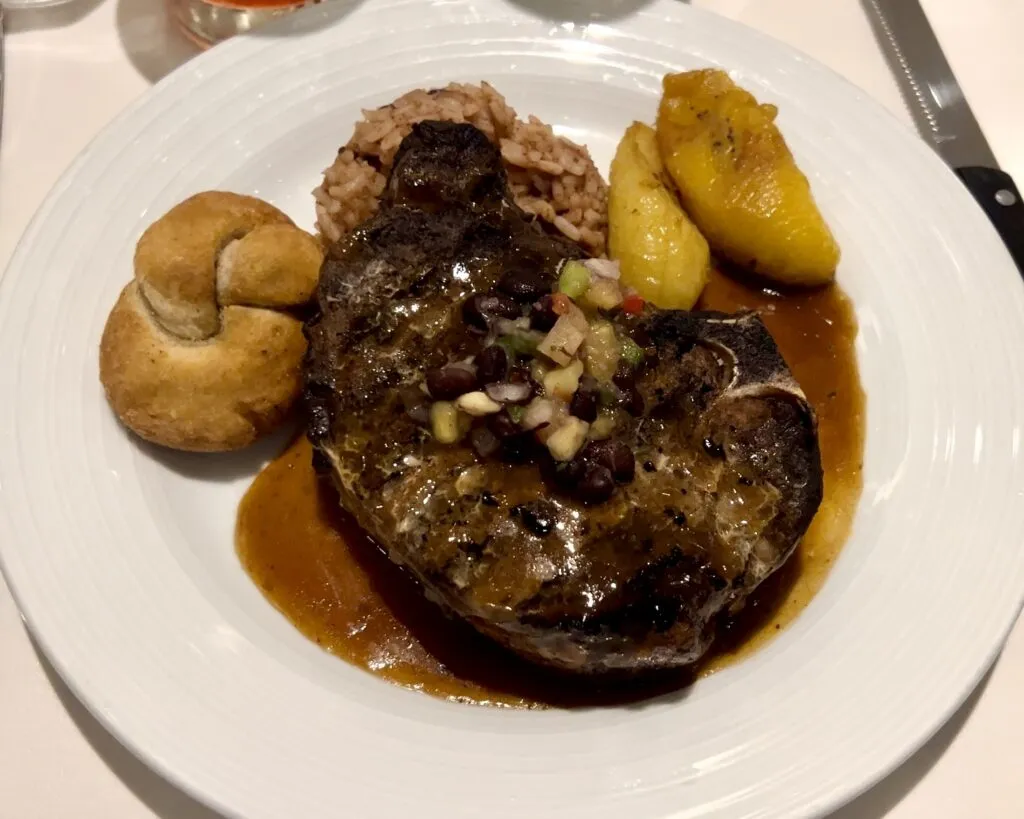 Further, we were big fans of the new themed approach, including the new Taste of Mexico and Taste of Caribbean options.
Typically, we are not impressed with main dining room desserts. However, of the new options, I did like the peanut-caramel bar on the Welcome Aboard menu. The Italian hazelnut-chocolate cake was essentially a lava cake with sliced hazelnuts. Of course, you can't go wrong with the warm apple cobbler either.
Finally, one of the announced reasons for these menu changes was to make dinner more efficient. With fewer menu items, the galley can cook up better prepared items that can be served quickly.
While this sounds good in theory, our table of 4 was never out of the main dining room in under 90 minutes. Yes, we did eat solid three course meals each night, with a few rounds of drinks. So, we might be atypical, but the dining room seemed to function like any other Royal Caribbean cruise.
Overall, while there were fewer options, we did enjoy the new Royal Caribbean main dining room menus, even Heidi who is a picky eater. The new selections offered some great, and much needed, diversity. Food quality was improved, and the overall preparation was a notch above what we have come to expect from Royal Caribbean.
While we have heard much negative feedback, we have to disagree based on our recent experience from Harmony of the Seas. Of course, this could be partially related to the novelty of the menu items; however, we suggest you go into your next Royal Caribbean cruise with an open mind and test out some of the new main dining room menu options.
Comments
Have you tried the new Royal Caribbean main dining room menus yet? Do you agree with our assessment of these new offerings? Drop us an anchor below to share your thoughts on these recent dining changes.