Celebrity Cruises is one of our favorite cruise lines. This premium cruise line offers some amazing cruise ships coupled with unique itineraries. Whether you have cruised before with the brand, or this is your first sailing in modern luxury, we are here to help. To ensure you remain one step ahead of everyone else onboard, we put together this list of our expert Celebrity Cruises Tips and Tricks you need to know.
WE SHARE ALL OUR CRUISE TIPS IN OUR LATEST VIDEO!
Our 25 Expert Celebrity Cruises Tips and Tricks
All Included Pricing
In 2020, Celebrity Cruises launched a brand-new pricing structure. Referred to as "Always Included," the new fares included several add-ons that are typical upcharges on mainstream cruise lines.
While the program has evolved since then, the cruise line still offers the ability to upgrade from a cruise-only rate to an "All Included" fare. Although, the new program is not as inclusive as before. Effective October 4, 2023, the "All-Included" fare will include a drink package and WiFi. Gratuities will no longer be included in this package pricing.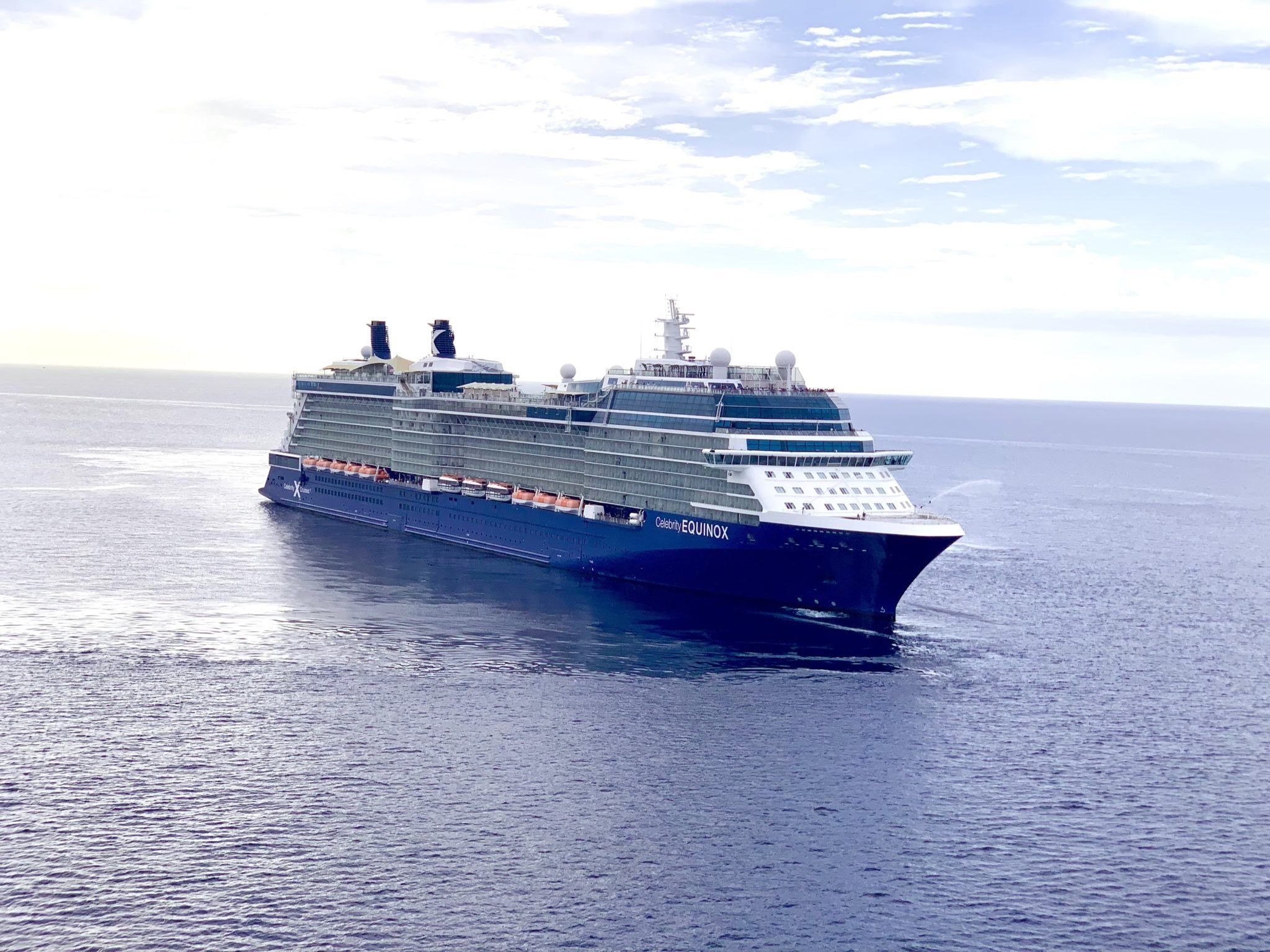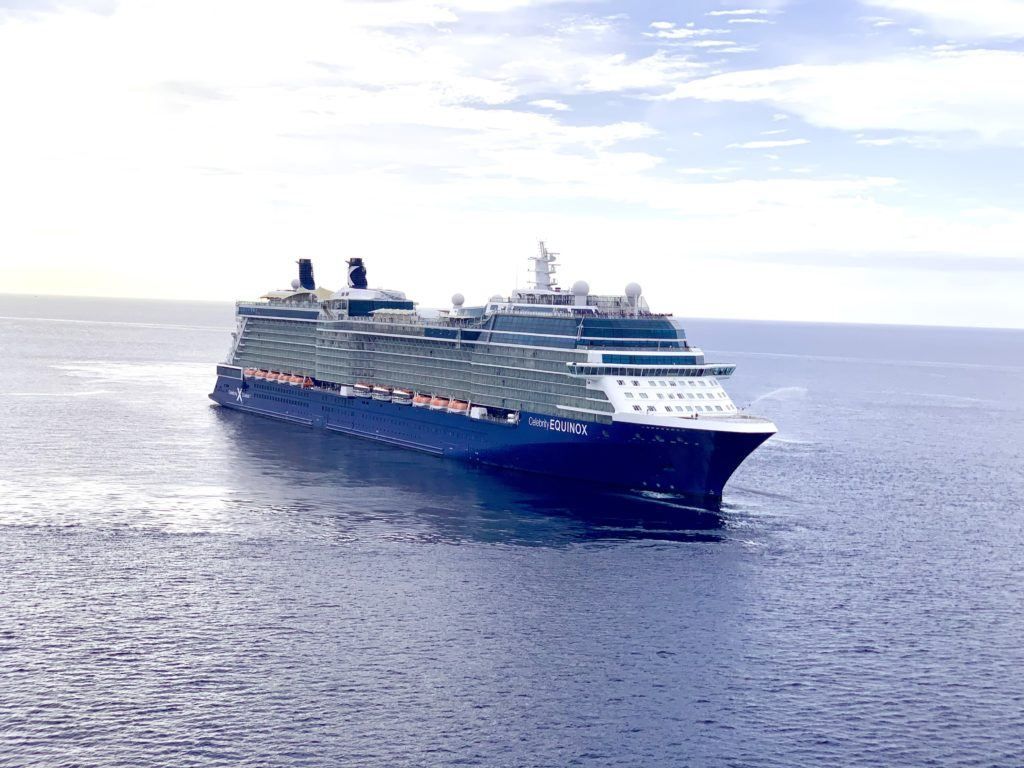 Comparing upgrade options, cruisers can expect to pay anywhere from $70 to $150 more per person, per day. Unlike Princess Cruises, it is not one set price to upgrade. The cost depends on the cabin type, region, and cruise duration.
Celebrity Cruises says these fares can save cruisers between $200 and $800. But, the amount of savings will depend on your particular sailing, so make sure to do the math before upgrading.
Regardless of the stateroom category and package, all guests will now be responsible for the daily service charge, which ranges between $18 to $23 per person, per day depending on the stateroom category.
Still, opting for this fare can save you money compared to purchasing a drink package and WiFi a la carte.
Call to Book Your Next Cruise Now: 1-855-228-5584!
Room Service is No Longer Free
Like several cruise lines, Celebrity Cruises has recently made some cutbacks to its onboard offerings. Sadly, one of these changes is the elimination of included Room Service. Now, the cruise line charges guests a $9.95 delivery fee.
At breakfast, a few continental items are available free of charge. But if you want a morning omelet or something delivered later in the day, you must pay for it now.
On our last cruise, we tested out the breakfast one morning. Honestly, the food was hot and fresh, and some of the best-prepared breakfast we have had on a ship in a long time. With an early morning tour departure time and a full-day tour, splurging for this breakfast was well worth the nominal fee for us.
Of course, the cruise line does still offer several included options, like the Oceanview Café buffet for breakfast, lunch, and dinner. Not to mention, other dining options include the Spa Café, Mast Grill, Eden Cafe, and four complimentary main dining rooms.
Download the App
Like many cruise lines, Celebrity Cruises has gone digital. Thus, be sure to download the Celebrity Cruises app to your smartphone. This is one of our essential Celebrity Cruises tips.
Even before your cruise, the app will come in handy. Cruisers can use the app to check-in and set up an onboard account. This will ensure a smooth embarkation at the cruise terminal.
From there, cruisers can book dining, review shore excursion options, and make other purchases. Cruisers can purchase items like WiFi, spa treatments, or upgrade their drink packages.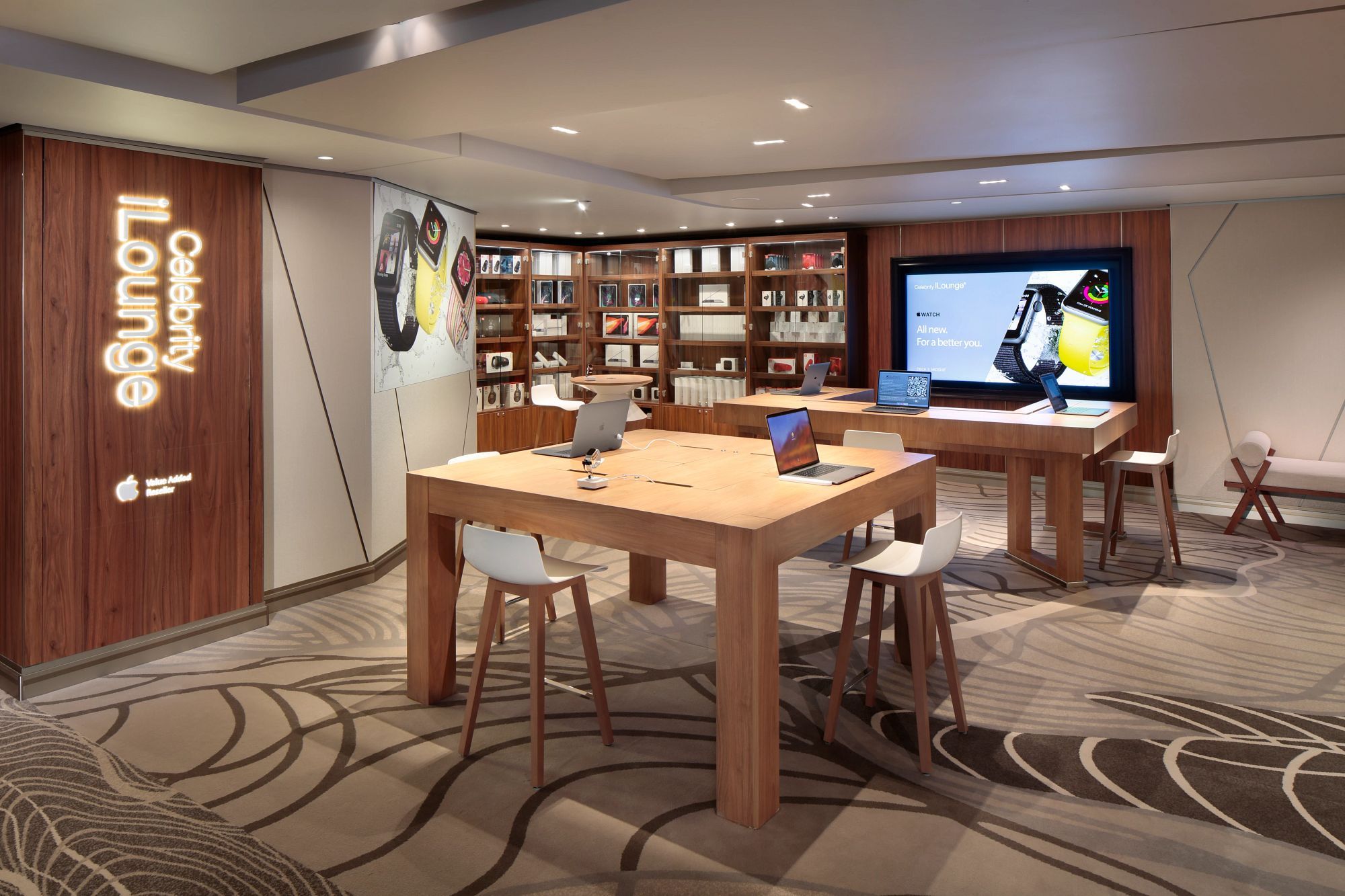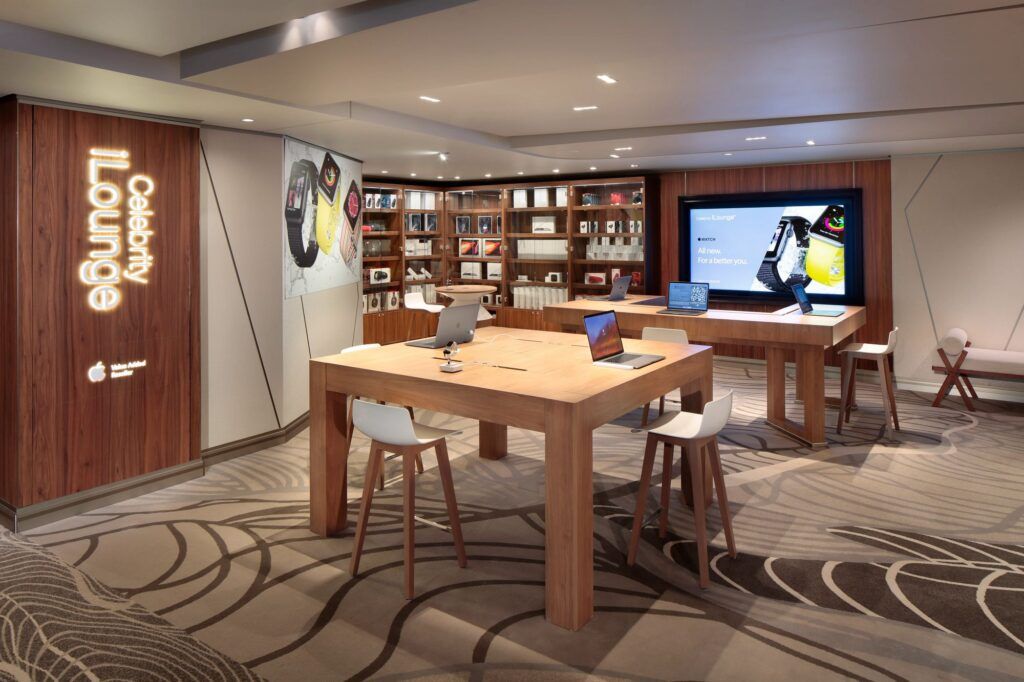 The app also has vital information about the ship and itinerary. Learn more about the amenities and public spaces onboard with virtual deck plans. Cruisers can also explore and bookmark the entertainment and activities at the various venues on their sailing.
Even if you don't have an internet package, you can still use the app on the ship. It also allows you to stay in touch with other travelers for free with in-app messaging.
Book Early
Admittedly, we are over-planners. This means we typically book cruises 8 months to a year in advance. Recently, cruise lines have begun opening up itineraries years in advance to meet the demands of eager cruisers. So, planning a trip for one or two years in the future is definitely possible.
While that might sound crazy to some, in our experience, the earlier you book, the lower the cruise fare. This is one of our Celebrity Cruises tips and tricks that can save you a lot of money.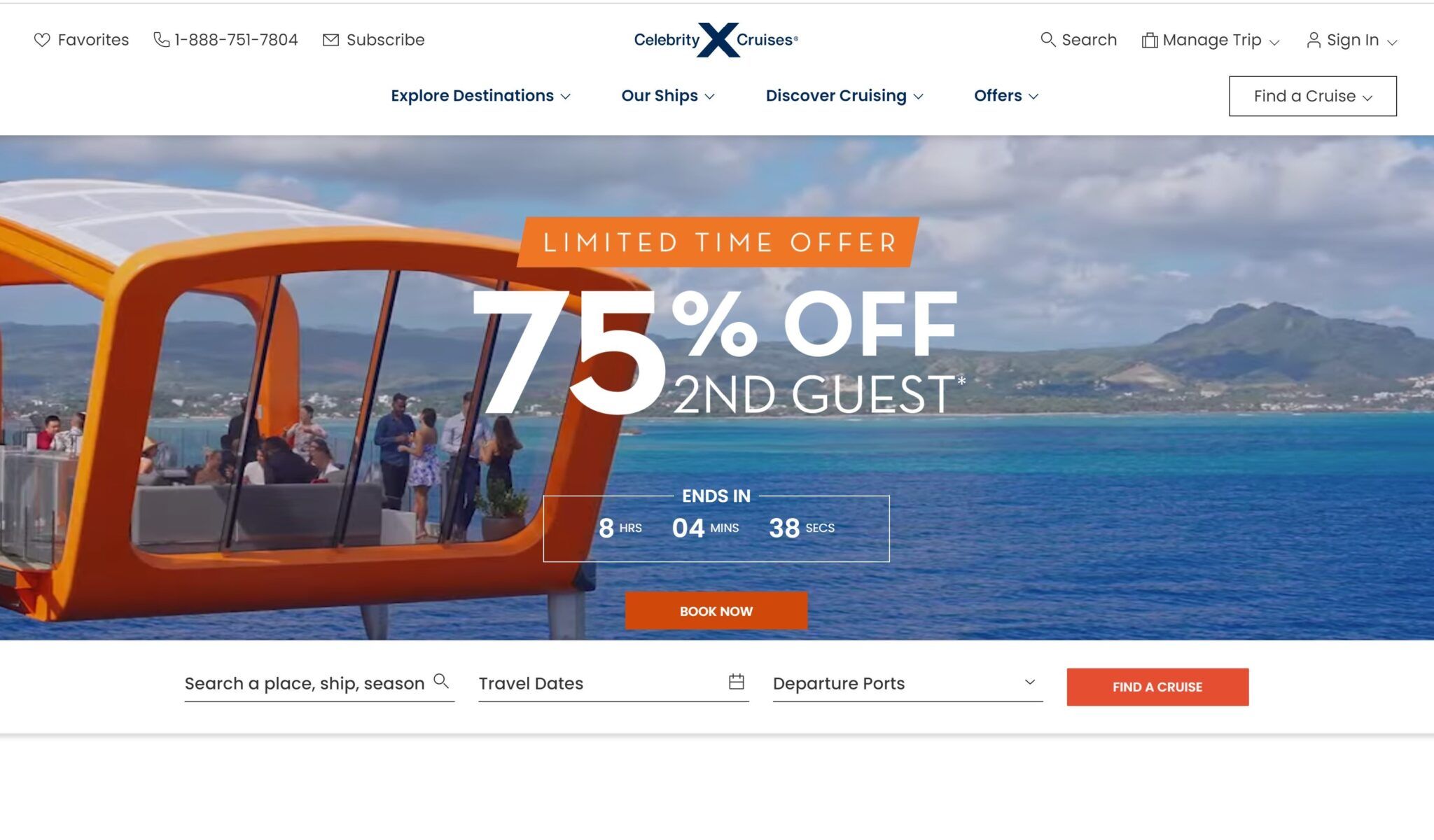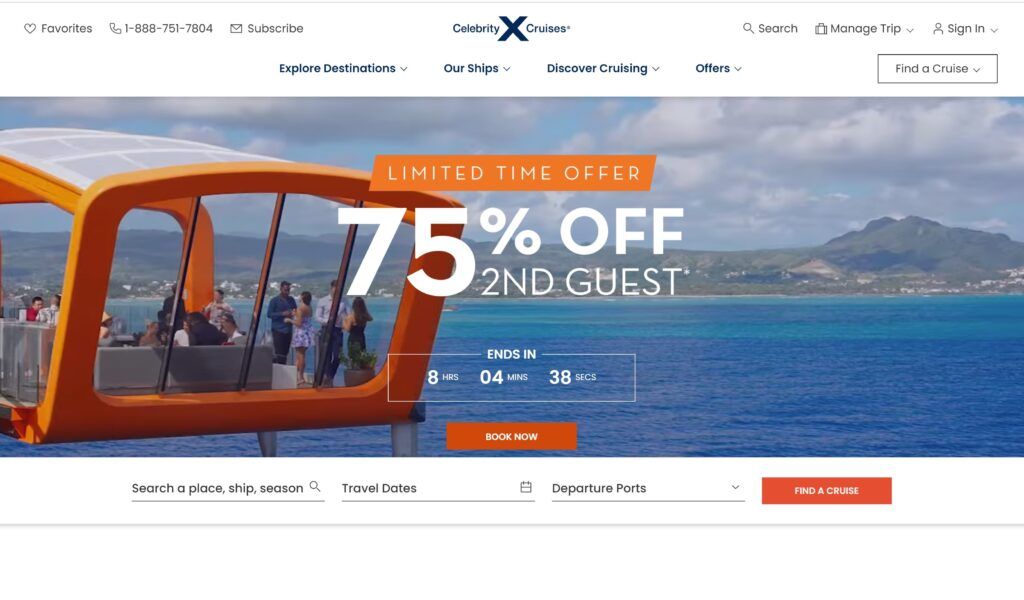 In our over 70 cruises, we have seen the cruise fares gradually increase for most of our trips over time. Plus, if the fare does go down, cruisers can often get an adjustment or some onboard credit in the amount of the difference.
Booking ahead of time not only gives you lower fares, but it also gives you a better selection of cabins and more time to pay off the cruise. Further, it gives travelers time to review the ports of call, plan their time ashore, and consider other add-ons like drink packages or specialty dining.
Matching Status from Royal Caribbean
Celebrity Cruises is part of the Royal Caribbean Group. Thus, if you have earned some status with Royal Caribbean, you might be able to get some additional benefits once onboard your Celebrity Cruises ship. This is true even if you have never sailed with the brand before.
Royal Caribbean cruisers who are Platinum or Emerald will be recognized as Select in Celebrity Cruises Captain's Club. This gives them access to a special Welcome Aboard event and discounts on WiFi, laundry, and the spa.
Cruisers with Diamond or above status with Royal Caribbean will be recognized as Elite status on Celebrity Cruises. These cruisers can enjoy a complimentary happy hour with free drinks at many bars and lounges, much like the Diamond drink benefit. However, Celebrity does not have a drink voucher program like Royal Caribbean.
Not All Ships Are Created Equal
The Celebrity Cruises fleet comprises over a dozen ships. While across the vessels, you can expect excellent dining and superb service, not all of the ships feature the same amenities.
The Solstice class is known for its Lawn Club, featuring real grass, lawn games, and even a bar. The Sky Lounge at the top of the ship offers panoramic views along with live music and entertainment. Not to mention, these ships feature a spacious pool deck, dedicated night club, library, and a variety of other bars and lounges including the popular Martini Bar.
The smaller, more intimate Celebrity Summit and Celebrity Millennium were recently updated. These ships boast a sports deck, an outdoor terrace with a movie screen, a three-story grand foyer with a variety of bars and lounges, a solarium, and several nightly entertainment options.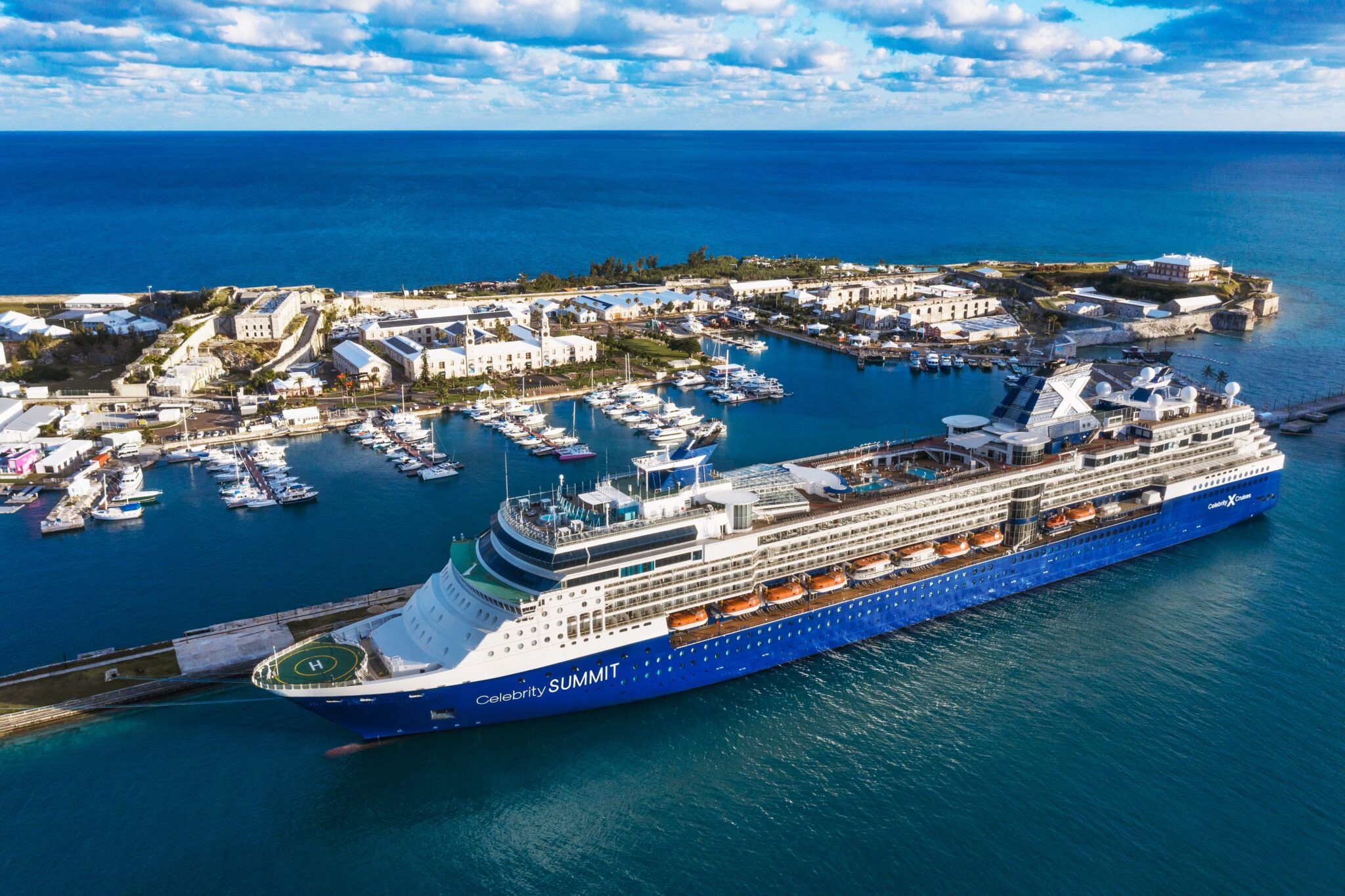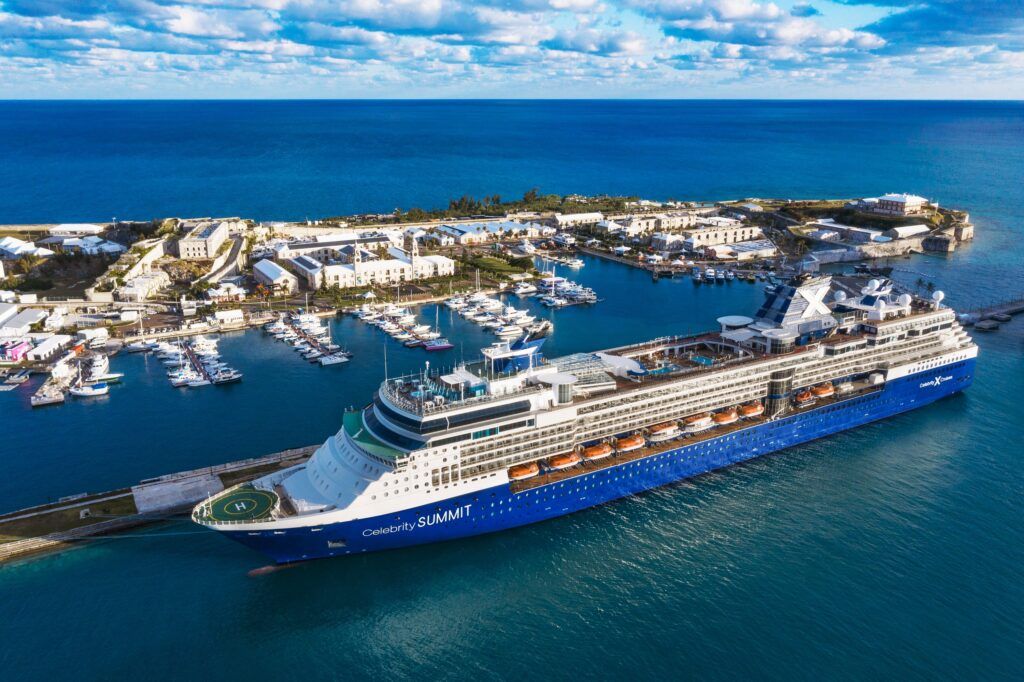 Then, the new Edge class is the cruise line's largest class with several innovative features. From the lively Grand Plaza, to new restaurants and bars, to infinite verandah cabins, these ships are the most luxurious in the fleet. While they are certainly mega-resorts at sea, they will come with a higher price tag.
So, when deciding on a Celebrity Cruises voyage, do some homework and compare the vessels and itineraries. That way, you can pick the right ship and destination for your next cruise.
Check-in As Soon As Possible
Once you've downloaded the app, you will want to do your check-in as soon as possible. This usually opens around 45 days in advance of your sailing. By doing so early, you will snag an early port arrival time.
This means the earlier you can board the ship on cruise embarkation day and the sooner you can get your cruise vacation started!
The check-in process also entails inputting your personal information, uploading a security photo, linking a form of payment for onboard purchases, adding passport information, and signing the cruise contract. Once this information is completed, you will be cruise ready with your Xpress Pass.
This is also a good time to print out the accompanying luggage tags that you will need to secure to your bags prior to dropping them with the porters at the cruise terminal.
EXCLUSIVE SAVINGS: Get Deals on Your Next Celebrity Cruise!
Pack Appropriately for Your Cruise
Deciding what to wear for a cruise can feel stressful. There are several factors to consider, including the length of the trip and the itinerary. Not to mention, the overall vibe on the ship.
We have sailed on Celebrity Cruises in Alaska, the Caribbean, and Europe. So, we have a good sense of official and unwritten dress code.
When it comes to dinner, Celebrity Cruises has a resort casual policy. This includes no swimwear, tank tops, or caps in the dining rooms. Further, we find that most cruisers wear pants, collared shirts for guys, and summer dresses or slacks and a top for women.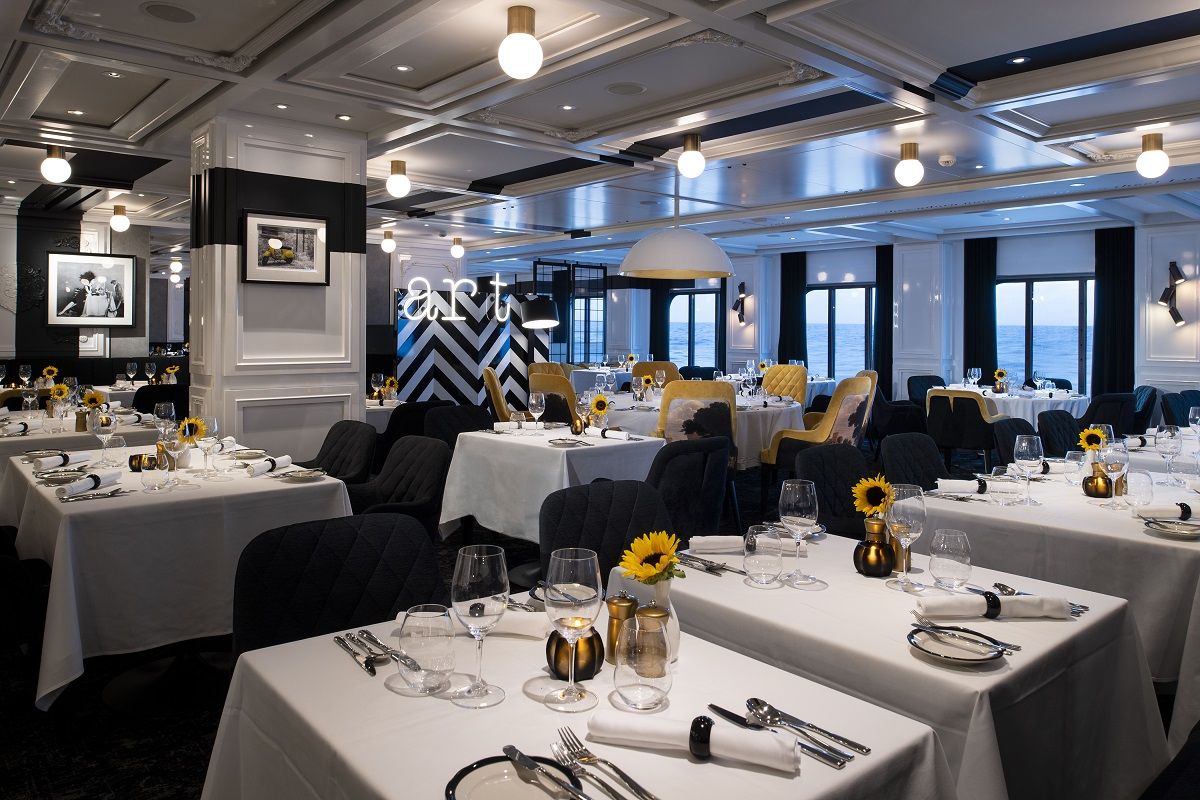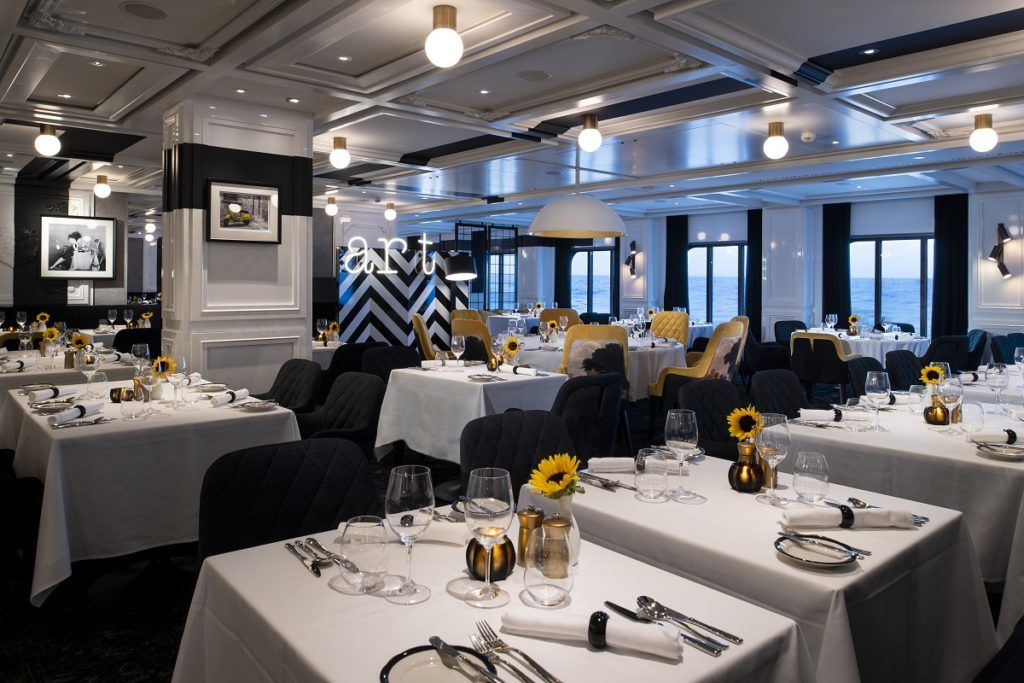 So, we suggest avoiding shorts and T-shirts in the main dining room.
Further, Celebrity Cruises does have its version of formal night called Evening Chic. Yes, cruisers do dress up for this event. Typically, on a 7-night cruise, there will be two Evening Chic nights.
You don't need a tux or a suit; although, you will certainly see many wearing these formal clothes. I usually pack a sports coat and button-down shirt and don't feel out of place.
Of course, when it comes to the pool deck, feel free to don your flip-flops, bathing suit, or beach cover-up. But, if that is all you feel like wearing on the ship, you will probably want to stick to the buffet for meals.
Of course, you will want to keep in mind your shore excursions when packing as well. And be sure to prepare a carry-on with all your essentials since you won't get your luggage until later in the afternoon on embarkation day.
Aqua Class Benefits
Celebrity Cruises Aqua Class might be the perfect stateroom category for health-conscious cruisers. These staterooms allow guests to enjoy onboard upgrades, unique dining experiences, and health and wellness-focused amenities.
However, the room dimensions and furnishings are not different from the typical balcony cabins found on your Celebrity Cruises' ship. Still, the additional benefits are pretty appealing.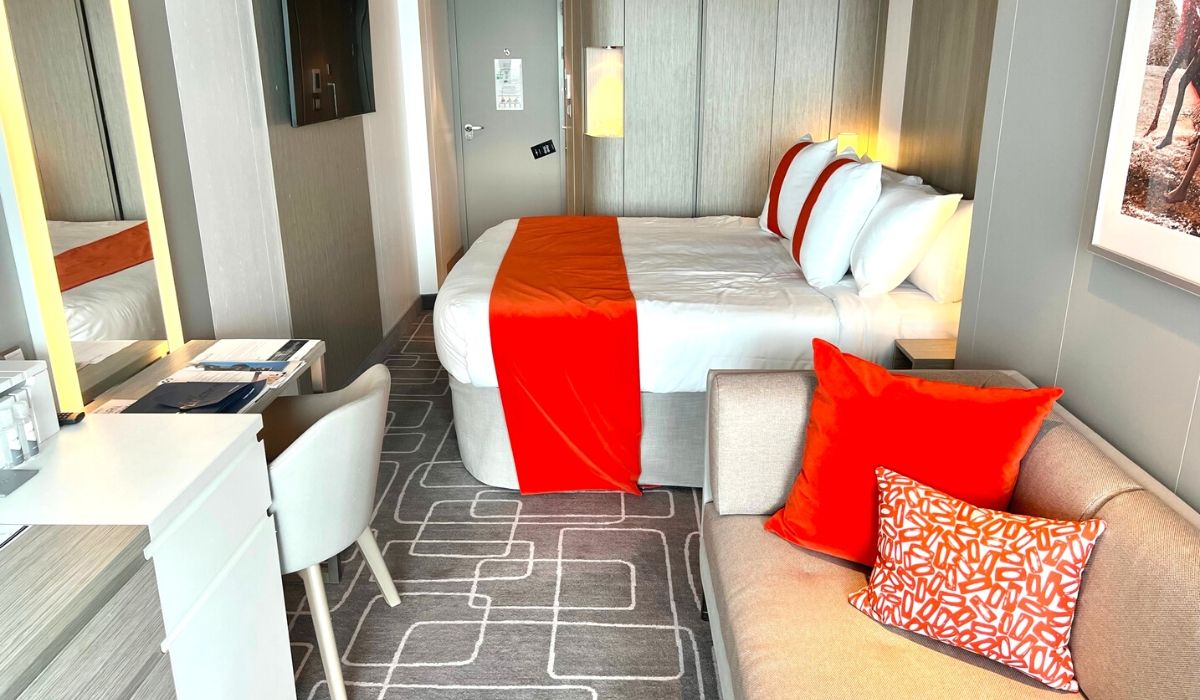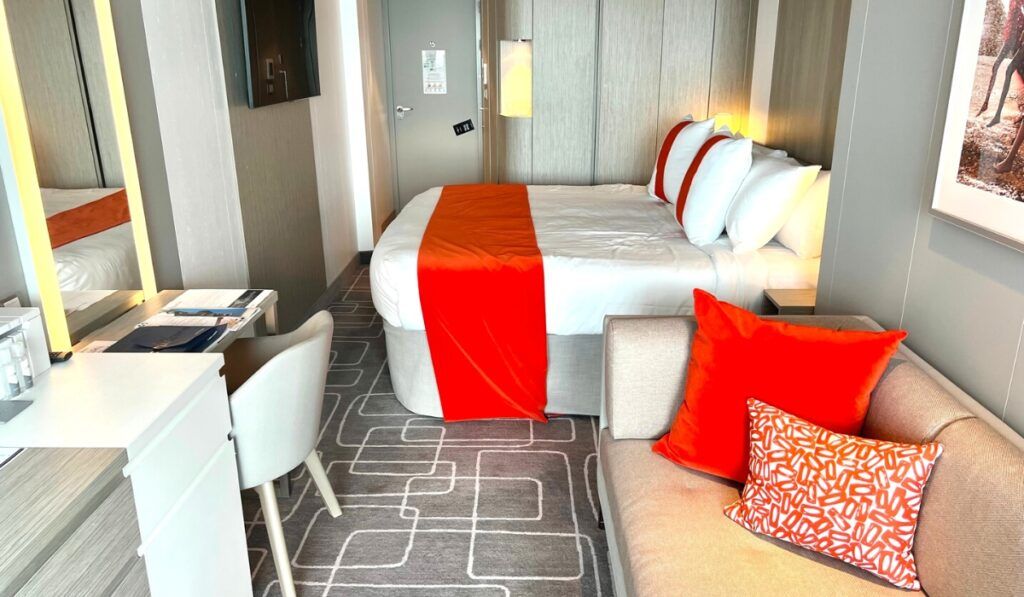 Benefits of this room category include complimentary access to the ship's thermal suite for the cruise duration. Additionally, Aqua Class rooms get complimentary fitness classes, eco-friendly bath products, and expanded wellness on-demand programming on the stateroom television.
Further, guests have access to an exclusive restaurant, Blu. Open every day for breakfast and dinner, Blu is an excellent alternative to the main dining room on the ship. The menu here focuses on cleaner, healthier options. But cruisers can also still order from that evening's main dining room menu. Thus, you have the best of both worlds when dining at Blu.
The Retreat
The Retreat on select Celebrity Cruises ships is ideal for guests looking for the most upscale accommodations and amenities. This ship-within-a-ship concept boasts reserved public areas and amenities exclusively for those in these luxurious suites.
Not only do the suites in the Retreat boast some of the largest and most elegant accommodations, but many of them come with butler services. Within the ship's Retreat, there will be a private sun deck with hot tubs and/or a pool, a lounge, and a bar exclusively for these guests.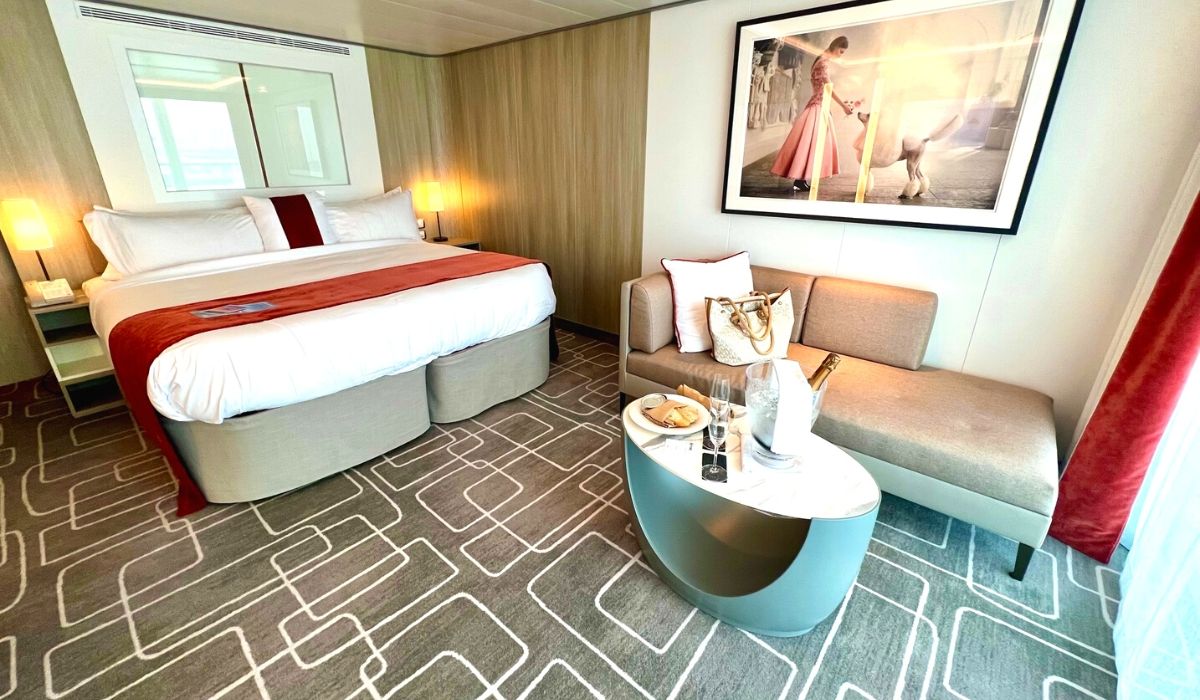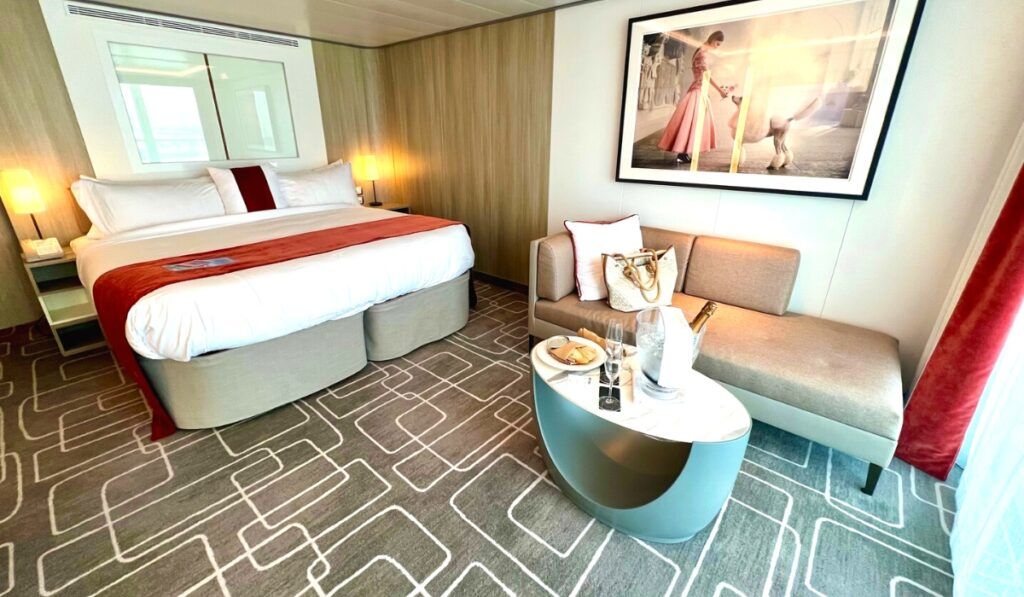 Further, the French-inspired Luminae is an intimate restaurant exclusively for guests of the Retreat. Serving breakfast, lunch, and dinner with a rotational menu, this exquisite restaurant alone is an excellent reason to upgrade.
Guests in the Retreat also get perks like an upgraded drink package and WiFi plan when opting for the All Included fare option.
Book With a Travel Agent
We can't blame you if the different fare options and stateroom categories feel a bit overwhelming. That is why one of our Celebrity Cruises tips and tricks is to work with a certified travel advisor. These travel advisors can walk you through the different stateroom categories and options for each ship in the Celebrity Cruises' fleet.
Even with all our cruise experience, we still book with a travel advisor. For our last Celebrity Cruises' Mediterranean sailing, our travel advisor got us an "All Included" rate lower than the cruise line's advertised price. Not to mention, the rate was still eligible for the cruise line's current onboard credit promotion. So, the cruise line gave us $200 of OBC, and our travel advisor gave us an additional $500. Now, that's a perk!
Plus, when booking with an agent, there is an independent party in your corner if there are any issues with the booking. Some travel advisors will monitor prices too to ensure you get the lowest fare possible even after booking.
Celebrity MoveUp Upgrades
Depending on the ship's capacity, getting a better stateroom at a fraction of the cost is possible even after you book.
The Celebrity MoveUp program allows guests to bid on a better cabin category. The program is capacity-controlled and depends on the availability of different cabin categories for a particular sailing. It is possible that on a particular sailing, there are no available upgrade options.
Also, there is no guarantee that a bid will be accepted. So, don't book a cheaper room thinking you will be able to upgrade, as that might not be the case.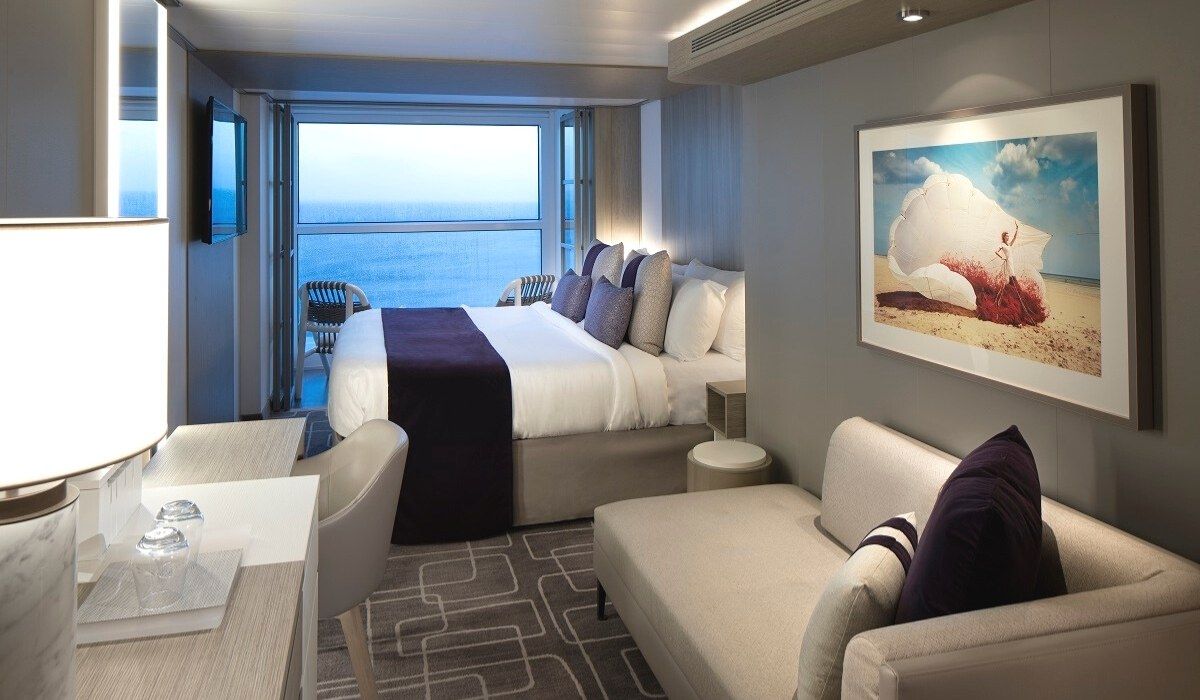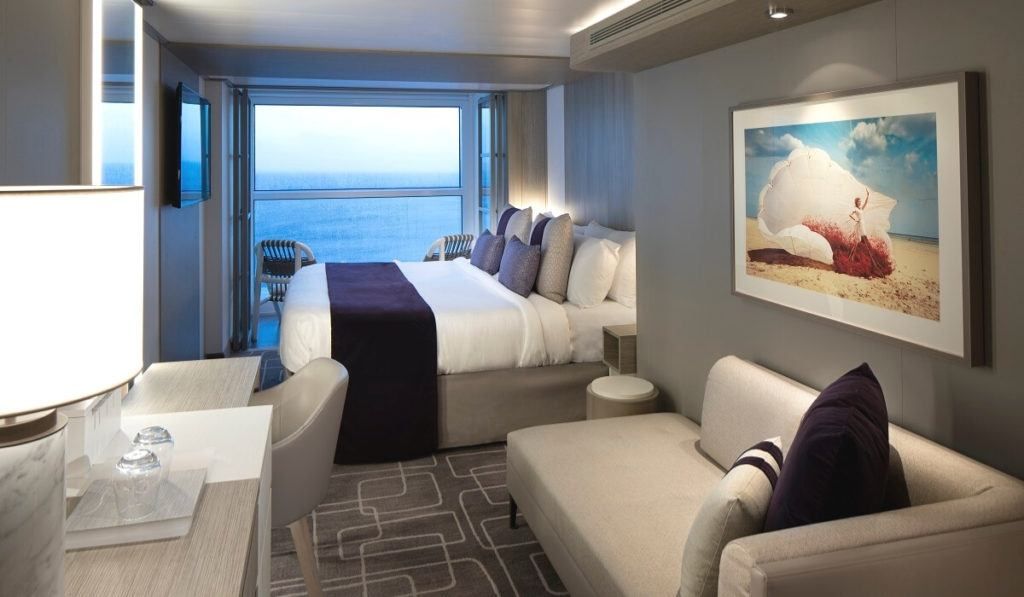 Still, we have taken advantage of this program on previous cruises and scored cabin upgrades for only a few hundred dollars. We upgraded to an Aqua Class stateroom on one of our recent cruises using this program.
Remember that you won't know the location of your upgraded room if the bid is accepted until a few weeks before the trip. Plus, once the bid is accepted, cruisers cannot opt out. So, if you prefer a specific ship location or a particular deck, this auction is probably not right for your next cruise. This is particularly true if you are prone to motion sickness.
Your Rooms Are Open
On many cruise lines, staterooms are not ready when cruisers board the ship. Typically, staterooms are available around 1 pm or 2 pm. Although, we have sailed on cruise ships where rooms weren't accessible until after 3 pm!
Regardless of when the rooms officially open, Celebrity Cruises lets guests drop off carry-on luggage in their staterooms. This is a great perk, as you don't need to lug your carry-ons with you around the ship.
So, unlike other cruise lines, we do suggest you stop at your stateroom first when cruising with Celebrity Cruises. You can drop off any carry-on items, rearrange your day bag, and head off to explore the ship!
Don't Miss a Thing with the Celebrity Today
The Celebrity Today is the daily activity planner delivered to your stateroom each evening. This schedule will detail all the events and entertainment options occurring the following day. It will also provide other helpful information like when the restaurants are open, the all-aboard time at your ports of call, and more.
Every night before we go to bed, we make sure to review the daily for the following day.
If you'd prefer to go paperless, the Celebrity app contains all of the day's events as well. Cruisers can sort by activities, spa, shopping, entertainment, and more. Cruisers can save their favorite events and they will integrate with pre-made dining and shore excursions in the "my calendar" section of the app.
No Reservations for Shows
Celebrity Cruises Edge class of ships have some of the best entertainment at sea. The high-tech theater includes a unique design offering an immersive experience regardless of where you sit. However, unlike other cruise lines, guests do not need to make reservations to experience these productions.
All main theater shows, as well as shows in The Club and Eden are first come, first serve.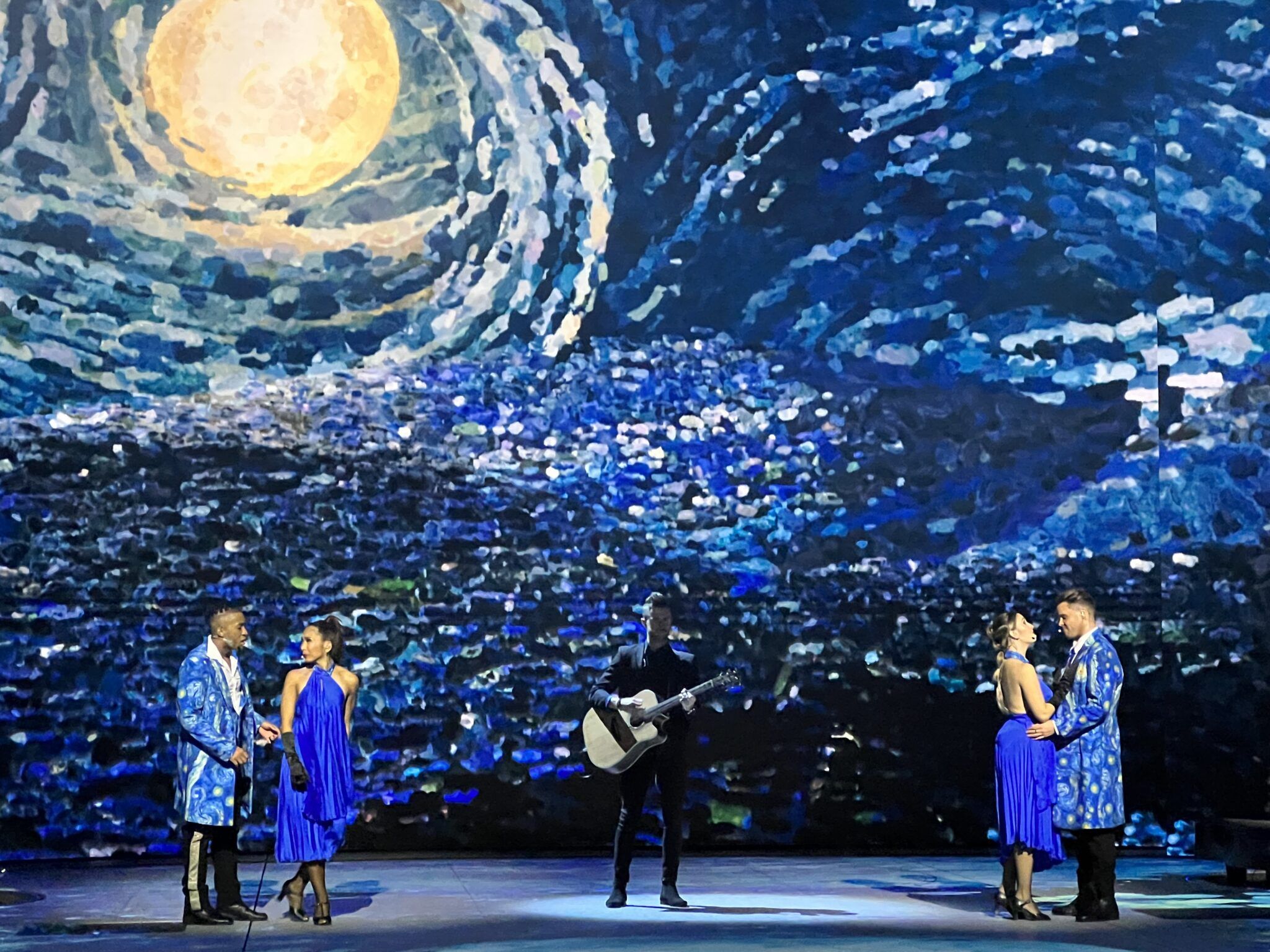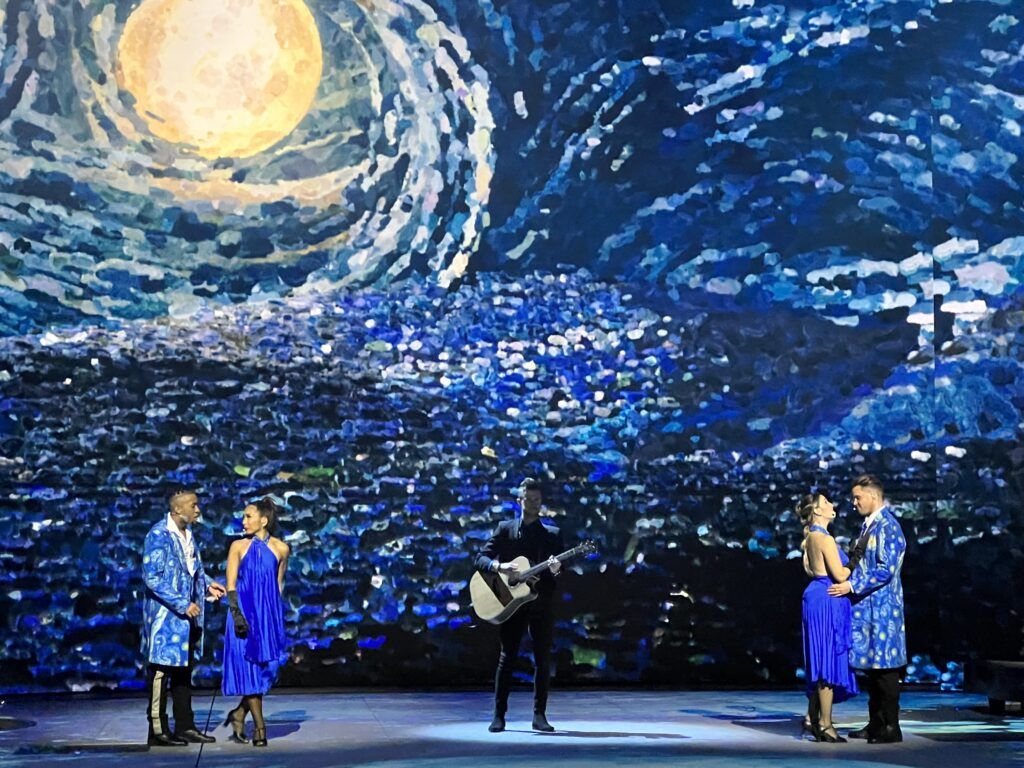 This is also true on all other Celebrity ships in the fleet. No entertainment offerings require reservations. So, this is one less thing you will need to worry about pre-cruise or on cruise boarding day.
Of course, this also means you will want to get to shows early for the best seats. Most venues open up about 30 minutes prior to show time, some earlier. So, plan wisely when deciding your nighttime lineup.
Digital Muster
Like many cruise lines, Celebrity Cruises now has a digital muster drill. This mandatory safety briefing can now be completed primarily on your phone (or stateroom television) on embarkation day.
Simply watch the required video, visit your muster station quickly, and listen to the ship-wide announcement. You no longer need to crowd with other guests near the lifeboats to conduct this mandatory safety drill. It also gives you more time to enjoy more of the ship on embarkation day.
Celebrity Select Dining
While Celebrity Cruises does offer cruisers the ability to opt for traditional dining, the cruise line has rolled out Celebrity Select Dining. This flexible dining option allows cruisers to dine at different times and venues each evening. Depending on your cruise ship, there might be more than one complimentary main dining room as with the Edge class of ships.
Cruisers can reserve tables ahead of time using the Celebrity app or website. Or, once onboard, cruisers can make reservations or walk up whenever they are hungry. In our experiences, there are often no or short waits if you don't have reservations.
Of course, this can vary based on your party size, as well as your preferred dining time. The peak dinner time tends to be between 7 pm and 8 pm on most itineraries. So, plan accordingly.
Also, guests will be given the option to dine alone or with others, so you can still make some new friends even if you opt for this dining program.
Opt for Specialty Dining
The main dining room on Celebrity Cruises serves up exquisite three-course meals each night. Yet, the specialty restaurants on your ship offer a further elevated experience.
On Celebrity Cruises Solstice class, cruisers can experience fine French cuisine at Murano. Or, dive into Italian classics at Tuscan Grill.
Many ships offer Le Petit Chef, a thrilling combination of digital technology and freshly prepared cuisine. Likewise, many vessels offer sushi at Raw on 5.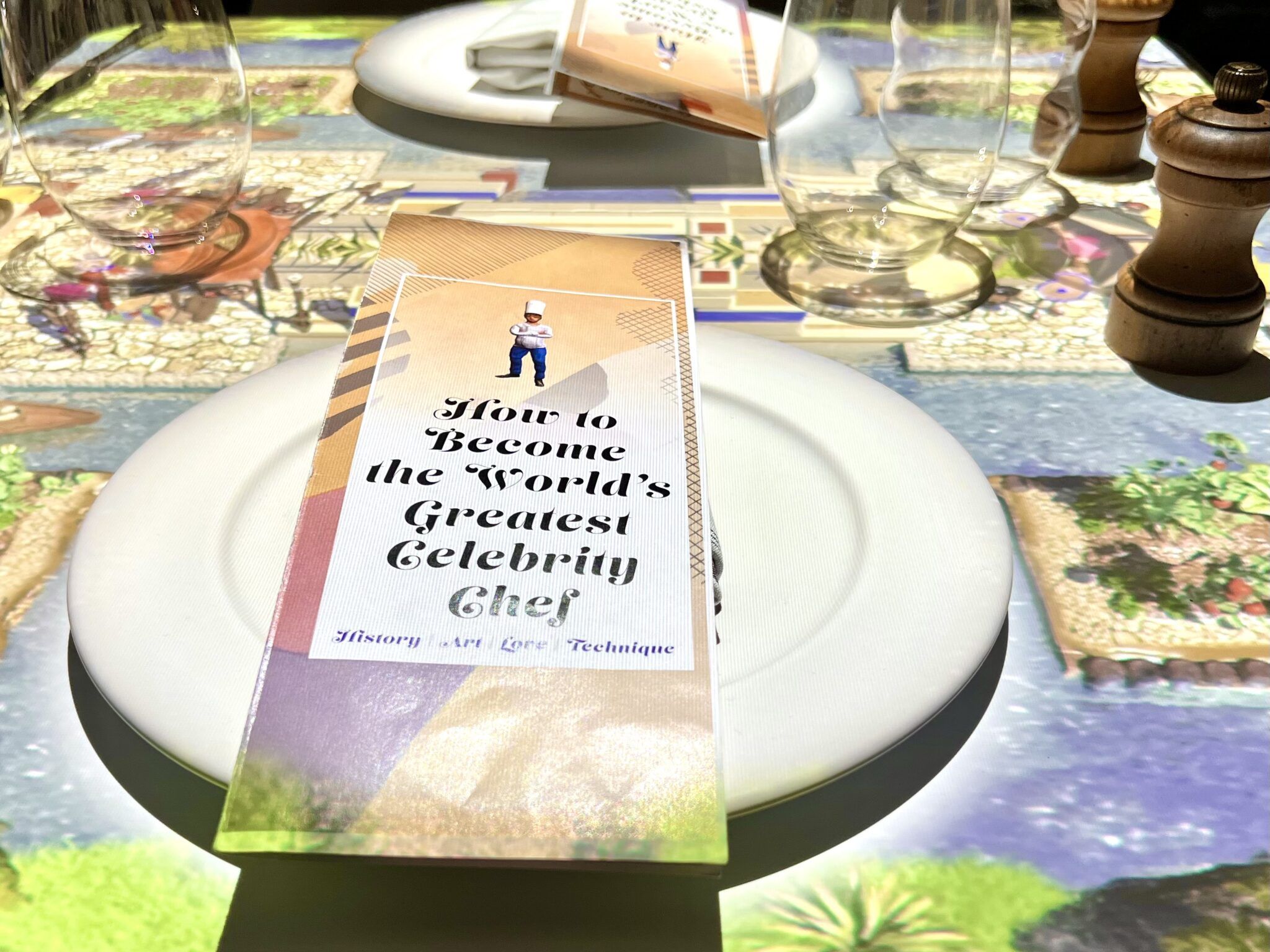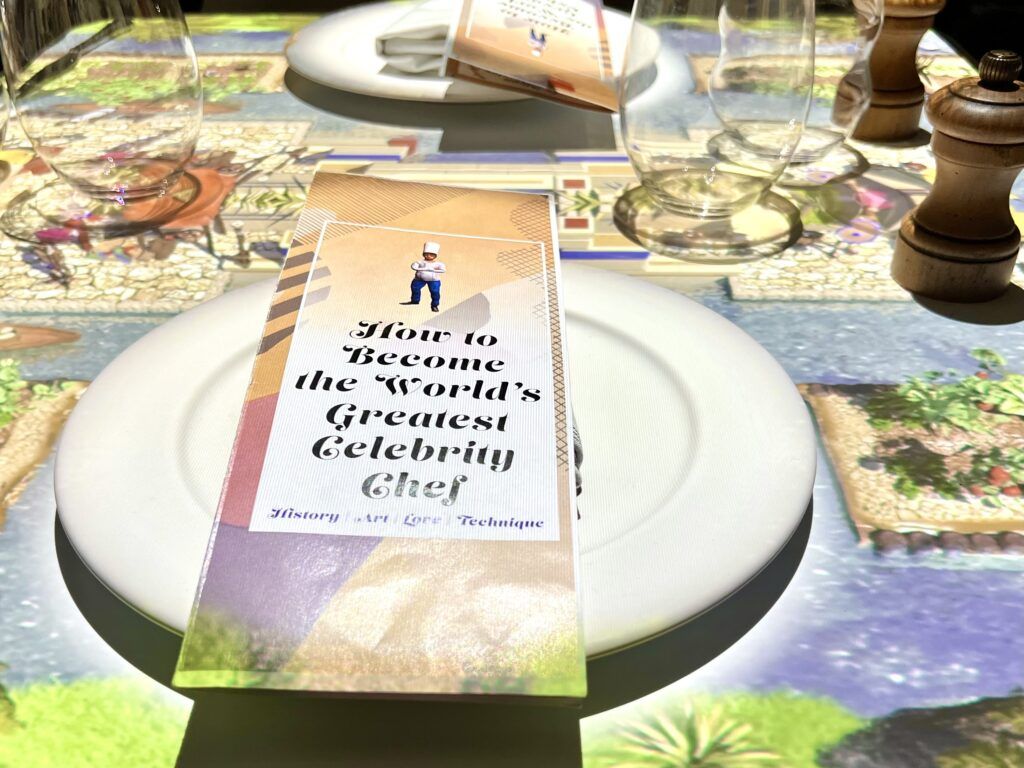 Other specialty restaurants worth testing include the Fine Cut Steakhouse on Edge class ships. There is also the new Le Voyage, from chef Daniel Boulud, found on Beyond and Ascent. This modern menu boasts globally-inspired cuisine with a twist.
It is true that you can certainly go the entire cruise without spending any money on food. Still, depending on the length of the itinerary, we suggest budgeting for one or two specialty dinners. Believe us, they are well worth the upcharges.
Cafe al Bacio
Perhaps one of our favorite spots on any Celebrity cruise ship is Café al Bacio. This coffee house is home to a variety of espresso-based drinks. These include several specialty coffees and signature coffee-infused cocktails. There is also a wide selection of premium teas. All drinks are included in the Classic Drink package, which is part of the All Included fare.
If you don't have a drink package, the coffees here cost around $5 a serving.
Even if you are not a coffee lover, you will not want to miss out on the treats. Café al Bacio is home to some of the most delicious pastries, cakes, and desserts found on any cruise line. Whether it is a quick breakfast treat or a slice of decadent chocolate cake, you will not be able to pass up these offerings. And the best part is that they are complimentary!
Another benefit is that Café al Bacio offers table service. So, it is the go-to place in the morning or afternoon to meet up with friends over a café latte. You can even find a corner to do some work or catch up on social media.
Martini Bar
Another hub of any Celebrity Cruises' ship is the Martini Bar. Whether it is a frosted bar top like the Solstice class or a glowing chandelier on the Edge class, this is the place to be seen. It doesn't hurt that the Martini Bar is home to a signature cocktail menu with some fantastic libations.
Along with the well-balanced cocktails, you don't want to miss out on the craftsmanship of the expert bartenders. The mixology skills of these bartenders come to life with regular shows.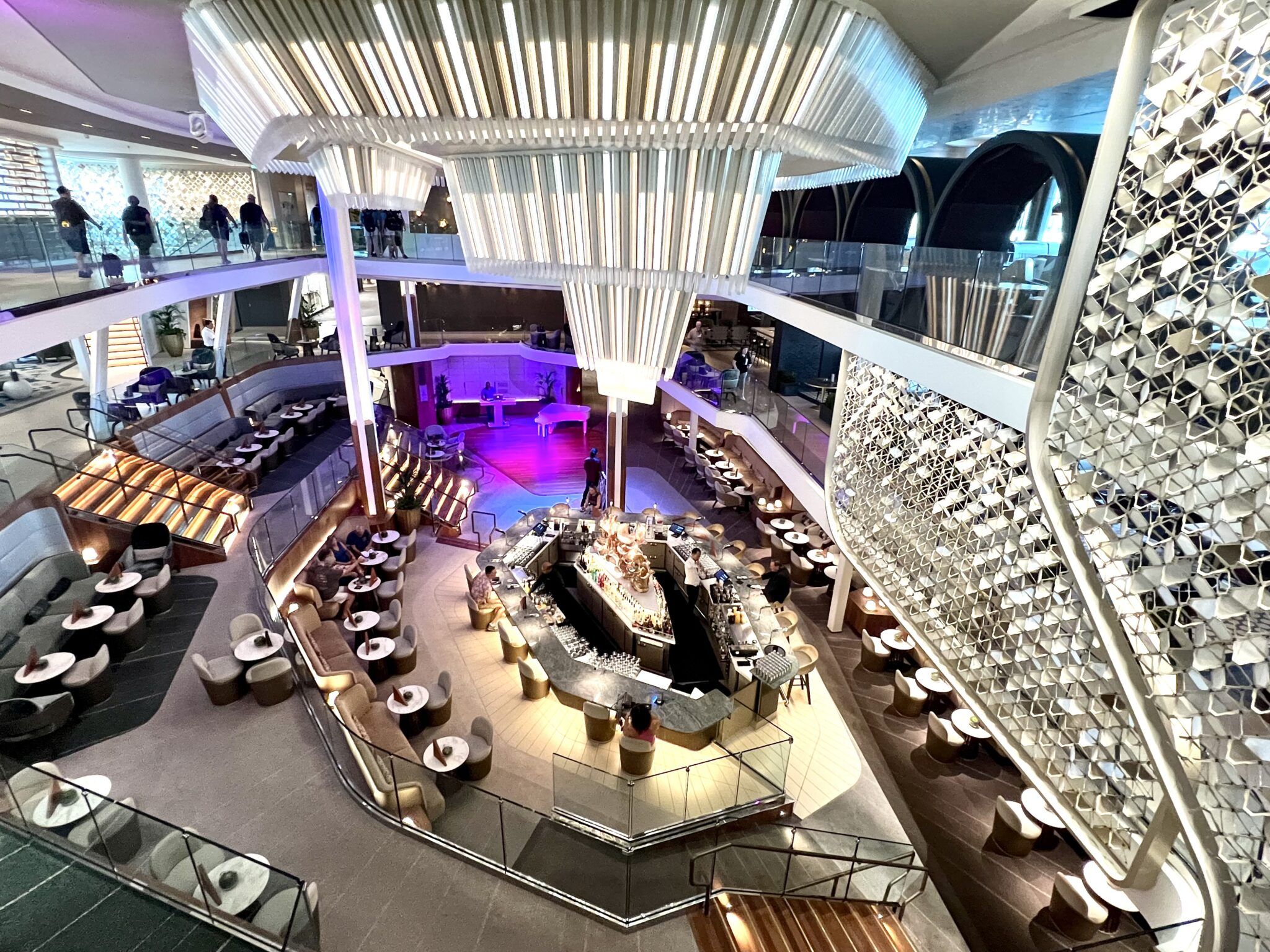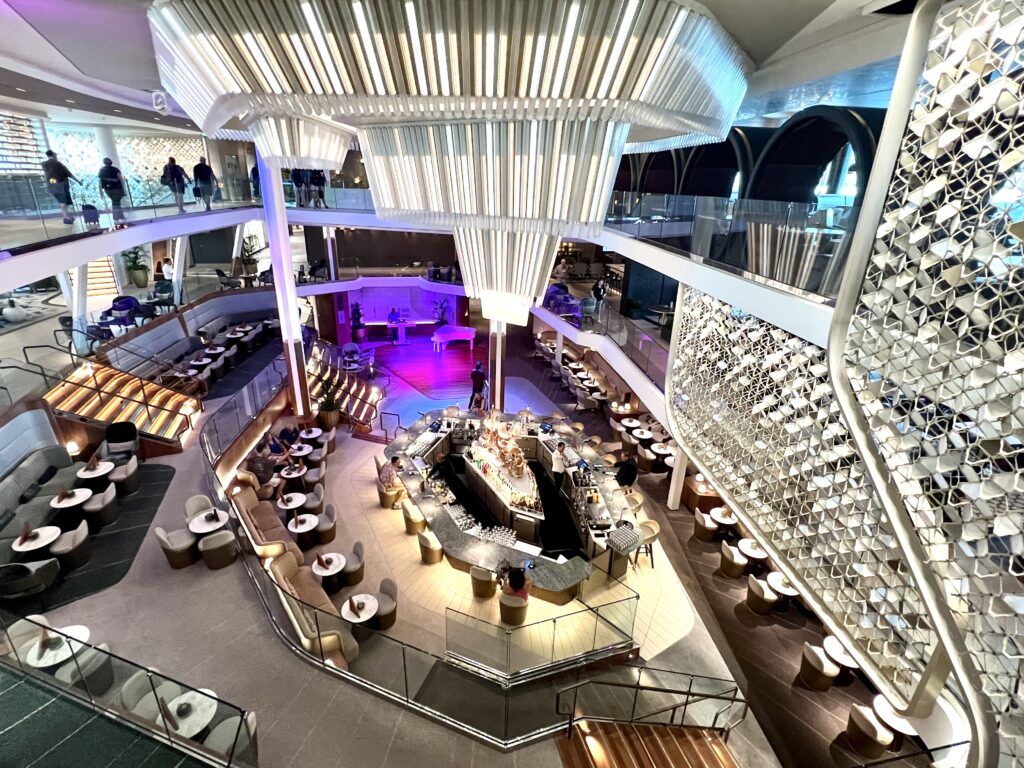 Don't be surprised to see juggling bartenders or towers of drinks being served in one awe-inspiring pour. Even if you don't have a drink package, you can still enjoy all of the artistry and fun as the bar comes alive in the evenings.
The martinis here are covered in the Premium Drink package and will be an upcharge if you have the Classic Drink package.
Non-Smoking Casino
Another perk for many sailing with Celebrity Cruises is the non-smoking casino. The casino on all ships in the fleet is smoke-free. In fact, the cruise line even tested out allowing vaping in casinos, which was met with much resistance from the loyal cruisers. So, they abandoned that pilot project pretty quickly.
So, you can rest assured that no one next to you will be lighting up or puffing away while you are gaming.
BOOK NOW: Save With Last Minute Deals on Celebrity Cruises!
Prepare Your Cabin
Regardless of your cabin selection, you should do several things on the first day of your cruise to organize the room for the voyage ahead. We always recommend packing magnetic hooks to hang items like bags, hats, and coats.
Another packable item we always take is an over-the-door shoe organizer. Here, you can place accessories and toiletries like suntan lotion, sunglasses, jewelry, cords, and small electronics to help you save valuable counter space.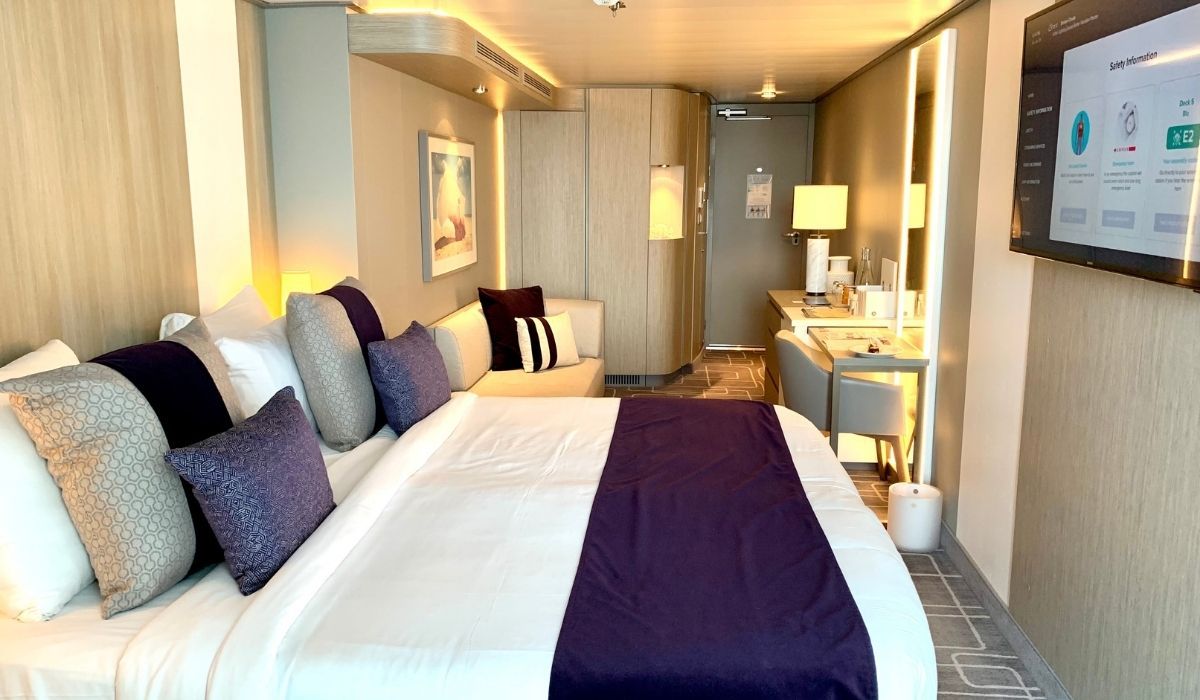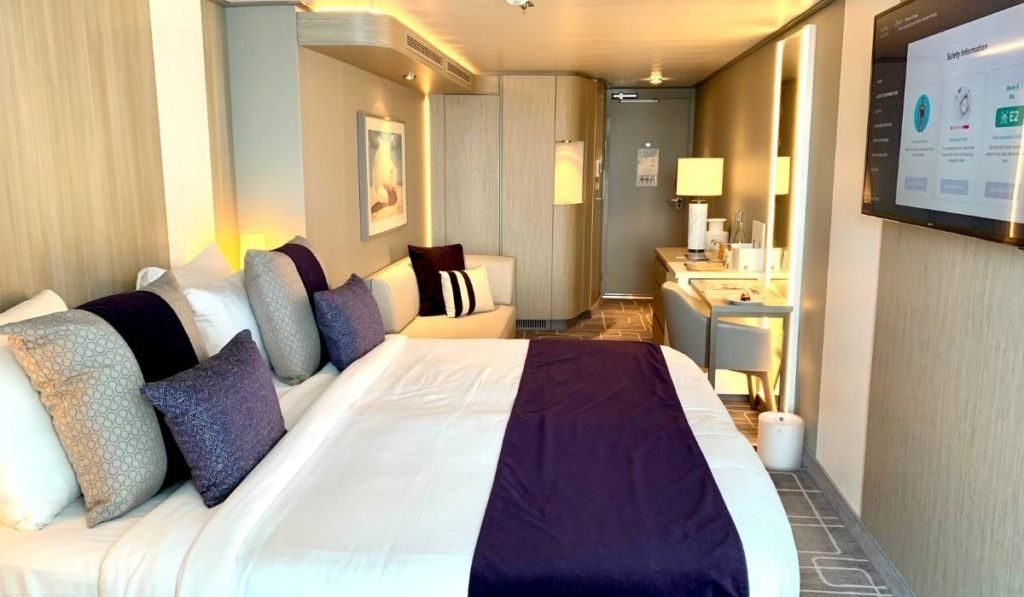 Also, you will want to make sure you unpack your clothes. Packing cubes will make this task easy and organized. Then, with your bags unpacked, make sure to place your suitcase under the bed; that way, you have as much space as possible in your stateroom.
Another item we suggest is a cruise-approved power adapter. That way, you'll have extra USBs and outlets for charging items like phones, computers, cameras, and other digital gadgets.
Explore the Ship
Now, if you are like us, you have been planning your trip for some time. This likely means you have reviewed those deck plans on the Celebrity Cruises website. Well, now it is time to check out the ship in person.
On the first day of the cruise, we always allocate some time to explore the ship. We usually go all the way to the top of the ship and work our way down. Many popular spots that will be busy the rest of the week tend to be less congested on day 1.
This includes places like the fitness center or spa. If you are traveling with little ones, make sure to check out the kids' area and youth center. This is also a great time to get some photos and videos of the ship without too many people.
With a few laps around the ship, you will have a general sense of the ship layout and be one step ahead of everyone else for the rest of the cruise.
Attend Enrichment Sessions
Depending on the region, you will want to check the daily schedule for enrichment sessions. These Beyond the Podium series often feature destination-focused talks about culture and history.
Cruisers can learn more about the upcoming ports of call in regions like the Mediterranean and Northern Europe. In our experience, these sessions are much more than glorified port shopping seminars or shore excursion talks like some other cruise lines.
When in regions like Alaska, these talks might be led by local naturalists and other experts. Often, these talks are informative and engaging, providing guests with greater insight into the Alaskan Frontier. We learned much about Alaskan culture, food, history, landscape, and wildlife during these talks on our previous Alaska cruise with Celebrity.
Consider Upgrading Your Experience
Celebrity Cruises offers a few exclusive areas on its ships that provide an upscale experience during your cruise vacation.
Our favorite is the Thermal Suite. Depending on the class of ship, the suite might include aqua therapy rooms and experiential showers. Not to mention, there's heated stone loungers, a sauna, steam room, and other rejuvenating experiences.
Cruisers can opt for week-long passes or attempt to get a day pass when docked at a port of call.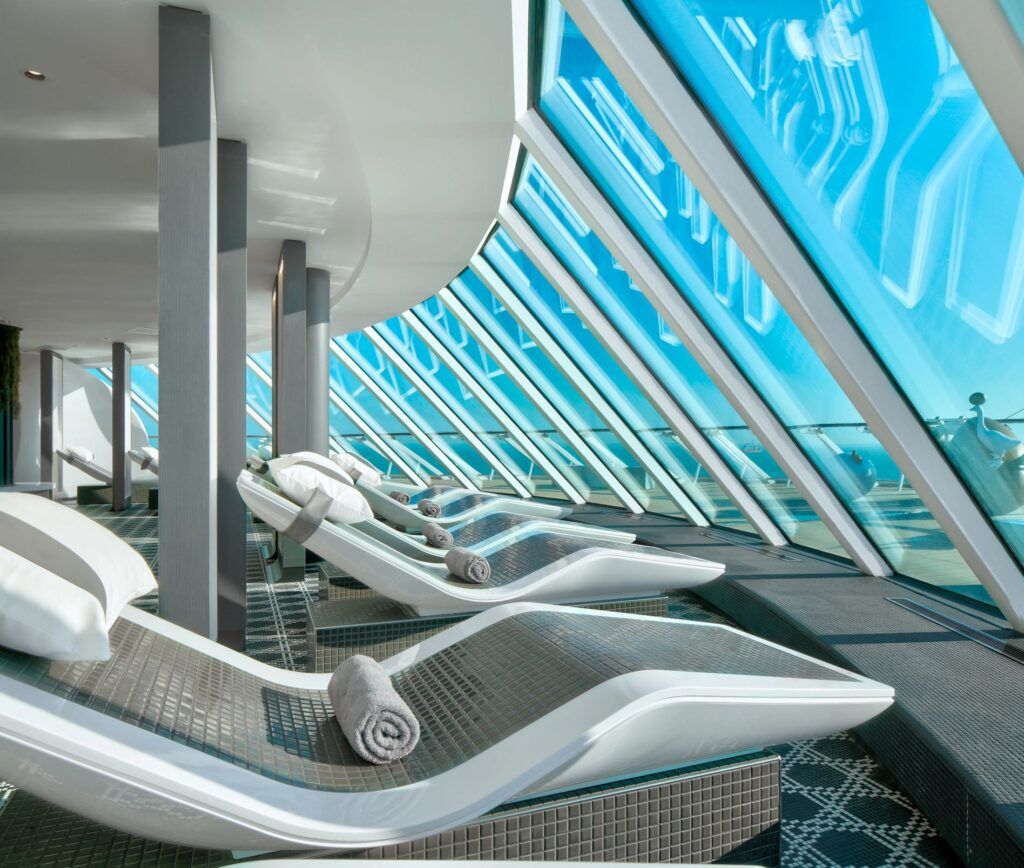 On the Edge class ships, Celebrity offers Resort Deck cabanas. With prime seating, an elevated menu, and plenty of space, it is the ideal sea day upgrade for those looking to relax. The Solstice class ships also offer a similar experience on the Lawn Club.
Power Up Points
Want to get to Elite status faster? Well, Celebrity Cruises gives guests the ability to earn additional Club points. All cruisers need to do is register with Celebrity Cruises and check their inbox. Occasionally, the cruise line will reach out via email for cruisers to complete tasks. These can include doing surveys, social media posts, or other online activities.
Completing these Power Up activities earns points that are then converted to Club points. For every 10 Power Points earned, cruisers get one 1 Club point. So, depending on the number of activities completed, you can easily rack up additional Club points.
Comments
Do you have any additional Celebrity Cruises tips to share? Did we miss any other insider tips or tricks in this post? Drop us an anchor below to share your best cruise planning advice.