The Celebrity Edge Class of ships is one of our favorites. So, we made sure to get onboard the newest vessel in this class, Celebrity Beyond, when the ship arrived in the U.S. last fall. During the 2-day preview cruise, we stayed in a Celebrity Beyond Sky Suite.
These suites are part of the ship's Retreat, Celebrity Cruises' version of a "ship within a ship" concept. Are these lavish accommodations worth the extra costs? Well, we break down everything you need to know about a Celebrity Sky Suite in this review.
A Look at the Celebrity Beyond Sky Suites
How many Sky Suites are on Celebrity Beyond?
The Retreat on Celebrity Beyond is home to a total of 215 suites. There are a total of 146 Celebrity Sky Suites on the ship, found on Decks 6 through 12.
In fact, there are 4 different categories of Sky Suites (S1, S2, S2-Accessible, and S3). For our cruise, we stayed in cabin 9148. This stateroom is considered a category S2 Sky Suite.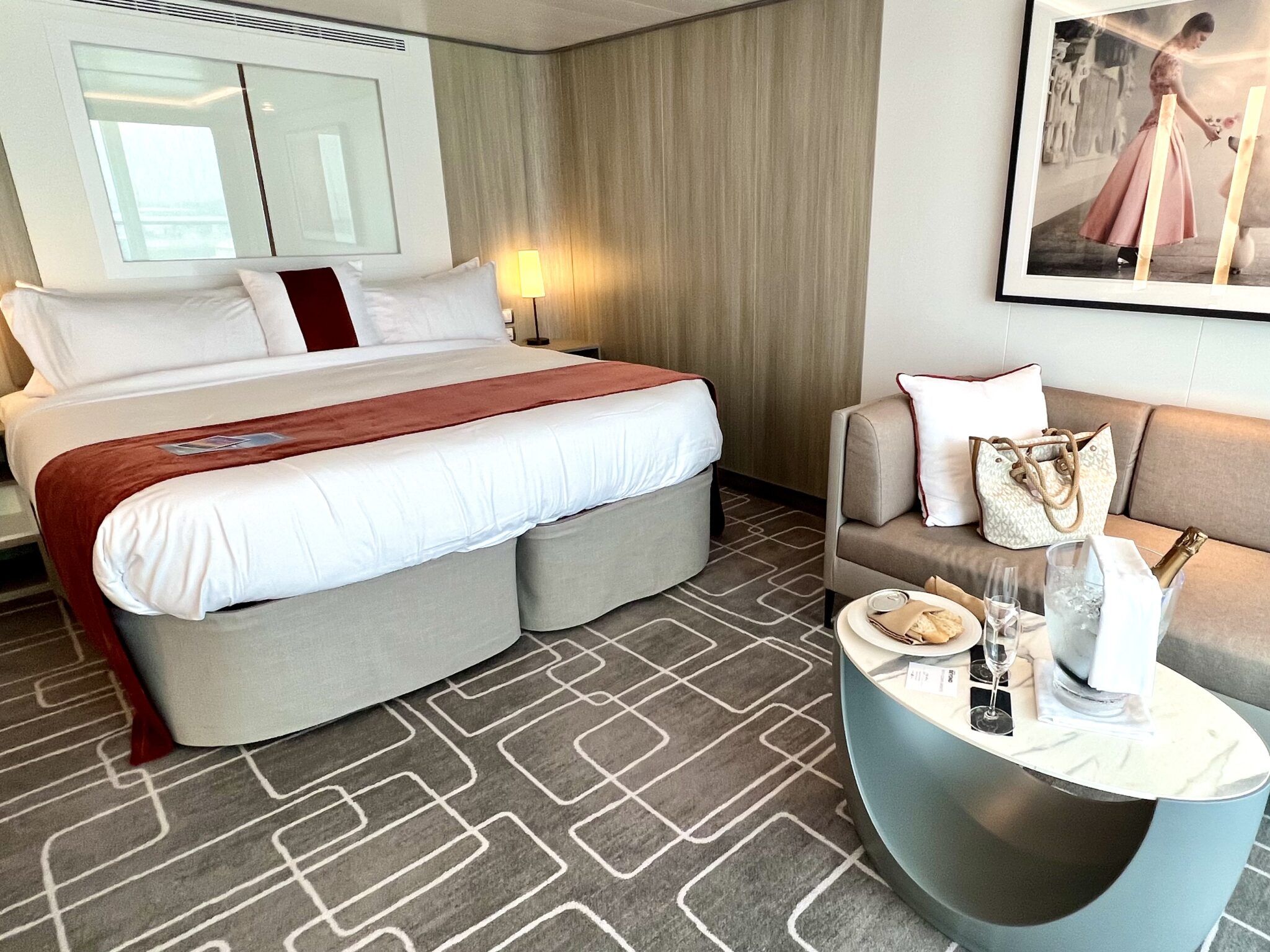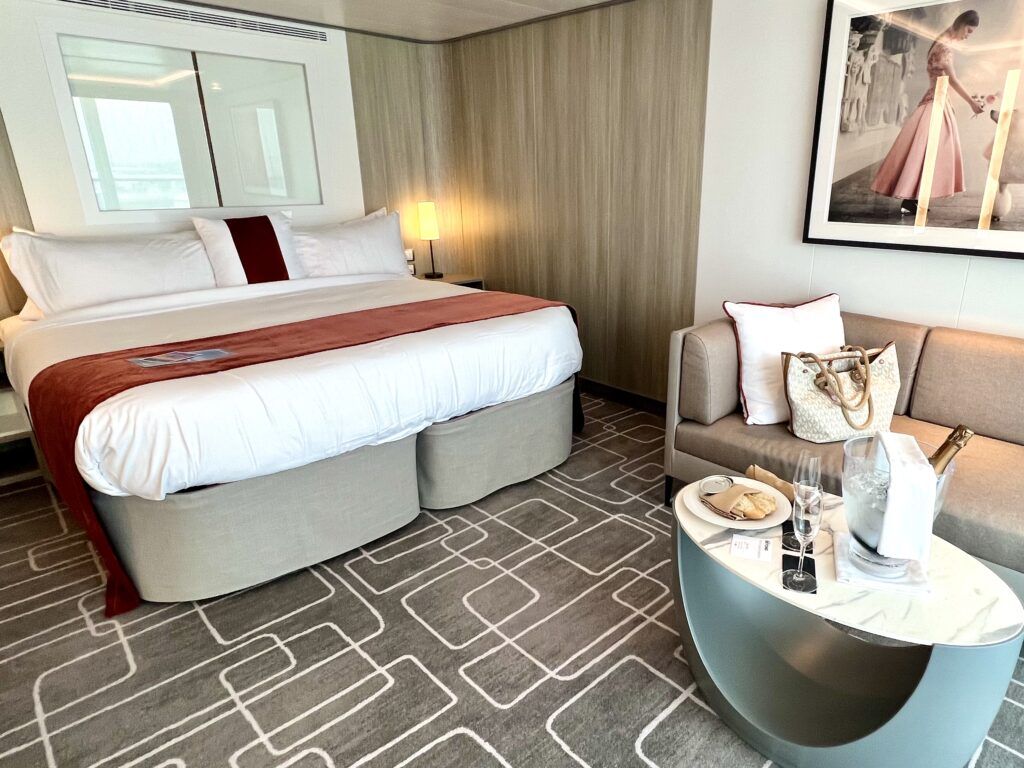 Other staterooms in the Retreat include the most luxurious accommodations, including 2 Iconic Suites measuring over 1800 square feet with a 690 foot balcony. There are also 6 Edge Villas, which are two-story accommodations with over 740 square feet of living space. Further, there are 2 Penthouse suites measuring over 1200 square feet.
Also, the Retreat consists of 43 Royal Suites and 16 Celebrity Suites, which offer separate living and sleeping quarters. Although, the layout and amenities of these suites are similar to Sky Suites.
Retreat Suites comprise about 13% of all the cabins on Celebrity Beyond as the ship has 1,646 staterooms in total.
EXCLUSIVE SAVINGS: Get Deals on Celebrity Beyond Cruises Now!
How Much is a Sky Suite on Celebrity Beyond?
Celebrity Sky Suites are the most modestly priced of all the Retreat suites. Still, these accommodations are going to cost you more than a traditional balcony cabin.
In general, a Sky Suite costs between $550 to $900 a night, per person.
Pricing for Sky Suites does vary based on the cruise length and itinerary. Plus, how far in advance you decide to book your cruise and the time of year you cruise factor into the price.
For instance, a Celebrity Beyond Sky Suite for a 10-night Mediterranean cruise in July 2023 is priced about $8,900 a person. However, if you take the same cruise in 2024 you can save some money. The same cruise is currently going for $7,274. This is a savings of over $1600 a person, with all the same benefits.
Although, you can book the same cabin for a 10-night Caribbean cruise in January 2024 for $5,560 a person.
How does the cost of a Sky Suite compare to other cabins?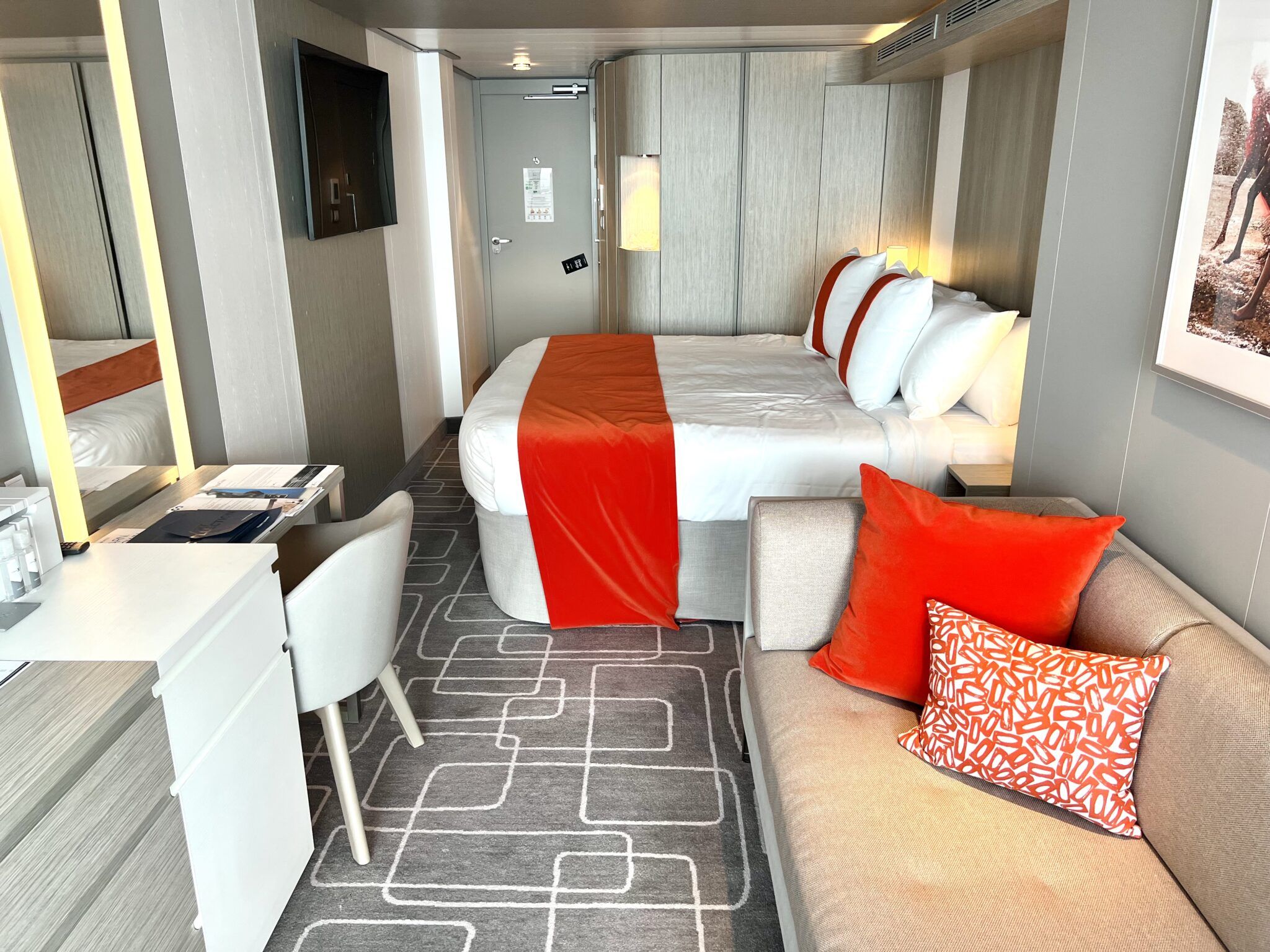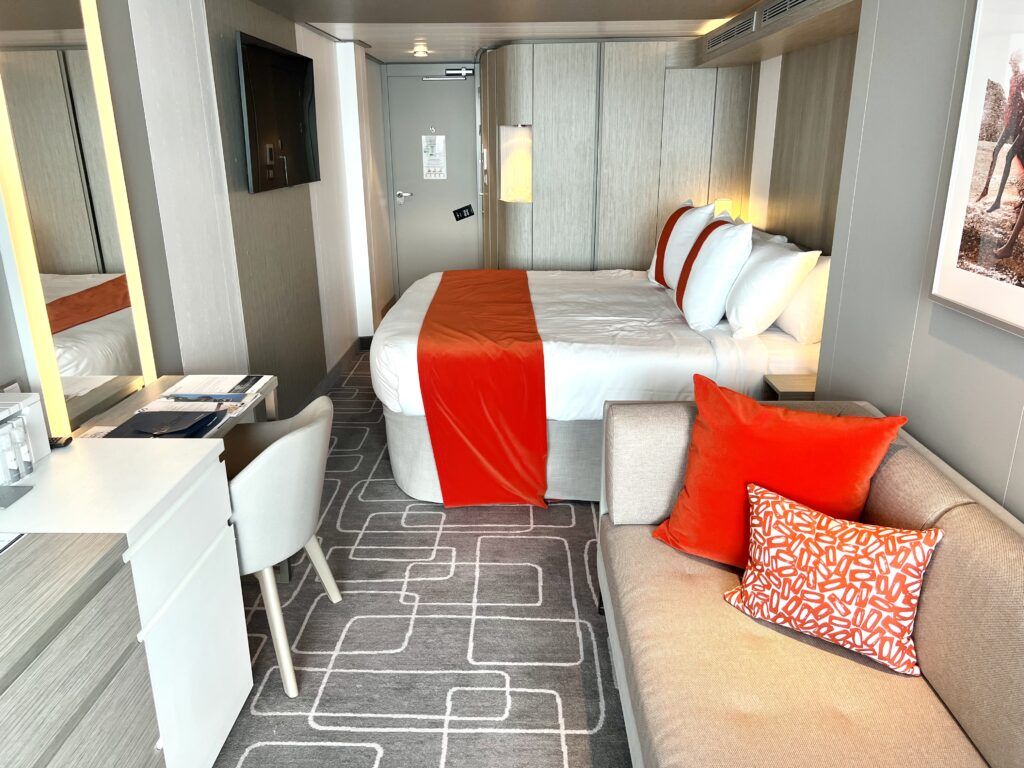 Well, comparing the example cruises above, a Veranda stateroom for the Mediterranean cruise ($4,520) and Caribbean ($3,025) are about half the cost of a Sky Suite.
Basically, you can expect to pay 80% to 100% more to upgrade from a Veranda to a Sky Suite, with the Always Included Package.
Our Experiences in a Sky Suite on Celebrity Beyond
Layout
The Celebrity Sky Suites offer the perfect mix of open spaces and amazing views. These oversized suites feature a king-sized bed with a Celebrity signature cashmere mattress and Xhale bedding.
Another bonus is that Sky Suites have a true balcony, not the infinite veranda. Neither one of us are big fans of this style of cabin, as we feel the infinite veranda is just a big window.
Our Celebrity Beyond Sky Suite, 9148, is a starboard side cabin located fairly forward on Deck 9. This stateroom was nearby the forward bank of elevators and stairs, making it an ideal location to access the public spaces on the ship.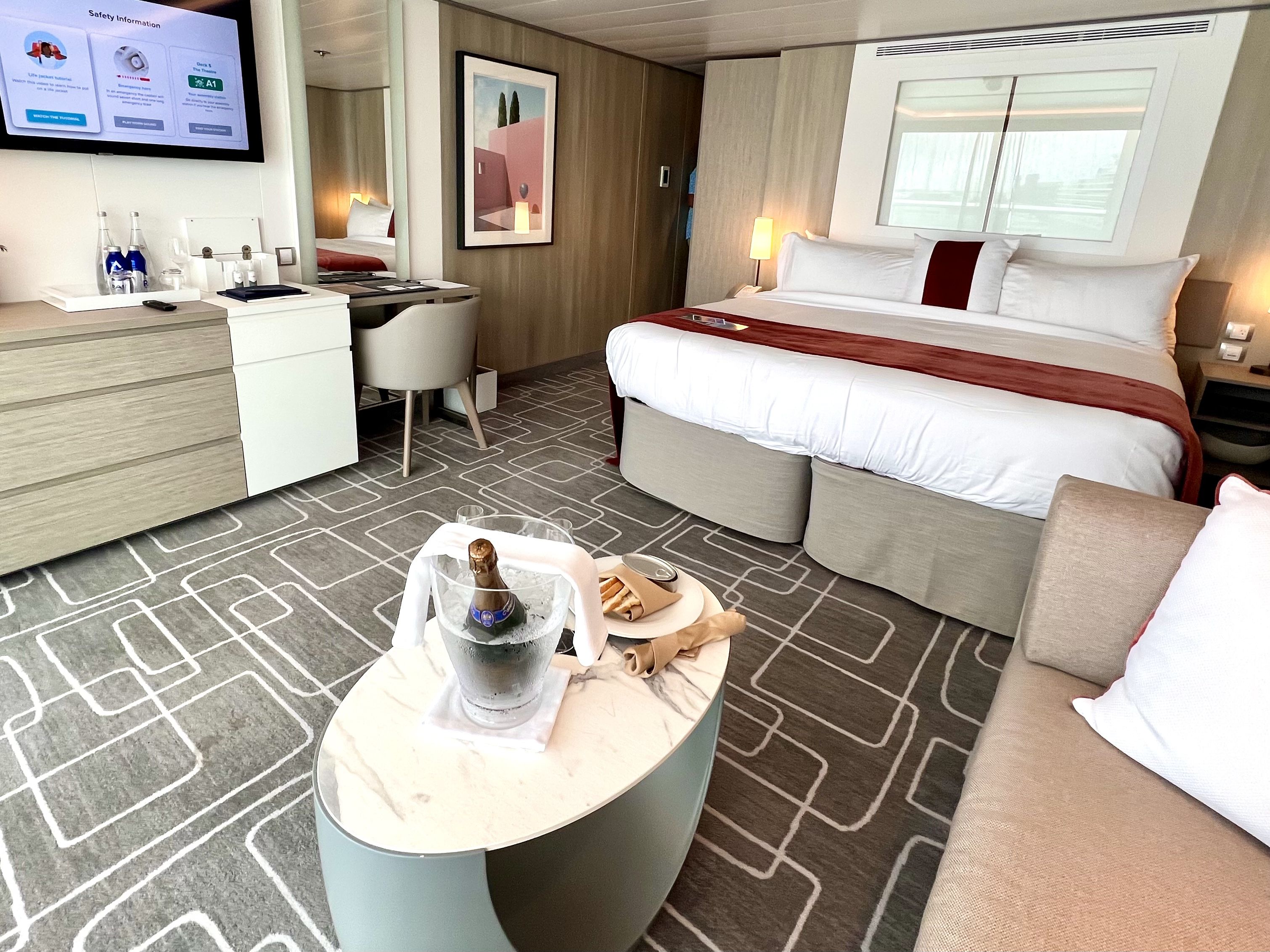 According to the Celebrity Cruises' website, the cabin is 319 square feet with a 79 square foot balcony.
Entering the suite, it indeed did feel massive. The décor is upscale and elegant just like the rest of the ship. It features mostly neutral tones with pops of red color.
Immediately entering this Celebrity Beyond Sky Suite, the bathroom was to the left, with the closet also on the left just past the bathroom.
Entering the main cabin area, the king bed was on the wall adjacent to the bathroom facing the veranda. The desk was to the right (aft wall) with a sofa and coffee table on the left (forward wall). Adjacent to the desk was an additional dresser with a power outlet station, mini-fridge, and the television mounted above.
Finally, there is the balcony. The layout of this Celebrity Beyond Sky Suite offers uninhibited views from the bed to the veranda.
Bathroom
The bathroom in our Sky Suite was a major upgrade from the typical bathrooms found on cruise ships. Among the benefits of a Celebrity Sky Suite bathroom are the enhanced space and premium bath products.
The bathroom features a large sink with his and her faucets and plenty of storage space. Further, there is a dedicated vanity area with a stool, which made it much easier for the two of us to get ready in the morning.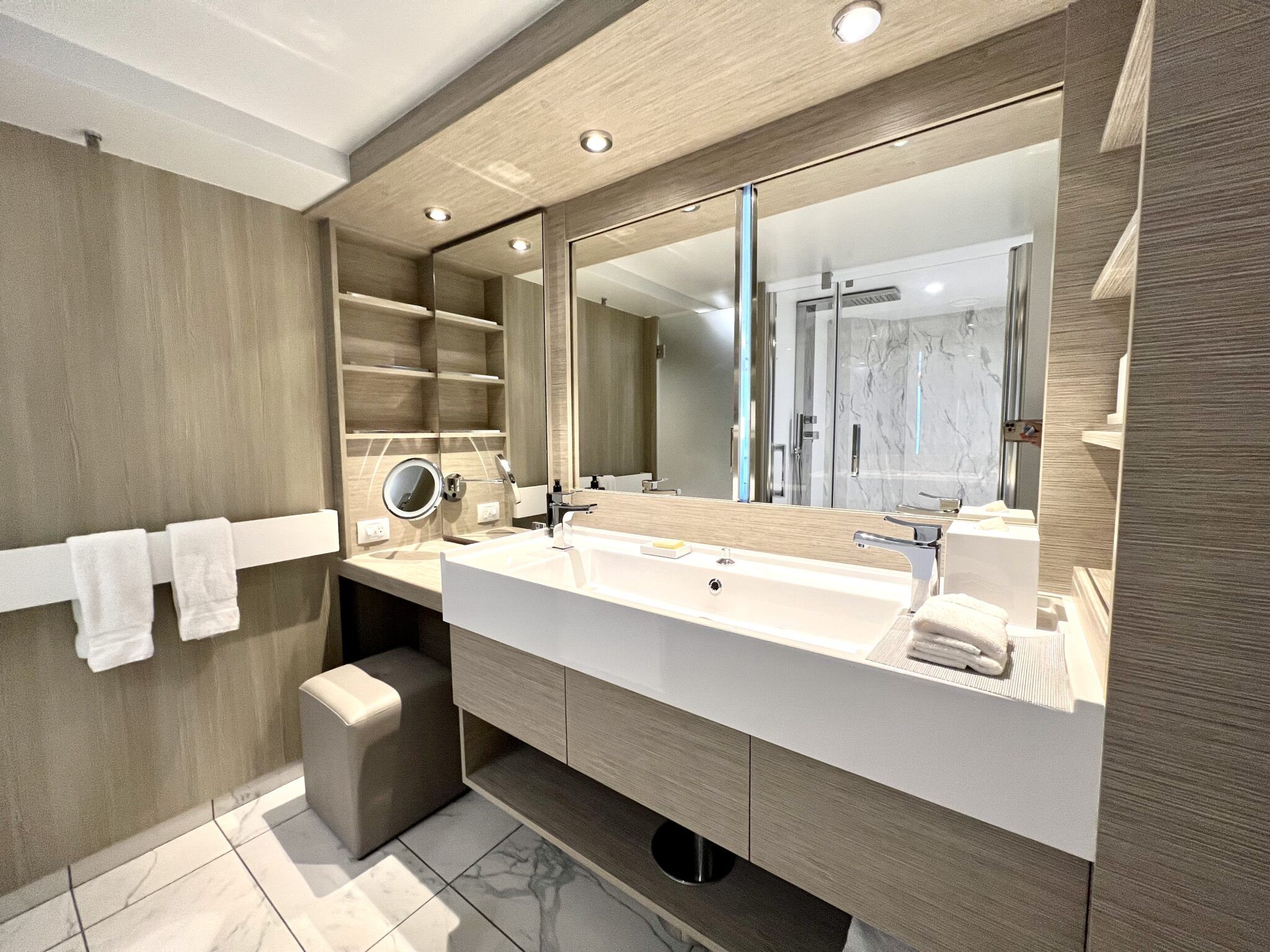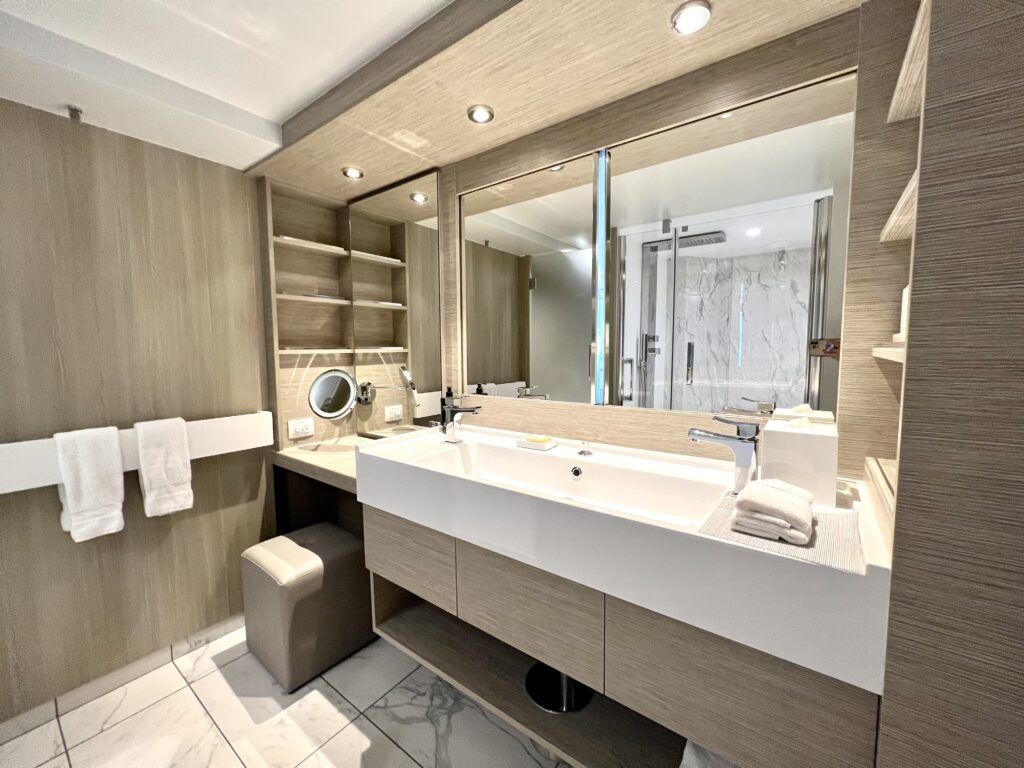 In terms of storage, there are shelves on both sides of the vanity as well as space below the sink.
The toilet is separated from the rest of the bathroom with a frosted glass door. This additional privacy is a welcomed upgrade for a cruise ship cabin.
The shower too is luxurious. It is oversized, with a full bathtub, Hansgrohe-brand showerhead, premium bath products, and marble finishes. With a wand, wall heads, and a rainfall shower, showering each day almost made us forget that we were on a cruise ship.
Another feature of the bathroom is the ability to open the mirror for a peekaboo window into the rest of the cabin.
The Closet
This Celebrity Beyond Sky Suite offers plenty of storage space throughout the cabin, including the closet.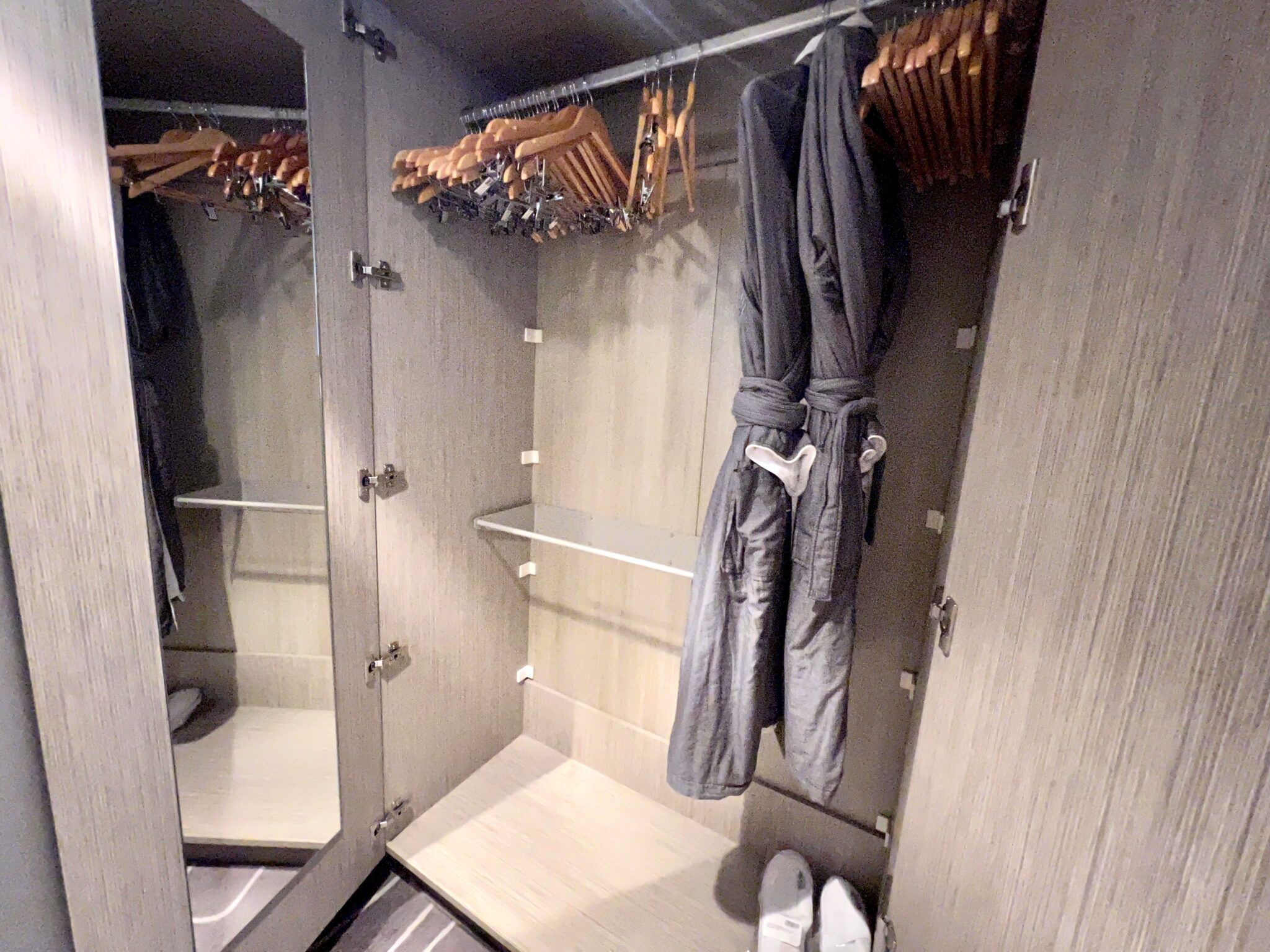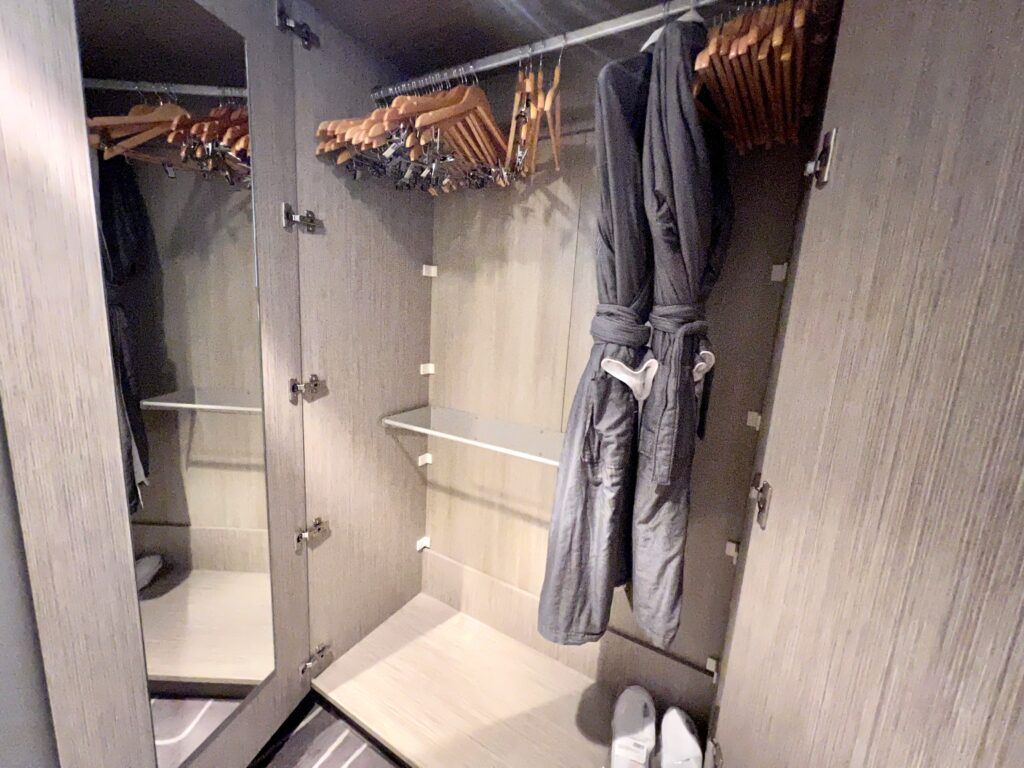 One side of the closet features three shelves, three drawers, and the safe. The other side features a full length clothes bar with plenty of hangers. Here, you will also find your premium bathrobes and slippers.
This closet certainly had more than enough storage space for the week for the two of us.
Main Cabin
The main cabin is a very open and inviting space. With the bed facing towards the veranda, the layout is much different than typical staterooms. This setup also helps separate the space into sleeping and living areas.
The bed was very comfortable, and we had no issues falling asleep after our long days and nights on the ship.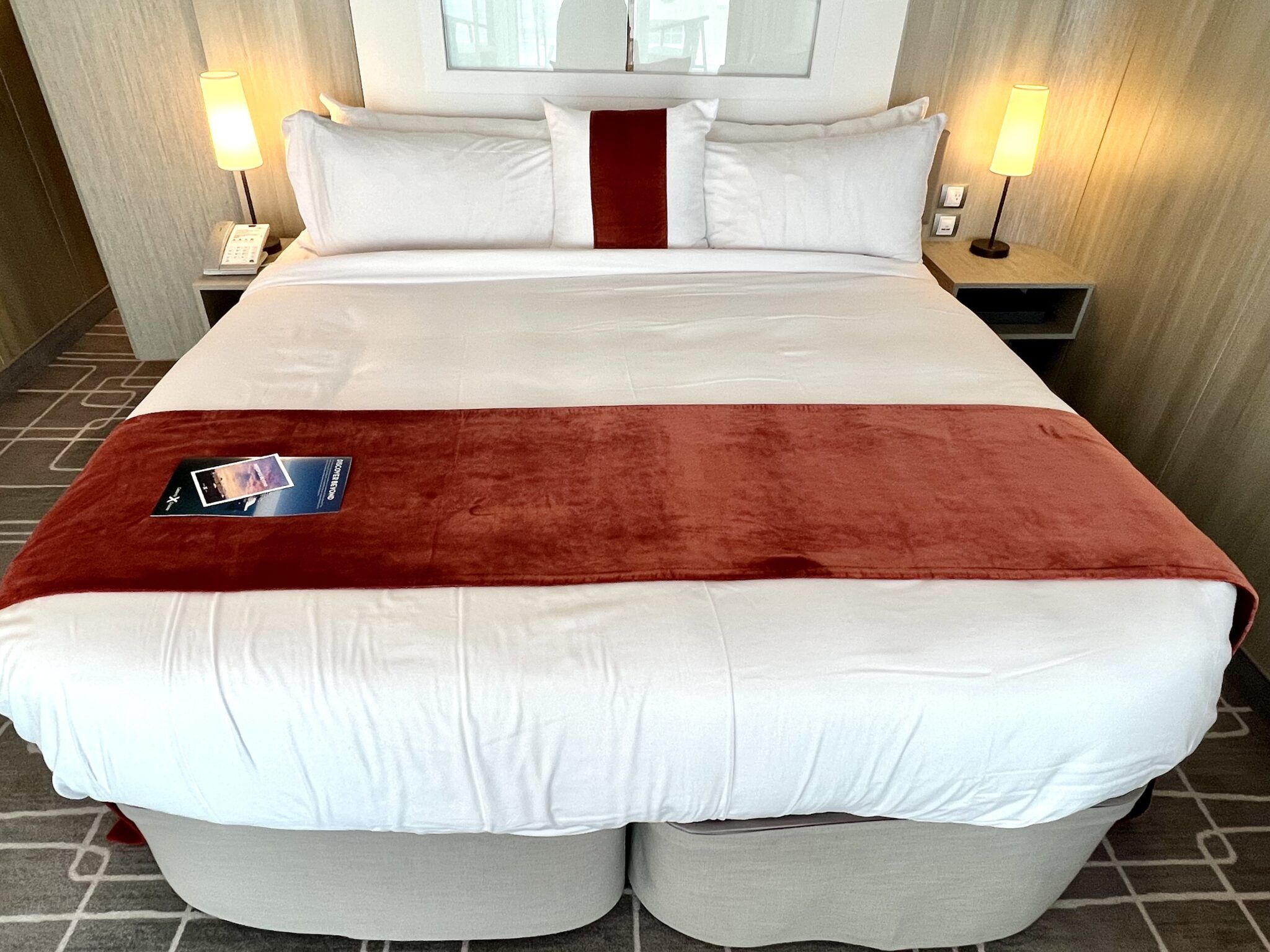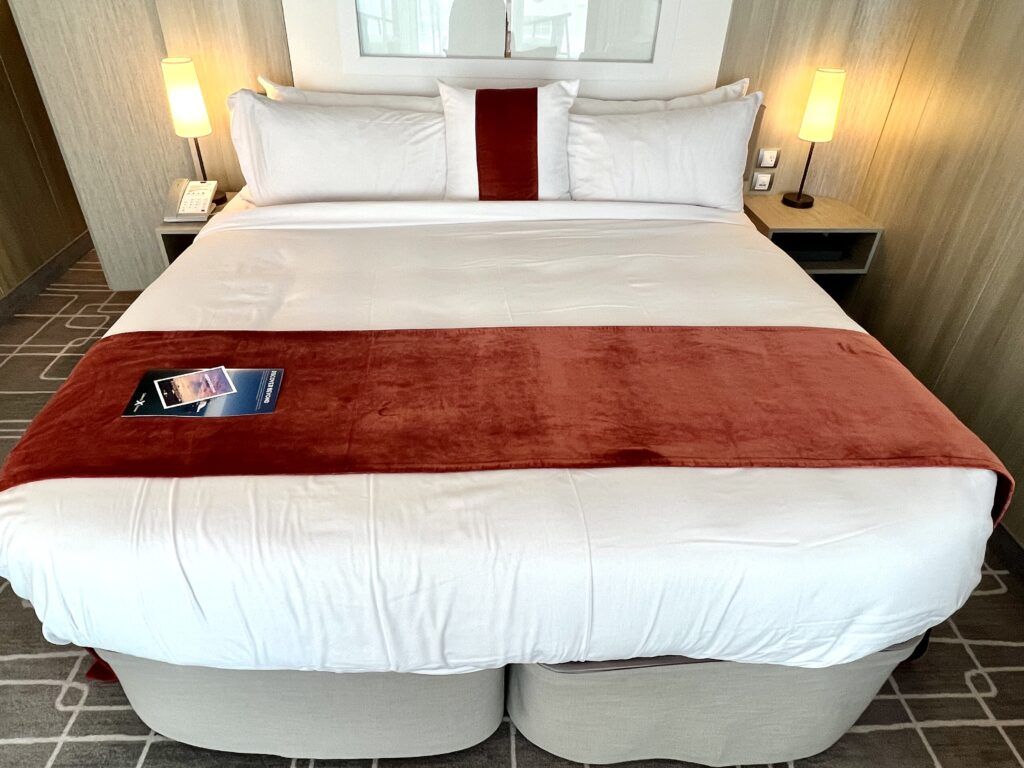 Nearby the bed were two small nightstands. One side housed the phone and three small shelves. The other side had two shelves along with two USB outlets and a power outlet.
The desk and mirror are essentially the same setup on most cruise ships. This space often doubles as a work station and the wife's getting ready area.
The adjacent dresser provides even more counter space, three drawers for additional storage, and a centralized power station. This power station contains one 220V outlet, two 110V outlets, and 2 USB outlets.
Further, you will find the mini-fridge here.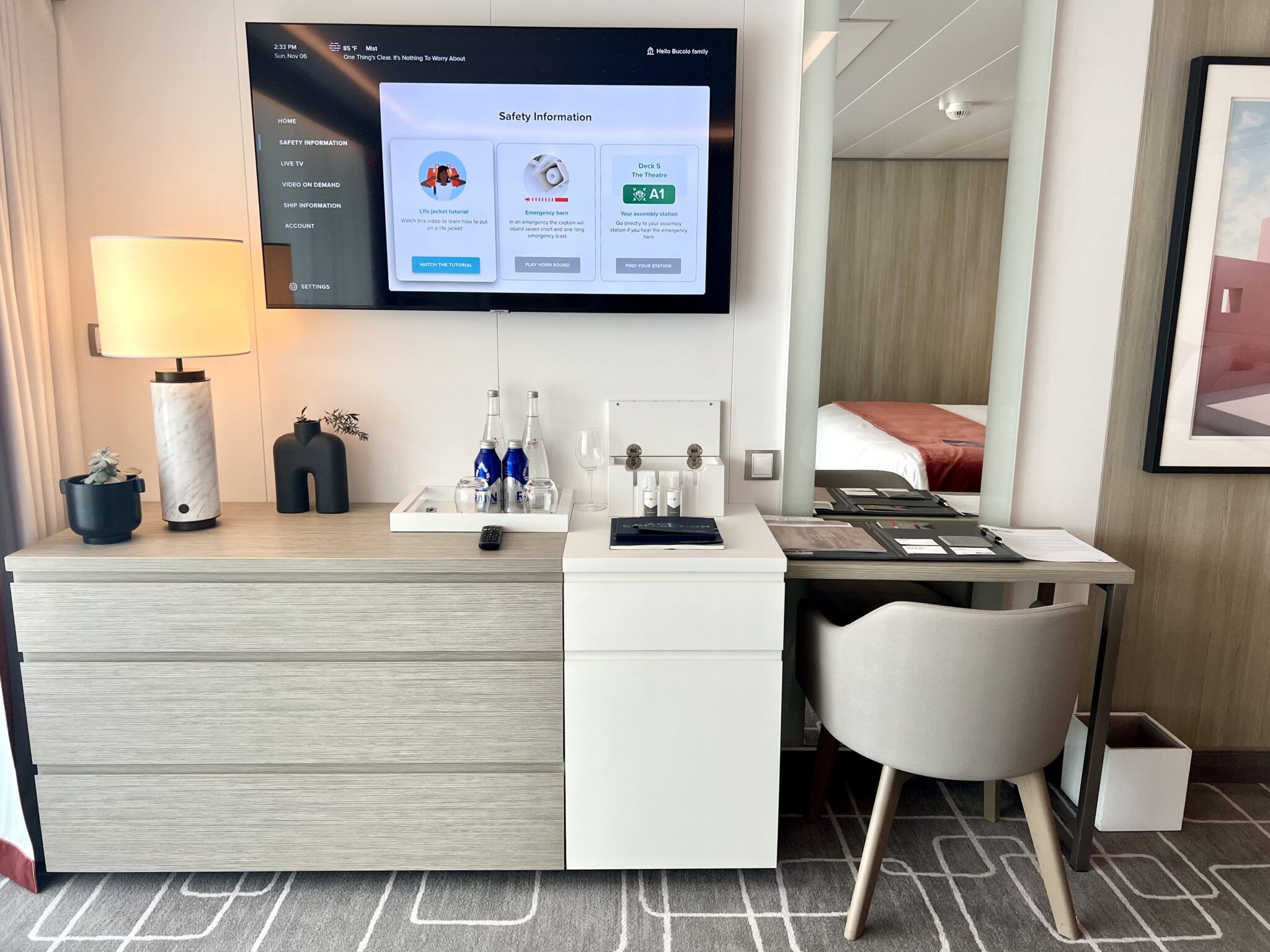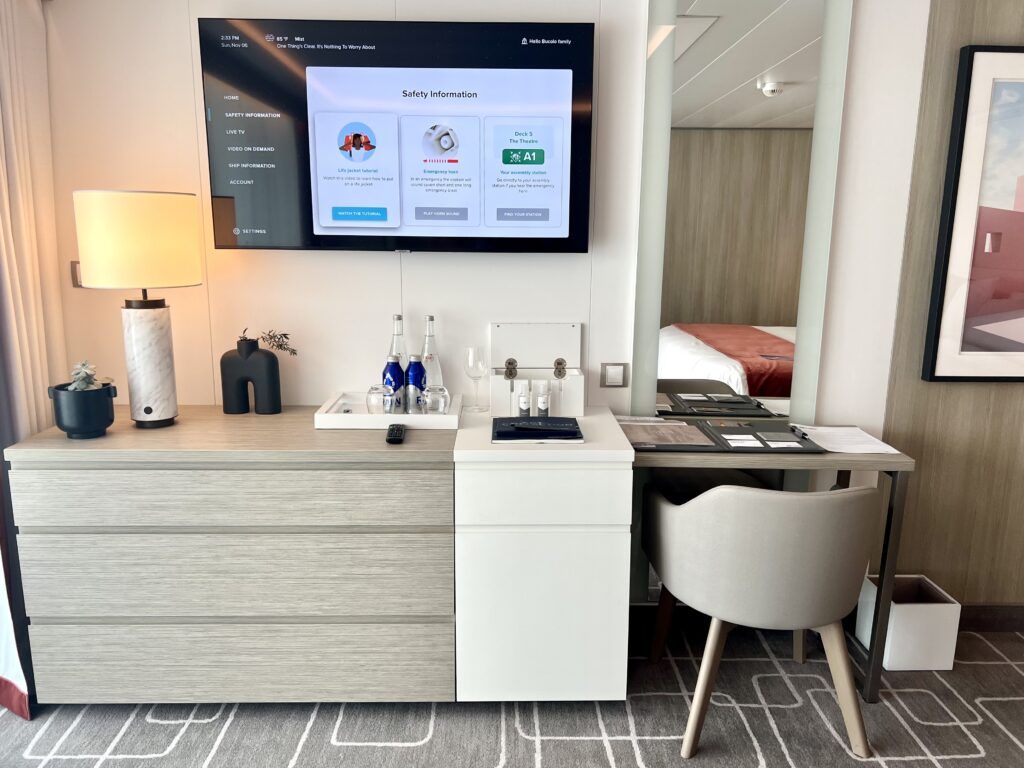 Across the way is the loveseat and coffee table. The loveseat is similar in size to that in a standard veranda stateroom. Still, there is certainly enough room for two adults to sit comfortably.
Of course, there was definitely more space for walking between the desk and love seat when compared to a regular cabin.
Balcony
Besides the extra space and upgraded bathroom, another reason for us to upgrade to a Celebrity Sky suite would be the real balcony. This veranda offers great views and ocean breezes.
When compared to balconies on other ships, this one is just a tad larger. Still, there is enough space for the two chairs and a table. Although, the balcony is not large enough to accommodate sun loungers.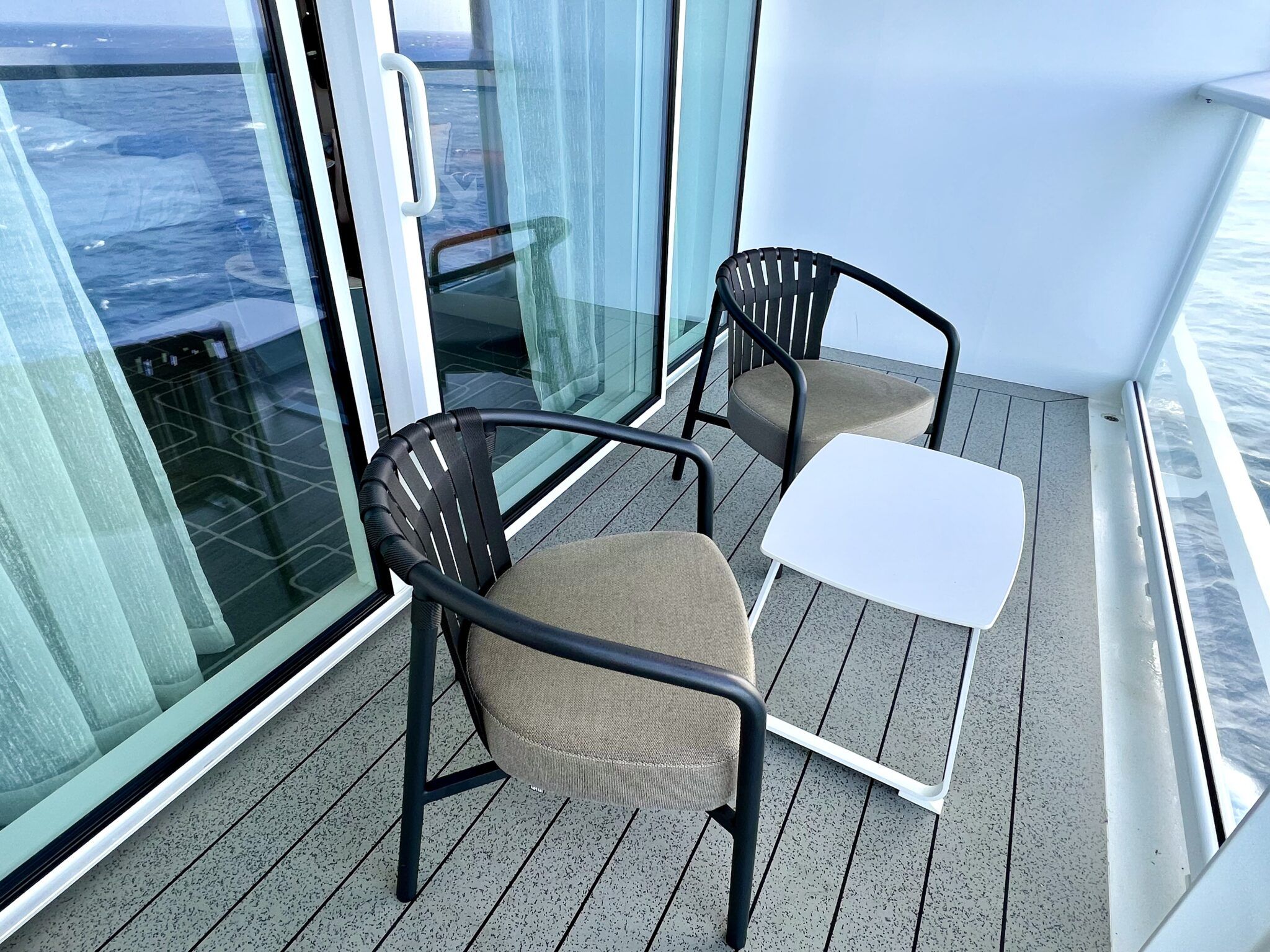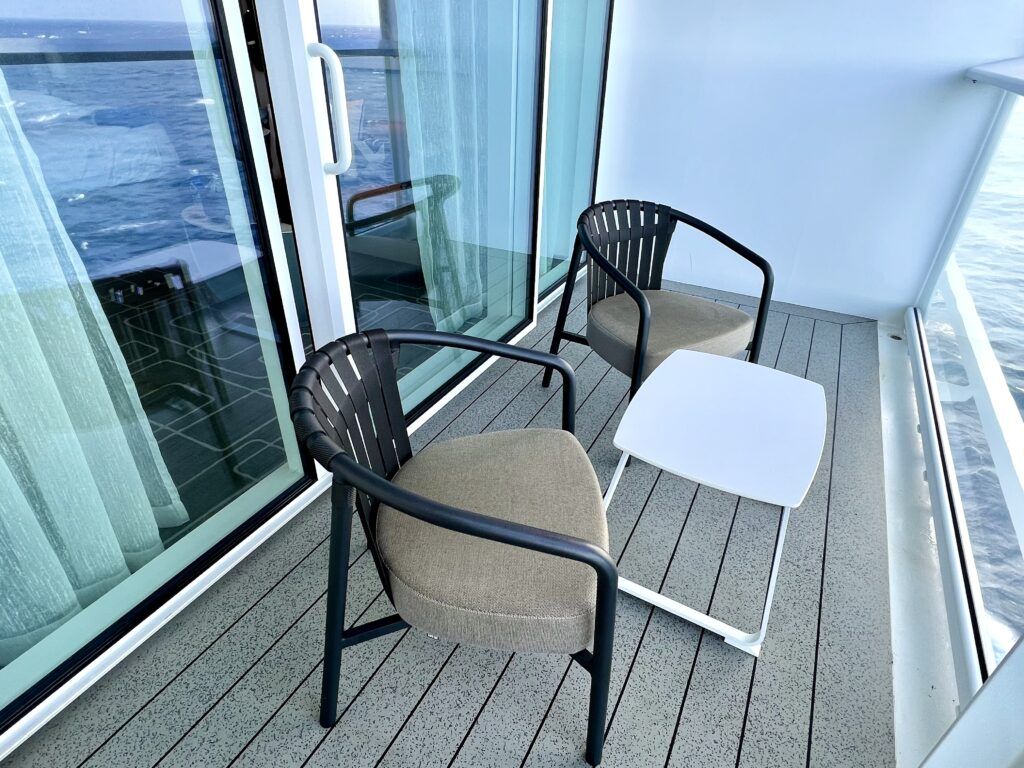 SCORE BIG ON CELEBRITY BEYOND CRUISES NOW!
What's Included in a Celebrity Sky Suite
Like all of the staterooms on Celebrity Beyond, this Sky suite includes access to several public areas on the ship. A variety of complimentary dining, entertainment, and activities are all included with the cruise fare, along with the cruise line's award-winning service, daily housekeeping, and in-room amenities.
However, there are additional benefits to staying in a Celebrity Sky Suite. These enhancements include:
Butler service
Welcome aboard bottle of sparkling wine
Complimentary 24 hour room service with expanded menu
In-suite coffee maker with premium coffee
Premium bath products
Premium robes and slippers in the cabin
Pillow menu
Mini bar with complimentary alcoholic and non-alcoholic beverages
Complimentary shoeshine
Complimentary use of umbrellas and binoculars
Daily delivery of savories and afternoon tea services
Fresh fruit delivery, upon request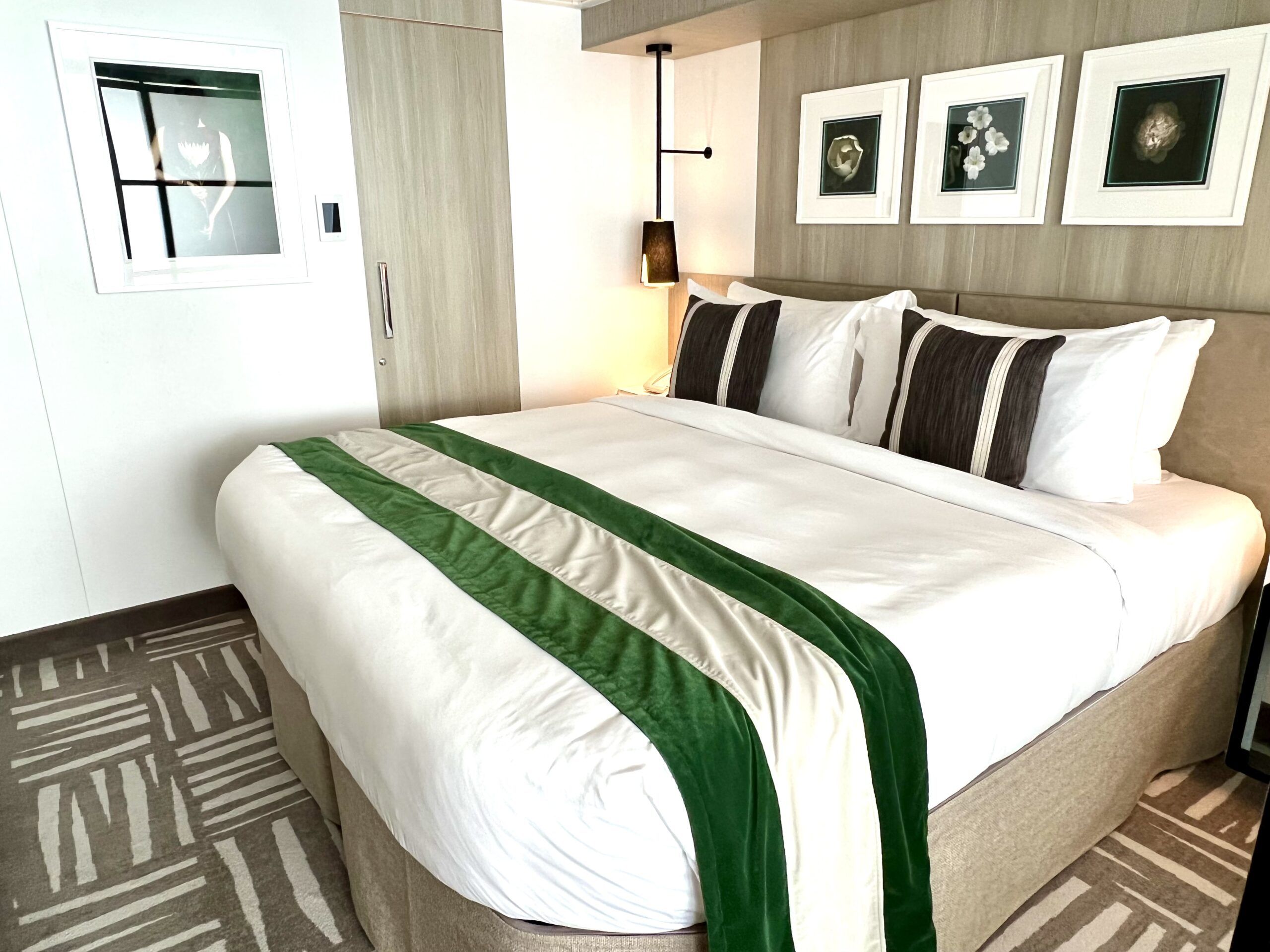 In addition, cruisers staying in the Retreat have access to a variety of services including:
Pre-cruise and onboard concierge service
Priority services including check-in and luggage delivery
Priority embarkation and disembarkation
Priority tendering
Priority dinner reservations
Reserved seating section in the Celebrity Beyond theater (on select nights)
Additional Benefits of Staying in a Sky Suite
Not to mention, access to all of the Retreat public areas is also included with a Celebrity Sky Suite.
Among these exclusive areas is the Retreat Sundeck. Found all the way forward on deck 17 and 16, the Retreat sun deck is 40% bigger than the similar space on the two previous Edge Class ships.
Those staying in the Retreat Suites have access to a private pool. This inset pool faces out towards the bow of the ship. There are also two hot tubs for additional relaxation. Just past the pool is the outdoor Retreat Bar with some additional seating.
There is also the Luminae Restaurant exclusive for suite guests. This venue features a unique new design and has been moved to the front of the ship offering panoramic floor-to-ceiling views for guests to enjoy during every meal. The restaurant is open for breakfast and dinner daily, and serves lunch on sea days.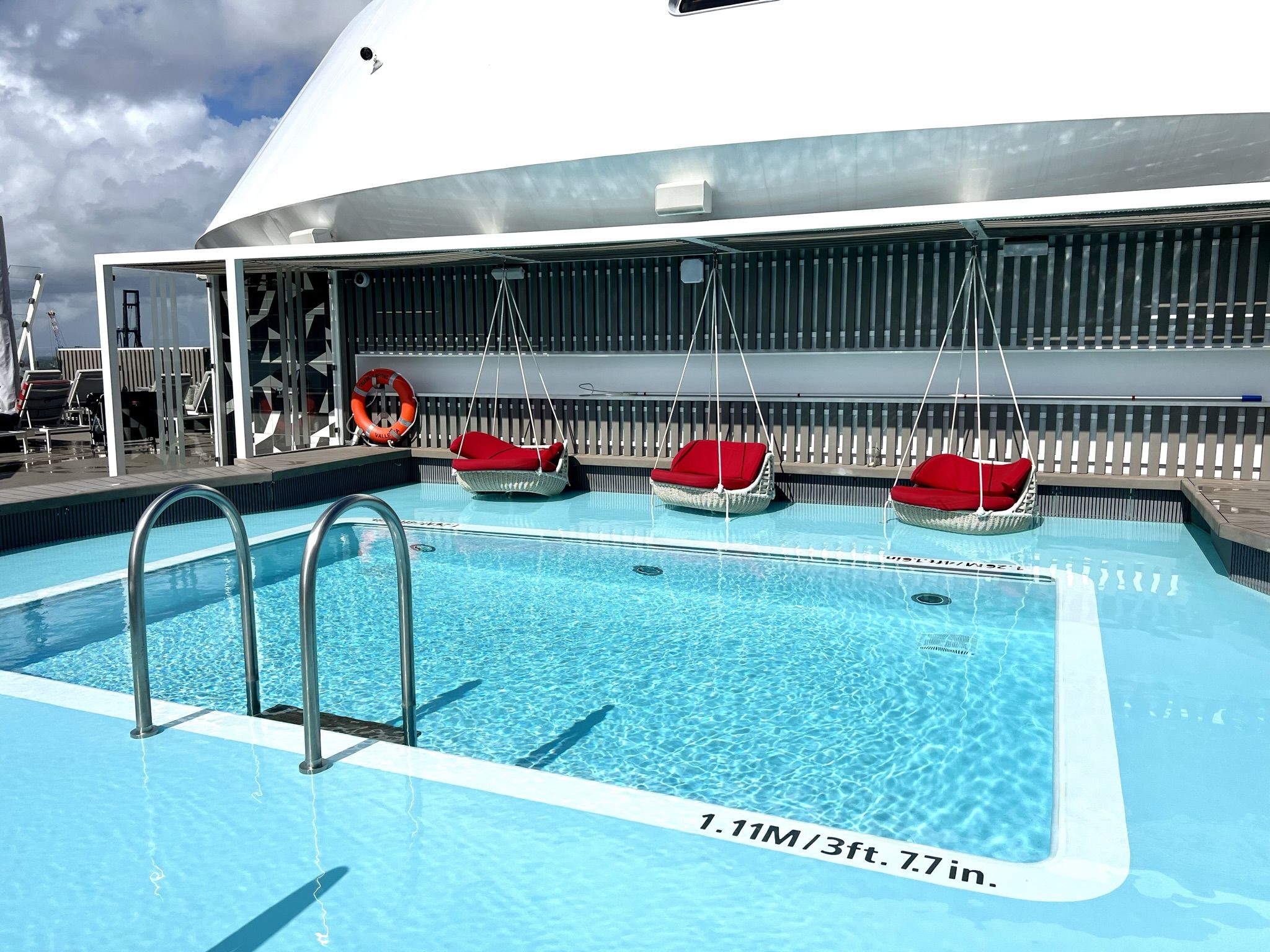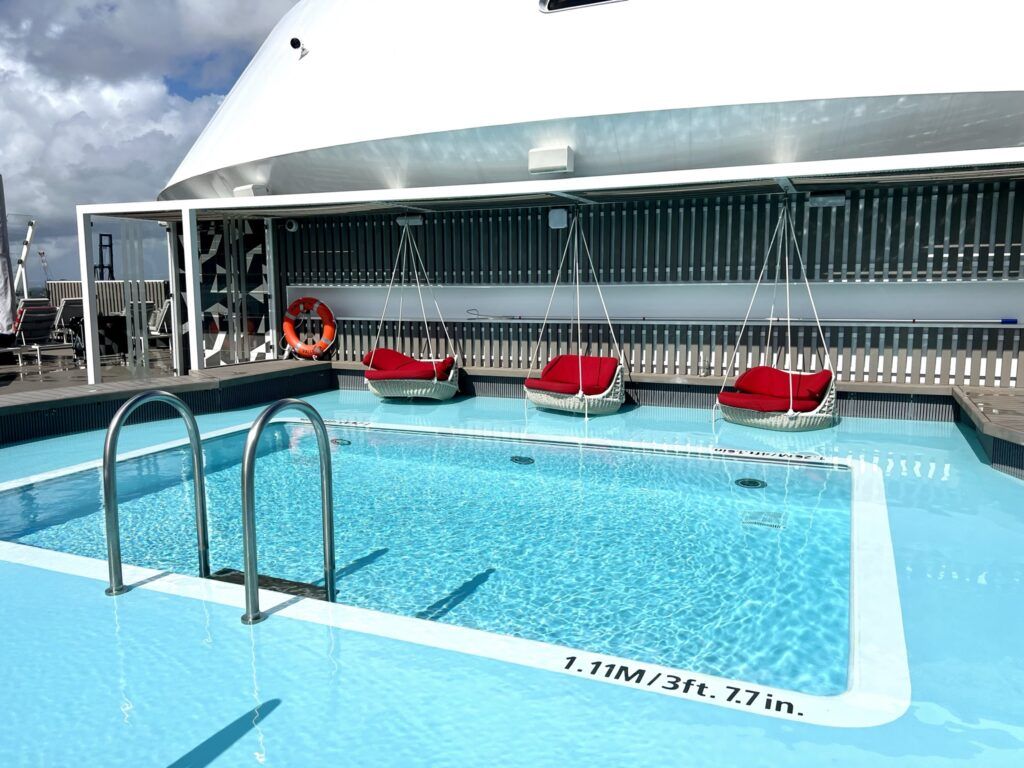 The lunch and dinner menus at Luminae rotate daily and offer more upscale selections than the main dining rooms. Some featured items include dishes designed by chef Daniel Boulud, the cruise line's Global Culinary Ambassador.
Of course, cruisers can still dine at the other complimentary and specialty restaurants on Celebrity Beyond.
The Retreat Lounge, located on deck 15, also boasts an inviting new design and a new location with dramatic floor-to-ceiling views. Guests can stop by this lounge for complimentary beverages, gourmet treats, and a zen space to socialize with other suite guests.
Finally, depending on the cruise line's current sales, upgrading to a Celebrity Sky Suite can include additional perks.
With the cruise line's current promotions, cruisers get several upgrades from the typical Always Included offerings. These include an upgrade to the premium drink package (a retail value of $20 per day) as well as premium WiFi ($15 a day), included daily service charge, and an additional onboard credit.
BOOK NOW: Exclusive Savings on Celebrity Beyond Cruises!
Recap of the Celebrity Sky Suite on Celebrity Beyond
Our Celebrity Beyond Sky Suite was a magnificent upgrade from an infinite veranda stateroom. Now, that is saying something as we are very fond of Celebrity Beyond's cabins overall. Compared to other contemporary cruise lines, we feel the staterooms on Celebrity Beyond are more elegant and well-appointed.
Thus, with 50% more space and all of the additional benefits and inclusions, our Sky Suite was truly luxurious. Having access to the private sun deck and restaurant is a huge perk as well. The food at Luminae is exquisite, with a menu featuring premium selections.
While much pricier when compared to the already nicely appointed infinite veranda, the room amenities and benefits, coupled with the extra cruise line perks, make a Celebrity Sky Suite a good value for those looking for an upscale cruise experience on one of the best ships in the world.
Comments
Have you stayed in a Celebrity Sky Suite? Have you sailed on Celebrity Beyond yet? Drop us an anchor below with your favorite cabins on Celebrity cruise ships!