The one reality that all cruisers know is that cruise cabins can be small, especially if you opt for the more economically priced rooms. How will you survive a week or more in these tight quarters? Luckily, we have come up with our tried and true Top 7 Space Saving Hacks for Your Cruise Cabin in 2019 to help you maximize every square inch of your stateroom.
Top 7 Space Saving Hacks for Your Cruise Cabin in 2019
Store Your Luggage Under the Bed
Though this might sound a bit counter-intuitive, one of the best ways to save space in your cruise cabin is to fully unpack on embarkation day. Once you unpack and organize all your belongings that you will need for your cruise vacation, simply slide your empty luggage out of sight. Use the dead area under your bed to neatly store your luggage and add some much needed space to your cruise cabin. If you have multiple pieces of luggage, you can always stow away the smaller pieces within the larger suitcases to ensure they will all fit.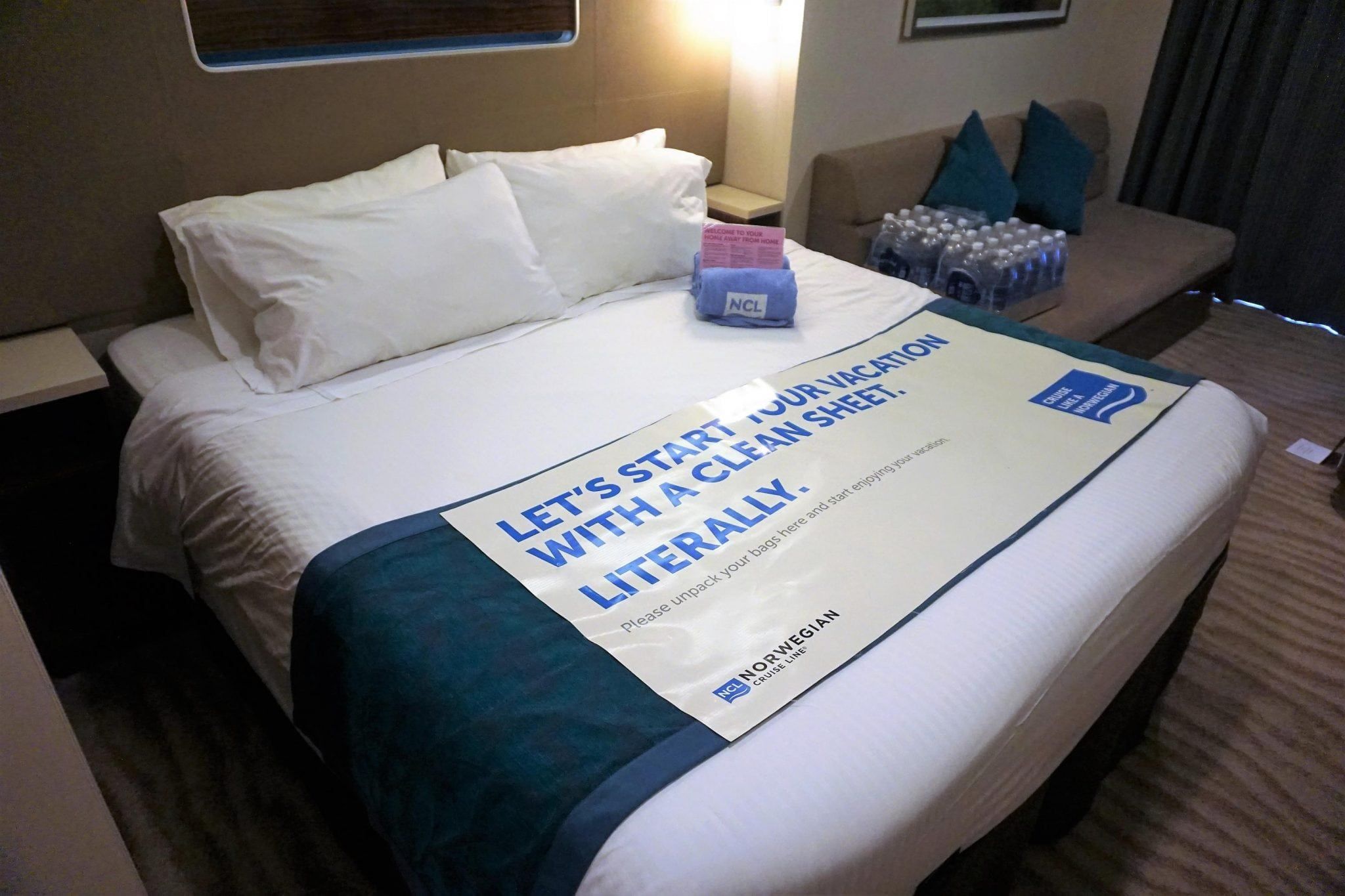 Rearrange Furniture
On embarkation day, you should also take some time to assess your cruise cabin's layout and rearrange the furniture to maximize the space for your travel party. This might mean moving tables, ottomans, or other small pieces of furniture out of the way to allow more room to maneuver in the generally tight quarters. If there is something in the cabin that you do not plan on using for the duration of the cruise, consider asking your stateroom attendant to simply remove it.
Use an Over the Door Shoe Organizer
No, we do not bring enough shoes for a week long cruise to make this a necessary accessory for the cruise cabin. However, if you think outside the box a bit, an over the door shoe organizer can be used for much more than just shoes. If you have one of these handy accessories, unpacking your toiletries will be a breeze. With individual compartments for things like suntan lotion, perfume/cologne, deodorant, and much more, all your toiletries will be neatly stored in one place without cluttering up the bathroom or desk counter space.
Use Magnetic Hooks
The walls of your cruise cabin are metal, so another great space saving hack is to use magnetic hooks to create extra storage in your stateroom. Think beach bags, hats, jackets, or anything else you might ordinarily throw on the sofa or desk. These items can now be neatly hung up to allow for extra seating and to reduce clutter. These hooks come in a variety of strengths- the 25 lb. hooks will work for lighter objects, but we recommend the 40 lb. magnets for anything with a bit more weight. Magnets can also be used to hang cruise daily programs, shore excursion tickets, and other documents that you want to keep handy.
Keep Your Electronics Organized
If you are like us, your electronics checklist might be almost as long as your clothing checklist. From smartphones, tablets, laptops, cameras, and everything in between, you could end up with a sea of cords. Designate an area of your room as the charging station, then keep all the accessories nearby. If you are looking for extra charging outlets, we always pack a cruise approved power strip with extra outlets and USB ports to charge multiple devices at one time.
Pack Away Laundry
Take a few minutes at the end of each night to pack away your dirty laundry. Whether you hang a laundry bag (or a trash bag will serve the same purpose) in your closet or stash the clothes that you no longer need in your suitcases under the bed, this space saving hack will not only keep your cruise cabin organized but it will make packing at the end of your cruise a breeze. This same rule can hold true to shoes or any other accessories that you don't plan on using for the remaining days of your cruise.

Pack Less
Of course, the number one space saving hack for your cruise cabin is to pack less! Coming from chronic over-packers like ourselves, we know this can be difficult. But, as you are packing for your cruise, try to pack outfits based on what activities you have planned during the day, items that can easily be mixed and matched, and limit bigger and bulkier items. Over the years, we have gotten better, but we still always manage to come home with outfits that are unused. If you are sailing the Caribbean think bathing suits. If you are sailing colder climates think reusable layers. You get the point!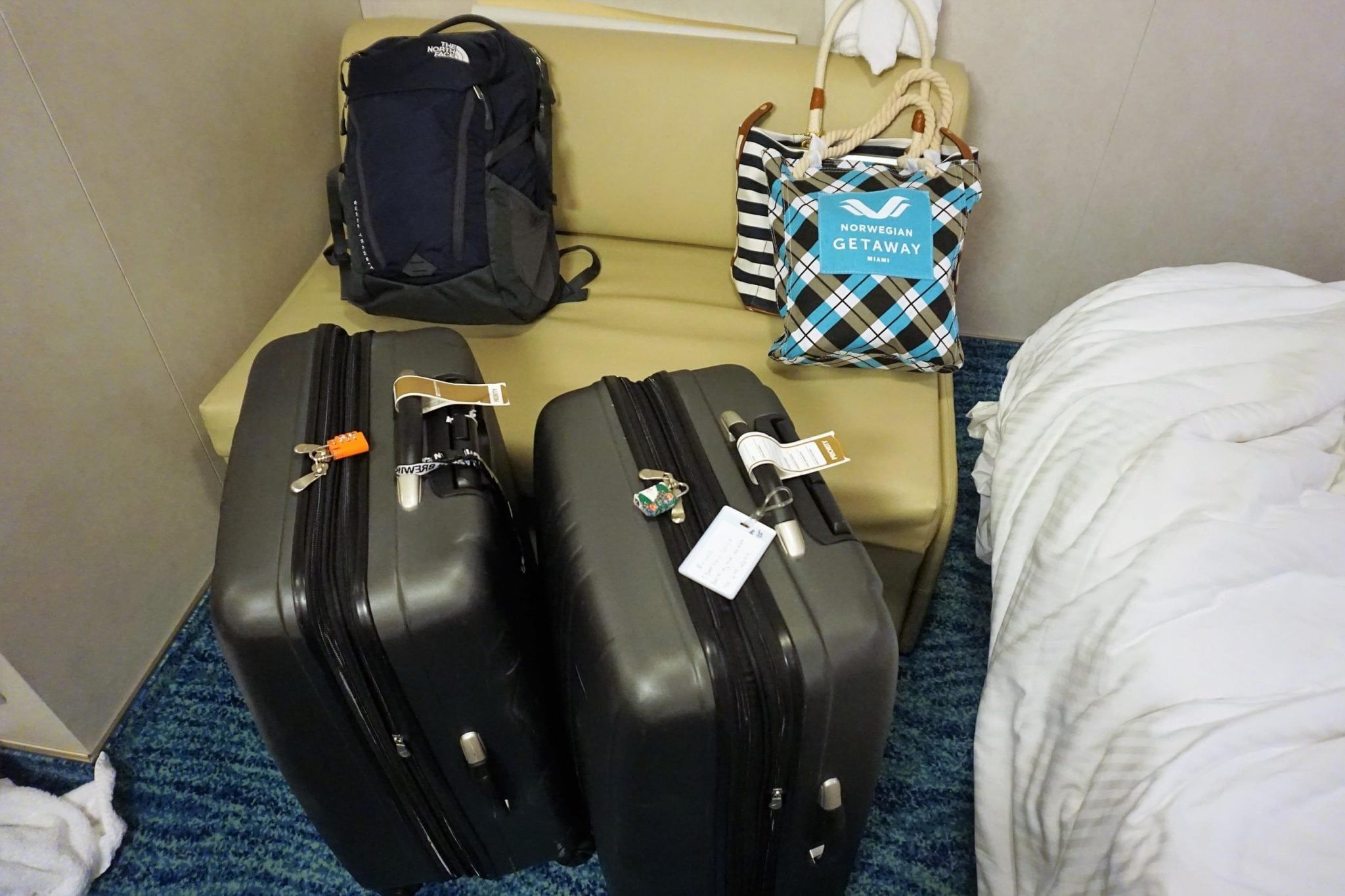 …If All Else Fails
If you have tried to consider all of our Top 7 Space Saving Hacks for Your Cruise Cabin, but still think you will not have enough room, then you might want to consider upgrading to a larger cabin. We sailed in a Junior Suite for the first time on Oasis of the Seas and couldn't believe how much extra storage and closet space we had. Let's just say that it was hard to go back to an interior cabin again!
Comments
Do you agree with our Top 7 Space Saving Hacks for Your Cruise Cabin? What are your secrets for maximizing your stateroom layout? Drop us an anchor below to share your tips for saving space on a cruise.