The Celebrity Cruises' Edge Class is one of our favorite class of ships. So, it's no surprise that we hopped onboard Celebrity Beyond for its first cruise from Florida. For that 5-night Eastern Caribbean cruise, we decided to upgrade our experience to a Celebrity AquaClass stateroom.
This was actually a last minute decision when we opted to try the Celebrity MoveUp bid, and we were thrilled when our bid for this cabin was accepted.
How did these accommodations compare to our previous experiences on other Celebrity Cruises' ships? Well, we are back and share all the details with our Celebrity Beyond AquaClass stateroom review.
Celebrity AquaClass Stateroom on Celebrity Beyond
What is the Celebrity AquaClass?
The Celebrity Aquaclass is a special category of staterooms on select Celebrity Cruises' ships. These staterooms allow guests to enjoy onboard upgrades, unique dining experiences, as well as several health and wellness-focused amenities. Although, the room dimensions and furnishings are not different than the typical infinite veranda staterooms.
These extra inclusions are in addition to all of the luxurious experiences aboard Celebrity Beyond, one of our picks for the best cruise ships of the year.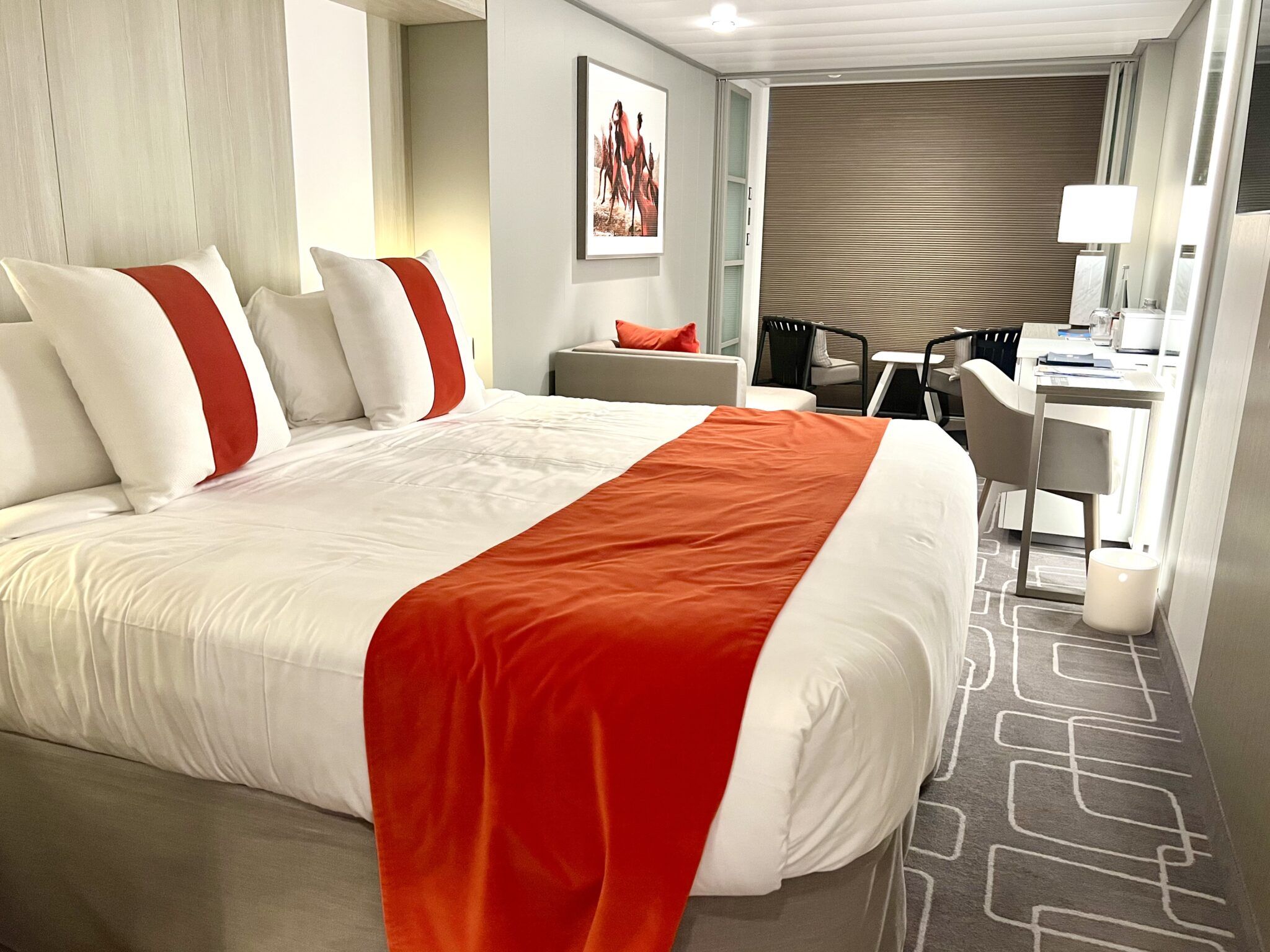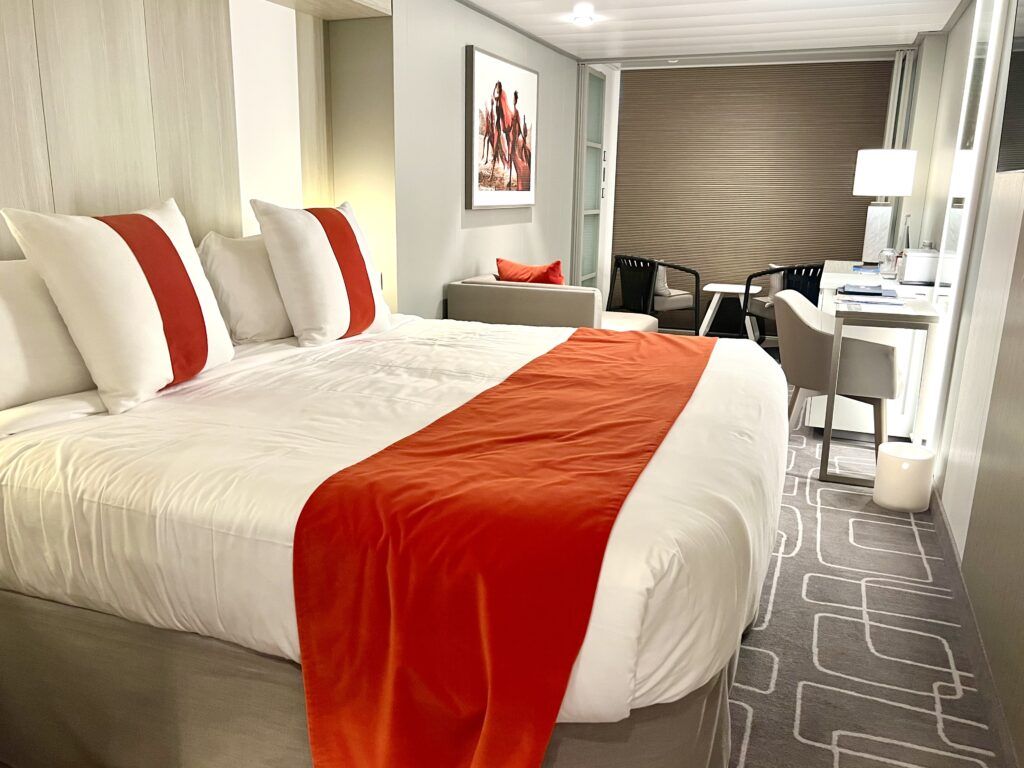 On Celebrity Beyond, there are a total of 104 AquaClass Infinite Veranda staterooms. These Celebrity Aquaclass staterooms are found throughout the ship and tend to be located in the forward of the vessel.
If you want to upgrade your experience even more, Celebrity Beyond has some AquaClass Suites. These rooms receive both AquaClass benefits and all the benefits of staying in the Celebrity Retreat.
EXCLUSIVE SAVINGS: Get Deals on Celebrity Beyond Cruises!
Benefits of Staying in AquaClass Staterooms
There are plenty of benefits to staying in Celebrity AquaClass staterooms. These staterooms are designed for travelers who value wellness and fitness.
The benefits of staying in Aquaclass on Celebrity Cruises include:
Complimentary unlimited access to the SEA Thermal Suite and its 8 experiences
Preferential spa appointments
Spa treatment discounts
Unlimited fitness classes
Eco-friendly natural ingredient shower products in the cabin
Expanded wellness on-demand TV in the stateroom
Cotton bathrobes, slippers, towels
Welcome bottle of sparkling wine
Complimentary umbrella and binoculars
Free shoeshine service
Welcome Aboard reception
In cabin yoga mats
While we did not make use of many of the in-room perks, we did visit the SEA thermal suite. This thermal suite is one of the best at sea. We particularly enjoy the salt room, infrared sauna, and forward-facing heated loungers.
Access to Blu Restaurant
The benefits of staying in a Celebrity AquaClass stateroom don't end there. Cruisers in this stateroom category also have access to an exclusive restaurant, Blu.
On Celebrity Beyond, Blu is located on Deck 5 aft. This restaurant is open for breakfast and dinner every day. AquaClass guests do not need to make a reservation to dine at Blu.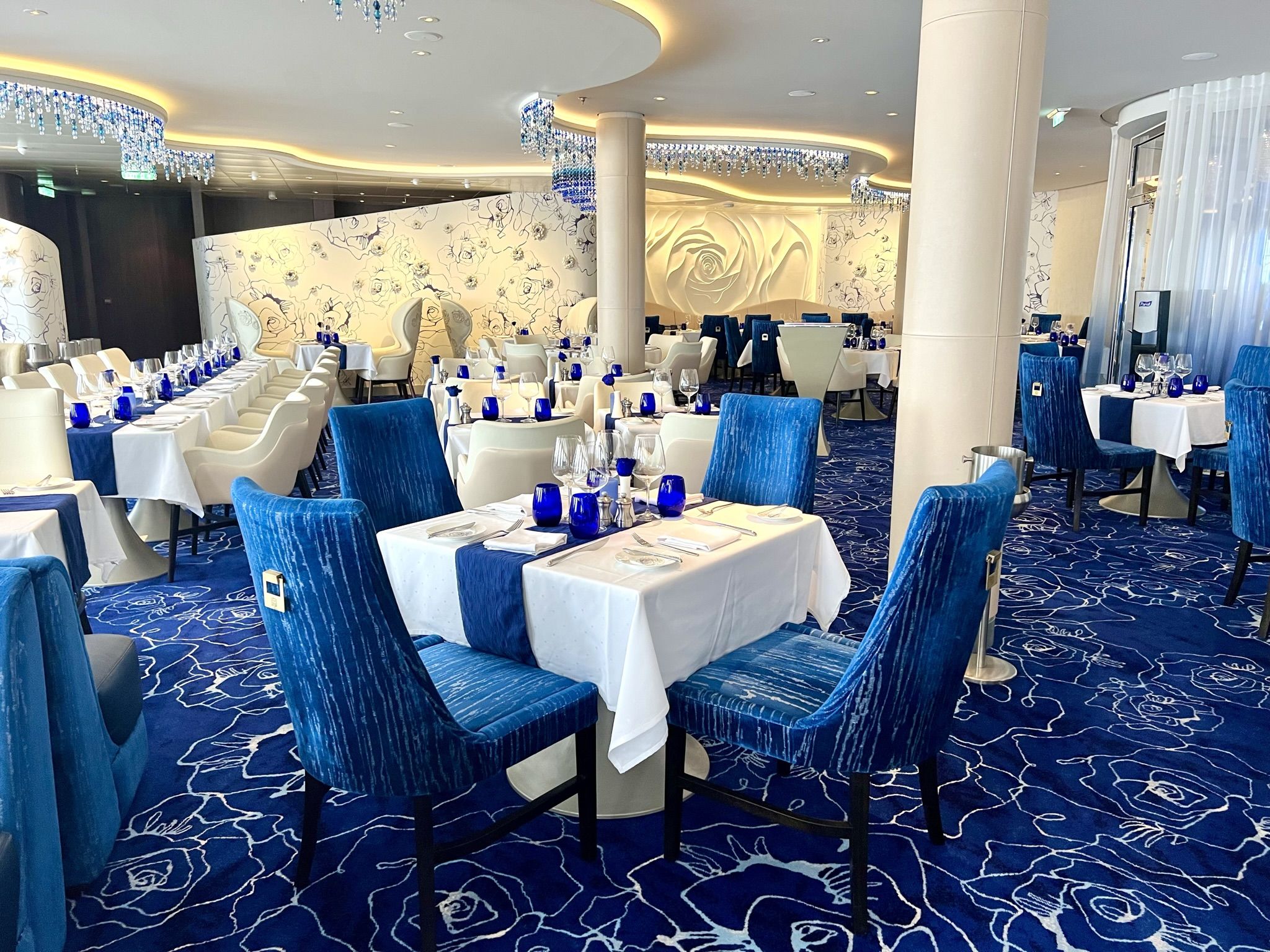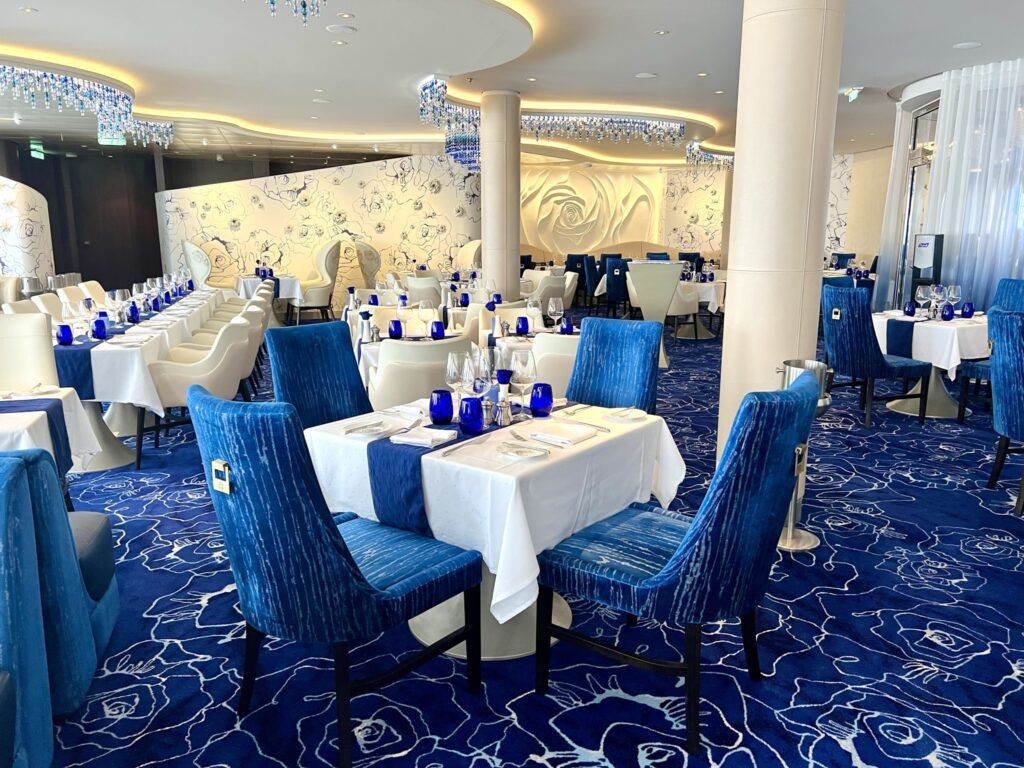 The menu here focuses on cleaner, healthier options. Further, cruisers can also still order from that evening's main dining room menu. Thus, you have the best of both worlds when dining at Blu.
We dined at Blu once for dinner and once for breakfast. Both times, unfortunately, we felt the service was slow and no better than that in the other four complimentary main dining rooms.
Further, we didn't really think the food was any better quality than that in the main dining room. Granted, we do rank Celebrity Cruises as having some of the best main dining room food at sea.
Our Experiences in AquaClass on Celebrity Beyond
Our AquaClass cabin on Celebrity Beyond was stateroom 9246. Reviewing the deck plans, this cabin is on the starboard side of the ship and is a short walk from the midship elevators. This was an ideal location for us as it was only a few decks below the outdoor spaces and a short walk down to the main interior decks.
According to the Celebrity Cruises' website, this AquaClass Infinite Veranda stateroom measures 243 square feet with a 42 square foot balcony. This is more spacious than many other balcony cabins from competitor cruise lines.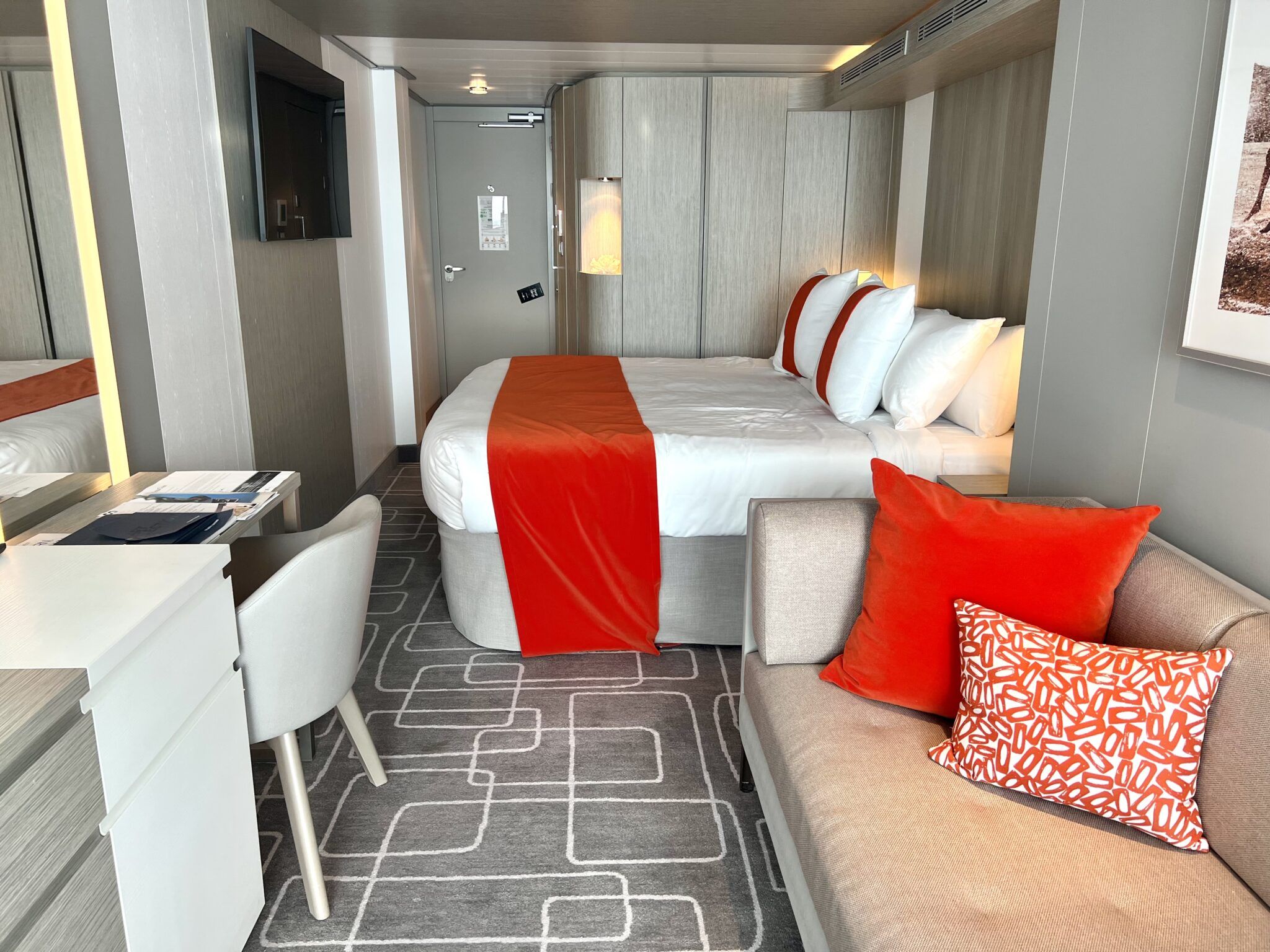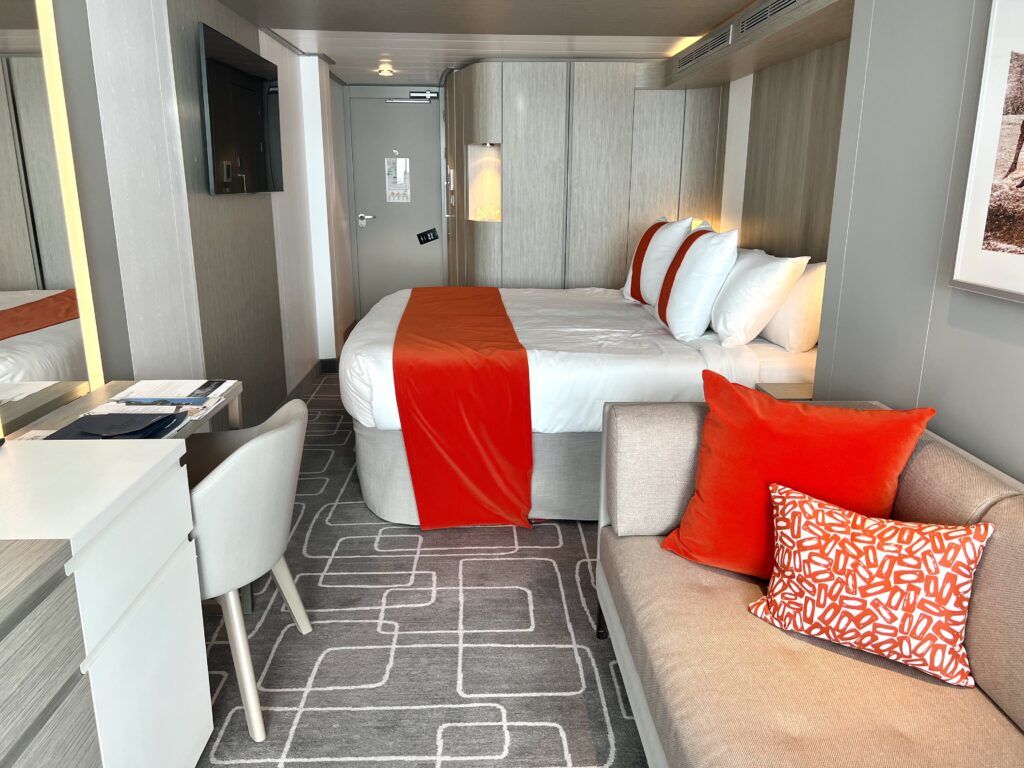 Layout of Our AquaClass Stateroom
Celebrity Beyond certainly has some of the best cruise ship décor of any new cruise ship. Needless to say, our cabin was sleek and sophisticated with nautical accents, pops of red, and muted beach tones.
Immediately upon entering the room, our bathroom was on the left. Immediately beyond the bathroom is a somewhat hidden storage space with a series of small shelves. The closet is then tucked around the corner from the bathroom on the side of the bed.
The bed in this Celebrity Beyond AquaClass cabin was located right after the bathroom on the forward fall facing aft. The television was mounted on the wall opposite the bed.
Beyond the bed, there was the sofa on the left and the desk and dresser on the right. The desk included several outlets in one centralized location for charging multiple devices.
Lastly, there was the infinite veranda with two upright chairs and a table. This space is essentially just an extension of the cabin.
SCORE SAVINGS ON CELEBRITY BEYOND CRUISES!
Inside the AquaClass Stateroom on Celebrity Beyond
Bathroom
The marble bathroom in this AquaClass stateroom is more chic than most contemporary cruise lines. It has plenty of counter space, storage, and an oversized stand-up shower.
The bathroom has a large sink with small shelves on each side for storage. It also helps that we always bring an over-the-door shoe organizer to store toiletries and other small items.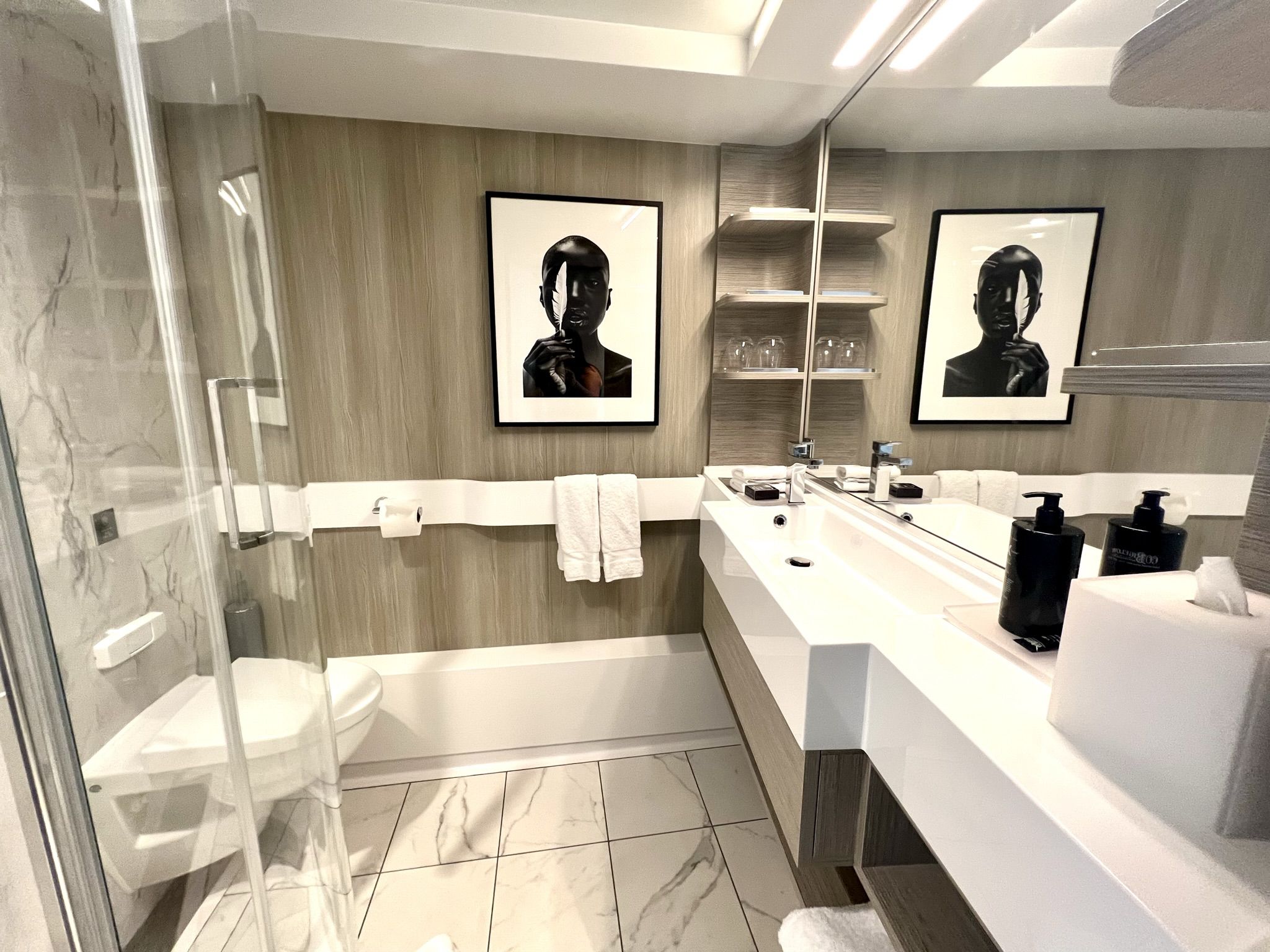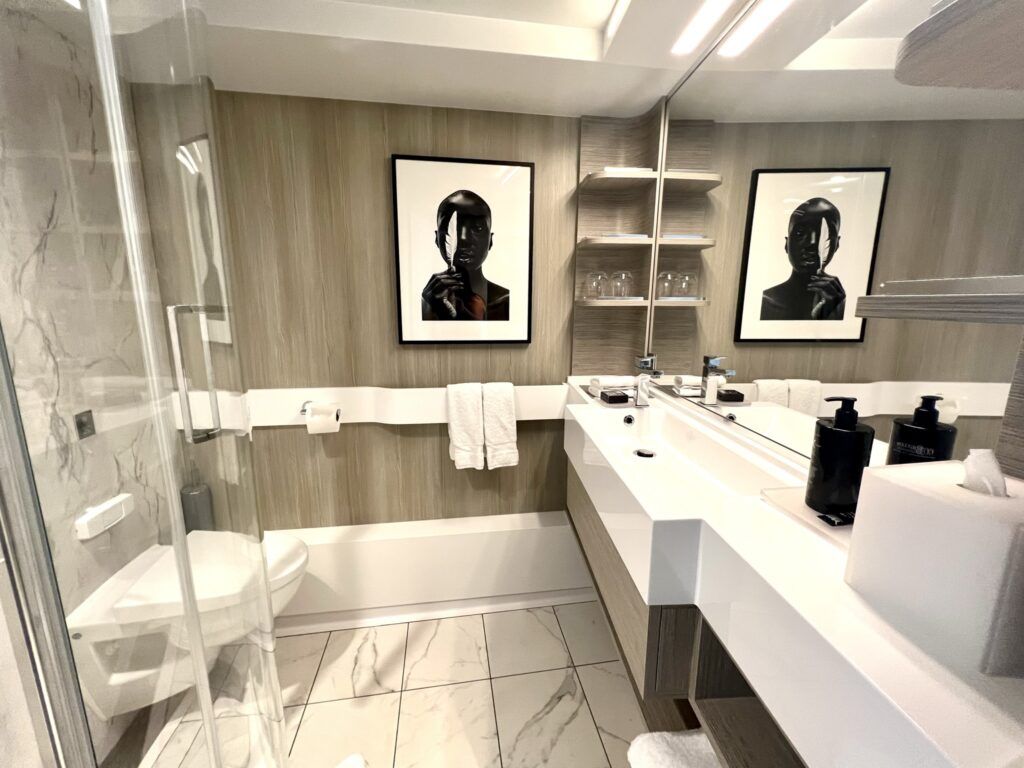 The shower is roomy with a glass door, rainfall shower head, additional wall jets, and premium bath products.
This bathroom certainly gave us more room than the often cramped cruise ship bathrooms, making it feel more like a resort than a cruise ship.
Closet
The Celebrity Beyond AquaClass infinite veranda cabin offers more than enough storage throughout the room. The first series of cabinets in located right outside the bathroom, and you might actually miss them if you aren't specifically looking for them.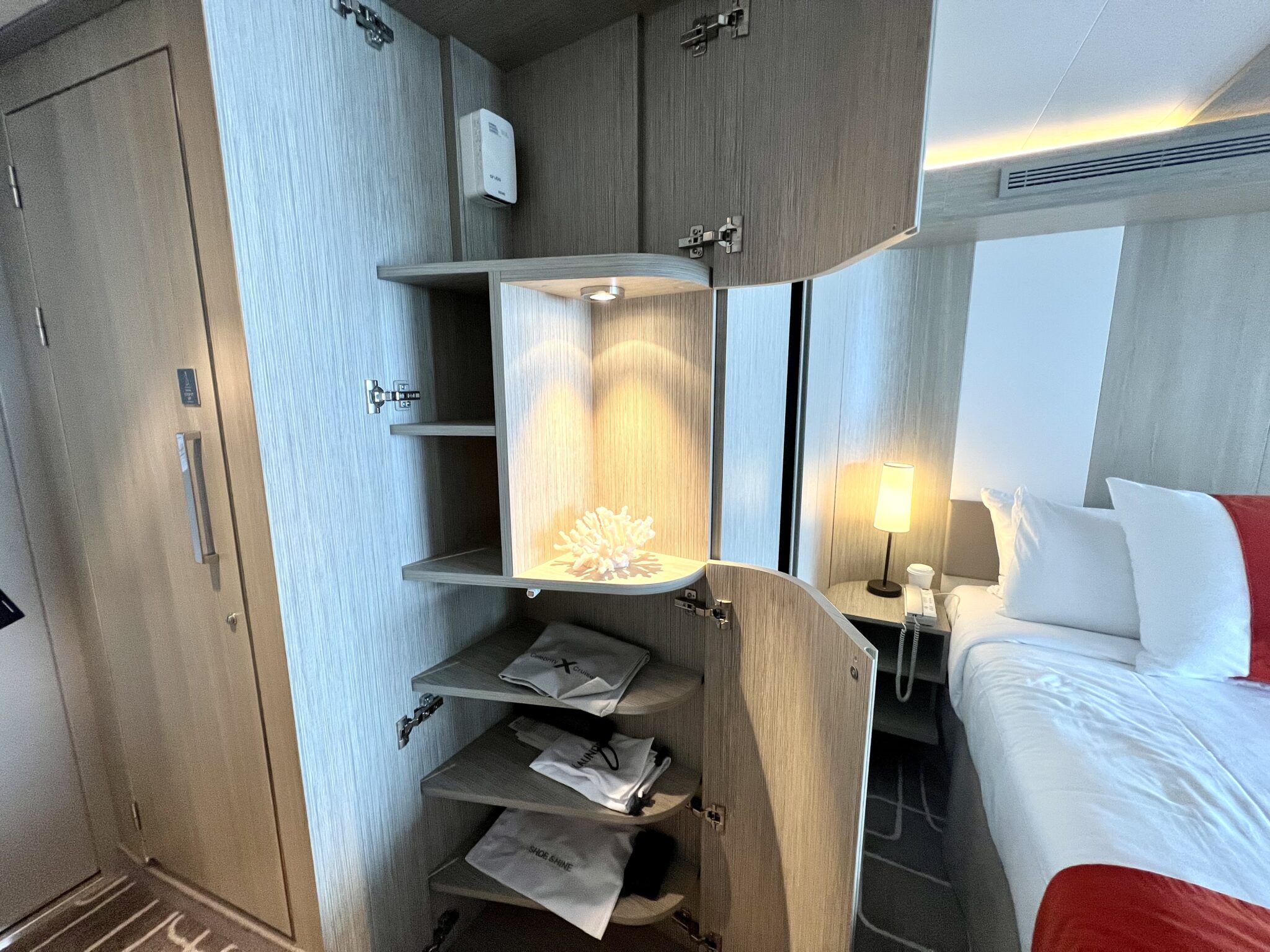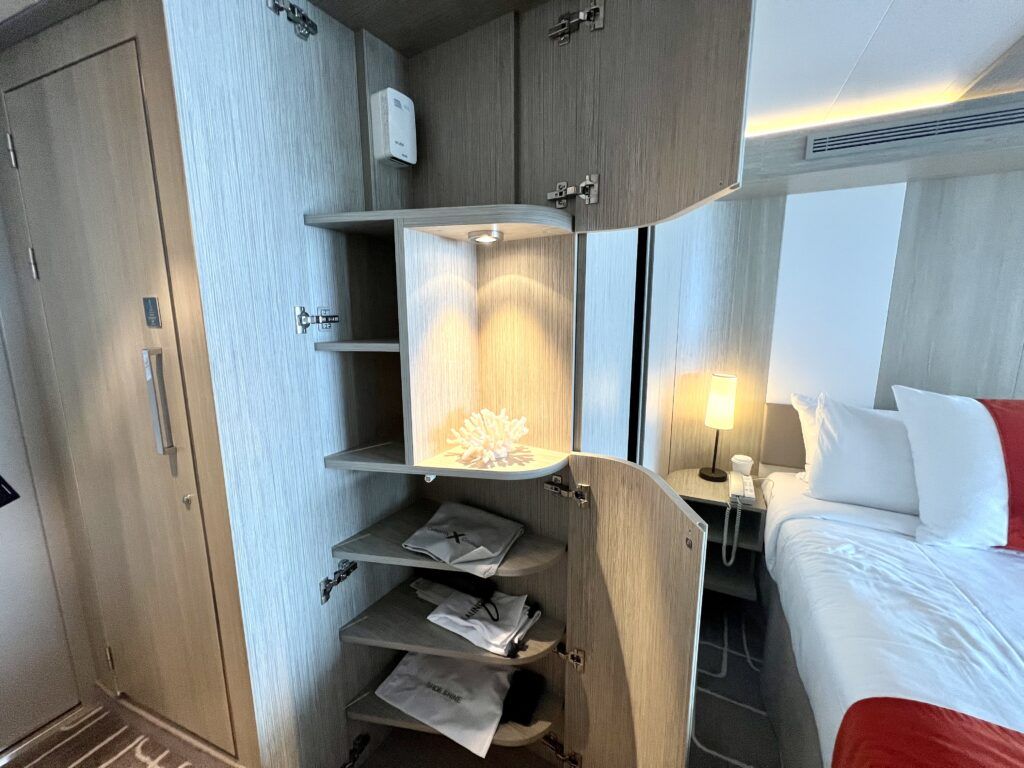 These are the perfect spot to store small packing cubes or other items. The closet itself, located on the side of the bed, includes a clothes bar with plenty of hangers. There is also the safe and additional drawers for storage. Here, you'll also find the robes, umbrella, and yoga mats.
Main Cabin Area
The bed was very comfortable, and we had no issues falling asleep after our long days and nights on the ship.
Nearby the bed were two small nightstands. One side housed the phone and two shelves. The other side had a few small shelves along with two USB outlets and a power outlet.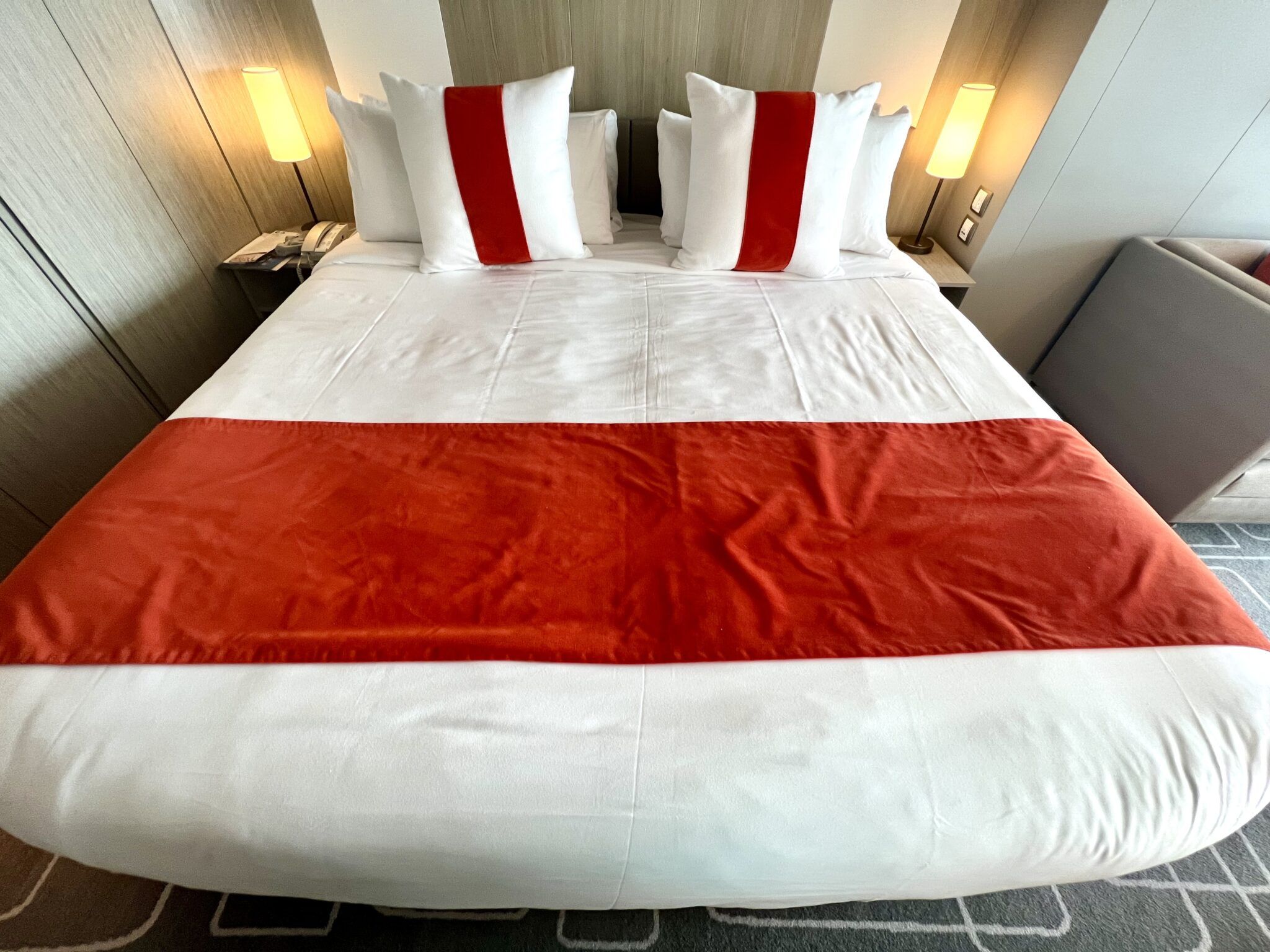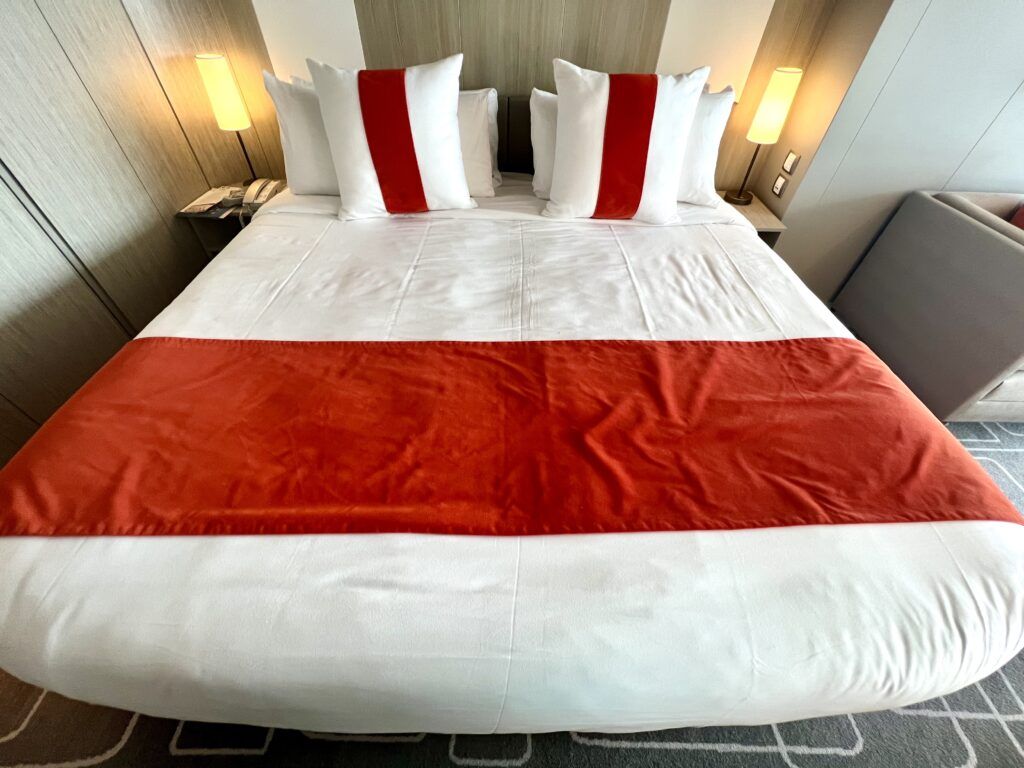 The desk and mirror are essentially the same setup on most cruise ships. This space often doubles as a work station and the wife's getting ready area.
The adjacent dresser provides even more counter space, three drawers for additional storage, and a centralized power station. This power station contains one 220V outlet, two 110V outlets, and 2 USB outlets.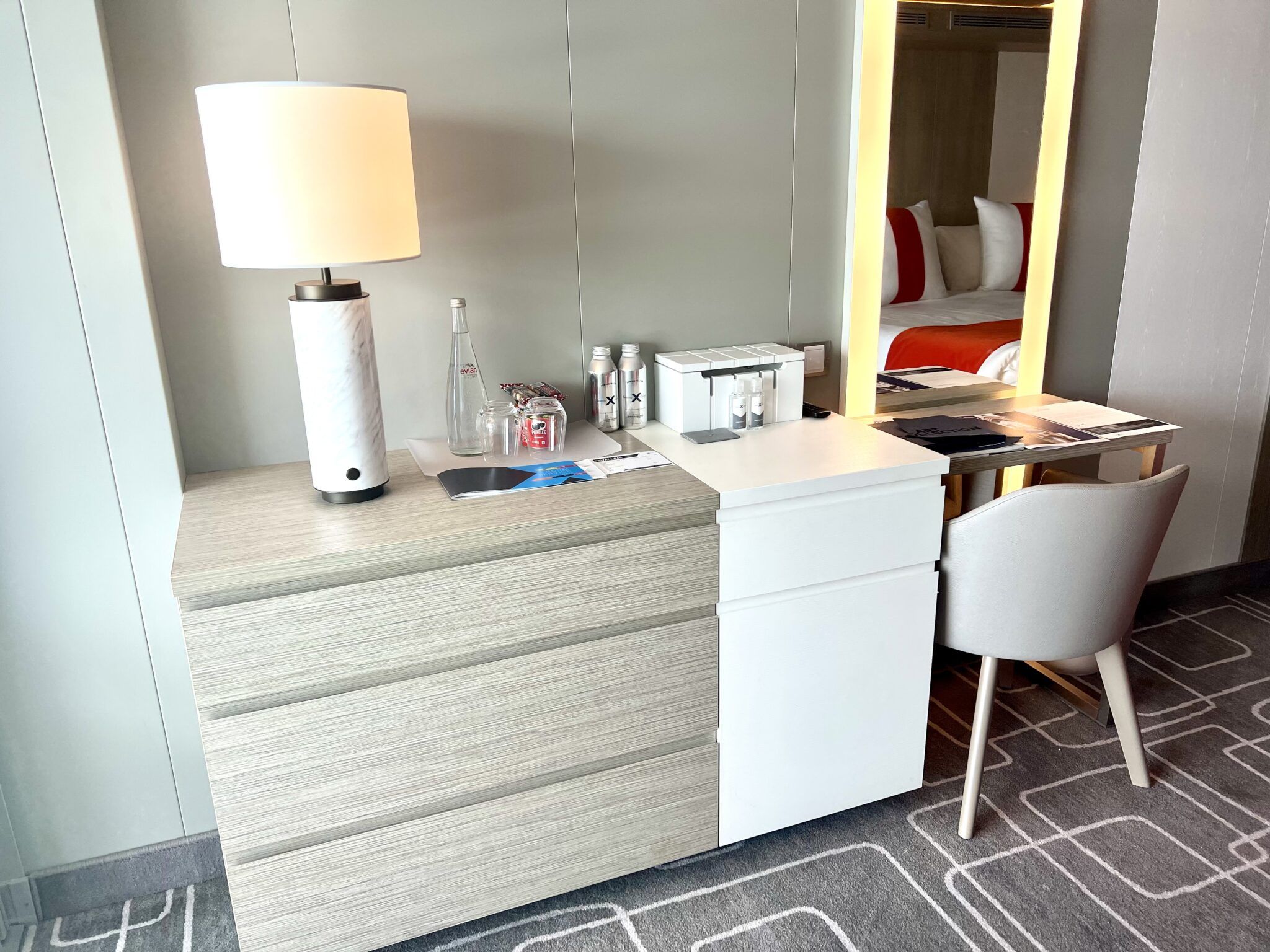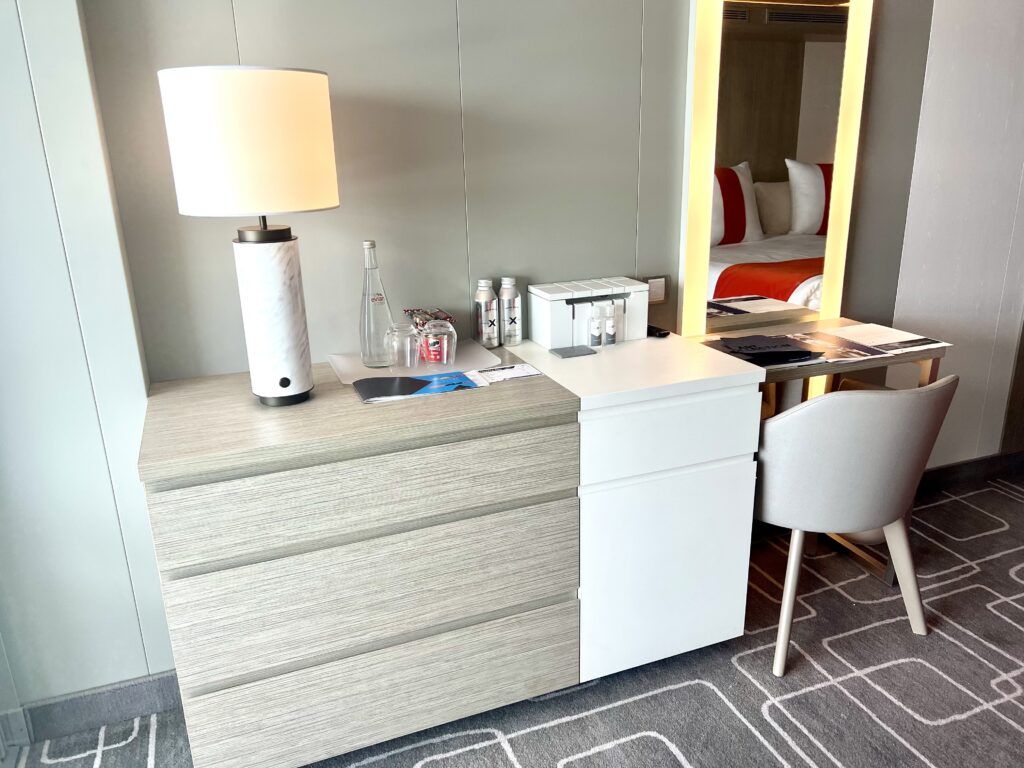 Further, you will find the mini-fridge here.
Across the way is the sofa. The sofa is a pretty standard size with enough room for two adults to sit comfortably.
Infinite Veranda
Lastly, there is the infinite veranda. The balconies on Celebrity's Edge Class of ships are not your typical cruise ship balconies.
Honestly, we are not big fans of the infinite veranda. To us, it functions more like a large window. When compared to a "true balcony", the infinite veranda doesn't offer the same feeling of being outside.
There is just something more relaxing about being outside on a true cruise ship balcony. Plus, between the divider separating the spaces and the noise of the window sliding up and down, it makes it difficult to sneak onto the balcony in the morning if your travel companion is still sleeping.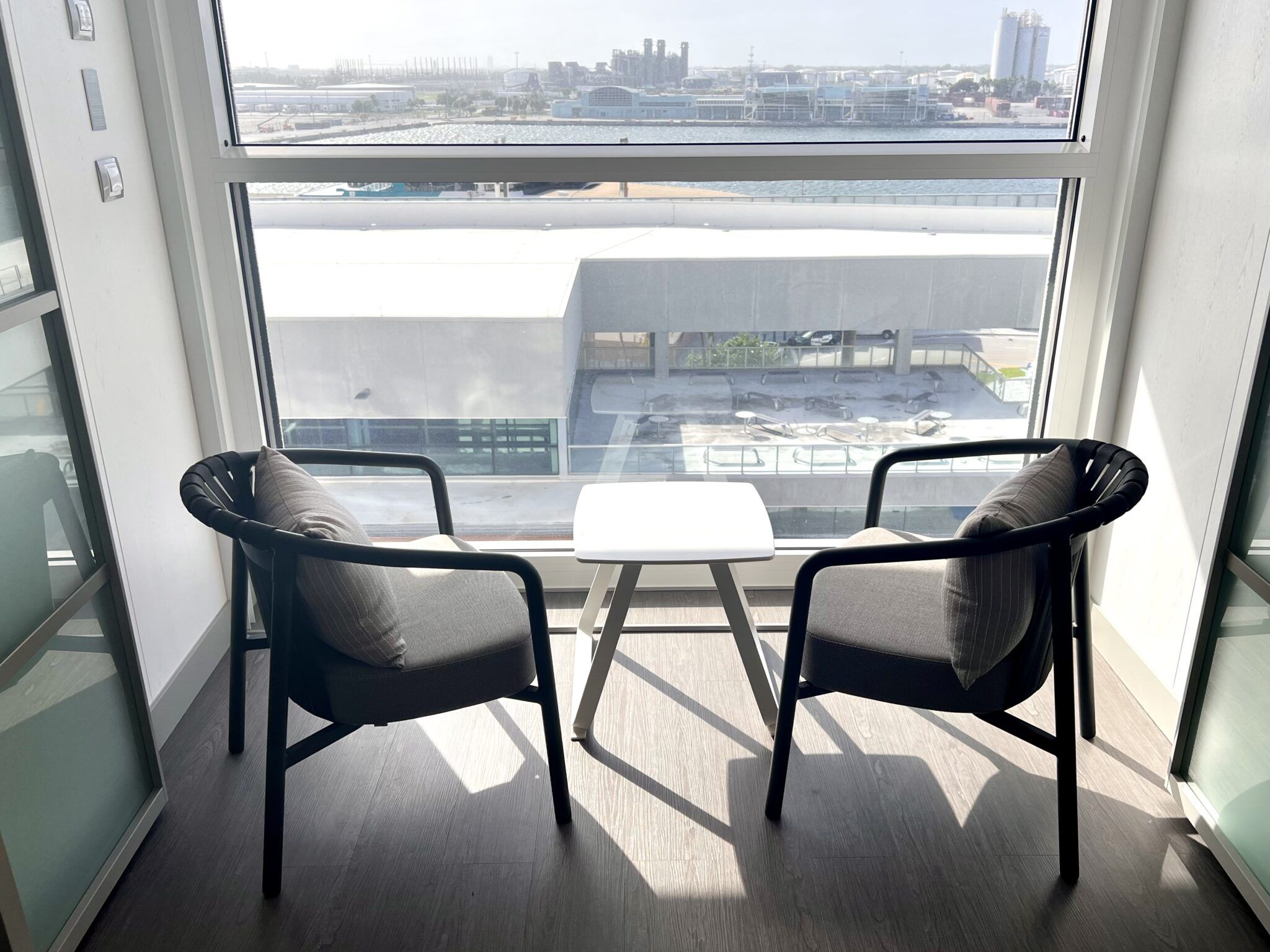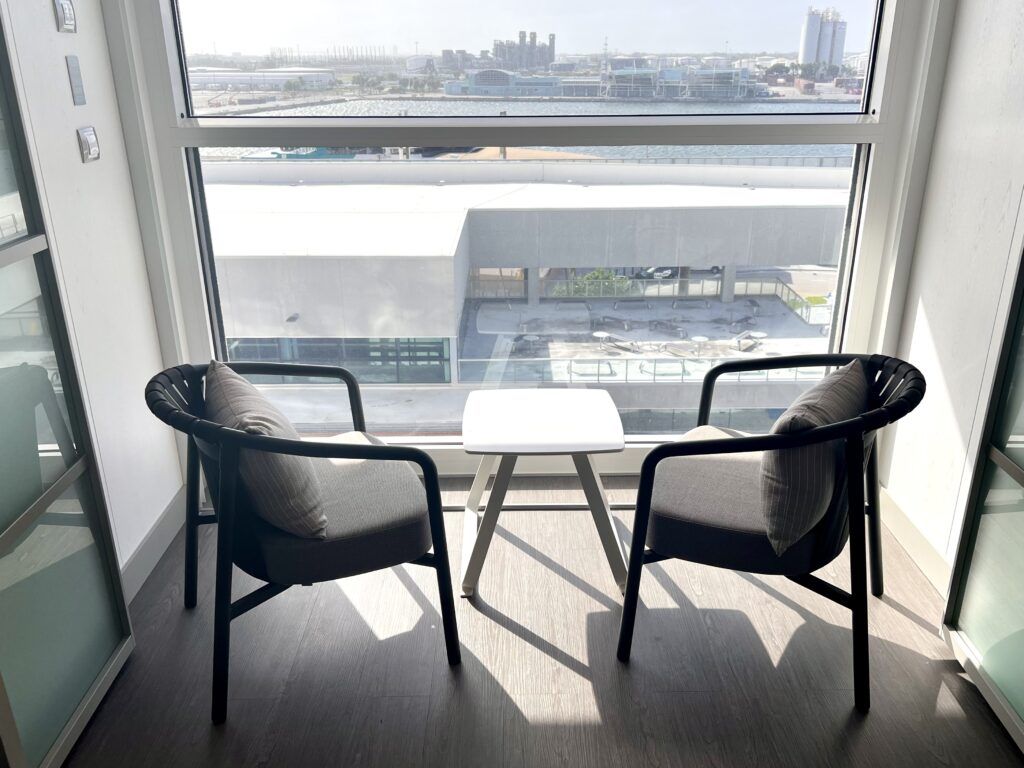 Needless to say, we did not use this "veranda" space much. We ended up keeping the folding doors closed most of the time as the room got pretty warm otherwise.
Unfortunately though, aside from some suites and sunset verandas, most of the "balcony" cabins on the ship are infinite verandas.
Recap of Our AquaClass Stateroom on Celebrity Beyond
For our 5 nights onboard Celebrity Beyond, this AquaClass cabin more than met our needs. There was enough space, and the layout was easy to navigate.
Between the closet and additional drawers and shelves in the room, we had plenty of storage. The room really does maximize every square inch of space.
As usual, the sofa became my work station for the week, while the desk became my wife's space.
An infinite veranda cabin provides a perfect mix of size and value, with all the necessary amenities, adequate space, and access to a "balcony" without breaking the budget.
Was The Celebrity AquaClass Stateroom Worth It?
By taking advantage of a rather low bid, we were able to upgrade to an AquaClass infinite veranda on Celebrity Beyond for not much more than the cost of a standard infinite veranda. With all the benefits of a typical balcony cabin plus the added perks of AquaClass, it was certainly worth it for us to try out this cabin category.
We both love the Thermal Suite. So, having access to it at anytime is a huge perk, not to mention free fitness classes and the exclusive Blu restaurant.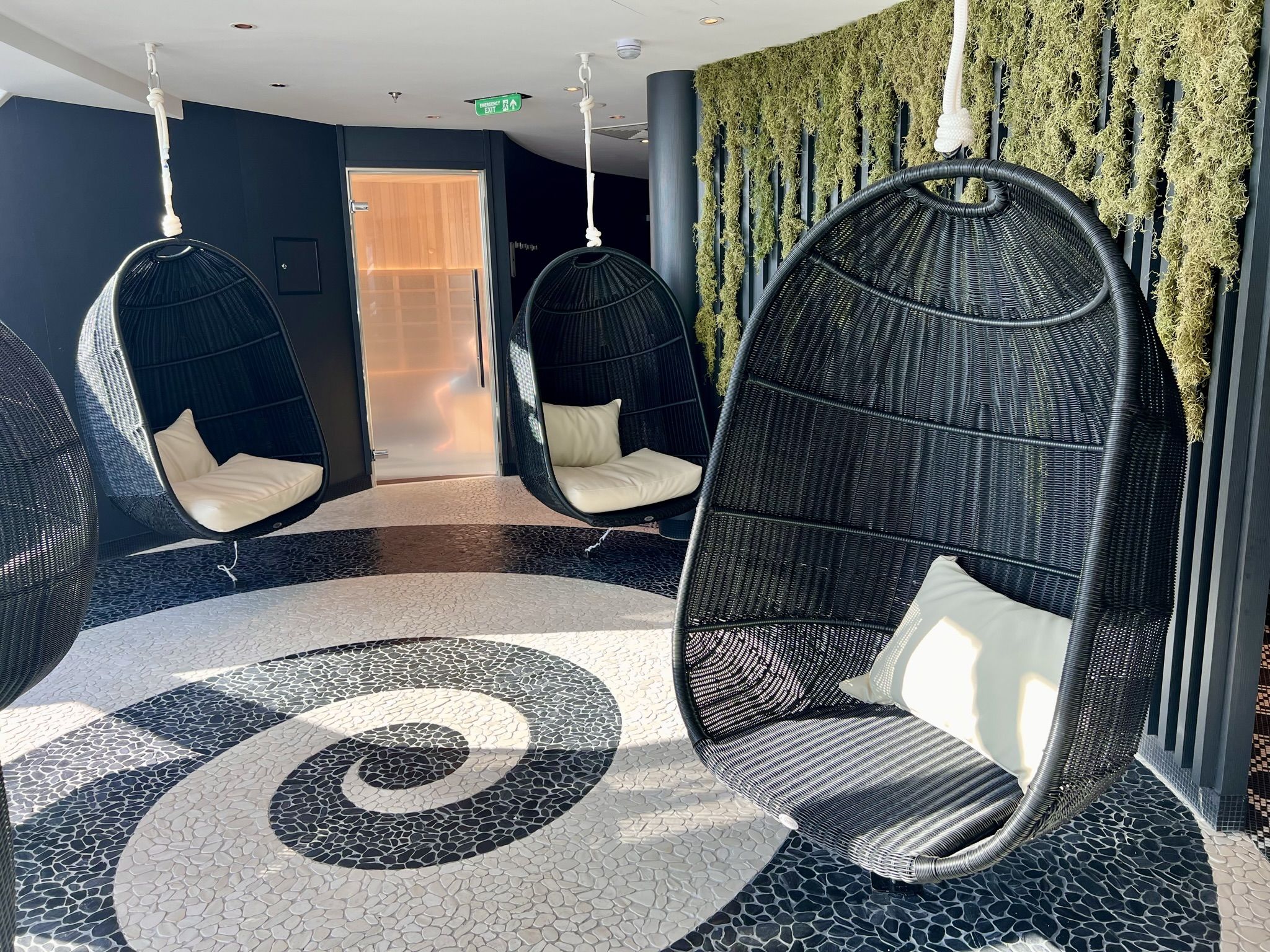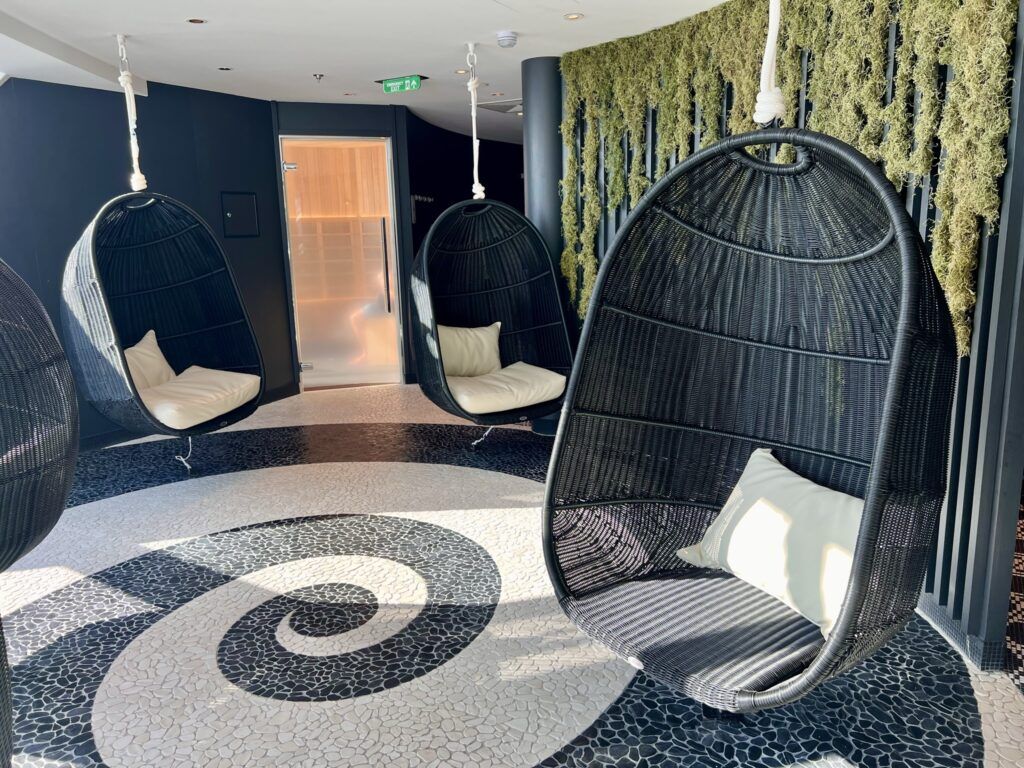 Actually, if we stayed in a regular infinite veranda and purchased week long passes to the thermal suite, it would have been more costly than what we paid for the MoveUp bid.
So, if you are into fitness and wellness and you can score a good deal, we would definitely recommend booking an AquaClass stateroom on Celebrity Beyond.
Regardless of which cabin you choose, you might just fall in love with this new Celebrity ship!
BOOK NOW: Exclusive Savings on Celebrity Beyond!
Comments
Have you sailed in a Celebrity AquasClass stateroom before? Have you cruised on the new Celebrity Beyond yet? Drop us an anchor below to share your favorite cabin categories on Celebrity Cruises.