Royal Caribbean cruising is back! The cruise line relaunched cruising in North America on Adventure of the Seas last week. As part of this Royal Caribbean cruise restart, the ship made its first call at Perfect Day at CocoCay in over 15 months. With two days on the island, we were able to explore every square inch. So, what is different on Perfect Day at CocoCay after the cruise shutdown? We share what is still the same and what has changed on this private island during its reopening this summer.
Is It Different at Perfect Day at CocoCay?
Getting Ashore
Going ashore on Perfect Day at CocoCay is very much still the same. Adventure of the Seas is able to dock at the island's new pier, making getting off onto the island a breeze.
We scanned our SeaPass cards and walked off the vessel in only a matter of moments. No masks are required on Perfect Day at CocoCay.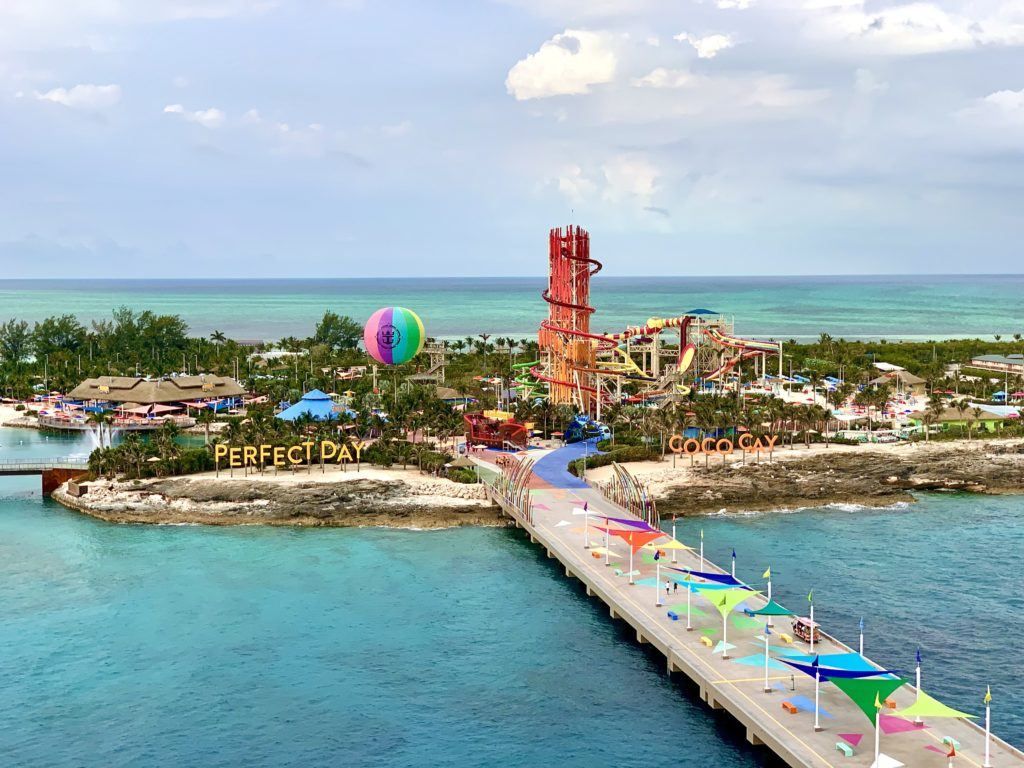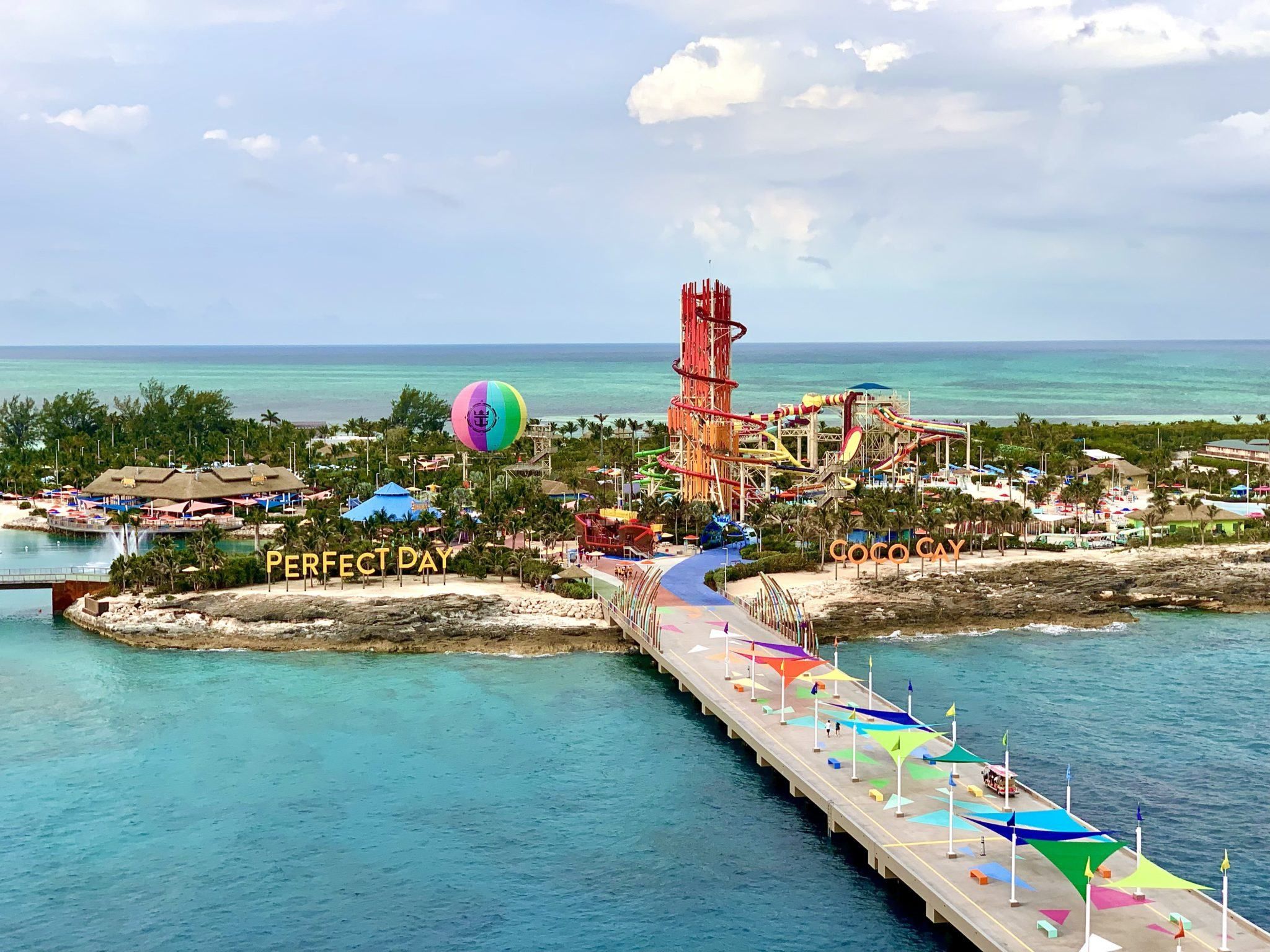 Further, guests are allowed to go ashore without booking any excursions. There are plenty of complimentary offerings on the island.
Island Transportation
Luckily, there did not seem to be any changes to the island transportation. The trams were still running to transport passengers from the ship to the different "stops" on the island.
For those with mobility issues, there is a tram that will take you from the ship to the Arrivals Plaza as this is a bit of a walk.
Additionally, there are 6 tram stops throughout the island. These stops are conveniently located near all the major attractions like Breezy Bay at Chill Island, the Coco Beach Club, and the Oasis Lagoon pool.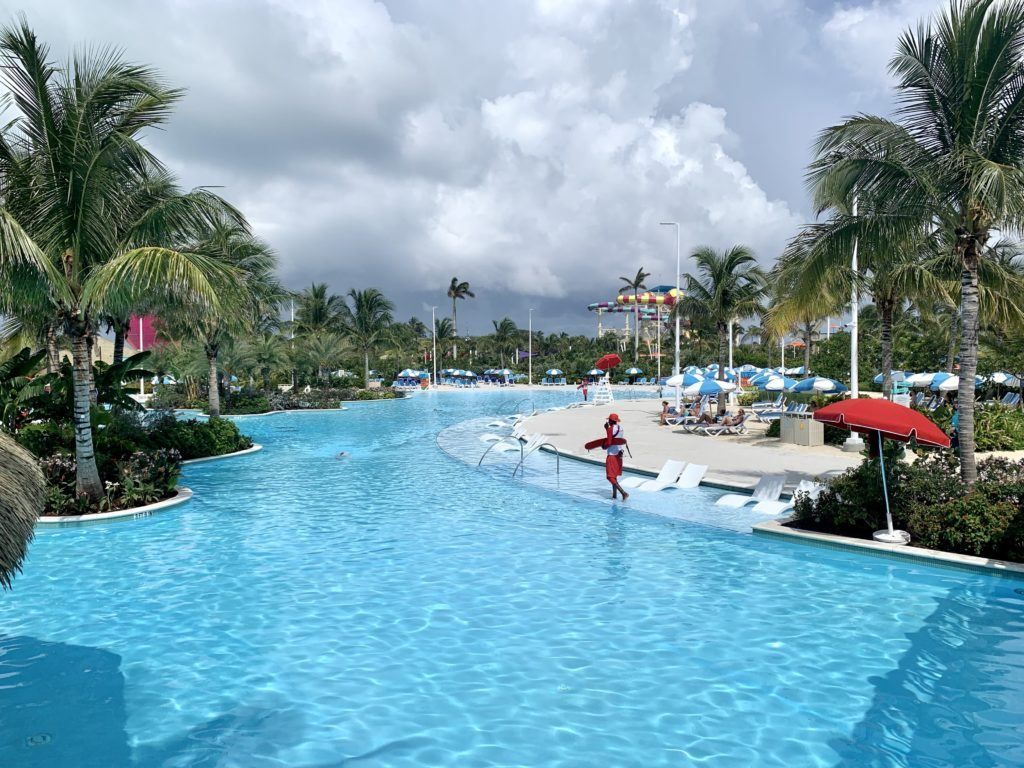 We never took the tram, as we opted to walk around the island. Although, seating did seem socially distanced.
EXCLUSIVE SAVINGS: The Latest Royal Caribbean Cruise Deals
Health and Safety Protocols
Many of the same health and safety protocols on the ship are also employed on Perfect Day at CocoCay. All staff on the island are required to wear masks, including all bar staff, activities staff, lifeguards, and food servers.
Social distancing markers are placed throughout the island as well. These markers can be found in the restaurants, bars, and queues for other attractions like the waterslides.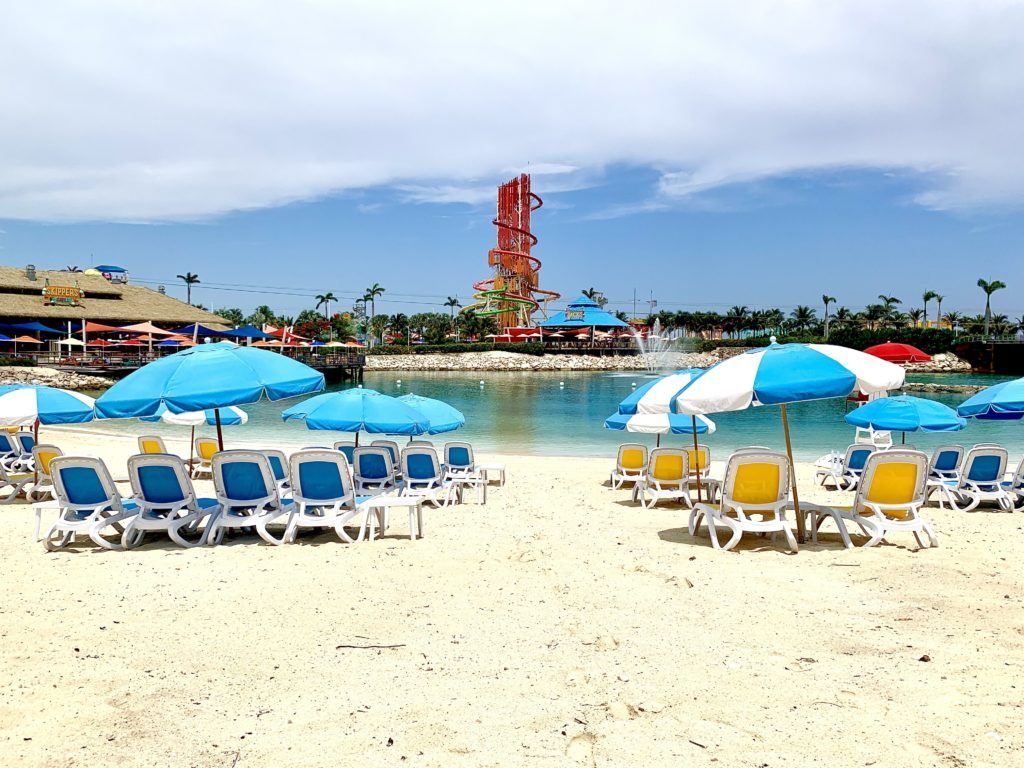 Further, lounge chairs were spaced into groups of two or four chairs around the beach and pool.
With only one ship in port sailing at 1/3 capacity, social distancing was easy. We essentially had all the space we needed on Perfect Day at CocoCay, and it was great!
The Beaches and Pool
Happily, there are still plenty of open beach areas on Perfect Day at CocoCay. These include Chill Island, Breezy Bay, and Harbor Beach. There are also day beds and cabanas available to rent throughout the island.
So again, beach access was no different at Perfect Day at CocoCay since the shutdown. Of course, with just over 1,000 cruisers on our ship, the beaches were empty.
Near the Breezy Bay beach, there are beach games and a sports court. This includes basketball, volleyball, cornhole, soccer pool, and more.
There is certainly more sanitation and cleaning of facilities on Perfect Day CocoCay, but everything is still open and available for use. For instance, after cruisers use the sports equipment staff are quick to sanitize it.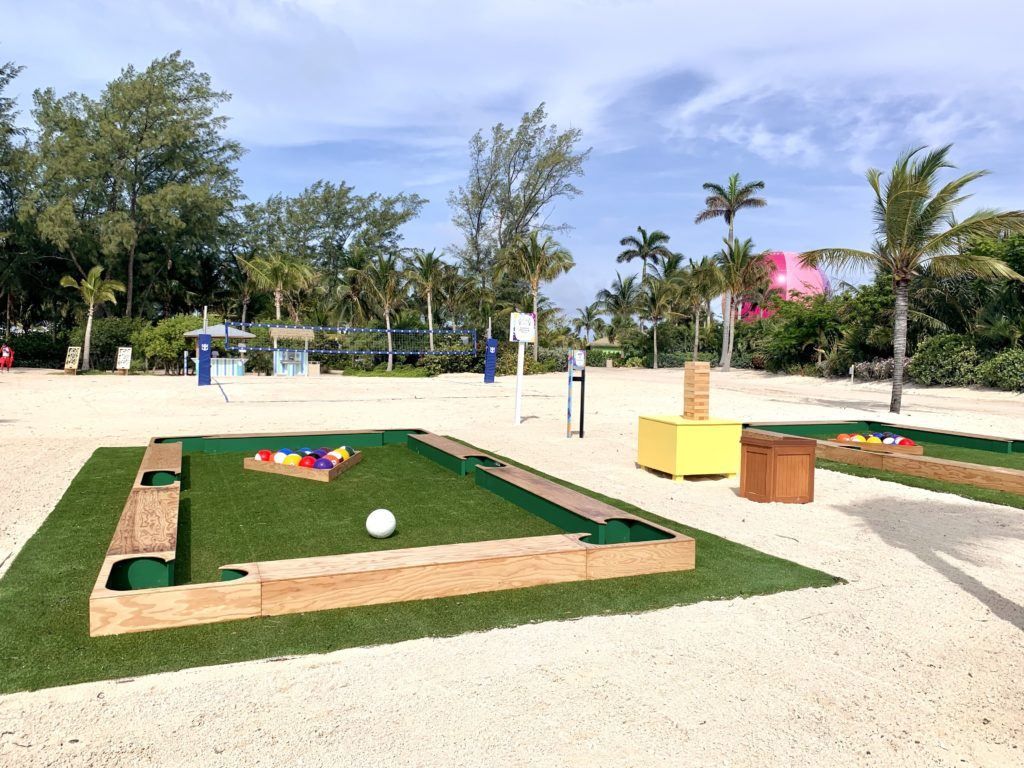 Similarly, the Oasis Lagoon Pool and swim-up bar are open too. The best part is that they were relatively empty on both days. So, no crowding at the bar or trouble distancing within the pool.
Further, there is still a DJ at the pool to give it a more lively atmosphere. Although, there were no other organized activities, such as parties, tournaments, or other group activities that typically occur on Perfect Day at CocoCay!
Island Attractions
Luckily, the island attractions are not different at Perfect Day at CocoCay either since the cruise shutdown.
During our stops, all of the island amenities were open and fully-functioning. This included the Thrill Waterpark, Captain Jill's Galleon, Splashaway Bay, and the zip line.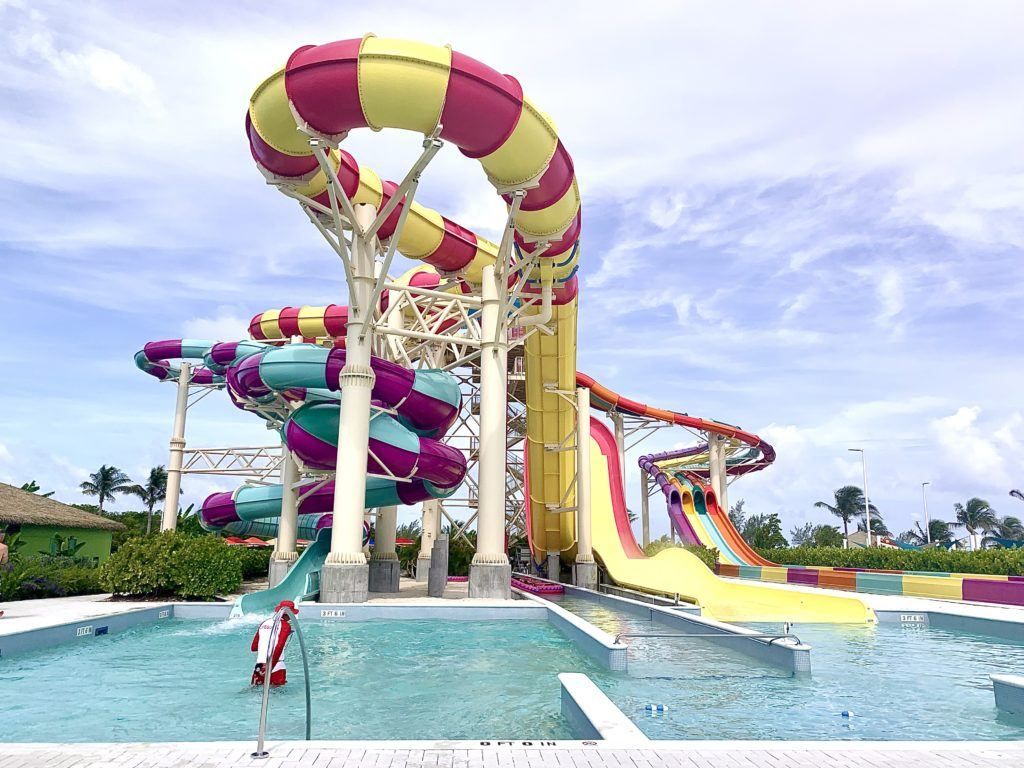 The Up, Up, and Away helium balloon is weather dependent. For our cruise, the balloon only offered flights on one afternoon. Thus, we did not get to experience this attraction yet again.
Some of these attractions are an up-charge and can be booked pre-cruise. However, one big thing that has changed since our last visit to Perfect Day CocoCay are the prices for these activities.
While the pricing is usually dynamic based on the cruise ship and time of year, the costs for most of these up-charge attractions have significantly increased. In some instances, these fees are more than double the rates that we saw pre-COVID.
For our cruise, there were also limited shore excursions. Kayak and wave runner tours were running. You could reserve snorkeling gear or floating mats as well. Others tours such as swimming pigs and some of the boat excursions were not available though.
Related Post: How to Spend Two Days on Perfect Day at CocoCay
Changes to Dining on Perfect Day at CocoCay
Perhaps what has changed the most is the dining at Perfect Day at CocoCay. At the two island buffets, there are modifications for social distancing. Markers are placed to ensure cruisers remain distanced when getting food or drinks.
Similar to the ship, staff on the island serve cruisers all food. So, the staff will grab the items for you and place it on a plate. This also goes for all condiments and additional toppings.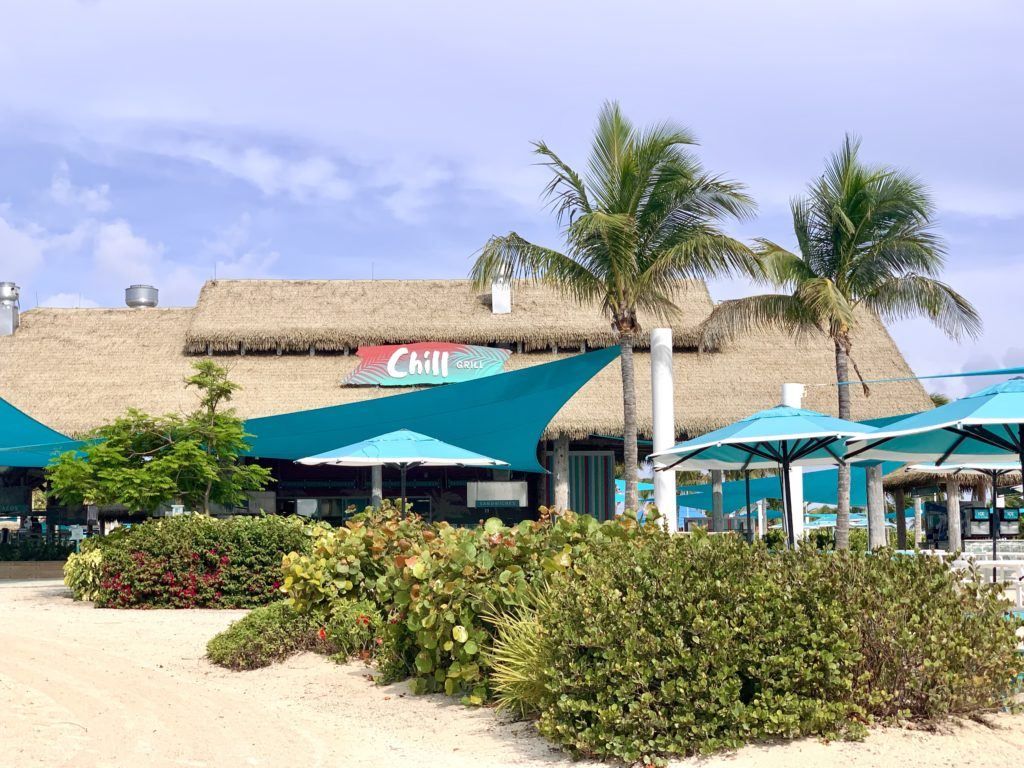 Instead of a salad bar, there are pre-made salads and sides in to-go containers.
Staff also need to get you items like silverware, napkins, or drinks. Nothing in the buffet is self-serve.
There were plenty of staff, and the lines moved quickly. In fact, it seemed more organized and efficient than in the past.
At the Snack Shacks, you still wait in a socially distanced line. Then, you place your order at the to-go window. There were no lines during our visit, so we waited at the window for the server to bring our food and then exited to our seats.
Seating is spaced similar to the dining venues on the ship. Some tables are marked off or "reserved" to ensure parties are adequately distanced.
The Bars on Perfect Day at CocoCay
The bars on Perfect Day at CocoCay are open! Plus, the Royal Caribbean Deluxe Drink Package still works on the island.
So, you can enjoy all the Coco Locos you want at your favorite watering hole, including the floating bar now relocated to Breezy Bay. We did not notice any differences in the Perfect Day at CocoCay bar experience. The only difference is how quiet all the bars are throughout the day.
We suggest you check out Captain Jack's. There is live acoustic guitar music during the day. Along with plenty of seating and shade, your drink package also works at this venue. They even have some cool swings at the bar.
Twice a day, there is a "pirate show". It is a humorous musical act that is very over the top and silly but fun nonetheless.
Thus, we are glad to report that not much is different at Perfect Day at CocoCay since the cruise shutdown. You and your family can enjoy this top cruise line private island with only a few minor changes during your next visit. In fact, given the reduced crowds, now is the perfect time to enjoy a trip to Perfect Day at CocoCay!
Comments
Have you visited Perfect Day at CocoCay? Would you consider cruising to the island now? Drop us an anchor below to share how you spend your day on a cruise line private island.