Scroll Down to Watch our Latest Video of the Top Cruise Private Islands to Visit!
Not only do cruise ships visit nearly every corner of the globe, there are also exclusive destinations that you can only visit on a cruise. Most major cruise lines offer stops at locales that are exclusive for guests sailing on their ships. These destinations have come a long way over the years. From re-imagined and upgraded islands to completely new private islands and beach clubs, these secluded destinations might be among the best (and safest) places to visit once cruising resumes. We share our picks for the Top Cruise Line Private Islands to Visit After the Pandemic.
Top Cruise Line Private Islands to Visit After the Pandemic
Royal Caribbean's Perfect Day at CocoCay
Royal Caribbean recently updated its private island in the Bahamas. Now, Perfect Day at CocoCay is one of the best family destinations in the region. Offering expansive beaches, a large lagoon style pool, and plenty of rest and relaxation, what's not to love? Did we mention it is all included with your cruise fare?
Other up-charge experiences include a waterpark with the tallest slide in North America, zip lines, and a tethered hot air balloon ride. New in 2020 is the Coco Beach Club. This one of a kind area on CocoCay offers guests private dining and an exclusive bar. In addition, cruisers have access to a private white sandy beach and an oceanfront infinity pool. Not to mention, the Coco Beach Club features the first over-water cabanas in the Bahamas!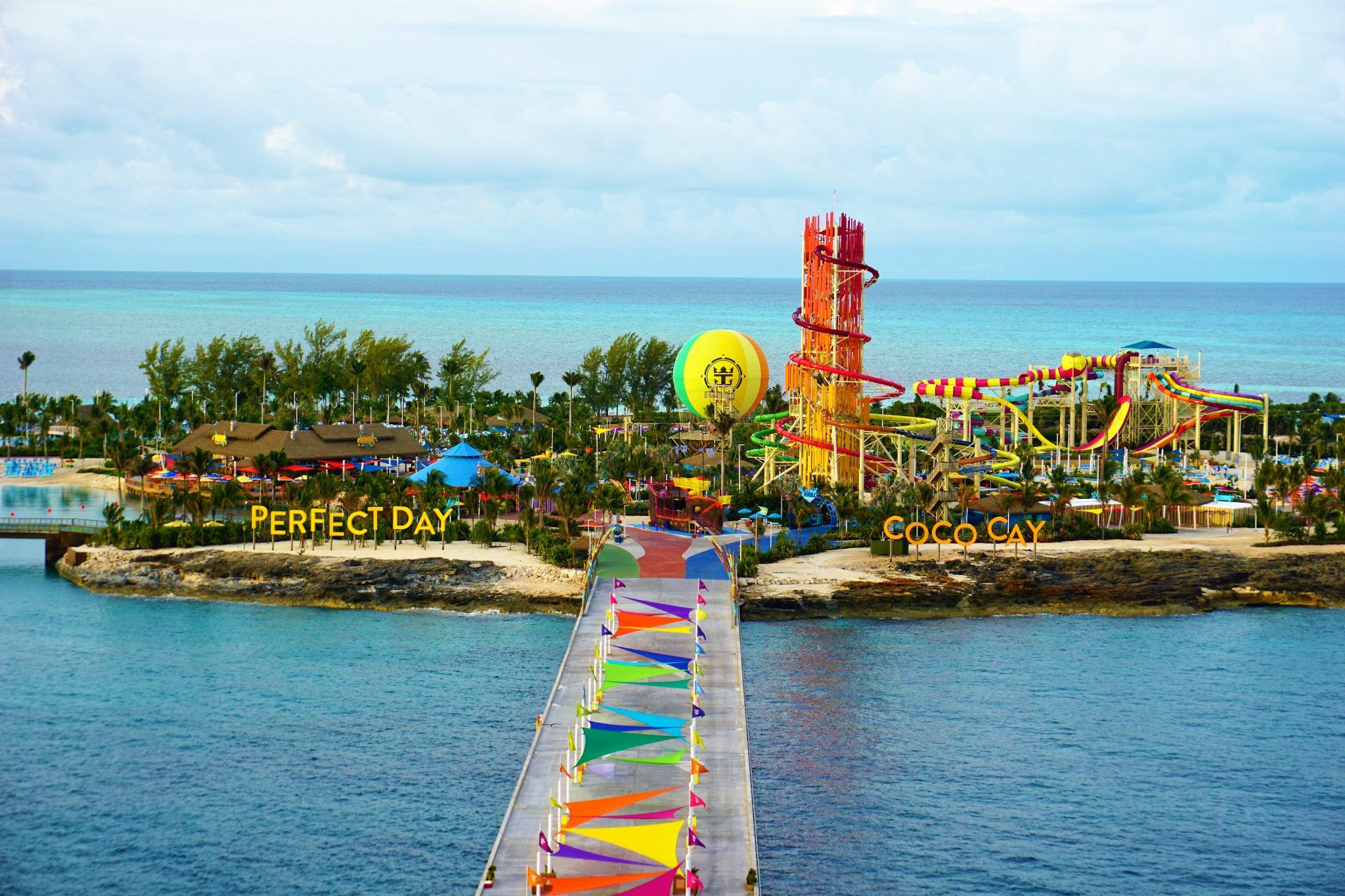 A visit to Perfect Day at CocoCay is sure to provide a family-friendly day of fun and sun.
Related Post: Honest Review of Perfect Day at CocoCay
Norwegian Cruise Line's Great Stirrup Cay
Great Stirrup Cay is Norwegian Cruise Line's private island in the Bahamas. Great Stirrup Cay was the first cruise line private island when it was acquired back in the 1970's. This 250+ acre retreat, which is in close proximity to Nassau, Bahamas, has recently been enhanced as well.
Not to be outdone by the competitors, Norwegian Cruise Line has upgraded its private cruise destination with the addition of a zipline, new shore excursions like swimming with the pigs, and the exclusive Silver Cove.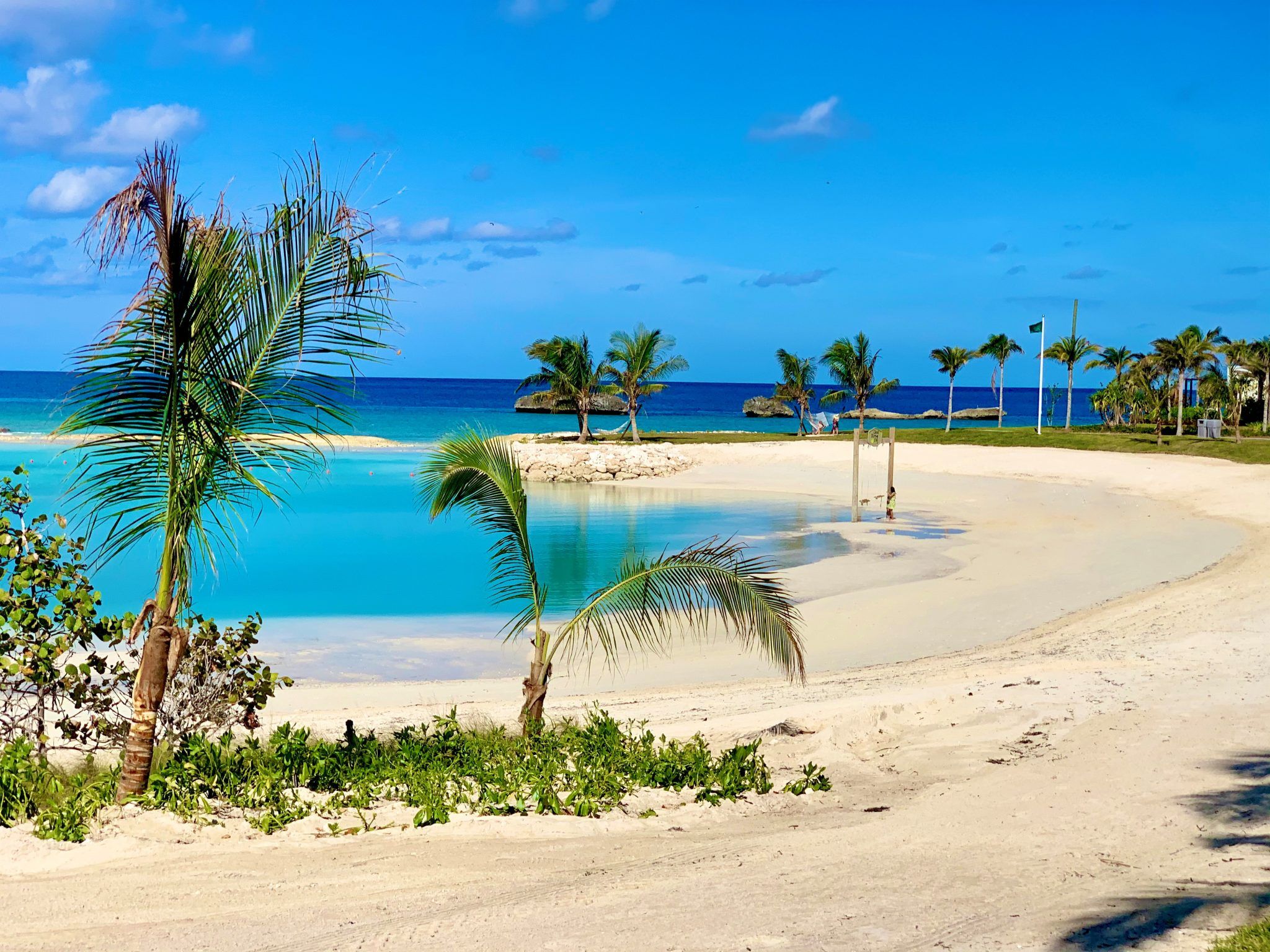 If you are looking for the ultimate day of relaxation, then you will love the new Silver Cove. This exclusive retreat offers cruisers a pristine lagoon, a private restaurant, access to the Moet bar, and new villas. Further, these villas, which are available to rent, offer a private bathroom, air conditioning, and much more. Now that's paradise!
While we can't cruise just yet, now is the perfect time to book and start planning your first cruise once the CDC's No Sail Order is lifted.
Related Post: Everything You Need to Know About Great Stirrup Cay
MSC Cruises' Ocean Cay Marine Reserve
Debuting in late 2019, MSC Cruises' new private island in the Bahamas is certainly one of the top private cruise destinations to visit following the pandemic. MSC Ocean Cay Marine Reserve is located only 65 miles from Miami and offers some of the most pristine shoreline that you will find anywhere in the world.
This former sand excavation site offers cruisers eight beautifully manicured beaches. Further, there are plenty of marine-friendly activities like snorkeling and kayaking and a complimentary food court. At night, guests can enjoy a lighthouse show, junkanoo parades, stargazing, fire pits, and more.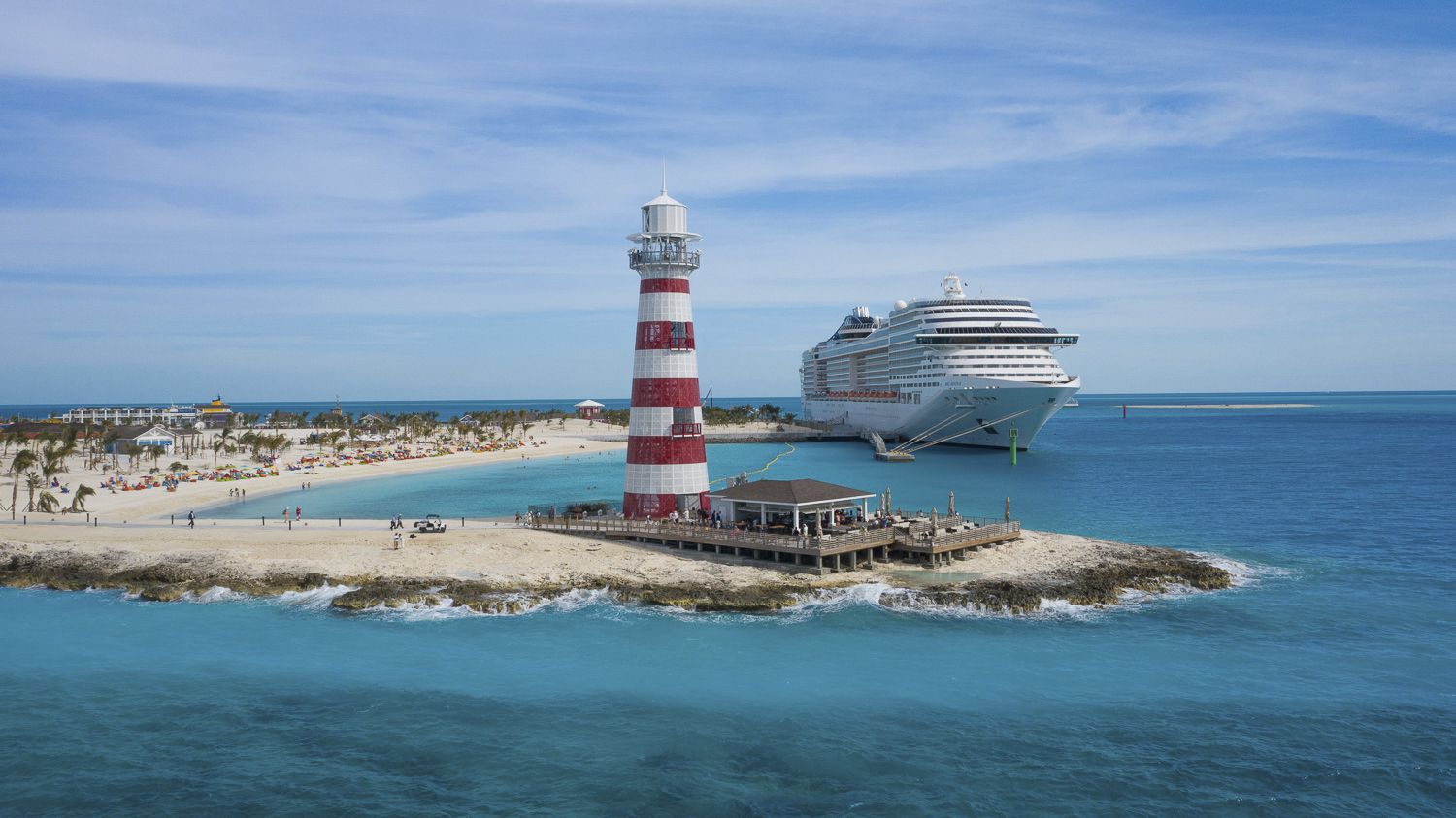 Ocean Cay is a unique cruise destination aimed at preserving the oceans and coral reefs and creating a sustainable environment.
While our visit to Ocean Cay this past May was cancelled due to COVID-19, we are definitely eager to check out this new destination for ourselves as soon as we can get back onboard a cruise ship!
Virgin Voyages' Beach Club at Bimini
One of the most anticipated debuts this year was the brand new cruise line, Virgin Voyages. Unfortunately, Scarlet Lady's inaugural season was delayed until October due to the global pandemic at hand.
Once it is safe to set sail again, Virgin Voyages will not only debut a new cruise ship but also a new private destination in the Bahamas. The Beach Club at Bimini will be a 4.5 acre retreat on the island of Bimini. While the beach club will be a private resort, guests will have the option to come and go as they please to explore the rest of the island. But who would want to leave?
The Beach Club at Bimini will exude Virgin-vibes featuring morning yoga, plenty of hammocks and beach loungers for relaxation, and complimentary food options. Additionally, there will be an expansive lagoon-style pool hosting high energy pool parties led by guest DJs in the afternoons.
Every cruise will include a stop at this private oasis in the Bahamas, many featuring late day stays to experience the island after dark. Nighttime festivities will include bonfires, musical performances, and dance parties to round out a perfect day in this exclusive paradise.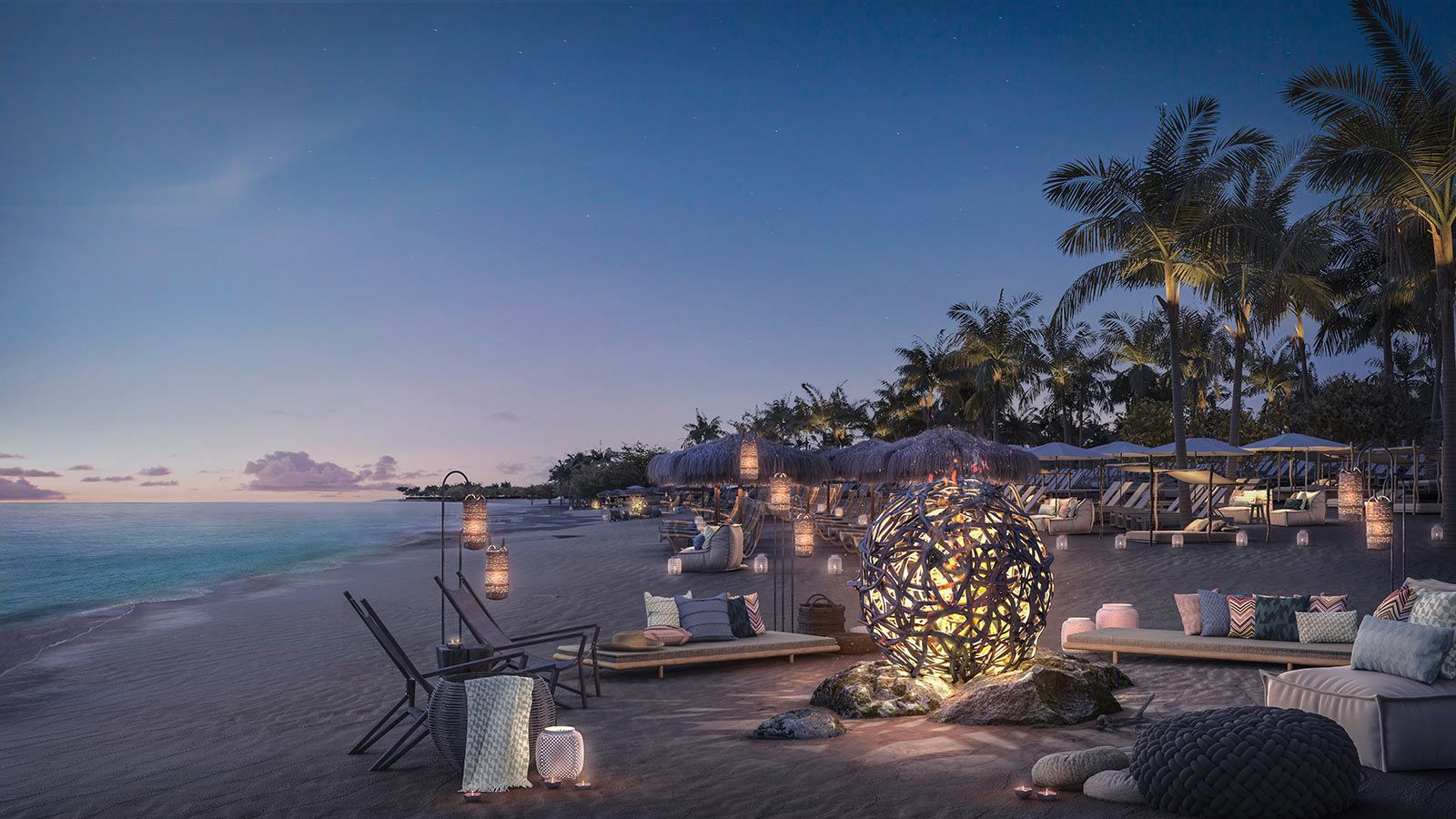 Alas, our trip to the Beach Club at Bimini that was planned for this past April was also cancelled. Of course, we are eagerly awaiting the opening of this private destination.
Carnival Cruise Line's Half Moon Cay
While we have not had the pleasure of visiting Carnival Cruise Line's private island of Half Moon Cay for ourselves just yet, this exclusive paradise is consistently ranked as one of the best private islands among cruisers. Half Moon Cay is located near Eleuthera island in the Bahamas.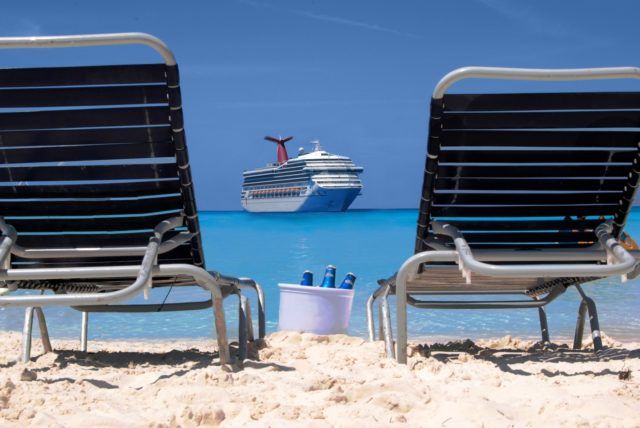 This 2,400 acre island is the largest cruise line private destination, yet remains a secluded oasis as much of the area is still undeveloped. Cruisers can visit Half Moon Cay on a cruise with Carnival or its sister brand, Holland America Line, via a tender boat.
At this private retreat, cruisers can enjoy beautiful beaches, swimming, snorkeling, nature trails, and more. There is the complimentary Half Moon Lagoon Aqua Park for kids as well with kiddie slides and water cannons. Of course, there is also a straw market, food, bars, and plenty of shore excursion options to round out your day in paradise.
Comments
Do you have plans to visit any of these private islands following the pandemic? What do you love about these exclusive retreats? Drop us an anchor below to share your favorite cruise line private islands.