SCROLL DOWN TO WATCH OUR VIDEO DETAILING EVERYTHING THAT IS INCLUDED ON PERFECT DAY AT COCOCAY!
Royal Caribbean's private island in the Bahamas has recently undergone a multi-million dollar renovation. This newly transformed island, now referred to as Perfect Day at CocoCay, offers several new island experiences and adventures.
Some of these attractions like the Thrill Waterpark and Zipline are available as shore excursions.
However, there are still plenty of things to do on the island that are complimentary. Find out all the details on What's Included on Perfect Day at CocoCay Bahamas.
Everything Included on Perfect Day at CocoCay Bahamas
The Basics
CocoCay is equipped with complimentary freshwater showers, restrooms, and changing rooms. Further, the beaches have beach chairs and umbrellas for your use.
There is also a complimentary tram service around the island for those who are unable to walk long distances. This tram has multiple stops and runs about every 15 minutes.
Some of your onboard purchases will also be available for use at CocoCay. As a major technological upgrade, Perfect Day at CocoCay now has WiFi. If you have purchased an internet package, you will be able to post all your adventures to social media while lounging in a beach chair on the island.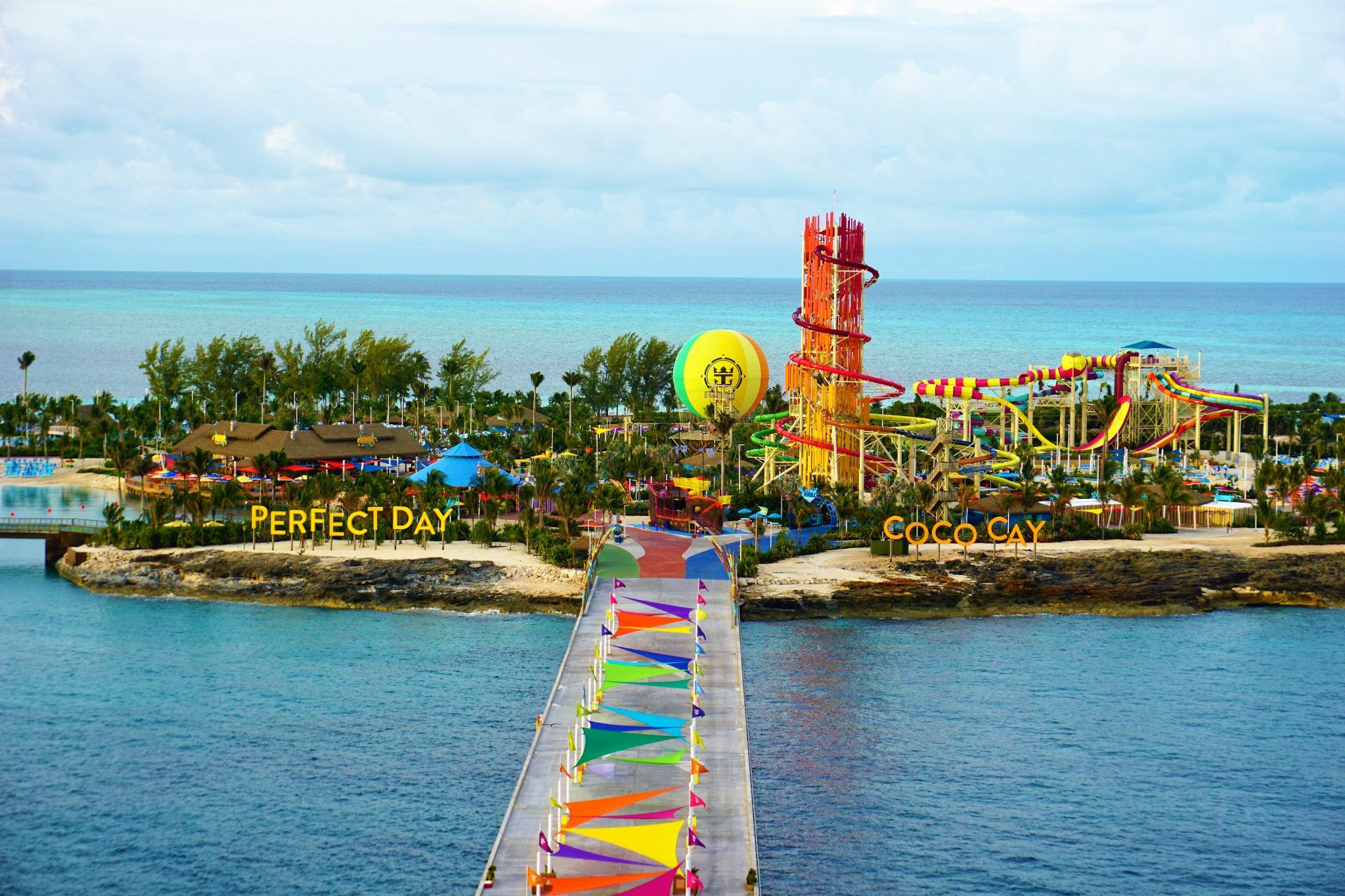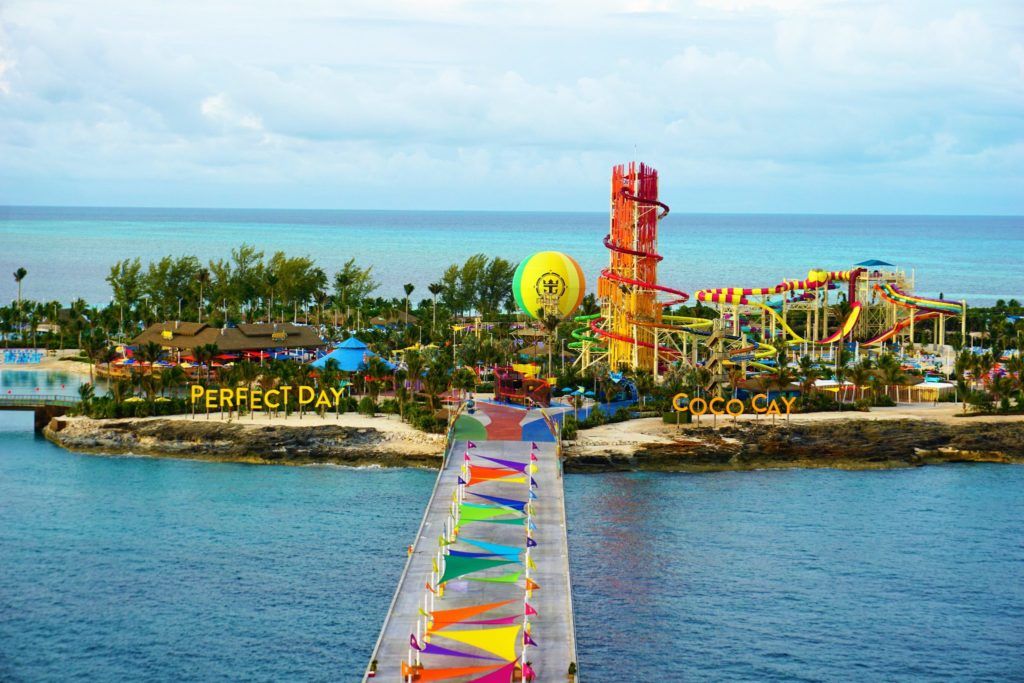 In addition, if you have a Royal Caribbean beverage package, it will also work on CocoCay. You can grab a coco loco or your favorite tropical drink on the island for no additional cost.
Attractions Included on Perfect Day at CocoCay
Many of the new attractions on Perfect Day at CocoCay are complimentary. The kids will love the Splashaway Bay aqua park complete with fountains, pools, sprinklers, water cannons, kid-size waterslides, and two massive drench buckets.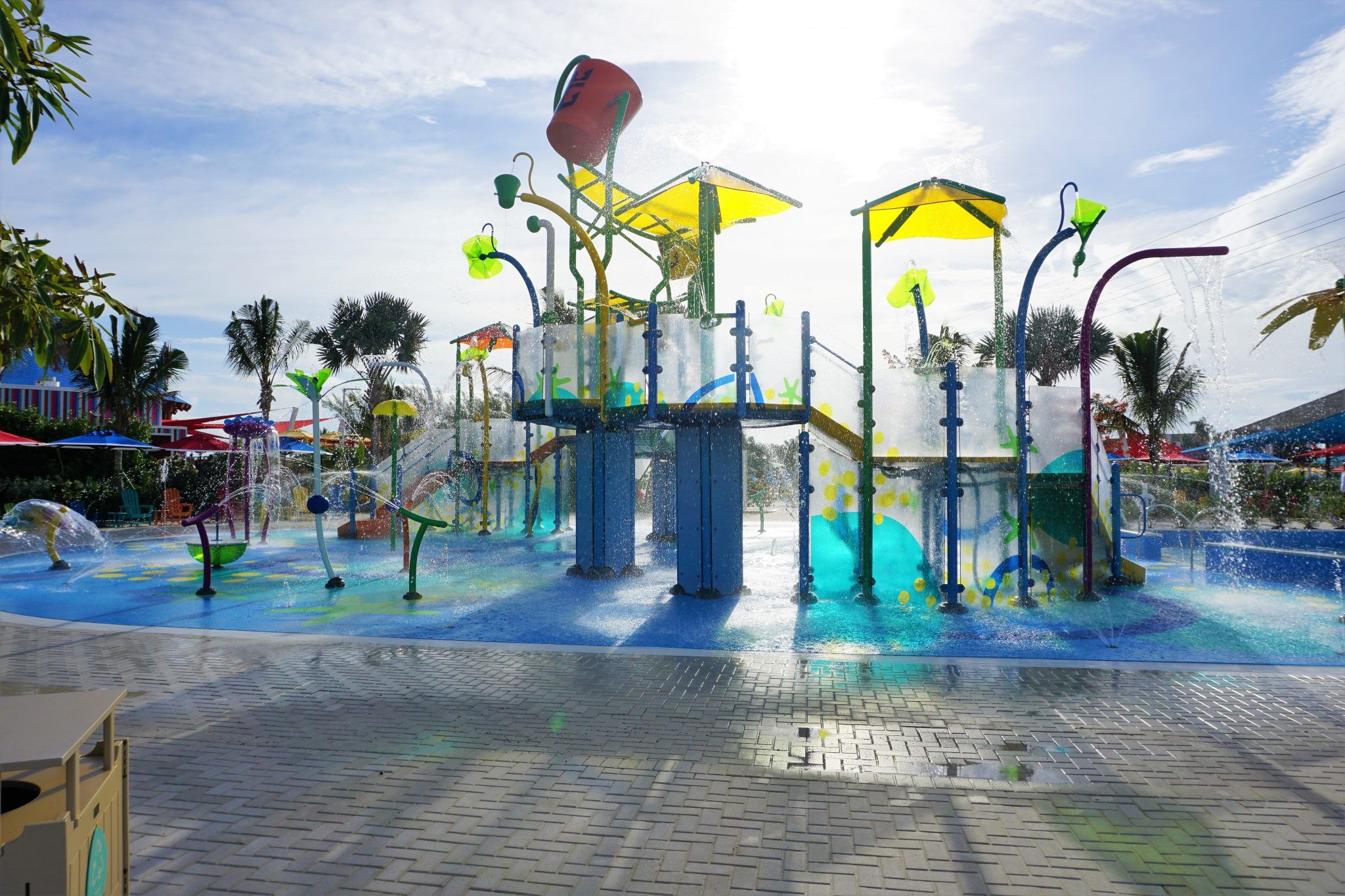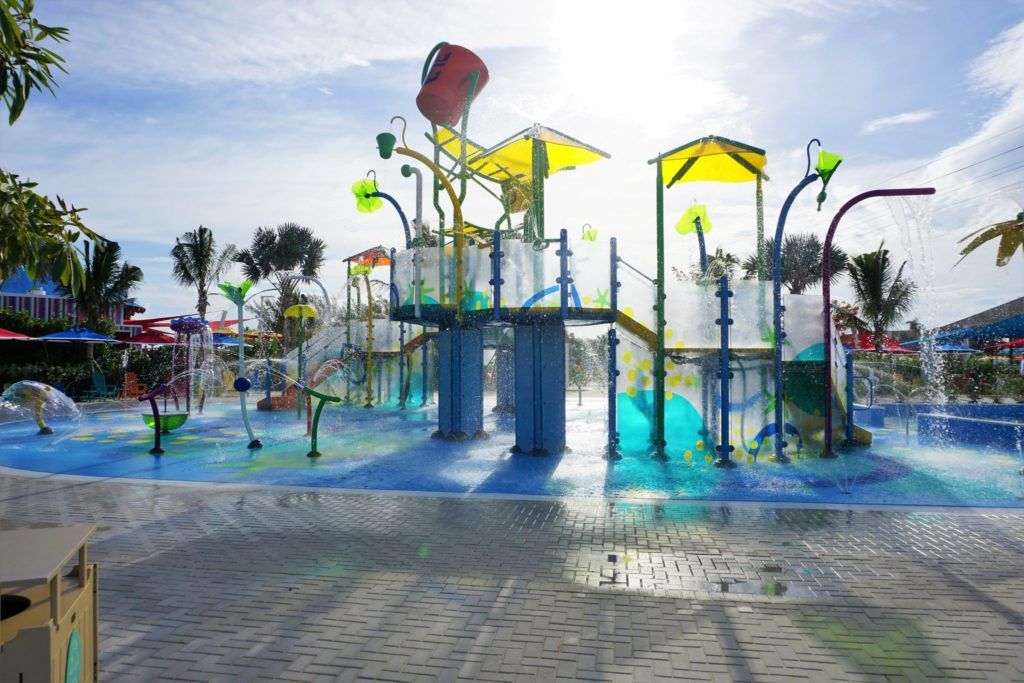 There is also the shipwrecked Captain Jill's Galleon located near the pier that is loaded with slides and water cannons to keep the family entertained all day long.
The Oasis Lagoon is a new attraction at CocoCay Bahamas that is quickly becoming a cruiser favorite. This expansive and complimentary lagoon is the Caribbean's largest freshwater pool.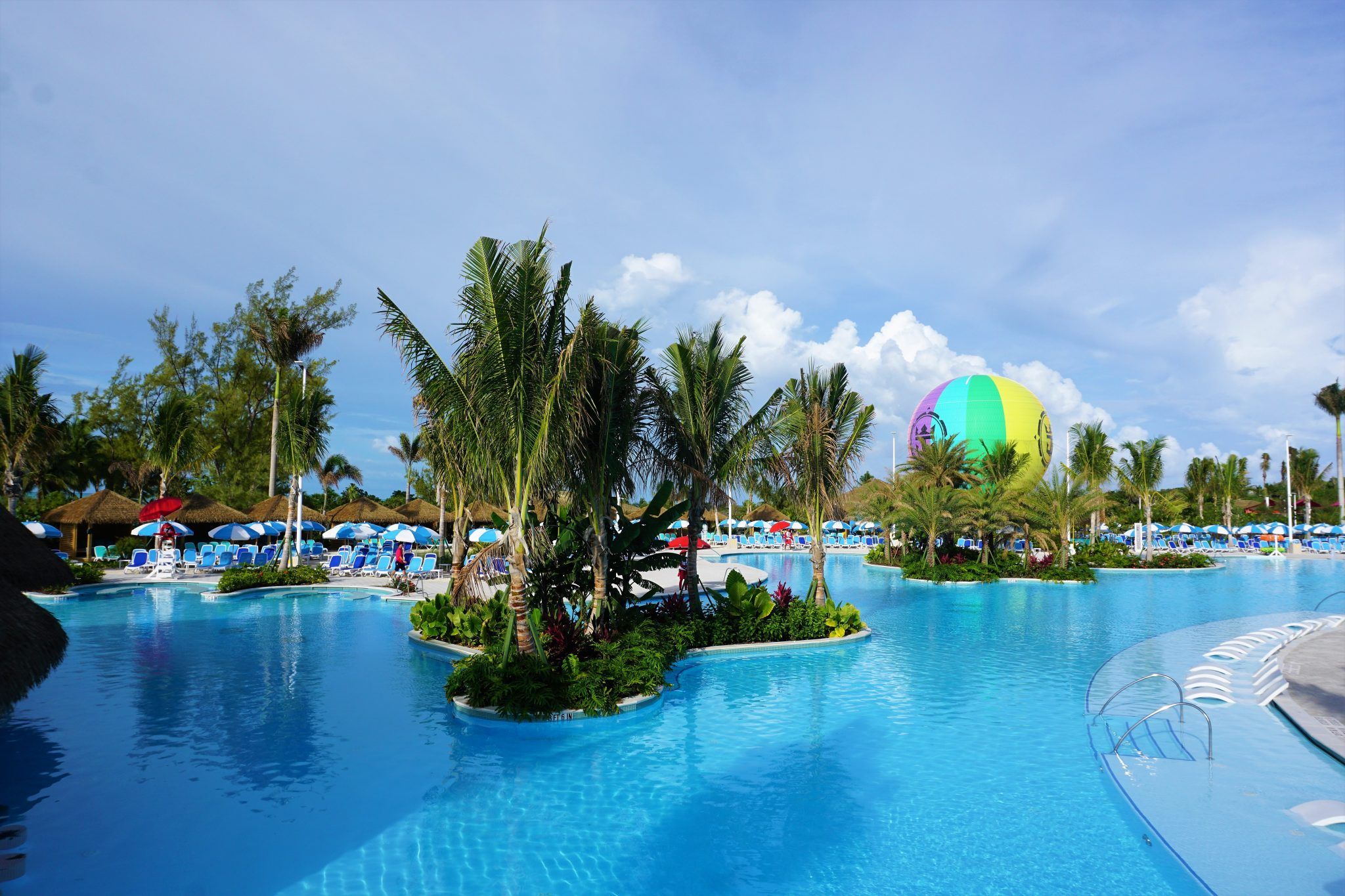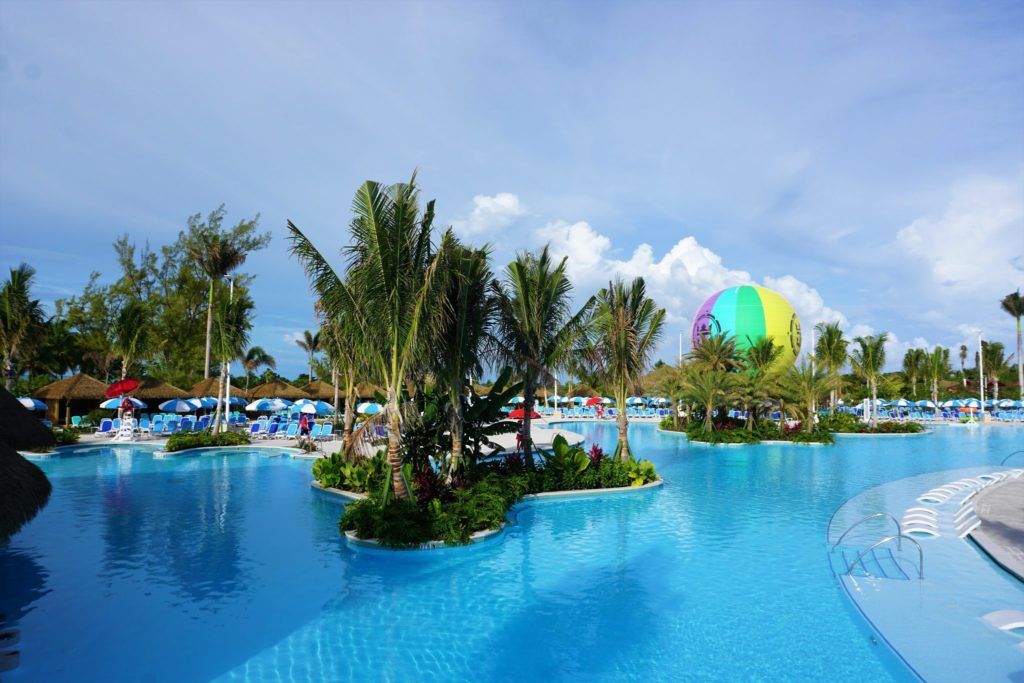 Cruisers of all ages will enjoy taking a dip in the pool or lounging in this upbeat area. There is even a DJ and a swim up bar. We'd say that sounds like a pretty Perfect Day at CocoCay!
There are also plenty of soft sandy beaches at CocoCay. Harbor Beach is a small, protected beach area centrally located on the island that is great for families.
At Chill Island (mostly the area of the former CocoCay), you can create your own perfect day by lounging on the complimentary beach chairs and swimming in the crystal clear waters.
If you are looking for a little adrenaline rush, then you will want to head over to South Beach. This beach offers a complimentary sports court for partaking in a friendly game of beach volleyball, basketball, and more lawn games.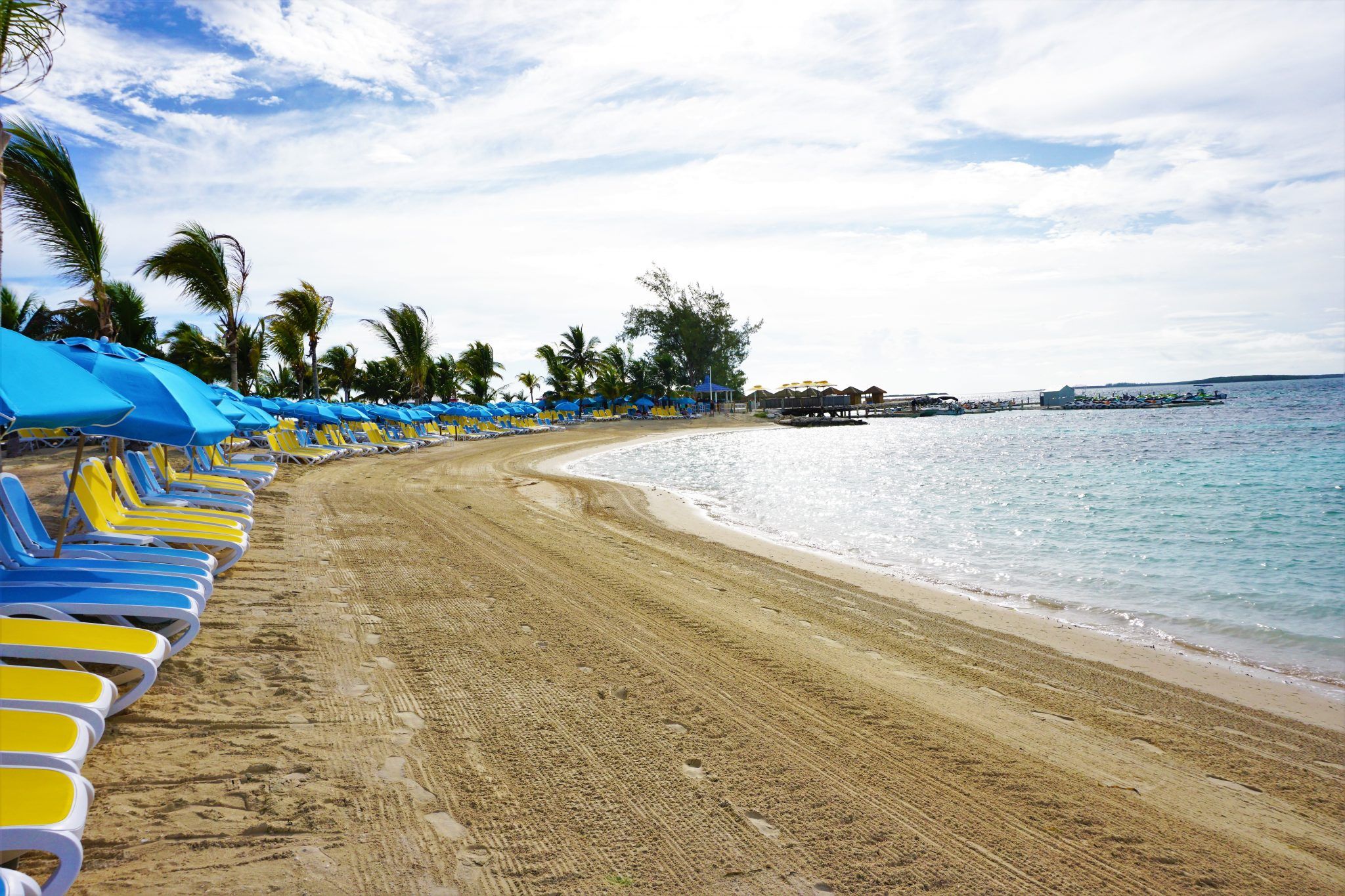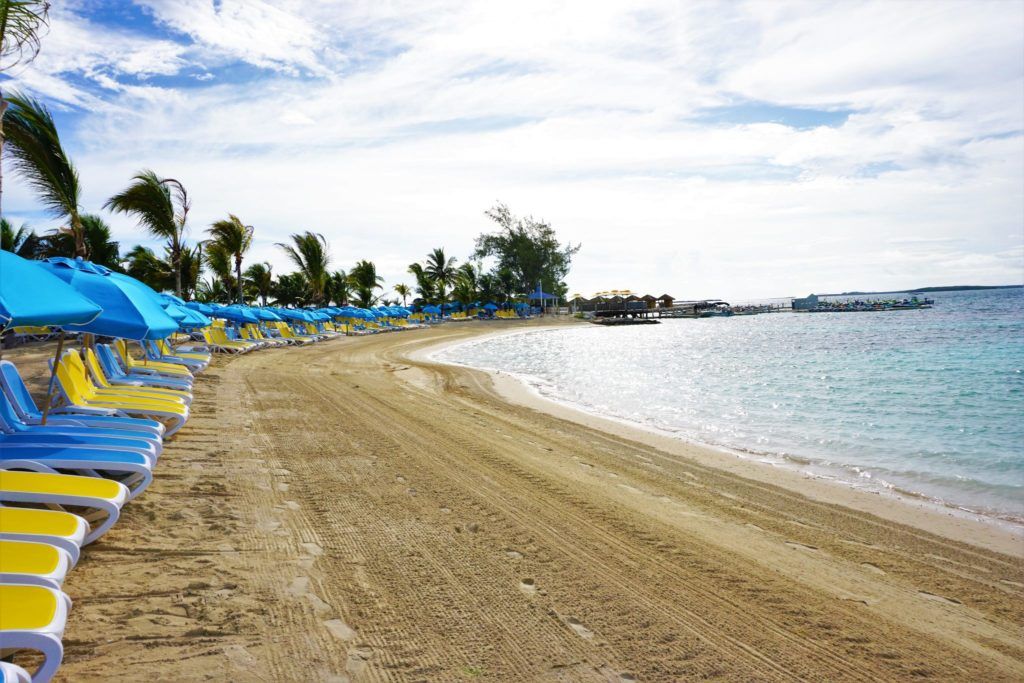 So, there's no need to purchase CocoCay Bahamas excursions if you love beaches and pools!
Of course, there are also for-fee activities located on the beaches like wave runners and kayaks. These Perfect Day at CocoCay Bahamas excursions are available to purchase in the Cruise Planner pre-cruise.
Related Post: Honest Review of Perfect Day at CocoCay
Dining Included on Perfect Day at CocoCay
Perfect Day at CocoCay will have a total of 5 complimentary dining locations on the island.
The Chill Grill is the largest dining venue on CocoCay and is located on Chill Island. Offering everything from tacos to sandwiches and grilled favorites, the Chill Grill is a great casual spot to relax and enjoy some lunch.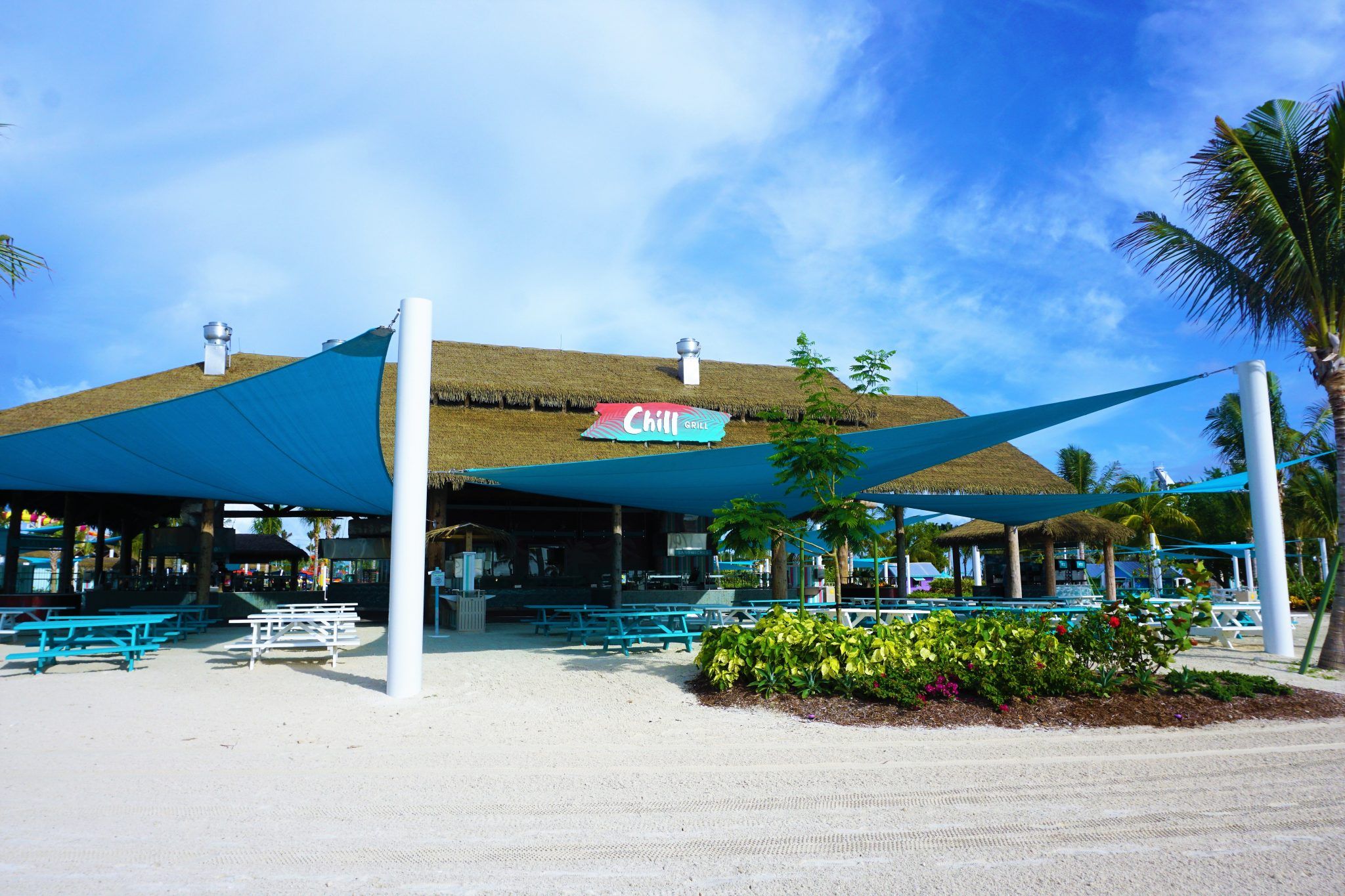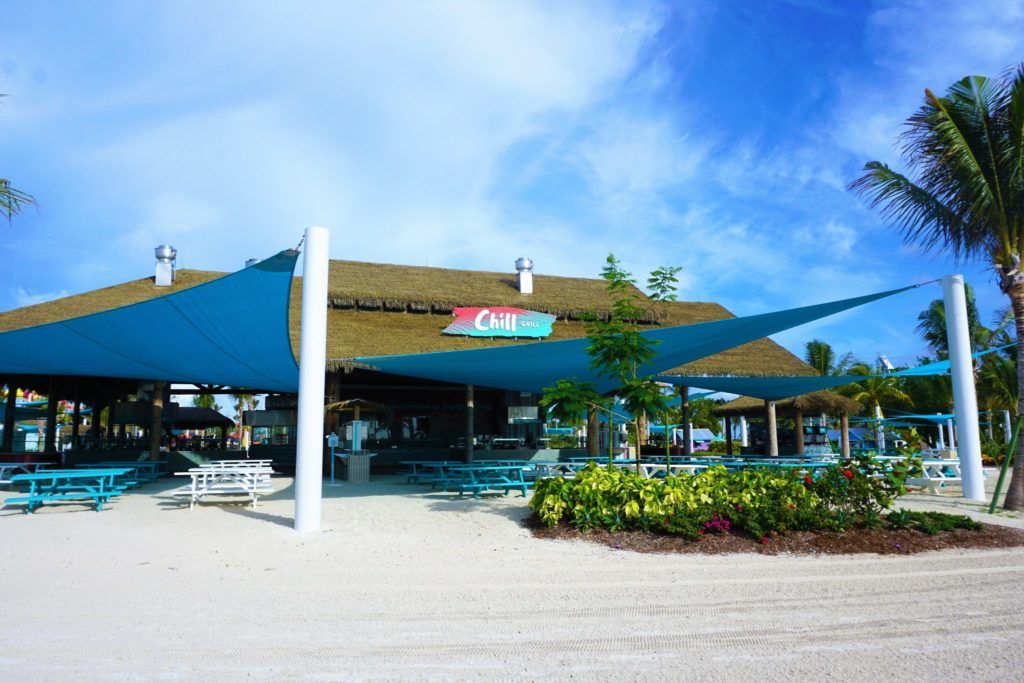 With more nautically inspired decor, Skipper's Grill is another casual lunchtime spot that overlooks the harbor and offers the same food options as the Chill Grill.
There are also 2 Snack Shacks (3rd slated to open in December) located throughout the island including at the Thrill Waterpark. These snack shacks serve items like hamburgers, chicken sandwiches, salads, funnel cake, and more. We have to say that the food is quite tasty!
Also, Captain Jack's offers chicken wings with signature sauces and crispy steak fries at a la carte pricing.
BOOK NOW: Exclusive Royal Caribbean Cruise Deals
What's NOT Included on Perfect Day at CocoCay Bahamas
While there are many complimentary activities on the island, admission to signature attractions like the Thrill Waterpark, Zipline, and Helium Balloon will cost you extra money.
Perfect Day CocoCay Bahamas shore excursions are available to book for additional costs as well.
Additionally, there is a Straw Market and Logo shop to make souvenir purchases while on the island. While there are many bars on CocoCay, beverages will also cost you extra money unless you have purchased a drink package.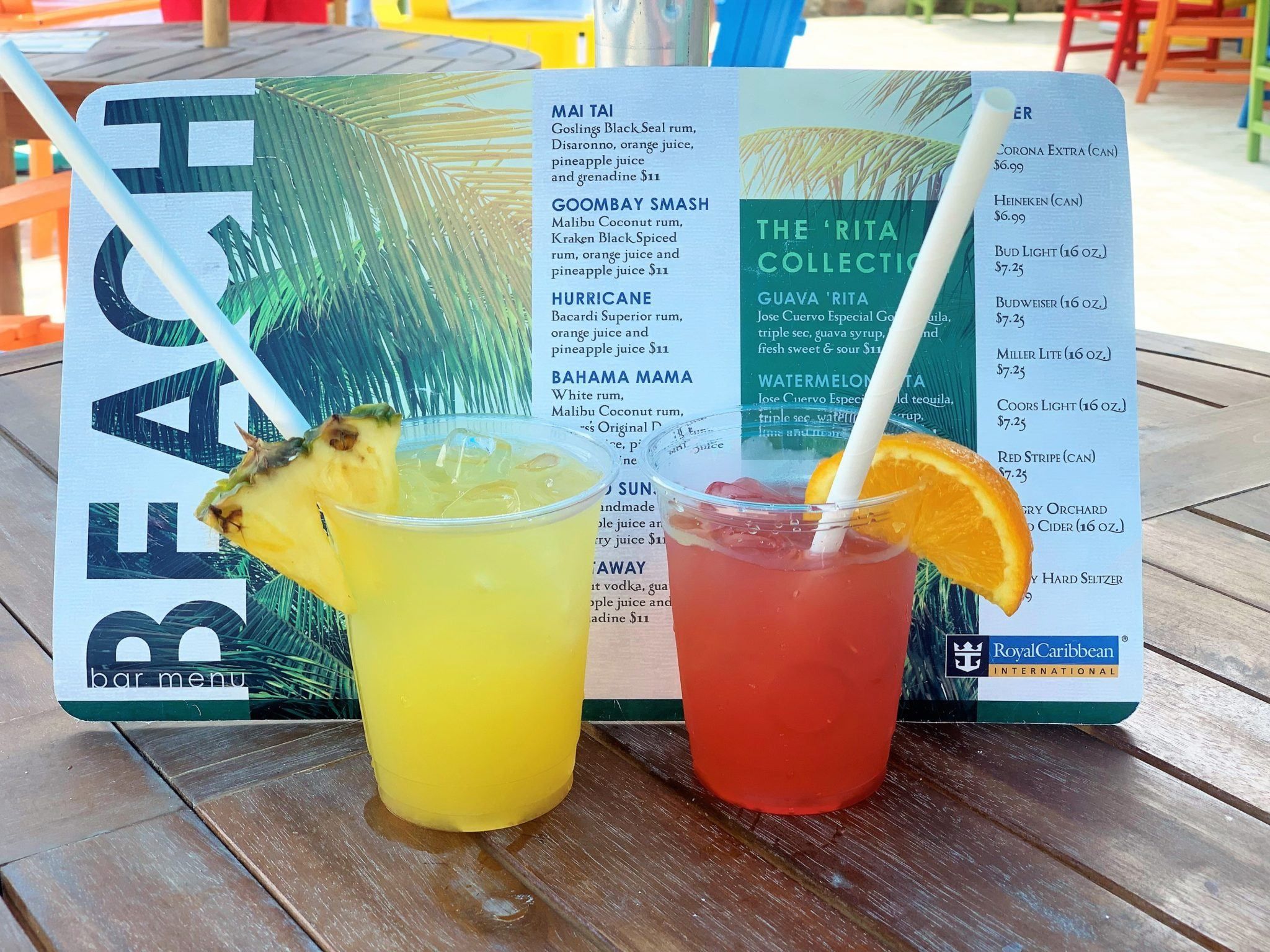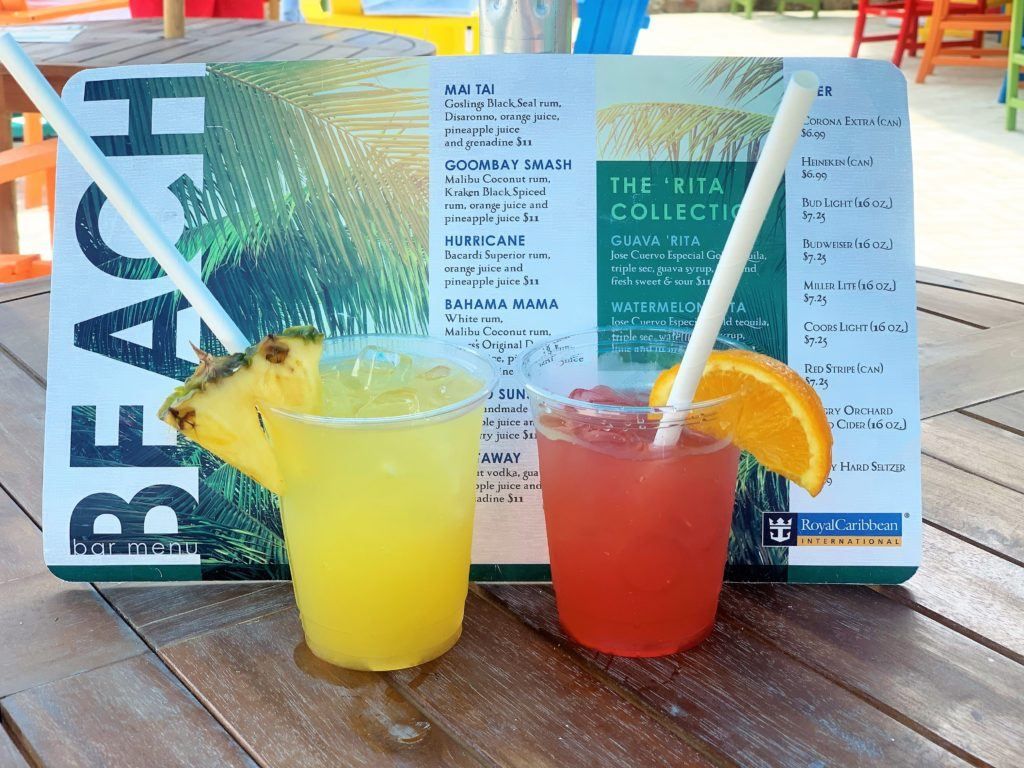 The new luxurious Coco Beach Club requires an additional fee for entrance too. A Coco Beach Club pass will grant you access to exclusive facilities, including an oceanfront infinity pool, private beach, and a restaurant.
Of course, there are also various beach beds and cabanas located throughout the island that are available for purchase with some including additional perks.
The most desirable (and expensive) cabanas are the over-water cabanas in the Coco Beach Club.
Comments
Do you have a cruise booked to Royal Caribbean's newly transformed private island in the Bahamas? Are you satisfied with What's Included on Perfect Day at CocoCay Bahamas? Drop us an anchor below to share your thoughts on the new CocoCay.