WATCH OUR LATEST VIDEO UPDATE ABOUT WHAT IT'S LIKE ON THE FIRST ROYAL CARIBBEAN CRUISE BACK!
We are onboard Royal Caribbean's Adventure of the Seas. It has been a whirlwind first couple of days. Now that we have had some time to process the momentous occasion, we wanted to share our experiences. So, in this post, we share what it is really like on the first Royal Caribbean cruise. Is it really that different to cruise now? We share everything in this post.
What Is It Really Like on the First Royal Caribbean Cruise?
Getting Ready for the Cruise
One way cruising is different now is the pre-cruise preparation. These Royal Caribbean cruises on Adventure of the Seas require all eligible cruisers over 16 years of age to be vaccinated. This requirement will change to guests 12+ as of August 1st.
In addition, there were certainly more steps we needed to complete before our trip. This included applying for the Bahamas health visa.
Flights proved to be a bit more challenging as well. We had several flights cancelled and changed on us. This included a night before delay that would have resulted in missing our connector to the Bahamas.
Luckily, we always fly the day before our cruise in case of any such issues. Also, we used Royal Caribbean's Air2Sea program for the first time. Thus, a midnight call to the emergency phone number was able to secure us alternate flights.
Embarkation Day
Perhaps the biggest changes to cruising impact embarkation day. Prior to the cruise, guests are required to complete an online check-in and receive a designated boarding time. Yes, this was always the case, but it was never really enforced.
Guests are also required to complete an enhanced health questionnaire in the app 24 hours in advance.
Further, a last minute change by the cruise line meant we all had to take a COVID-19 antigen test prior to boarding the ship as well. This process was easy and added an extra 30 minutes to the check-in process.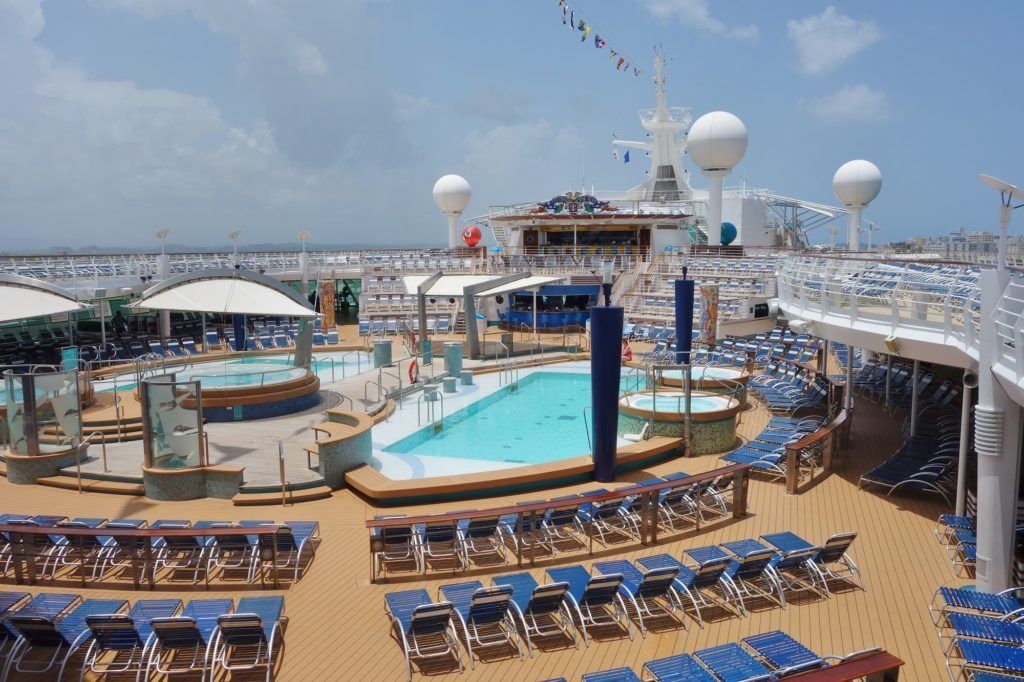 To add to our anxiety, it took Heidi's test results much longer to come back than mine. But, we checked in, had our tests, and were on a shuttle to the ship in about 45 minutes.
Still, the cruise line processed cruisers as efficiently as possible with these new protocols in place. Cruisers were required to wear face masks in the terminal. Everyone also needed to show proof of vaccination along with their set sail passes and passports.
Guests seemed compliant with the processes, and we were all happy to be boarding a cruise ship again.
Once on board, we were able to take our masks off, and they have not been needed since.
However, the staff throughout the ship and the private island are still wearing masks for their safety.
EXCLUSIVE SAVINGS: Royal Caribbean Cruise Deals for Summer 2021
Muster Drill
The typical muster drill has certainly changed on the first Royal Caribbean cruise. Luckily, this difference is for the better.
Royal Caribbean's Muster Drill 2.0 was a huge improvement. We were able to complete the instructional portion on our phone while waiting in line for coffee.
Then, during the hours of 1:30 pm to 6:00 pm, guests were required to check-in at their muster stations.
Our station was the Imperial Lounge on Deck 5.
We stopped in to complete the remaining in-person requirement around 4 pm. It took us only a few minutes as our muster station leader reviewed a few specific details about the drill and our station.
This new muster drill gets two thumbs up from us! Gone are the days of waiting outside in the heat crowded amongst other guests.
Entering Our Stateroom
There is something memorable about entering your cabin for the first time. The first Royal Caribbean cruise on Adventure of the Seas was no different.
Our stateroom was ready upon boarding the ship. So, we headed there immediately to drop off our carry-on items.
Walking into our spacious balcony cabin, 7232, it finally sank in for us. This would be our cruise home for the next week.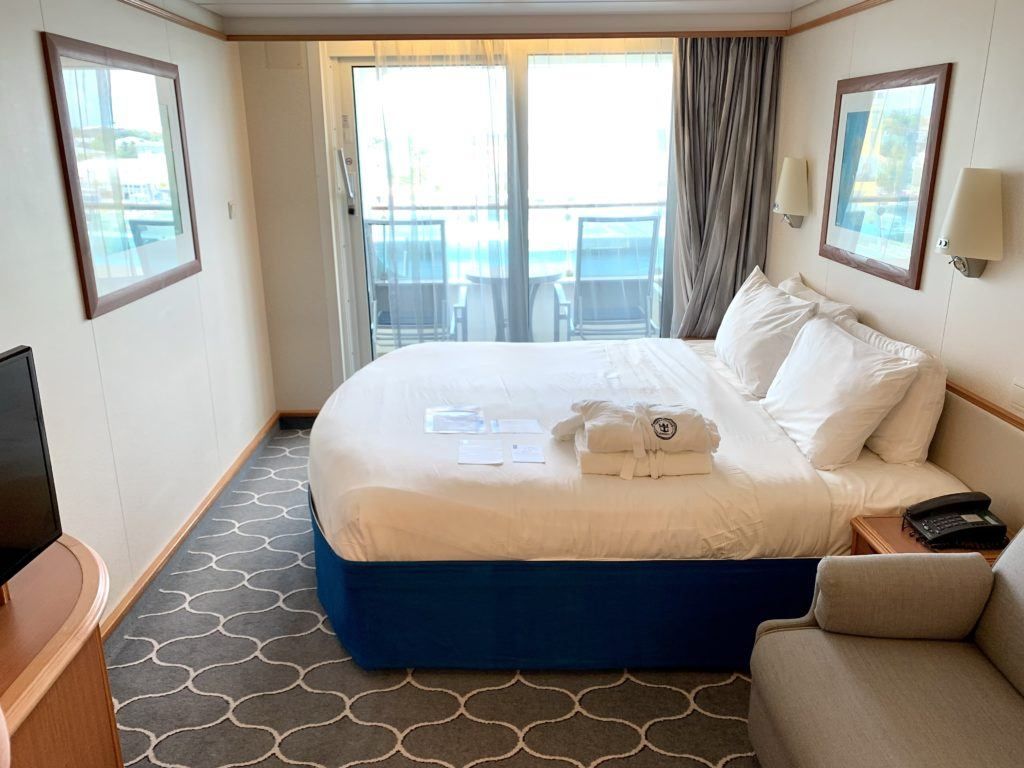 The cabin had the typical Royal Caribbean setup with our bed located in front of the balcony door. This familiar, welcoming accommodation made us feel right at home.
In the cabin, there were just a few small differences.
Royal Caribbean provided us with some disposable face masks and hand sanitizer. There were also some additional flyers outlining the changes and health and safety protocols. Besides that, the stateroom was just as we have come to expect on a cruise.
Dining on the Ship
Before our cruise we pre-booked all of our My Time Dining for the main dining room. While we are traditionalists, the "Early Seating" was even too early for us.
Royal Caribbean does strongly "encourage" cruisers to make reservations ahead of time. For us, this is nothing new.
Our dining experiences in the Main Dining Room and specialty restaurants thus far have been very much the same. Our waitstaff have been friendly and attentive. The only real differences are the waitstaff are required to wear face masks, and seating is staggered every other table.
The MDR nightly menus still consist of the usual items.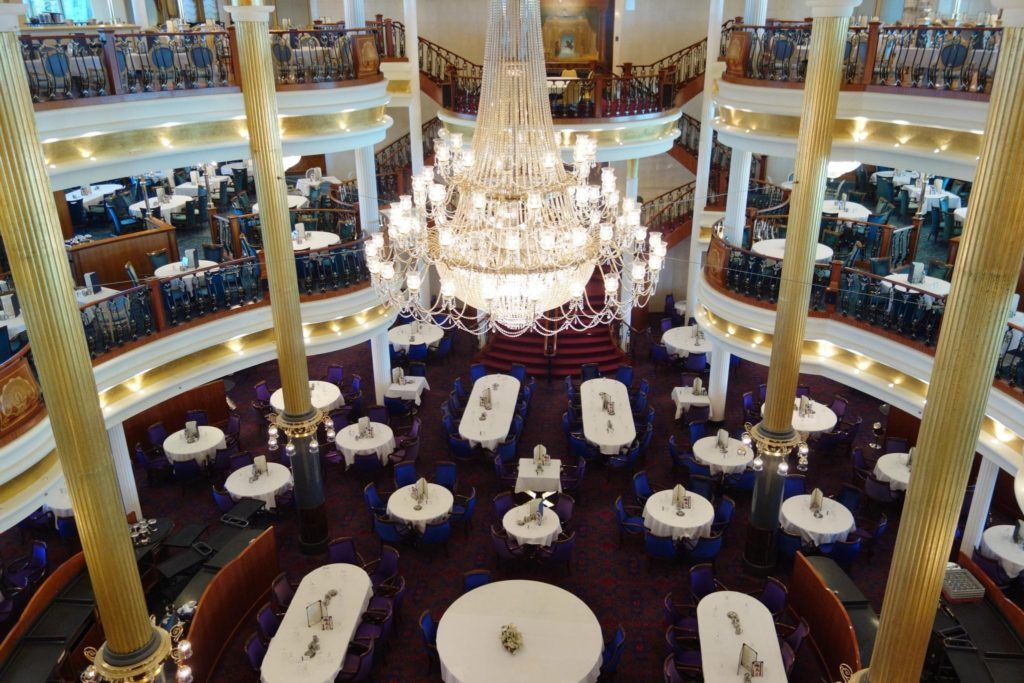 During the day, we have grabbed snacks and coffee at the Café Promenade. Here, there are social distancing markers in place. Besides that, it is business as usual.
Yes, there is STILL a buffet! The only real difference is that the staff are serving guests. Though, one cruise change on Adventure of the Seas is the need to make reservations for the Windjammer.
Reservations are available in the app and are strongly encouraged. Still, there is a standby line for guests without reservations. This might seem a little cumbersome to some, but we understand the necessity given reduced seating capacity.
Also, it is important to note that the Windjammer is only open for breakfast and lunch. This casual buffet is not open for dinner during our cruise. Again, this is due to staffing and being able to manageable the flow of cruisers on the ship.
Entertainment
On mega ships, such as the Oasis Class, you need to make entertainment reservations. However, this is not usually the case on Voyager Class ships.
For this Adventure of the Seas cruise though, the cruise line is requiring reservations for the main theater. Unfortunately, these reservations can only be made once onboard the ship.
While there were some tech issues with the app early on embarkation day, we were able to book all of the main theater and Studio B entertainment by the evening. These included the ice show, four headliners, and one production show, Invitation to Dance.
Unlike other cruises, the shows are offered multiple times over different days to account for reduced capacity in the venues.
The capacity in the theater is greatly reduced. Royal Caribbean has entire rows blocked off. Even within a row, only two guests are allowed to sit next to each other. Larger parties will be asked to break off into pairs.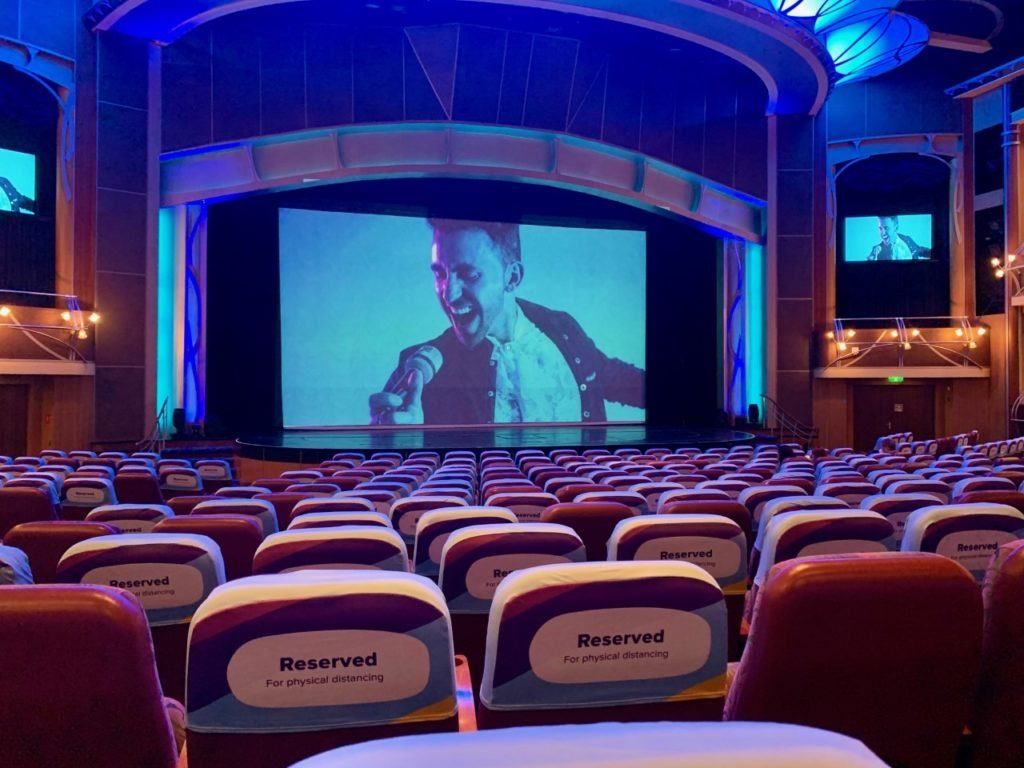 Another way cruising is different on Royal Caribbean now is there is no bar service in the main theater. Cruisers can bring drinks into the theater, but there are no servers walking around to take orders. So, make sure you go to the theater prepared with your cocktail in hand if you enjoy a drink during showtime.
Cruise Ship Activities
So far, the cruise ship activities have had minimal changes. Over the last couple of days, there has been trivia, live music, and even karaoke.
From our experiences, the only changes have to do with social distancing in the venues. The singers also have plexiglass shields in front of them.
On the pool deck, the Flowrider is still letting guests boogie board. The Perfect Storm waterslides are running, and the kids Aqua Park is fully functional. The pools are at reduced capacity, but there doesn't seem to be any issues for those looking to take a dip. Of course, we are sailing at only 1/3 capacity.
It does appear that cruise activities that draw large crowds are not occurring. There has been no Captain's Reception or Promenade parties. It is likely that activities like the Crazy Quest won't occur either.
Another minor modification is the gym. Cruisers will need to make an appointment to use the gym. Guests can sign up for a one-hour block to use the facilities.
Still, these small changes don't seem to be impacting the guest livelihood.
BOOKING BONUS: Save on Cruises to Perfect Day at CocoCay!
Time Ashore
Thus far, our time ashore has not been any different on this cruise.
So far, we have had two days at the cruise line's private island, Perfect Day at CocoCay. It was so nice having the island all to ourselves.
On the first day, we spent the morning walking around the island. There were plenty of beach chairs and space to spread out across the island. The Oasis Lagoon pool was also relatively empty.
We were given access to the Coco Beach Club and an overwater cabana. So, we spent the afternoon enjoying this perk.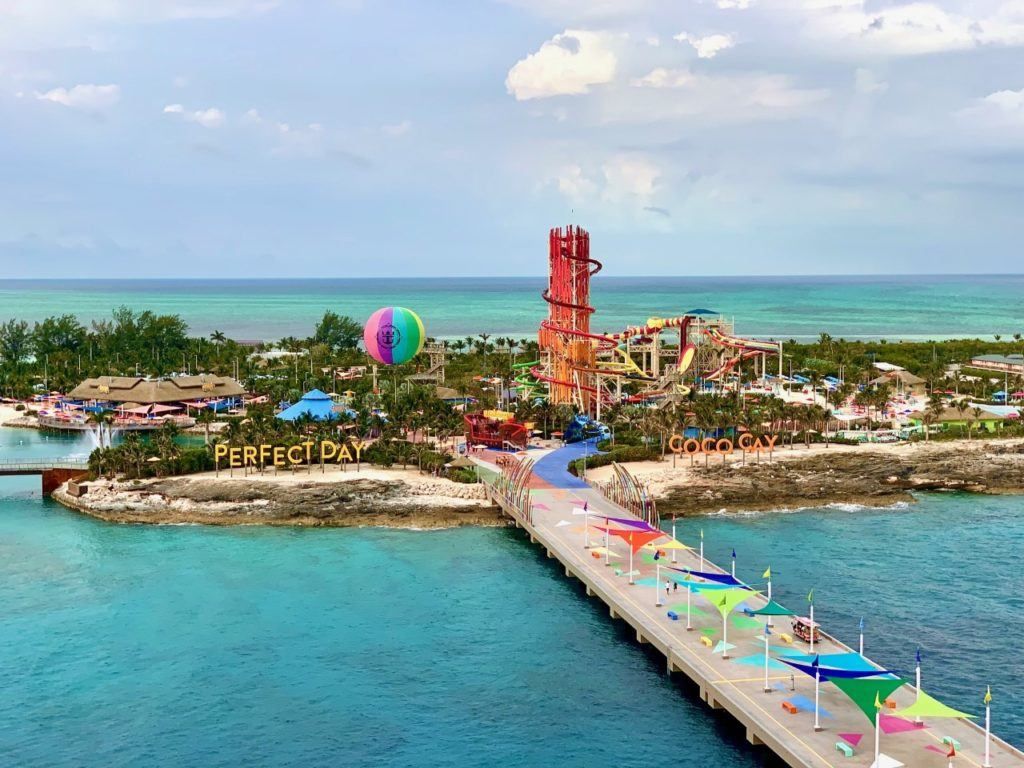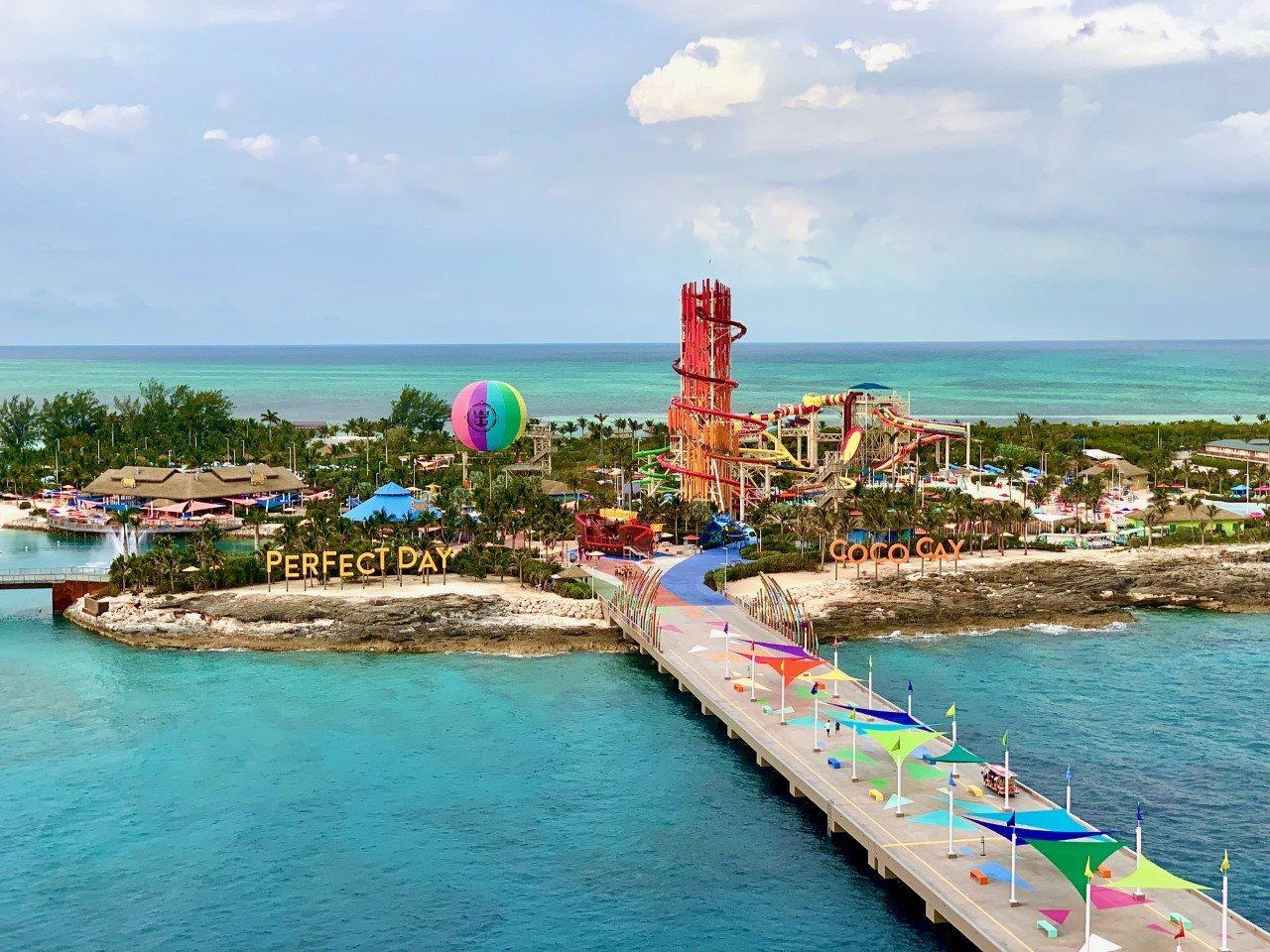 On the second day, we spent the morning in the Thrill Water Park. It was so quiet that we were able to ride all of the slides in about an hour!
Then, we couldn't help but head back to the Coco Beach Club for a bit in the afternoon.
Now four visits to the island, and we have still not been able to test out the Up, Up, and Away Helium balloon ride.
Besides some of the physical distance markers and extra hand sanitizing stations, the island felt the same to us as our previous trips. Well, except for the lack of crowds. So, it was a win-win for us.
Our Experiences on the First Royal Caribbean Cruise
We are happy to report that cruising with Royal Caribbean has not changed much since the pandemic. This is mostly due to the cruise sailing with 94% of cruisers vaccinated. With this extra layer of safety, the cruise line is able to offer the same great cruise vacation.
While there are some small changes and modifications on the first Royal Caribbean cruise, they mainly go unnoticed. With a little additional planning and flexibility, cruisers can get back out to sea and enjoy the same amazing cruise experience.
In fact, now is a great time to cruise with Royal Caribbean given the reduced ship capacity and lack of crowds on Perfect Day at CocoCay.
Comments
What do you want to know about the first Royal Caribbean cruise? Do you have a cruise booked with this cruise line? Drop us an anchor below to share your cruise plans for 2021.