If your Royal Caribbean cruise is spending two days at Perfect Day CocoCay in the Bahamas, you are in for a real treat. This newly renovated private island offers guests a variety of relaxing and thrilling experiences to enjoy while ashore. Don't worry, as there will be plenty to keep you entertained during your double-dip at this private oasis.
How to Spend Two Days at Perfect Day CocoCay Bahamas
Access to CocoCay is reserved exclusively for Royal Caribbean Group guests. So, that means you will essentially have the island to yourself!
Since the upgrade to the island, tendering is now a thing of the past. Guests can simply walk ashore to enjoy all that Perfect Day at CocoCay has to offer.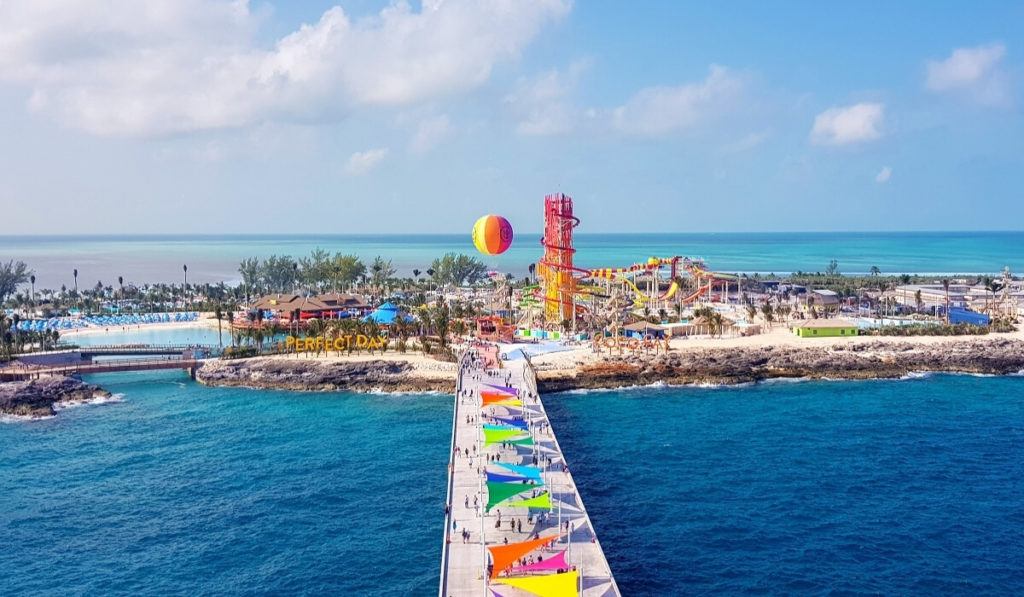 In even more good news, most of the island is complimentary for all guests to enjoy. Yes, there are upgraded experiences, but you do not need to purchase anything to go ashore.
Related Post: Our Review of Perfect Day at CocoCay
Day 1 on Perfect Day at CocoCay
If you are spending two days at Perfect Day CocoCay, we suggest you spend the first day exploring the island and enjoying all the complimentary amenities on Perfect Day at CocoCay.
If you are looking for a lively pool party atmosphere, then the Oasis Lagoon is where you will want to spend your day. This expansive lagoon is the Caribbean's largest freshwater pool.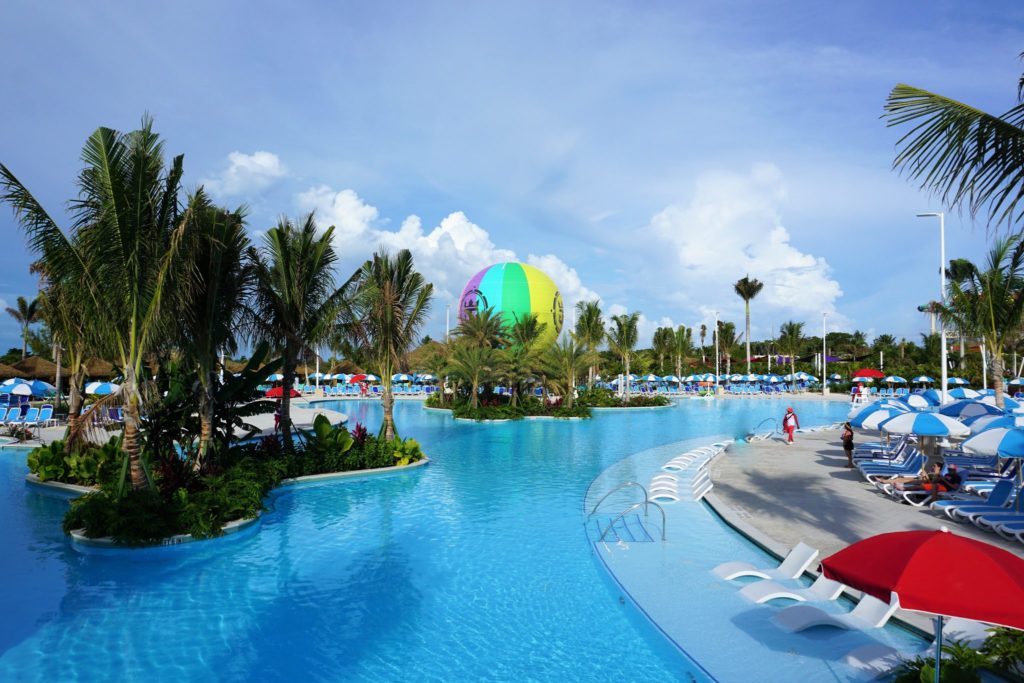 Here, cruisers can lounge poolside or on one of the in-water loungers. There is even a DJ and a swim up bar. We'd say that sounds like a pretty Perfect Day at CocoCay!
If you want a more relaxed beach day, Perfect Day CocoCay offers that too.
There are plenty of soft, sandy beaches in this Bahamian paradise. Whether you head to Chill Island, South Beach, or the small protected Harbor Beach, you will find plenty of complimentary lounge chairs and umbrellas.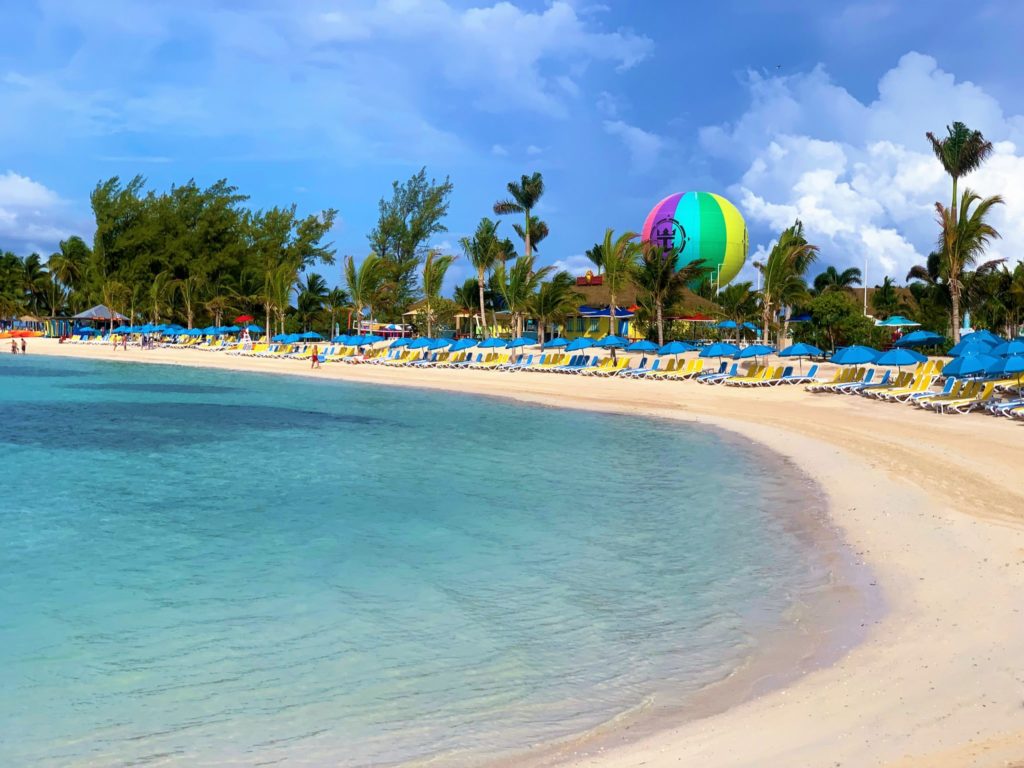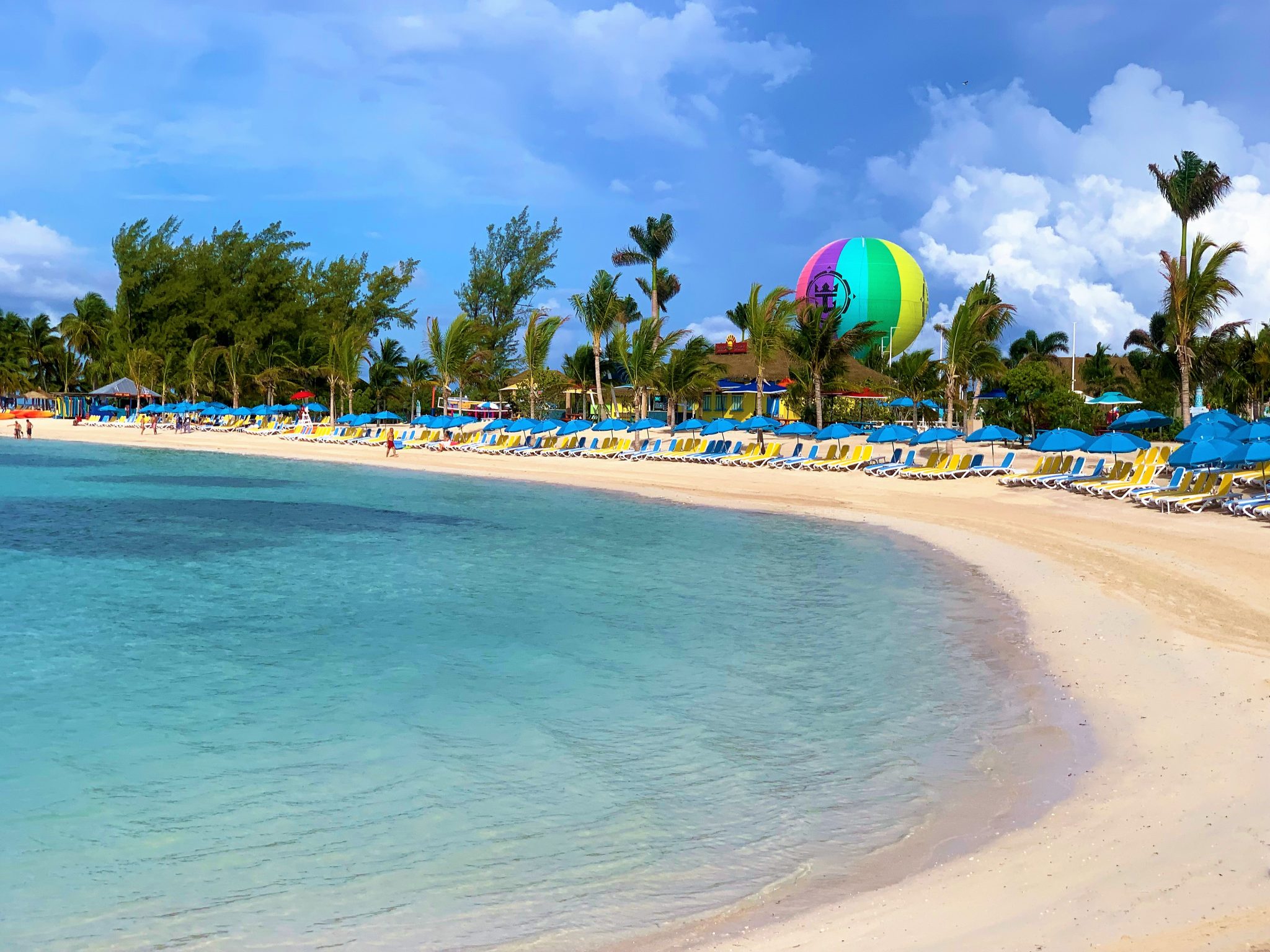 If you are cruising with little ones, they too will have plenty of free offerings to keep them entertained. There is the Splashaway Bay aqua park complete with fountains, pools, sprinklers, water cannons, kid-size waterslides, and two massive drench buckets.
There is also the shipwrecked Captain Jill's Galleon located near the pier that is loaded with slides and water cannons.
What's a day at Perfect Day CocoCay without some food and drinks?
Lucky for you, if you purchased a Royal Caribbean drink package, all your drinks on this private island will be included. That's right, you can enjoy a drink at the pool's swim-up bar, the floating bar at South Beach, or one of the many other island bars for no additional costs.
There are several complimentary food options as well. The Chill Grill and Skipper's Grill offer buffet-style selections from sandwiches, to grilled items, to salads, and everything in between.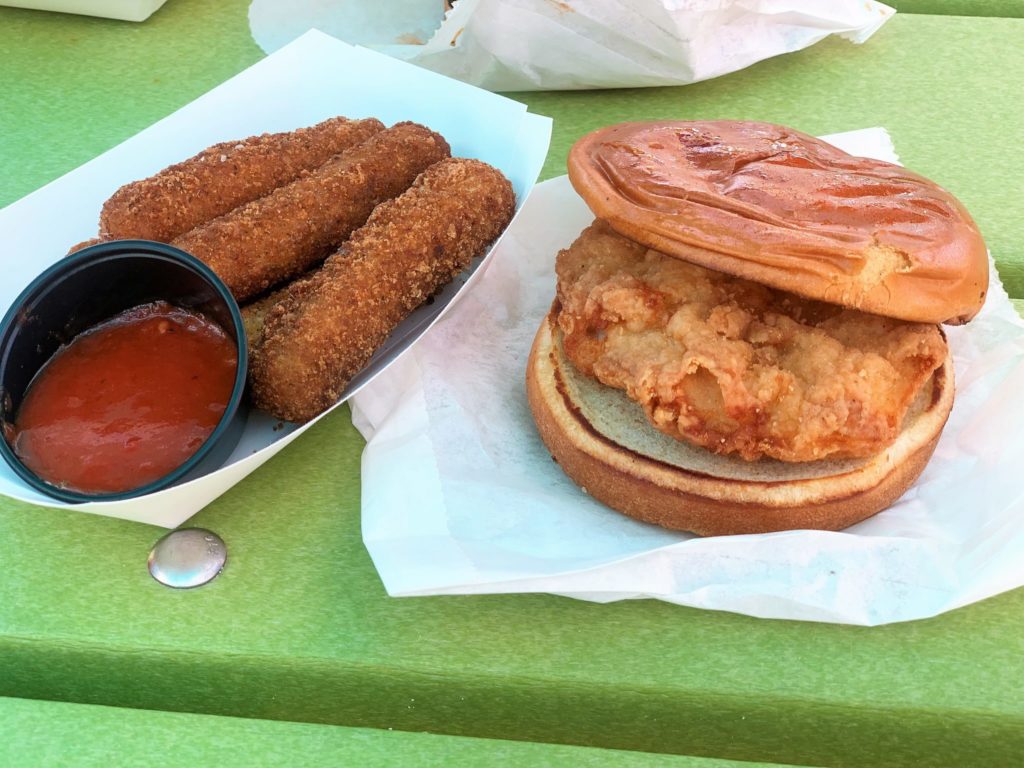 There are also Snack Shacks located throughout the island offering hamburgers, chicken sandwiches, mozzarella sticks, and more.
If you are looking for something to break up the day, you can join in on some beach volleyball, lawn games, or perhaps purchase a ride on the Up, Up, and Away Helium Balloon. You could also do a little shopping at the Straw Market.
Day 2 on Perfect Day at CocoCay
Now that you have a sense of what the island has to offer, you could simply choose to have a repeat of the day before.
You could also purchase a Perfect Day at CocoCay shore excursion that takes you off the island like a kayaking adventure, snorkeling, parasailing, and more.
However, our recommendation is to splurge on one of the upgraded amenities. Depending on your style, we recommend either a thrilling day at the Waterpark or a luxuriously relaxing day at the new Coco Beach Club.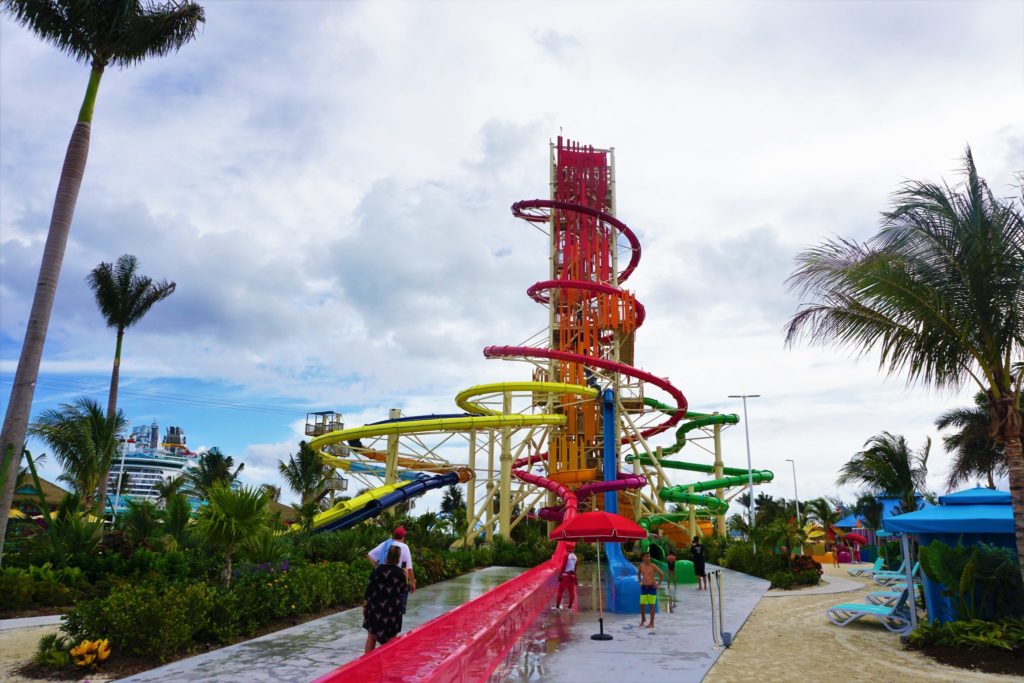 The Thrill Waterpark encompasses a large portion of the island and attracts thrill seekers and families alike. The Thrill Waterpark on CocoCay features the most slides found in any waterpark in the Caribbean.
It also boasts the Caribbean's largest wave pool and a kid-friendly adventure pool.
Daredevil's Peak is just one of 5 unique slides (7 total) on Daredevil's Tower. Are you daring enough to take the 135-foot plunge down the tallest waterslide in North America?
There is also the Family Tower, Splash Summit, which includes 6 total slides.
If waterparks aren't your thing, reserve a spot at the exclusive Coco Beach Club. A Coco Beach Club pass will grant you access to exclusive facilities, including an oceanfront infinity pool, private beach, and a restaurant.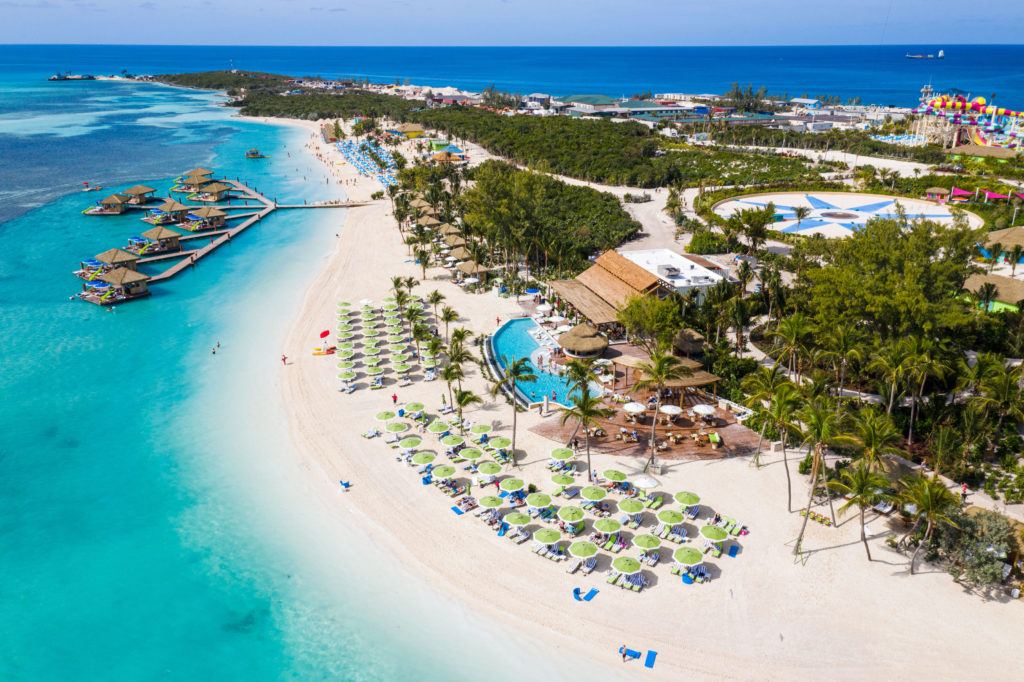 The Coco Beach Club Restaurant features upscale entrée offerings with additional buffet-style selections of appetizers and salads. There is also a bar and attendant service in the beach club.
However you choose to spend your two days at Perfect Day CocoCay, it is sure to be a great time.
Of course, there are plenty of complimentary chairs and umbrellas to use as well. Or, for the most upscale experience, you could rent an over-water cabana.
BOOKING BONUS: Get Extra Perks with These Royal Caribbean Cruise Deals!
Comments
Do you have a cruise booked that spends two days at Perfect Day CocoCay? What are some of your favorite things to do on Royal Caribbean's private island in the Bahamas? Drop us an anchor below to share your experiences visiting Perfect Day at CocoCay.