Scroll Down to Watch our Complete Look at What it is REALLY like at Perfect Day at CocoCay!
We are back! The Princess and I have just returned from our three-day weekend cruise on Navigator of the Seas. While Navigator of the Seas is an amazing ship, we primarily booked this last minute getaway to experience first hand the brand new Perfect Day at CocoCay. Having read the reviews, we couldn't wait any longer to visit the island. Did it live up to our expectations? We breakdown our entire day exploring all the island offers in our honest review of Perfect Day at CocoCay.
Perfect Day at CocoCay Review
Pre-Cruise Plans
Before even getting to the island, you can review everything there is to do on Perfect Day at CocoCay on the Royal Caribbean Cruise Planner. This makes planning your trip easier and allows you to pre-book excursions.
For this trip, we wanted to experience the two most thrilling features at the new Perfect Day CocoCay. Luckily, we scored an amazing 30% off deal for a combo Zip Line and Thrill Waterpark ticket. In fact, we ended up paying just $10 more than the cost of a full day water park pass. Now that is a deal!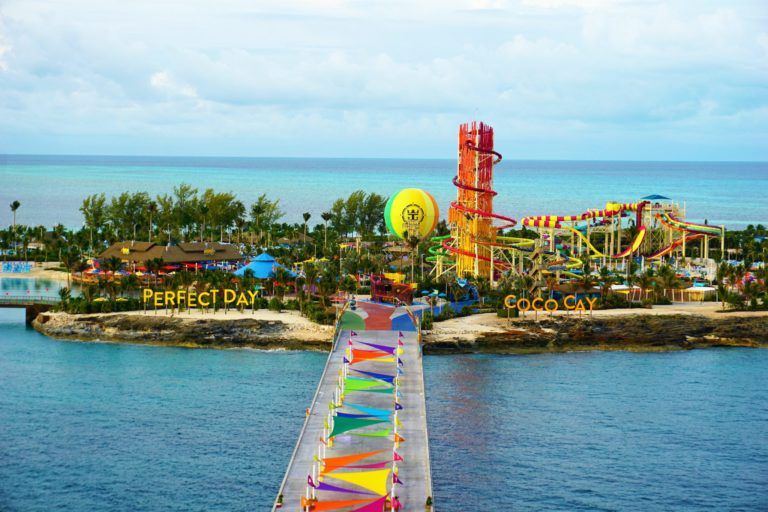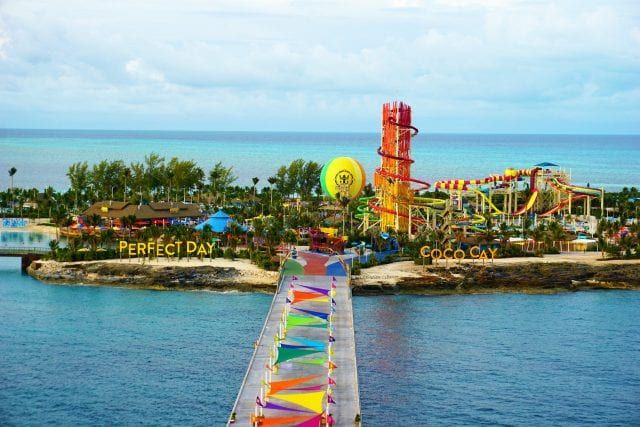 Pricing for these activities is dynamic as well. So, if you are looking to purchase a big-ticket item, like one of the Cabanas, we suggest you do so as early as possible. Over the span of a month, the prices went from around $500 to over $1,000. Of course, if you happen to find a lower price, you can always get an adjustment.
Navigating Perfect Day at CocoCay
Good-bye tendering! The pier at the island has been open for several months now, and cruisers can now utilize the direct pathway to the island. Docking appeared seamless as Navigator of the Seas turned around and slowly edged herself towards the pier.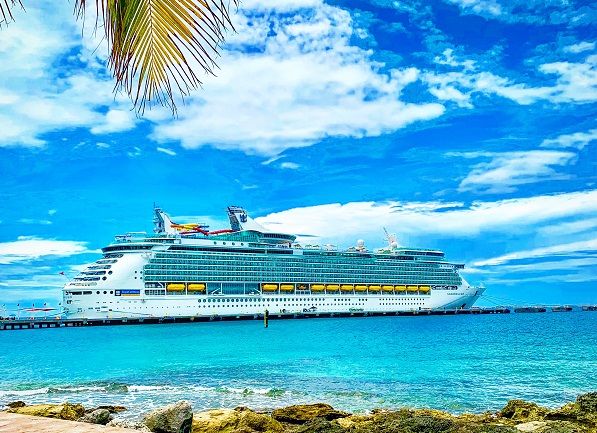 We were docked for about an hour before being officially cleared. This gives the staff time to unload supplies. So, there we were staring at the beautiful island and unable to explore!
The island's facade is truly breathtaking. Some critics might lambaste the new entrance as being a bit theme park-like in design. For us, the large sign, water geyser feature, and colorful appearance were welcoming.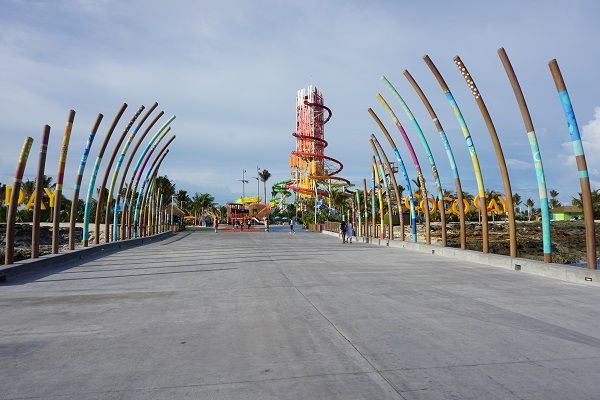 It was easy to maneuver around the island with the new paved walkways and design which basically makes a large circle around the attractions. Royal Caribbean also provides you with a map as well as signage around the island.
Soon after 8 am (our stated arrival time), the announcement was made that we could now walk off the ship. If you know us, this was our cue to head to the gangway and start exploring.
Related Post: Top Perfect Day at CocoCay Tips
Perfect Day at CocoCay Beaches
The beach areas received minor updates. After all, they were pretty much already ideal in the first place. The new area referred to as Chill Island is essentially the main area of the "old" CocoCay. Travelers who have visited the island before will recognize the setup as it remains relatively intact. New pathways and dining facilities have been added for convenience.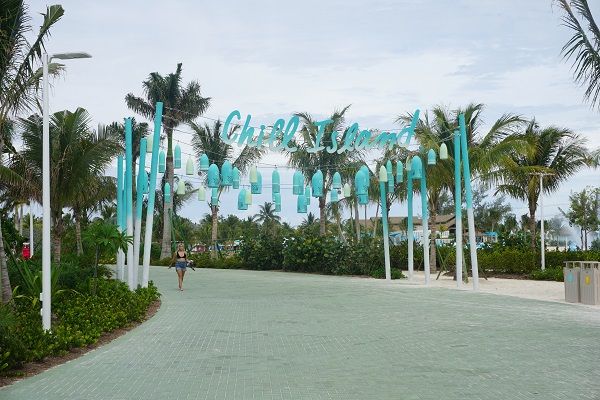 As you cross the bridge into Chill island, you may recognize some of the older buildings and areas. The newly named Chill Beach appears to have received some cosmetic work giving it a much smoother and attractive coastline along with some new beach loungers and umbrellas.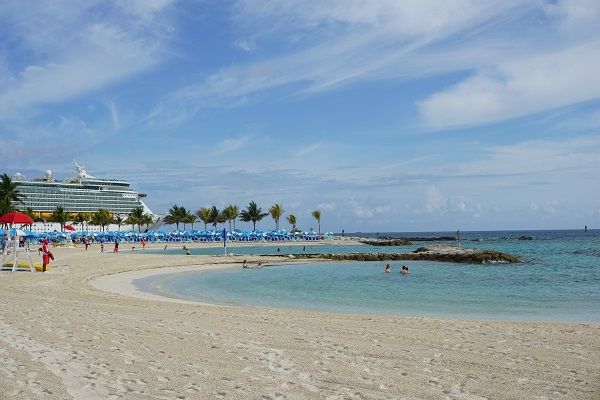 As you continue to follow the shoreline, you come across more familiar areas, inducing the Chill Cabanas. Along with new dining (Chill Grill), there are also updated restroom facilities. Existing buildings like the Straw Market, Wacky Seagull Bar, and the Shore Excursions hut don't appear to have changed much either.
As you continue along the shore towards South Beach, there is a new sports area including a beach volleyball court, several lawn games, a small basketball court, and a nice beanbag style seating area.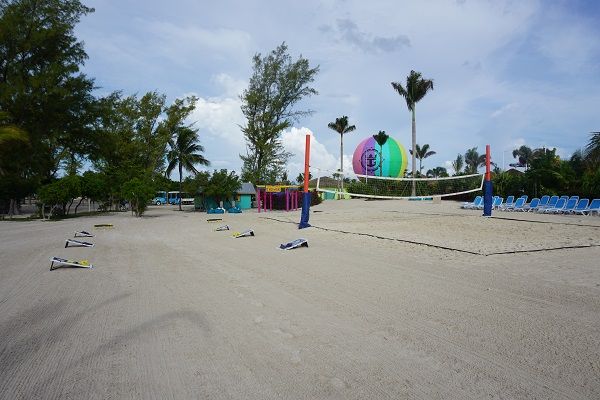 Further down the coastline you will find the Floating Bar and South Beach which appears mainly unaltered as well. The beaches just seem to go on forever. With only one ship in port, the island felt rather quiet and uninhabited. Which is a good thing! The beaches were also very clean and provided ample shade with the addition of the new umbrellas.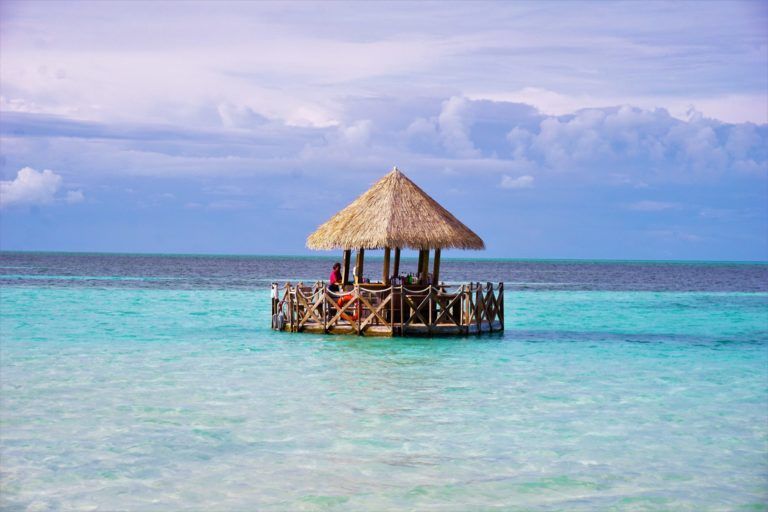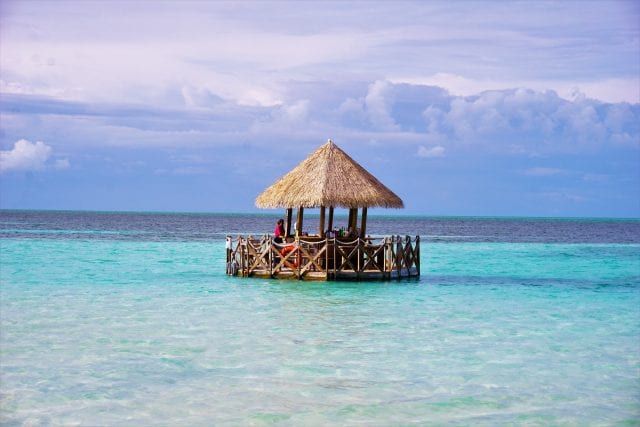 By the end of 2019, a stretch of this area will also be home to the new Coco Beach Club featuring over water cabanas and an exclusive restaurant. We did not see any construction or signs of these new structures being put into place just yet.

More centrally located on the island is the new Harbor Beach. This protected beach area is perfect for kids and provides plenty of lounge chairs and umbrellas as well. There is also a small water feature.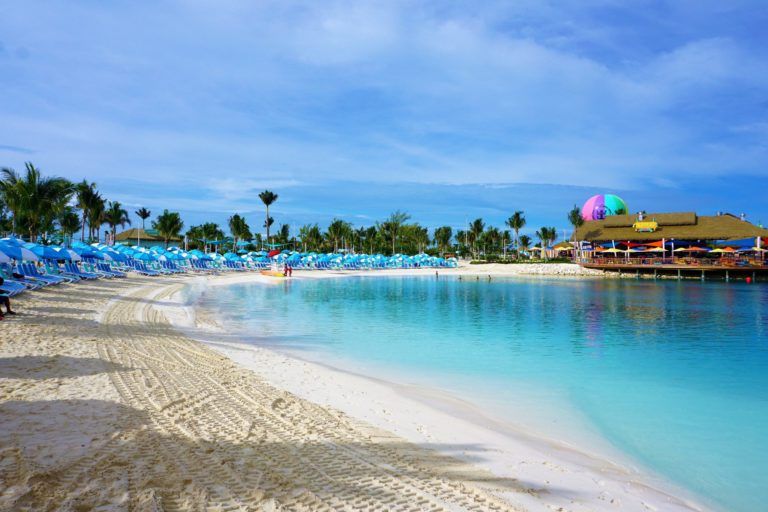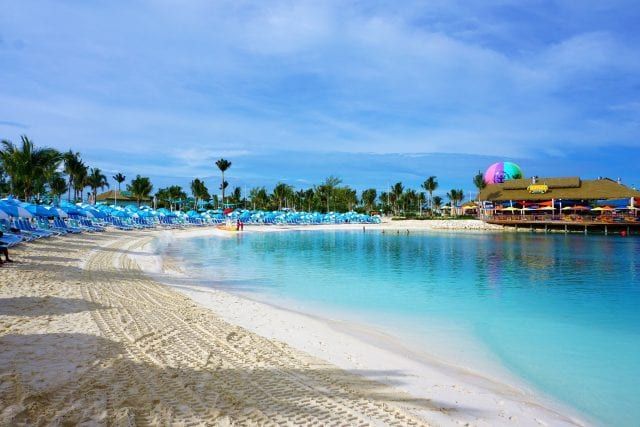 Related Post: Everything Included on Perfect Day at CocoCay
Dining on Perfect Day at CocoCay
To ensure individuals stay on the island as long as possible, Perfect Day at CocoCay has seen a serious improvement in the food and beverage program.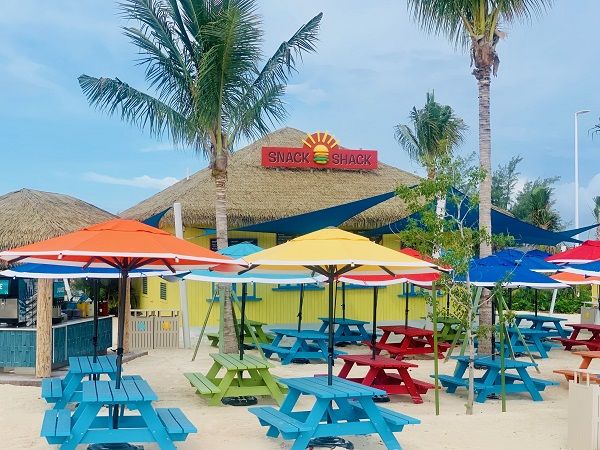 For us, this was a very welcomed and tasty update. The island's new Snack Shacks are exactly the type of venue that we have been looking for on a cruise. A fantastic alternative to the buffet, these strategically placed venues serve a limited menu of hot and fresh light bites. Among our samplings were the Shack Burger, the Crispy Chicken Sandwich, Fries, and the funnel cake, which were all quite good.
Still, if you are looking for more diversity, there are two huge dining areas to satisfy your appetite. The Chill Grill and Skipper's Grill are both large buffet style venues with plenty of food offerings. With one ship in port, there were no lines or waits.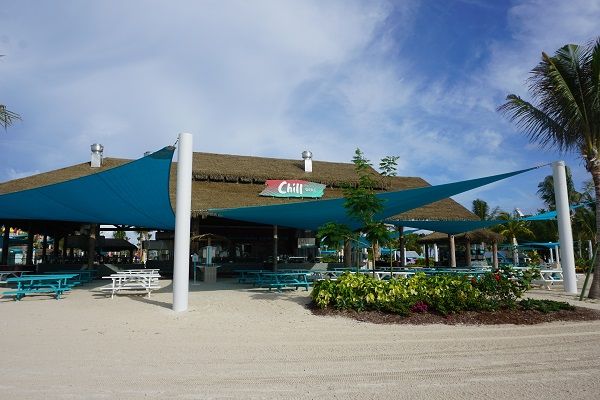 The menu is the same at both venues. There are the standard hamburgers, hot dogs, and grilled chicken that were part of the original "barbecue lunch" on the island. Now, there is also a salad bar, a custom taco stand, and a sandwich section with paninis, steak sandwiches, and Cuban sandwiches.
During our trip, the buffet was open from 11 am to 3:30 pm. This is a marked improvement as previously, lunch was only served for an approximately two hour window. The snack shacks were even open an extra hour.
Island Bars
The island bars are a mix of classic favorites and a few new additions.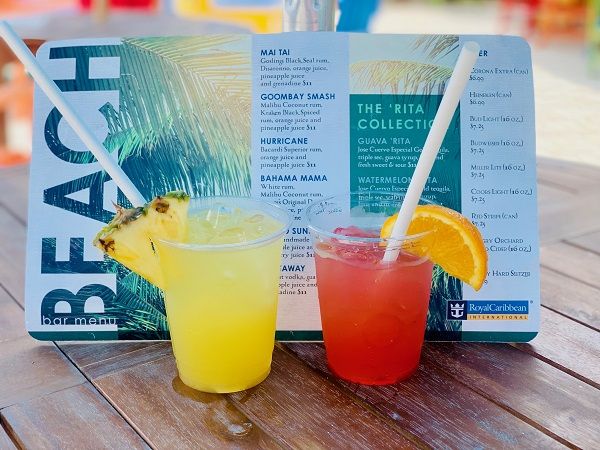 Among the biggest additions is the bar at the Oasis Lagoon. In fact, the whole Oasis Lagoon area is an expansive addition to the island featuring the Caribbean's largest freshwater pool, plentiful loungers, music with a DJ, a swim-up bar, and a very lively crowd. While we didn't really get to enjoy the Oasis Lagoon this time around, it looked like a blast.
For those who want to relax on land, one side of the Oasis Lagoon bar also has tables with umbrellas.
The other big addition to the bar line up on Perfect Day at CocoCay is Captain Jack's. You can not miss this nautically themed bar as soon as you cross over onto the island from the pier. Offering a few different cocktails than the other bars on the island, the drinks here are also included in the Deluxe beverage package.
Unfortunately, the wings and fries are extra money. We enjoyed our Beach Bum and Watermelon Rita drinks while chilling on the bar's swings. This location also has some table top games and unique seating which makes it a great location to escape the sun for a while.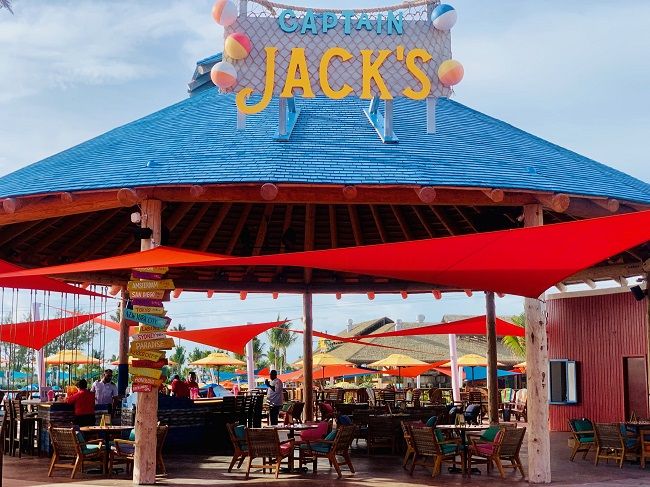 There are still plenty of other bar options spread throughout the island. These include Coconut Willie's, the Wacky Seagull, and the Wacky Seagull Jr. bars. There is also the Floating Bar, which is a short walk (in water) from the coastline.
All of these bars offer a pretty standard menu of cocktails, beers, and wines. Unfortunately, there is no bar located in the Thrill Waterpark at this time.
Related Post: Guide to Royal Caribbean Drink Packages
Top Things to Do at Perfect Day at CocoCay
For our first trip to Perfect Day at CocoCay, we decided to test out the Thrill Water park. We are so glad we did!
The park features two towers. Splash Summit (the family tower) is home to some rather fun slides, including mat racers, the Slingshot boomerang slide, and a tube slide. We did all of these slides, waiting between 5 to 30 minutes for each ride. Of all these slides, we liked the Slingshot the best.

The more adventurous slides are located at the Daredevil's Tower. Here is where you will find the tallest slide in North America. At over 130 feet, it is one thrilling plunge. This water slide is unlike anything you will find at a typical waterpark.
In addition, the tower has a drop slide and other fast paced slides that include a mix of digital lighting and special effects. I felt like a little kid all over again running back up the stairs to ride the slides again and again. Good thing I was not the only grown-up making this same pilgrimage. 
The line for the Daredevil's Peak can get quite long midday with wait times of 45-60 minutes. Though, we found the lines to be much smaller earlier in the morning and later in the afternoon. We also did not encounter much waiting for any of the other slides in this tower.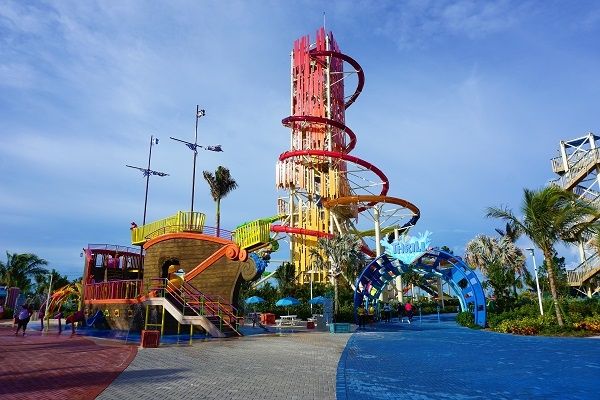 The Thrill Waterpark also includes a wave pool that mimics the motion of the ocean producing some impressive surges and an Adventure Pool for the younger ones to challenge their balance and coordination on the water obstacles.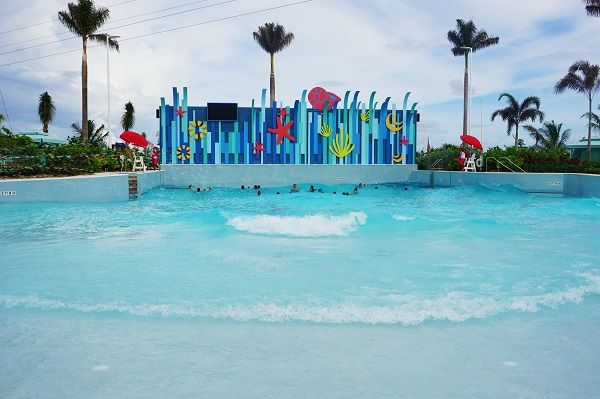 We had no issues finding loungers with umbrellas in this area throughout the day. A nice touch is that there are free locker rentals, so you can secure your items while enjoying the rides without any worries.
Taking advantage of an amazing deal in our Cruise Planner, we booked the water park and zip line combo. When booking the zipline, you are required to select an exact time. We chose a morning time slot to give us the rest of the day to enjoy the waterpark.
While the zip lines were fun, they were not as exciting as the Dragon's Breath Flight Line on Labadee, Haiti. Granted, the cost for the zip lines on CocoCay, which includes three separate runs, is a fraction of the cost for the one ride on the other private island.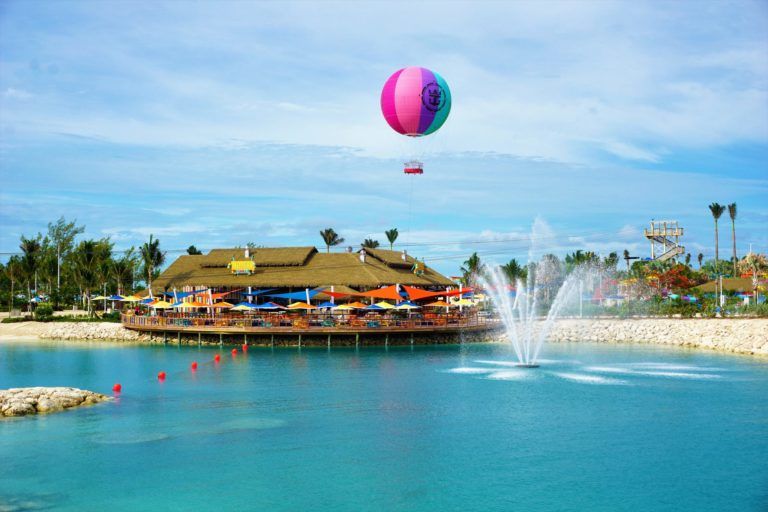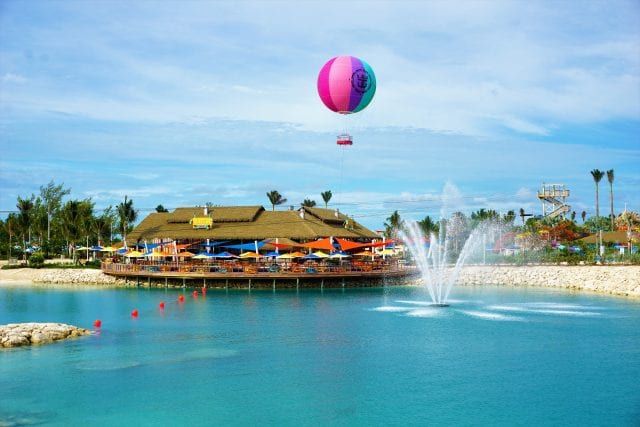 Besides the Thrill Waterpark and the Zip Line, the Up, Up, and Away hot air balloon ride is the other major new attraction on Perfect Day at CocoCay. While we did not get to experience it during this trip, we certainly have plans to do so on a future visit.
Final Verdict on Perfect Day CocoCay Review
Highly Recommend
We can not overstate how much fun we both had at Perfect Day at CocoCay! The new island design is beautiful and well executed. The endless options allow travelers with different tastes to find a little slice of their own paradise.
Those looking for a chic, pool party atmosphere will love the Oasis Lagoon. It is something right out of a Miami or Las Vegas resort.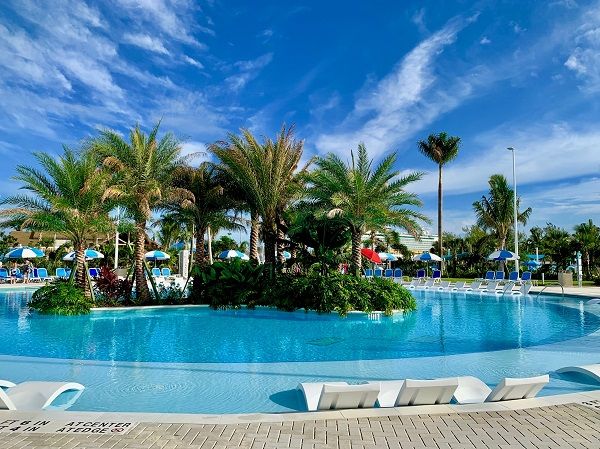 If you prefer a more peaceful day at the beach, Chill Island is where you will want to be. With a sea of lounge chairs, and nearby dining and drinking facilities, you can find an ideal piece of real estate for relaxing.
If you are looking for something in between, then maybe you'll want to pull up a seat at the Harbor Beach. This puts you right between the quiet Chill Island and the Oasis Lagoon Pool, so you can bounce between both areas.
There is also South Beach which offers more beach front loungers located near the sports area and the Floating Bar. While this area has not been completely renovated yet, it still serves up a perfect beach day.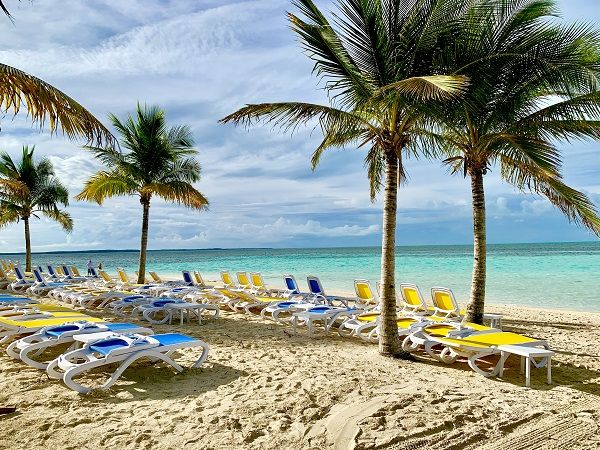 The Thrill Waterpark is a full day attraction itself. We spent hours enjoying the amenities. Your key card works as your admission in to the park, so exiting and returning throughout the day was easy.
Both the Princess and I had such a fabulous time during our first visit to Perfect Day at CocoCay that we are already planning a return visit, perhaps as early as this summer!
Related Post: Top Cruise Line Private Islands
Comments
Have you visited Perfect Day at CocoCay yet? What is your favorite new addition to the island? Drop us an anchor below to let us know your review of Royal Caribbean's recently updated private island in the Bahamas.