It's official (finally)! The brand new cruise line, Virgin Voyages, has made a splash here in the United States. The first ship in its fleet, Scarlet Lady, is now sailing from Miami, Florida. If you are planning to book a voyage on this vessel, we detail what you need to know before cruising on Virgin Voyages.
Adults Only
While some cruise line's are more family-friendly than others, Virgin Voyages is strictly adults-only. With a design aimed to appeal to the 18+ crowd, Virgin Voyages is aiming to create an "environment for reflection, transformation, and exploration without life's everyday stressors".
Thus, bookings are open to only sailors who are 18 years of age or older.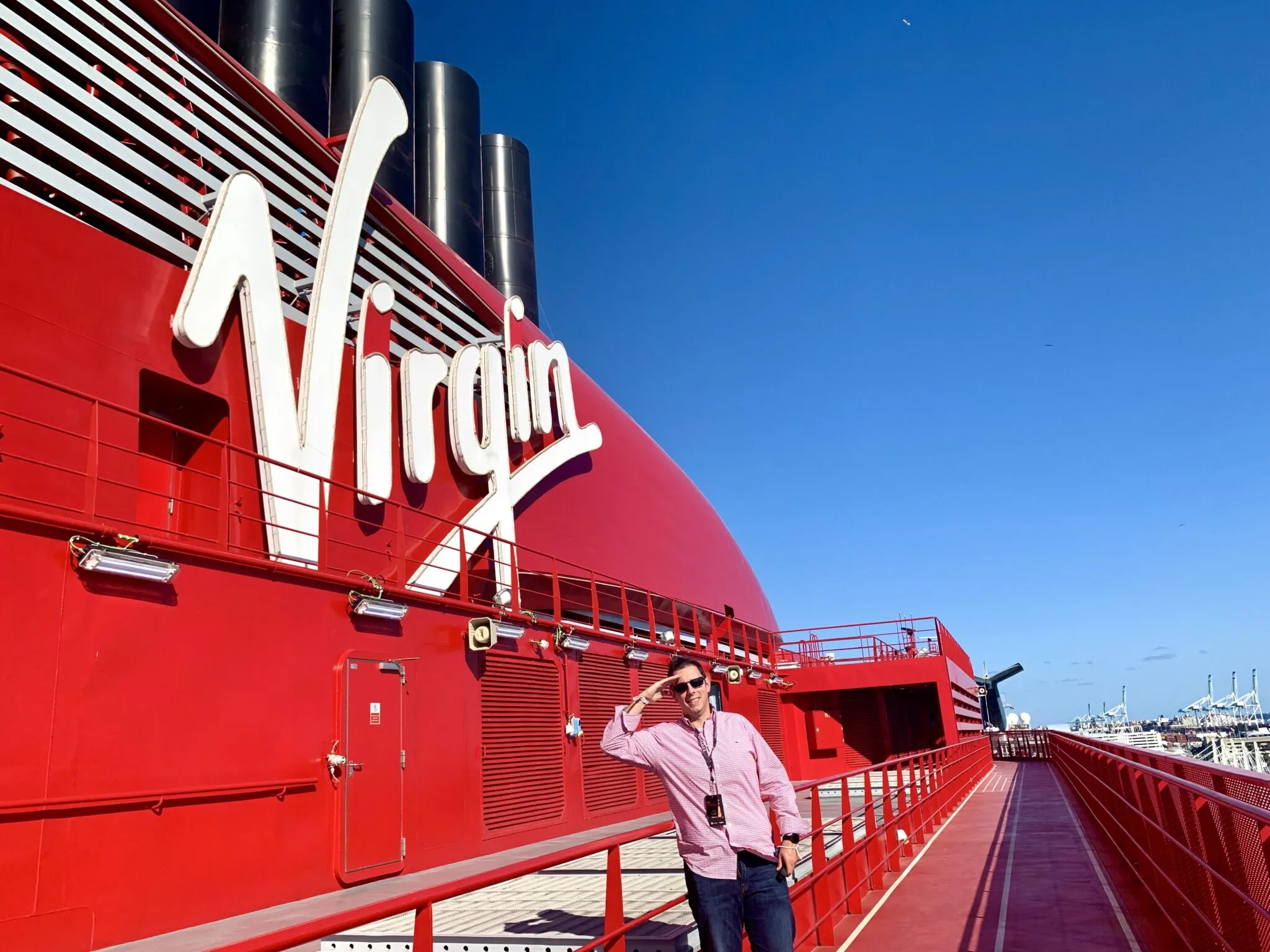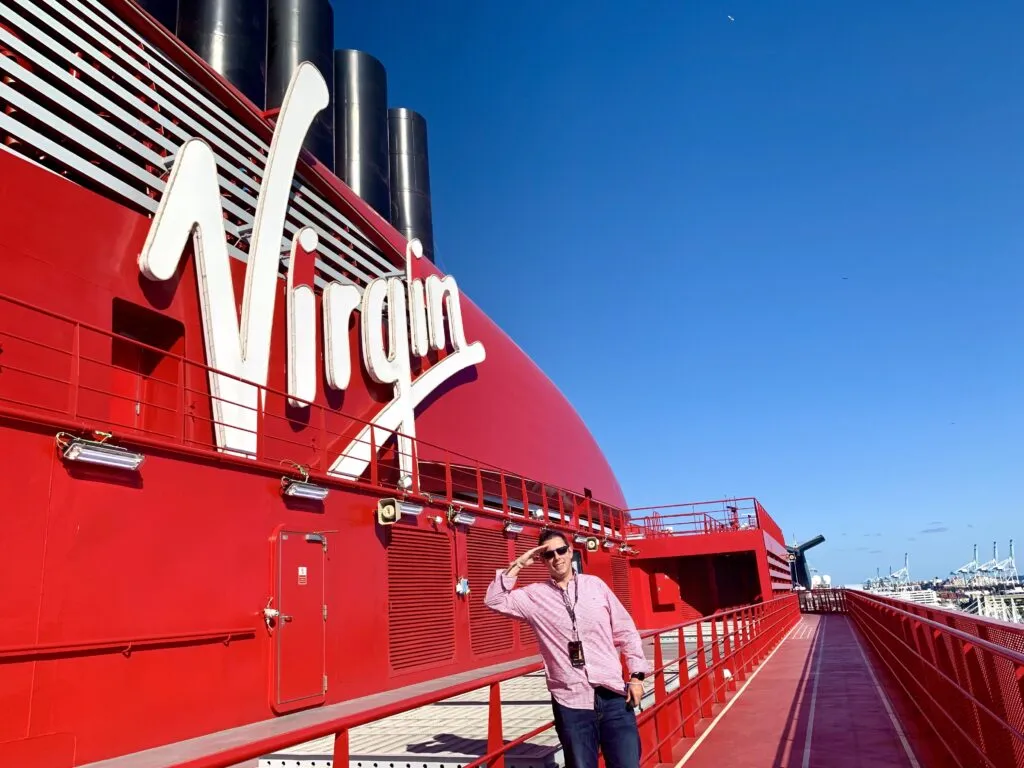 The cruise line is especially looking to appeal to those who might not ordinarily consider a cruise for their next vacation.
The vibe on the ship is also more casual. So, there is no need to pack your formal attire.
Vaccine Requirement in 2021
In addition to your passport, all sailors will need proof of vaccination for all sailings embarking through December 31, 2021.
As part of the line's Voyage Well health and safety measures, all guests will need to provide proof of full vaccination at least two weeks prior to sailing.
In addition, current health protocols include completion of a health questionnaire 24 hours before embarkation and a pre-cruise COVID test conducted at the terminal.
As of right now, masks are required for the test site, terminal, and shuttle services, while they are "recommended" indoors on Scarlet Lady. While all crew are wearing masks, most passengers are not.
Keep in mind that these protocols are subject to change based on current global health trends.
BOOK NOW: Get Exclusive Deals on Virgin Voyages!
All-Inclusive Pricing
Virgin Voyages' cruise fares offer one of the most inclusive options in the premium category.
The base fares have even dropped considerably in pricing since bookings opened. Thus, a cruise on Scarlet Lady is now even a better value.
All cruise fares on Virgin Voyages include basic beverages, gratuities, WiFi, specialty dining, and more.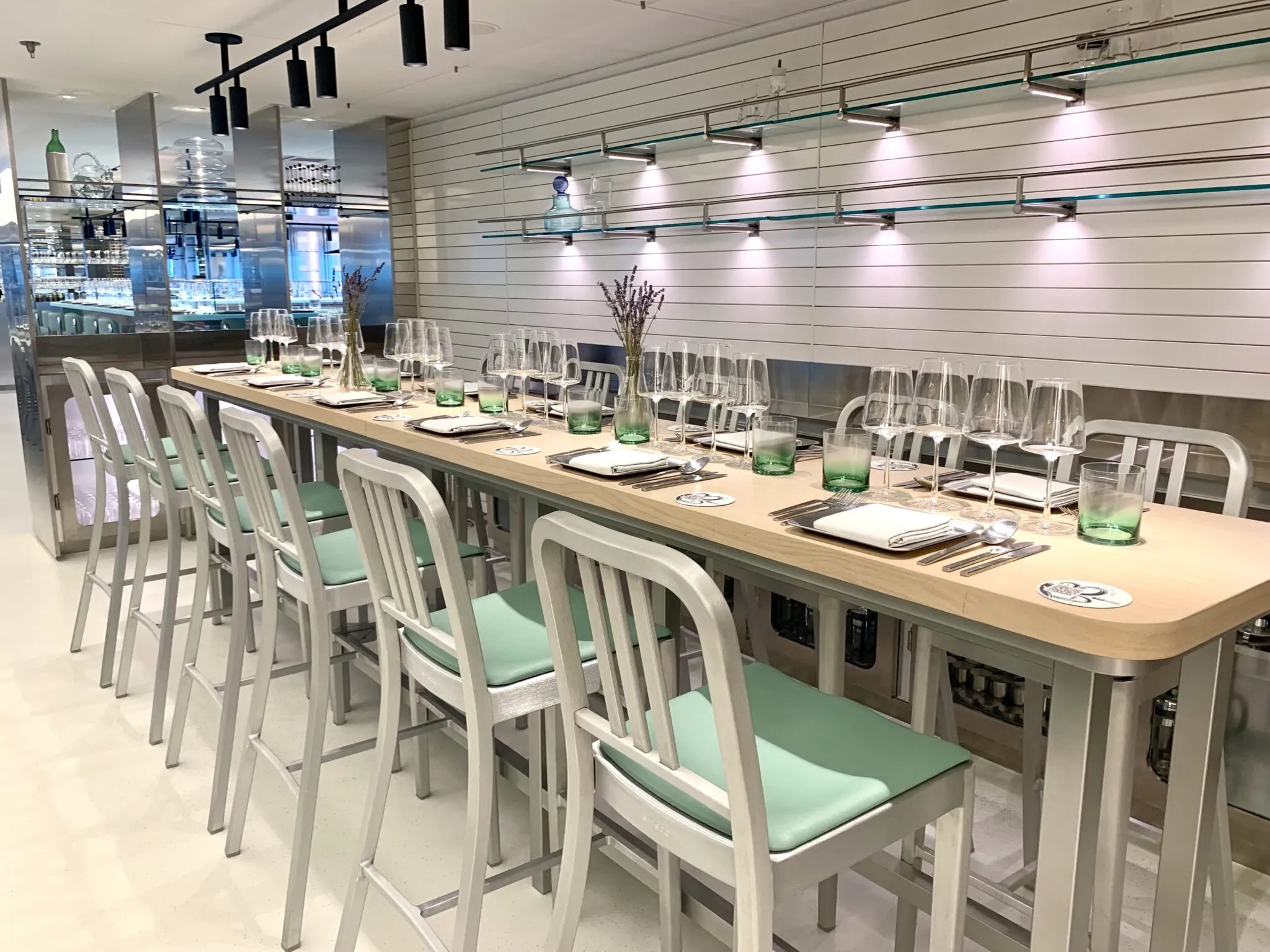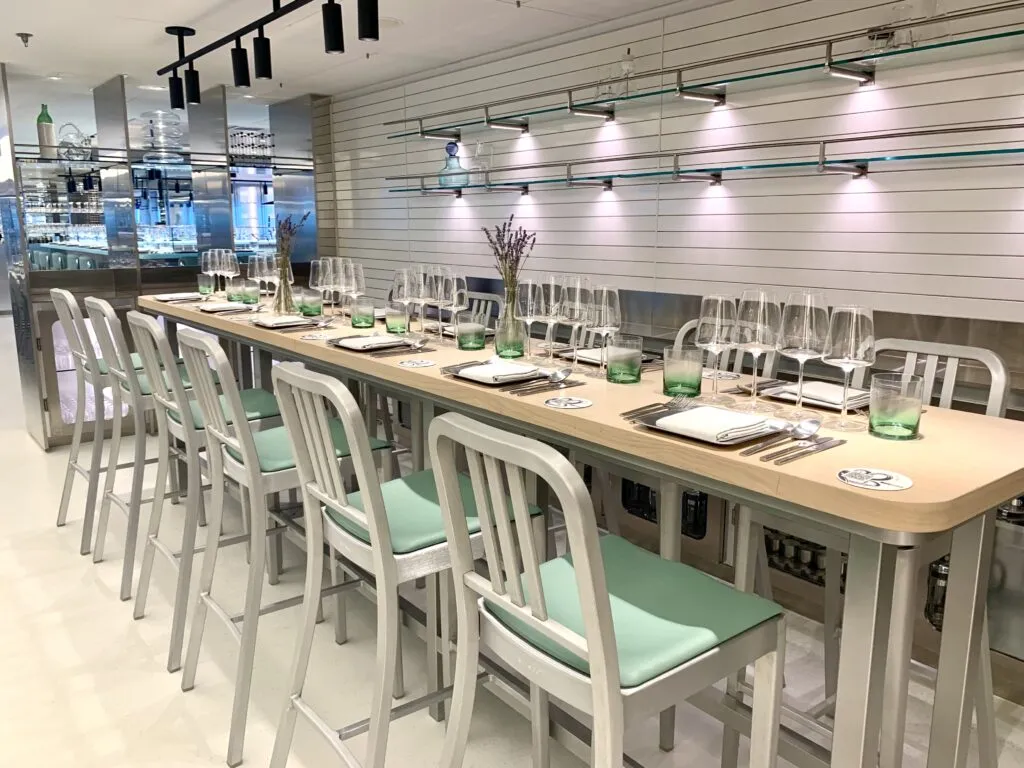 Complimentary basic beverages include still and sparkling water, non-pressed juices, soda, tea, and drip coffee.
You might want to bring a refillable thermos, as there is no bottled water available on the ship. Instead, there are water refill stations throughout the ship.
Cruise fares also include all gratuities, even on services such as spa treatments. This means that there will be NO additional service charges or crew tips added to your onboard account.
There will also be no 18% gratuity added to alcoholic beverages purchased.
Other inclusions that are normally an up-charge on a cruise are basic WiFi for all passengers, as well as group fitness classes. Dining in all venues is also part of the cruise fare.
However, there is a charge to up-grade to streaming WiFi or for certain premium menu items at the onboard restaurants.
Related Post: Are Cruises All-Inclusive?
A Variety of Dining Options
Speaking of restaurants, Virgin Voyages has upped the ante when it comes to cruise ship dining. There is no main dining room, no true buffet, and no set dinner times.
Instead, there are 20+ dining options that are all included in your cruise fare.
The Galley is the food hall serving made to order burgers, tacos, noodles, sushi, sweet treats, and more. Then, there are several specialty restaurants serving up international flavors.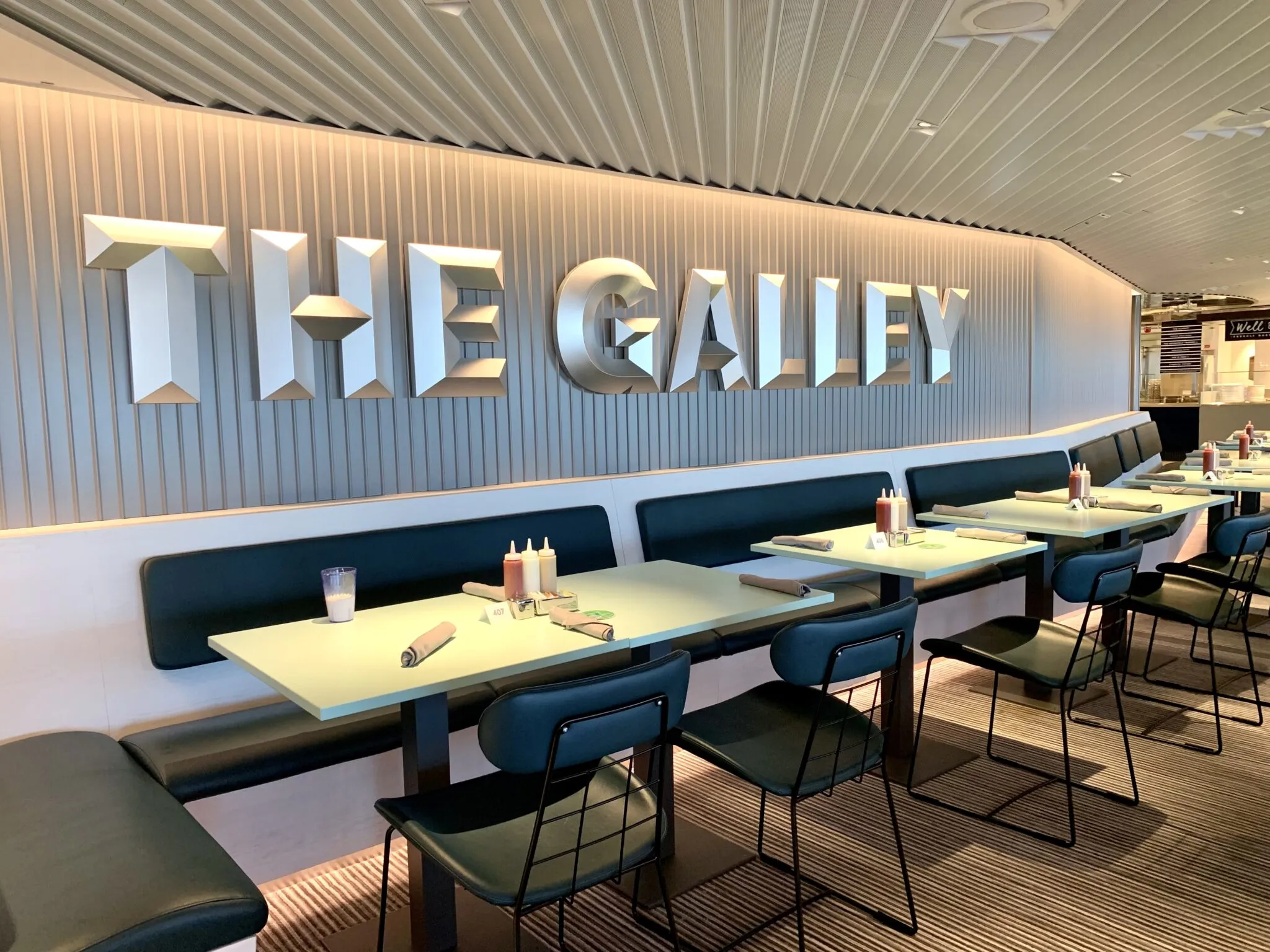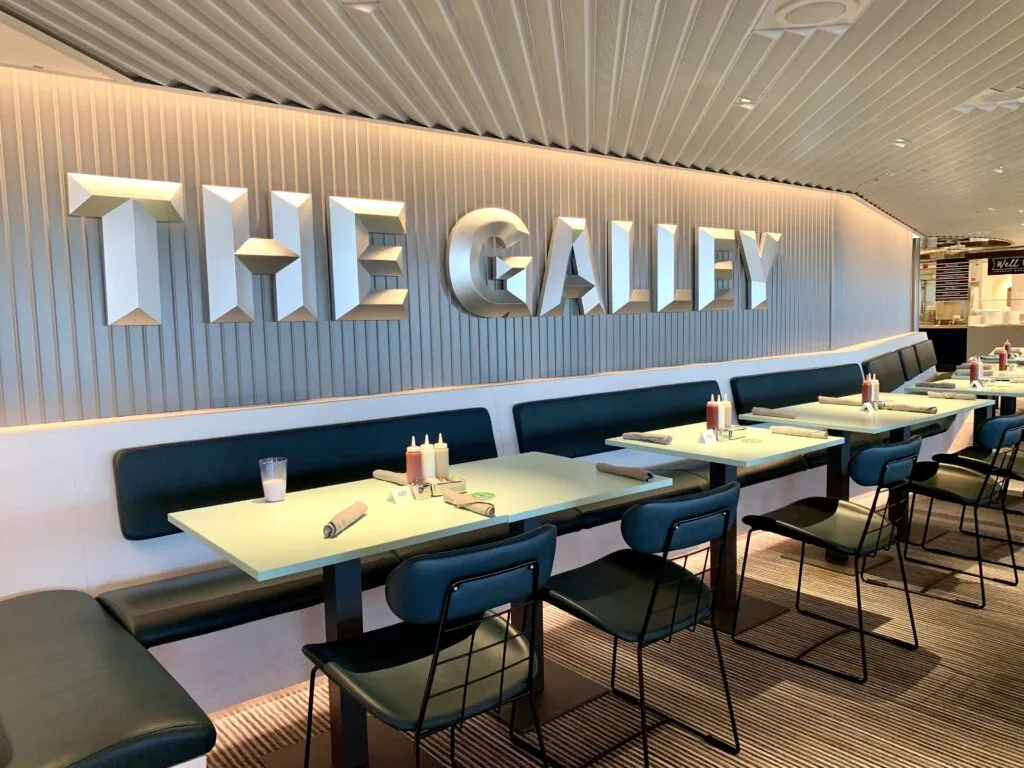 Among the dining venues, one that tops our list is the Wake. Located at the aft of the ship, this glamorous restaurant features high-end steak and seafood options for a delicious dinner with a view.
Other restaurants include Extra Virgin, an Italian trattoria serving handmade pasta and Pink Agave, an upscale Mexican restaurant. There is also the lively Korean BBQ restaurant, Gunbae, Razzle Dazzle, and the Test Kitchen.
Since there is no set dinner times, guests can make reservations in the Sailor App starting 45 days before departure (or 60 days for sailors booked in Mega RockStar and RockStar Quarters). Though, only one reservation per restaurant can be made.
The food and dining is certainly where Virgin Voyages shines! The food quality and intimate spaces make you feel like you are dining at a restaurant on land instead of on a cruise ship.
Cabin Options
Scarlet Lady's cabins definitely get you closer to the sea. Ninety-three percent of all cabins on the ship have an ocean view. While, 86% of the cabins have a balcony, complete with a hammock of course.
The cabins certainly have a unique style, including technological enhancements, trendy décor, and a configurable seabed.
All rooms include rainfall showers, mood lighting, a 43+ inch TV, bathroom toiletries, several power and USB outlets, and a safe big enough for your laptop.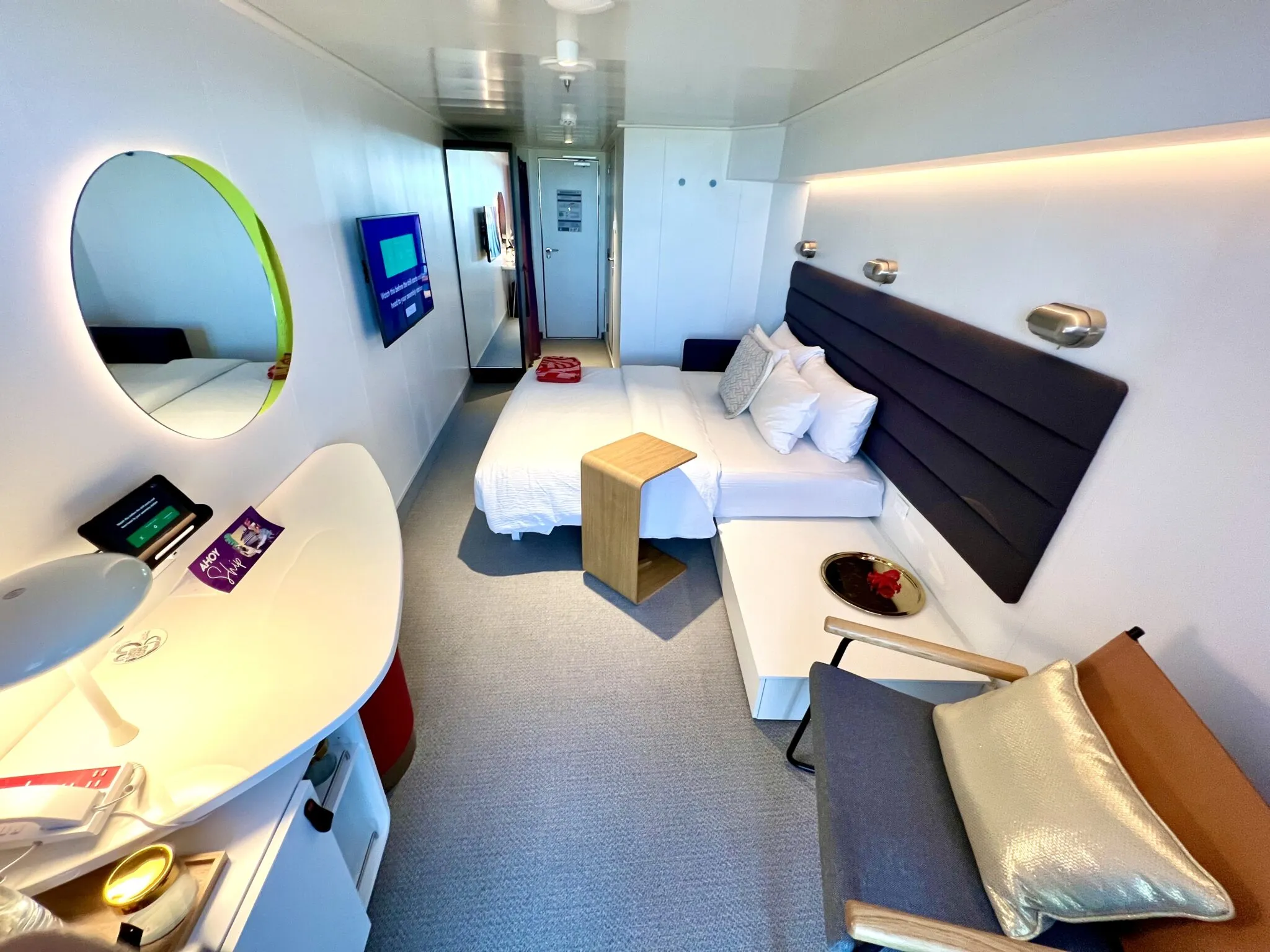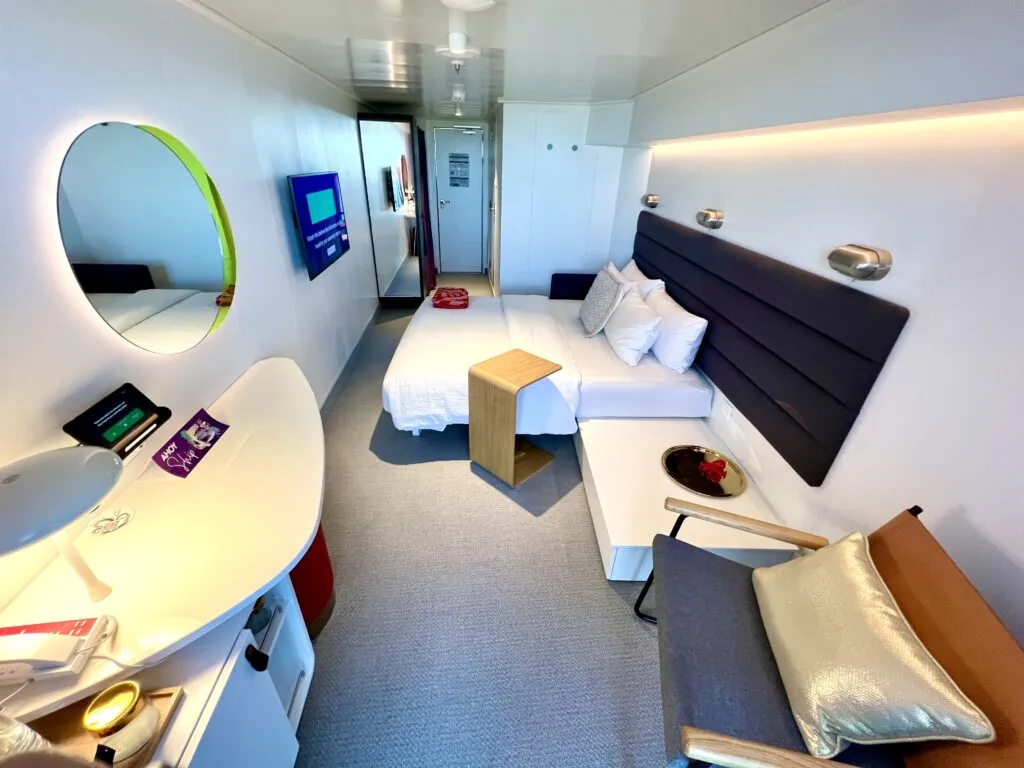 Unfortunately, sailors cannot pick their exact room location. Much like a hotel, the cruise line auto assigns a room from the selected cabin category at the time of booking.
Cabin categories are the Insider, Sea View, Sea Terrace, and RockStar Quarters including the most lavish Massive Suite.
While we questioned the functionality of the cabins, we were pleasantly surprised. The closet has plenty of storage for a 5-day cruise. The size of the cabin is also on par with other standard balcony cabins; though, the bathroom does feel smaller.
In terms of the bed, it will be left in the nighttime configuration unless you request for it to be changed to the sofa setup (daytime configuration).
We really enjoyed the hammock on the balcony, the rainfall shower, and the abundance of outlets.
No Beverage Packages
Unlike most contemporary cruise lines, Virgin Voyages does not offer cruise ship beverage packages.
Basic beverages like still and sparkling water, non-pressed juices, soda, tea, and drip coffee are included. Though, premium coffee, fresh squeezed juice, and alcoholic beverages will cost extra.
Sailors can purchase a Bar Tab before setting sail. This is a dedicated allowance for premium beverages that can be used onboard the ship and at the Beach Club at Bimini.
This is NONREFUNDABLE!
Although, not all sailors in a cabin need to purchase a Bar Tab. Currently, Virgin Voyages is giving guests $50 for every $300 pre-purchased.
Sailors are also welcome to bring two 750mL bottles of wine per cabin in carry-on bags (no liquor or beer). Of note, there is a corkage fee of $25 at restaurants.
The costs of drinks are on par with other cruise lines, minus the additional gratuity charge. So, you can rack up quite the hefty bill.
We do hope Virgin Voyages re-considers this choice. As mainstream cruisers, we like the convenience of drink packages and even coffee cards offered by other cruise lines.
Related Post: Caribbean Cruise Planning Guide
The Band Acts as Your Key Card
Much like Princess Cruises' Ocean Medallion, The Band is your wearable all in one device. The Band acts as your room key card allowing you to enter your cabin, make onboard purchases, and more.
The band also acts as a geo-locator for Sailor App features like Shake for Champagne and Ship Eats. Essentially, it allows the crew to find you onboard the ship to deliver food and beverages ordered through the app.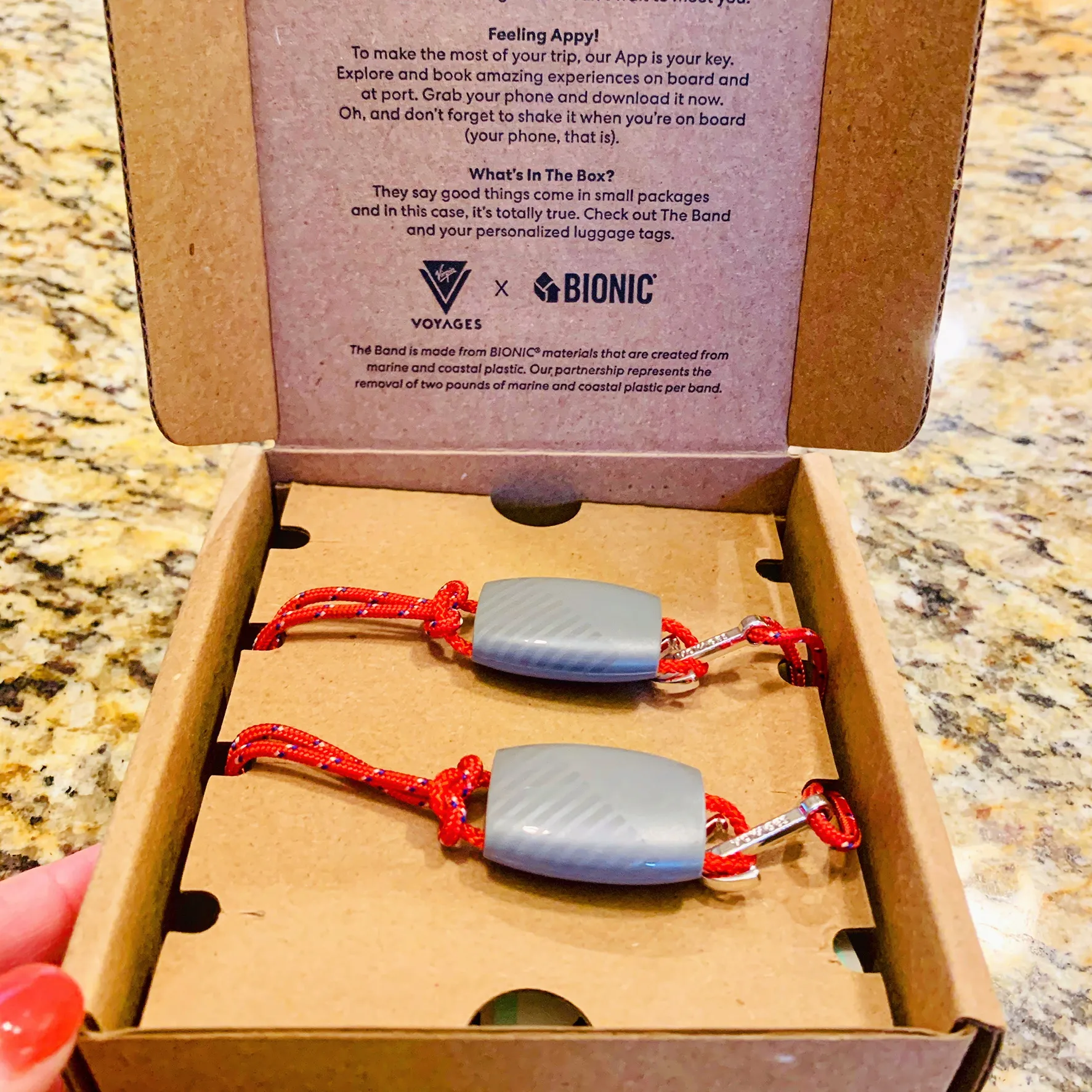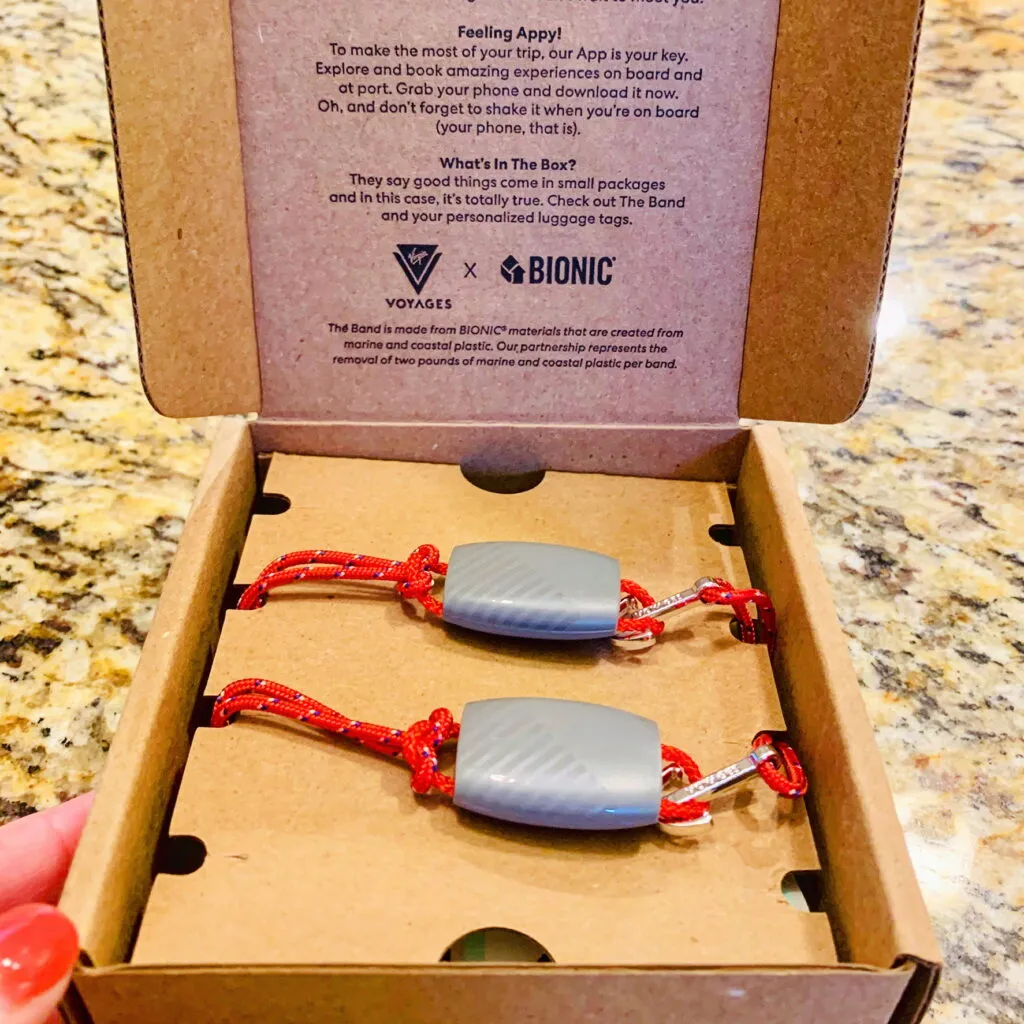 The Band should be shipped to your home prior to your sailing. It is sailing specific, so you will not be able to use it for future voyages. Don't worry if you don't receive one, as the crew can also issue you one at check-in.
All Caribbean Cruises Visit the Beach Club at Bimini
The Caribbean itineraries on Virgin Voyages provide a few different 4 and 5 day options. These shorter cruises are the perfect length for sailors to test out this new cruise line. Though, they may not be long enough to experience everything on the ship!
Luckily, all Caribbean itineraries visit the Beach Club at Bimini with extended time in port well into the evening. This exclusive 4.5 acre resort in the Bahamas overlooks the ocean and offers an expansive lagoon-style pools.
There are plenty of complimentary hammocks, beach loungers, and comfy furniture to relax, as well as private poolside and beach-side cabanas to rent.
Like most cruise ship private islands, the Beach Club offers complimentary food options, three bars, watersport rentals, and excursions for purchase.
The energy also transforms throughout the day from relaxing and rejuvenating, to high-energy DJ-led pool parties, to beach bonfires to close out the evening.
Related Post: Top Private Islands
Unique Entertainment
Much like dining, Virgin Voyages has re-envisioned cruise ship entertainment. Scarlet Lady offers unique entertainment options unlike your typical main theater and Broadway-esque shows.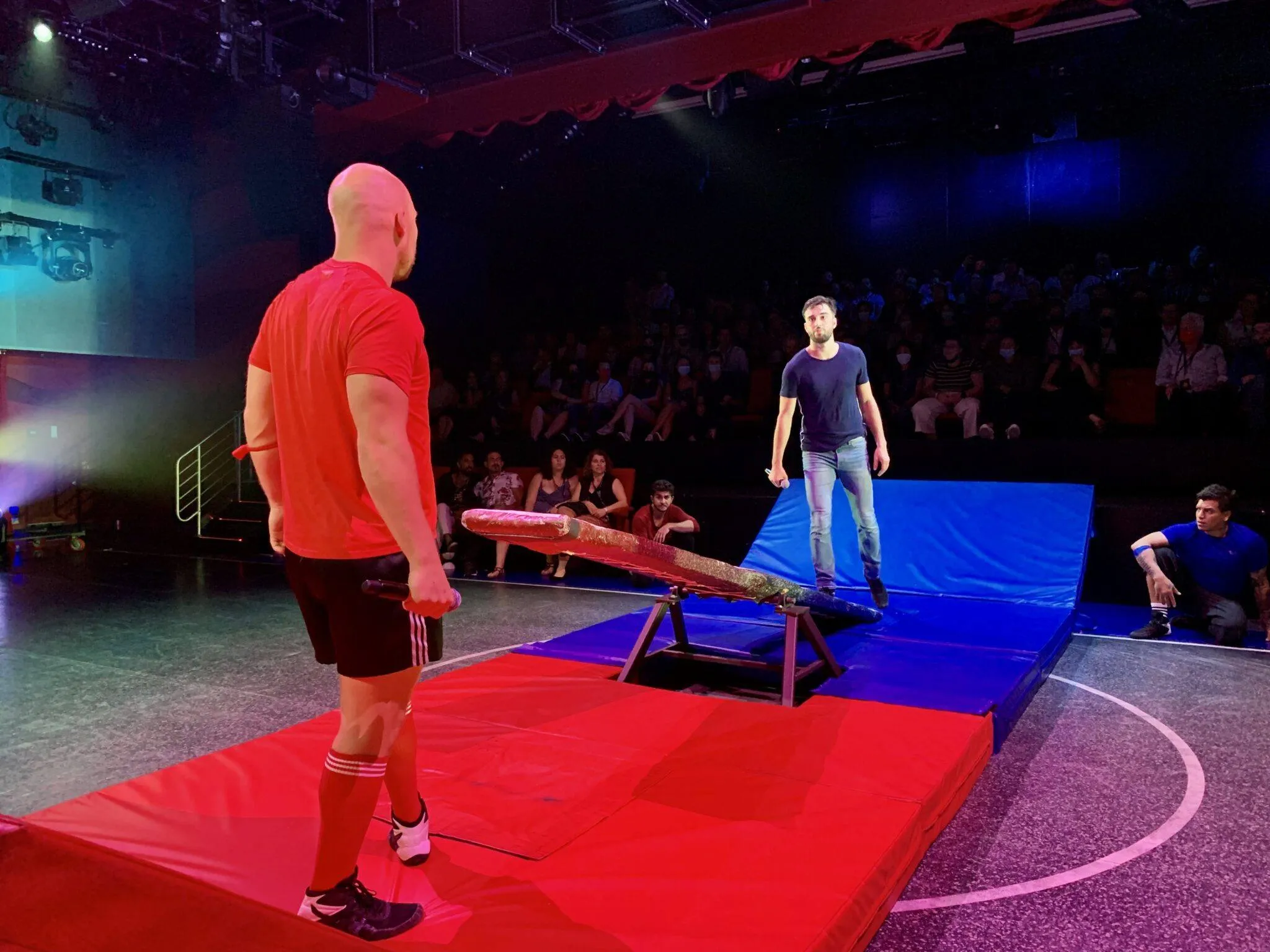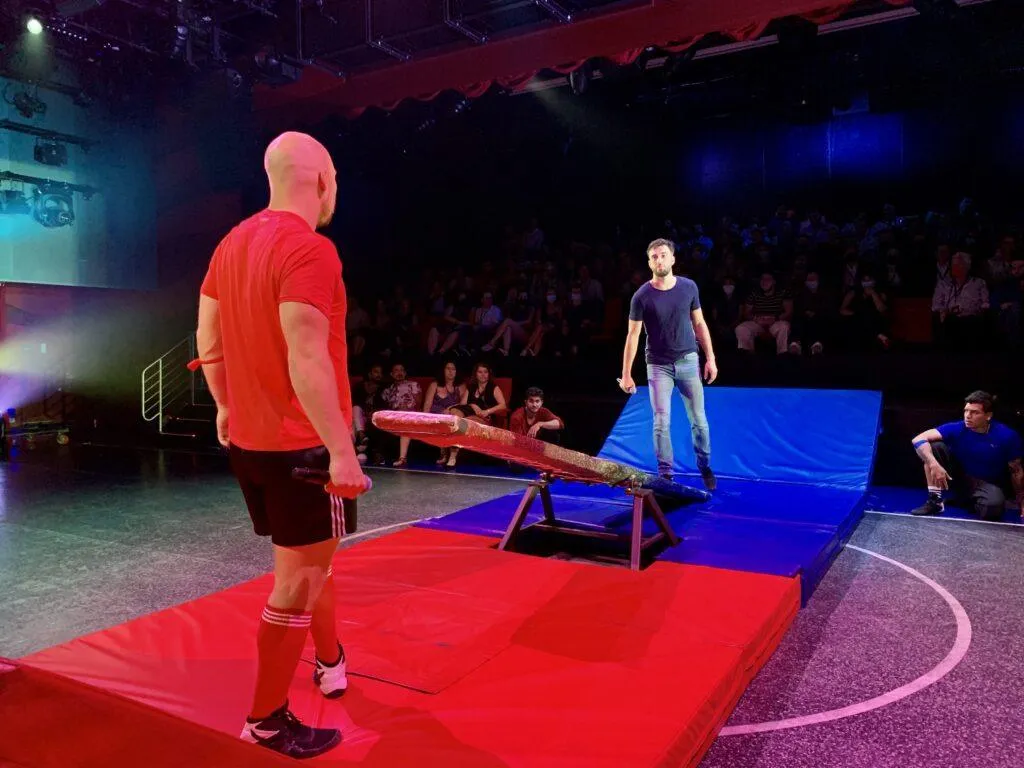 The Red Room is the transformational theater that offers four different configurations. This allows for completely different experiences throughout the cruise.
With modern and immersive entertainment options, you will certainly want to check out the shows, including Duel Reality and UNTITLED DANCEPARTYSHOWTHING.
If that's not enough, there's also the Instagram-worthy The Manor nightclub. The Manor also hosts the risqué Never Sleep Alone cabaret-style show.
Finally, there's the Scarlet Night party, so be sure to pack some red attire, and several other lively parties that occur poolside.
Reservations currently can only be made once onboard the ship. Actually, if you log onto the ship WiFi while waiting in the terminal to get your test results, you can start reserving entertainment and fitness classes then.
Late Embarkation and Disembarkation
In keeping with the party vibe, Virgin Voyages is offering later checkout times than most contemporary cruise lines. Sailors can sign up for disembarkation times as late at 10:45 am. So, do plan your flights home accordingly.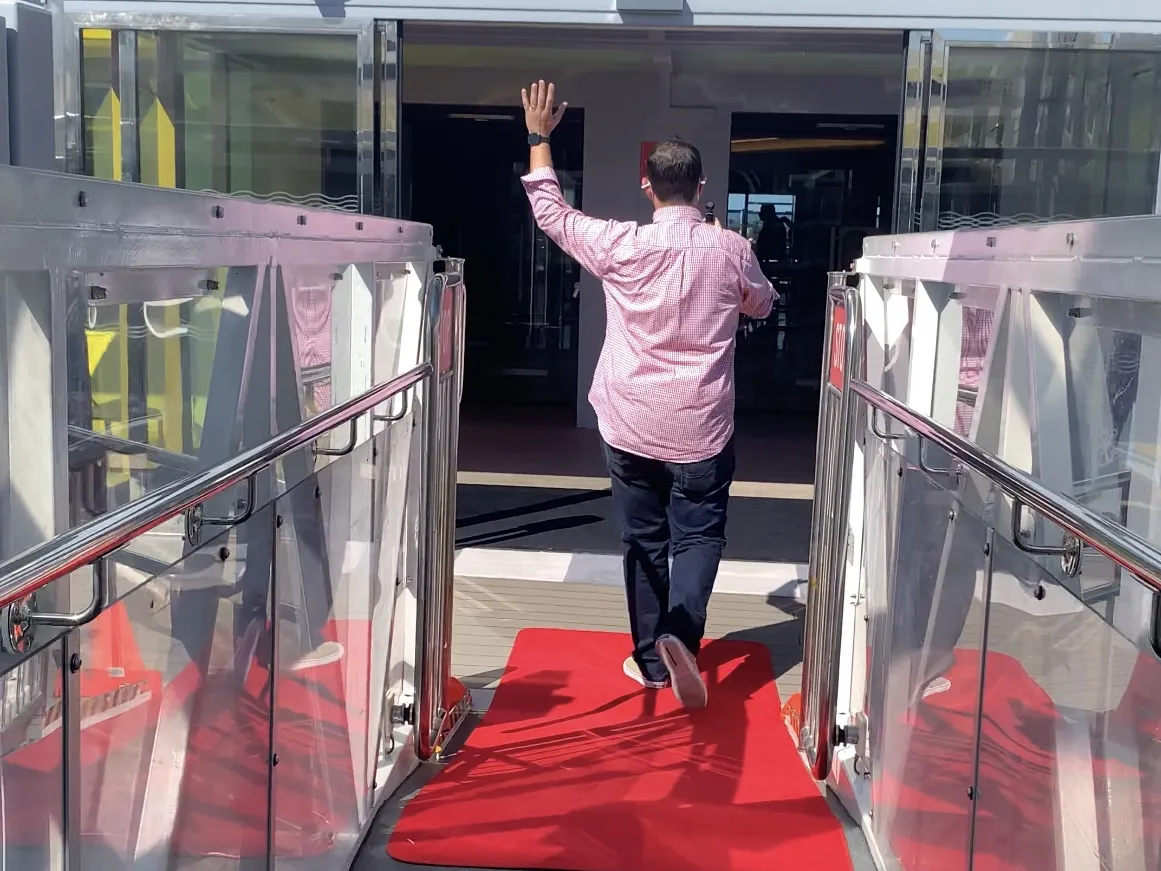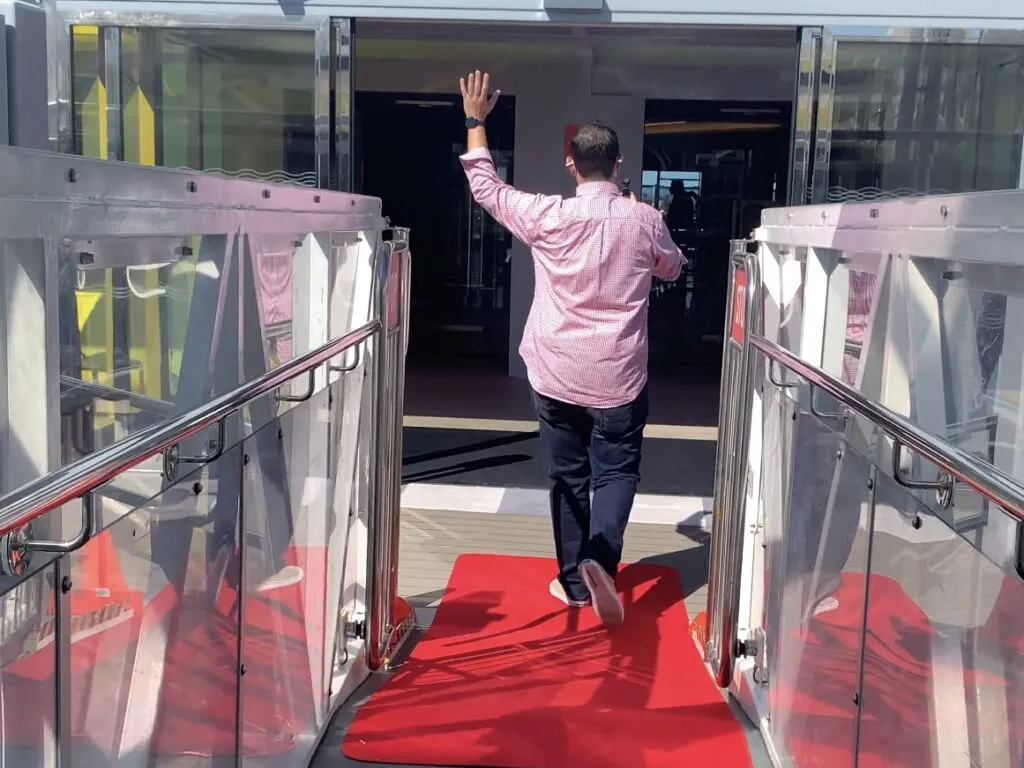 With that being said, embarkation begins later as well, generally 2 pm. So, if you are flying into Miami the morning of your cruise, you will have plenty of time to get to the terminal. Further, the ship does not depart Miami until 7 pm.
We do recommend completing your check-in as soon as possible so you can reserve one of the earlier boarding groups. With the current testing at the pier, the embarkation process can be quite lengthy.
While most report about 2 hours, it actually took us 3+ hours from time of arrival until we were able to board the ship.
Download the Sailor App
Finally, before you set sail with Virgin Voyages, be sure to download the Sailor App. This app will be your digital resource once onboard the ship.
You can make dining reservations or reserve shore excursions via the app (either pre-cruise or once onboard). You can also make reservations for shows and fitness classes (which are complimentary).
The Sailor App, in conjunction with The Band, also allows for onboard food and drink delivery services, including Shake for Champagne.
Much like other cruise line apps, you can view your onboard account and all the daily activities as well. You can even chat with Sailor Services via the app instead of visiting in person.
Further, the app will send push notifications with reminders for reservations, to alert you when the ship is cleared to go ashore at a port of call, and more.
There is also a tablet located in each cabin from which you can request services like water, towels, room cleaning, and more. This tablet also controls the lights and curtains in the room.
Now that you know everything there is to know before cruising on Virgin Voyages, the only thing left to do is have a good time!
Comments
Is there anything else you would like to know before cruising on Virgin Voyages? Do you have an upcoming sailing on Scarlet Lady or Valiant Lady? Drop us an anchor below with your questions about this new cruise line.