Scroll down to see what REGULAR CRUISERS Really Thing of Virgin Voyages!
Virgin Voyages is hoping that its more all-inclusive offerings will appeal to those who might not ordinarily consider a cruise for their next vacation. Yes, a cruise does enable travelers to see multiple destinations while enjoying most of the onboard amenities. Although, what is included in the standard price varies by cruise line. So, to help sailors planning a trip on the brand new Virgin Voyages, we have put together this Complete Guide to What's Included on Virgin Voyages.
Complete Guide to Everything Included on Virgin Voyages
Accommodations
Your cruise fare on Virgin Voyages covers the cost of your stateroom for the duration of the trip. These cabin are designed to optimize space and ocean views. On Scarlet Lady, 93% of cabins feature an ocean view and 86% feature a balcony.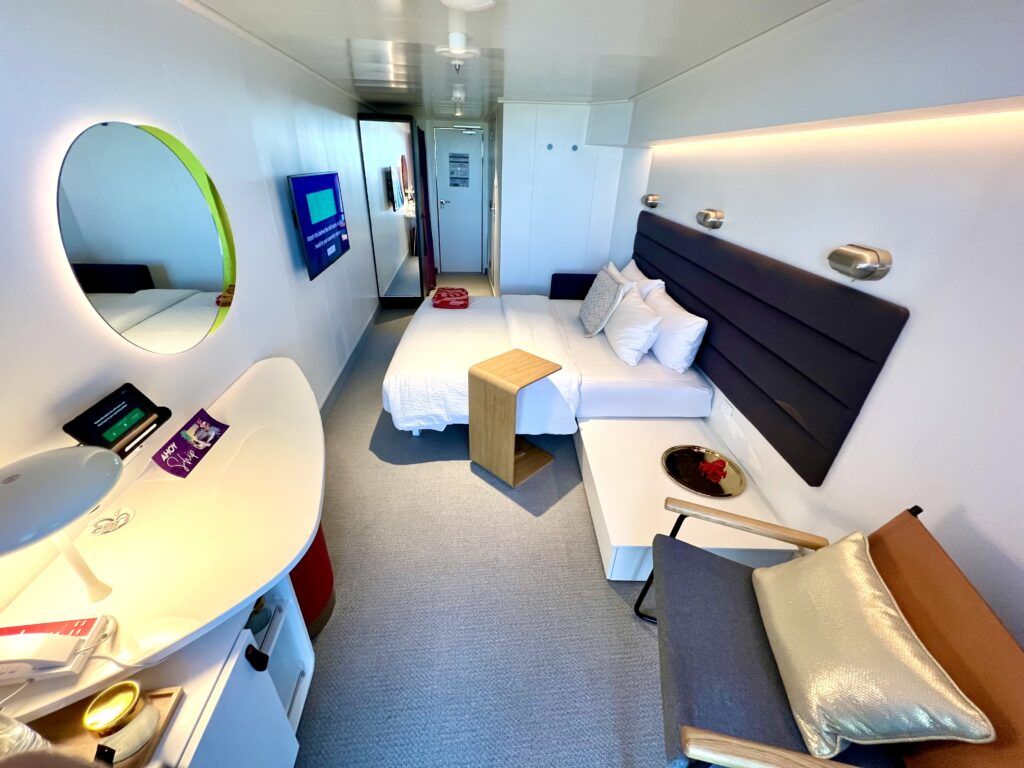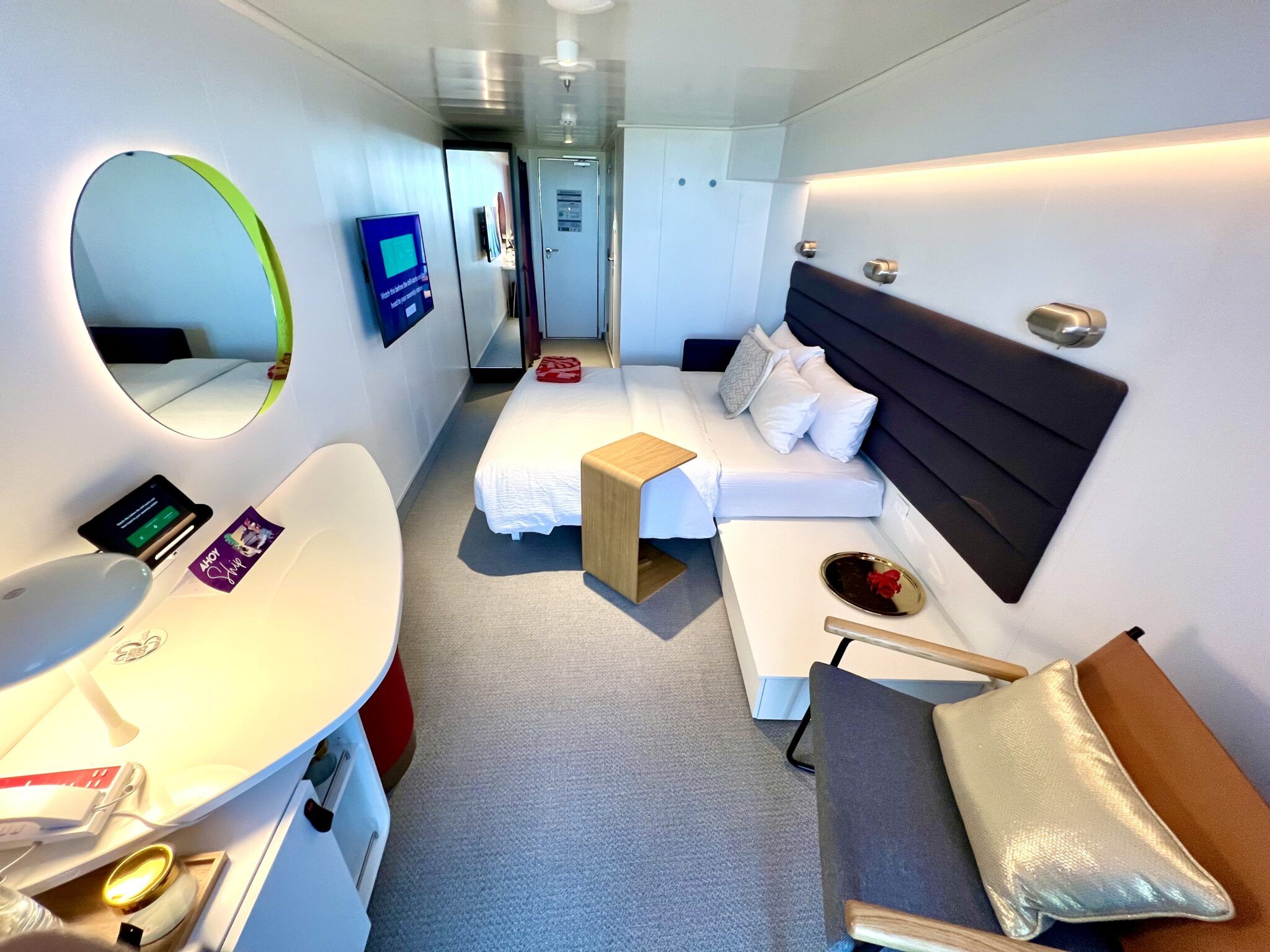 Many of these rooms also offer a Seabed. This transformational piece of furniture can serve as a sofa for lounging during the day and a bed for rest and relaxation at night.
The rooms include plenty of in-cabin technology like mood-matching lights, energy conserving features, several USB outlets, and a tablet to control room functions and request services.
In addition, the cabins have a rain shower with bath products, an HDTV, and even a hammock on all terraces. There are a variety of cabin categories available to suit all types of sailors, including the Insider rooms, Sea Terrace rooms, and RockStar Suites.
Food and Drinks
Taking a cue from Norwegian Cruise Line, Virgin Voyages offers the utmost dining flexibility. The cruise line provides a variety of complimentary dining options onboard Scarlet Lady.
In fact, you can enjoy 20+ eateries for no additional cost. With no main dining room, no set dinner times, and no up-charge specialty restaurants, Virgin Voyages has revolutionized the whole dining experience on a cruise ship.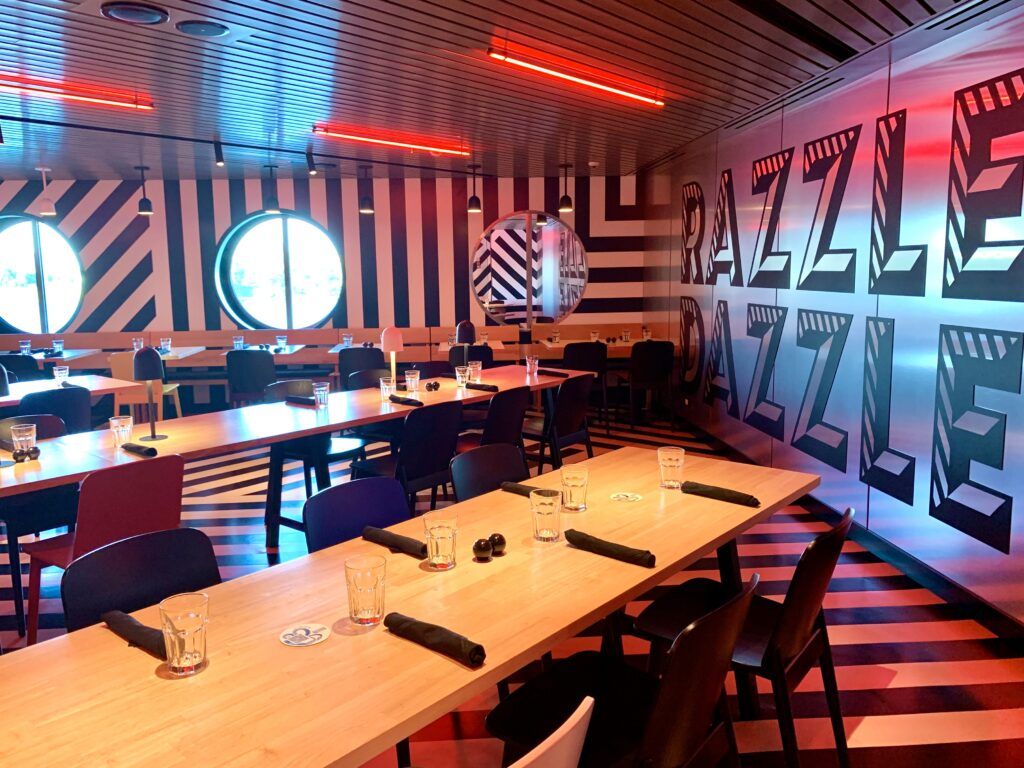 From casual options to elegant dining experiences, sailors have the ability to dine whenever they want, wherever they want for no additional cost.
The Wake offers upscale steak and seafood options, while Pink Agave serves Mexican favorites. In addition, there's the Test Kitchen which is a cooking lab with an experiental tasting menu, Gunbae which is a lively Korean BBQ, and Extra Virgin which is an Italian trattoria.
Though, if you want to ensure that you can dine at all of these international venues, we do recommend making reservations before your cruise.
There is also the Galley food hall, the Pizza Place, and other locations serving snacks around the ship.
On Virgin Voyages, all cruise fares also include basic beverages. There is no additional fee for soda, still and sparkling water, non-pressed juices, drip coffee, and tea. However, alcoholic beverages and premium coffee from the Grounds Club will cost extra.
Onboard Activities
With a focus on well-being, Virgin Voyages offers several ways to stay active onboard Scarlet Lady. The B-Complex gym offers your traditional cardio and strength training equipment in addition to spin classes.
In addition, the Athletic Club is an outdoor workout space. This area features a training zone with a boxing ring, a basketball court, outdoor yoga, a halo-like jogging track, and a well-being pool.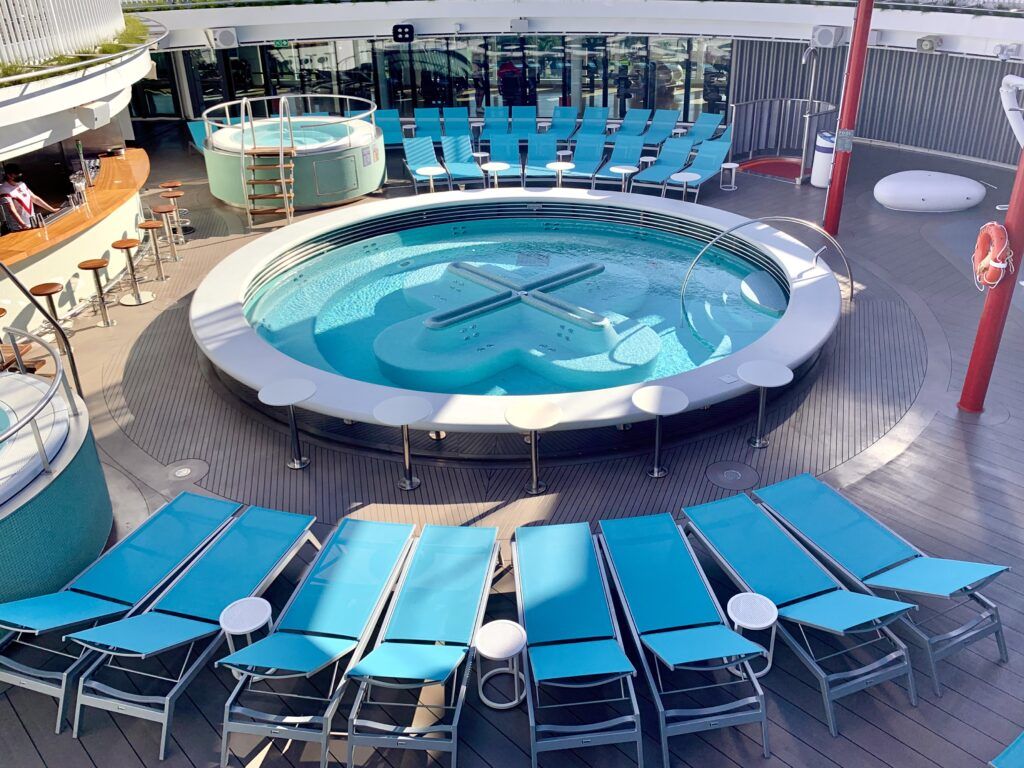 The best news is that all of this, as well as group fitness classes, are part of your cruise fare.
There's also a traditional pool deck which is a hub for sea day fun.
Further, The Manor is Virgin Voyages signature nightclub, and The Social Club features tabletop games. Of course, there are some other traditional cruise activities like trivia that are complimentary too.
Nightly Entertainment
In keeping with its theme of throwing all the cruise rules out the window, Virgin Voyages takes entertainment to the next level offering alternative "happenings", or pop up performances, around the ship. So, you'll never know "what to unexpect onboard"!
The Red Room is the transformational main theater. This venue can take on different configurations to allow for completely different experiences throughout the cruise.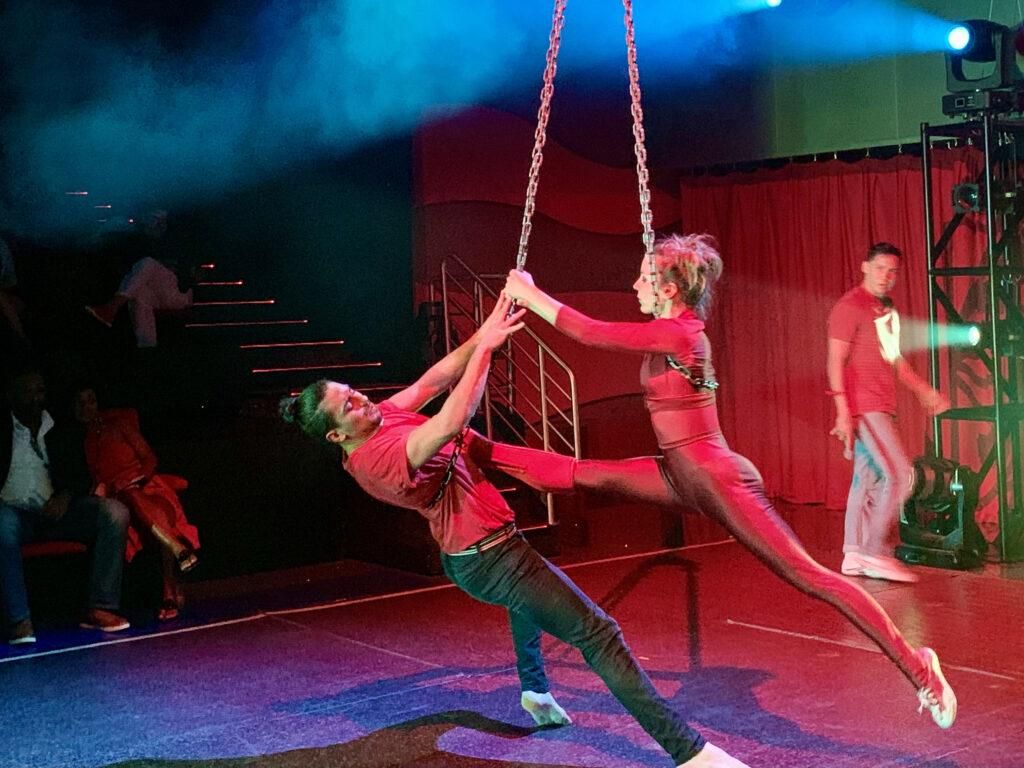 You won't find Broadway-style shows here though. Instead, the main theater shows on Virgin Voyages are unlike anything you have ever experienced on a cruise. The two main shows on Scarlet Lady include Duel Reality and UNTITLED DANCEPARTYSHOWTHING.
You can also expect to find DJs spinning top hits both onboard the ship and at the Beach Club at Bimini. Not to mention, there is the Never Sleep Alone adult-themed show and several pool parties. There is even Scarlet Night, so be sure to pack a touch of red.
Related Post: Scarlet Lady Mayan Sol Cruise Review
WiFi
Basic WiFi is part of your cruise fare on all Virgin Voyages itineraries. The internet can be accessed from your personal devices in your cabin as well as all public areas. WiFi will also work while at the Beach Club on Bimini.
This WiFi is sufficient for checking emails and social media, so you can share all the highlights of your voyage at no additional charge! Keep in mind that internet connectivity and speed will vary depending on location. Also, be sure to keep your device in airplane mode so you do not incur cellular charges while at sea.
Sailors can choose to upgrade to premium WiFi for an additional charge for faster speeds and streaming. On our cruise, this upgrade was only $10 per day and worked nearly as well as internet on land.
Gratuities
While most cruise lines, even luxury lines like Viking, automatically add a daily service charge to your shipboard account, Virgin Voyages does not.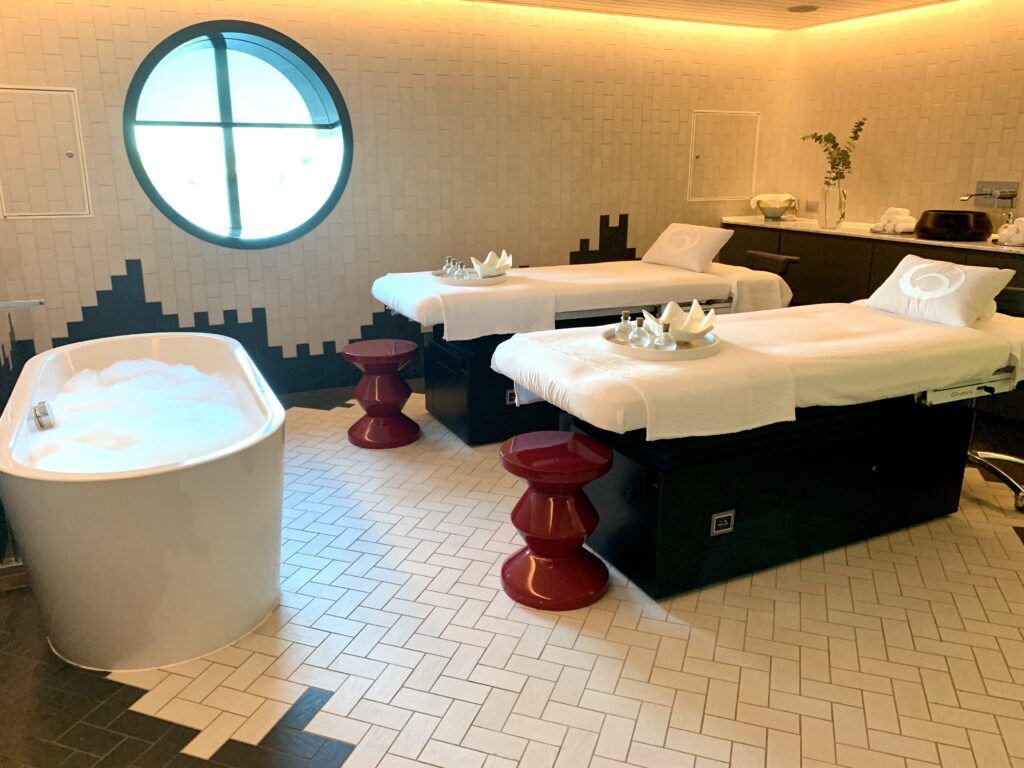 All cruise fares include gratuities/tips, even on services such as spa treatments.
Of course, you are always welcomed to provide additional gratuities for exceptional service to your cabin attendant, waitstaff, bar servers, etc.
Related Post: What You Need to Know Before Cruising on Virgin Voyages
What's Not Included in Your Cruise Fare
While cruises with Virgin Voyages do provide a great vacation value, not everything will be covered in the cruise fare. There are other amenities that can be purchased if cruisers choose to do so.
Thermal Suite and Spa
For cruisers seeking the ultimate redemption, you can pay for access to the ship's thermal suite. Day passes are available which include unlimited access to the facility for the day ($70 per person on our cruise).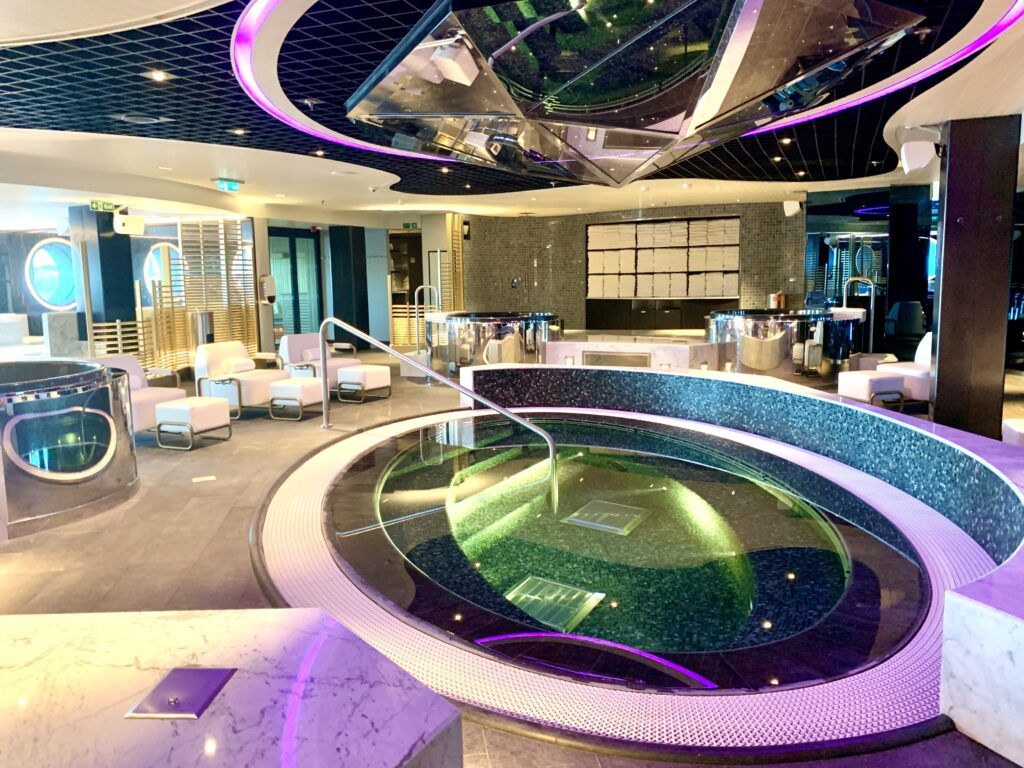 Sailors can enjoy the heated stone loungers, a therapy pool, hot tub, sauna, steam room, salt room, and more.
Of course, other enhancements like massages and facials will also cost additional fees, as will manicures, pedicures, and other salon services.
Tattoo Parlor
Yes, Virgin Voyages has a tattoo studio at sea. Squid Ink features resident tattoo artists that can provide lifelong memories of your trip. Sailors can choose from featured designs for a set price or get a quote for custom designs.
Guests can also get body piercings or permanent makeup treatments at this shop for additional fees.
If this is your thing, make sure to book an appointment as soon as you board the ship, as it does fill up quickly.
Shore Excursions
Virgin Voyages will transport you to several exciting ports of call. Unfortunately, shore excursions are not part of the cruise fare. Sailors can book these tours and additional experiences through the cruise line or through third party retailers for additional costs.
Shore excursions can range from inexpensive walking tours to several hundreds of dollars for unique experiences. These prices are also very dependent on destination, with Caribbean and Bahamas tours usually being cheaper.
Alcoholic and Some Non-Alcoholic Beverages
While Virgin Voyages includes basic bevvies, all alcoholic drinks and some non-alcoholic drinks will cost an additional fee. Further, the cruise line does not currently offer drink packages.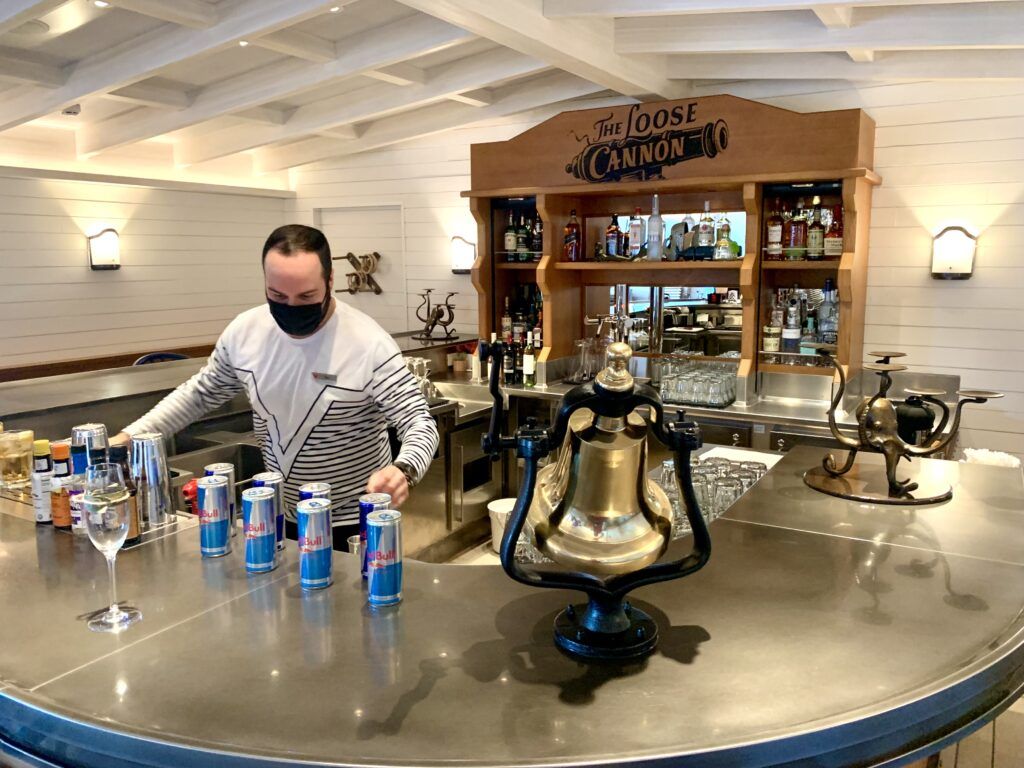 If you want to enjoy a cocktail from one of the master mixologists on the ship or a brew from the Draught Haas, you will need to pay. Additionally, if you shake for champagne or want to enjoy your favorite latte or nitro cold brew from the Grounds Club, this will cost an additional fee as well.
The good news is that the cruise line is currently running a promotion for sailors who pre-pay money towards their bar tab.
Remember, sailors are also welcome to bring two 750mL bottles of wine per cabin in carry-on bags.
Other Add-Ons
Like all cruise lines, any additional onboard shopping or gaming in the casino will all be at your own expense. Whether you want to see if Lady Luck is on your side or purchase some Scarlet Lady swag from the retail shops on High Street, it will cost you money.
Transportation to and from the cruise port will also be above and beyond the standard cruise fare unless you are staying in a Mega RockStar suite.
Comments
Do you have a cruise booked on Virgin Voyages? What are your thoughts about what's included on Virgin Voyages (and what's not)? Drop us an anchor below to share your opinions on this brand new cruise line.