We are back from our sailing on the brand new Virgin Voyages' Scarlet Lady, which is now sailing short cruises from Miami, Florida. We were pleasantly surprised by all of the dining options and food quality on the ship. Now, we want to share it all with you in this Virgin Voyages Restaurant Guide with Menus.
Feel free to share the Virgin Voyages restaurant menus, we just ask that you credit Eat Sleep Cruise as the source.
Virgin Voyages Restaurant Guide with MENUS
Virgin Voyages has re-imagined cruise ship dining. On Scarlet Lady, there is no main dining room; instead, there are several "specialty" restaurants and causal dining spots. In fact, the ship offers 20+ dining options that are all included in the cruise fare.
Dinner reservations can be made pre-cruise using the Sailor app; though, brunch reservations can only be made once onboard the ship. Of note, you are limited to one advanced dinner reservation at each restaurant.
BOOK NOW: Get Exclusive Deals on Cruises With Virgin Voyages
Razzle Dazzle (Deck 5)
Razzle Dazzle offers a menu with several vegan and vegetarian options. This is a uniquely designed venue featuring a bold black and white pattern with pops of red and metallic finishes.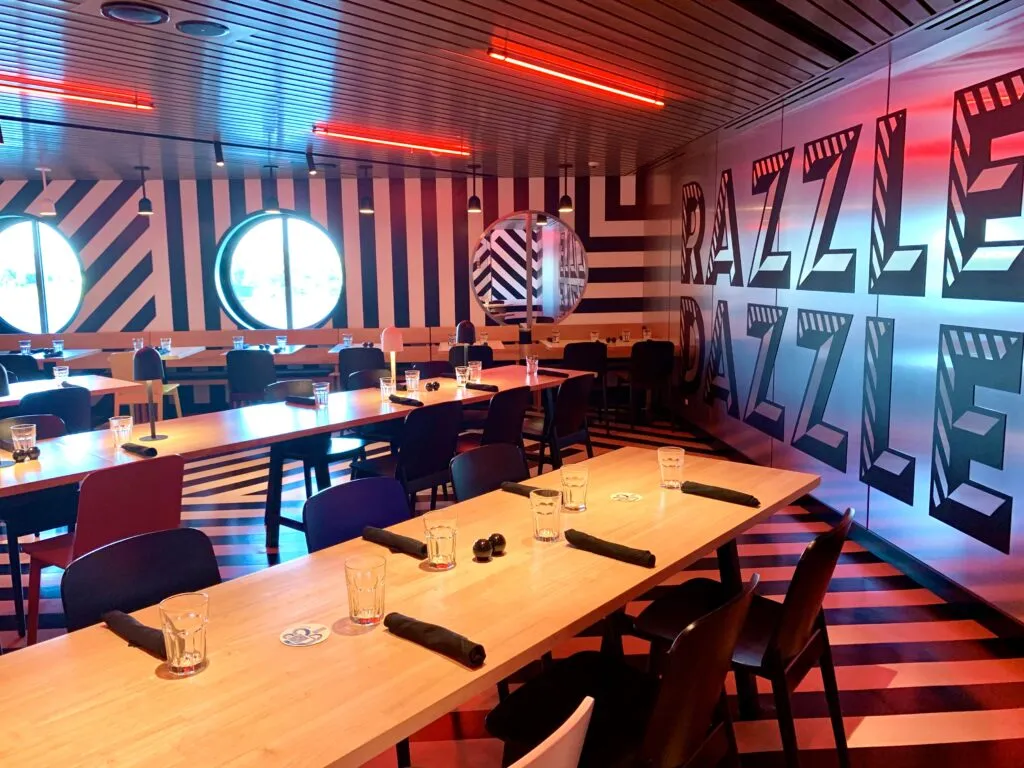 The menu features items such as an impossible burger, avocado toast, and milk & cookies for dessert. There are even a few naughty options, like the smoked bacon and a secret steak.
This restaurant is open daily for breakfast, lunch, and dinner.
Breakfast is served from 7-9:30 am, and lunch is available 11:30 am to 2 pm. Dinner is served in Razzle Dazzle from 6-9:30 pm. Be sure to grab an Instagram-worthy drink at the Red Bar as well before or after your dinner.
Breakfast Menu | Lunch Menu | Dinner Menu
Pink Agave (Deck 5)
Pink Agave is your go-to venue for upscale Mexican offerings. This Virgin Voyages restaurant menu features small plates, medium plates, and large plates meant for sharing.
Some of our favorite dishes were the esquites, chicken enchiladas, and cochinita pibil.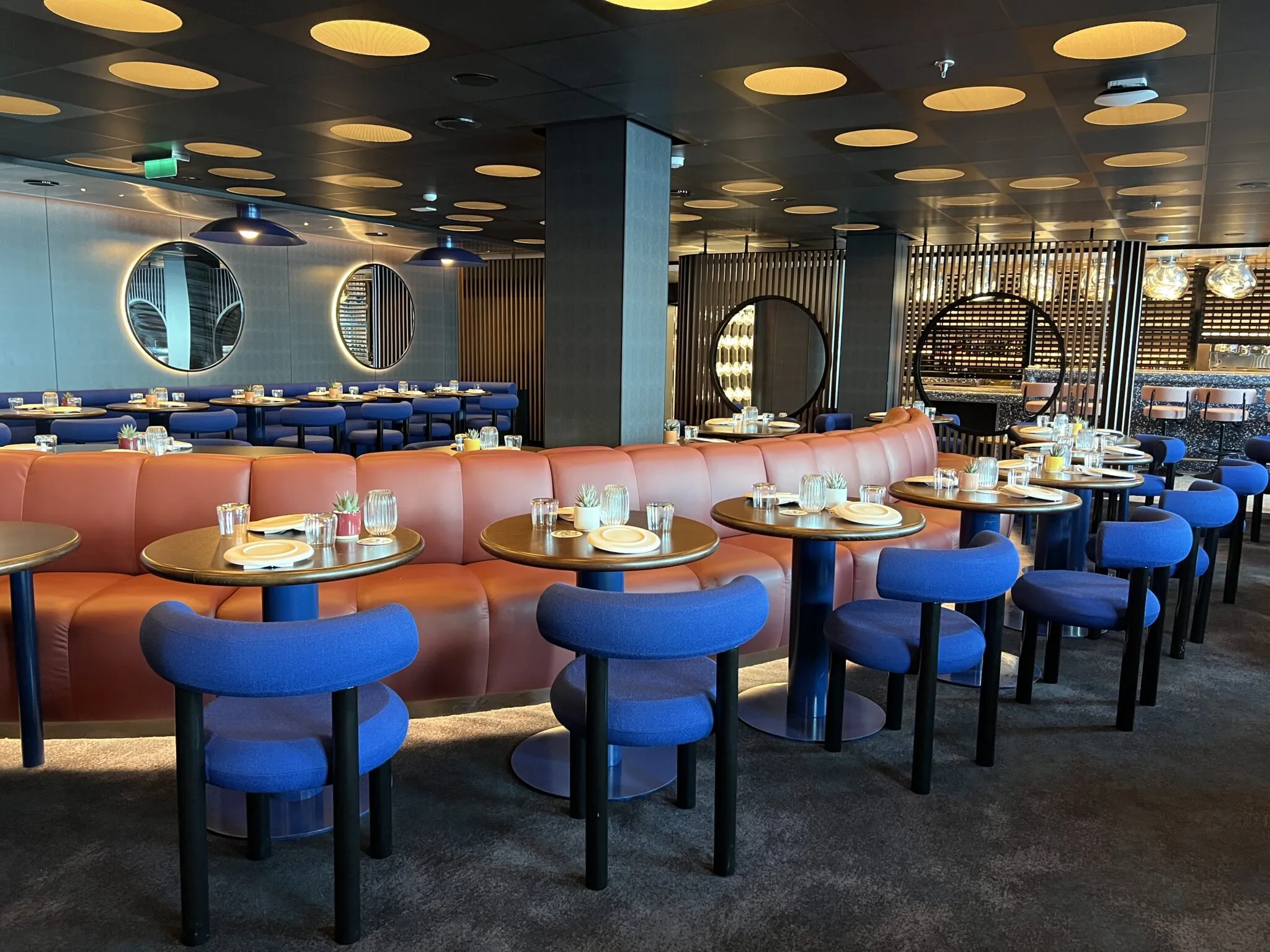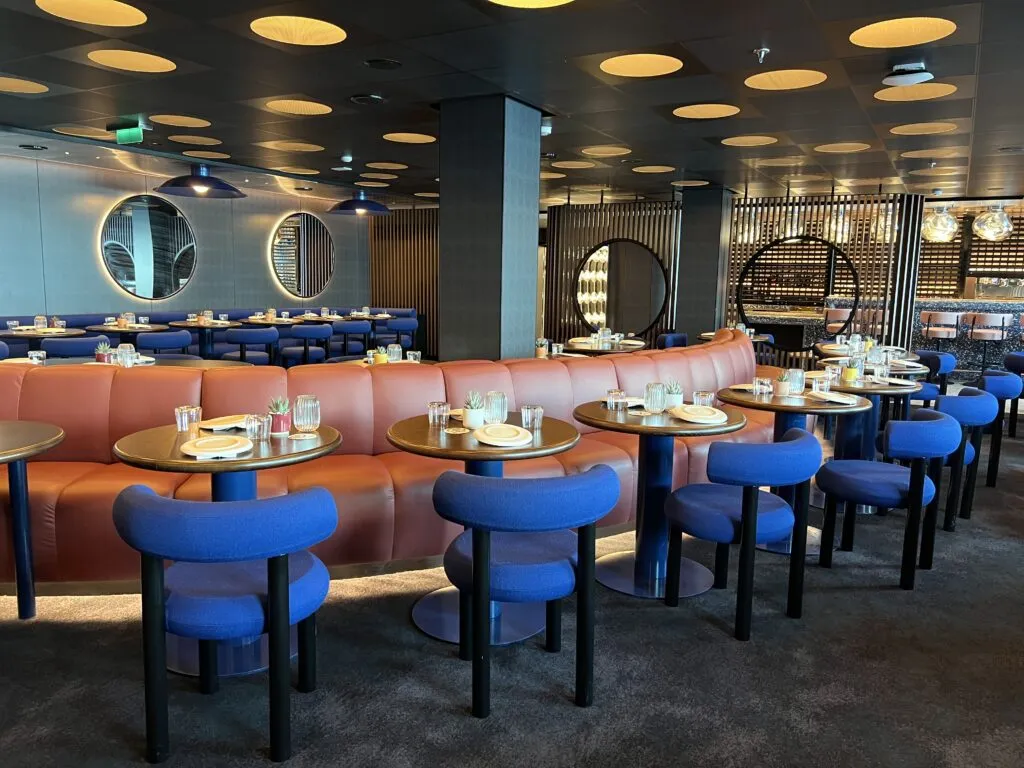 Pink Agave is open nightly for dinner from 6:30 pm to 10:30 pm. You will also want to grab a drink from the Mezcal Bar while dining here.
Related Post: What You Need to Know Before Cruising on Virgin Voyages
The Test Kitchen (Deck 6)
The Test Kitchen is a laboratory-like setting that offers a tasting menu and is part cooking lab, part restaurant. This venue is for those with experimental taste buds.
The menu is presented as a list of ingredients, and the meal evolves as the chef expertly prepares the culinary creations. There is also a vegetarian menu available.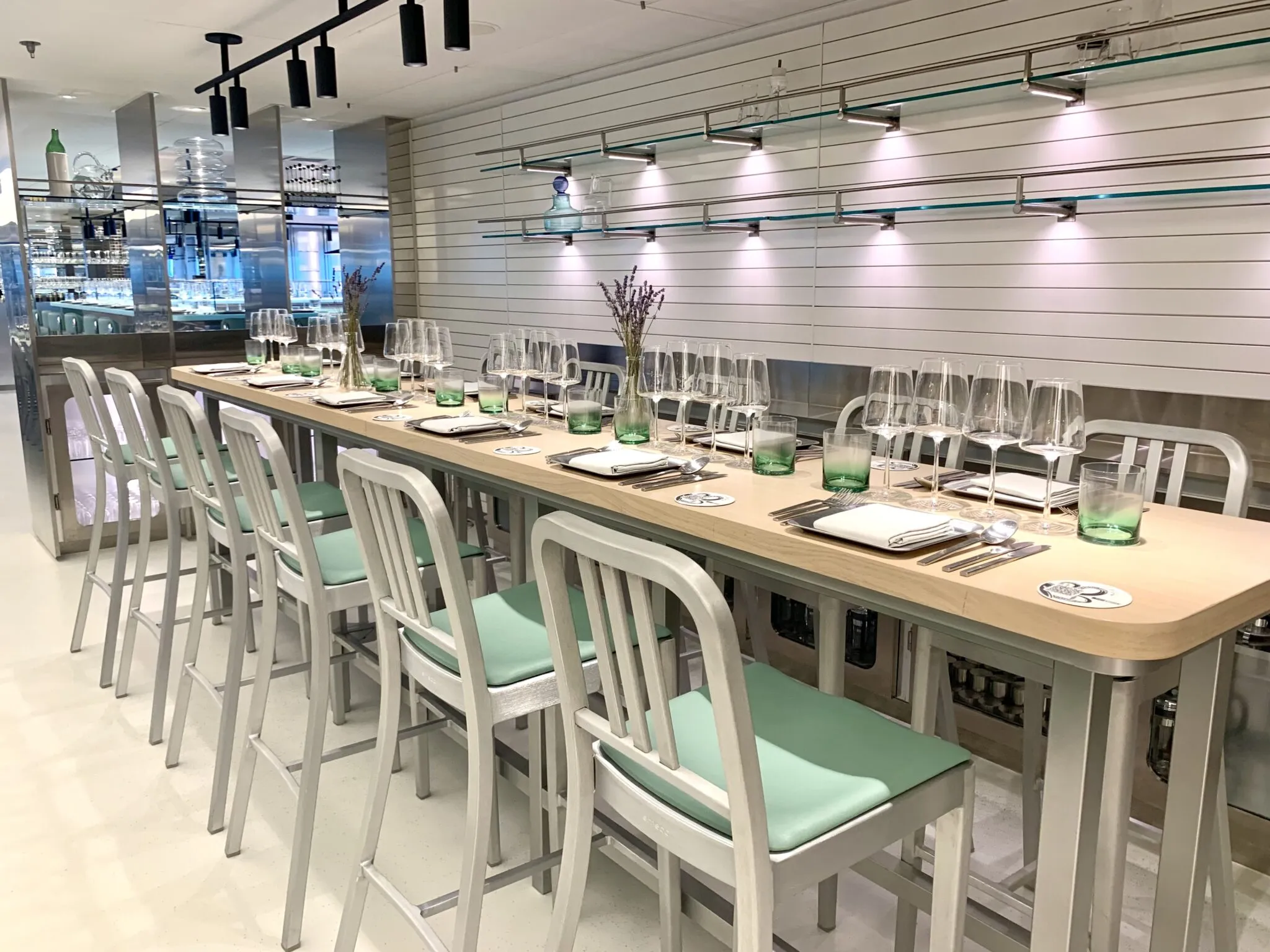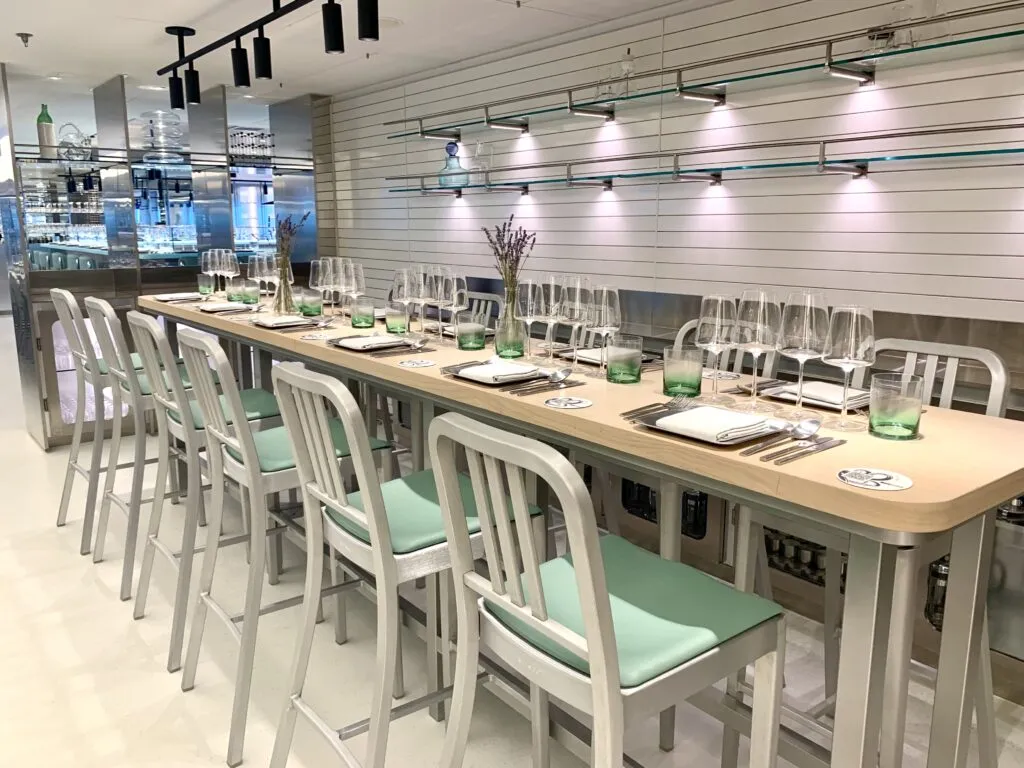 Test Kitchen is open nightly for dinner from 6-10 pm. Of course, one of the drink pairing packages will compliment your meal well.
Extra Virgin (Deck 6)
Extra Virgin is Virgin Voyages Italian restaurant. This trattoria serves classic Italian dishes and handmade pastas in a casual setting. Some of our favorite dishes were the fried calamari, seafood pasta, and the bucatini carbonara. There is also affogato prepared tableside.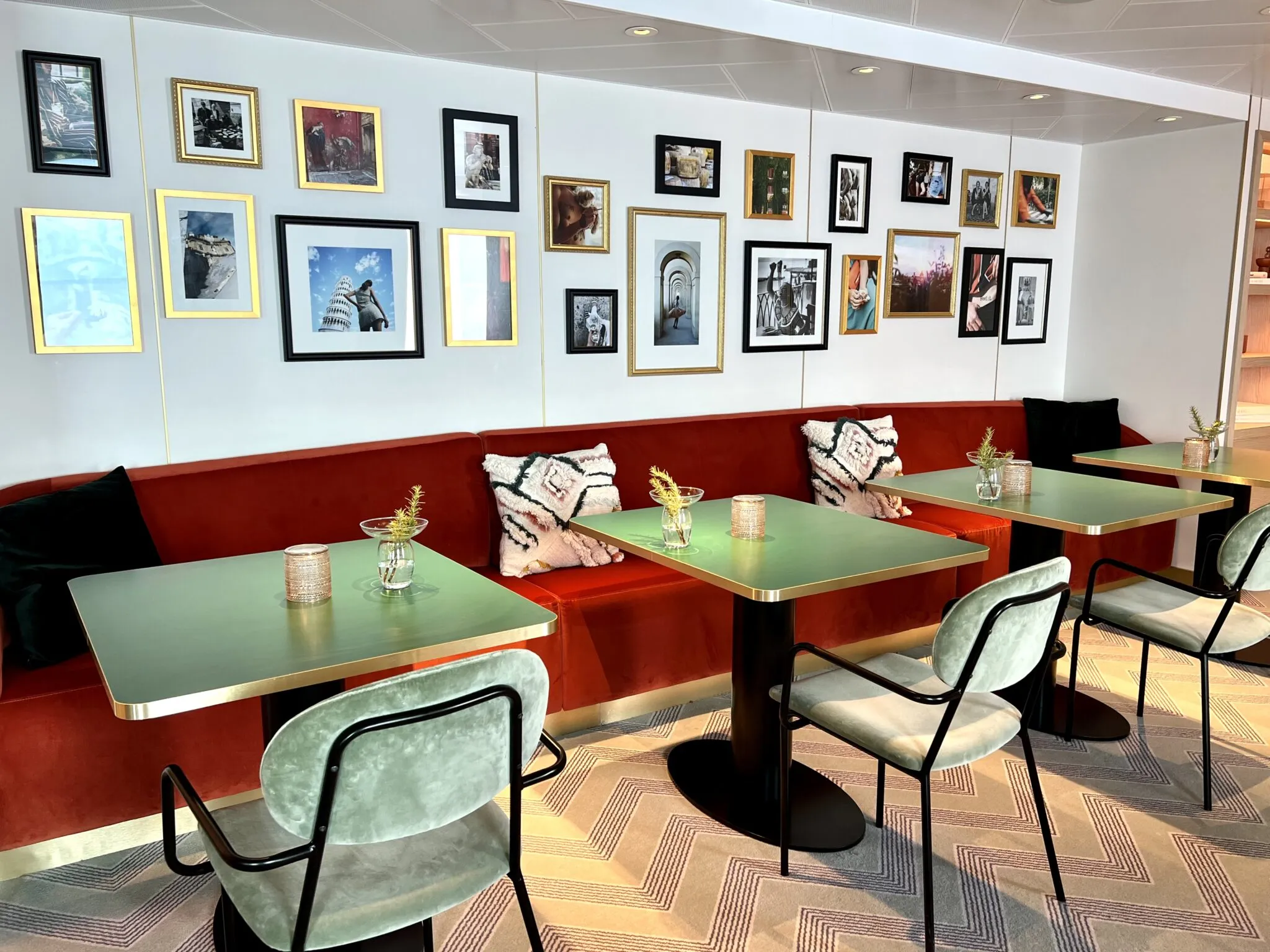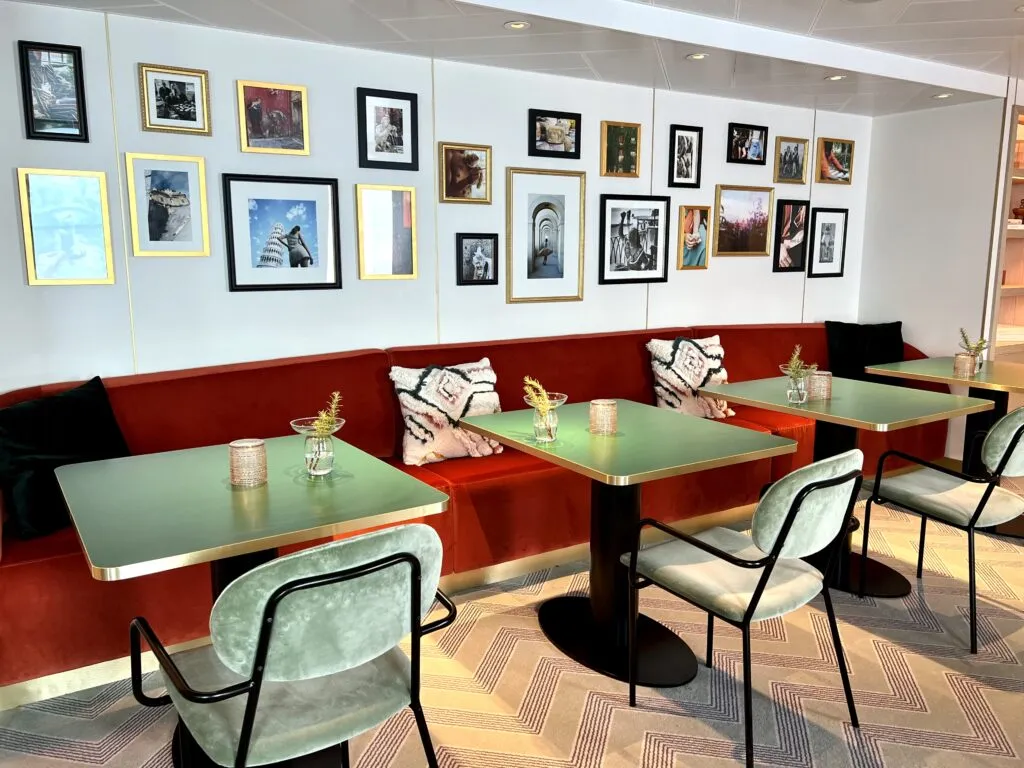 Extra Virgin is open nightly for dinner from 6-10 pm.
The Wake (Deck 6)
The Wake is the grandest restaurant on Scarlet Lady offering upscale menu items in a glamorous setting. This 2-story, aft located restaurant serves up steak and seafood dishes along with amazing wake views.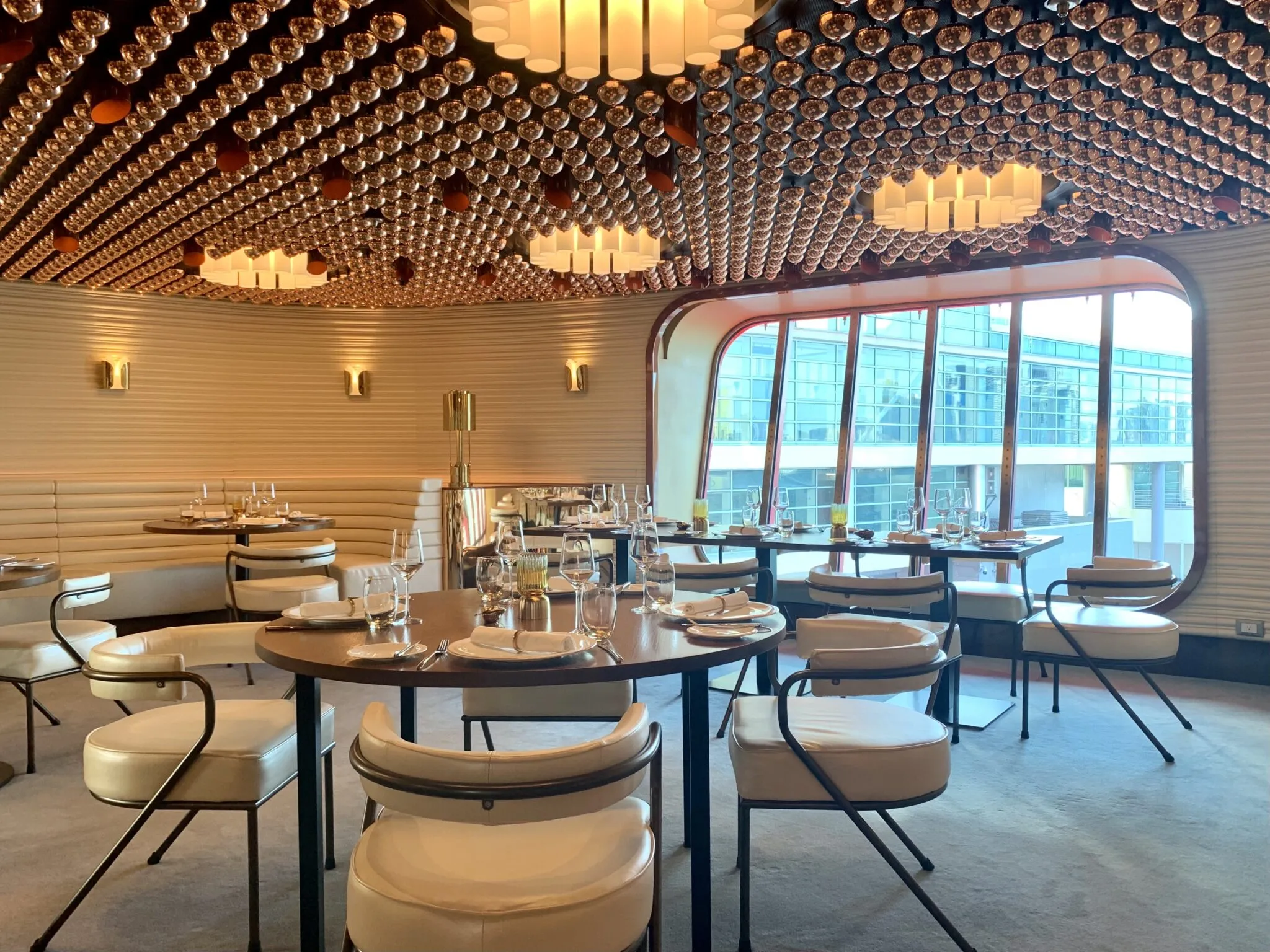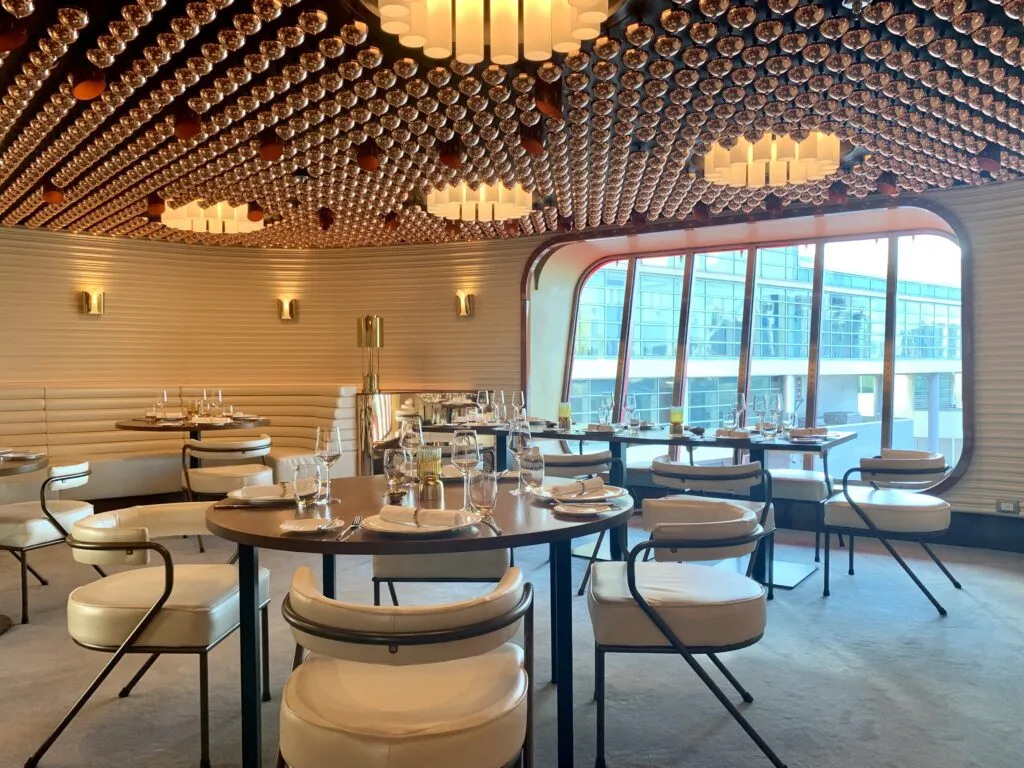 This venue is open nightly for dinner from 5:30 pm to 9:30 pm. The Wake also offers a daily brunch from 8 am to 1 pm with a few additional lunch items after 12 pm.
You can even add on a Bottomless Brunch drink option for $25. Further, there are a few items on the menu that will cost an additional up-charge like raw bar selections or a tomahawk steak.
We share all of the restaurant menus for this Virgin Voyages venue below.
Brunch Menu | Lunch Menu | Wine List | Dinner Menu
Lick Me Till Ice Cream (Deck 7)
As the name would imply, Lick Me Till Ice Cream is the ice cream shop onboard Virgin Voyages. This venue serves complimentary scoops of homemade ice cream throughout the day. There are 6 flavors from which to choose.
Lick Me Till Ice Cream is open daily from to 11:30 am to 10 pm.
The Pizza Place (Deck 7)
The Pizza Place is your go-to spot for a made to order personal pie any time of day. You can choose one of the options on the menu or create your own custom pizza.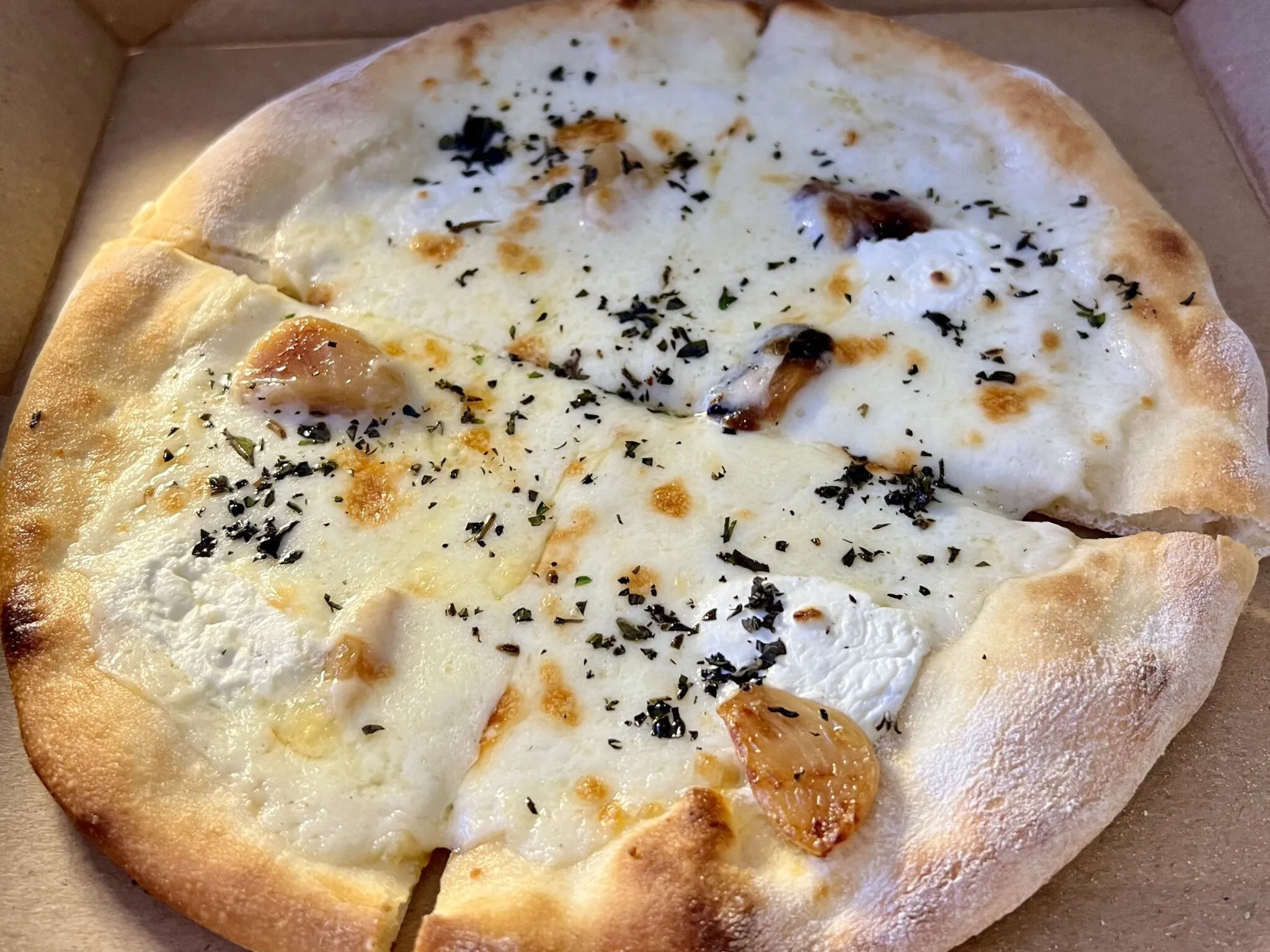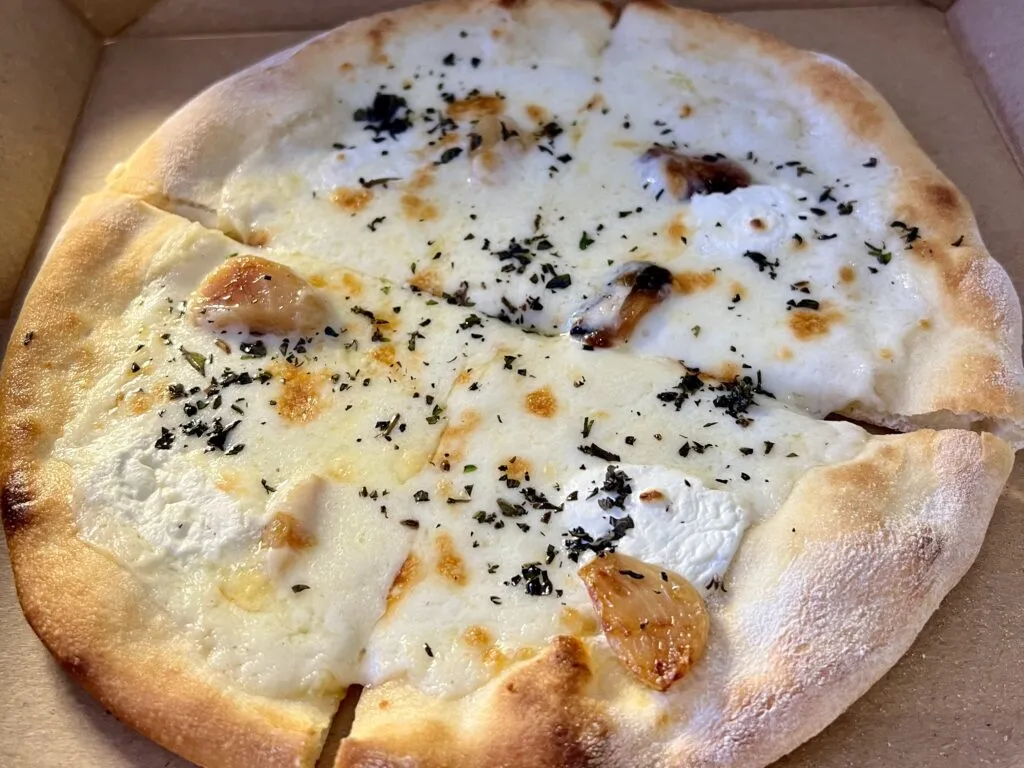 This casual venue is perfect for lunch or a late-night snack. The Pizza Place is open from 11:30 am to 6:30 pm and 9 pm to 1:30 am.
Related Post: What's Included on Virgin Voyages
The Social Club (Deck 7)
The Social Club is a casual American diner, pairing snacks alongside classic games like air hockey and foosball. Here, you can grab some popcorn, hot dogs, pretzels, or sweet treats. The venue even offers spiked milkshakes for an up-charge of around $9.
The Dock House (Deck 7)
The Dock House is a casual indoor venue, alongside the outdoor counterpart, The Dock. These venues serve up Mediterranean inspired bites from a mezze cart and skewers from the grill. The hanger steak and shrimp skewers were a hit!
Whether you are looking for a cocktail, some sangria, or even some fresh pressed juice, this is your go-to spot for a relaxed, resort vibe.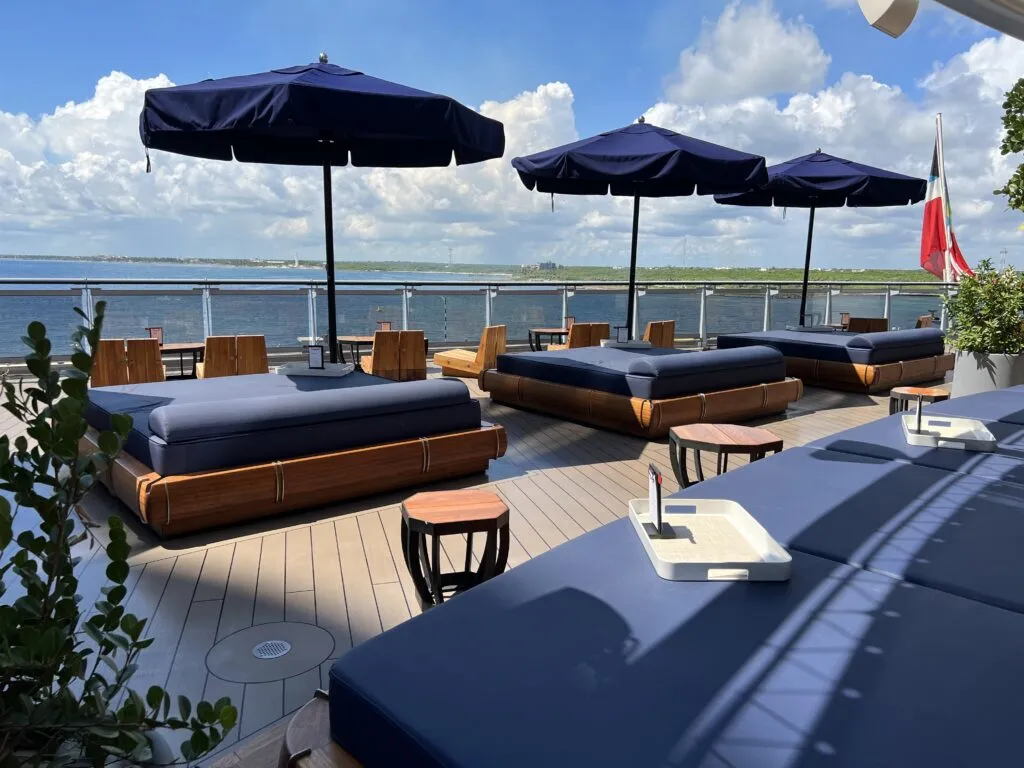 The outdoor Dock was perhaps our favorite venue on the ship.
The Galley (Deck 15)
The Galley is Virgin Voyages replacement for the typical cruise ship buffet. This food court has several quick-service stations serving up a variety of made to order specialties throughout the day.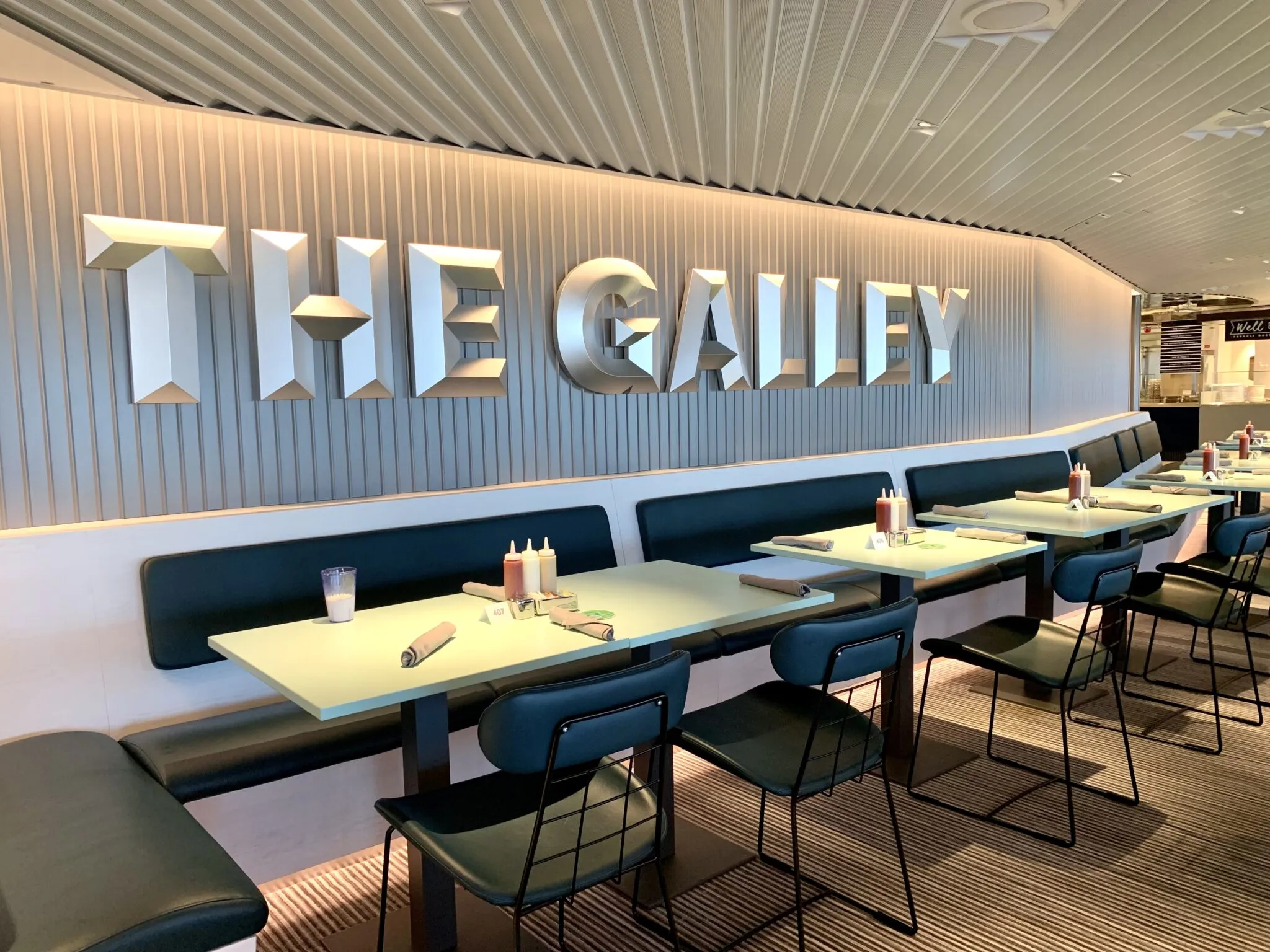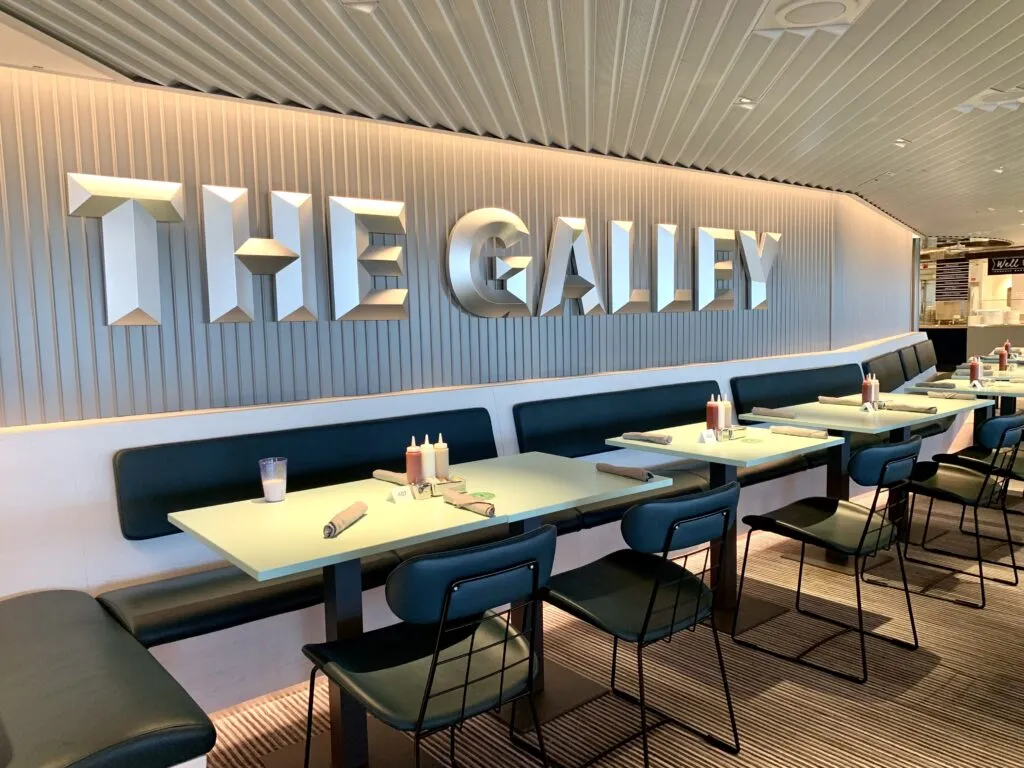 Each food cart has its own operating hours, so be sure to check the app.
The Daily Mix- soups, salads, cereal, bagels, and more
Diner & Dash- all day omelets and breakfast
Bento Baby- fruit bento by day and sushi bento boxes by night
Burger Bar- pancakes and french toast for breakfast, and burgers all day long
Let's Taco Bout It- breakfast burritos and tacos for lunch
Hot Off The Press- a variety of breakfast and lunch paninis and sandwiches
Noodle Around- ramen and miso soup choices for breakfast and lunch
The Sweet Side- breakfast pasties in the AM and desserts in the PM
Well Bread- breakfast breads and flatbreads
Gunbae (Deck 15)
Gunbae is a social Korean-style BBQ. At this restaurant, you and some new friends can grill up great conversation while cooking meat on a hot plate right in front of you.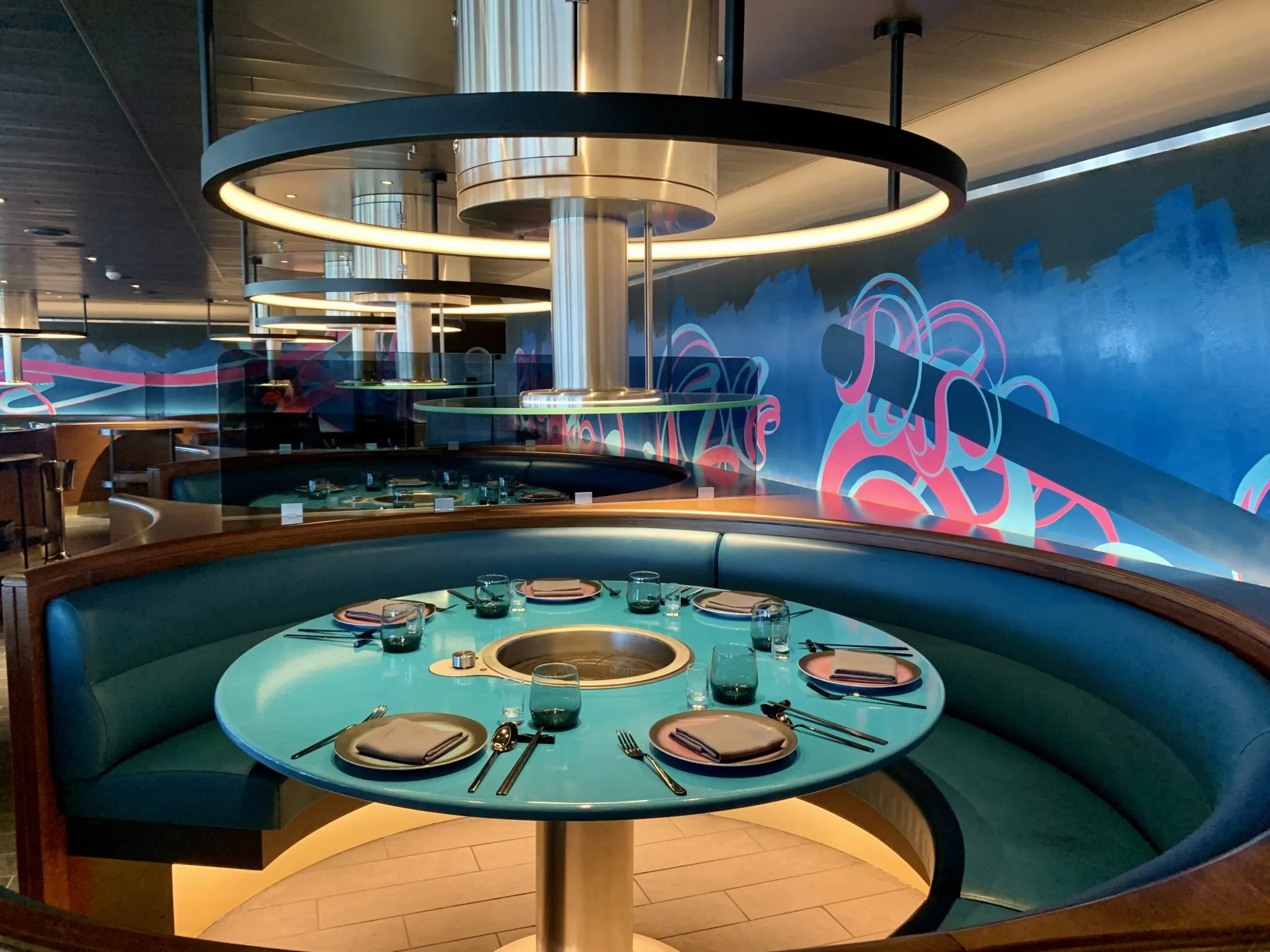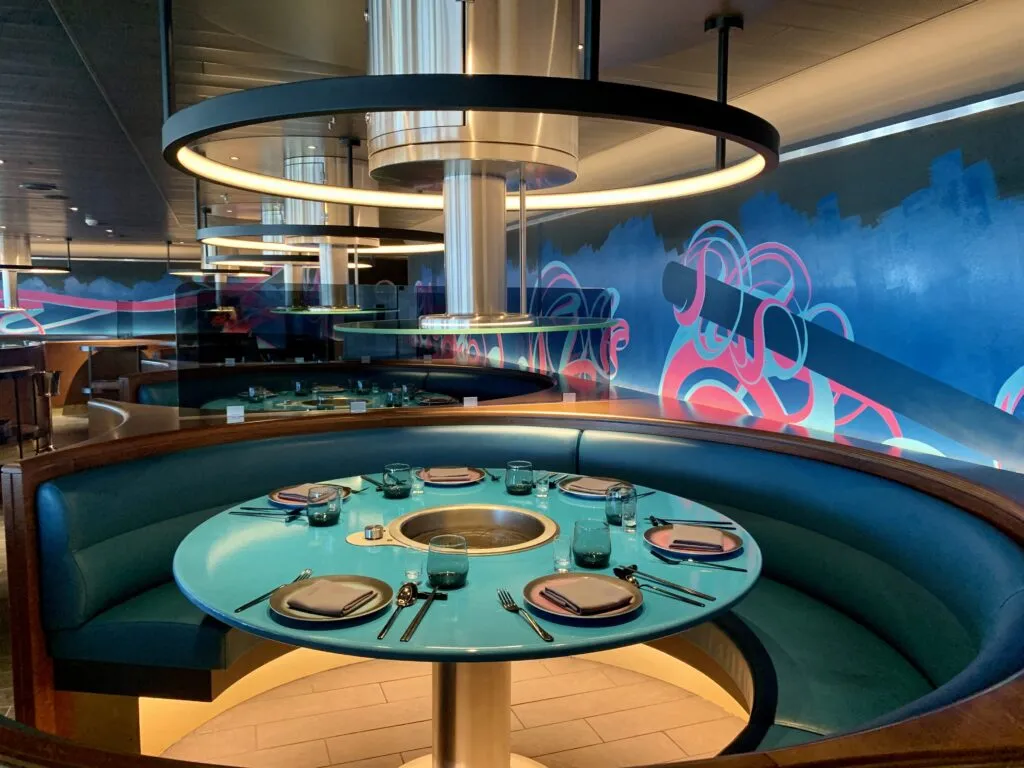 This venue is open nightly for dinner from 5:30-10 pm serving up favorites like crispy chicken and short ribs along with stir-fired vegetables, rice, and more.
Related Post: Scarlet Lady Mayan Sol Cruise Review
Sun Club Café (Deck 16)
This outdoor eatery is located on the sun deck. This venue offers healthy Hawaiian poke bowls served over greens or rice. This spot offers a quick bite while lounging in the sun or after a session in the Athletic Club.
The Sun Club Café is open from 12-5 pm.
Virgin Voyages Restaurant Menus – Room Service
Our Virgin Voyages Restaurant Guide wouldn't be complete without Room Service.
Room service is available 24 hours a day. Breakfast is available from 5 am to 11 am. The complimentary menu items include eggs, bakery items, cereals, and more. Of note, there is a $5 Ship Eats delivery fee.
Additional food items are available outside of breakfast hours, 11 am to 5 am. These items include soups, salads, entrees like a New York strip or burger, and snacks and desserts. Again, there will be a $5 delivery fee for all orders.
Comments
Which of the menus from this Virgin Voyages Restaurant Guide is your favorite? Do you have plans to cruise on Scarlet Lady? Drop us an anchor below to share your thoughts on the various Virgin Voyages restaurants and menus.