Scroll Down to Watch our Complete Majestic Princess Cruise Ship Review!
Debuting in 2017, this 144K gross ton cruise ship spent her first few years sailing in East Asia and Australia. Majestic Princess was originally scheduled to make her North American debut in Fall 2021. Instead, Princess Cruises launched Majestic Princess as its first vessel back following the cruise shutdown, sailing 7-night Alaska cruises from Seattle. Being our first cruise ever with Princess Cruises, we made sure to test out all of the ship's features and amenities. We are back from this maiden voyage and report on everything in our exclusive Majestic Princess Cruise Ship Scorecard review.
Related Post: Day By Day Majestic Princess Cruise Review
Majestic Princess Cruise Ship Scorecard
Embarkation/Disembarkation
Normally, we always fly into port the day before a cruise, especially if there are any time zone changes. Unable to do so this time because of other obligations, we flew in the morning of the cruise.
Before the trip, Princess Cruises requires guests to complete an online registration in its Medallion app. This multi-step process is easy and lets you choose your boarding time. Unfortunately, we did our check-in late, so the earliest embarkation time we could reserve was 1 pm. With our flight arriving at 10:40 am, what would we do?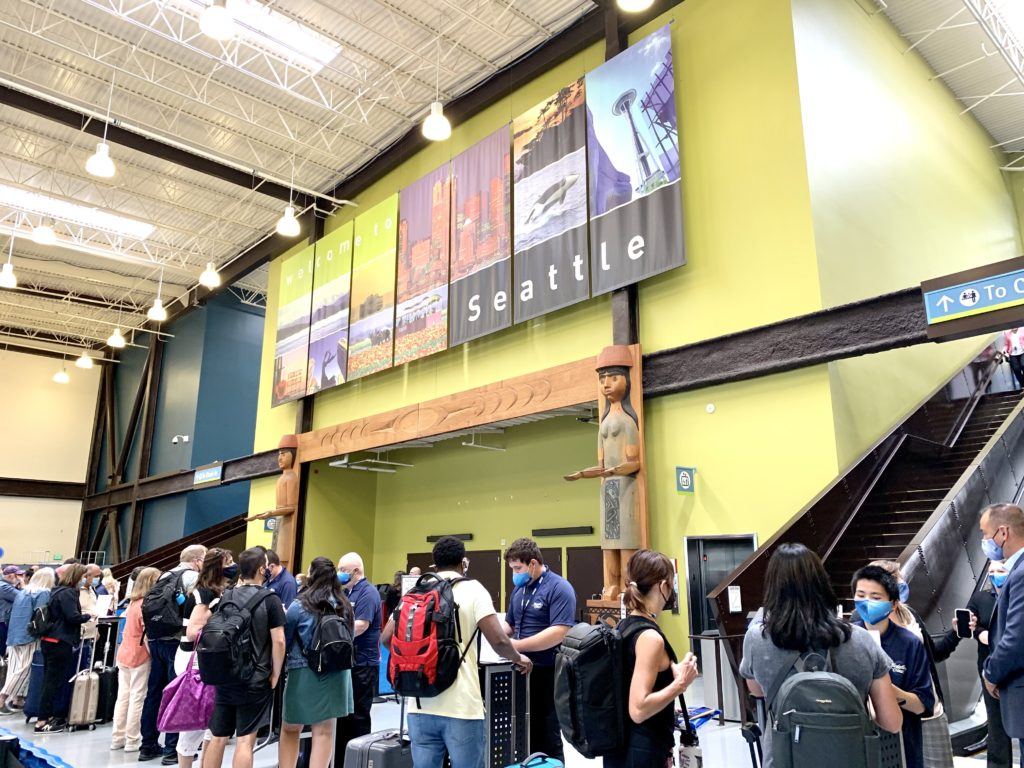 Luckily, when we arrived at Terminal 91 in Seattle around noon, we were able to complete the check-in process right away. This took a little over 30 minutes. Moving through the steps quickly, we had to show our passports and vaccination cards. Once we were verified, we took the escalators up to go through security and grab our Medallions. From here, it was smooth sailing to the gangway and then officially stepping onboard the ship.
Disembarkation was equally easy and even more efficient. Given all of our luggage, we skipped our usual self-checkout routine. Even though we had a late day flight, we kept our assigned departure time of 7:30 am. Arriving to our meeting lounge, Deck 6 VIP Casino, our luggage tag color was called about 10 minutes later. From exiting the lounge to scanning off the ship, grabbing our bags, and hopping in a taxi was about 15 minutes.
Pool Deck
Deck 16 midship is the main pool area. This centrally located space includes two pools, whirlpools, and the fountain show. For a ship of this size, the pools did seem a bit small. However, this doesn't matter much on an Alaskan cruise.
There was one 70+ degrees sunny day that was ideal for using the facilities and a couple other days that some braved the elements. At any given time, there were plenty of lounge chairs scattered around the main deck and the sun deck above. There were even additional lounge chairs tied down as we were sailing at reduced capacity.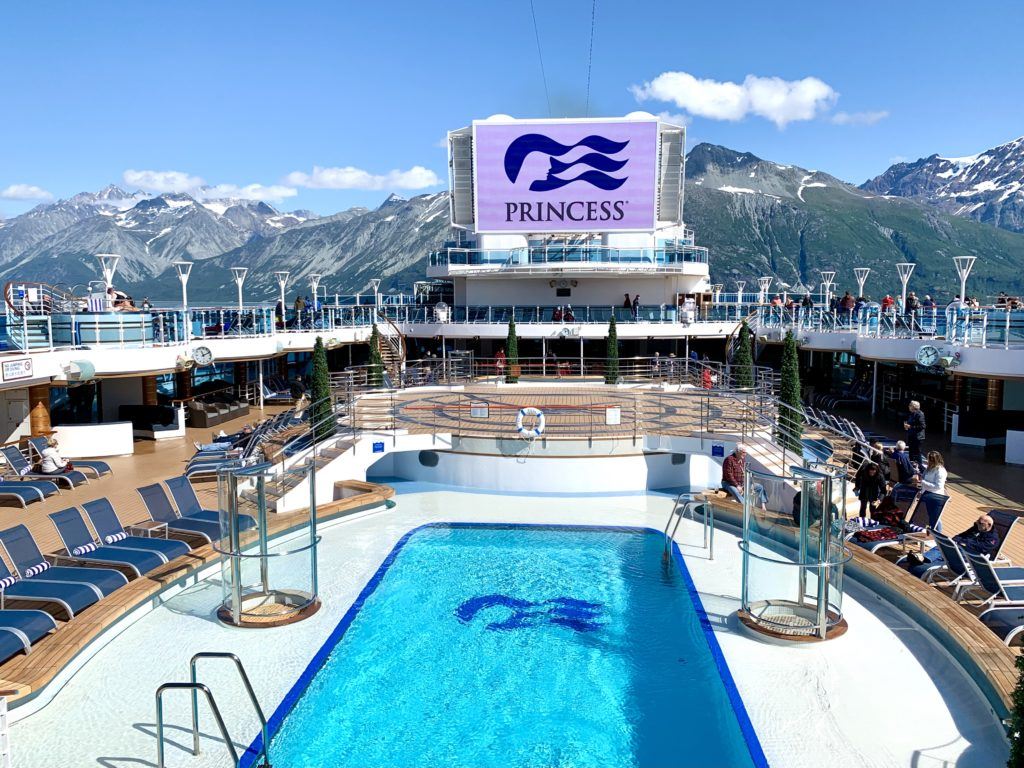 Forward on the vessel is the adults only Hollywood Pool Club. This is the ship's solarium. It includes a large pool, two whirlpools, a bar, and a variety of different seating options. The temperature control was less stuffy than the typical indoor pool areas. On those cooler sea days, this venue was busy, but you could still find a spot in the pool or a lounger.
The tranquil Conservatory all the way forward on Deck 17 doesn't really fit with the overall vibe of the pool area. The décor and amenities are still very Asian-inspired, seemingly out of place for an Alaskan cruise catering to Americans. Though, it was a nice indoor glacier-viewing location.
Service
With the ship sailing at slightly over 60% capacity and a full crew onboard, there were certainly plenty of staff. Though, we did feel the service throughout the ship was unbalanced.
At the bars, service was always fast and friendly. We never waited long for a drink no matter the time of day or venue. Most of the lounges also had ample staff walking around taking orders and helping guests.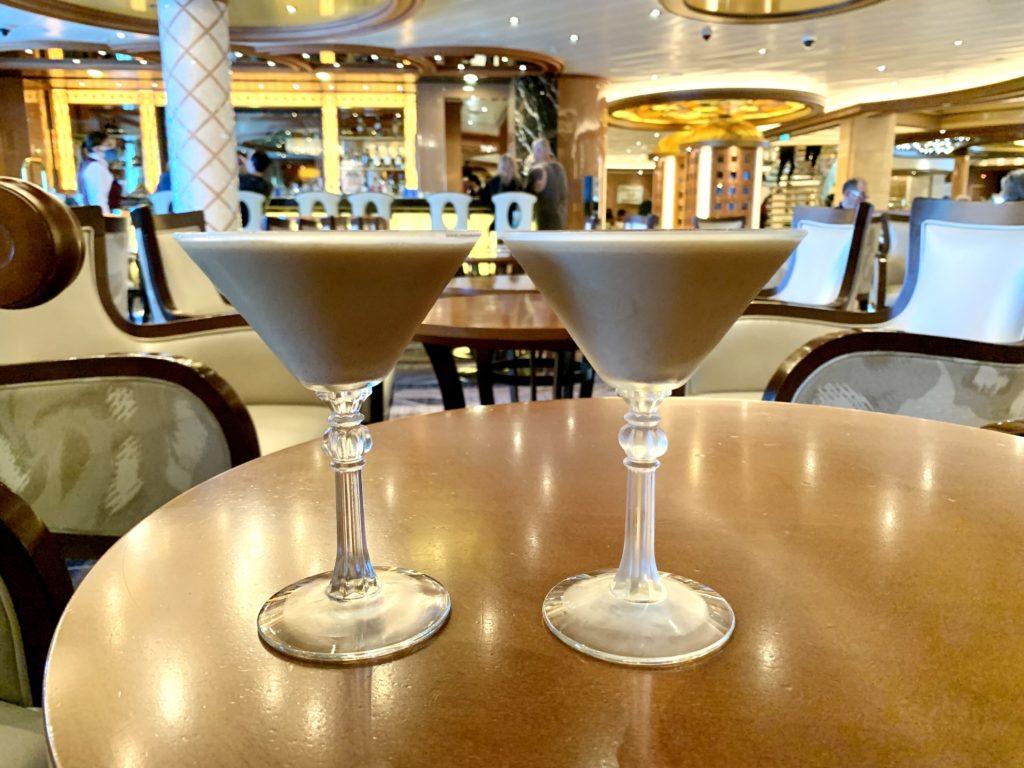 The International Café was certainly undermanned the beginning of the cruise, with long queues and waits up to 30 minutes for morning coffee. Subsequently, the cruise line did resolve the issue after a few days, making the morning breakfast rush more manageable.
In the World Fresh Marketplace, the staff served guests most items. Given the large layout, there were generally no lines in the buffet and staff were quick to help cruisers with their food selections. Table service for drinks and clearing plates was even faster.
However, the main dining room service was the most variable. We dined in the MDR 4 out of 7 nights with the Dine My Way option. On two occasions, our waitresses were outstanding. Their service was friendly, fast, and very attentive. On the other two occasions, service was very slow. This is to no fault of the waitstaff as they were working very hard; though, it seemed like they were managing too large of a section.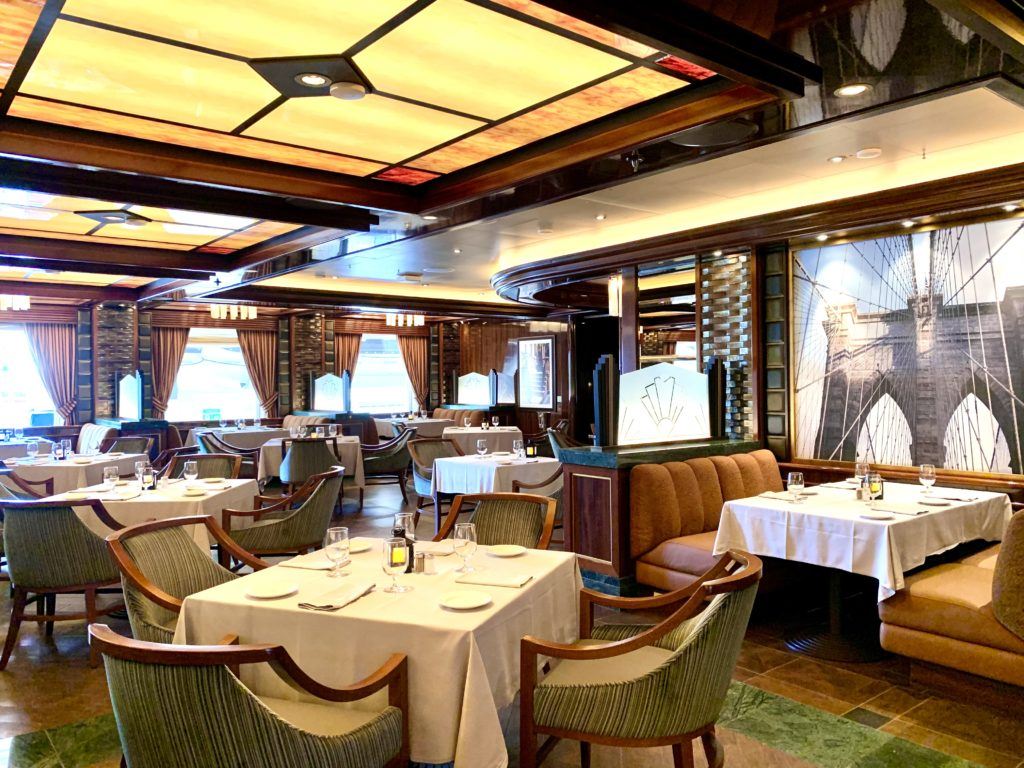 At the specialty restaurants, service was rather average. We didn't feel it was any better than the main dining rooms.
Related Post: What It Was Like on the First Princess Cruise in 16 Months!
Daily Activities
Majestic Princess offered many of the usual day time cruise activities. With no formal social distancing on the ship, these events were open to everyone and reservations were not required. Actually, out of our four cruises so far this year, Majestic Princess offered the most variety in daily activities.
There were two Alaska experts onboard as part of the North to Alaska programming who offered regular talks about the history, geography, wildlife, and native culture of the region. There were also additional cooking demonstrations, behind the scenes talks, and activity staff events.
Some of these cruise activities included Games Under the Stars, trivia, and various other competitions. With a sports area including a putting green, sports court, ping pong, and a shooting simulator, cruisers could also take advantage of our unseasonable weather when not ashore.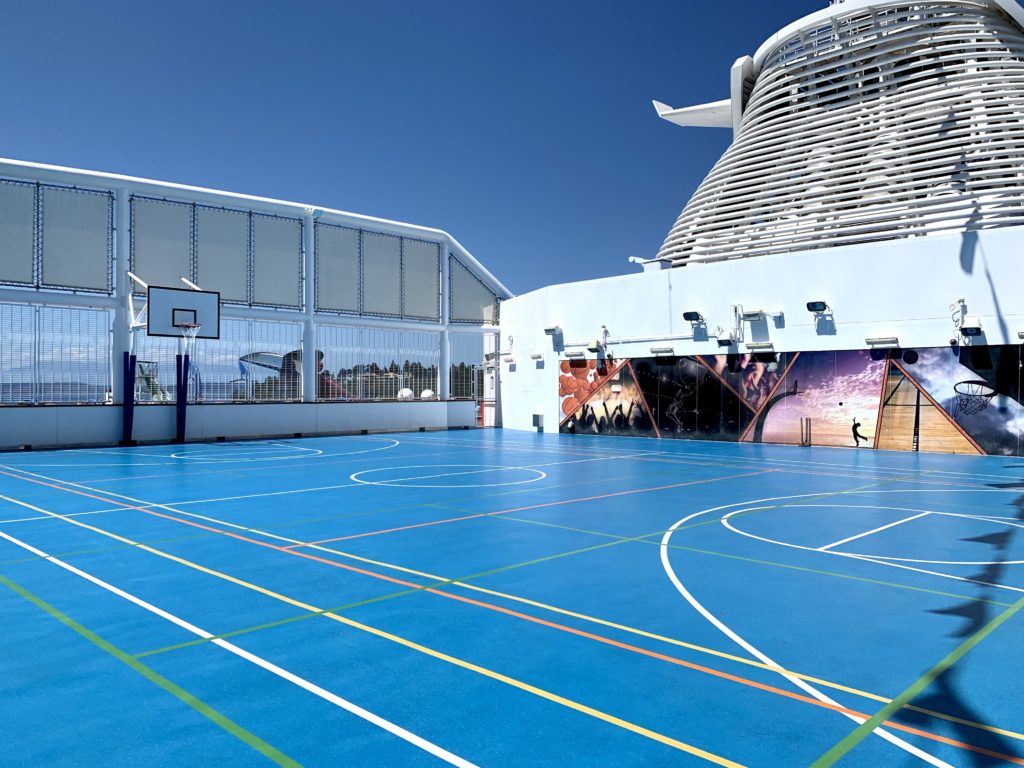 With a wide variety of activities, there was certainly something for everyone to enjoy on sea days.
Main Dining Room
For this cruise, we chose the cruise line's flexible dining option, Dine My Way, which allowed us to pre-book reservations prior to the cruise. We booked two dinners each in the two dining rooms available, Concerto and Symphony. Most of our dinners were between 6:20 and 6:40 pm.
Our MDR dining experiences early in the cruise were not impressive. Unfortunately, the food quality did not live up to the Princess Cruises reputation. Though, menu selections did improve over the week. Menu items like the pork belly by Curtis Stone and the veal scaloppini were some of my favorites.
None of the starters impressed us much all cruise. Though, some of the desserts were better when compared to other cruise lines, especially the Chocolate Journeys choices and profiteroles.
While many rave about the dining on Princess Cruises, our initial cruise did not convince us that it is any better than its competitors.
Specialty Dining
Majestic Princess features three specialty restaurants. On the first formal night, we made reservations at the French-style restaurant, Bistro Sur La Mer. Overall, the food quality was on par with similar venues on other cruise lines. I enjoyed the tuna starter and the wife raved about her potato and cheese tart. For an up-charge of only $29, we would certainly consider dining here again.
Our second specialty dinner was at the cruise ship's steak house, the Crown Grill. We did enjoy this restaurant, and again, the $29 up-charge is a bargain compared to other cruise ship steakhouses.
The spiny lobster cake was crispy and filled with lobster. Opting for the surf and turf (an additional $10 fee), the Maine lobster was leaps and bounds better than the main dining room offering. The desserts here too were among our favorites of the whole trip.
Related Post: Alaska Cruise Planning Guide
Casual Eats
When it comes to food, the casual eats on Majestic Princess shined. We were particularly fond of the International Café and Alfredo's Pizzeria.
The International Café is a 24-hour snack venue and the resident coffee house. Along with fresh breakfast sandwiches and pastries in the morning, the venue offered a variety of sandwiches, cookies, and other treats throughout the day. The sandwiches, like the roast beef sandwich and Cuban, were much better than the pre-made sandwiches from other lines' "cafés". With other options like fruit cups, chicken pot pie, and soup, the International Café provided plenty of variety to satisfy all cravings.
Of course, there is also the casual pizzeria Alfredo's. After our first lunch at this sit-down restaurant, we quickly discovered why Princes Cruises is often voted as having the best pizza at sea.
Near the pool deck, there are two more casual options. The unique Chopsticks Noodle Bar offered a small menu of Asian-inspired dishes with one daily special. Additionally, the Burger and Lobster Bar served a wider selection than typical pool grills. This spot included not just burgers and fries, but chicken sandwiches, tacos, and even lobster rolls (for an up-charge).
Finally, the World Fresh Marketplace is the ship's buffet. The design did give this large venue a more intimate feel. For breakfast and lunch, we would say the food selection and quality were on par with other cruise lines.
Breakfast included all of the favorites along with a custom egg station. Lunch featured several hot entrée options, a custom salad bar, a taco bar, and grab and go sandwiches. We did not dine here for dinner at all during our cruise.
Main Theater Entertainment
The Princess Theater on Majestic Princess featured a new show each evening. Almost every night, there were two showtimes at 7 pm and 9:15 pm to accommodate all guests.
The ship's singers and dancers were featured in two production shows. Both were performed on the ship's formal nights. Sweet Soul Music featured Motown hits and other classic songs. It felt rather short and was a pretty standard cruise production show. Encore was more of a spectacle, with large set pieces and more ornate costumes. Featuring several popular Broadway songs, I was more fond of this show.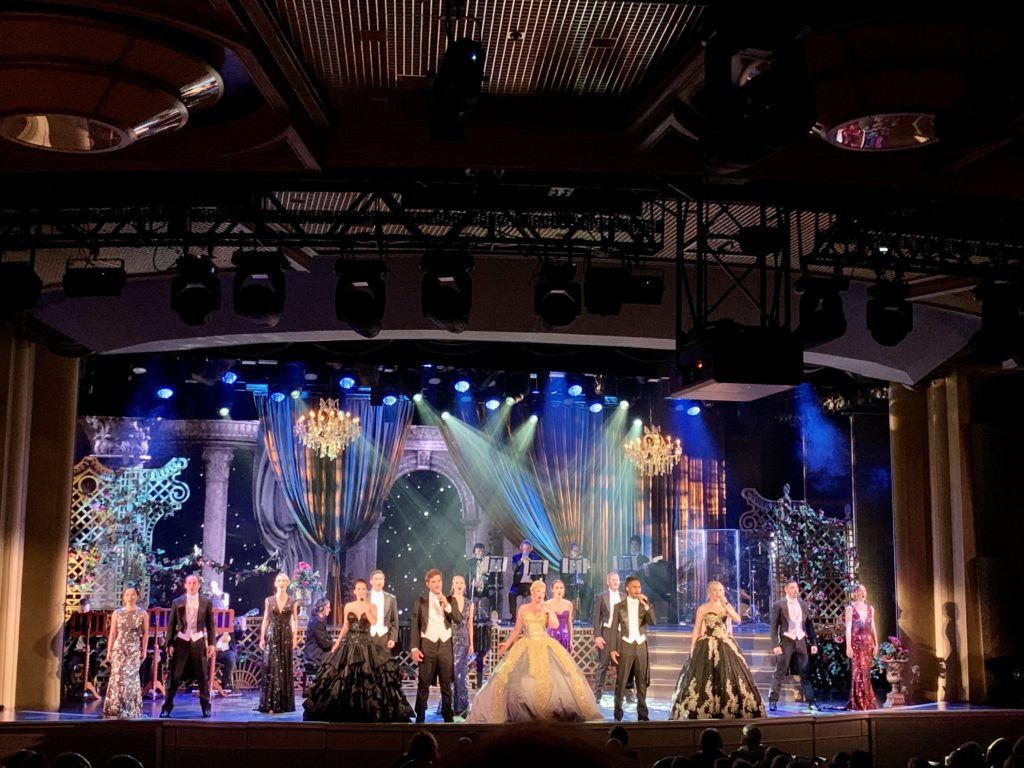 The remainder of the shows in the theater featured headliner acts. Among them were two winners of the fleet's "entertainer of the year". The Princess and I differed on which ones were our favorites. The Princess enjoyed the showmanship and technical skills of the piano player, while I always enjoy the comedy shows the most. Other acts also included a magician and a soprano soloist.
Nighttime Activities
We are creatures of habit. So, one thing we loved about the nighttime activities was the predictable routine each evening.
Almost each evening, there was a hosted game show in the Princess Live entertainment venue. We liked that there were two showtimes to accommodate various dinner schedules. Among our favorites were Yes or No, the Liar's Club, and Marriage Match.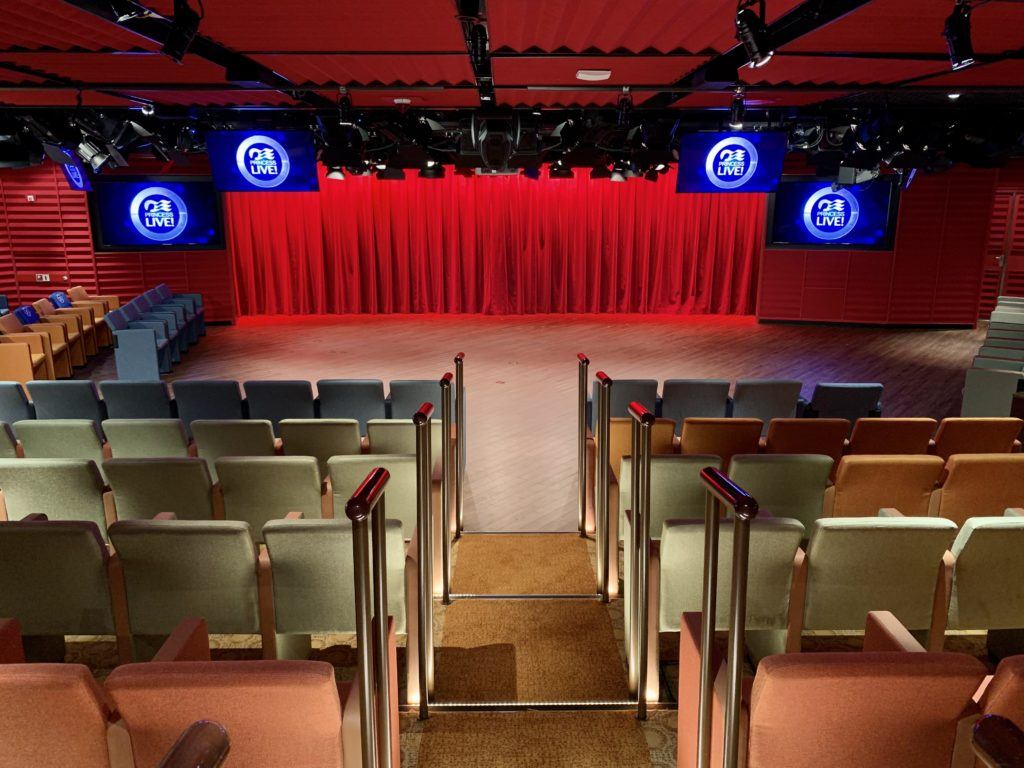 In the Piazza, there was rotating live music throughout the day, ranging from piano music to a strings duo to the upbeat Pacific Trio. The ship's rock band, Ocean Boulevard, played regular sets in the Vista Lounge. There were also nightly Movies Under the Stars, as well as other events like trivia.
Allegedly, the Hollywood Pool Club also turns into a night club in the late evenings. Although, we did not discover anything resembling a dance club on our two visits to this venue. Honestly, this was fine with us as we prefer enjoying live music and drinks from one of the bars and lounges anyway.
Related Post: Alaska Cruise Packing Guide
Bars and Lounges
Speaking of bars and lounges, Majestic Princess features 10 different options. Many of them serve the ship's standard bar menu. Although, with the Ocean Now technology, cruisers have expanded drink options that can be delivered to anywhere on the ship.
As far as theming goes, Majestic Princess does not offer elaborate bars like Royal Caribbean or Norwegian Cruise Line.
Off the Atrium, there is the ship's signature wine bar, Vines, with bottles of wine and an expanded wine by the glass list. Another bar with a distinct menu is the martini bar, Crown Bar. This venue featured some of our favorite drinks including my go-to Sidecar and the Toasted Almond. Good Spirits also has a small, signature menu.
Outdoors, there is the Fountains Pool Bar, the Sea View Bar, and the Wake View Bar. These venues provided typical cruise cocktails along with great views.
Across the ship, our drinks were well made, with extremely speedy bar service. We greatly appreciated the consistency in both drink quality and service, especially given this was the busiest vessel we have sailed on in 2021.
Stateroom
We stayed in a balcony cabin on Deck 10, cabin C310. According to the deck plans, the BB category balcony cabin is approximately 222 square feet including the balcony.
When entering the room, both the bathroom and closet were to the left (facing aft). This cabin did offer abundant closet storage with a plethora of hangers. There was also a series of shelves right next to the closet.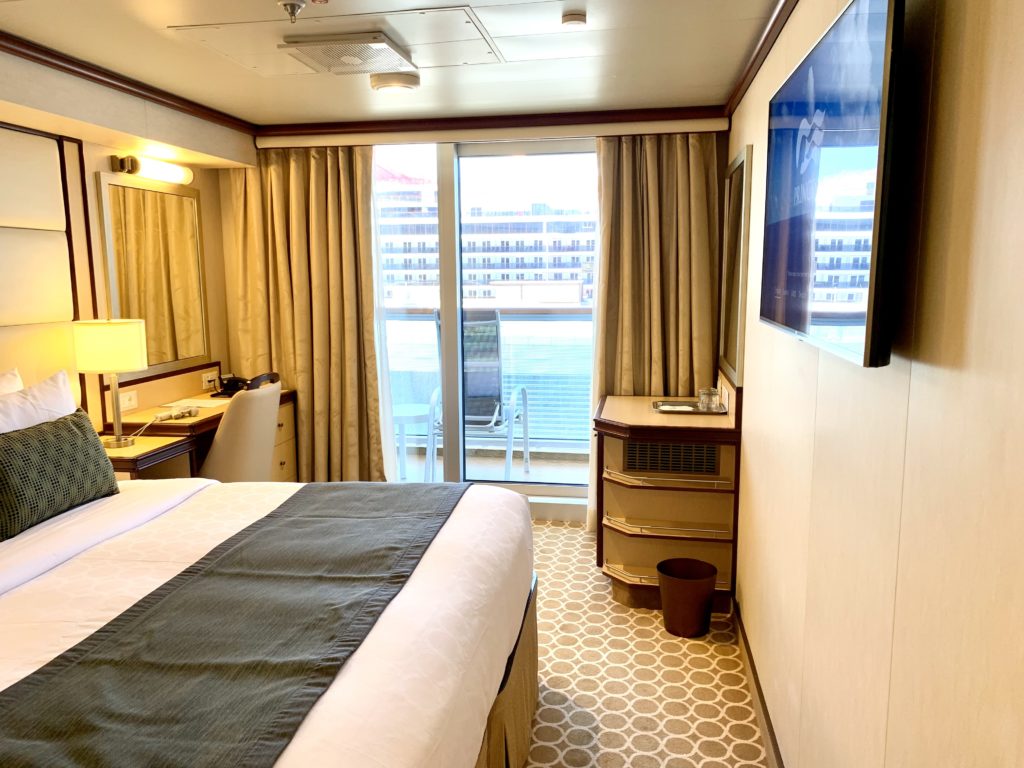 The bathroom felt on par with other cruise lines. Although, it contained a shower curtain as opposed to a cylindrical door.
As for the inside of the cabin, it certainly felt smaller than comparable rooms on other cruise lines. There was not enough space for the traditional love seat or table and chair. The desk area was also very compact with not much in terms of storage space. With some creative unpacking, we were able to make do for the week.
The balcony included two chairs and a table, with just enough space to enjoy the scenery with a drink in hand.
Overall Majestic Princess Cruise Ship Scorecard Review
As the cruise line's first vessel to return to service in over 16 months, Majestic Princess delivered a memorable Alaska cruise.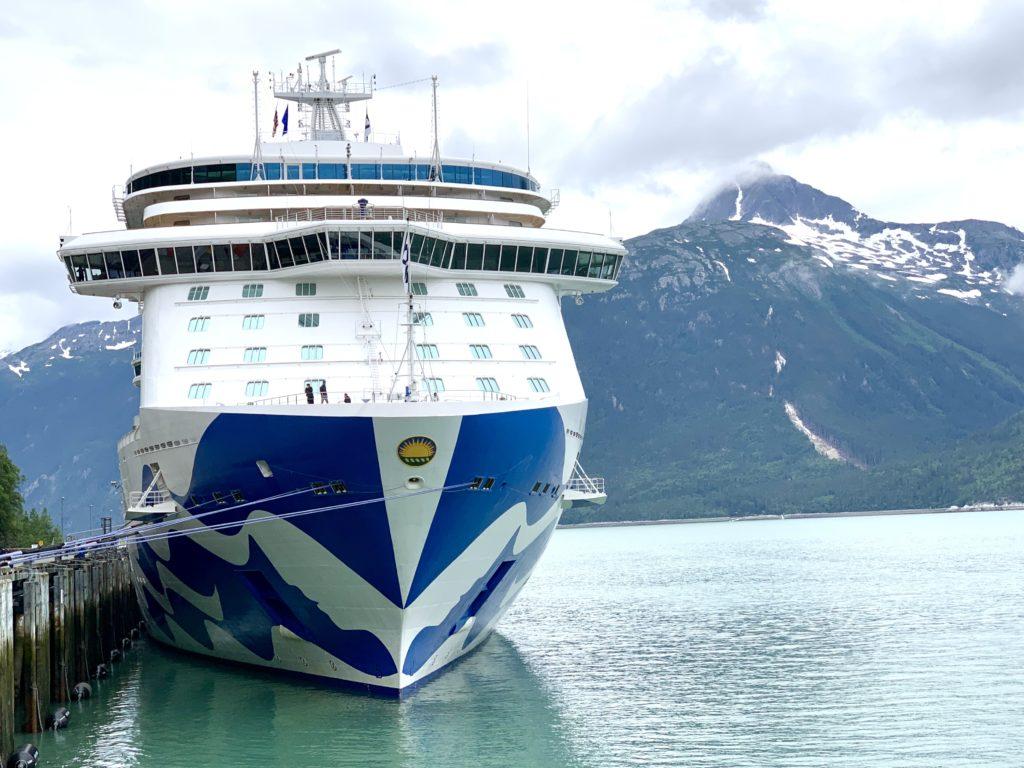 With various activities that catered to all types of travelers, cruisers could customize their onboard experience in between the exciting ports of call.
Majestic Princess appeals to a wide array of cruisers, from those looking for an enriching and educational experience to those who simply want relax.
This mega-ship offered all the traditional activities, events, and dining experiences that we love about mega-ship cruising.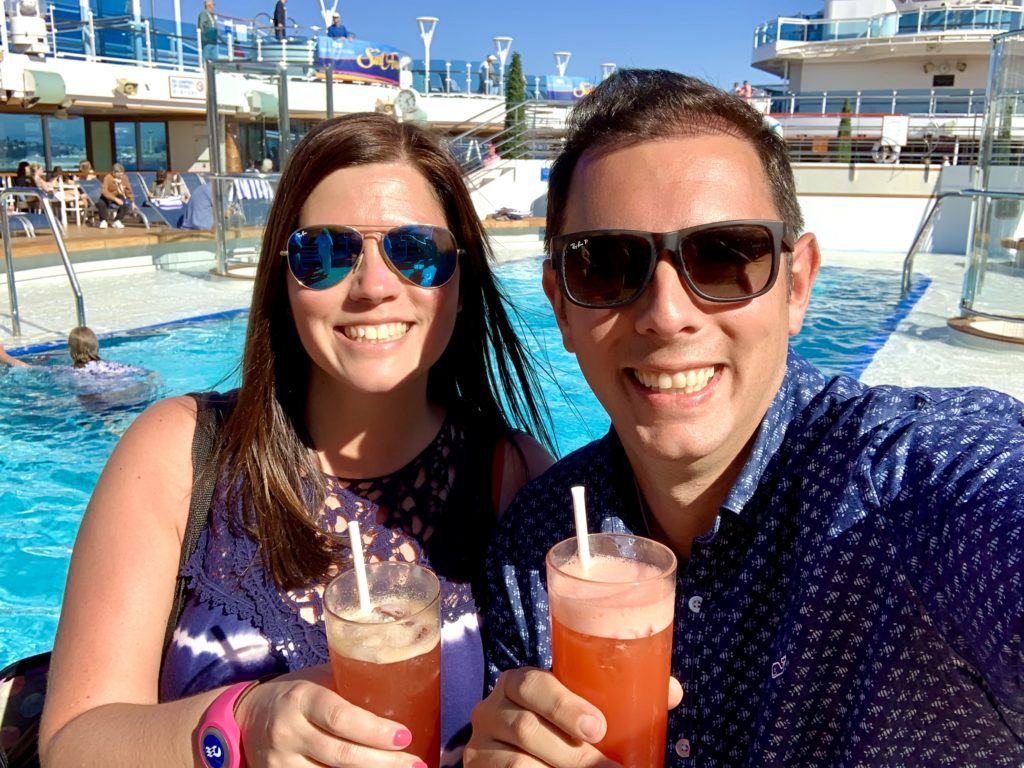 For us, this meant a rather predictable routine, which included organized excursions and time ashore, nightly multicourse dinners, a game show in Princess Live, a theater show, and some drinks and live music to end the night.
Happily, we found these experiences to match our expectations when compared to other brands. This made us feel right at home even though we have never sailed with Princess Cruises.
Opting for the Always Included Pricing, our cruise fare encompassed WiFi, a drink package, and gratuities. So, once we were onboard, there were no worries about the tab. We enjoyed this added convenience.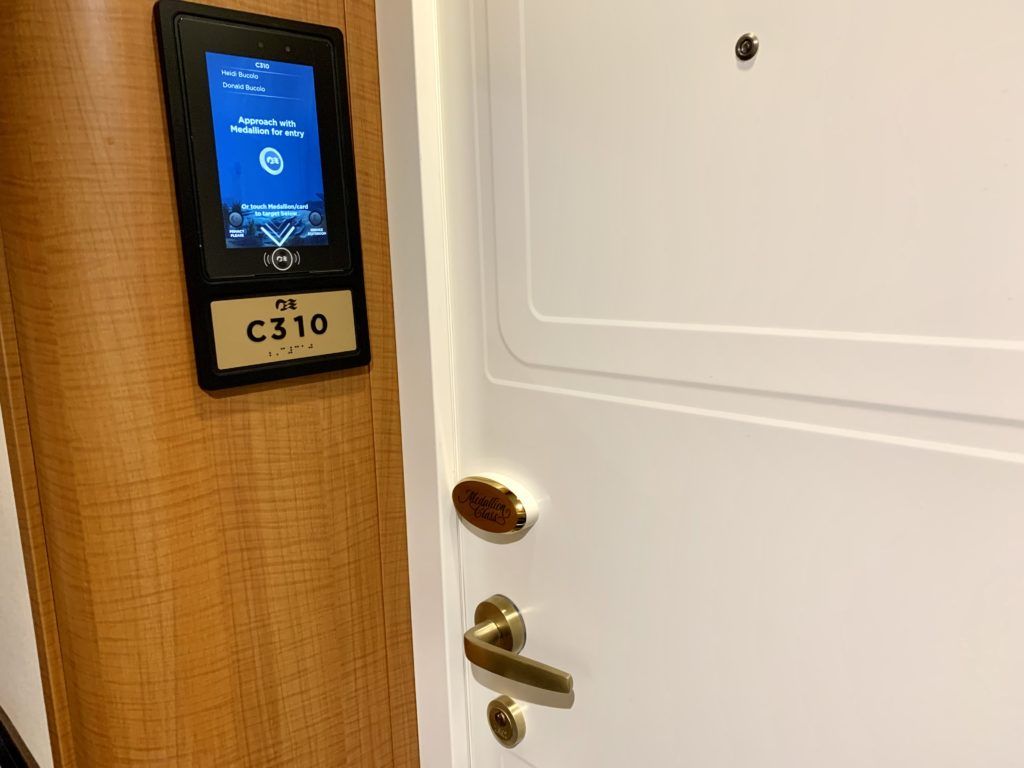 We also loved the Medallion technology. Having the cabin unlock as we approached and the ease of ordering at venues were definite perks. With other app features, including the daily schedule and ability to make reservations, planning each day was a breeze.
While we honestly didn't take advantage of the Ocean Now mobile ordering or the Crew Call chat features, we can see how these features also improve the guest experience. Hopefully, use of this technology will become the industry standard.
With the cruise lines in the process of resuming service all over the world, we look forward to getting back onboard another Princess Cruises vessel in the near future.
Comments
Do you agree with our Majestic Princess Cruise Ship Scorecard Review? What features do you love about Princess Cruises? Drop us an anchor below to share your experiences cruising with this brand.