Ship Overview
For this Princess Voyage of the Glaciers Alaska cruise review, we hopped onboard Majestic Princess for a 7-day southbound itinerary from Anchorage (Whittier), Alaska to Vancouver, British Columbia.
Our first Princess cruise was actually on this ship to Alaska back in 2021. So, we were already quite familiar with Majestic Princess and couldn't wait to get back onboard.
Majestic Princess is the third vessel in the Royal Class of ships. The newest ship in this class, Discovery Princess, is also sailing in Alaska this season round-trip from Seattle, Washington. In fact, Majestic Princess is just one of seven Princess ships in the region.
WATCH OUR COMPLETE PRINCESS ALASKA CRUISE REVIEW VIDEO!
At 144K gross tons, Majestic Princess offers its 3,500+ guests a variety of amenities and features that are signature to Princess Cruises. However, originally debuting for the Chinese market, there are still hints of Asian-influence on the vessel. From the western-themed Conservatory, to the signage, and the cruise line's only Harmony Chinese restaurant, Majestic Princess is a bit distinct from her sister ships.
Still, the ship features two outdoor pools, one adult-only indoor pool, and a sports deck. There are also several bars and lounges, restaurants, and entertainment spaces to keep guests entertained between ports of call. Majestic Princess features all the usual cruise activities like nightly production shows in the main theater, trivia, game shows, Bingo, Movies Under the Stars, and live music.
While in Alaska, the centrally located signature Piazza is the ideal spot to relax or socialize on a chilly sea day. Those looking for enrichment will enjoy the North to Alaska programming featuring onboard naturalists and experts who host engaging talks on the history, culture, and wildlife of the region.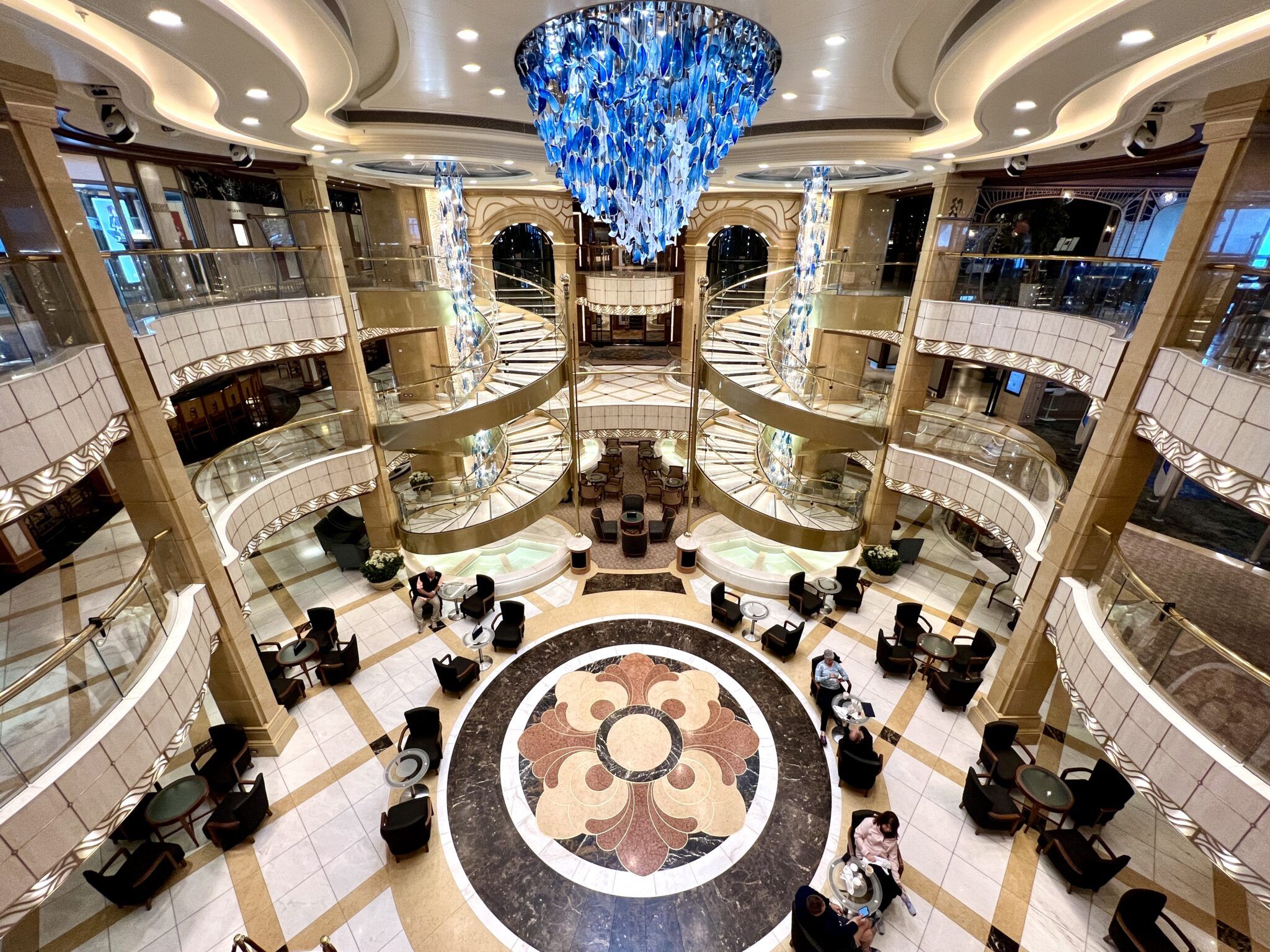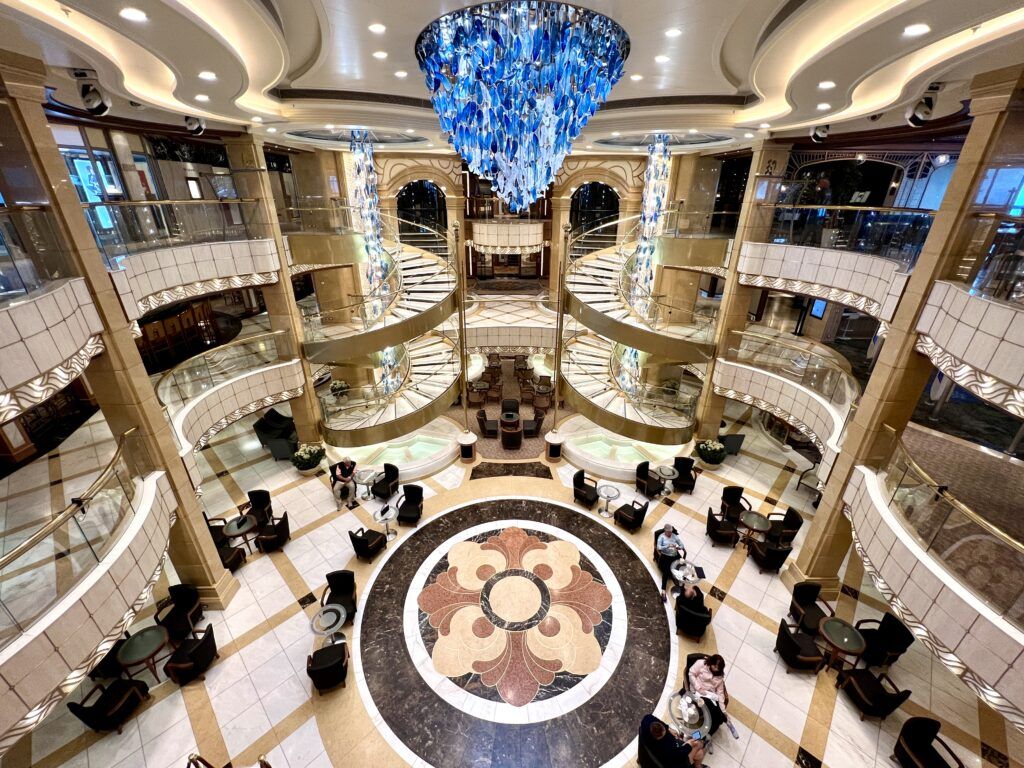 New for 2023, Princess is also offering an expanded Wild for Alaska Seafood menu. Guests can expect extensive menus offering a rotation of fresh Alaska seafood dishes. Not to mention, Majestic Princess is now home to a brand new specialty restaurant.
Replacing Bistro Sur La Mer, The Catch by Rudi is the first Princess restaurant primarily devoted to seafood. The creative dishes and attractive price of $39 per person will certainly lure you in.
Finally, Majestic Princess and the rest of the Princess fleet offer MedallionClass technology to make your vacation more personalized and contactless. Features include OceanNow where you can order food and drinks anywhere on the ship, keyless stateroom entry, and much more.
EXCLUSIVE SAVINGS: Get Deals on Princess Alaska Cruises Now!
Princess Voyage of the Glaciers Alaska Cruise Review – Day 1
A Pre-Cruise Stay in Anchorage
For this Princess Voyage of the Glaciers Alaska Cruise Review, we had to fly from Boston to Anchorage. Given the extended travel time, we decided to fly into the area a couple days early. We secured a 2-night hotel stay in Anchorage at the Fairfield Inn and Suites Midtown given there was limited availability when we booked rather last minute.
While the hotel was acceptable for our short stay, we would likely look for a nicer hotel when visiting in the future. Local recommendations included the Marriott, Hilton, or Hotel Captain Cook.
Prior to our departure, we booked a tour for our full pre-cruise day on Friday. This tour included a scenic drive down Turnagain Arm, stops at Explorer Glacier and lookout points along the way, a cruise on Portage Lake, and a visit to the Alaska Wildlife Conservation Center.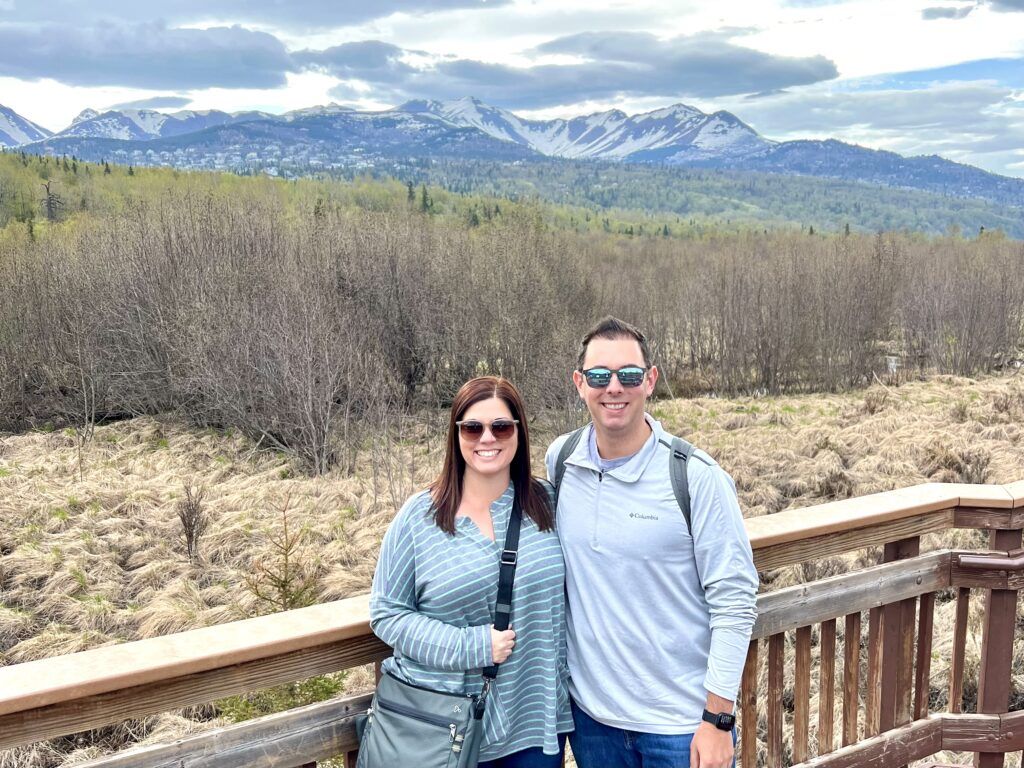 However, a few days prior to our tour, we were notified that the boat for the cruise portion on Portage Lake was undergoing repairs and thus would not be part of our tour. Still, Jeremy from Alaska Exquisite Travel did a great job providing narration during the newly shortened tour. This small group tour was a great introduction to the area, and the scenery was amazing.
We capped off the wonderful day with a meal at 49th State Brewing and caught up on much needed sleep before embarking Majestic Princess.
Onward to Whittier
Since we were hosted by Princess Cruises on this sailing, the cruise line arranged a private transfer for us from the hotel to the cruise port in Whittier on embarkation day. This drive is about 1.5 hours, and the cruise terminal can only be accessed by a one lane tunnel. This means that your transportation needs to be timed appropriately.
Getting picked up at our hotel promptly at 11:15 AM, we set off along a similar route from yesterday. Upon arriving in Whittier, our driver gave us a brief overview and drive around "town". Of note, if you are cruising from this port, you will need to secure accommodations in Anchorage and make this same drive on embarkation day as Whittier has few amenities.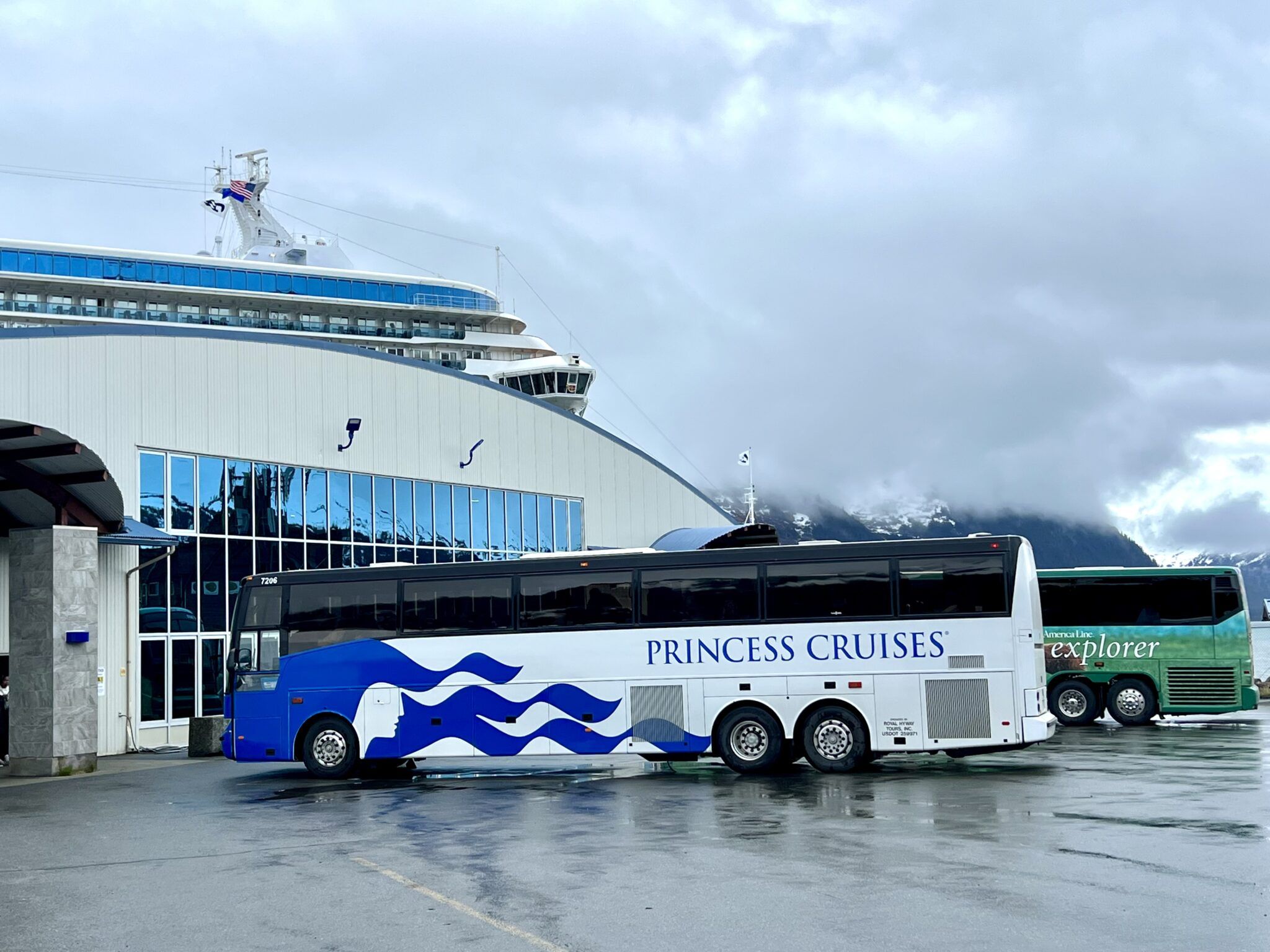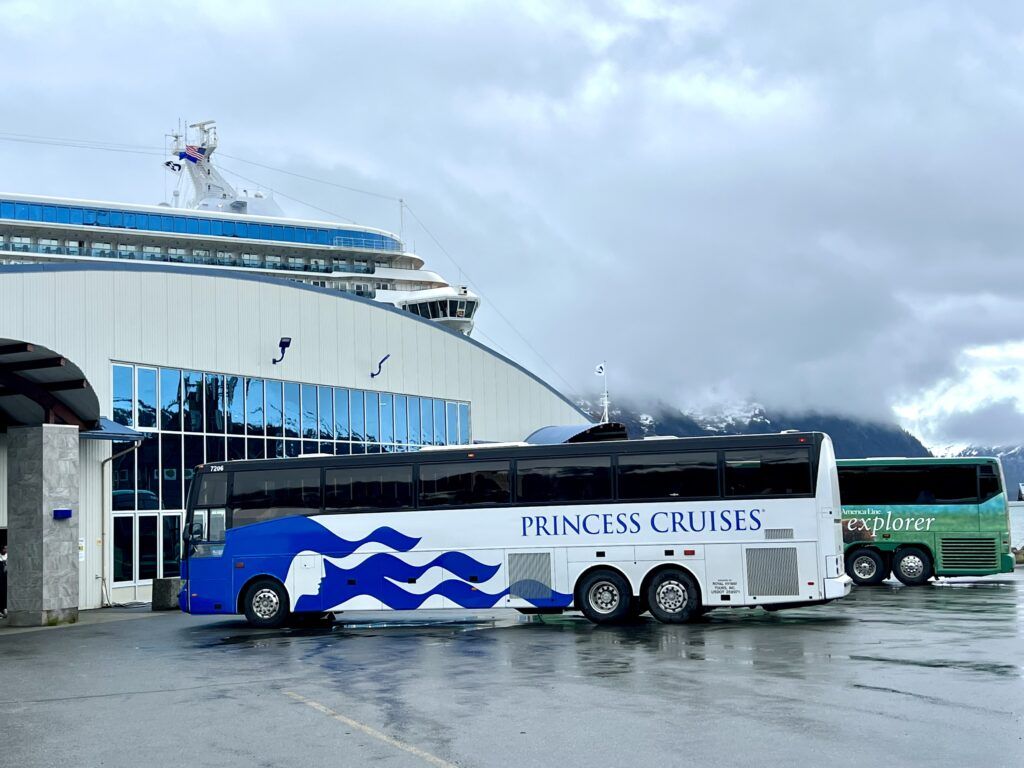 Once at the cruise terminal, we dropped off our bags and headed inside. Unfortunately, our Medallions did not arrive at our house until after we left for this trip. Thus, the check-in process took a bit longer. Those cruisers who had their Medallions breezed through check-in, security, and onto the ship in no time.
For us, we needed to wait in a small line of other passengers either picking up their Medallions at the terminal or those who did not receive them like ourselves. With some tech issues, it took about 30 minutes to receive a keycard that would allow us on the ship. We then needed to have Medallions printed at Guest Services.
Officially Onboard Majestic Princess
Officially boarding the ship around 1:45 PM, we made our way to Guest Services for our Medallions. Surprisingly, the ship felt like a ghost town. So, we took this opportunity to take some photos and videos of the specialty restaurants, piazza, and a few nearby areas before heading to our cabin.
Given that it was later in the afternoon, the staterooms were ready, so dropping off our carry-on gear was the second order of business.
Unlike most contemporary cruise lines, the standard balcony cabins on Princess Cruises do not come with a sofa or sitting area. With all our gear and Don working remotely from the ship, this extra space is essential for us. We decided to place an upgrade bid from our standard balcony to a premium deluxe balcony cabin.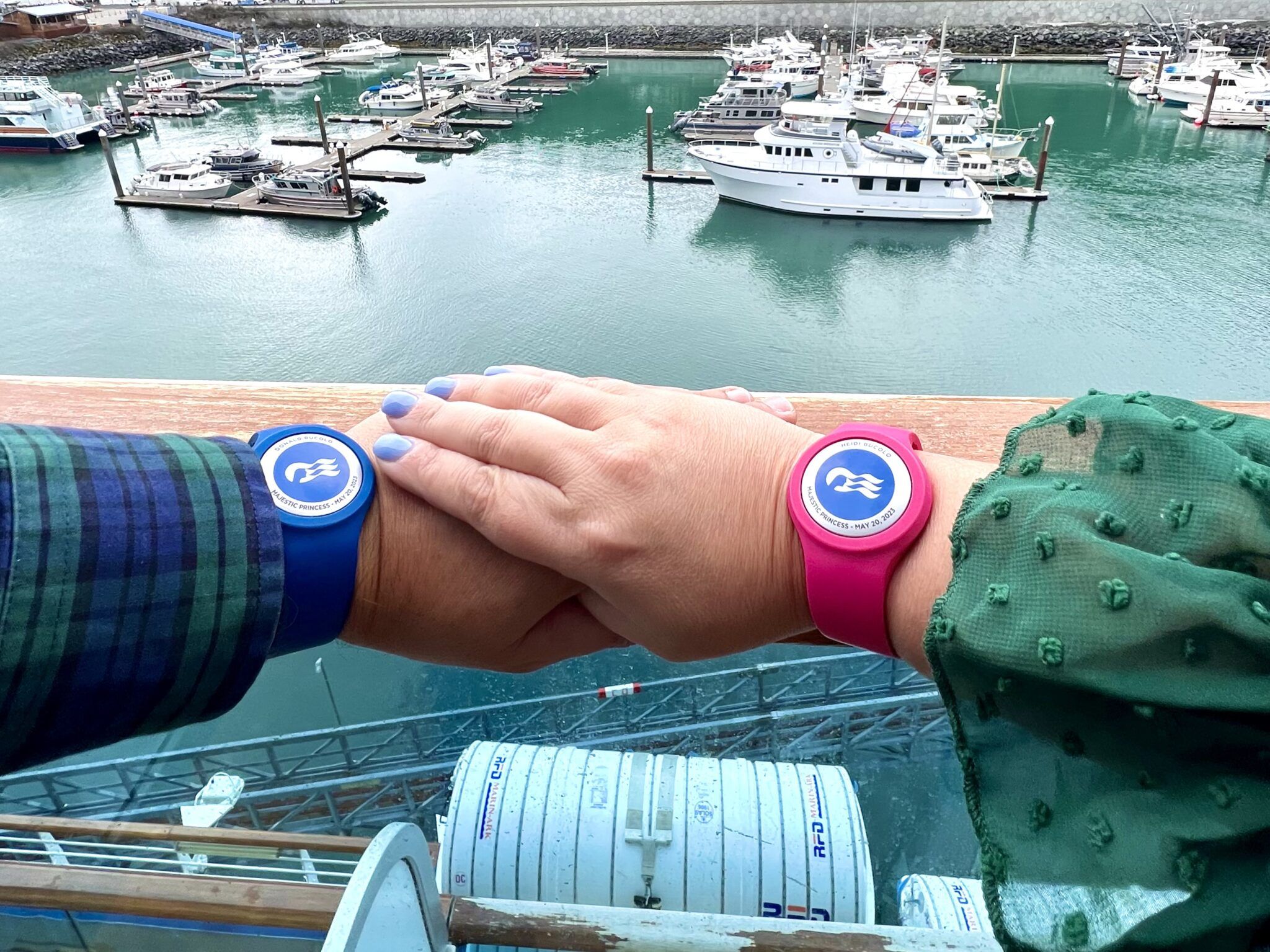 With a winning bid, we were assigned stateroom D717. This cabin is located pretty aft on the starboard side of Deck 9, the Dolphin deck. With the exception of the extra sitting area with a loveseat and small table, the room was identical to the one we previously had on Majestic Princess. However, the balcony is noticeably larger which was an added bonus for cruising in Alaska.
Dropping off our gear and taking videos and photos of the cabin, we headed off to get reacquainted with the rest of the ship. But first, we watched the mandatory safety briefing on the television and checked in at our assembly station.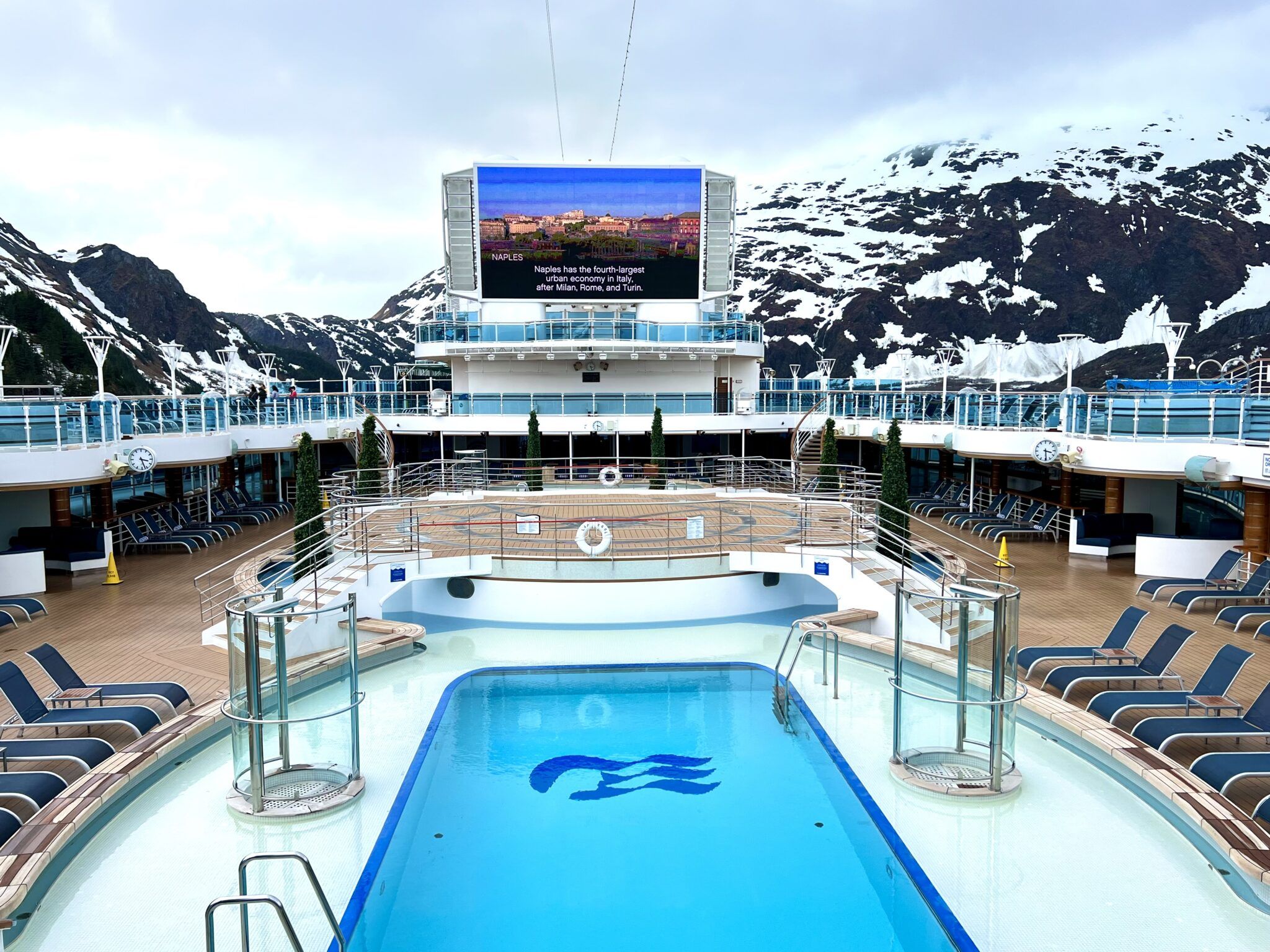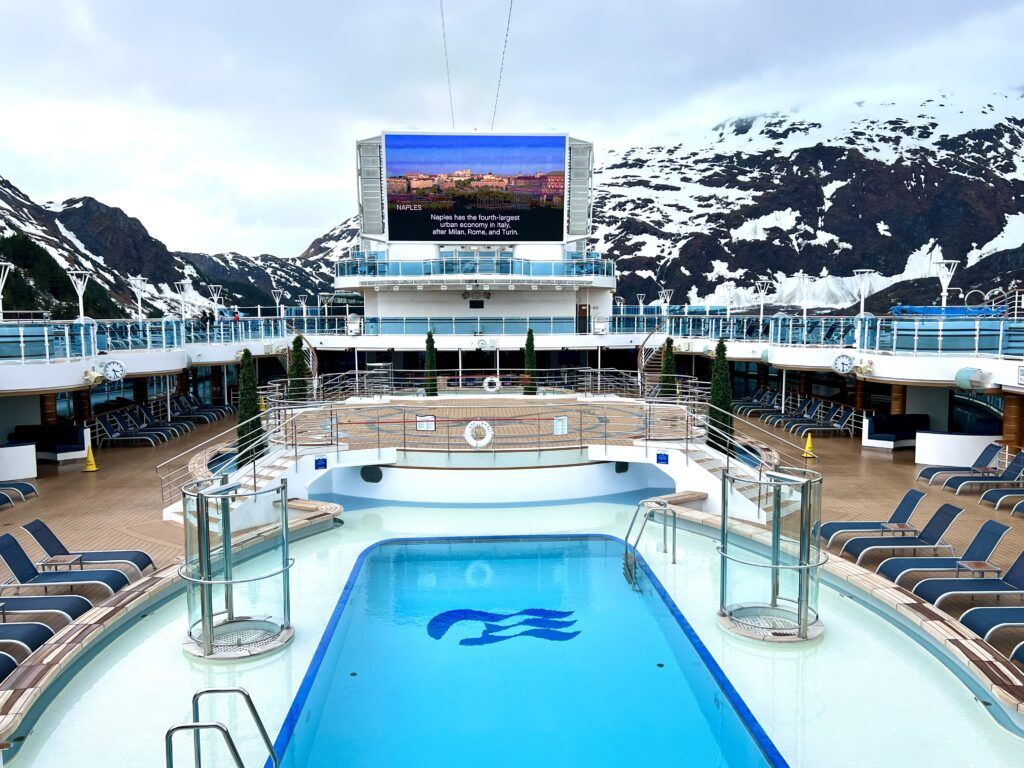 Since we had dinner at 6:20 PM tonight, but hadn't eaten anything all day, we grabbed a quick snack and some caffeine at the International Café during our explorations. We also made sure to check out the spa and get our sticker for the thermal suite.
Our First Evening on Majestic Princess
After admiring the views from the pool deck, we headed back to our cabin to unpack and settle in for the week prior to dinner. Our dinner tonight was at the Concerto main dining room.
With Dine My Way, guests can make reservations in the app for the same time the entire cruise or different times each night. Guests also have the option to dine at a shared table or a private table.
With the expanded Wild for Alaska Seafood menu, we were excited to test out the new options. Well, mostly Don since I don't eat seafood. Each evening, the menu features items designated as "Local Eats Alaska Flavors". Tonight, Don sampled the Bering Seafood Stew and the Alaskan Ale-Braised Short Ribs, and he really enjoyed the stew.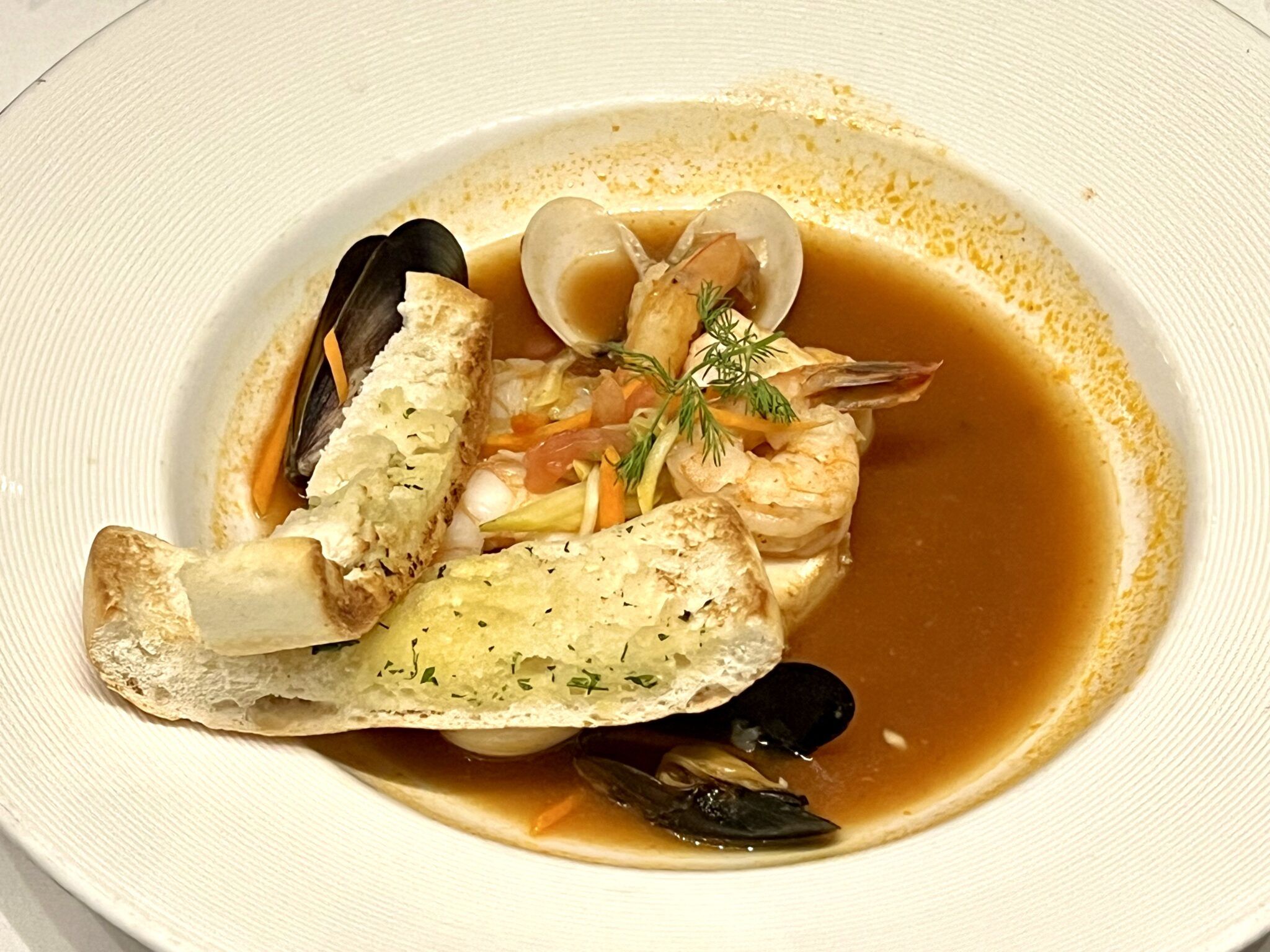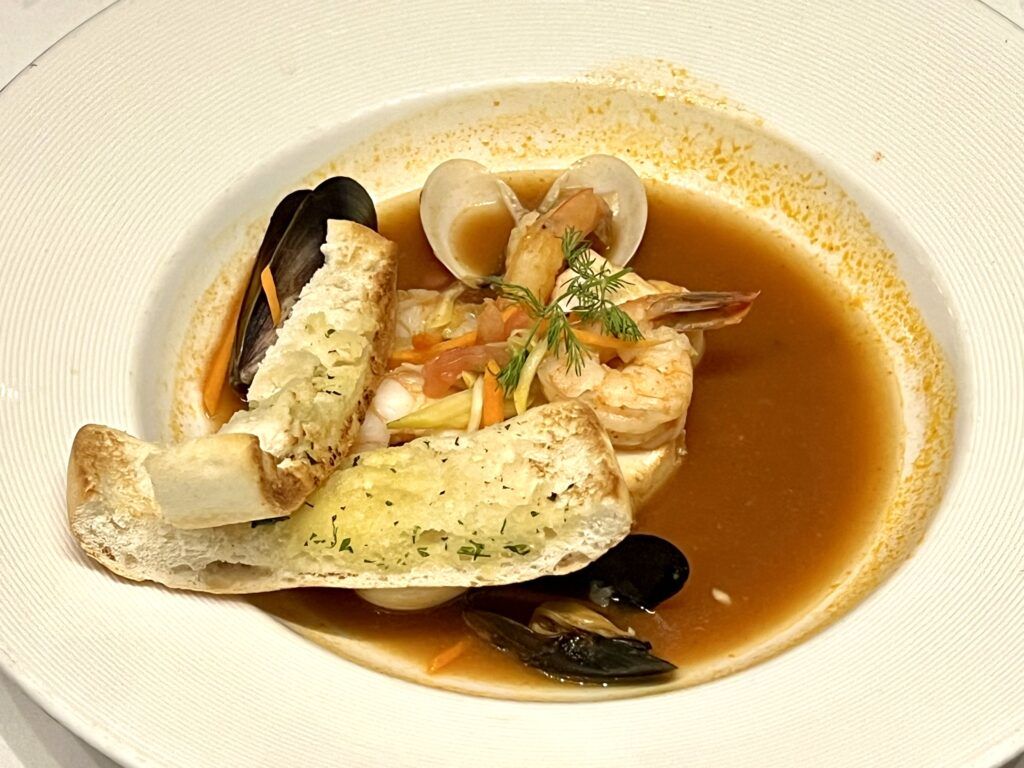 Dinner tonight took about 90 minutes which is on par with most of our MDR experiences across various cruise lines. Following dinner, we grab some seats and drinks at the Good Spirits Bar in time for the Sail Away party taking place in the piazza at 8:30 PM. Actually, our sail away had been delayed as one of the trains taking passengers to the ship was late arriving, but the party still occurred nonetheless.
We stuck around for about 30 minutes then headed to the theater for the first headliner act of the cruise, the comedian Tony Daro. This show started late as they were awaiting the Captain's announcement and emergency alarms. Unfortunately though, the comedian's show ended up being interrupted with such. Still, he provided a few laughs before we retired for the evening.
We still had not adjusted to the four hour time difference, and we wanted to make sure we were well rested for the remainder of the cruise. Tomorrow was our first glacier viewing opportunity.
Princess Voyage of the Glaciers Alaska Cruise Review – Day 2
A Morning of Enrichment
Day 2 of this Princess Voyage of the Glaciers Alaska Cruise Review was a scenic day of cruising. Today, we would be viewing Hubbard Glacier for the first time. We get asked all the time whether Hubbard Glacier or Glacier Bay is better, and now we could finally give an informed opinion.
Up around 6:30 AM, Don set off on his typical morning routine to secure photos and videos and returned to the cabin with our morning coffees. We then headed out to the World Fresh Marketplace for breakfast around 9 AM.
Unfortunately, this buffet was very busy and not well laid out causing much congestion. It took us quite some time as well to locate the omelet station. The food itself was rather underwhelming too, so we ended up avoiding the buffet for the remainder of the cruise.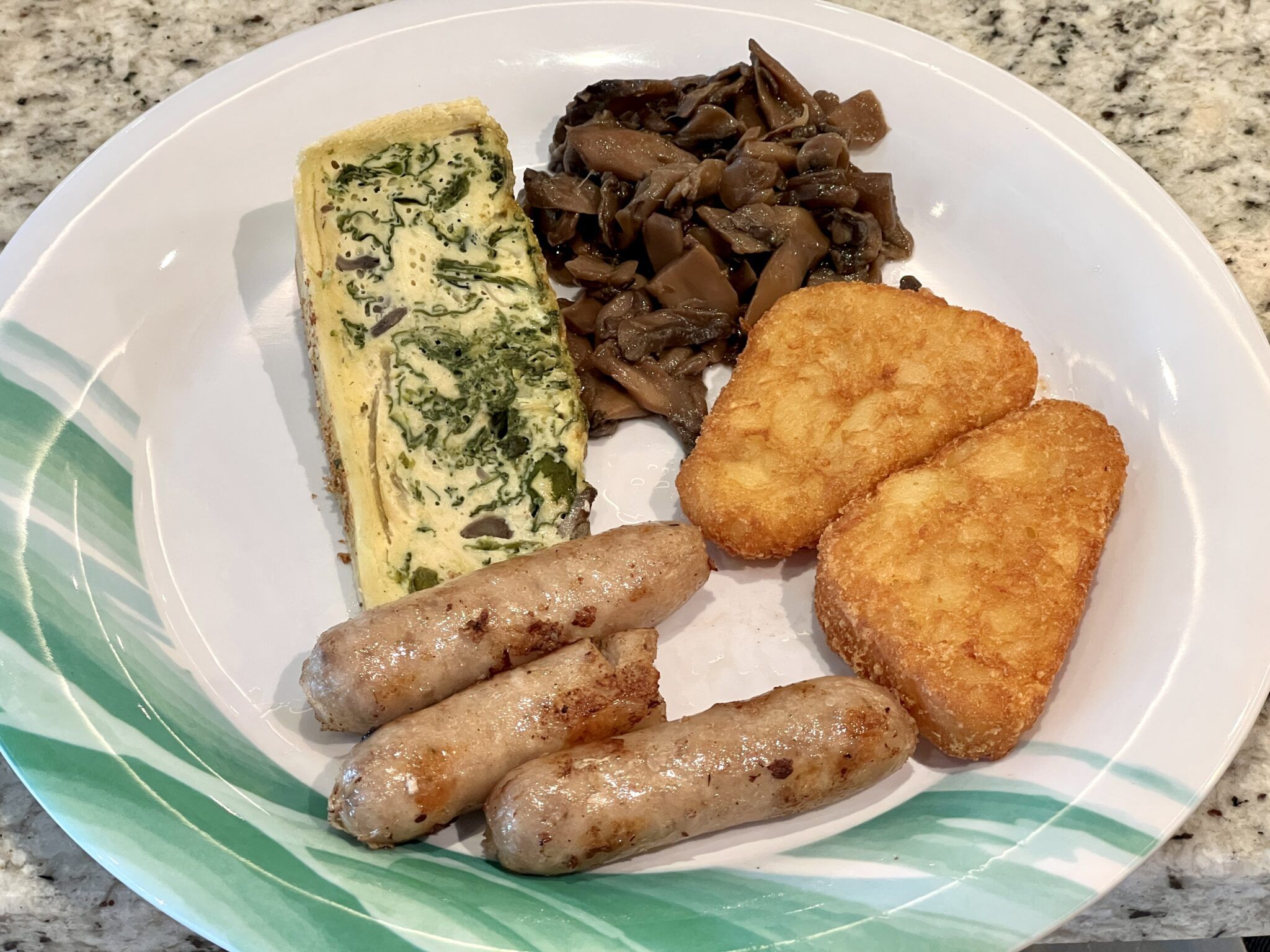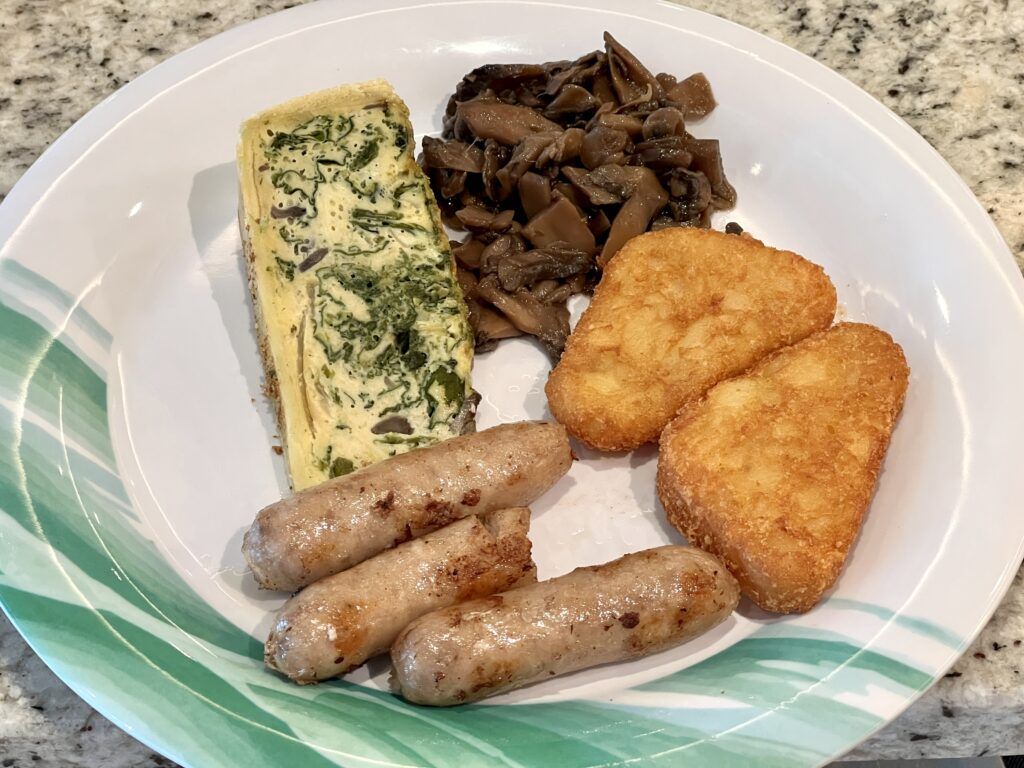 The sun was shining and the temperature was mild, so we strolled around outside for a bit collecting some menus and more photos before attending the first North to Alaska presentation at 11:15 AM. This Welcome to Alaska talk was with a Tlingit princess, Rachel Moreno. She provided some insight into the history, culture, and language of her tribe.
With another enrichment talk on whales occurring at 1:15 PM, we decided to grab some lunch at Alfredo's in between. We loved this venue during our two previous Princess cruises, and this time did not disappoint either.
We somehow managed to beat the crowds and only waited 10 minutes for a table. The pizza was just as good as we remembered it!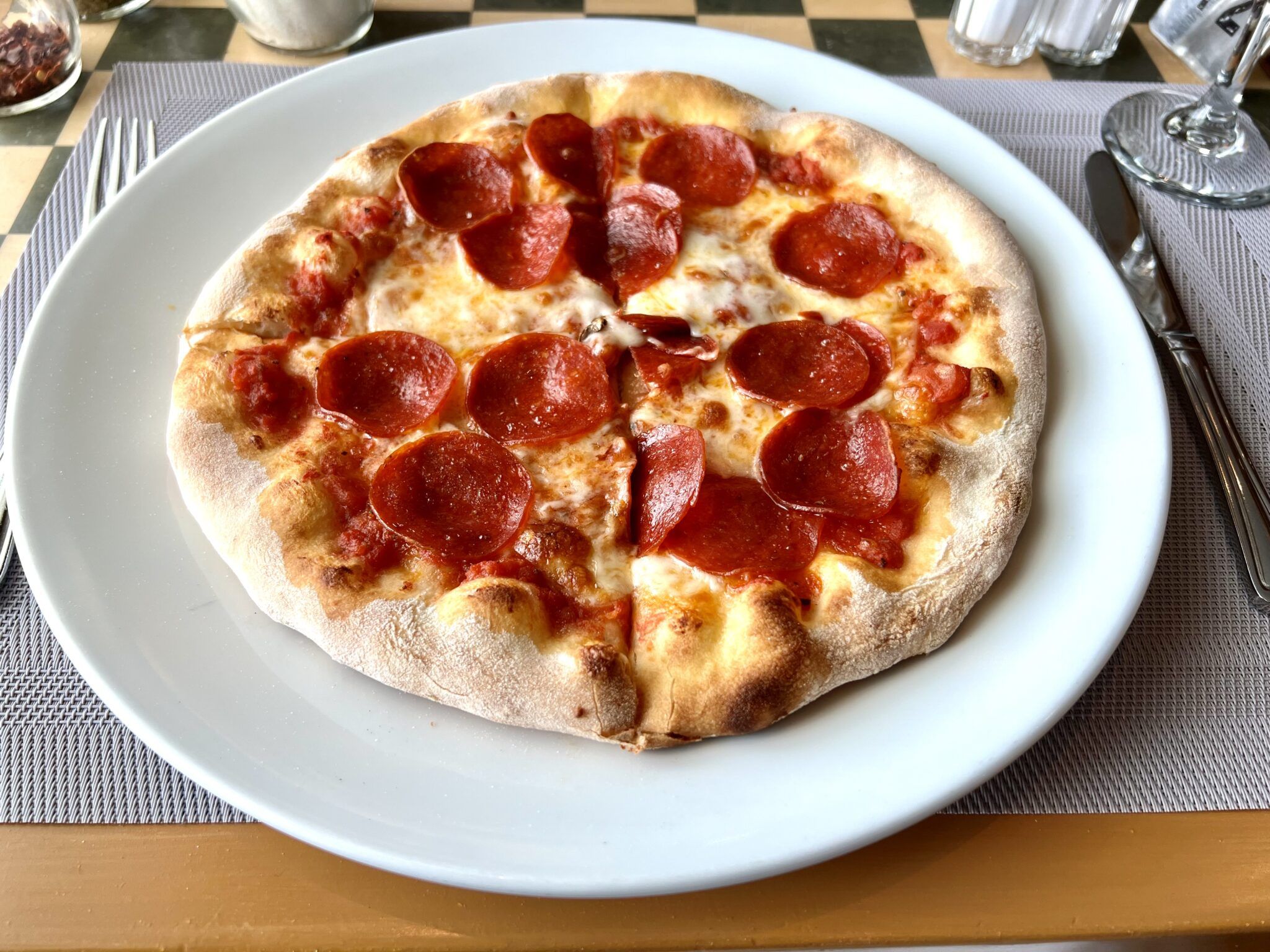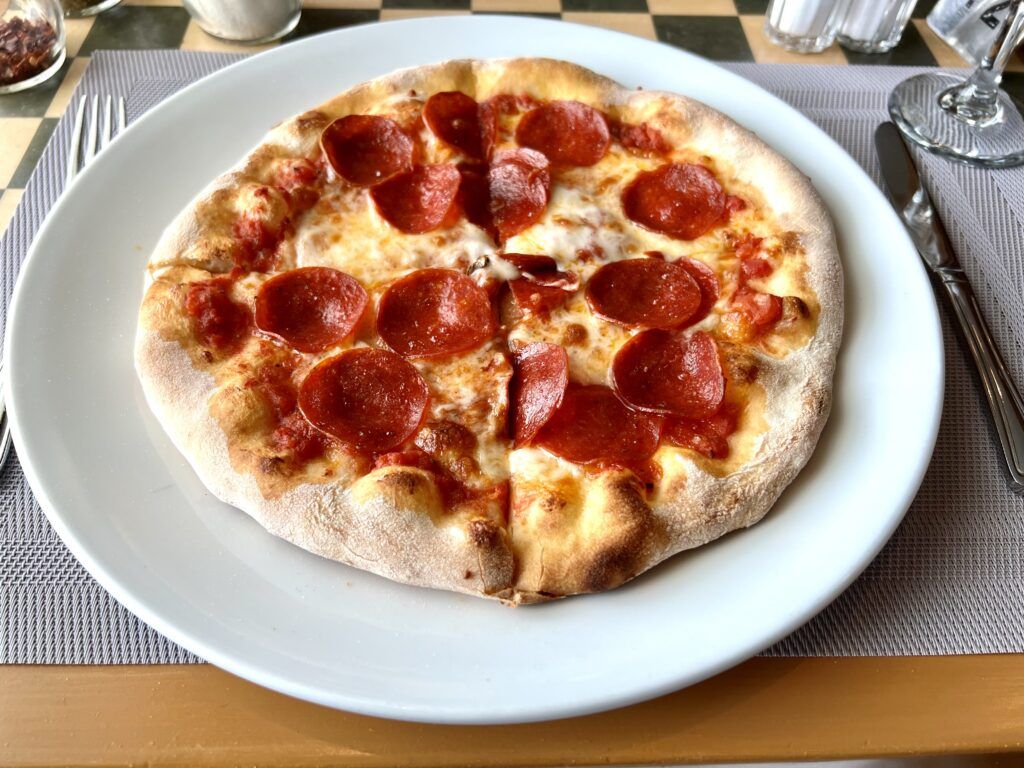 Following lunch, it was back to the theater for a presentation by the naturalist, Mark Harris. While he was informative, he wasn't the best naturalist that we've had on our Alaska cruises.
Our First Visit to Hubbard Glacier
Ending right around 2 PM, this gave us enough time to grab some afternoon caffeine and get prepared for our first glacier viewing of the cruise.
While it was sunny this morning, this is Alaska. The weather changed rather quickly and alternated between rain and clouds the rest of the afternoon. We started off outside on deck 17 but ended up back on our balcony when it started raining heavier. This is certainly a perk of having a balcony in Alaska.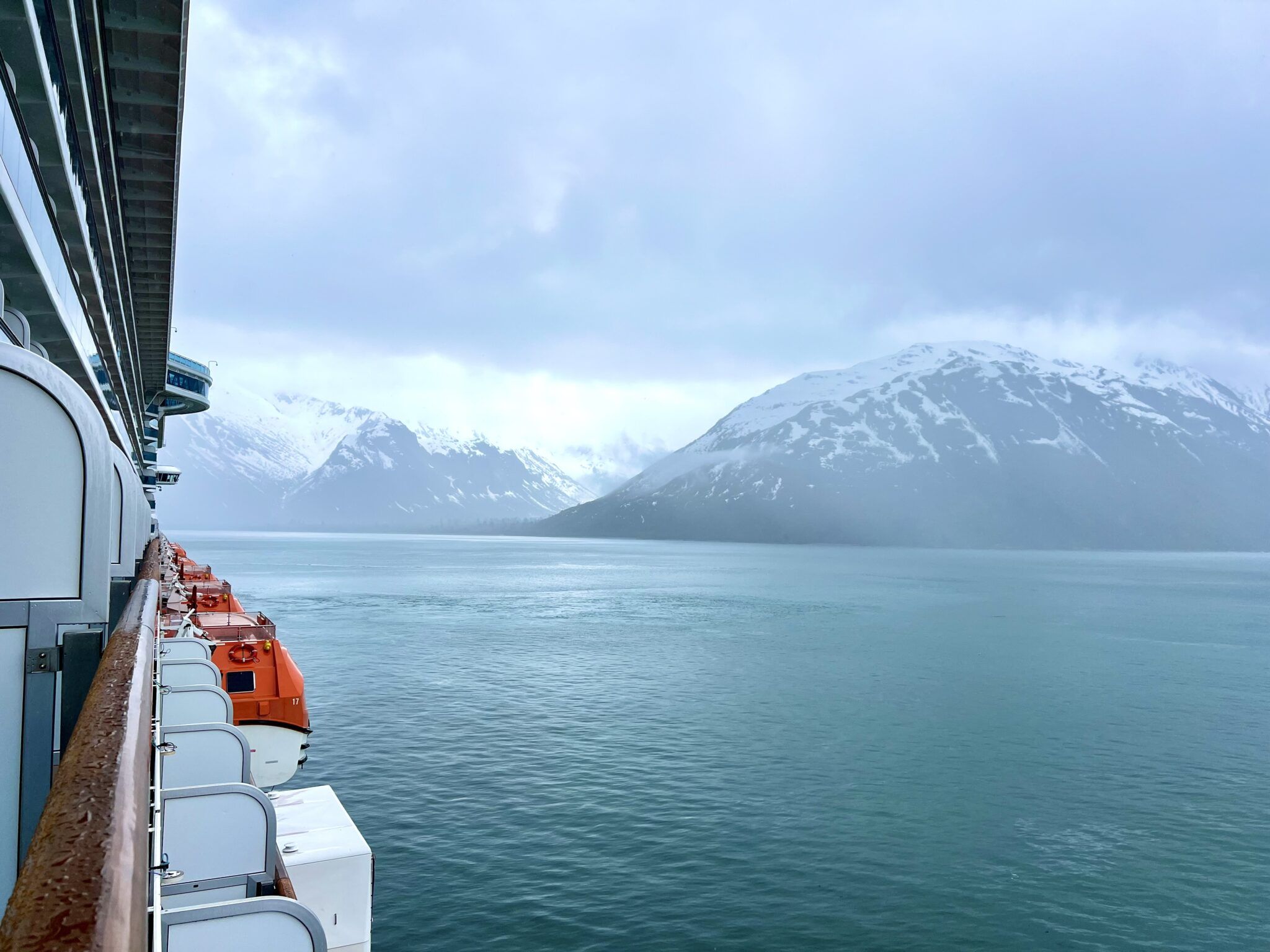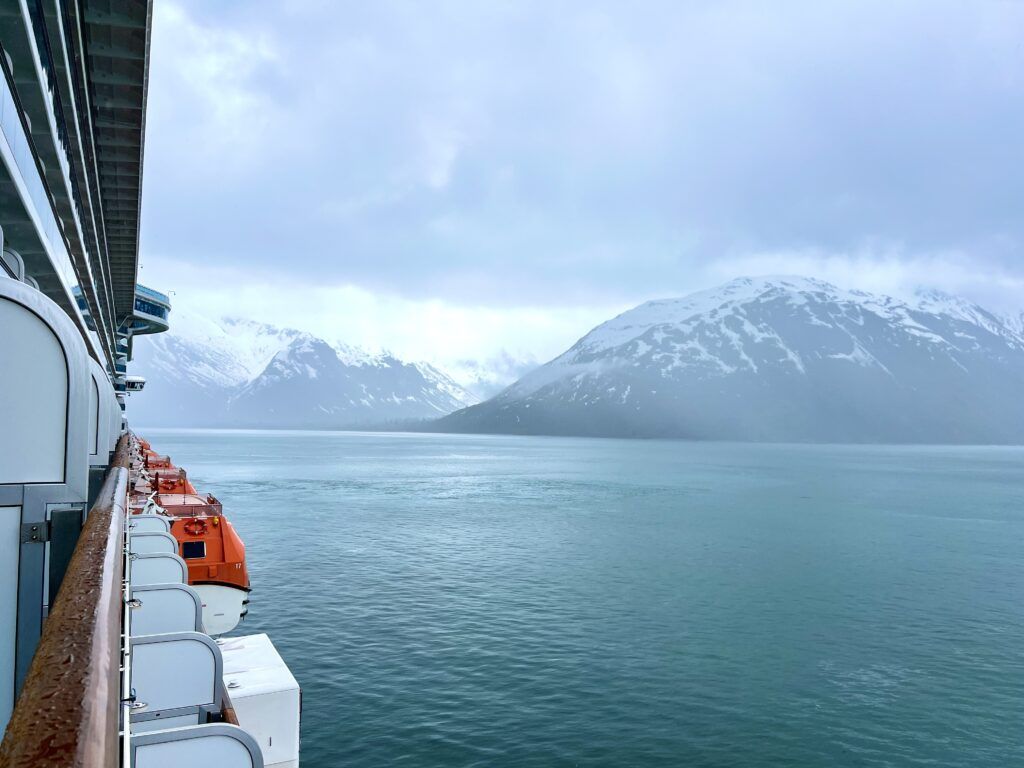 Given the weather conditions, we did not get as good of a view as we hoped. Still, we did get to see the Hubbard Glacier through the rain and fog from several vantage points on the ship. This pretty much comprised the rest of our afternoon until dinner time.
Formal Night in Alaska
Tonight was the first formal night of the cruise, and it was back to the main dining room for dinner this evening. With a 7 PM reservation in Symphony, we tested out more of the new menu items. While we remember not liking the MDR during our previous sailing on Majestic Princess, this time our opinions were more favorable.
Don sampled the Alaskan Crab Cake, the Halibut with prosciutto, and the beef tenderloin. He enjoyed the crab cake and the beef tenderloin. Since there wasn't much on the menu that I liked, I went with one of the Princess Favorites, fettucine alfredo. While Royal Caribbean has removed "classics" from its MDR menus, Princess does still feature a set of classic dishes each evening.
While there were other passengers dressed for formal night, the vibe on Alaska cruises is more casual. So, this meant that there were fewer guests dressed up than you might find in the Caribbean.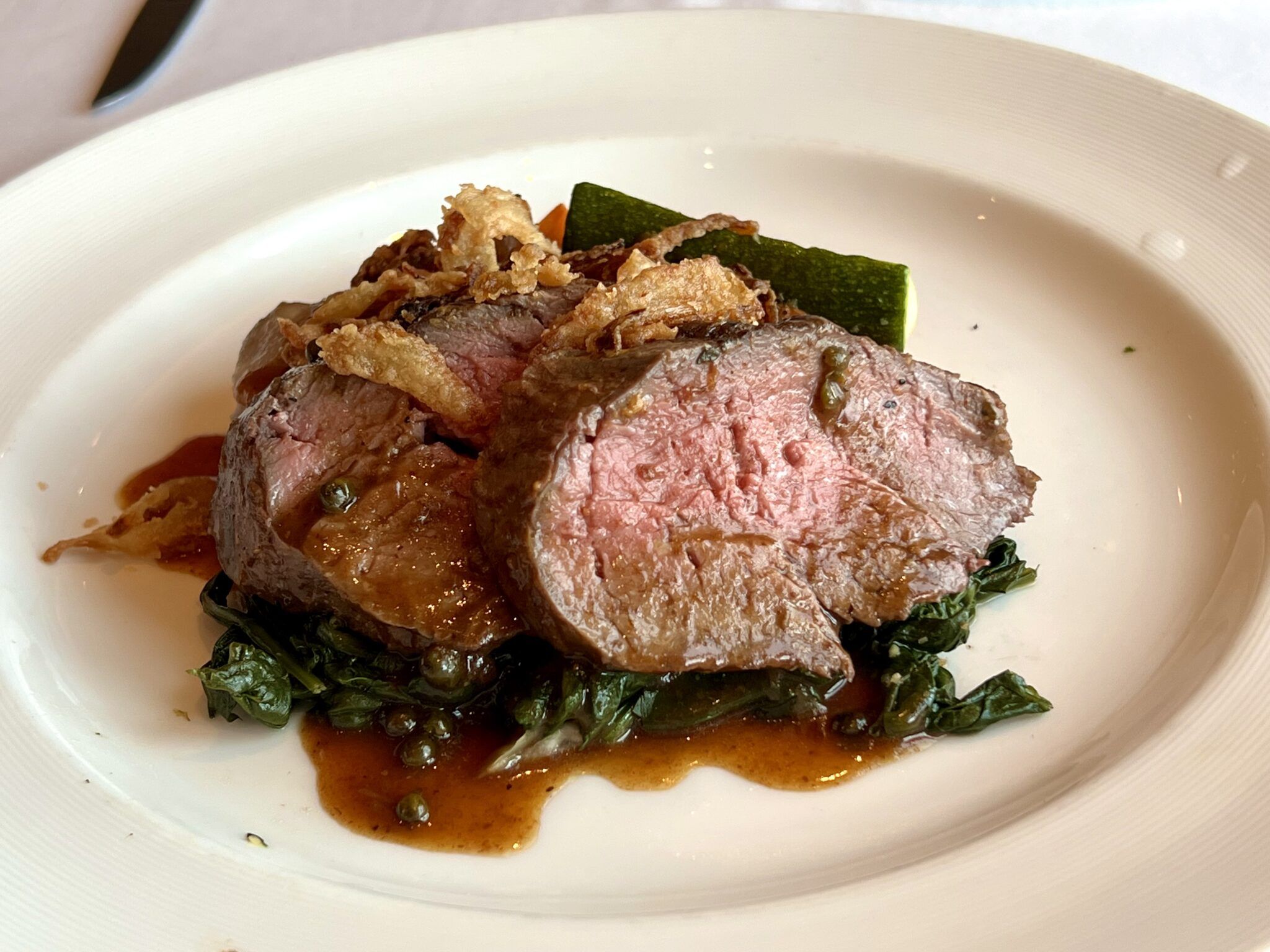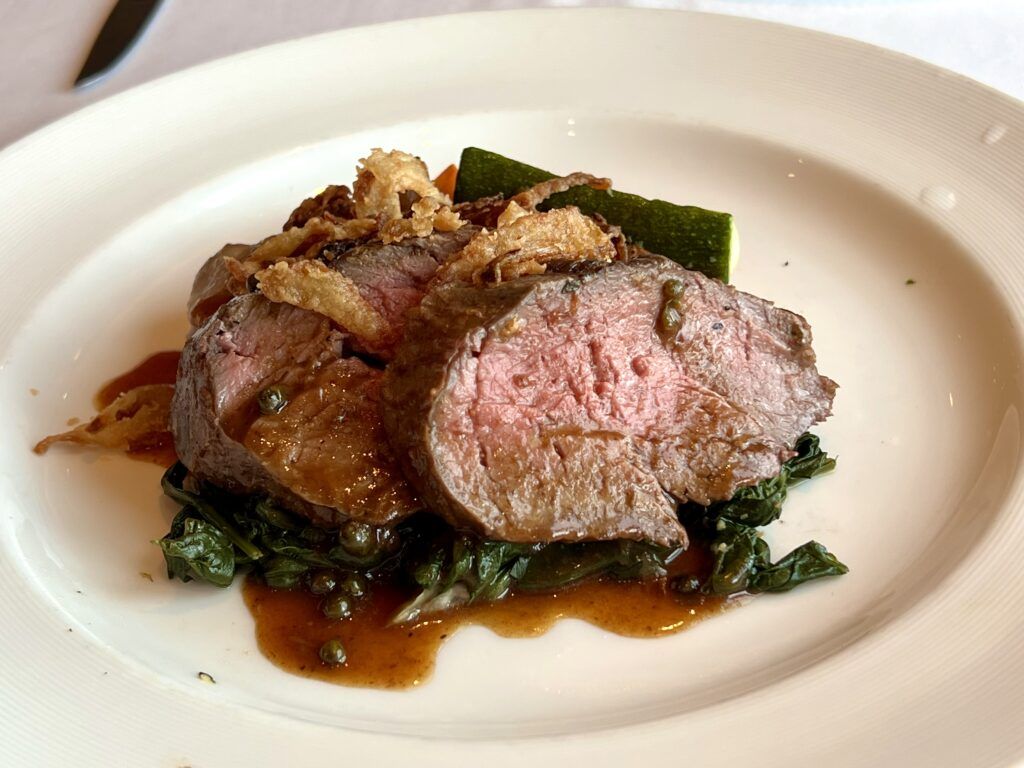 Out of dinner in about 90 minutes again tonight, we jetted over to Princess Live for the 8:30 PM game show, Yes or No. We enjoy this venue and the nightly game shows that occur here. Although, we have to admit that DuVaul from our previous Princess cruise was a funnier host than our current cruise director Kevin. It seemed at times that he and the other activities staff were rushing though the events.
From Princess Live, it was back to the theater for the first production show of the cruise, Encore. When weighing the pros and cons of Princess Cruises in Alaska, there are several pros but entertainment is not one of them. These shows are your typical cruise ship revue shows and don't hold up to the elaborate productions found on newer Royal Caribbean or NCL ships.
Following the show, we closed out the night in the Vista Lounge with the 10:30 PM comedy show and a round of drinks.
Princess Voyage of the Glaciers Alaska Cruise Review – Day 3
Back to Glacier Bay National Park
Day 3 of this Princess Voyage of the Glaciers Alaska Cruise Review was our second "sea day" in a row. Today, we would be visiting Glacier Bay National Park. We visited Glacier Bay for the first time in 2021 and highly recommend you book an itinerary that visits here too.
The weather during our last trip into this National Park was fantastic, and it's almost like today was trying to one-up that experience. Unlike the weather yesterday in Yakutat Bay, it remained sunny and mild all day today.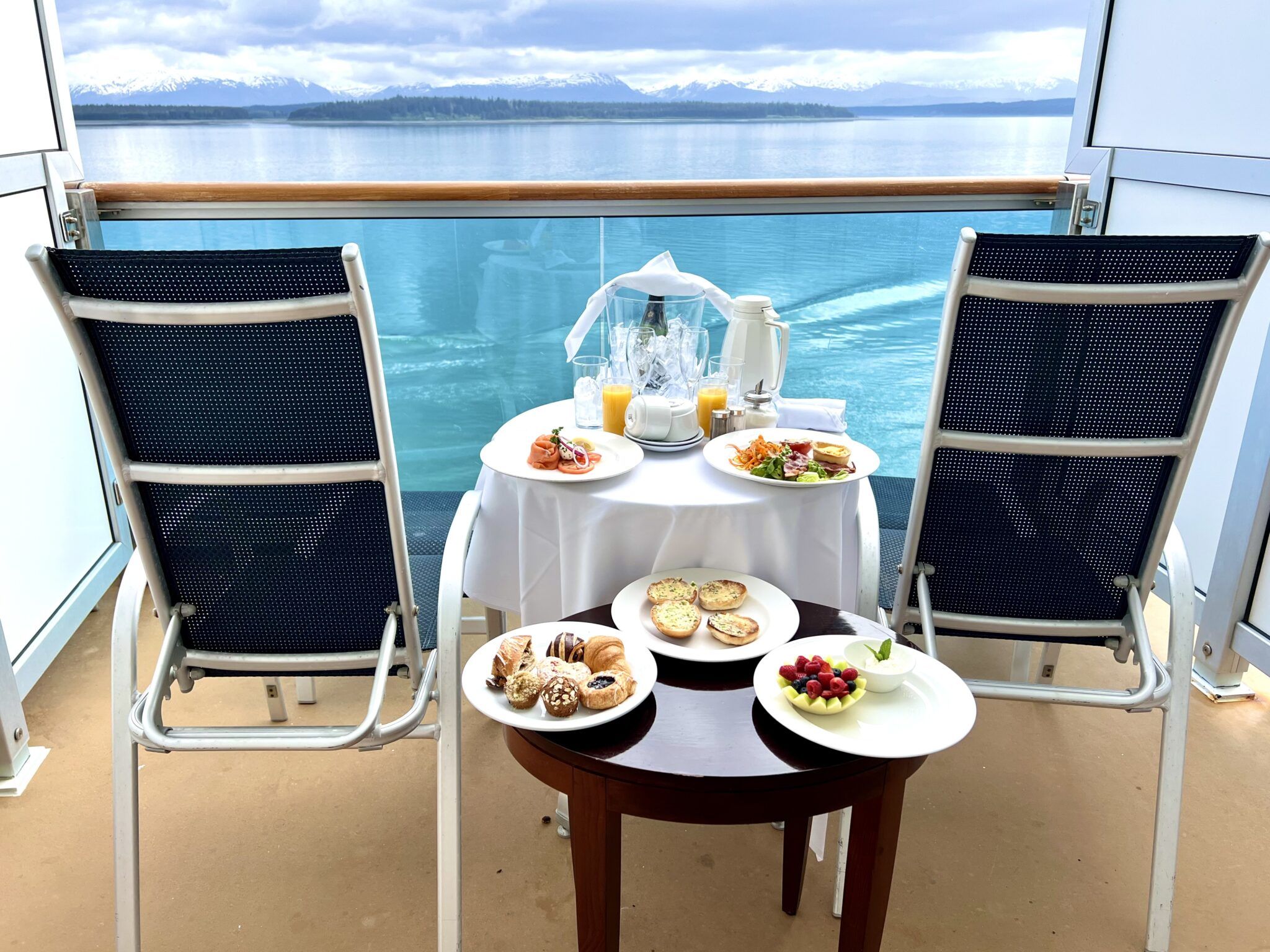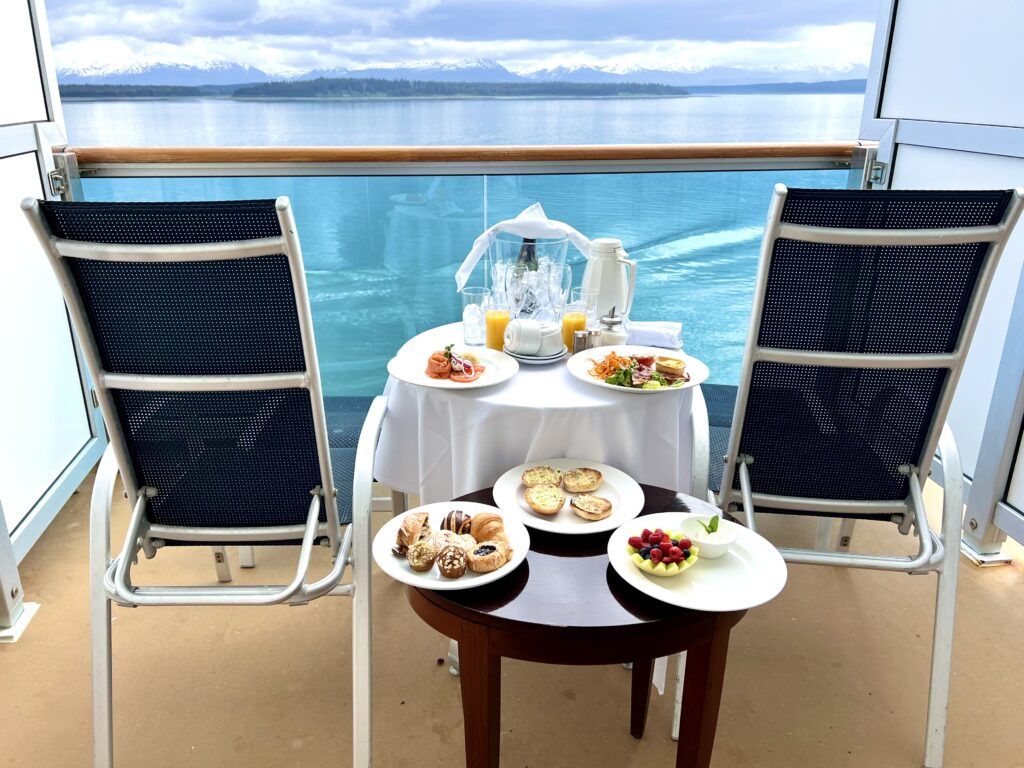 We would not be arriving at the Margerie Glacier until around 1:30 PM, so we had the morning to ourselves. Up around 7 AM, we got ready for the day while listening to some commentary from the naturalist on the bridge channel.
Also, Princess had arranged for us to have a balcony breakfast this morning, and it turned out to be the perfect day for it!
Scheduling our breakfast for 9 AM, we enjoyed the food and the views, along with some mimosas. We did head out shortly after though to attend the Ranger presentation occurring in the theater at 10 AM. Attending these presentations is definitely one of our expert Alaska cruise tips! Even if you have cruised this region before, each ranger provides a different personal narrative.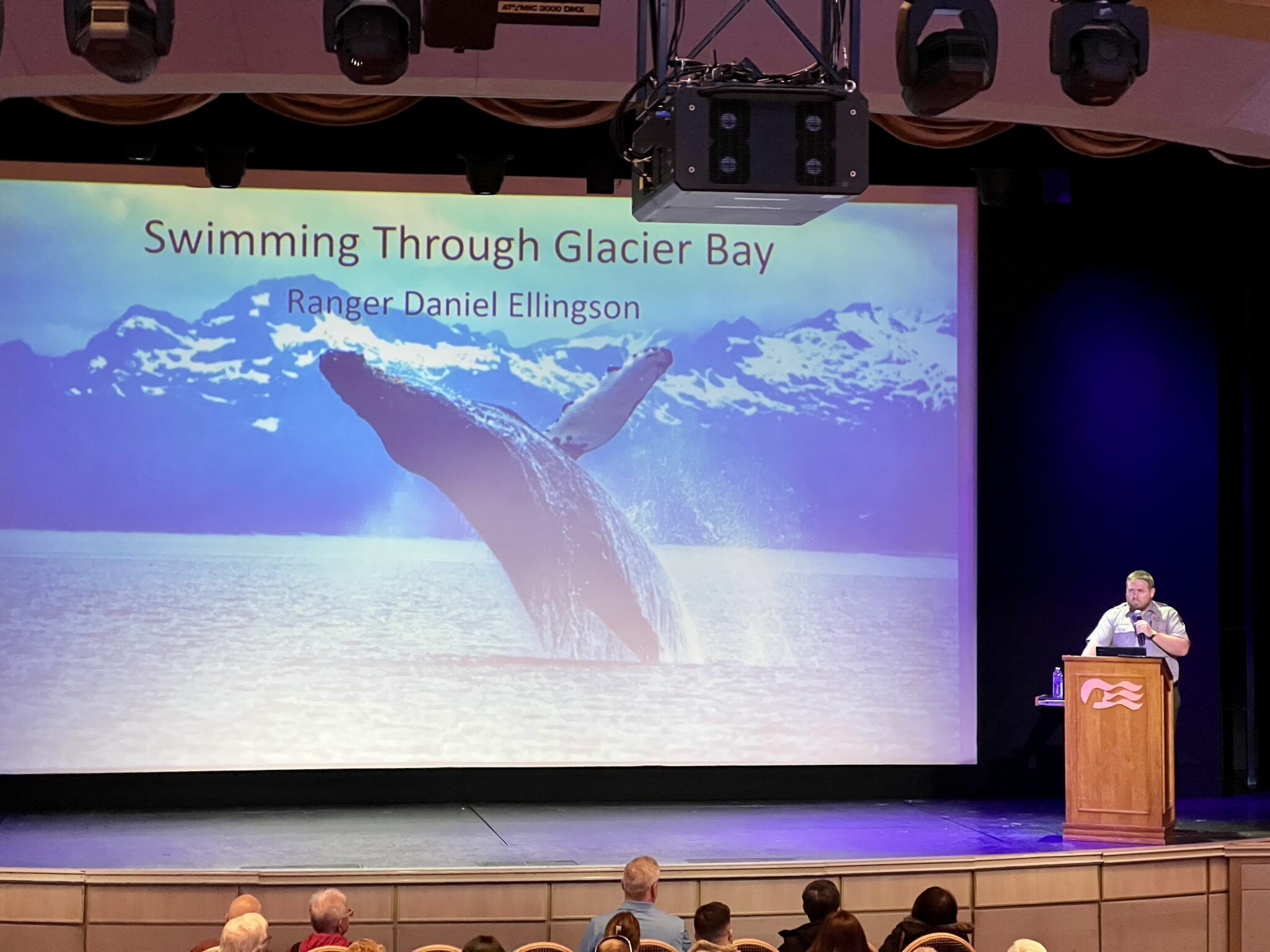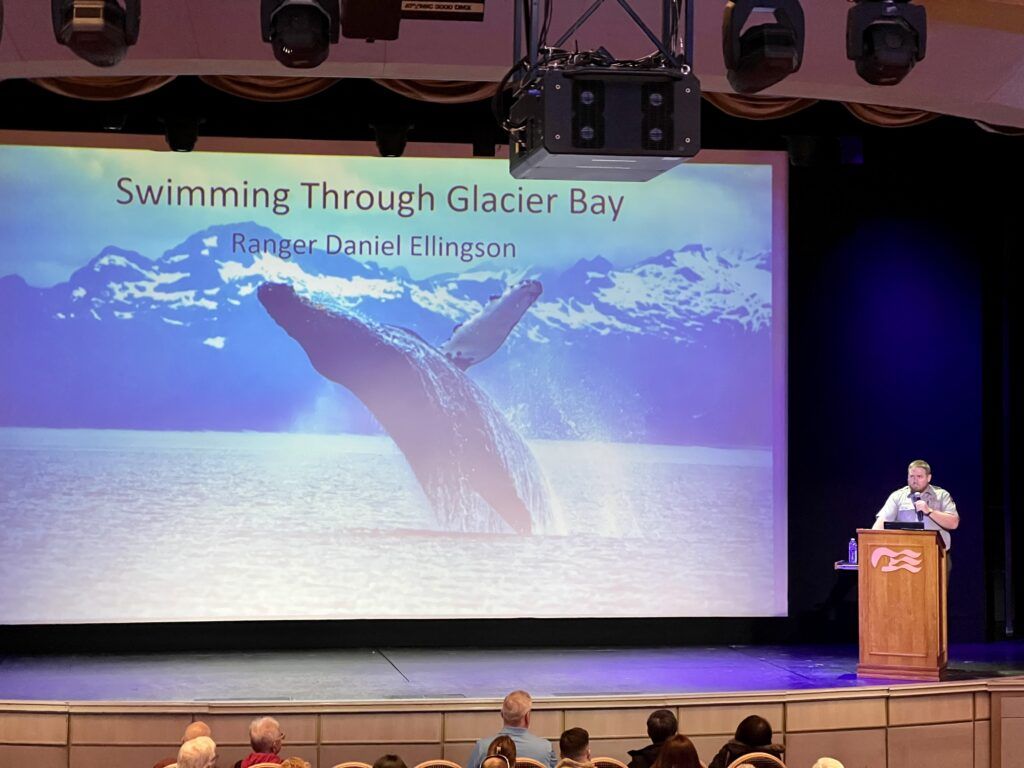 The rangers also set up an informal information desk in the Hollywood Conservatory for the day and provide bridge commentary intermittently during the scenic cruising in the area. Thus, we made sure to stop in for a bit.
A Beautiful Day to See Some Glaciers
Given the weather was so nice, we spent most of the day outside on the upper decks. Not that we like them, but there was even a Bloody Mary Bar. Taking plenty of photos, and maybe enjoying an Alaska beer, we got our first glimpse of Margerie Glacier right as predicted around 1:30 PM on the portside of the ship.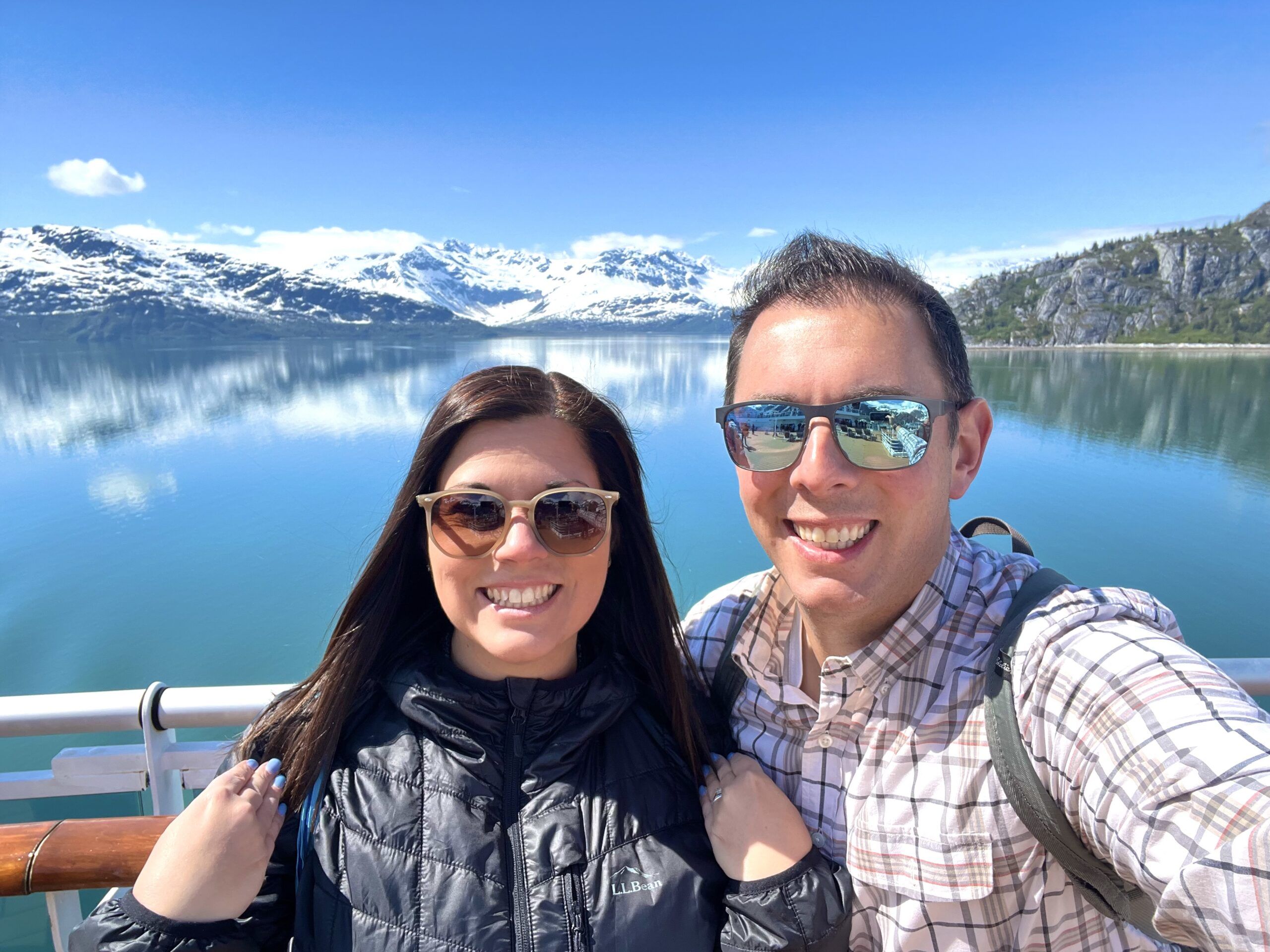 The ship stays here for about an hour and does a complete 360′ turn, so you will have the same view from both sides. Around 2 PM when the ship starting repositioning, we headed downstairs to our starboard side cabin for some additional viewing.
While the Margerie Glacier is the most picturesque, we also saw the Grand Pacific Glacier, John Hopkins Glacier, Lamplugh Glacier, and Reid Glacier. During this time of year, cruise ships can not head down to John Hopkins Glacier due to the harbor seals, but we could see it clearly from Jaw Point even though it was 6 miles away.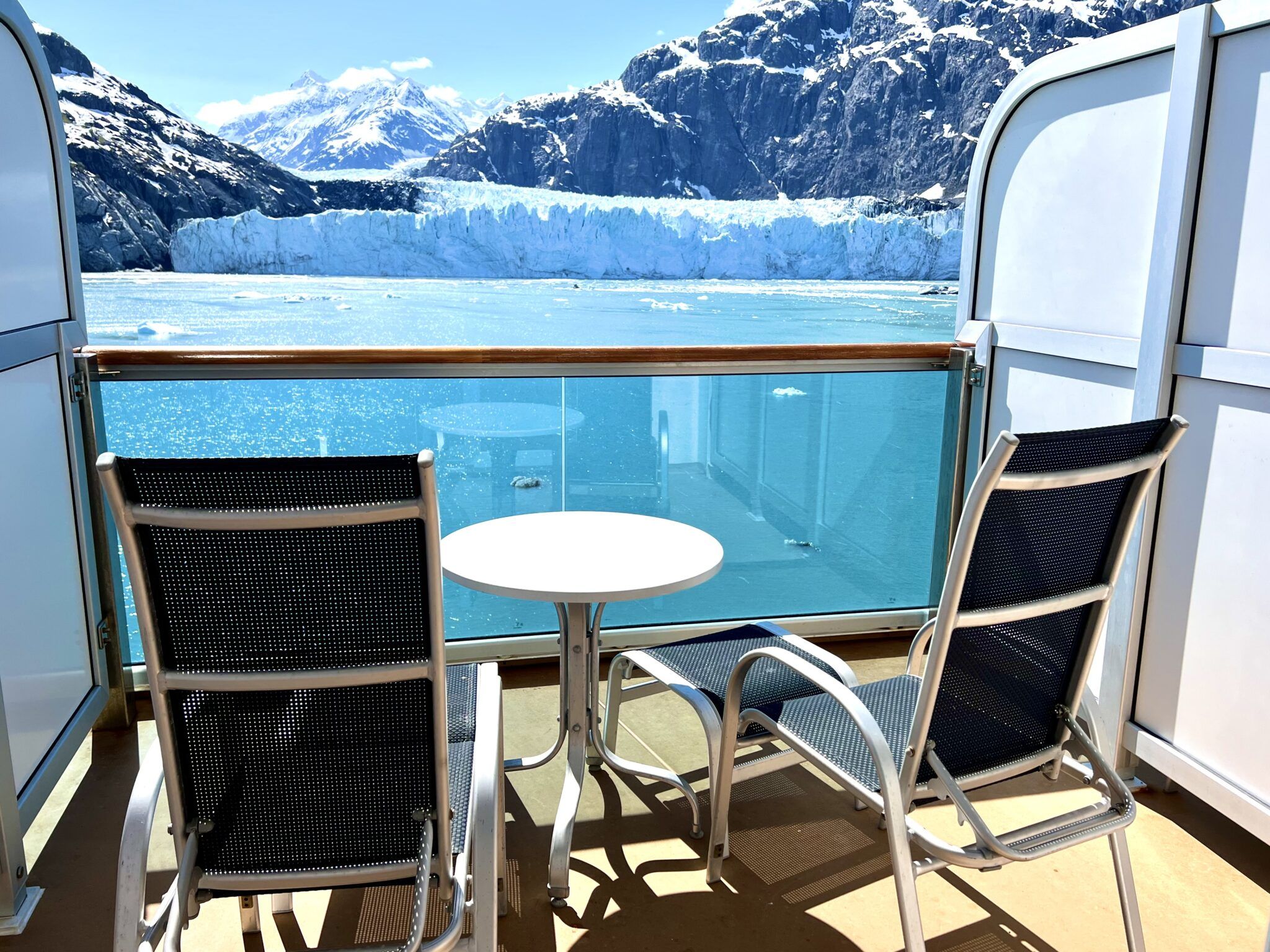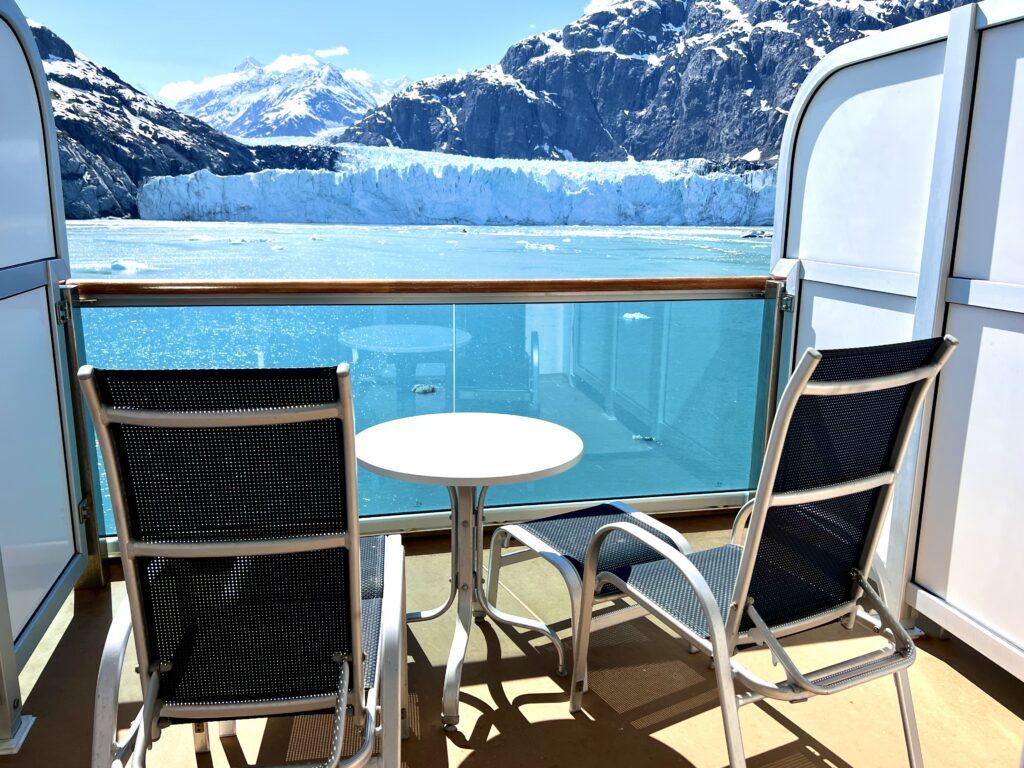 Testing Out a Brand New Princess Restaurant
After a full day of glacier viewing, we relaxed and did some work until it was time for dinner. Tonight, we were testing out a brand new specialty restaurant on Princess Cruises. The Catch by Rudi is the cruise line's first seafood restaurant. It has replaced the former Bistro Sur La Mer on Majestic Princess. It is also being added to Enchanted, Sky, and Discovery Princess.
At just $39 per person, this specialty restaurant is leaps and bounds better than the former Bistro Sur La Mer. While the décor of the venue hasn't changed much, the menu options were all fresh and flavorful. If you have cruised on Holland America before, this new restaurant felt very reminiscent of Rudi's Sel De Mer with many similar dishes.
All guests are greeted with a complimentary glass of sparkling wine and a goat cheese and pesto spread served with a French baguette. Despite being a seafood restaurant, there are options for non-seafood lovers like myself. We sampled many dishes from the menu this evening including the marinated lobster tail (Tale of Citrus), cheese plate, and calamari as starters.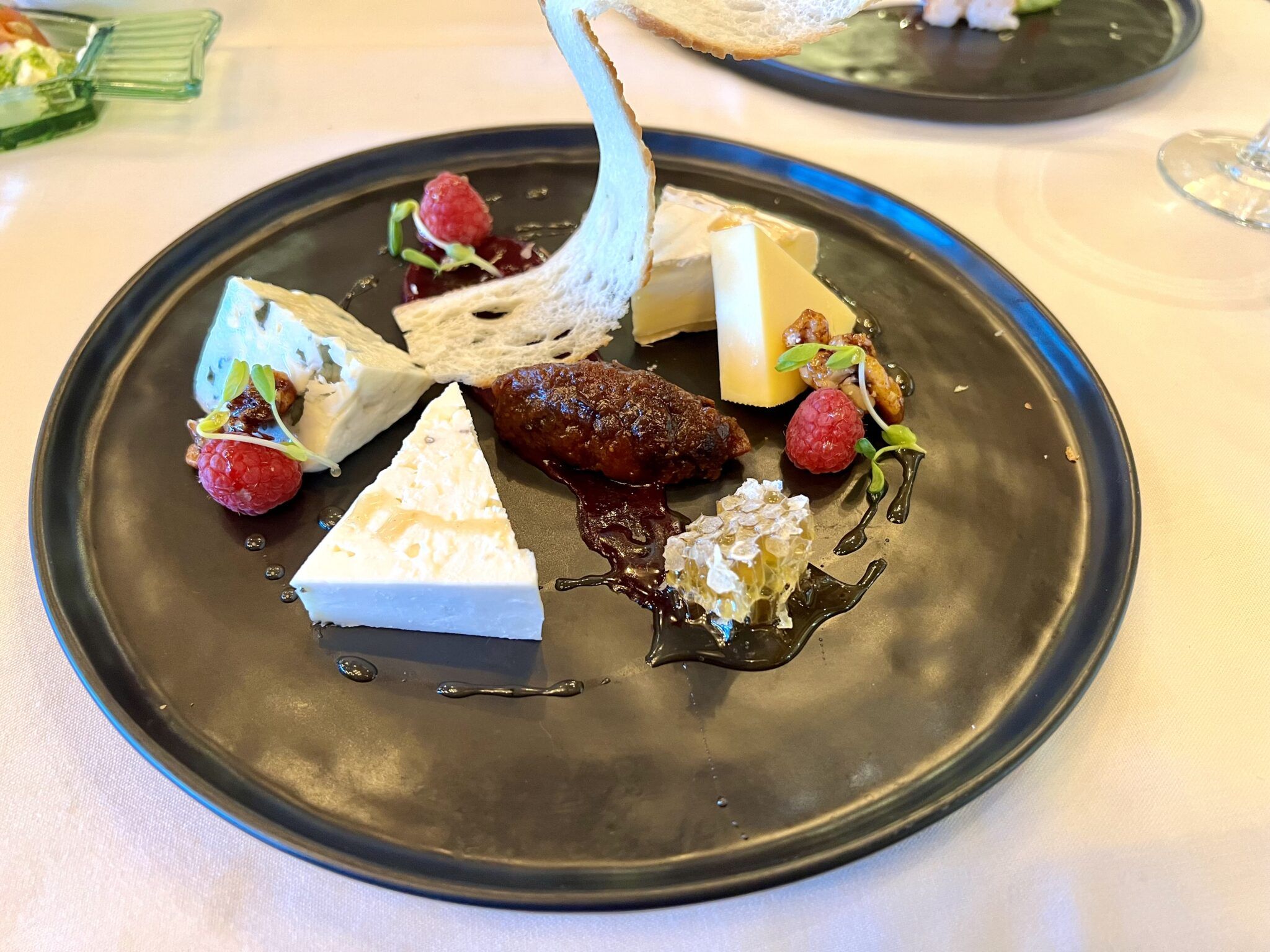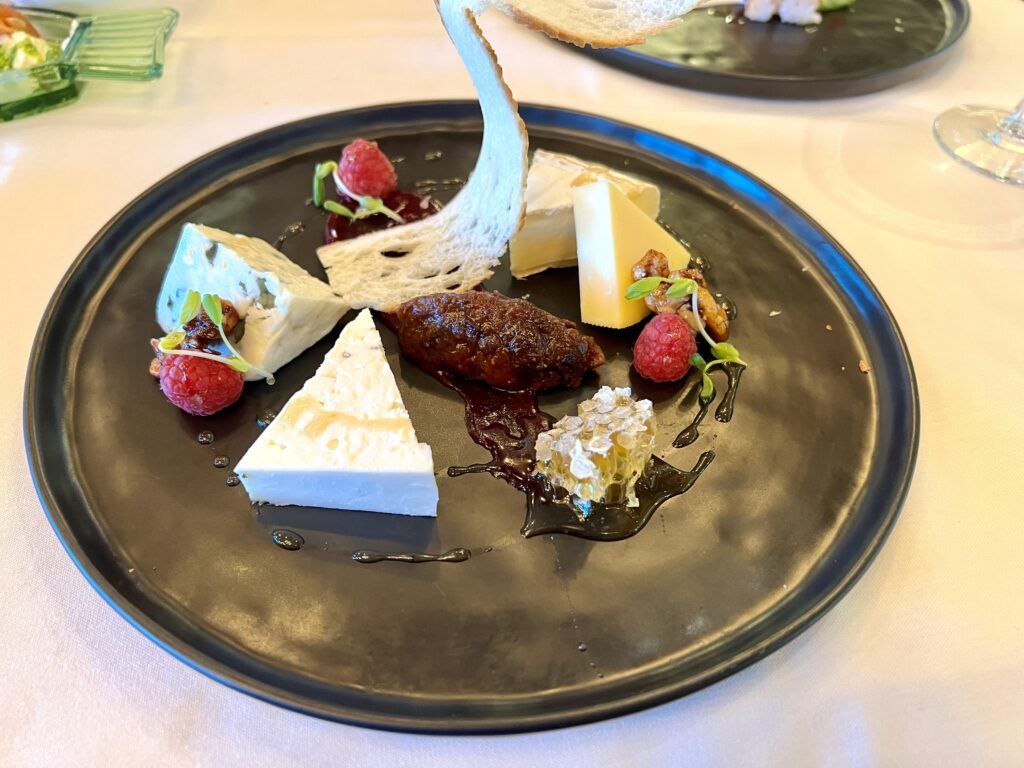 For entrees, Don ordered the Sea & Shore, while I tried the Spaghetti alle Vongole. Don was also eyeing the Concerto which is a pasta dish with seafood, but it contained scallops to which he is allergic. We finished off the meal with a Salzburger Nockerl and profiteroles.
All the items were delicious, but the entire experience did take well over two hours. This meant that we missed the Princess Live show tonight. Instead, we grabbed a quick drink at Vines and caught the end of the "Night at the Klondike" taking place in the piazza before heading to the theater for tonight's headliner act, Reggie Rice. Reggie is a comedian magician with lots of energy.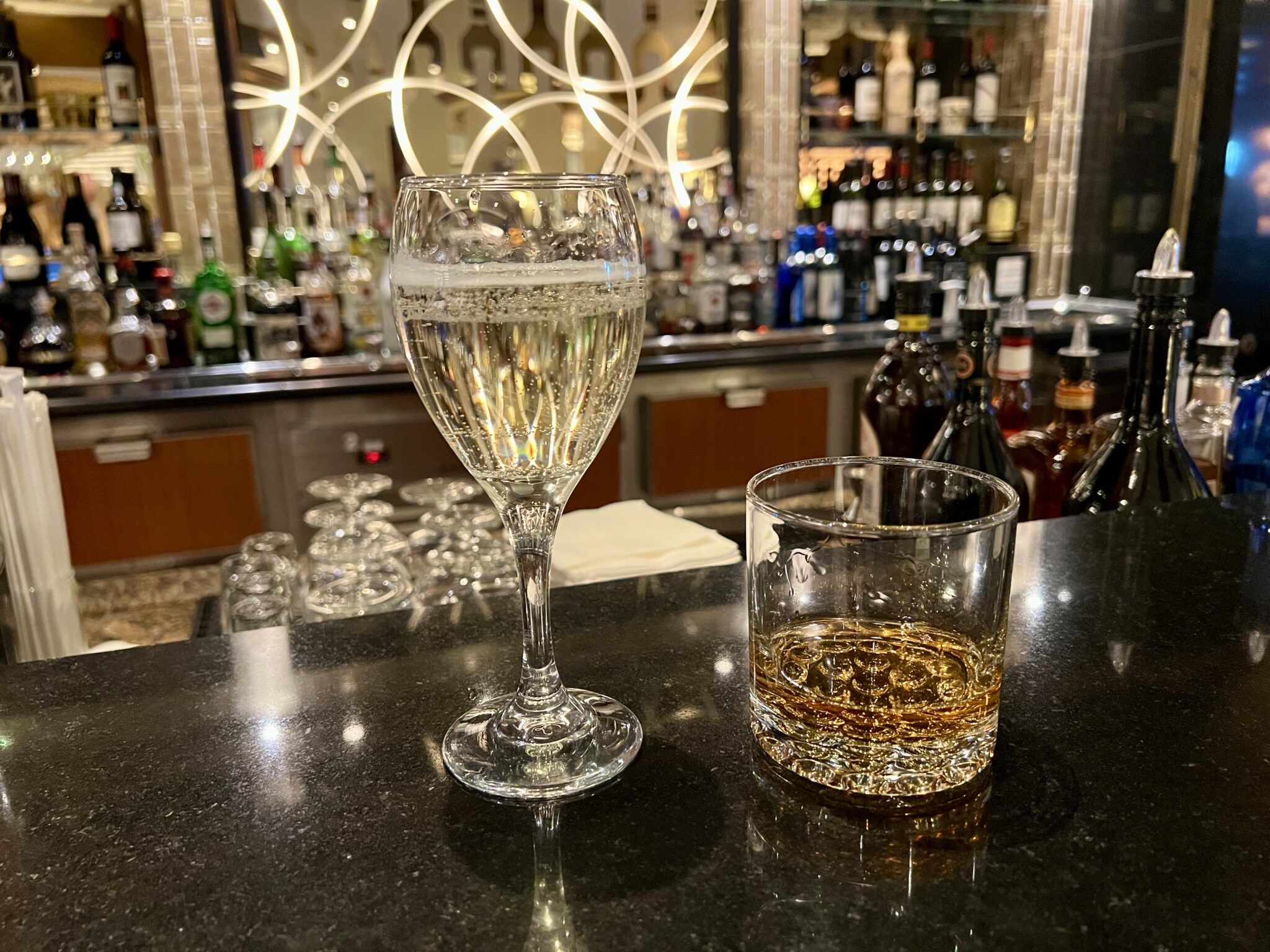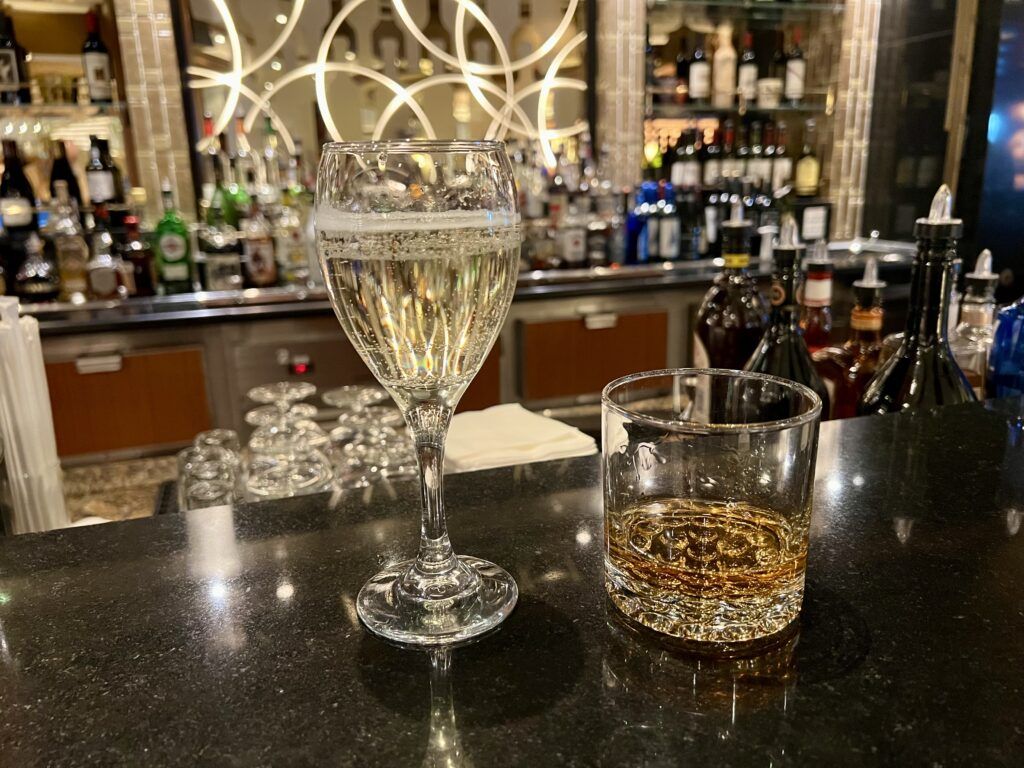 With not much else happening onboard the ship besides live music, we decided to call it a night after the show. Tomorrow was our first official port of call in Icy Strait Point.
SCORE BIG ON PRINCESS CRUISES TO ALASKA!
Princess Voyage of the Glaciers Alaska Cruise Review – Day 4
Welcome to Icy Strait Point
Day 4 of this Princess Voyage of the Glaciers Alaska Cruise Review had us calling in Icy Strait Point for a full day. While our shore excursion meeting time was not until 1:10 PM, port congestion complicated things a bit.
Arriving at 7 AM (actually we were docked here overnight), guests could go ashore until 11:30 AM. At this time, operations would pause until 1:30 PM so the ship could move into an anchored position. Unfortunately, Majestic Princess had to give up its docking spot to Celebrity Eclipse when the ship arrived. This meant that from 1:30 PM on, guests needed to take a tender to and from the ship.
Since Don was working remotely this week, we were up at 5:45 AM for him to attend some meetings on EST. We made sure to be ready to head ashore just before operations halted at 11:30 AM. Docking near Wilderness Landing, we took the free gondola (the green transporter) over to the main area near the cannery.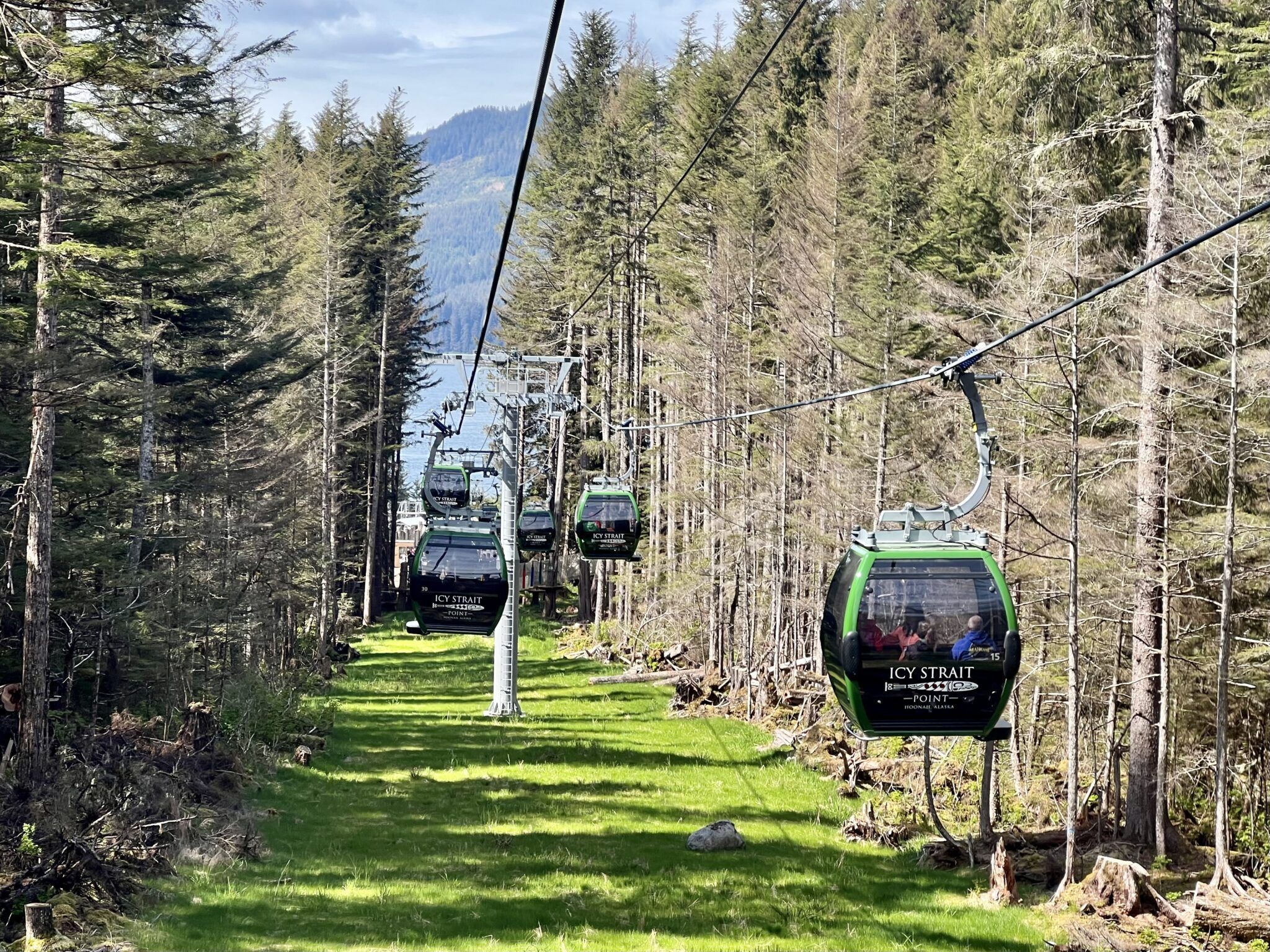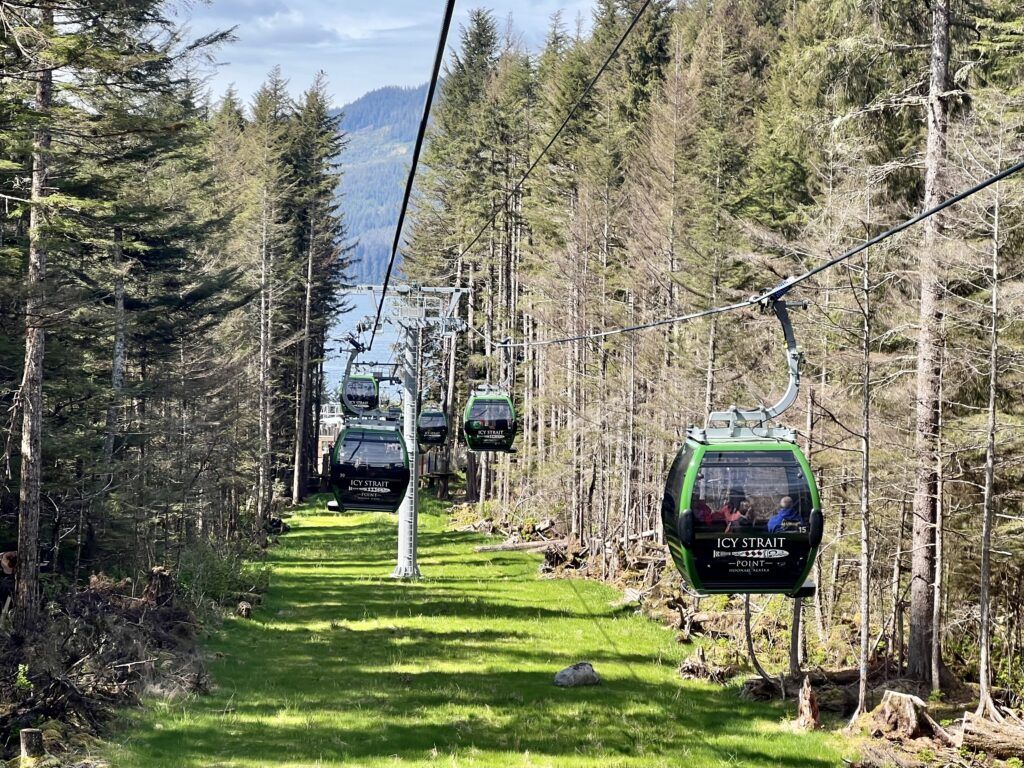 We walked this boardwalk and beach area for about an hour, browsing the museum and shops along the way. Heading back to our starting point, we checked in for our shore excursion a bit early. While you are allowed to take your belongings on the ZipRider, we opted to leave them in a locker down here.
Included with the ZipRider shore excursion is the Sky Glider (the red gondola). This is the transportation up to the starting point for the zipline. Guests can also purchase passes to ride the Sky Glider as there are some fabulous views from the top. Although, there isn't much else.
Getting Ready to Fly
Arriving a few minutes early, we took some photos with the Juneau Icefield as the backdrop and the lovely Majestic Princess anchored down below. Upon checking in for the ZipRider, we were given some basic directions and instructed to watch out for bears as we took the fairly steep downhill path to the landing platform.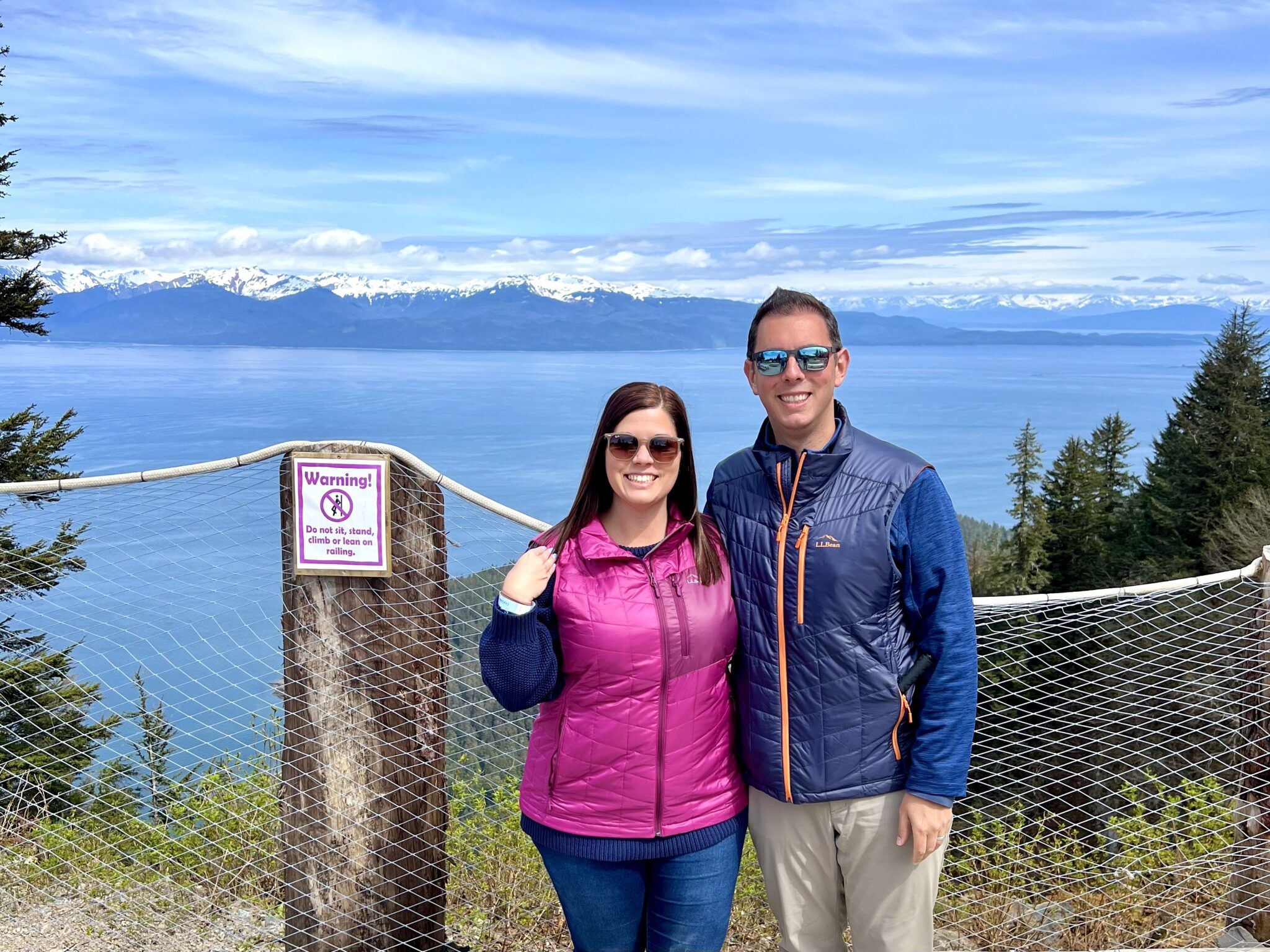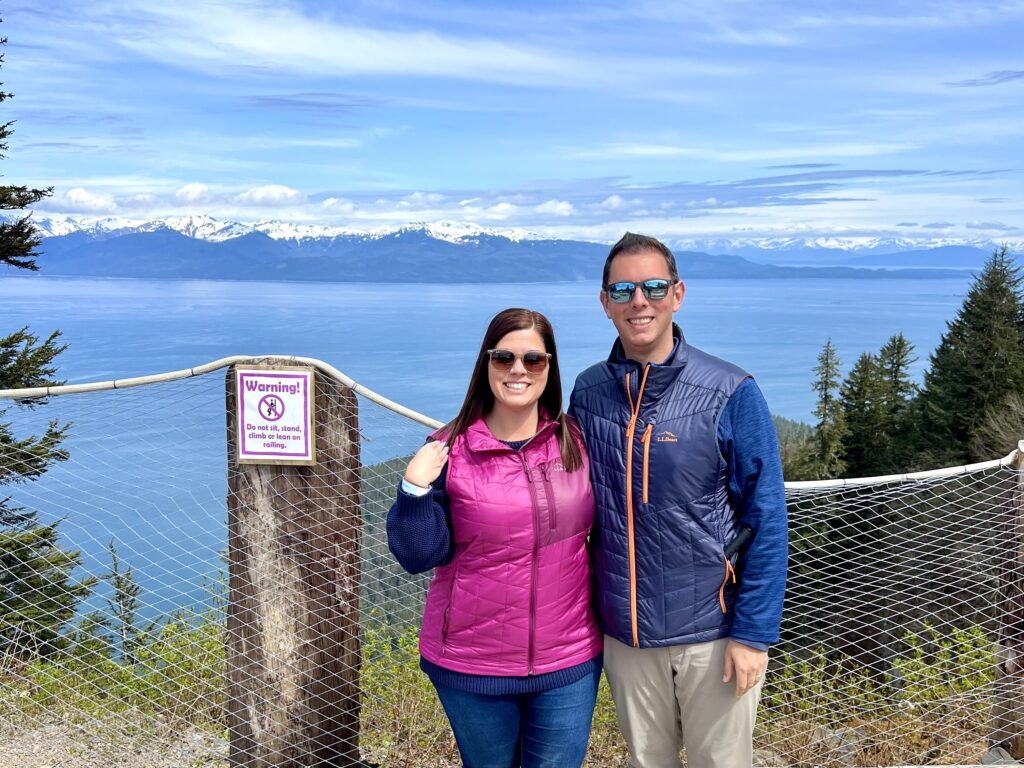 When we arrived, we were the only two guests. So, we had the 6-lane course to ourselves. With a vertical drop of 1,330 feet, we zipped down this 5,330 foot long ride at speeds of 60+ miles per hour. As the world's "largest ZipRider", this 90-second thrill is a lot of fun. We suggest that you muster up the courage to take flight during your visit to Icy Strait Point.
Landing back down near the Ocean Landing dock, we had to take the green gondola system back up to the Wilderness Landing dock to grab our bags from the locker. Since our tickets gave us all day access to the Sky Glider, we decided to take it back up to the top one more time for some additional photos.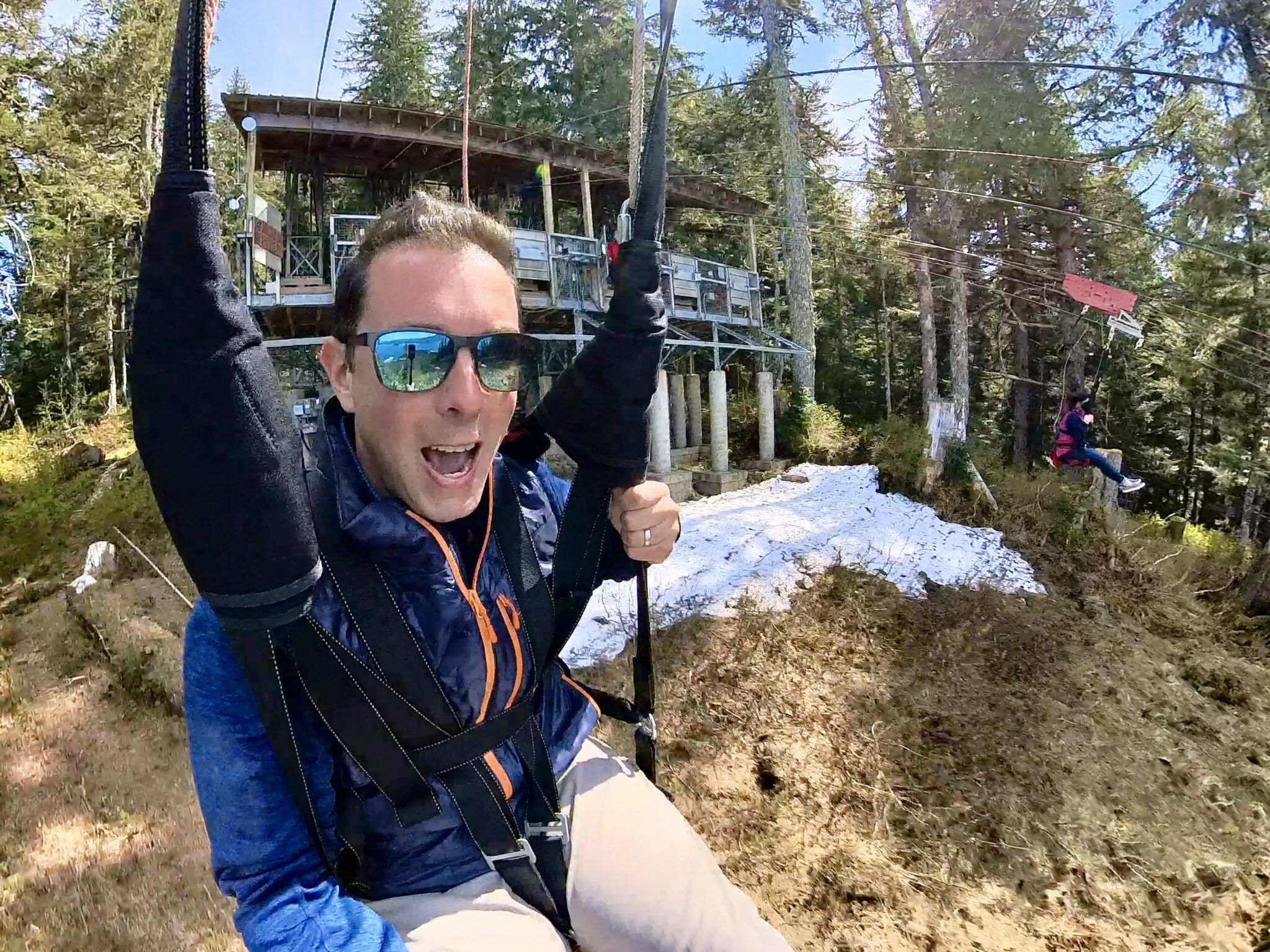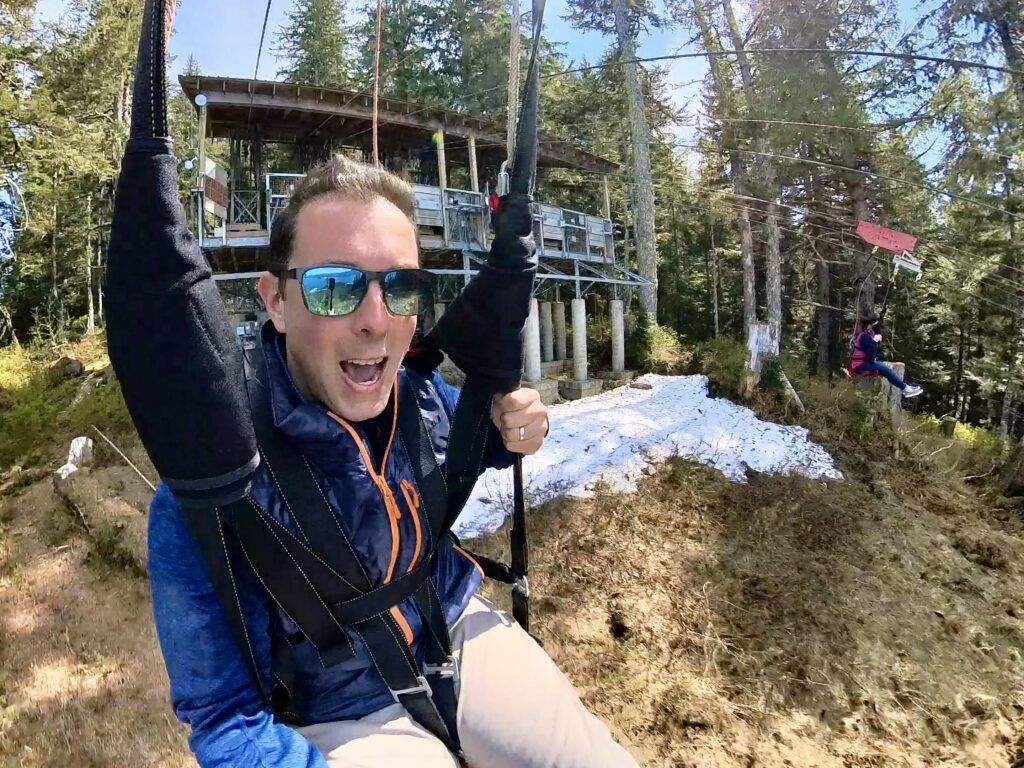 While here, we stumbled upon a guided hike along the 1-mile Hidden Lake Loop Trail. This is a complimentary activity and really the only other attraction up at Sky Peak currently. Guests could not explore this trail on their own due to bear activity. This walk took about 40 minutes with some stops and commentary along the way.
We decided to head back to the ship just after 3 PM. Apparently, we were not alone as there was a very long line of guests waiting to tender back to the ship. We ended up waiting in line for over 30 minutes.
Our Typical Nighttime Routine
Back onboard, we need a little snack to hold us over until dinner. So, we grabbed sandwiches at the outdoor grill. I had a chicken sandwich and Don had a burger. Neither were good as they were both over-cooked.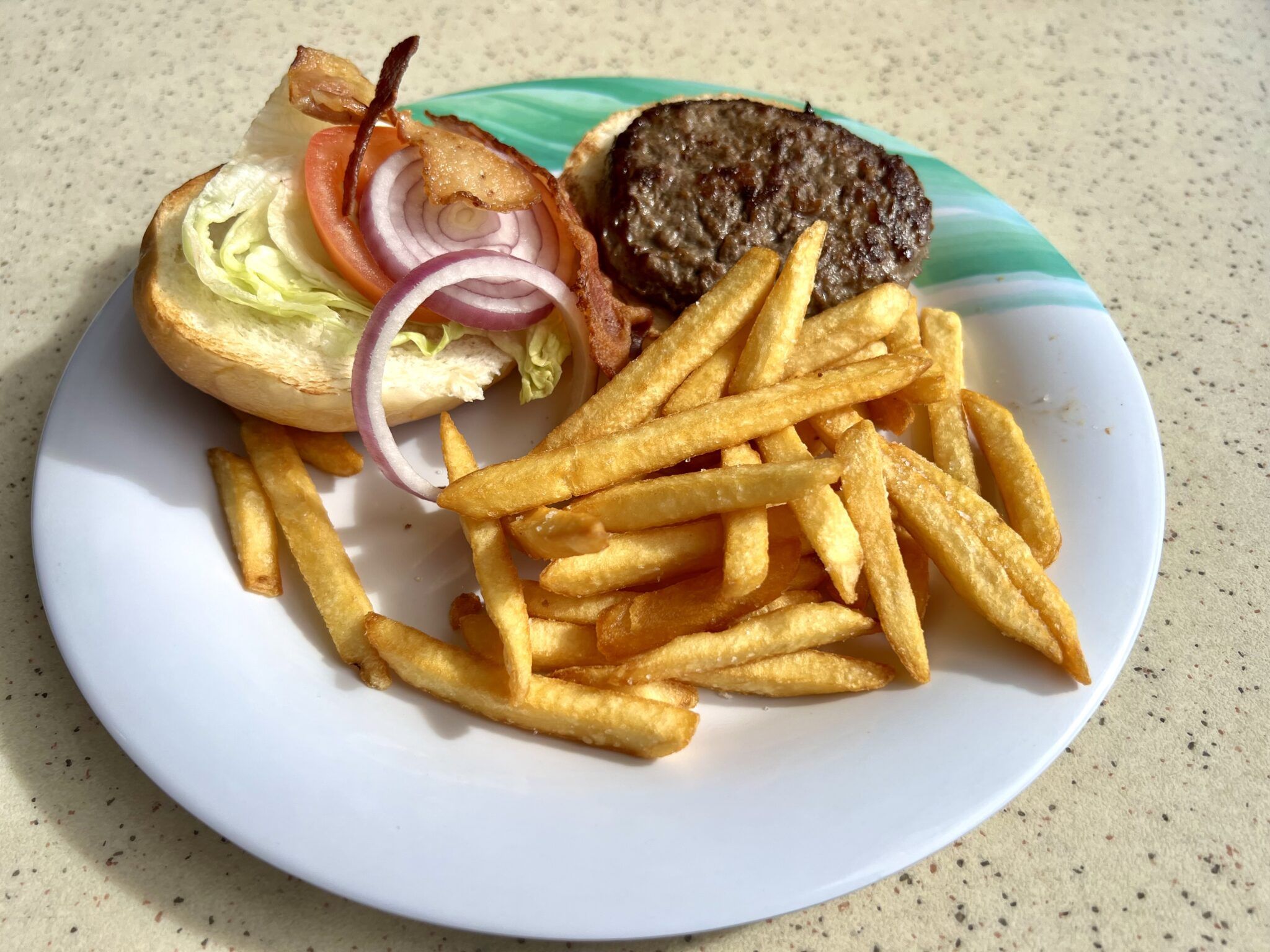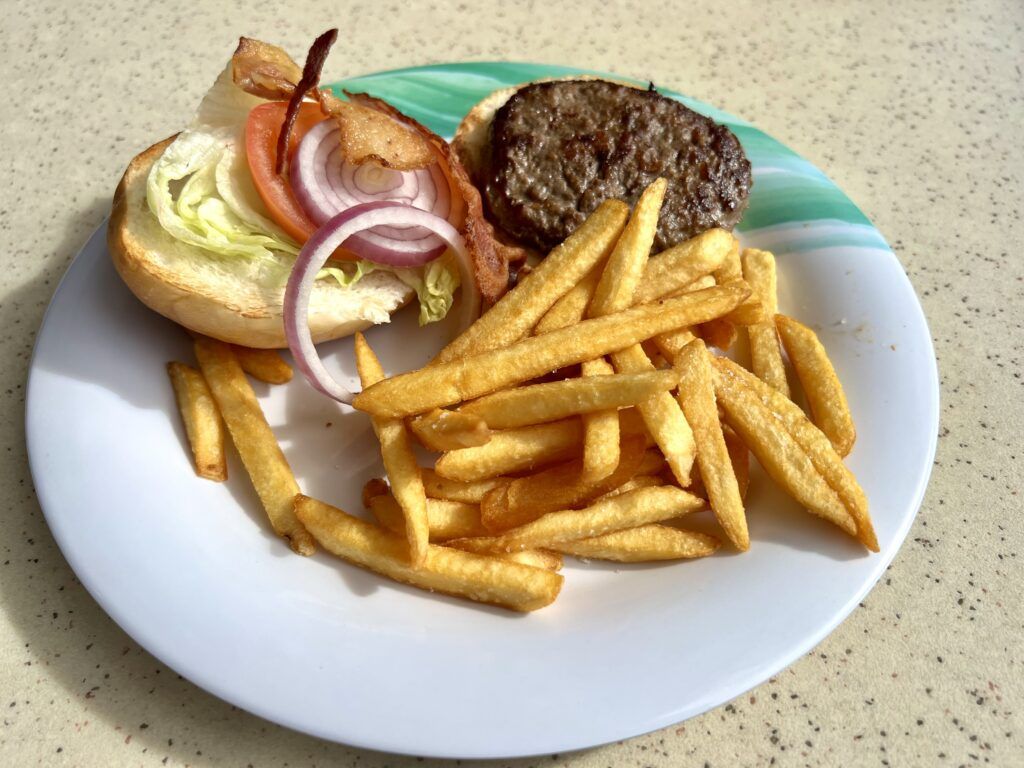 We then headed back to our room to relax and do a little work before dinner. Tonight was back to the main dining room. We had a reservation for 6:40 PM at Allegro.
The menu's theme was Italian Night. While our waiter was nice, the service was pretty slow tonight taking about 2 hours. I sampled the arancini and the chicken parm which were both good. Don ordered the seafood antipasto and the Wild Alaskan Salmon which is one of the Princess Favorites.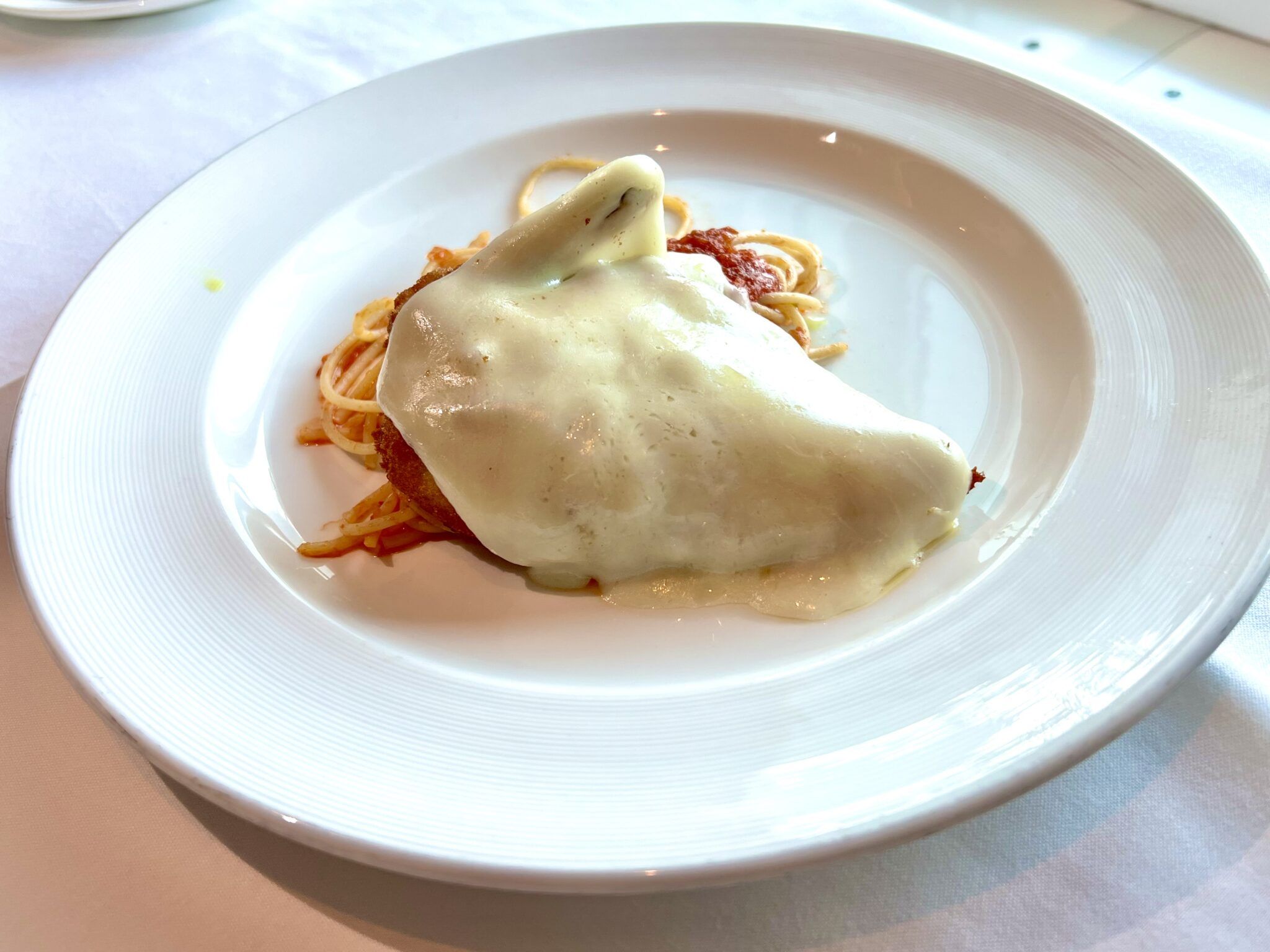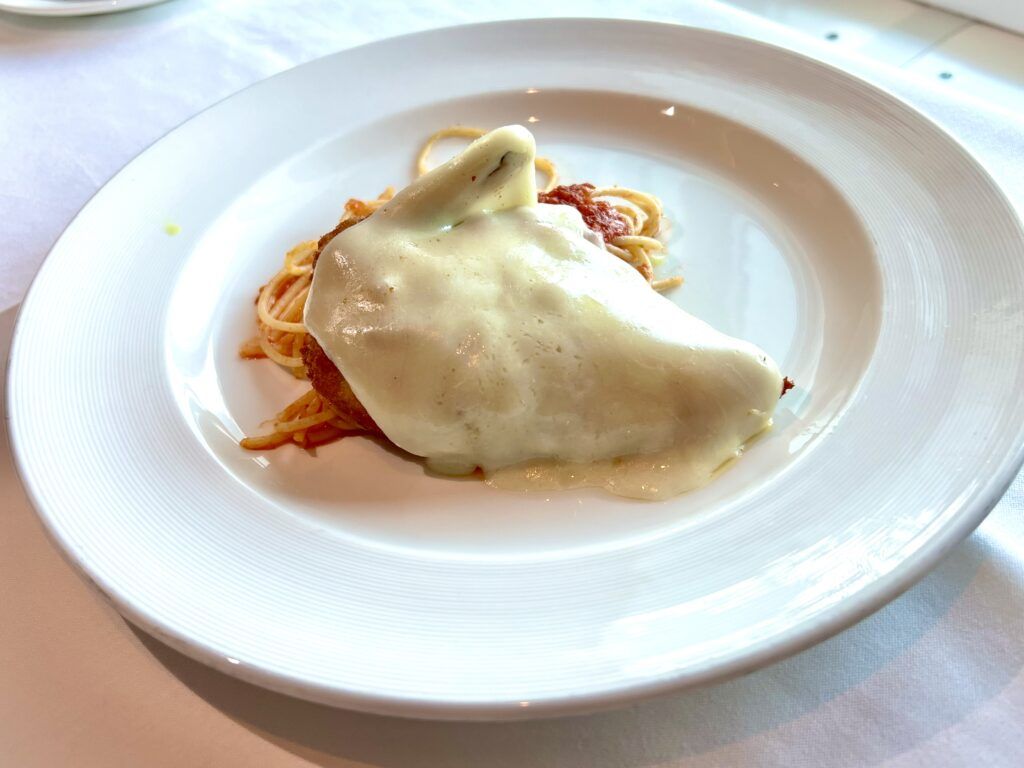 While the description for the appetizer did not include scallops, there was clearly scallops on the plate, so Don had to pass on this dish. He did enjoy the salmon entrée though. Unfortunately, out of our seven meals, staff only asked about allergies on a few occasions.
Out of dinner late, we missed most of the game show in Princess Live yet again. Tonight's main theater show was Fantastic Journey. Of the three production shows, this was by far our favorite. It was the most technologically advanced show, and it had modern music and elaborate costumes.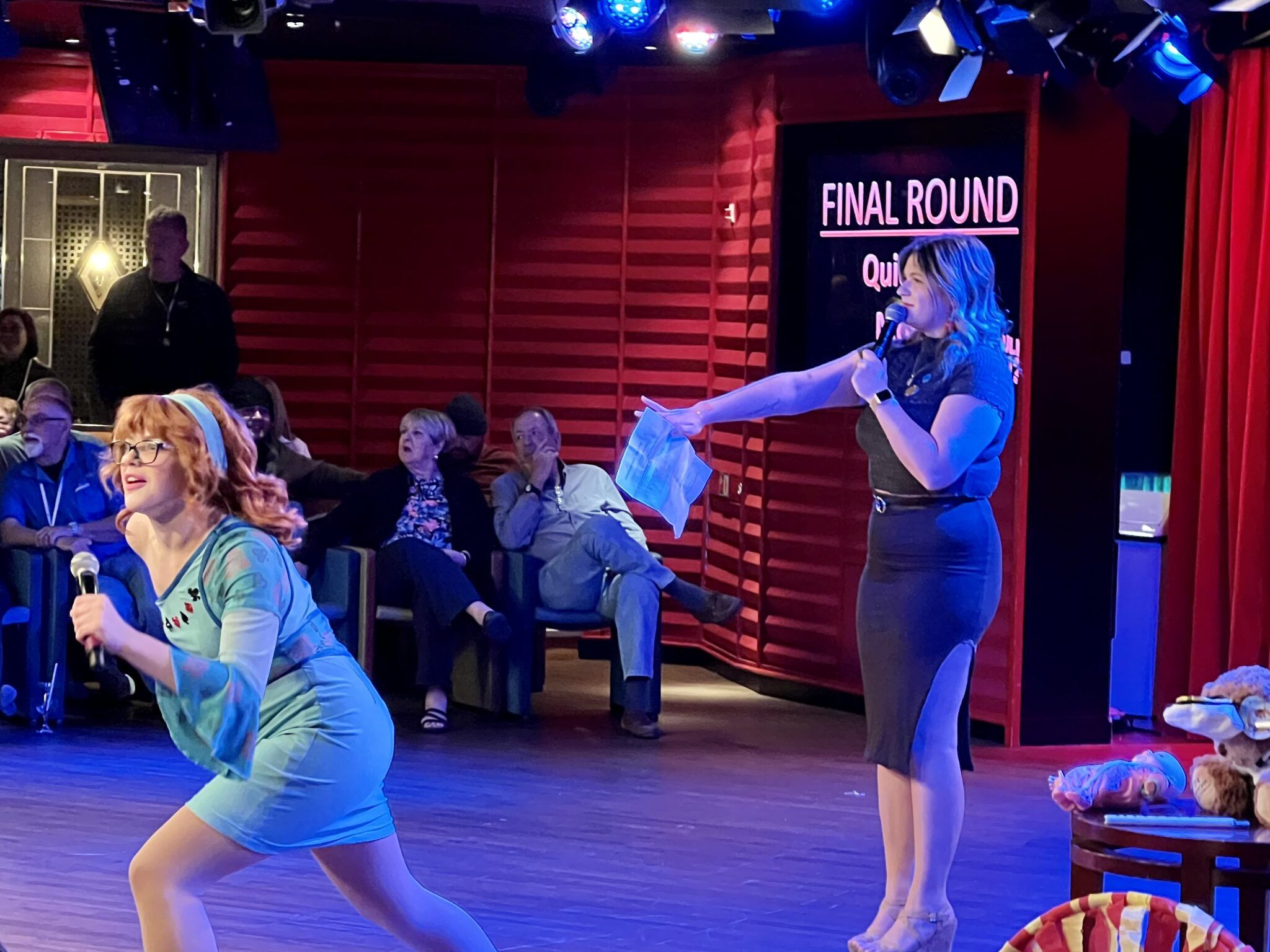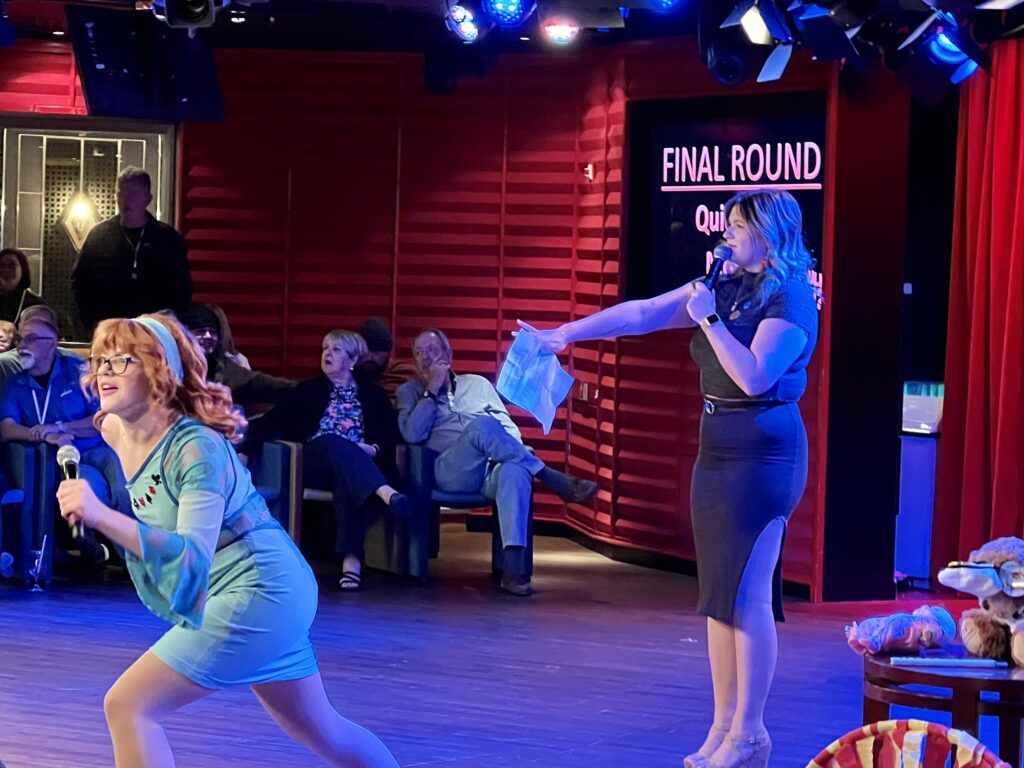 Following the show, we grabbed some cocktails at the Crown Grill Bar and listened to the piano player Arny for a bit. When he took a break, we called it a night. Tomorrow was a big day in Juneau.
Princess Voyage of the Glaciers Alaska Cruise Review – Day 5
Welcome to Juneau
Day 5 of this Princess Voyage of the Glaciers Alaska Cruise Review took us to Juneau. Today, we had a long anticipated excursion booked, dogsledding on the Mendenhall Glacier by helicopter. We have had this excursion booked, and cancelled, twice now.
The first time back in 2014, we were able to complete the helicopter portion but the dogsledding portion was cancelled for some reason. In September 2018, we tried again. And as luck would have it, the dogs were moved off the glacier earlier in the season than usual cancelling our tour yet again.
Today would be our third attempt. Fingers crossed!
Once again, we were up early for Don to complete some work meetings on EST before heading ashore. Thankfully, with early morning arrivals in port, the combination of WiFi and our cellular service allowed him to work without too much issue.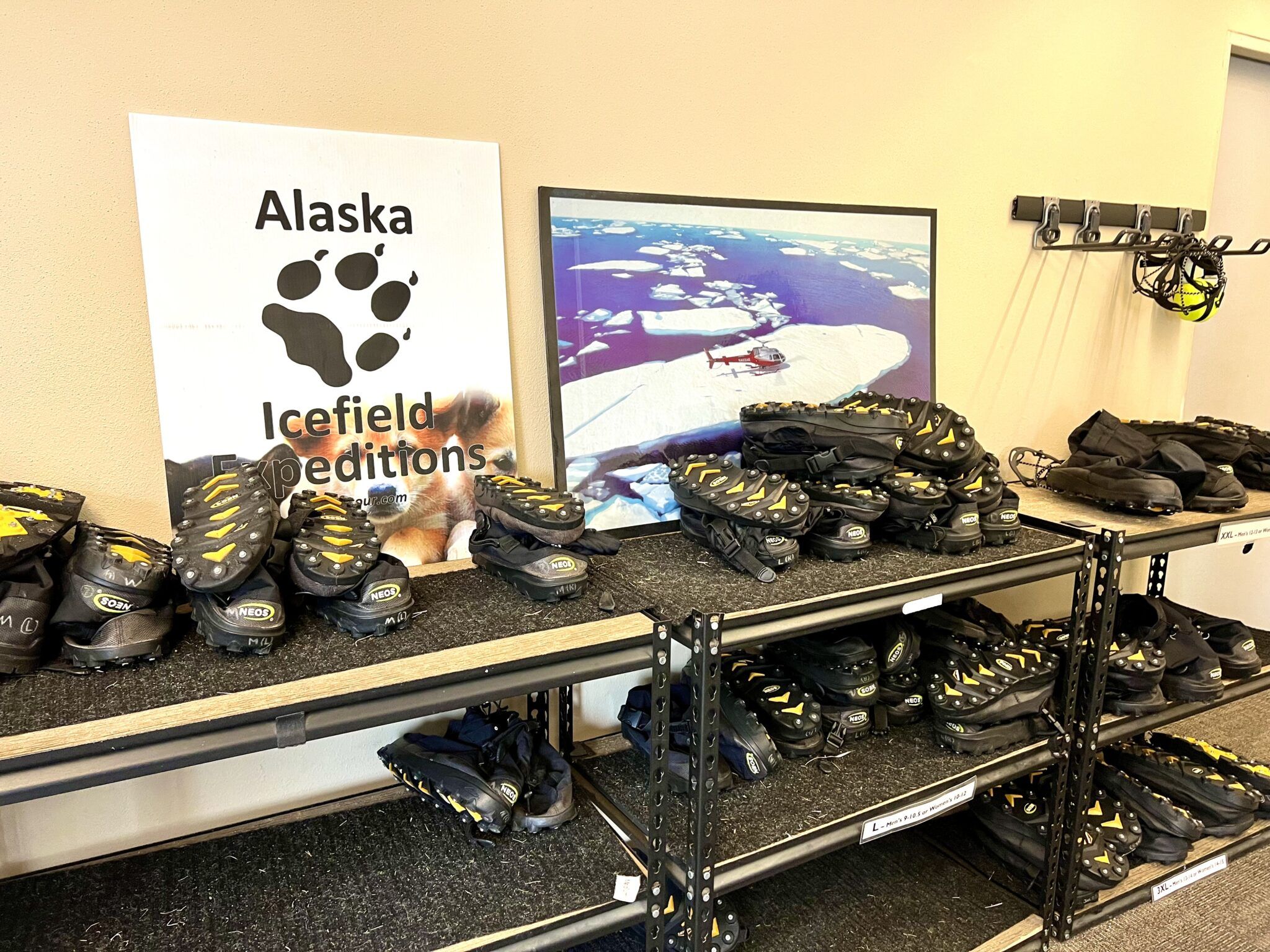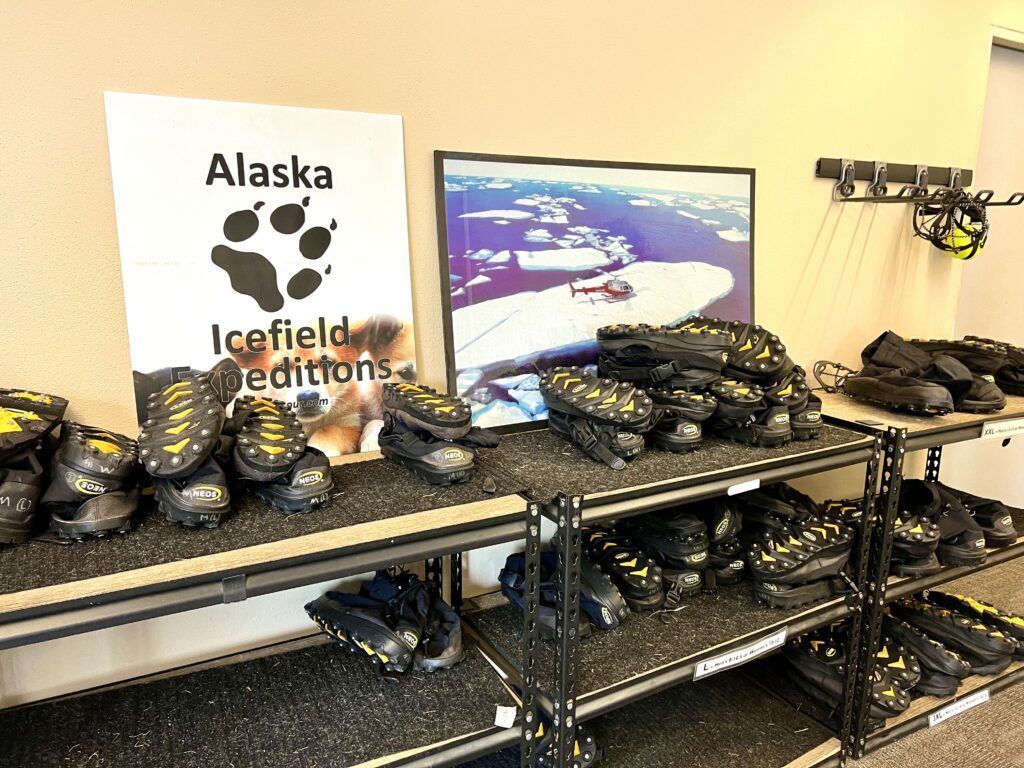 With our tour scheduled to meet on the pier at 9:30 AM, we headed ashore slightly before then. After checking in and waiting for the rest of the group to arrive, we were shuttled to the Temsco helicopter port. Here, we completed a safety briefing, geared up in some glacier walking boots, and were divided into groups.
Just before 10:30 AM, we were prepared to take flight!
Third Time's a Charm
Leaving the helipad, we took the approximately 15 minute helicopter ride out to the Mendenhall Glacier admiring the scenery along the way. Landing on the glacier, alas, there was the dogsledding base camp.
Here, we met the mushers and received a brief overview. We were then divided into groups of four and led to a sled. The entire experience lasted about a half hour including actual run time with some stops along the way for Q&A and to interact with the dogs. We switched spots with the other couple midway through, so we could experience different vantage points.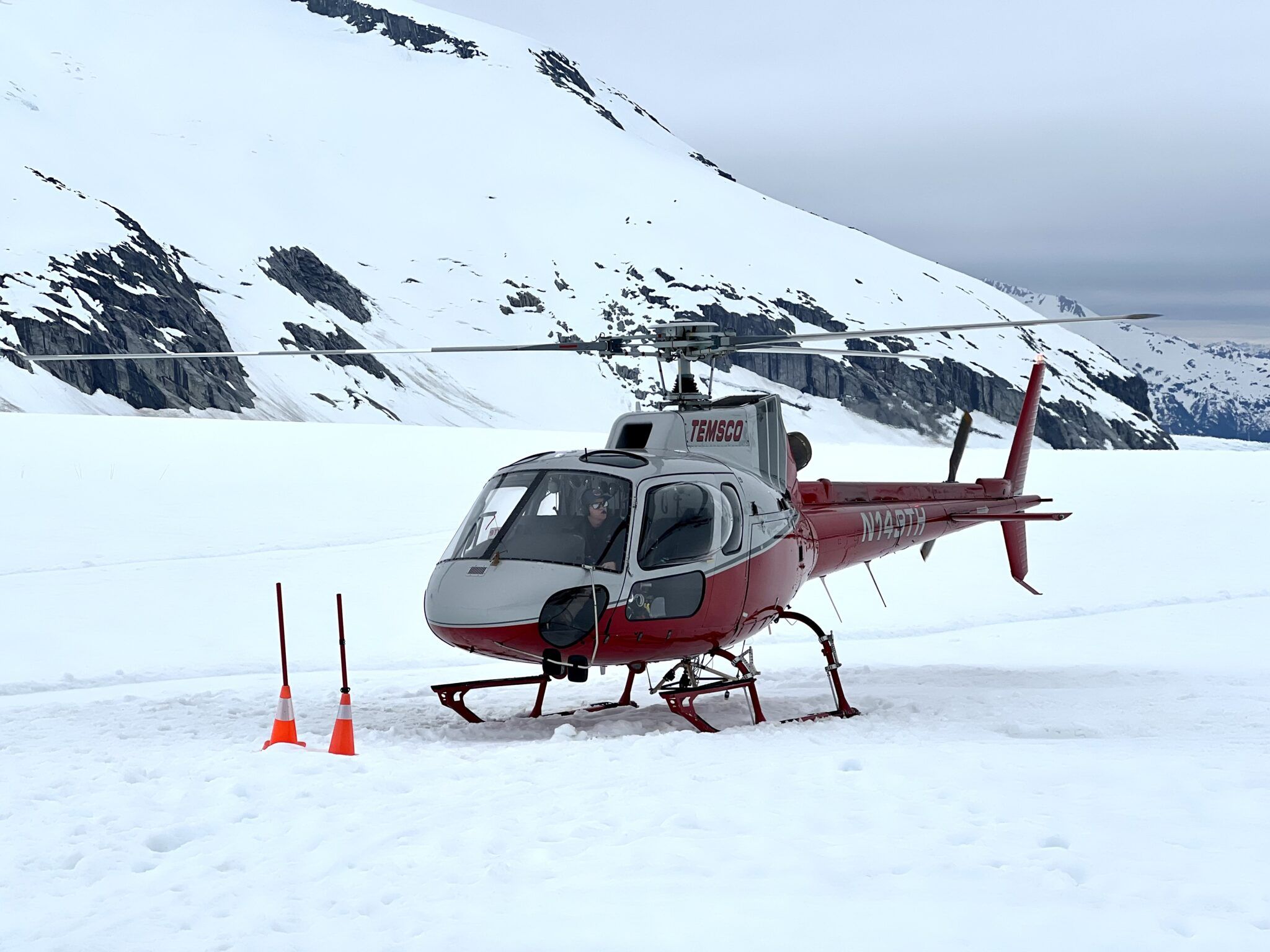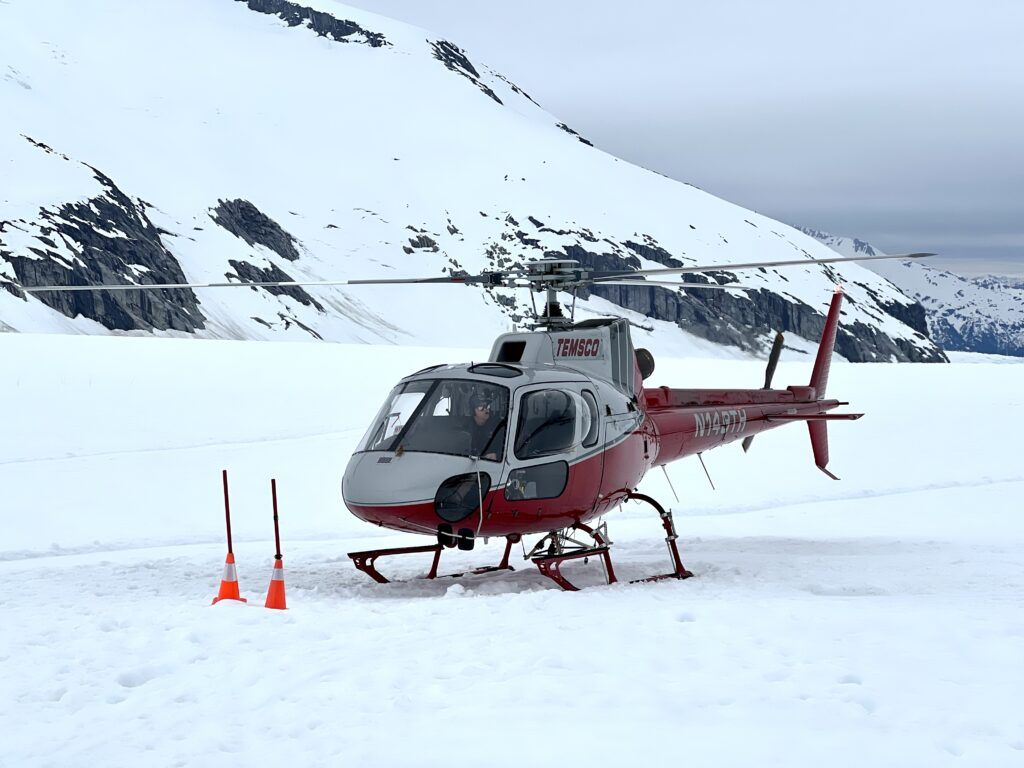 While pricey and short, it was a memorable experience, and we are glad that we were finally able to experience it. With just about an hour of total time on the glacier, it was time to reboard the helicopter for our return trip. The visibility had deteriorated a bit, so they were actually questioning whether they were going to cancel the afternoon timeslots. Phew!
Back on land, it had started raining. Thus, we opted to return to the ship instead of walking around the downtown area. We would be returning to Juneau in just a couple weeks on our second trip to Alaska this season.
We were back onboard the ship by around 12:30 PM and headed to Alfredo's for some lunch. With coffee in hand, we then went back to the cabin for some work before the 3 PM North to Alaska presentation.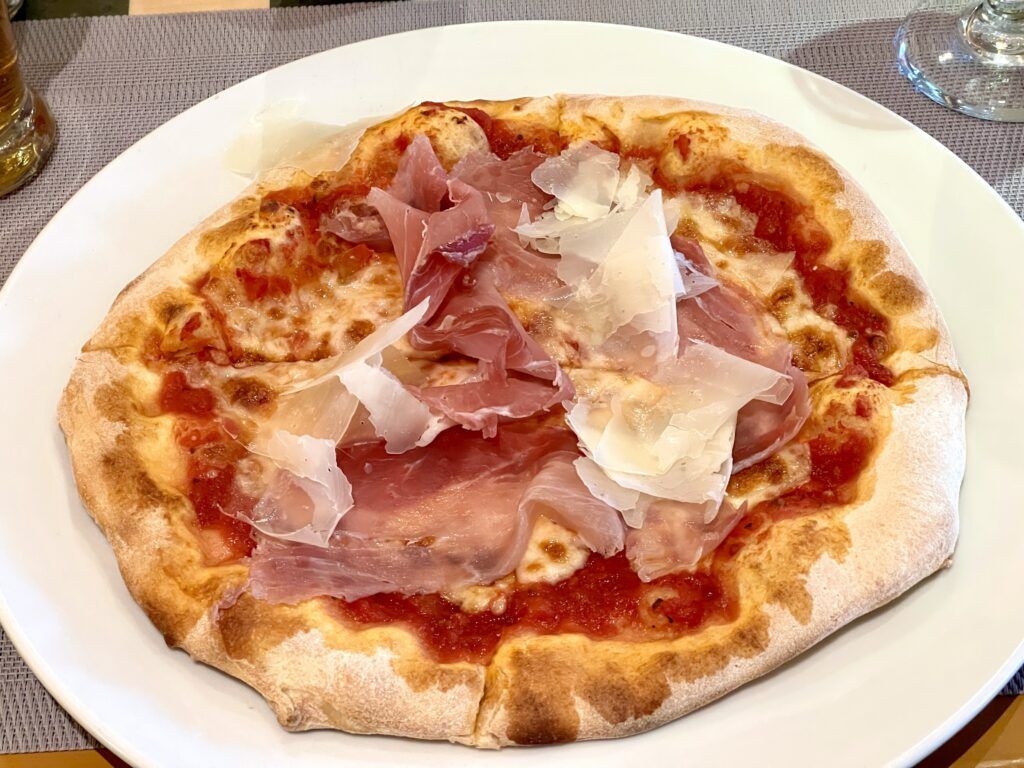 It was a dog mushing kind of day! The first female Iditarod race winner, Libby Riddles, gave this enrichment talk. It was fascinating to listen to her story and race to victory. Let's just say that I would not have survived.
More Dining and Entertainment
For dinner tonight, we were testing out our second specialty restaurant, Harmony, at 6:40 PM. Given its nods to the Asian market, Majestic Princess still has an Asian restaurant in place of where Sabatini's would be on other ships.
We sampled multiple items on the menu, and the food was quite good. From spring rolls and spare ribs to won ton soup, to kung pao chicken, stir-fried shrimp, Cantonese chow mein, fried rice, and even green tea cheesecake, we tasted it all.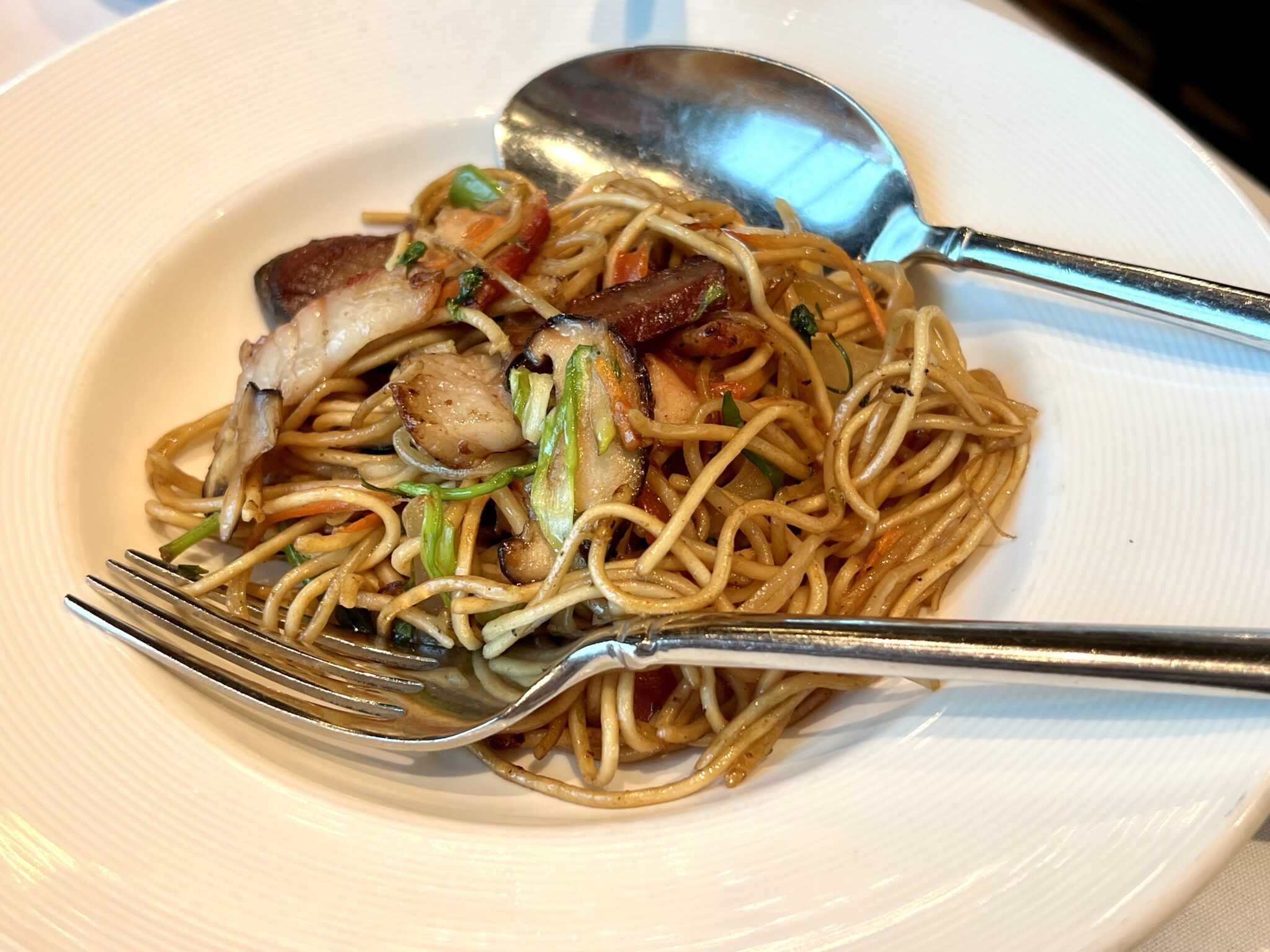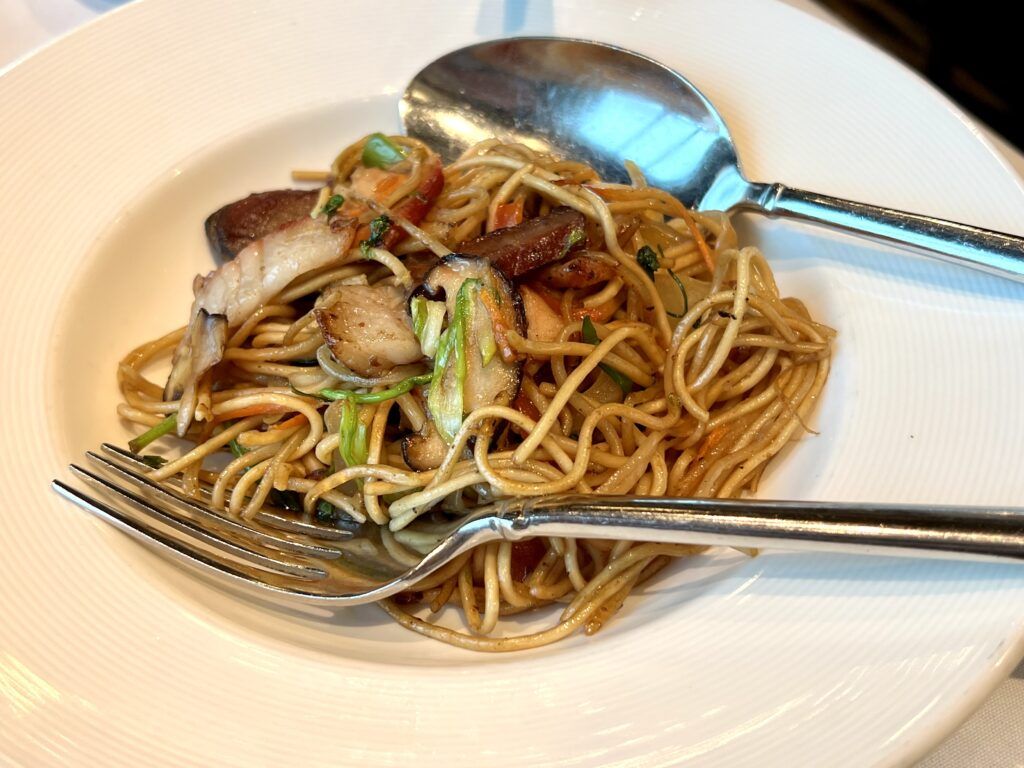 After this multi-course feast, we waddled our way over to the Piazza Bar just in time for the Love Boat party in the piazza at 8:30 PM. This game show type event featured four couples competing in different challenges.
Along with many other guests, we then headed to the theater for the 9:30 PM headliner show, The Mighty Quinn. This show consisted of mostly juggling and comedy, culminating with some juggling on a 10-foot unicycle.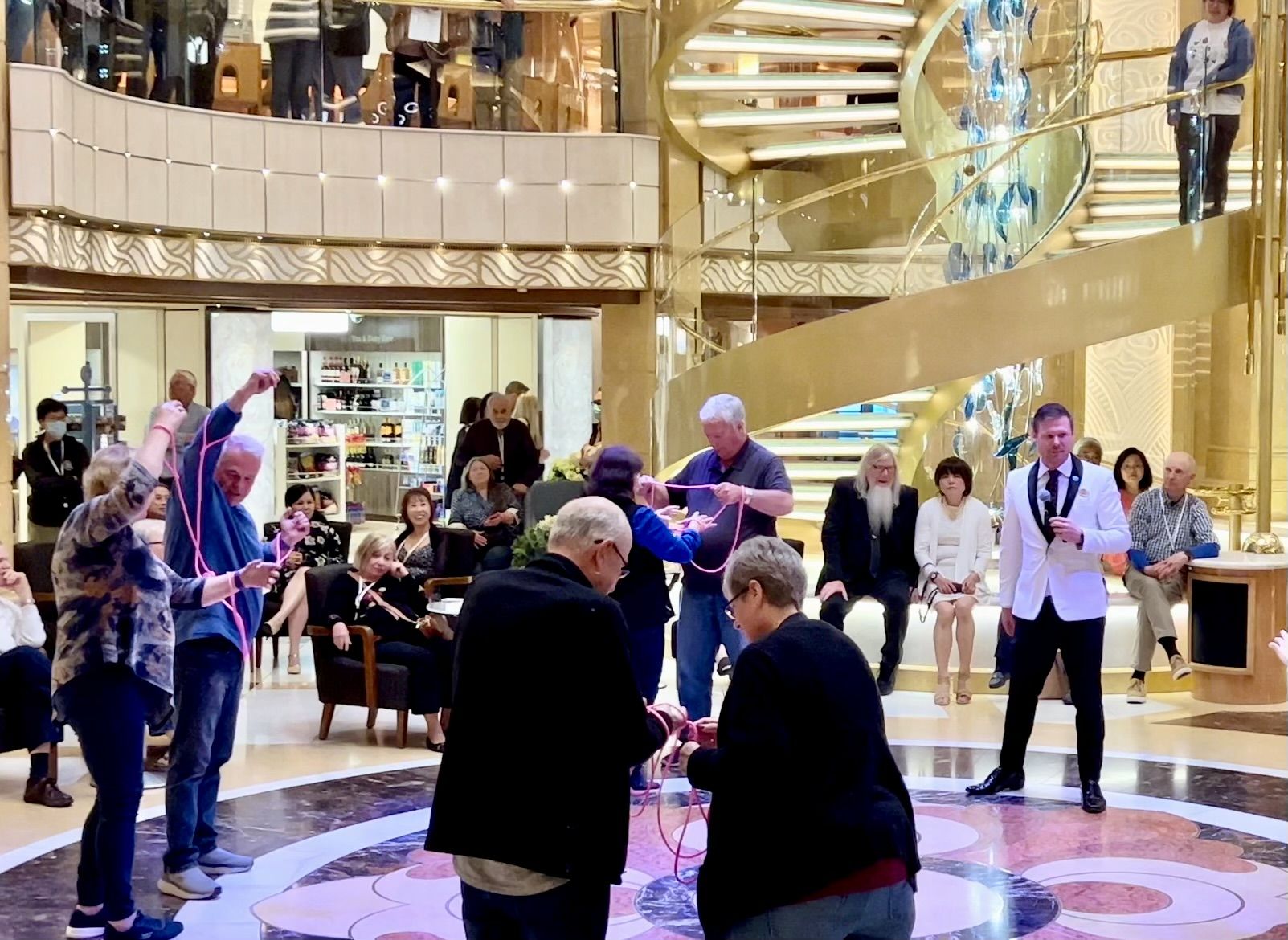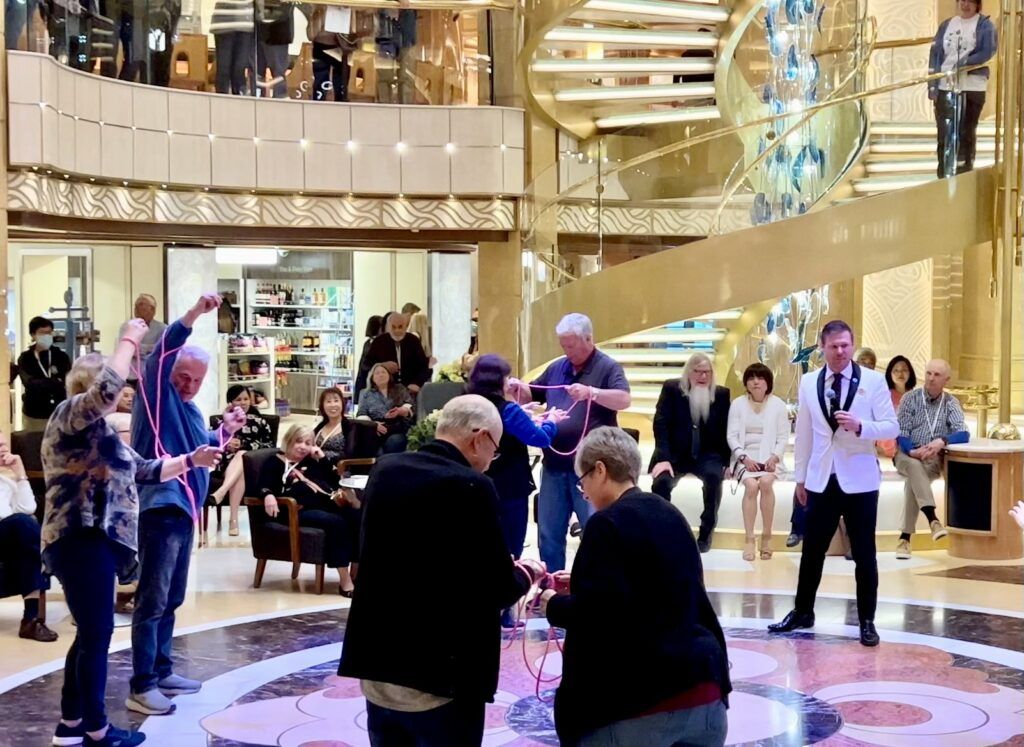 Unlike some other cruise lines, there is not much nightlife on Princess Cruises. You won't find a silent disco or dedicated nightclub. Instead, there is live music in a few different venues and a DJ that plays in the piazza. So, we grabbed some drinks at Good Spirits and listed to the band perform before calling it a night.
Tomorrow was our final port of call. Where did the week go?
Princess Voyage of the Glaciers Alaska Cruise Review – Day 6
Welcome to Ketchikan
Day 6 of this Princess Voyage of the Glaciers Alaska Cruise Review was our final port of call in Ketchikan.
Once again, Don was up early to complete some work meetings and obligations before heading ashore. He also grabbed us some coffee and breakfast sandwiches from International Café as we didn't have to meet until 10:30 AM for our tour.
Our tour today was a visit to the Saxman Totem Park. Unfortunately, it was the least organized and least informative excursion of our trip. After meeting our bus, we took the short drive out to the park with our driver providing some commentary along the way.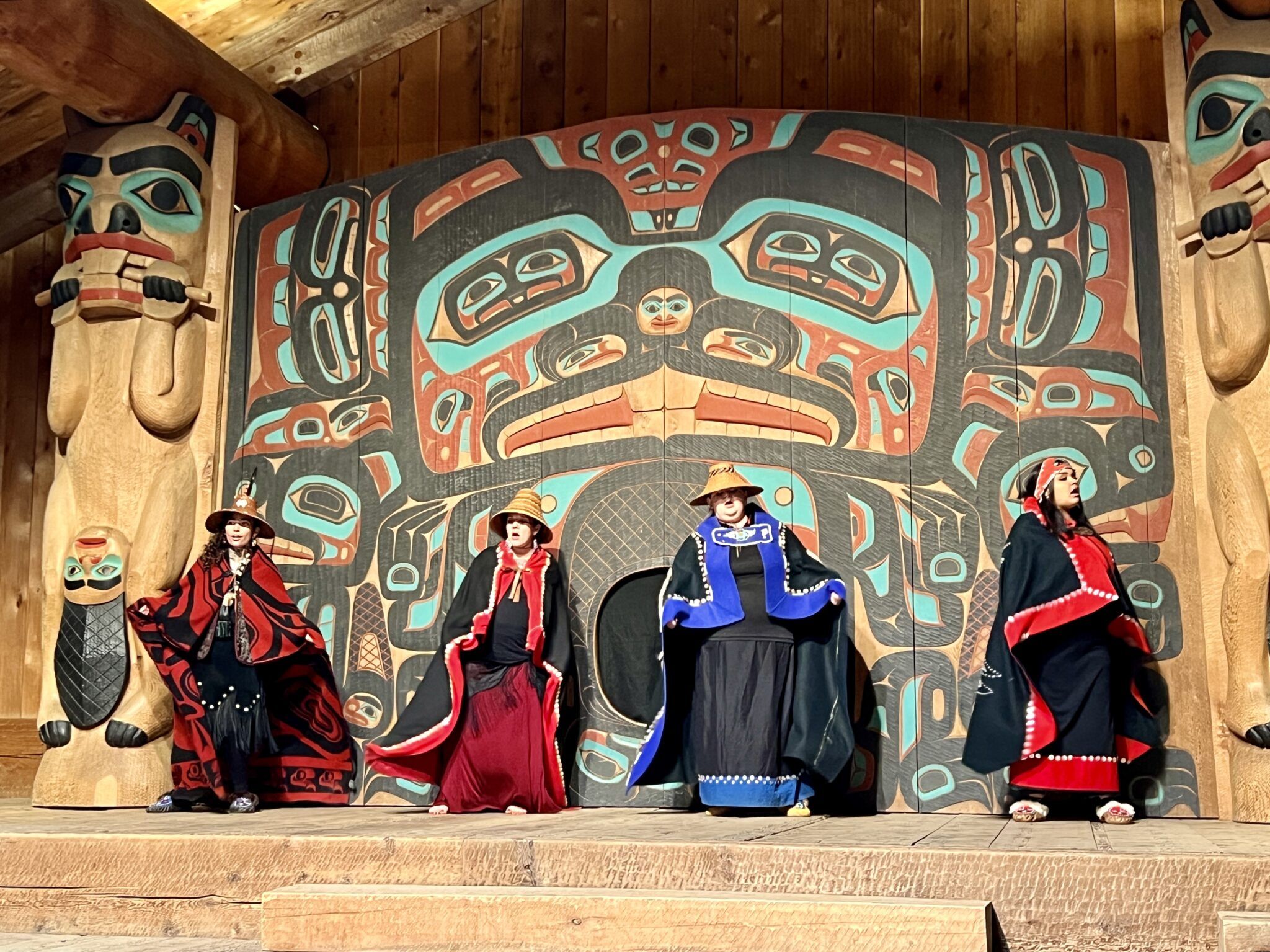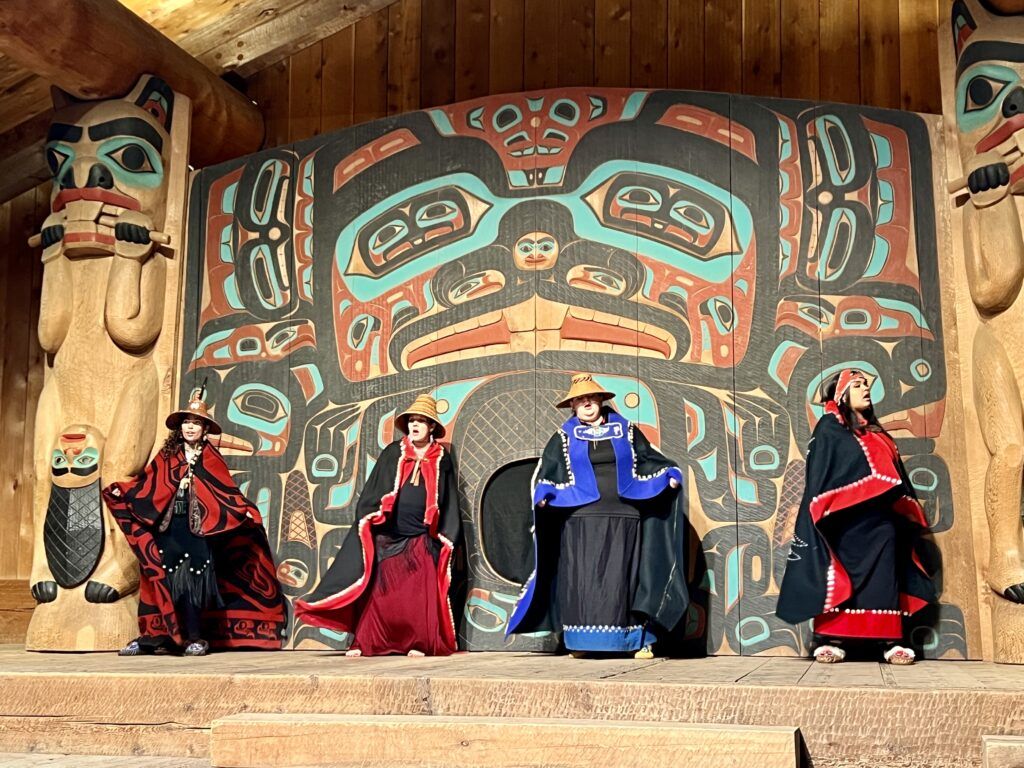 Upon arrival, we were ushered into a clan house where we watched a quick tribal dance. We then got a brief introduction to some of the totem poles on the grounds including the types of poles and the stories behind them. Without much time for photos or questions, we were quickly escorted to the carving house, where our guide provided some narration.
While there were two works being completed, including one by the famed Nathan Jackson, both artists were "on lunch break" which was a bit disappointing. We then had only 20 minutes of free time before needing to be back at the bus.
Some Sun and Snacks
Given it was such a gorgeous day with no signs of rain in one of the rainiest cities, we ventured out on a walk after our tour. Following the boardwalk, we stopped for photos at the Ketchikan sign and eventually made our way over to Creek Street.
Back onboard the ship around 2 PM, it was time to test out the new premium desserts. These desserts are included in the Princess Plus and Princess Premier pricing options. Guests with Princess Plus get two desserts while Princess Premier get unlimited desserts.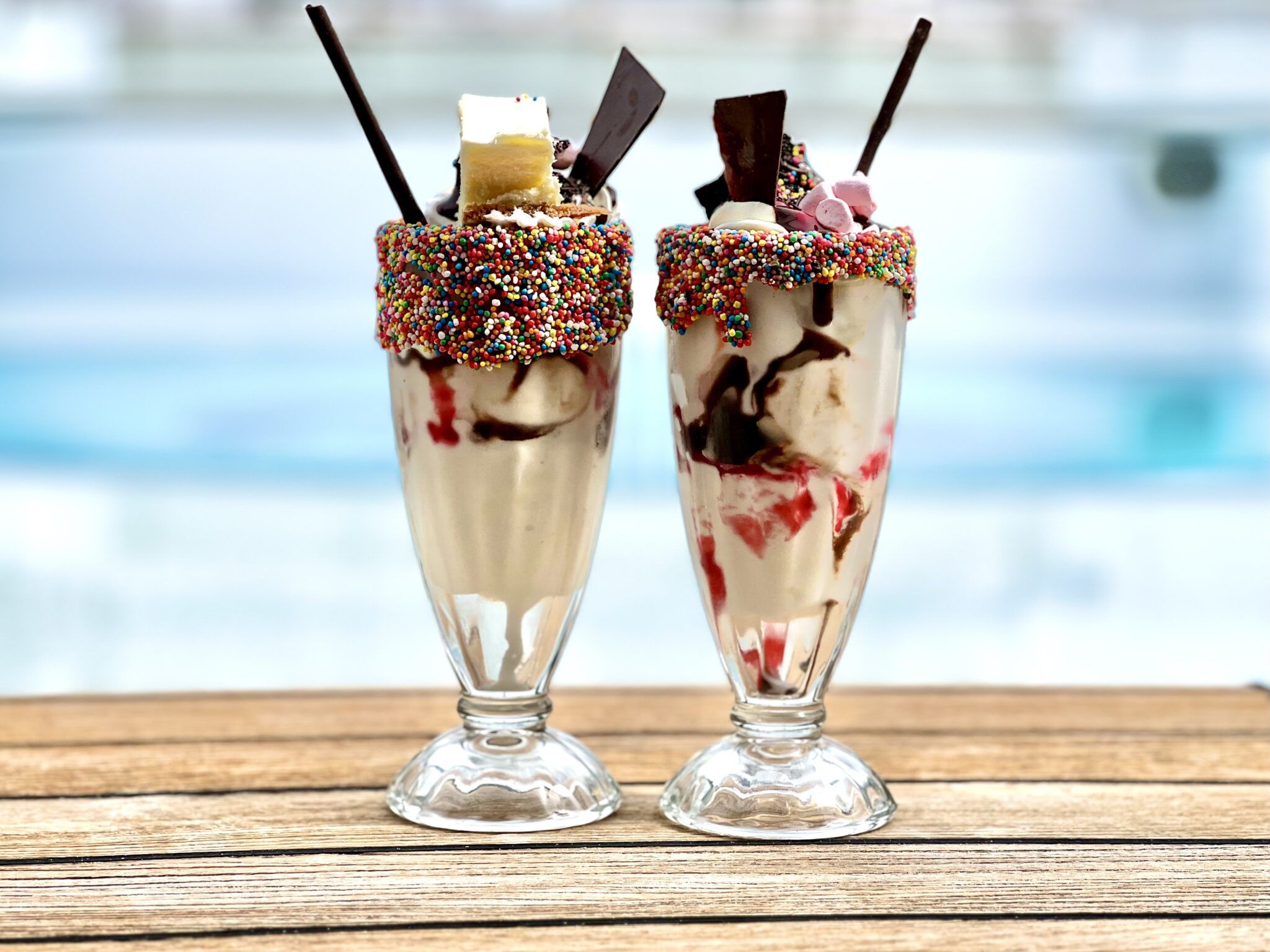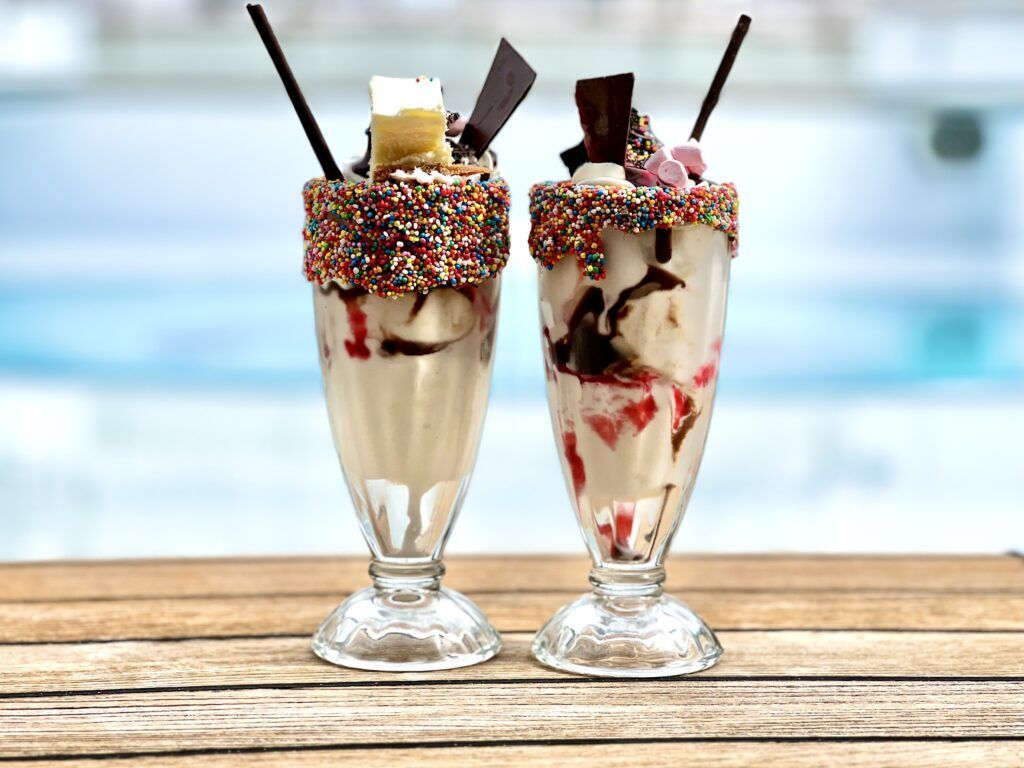 These desserts are essentially ice cream sundaes that make for great Instagram photos. There are six different options, and you can add alcohol if you choose. Although, after sampling a few of them, they all pretty much tasted the same. They are certainly not the crazy concoctions that you can get at Coco's on NCL.
Enjoying the beautiful weather a bit longer, we eventually headed back to our room to do some work before dinner. Tonight, we had a 6:20 PM reservation at the final specialty restaurant, Crown Grill. It was also the ship's second formal night.
A Formal Affair
Off to the Crown Grill, we started with our classic cocktails, a cosmo and a sidecar. For some reason, this was one of the few times all cruise that the drinks were actually made properly. No one seemed to know what a sidecar was even though it is on the menu, and I got my cosmo served on the rocks more times than not.
Given that the Crown Grill menu only features steak and seafood, I requested an alternate entrée. The staff were happy to oblige and offered me a selection off The Catch menu. Thus, I ordered the goat cheese souffle (Garden Vegetarian). For starters, I did the Black and Blue Onion Soup and a salad.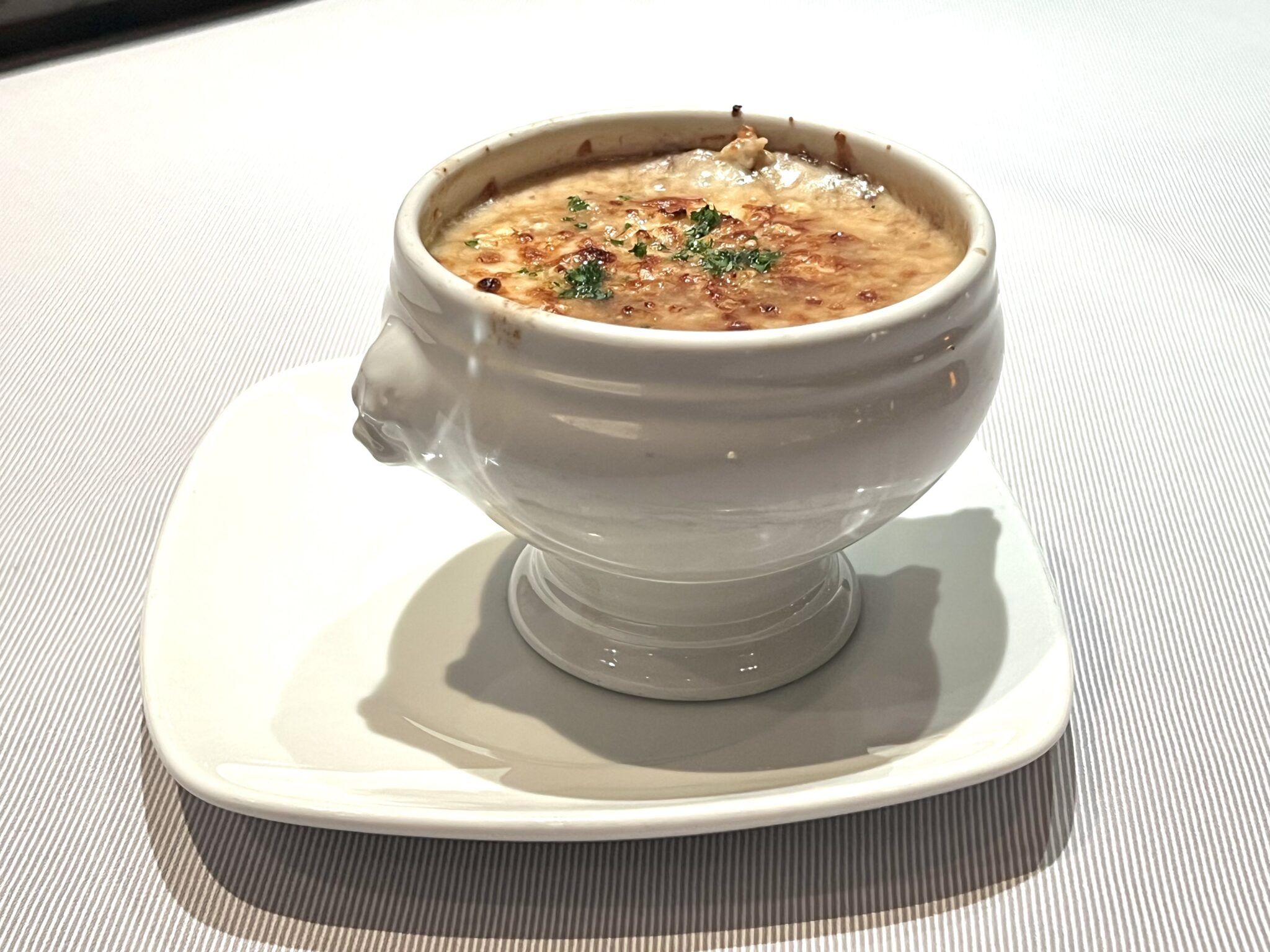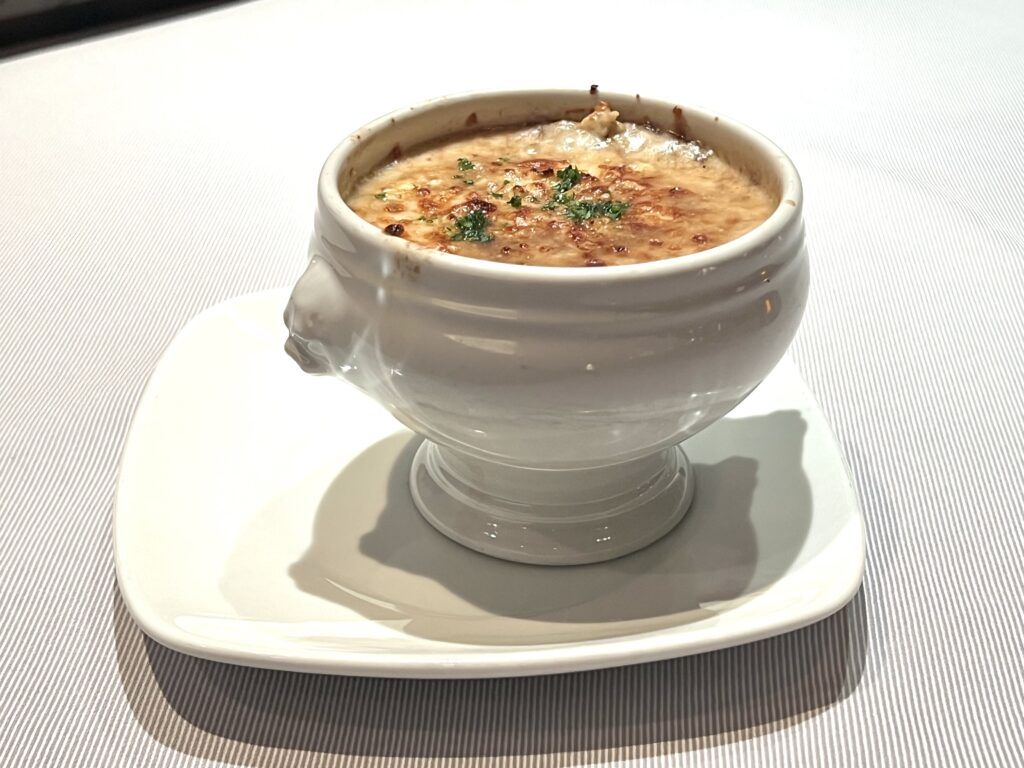 Don ordered the tiger prawns and the lobster cake for starters and the Rib-Eye for his entrée. We finished off this filling meal with the yummy salted caramel crème brulee cheesecake.
Overall, The Catch was our best specialty dining experience of this cruise.
Of note, this second formal night was lobster night in the main dining room. Much like other cruise lines, the Land & Sea selection now comes with a $10 surcharge for guests wanting more than one entrée.
With dinner clocking it at over two hours again tonight, we arrived to Princess Live late for the end of a standing room only Liar's Club game show. This show is always a good time, and tonight's version did not disappoint.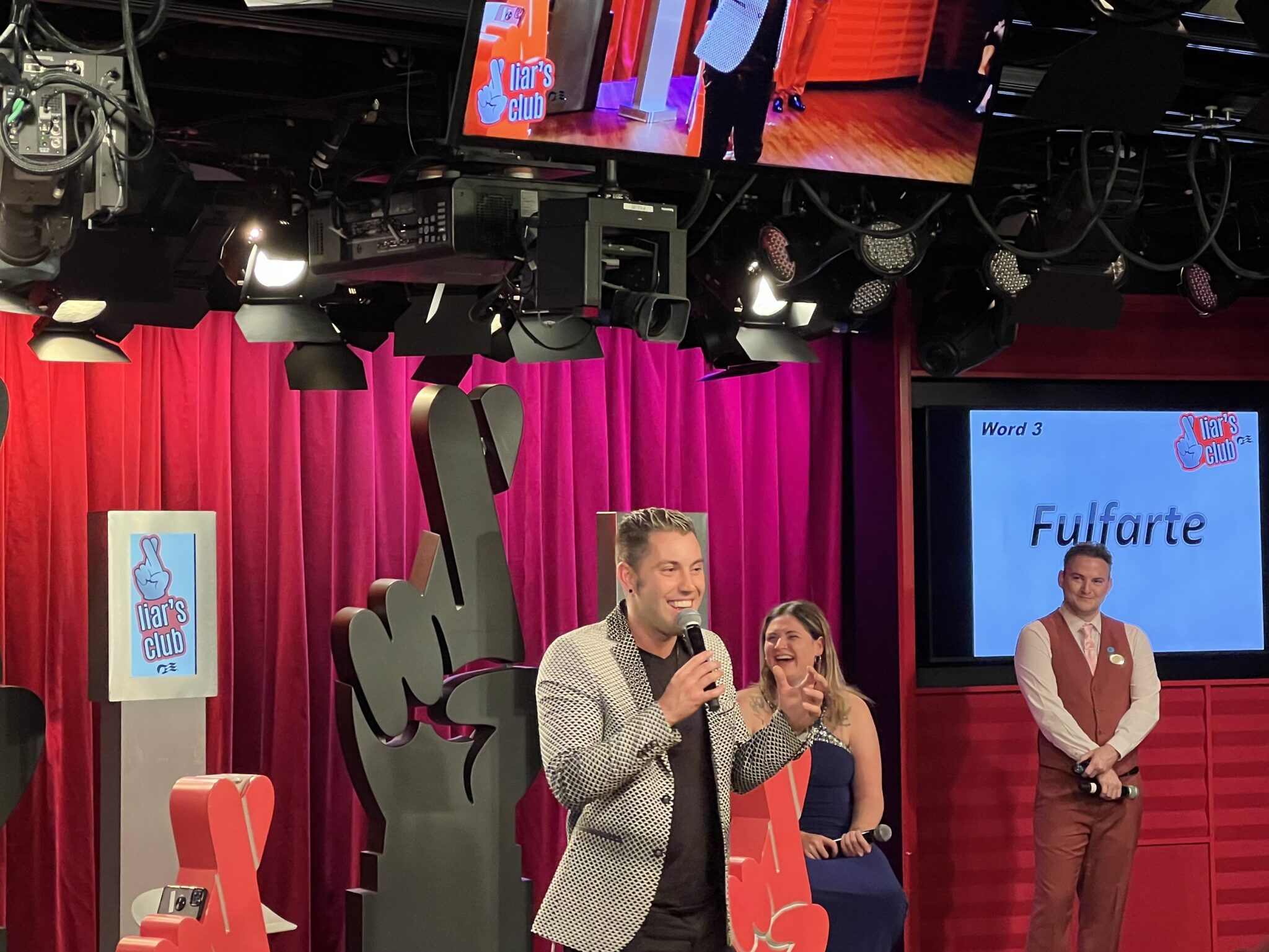 From here, it was off to the theater for the final production show, Sweet Soul Music. This revue show featured several Motown hits and was a pretty typical cruise ship production.
Next on the agenda was a "street performance" type show in the piazza with The Mighty Quinn. He performed a couple juggling acts during this 15-minute set, which were very similar to his previous show in the theater.
We then decided to check out the Midnight Sun Experience in the Hollywood Conservatory. It was described as a camp fire-style vibe with acoustic music from Cola Sounds, hot chocolate, and warm cookies. Well, one of the three were present.
The venue was pretty empty and there was no hot chocolate or cookies. One of the activities staff later announced that this only occurs in Skagway. Because cookies and hot chocolate are only available in Skagway?!?! In any case, we listened to the duo perform, who were probably the best musical act on the ship.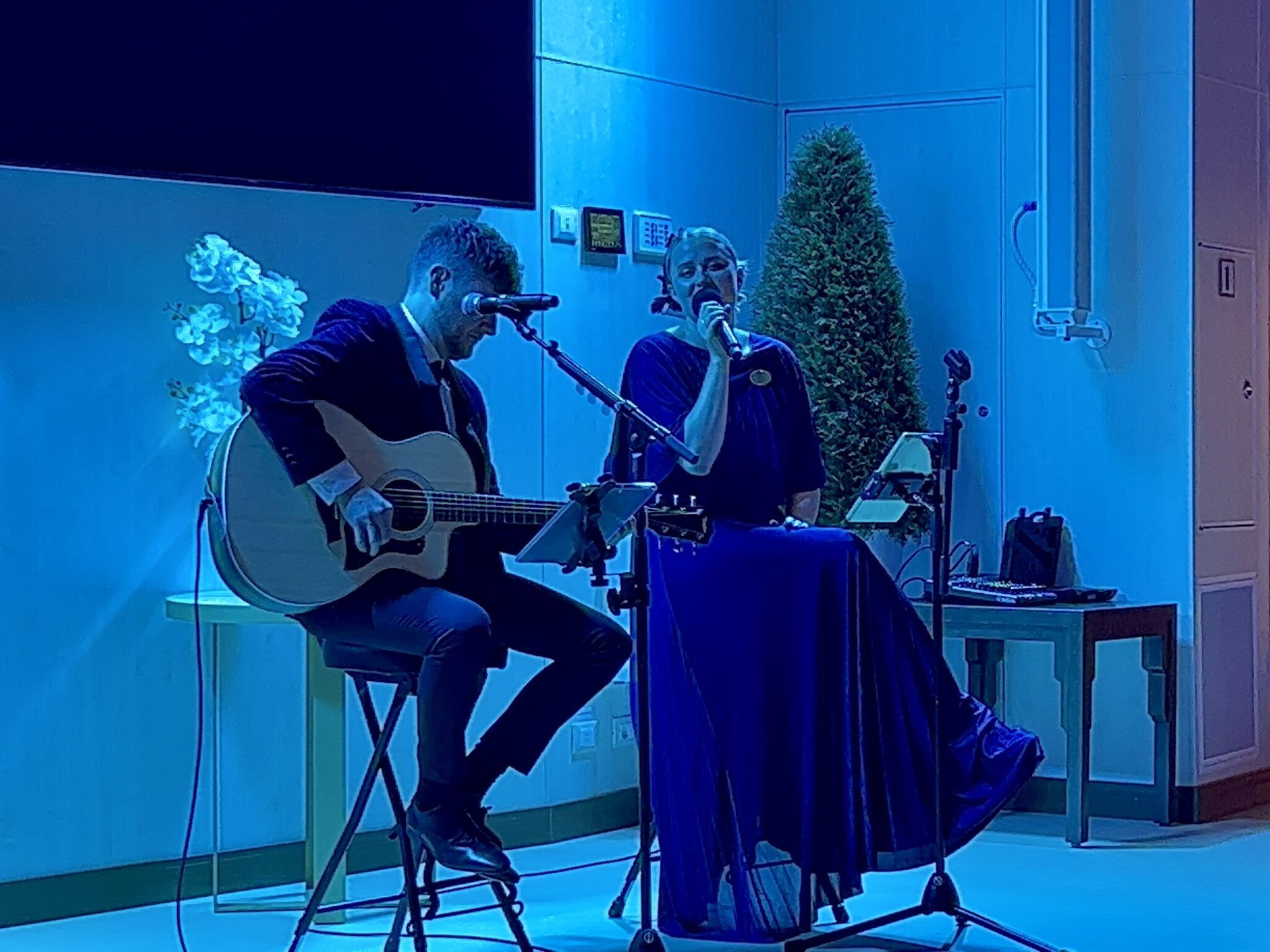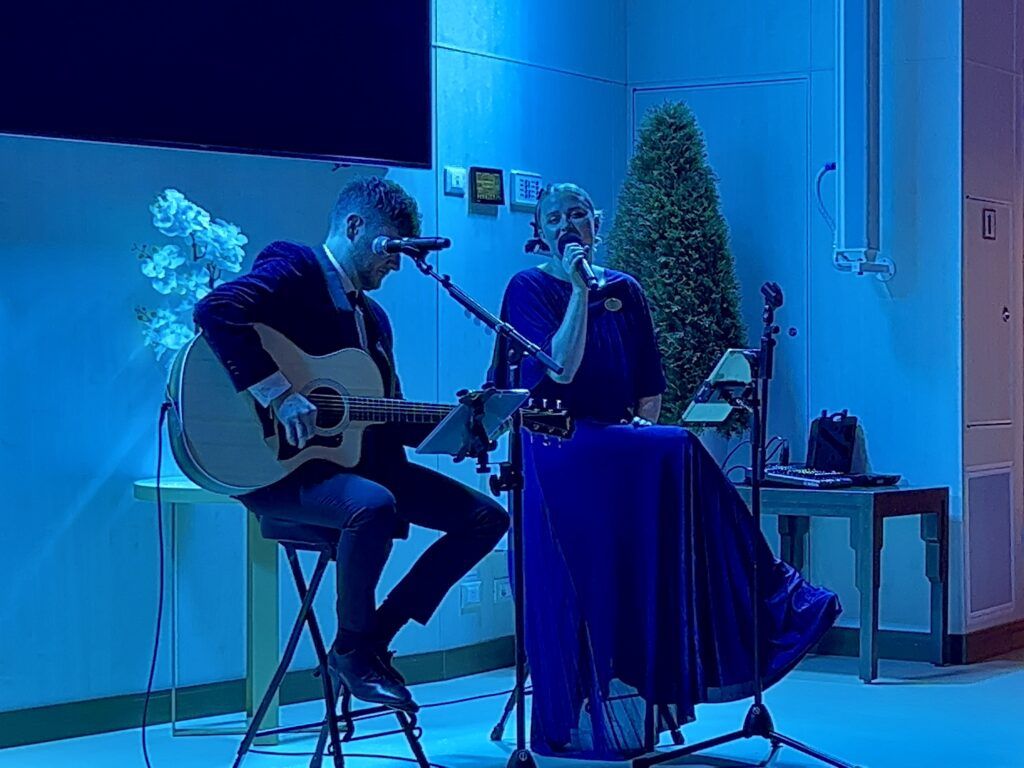 When they took a break ,we moved on to the Crown Grill bar for some martinis before calling it a night, the Milky Way was one of my favs. Tomorrow was already the last day of our Princess Voyage of the Glaciers Alaska Cruise Review.
Princess Voyage of the Glaciers Alaska Cruise Review – Day 7
The Perfect Sea Day
Day 7 of this Princess Voyage of the Glaciers Alaska Cruise Review was a sea day as we made our way to Vancouver, BC.
Turning our clocks ahead one hour before bed last night, we set the alarm for 7 AM. Fueled with some coffee, we spent much of the morning working and capturing our remaining photo and video content. We also sampled the juice bar along the way. This is located at the Wake View Bar aft on deck 16 and is covered in the drink packages.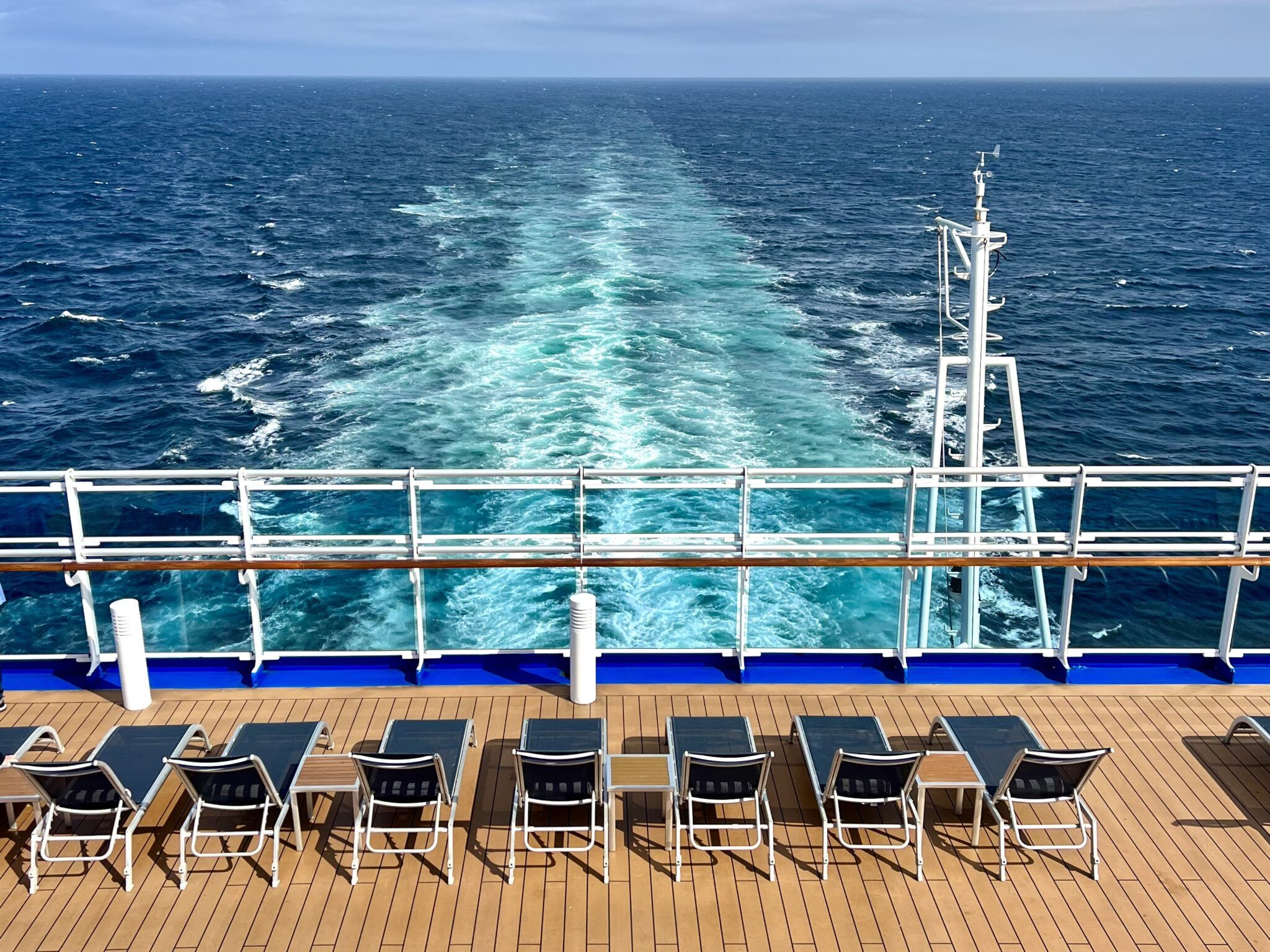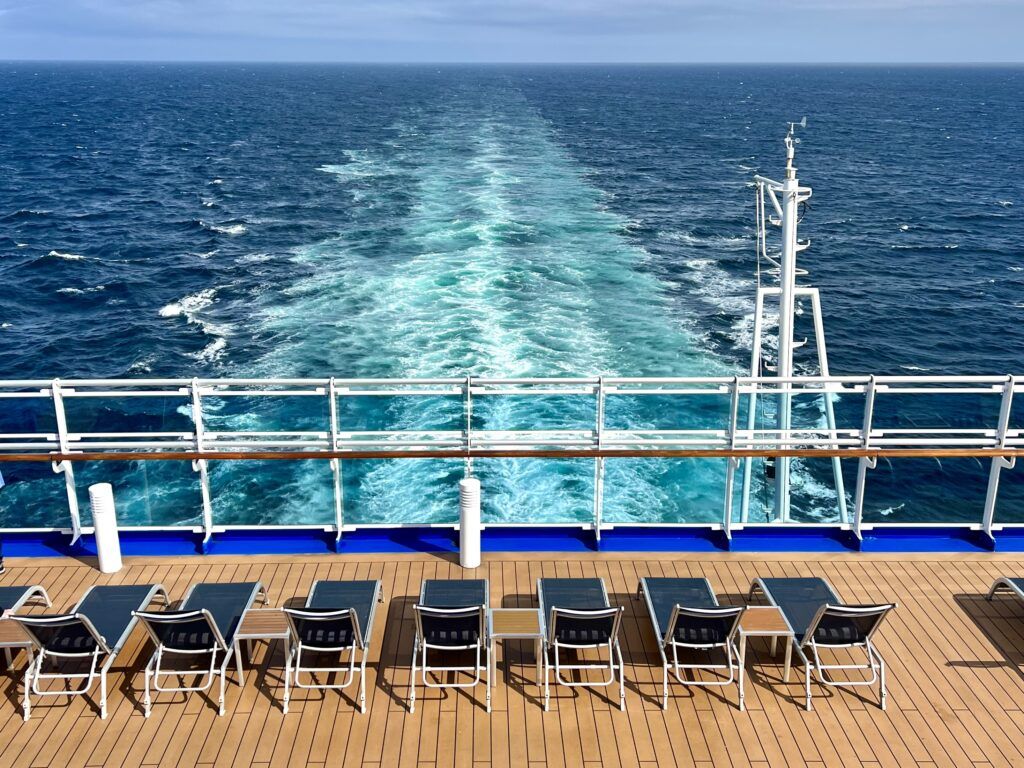 It was yet another beautiful day onboard Majestic Princess. We truly got lucky with the weather this trip. We will be returning to Alaska in two weeks on Norwegian Encore and can only hope that the weather is half as nice.
For our final lunch, I decided to give the grill another try while Don got some noodles from the nearby noodle bar (where Slice would be on other Royal Class ships). I sampled the chicken tacos this time, and they did not change our opinion of the grill. In comparison, the Dive-In burger bar on Holland America ships is much better.
While some press materials have indicated the ships would have featured Alaskan cocktails this season, we did not have any luck sampling them. They were not on any menus yet. One bartender did show us the staff version of the drink menus/recipes, but most bartenders knew nothing of them nor had the ingredients to make them even after we showed them. Oh well, they sounded tasty.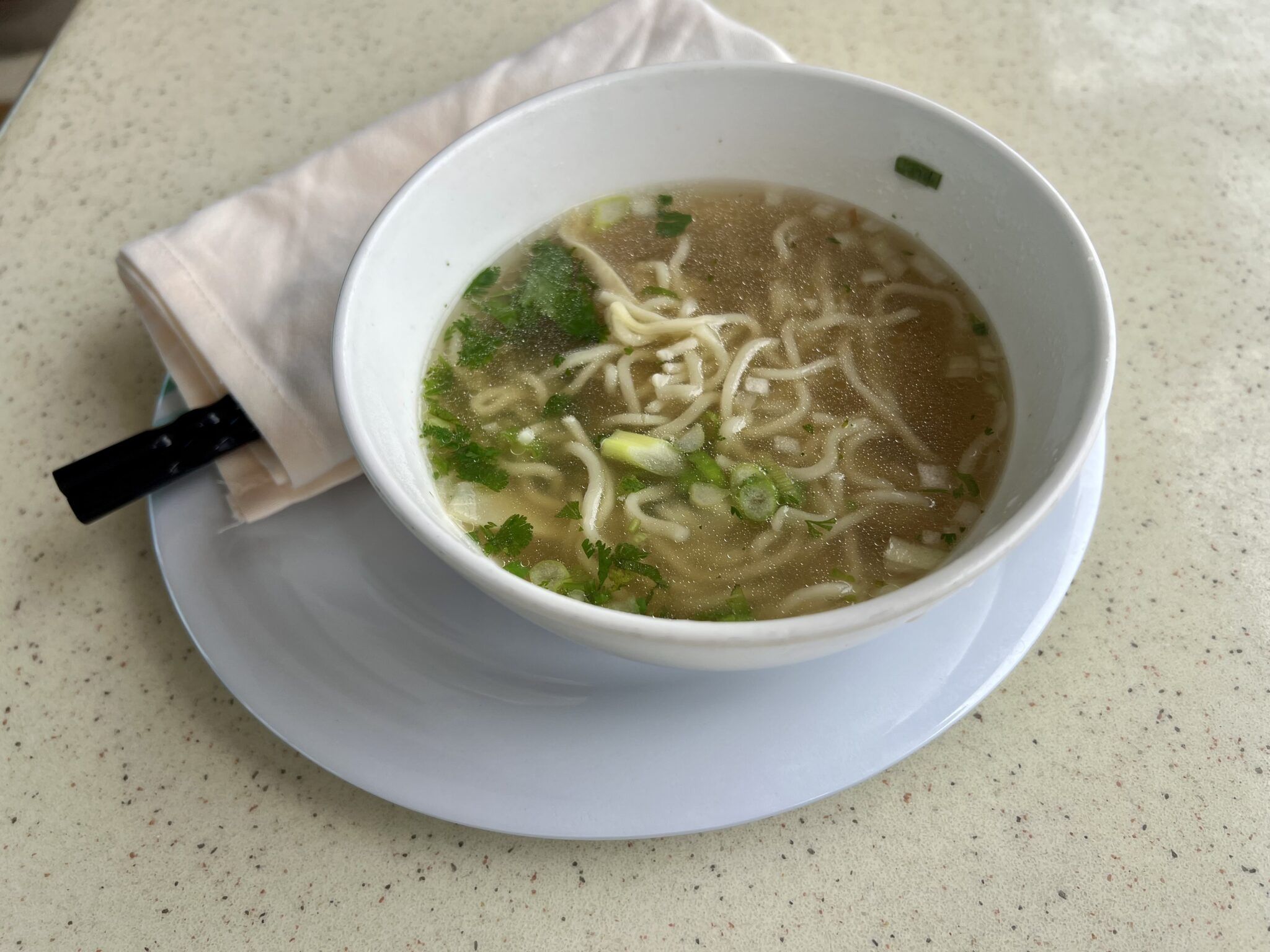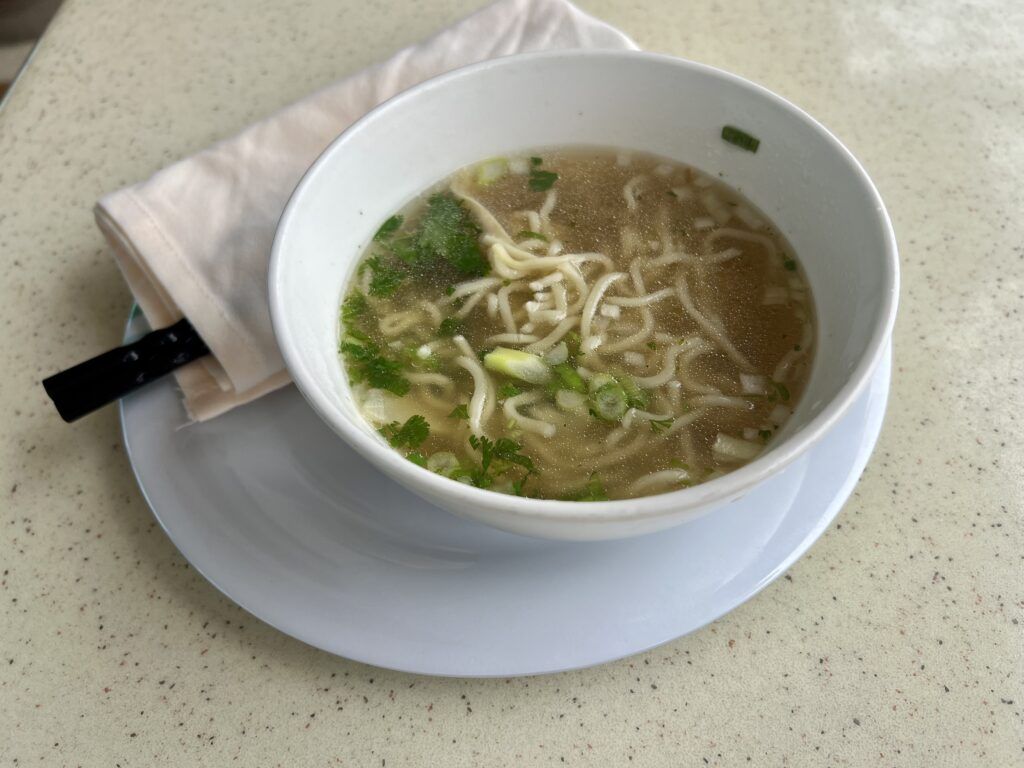 Grabbing our afternoon coffee, we headed to the theater for the 1:15 PM Deal or No Deal game show. We purchased a card to play along for $25; however, you can just simply watch the game show if you want.
Finally Checking Out the Enclave
After the show, we went back to the cabin to change up and finally check out the Enclave. Princess Cruises had given us a week-long pass to this thermal suite, but we had yet to use it. So, now was our chance. We spent about 1.5 hours here enjoying the heated loungers, therapy pool, sauna, and steam rooms.
When compared to some other thermal suites, it is rather small. It also does not feature a salt room, which is my personal favorite.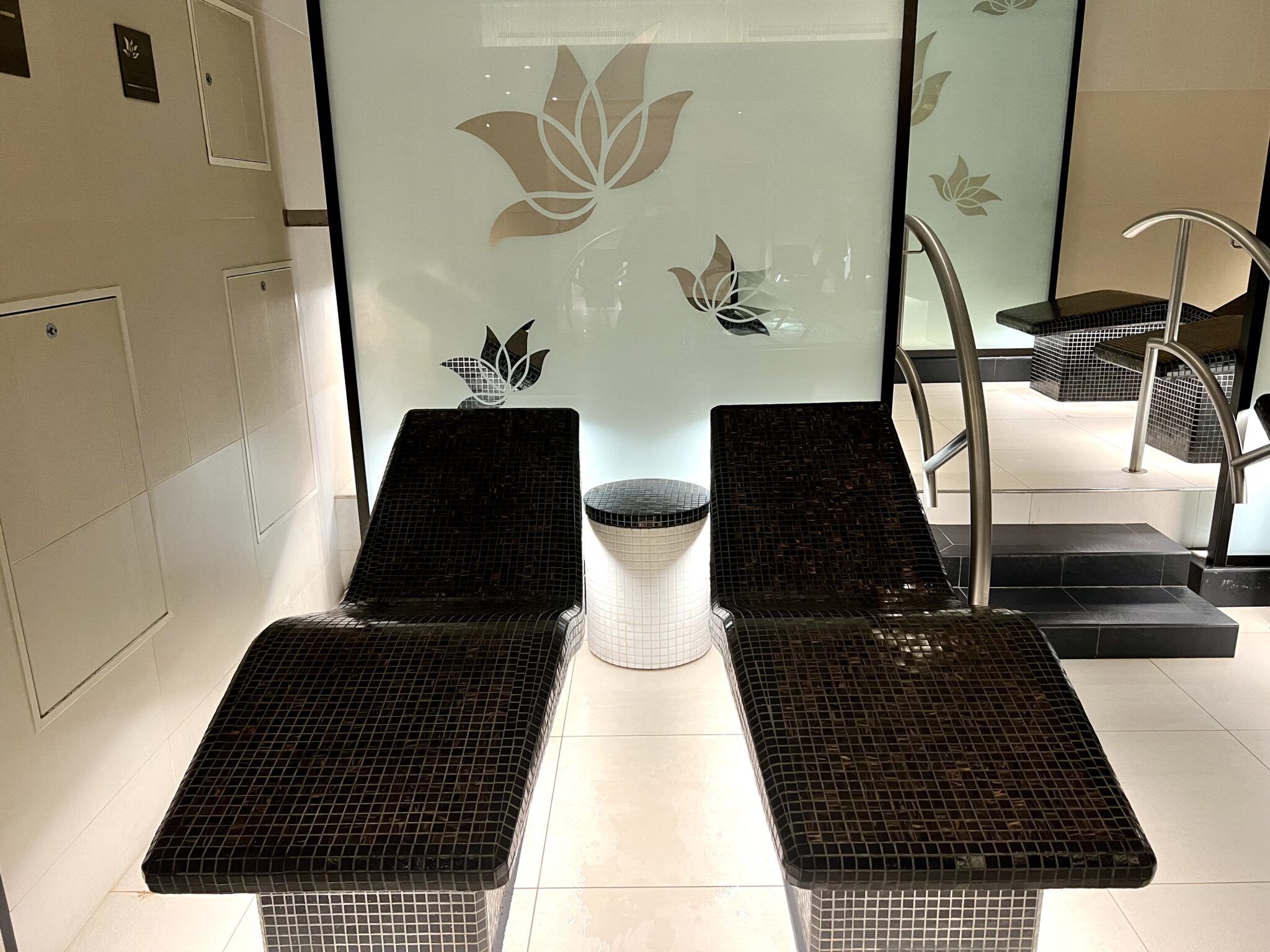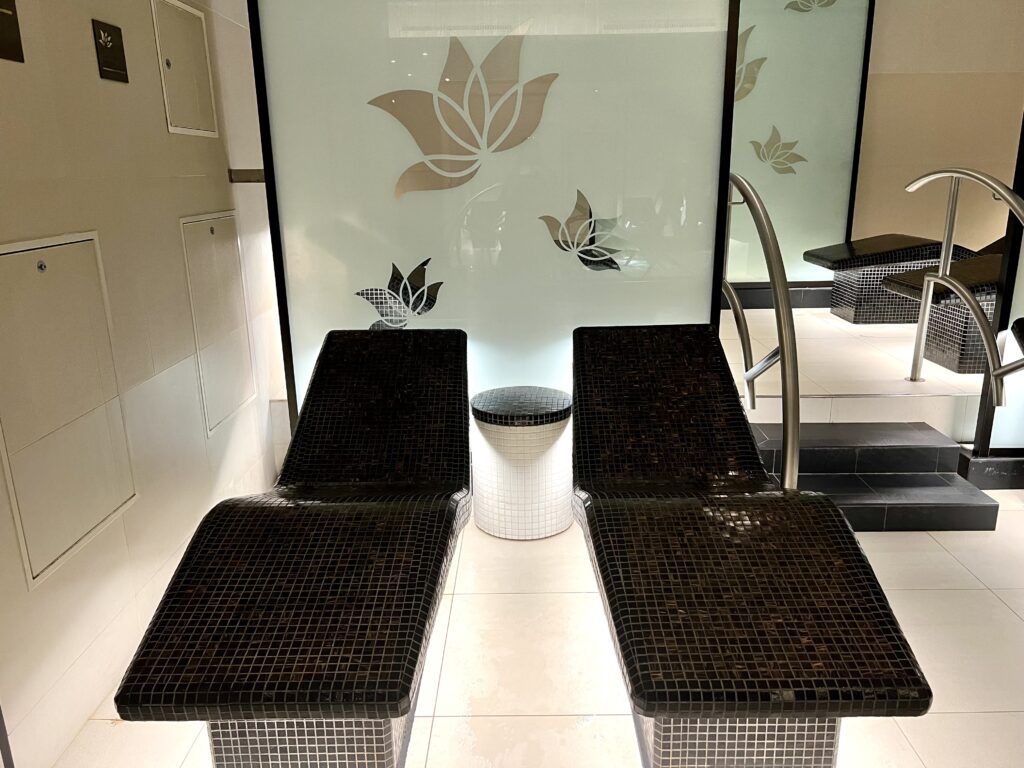 Feeling a bit rejuvenated, the time had come for the most dreaded chore of the trip…packing. While we had a transfer to the airport, it did not meet until after 9 AM which was too late for us. So, we decided to do self assist walk-off which began around 8 AM. This meant we did not need to leave our luggage out this evening, but we still wanted to pack up anyway.
Our Final Night Onboard Majestic Princess
Our final dinner of the cruise was at 6:20 PM in the Concerto main dining room. This was the quickest dinner of the cruise even though it featured the Baked Alaska parade. Tonight, I enjoyed the watermelon and feta salad, spinach ricotta ravioli, and the Baked Alaska of course. Don tested out the salmon cake, sweet and sour shrimp, and the pork belly. The highlight for him was the pork belly entrée.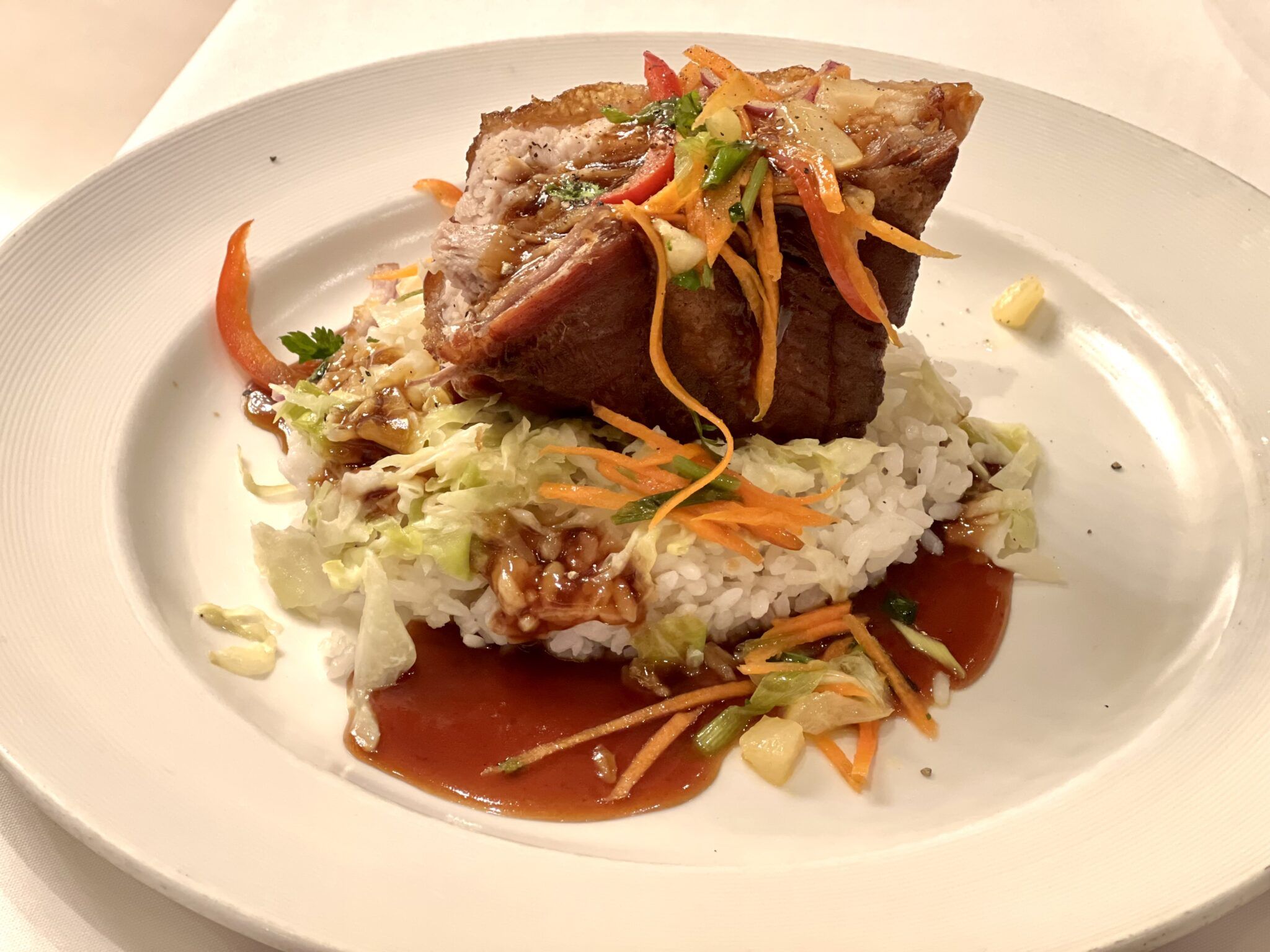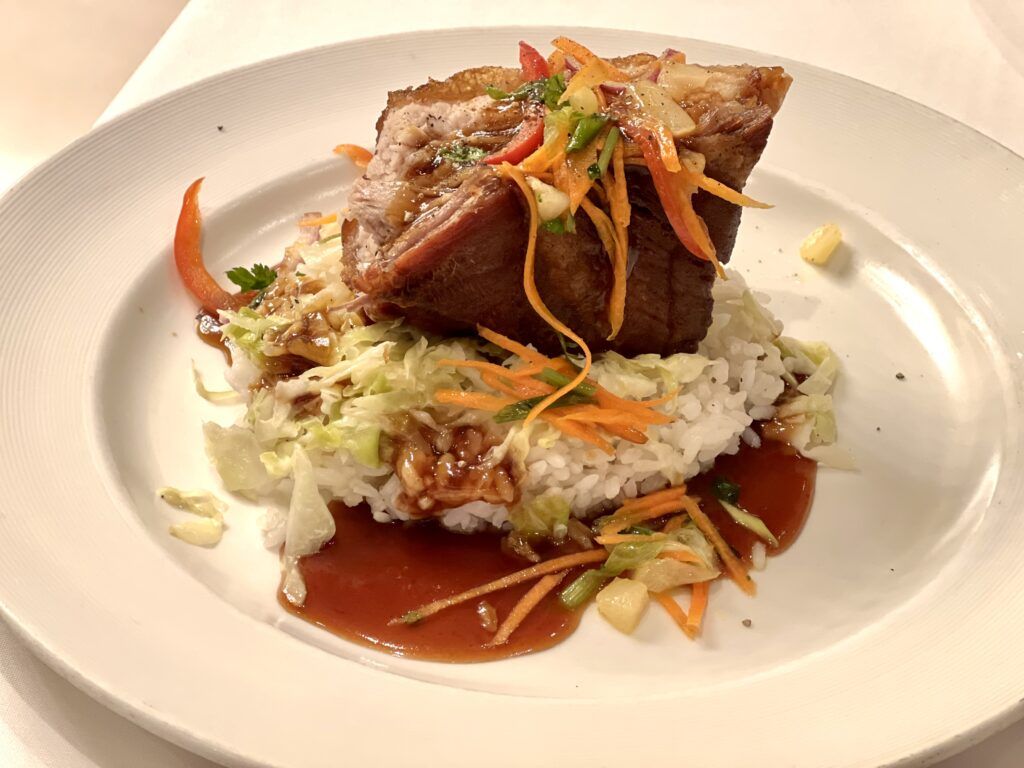 Finished early, we grabbed seats in Princes Live for the Hollywood Hiccups game show, which was hilarious. The show consisted of the activities staff acting out scenes from famous movies. Let's just say that Rose and Jack may have made an appearance.
Following routine, we made our way to the theater for a second, all-new show from Reggie Rice. Unlike some other cruise lines, there was no late-night comedy. This was the one and only show in the theater this evening. Personally, we enjoyed his first show from earlier in the week better.
After the show, we got a final round of drinks at the Double Down bar and called it a night around 11:30 PM.
BOOK NOW: Exclusive Rates on Princess Cruises to Alaska!
Voyage of the Glaciers Alaska Cruise Review – Disembarkation
A Long Day of Travel
Our Princess Voyage of the Glaciers Alaska Cruise Review had come to an end. Today was disembarkation day in Vancouver.
Up around 6 AM to shower, get ready, and finish packing, we were surprised to see that we were still sailing into Vancouver. We watched the sail under the Lion's Gate bridge, past Stanley Park, and into the Canada Place cruise terminal.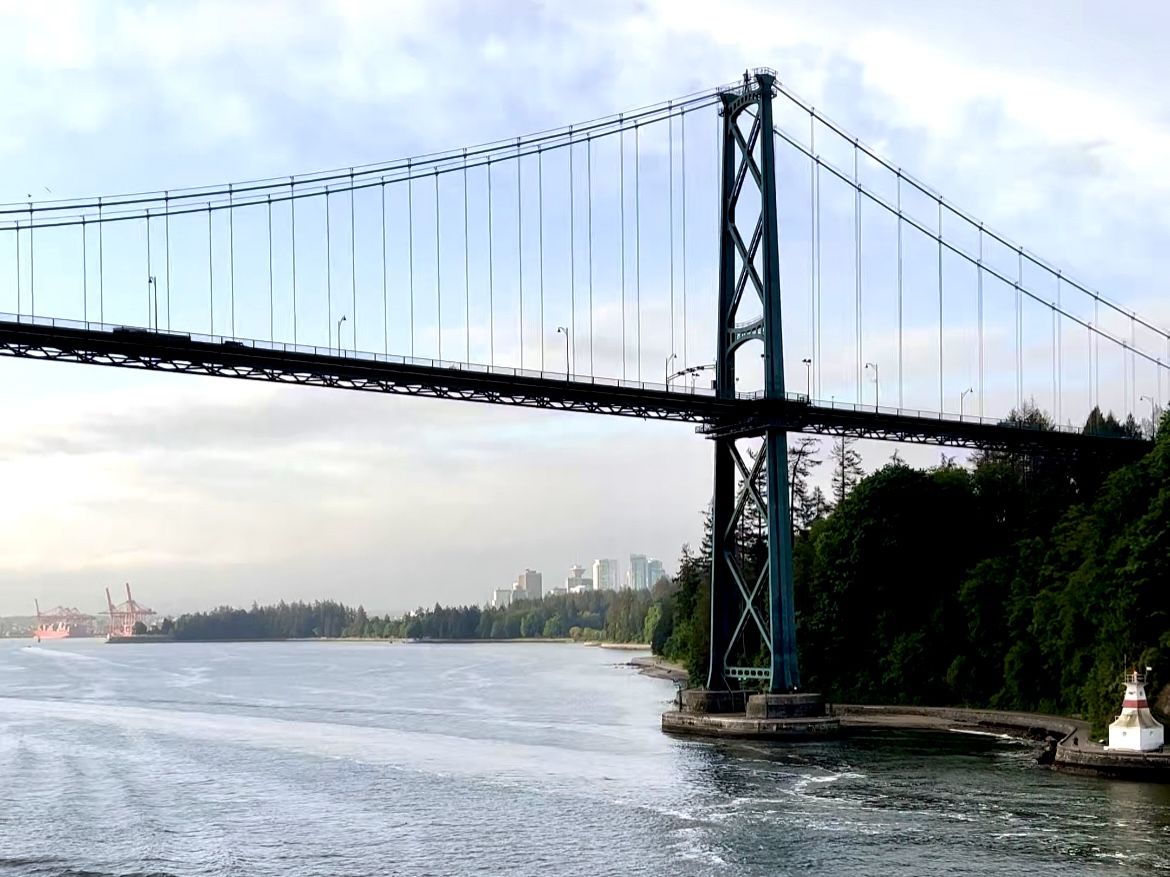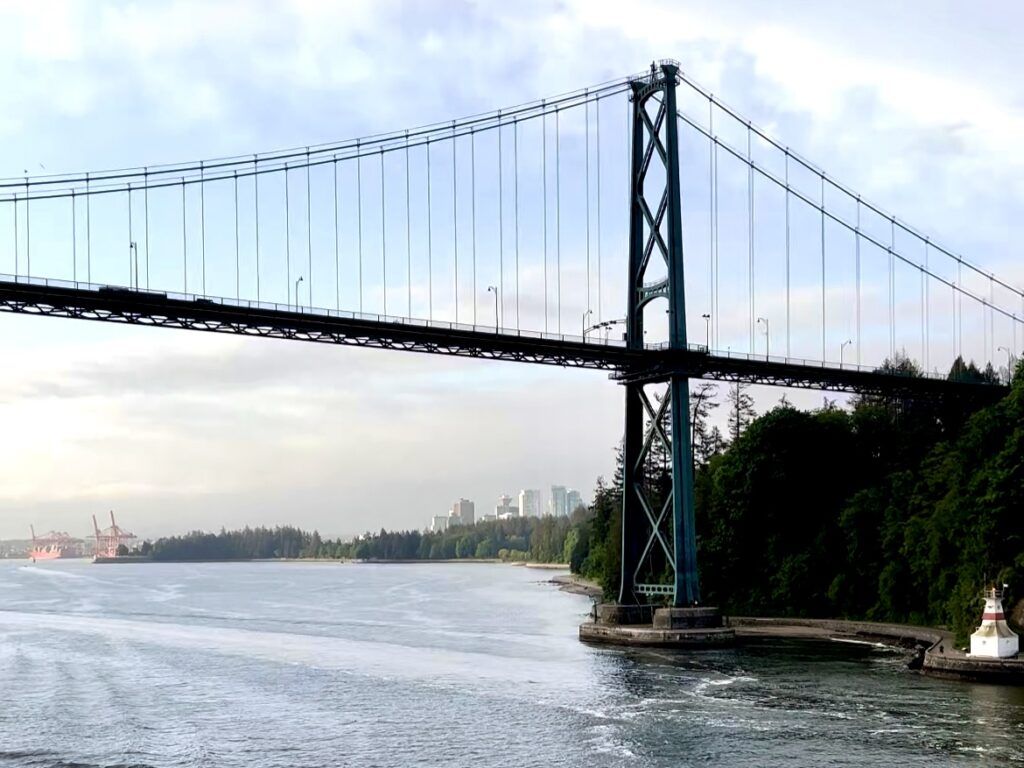 Grabbing some coffee and breakfast sandwiches from International Café, we were ready by 8 AM. Not hearing any announcements yet, we decided to head down to deck 6 anyway. Don was able to hop in an elevator pretty quickly with two of our bags, but I waited another 10 minutes or so for one with enough room for me and our additional bag.
Guests were already scanning off the ship when we arrived. This might have been our quickest disembarkation ever. We were off the ship and in a taxi headed to the Vancouver airport in no time. This taxi ride is a flat fee of $38. At least our travel day started off smoothly.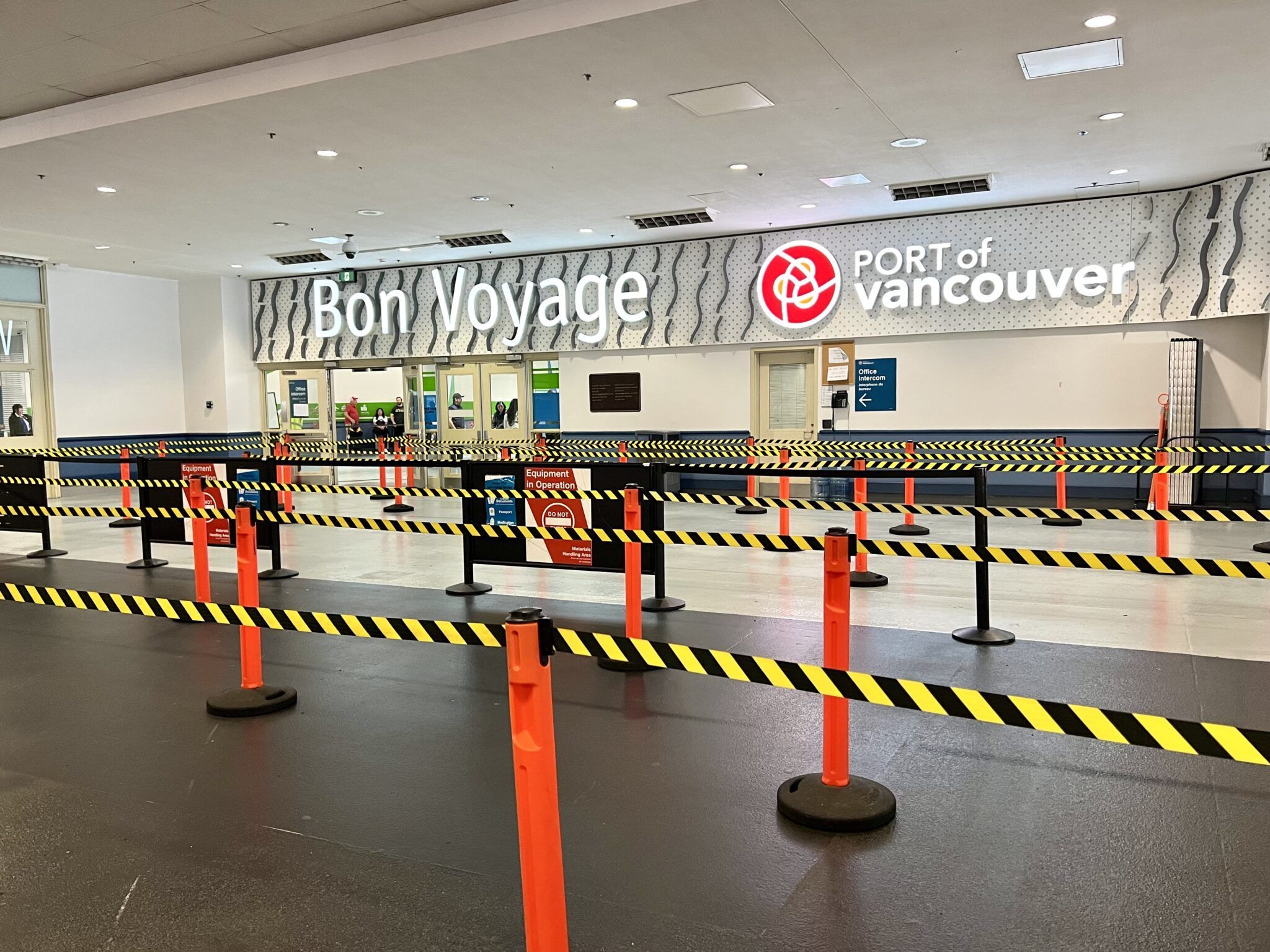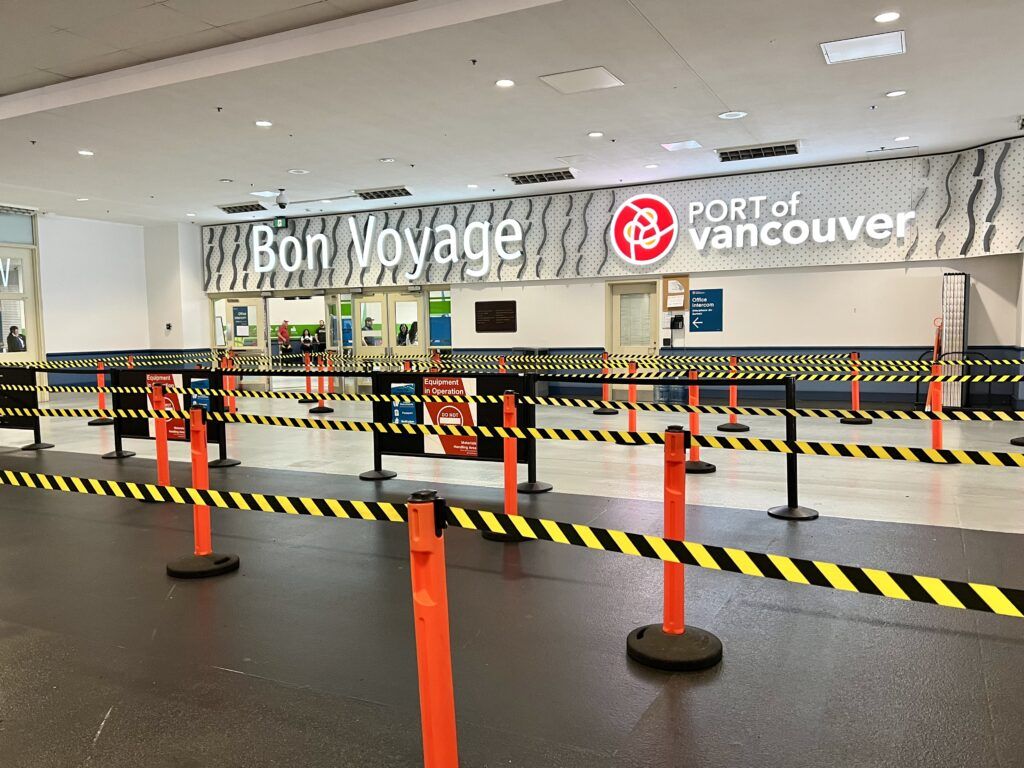 With fast WiFi, we were able to get quite a bit of work done in the airport until our flight. But things went downhill from here.
Unexpected Delays
Boarding the plane on time, we sat and waited forever, with the pilot suggesting it was taking longer than expected to load luggage. This in turn triggered a need to switch flight attendants which delayed us taking off by 1.5 hours. Of course, we only had a 1.5 hour layover in Toronto so things were not looking good for us.
It turns out a majority of passengers on our plane missed their connectors and were rescheduled to new flights. The only problem was that our new flight back to Boston wasn't until tomorrow morning! Booking a room at the Toronto Sheraton airport hotel, we got some room service and a few hours of shuteye before attempting to get home once again.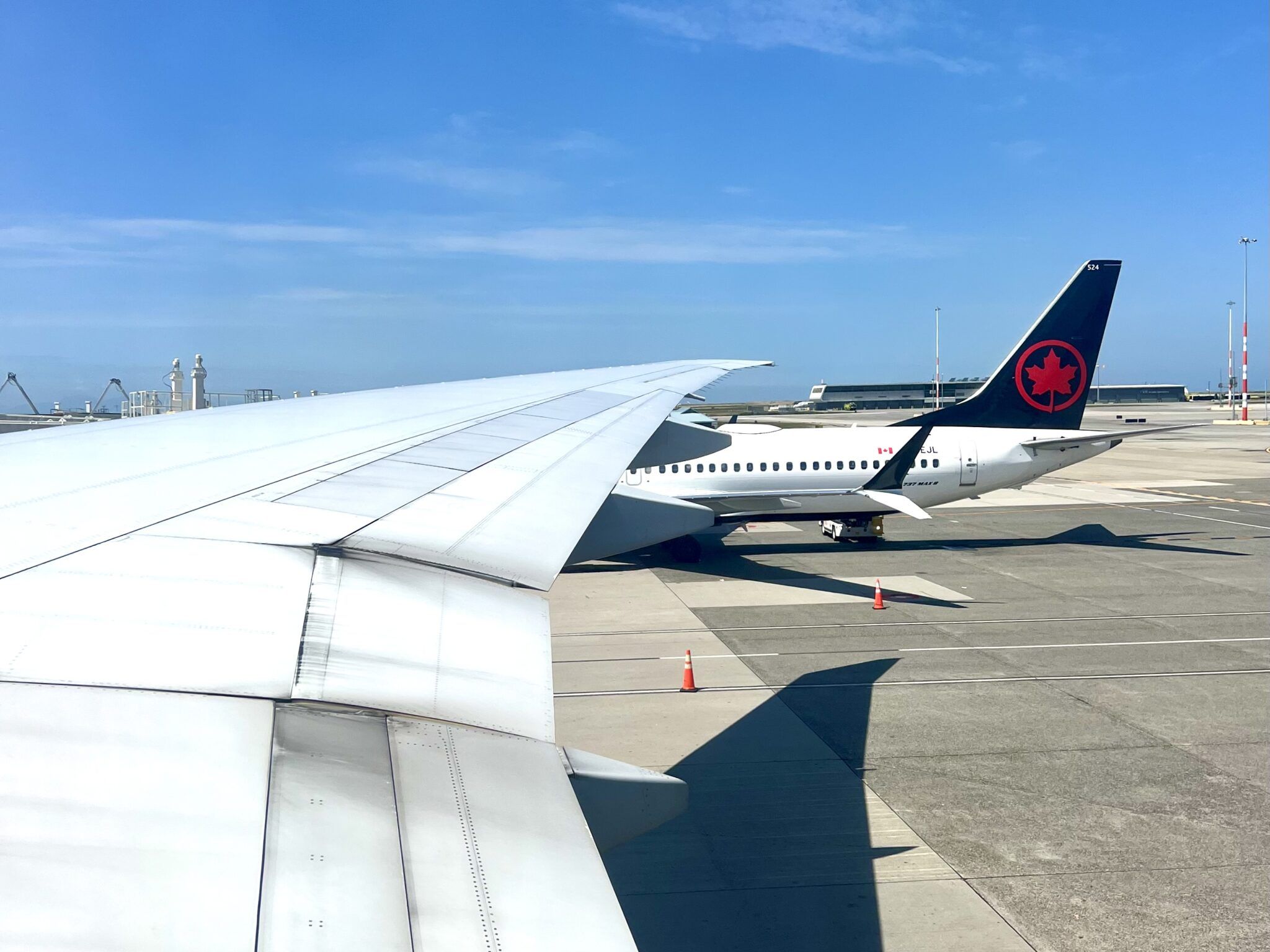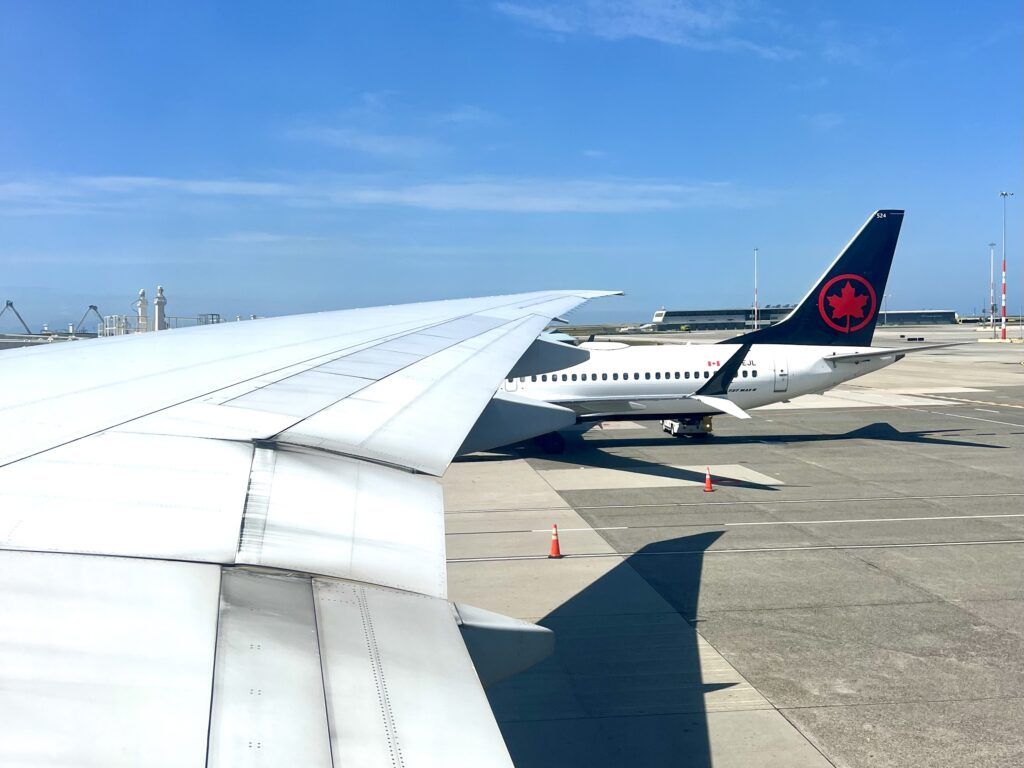 While we got home without issue this time, our bags were not so lucky. Even though Air Canada told us our bags were checked to our final destination, they did not arrive with us on the plane. With much of an ordeal, we finally had our bags over a day later. Moral of the story is that we will not be flying with Air Canada again any time soon.
Albeit late, we were back home for just under a week. Laundry, packing, and working were on the agenda before flying to Seattle for our next Alaska cruise departing June 4th. Stay tuned!
Comments
Did you enjoy our Princess Voyage of the Glaciers Alaska cruise review? Do you have plans to cruise to Alaska this year? Drop us an anchor below to share your recent cruise reviews!