Scroll Down to Watch our Complete Princess Cruises Alaska Cruise Review!
Ship Overview
Majestic Princes is one of Princess Cruises largest ships. As the third vessel in the Royal-Class of ships, this 144K gross ton ship offers some of the line's newest features. Originally debuting for the Chinese market, there are still hints of Asian-influence on the vessel. From the western-themed Conservatory, to the signage, and the cruise line's only Harmony Chinese restaurant, Majestic Princess is a bit distinct from her sister ships.
This 3,500+ passenger ship sailed at over 60% capacity this past week. Given its size, this was the greatest number of passengers we have cruised with yet in 2021.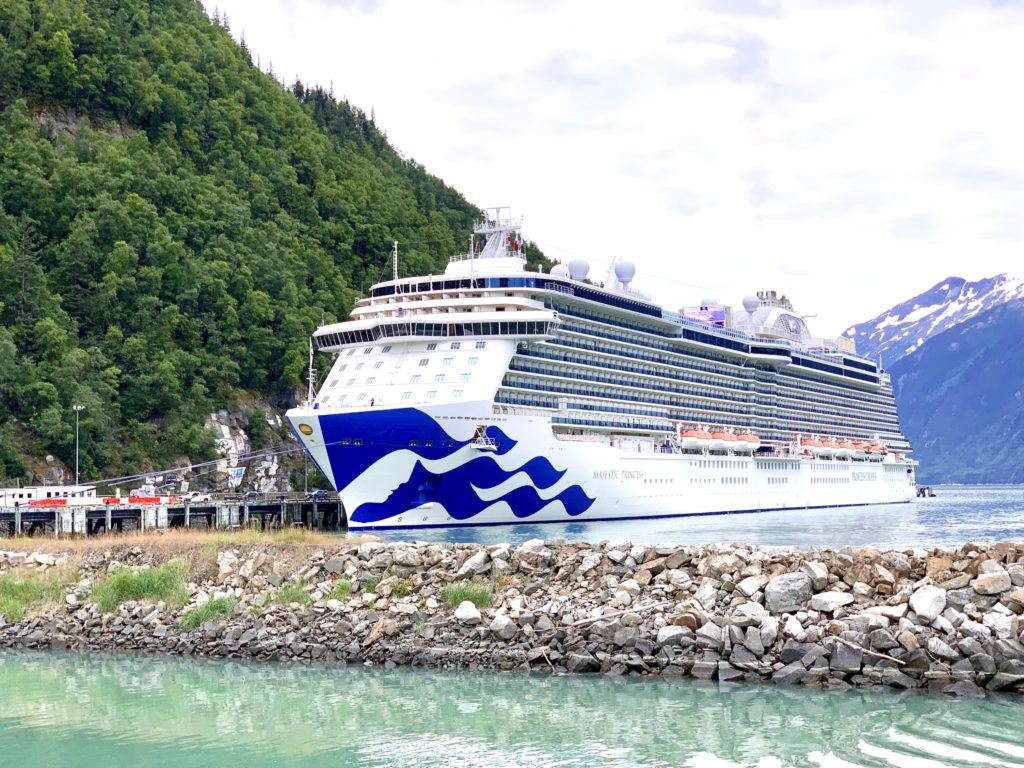 As our first Princess cruise, there was a learning curve in terms of the ship's layout. After a few days though, we were able to easily find our way around the uniquely designed interior spaces (well, at least I was). Boasting several bars, distinct eateries, and various public venues, this mega ship offers plenty of options for distinguished travelers.
Majestic Princess has two outdoor pools, one adult-only indoor pool, and a sports deck with a court and games like ping-pong. Even with these amusements, the ship retains an elegant and regal feel, with soft finishes and more intimate public areas.
The centrally located Piazza boasts live music, a 24-hour café with coffee and snacks, as well as 4 different lounges, making it the ideal place to relax on a cool Alaskan sea day.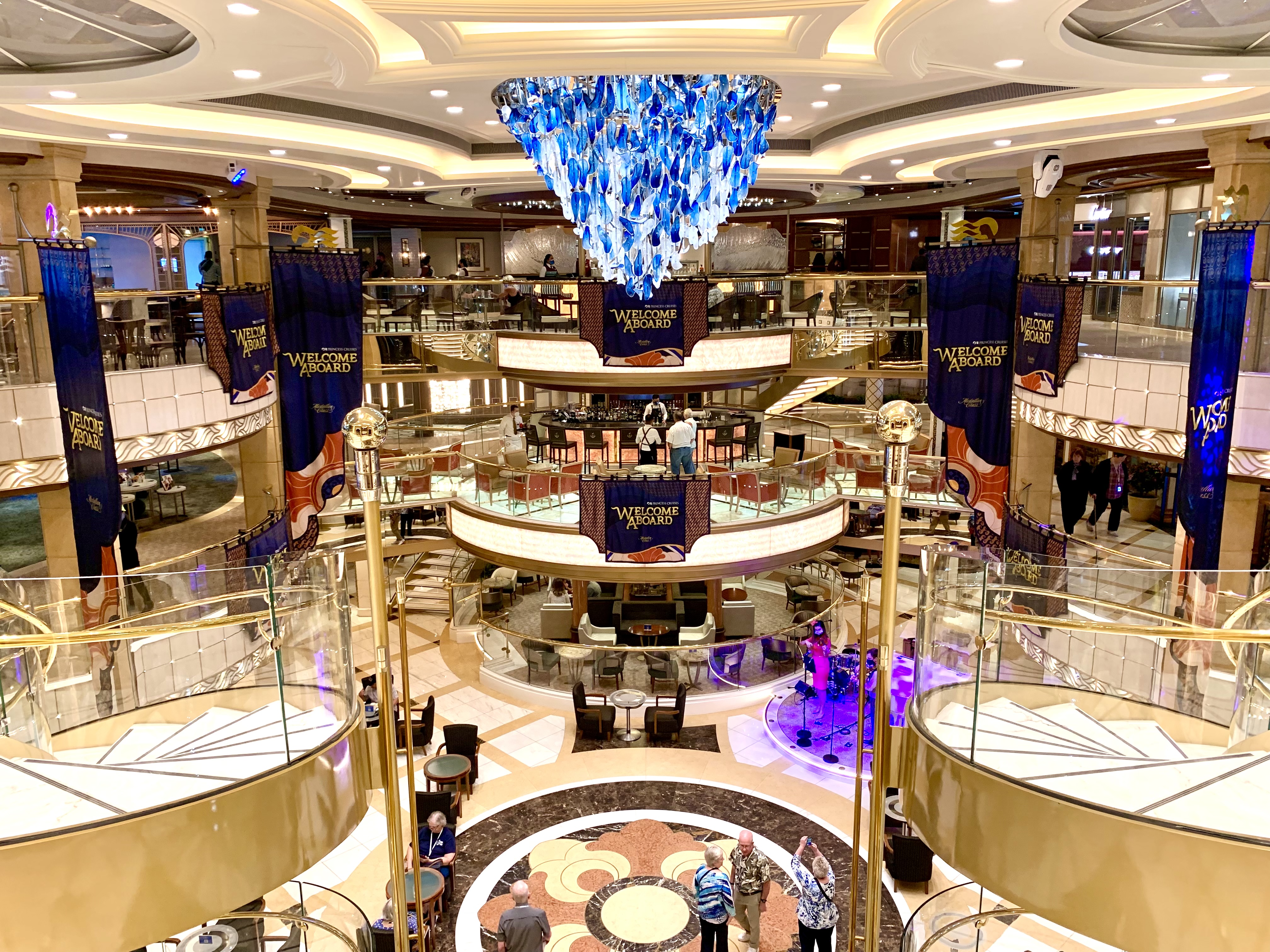 Like most contemporary cruise lines, Majestic Princess offers a variety of daytime and nighttime activities. There is daily main theater entertainment from headliner acts and a production show cast, to informational talks by onboard naturalists and experts as part of the North to Alaska programming.
There is also trivia, game shows, Bingo, Movies Under the Stars, and live music, giving cruisers plenty of things to do when not ashore in one of the exciting ports of call.
EXCLUSIVE SAVINGS: Book Your Next Princess Cruises Sailing Now and Save!
Majestic Princess also offers a more personalized and contactless vacation with its Ocean Medallion and MedallionClass app. This technology allows for keyless entry into your stateroom, on demand food and drink delivery, a digital copy of the Princess Patter activity schedule, and much more.
Given this cruise is only available to vaccinated passengers, there were few additional protocols in place once onboard the ship. Besides extra sanitation measures, staff serving in the buffet, and some additional signage throughout the ship, this Majestic Princess Alaska cruise felt just like old times. There was no testing requirement, no social distancing, or no need for passengers to wear face masks on the ship. Though, masks were required when going ashore on shore excursions and during the embarkation and disembarkation processes.
Related Post: What It's Like Sailing on Princess Cruises Right Now
Day 1 – Majestic Princess Alaska Cruise Review
A Really Early Morning
Given our recent travel schedule and some family obligations, we flew into Seattle for this Alaska cruise on Majestic Princess on the morning of embarkation day.
While we don't like flying the day of the cruise, the three hour time difference worked to our advantage. This gave us plenty of time to get to the ship. Just to be safe, we did book with Princess Air. This ensured that if there were delays, the ship wasn't going to sail without us.
However, this meant a 4:30 am car service for our 7:30 am Alaska Airlines flight to Seattle.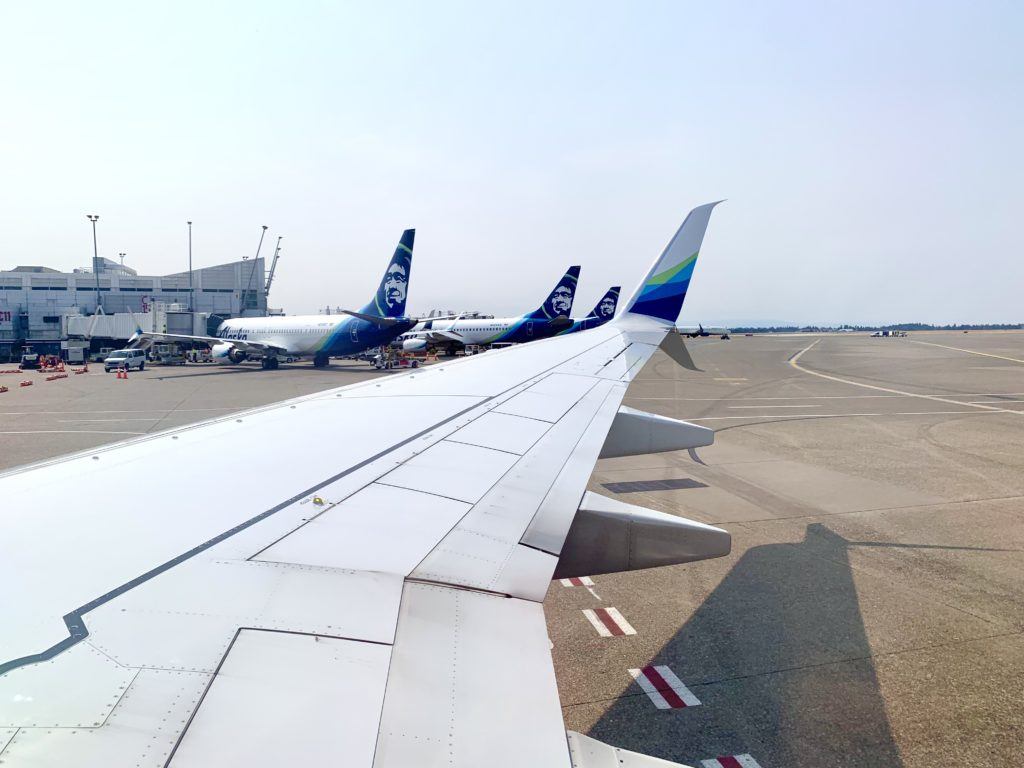 Luckily, there were no delays.
Grabbing our luggage and securing an Uber to the port were equally easy. So, we arrived to Pier 91 just before noon.
Pre-cruise, we had completed our online check-in a little late. So unfortunately, the earliest embarkation time slot was 1 pm.
Once we arrived, we showed the staff our "green lane" status and were directed to begin the check-in process. From verifying our passports and vaccination cards to getting our medallions (which never arrived by mail), we boarded the ship in about 30 minutes.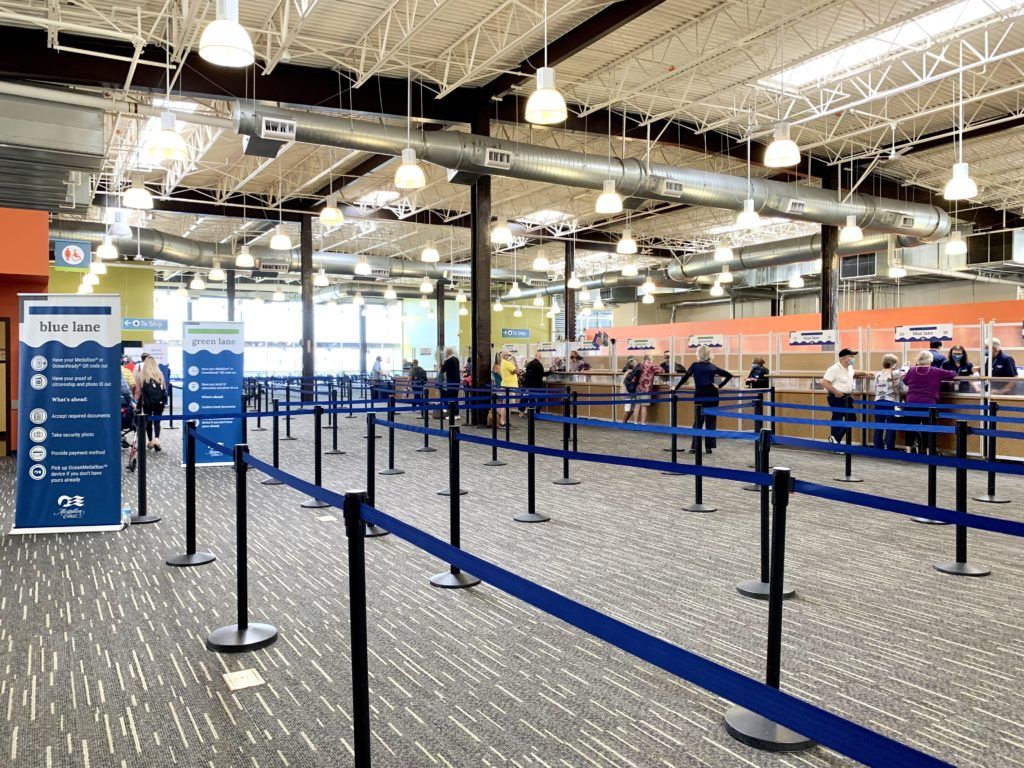 While there was a steady crowd of fellow cruisers, Princess Cruises processed us all rather quickly.
Quite honestly, it didn't seem like the Medallion app did much to speed up the process as we were never even asked for the generated QR code.
We Are Back
As this was our first Princess Cruises sailing, we spent a few hours exploring the vessel and taking some photos and video.
The staterooms were ready by the time we boarded, so we made a pit stop to drop off our carry-on items first.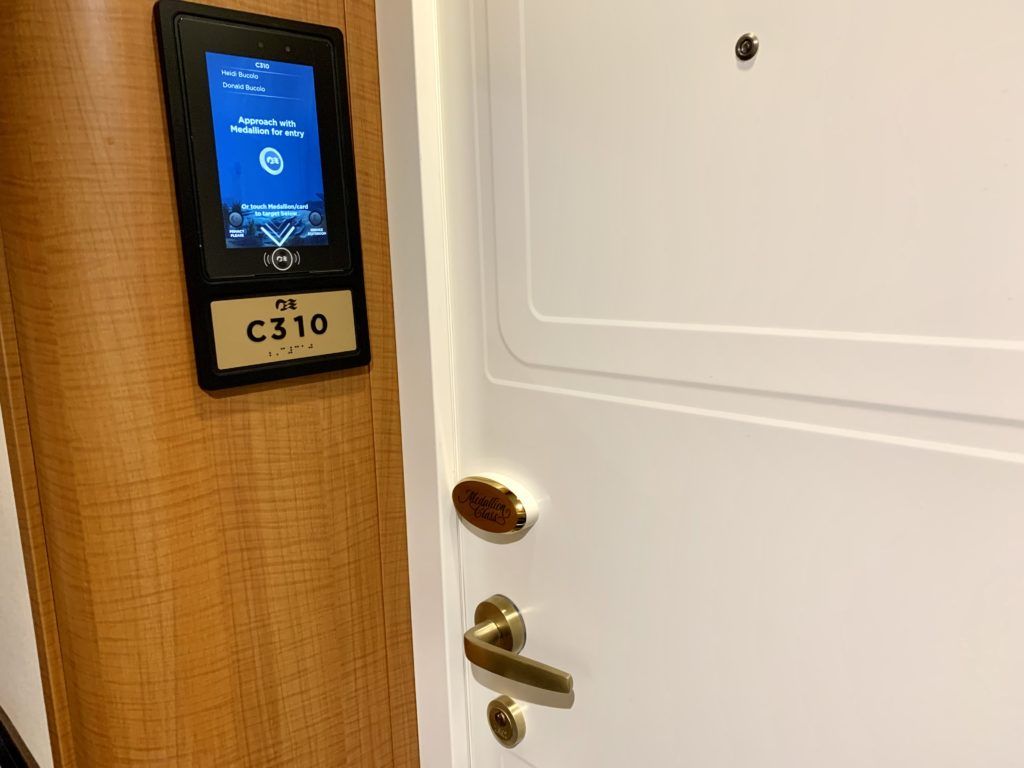 Here, we met our stateroom attendant, Luis. He gave us an abbreviated tour of the room and reminded us to complete our muster drill.
Of note, he also informed us that there would only be once daily stateroom service. This meant no turndown service or towel animals. So, we did make sure to request extra towels since he would not be replenishing them in the evenings.
Grabbing some photos and videos of the room, we then completed our electronic portion of the muster on our television as it was not functioning in our app.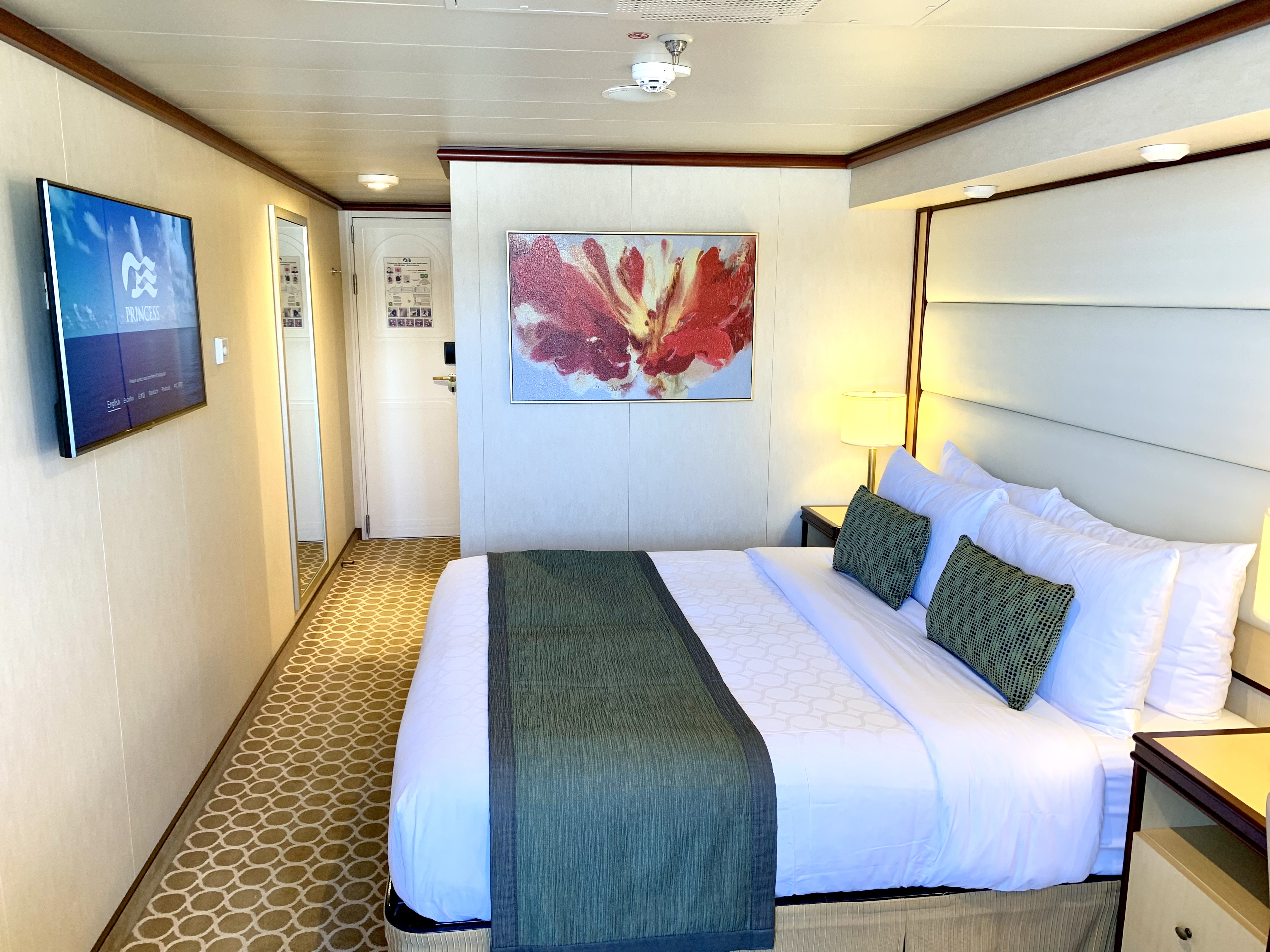 After watching the briefing, we needed to check-in at our muster station C. While not as simple as Royal Caribbean's Muster 2.0, it was still a vast improvement over the muster drills of cruises past.
Then, we were off to explore, starting at the upper outdoor decks and working our way down. After well over an hour, we were hungry. Hearing rave reviews about the pizza on Princess Cruises, we snagged a table at the complimentary Alfredo's Pizzeria on deck 6.
Each ordering our own personal pie, and our first cocktail of the cruise, the food certainly lived up to its lofty reputation.
Finishing up lunch, we toured some of the remaining indoor spaces, like the restaurants and the spa.
With sail away planned for 4 pm, we then headed to the outdoor decks. It was time to say "sea you later" to Seattle.
Come Sail Away With Me
The pool deck area was busy with many travelers also eager to be among the first to sail with Princess Cruises in over 16 months. With a slight delay, the ship finally pulled away around 4:30 pm.
Complete with a send off from the ship's production cast and a horn farewell from Carnival Miracle docked alongside, the Captain maneuvered the ship out of Puget Sound towards our first port of call, Juneau, Alaska.
It was an exhilarating feeling and certainly the most lively sail away party of 2021. With a mix of happy cruisers, cruise director and entertainment staff, and a fully stocked bar, this was like the sail away parties pre-COVID.
Can We Stay Awake?
With a 6:40 pm dinner reservation tonight, we had to unpack first. We did receive our luggage hours earlier, but with our explorations, lunch, and sail away, we didn't have time to get organized yet.
Our stateroom design offered limited storage options. We both loved the open closet with plenty of hangers. So, this gave us more than enough space for all our day time and night time clothes. Not to mention, we could hang all our outwear with no issues.
When it came to drawer space for other clothing items and technology gear, the cabin was a bit lacking. Further, there was limited counter space and no additional seating beyond the small desk.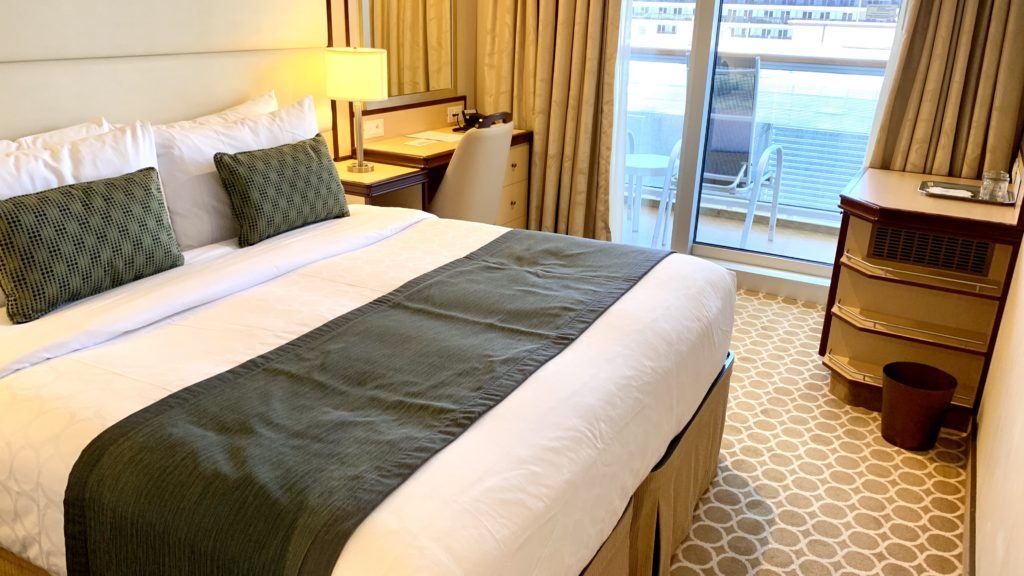 Somehow, we managed to unpack everything, get showered and changed up, and arrived to dinner only about 15 minutes late.
We booked all of our My Time Dining reservations prior to our cruise. Although, it did not seem to matter for the main dining room. Other cruise lines tend to have separate lines for those with and without reservations; however, the Concerto dining room only had one line.
We waited only a short time before the host directed us to the other side of the dining room to be seated.
Dinner took nearly 2 hours this evening. We are used to night 1 dinner being a bit chaotic, but this seemed extra busy. The venue also seemed a bit short-staffed.
We both ordered a starter, entrée, and dessert. Overall, the food quality seemed on par with other contemporary cruise lines. My short rib entrée was perhaps the highlight, with tender beef in a rich demi-glaze sauce.
By the end of dinner, the jet lag was really kicking in for us. Still, we never miss the Welcome Aboard show. Tonight's headliner was Darrell Joyce, a stand-up comedian.
Again, with a different theater configuration, we found some chairs in the general area where we normally sit.
The comedy show was family-friendly with most of the jokes pertaining to either COVID, cruising/cruisers, or the relationship with his girlfriend.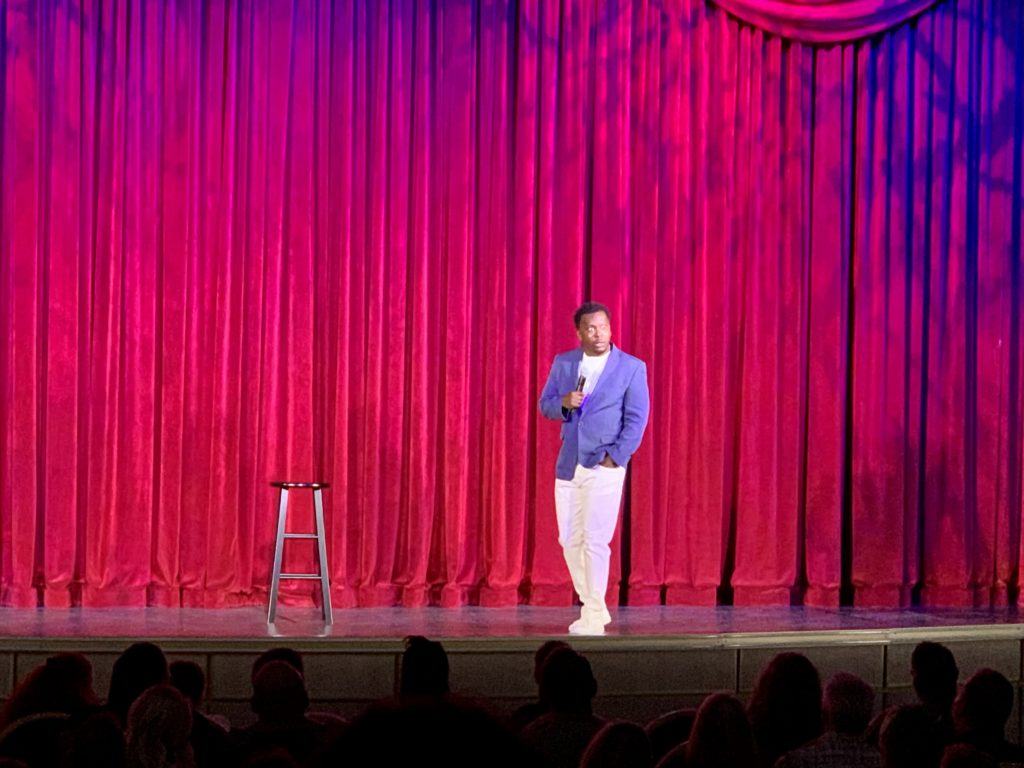 Fighting off the tiredness, we made it through the show with a few laughs.
Back to the room before 10 pm, we basically passed out. With plenty more in store on this hallmark Alaska cruise, we needed some shut-eye.
BOOKING BONUS: Find the Lowest Fares on Alaska Cruises!
Day 2 – Majestic Princess Alaska Cruise Review
Just Another Work Day at Sea
Given our travels, and my work schedule for my full-time job, I have been trying to work from the ship a few days each recent trip.
Expecting solid internet, I was certain I could get everything done on this sea day. With the time change, I was up at 6 am to begin working and attending Teams meetings on EST.
In between work, I grabbed us coffee at the International Café while the Princess got ready for the day. We also had some breakfast at the World Fresh Marketplace.
This cruise ship buffet felt massive but also maze-like. With two distinct dining rooms, and several central food stations, we wandered through the area to find our selections.
Food selection and quality were on par with cruise buffets from the likes of Norwegian Cruise Line or Royal Caribbean.
Unfortunately, the gray and misty weather outside precluded us from finding an outdoor work space today.
So, with meetings and work taking me basically to lunch time, we bounced around some of the public indoor venues looking for a better internet connection. While the morning started off strong, by 10:30 am local time, we were having issues.
Thus, we took a little break to squeeze in the Last Frontiers of Alaska talk by the onboard naturalist, Michael Modzelewski. Mixing personal narrative with wildlife facts, state history, and an excited storytelling style, his introductory session was inspiring and informative.
With no better luck on the WiFi front, I ended up missing a work meeting, and we weren't able to get any blog work or social media done this afternoon.
At least the weather was clearing. So, we headed outside for some lunch from the Burger and Lobster Grill. With a long and somewhat unorganized line to order, it was close to 20 minutes before we got our food.
An Afternoon Around the Ship
In an attempt to get some WiFi signal, we made our way back inside to some seats on the outskirts of the wine bar, Vines. Along with sipping some coffee and nibbling on sweet treats from the nearby café, I was at least able to get some work emails done.
Finishing up for the day, we snuck over to the logo shop to take advantage of the Alaska "sale". We purchased a few shirts and our usual cruise ship ornament for our travel tree back home. The Alaska merchandise was very reasonably priced.
Getting Into Our Routine
Assuming day 2 would be Formal Night, we booked the French specialty restaurant, Bistro Sur La Mer, before our cruise. The only time we could secure a reservation was 5:30 pm, which meant no time for formal photos.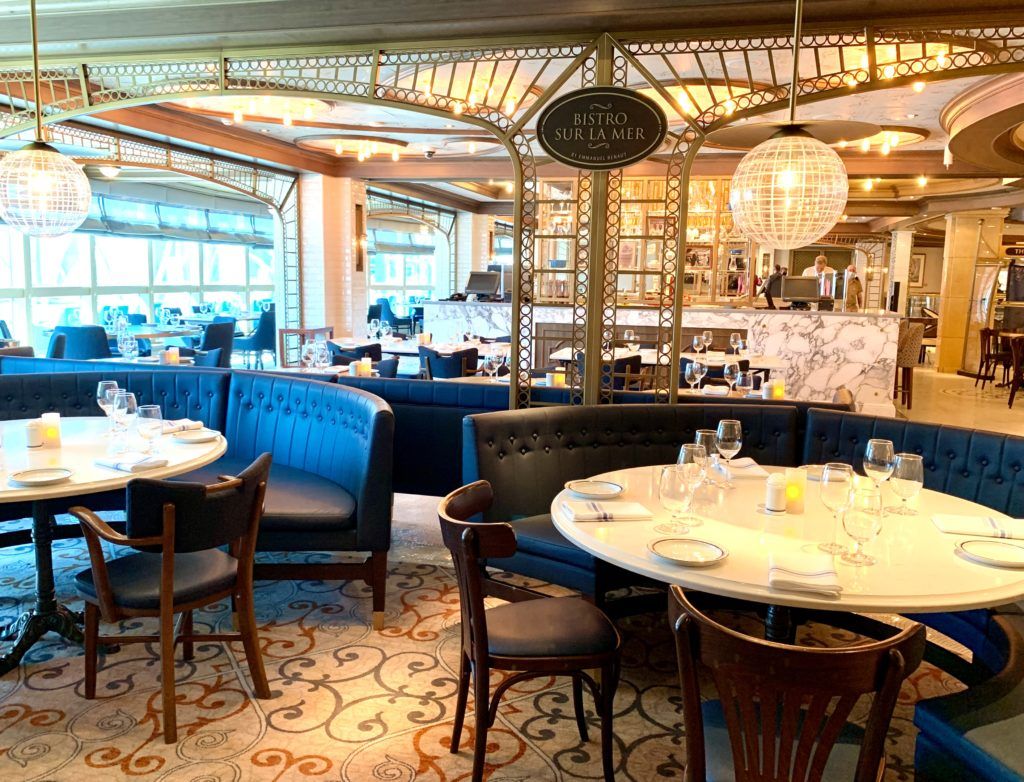 Surprisingly, there were a number of cruisers dressed up for this first formal night. There were also several photo stations scattered around the central Piazza area.
We found the service and food at Bistro Sur La Mer to be on par with similar venues on other cruise ships. For an up-charge price of only $29, this specialty restaurant is certainly a worthy alternative to the main dining room.
My ahi tuna appetizer was flavorful, and the braised veal shank was tender and well prepared. Heidi raved about the potato au gratin even though it looked like it should be a side dish instead of an entrée.
Dinner was also more reasonably paced tonight at about 90 minutes. Thus, we had some time to kill before the game show at 8:15 pm.
Somehow, we were able to find a table for two at the Crown Bar to order our first signature martinis of the cruise.
Finishing our drinks, we secured seats at Princess Live about 10 minutes before showtime. This venue is themed as a "tv studio" and features a variety of game shows and other activities like trivia.
Tonight's show was one of our favorites, Yes or No. The concept is simple. Cruisers have to answer the cruise director's questions without using the words yes or no. It is a lot harder than it sounds.
Cruise Director Dan was on fire, and only one guest survived, even though she technically only made it to 2:59 minutes before uttering a "yeah".
Like many in the venue, we exited and made a b-line to the theater for the first production show of the cruise, Sweet Soul Music.
The 35 minute production was a pretty average cruise ship show featuring Motown music. It was rather interchangeable with all the other shows we have seen through the years.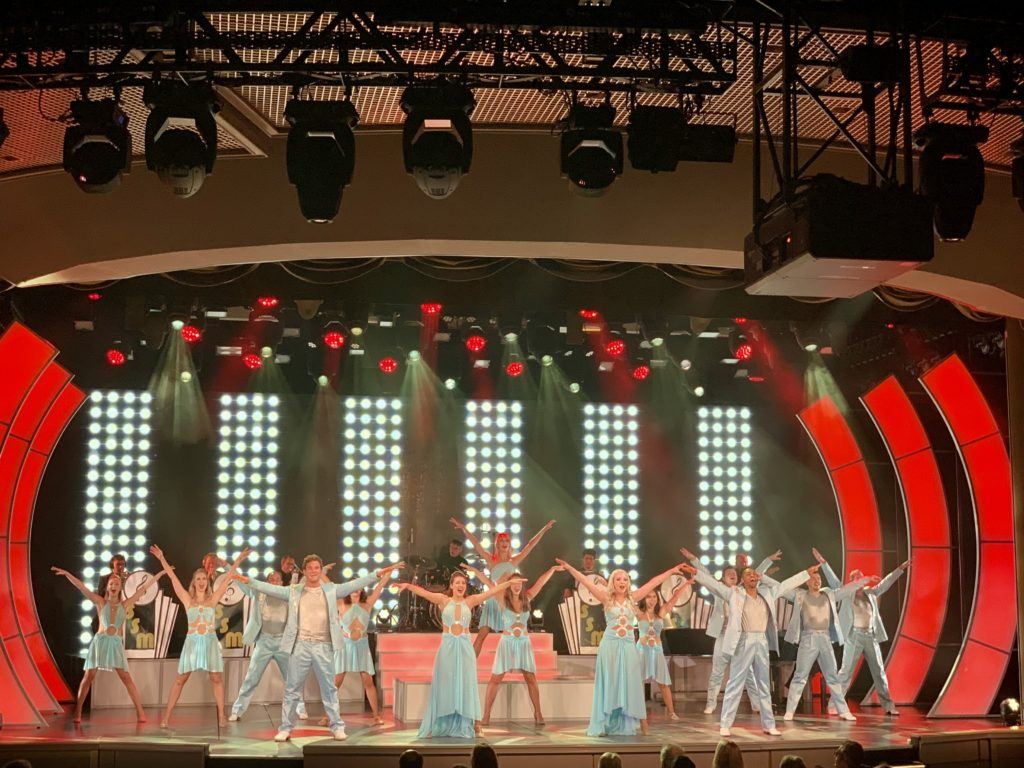 Still a bit tired, we retreated to our cabin following the show. Sadly, with no turndown service, there were no towel animals there to greet us when we returned.
Related Post: Alaska Cruise Planning Guide
Day 3 – Majestic Princess Alaska Cruise Review
A Morning to Catch Up
Our first port of call in Juneau was a late day stop, not docking until 12 pm.
All along, I planned to work today, as it would be 4 pm EST by the time we arrived in port. Up at 5 am, I grabbed coffee and some photos along the way and was ready for some work meetings beginning at 6 am local time.
Given some delays, Majestic Princess was now due to arrive about 45 minutes late. This gave us even more time to catch up a bit. After the previous day's headaches, the WiFi was working better this morning.
We made quick dash to the buffet in between work meetings.
Finishing up work around 12 pm local time, we prepared for the cruise ship's arrival at our first port of call.
The excitement grew as we could see the city of Juneau in the distance. As the ship pulled into port, it was official. Princess Cruises was now back in Alaska!
Exploring All Juneau Has to Offer
Pre-cruise, we booked a dog sledding on the Mendenhall Glacier excursion. Unfortunately, we found out about two weeks before our cruise that our original excursion was cancelled. This is the second time that we've had this particular tour cancelled on us now.
With several tours sold out already, we settled on a whale watching and Mendenhall glacier hike combo tour as an alternative.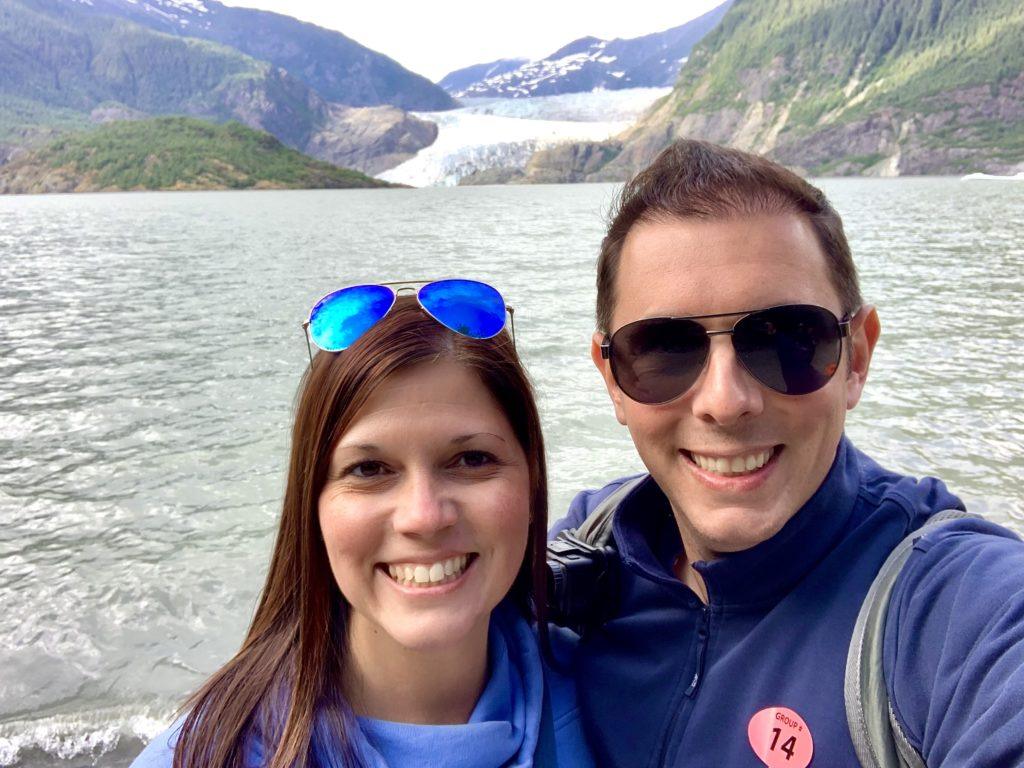 Given many tours were meeting in the theater, it was a sea of anxious cruisers ready to explore the first port of call when we arrived. With the first groups called within minutes, we too were ready to head ashore.
So, it was a bit concerning when it took over 30 minutes to finally be escorted off the ship.
While waiting for our tour, we were informed that we would need to wear masks while disembarking the ship and during most of our tour. Of course, we are happy to comply with these local requirements if it means we can cruise again.
Meeting our tour representative at the pier, it was a very unorganized scene. When one rep said she was leaving now with 20 people, we made sure to follow close behind as she headed to the bus.
Approaching 2 pm already, the tour was way behind schedule. Exchanging our tickets for two seats on the bus, we meet our guide Aleta.
The 20 minute bus ride to our whale watching vessel included a narrated history of the city and the state of Alaska, intermingled with some personal narrative.
Our group then boarded a custom made vessel perfectly designed for whale watching in Alaska.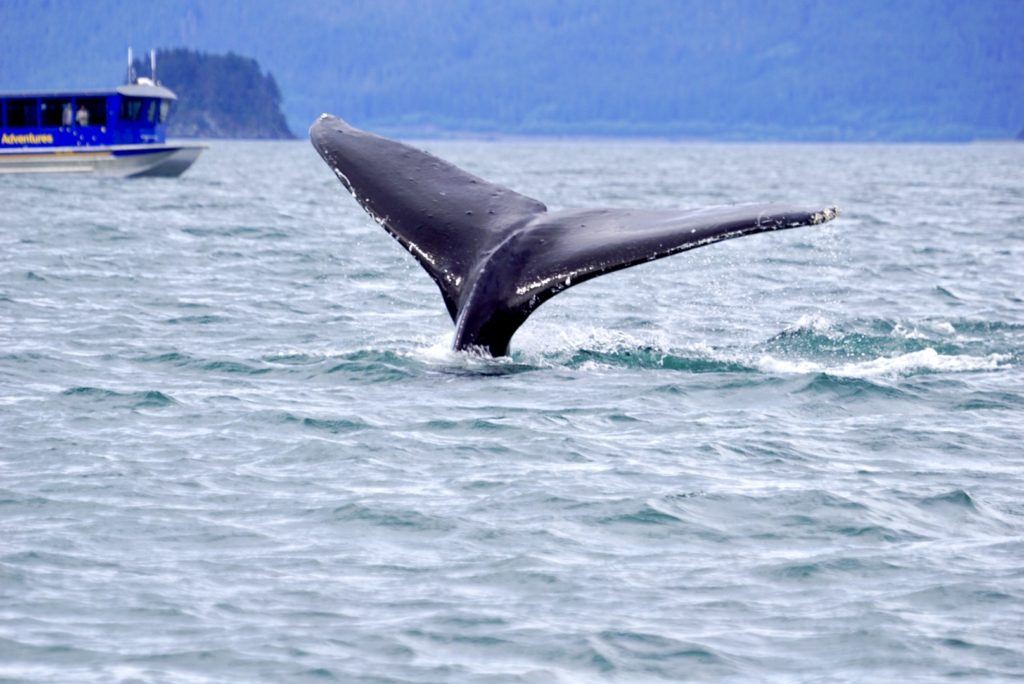 The close to two hour excursion included several sightings of humpbacks. Though mostly fluking, we did manage to see one whale breaching off in the distance.
Along the way, Aleta provided several handouts and displays about the different types of whales. Honestly, it ended up being one of our better tours this cruise.
Following the whale watch, we took a short bus ride to the Moraine Ecology Trial near Mendenhall Lake. This approximately one mile hike was a more tranquil and less crowded experience versus our previous trip to the Mendenhall Glacier National Park back in 2018. It also didn't hurt that we were the only cruise ship in town.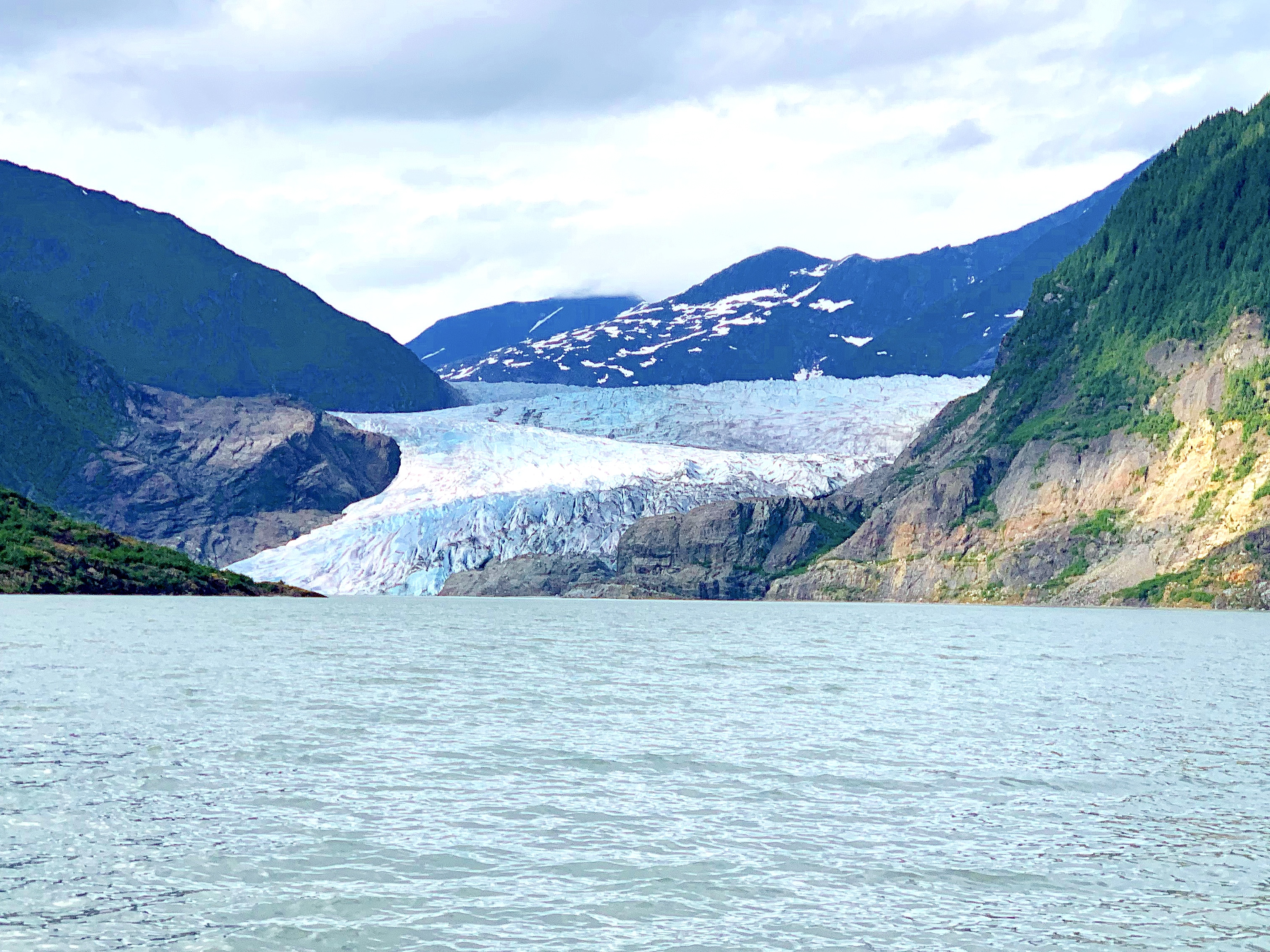 Escorted by a local Tlingit guide, the tour included narrative about the native history and the local fauna and flora.
While we were advised to be on the lookout for bears, we didn't spot any during the walk. We did get to see Nugget Falls and the glacier from a different perspective though. Even better, the weather was sunny and clear, unlike our last visit when it was downpouring!
A Night on the Town
Getting back in town by 6:45 pm, Juneau was empty. I mean completely empty.
So, instead of hustling back to the ship for dinner, I convinced the wife to grab some food and drinks at the historic Red Dog Saloon. When else would we have such an opportunity again?
We were able to get a table right away. We then ordered some local drinks and chowed down on some food, including a locally caught salmon burger. With live country music and plenty of rustic theming, it was the perfect way to end our evening in Juneau.
We departed through the adjacent gift shop, purchasing a new t-shirt and ornament for our vacation tree.
We made it back to the ship just in time to drop off our gear and clean up a bit before heading to the one performance of the evening in the Princess Theater.
The soloist tonight was the soprano Barbi McCulloch. As a show "dedicated to divas", she sang a range of songs from Whitney Houston to Cher and other Broadway classics.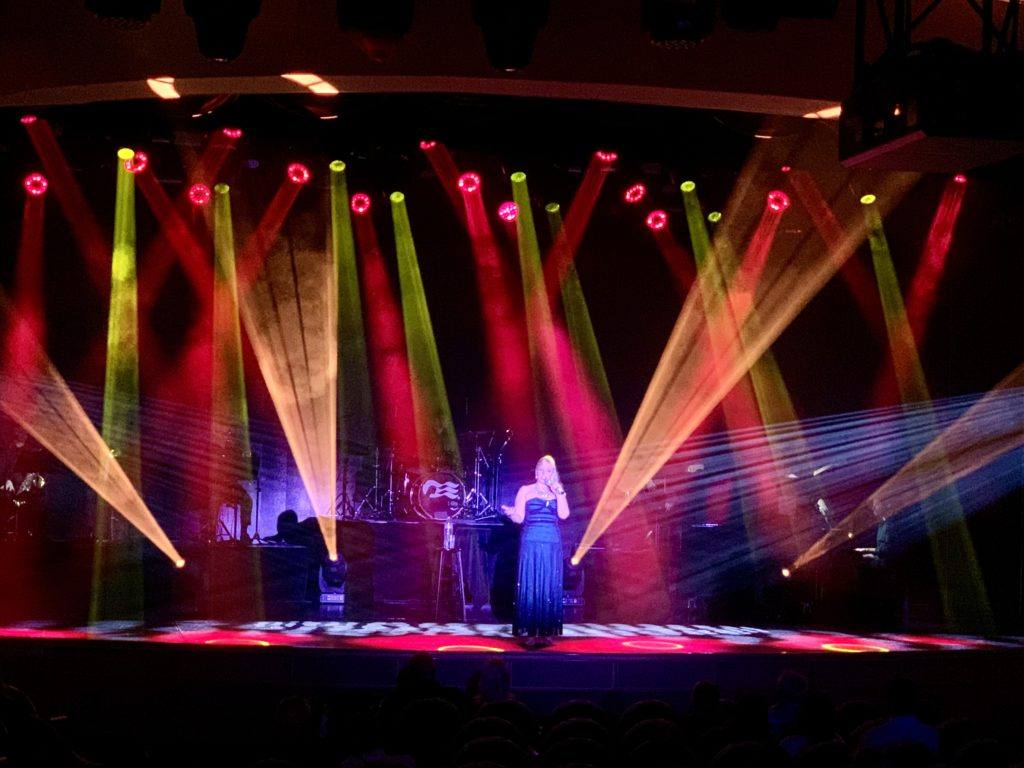 After another long day, it was time for bed. Tomorrow was our next port of call in Skagway.
Booking Bonus: Get Exclusive Perks on Your Next Sailing on Princess Cruises!
Day 4 – Majestic Princess Alaska Cruise Review
Getting the Ship All to Ourselves
Today, Majestic Princess was scheduled to arrive in Skagway at 7 am. Before the cruise, we booked an excursion to Haines to visit the Bald Eagle Preserve. Given the transit time, we knew this was going to be another long day ashore.
With our tour not departing until 11:15 am, we slept in until 7:30 am. This still gave us a little time to relax around the ship. As the Princess got ready, I grabbed coffee and some additional photos and videos before getting back to the room to change up myself.
Luckily, I had no work commitments today.
Looking to change up our breakfast routine, we snagged some breakfast sandwiches and pastries from the International Café. Certainly, these options were much better than the typical cafes on cruise ships.
So far, the International Café was winning me over.
We exited the ship around 10:30 am. This gave us the prime opportunity to get a few photos of the ship sitting pretty in Skagway before our tour.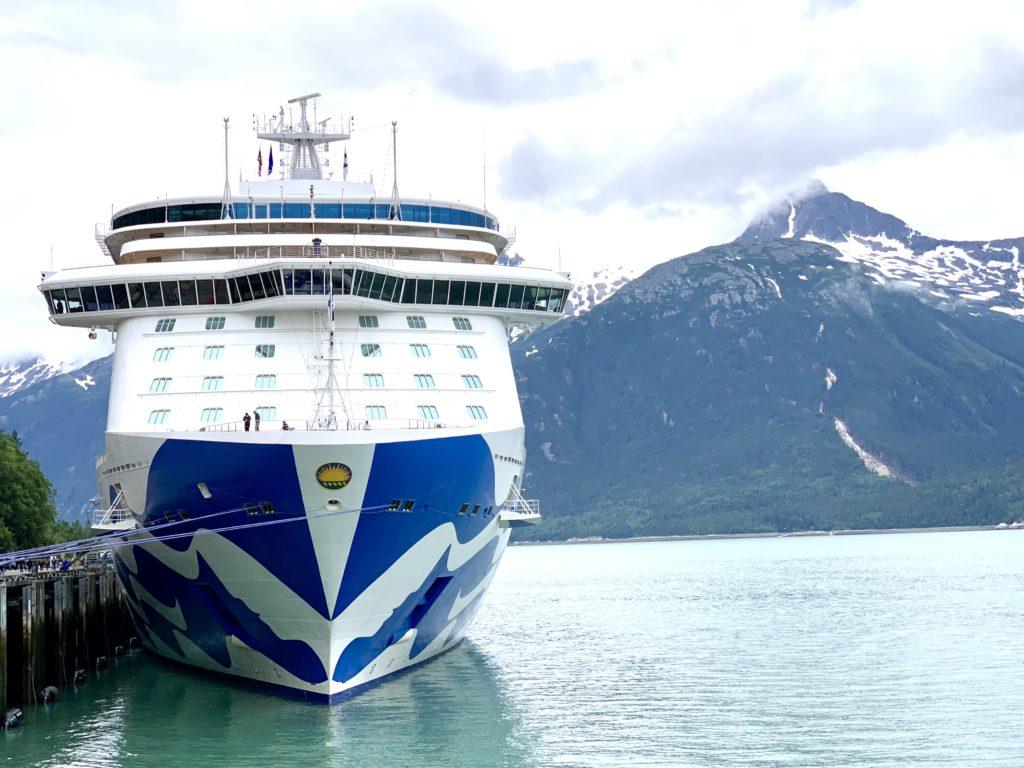 Where Are All the Eagles?
Getting to our arranged meeting spot on the pier a few minutes early, it was rather congested.
Our tour company rep arrived a few minutes late. Checking us in, we were directed to a different location near the adjacent pier where we proceeded to wait an additional 30 minutes.
Finally boarding the ferry just before noon, it was close to an hour ride to Haines. It was then another 30 minute bus ride to the meeting spot for our Jet Boat tour.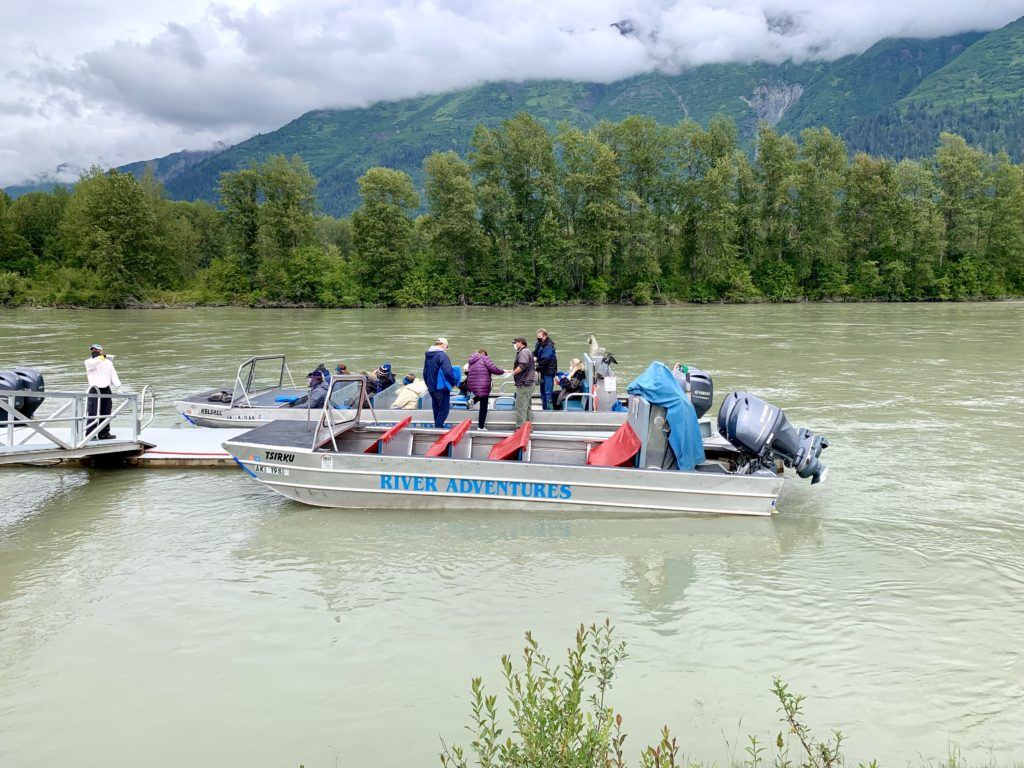 Along the way, our school teacher bus driver gave us a narrated tour about the town and the preserve.
Finally arriving at the destination, we were issued gear and directed to specially crafted river boats designed to navigate the shallow waters of the Chilkat River.
This massive Eagle Preserve is home to the most eagles anywhere. It is also a known location to spot moose and bear.
Prepared with our borrowed heavy duty jackets as well as our personal cameras, we set off on a close to two hour jet boat adventure.
These boats move at speeds of close to 20 MPH. With the open design, it certainly feels like you are zooming across the river.
Sadly though, we did not get lucky with wildlife sightings.
We saw only a couple eagles and one "log" that was allegedly a moose off in the distance. We actually saw more eagles sitting on telephone poles in Juneau than we did in this natural environment. Needless to say, we were a bit disappointed.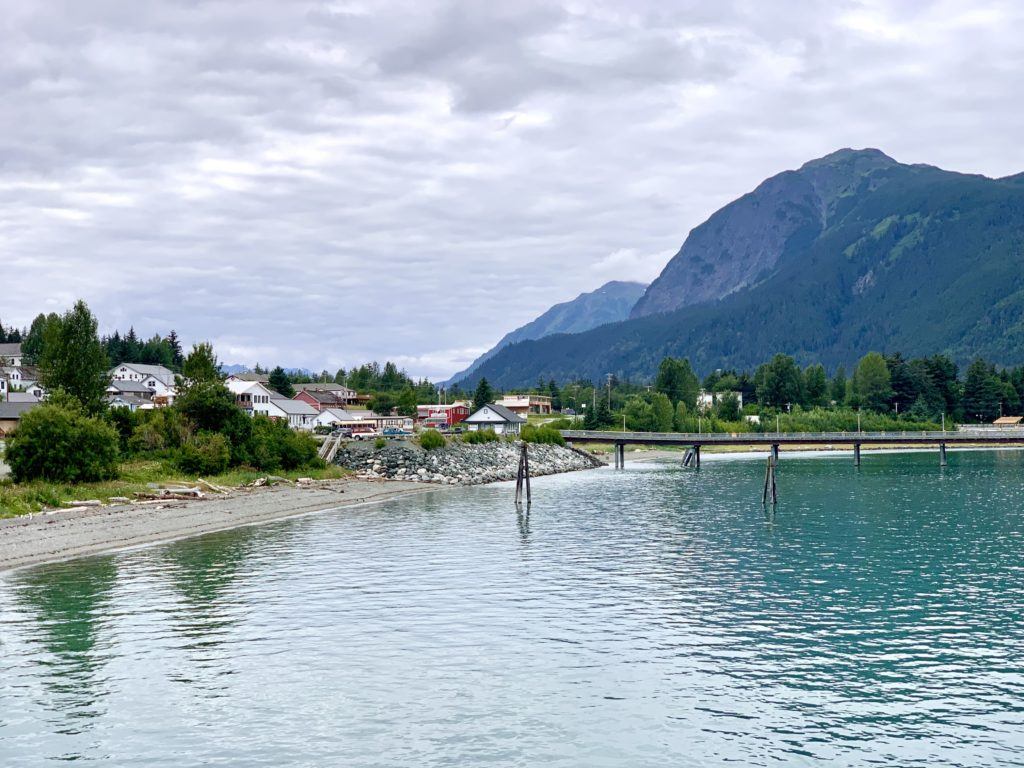 While we were back to the ferry and ready for the 5pm departure, another tour bus was stuck in traffic due to construction on the Haines Scenic Byway. So, we were even further delayed and didn't arrive back at the ship until after 6:30 pm, the ship's scheduled all aboard time.
Back to the Main Dining Room
We made Dine My Way dinner reservations for 7:20 pm tonight, knowing ahead of time that we had a full day tour planned. Now that we were 30+ minutes behind schedule, we only had time for a quick costume change before dinner.
Entering the main dining room wearing jeans (cue the gasps), it was relatively quiet.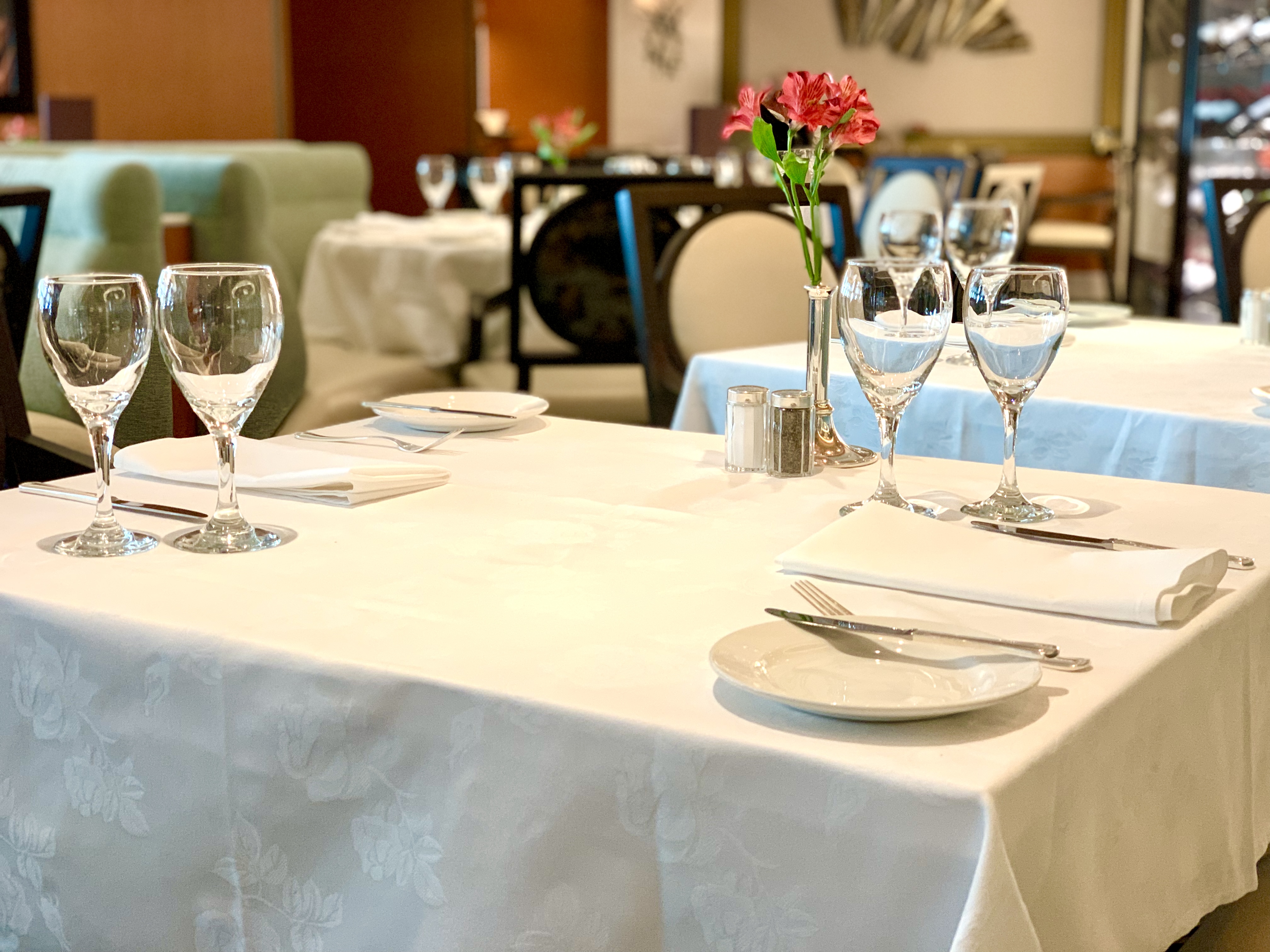 Tonight, our reservation was in the Symphony dining room. As far as we could tell, it had very similar décor and setup to Concerto.
It was Italian night on the menu. Thankfully, our server Jenny was much better than our night 1 waiter. She was very friendly and attentive.
The entrees and desserts were better as well. Both of us agree that the starters in the MDR were a bit lacking all cruise though. My veal scallopini and the wife's stuffed chicken were both well prepared and very flavorful. The desserts, including the chocolate trio and profiterole, both satisfied our sugar cravings.
Dinner was close to 75 minutes. This meant that we were out right in time to head to the main theater for the 9:15 pm show.
Tonight's headliner was magician Michael Misko. He was certainly more comedian than illusionist, with some very basic tricks. The show was entertaining though, even if the magic was not as grand.
Ending around 10 pm, we headed aft to the Vista Lounge. It was day 4 already, and we hadn't explored any of the nightlife or live music anywhere on the ship yet.
The band, Ocean Boulevard, was schedule to start at 10:15 pm.
We stayed for the band's 45 minute set. This Romanian rock group was a little all over the place, playing songs from Shania Twain, to Cher, to Bruno Mars, and Bon Jovi. While listening to the band, we continued our "drink around the ship".
Finishing up by 11 pm, we headed back up to our room. With the ship entering Glacier Bay at 6 am tomorrow, it was going to be another long, but exciting, day onboard Majestic Princess in Alaska.
Related Post: Alaska Cruise Packing Guide
Day 5 – Majestic Princess Alaska Cruise Review
Cruising Glacier Bay National Park
Our two previous Alaska cruises included visits to the Sawyer Glacier and the Dawes Glacier.
So, we were excited to be sailing Glacier Bay National Park this time. The day's itinerary had us entering the park around 6 am and arriving at the Marjorie Glacier around 9 am.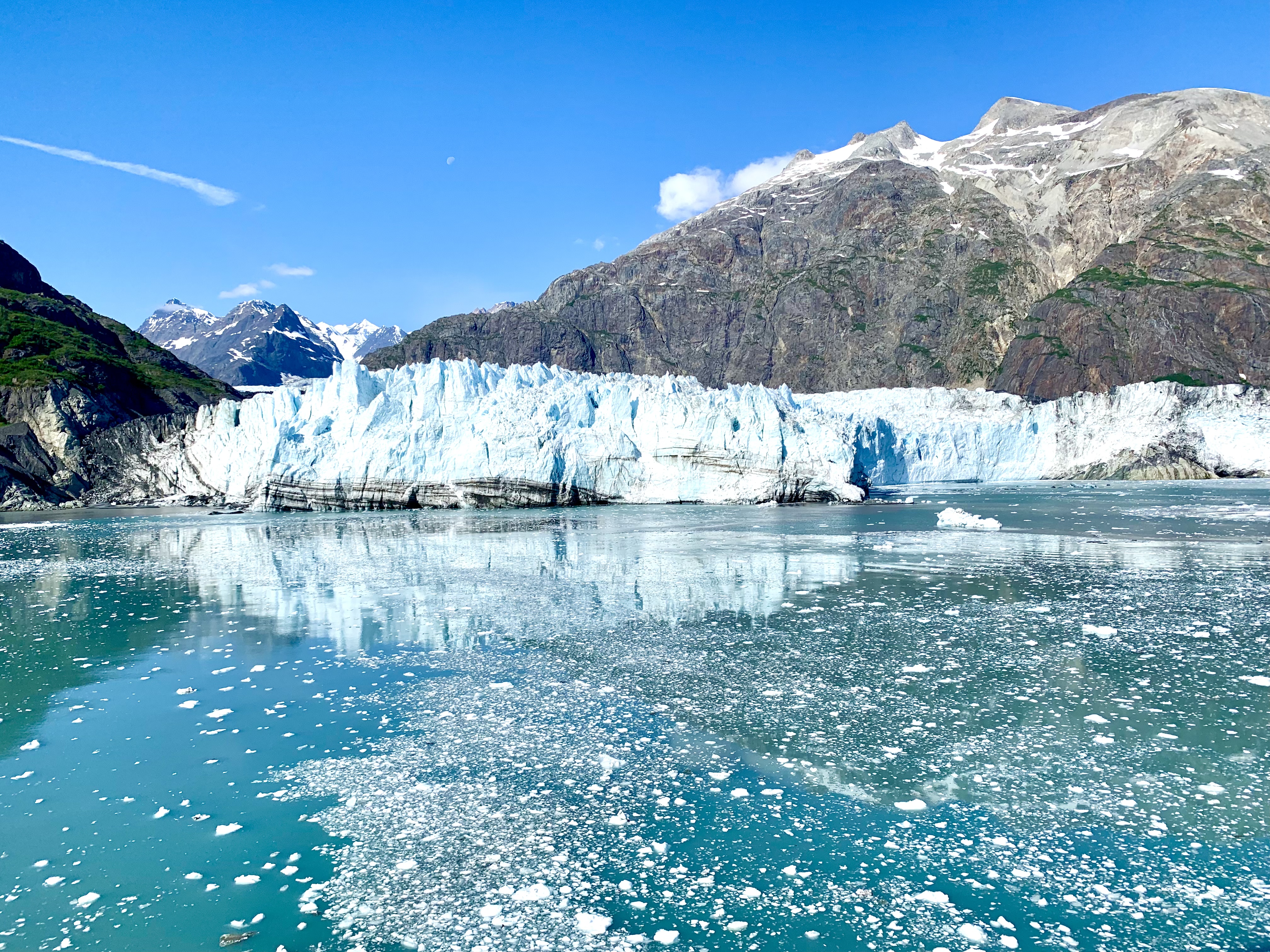 I had some work meetings that required us getting up by 5:30 am anyway. So, we were certainly ready for some scenic cruising and once-in-a-lifetime photos.
Completing my meetings and work by 8 am local time, we were up to the outdoor decks prepared for glacier viewing.
Some National Park rangers had boarded the vessel a few hours earlier and were giving intermittent narration from the Conservatory. We popped in to see the display and schedule of events.
From this vantage point, we could see the "dirty" Pacific Grand Glacier straight in front of the ship. Still, the most majestic glacier was not in sight just yet.
Not wanting to miss anything, we snagged a quick bite to eat from the nearby World Fresh Marketplace before the main event. Almost on cue, we could see the glacier off in the distance off the ship's port side around 9 am.
For the next two hours, the ship maneuvered the area allowing guests to view the Marjorie Glacier from all vantage points.
With amazing visibility and relatively mild weather, it was the picture perfect setting to view the glacier.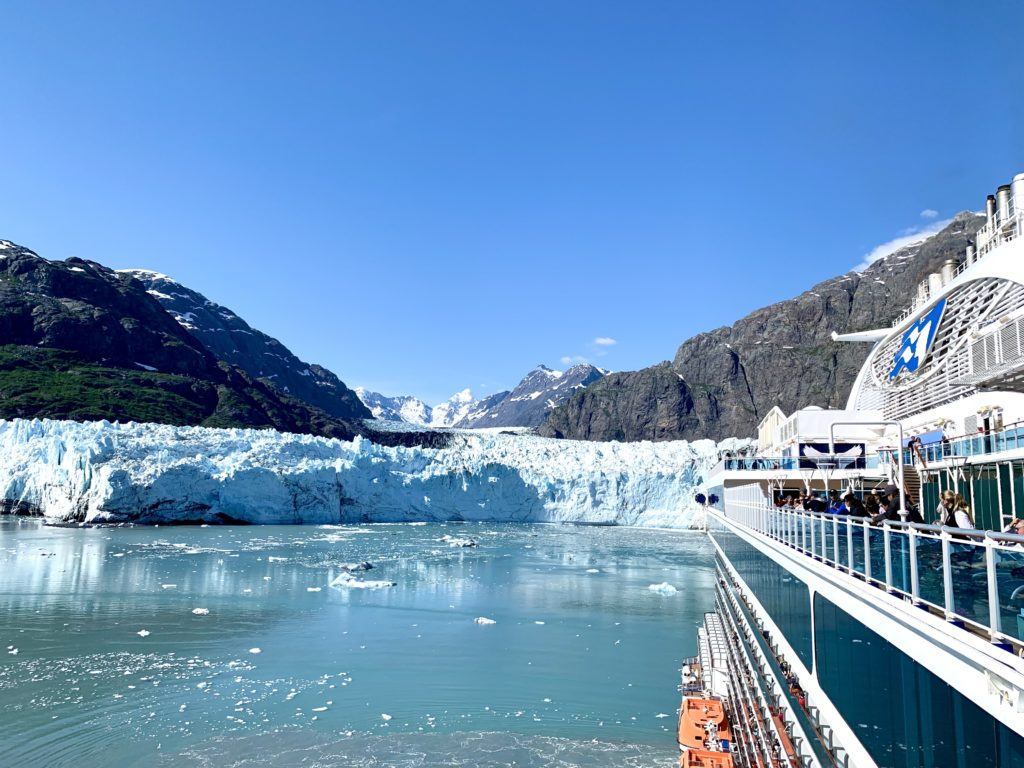 On the way back out of the park, the ship also circled around the vibrant blue Lamplugh Glacier, as well as Eddy Glacier. It was certainly an unforgettable morning.
With most of the significant viewing completed by 11:30 am, we headed back indoors for a bit. The game plan was to grab a snack and coffee before the 1 pm ranger presentation in the main theater.
Expecting the presentation to be busy, we headed over slightly before 12:30 pm for this 1 pm talk. Surprisingly, the theater was relatively empty. The 45 minute presentation by Ranger John integrated the park's history with his family's personal journey up to the state. It was well done, even if it was slightly less factual than I was expecting.
Back to Our Regularly Scheduled Evening
With the ranger presentation done before 2 pm, we had the rest of the afternoon to do some work and social media. Working until around 5 pm, it was time to start getting ready for dinner.
It was the second formal night of the cruise. Given we did not take any pictures on the first dress up night, we made sure to visit a few of the studios tonight.
Of all our cruises so far in 2021, this one had the most photo studios by far. With short lines at each, we did three different backdrops before dinner.
Lobster night meant one thing; the Concerto main dining room was busy.
Our server, Max, was working very hard but seemed to have quite a few tables. Thus, service was slow. The restaurant felt understaffed as Max did everything from taking our food and drink orders, to clearing plates, and grabbing food from the kitchen.
Of course, I tried the lobster tail and beef wellington. Honestly, I was disappointed in the lobster tail. It was cold and lacked any flavor. The beef wellington was an improvement, even though it too was not very warm.
Our desserts were probably the highlight of the meal, including the rotating profiterole option and the Chocolate Journeys selection.
With dinner taking us close to 8 pm, this gave us just enough time to find seats for the Marriage Match game show in Princess Live. Most cruise lines have some variation of this popular game show where married couples need to match answers on a series of questions about their relationship.
The cruise director, Dan, did a fantastic job hosting the event. In general, Dan was a fun and energetic cruise director.
This episode of Love and Marriage did not disappoint. Another smart scheduling move by Princess Cruises is offering two different showtimes for the popular game shows. Given the venue is small, this gives cruisers the opportunity to watch either the early or late show.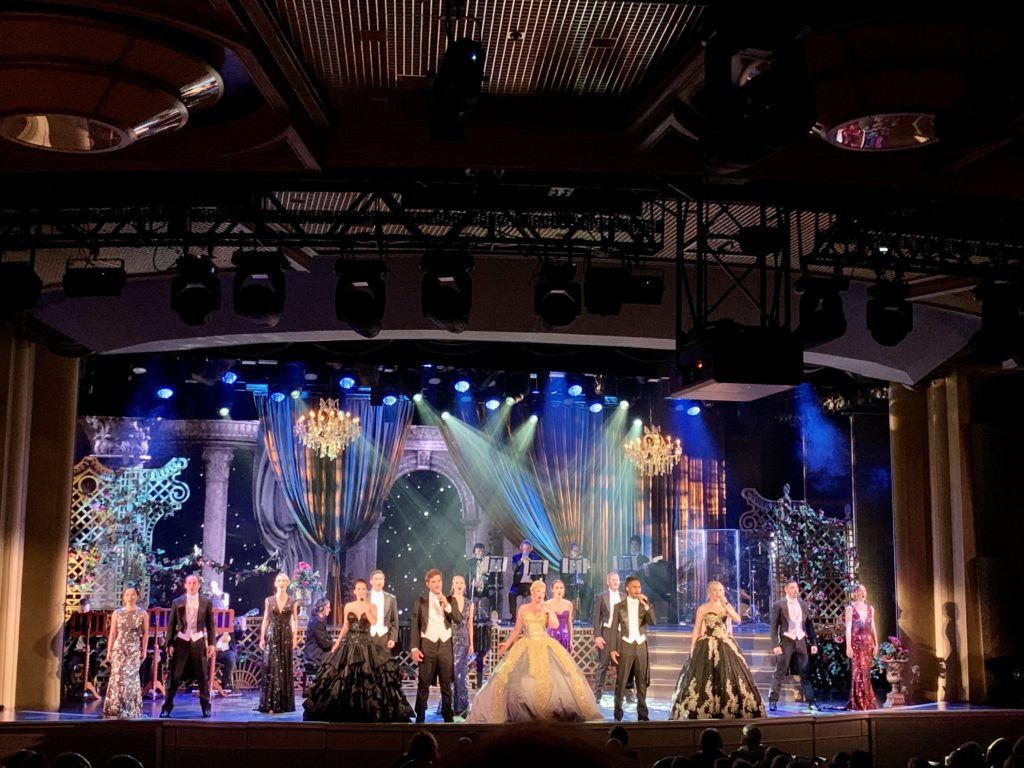 Following the game show, it was straight over to the Princess Theater for the second production show of the cruise, Encore.
This musical revue included a mix of different songs and Broadway tunes. I thought it was better than Sweet Soul Music on night two.
Following the show, we continued our "drink around the ship" at the Good Spirits Bar. This is another one of the lounges on the ship with a signature menu of craft cocktails.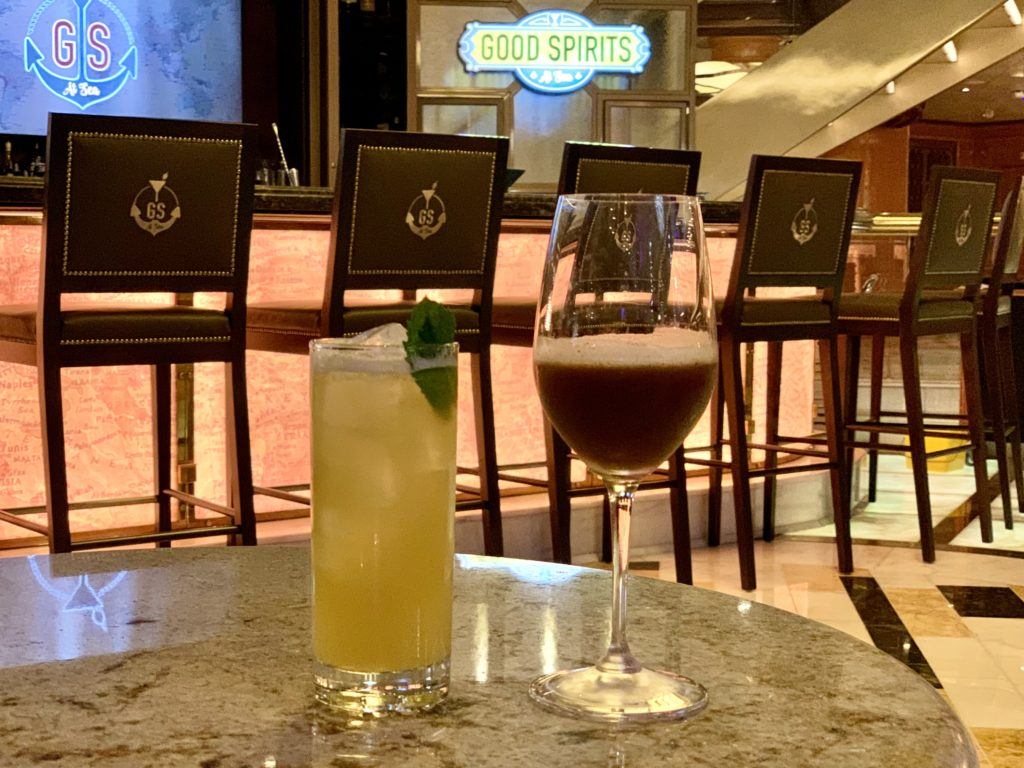 Listening to some music from the Piazza below, we stayed here until about 10:45 pm when we decided it was time for bed. Our final shore excursion of the cruise was scheduled to meet at 8 am tomorrow morning.
Latest Deals: Last Minute Cruise Deals for 2021 Sailings
Day 6 – Majestic Princess Alaska Cruise Review
A Sunny Day in Ketchikan
Up at 6 am, we were both surprised to get a glimpse of something rare in Ketchikan, the sun! It was a bright, beautiful morning as we slowly made our approach to the cruise pier.
I grabbed us coffee and some small bites from the International Café ahead of the ship's arrival.
With our tour meeting time of 8:15 am ashore, we were getting a little anxious as the ship was pulling into port a tad late and there was no announcement made about the delay.
Today's excursion was another wildlife encounter. This time around, we were doing the Neets Bay bear watching cruise. We were hoping for a more eventful trip than our eagle preserve tour in Haines.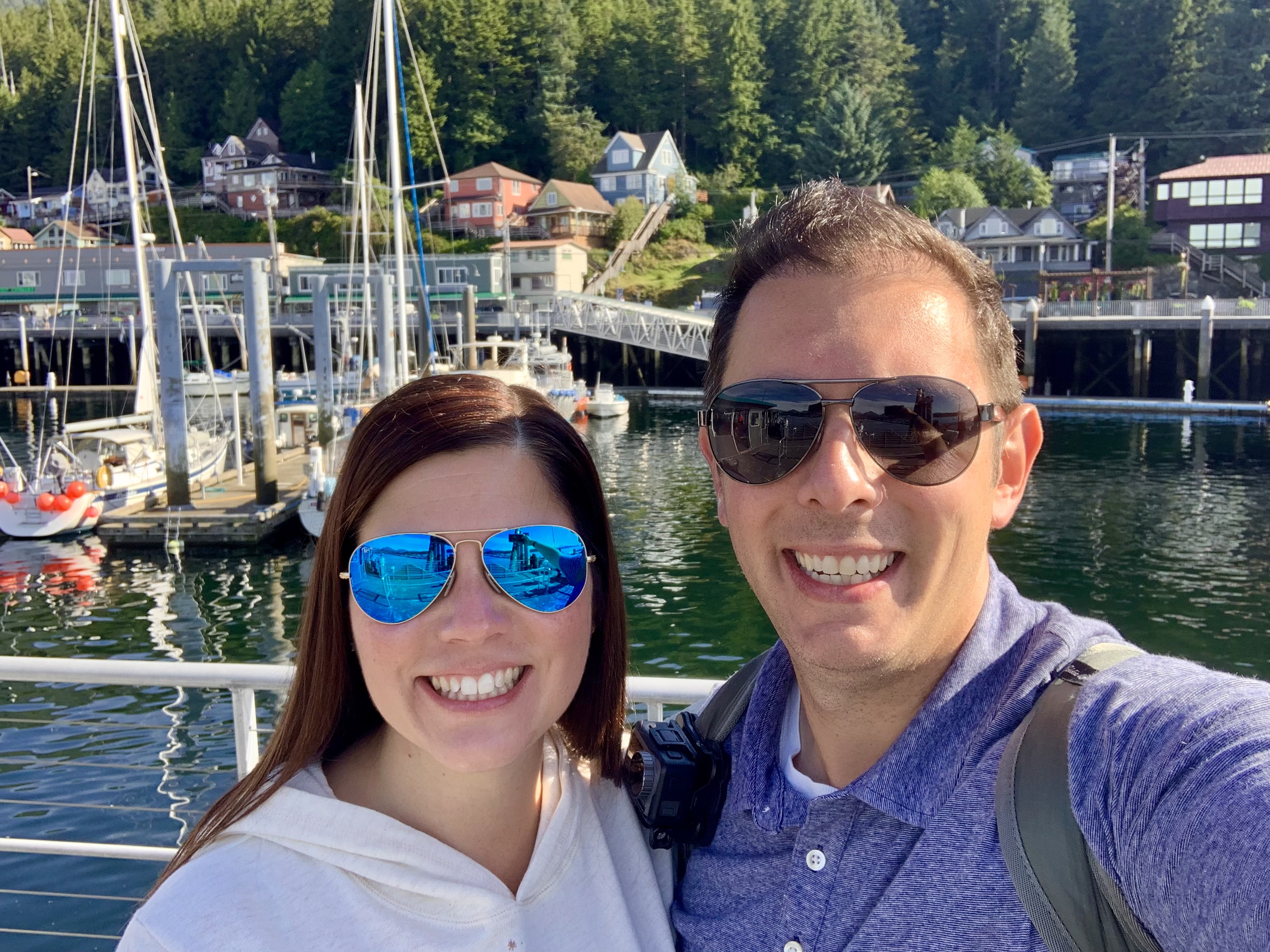 Wanting to be prepared, we packed our bags with extra layers, additional batteries and memory cards, and face masks. One last weather check on our balcony indicated it was gorgeous outside.
Approaching our meeting time now, we decided to head down to deck 7 before any announcement was made that we were cleared to go ashore. We were not alone. There was a large line wrapping around the Piazza.
Joining the queue, we slowly made our way down to deck 4 and off the ship.
Once again, it was a bit chaotic ashore. Despite the sea of people, we found our tour guide (even though he was holding a sign with the wrong tour number), checked-in, and were sent off to the side to wait.
Yet again, it would appear that things were running a little behind schedule. By 9 am or so, our guide escorted our group to the nearby pier to board our sightseeing vessel.
Is That a Bear or a Dog?
This specially designed boat included two viewing decks with plenty of space for our group.
The onboard naturalist did an amazing job throughout the morning pointing out specific landmarks and providing us with a history of the area.
With such clear weather, you could see on for miles. It seemed like the ideal conditions for spotting wildlife.
Along the way, we passed the state totem park, as well as some research facilities. There was also the naval submarine testing area, as well as an old paper mill off in the distance. Still, a good hour into the cruise and no wildlife.
At one point, we did come upon an eagle nest, and not too long afterwards, one lone eagle sitting in a tree off in the distance. We also spotted some sea lions sitting on a rock.
As we got closer to the hatchery in Neets Bay, our entire group was on bear watch. While we didn't have binoculars, I was using my rented zoom camera lens looking for any signs of animal life on the shore line.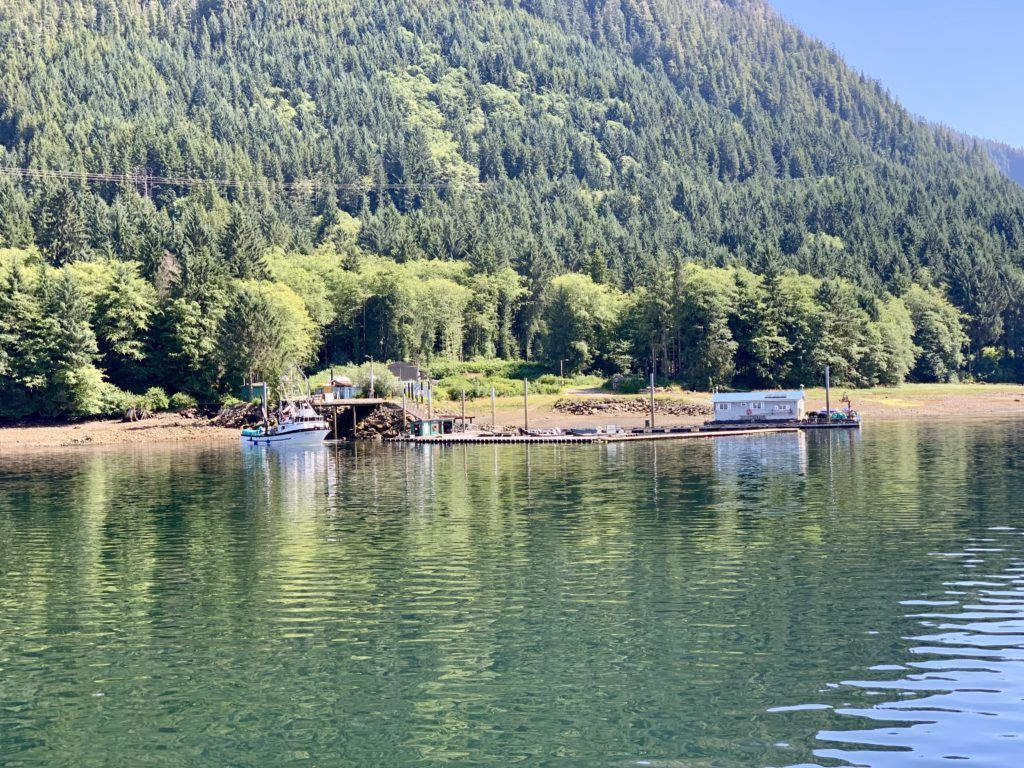 After over 2.5 hours on the boat without any bear sightings, we began to drift away from the salmon hatchery and make our way back to Ketchikan.
Just then, I spotted something on a small beach front. Even zoomed all the way in, it was unclear if this was an animal or a rock. When this unidentified object began to move, I snapped a few pictures. Honestly, from this vantage point, I thought it was someone's dog.
Showing the photos to Heidi, then our naturalist, we came to the conclusion that it was a small bear albeit blurry in the photos.
Sadly, that would end up being the only appearance of these elusive creatures during our excursion.
Heading back to our drop-off point about twenty minutes east of our ship, most of us were surprised to hear that the tour included a bus ride back to the ship?!
Getting dropped off around 2 pm, we popped into the nearby souvenir shop then made our way back onboard the ship.
Are We in Alaska or the Caribbean?
Back onboard, we dropped our gear off in the cabin and headed to the outdoor decks. There was no way we were going to miss out on this unseasonably warm and bright day in Alaska.
Of course, we were not alone. The pool deck was starting to fill in, and the outdoor dining and bars were beginning to welcome back travelers from a morning ashore.
Strolling around for a bit, we decided to grab lunch at the World Fresh Marketplace.
This massive restaurant offers plenty of seating and various food stations, but the navigation leaves much to be desired. There are no clearly labeled stations, minus the multiple salad bars and the centrally located Bakery.
We both ended up getting a Mexican-inspired lunch and a few sweet treats.
With the afternoon to ourselves, it was time for cocktails. After all, it was the second to last day of the cruise already.
Starting at the aft located Wakeview Bar, I tried the line's signature 24K Gold Margarita, while the Princess ordered the Dirty Banana frozen drink.
Sipping these connections while gazing at the bright Ketchikan coastline was serene. Absorbing these unforgettable vistas for a while, we then moved on to some of the other outdoor spaces.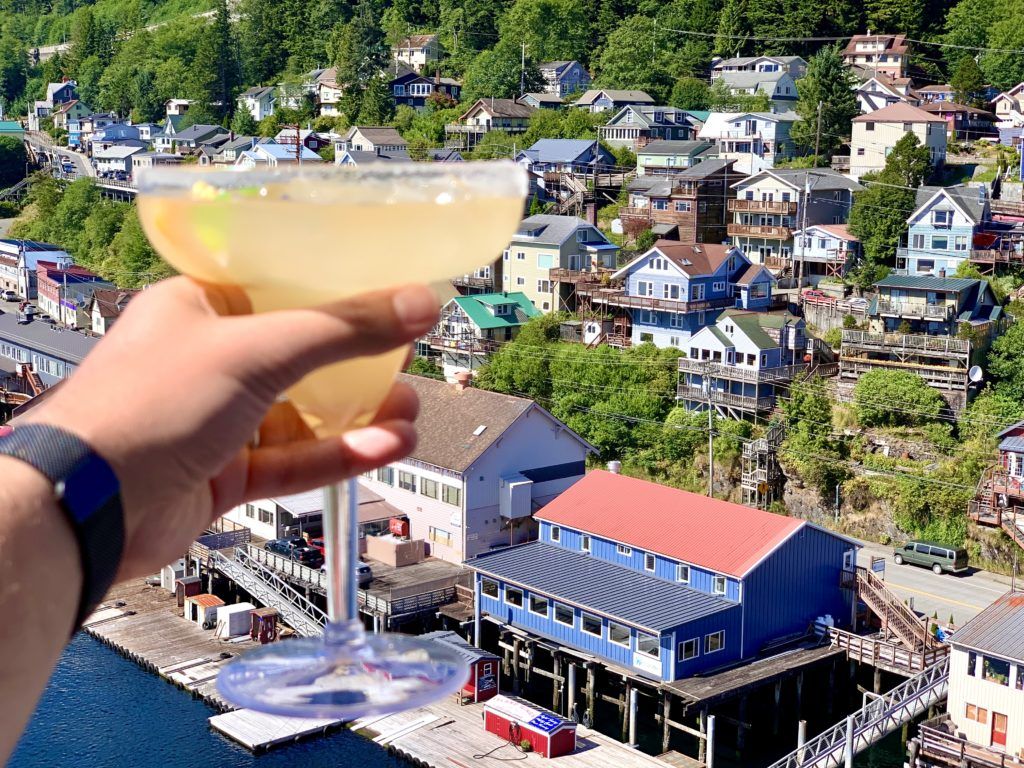 We found ourselves at the Seaview Bar next. It was almost like we were on vacation!
This time around, we opted for a shaded seat near the bar as we enjoyed our second round of cruise cocktails. Sharing our adventures on social media, we headed back downstairs to our room around 4:30 pm, from where we watched sail away.
Another Predictable Night on Majestic Princess
Predictably, we made dinner reservations at the Symphony dining room for 6:20 pm. This reservation gave us adequate time to get ready for dinner. Showered and refreshed, we were down to the restaurant exactly on time.
Not too surprisingly, the restaurant was quite empty. Even though I would have liked to relax and enjoy something more casual for dinner, I was overruled.
Service was extremely fast tonight. Our server, Natalia, was very friendly and attentive as well. The food too was perhaps the best we had all cruise in the MDR.
My pork belly and beef tenderloin entrees were well prepared and seasoned. Tonight's signature profiterole, featuring chocolate peanut gelato, was also quite delicious.
Given our waitress' timeliness, we were out of dinner early. This gave us some time to look at our formal pictures at the Photo Gallery before heading to Princess Live for the cruise line's version of The Liar's Club.
The premise of this game show is simple. Three staff members are the contestants who must convince the audience that their "definition" of some strange words are correct. Of course, two are lying, and one is telling the truth.
The scripted one liners and unique commentary make this game show a must-attend event.
Finishing up right before 9 pm, we exited the venue and made our usual trek to the Princess Theater. Tonight's headliner was named Princess Cruises' first entertainer of the year.
The comedian Carlos Oscar was interesting. Neither of us found his unusual presentation all that funny though. I think we were in the minority, as the other cruisers seemed to love him.
I do give him credit for creating a set that was vastly different than many comedians we have seen on cruise ships over the years. We just weren't fans of his weird faces and delivery.
Done at 10 pm, it was time for another drink. We opted to try one of wines featured at Vines, continuing our drink around the ship.
While sipping our glasses of wine, we listened to the live music of the Pacific Trio. Similar to last night, we called it a night around 11 pm.
Heading into our last day of the cruise, a sea day, we were going to lose an hour sleep. This was a reminder that our cruise was coming to a close. Sadly, we were sailing back to the "real world".
Related Post: Best Time of Year to Take an Alaskan Cruise
Day 7 – Majestic Princess Alaska Cruise Review
A Much Cooler Morning at Sea
Losing an hour of sleep, our normal wake up felt even more tiresome today. In contrast to the unseasonably warm and sunny weather the day before, this morning was rather cloudy and overcast.
As a sea day, and the last day of the cruise, we still had some items to check off our list.
I grabbed our usual coffees from the International Café, but we skipped breakfast as the Princess wanted lunch in the MDR today.
We then headed out to begin crossing things off the Princess' list. This included grabbing photos of some venues, like the Hollywood Pool Club. While there, we also grabbed a round of mimosas as part of our drink around the ship. It was like killing two birds with one stone.
We also wanted to test out the virtual shooting range. It was not exactly what I had in mind, but at least we can say that I tried it.
The Final Afternoon Onboard
Next up was lunch in the main dining room around noon. Mainly, the Princess wanted to try the James Beard French Toast on the menu.
Overall, I am not a huge fan of MDR lunch, and this one did not win me over either. The service was quick, with the entire process taking about an hour, but most of the food was no better than the buffet.
By now, the public areas were getting busier. With plans to attend the cruise director's talk about what it is like to live on a cruise ship at 3 pm, we had some time to kill.
So, we grabbed some espresso martinis and seats in the Piazza. As piano music played in the background, we took this time to relax a bit.
We arrived to Princess Live at 2:45 pm to find a line of eager cruisers also interested in this behind the scenes talk. We learned a few tidbits from Dan's informative and honest look at life onboard the ship.
Afterwards, we decided to get our last "cruise drink" outdoors. With the sun shining and the temperature certainly a few degrees warmer now, we grabbed some lounge chairs and frozen drinks.
Unfortunately, this downtime was short-lived, as we had an early dinner in Crown Grill tonight at 5:30 pm. My attempts to change the dining reservation to a bit later at both the hostess stand and with Guest Services were unsuccessful.
One Last Night on the Cruise
When we arrived at the restaurant, it was not very busy, yet service was still rather slow. To no fault of our waiter at all, he just seemed to be serving most of the tables in our section of the venue.
This cruise ship steakhouse was certainly on par with similar specialty restaurants on other cruise lines. The lobster cake was hot and filled with lobster. My steak was cooked as requested, and the sides of sautéed mushrooms and truffle fries were well flavored.
Oddly, the waiter wouldn't leave the side dishes on the table and insisted on serving them to us, a very small portion at that.
The desserts were certainly standout, with the apple and rhubarb cobbler, chocolate trifle, and triple chocolate treasure all being fabulous.
Of the two specialty restaurants, I much preferred this one and would definitely book another dinner at Crown Grill on a future sailing.
Even though we had an earlier than normal dinner time, the slow pace did not leave much time for us to pack. Rushing back to our room after the meal, we were able to get two suitcases packed, tagged, and out the door just in time to get back down to Princess Live for Hollywood Hiccups.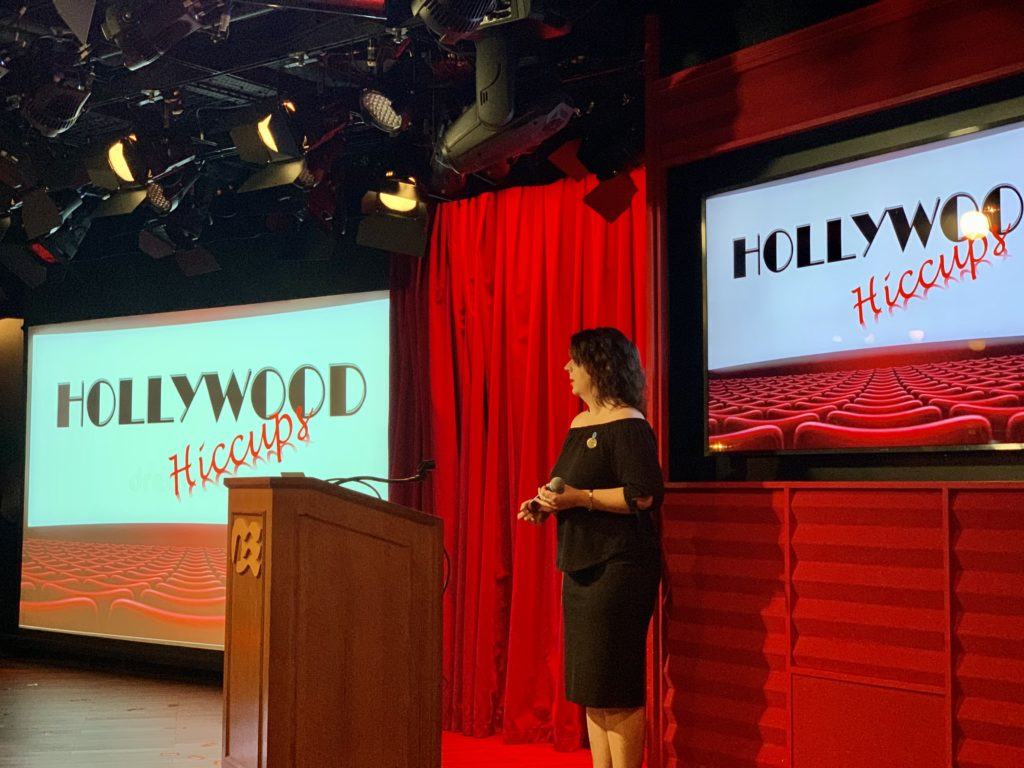 Although advertised as a game show, it was actually an enhanced movie trivia. Still, we stayed and played along. While we knew all of the movies being "re-enacted" by the entertainment team, we scored a miserable 5 out of 20 points. Who knew David Hasselhoff's name in Baywatch was Mitch Buchannon?
As you would expect by now, following this event, we made a b-line to the theater for tonight's performance.
This final show of the cruise featured the most recent Princess Cruises' entertainer of the year, Tom Franek. This piano-playing singer offered a highly technical display of piano skills.
His set consisted of popular songs from the likes of Elton John, Billy Joel, Elvis Presley, and more. It also included complicated arrangements and stunts, like playing the piano upside down.
I found the show to be a bit cheesy, but Heidi was more impressed with his masterful piano skills.
Done by 10 pm. We made our way upstairs to "find" the reported nightclub. Along our way to the Hollywood Pool Club, we stopped to get a glimpse of the Movies Under the Stars.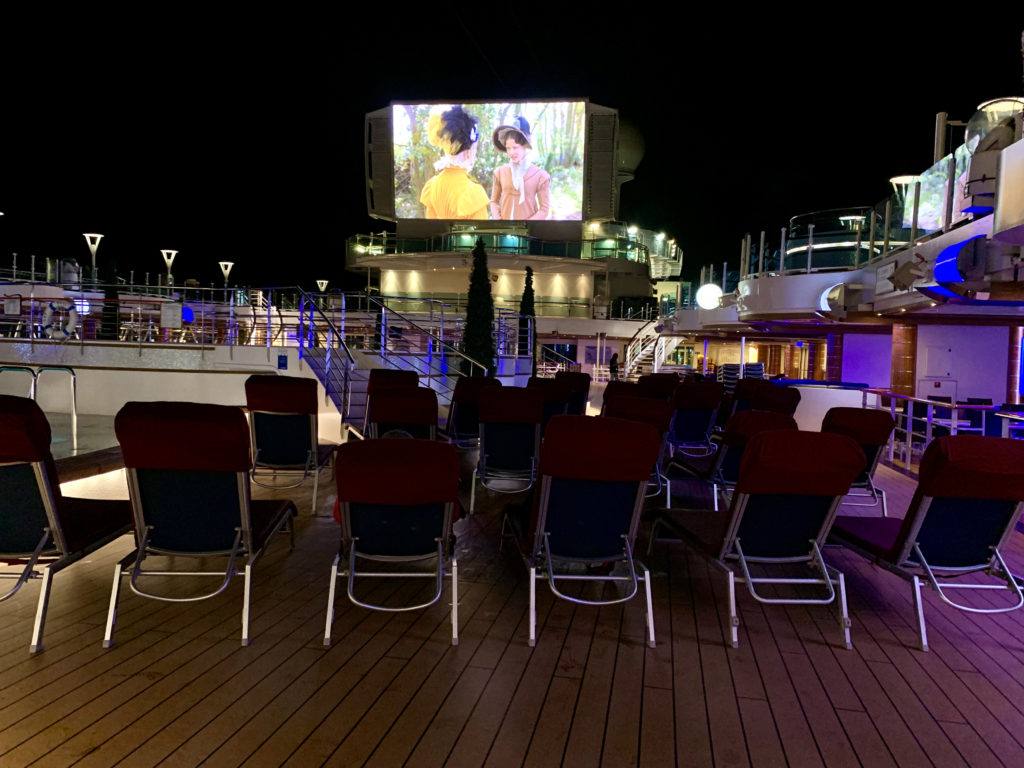 Arriving at least 10 minutes after the dance club was supposed to begin, we again were greeted with DJ equipment but no DJ, music, or nightclub vibe.
So, we decided to end our final night of the cruise with two rounds of Milky Way martinis at the Ocean Terrace bar. The Pacific Trio jammed in the background with the real party occurring on Deck 5. Fellow cruisers were grooving to the mix of Latin music and other pop hits. A birthday conga line even formed in the middle of one of the songs.
Finishing up our cocktails a little after 11 pm, it was time to call it a night. We still had to pack our carry-on bags in the morning. With our disembarkation scheduled for 7:30 am, this meant another early wake up.
A Smooth Disembarkation
Up at 5 am, we had some last minute packing to finish. As Heidi prepared for the day, I got us coffee and a few snacks from the International Café.
Back in the room, I struggled to wake up as we crammed our extra outwear and souvenirs in the two bags that we were carrying off the ship.
In the Caribbean, we tend to do self-checkout, but with no early flight to catch, there was no need to rush.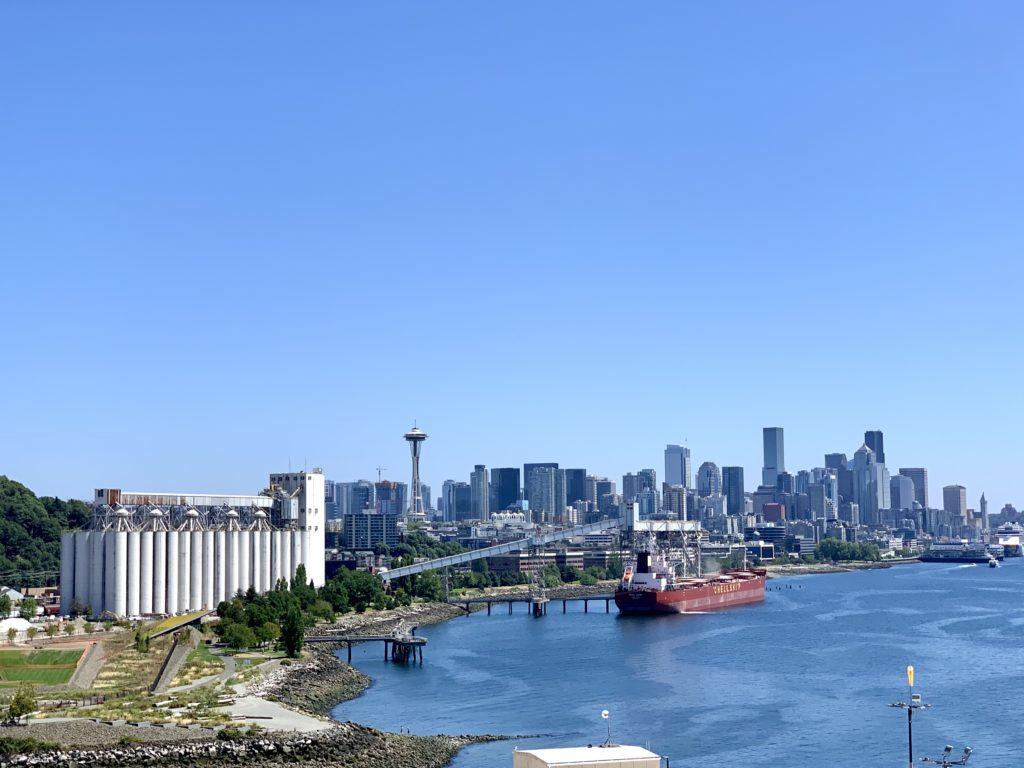 Our assigned meeting time was 7:30 am in the Deck 6 casino lounge. Securing some seats, our luggage tag, Brown 4, was called about 10 minutes later. From leaving the lounge, to scanning off the ship, grabbing our bags, and going through immigration, it took only about 15 minutes. Given the price of our previous Uber to the port, we just hopped into a cab at the nearby stand.
Getting to the airport by 8:30 am, we had to wait several hours before we could even check our bags and proceed through security. This gave us plenty of time to do some work while we waited to board our flight back home. It was going to be another long travel day.
One of the only solaces was that we would be doing this all over again in less than 3 weeks! That's right, we will be heading back to Alaska at the end of the month with Holland America Line. So, stay tuned for more adventures.
Comments
Did you enjoy our Majestic Princess Alaska Cruise Review? Have you sailed to Alaska with Princess Cruises? Drop us an anchor below to share what you love about this cruise line.