We have just returned from the first Princess Cruises sailing in Alaska in 16 months on Majestic Princess. This was our first cruise with the line, so we set out to sample as many of the dining venues and menu items as possible to determine how the culinary options compare to other cruise lines. Now, we have put together this Majestic Princess Restaurant Menus and Dining Guide to help you plan where you want to eat during your next cruise.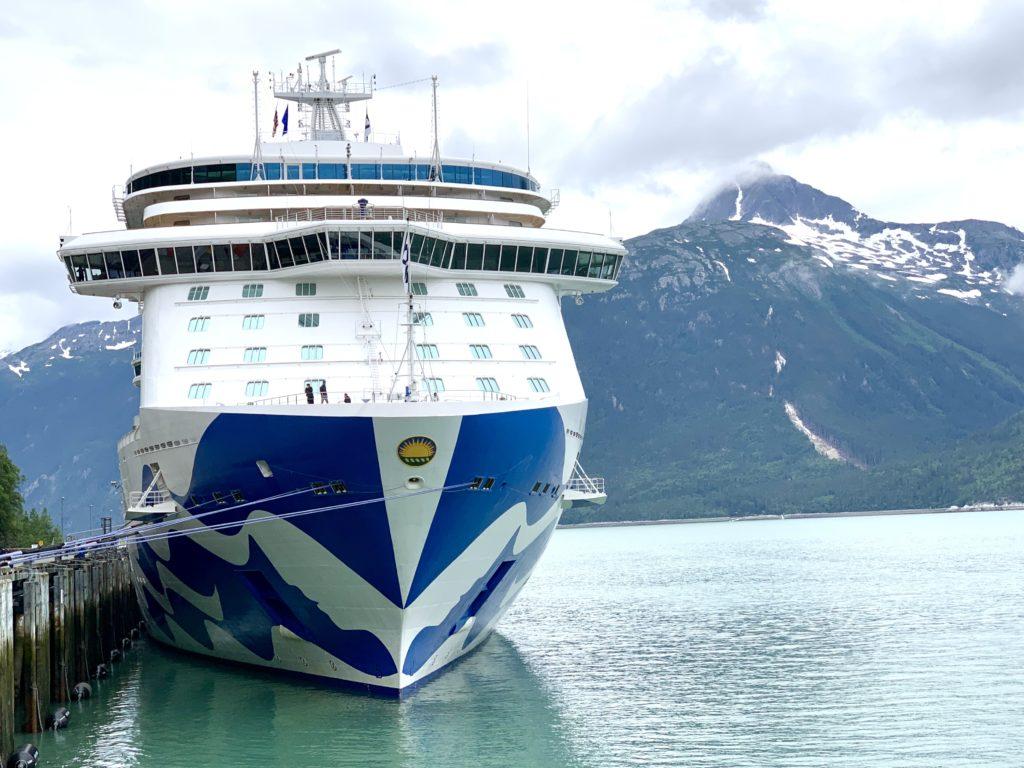 Majestic Princess Restaurant Menus and Dining Guide
Specialty Dining
Harmony Chinese Restaurant – Deck 5
Unique to Majestic Princess is the specialty restaurant Harmony. In partnership with Chef Richard Chen, also known as the "Duck Master", this upscale Chinese venue offers a wide range of authentic dishes.
For a cover charge of $29, guests can enjoy a 5 course meal. For starters, guests can choose from classics like spring rolls, crab rangoon, Peking duck salad, or spareribs. The second course includes the option of hot and sour or wonton soup. Then, guests can also choose a vegetable, rice, or noodle dish.
For entrees, Chinese favorites like sweet and sour pork, general Tso's chicken, Mongolian beef, and more are included on the menu. Don't forget dessert either, like the green tea cheesecake.
Specialty items are available for an upcharge of $10.
BOOKING BONUS: Get Exclusive Deals on Princess Cruises!
Bistro Sur La Mer – Deck 7
Bistro Sur La Mer is an upscale French-style bistro located in the Atrium on Majestic Princess. Created by Michelin-starred Chef Emmanuel Renaut, this specialty restaurant is a great value at just a $29 cover charge.
The exquisite 4 course menu includes a welcome dish, appetizer, main course, and dessert. Appetizers include the popular lobster bisque served in a bread bowl, ahi tuna, escargot, and more.
For main courses, you can choose from either classic land or sea options with a twist. DB ordered the braised veal shank which he enjoyed. For dessert, the chocolate bar was quite tasty too.
Guests can enjoy an additional entrée for a $10 upcharge.
Crown Grill – Deck 7
The Crown Grill is Princess Cruises steakhouse. This upscale specialty restaurant serves up made-to-order cuts of beef in a warm and elegant atmosphere complete with an open kitchen. The upcharge for this venue is also $29, with the Surf & Turf option costing an additional $10.
Our starter choices included the lobster cake and goat cheese and tomato salad. For entrees, guests can choose from either seafood options like Chilean Sea Bass, Grilled Jumbo Prawns, and Main Lobster Tail, or premium cuts of meat. The menu offers a veal chop, lamb chops, and several steaks like a Rib-eye and Filet Mignon.
Of course, the meal also comes complete with side dishes and dessert. The triple chocolate treasure and the apple and rhubarb cobbler were both delicious.
Related Post: What It Was Like on the First Princess Cruise in Alaska
Complimentary Dining
International Café – Deck 5
The International Café is your go-to spot 24 hours a day. This venue serves up breakfast sandwiches and pastries in the morning as well as sandwiches, cookies, and other snacks throughout the day.
The International Café is also the coffee bar on Princess Cruises. This is the spot to get your favorite lattes, cappuccinos, and other espresso based drinks.
In comparison to similar venues on other cruise lines, we did think the food selections, especially for lunch, were a step above the competition.
International Café Coffee Menu
EXCLUSIVE SAVINGS: Book Your Princess Cruise to Alaska NOW!
Main Dining Rooms (Symphony Deck 5, Allegro Deck 6, Concerto Deck 6)
The Majestic Princess dining includes three complimentary main dining rooms. In addition to the traditional early and late dinner seating, guests can also choose the Dine My Way option. With this option, guests can make reservations at different times each evening in either the Symphony or Concerto dining rooms. These venues are open daily from 5-9:30 pm.
Regardless of venue, each dining room offers the same rotational menu that changes nightly. In addition to the nightly selections, there are always Princess Favorites on the menu, which include pasta, salmon, and chicken options.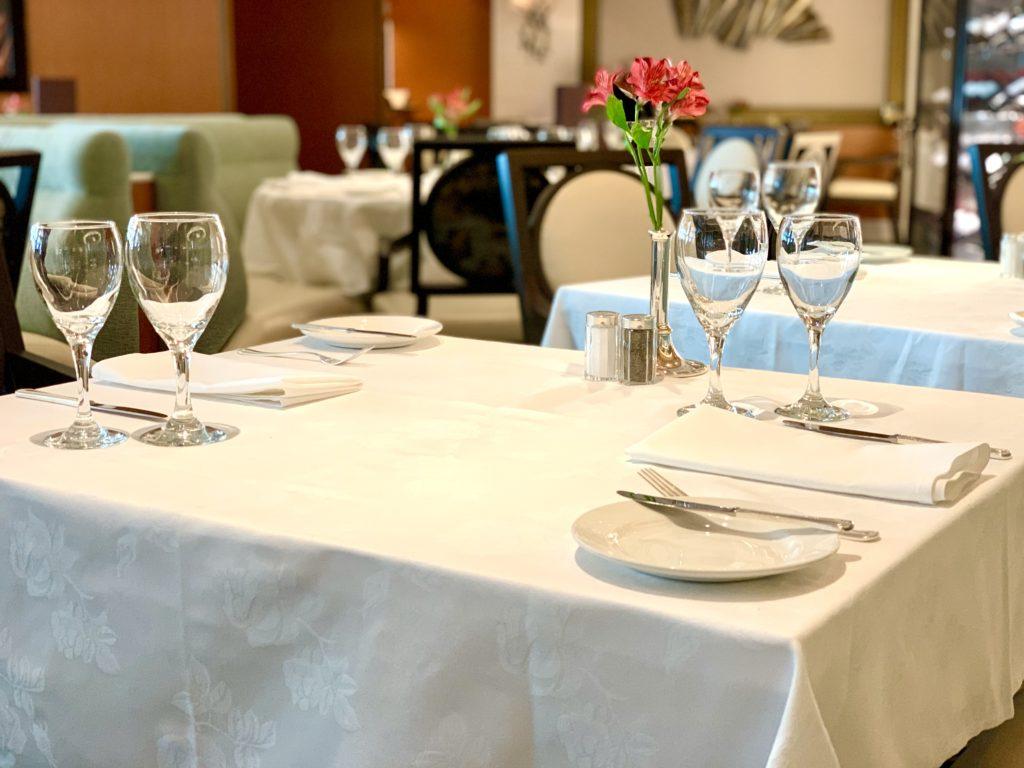 The Concerto main dining room is the only one of the three venues that is open for breakfast, lunch, and afternoon tea. Concerto is open daily for breakfast from 7-9 am and for lunch on select days from 12-1:30 pm. The afternoon tea service is offered daily from 3-4 pm.
Breakfast | Lunch 1 | Lunch 2 | Lunch 3 | Lunch 4 | Dinner 1 | Dinner 2 | Dinner 3 | Dinner 4 | Dinner 5 | Dinner 6 | Dinner 7 | After Dinner Drinks
Alfredo's Pizzeria – Deck 6
Alfredo's Pizzeria is one of our favorite casual spots on Princess Cruises. This sit-down restaurant is open daily from 11 am-10:30 pm serving up delicious gourmet pizzas day and night. The best part is that there is an open kitchen so you can watch the chefs craft your personal pie.
The menu also features a few soups and salads as starters, pasta dishes, and desserts. With classic pizza options from Margherita and Pepperoni to the signature Majestic Princess, you can't go wrong with any of these selections.
You can even use the Ocean Now feature to have a pizza delivered to you anywhere on the ship.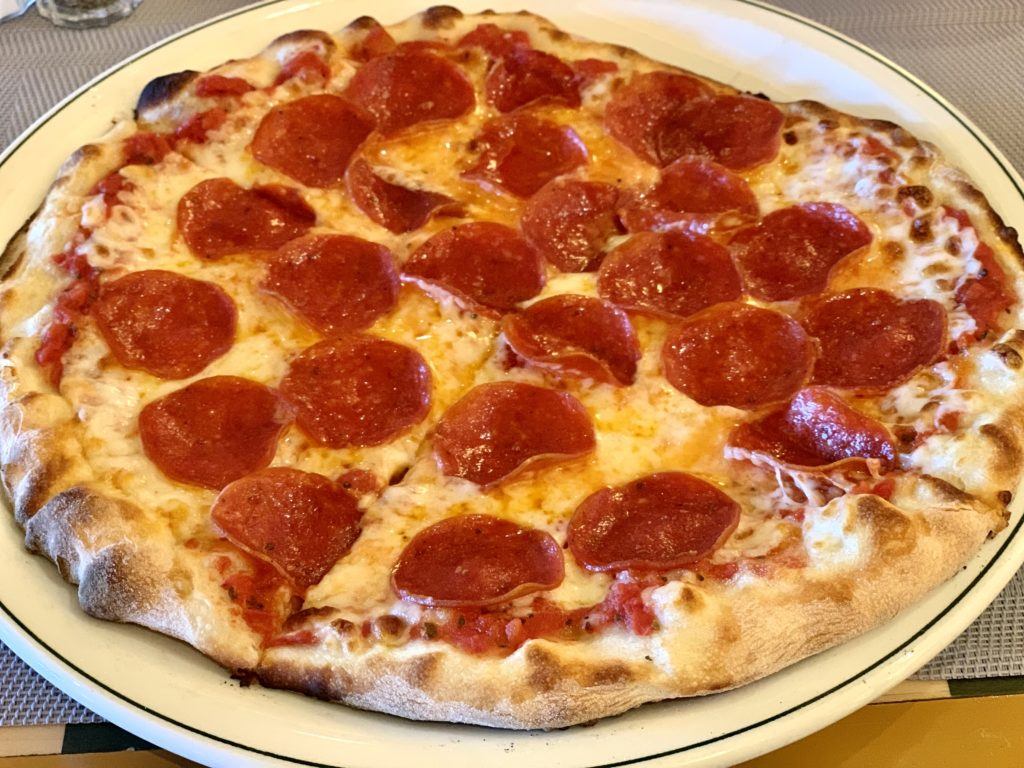 Now we know why Princess is rated as having the best pizza at sea!
Related Post: Alaska Cruise Planning Guide
Burger & Lobster Grill – Deck 16
Located on the Pool Deck, forward on the ship, the Burger & Lobster Grill is another casual dining option that is open daily from 11 am-10 pm. Whether you are lounging by the pool or have just returned from a day ashore, this grill will satisfy your cravings.
The menu includes craft burgers, a chicken sandwich, street tacos, hot dogs, and loaded fries. The menu also features a signature New England-style lobster roll. This item does have an upcharge price of $12.
Chopsticks Noodle Bar – Deck 16
Also located near the pool, opposite the Burger & Lobster Grill, is the Chopsticks Noodle Bar. This unique venue has been maintained on Majestic Princess since her days sailing in Asia. The Noodle Bar is open daily from 11 am- 10 pm as well.
While we were expecting lo mein-style noodles, the venue actually serves ramen-style noodles. The menu is small with two always available options, wonton noodle soup and vegetable miso ramen, as well as one daily special.
World Fresh Marketplace – Deck 16
The World Fresh Marketplace is your typical cruise ship buffet. The buffet on Majestic Princess is divided into three sections: The Bistro, The Bakery, and the Marketplace to give the large venue a more intimate feel. The World Fresh Marketplace is open from 5 am to 11 pm daily, serving breakfast, lunch, and dinner options.
Given recent health and safety protocols, staff now serve guests their food selections.
Breakfast options include your typical fare complete with a custom egg station. Lunch options include deli selections, a custom salad bar, and several hot entrees. We never dined here for dinner, but we would say that breakfast and lunch were on par with other cruise lines.
Room Service
With Ocean Now, guests can get a number of complimentary items delivered to their stateroom (or anywhere else around the ship) whenever they want. Complimentary options include salads, soups, burgers, chicken sandwiches, and more. Up-charge items include sushi, filet, pizza, and other items for varying prices from $3 for pizza to $19 for steak.
Guests can also order complimentary stateroom breakfast which includes a selection of fresh fruit, cold cereals, pastries, and an egg, bacon, and cheese breakfast muffin.
Room Service Menu | Ocean Now Snacks, Salads, and Soups | Ocean Now Burgers, Sandwiches, and Pizza | Ocean Now Desserts
Comments
Did you find our Majestic Princess Restaurant Menus and Dining Guide helpful? What are your favorite dining venues on Princess Cruises? Drop us an anchor below to share your favorite food selections on a cruise.