If you see Princess Cays listed on your cruise itinerary, it's not a private island reserved for royals. In fact, this serene private port in the Bahamas is accessible to passengers on Princess Cruises and Carnival Cruise Line. How does it stand apart from other cruise line private island experiences? Read on to find out everything you need to know about Princess Cays.
Everything You Need to Know About Carnival Corporation's Princess Cays
Where is Princess Cays?
The island of Eleuthera in the Bahamas is 100 miles long and 2 miles wide. It's here, at the southern tip of Eleuthera and 70 miles east of Nassau, that you can find the private resort at Princess Cays. Set on 40 acres, this port of call offers a half-mile of fine-sand beaches and clear, turquoise waters ideal for swimming, snorkeling, or simply dipping your toes with a drink in hand. The port is divided into two primary sides: North Beach and South Beach.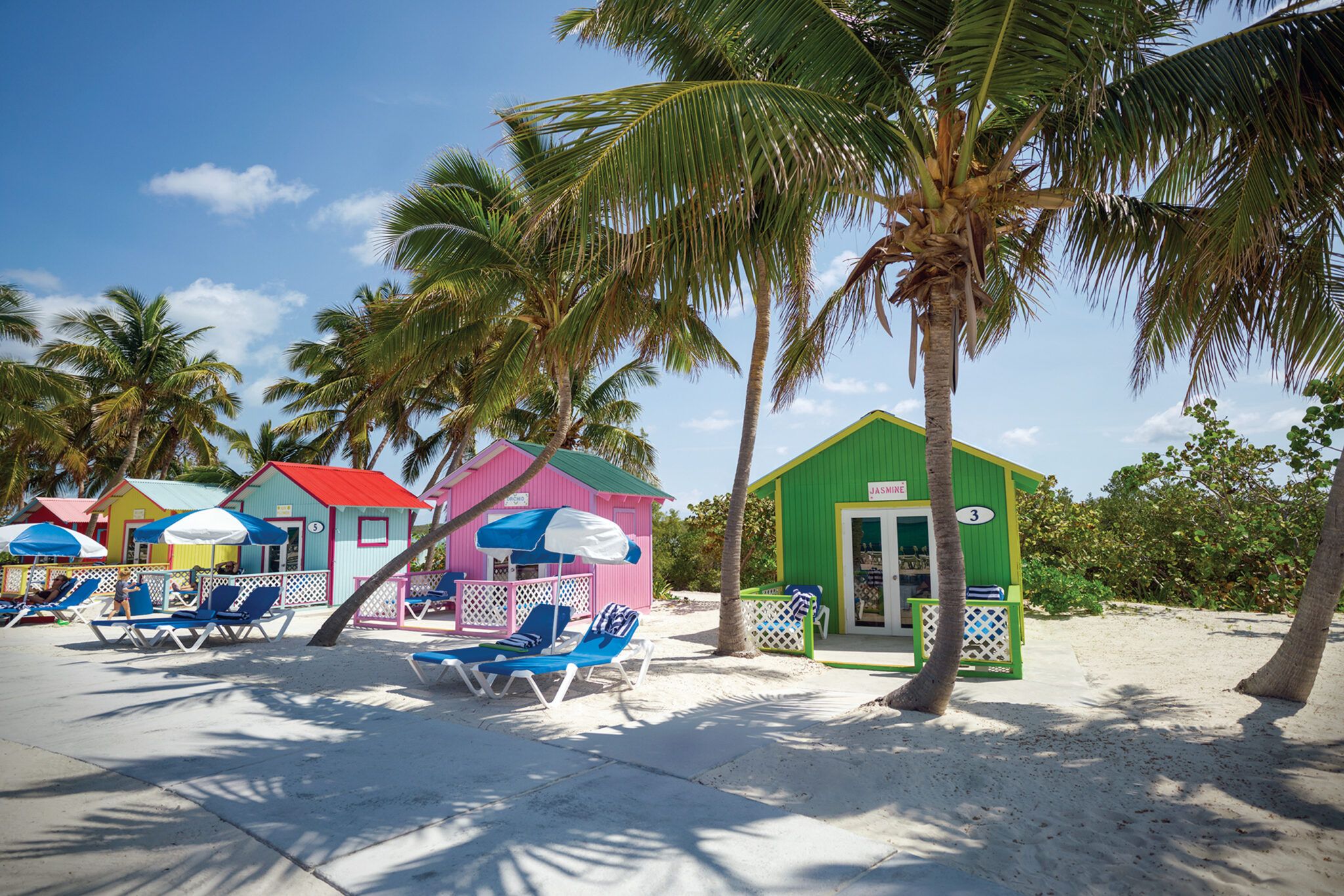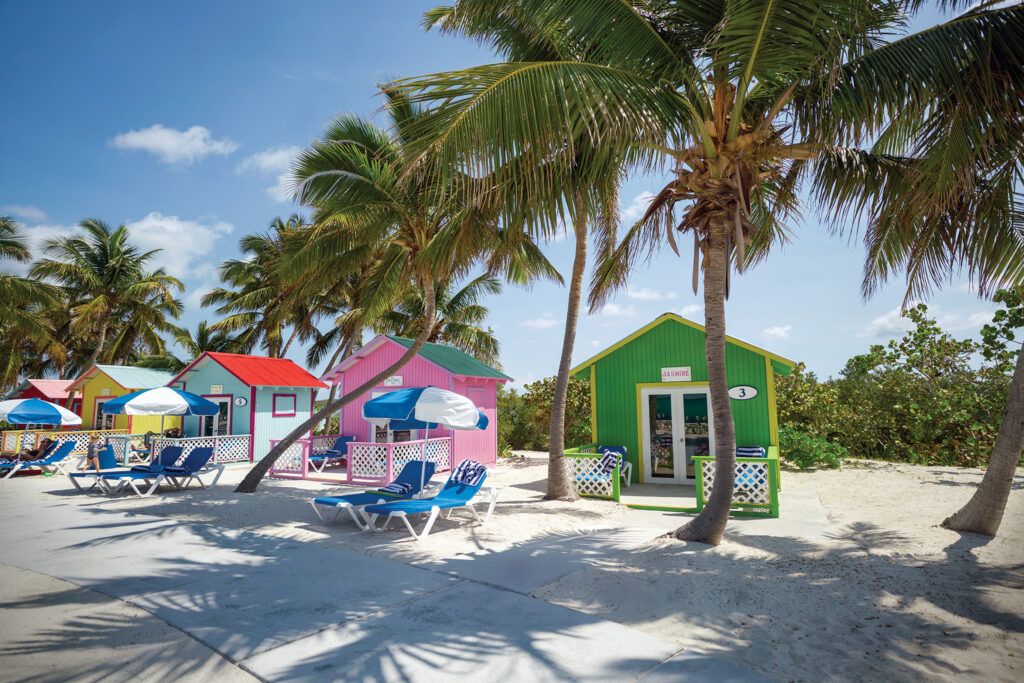 Call to Book Your Next Cruise Now: 1-855-228-5584!
How do you get to Princess Cays?
The private port of Princess Cays is only accessible to passengers onboard ships helmed by Carnival Corporation — primarily, Princess Cruises and Carnival Cruise Line. Still, only one ship visits the port at any given time, keeping crowds to a minimum.
Princess Cays is a tender port, meaning cruisers must be able to board a smaller ship, or tender, to reach the shore. This might exclude those with limited mobility. Princess Cruises recommends having an "able-bodied companion" to assist those with mobility concerns to leave and reboard the ship. Crew are not allowed to lift more than 50 lbs. of weight when assisting guests.
Itineraries featuring Princess Cays also call in other ports throughout the Caribbean. They might feature San Juan or St. Thomas, often on cruises departing from Fort Lauderdale.
Food and Drink
Is food included on Princess Cays?
Yes. A complimentary beach barbecue is available to all guests visiting Princess Cays. From about 11:30 to 1:30, cruisers can grab an identical lunch from either pavilion (Grill Crazy BBQ is near North Beach while Sea Breeze Grill is closer to South Beach).
Barbecue fare includes chicken and ribs, hamburgers and hotdogs, salads and sides, as well as fresh fruit and brownies. Picnic benches as well as covered seating areas are available for use while you nosh.
Are drinks included on Princess Cays?
Alcoholic drinks always come at an additional cost, but if you have a beverage package onboard your Princess ship, it extends here ashore. Carnival's beverage package does not extend ashore.
Water, lemonade, iced tea and other hydrating drinks are available free of charge at either dining venue.
Beginning in North Beach, visitors to Princess Cays will find the Bahia Bar, followed by the Coconut Bar, closer to Grill Crazy. The Banana Beach Bar is about midway along the private resort, followed by the Reef Runner in South Beach.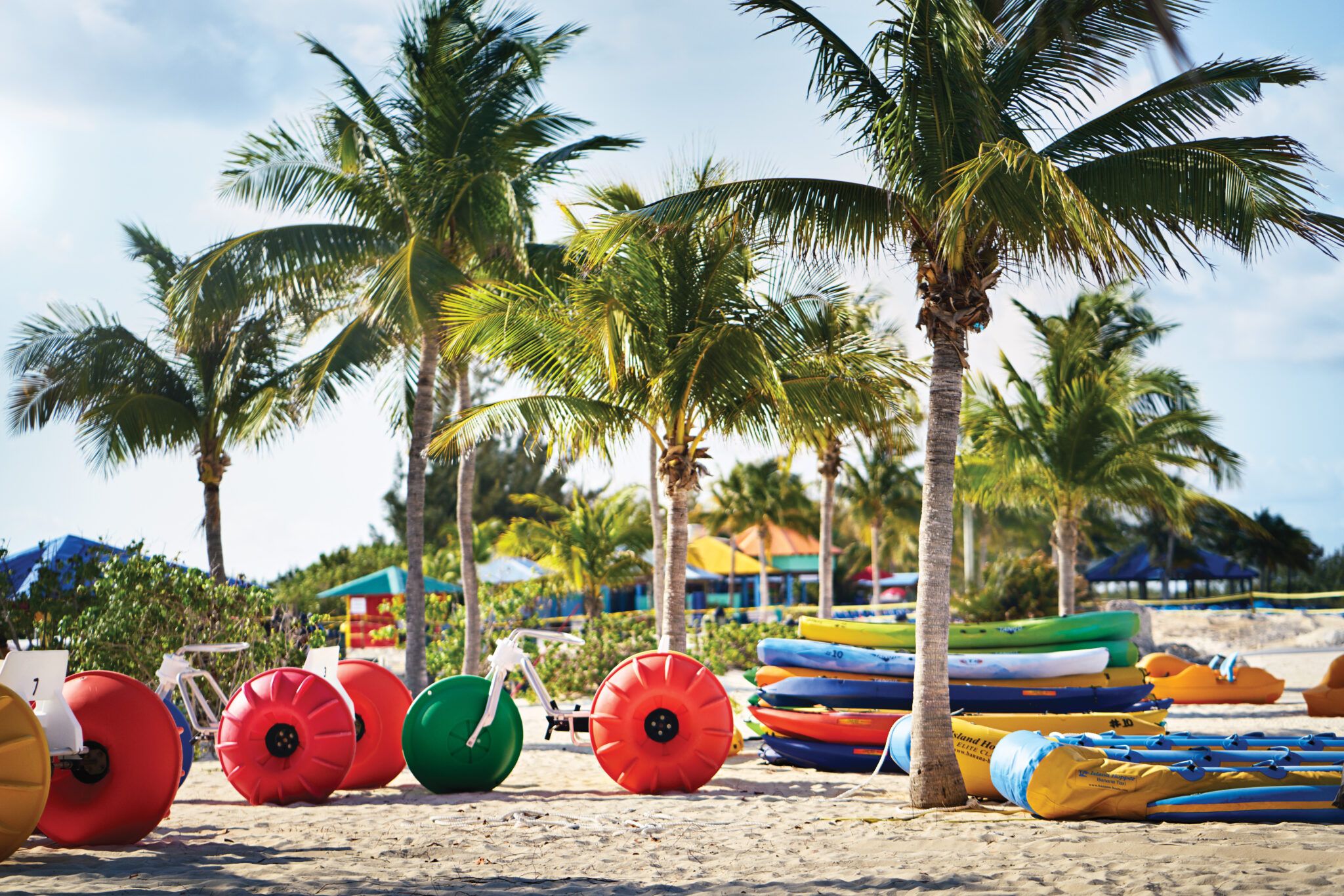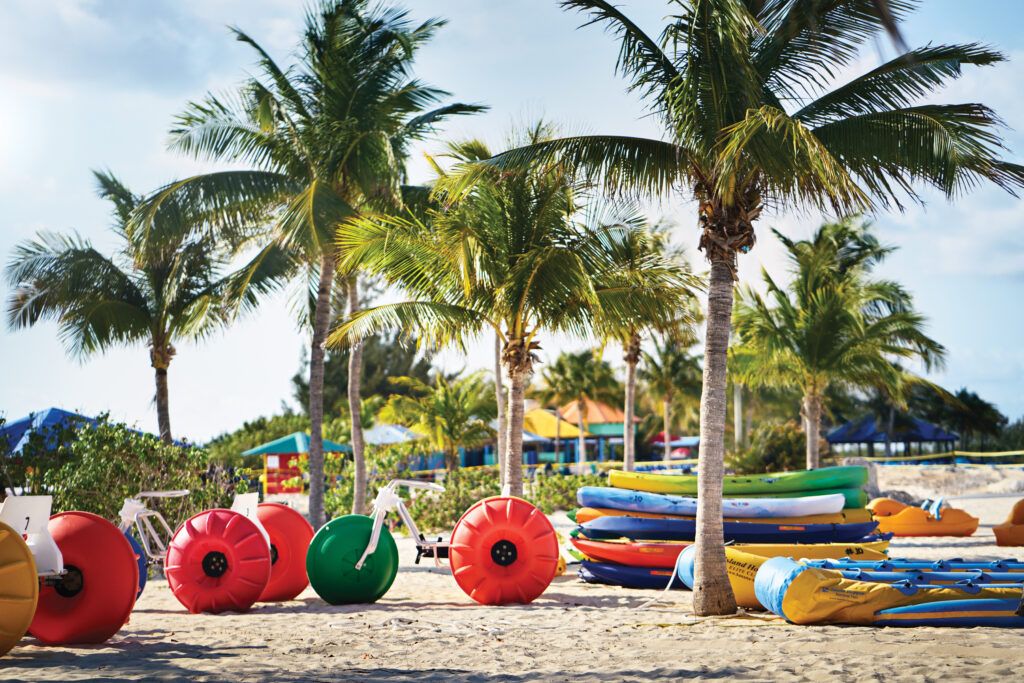 Activities
Is there a pool on Princess Cays?
There is no large pool located on Princess Cays. However, there is a small pool for kids located near the Pelican Perch Playground.
Do you need to book excursions on Princess Cays?
You don't need to book any excursions to enjoy the pristine surf and sand of a day on Princess Cays. However, a number of organized activities are available to book if you choose, including a stingray encounter, glass-bottom boat ride, kayak tour, banana boat ride, coastal cruise, guided bike tour or surf fishing excursion.
Tour prices are reasonable (based on the Princess Cruises website); the 90-minute bike ride and 2.5-hour fishing tours are $30 per person each, while a 15-minute thrill ride on the banana boat is $20. Children ages 12 and younger save up to 50 percent on excursions.
What kind of equipment rentals are available on Princess Cays?
If it's a toy that belongs in the water, you're likely to find it here. Ocean kayaks, stand-up paddleboard, snorkel equipment, paddle wheelers, aqua bikes, floating mats, chairs and foam water noodles are all available to rent — some by the hour and some for all 6 hours of the port day. There are also locker rentals for about $20/day. You can even rent out a hobie sailboat for by the hour for up to three people.
We especially like the unique "ocean-viewing sea board," which allows you to rest on a surfboard-like surface while looking through a clear window to the water for $15 an hour. (Options reflect prices and listings on Princess Cruises' website.)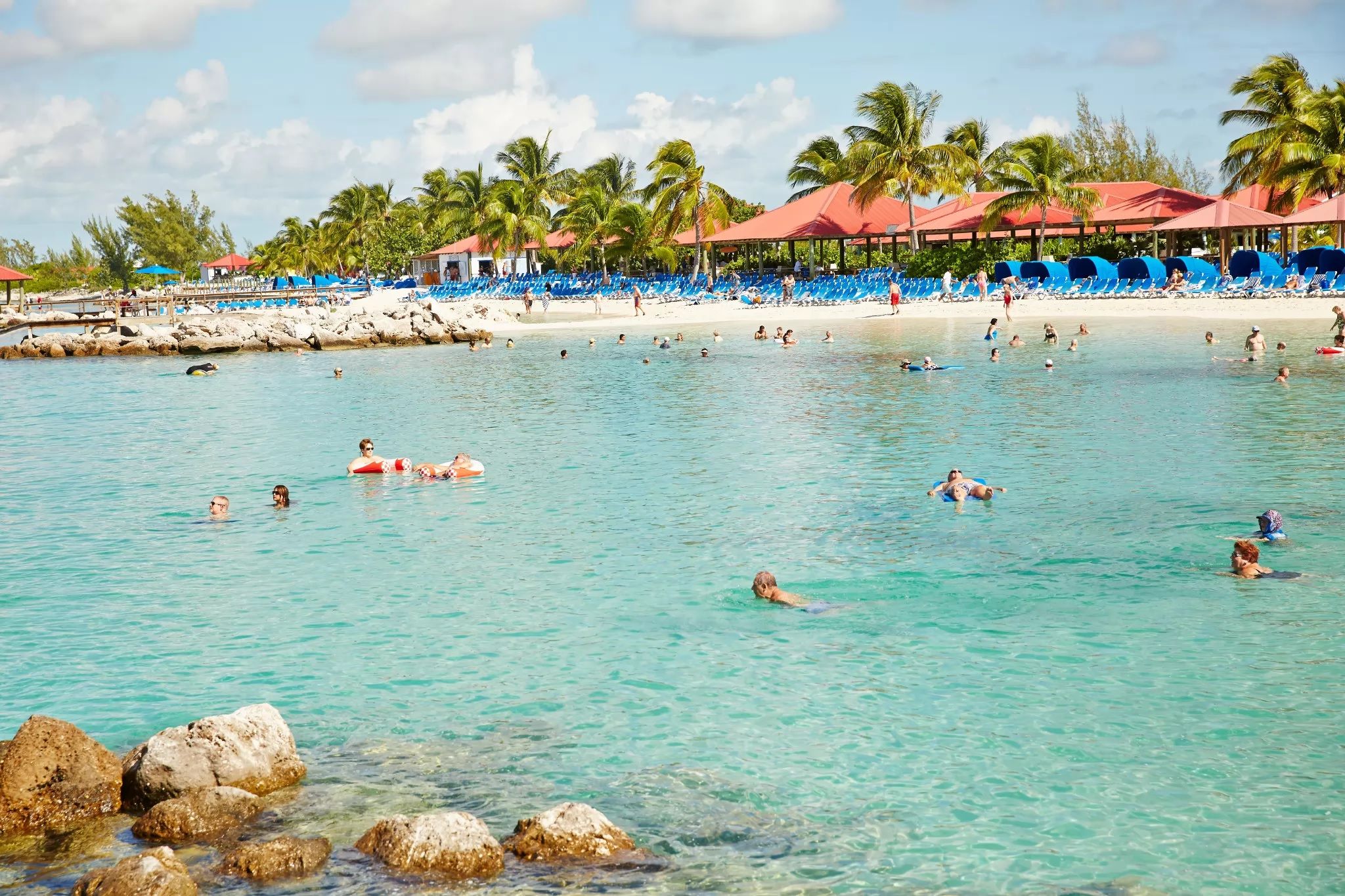 Are there free activities on Princess Cays?
Yes. You can play a game of volleyball or basketball on one of the resort's courts. Or, bring your own snorkel gear to explore the quiet coves of Princess Cays and the coral reefs and mangroves of the Caribbean Sea.
The Crow's Nest is an overlook tower that rises three stories high and is the place for photos of the island or your ship. Don't forget about the thousands of sun loungers where you can veg out with a cold drink and a good book.
Can you book a cabana on Princess Cays?
There are a number of options for private relaxation spaces throughout the beachside resort. To upgrade from the free beach loungers, opt for a two-person beach clamshell for about $40 for the day.
A private, all-day bungalow rental for up to four people is an estimated $230. There are about 18 of these bungalows located around the resort. Bungalows come with priority tender tickets, air-conditioning, a personal attendant, soft drinks and snacks, and use of a motorized cart. A bungalow rental on the adults-only Sanctuary portion of the resort starts at $300 and there are seven of these available to rent.
EXCLUSIVE SAVINGS: Get Deals on Your Next Princess Cruise!
Shopping
What kind of shopping is available on Princess Cays?
Close to where you land in Princess Cays near the Love Boat Marina are the shops. The Bahama Treasures Shop and Tropical Treasure Shop offer logo gear, tropical-themed apparel and souvenirs for kids and adults. A local-style straw market offers Bahamian crafts for sale.
Cash in US dollars is accepted by some vendors as payment. Otherwise, everything across the island is charged to your onboard account.
Princess Cays for Kids
Pelican's Perch is the play area for kids on Princess Cays. A wooden playground in the sand offers climbing opportunities around the likes of a replica pirate ship, all while shaded by a tented canopy. Adjacent to the playground is a small pool for supervised splash time.
There are seven restroom blocks located throughout the island, including a private restroom for kids and parents at the Pelican's Perch
Princess Cays for Adults
Similar to onboard Princess Cruises' ships, the Sanctuary is the place for the over-18 crowd to unwind. On Princess Cays, it is a roped-off section of the beach reserved for adults to sunbathe in relative peace.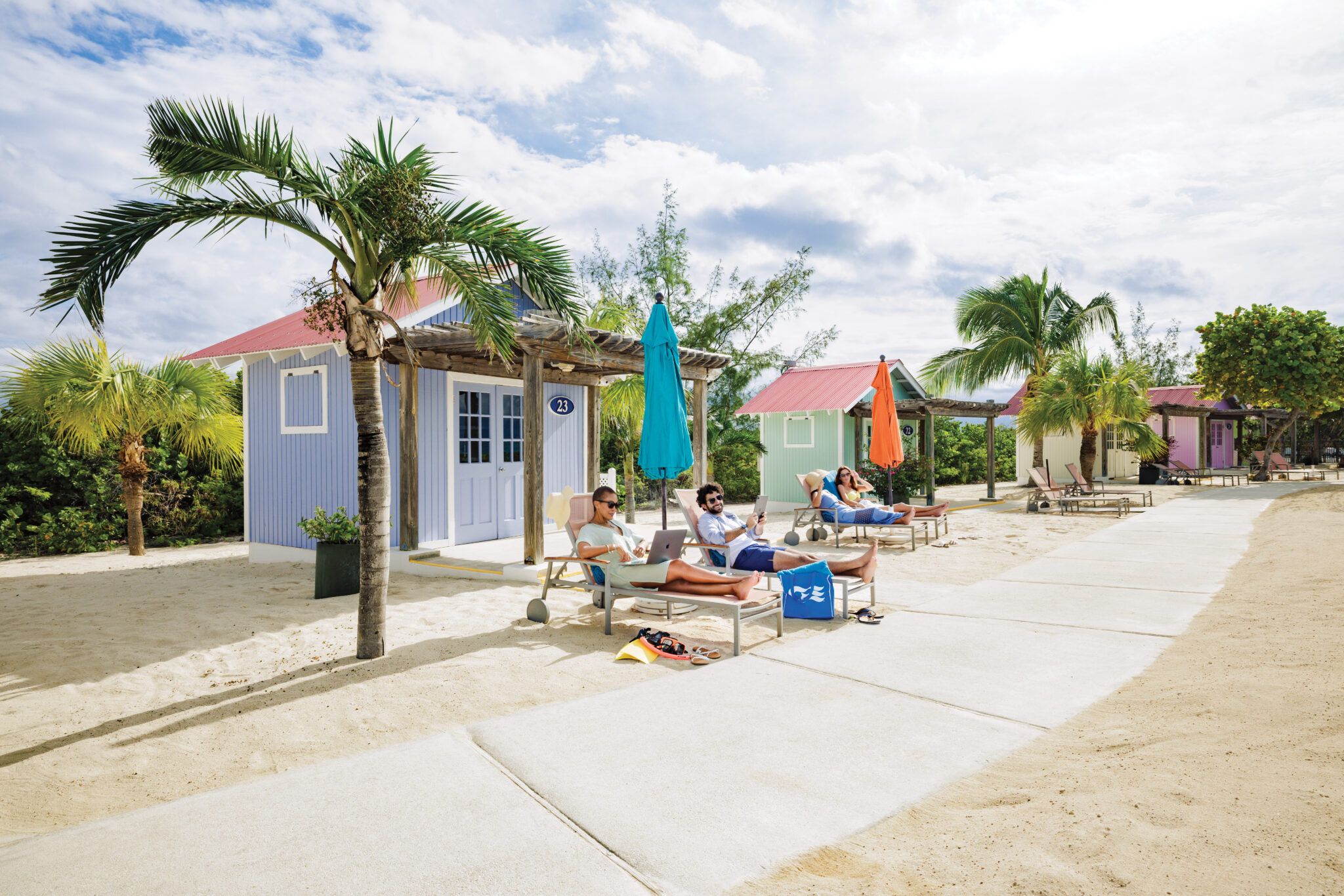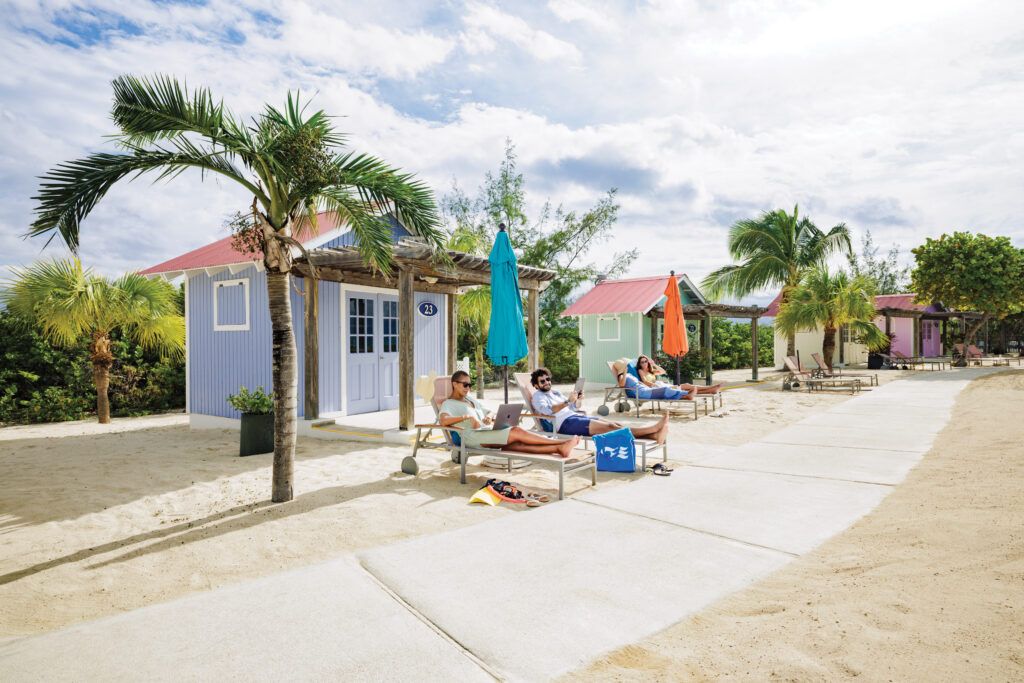 Additional FAQs on Princess Cays
Is there Wi-Fi on the island?
Princess Cruises' Medallion Net Wi-Fi is available throughout the private port. However, Carnival guests will have trouble connecting to this service during their stay.
Do people live on Princess Cays?
People live on Eleuthera, where Princess Cays is located. The population of this Bahamian island is approximately 11,000 people and boasts famous resident Lenny Kravitz. Kravitz recorded a song in 1993 called "Eleutheria." The Greek origin of the island's name means "free."
BOOK NOW: Discounted Rates on Princess Cruises!
Comments
Have you visited Princess Cays on a cruise? What are some of your favorite things to do at this private cruise destination? Drop us an anchor below to share your experiences visiting Princess Cays in the Bahamas.