Perfect Day at CocoCay is Royal Caribbean's private oasis in the Bahamas. CocoCay recently underwent a $200 million renovation completely transforming the island. The island now offers several new features and attractions. Some of these amenities are included and others will cost extra money. The newest addition to the private island is the Coco Beach Club. In this post, we outline everything you need to know about the Coco Beach Club on Perfect Day at CocoCay to help you decide if it is worth it.
Related Post: Is CocoCay Different in 2021?
Everything You Need to Know About the Coco Beach Club on Perfect Day at CocoCay
The Coco Beach Club Basics
The Coco Beach Club is an exclusive beach club on Perfect Day at CocoCay that is available for guests of all ages. For Royal Caribbean cruisers seeking the ultimate in luxury, this private space offers exclusive access to a beach, infinity pool, private dining, and more. With a capacity of only a few hundred people, the Coco Beach Club offers an escape from all the other island guests.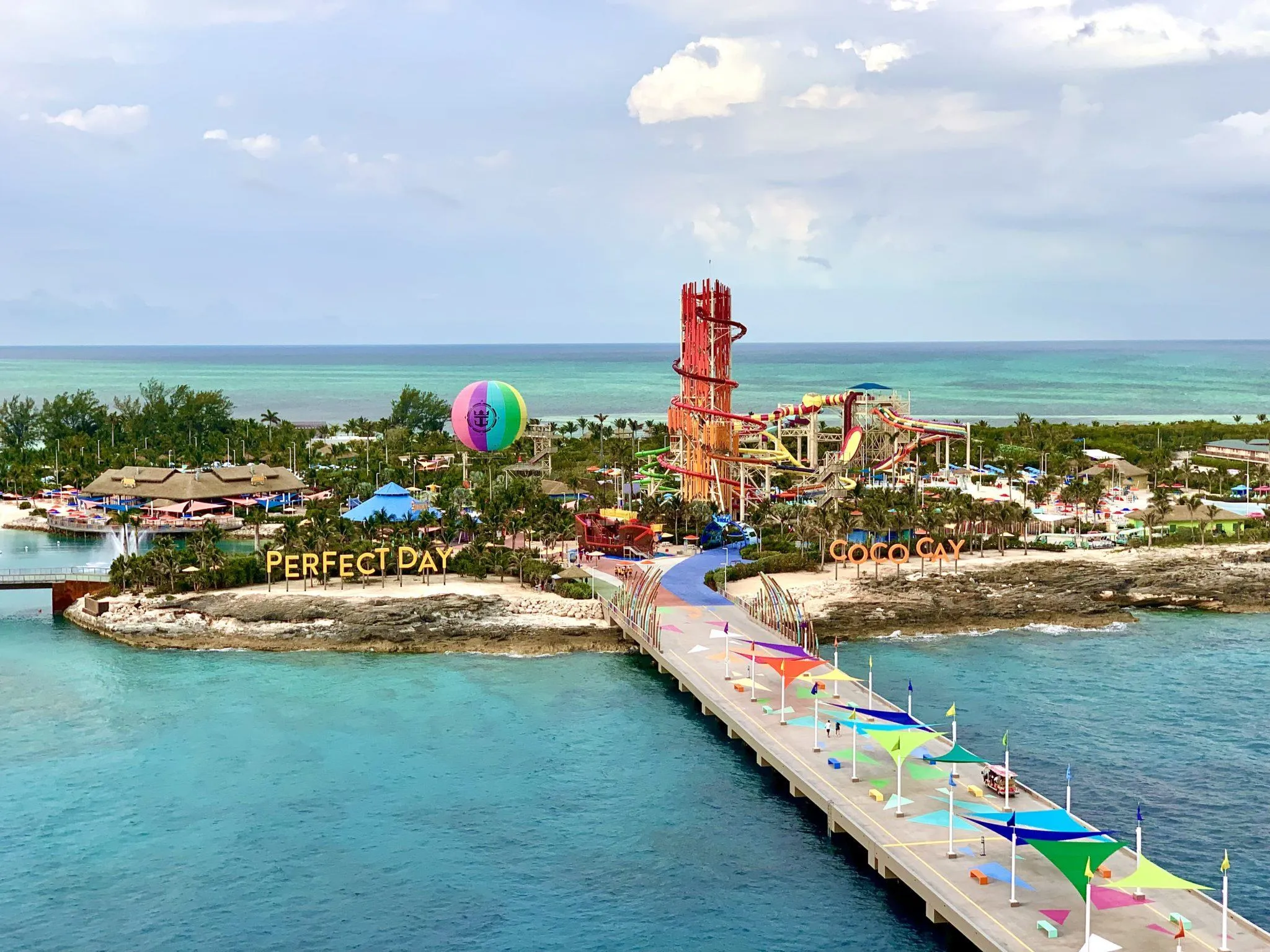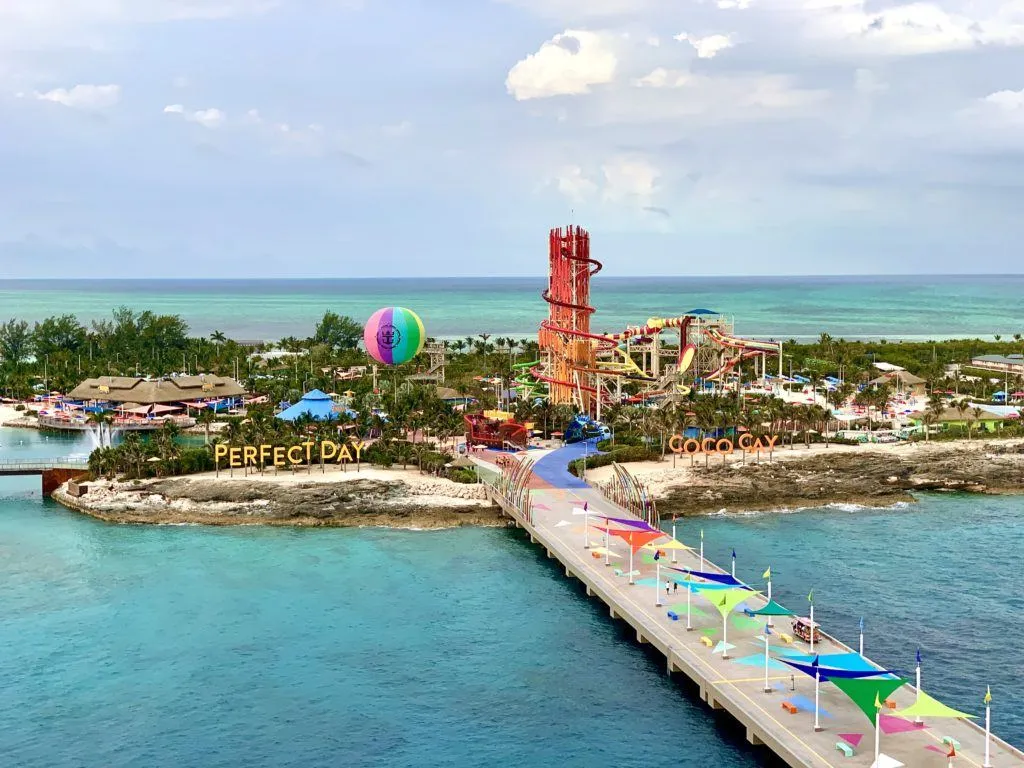 Cruisers can reserve one of the limited spots available in this private retreat online in their Cruise Planner. The prices for Coco Beach Club passes do vary. The dynamic pricing fluctuates based on cruise ship, time of year, and current promotions run by the cruise line.
Prices have started to trend up since the resumption of cruising. So, cruisers can expect pricing for Coco Beach Club passes within the range of $150 – $180 per person now. For comparative purposes, we booked a pass back in April for a November cruise at a sale price of less than $80. The current pricing for the same cruise as of today is $160!
We always recommend booking early. You can cancel and re-book if a better promotional price comes along before your sail date.
Of note, children under three years of age get free admission to Coco Beach Club.
COMPLETE GUIDE TO COCO BEACH CLUB VIDEO
Getting to the Coco Beach Club
Once you arrive at Perfect Day CocoCay on your cruise ship, head ashore with your tickets. You can choose to take the 15 or so minute walk from the ship to the Club. Or, you can take the complimentary tram that departs approximately every 10 minutes near the Arrivals Plaza.
Upon arrival at the Club, guests will receive a wristband. This wristband can be used to enter and exit throughout the day if you choose.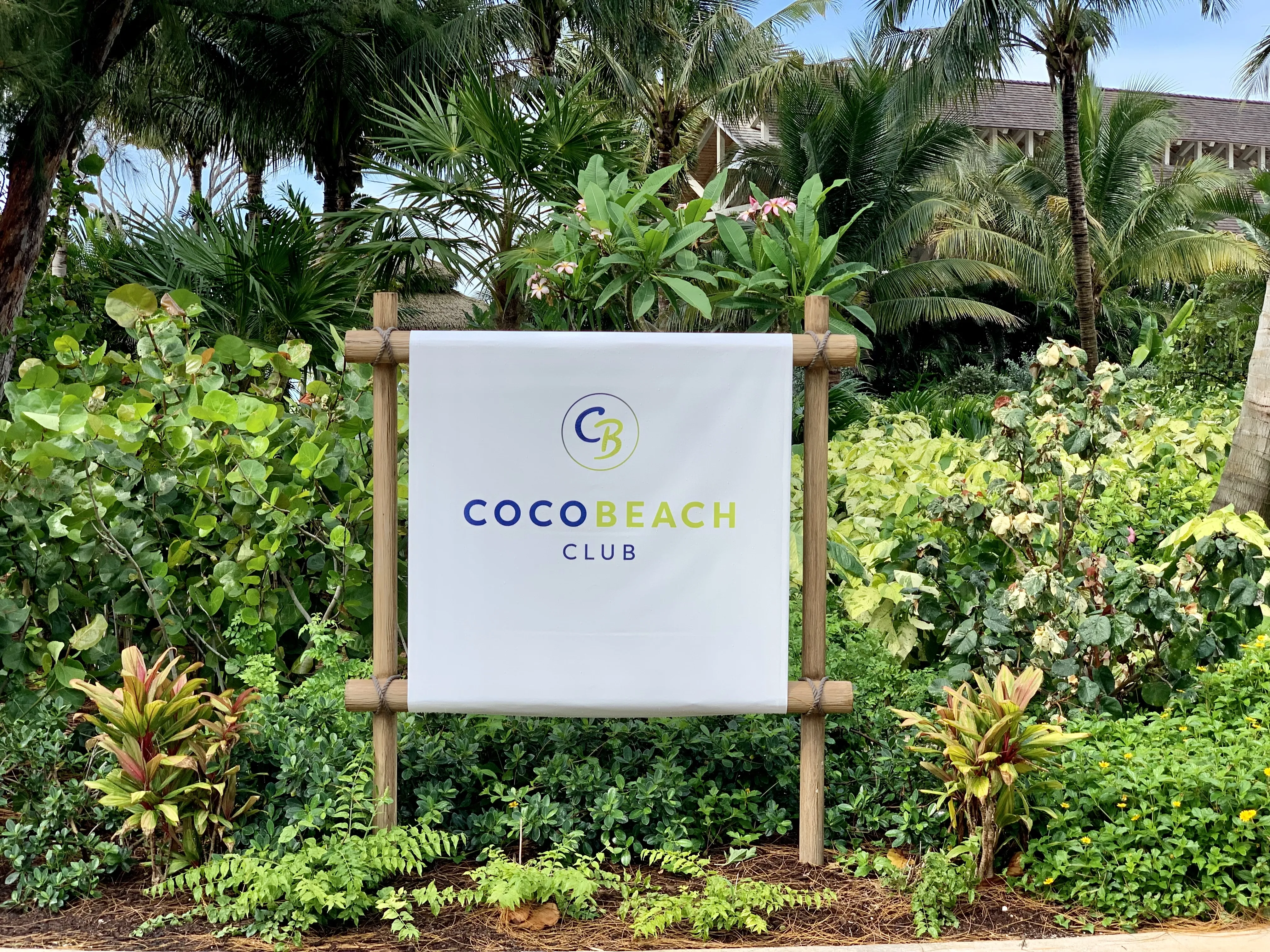 For instance, you could book a flight on the Up, Up, and Away Helium Balloon ride or a Perfect Day CocoCay Zipline excursion in the middle of the day. You could also sneak off to a Snack Shack to sample a chicken sandwich, head to Captain Jack's for a little live music, or grab a signature Coco Loco at the swim-up bar in the Oasis Lagoon Pool.
Not that you need to do any of this though, as there is already plenty included in a Coco Beach Club day pass.
Related Post: Thrill Waterpark Review
Coco Beach Club Day Pass Included Amenities
With the purchase of a day pass, cruisers have access to beach chairs and umbrellas, daybeds near the pool, and premium towels. Of course, there are also showers and restrooms in this private area.
The beach chairs and daybeds are available on a first come, first served basis. They cannot be reserved ahead of time. Complimentary floating mats are also available for all Coco Beach Club guests on a first come, first served basis.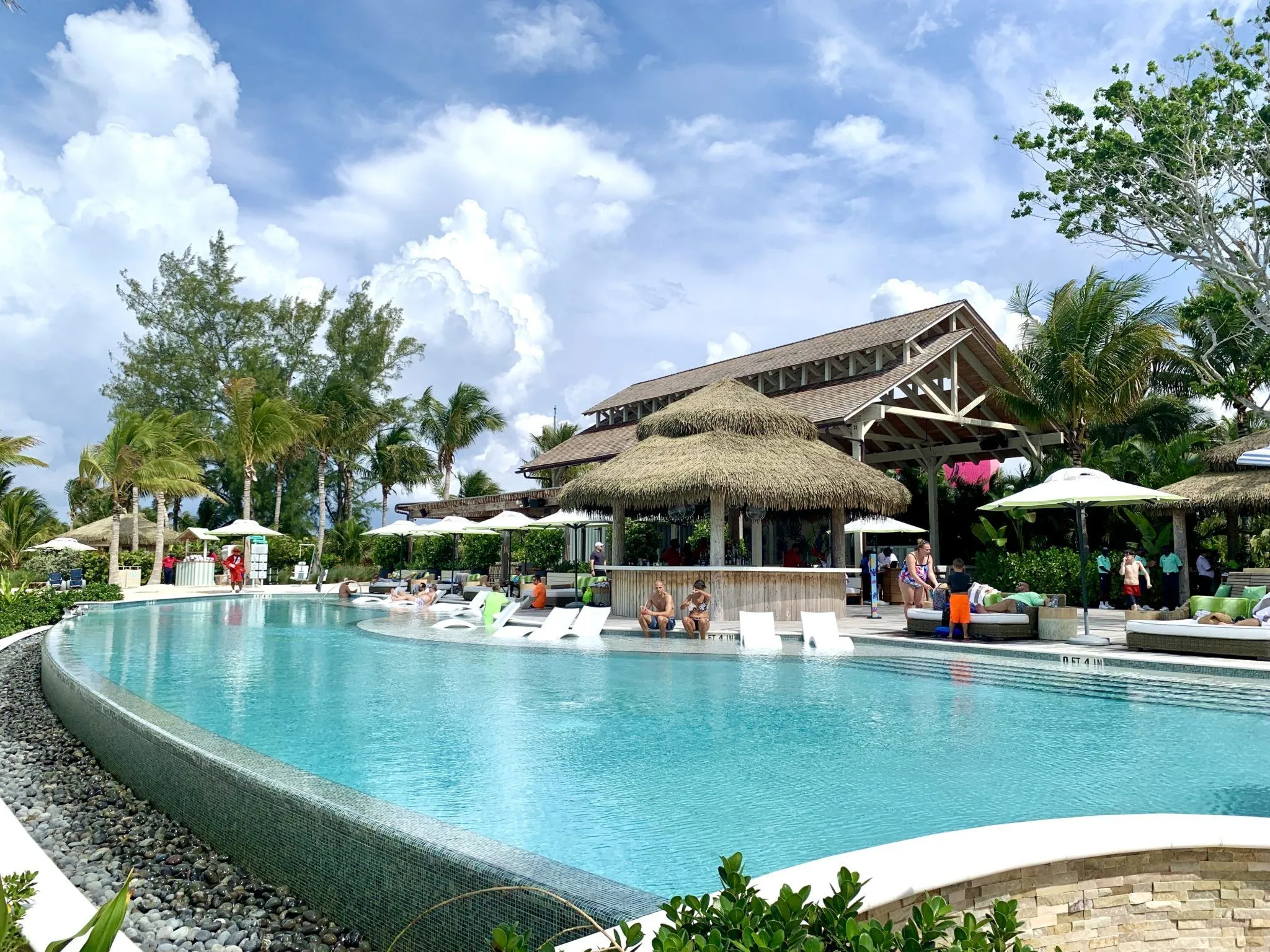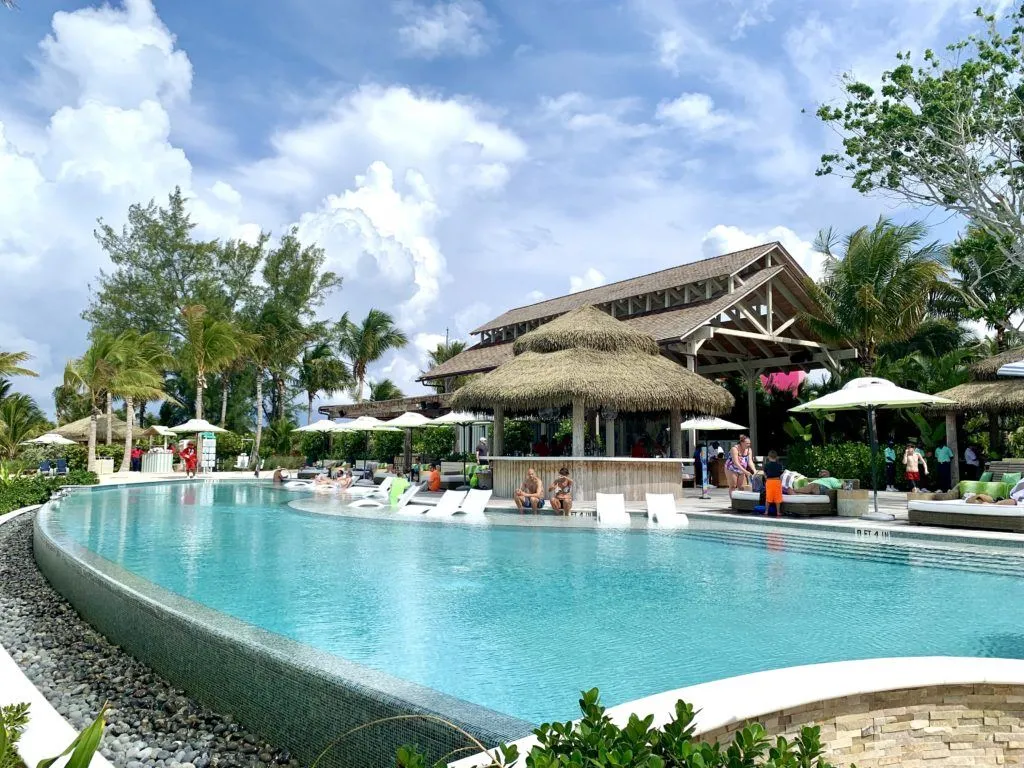 Infinity Pool
The Infinity Edge Pool in the Coco Beach Club is also available for guests who purchase a day pass to this exclusive area on the island. The infinity pool features in-water loungers, comfy day beds surrounding the pool, and bar service. Not to mention, you will have amazing ocean vistas.
Exclusive Beach
With admission to the Coco Beach Club, guests can also enjoy a slice of paradise on the soft, sandy beach. Yes, Perfect Day at CocoCay does have plenty of beach space and loungers that don't cost a dime, but sometimes you are just looking for that extra bit of luxury.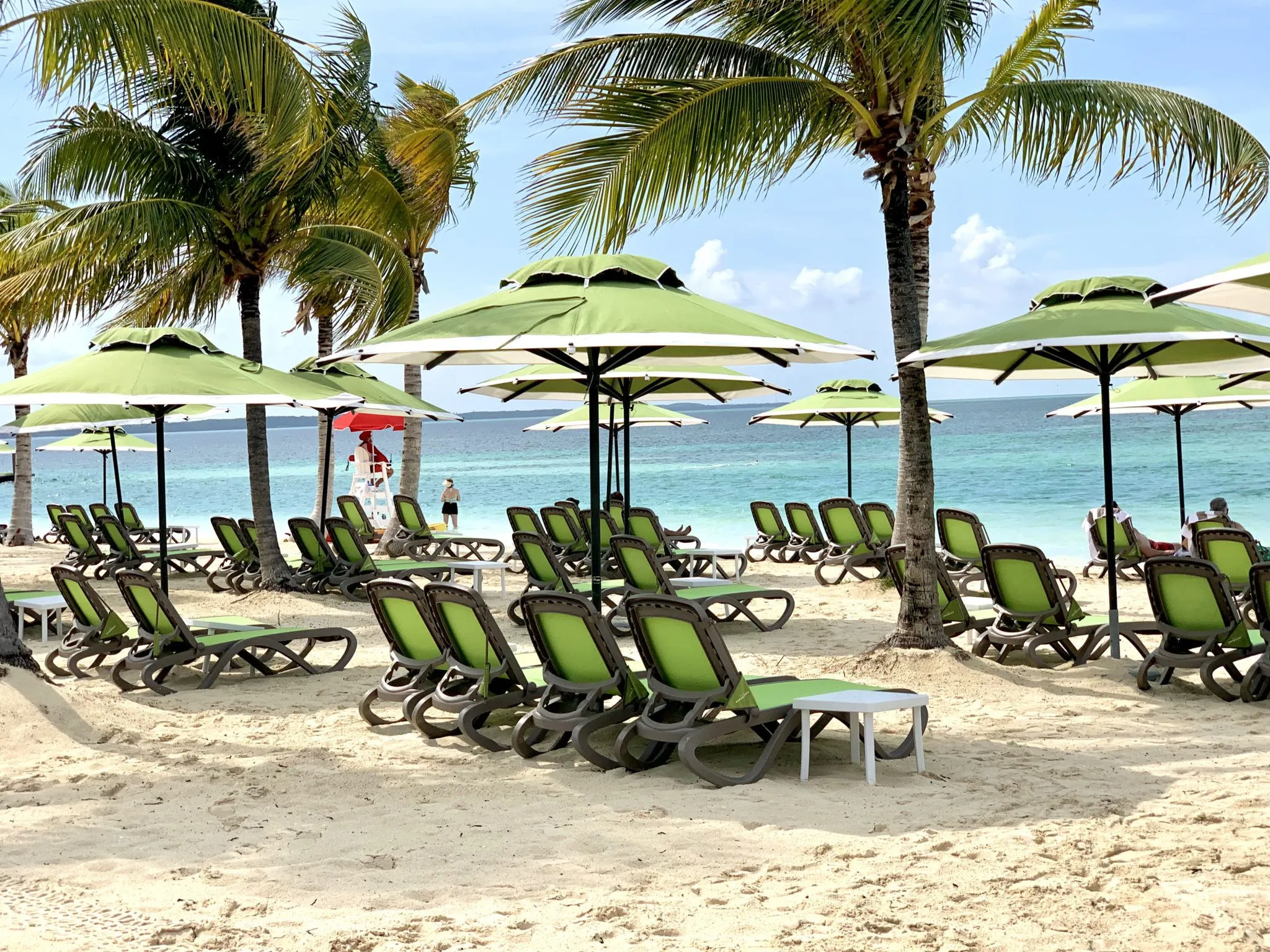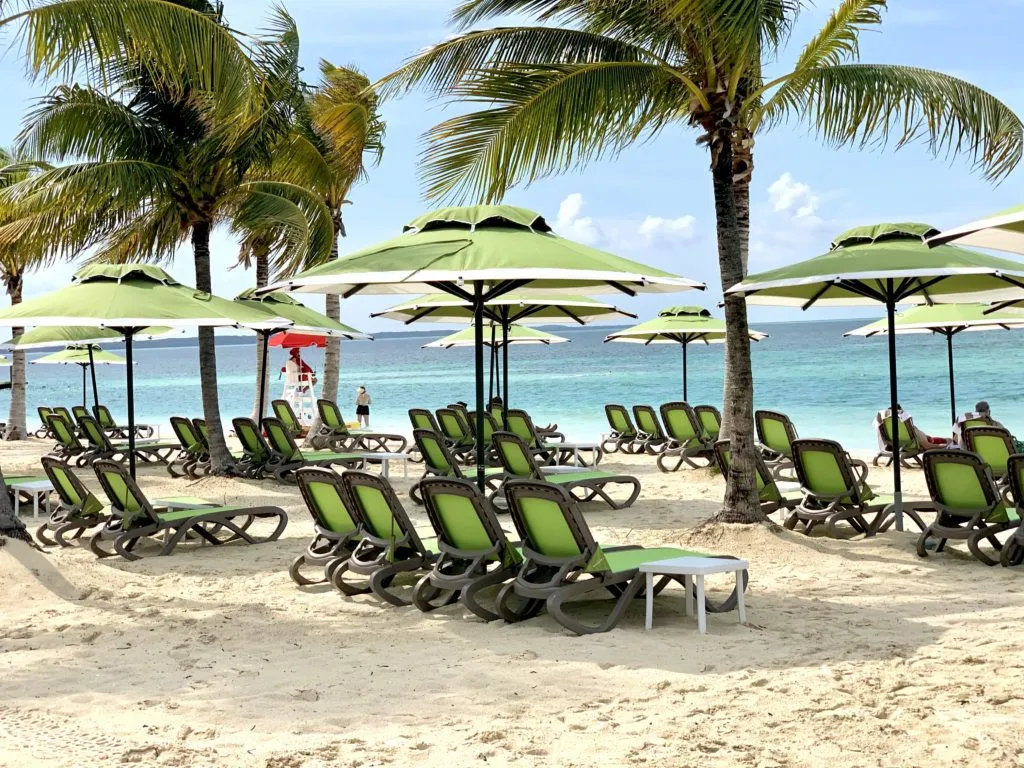 Exclusive Dining
Perhaps the top luxury of a Coco Beach Club day pass is access to exclusive dining at the Coco Beach Club restaurant.
All guests of the Coco Beach Club can enjoy complimentary dining from an elevated menu. The dining options include coffee and pastries available in the morning and an assortment of salads and starters throughout lunch. For main courses, cruises can indulge in entrees like filet mignon and lobster.
Lunch is available from 11 am until 3 pm. No reservations are required at this open-air restaurant. Though, it can get busy at prime lunchtime, so be sure to plan accordingly.
Additionally, there is complimentary coffee in the morning and fruit infused water in the afternoon. If you have a beverage package, it will work anywhere on the island including at the Coco Beach Club. If you do not have a beverage package, drinks will cost you extra money.
Related Post: How to Spend Two Perfect Days on Perfect Day at CocoCay
Upgrade to a Cabana
If you want to upgrade your day on Perfect Day at CocoCay even further, you can splurge for a cabana. Now, there are cabanas located throughout the island, but there are also exclusive cabanas in the Coco Beach Club.
In the Club, Floating Cabanas and Beach Cabanas are available to rent. These cabanas include complimentary admission to Coco Beach Club for up to eight guests. Pricing is per cabana, not per person.
On the night prior to arrival in Perfect Day at CocoCay, guests will receive a letter in their stateroom with tickets and a map to help locate their Coco Beach Club Cabana.
Aptly named, the beach cabanas are located along the beach, whereas the floating cabanas are located overwater and accessed from a pier.
Both types of cabanas include complimentary admission to Coco Beach Club and are serviced by a Cabana Attendant who will tend to your food and drink orders as well as anything else you may need.
The cabanas also include a sectional sofa, dining area, 4 lounge chairs, lockable storage, charging outlets, premium towels, and unlimited bottled water.
Coco Beach Club Cabana guests can request complimentary snorkel gear from the Cabana Attendant as well.
There will be a menu to the Coco Beach Club restaurant in the cabana. Thus, you can place an order at anytime, and your Attendant will deliver the food to you. Of course, you can always choose to walk over and dine at the restaurant as well.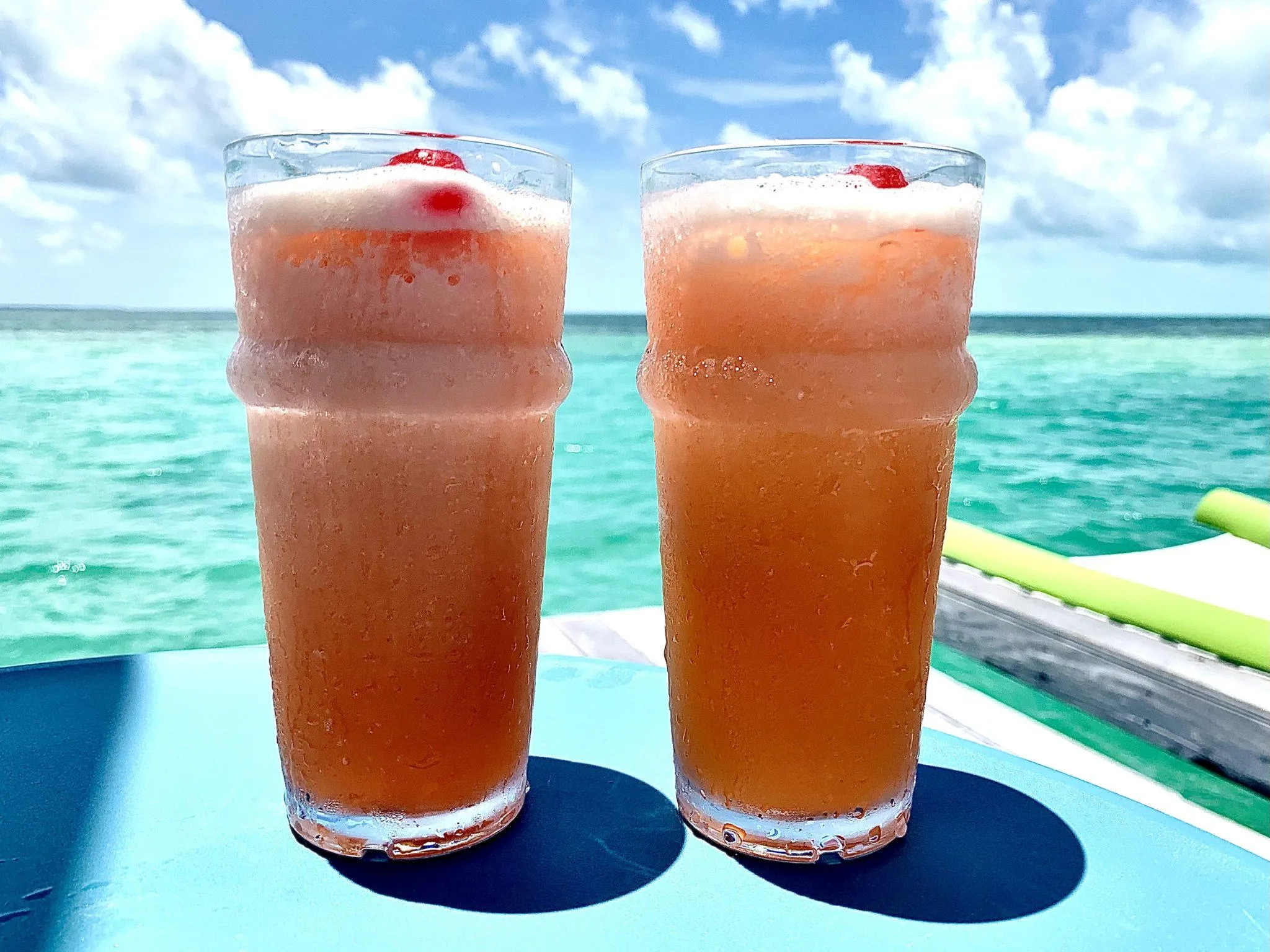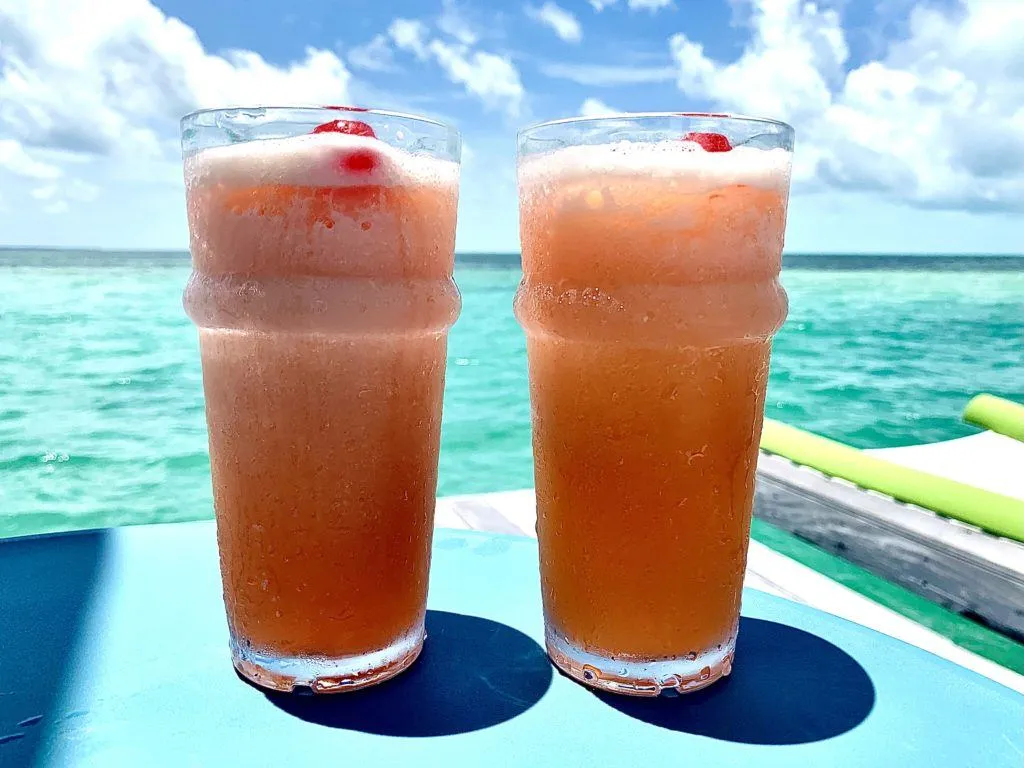 Further, there is a minibar stocked with wine, beer, and soft drinks. These are included in the beverage package but will cost a la carte otherwise. In our opinion, these premium cabana offerings should include additional beverages beyond water for the price.
In addition to the amenities of the Beach Cabanas, Floating Cabanas feature a two person overwater hammock, a slide into the ocean, and a wet bar.
Again, Cabana pricing does vary, but it will be a somewhat pricey investment. The current pricing in our cruise planner is $1299 for a Beach Cabana and $1699 for a Floating Cabana.
The decision to upgrade to a cabana is a personal choice based on how much you are willing to pay for this exclusive and private day ashore. Keep in mind that the price is per cabana and not per person and that is does include admission to the Coco Beach Club which is currently priced at $160 per person.
At this pricing, admission to the Coco Beach Club for a party of 8 would cost nearly as much as a Beach Cabana.
We were guests of Royal Caribbean in a Floating Cabana during our recent Adventure of the Seas sailing and can confirm that they are pretty awesome!
Comments
Have you tried the Coco Beach Club on Perfect Day at CocoCay? Would you pay for this upgraded experience? Drop us an anchor below to share your reviews of Royal Caribbean's Coco Beach Club.