If you're taking a cruise to the western Caribbean, your itinerary might include a stop to the Honduran island of Roatán. There are two cruise ports there, one of them being the Carnival Corp.-owned Mahogany Bay.
Here, we're going over everything you need to know about this beautiful cruise port, which includes shops, restaurants, a beach, and more.
Call to Book Your Next Cruise Now: 1-855-228-5584!
Everything You Need to Know About Mahogany Bay Cruise Port in Roatan
What is Mahogany Bay?
The Mahogany Bay Cruise Center is located on the southern side of Roatán, a 33-mile-long Honduran island located north of the mainland in the Caribbean Sea. The development, which opened in late 2009, is a joint venture between Carnival Corporation and local businessman Jerry Hynds.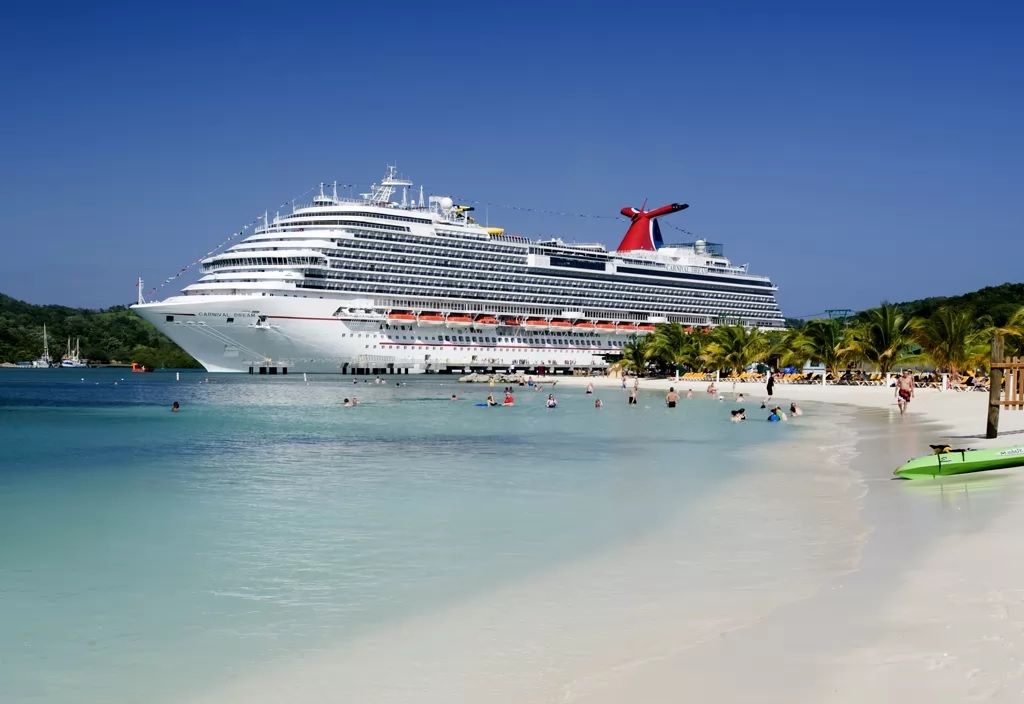 The dock can accommodate two large cruise vessels, with the port area able to hold 8,000 people. There is no need for tendering at this port.
The project, which cost $62 million, encompasses 20 acres of waterfront property. Further, it includes a chair lift system (called the Magical Flying Chair) that takes visitors from the terminal building to Mahogany Beach.
The cruise port is likely named after Honduran mahogany trees. These are the most widespread species of mahogany and the only genuine mahogany species that's grown commercially today.
Mahogany Bay is the second of two cruise ports on Roatán. The first is the Port of Roatán located west of Mahogany Bay in Coxen Hole. That port can accommodate three vessels at once — one docking alongside and two at anchorage.  
The Coxen Hole cruise ship dock is where you will dock if cruising with Royal Caribbean, Celebrity Cruises, Norwegian Cruise Line, Virgin Voyages, or MSC Cruises.
Getting to Mahogany Bay Cruise Port
Mahogany Bay is a private destination open only to cruise passengers. At the time of writing, only two cruise lines have sailings that include stops to Mahogany Bay: Carnival Cruise Line and Holland America Line. However, other Carnival Corporation brands (like Princess Cruises or Costa Cruises) can also call to the destination. Non-Carnival Corp. cruise lines may have agreements that allow them to stop at Mahogany Bay as well.
As the port is located in Honduras, the most common itinerary that includes Mahogany Bay are voyages to the western Caribbean. Some longer southern Caribbean voyages on Holland America also include a stop at Roatán.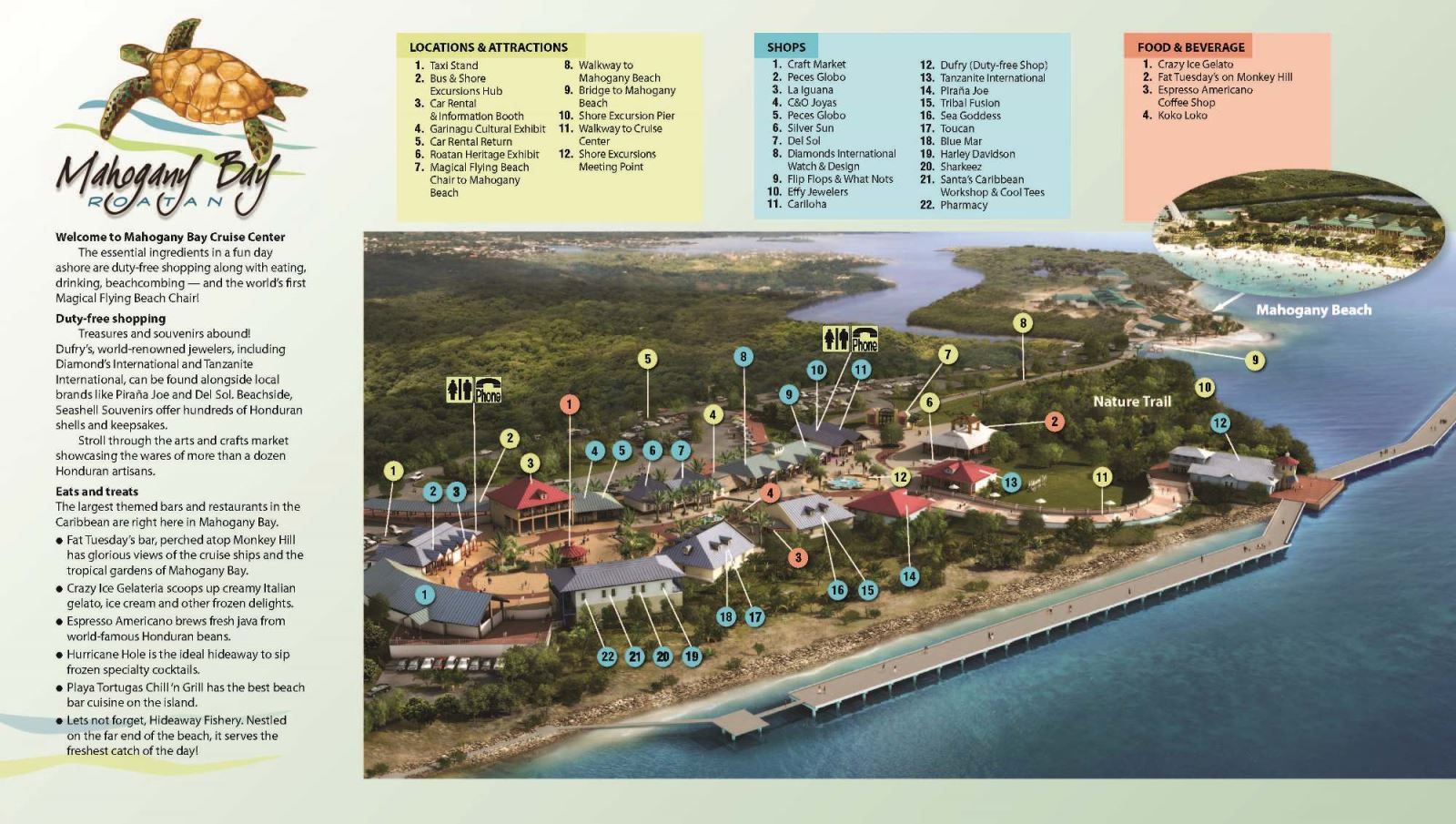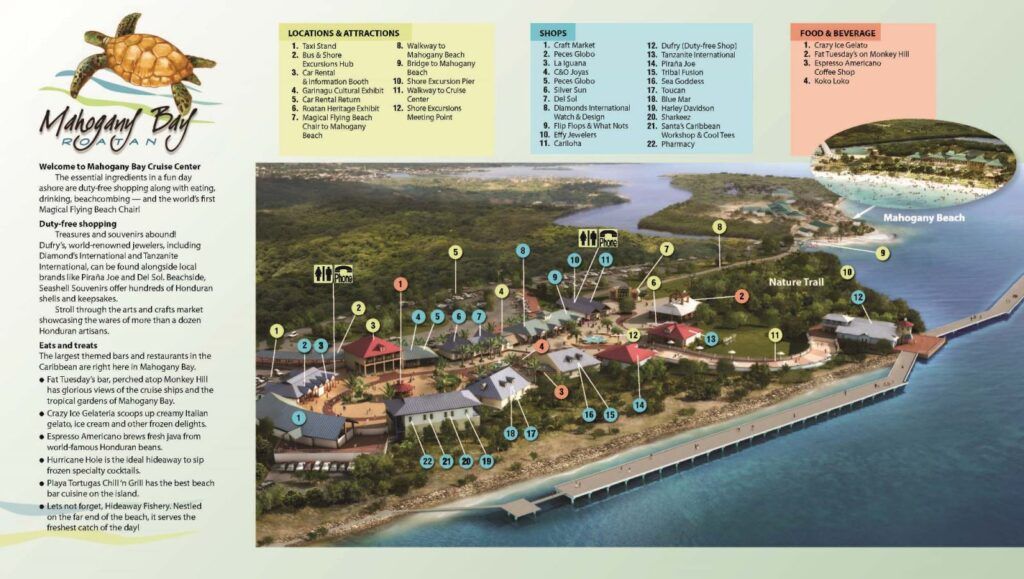 Once you disembark your ship, walking off the dock will lead you straight into a large Dufry duty-free store. This area sells beach necessities and souvenirs as well as common duty-free goods like liquor and perfume. There is no option to avoid walking through the store. It's part of the path that leads off the dock and out of the terminal area. The main shopping and dining area at Mahogany Bay is located just beyond the terminal and duty-free store.
Mahogany Bay Beach
If you want to head over to the port's beach area, the easiest way to get there is via the chairlift. It costs $8 per child and $14 per adult for an all-day pass. Kids ages 3 and under ride for free, but keep in mind that there is a 32-inch minimum height requirement.
Those who want to skip the chairlift (and have some shade on their way over to the beach) can walk over from the shopping area in about 10 minutes. There's a regular paved path, but you can also take the scenic route — a nature trail.
This trail takes you back into a wooded area and winds around the water. If you have mobility issues, we recommend either taking the chairlift or the paved path as the nature trail includes some slight elevation changes and has loose gravel. But if you want a nice trip through some flora on your way to the beach — and some great spots to take photos of your ship — consider choosing the nature trail.
There's so much to do in the port area that you could spend your entire day ashore just enjoying what it has to offer. However, if you plan to go off exploring on your own or taking an excursion, there's also a transportation spot with taxis and shuttles available.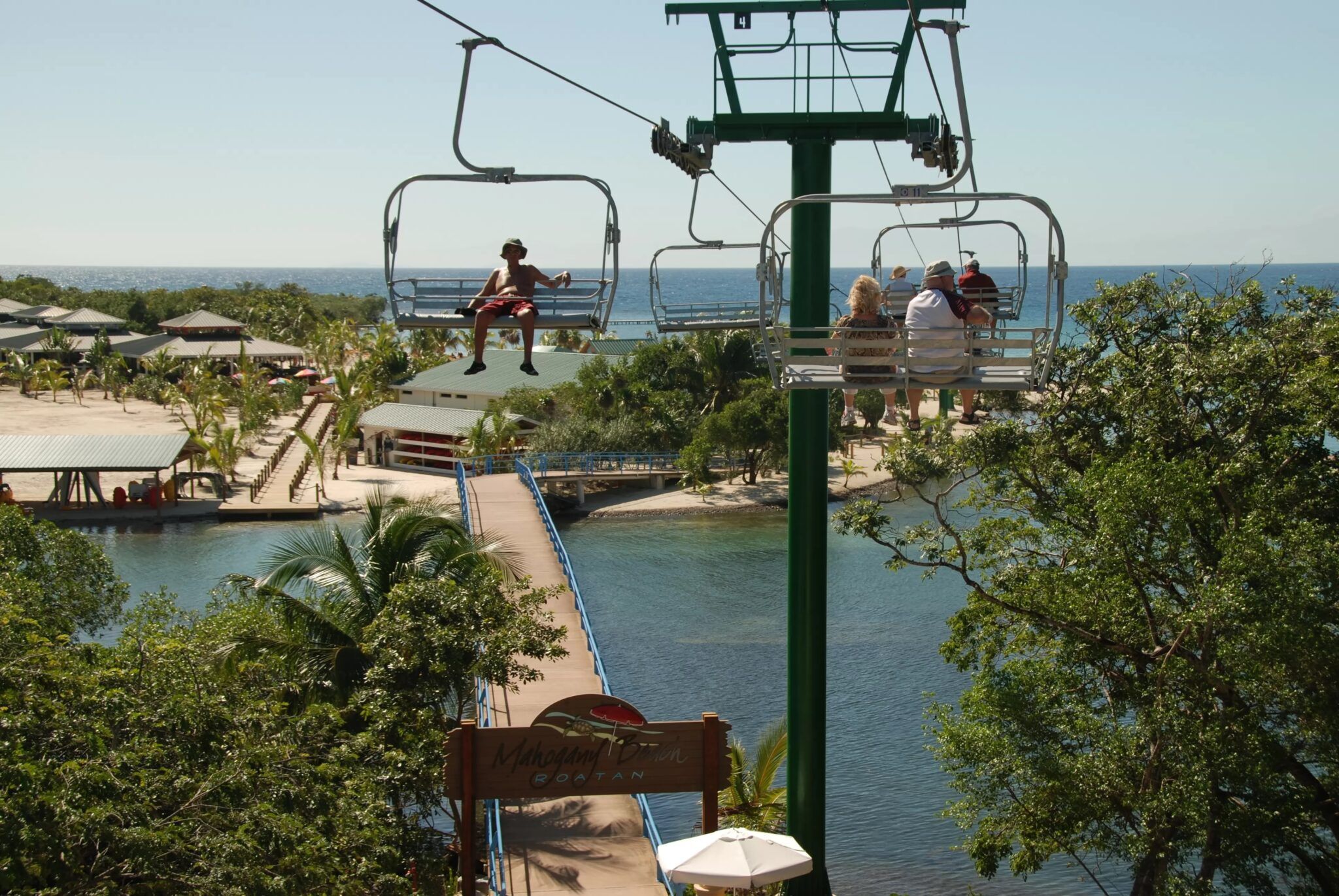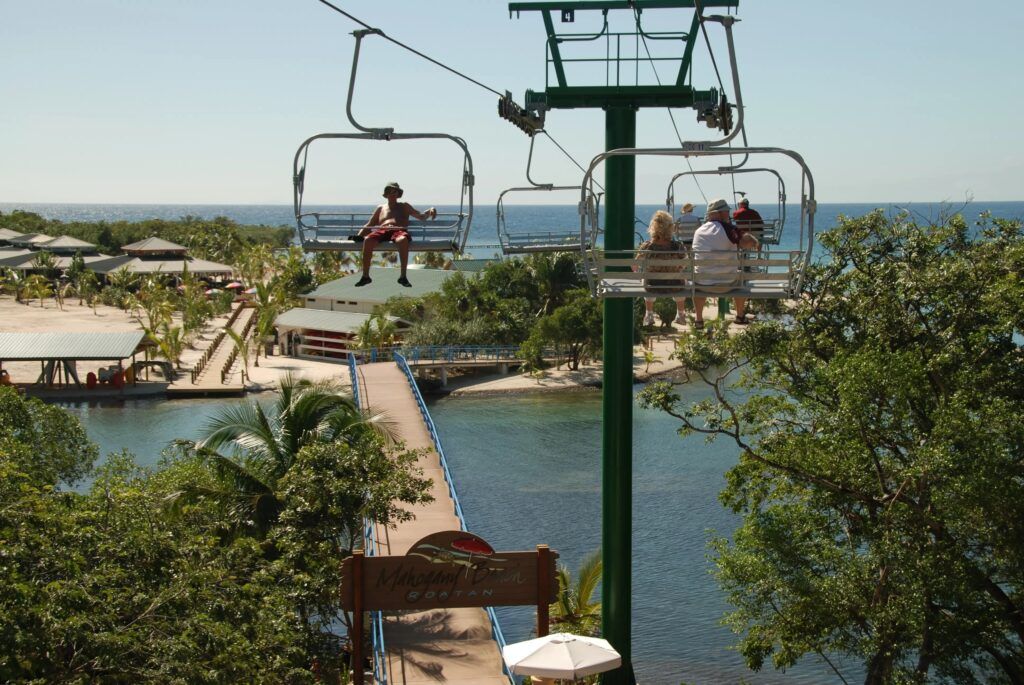 EXCLUSIVE SAVINGS: Get Deals on Your Next Carnival Cruise!
What's included at Mahogany Bay cruise port?
Visiting the 825-foot-long Mahogany Bay beach is a bit like having access to a beach club for the day. Hanging out on a lounge chair and splashing around in the surf are completely free for cruisers to enjoy. In addition to having complimentary access to the loungers, floating mats are free for guest use as well.
Additionally, the end of the beach area includes sand volleyball courts for visitors to enjoy. There's also a basketball court and soccer field located behind the watersports rental area.
Clamshells and Cabanas
While many of the free loungers on the beach are in the shade, there's no guarantee you'll be able to snag a shaded one as they fill up quickly. To ensure that you'll have plenty of shade during your beach day, you can rent a clamshell for around $30.
If you want to elevate your experience at Mahogany Bay beach, consider renting one of the beachfront cabanas. The air-conditioned cabanas can accommodate up to four guests and include the use of a semi-private beach area. They also include two loungers, a double wooden lounge bed with covered cushions at the beach, a hammock, a fridge stocked with soda and water, a bag of chips, beach accessories including four floats, a safe for valuables, a TV, WiFi access, and waiter service. The rental of a cabana also includes four chair lift tickets.
On Carnival Cruise Line's website, a cabana rental is currently listed for $500.
Things to Do at Mahogany Bay
The cruise center just off the dock has a number of shops, including an arts and crafts market showcasing the wares of over a dozen Honduran artists. There's also Del Sol color-changing apparel, bamboo bedding and clothing from Cariloha, Piraña Joe clothes and souvenirs, Harley Davidson, Diamonds International, Effy Jewelers, and much more. There's even a pharmacy if you need first-aid supplies or medication.
Over on the beach side of the port area, in addition to lounging on the beach and swimming in the ocean water sports equipment is available for rent. This includes snorkeling gear, stand-up paddleboards, kayaks, paddle boats, aqua cycles, and more.
The beach also has some food and beverage offerings, as does the main cruise center. That brings us to our next section…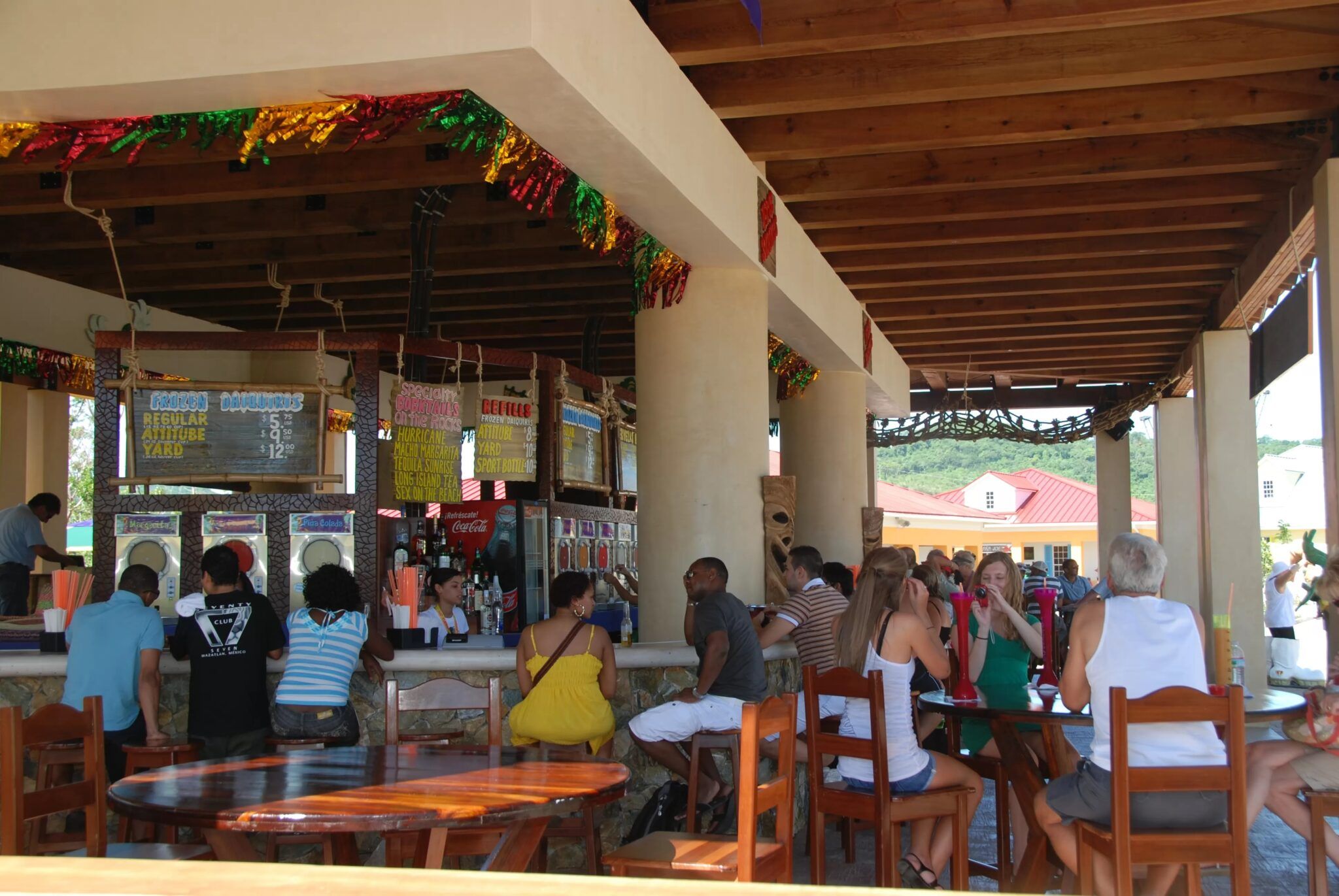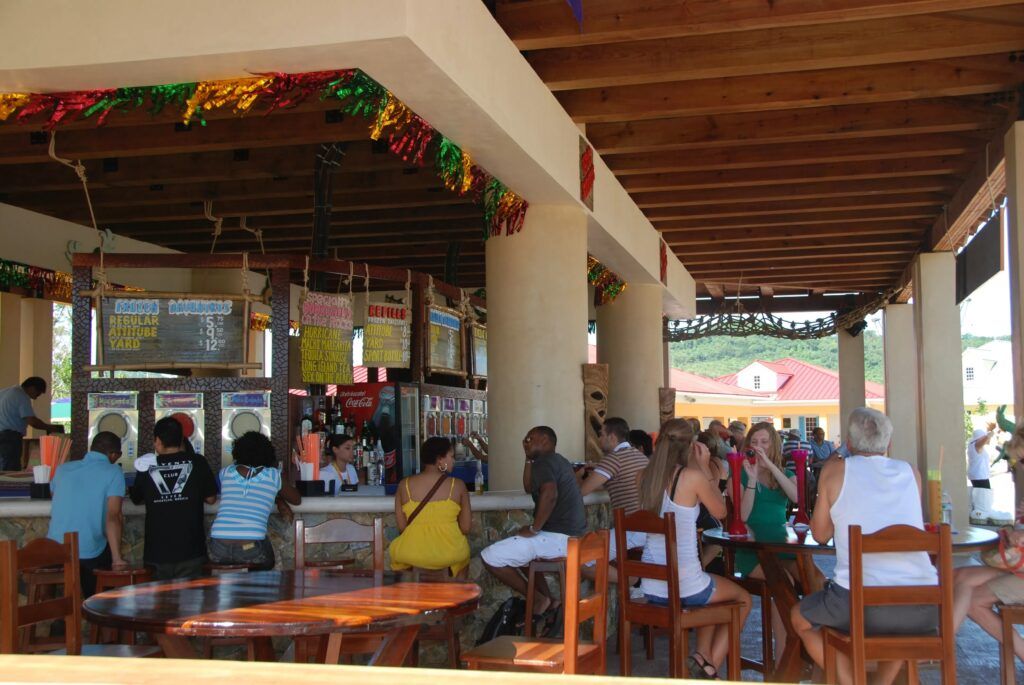 Food and Drinks at Mahogany Bay
When you start getting hungry for lunch at the beach, head over to one of two Fat Tuesday's locations in Mahogany Bay — the one closest to the beach is located adjacent to the beach area entrance. In addition to cocktails and other beverages, the menu includes food items such as quesadillas, nachos, wings, grilled chicken, ceviche, and more.
Other restaurants/bars that can be found at the beach area include Playa Tortugas Chill n' Grill, El Hideaway serving up fresh seafood, and a venue offering Caribbean jerk chicken.
Over at the Mahogany Bay Cruise Center port area just off the ship, there are even more choices when it comes to food and beverages. A second Fat Tuesday's location can be found here, as well as the Espresso Americano Coffee Shop offering fresh coffee from Honduran beans, Crazy Ice Gelato serving gelato and ice cream, and Hurricane Hole with frozen specialty cocktails.
Unlike some other cruise line private islands, you will have to head back to your ship if you are looking for free food options though.
Blue Lagoon at Mahogany Bay
If you want a more peaceful beach experience at Mahogany Bay, consider booking a package at Blue Lagoon, which is adjacent to the public Mahogany Bay beach area. There are two packages to choose from: the Blue Lagoon Package and the Blue Lagoon Deluxe Package.
Up to 50 visitors can book the regular package total, and up to 24 people can book the deluxe package, meaning the Blue Lagoon area accommodates a maximum of 74 guests total.
The Blue Lagoon has beach attendants and your own assigned waiter, plus free WiFi.
The standard Blue Lagoon package comes with:
Two all-day passes to the Magical Flying Beach Chair
Access to the beach at Blue Lagoon
The use of two inner tube floats
One double-lounge beach chair with covered cushions
Access to a shower area
Access to floating platforms in the swimming zone
The Deluxe Package comes with everything the regular package does, plus access to an upgraded lounge area with a four-post beach bed shaded in Sunbrella canvas with wrap-around curtains. Each lounge area comes with a cooler stocked with four water bottles and chilled wipes.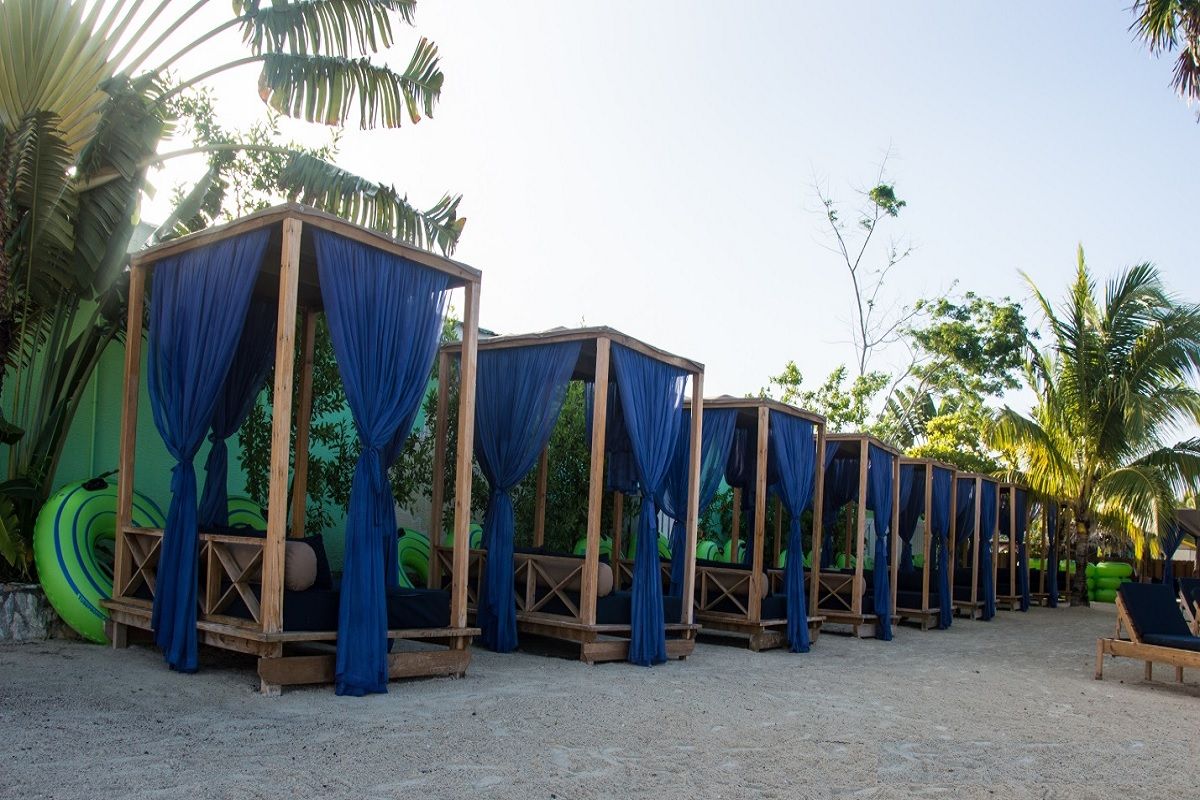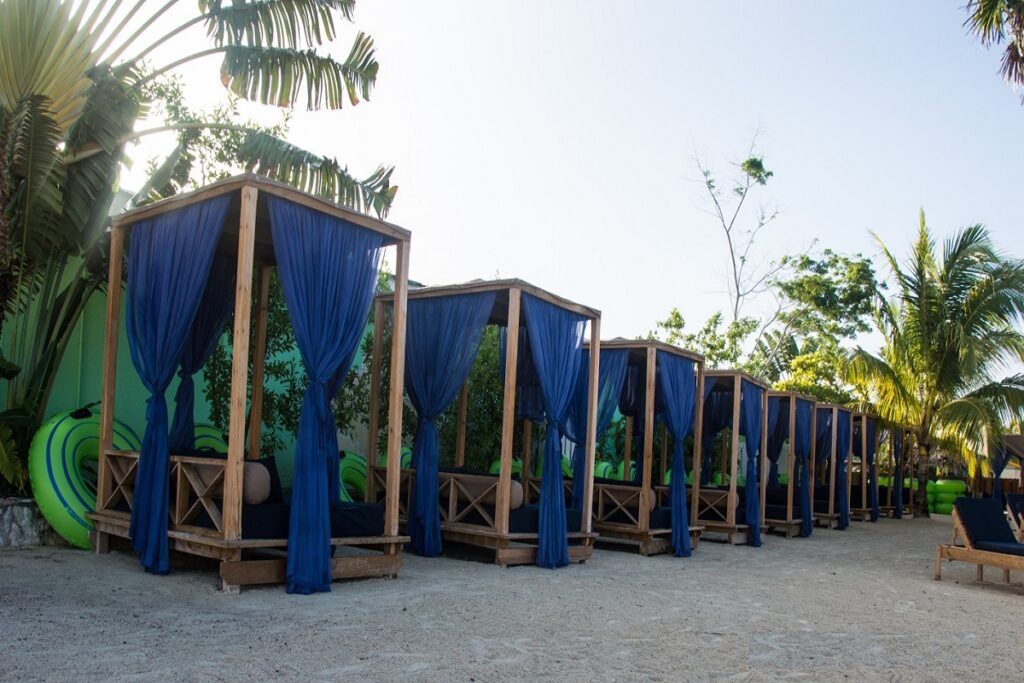 Shore Excursions at Mahogany Bay
Located adjacent to Mahogany Bay beach is a zipline that takes you right down into the beach area. The zipline runs through jungle vegetation and over water, ravines, mangroves, and creeks. The ride includes altitudes between 16 and 65 feet and covers a distance of 1,600 feet.
As an excursion through Carnival Cruise Line, the prices are currently listed as $75 for adults and $70 for kids ages 8 to 12. You must be at least 8 years old to ride, and there's a maximum weight of 275 pounds.
If you want to leave the Mahogany Bay Cruise Center area, other popular destinations and activities to do on Roatán include Little French Key island resort, West Bay Beach, catamaran rides with snorkeling, The Roatan Chocolate Factory, the monkey sanctuary, and Gumbalimba eco-adventure park.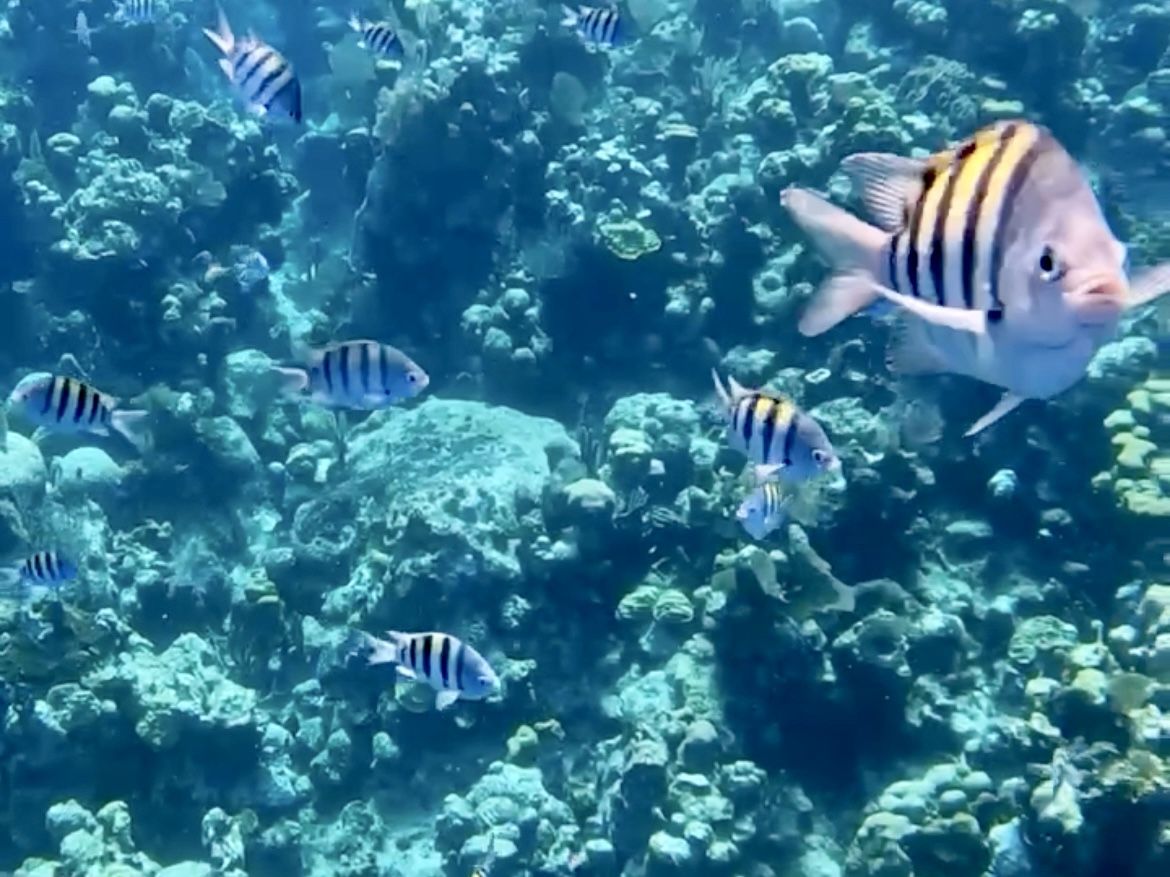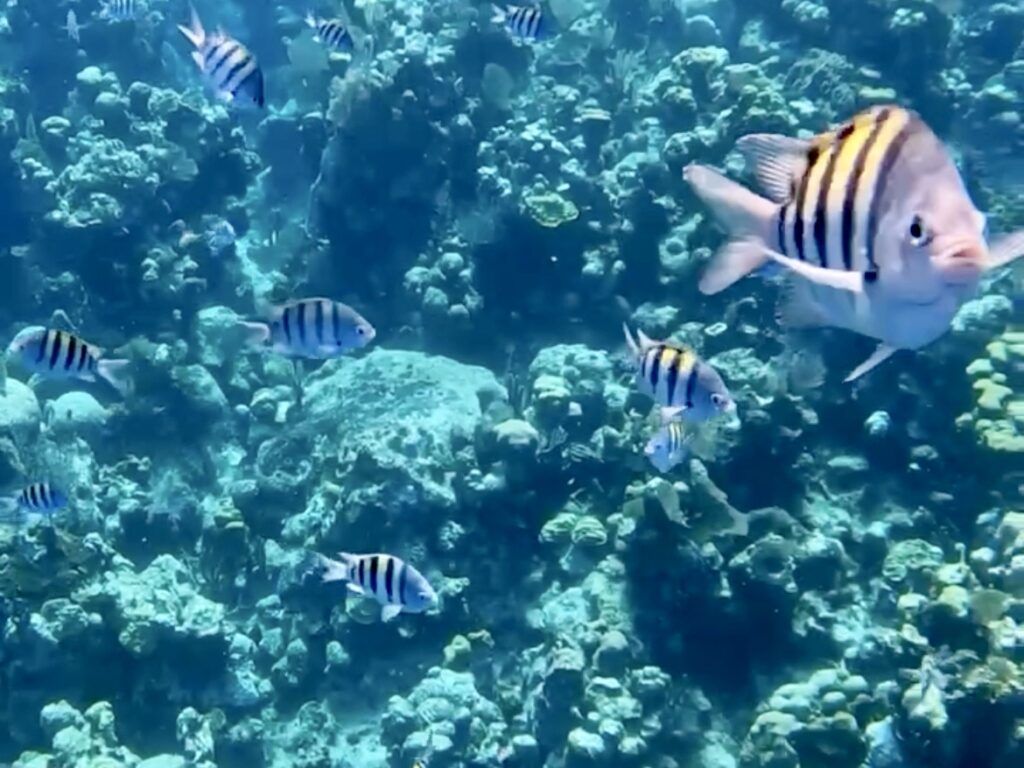 For more information on things to do in Roatán, head over to our Best Things to Do in Roatan, Honduras on a Cruise.
BOOK NOW: Exclusive Offers on Carnival Cruises!
Mahogany Bay FAQs
Are there lockers?
Yes, lockers are available for $6 per day plus a $6 refundable deposit.
Does the beach area have showers?
Yes, showers and restrooms are both available at Mahogany Bay beach.
Is there WiFi?
Yes, you can purchase all-day WiFi access for $5, which covers the cruise center area and Mahogany Bay beach. Your ship WiFi will not work while on Mahogany Bay.
Is Mahogany Bay safe for cruise passengers?
While Honduras is known for having some unrest and is not the most safe country to visit, the island of Roatán is generally considered to be more safe. In addition, the Mahogany Bay Cruise Center — including the beach there — is a private area just for cruise passengers and requires a cruise ID card for access.
Comments
Have you visited the Mahogany Bay cruise port in Roatan? What do you enjoy about this private escape exclusively for cruise passengers? Drop us an anchor below to share your experiences cruising to Mahogany Bay with Carnival.