While currently stuck on land, we can't wait to cruise again. If you are like us, then you too are anticipating your next voyage. Given the current situation, many are probably looking to maximize their vacation funds once it is safe to travel again. Luckily, there are several small things you can do to save money and still enjoy your cruise. One of them is to book a guaranteed cabin. Why? Well, we breakdown all of the benefits of booking a guaranteed cabin in this post.
Why You Should Book a Guaranteed Cabin on a Cruise
What is a Guaranteed Cabin?
First off, we want to explain exactly what a guaranteed cabin is for those who are not familiar with this stateroom category. Almost all cruise lines offer these types of accommodations.
Unlike hotels, most cruise lines allow you to select your specific stateroom location and deck assignment upon booking. In fact, we have spent hours reviewing deck plans to determine the optimal cabin locations for some of our trips.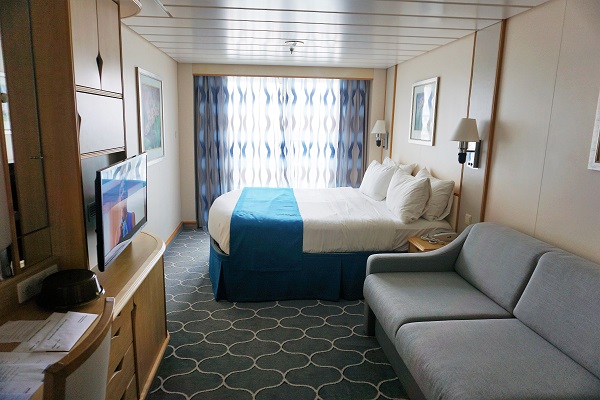 When you book a guaranteed cabin, you are selecting a category type, whether it is an inside room, balcony, or suite. Although, you are not selecting the precise cabin number.
When you book a guaranteed cabin you will be locked into a cabin from your selected category. Yet, you will not find out where on the ship the cabin is located until you receive your final boarding documents.
So, why would you opt for a guaranteed cabin? Great question.
In fact, there are several benefits to this approach.
The Lowest Price for a Cruise
If you read the headlines or advertisements raving about low prices, like $99 a person for a three day cruise or a 7-day cruise starting at $700, those seem like great deals. However, those offers are almost always on a guaranteed cabin for the lowest category on a ship.
This usually means you will be assigned an inside cabin on the lower decks, probably all the way forward or aft on the ship. In cruise ship cabin terms, these are the least desirable places to have a stateroom. They also tend to be the smallest cabins, but may still offer space saving options to fit all 4 members of your family.
Those extremely low prices can be tempting. So, if you want to spend as little money as possible, then one of these guaranteed cabins is perfect for your next trip.
Lock in a Low Rate For Your Preferred Category
If you would prefer an oceanview or balcony stateroom, you can still take advantage of a low priced guaranteed cabin.
Almost all cruise lines offer guaranteed cabin rates for most of the popular stateroom categories. Those include oceanview (or porthole view), balcony, mini-suites, and some suites.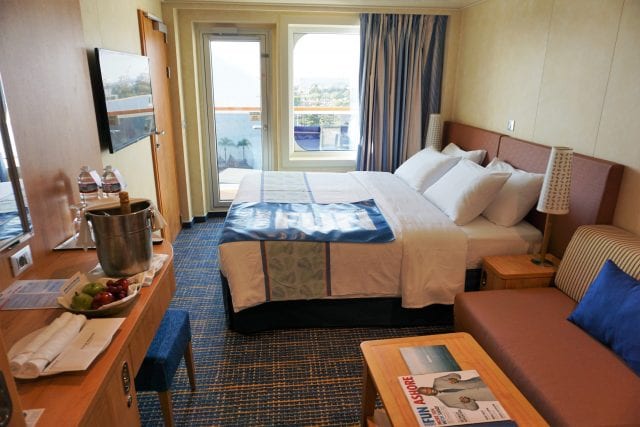 When booking a room, read the description carefully as sometimes cruise lines do not come right out and say that you are booking a guaranteed cabin. Some cruise lines' language might read "Let us Pick Your Room" or "Choose a Room for Me".
When you see these options, this means you are booking a guaranteed cabin.
Also, do make sure you are getting the lowest price by comparing with the cost of actually picking out an exact stateroom. Most times, these guaranteed options are the cheapest. Occasionally, there could be a sale or additional perks that would not make it advantageous to go this route.
You Can Combine Guaranteed Cabin Rates With Other Perks
Not only do guaranteed cabin rates entitle you to a cabin in your desired category at a lower cost, but most cruise lines also allow you to combine these rates with other perks.
For instance, you can use loyalty status on guaranteed cabins for even more savings. Best of all, you still earn the same level of points or credits towards the cruise line's loyalty program even with all these discounts.
Often times, travel agents offer perks and promotions as well, such as free gratuities, onboard credit, or specialty restaurant credits. To earn these additional benefits, cruisers usually need to book a stateroom in a certain category or higher, like an oceanview or balcony cabin. But, if you book a guaranteed cabin in one of those selected categories, you can still take advantage of the add-ons that the travel agent is offering.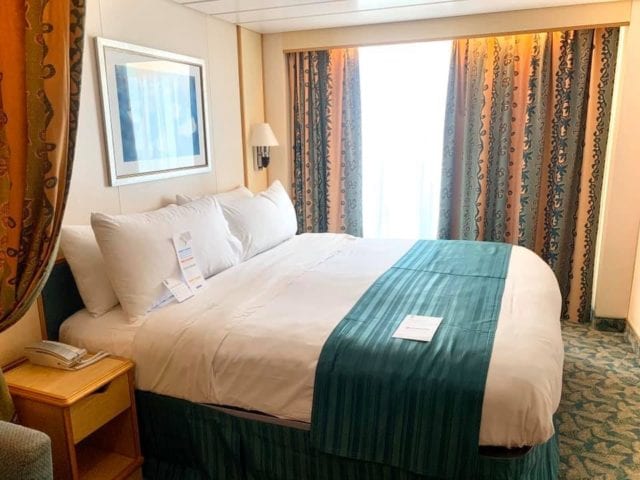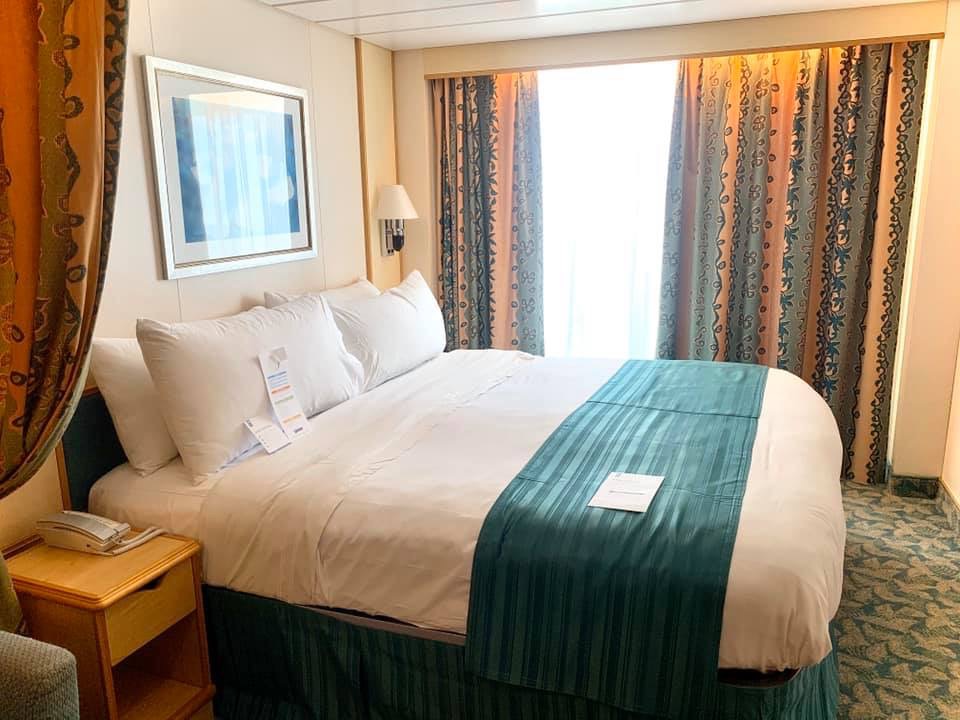 This was the case with our recent Freedom of the Seas Southern Caribbean cruise. Comparing fares, we were able to secure a guaranteed balcony cabin with a preferred travel agent. This agent was offering a free specialty dinner, free gratuities, and $150 of onboard credit with any balcony cabin.
Yes, this included guaranteed balcony staterooms, so we hopped on the deal and scored all these added travel agent bonuses, making it one of our cheapest 7-day cruises in a long time. Not to mention, it was a newly renovated ship!
Still Get All of the Benefits of the Class
Another bonus of booking a guaranteed cabin is that you still get to enjoy all of the perks for that class. Some cruise ships offer special cabin categories that entitle those staying in the room to certain benefits. Those benefits extend to individuals that book the lower guaranteed rate for those cabins as well.
For example, Celebrity Cruises offers the Aqua Class. This balcony cabin comes with extra perks including a private restaurant, unlimited access to the Thermal Suite, and other entitlements only available to cruisers in those designated cabins.
Other cruise lines also offer similar cabins with special privileges to restaurants and/or certain decks or areas of the ship. So, if you want to upgrade your typical cruise, but not over spend, look for a guaranteed cabin rate for one of these unique stateroom categories.
Potential Upgrades
Another benefit of booking a guaranteed stateroom is the possibility of getting an upgrade. Once you select a guaranteed cabin, you are securing at least the lowest level room in that category. Of course, there is also the potential to score one of the higher tiered cabins in that particular category. So, it is possible for you to get a highly coveted room, such as an aft balcony or mid-ship, over-sized balcony for a reduced cost.
Now, there is no guarantee that you will receive an upgrade. For our Navigator of the Seas Bahamas cruise, we scored a mid-ship spacious balcony cabin. This is at least 4 categories up from the lowest level balcony stateroom category.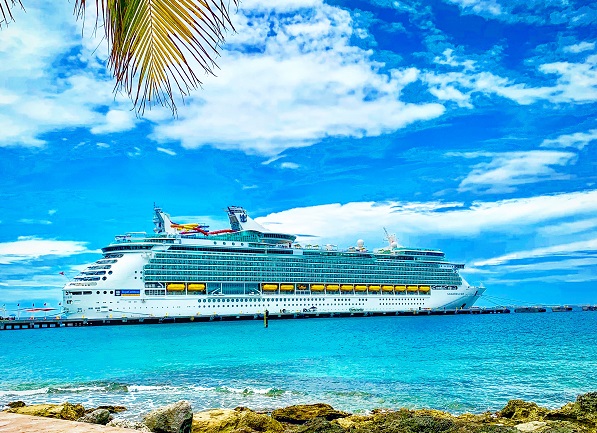 However, we did receive the lowest level category balcony cabin on our Norwegian Bliss Alaska cruise in 2018 placing us all the way forward on the ship. So, while it is not always the case, a potential upgrade would be a nice surprise.
Not Everyone Should Book a Guaranteed Cabin
While there are certainly many benefits to booking a guaranteed cabin, they are not for everyone.
For individuals who want to ensure their cabin is in a particular location, whether it is a specific deck or a part of the ship, then this is not the option for you. For instance, if you want to be close to an elevator or perhaps the pool deck or if you want to ensure a mid-ship location.
Some cruisers might feel anxious about not knowing their cabin assignment until right before the cruise. So, those over-planners might feel more comfortable picking their exact cabin location upon booking the trip.
If you are prone to motion sickness, then you would most likely want to pick your exact stateroom location as well. Often times, guaranteed rooms can be very forward or very aft, where you are more prone to feel the motion of the ship.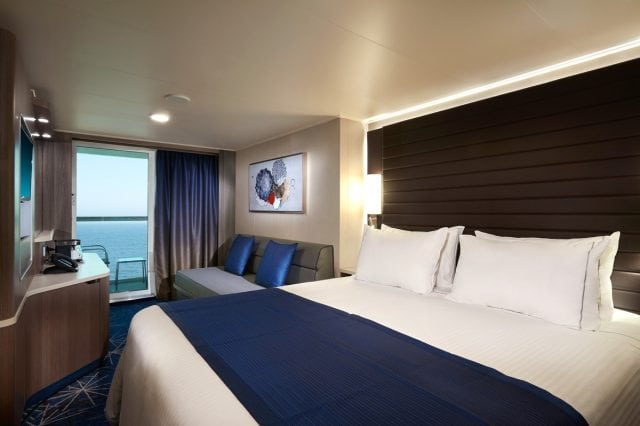 Also, if you are traveling as a group and want to make sure you are all on the same deck, you should not opt for the guaranteed cabin option.
Further, some cruise lines do not allow cruisers to book guaranteed cabins and still take advantage of certain promotions.
For instance, Norwegian Cruise Line offers extremely low priced guaranteed rooms. These "Sail Away" prices are great, but they do not qualify for the Free at Sea drink packages, specialty dining, or free shore excursions.
Once you factor in the benefits of receiving these additional add-ons with the higher priced cabins, it probably makes more sense to pick your stateroom and get the perks, if of course, you want these perks.
Other cruise lines do not offer a discount for a guaranteed balcony, such as Holland America Line or Disney Cruise Line. In that case, why not just choose your stateroom? If the price is the same, we certainly suggest picking your exact room location.
Comments
Have you booked a guaranteed cabin on a cruise? Would you consider this option on a future trip? Drop us an anchor below to share your cabin selection tips.