When planning a cruise, you have several important decisions to make. Picking a cruise line and cruise ship. Finding the perfect itinerary. Deciding what time of year to go on a cruise. Not to mention, deciding on your accommodations. In fact, cruise lines offer a variety of cruise cabins. To ensure you find the ideal stateroom to match your needs, we have put together this complete guide to cruise cabin categories.
Complete Guide to Cruise Cabin Categories
The Basics of Cruise Cabin Categories
When comparing different cruise stateroom options, you need to know some basics of cruise pricing. For almost all major cruise lines, the advertised cruise fare is per person for the duration of the trip. Although, this advertised fare is not the total cost.
When you are ready to checkout, the cruise line will add taxes and port fees. These can easily cost an extra $150 to $250+ a person. For the most part, these are standard across the different cruise cabins, with a few exceptions.
Related Post: Cruise Budgeting 101
When researching staterooms, you should know that cabins are grouped into different categories based on square footage and amenities. It is also important to note that even within each cruise cabin category, there are often subcategories. These are usually based on the location of the cabin. For instance, the most expensive rooms in a given category tend to be midship as these are the most centrally located and desirable. Also, rooms on higher decks or near public venues will cost more.
Don't be surprised when prices fluctuate once you start narrowing down your selections. You can easily see differences of a few hundred dollars a person within a category and differences of a thousand dollars or more per person between categories.
Regardless of category, the cheapest option will usually be a "guaranteed" cabin. This means that you will receive a room within that given category but don't actually get to pick your exact room. The cruise line will assign you a cabin a few weeks before your cruise. If you don't care too much about location, this is a great way to save some money.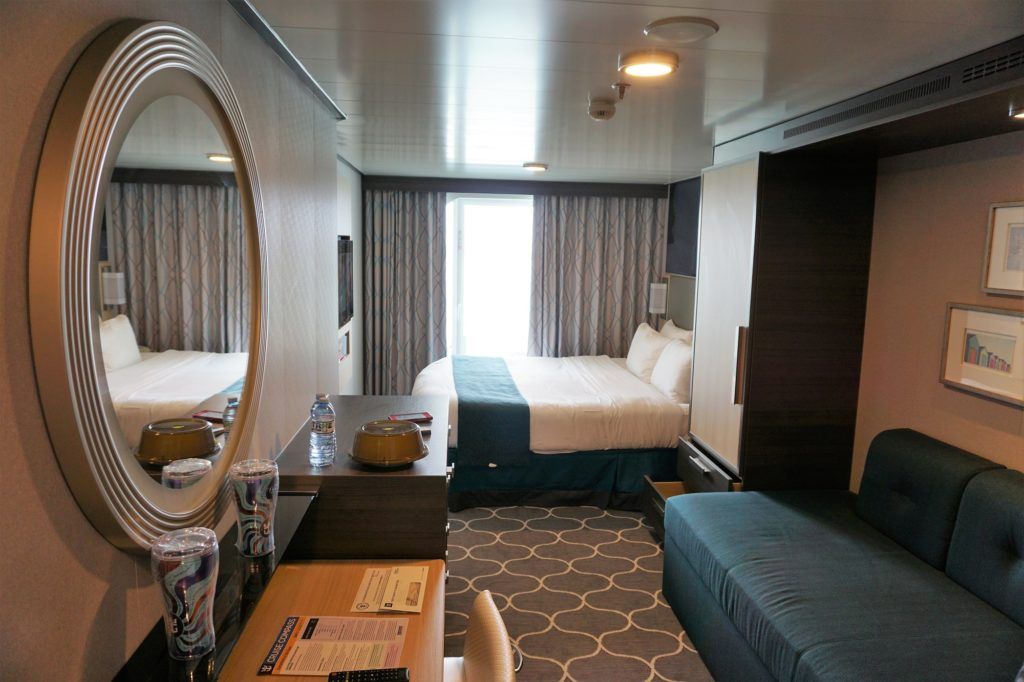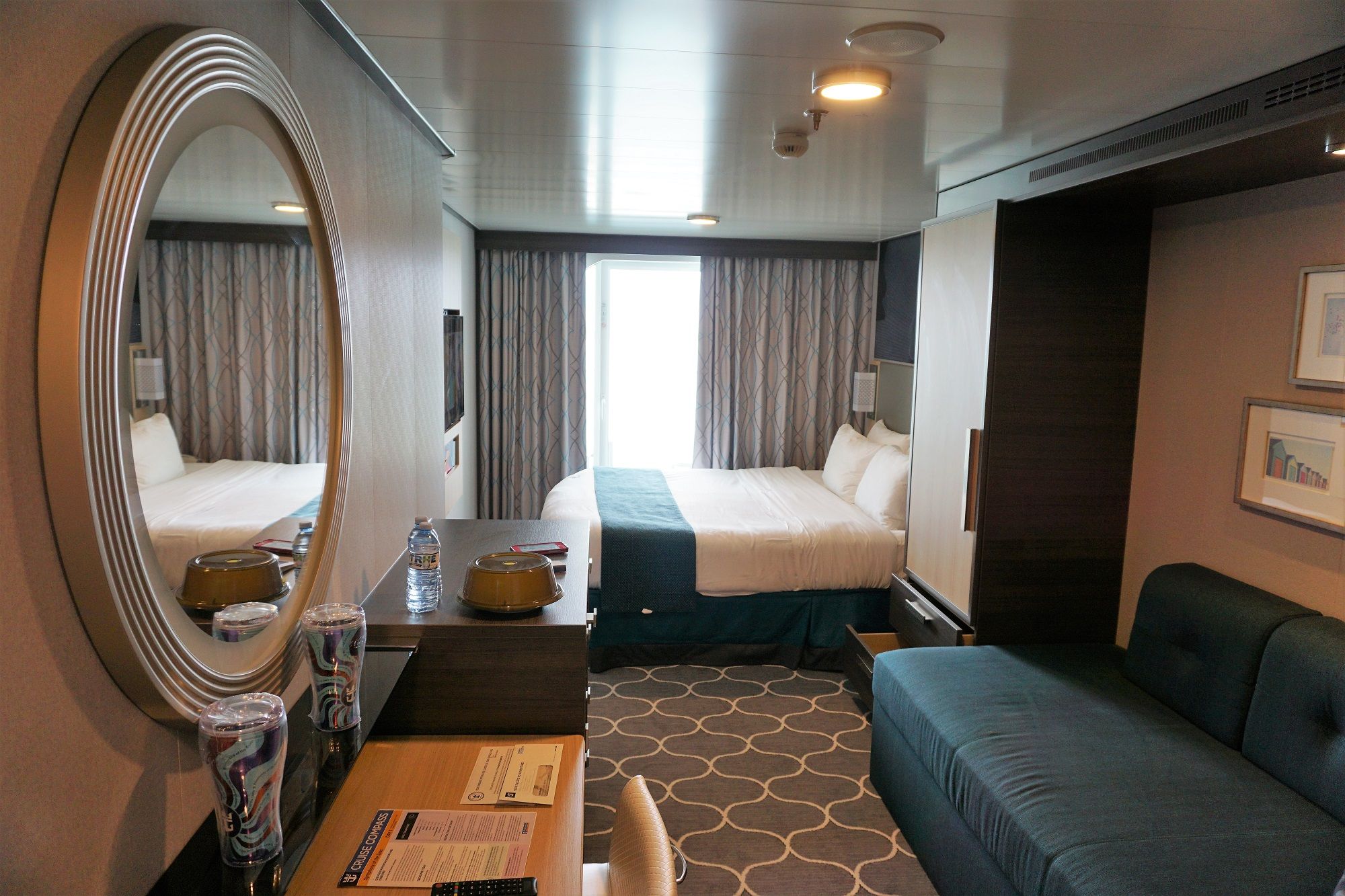 Cruise cabins are small. There, we said it. So, even when you upgrade to a larger room, be prepared for it to still feel much smaller than a typical hotel room. Also, room sizes vary greatly based on the ship. Therefore, make sure you have reasonable expectations for the layout and overall dimensions.
Further, some cruise lines restrict how many individuals can fit into certain stateroom categories.
For the most part, your cabin will include a bed, a desk with storage, a closet, and a private bathroom with a standing shower, toilet, and sink. Other amenities, such as a sitting area, upgraded storage, larger bathrooms with a tub, and other additional perks, will vary by cruise line, cruise ship, and cabin category.
So, when comparing your different stateroom options on a specific ship, be mindful of some of the small differences even within a category.
Standard Cruise Cabin Categories
Studio Cabins
A newer trend on cruise ships are tiny cabins referred to as studio cabins. These staterooms are specifically designed for solo travelers. These rooms are often around 100 to 140 square feet. They are also usually located on the interior of the ship. Unfortunately, it is difficult to get a studio with a view or a balcony. Although, Celebrity Cruises does offer some solo cabins with balconies.
Still, getting a studio cabin is a great money saving option if you are cruising by yourself. With these cabins, you do not need to pay the single-cruiser supplement (an additional fee cruise lines charge guests sailing by themselves in other room categories). Essentially, if you want to stay in another type of room, you often have to pay anywhere from 50% to a 100% surcharge.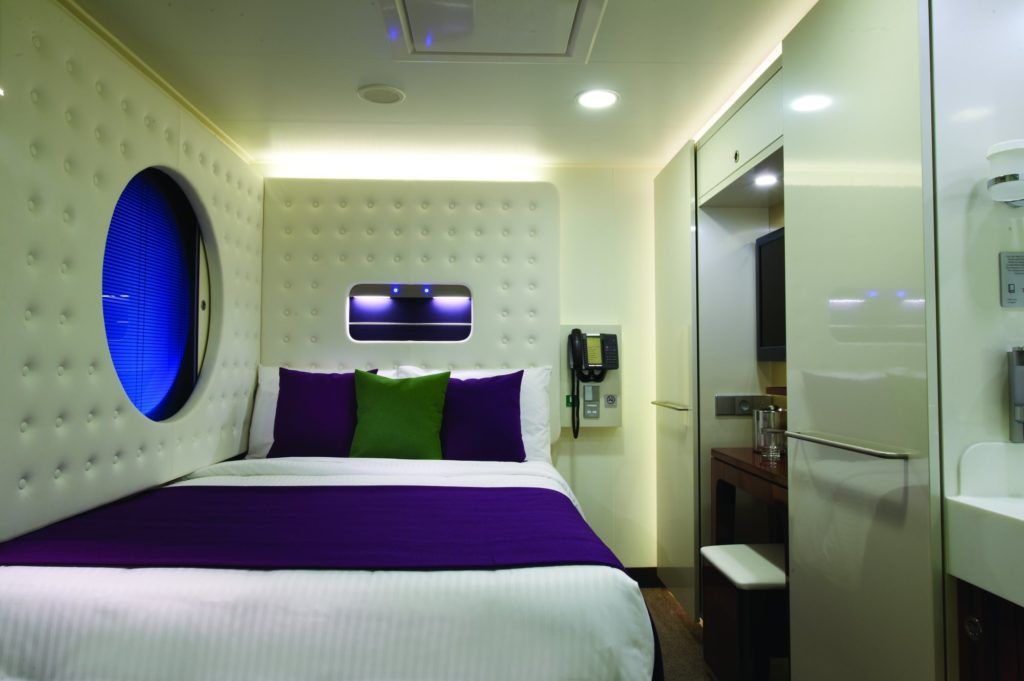 As you would expect, these rooms feature a bed, minimal storage, and a small bathroom with a stand-up shower and toilet. These strategically designed rooms don't offer much room for anything else.
On Norwegian Cruise Line ships, solo cabins are centrally located with a shared lounge and cruise staff that arrange specific activities for singles staying in this area of the ship.
Solo cabins do tend to be limited in number and are usually only available on select vessels.
Related Post: What to Wear on a Cruise
Inside Cabins
The most economically priced cabins on a cruise ship will be inside cabins. As the name applies, these rooms are located on the interior of the ship. These rooms do not offer any view of the exterior.
These cruise ship staterooms tend to be the smallest double occupancy rooms on the ship as well. Depending on the size and class of your cruise ship, inside cruise cabins can range from 100 to 180 square feet.
On most ships, you can find inside cabins on almost all decks. As mentioned previously, the lowest price cabins in this category will be on the lower levels of the ship. Plus, those situated more forward or more aft will also cost you less.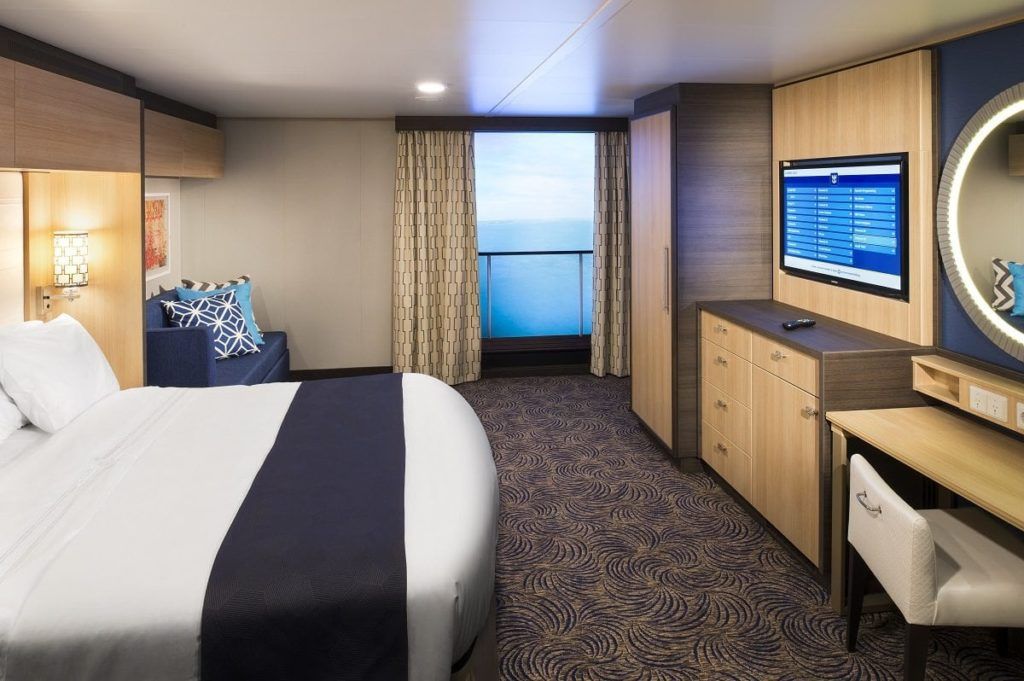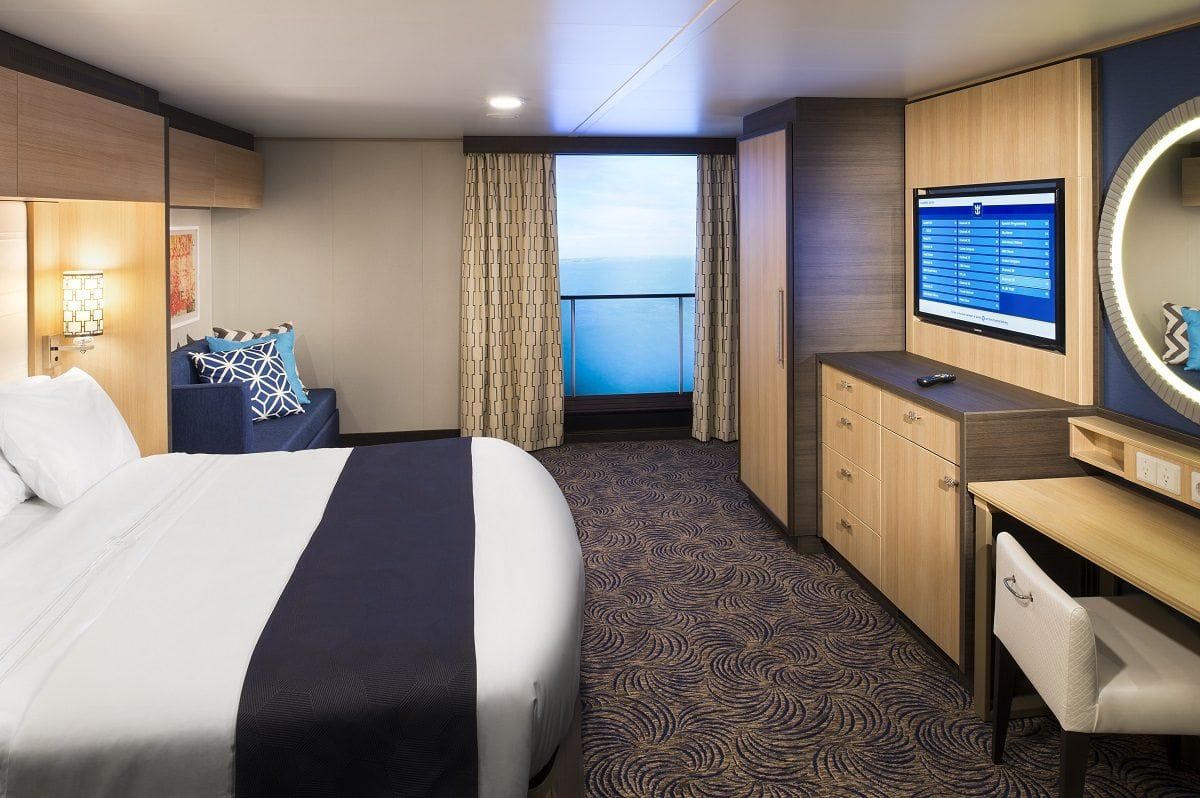 Some newer ships, from Royal Caribbean and Disney Cruise Line, offer inside rooms with a view. These cabins include digital screens that provide depictions of the outside world. While these virtual balconies are a nice feature, they do not provide any fresh air!
Inside cabins can typically hold 2 to 4 passengers. Plus, they contain all the necessary features of other staterooms. If you want to go on a cruise without breaking the bank, this cabin category might be your best choice. In fact, this is the room category we booked most often during our first few years of cruising.
How often are you in your cruise cabin anyway?
Related Post: Everything You Need to Know About NCL's Free at Sea
Oceanview Cabins
The next step up in cruise cabin categories are oceanview cabins. These are also sometimes referred to as outside cabins. As the name implies, these rooms are located on the exterior of the ship. For the most part, the size and layout of these rooms are similar to inside cabins, just with a view of the outside world.
Depending on the cruise line, oceanview cabins can be a bit larger in size than inside rooms, but this is not always the case. Usually, oceanview cabins are between 125 to 200 square feet. This does depend greatly on the cruise ship.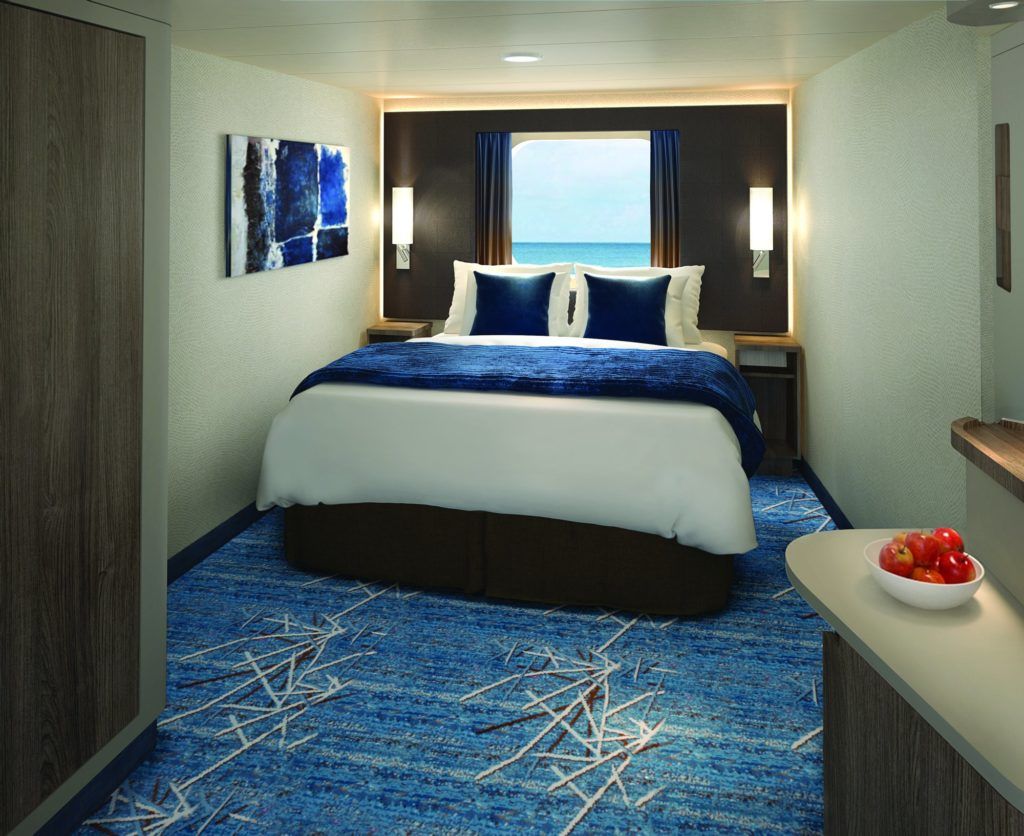 The big difference that you will notice is a window. These rooms contain a porthole or more traditional-sized window that gives you a view of the ocean or your port of call. Now, you should know that these windows can not be opened. So, while you can certainly see the outside, you won't have access to fresh air in oceanview cabins either.
Older ships offer a variety of oceanview cabins on most decks as these ships often lack balcony cabins. However, newer ships tend to have few true oceanview rooms. When they do, they tend to be on the lower decks or all the way forward (or aft) in locations where balconies are not possible.
There is usually a modest price increase to go from an inside cabin to an oceanview cabin. Thus, these staterooms might be a good choice for cruisers that are price conscious but might feel a bit too claustrophobic in an inside cabin.
Balcony Cabins
By far, the most popular cruise cabin category on any ship is a balcony cabin. Some cruise lines also refer to these cabins as veranda staterooms. They offer more space than the previously discussed selections.
On major brands, you will find balcony cabins ranging from 175 to 250 square feet. This will usually mean a bit more breathing room between the furniture. You might also have some additional storage areas and a small sitting area.
Though, the bathroom will have the same general design and setup as both the inside and oceanview cabins. So, you won't find any upgrades in this department.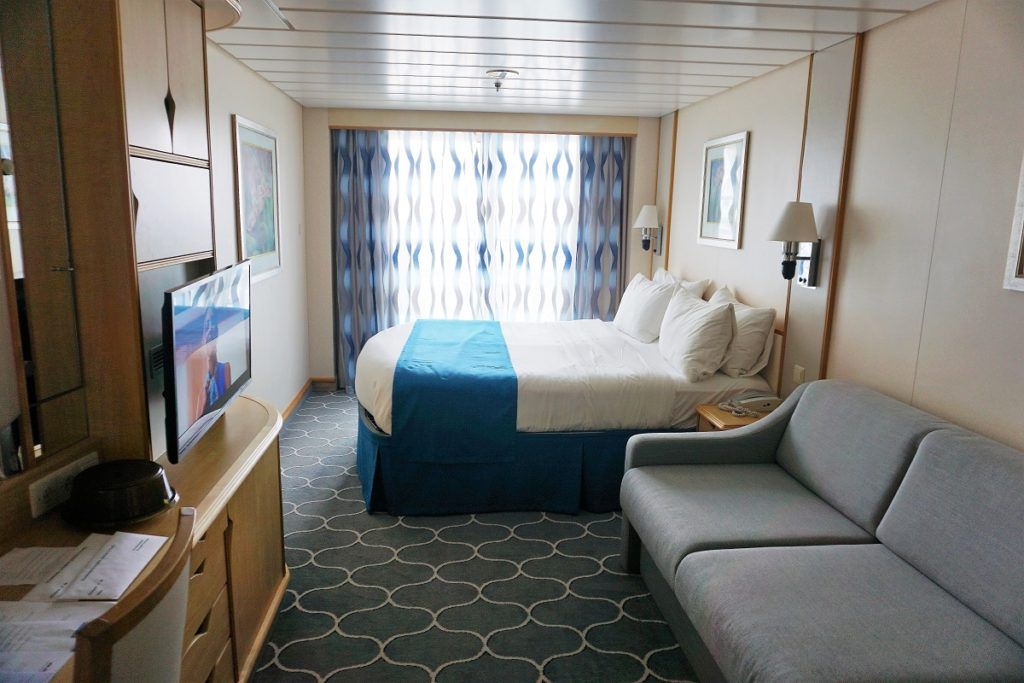 What sets this cabin category apart is private access to your own balcony. This outdoor space will usually come equipped with two upright chairs and a small table. Modern cruise ship balconies tend not to be large enough for lounge chairs, but you can certainly still sit outside and enjoy the views and ocean breeze any time of day.
Related Post: Benefits of Booking a Balcony Cabin
Given the popularity, many new cruise ships prioritize balcony cabins. Thus, you can find these cabins on many decks at the forward, middle, and back of the ship. Aft balconies tend to be one of the most desirable options.
Within the balcony category, don't be surprised to find many subcategories. For instance, on the largest cruise ships (Royal Caribbean's Oasis-class), there are over 20 different types of balcony rooms from which to choose. Some of these even look out onto Central Park and the Boardwalk instead of the ocean.
Even within a ship, there is considerable variation in the square footage (of both the room and the balcony itself), location, and amenities in a balcony room. This is where having a trusted travel agent can help you sort through the different options.
In recent years, we almost always book a balcony cabin. We find it offers just enough space for us. Plus, we like the access to our own outdoor area. It's the perfect spot to sip some morning coffee or relax in the afternoon.
Junior Suites (Mini-Suites)
Some travelers may want upgraded amenities and more overall square footage in their cabin. Still, they may not want to spend too much on these extras. For these cruisers, a Junior Suite (or Mini-Suite) might be a good option.
Not all cruise ships offer these in-between categories. Older vessels might just offer balconies or suites. Plus, what luxuries are offered in this category will vary by cruise line.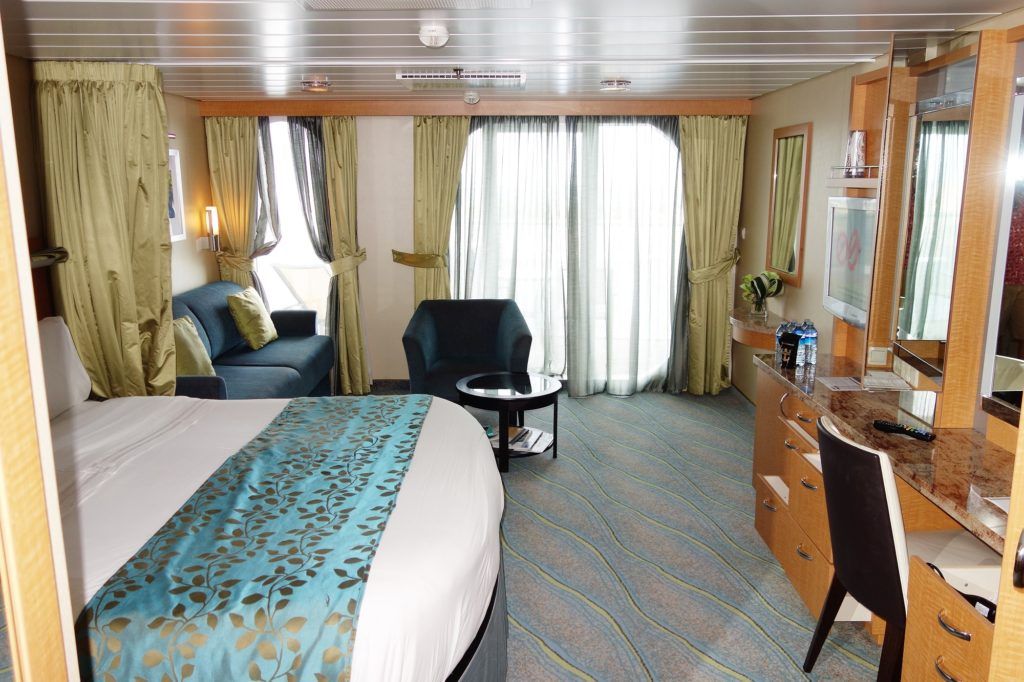 These junior suites offer larger accommodations. They usually include additional seating areas, bigger closets, and some come with full sized bathrooms or upgraded showers. Many junior suites will also feature luxury linens as well as premium shower products.
Related Post: Oasis of the Seas Junior Suite Cabin Review
The layout of these rooms tend to be the same as a balcony room. While the size can vary greatly, these staterooms are usually between 225 to 300+ square feet. While these rooms certainly offer more comforts, they often don't qualify for the cruise line's suites program. If you want those perks, you will need to further upgrade.
Suites
If you are looking for the ultimate personalized service during your cruise, then you should upgrade to a suite.
Along with offering the largest cabins on any ship, almost all cruise lines offer unique services that are reserved only for suite guests. Within this category, you can reserve various suite types that range from 250 square feet to well over 1,000 square feet depending on your budget.
For many lower tiered suites, you will notice a similar layout to the balcony or mini-suite cabins, just larger. Like hotel suites, your cruise suite will most likely have a separate living room space that is distinct from the bedroom. In addition, it will probably have a full bathroom with a tub. You will also have additional storage areas. Odds are you could even have a walk-in closet.
Also, these cabins will have upgraded bedding and bathroom products, as well as fancier finishes.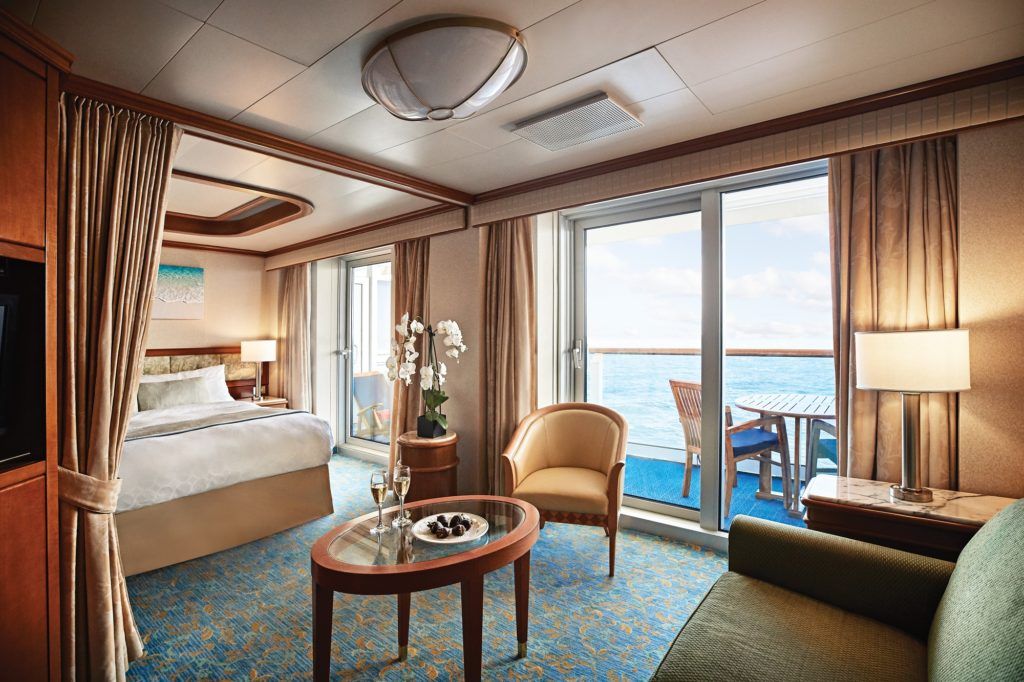 Some cruise lines offer special suite subcategories that come with even more added perks. Both Norwegian Cruise Line and Celebrity Cruises offer Spa Suites. These cabins are in close proximity to the fitness center and spa and have access to the ship's Thermal Suite. On Celebrity Cruises, these Aqua-Class guests also get to enjoy their own private restaurant.
As mentioned previously, most cruise lines have a Suites program that comes with a host of added benefits. There is the Princess Suite Experience, The Royal Suite Class, and Celebrity Cruises' The Retreat to name a few. While the exact inclusions and benefits do differ between cruise lines, they routinely include priority status, special lounges, and special restaurants exclusively for guests staying in these staterooms.
Suite guests usually get priority consideration for tours, restaurants, entertainment, and embarkation/disembarkation. Many of these programs also include access to a concierge or butlers to arrange tours and setup reservations. Some programs have reserved seating and private sundecks for those staying in suite class rooms as well.
Within the suite category, each cruise line also has its own unique accommodations to appeal to the most luxury travelers.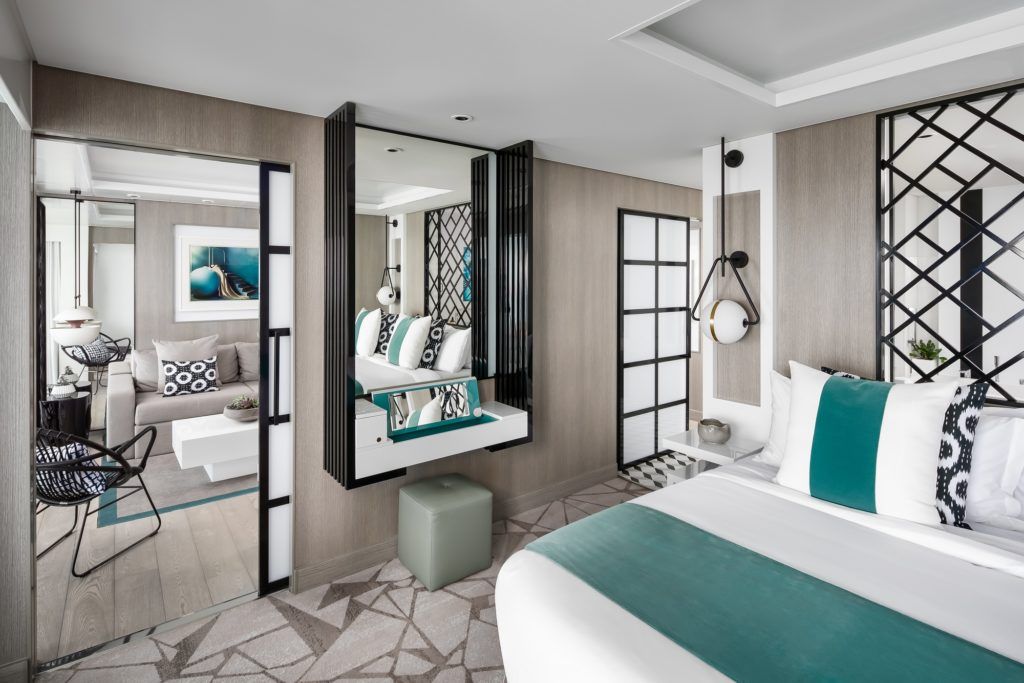 These suites can range from multi-bedroom cabins with completely separate sleeping, dining, and recreational areas, to penthouses and villas with private whirlpools. Some even have family-friendly accommodations that are multi-story with a slide in the middle!
If you are a luxury traveler looking for one of these unique and extremely well-appointed cabins, we suggest you work with a travel specialist. They can walk you through which ships offer which types of suites and other specialty rooms.
Related Post: Everything You Need to Know About Tipping on a Cruise
Special Cruise Cabin Categories
A more recent addition to mega-ships are "ship within a ship" concepts. These specific areas of newer ships are private and access is restricted to only those staying in one of the eligible cabins.
Normally, the cabins are suite class or better, though there are some exceptions. These specific areas have a private entrance and separate public areas such as sun decks, lounges, and restaurants.
For instance, Norwegian Cruise Line has The Haven. Along with luxuriously appointed staterooms, there are a host of benefits for staying in this area. There are concierge and butler services, a private pool/hot tubs, private in-room dining options, exclusive parties with ship officers, and upgraded in-room features like espresso machines. Unlike suites on some other cruise lines, all these amenities are located within the same private area of the ship, so you never have to leave if you don't want to.
Similarly, MSC Cruises has the Yacht Club. This exclusive area has 24-hour butler and concierge service, unlimited beverages at the exclusive lounge, plus select beverages at all other bars and lounges. Those staying in these suites also receive free premium WiFi, as well as access to a private sun deck, restaurant, and lounge with live music nightly.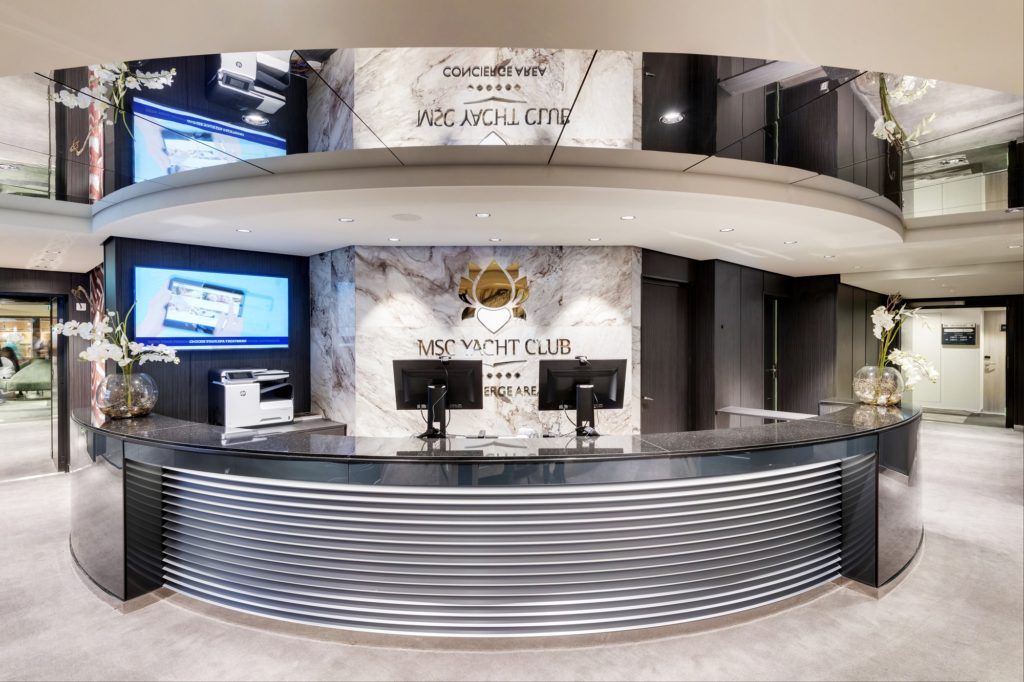 These areas provide a more intimate experience similar to what you would expect on a luxury cruise line. Yet, you still have access to many of the family-friendly amenities that are not found on those smaller vessels. Both cruise lines offer attractions like waterslides, ropes courses, and virtual reality experiences that the whole family can enjoy. Plus, there are a variety of specialty dining venues, signature entertainment, and enhanced offerings that are typically only found on mega-ships.
While you might be paying more for these accommodations, they do come with a host of added benefits that appeal to many travelers.
Comments
What is your preferred cruise cabin category? What staterooms would you recommend or not recommend? Drop us an anchor below to share your cruise cabin reviews.