Yesterday, Disney Cruise Line revealed several elements of its new cruise ship debuting in Summer 2022. There was a lot of information to process from this "grand unveiling". So, we decided to sum it all up with Everything We Know About Disney Wish So Far.
Everything We Know About Disney Wish So Far
One of Disney Cruise Line's cruise directors, Ashley Long, gave us a magical tour of the brand new Disney Wish yesterday. With a little help from Captain Minnie and the Fairy Godmother, we got a sneak peek at all the new spaces and experiences coming to the high seas.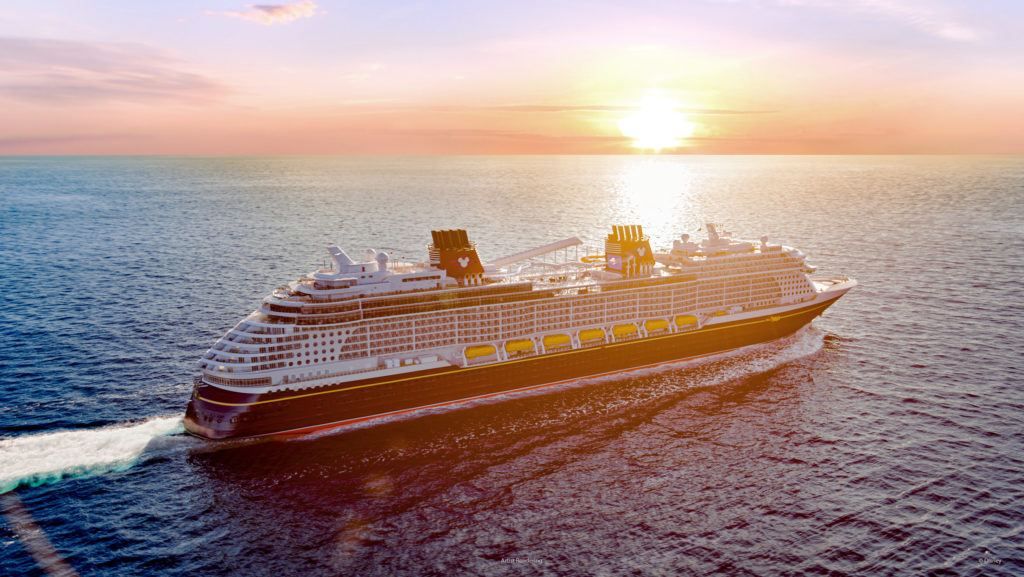 Disney Wish will sail her maiden voyage on June 9, 2022. This sailing will be a 5-night Bahamas cruise to Nassau and Disney's private island of Castaway Cay. This sailing will be followed by a 3-day trip exclusively for DVC members. Then, Disney Wish will continue with an inaugural season of 3 and 4-night cruises from Port Canaveral, Florida. Bookings open to the general public on May 27, 2021.
Design
Disney Wish is the 5th ship in the cruise line's fleet and the first LNG ship for the brand. From the keel-laying on April 8th, this enchanted ship continues to take shape at the Meyer Werft shipyard in Germany.
The Disney Wish will continue the Disney Cruise Line tradition of incorporating an elegant, classical exterior design. For the first time, the artwork on the bow of the ship will feature Captain Minnie Mouse. The stern of the ship will feature a Rapunzel sculpture. This artistic princess will be decorating the exterior of the ship with the help of her chameleon pal, Pascal.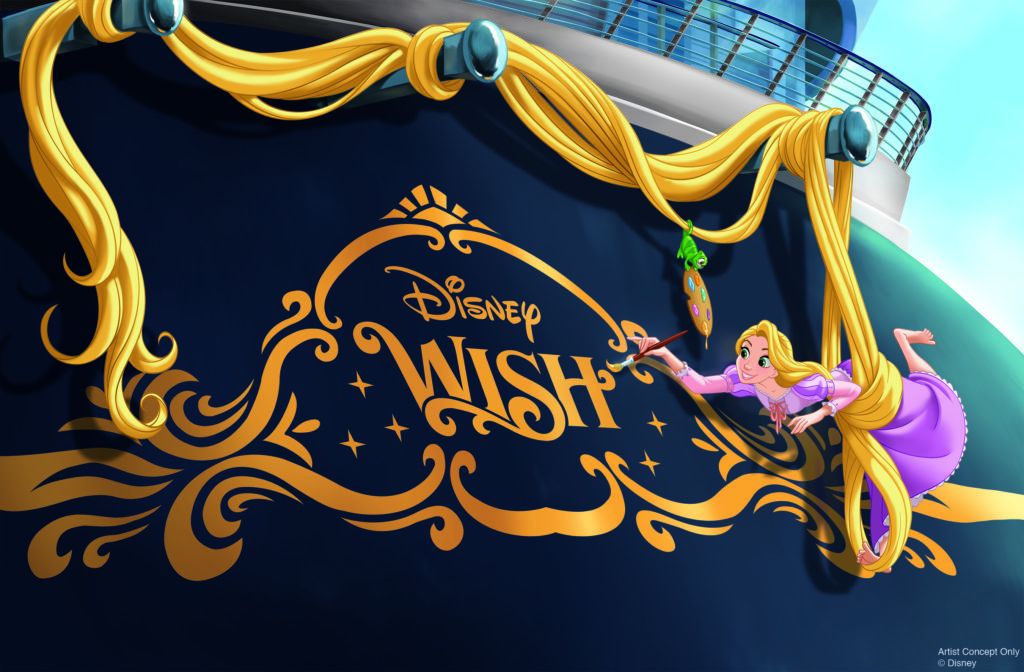 With a motif of enchantment, Disney Wish will feature a design concept inspired by timeless tales of wishes come true. Guests will find everything they love about Disney Cruise Line as well as brand new experiences.
Disney Wish will bring to life the worlds of Disney, Pixar, Marvel, and Star Wars with enchanting fairytales, heroic challenges, thrilling adventures, galactic encounters, peaceful escapes, and so much more.
The Grand Hall
The Grand Hall will set the stage for cruisers as they first step onboard Disney Wish. This Castle on the Seas is the ship's grand 3-story Atrium.
The fairytale-inspired atrium is a tribute to the story of Cinderella. It will include a bronze statue of the princess herself, stained glass embellishments, and icons from the film in the carpeting, metalwork, and light fixtures. Not to mention, a bit of pixie dust, a grand staircase, and a starry chandelier!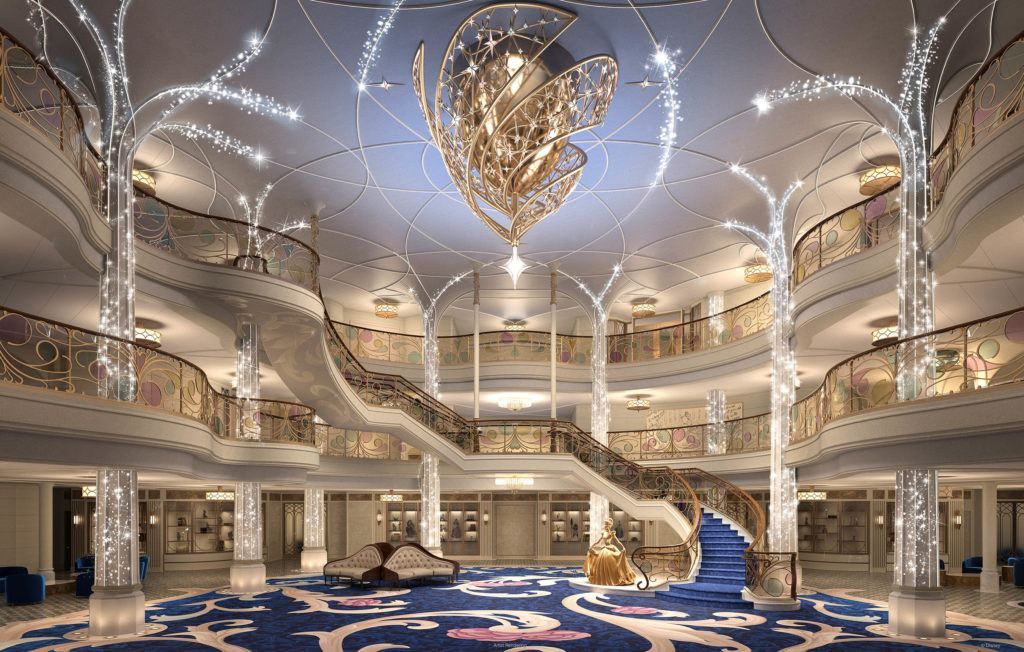 Throughout the day, the Grand Hall will evolve from an elegant atrium into a theater with the help of special effects and the first-ever atrium stage on a Disney ship. Here, guests will enjoy family-friendly shows and interactive entertainment experiences.
Related Post: Reasons to Love Disney Cruise Line
AquaMouse
Disney takes fun in the sun to the next level on Disney Wish by bringing a bit of its theme parks onboard the ship. The AquaMouse will be the first ever Disney attraction at sea.
This brand new attraction will bring to life the adventures of The Wonderful World of Mickey Mouse animated shorts. Complete with show scenes, lighting and special effects, and splash-tacular surprises, this first-of-its-kind water ride will send guests swirling through 760 feet of winding tubes suspended high above the upper decks.
Aptly named "Port Misadventures", guests will join Mickey and Minnie's new shore excursion company on a trip to Mermaid Lagoon.
The journey will begin when guests board their two-seater ride vehicles and ascend into a magical tunnel that will teleport them into the cartoon world of "Scuba Scramble," a new animated short that plays through oversized virtual portholes. Along the way, guests will encounter familiar Disney friends and plenty of water effects that bring the adventure to life.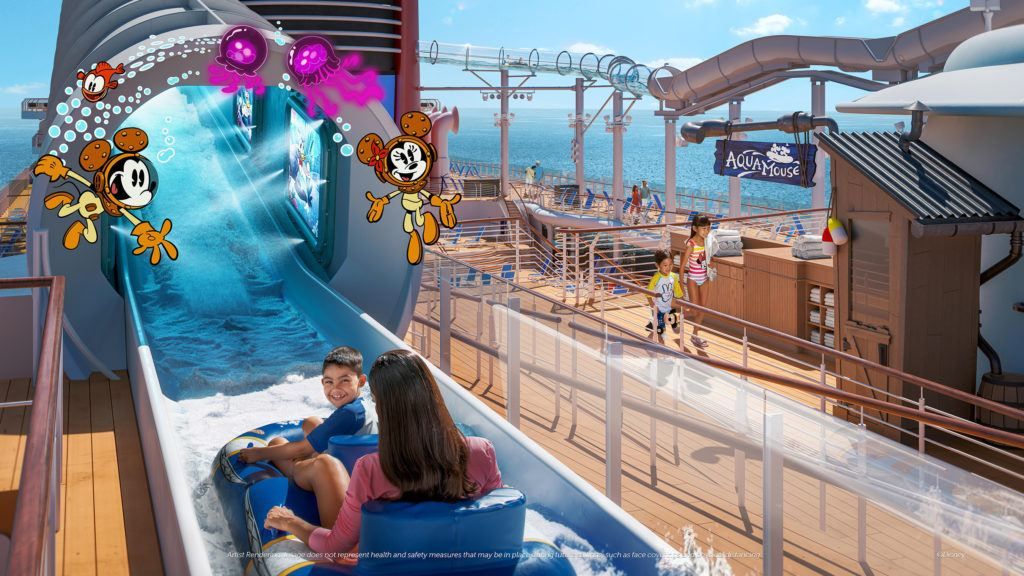 "Disney Cruise Line has pioneered many industry firsts through the years, including the first onboard water coaster and the first and only fireworks at sea," said Danny Handke, senior creative director, Walt Disney Imagineering. "For the Disney Wish, we wanted to continue that tradition of innovation in a big way. With AquaMouse, we're combining theme park thrills, iconic Disney animation and the magic of ocean cruising to create a one-of-a-kind water attraction unlike anything we've done before."
Pool Deck
The Pool Deck is much more than just the AquaMouse though. Disney Wish will also feature three themed districts that offer dedicated space for families, children, and adults alike.
Families will have more pools, more deck space, and more dining than ever before in this expansive pool area themed to Mickey and friends. The area features 6 pools of various sizes and depths.
There is also the new Toy Story themed area for the little ones. To swim-finity and beyond! In this area, families with toddlers and young children can enjoy a splash zone, a wading pool, a family waterslide that sends guests plunging down the drain, and a smoothie bar.
Disney didn't forget about the adults either. Quiet Cove is a relaxing retreat for guests who are 18+. On Disney Wish, this tranquil area will be inspired by Disney's Moana. This Cove, perfectly situated at the back of the ship, will offer panoramic views from a luxurious infinity pool.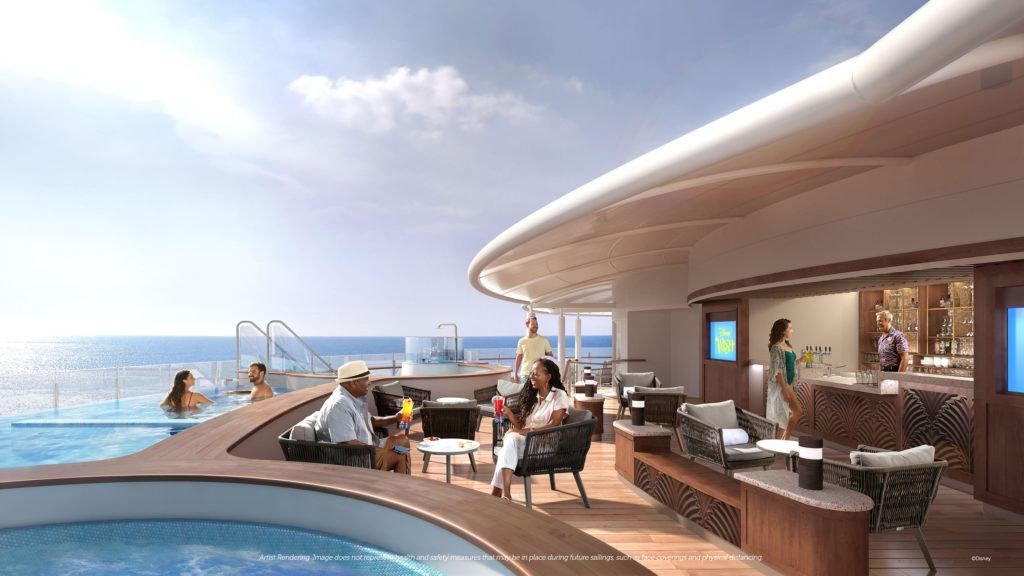 Guests won't have to go far to enjoy a drink either. The Cove Bar serves up beer, wine, and cocktails; while the Cove Cafe serves up gourmet coffees, specialty drinks, and treats throughout the day.
Related Post: Reasons Cruising is the Best Way to Travel
Dining
From theatrical entertainment, to cinematic adventure, to sophisticated elegance, dinner on the Disney Wish will be so much more than just a meal.
Continuing with Disney Cruise Line's rotational dining concept, Disney Wish will offer guests the opportunity to experience one of three imaginative restaurants each night of their cruise. As guests rotate through the 3 brand new restaurant concepts, they will be accompanied by a dedicated service team.
Arendelle: A Frozen Dining Adventure
The first of the new dining concepts is Arendelle: A Frozen Dining Adventure. This Frozen-themed dining experience brings the kingdom of Arendelle to life through immersive live entertainment featuring favorite characters like Elsa, Anna, Kristoff, and Olaf.
This unique culinary adventure invites guests to attend a royal engagement party for Queen Anna and Kristoff. The story picks up where Frozen 2 left off. Elsa and Olaf will host the celebration with catering provided by their friend Oaken's "Hearty Party Planning Service… and Sauna".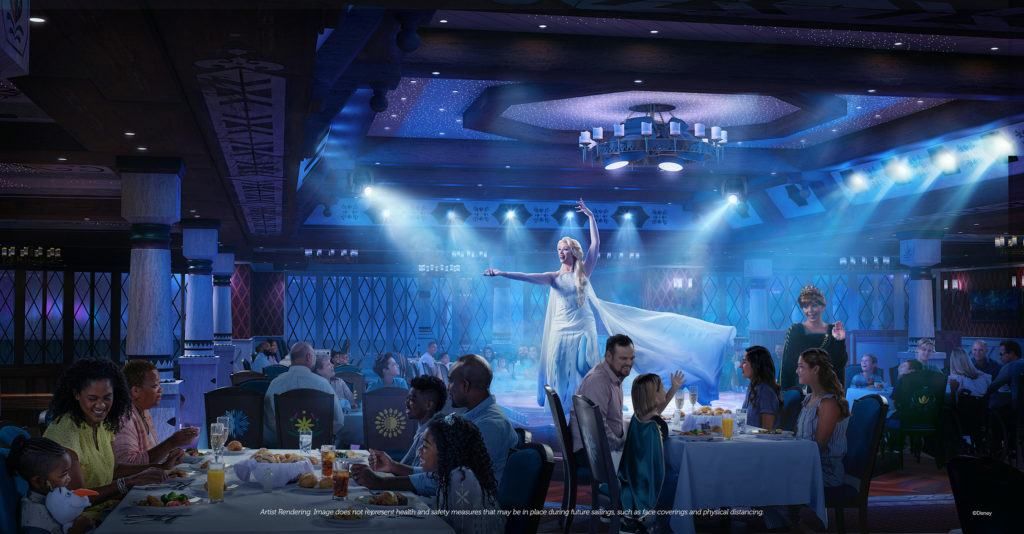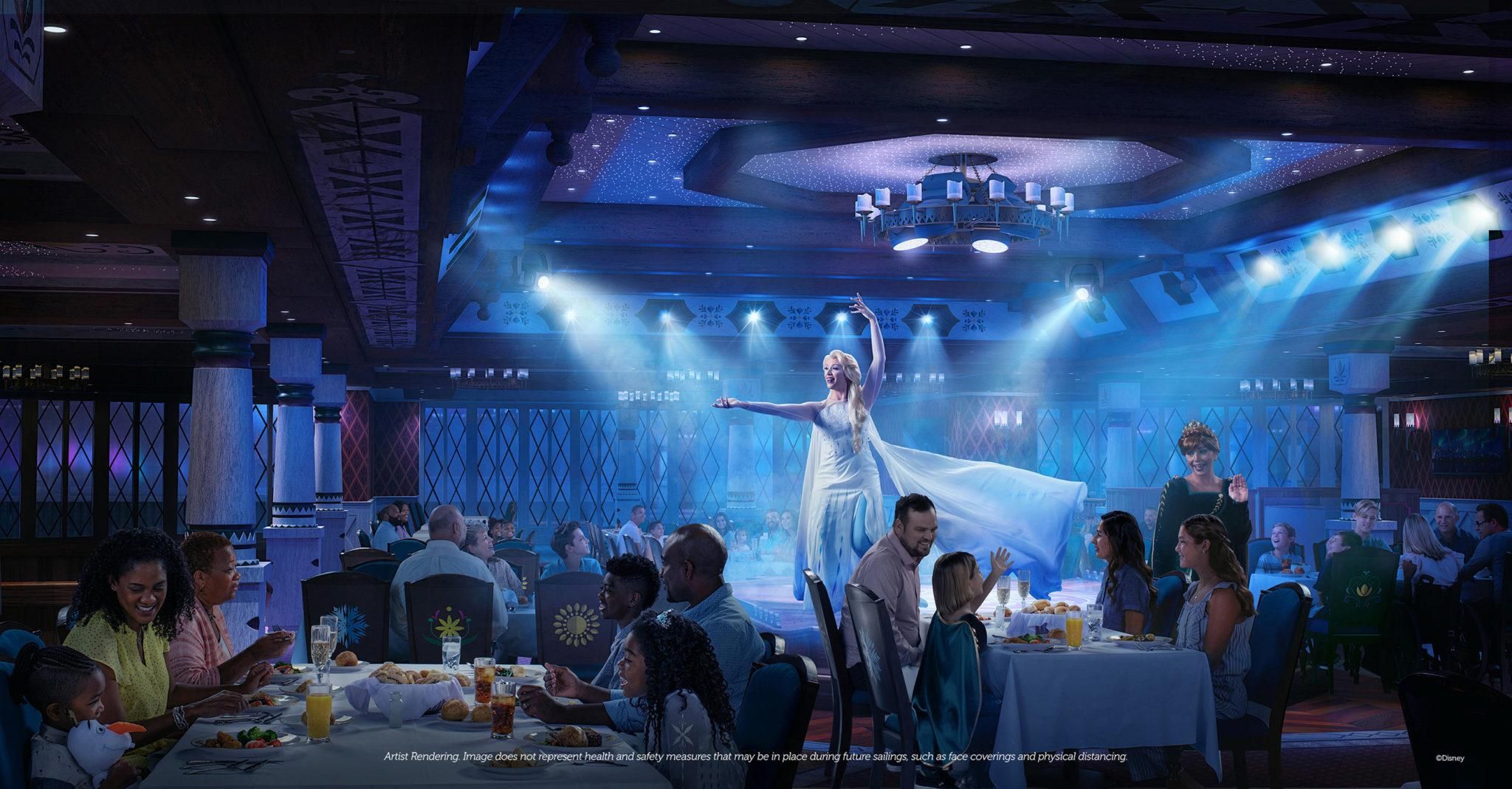 There will also be live entertainment by "local" musicians who specialize in Nordic renditions of familiar Frozen songs and world-class cuisine infused with Nordic influences.
This dining venue is designed in the style of a theater-in-the-round, with dining tables situated around a small center stage.
Worlds of Marvel
Worlds of Marvel is the first-ever Marvel cinematic dining adventure. In this unique dining experience, guests will play an interactive role in an action-packed Avengers mission that unfolds around them.
This upscale dinner and a show concept will offer a menu inspired by the Marvel Cinematic Universe. The venue will be outfitted with state-of-the-art Pym Tech and decked out in signature Stark-itecture style.
Worlds of Marvel will feature an original storyline starring fan-favorite Avengers and an infamous enemy. More information about this experience will be announced at a later date.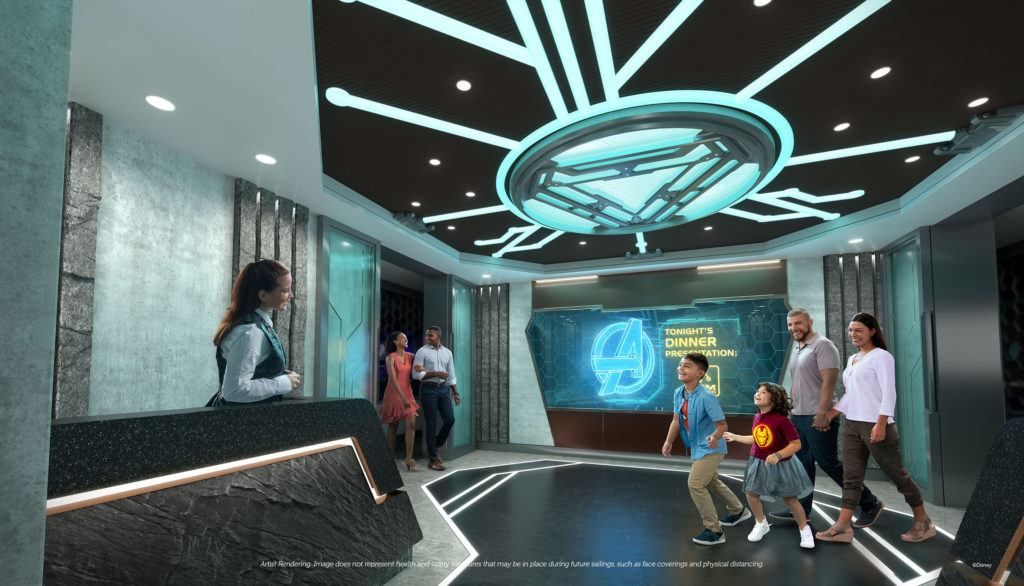 1923
The final new restaurant concept takes guests back in time to Hollywood. Named for the year the Walt Disney Company was founded, 1923 is an elegant celebration of the company's legacy.
This restaurant pays homage to the golden age of animation. Combining classic Hollywood glamour with a dash of Disney, 1923 features two dining rooms named for the men behind the magic, Walt and Roy Disney. The rooms are adorned with more than 1,000 drawings, props, and other tools of the trade.
1923 will serve dishes inspired by the fusion of cultural flavors found throughout the Golden State.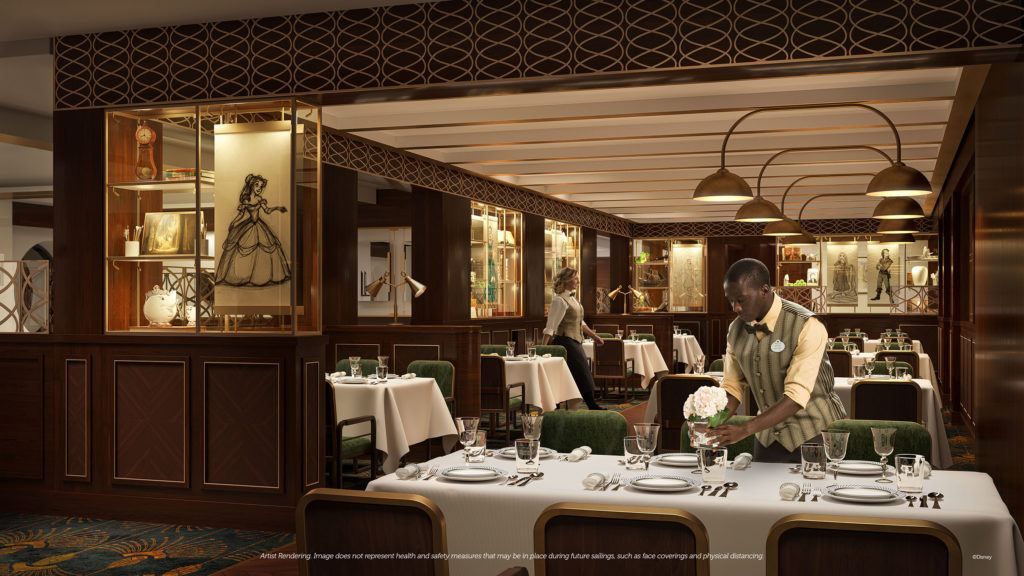 Related Post: Beginner's Guide to Cruise Planning
Adult-Only Specialty Dining
Disney Wish continues the dining transformation with new and imaginative upscale adult-only restaurants, Palo Steakhouse and Enchanté. These premium culinary experiences are inspired by a tale as old as time.
Palo Steakhouse is an evolution of the Palo restaurant that Disney cruisers know and love. This new rendition of the restaurant now combines authentic Italian dining with a modern steakhouse. The restaurant will offer a menu of exquisite Italian dishes and the world's best steaks.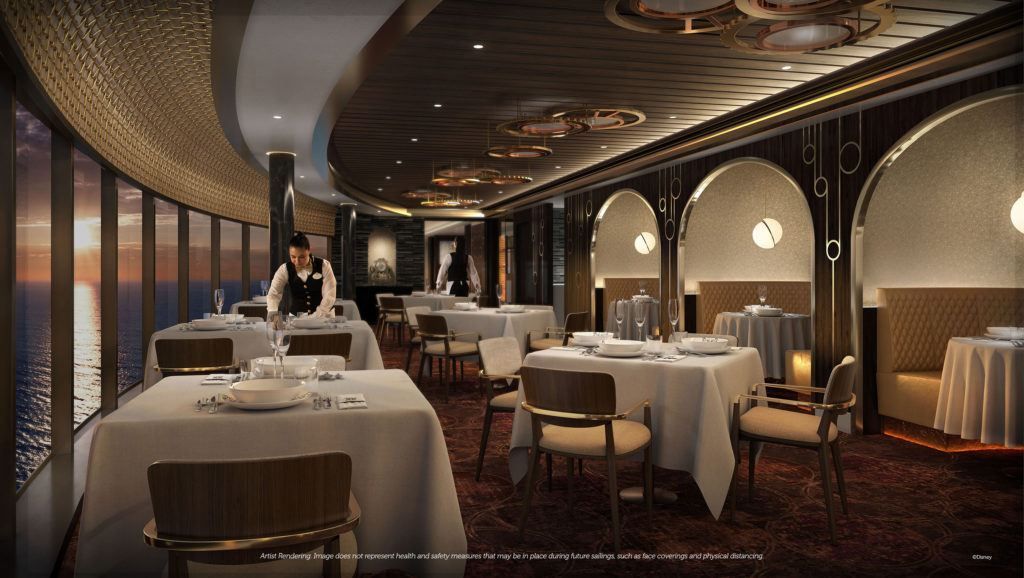 Palo Steakhouse will provide warm and luxurious elegance with decor inspired by Beauty and the Beast's Cogsworth. With spectacular ocean views off the back of the ship, the venue will feature rich woods and shiny metals, along with ornate clocks, pendulums, and gears.
Enchanté will offer the most luxurious dining experience on Disney Wish. This upscale specialty restaurant will feature a gourmet menu crafted by three-Michelin-starred Chef Arnaud Lallement.
This romantic and intimate venue's decor is inspired by the film's candelabra maitre d', Lumiere. The atmosphere will combine shimmering candlelight and lavish hospitality in the two intimate dining areas.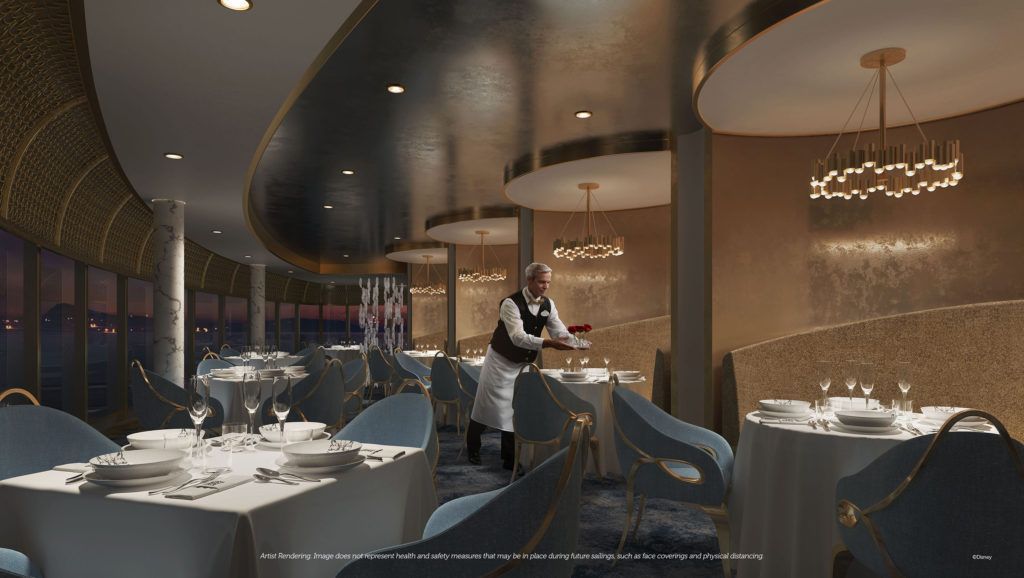 Finally, The Rose is an inviting lounge located at the entrance of Palo Steakhouse and Enchanté. This enchanting spot is the perfect place to grab a pre-dinner or post-dinner cocktail.
Star Wars: Hyperspace Lounge
As a first-of-its-kind, Disney Wish offers adults a unique lounge in a galaxy far, far away. The Star Wars Hyperspace Lounge is sure to be one of the most out-of-this-world experiences at sea.
This exclusive bar is styled like a luxurious yacht-class spaceship and will offer adults immersive and interactive tasting experiences, as well as signature beverages inspired by the films.
While guests sip their galactic cocktails, they will be transported to iconic locations from the eras of the Republic, Empire, and First Order, employing hyperspace jumps to travel from planet to planet.
The virtual "window" into the galaxy will feature famous space ships from the films and fan-favorite locales like Batuu, Tatooine, Mustafar, and Coruscant. The experience will be amplified by surround-sound audio and holographic models of nearby ships.
In addition to this Hyperspace Lounge, adults can enjoy a variety of other bars and lounges aboard the Disney Wish.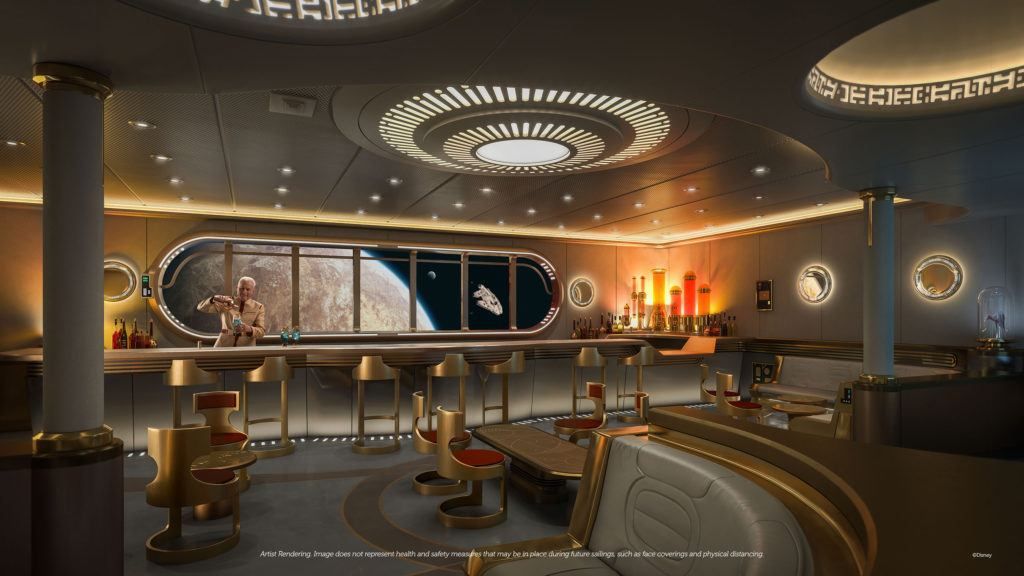 Related Post: Cruise Budgeting 101
Entertainment
The combination of innovative new venues and the evolution of storytelling will set the stage for original productions, guest-favorite shows, and brand-new entertainment experiences for the whole family onboard Disney Wish.
"Every Disney Cruise Line ship is a living theater that offers spectacular entertainment experiences from bow to stern," said Jim Urry, vice president, entertainment and port adventures, Disney Cruise Line. "The Disney Wish will build on that foundation with imaginative entertainment venues where storytelling and technology take center stage, creating dazzling environments that will make emotional connections with guests of all ages and even become supporting characters in the shows."
Luna
If the Grand Hall is the castle of the Disney Wish, Luna is the town square. This new entertainment hub, inspired by the Disney and Pixar short La Luna, will transition from a daytime setting for family fun into an elegant evening venue for adult-only entertainment.
Luna will offer a variety of live shows and interactive programming throughout the day and night. The venue will feature a two-story LED screen wall, a stylish stage, a full-service bar, and spacious seating.
Hero Zone
Hero Zone is a futuristic sports arena where physical activity will blend with imagination. This venue will host over-the-top game show competitions themed to Disney's heroes, an elaborate family obstacle course, a free-play sports hub, and more.
Don't worry; if you would rather not join in on the action, there is also balcony seating for spectators.
Walt Disney Theatre
Walt Disney Theatre is an elegant 1,274-seat theater that spans three decks with orchestra and balcony seating. The theater is inspired by the magical forest of Fantasia. This venue will be home to three Broadway-style stage shows.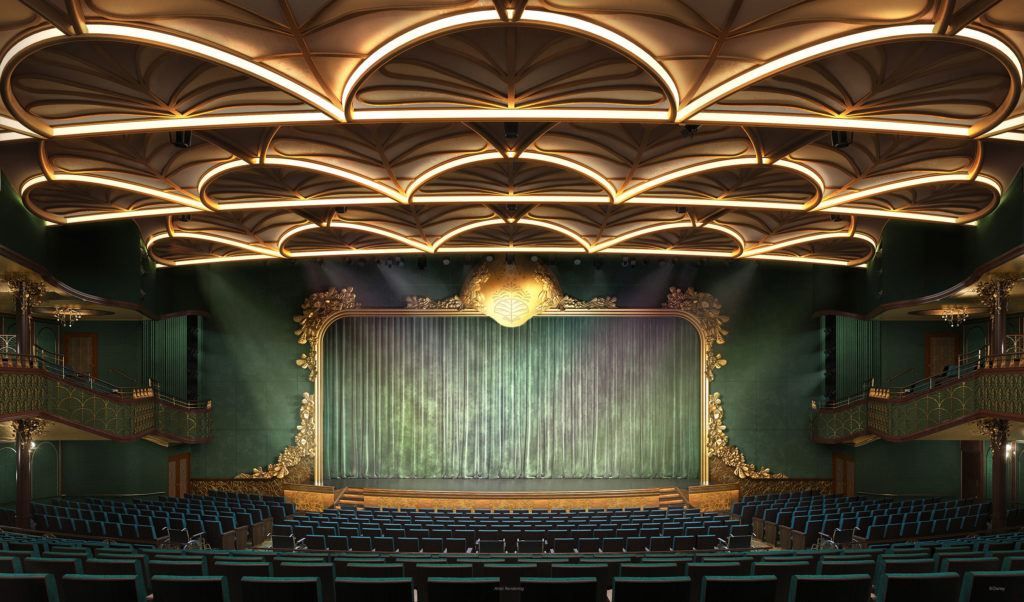 Disney Wish will feature a reimagined adaptation of Disney's Aladdin – A Musical Spectacular. This guest-favorite show is a fast-paced musical comedy based on the classic Disney tale of "street rat" Aladdin meeting the wise-cracking Genie, battling the evil Jafar, and falling in love with Princess Jasmine.
Iconic scenes and songs from the movie will be recreated on stage, including a lively rendition of "Friend Like Me" and a breathtaking performance of "A Whole New World" atop a flying magic carpet. Further, Grammy Award-winning composer, Alan Menken, created an original song for Disney Cruise Line entitled "To Be Free," a solo performance for Jasmine.
No further details about the other two signature shows have been announced.
Of course, there will be many other entertainment offerings onboard Disney Wish. These include two intimate cinemas, Wonderland and Never Land, as well as a poolside stage and a jumbo LED screen. There will also be brand-new deck parties and nighttime fireworks spectaculars developed exclusively for this ship.
Related Post: Guide to Visiting Walt Disney World in 2021
Kids Club
Designed for families, Disney Wish will offer dedicated clubs for every age group, each presenting imaginative programs.
"There is no doubt that kids are going to have the time of their lives aboard the Disney Wish," said Danny Handke, senior creative director, Walt Disney Imagineering. "The nursery is a fanciful playground perfect for curious little ones. The tween and teen clubs are so stylish that adults will wish they could hang out there, too! And where else in the world can kids explore a super hero headquarters, a royal kingdom and an Imagineering lab in a matter of steps? Put simply, it's great to be a kid on a Disney cruise."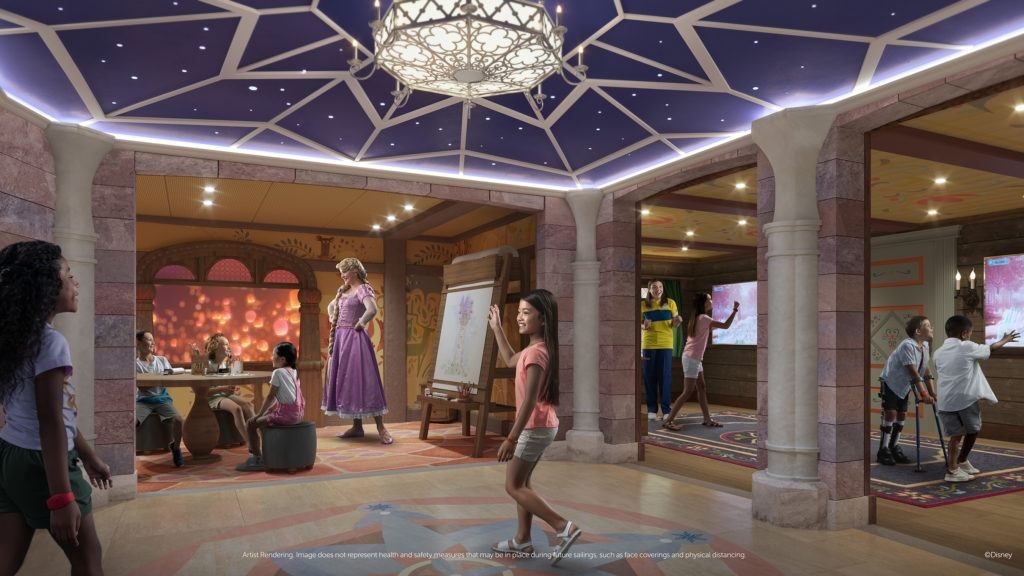 Disney's Oceaneer Club
Disney's Oceaneer Club is for children aged 3 to 12. Aboard the Disney Wish, this club will feature more themed spaces than ever before. The endless entertainment options range from storytelling, arts and crafts, and dress-up, to toys, games, and watching Disney movies. 
With the club located on deck 2, parents will be able to check in their children in the Grand Hall on deck 3 and then send them "down the rabbit hole" on a twisting slide that lands directly in the club.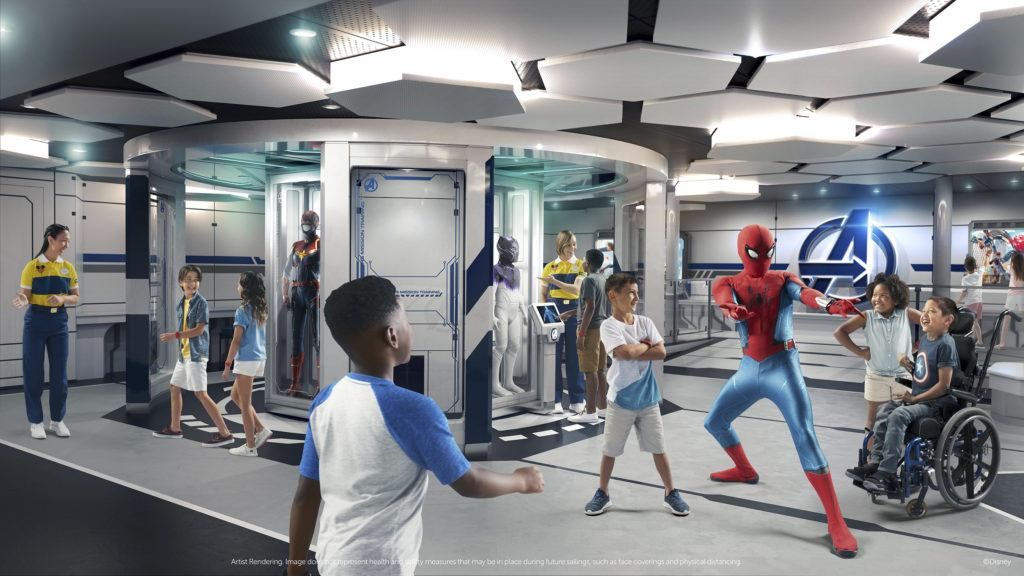 Marvel Super Hero Academy is a high-tech Avengers headquarters where young "recruits" can train to be the next generation of super heroes with the help of icons like Spider-Man, Black Panther, Ant-Man, and the Wasp.
Fairytale Hall is an activity space where kids can let their creativity shine at Rapunzel's Art Studio, read and act out stories at Belle's Library, and test newfound icy powers at Anna and Elsa's Sommerhus.
Walt Disney Imagineering Lab is a first-of-its-kind opportunity for kids to discover the secrets of Disney Imagineers. At the Ride Studio, kids will create a coaster and then climb into a capsule where they will virtually ride their imaginative masterpiece.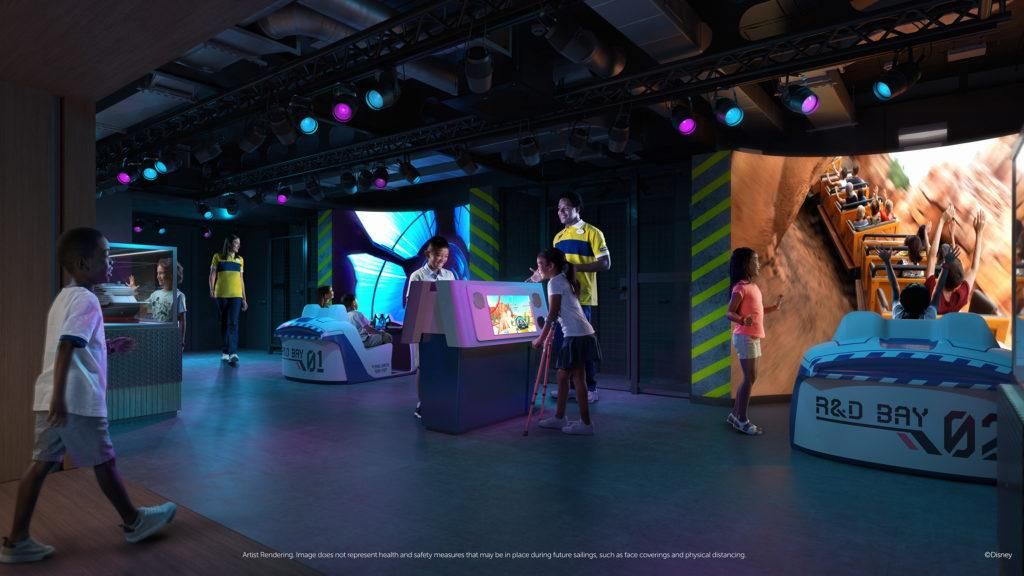 For the littlest cruisers ages 6 months to 3 years, It's a Small World Nursery will offer babysitting services in a whimsical environment inspired by the beloved Disney attraction.
At Edge, tweens ages 11 to 14 will have fun, make friends, and play games in a bright, colorful hangout inspired by a chic New York City loft.
Inspired by a Parisian artists' loft, Vibe is a space with classic architectural elements, vibrant neon signs, and funky pop art for teens ages 14 to 17 to enjoy.
Staterooms
"With our signature attention to detail, Disney Cruise Line staterooms have always set the standard for family cruise travel," said Claire Weiss, creative director, Walt Disney Imagineering. "All of our ships offer spacious, comfortable and functional rooms that uniquely meet the needs of families. On the Disney Wish, we are elevating this approach with a new level of storytelling and artful design infused with the theme of enchantment that brings to life cherished Disney fairytales."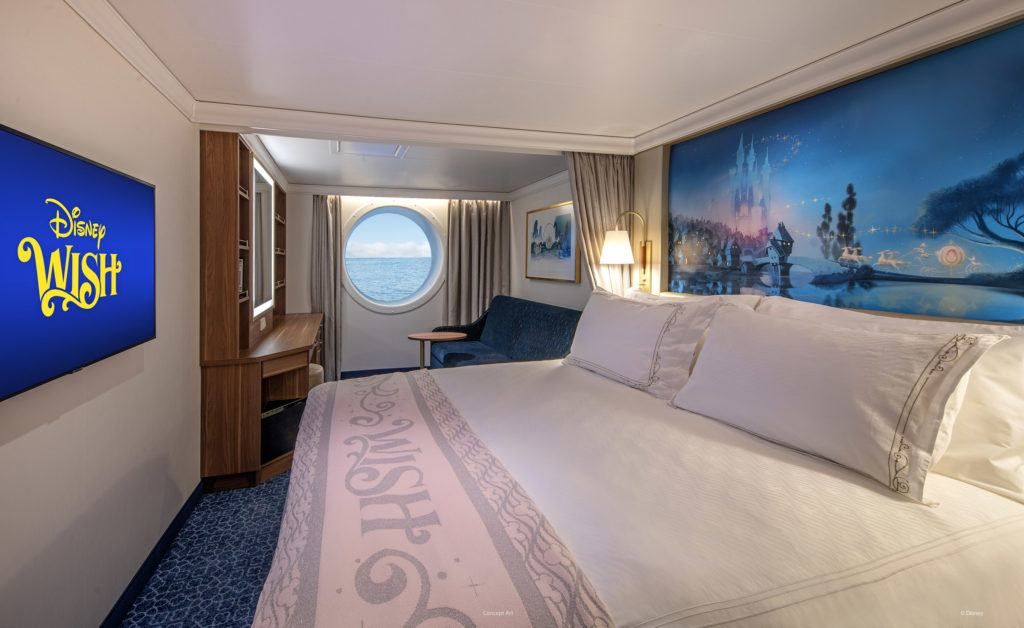 With an all-new look and feel inspired by Disney stories, every stateroom on the Disney Wish will be designed with families in mind. The staterooms will include ample space, plenty of storage, and upscale amenities.
Most of the ship's 1,254 staterooms will offer an ocean view, with 70% including a balcony. Most cabins will also feature Disney Cruise Line's signature split-bathroom concept, with a sink and shower in one room and a sink and toilet in a separate room.
Each cabin on Disney Wish will be adorned with enchanting details. From glittering gold-leafed headboard murals, to linen embroidery inspired by the fleet's signature golden filigree, to custom artwork depicting Disney fairytales, the accommodations will be functional yet luxurious.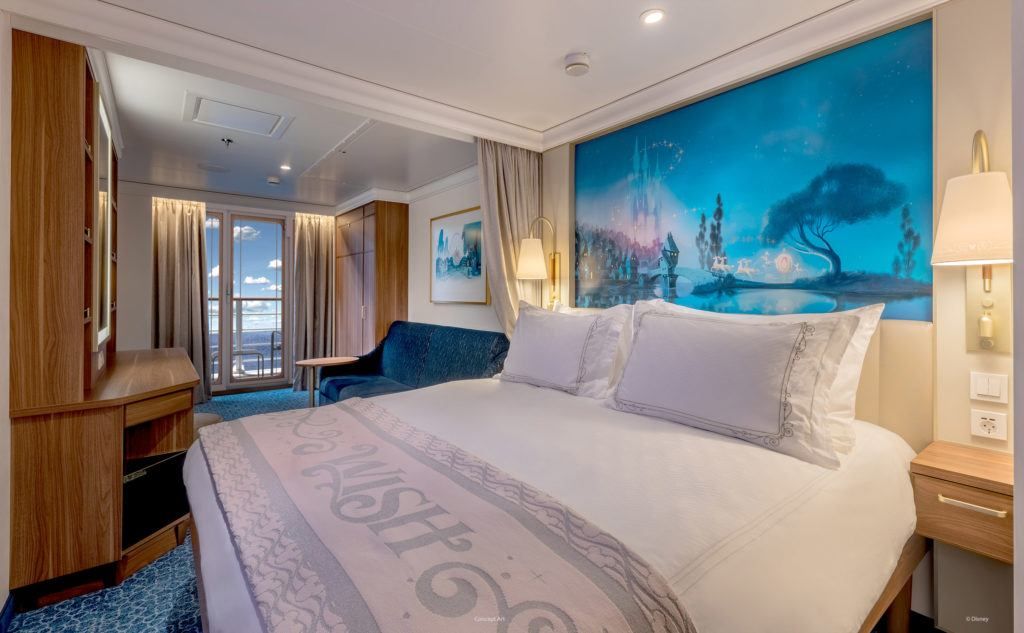 Further, Disney Wish will upgrade the concierge experience with more than double the number of concierge rooms and suites that include access to a private lounge and sun deck, as well as exclusive concierge services.
Related Post: Top Reasons to Book a Balcony Cabin
Royal Suites
For the ultimate in luxury, Disney Wish will debut four royal suites that celebrate Sleeping Beauty. Two of these suites will be Princess Aurora Royal Suites with a soft color palette of blues and golds; the other two suites will be Briar Rose Royal Suites with dark wood tones and rich green hues.
These Royal Suites will feature first-class furnishings and amenities. They will include a separate living and dining space, an oversized balcony with a hot tub, and two master bedrooms. Each bedroom will have its own bathroom, in addition to a third bathroom in the living room.
The two-story Royal Suites will boast floor-to-ceiling windows, an elegant spiral staircase, and a 2-story stained-glass installation.
Comments
Given everything we know about Disney Wish so far, what features are you most excited to see on the ship? Will you be booking a cruise on this brand new ship? Drop us an anchor below to share your experiences sailing with Disney Cruise Line.