There are plenty of options for extending your stay when cruising from Port Everglades. For a recent cruise, we found the perfect spot right on the beach. Offering plenty of amenities and activities, there was no reason for us to leave. Well, there was the cruise of course. See why we can't wait to return to this Fort Lauderdale resort in our exclusive Marriott Harbor Beach Resort Hotel Review from 2021.
Marriott Harbor Beach Resort Hotel Review
Marriott Harbor Beach Resort – Location and Transportation
It's hard to believe that some cruisers still fly into port on the day of their cruise. Yes, it is true that the Fort Lauderdale-Hollywood International airport is only a short distance away from Port Everglades. In fact, it's less than 5 miles away. This cruise terminal is easily accessed by taxi, Uber, bus, rail, or airport transfers.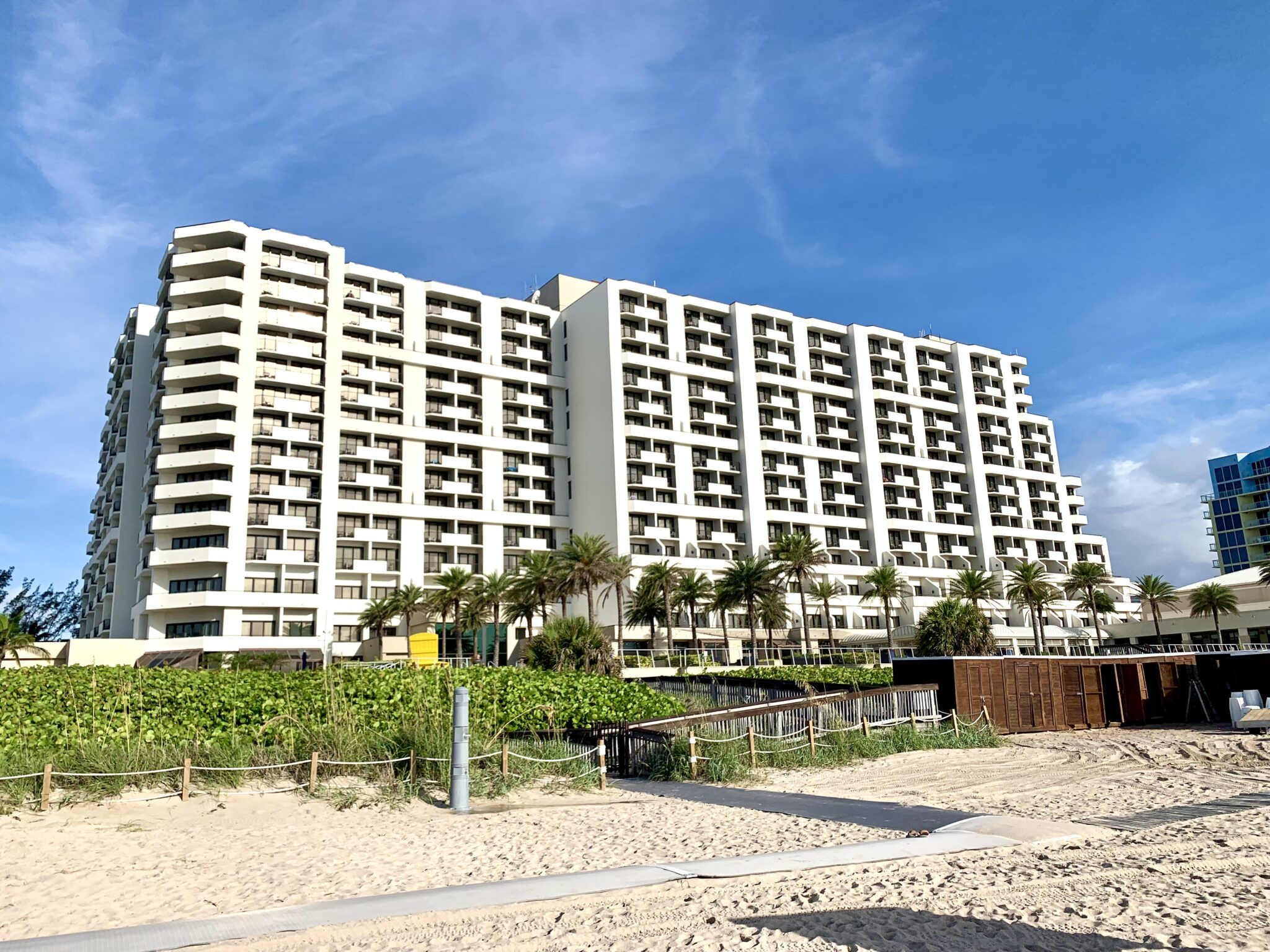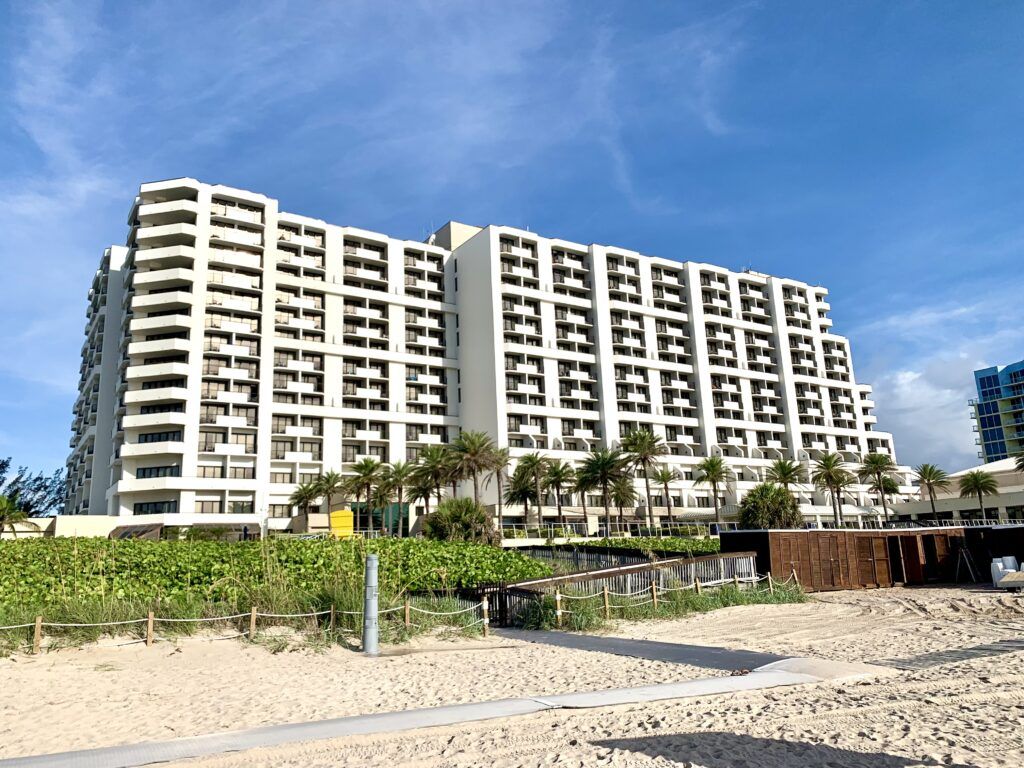 Still, we always suggest flying a day before your cruise. This is especially important with all of the delays, cancellations, and headaches when traveling right now.
Not to mention, one thing we love about cruising from Fort Lauderdale is the surrounding area and the plethora of things to do.
Our recent sailing on Celebrity Edge was the first sailing in the U.S. in 2021, so we did not want to take any chances. There was no way we were missing this historic cruise.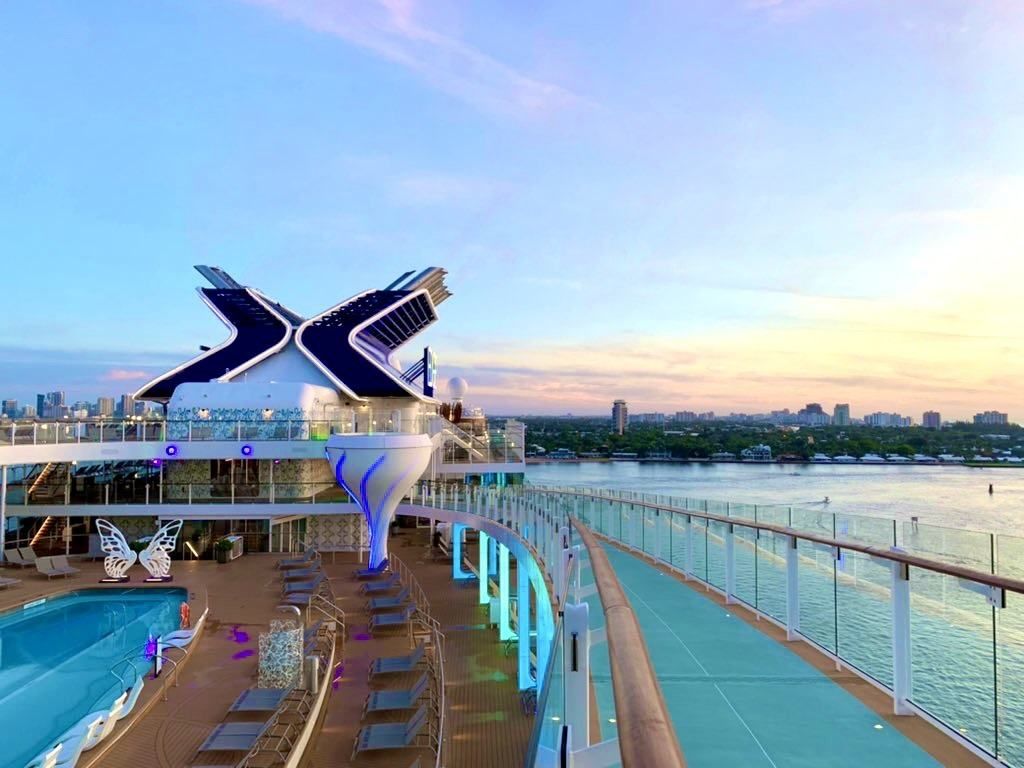 Having stayed at a number of the hotels near the Fort Lauderdale cruise port in the past, we wanted something different. Thus, we opted for a stay at the Marriott Harbor Beach Resort & Spa. This resort appealed to us as it had the ideal mix of accommodations, amenities, and dining for a relaxing pre-cruise stay.
Of note, if you are driving to the hotel, parking will cost you $39 a day.
EXCLUSIVE SAVINGS: SCORE A GREAT DEAL ON CRUISES FROM FORT LAUDERDALE!
Marriott Harbor Beach Resort – Amenities
Upon checking into the hotel, guests are given a bracelet to indicate they are staying on property. This provides access to all the resort amenities and the 16-acre beachfront.
The resort package includes WiFi, one fitness class per day, two beach chairs per day, two welcome beverages, one hour rental of non-motorized sports equipment, and more.
Perhaps the biggest draw for us was the beach. The Marriott Harbor Beach Resort is located at the south end of Fort Lauderdale Beach. Given its secluded location, guests have access to a quarter mile of private beachfront real estate.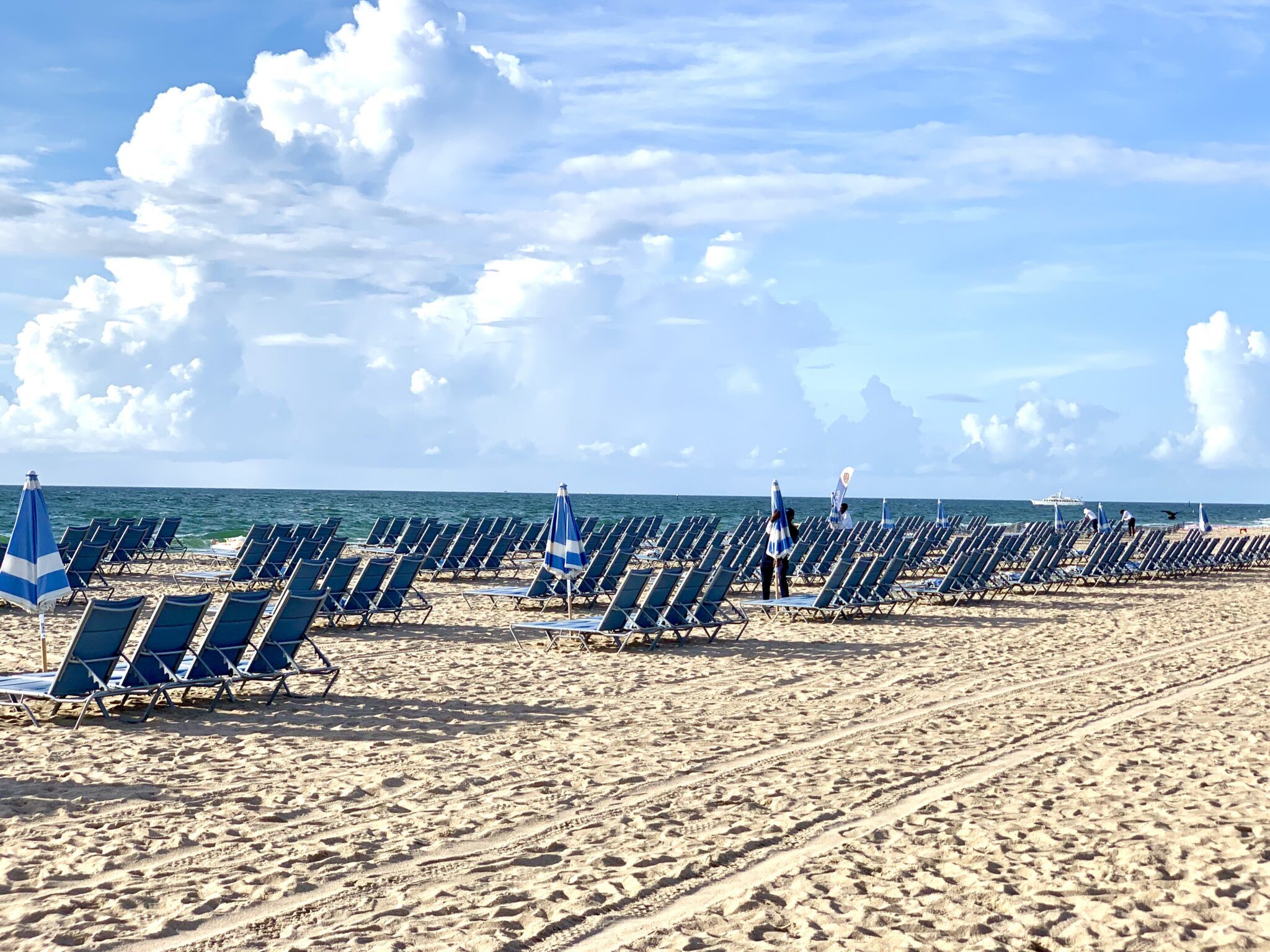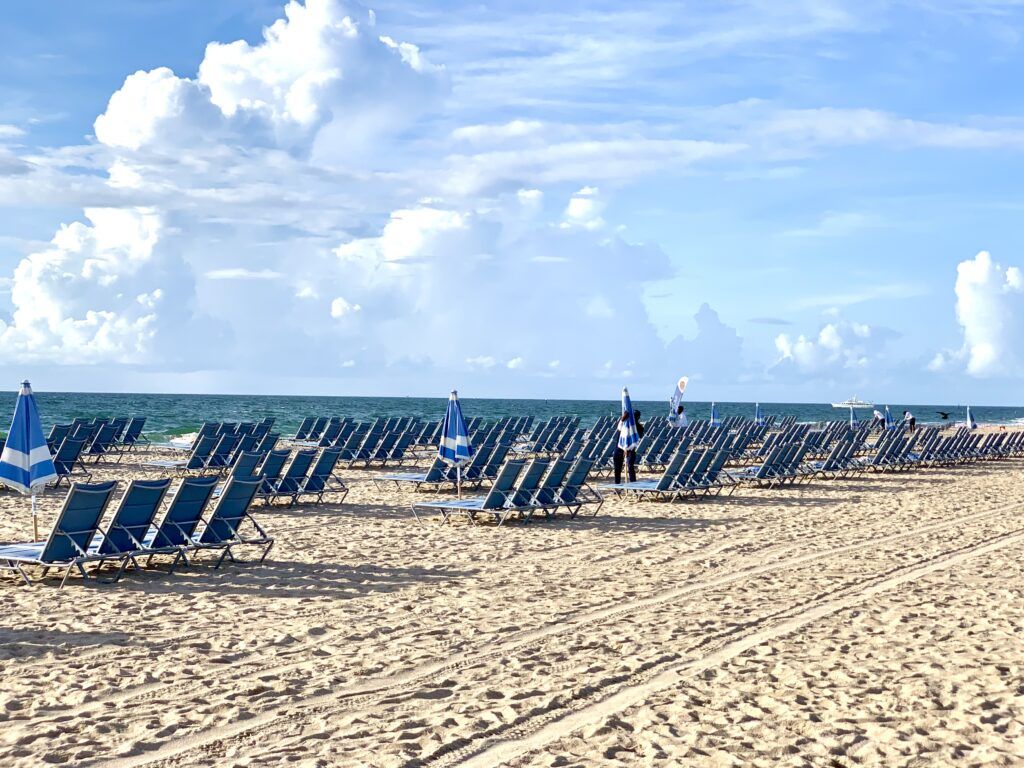 Besides two loungers, guests also have access to beach towels and beachside attendants to help make you feel even more pampered.
The resort also boasts an 8,000 square-foot lagoon pool with plenty of loungers and umbrellas, not to mention attractive water features as well. For those who want to splurge a bit, cabanas are available to rent too.
If you want to add a little activity to your day, the hotel features a fully-equipped Fitness Center with strength and cardio equipment and fitness classes for an additional fee. There are also onsite tennis courts and a basketball court.
For those who want to have a more extreme time, watersport rentals are available as well. The resort offers options like kayaks, wave runners, and paddleboards depending on your need for speed.
For those looking for some rejuvenation, the Marriott Harbor Beach Resort also features a 22,000-square-foot spa offering a variety of treatments, a private pool, sauna, steam room, and whirlpool with great ocean views.
Be sure to check the hotel lobby for a daily activity schedule.
Related Post: Beginner's Guide to Planning a Cruise
Marriott Harbor Beach Resort – Restaurants and Bars
We actually discovered this hotel during one of our other pre-cruise stays in Fort Lauderdale. While staying at a nearby resort, this hotel just so happened to have the closet Starbucks.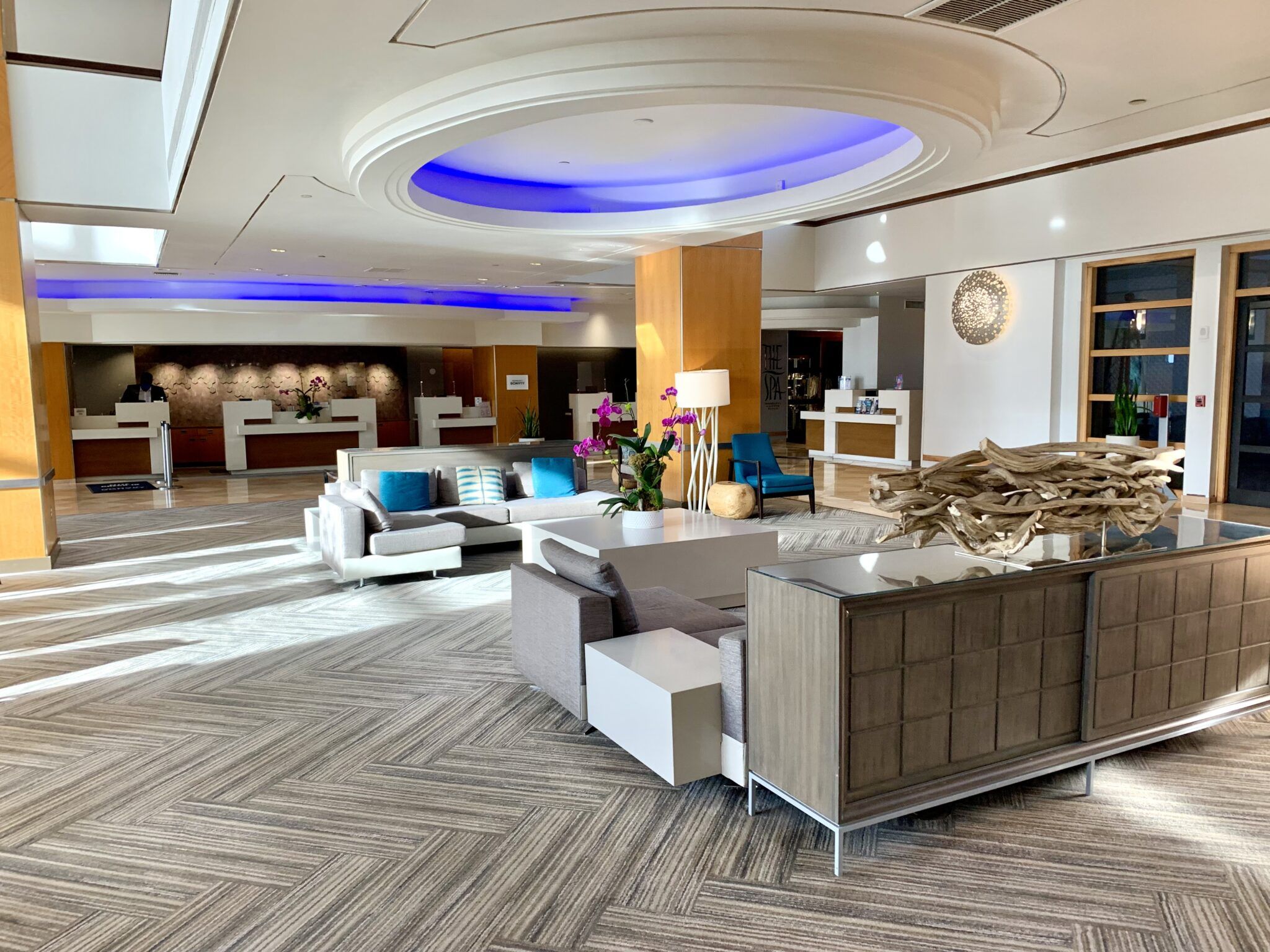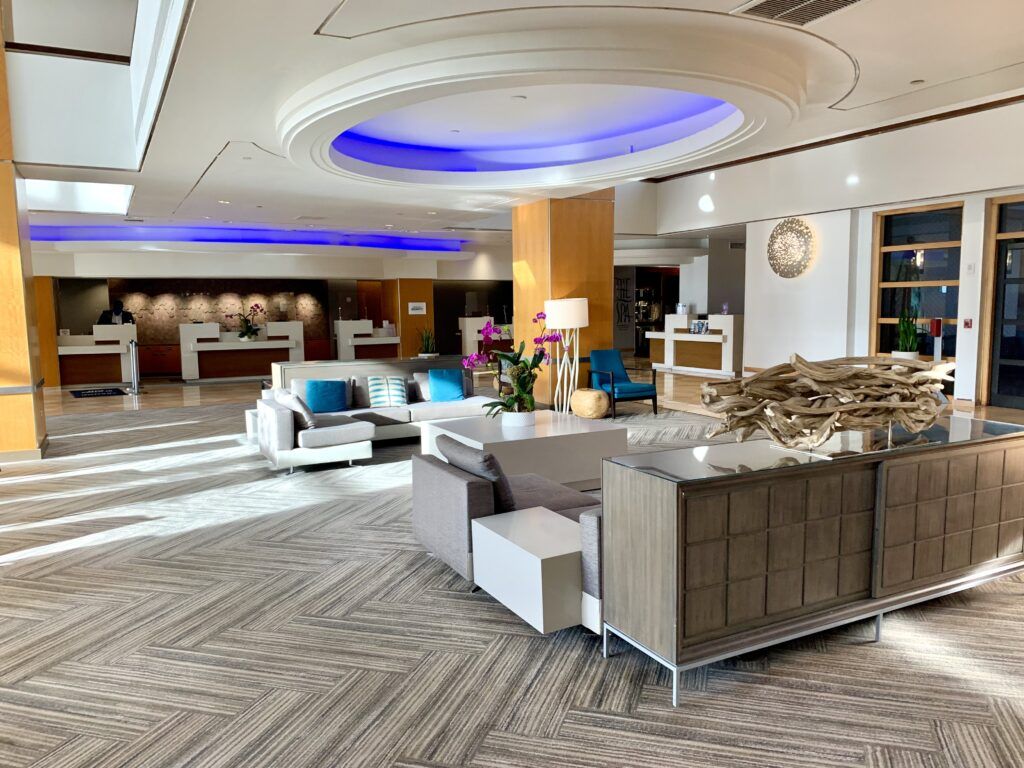 After walking into the resort, we made a mental note that we needed to stay here in the future. The open, chic lobby offers incredible sight lines that showcase the private beach, and a Starbucks. So, it was a win-win for us.
When it comes to dining, the Marriott Harbor Beach Resort offers several options for restaurants and bars. There is casual fare at the HB Fresh. Located at the beach level, this venue offers smoothies, healthy snacks, and frozen yogurt.
Further, Riva is a family-friendly option serving up breakfast/brunch along with ocean views.
There is also al fresco dining at the Sea Level Restaurant and Ocean Bar. This is where we spent our evening enjoying the waves with a few drinks and snacks. You can't go wrong with some cocktails, tortillas and guacamole, and Blackened Mahi Tacos!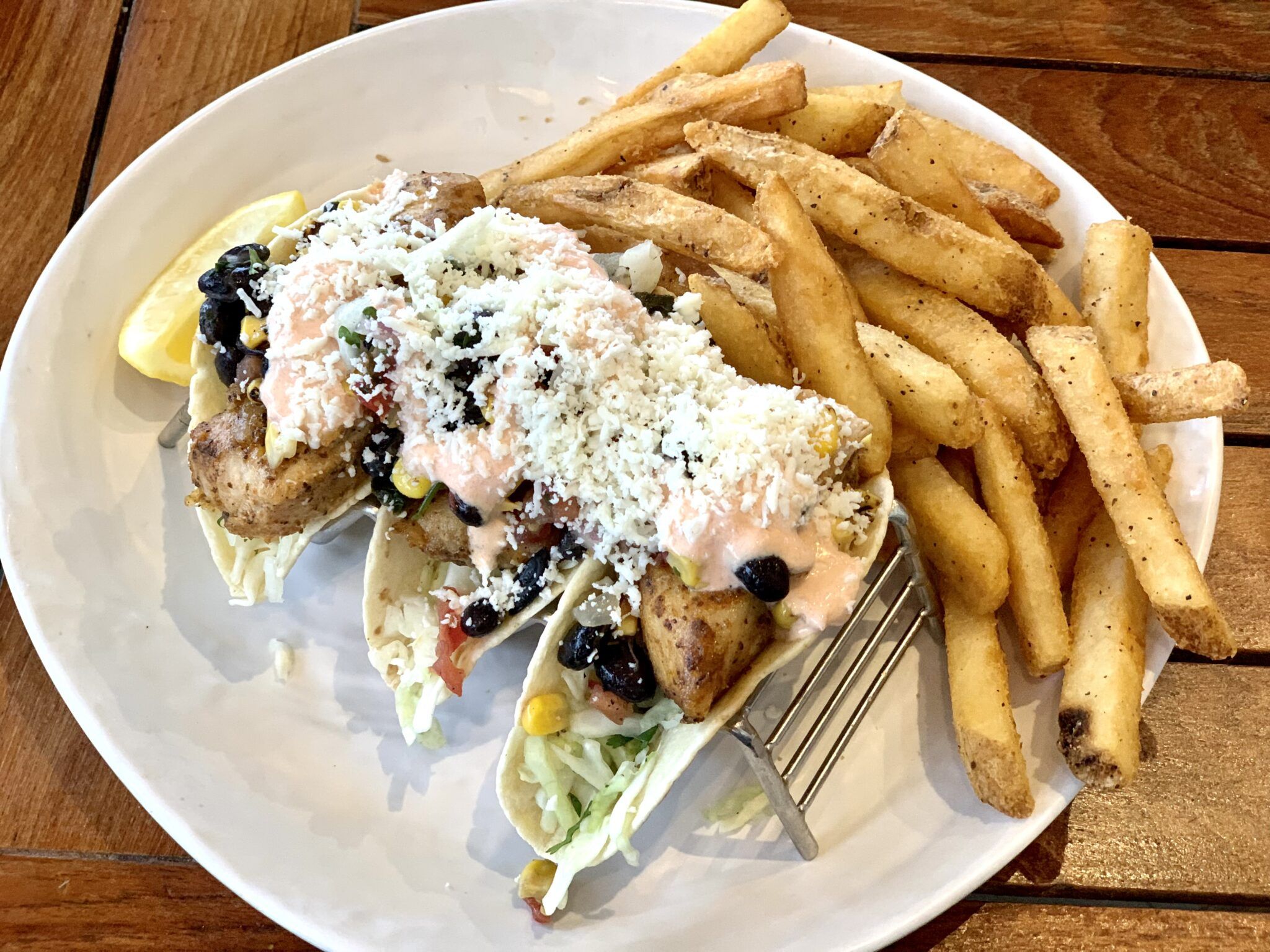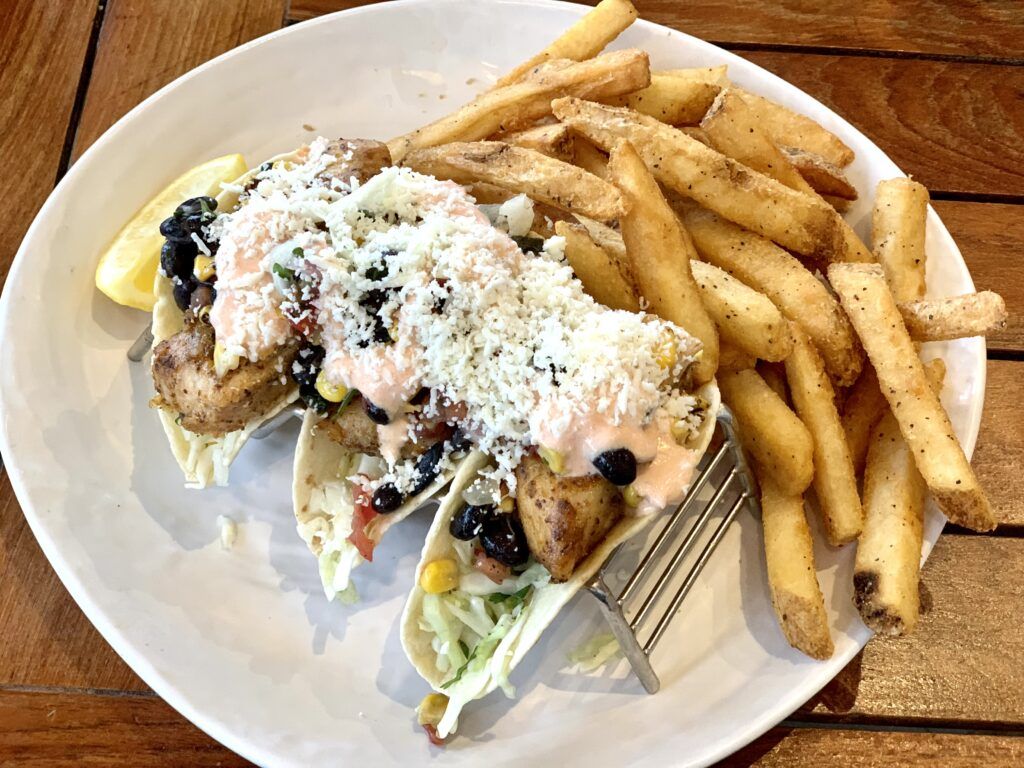 3030 Ocean Restaurant is the resort's upscale seafood restaurant open nightly for dinner. The 3030 Bar also offers a selection of hand-crafted cocktails.
Additionally, if you are looking for something a little more intimate, you can reserve a Barefoot Dining table on the beach.
Lastly, the Marriott Harbor Beach Resort has a beautiful oceanview terrace complete with firepits where you can enjoy some cocktails and the ocean breeze. The Loggerhead Sand Bar is another great spot to grab drinks right on the beach.
Related Post: Best Ways to Get from Fort Lauderdale Airport to Miami Cruise Port
Marriott Harbor Beach Resort – Hotel King Room
The Marriott Harbor Beach Resort hotel features one central tower with 15 floors, 619 rooms, and 31 suites. The resort's guest rooms, lobby, and restaurants have all been somewhat recently renovated.
For our stay at this hotel, we booked a King Bed Oceanfront View Guest Room. Yes, for a premium, you can even score ocean views from your balcony. These rooms are advertised as 338 square feet and feature all the comforts of home.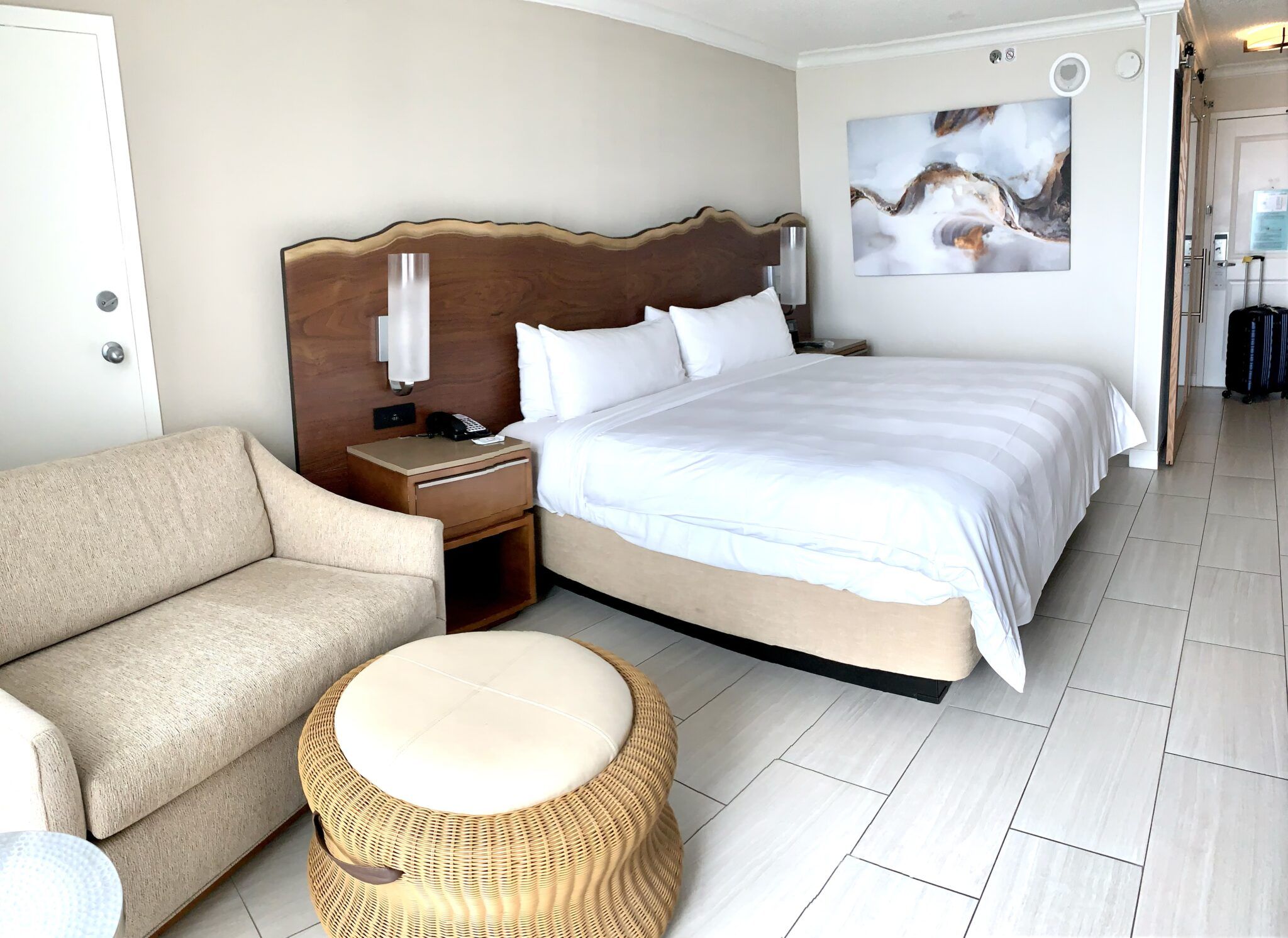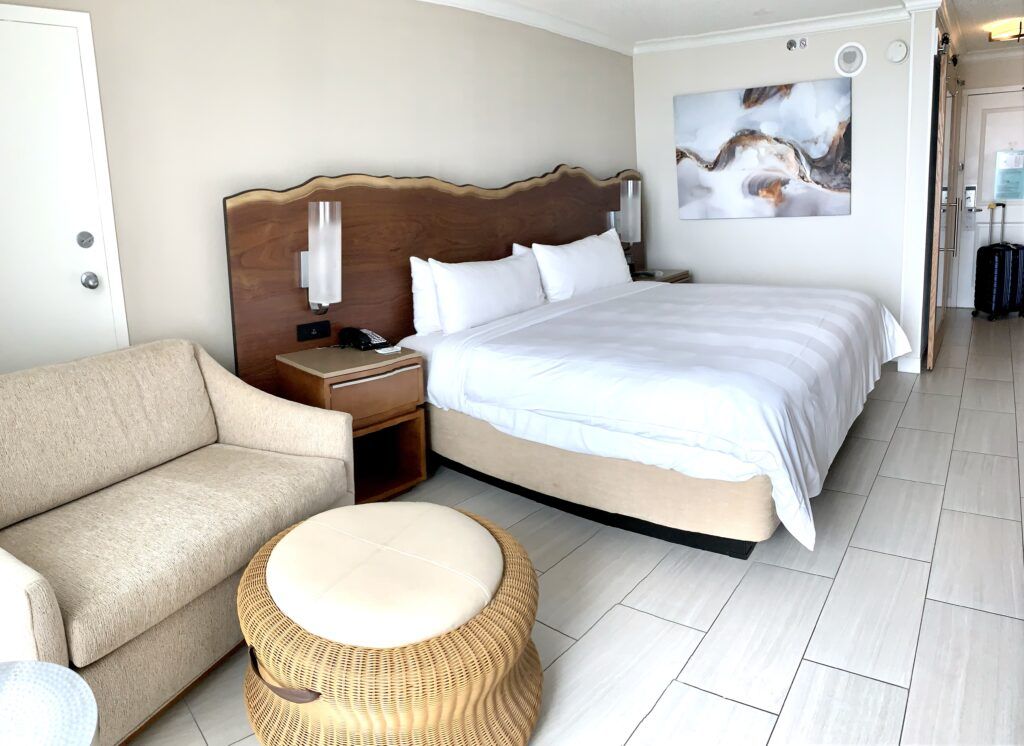 With a neutral color-palette and simplistic décor, the room offers all the sophistication and functionality you need for a beachside getaway.
The hotel room comes complete with complimentary bottled water, a coffee maker, mini-fridge, 49 inch TV, and complimentary WiFi.
Additionally, there is a small desk, loveseat with ottoman, and plenty of outlets to charge all your devices in prep for cruise embarkation day.
Our king-sized bed delivered the perfect night's sleep after a full day at the resort with plenty of space to spread out.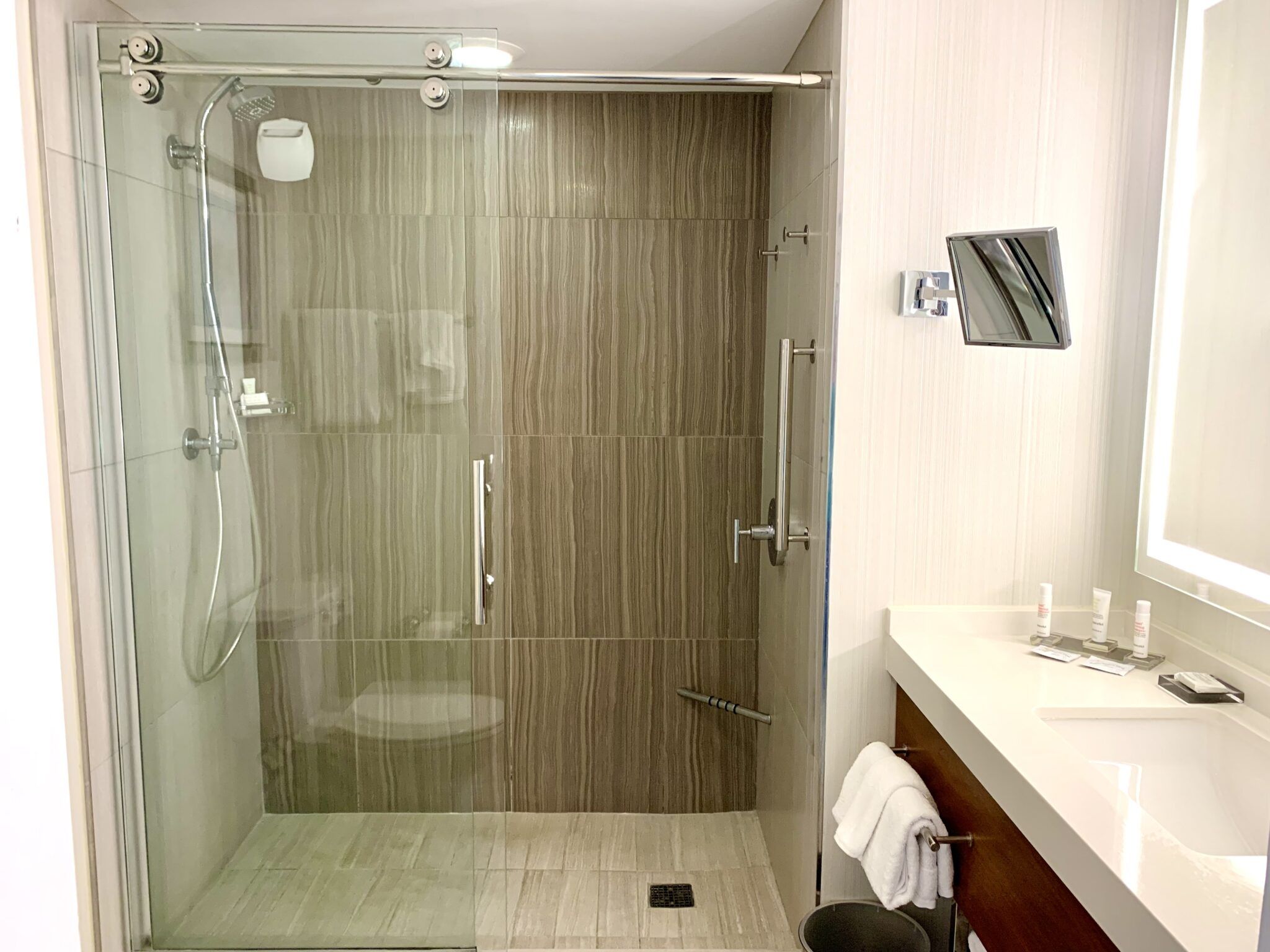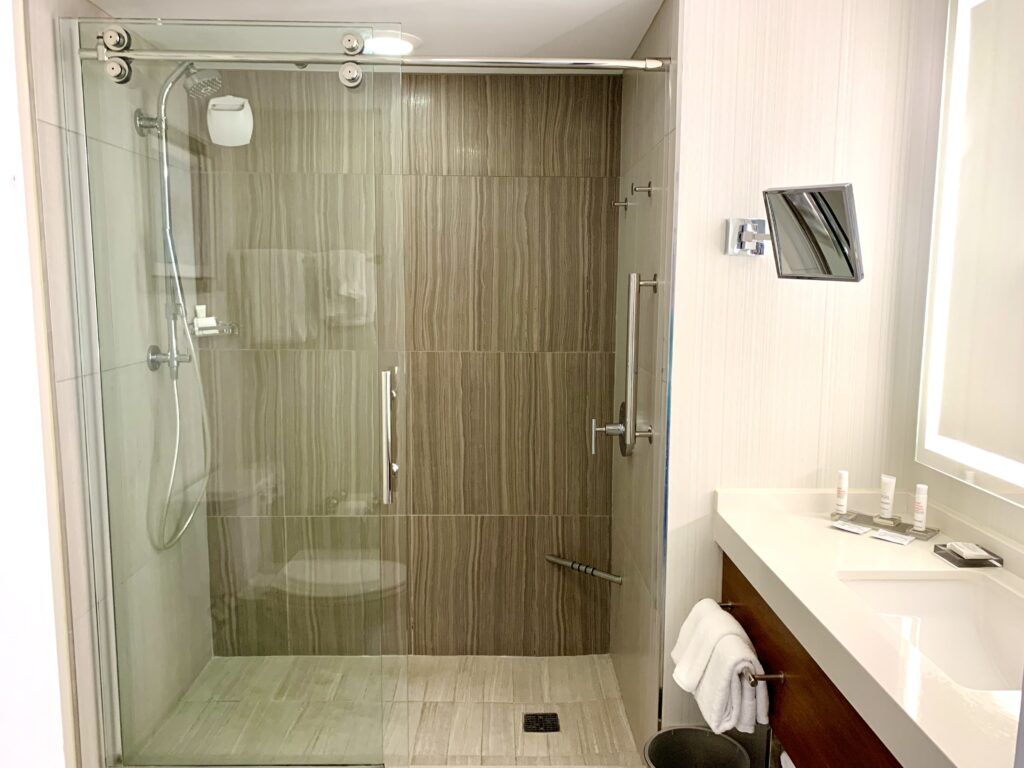 The bathroom was adequate in size for a couple as well, including a glass-enclosed shower and bath products.
Related Post: Best Cruise Ships for 2022
Recap of Marriott Harbor Beach Resort Hotel Review
For our one night, pre-cruise stay at the Marriott Harbor Beach Resort, we were certainly spoiled. In fact, we did not have enough time to experience all the hotel has to offer.
We spent most of our day on the beach, even if the weather didn't want to fully cooperate. While the lagoon pool looked great, we didn't get a chance to take a dip.
For dinner, we enjoyed the outdoor terrace along with food and drinks from the Sea Level Restaurant and Ocean Bar. We even spotted a cruise ship sailing away from Port Everglades.
Overall, the hotel features more than enough dining options and activities to satisfy all types of travelers. The rooms are open-concept and provided more than enough space for the two of us. We particularly enjoyed the ocean views from our balcony.
We can certainly see ourselves staying at this hotel again when cruising from Fort Lauderdale. While a bit pricey, this 4-star hotel provides upscale accommodations for the refined traveler. Whether you are looking to extend your cruise vacation or for a quick beach getaway, you can't go wrong with the Marriott Harbor Beach Resort hotel.
Comments
Do you agree with our Marriott Harbor Beach Resort Hotel Review? Have you stayed at this hotel? Drop us an anchor below with your picks for top hotels in Fort Lauderdale, Florida!