You can't get much closer to the cruise port than this hotel! At the Fairmont Waterfront Hotel in Vancouver, British Columbia, you are literally a crosswalk away from boarding your ship. On our recent re-positioning cruise from Hawaii to Vancouver, we spent a post-cruise night at this hotel, and we can assure you that the hotel offers a lot more than just an ideal location. See why this hotel is a great pre-cruise stay for your next Alaskan cruise in our Fairmont Waterfront Hotel Review.

Fairmont Waterfront Hotel Review in Vancouver
When reviewing places to stay following our Celebrity Solstice Hawaii Cruise, there were several options that were highly recommend by travelers. Located directly across the street from the cruise terminal, the Fairmont Waterfront Hotel seemed like the ideal pick for us.

Although there is a hotel located within the same complex as the cruise terminal, we found it a bit chaotic when disembarking and couldn't wait to get outside and disperse from the crowds.
Not to be confused if you are booking with a group, there is a sister Fairmont property down the road as well.
Walking off the ship at our designated time, we arrived at the hotel by 10 am. Luckily, there was a room available so we could drop off our luggage and explore the city.
Related Post: Top Alaska Cruises
A Room With a View
We were not sure exactly what kind of view to expect with our Deluxe City View Room, but we were pleasantly surprised. When we opened the door to our room, we couldn't believe that we had a direct view of our ship! The over-sized window looked out to the cruise terminal with a full frontal sighting of Celebrity Solstice. We could not ask for a better vantage point.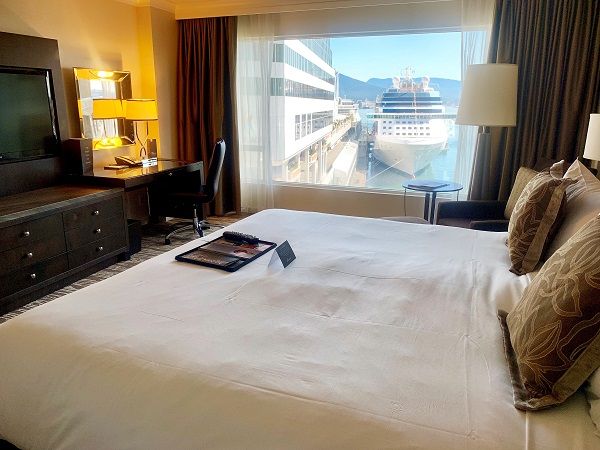 In terms of the room itself, the Fairmont Waterfront is pretty typical of most modern, moderately priced hotels (Our room was priced $340 USD for the night). Our large 330 square foot room was inviting and offered plenty of space.
The hotel offer included WiFi throughout the building, which is always a nice perk for us.
There was a large, standard desk that included technology ports and outlets for devices. There was also an additional sitting area with an ottoman and small table that was the perfect location to cozy up and admire our view.
All of the room furnishings looked brand new. While the decor and ambiance was rather neutral and muted like most other hotels, it provided the simple elegance we needed for our post cruise night in the city.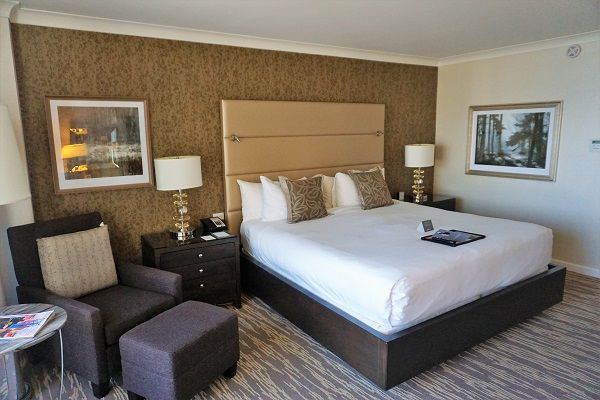 Dropping our bags off at the room, we spent all day touring Vancouver and racking up close to 20K steps! So, the plush Sealy Posturepedic pillow-top bed was the perfect retreat before our early flight home in the morning.
The remodeled bathrooms are also elegant and spacious offering a rain spa shower, dark wood finishings, and upscale bath products.

Convenience and Luxury Combined
Beyond the recently renovated accommodations, the hotel offers several other perks as well. Besides being ideally situated next to the cruise terminal, the hotel is also the perfect starting point for other adventures in the city. If you are not sure what to do while in Vancouver, you can always ask the onsite Concierge team.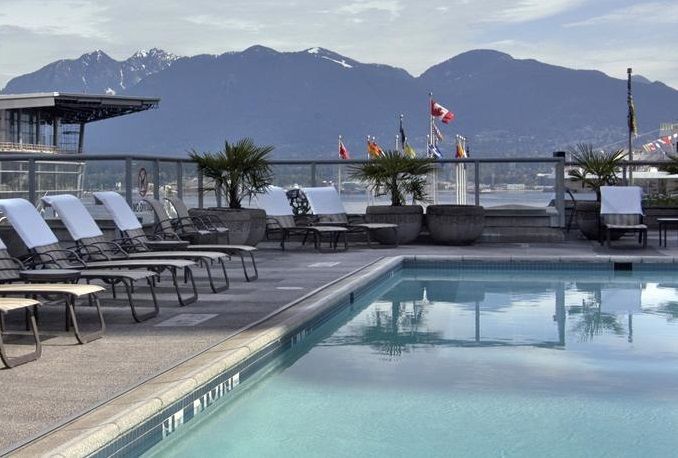 In addition, the hotel has a 24 hour fitness center, a heated outdoor pool, and a restaurant. Given our short stay was packed with mostly sightseeing, we did not make use of any of these facilities.
The service was friendly and accommodating, even providing me with free cough drops. Arranging our taxi to the airport in the morning was handled quickly and efficiently by the concierge (There is no Uber currently in Vancouver).
For those taking an Alaskan cruise from/to Vancouver, we could not recommend this hotel enough. Do make sure you book early though, as the Fairmont Waterfront does sell out quickly during cruise season.

Comments
Have you stayed at the Fairmont Waterfront Hotel in Vancouver, BC? What are your favorite hotels near this popular Alaskan cruise departure port? Drop us an anchor below with your hotel reviews.