MSC Cruises' newest ship, MSC Seascape, just made her debut in the United States, and we set sail on her first cruise from Miami. Now, we are back and have put together this MSC Seascape Restaurants Guide with menus so you can see what is available at the different restaurants onboard this latest Seaside EVO Class ship.
MSC Seascape Restaurants Guide With Menus
What Are the Complimentary MSC Seascape Restaurants?
The Green Wave Restaurant
Cala Jondal Restaurant
Aegean Restaurant
Skyline Restaurant
The Marketplace Buffet & Restaurant
There are several dining options on the list of MSC Seascape restaurants. However, when compared to competitor cruise lines, the complimentary venues are limited to just the main dining room and the buffet. There are no other quick service food options included in the cruise fare. This means no pizza parlor, no poolside burger joint or Mexican fare, and no café.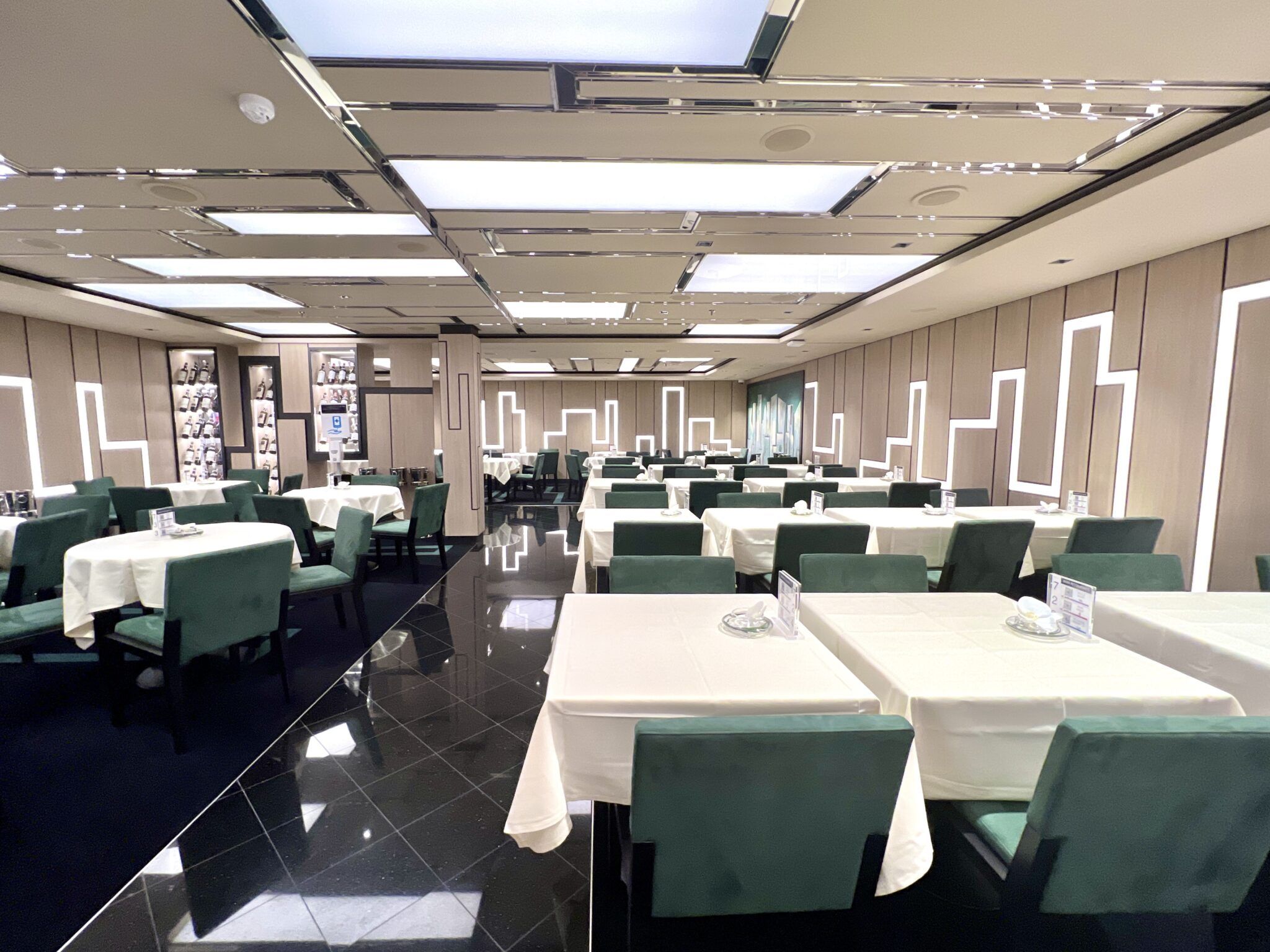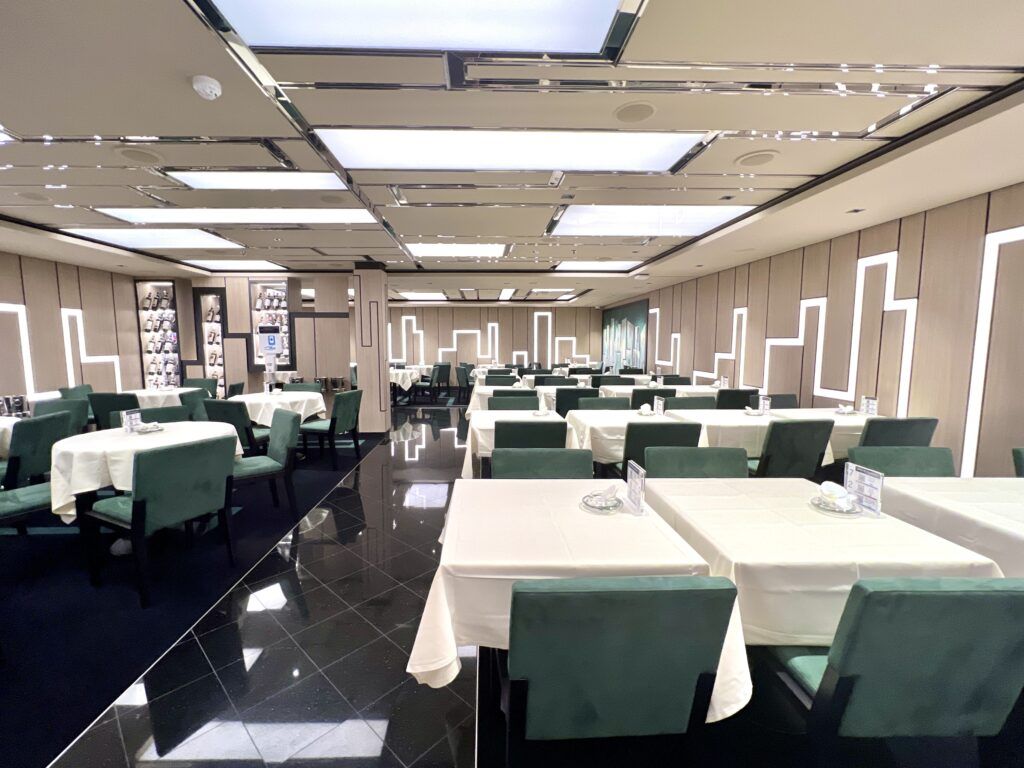 Main Dining Rooms (Decks 5, 6, 7)
When it comes to the main dining room on MSC Seascape, there are four different venues and several different dining times. Guests booked in the Bella and Fantastica Experiences will be assigned a dining time, with Fantastica getting priority for requested dining times.
Aurea Experience guests get My Choice Dining in a separate dining room on MSC Seascape. My Choice Dining allows you to choose a different dining time each night of your cruise. Aurea guests can dine in the Skyline Restaurant (Deck 7) between 6 and 9:30 PM.
The three restaurants reserved for assigned dining are The Green Wave Restaurant (Deck 5), Cala Jondal Restaurant (Deck 6), and Aegean Restaurant (Deck 7). These restaurants offer Early Seating and Late Seating with times as follows:
Early Seating
The Green Wave Restaurant 5:15 PM and 7:30 PM
Aegean Restaurant 6 PM
Cala Jondal Restaurant 6:15 PM
Late Seating
Aegean Restaurant 8:30 PM
Cala Jondal Restaurant 8:45 PM
The Green Wave Restaurant 9:30 PM
The Green Wave Restaurant is also open for breakfast daily from 7/7:30 to 9/9:30 AM and for lunch on select days from 12 to 1 PM.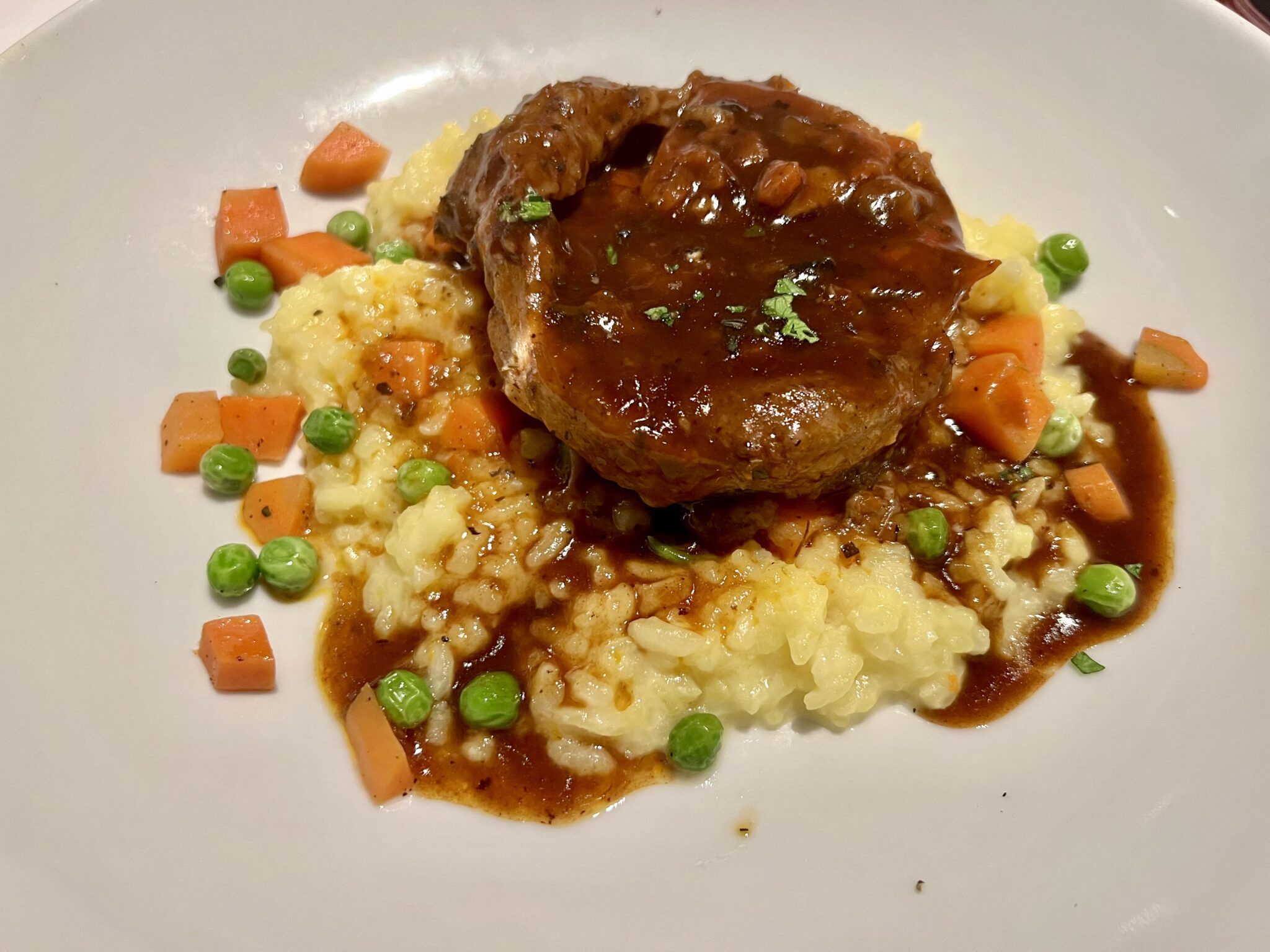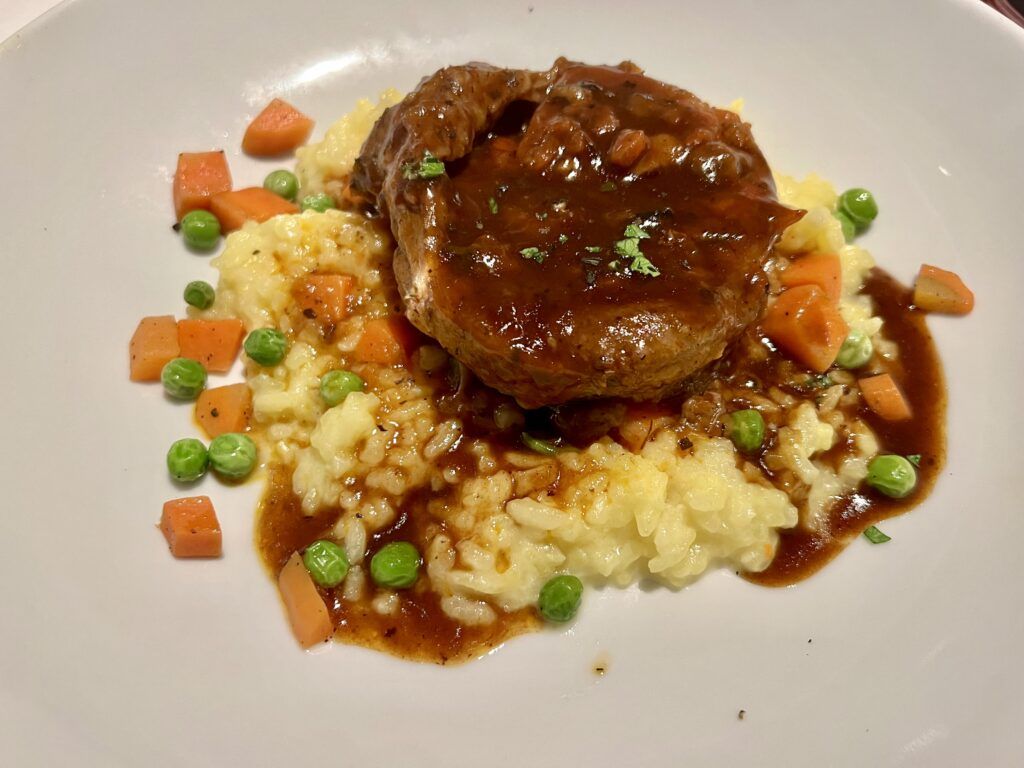 Regardless of whether you have Assigned Dining or My Choice Dining, all four restaurants offer the same rotational menu. These menus do change nightly with a list of Classic Favorites that stay the same throughout the cruise. Each night, the menu includes a selection of starters, entrees, and desserts along with a Chef's Suggestion. Further, you are free to order as much as you want from the menu.
Main Dining Room Menus: Breakfast | Lunch | Dinner | Wine List
EXCLUSIVE SAVINGS: Get Deals on MSC Seascape Cruises!
Marketplace Buffet & Restaurant (Deck 16)
The Marketplace Buffet & Restaurant is the only casual, complimentary dining option available on MSC Seascape. This venue is open for breakfast from 6 AM to 10:30 AM daily with continental items available an additional hour from 10:30 to 11:30 AM.
Lunch is served from 12 to 3/4 PM with afternoon snacks available from 3:30/4 to 5 PM. Dinner is available 6 to 9 PM with late night snacks from 10 to 11:30 PM.
At breakfast, the Marketplace Buffet features your typical offerings. There is a custom egg and omelet station all the way aft in the venue. Additional menu items include options like scrambled eggs, breakfast meats, pancakes and waffles, and breakfast pastries. Cereal, fruit, and other continental items are available as well.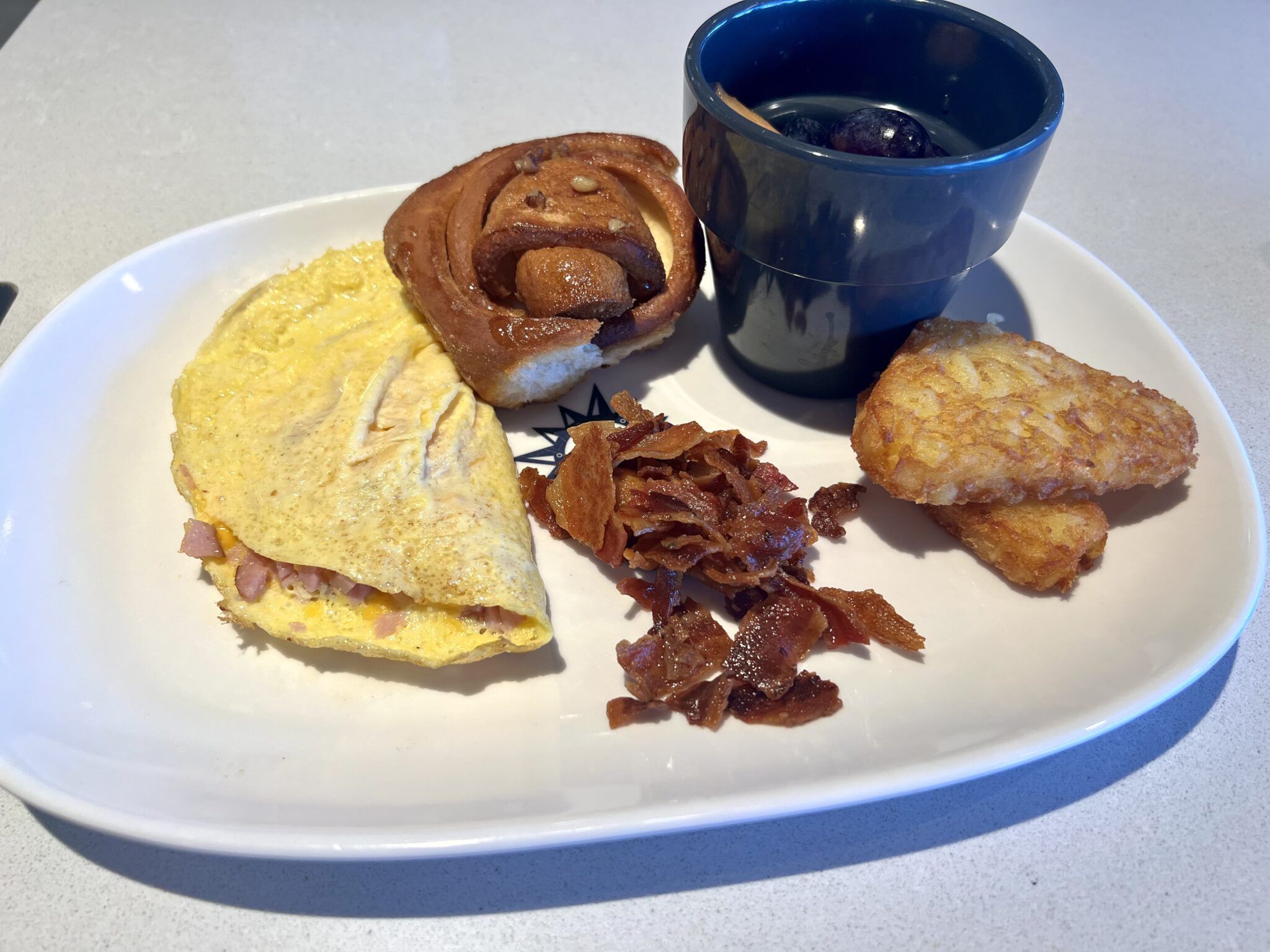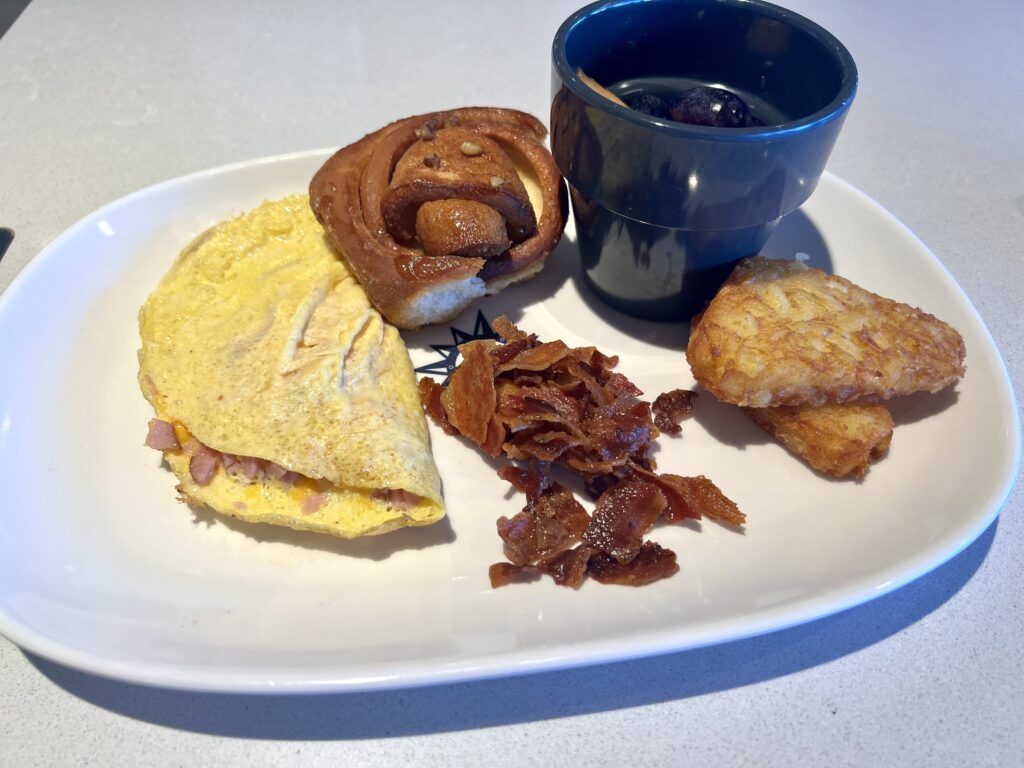 Lunch and dinner features a number of different stands with various food offerings. These include a pizza station, a pasta station, a salad bar, international hot entrees, charcuterie with meats and cheeses, and hamburgers and hot dogs.
These selections are scattered across two separate dining areas with the midship elevators separating the venue into two restaurants. Unfortunately, the setup is rather sporadic and the signage is extremely small causing mealtimes to be rather chaotic and long lines to form.
MSC Yacht Club Restaurant (Deck 18)
The Yacht Club is MSC Cruises' "ship within a ship" concept. Not only does the Yacht Club feature the most luxurious accommodations on the ship, it includes an exclusive sundeck, restaurant, lounge, and bar. These facilities require keycard access and are limited to only those staying within the Yacht Club.
The MSC Yacht Club Restaurant is located on Deck 18 of MSC Seascape. This venue serves breakfast, lunch, and dinner featuring a menu with more upscale selections than the main dining rooms. The lunch and dinner menus do change daily.
Yacht Club Restaurant Menus: Breakfast | Lunch | Dinner | Wine Menu
What Specialty Restaurants are on MSC Seascape?
Venchi 1878 Chocolate Bar
Hola! Tacos and Cantina
Butcher's Cut
Kaito Teppanyaki
Kaito Sushi Bar
Ocean Cay Restaurant
Venchi 1878 Gelato
While you certainly do not have to pay extra for dining on MSC Seascape, the specialty restaurants do feature some of the best food on the ship. If you choose to dine at the available specialty restaurants, you can either pay a la carte, pay a set fee for the limited Dining Experience menu, or purchase a specialty dining package.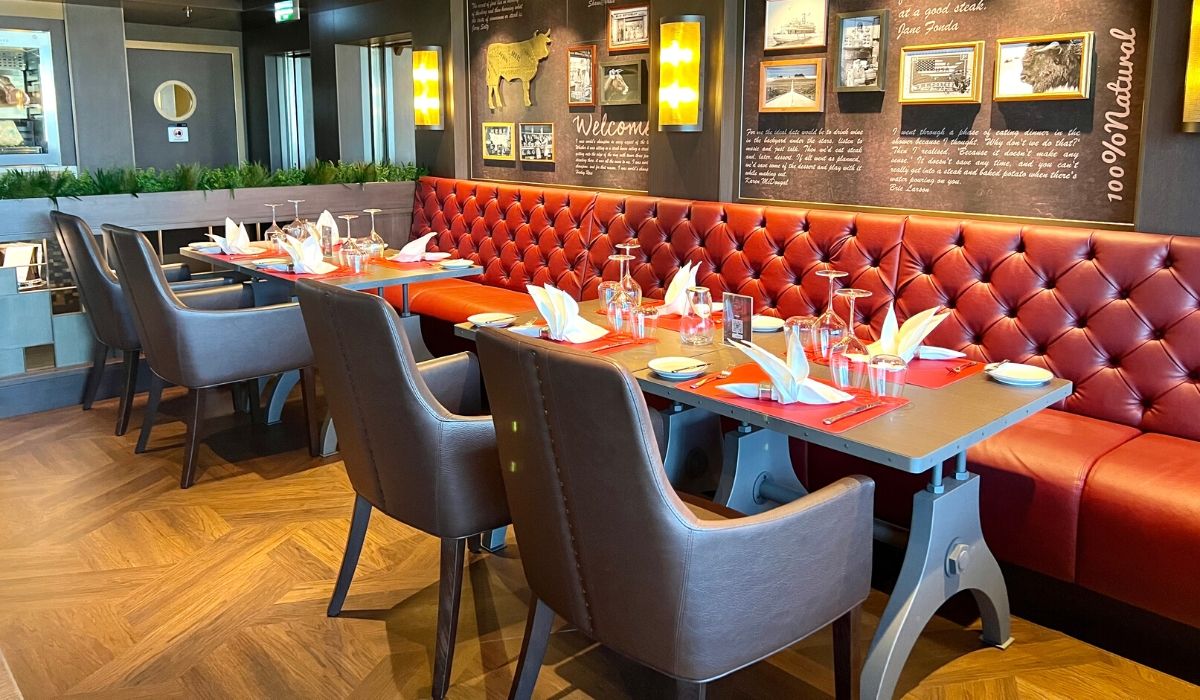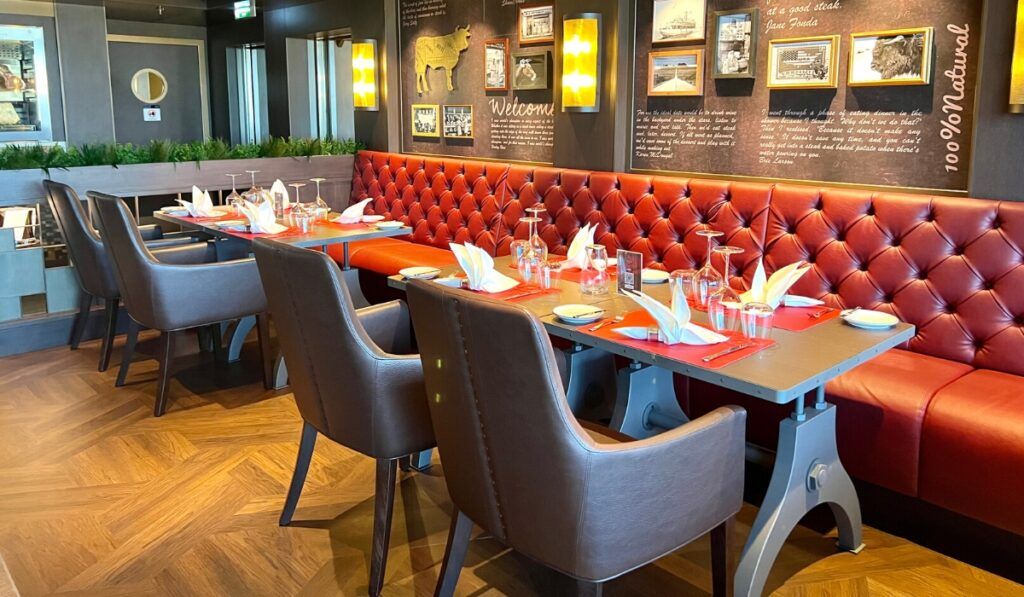 It is important to note that the specialty dining packages on MSC Cruises are slightly different than you find on most other cruise lines. Each package includes specific specialty restaurants. Thus, you are not able to customize your restaurant picks. Further, if you are on a dining package, you must order items off the limited Dining Experience menu and can purchase additional items off the full menu at a la carte prices.
If you plan to dine at any of these MSC Seascape restaurants, you should make reservations either pre-cruise or once onboard the ship at the desk located near the specialty restaurants on Deck 8.
Fantastica and Aurea Experience guests get a 20% discount on pre-paid specialty dining packages.
SCORE DISCOUNTS ON MSC SEASCAPE CRUISES NOW!
Venchi 1878 Chocolate Bar (Deck 6)
The Venchi 1878 Chocolate Bar is a chocolate lover's paradise. This venue serves a variety of non-alcoholic and alcoholic beverages made with the brand's signature chocolate including some delicious espresso-based drinks. The bar also serves a variety of other chocolates and gelato that are crafted on board in an open-air kitchen.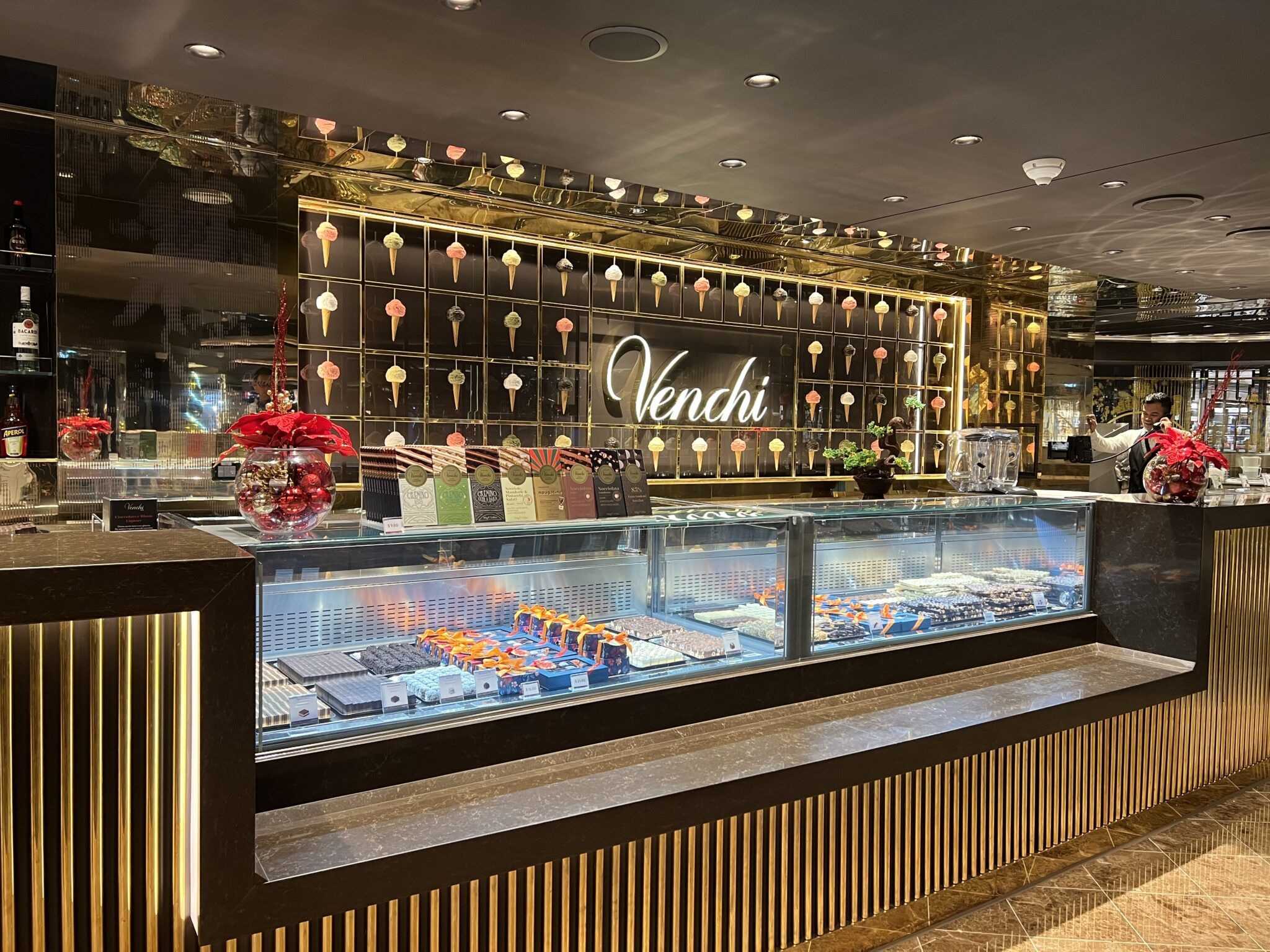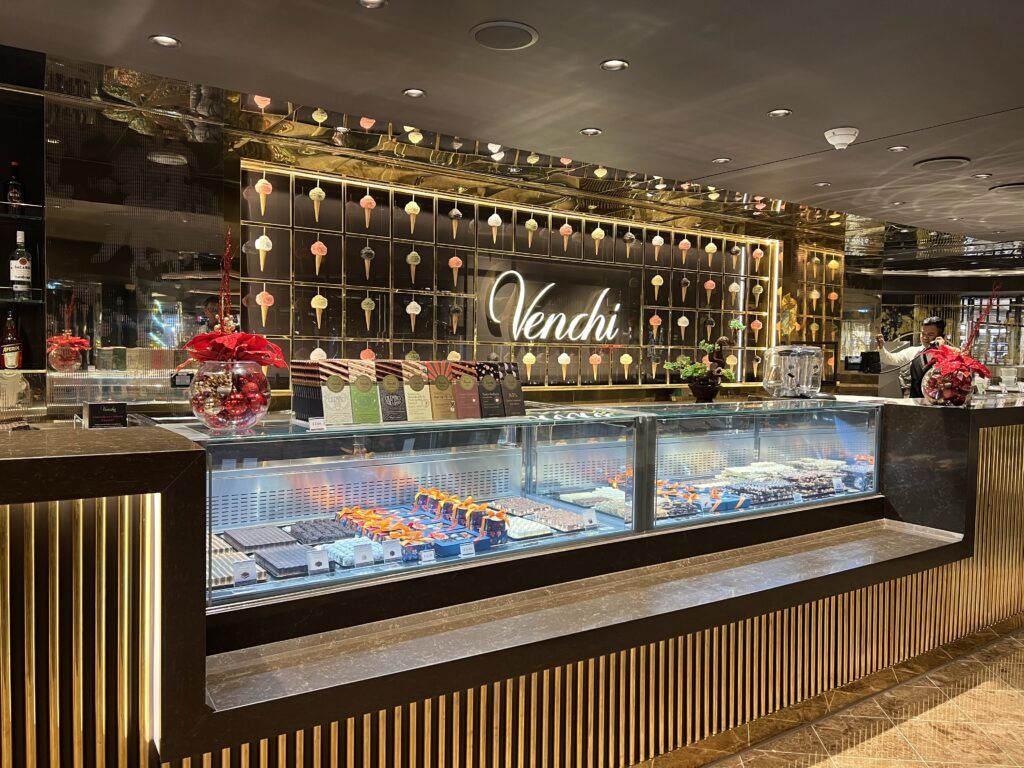 Venchi is generally open every day from 8 AM to midnight. Unfortunately though, none of the drinks (or other items) at Venchi are included in any of the MSC drink packages.
Venchi 1878 Chocolate Bar Menu
Hola! Tacos and Cantina (Deck 8)
Hola! Tacos and Cantina serves up Mexican-style street food in a vibrant open setting restaurant, with a nearby bar also serving up some tasty drinks.
At Hola!, guests can choose an all you can eat option for a set fee or pay a la carte for each menu item. The menu features a variety of Mexican favorites like guacamole, tacos, enchiladas, burritos, nachos, quesadillas, and more.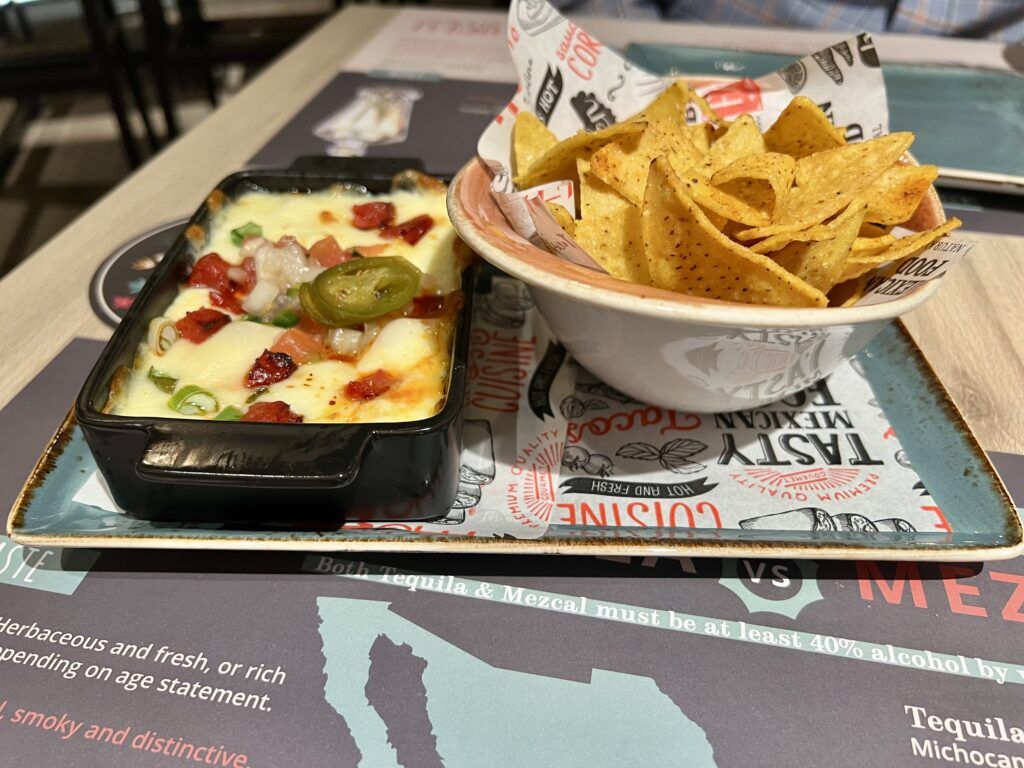 This is a great option for a casual lunch or dinner on MSC Seascape. Hola! is open nightly for dinner from 6 to 9:30/10 PM and for lunch from 12 to 3 PM.
Butcher's Cut (Deck 8)
The Butcher's Cut is the signature steakhouse on MSC Seascape. This upscale restaurant is one of the best at sea in our opinion, featuring premium cuts of beef alongside various starters, sides, and desserts. There's also a signature cocktail menu and wine list that pairs perfectly with your dinner.
The venue features an open kitchen, a large dining room, and additional al fresco seating on the waterfront.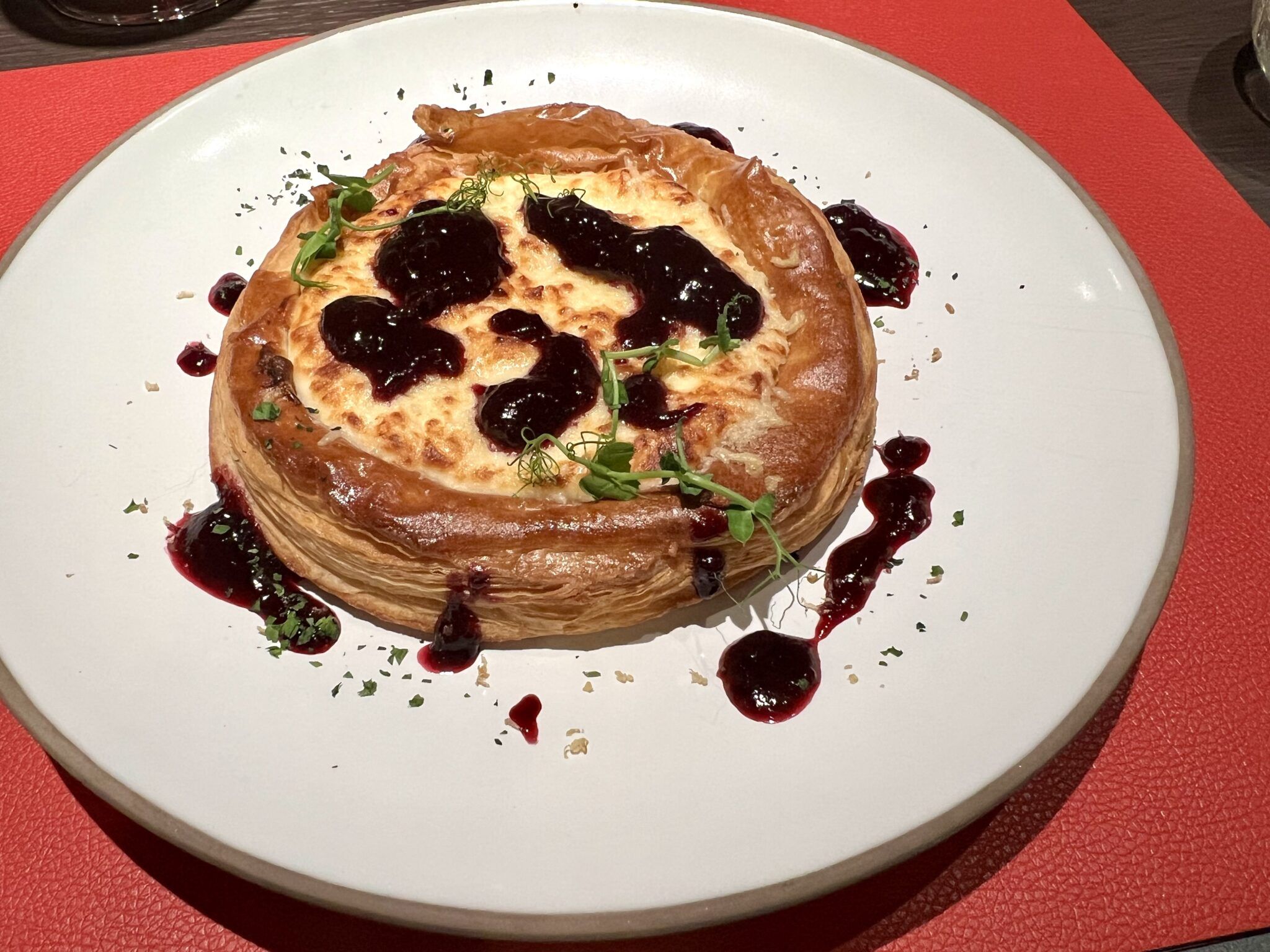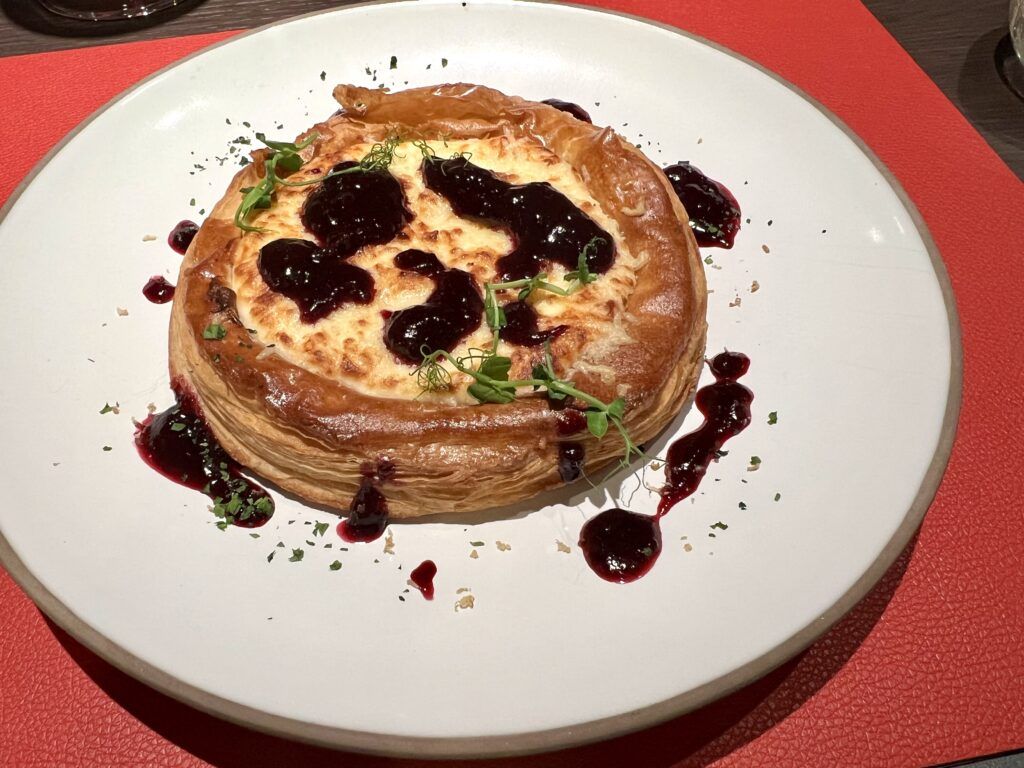 At the Butcher's Cut, cruisers can choose to pay a flat fee for the Dining Experience menu or purchase items from the full menu at a la carte prices.
The Butcher's Cut is open nightly for dinner from 5:45 PM to 9:30 PM and on select days for brunch from 12 to 2 PM.
Kaito Teppanyaki (Deck 8)
Like many cruise lines, MSC Seascape offers a Japanese hibachi-style restaurant. Kaito Teppanyaki is open nightly for dinner from 5:45 to 9:30 PM with set seatings and on select days for lunch from 12 to 2 PM.
This teppanyaki restaurant's menu features set tasting combinations at varying prices. Each begins with a sushi and sashimi plate, miso soup, teppan salad, and fried rice. There is then a fish portion and a meat portion which varies based on which experience you select. The meal then concludes with a pineapple and matcha ice cream dessert.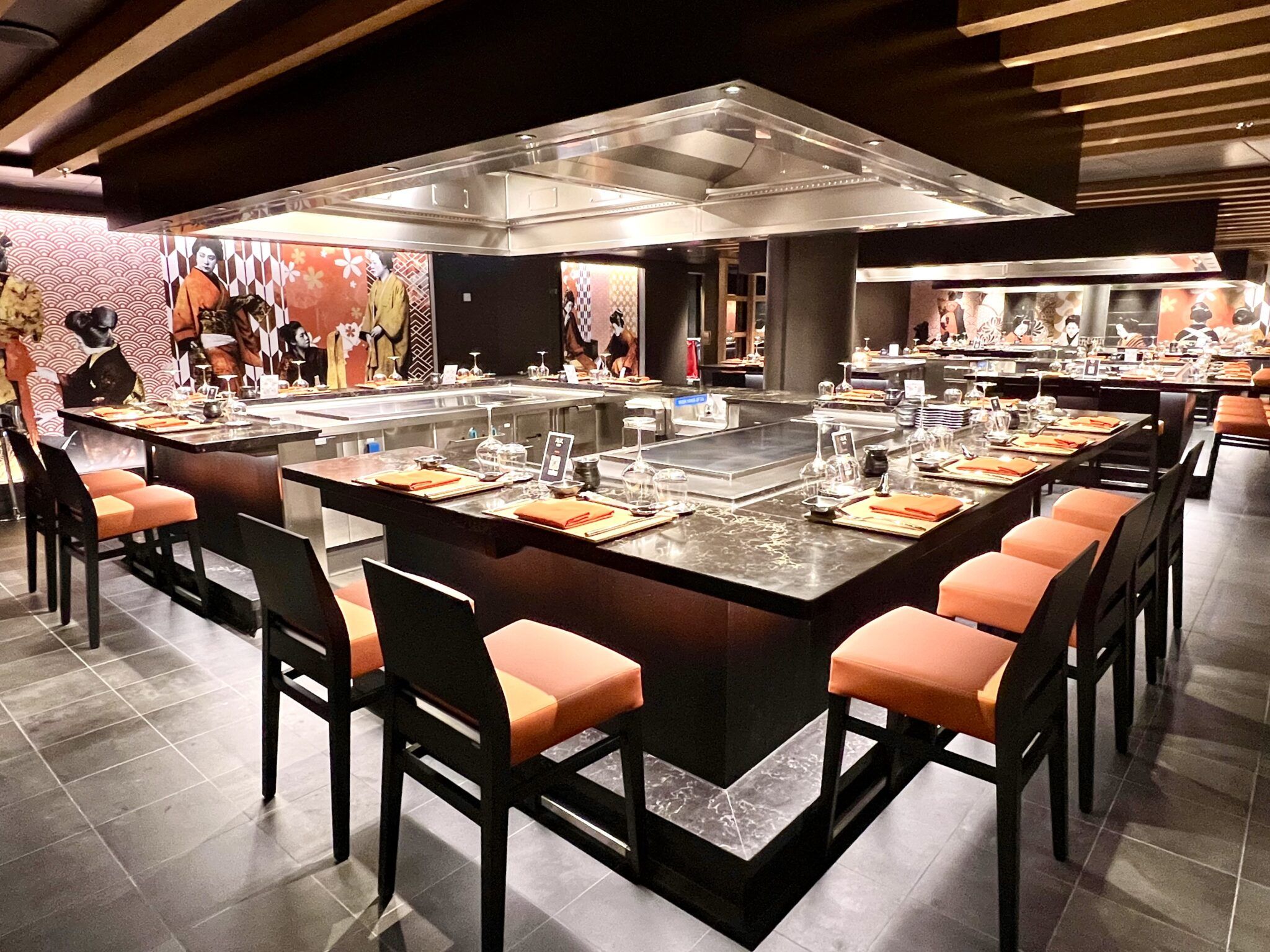 There is an additional vegetarian and kids menu available. Further, the chef will work to customize your selections within reason and price point. For instance, instead of the fish, I got a double portion of chicken.
Once you make your selections, it's time to sit back and enjoy this interactive dinner show. Watch your chef cook up the meal right in front of you with a little singing and fun along the way.
Kaito Sushi Bar (Deck 8)
Unique to MSC Cruises is the Kaito Sushi Bar complete with its own sushi conveyor belt. This venue is priced completely a la carte and is not part of any of the dining packages.
Kaito Sushi is open 5:45 to 9:30 PM nightly for dinner and 12 to 2 PM on select days for lunch.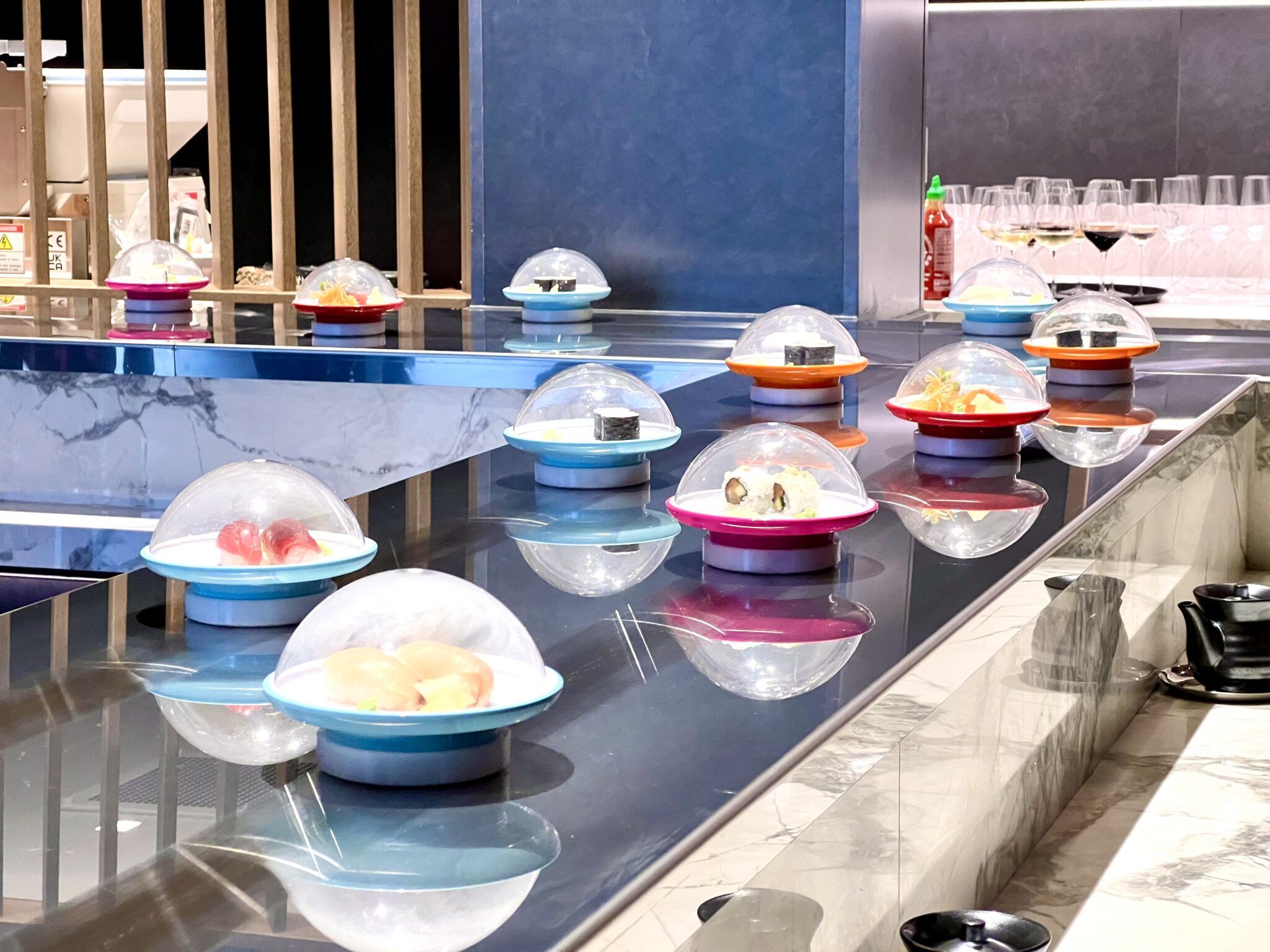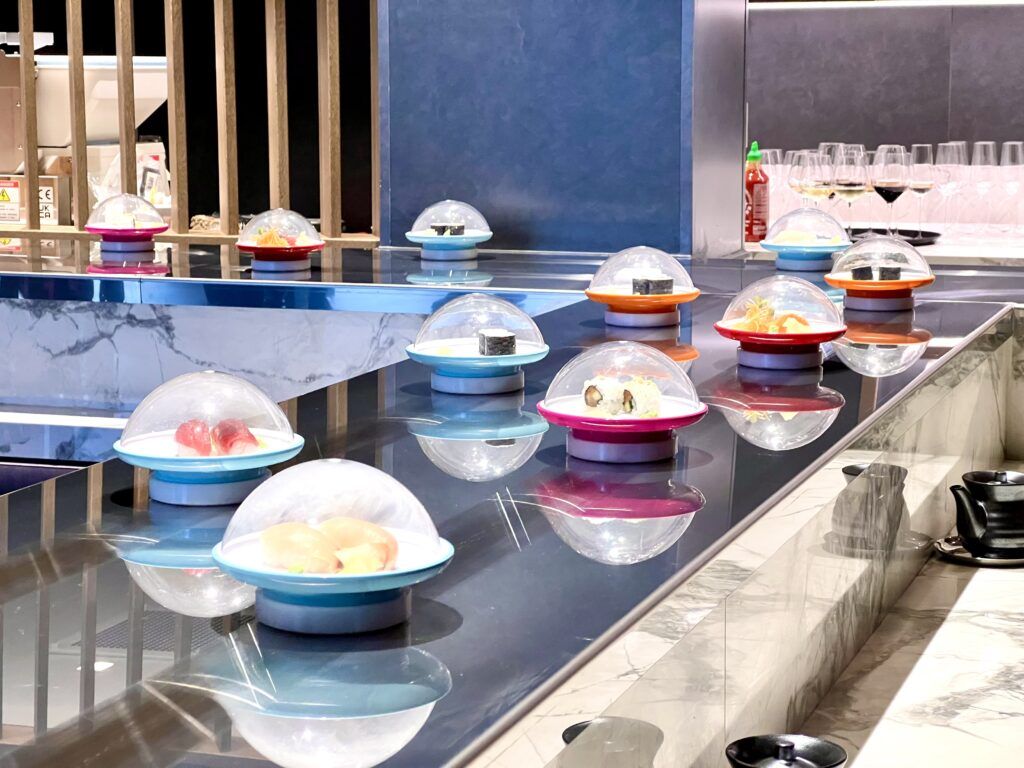 At Kaito Sushi, cruisers can pull up a seat at the bar top and select items from the conveyor belt in front of them. Plates are color-coded based on pricing. There are also additional items on the menu like tempura, teriyaki, soup, noodles, and desserts.
Ocean Cay Restaurant (Deck 8)
Ocean Cay Restaurant is the intimate seafood specialty restaurant on MSC Seascape. Similar to the Butcher's Cut, the Ocean Cay menu features a flat-fee Dining Experience menu and a larger a la carte menu. There are various hot and cold appetizers, main courses such as lobster tail, and desserts.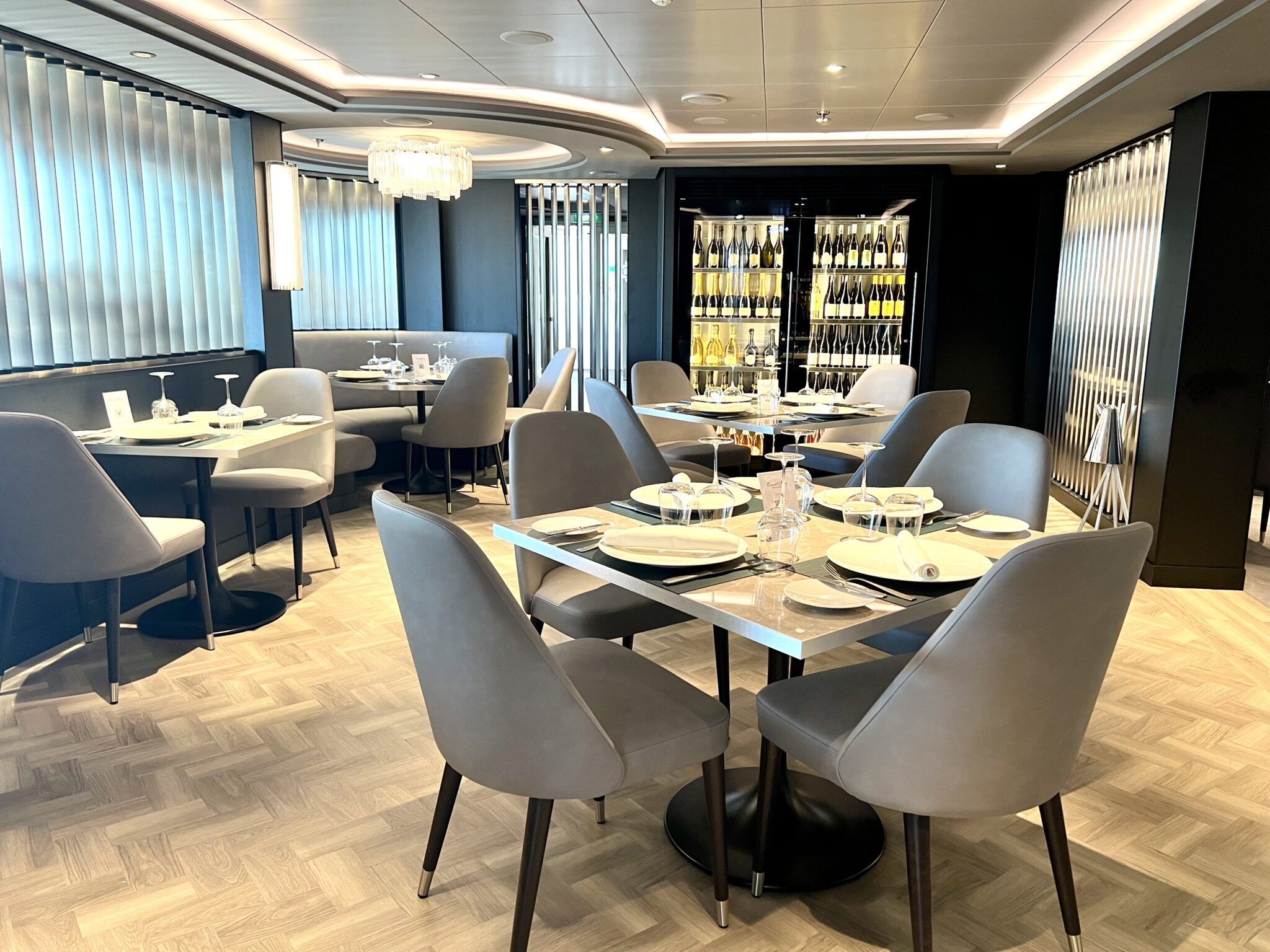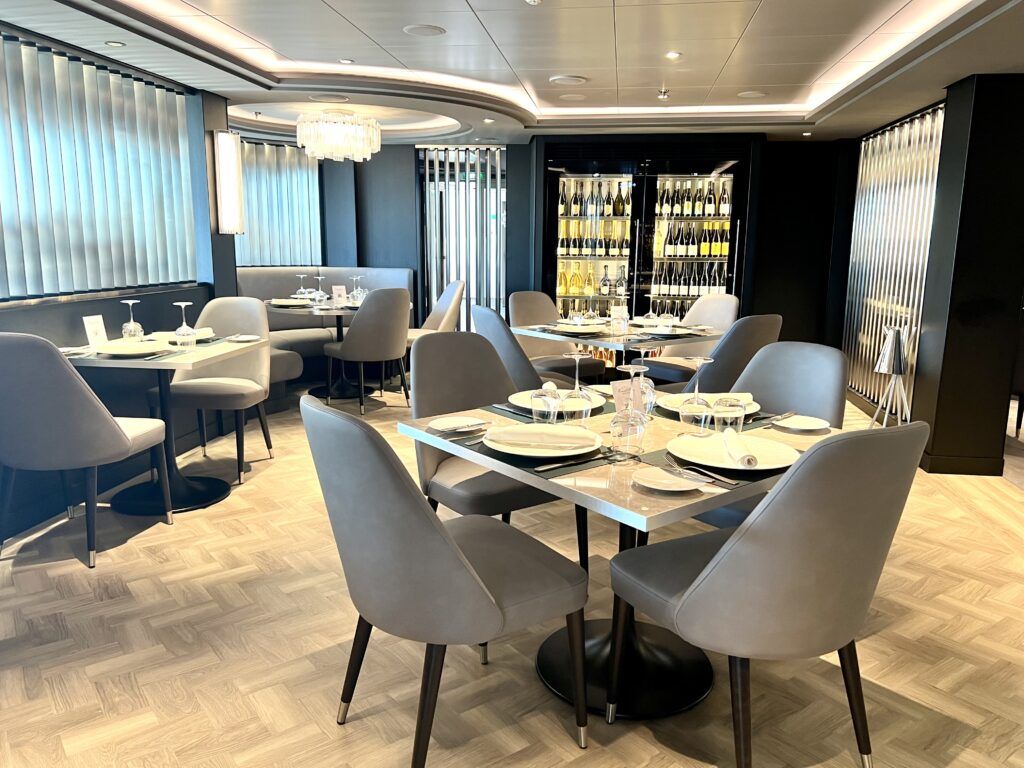 Unfortunately, if someone in your travel party does not like seafood, there are very limited non-seafood items available at this venue.
Ocean Cay Restaurant is open nightly for dinner from 5:45 to 9:30 PM and select days for lunch from 12 to 2 PM.
Venchi 1878 Gelato (Deck 8)
MSC Seascape has several nods to the cruise line's Italian heritage including signature Venchi gelato. A Venchi 1878 Gelato shop can be found aft on Deck 8 near the Infinity Pool. This counter serves a variety of gelato flavors as well as gelato bars, candies, and shakes at up-charge prices.
There are also additional spots to grab some gelato around the ship including near the Jungle Pool Beach Bar on Deck 16 and the Marina Bar on Deck 18. Of course, you can also score this sweet treat at the Chocolate Bar on Deck 6.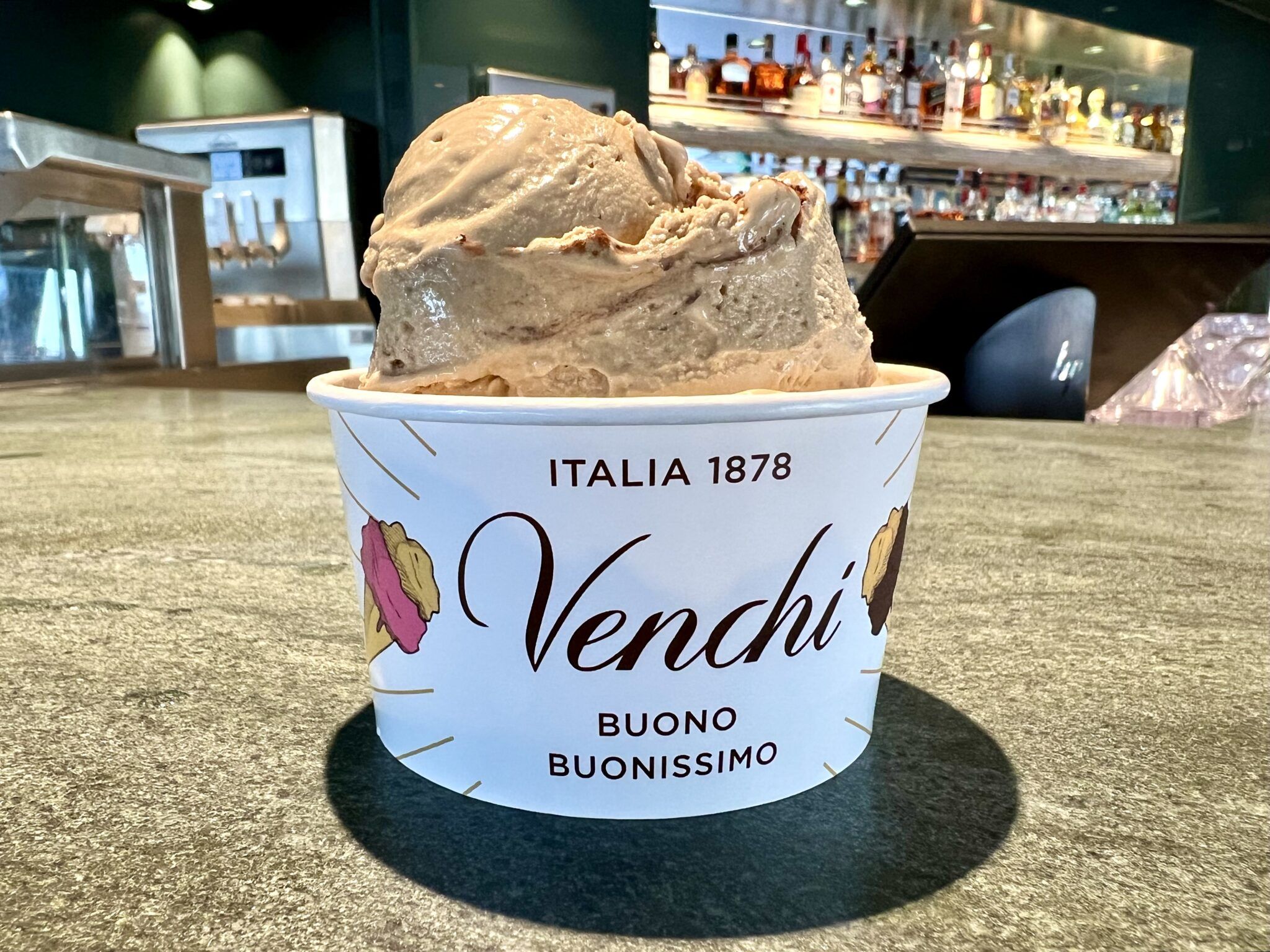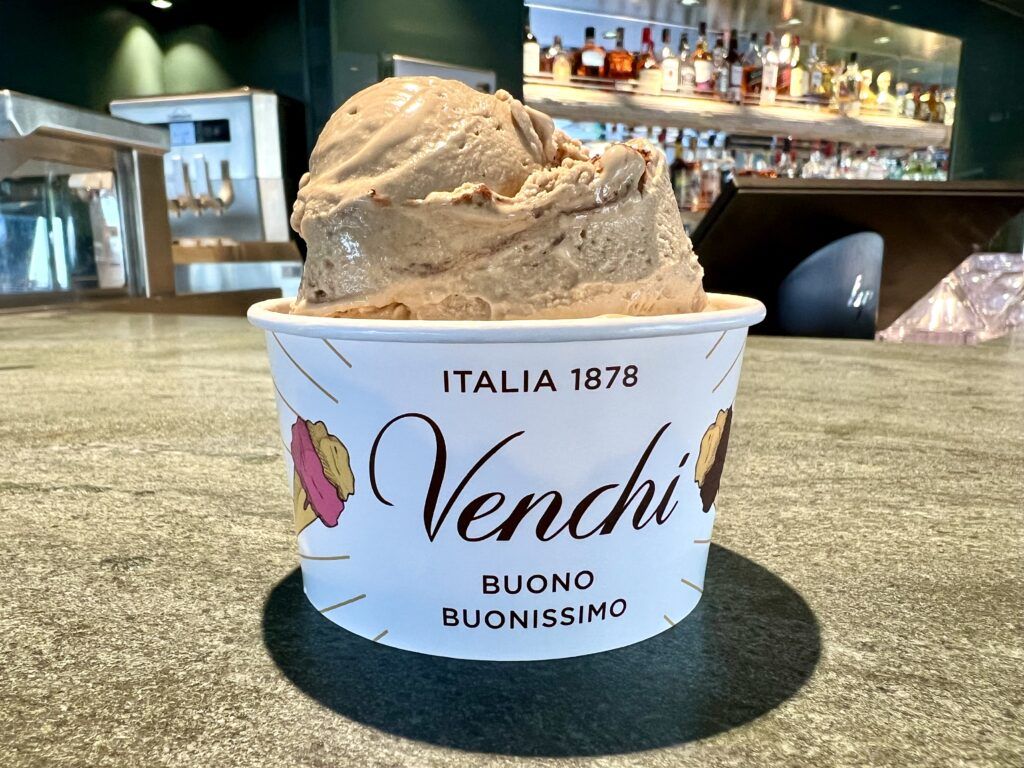 You might be wondering- Is ice cream free on MSC Cruises? Sadly, the gelato is not included in any of the MSC drink packages or dining packages. Oddly, soft serve ice cream is also an up-charge on the ship (only included in the non-alcoholic drink packages).
Technically, soft serve ice cream is supposed to be available for free during the afternoon snack hour in the buffet, but we can't confirm that it actually was.
Room Service
Room Service delivery is included with Fantastica and Aurea experiences on breakfast and 24 hour room service orders. Bella Experience guests will be charged $3.50 for delivery. However, you do still need to pay for the menu items ordered regardless of your Experience level.
Continental breakfast items are complimentary, but other items range in price from $3 for a sandwich to $7.95 for dinner items like pasta, salmon, a burger, or a NY strip steak.
Room Service Breakfast | All Day Menu
BOOK NOW: MSC Seascape Cruises on Sale!
Comments
Do you have plans to cruise on the new MSC Seascape? What is your favorite from the list of MSC Seascape restaurants? Drop us an anchor below to share your dining preferences on MSC Cruises.