SCROLL DOWN TO WATCH OUR CELEBRITY EDGE CRUISE REVIEW VIDEO!
Celebrity Edge Cruise Ship Overview
Celebrity Edge debuted in late 2018 to much fanfare. The newest build for Celebrity Cruises in nearly a decade, this 130K gross ton ship set sail with many new features and amenities not found on any other cruise ship.
Among the stand-out features is the multi-purpose Magic Carpet. This cantilevered deck serves as a bar, restaurant, and a disembarkation gateway for tender ports of call.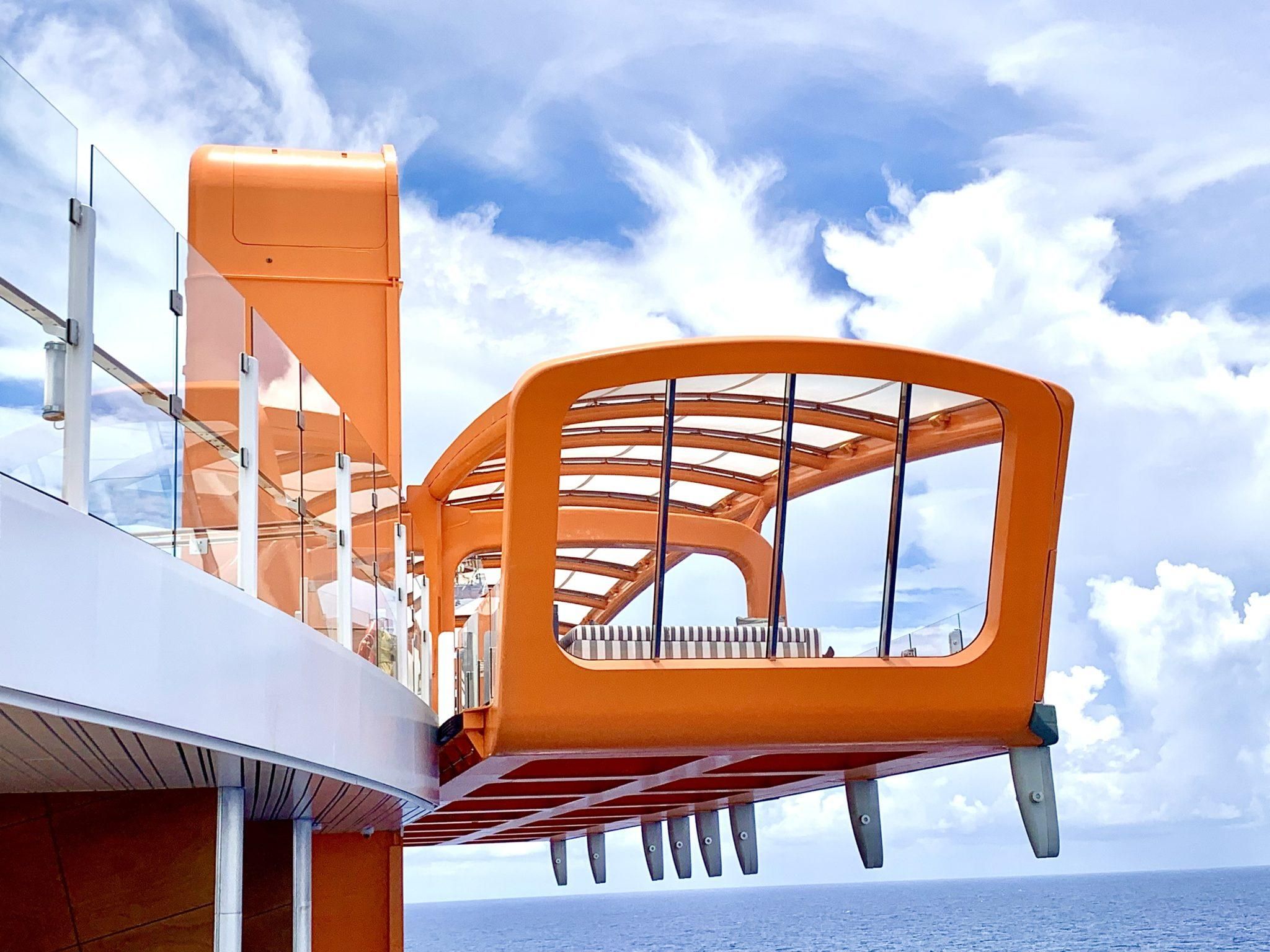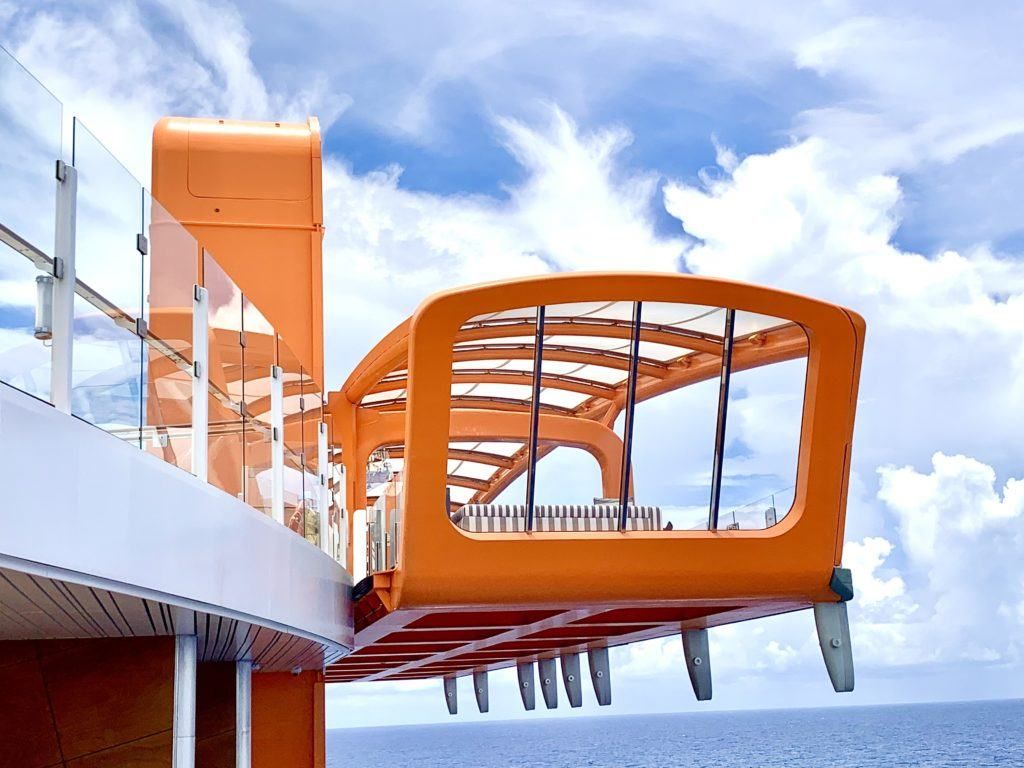 Celebrity Edge is also home to the dynamic space Eden. With a bar, a casual quick service cafe, an upscale experiential restaurant, and a performance stage, not to mention some great aft views, this venue takes on many forms throughout the cruise.
The ship also features four unique main dining rooms, each with an "Exclusive" section on the menu.
Other innovative spaces include a state-of-the-art main theater, a reimagined pool deck, and the tranquil Rooftop Garden.
This premium cruise ship offers the elegance, style, and service that you would expect to find on a luxury cruise line along with a variety of activities and events found on mainstream mega-ships.
Even better, Celebrity Cruises now offers Always Included pricing.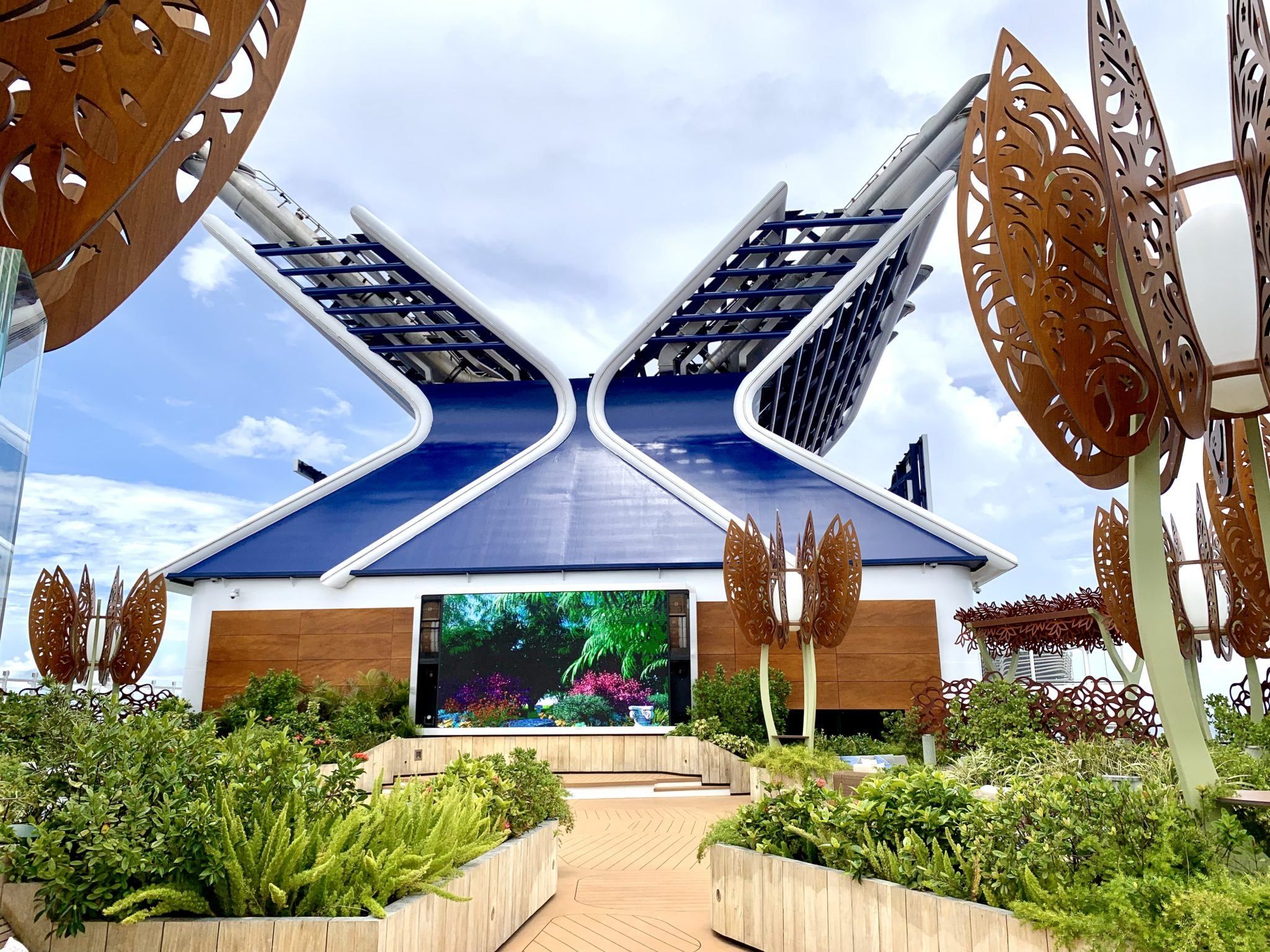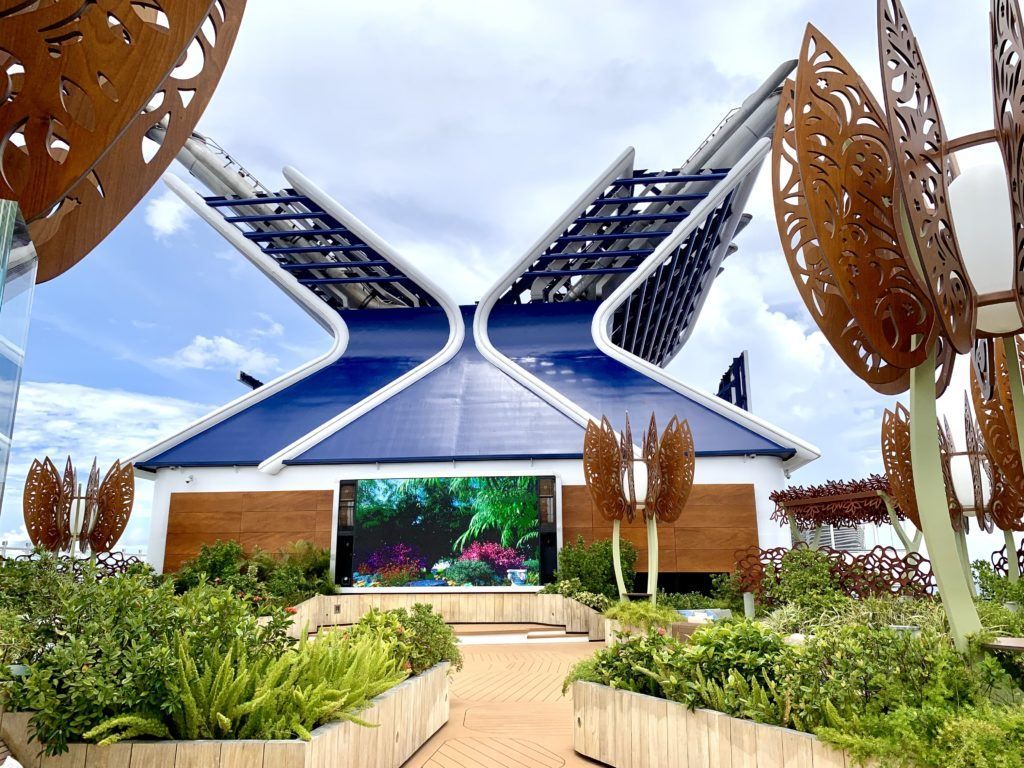 We sailed on Celebrity Edge during her inaugural season in January 2019. Happily, we can report that the ship and the cruise experience remain relatively unchanged.
Being the first cruise ship back in the United States, the crew and passengers were equally excited for this momentous voyage. With Captain Kate at the helm, someday is finally here for Celebrity Cruises.
Continue reading to find out exactly what it is like to cruise again with our day-by-day Celebrity Edge Cruise Review for 2021.
Related Post: Guide to Celebrity Cruises Ship Classes
Complete Day-By-Day Celebrity Edge Cruise Review
Celebrity Edge Cruise Review- Day 1
Here We Go Again
After 15 months without a cruise, we were heading off on our second cruise of the month. Having disembarked Royal Caribbean's Adventure of the Seas just a week prior, it was time to head to Florida for the first cruise from the United States.
Luckily, our pre-cruise travel day was uneventful. We arrived at our pre-cruise hotel, Marriot Harbor Beach, without issue. Unfortunately, the weather did not want to cooperate. Still, we were able to relax, enjoy the hotel's amenities, and score a bit of beach time in between the rain drops.
We also made sure to complete the Celebrity Cruises health questionnaire. This questionnaire must be completed in the app 24 hours prior to boarding.
Fortunately, during our pre-cruise check-in process, we were assigned a 12 pm embarkation time. This was the earliest time slot for arrival.
On embarkation morning, we were eager to get to Port Everglades, but we knew that boarding times were now being enforced. Thus, with much anticipation, we waited in the hotel lobby for a bit before requesting an Uber to the port.
With timely transportation and far less traffic with only one ship in port, we arrived to Terminal 25 by 11:50 am. There was already a small line of eager cruisers forming.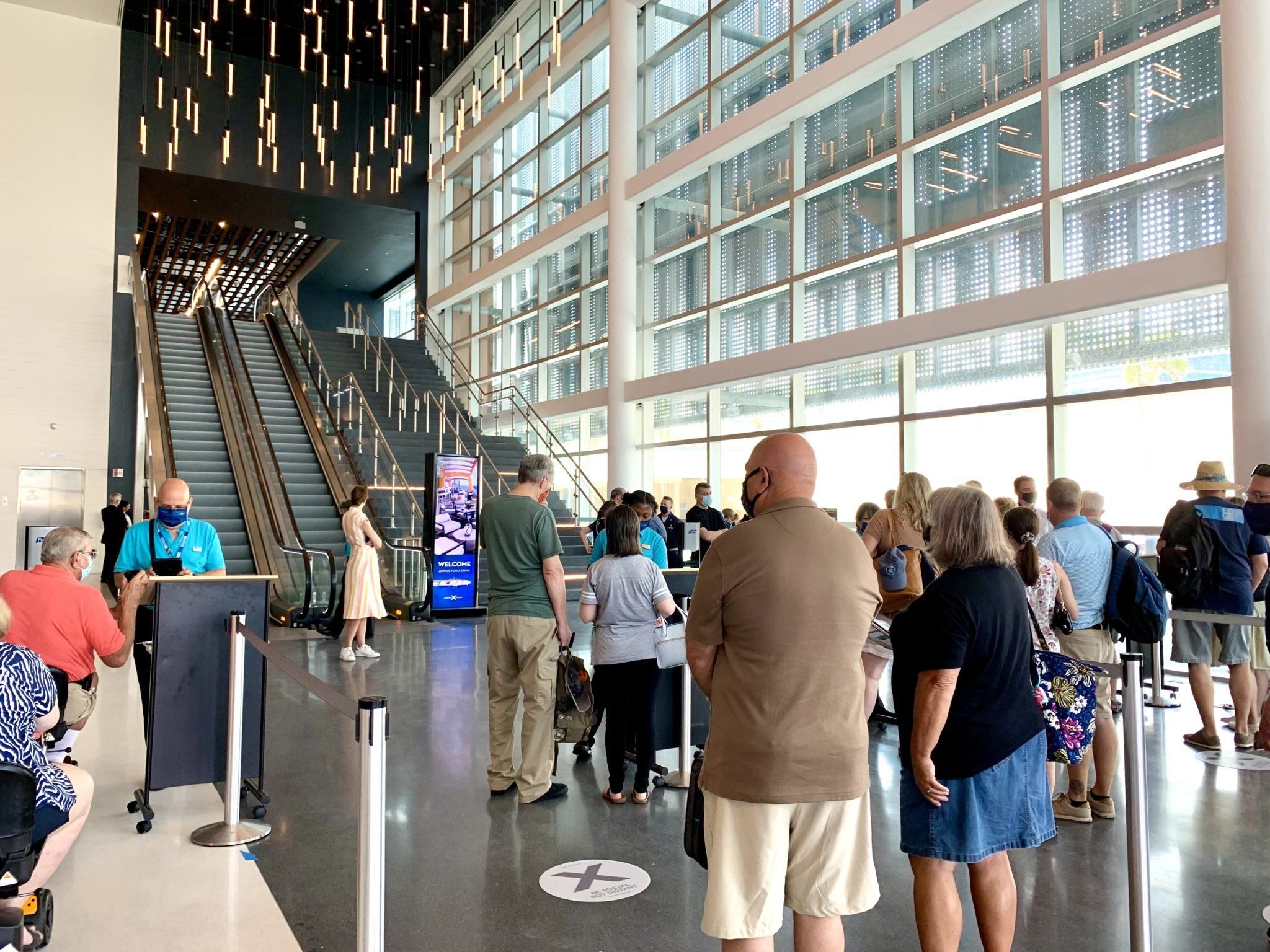 The helpful agents guided us through the enhanced check-in process. This included validating our Xpress passes and passports. We were then asked to voluntarily show proof of vaccination and attest that there had been no change in our health status during the past 24 hours.
Through the first check-point, it was on to security. With no lines, our carry-on items were scanned and it was on to the next check-point. With a scan of our Xpress passes via the app, it was only a matter of minutes before we were allowed to proceed to the gangway.
To our surprise, we were greeted by the Captain herself, the one and only Captain Kate. Of course, we couldn't pass up this photo opportunity.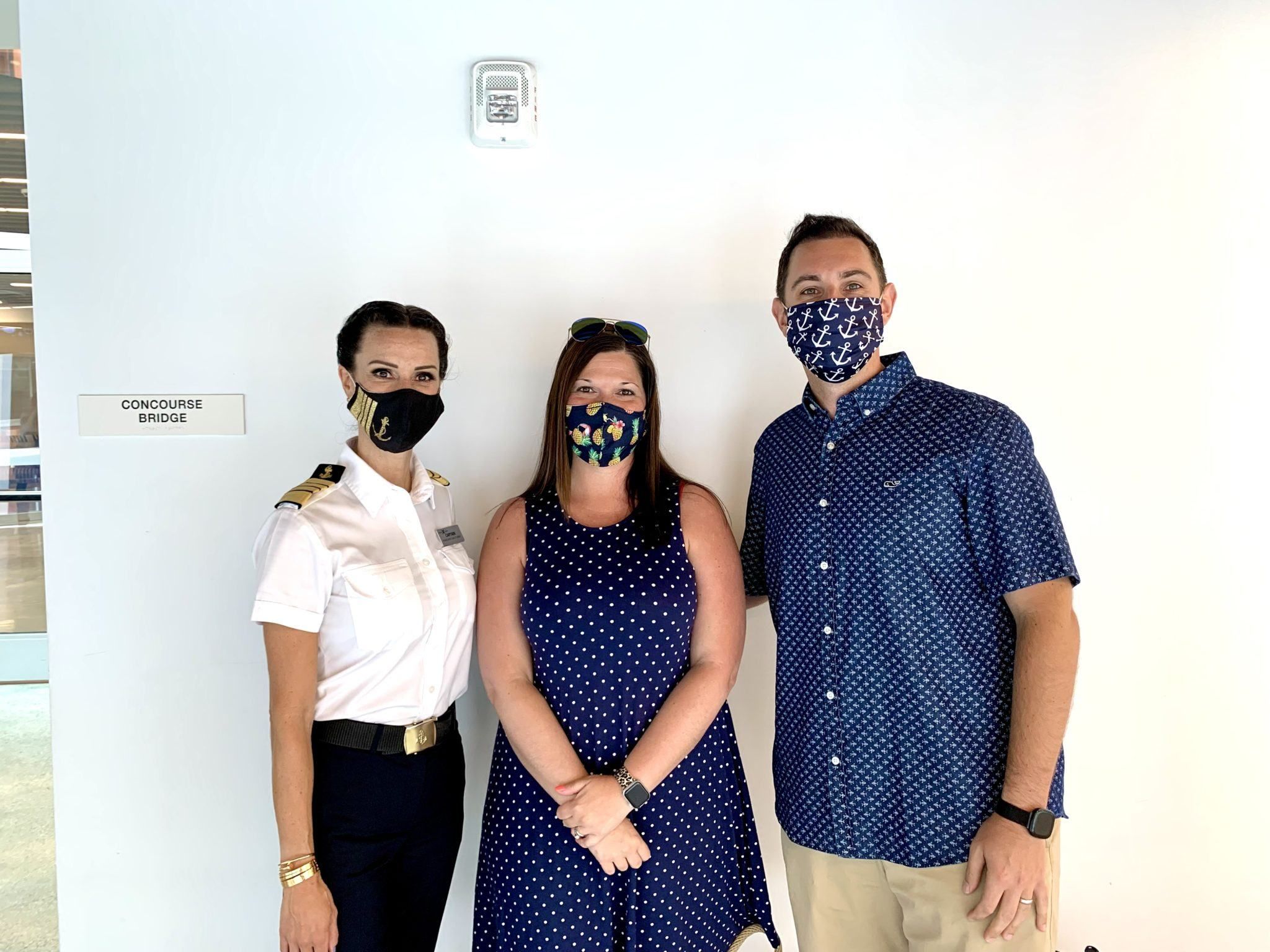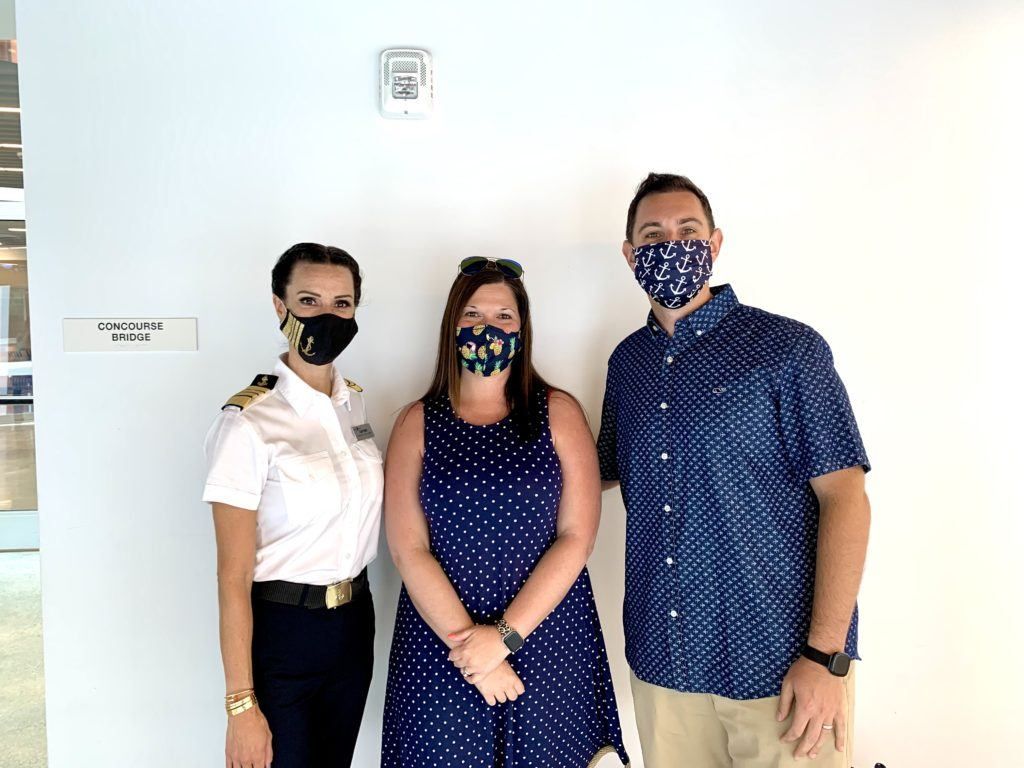 In total, it took under 20 minutes until we were officially boarding Celebrity Edge. Entering on Deck 5, we were now on the first cruise ship to set sail from the United States. Our home away from home for the next week.
Welcome Back Home
As we boarded the ship, there were crew members all around cheering and welcoming us back onboard. Throughout the day, we spoke with many grateful crew members who were just as excited as us to be sailing again. At some points, it was tough to tell who was more enthusiastic, us or them!
After boarding the ship, we were able to go directly to our stateroom. This allowed us to drop off our carry-ons and get situated for the afternoon. Our Sunset Veranda stateroom was a vast upgrade to the Celebrity Edge Infinite Veranda stateroom that we had during our last voyage.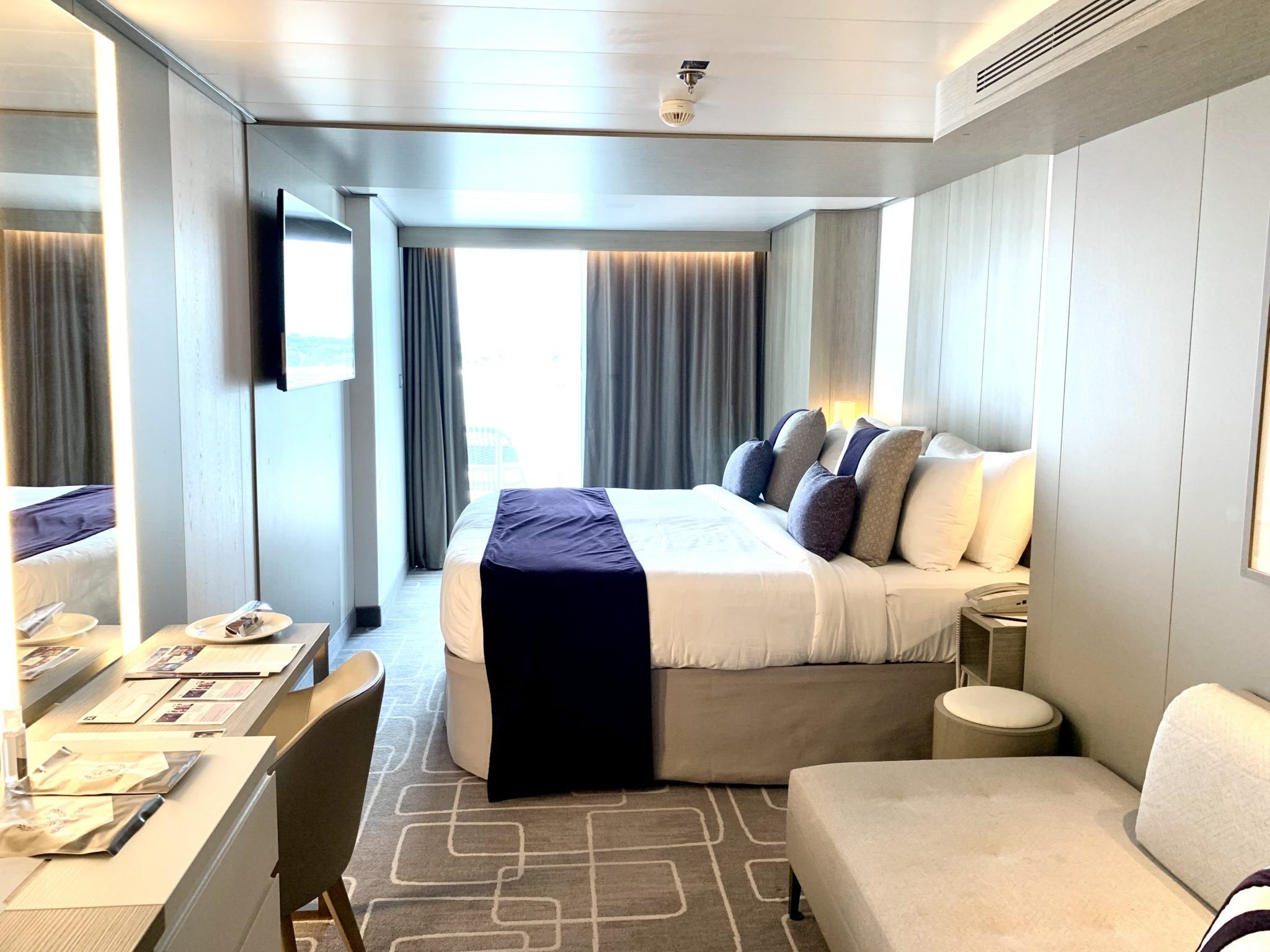 Back out of our room by 1 pm, it was time to explore the ship once again.
With the hot Fort Lauderdale sun beating down on us, we made our way to the top of the ship. From here, we took pictures and video for most of the afternoon, working our way down deck by deck. During our explorations, we were surprised by the changes. Or, more appropriately, the lack of differences.
Having just sailed on Royal Caribbean's Adventure of the Seas, we expected to see some alterations due to health and safety protocols. However, there were no markers on the floor to encourage social distancing at any of the venues. Cruisers could sit at all the bars. There was no signage or blocking of tables/chairs in the dining venues, the theater, or lounges. There were no capacity limits in elevators. In fact, Celebrity Edge looked almost identical to when we sailed on her over 2 years ago.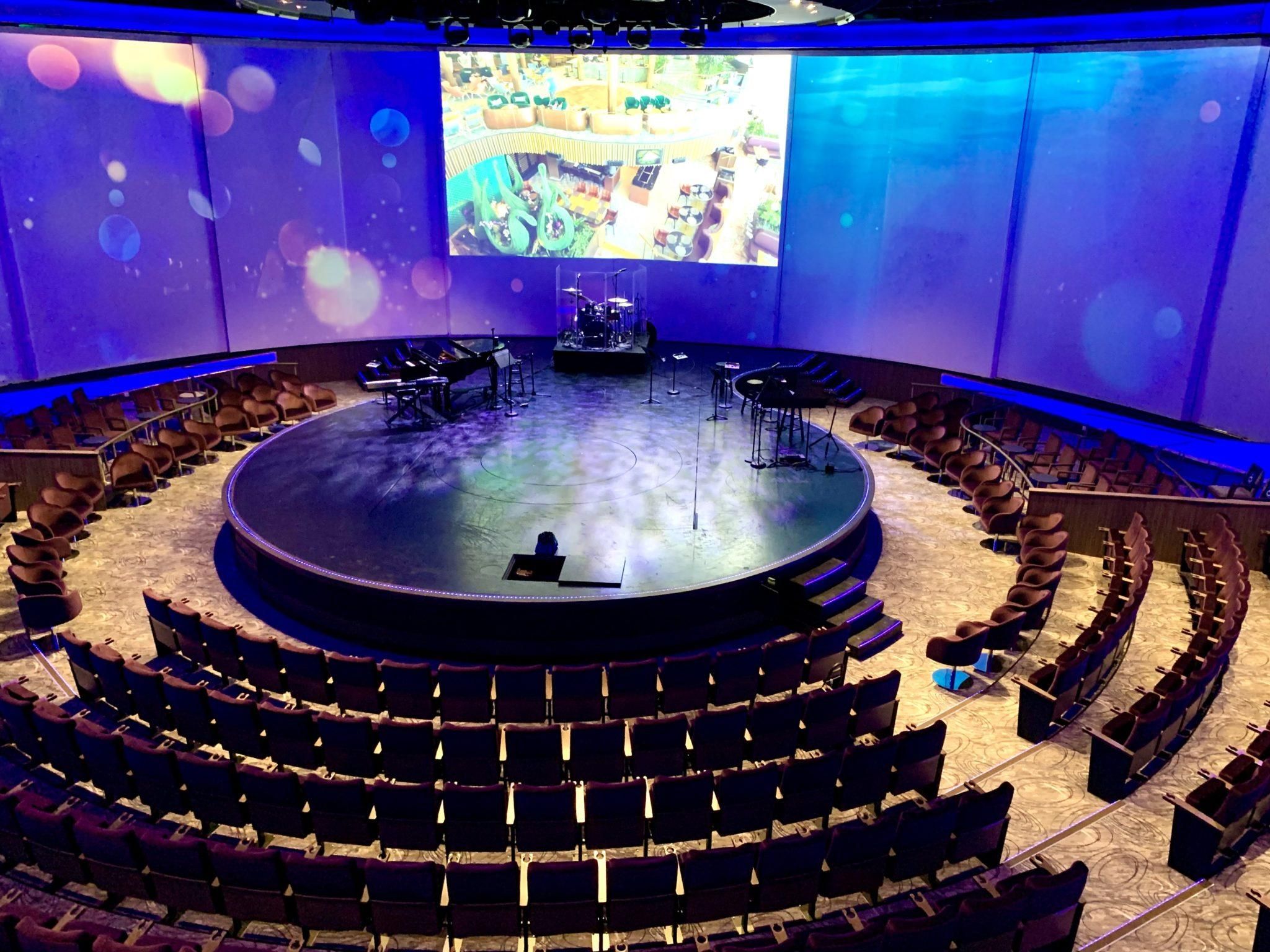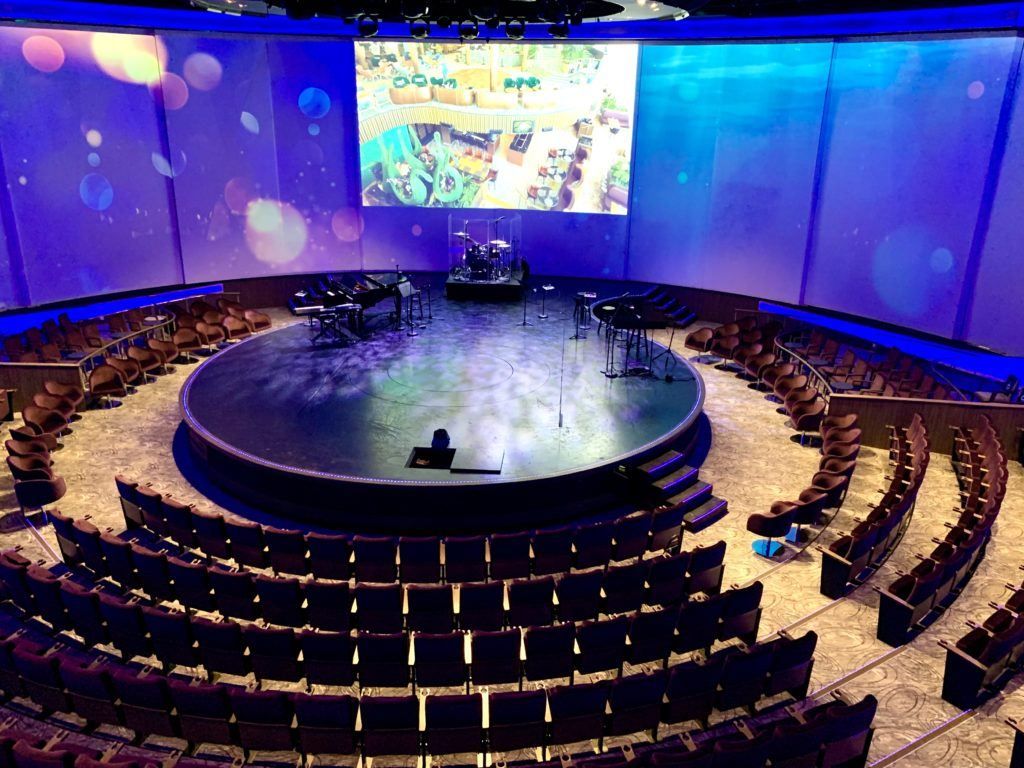 During our explorations, we were able to seamlessly complete the muster 2.0 drill on our phone. Further, checking in at our muster station on Deck 5, the Blu restaurant, was easy and took a matter of minutes. This is one cruise update that we love since the cruise restart.
Now, it was time for our first drink of the cruise! We made our way to the Magic Carpet, parked on Deck 14. With our cocktails mostly done, we were about to leave when a camera crew began setting up for an interview with Richard Fain. Of course, we stayed to watch. While we don't normally take photos, when he asked if he could get one with the two of us, how could we say no!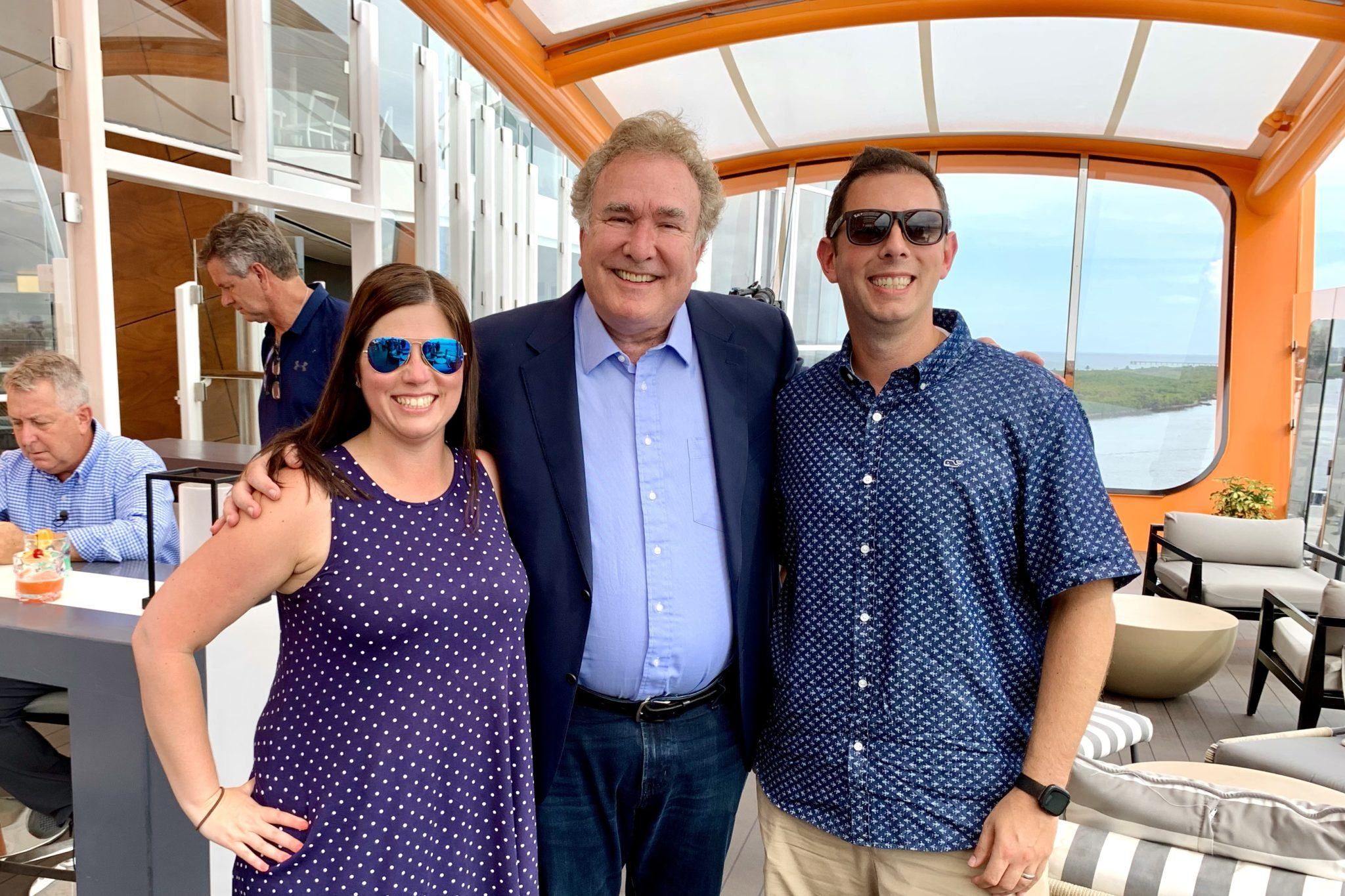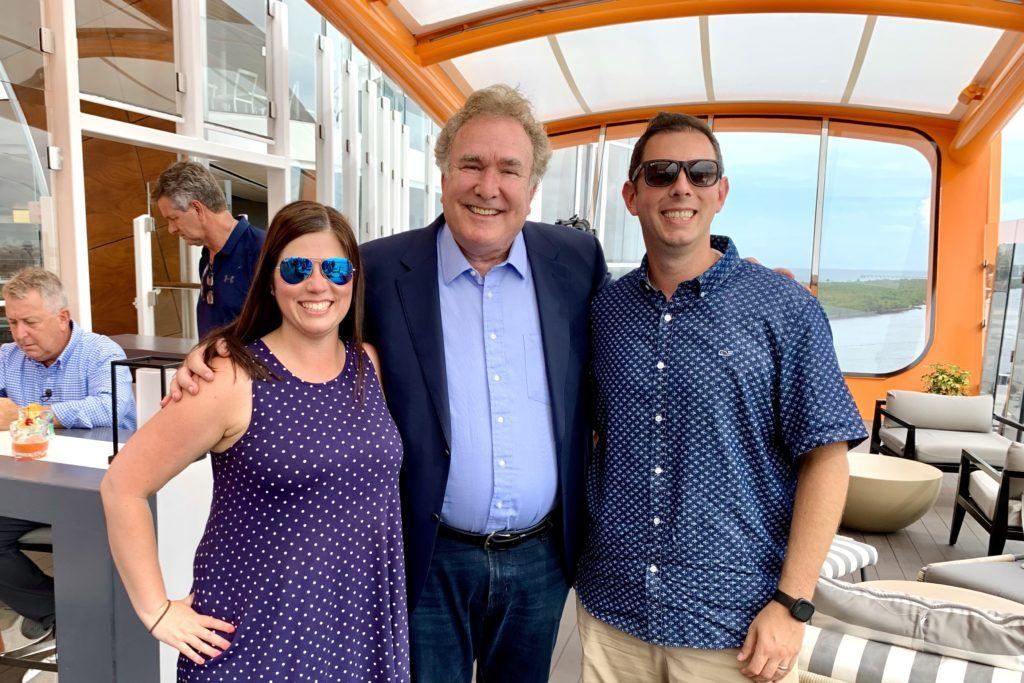 Rushing to Fit It All In
On our way back to our room, we ran into our cabin neighbors, as well as some television crews. Somehow, we were roped into an interview with Good Morning America. Unfortunately, our footage did not get used for the Monday morning segment.
Unlike our cruise a week ago, there was a planned sail away celebration on the pool deck. With a 6:30 pm dinner, and a 5:30 pm party, we needed to pick up the pace to ensure we had enough time to unpack, shower and get ready for dinner, and still catch sail away.
We did our best to capture some video and photos of this milestone departure. Captain Kate was sure to blow the horn loud and a small crowd was gathered to send us off as we pulled out from the pier.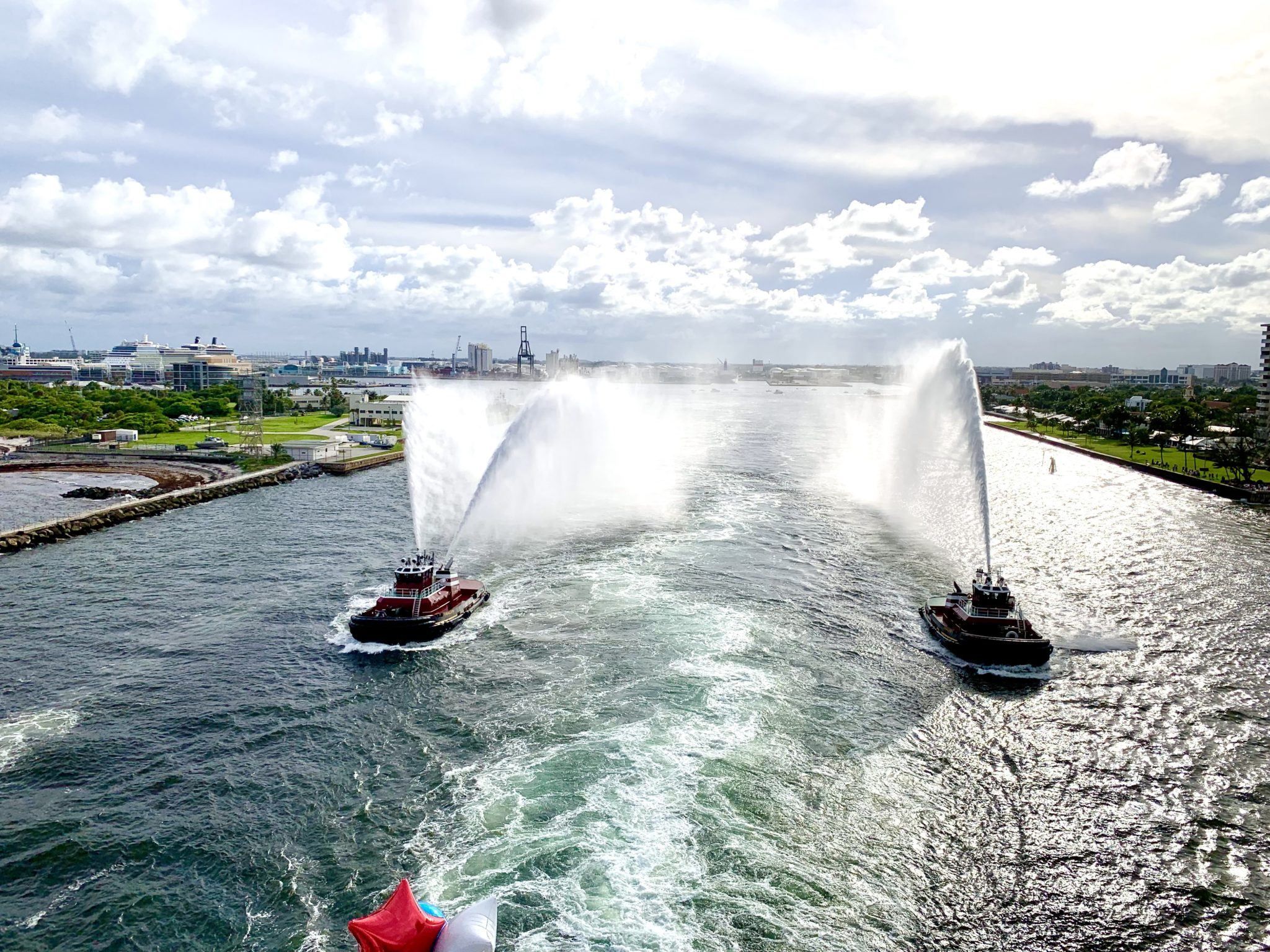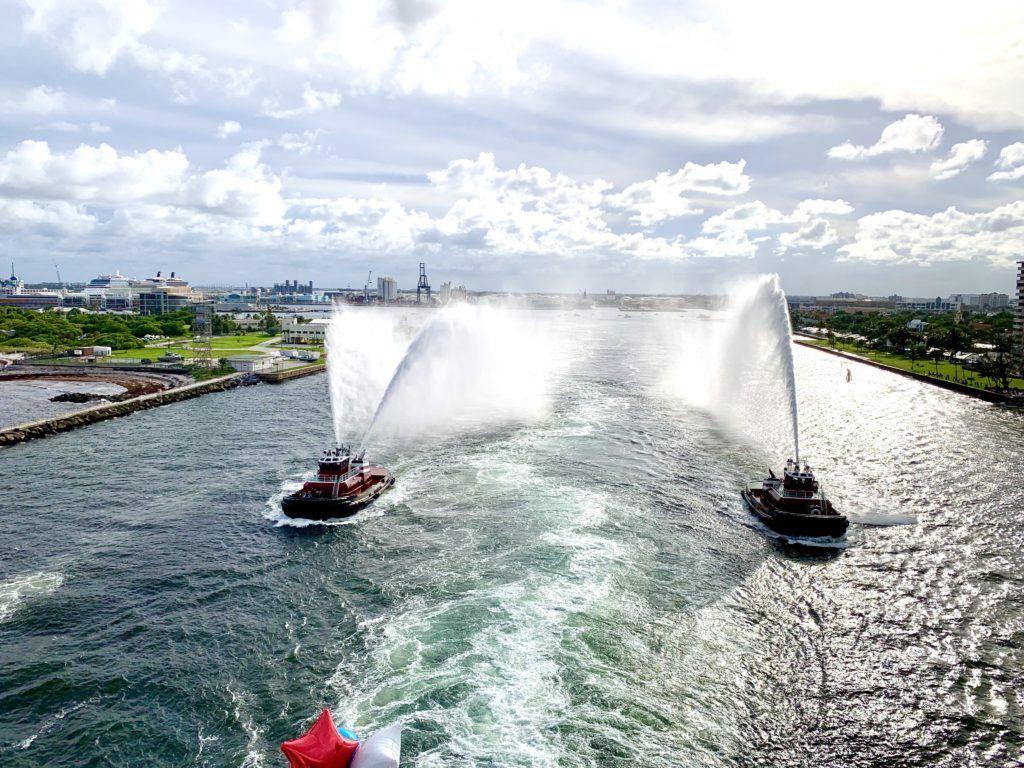 The timing of sail away did put us behind schedule, arriving late to dinner. Of course, the Princess was not happy because they gave our table away.
Though, we ended up waiting only about 5 minutes for a table to open up. The tables in the restaurant were not as spread out as we would have expected, and we were sat immediately adjacent to a party of 3.
Dinner this night was in Cyprus, the Greek themed restaurant. We both started with some of the "Exclusive" items. I did the sea bass ceviche and the lamb shank. They were both phenomenal. The ceviche was flavorful, and the lamb shank was equally well prepared. The Princess also raved about the cheese saganaki.
Settling into Our Regular Routine
With our dinner taking us to 8:40 pm, we had just the right amount of time to get to the main theater for the 9 pm showtime. Another (not) change on this cruise was the main theater entertainment. Cruisers were not required to make reservations for any of the shows. Further, there were your typical early and late showtimes occurring at 7pm and 9pm each evening.
As mentioned previously, the theater was completely open as well, with no seating restrictions. We gravitated towards our general seating area on the portside for tonight's headliner performance.
Tonight's performer was Charity Lockhart, with a tribute to Aretha Franklin. Before the show, our cruise director Lauren came out to introduce herself and to enlighten us about many of the events that would be occurring during the course of the week. There were going to be plenty of activities, Beyond the Podium speakers, and all of the other Celebrity Life events cruisers have come to love about the brand.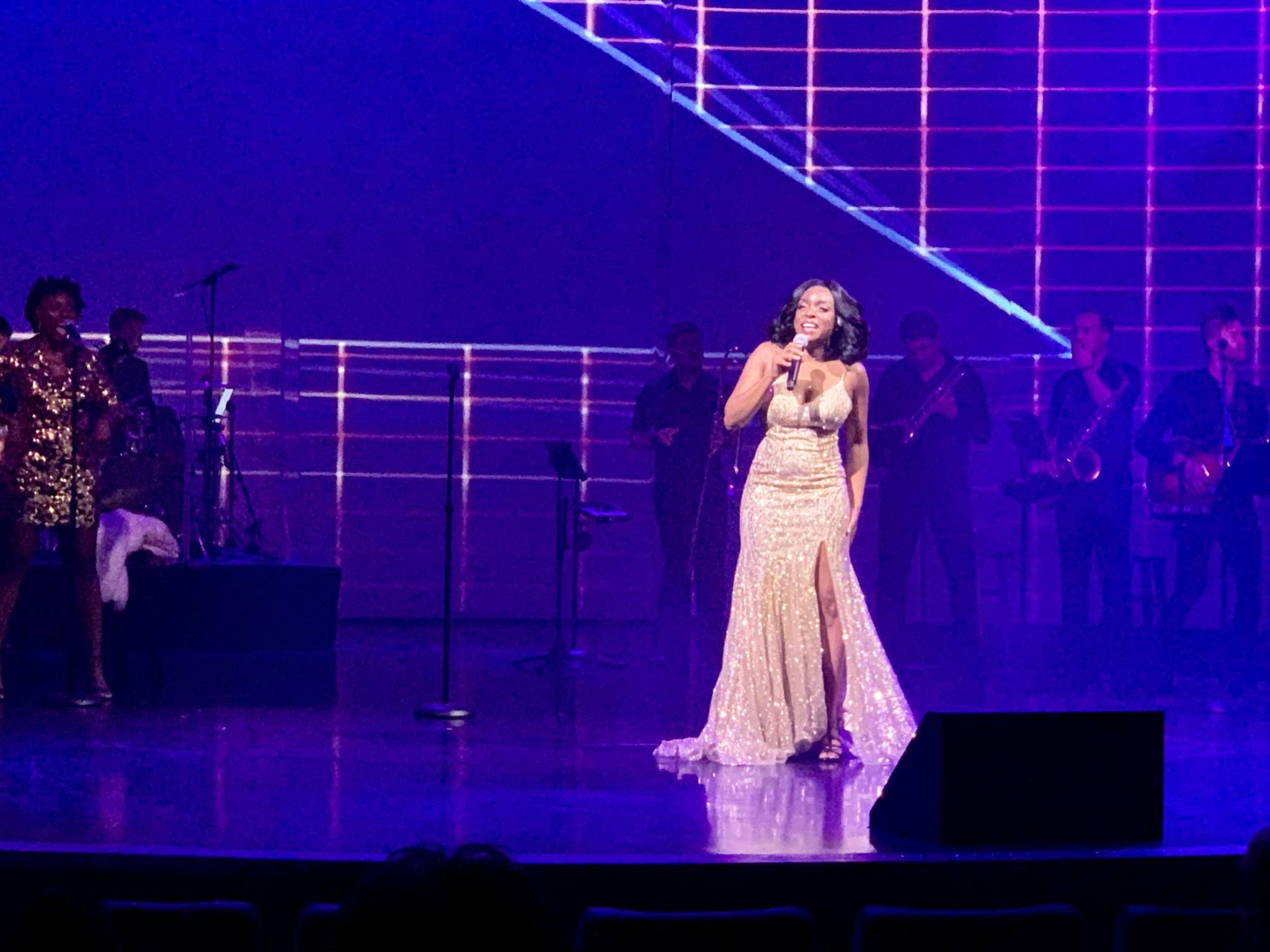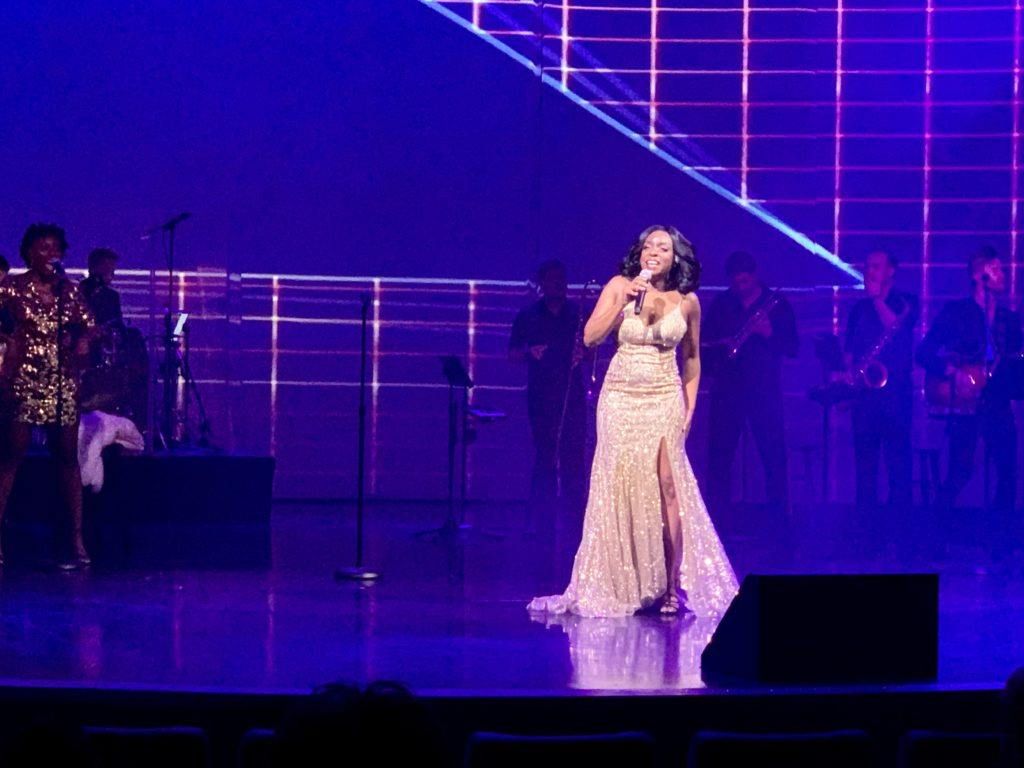 Ms. Lockhart had an amazing voice, covering the typical hits you would expect in a show dedicated to the Queen of Soul. The 45 minute performance ended with a heartful rendition of Respect and a standing ovation.
After the show, it was time to make the rounds at the bars. First, we scored prime seats at the Martini Bar for some dessert cocktails. Listening to the different musical performers for about an hour, we head aft to Eden next. This venue was rather quiet. Actually, there were no longer Edenists or performances occurring in this venue.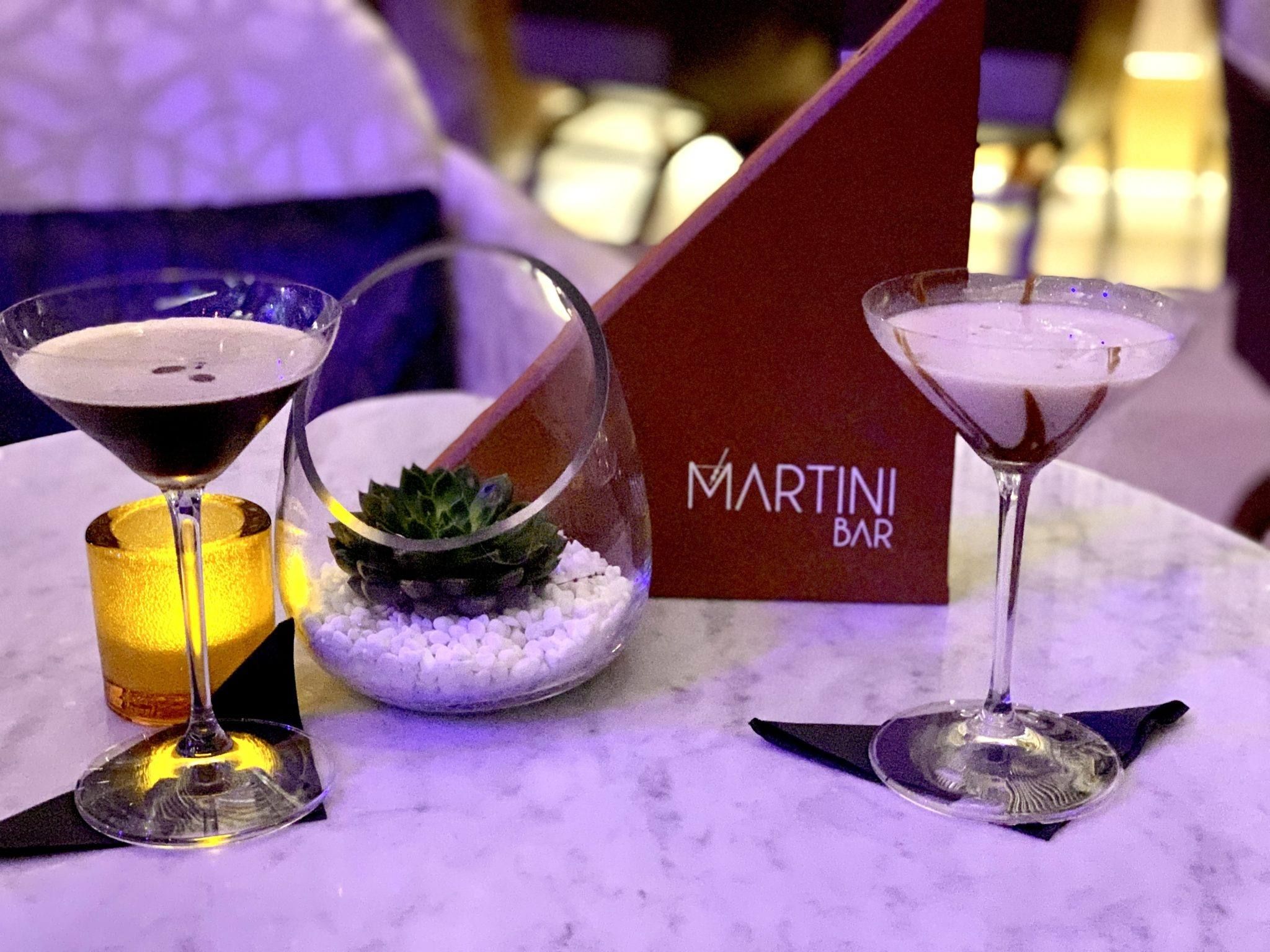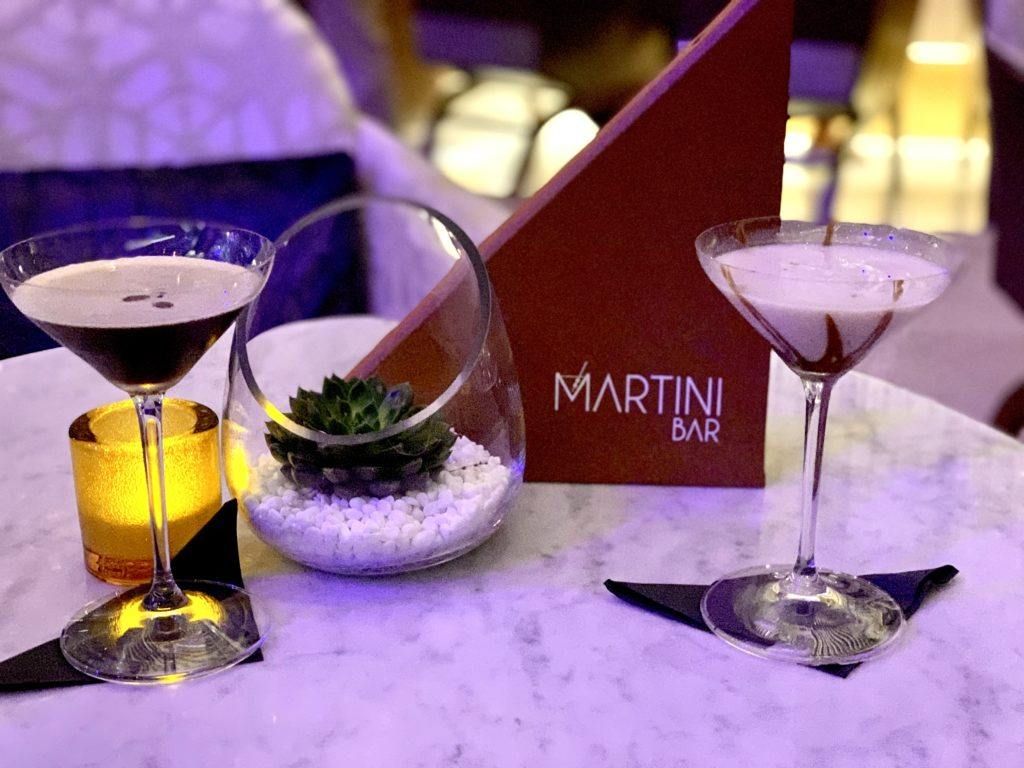 Finishing up our cocktails by midnight, we retreated back to our room. Fortunately, we were gaining an hour of sleep tonight as we were heading west towards Mexico. Good thing as it was a busy embarkation day on the first cruise from the U.S. on Celebrity Edge.
Celebrity Edge Cruise Review- Day 2
The Early Bird Gets the Shots
Up at 6 am, we scored some great sunrise video and photos from the balcony. I made the rounds getting more video and photos around the ship for our site, while the Princess got ready and worked a bit on the blog.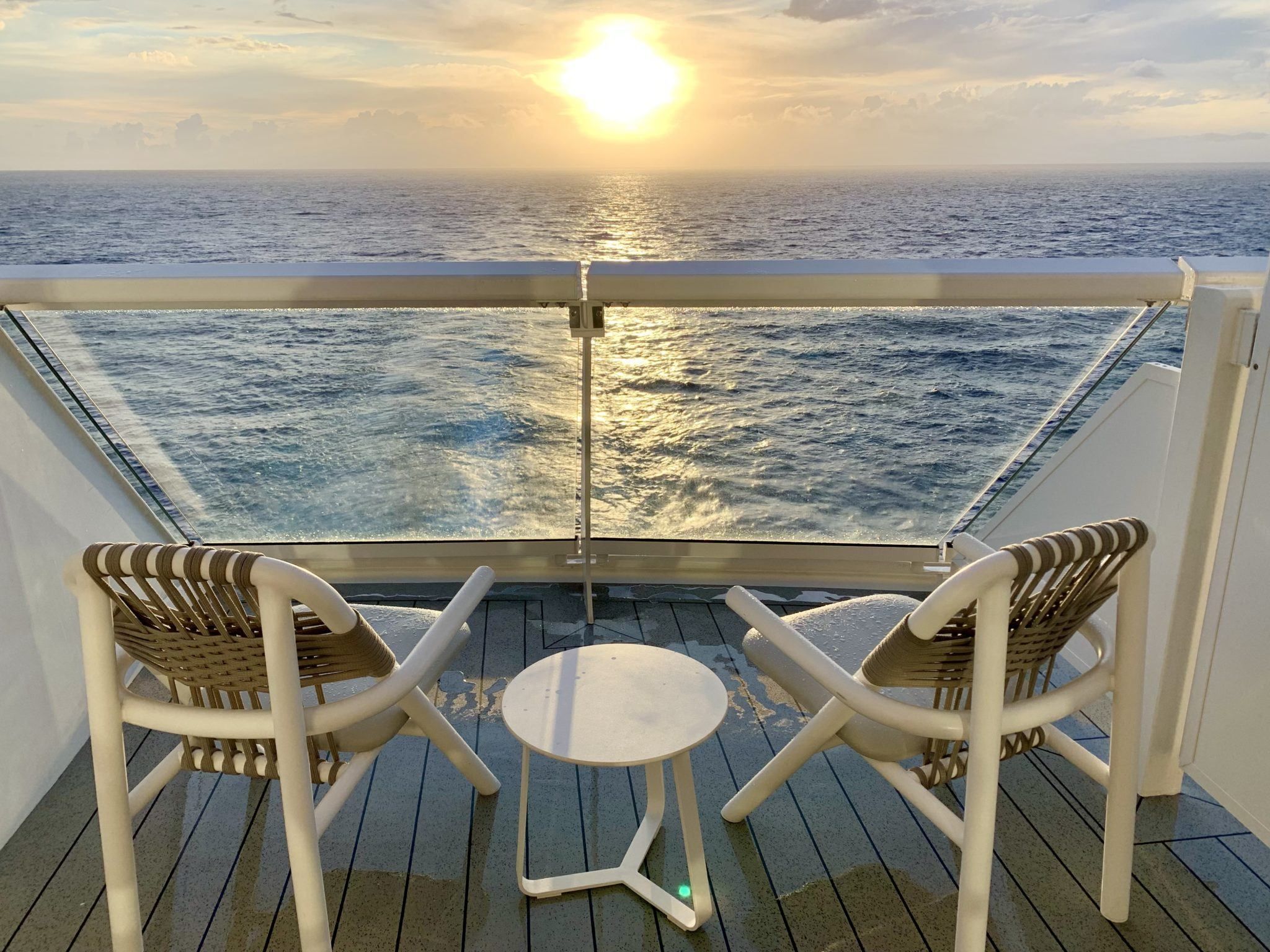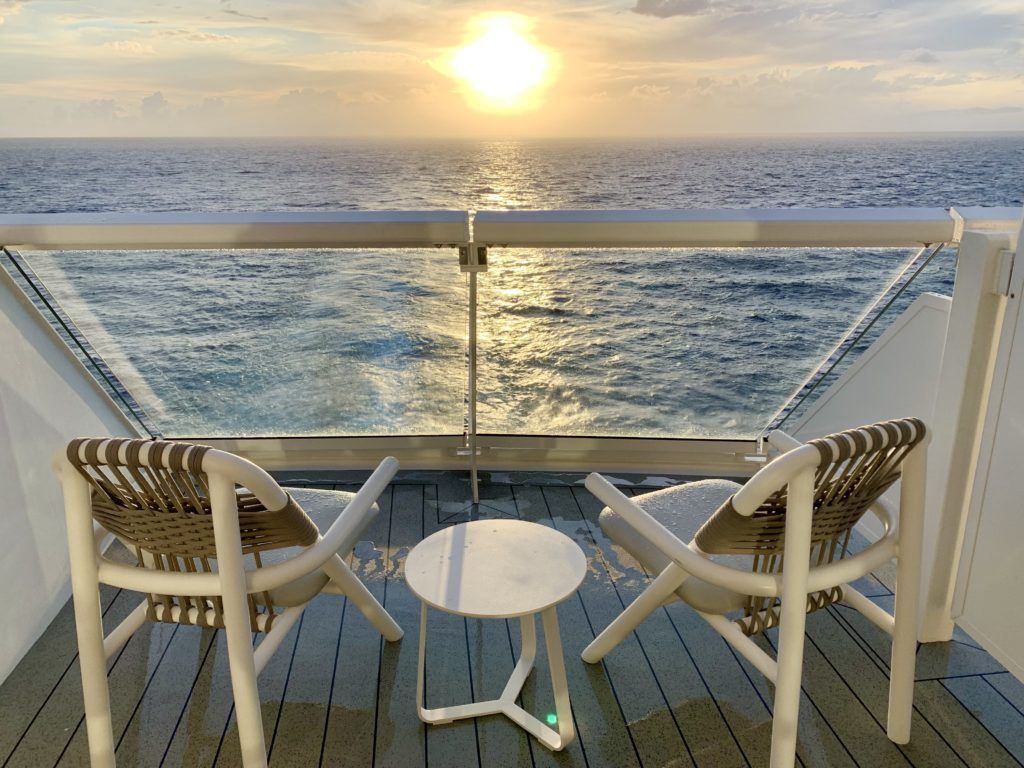 Ready for the day around 8:30 am, we headed down to the Eden Café on deck 5 for breakfast. This café offers a selection of breakfast sandwiches and other quick service options. This venue is often much quieter than the busy buffet.
We then headed out to the Resort Deck around 10 am. We scored prime seats on the starboard side of the ship right next to the pool without any issue. The only problem was that it was terribly hot without any breeze. I mean, so much so that we could only stay in the direct sun for 15 minutes or so at a time.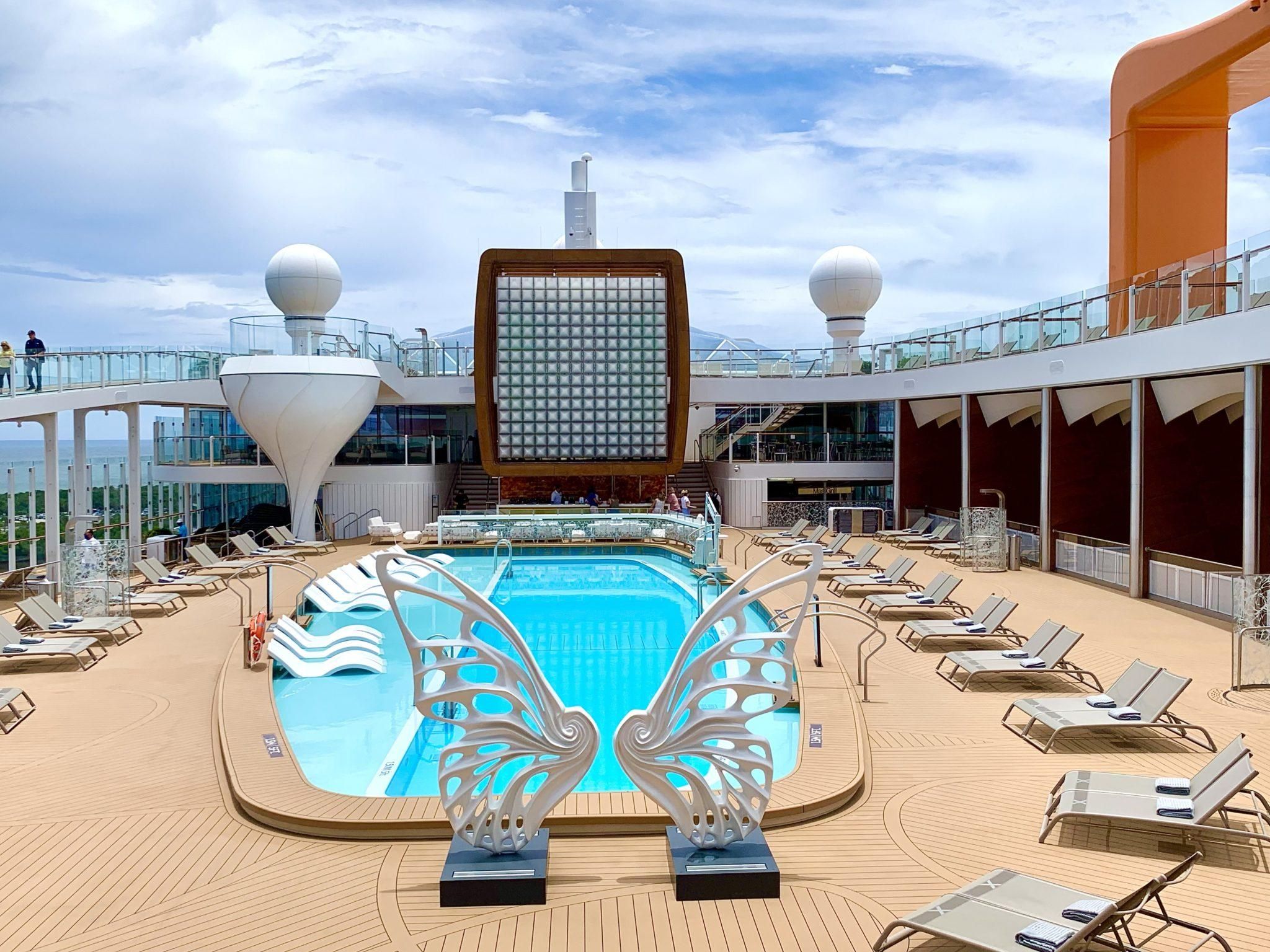 Even still, we lasted about 90 minutes before retreating to the Rooftop Garden. Thankfully, it was much cooler there. With hardly anyone around, we setup camp for a little while to relax and do a bit of work.
Along the way, we made reservations at Le Grand Bistro for lunch on day 6. We also checked out the logo shop. I was able to snag a Celebrity Edge t-shirt and Celebrity Cruises cap. Unfortunately, the shop still did not have any ornaments. Having sailed on the ship twice now, we still don't have an Edge ship for our tree.
Sea Day Munchies
This took us to around 1:30 pm, so that meant time for lunch.
While we are not huge fans of cruise ship buffets, the Oceanview Café on Celebrity Edge could be our favorite. This lunch spread was diverse. What we sampled was as good as main dining room food on other cruise lines. From the orange chicken and fried rice, to the shrimp cocktail, grilled vegetables, pizza, and cupcake buffet, it took willpower to go easy.
To prevent a food coma from settling in, we snatched two oceanview seats at Café al Bacio for our afternoon caffeine fix.
Tonight was the first Evening Chic night, and we wanted to be ready in time to get some pictures. Checking in with the photo gallery, we learned there were few photographers onboard. This meant limited shoots.
A Formal Affair
Actually ready early for once, we were down to deck 5 by a little after 6 pm. With only a few photographers around, we were done with our photo shoot in about 10 minutes. Surveying the crowd, we would say that many individuals were dressed up in Evening Chic attire. Although, wearing a suit did put me in the minority.
Checking in for dinner a few minutes early, we were sat right away at the Fine Cut Steakhouse. Good thing we were there early as dinner took over two hours.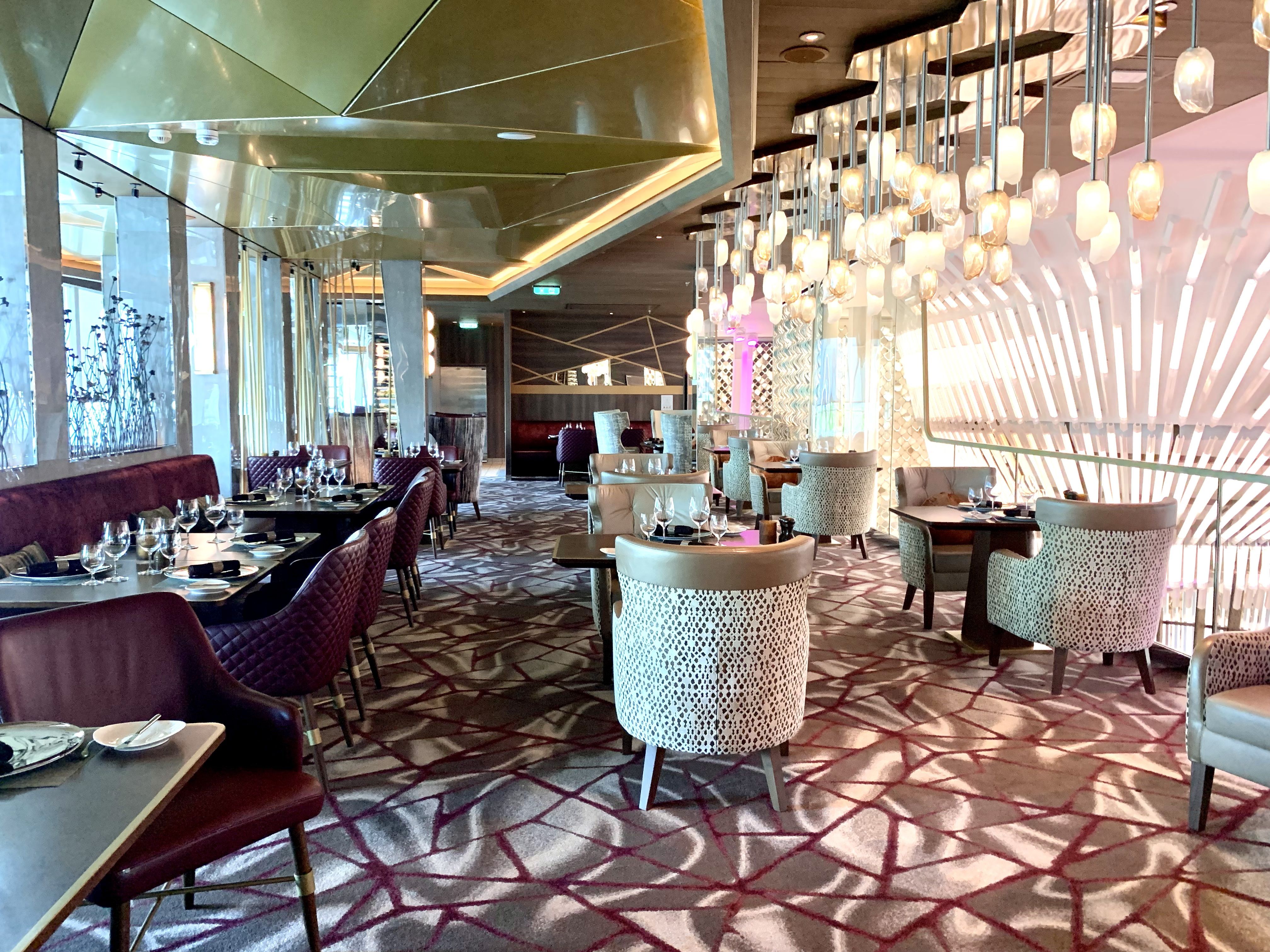 The restaurant appeared somewhat understaffed. Our waiter had a very large section and was hustling to serve everyone in a timely manner.
Happily, the food did live up to our expectations. On our previous trip, we dined at Fine Cut and found it to be among the best steakhouses at sea. This round solidified our view of this specialty restaurant.
This time around, I ordered the boneless ribeye, and the Princess ordered the chicken. Our starters included the heirloom tomato salad, crab cake, and the tuna tartare. All of them offered a flavorful interpretation of these classic appetizers.
Given the extended dining time, dessert was a bit rush as we wanted to catch the 9 pm show. Tonight was the first production show, Kaleidoscope.
Getting to the theater just slightly before showtime, we were still able to secure our preferred seats.
The show was like we remembered, a modern take on a revue show. While the show just met the Princess' standards, I really liked it.
The choreography allows the performers to take advantage of the unique stage design. The digital screens give the show a unique feeling and add dimension. The playlist consists of songs from this century, with a mix of dancing, singing, and some specialty acts.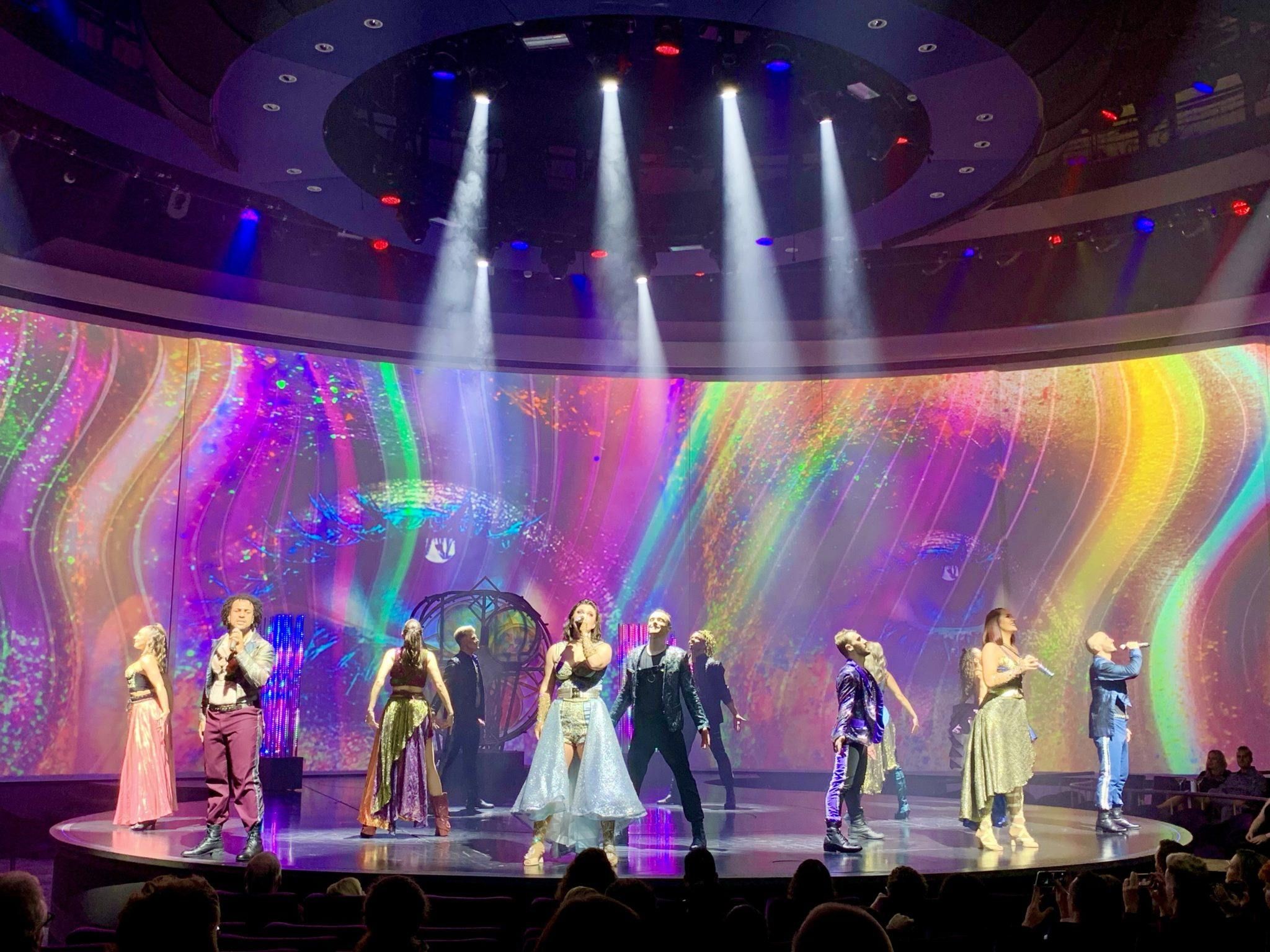 With the show done by 10 pm, it was back to the Martini Bar for a few rounds of drinks. While there, we ran into some colleagues also sailing on the ship. With a musical duo performing in the background, we were at the bar for close to two hours. Approaching midnight, we said goodnight and headed back to our room.
Tomorrow was our second sea day in a row. It was going to be an early start for me as I had to work my full time job.
Back in our cabin, we were greeted by our first towel animal of the cruise. Now, it really felt like a normal voyage!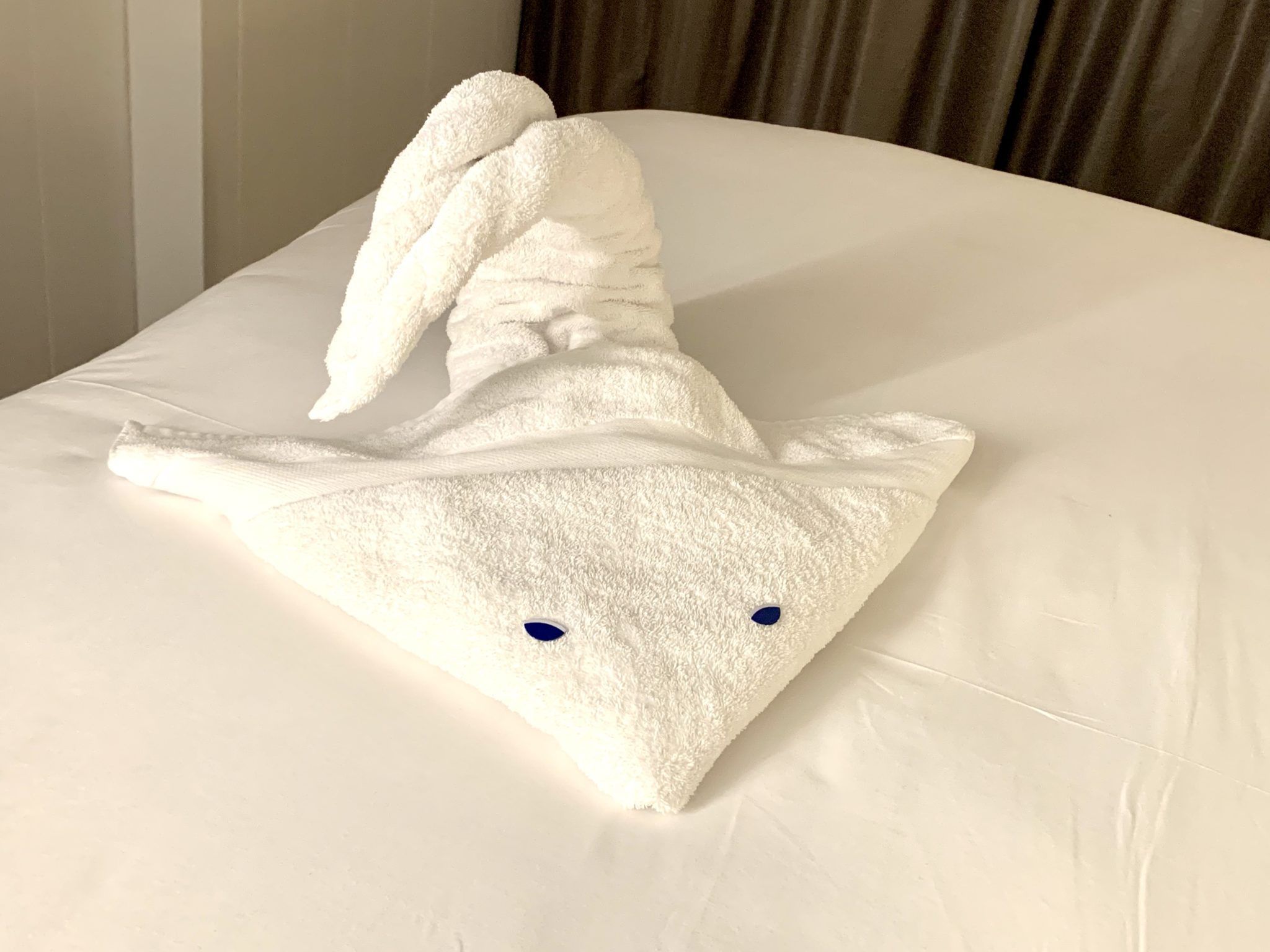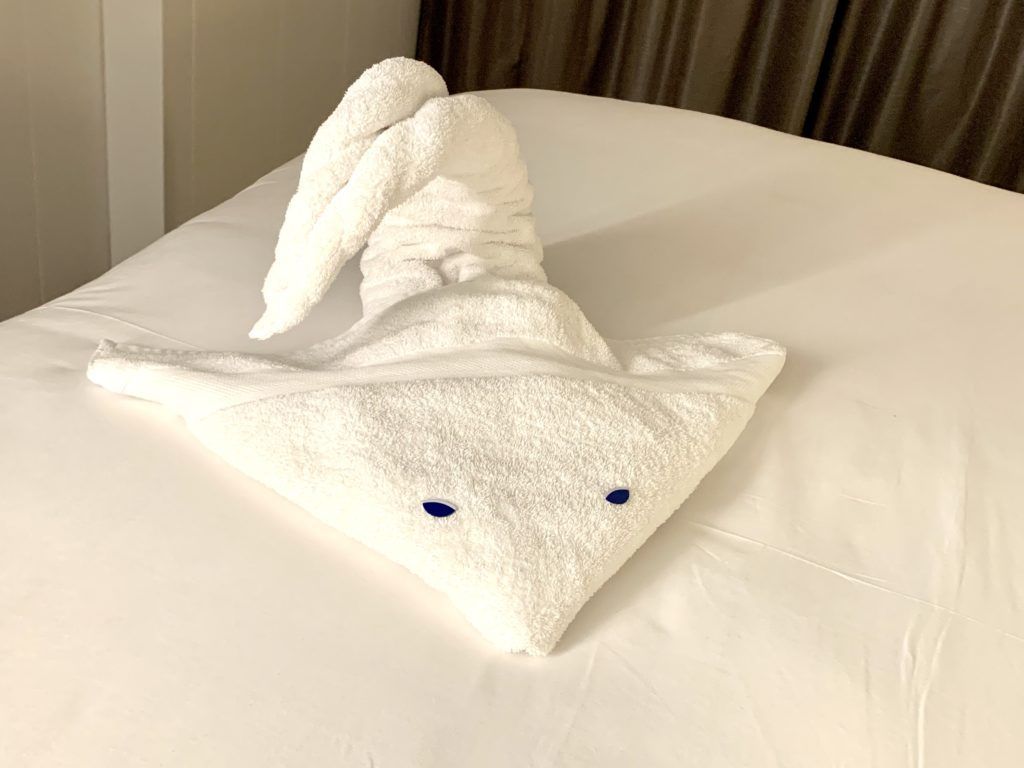 Related Post: What It's Like on the First Cruise From the U.S.
Celebrity Edge Cruise Review- Day 3
An Upgraded Sea Day
For the second sea day in a row, we decided to change things up. On embarkation day, we reserved one of the cabanas. For two individuals, I thought the all-day rental, including food, drinks, and luxe accommodations, was reasonable at a price tag of $150.
Grabbing some morning coffee and pastries, I made it back to the room to change up, do some work, and attend a morning conference call.
Before heading out to enjoy our cabana, we met up with some onboard media to partake in a quick video for YouTube.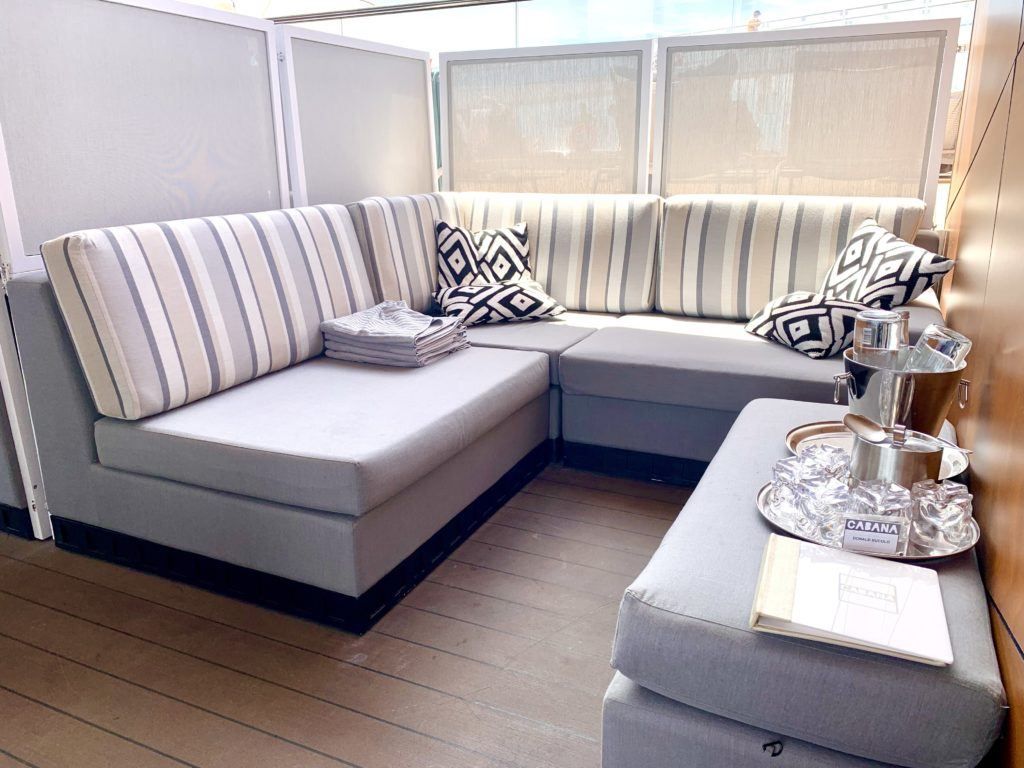 We arrived at our cabana around 11:30 am. This gave us the rest of the day to enjoy some modern luxury.
Mixing Work and Vacation
Along with offering a secluded space to relax, you are still very close to the pool and the other Resort Deck amenities. Though, one drawback of the cabanas is that there is no tanning space.
Still, we found the setup to be ideal for our sea day. I wish we could report that we lounged around all day enjoying the included lunch from Luminae, bottle of champagne, and additional amenities; however, we spent most of the day working between our site and my full time job.
Although, I couldn't think of a better place to be working than on the first cruise from the U.S. on Celebrity Edge.
We did find time to divorce ourselves from our digital companions to enjoy the food and libations interspersed throughout the day.
Luckily, this shaded area allowed us to remain outside for most of the day.
Wrapping up the "work day" a little after 5:00 pm, we said good-bye to our very attentive cabana attendant, Manny.
Another minor downfall of the cabanas is that there are no power outlets.
Back into the Routine
Tonight's dinner was at the Italian complimentary restaurant, Tuscan. Changing up and getting ready, we were down to the restaurant a bit early.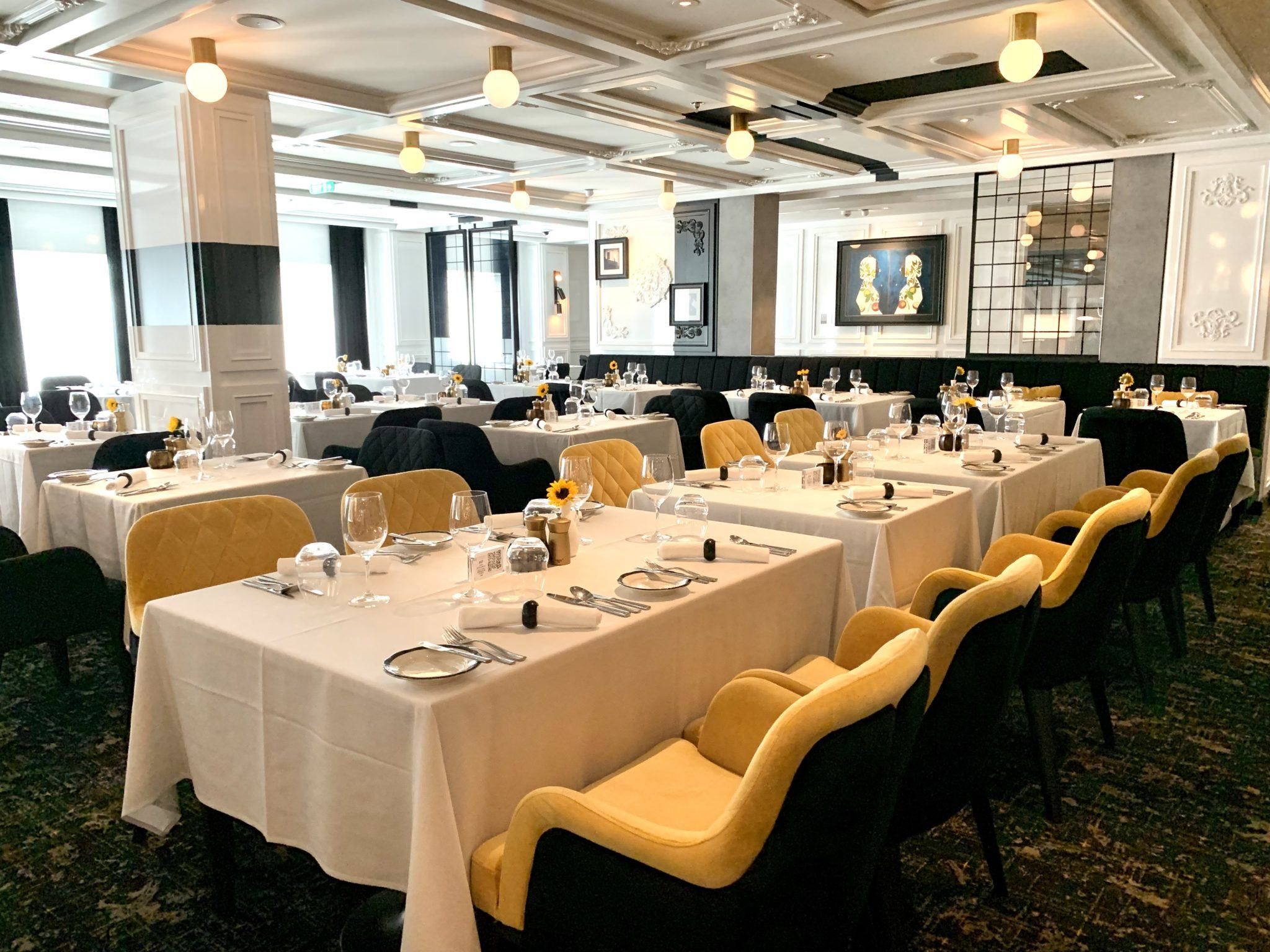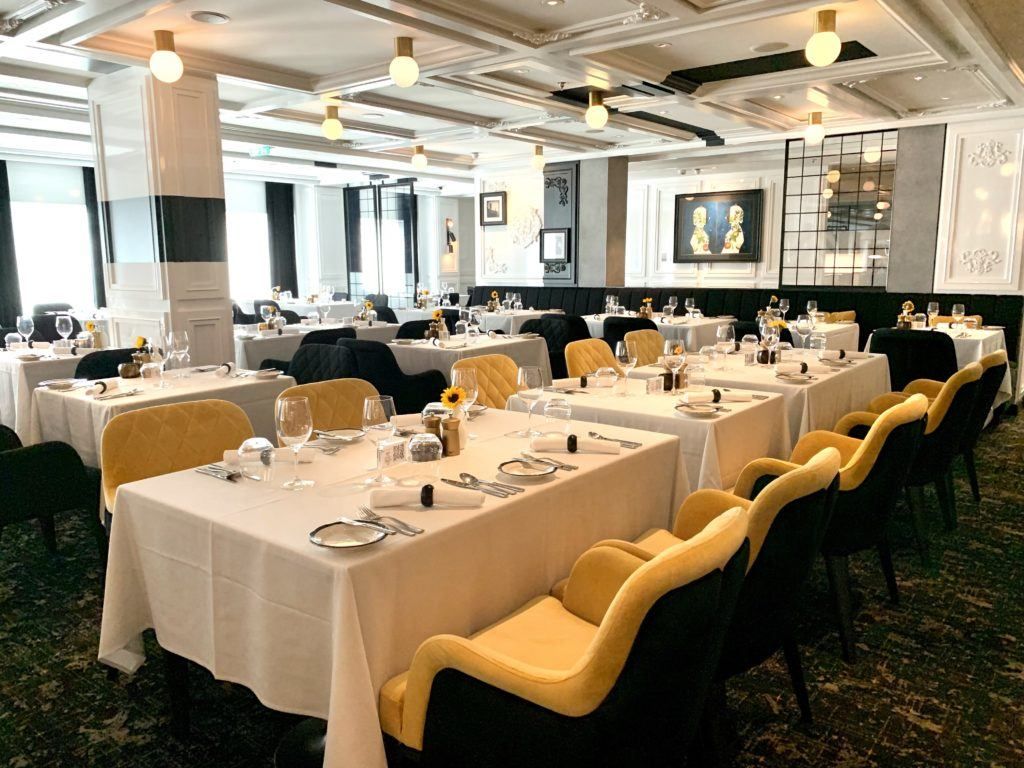 When compared to our first night dining experience at Cyprus, the service in this restaurant was a tad slow. Our assistant waitress seemed to be MIA for the entire night. So, our waiter was busy doing both jobs. A sommelier did stop by the table to take our drink order, which is sometimes difficult to get on other cruise lines.
This evening, we ordered a mix of dishes from the restaurant's exclusive items and the night 3 signature menu. Among some of the standouts were the gnocchi appetizer on the signature menu, and the short rib pappardelle and the strozzapreti carbonara from the exclusives menu. For the first time all cruise, I was a bit let down by the veal chop on the menu.
Dinner took over 90 minutes. This gave us a little time to grab a drink at The Club and watch the end of the Yes or No game show. This is a fun game where cruisers have 3 minutes to avoid using the words "yes" or "no" in response to the cruise director's questions.
From The Club, we strolled down to the main theater and waited until the headliner act at 9 pm. Tonight's performer was a comedian, AJ Jamal, which we actually saw years ago on Allure of the Seas. As cruise ship comedians go, he was pretty typical.
Tonight was also the "White Party". We admired the outdoor party from afar on Deck 14 for a few minutes, before heading back inside. It was quite windy and a bit rainy this evening.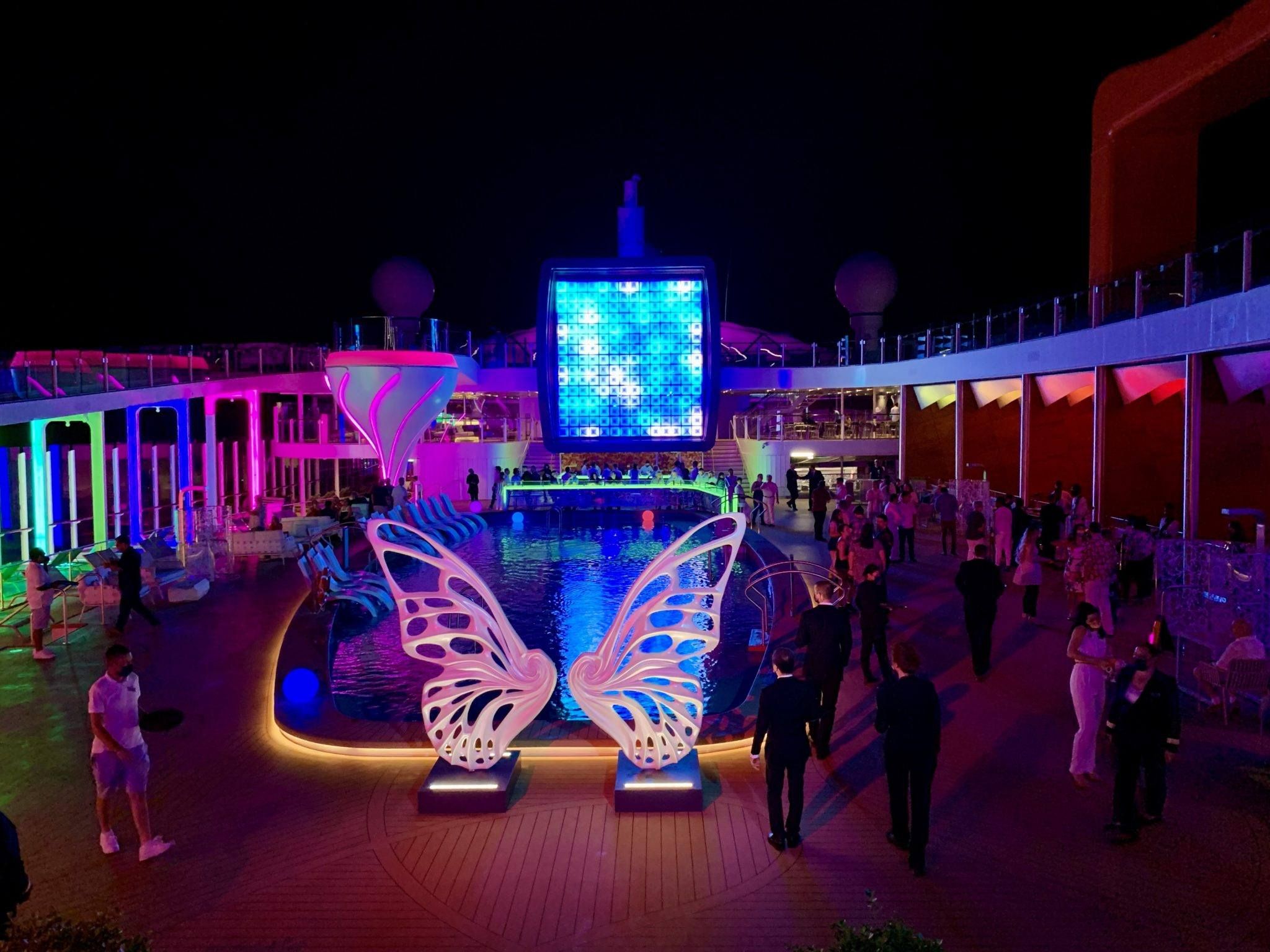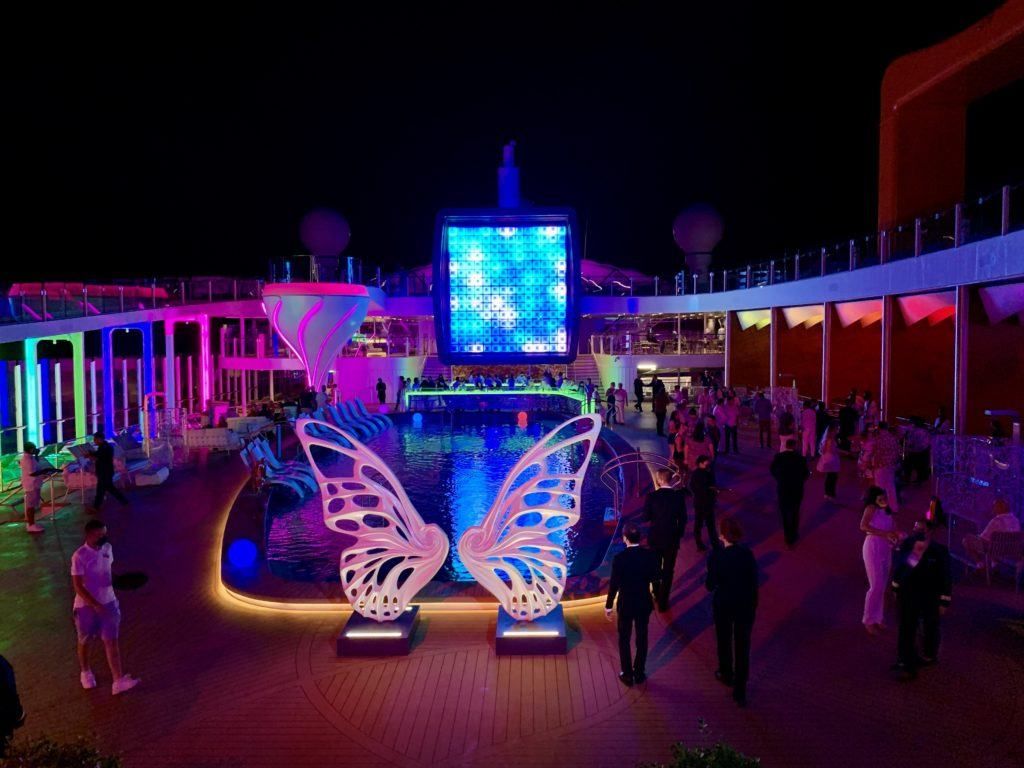 Back to our regularly scheduled routine, we closed out the night with a round of drinks at the Martini Bar.
Tomorrow, we had a full day excursion at our first port of call in Costa Maya and needed as much sleep as we could get.
Related Post: 8 Things That Surprised Us on the First Celebrity Edge Sailing
Celebrity Edge Cruise Review- Day 4
A Long Day Ashore
Our first port of call was Costa Maya, Mexico. Our ship was the first to visit the port since the shutdown back in 2020. A very enthusiastic Welcome Back greeting was setup at the pier as we walked off the ship.
Prior to the cruise, we booked a last-minute shore excursion to Bacalar to visit the Fort and 7 Colors Lagoon.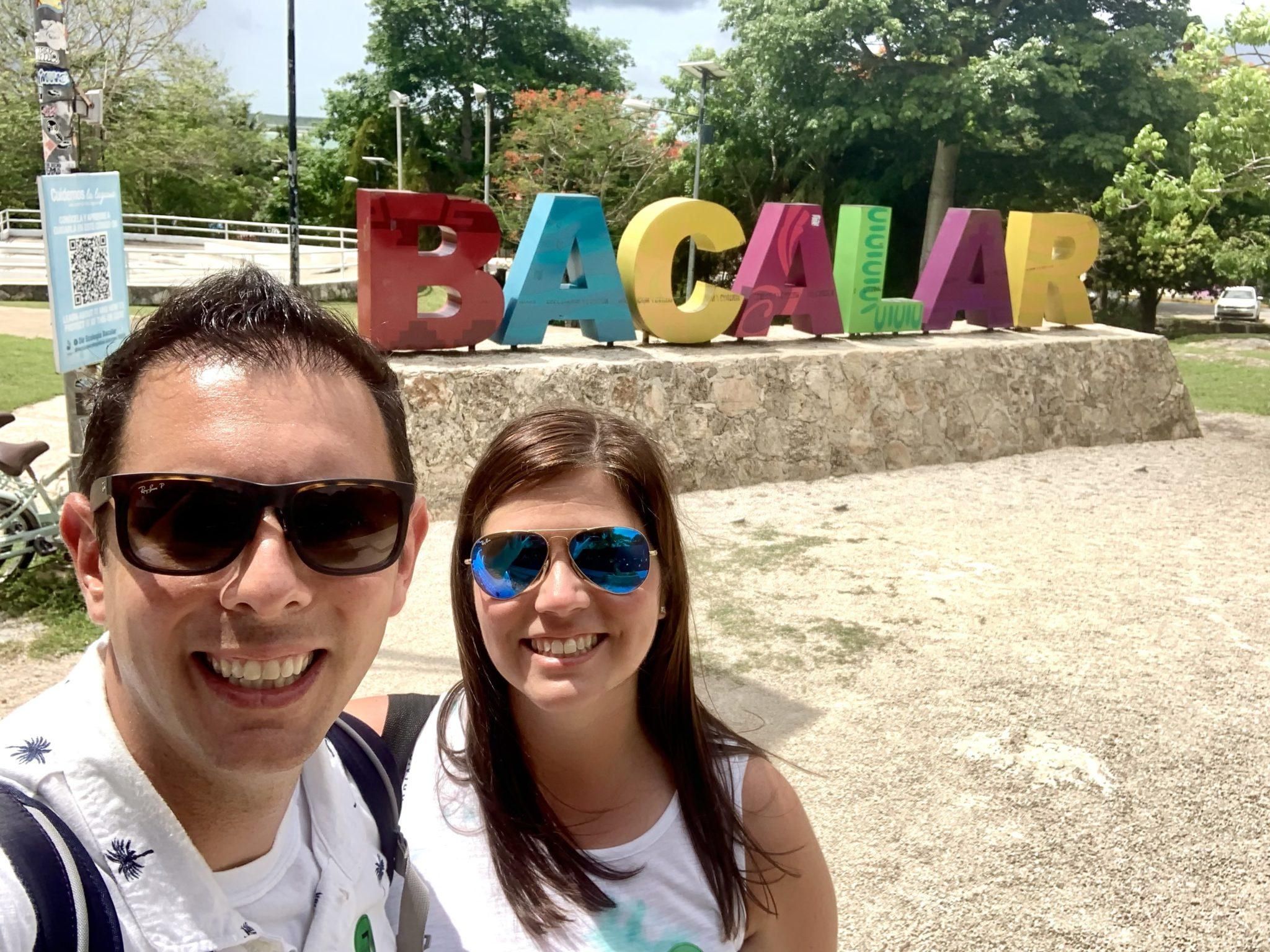 Our tour meeting time was 8:30 am in the Club. Up at 6 am, this gave us just enough time to do a little work, get some coffee, and be at the meeting spot with breakfast pastries in hand.
With our tour number called after about 10 minutes, the shore excursions team escorted us off the ship and down the pier. Yam, our tour guide for the day, met us at the main entrance to the terminal and walked us directly to our bus.
As part of the health protocols in Mexico, travelers need to wear masks in the cruise terminal area, on transportation, and in buildings. When walking in outdoor areas, like a beach, facial coverings are recommended.
This tour lasted the entire day, as the town of Bacalar is a 90 minute bus ride in each direction. Somehow, I forgot this small part.
The tour was mostly well organized, but the weather did not want to cooperate. With intermittent rain throughout the day, it did dampen our experience. The lagoon was beautiful, and the boat ride relaxing, but it was a long day of mostly sitting around. I would have preferred a tour with some more action. Plus, there is only about 20 minutes allowed to swim in the lagoon.
Arriving back to the ship around 3:30 pm, we did not have much time to shop or walk around the port area. Instead, we opted for some pictures of Celebrity Edge docked as the lone ship in port.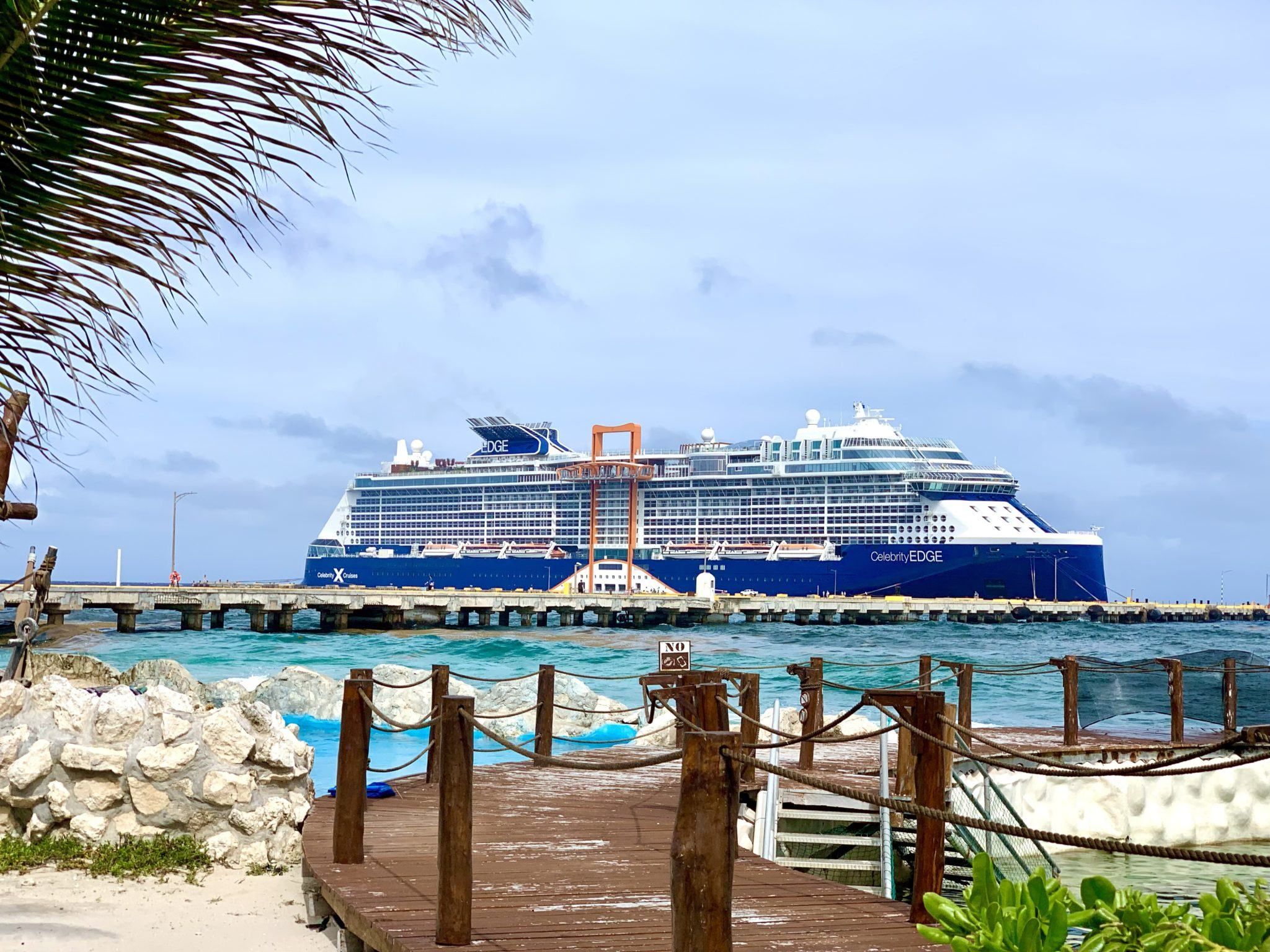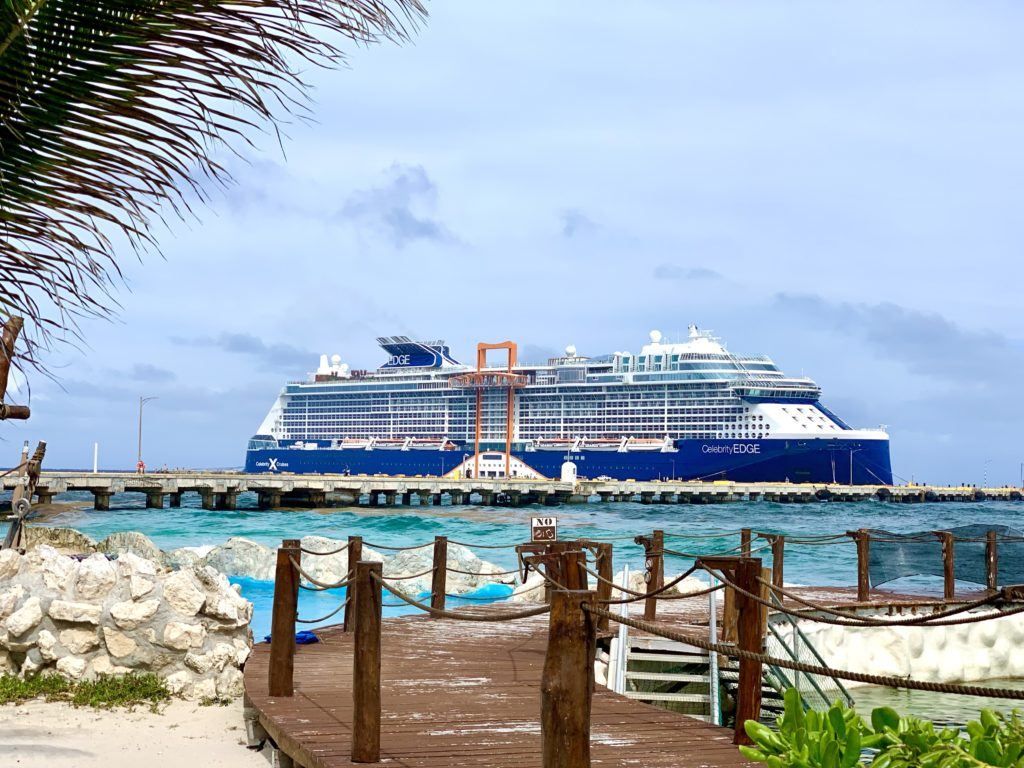 Back Onboard
Going through security and back on the ship before 4 pm, we were in need of some coffee. While we did have lunch during the tour, we could not turn down a small sweet treat at Café al Bacio.
Tonight, we had planned dinner at the Rooftop Garden Grill. Our experience on the previous trip was not the greatest, so we were hoping this second visit would be better. Celebrity Cruises did update the menu a bit making the up-charge price seem more on par with the menu offerings.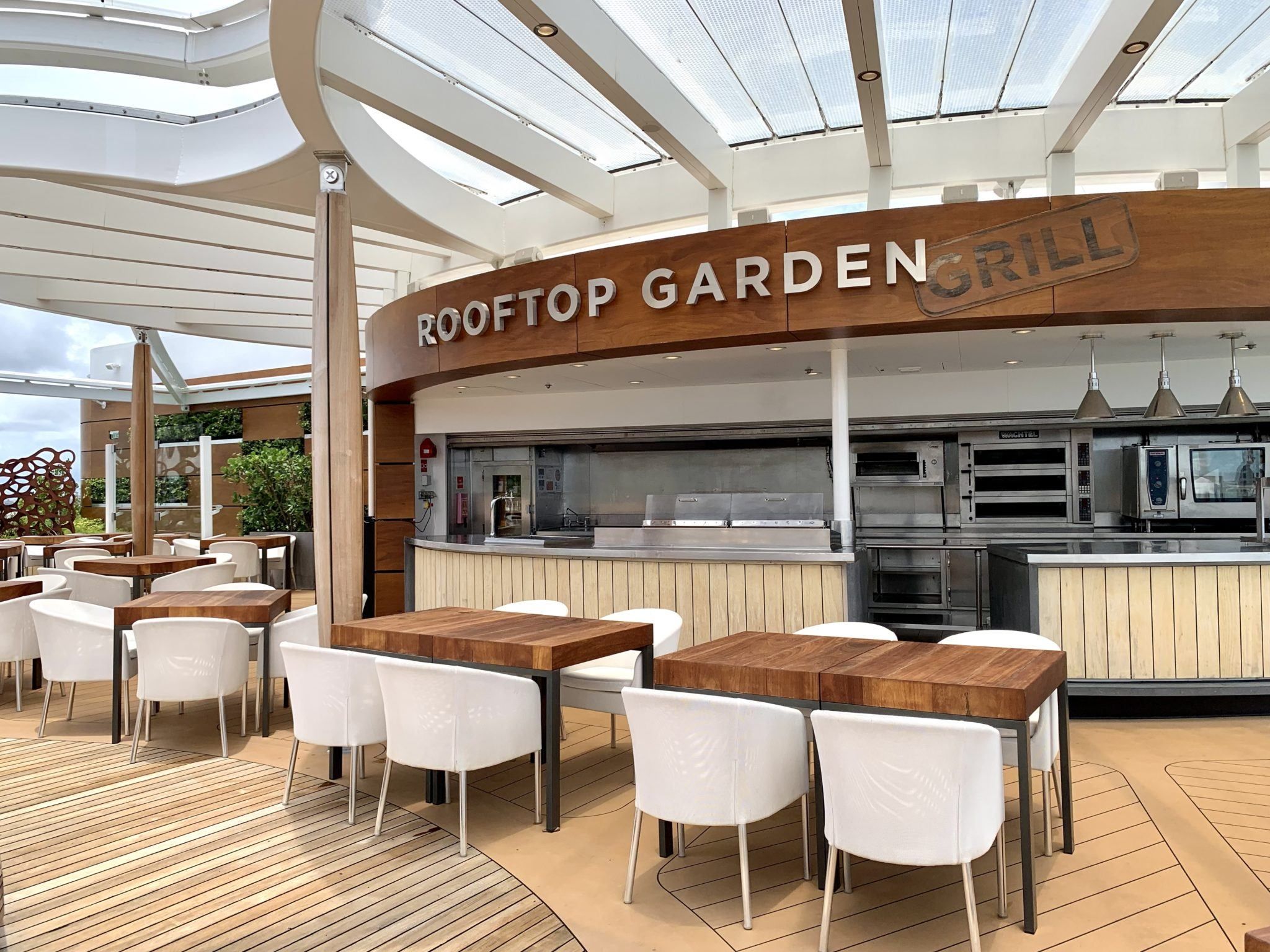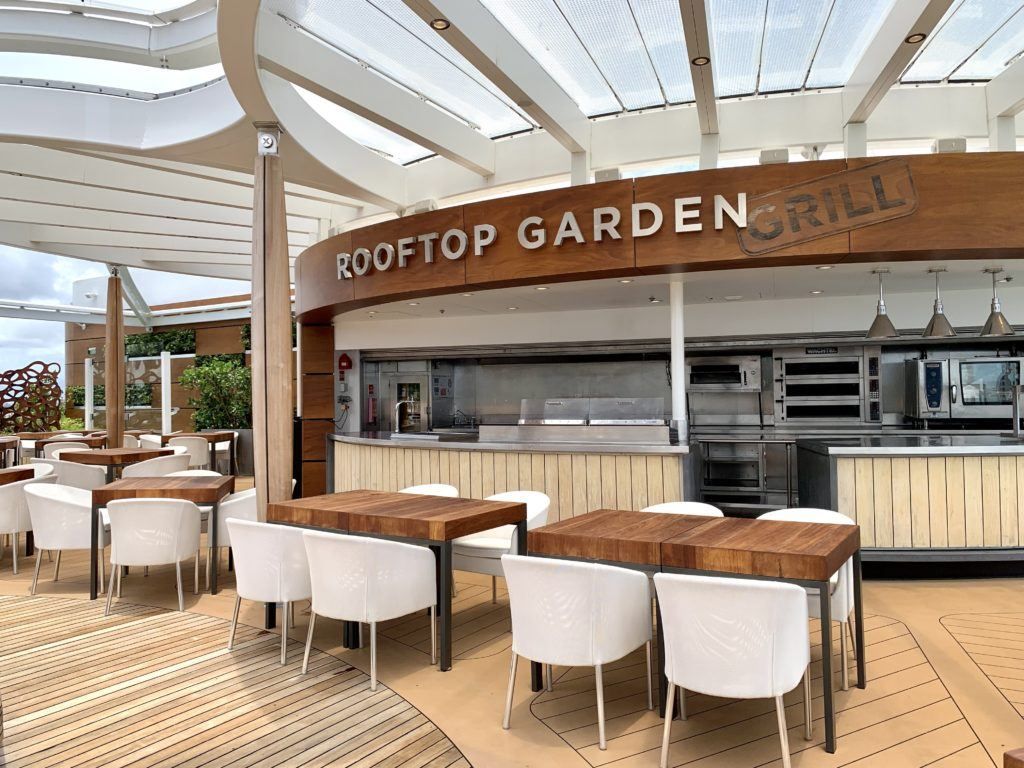 While the clouds and rain had cleared, by the time we got to the restaurant, the wind was still an issue. Unfortunately, this was the case with our last visit to the restaurant as well. This nicely appointed outdoor restaurant can be very windy as the ship is sailing.
The Second Time Is a Charm
Thankfully, the food was a vast improvement. It started with sampling two of the signature cocktails the Por Mi Amante Margarita and the Cucumber Southside.
Things just kept getting better from here. Our starters of smoked chicken wings and train wreck fries were also finger-licking good. The mac and cheese side dish was creamy, with a crispy baked top.
Further, the steak I had tonight was on par with the ship's steakhouse. Topping the night off with the baked cookie was the sweet ending to another amazing dinner on Celebrity Edge.
Certainly, we made the right decision to return to the restaurant. Sadly, you need to contend with the wind, but the food this go round was well worth it.
Dinner took a little over 90 minutes. Given the current conditions of our hair, we (i.e., the Princess) needed to stop back in the room to touch up.
So, this did not leave time for an after dinner drink. Instead, we were to the theater by 8:45 pm for tonight's headliner performer, Antonio Salci. This signature musician was a pianist that featured a variety of musical genres with accompaniment from the Celebrity Edge orchestra.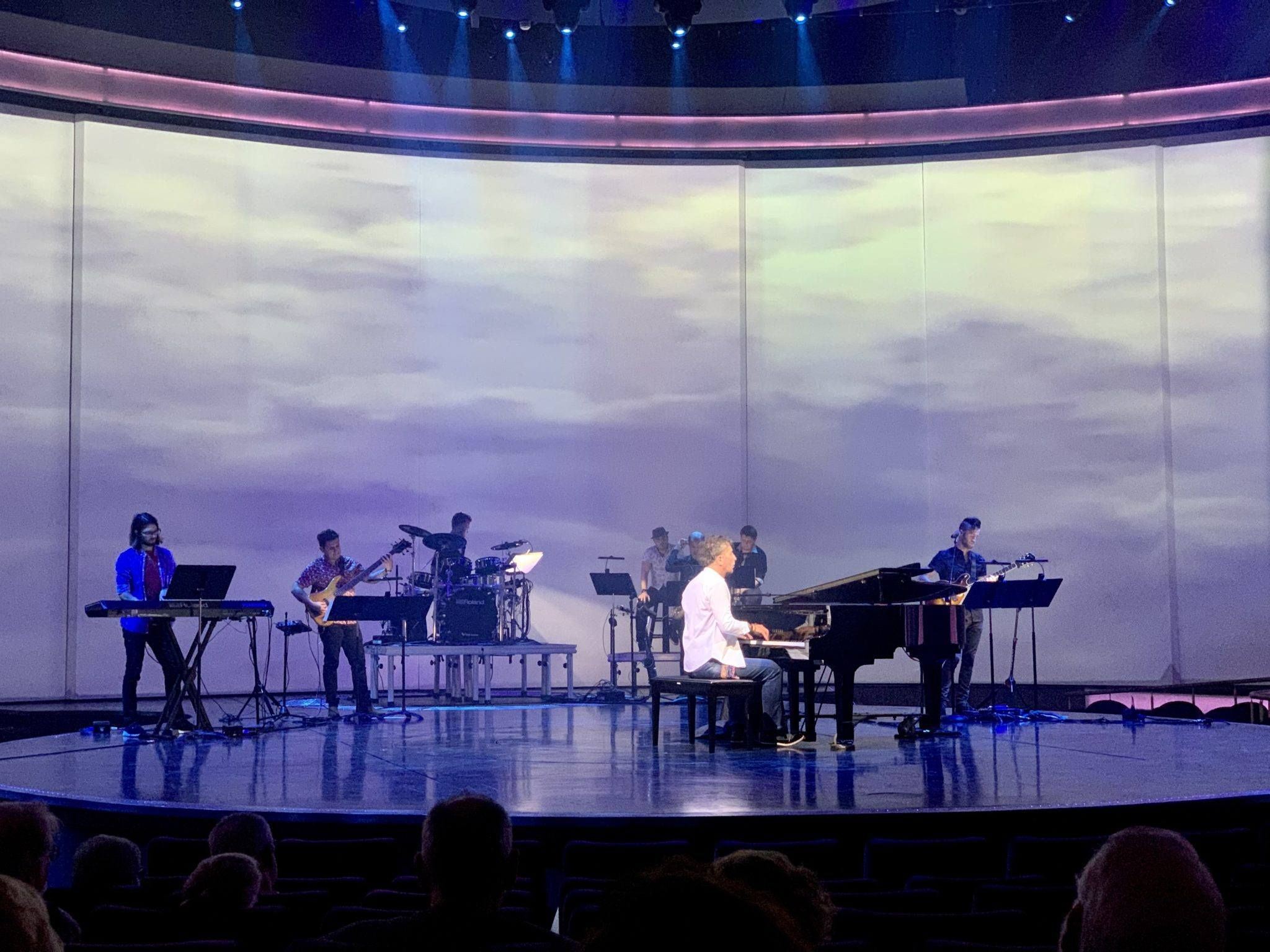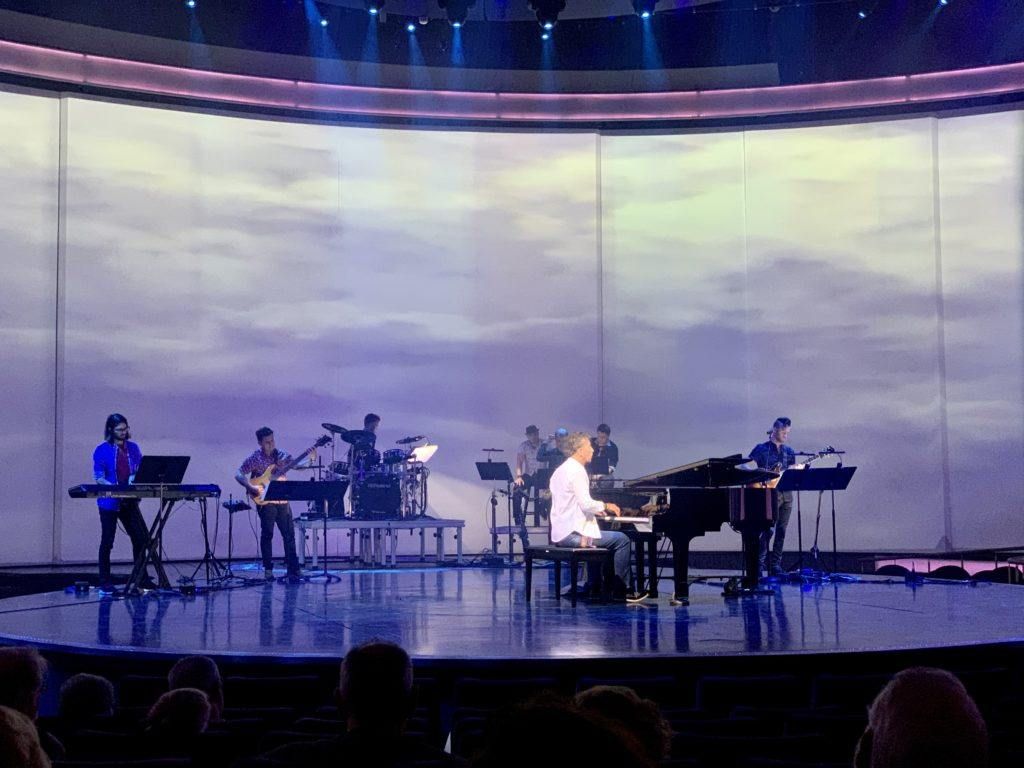 Like the previous evenings, we exited the show and found seats at the Martini Bar. It was about 11:45 pm when we returned to our room for the evening.
Tomorrow was our second port of call and next shore excursion in Cozumel.
EXCLUSIVE SAVINGS: Get the Best Deals on Celebrity Cruises
Celebrity Edge Cruise Review- Day 5
Who Is Ready for a Jeep Adventure?
A last minute change to the cruise line's protocols meant all cruisers needed a Celebrity Cruises shore excursion if they wanted to head ashore in Cozumel, Mexico. Luckily, we did book a tour with the cruise line a few weeks prior to the sailing.
Similar to our tour in Costa Maya, we met on the ship prior to going ashore. We were up and ready with our bags packed for our meeting time of 8:15 am in the main theater.
Within 10 minutes of arriving to the meeting point, our tour was called and we were led off the ship by a Celebrity Cruises shore excursion staff member.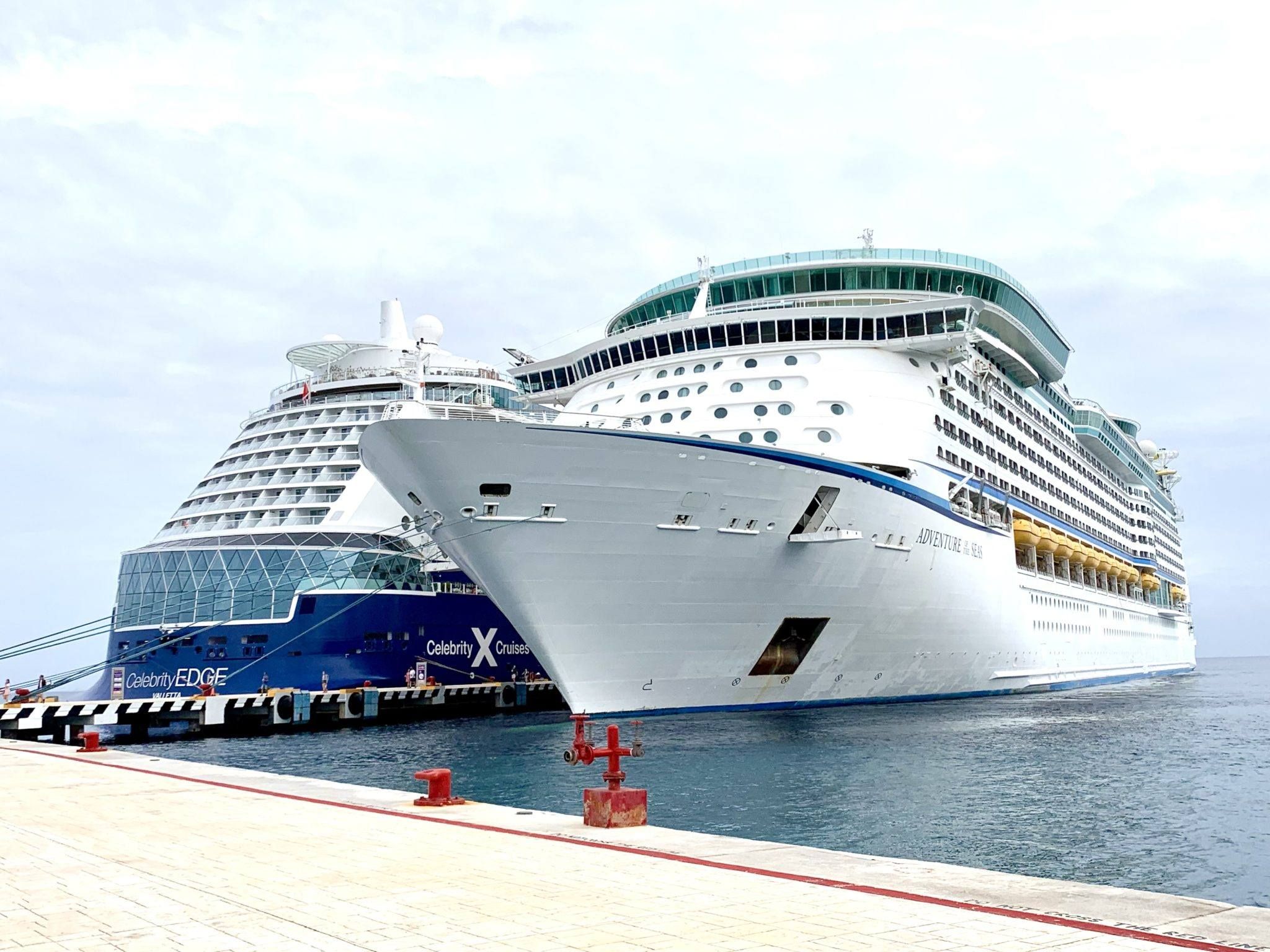 Today, Adventure of the Seas was also visiting the island. So, there were two cruise ships in port for the first time in over a year. Actually, it felt a bit odd to see another cruise ship at our port of call. Of course, in normal times, it would have been filled with ships.
A Well Organized Day in Cozumel
At the end of the pier, we met our tour guides, Willy and Kike. Here, we checked in and waited to begin our 6-hour tour.
Thankfully, this Adventure Jeep tour to Punta Sur with Explora Tours was well organized. All of the jeeps were relatively new, and most were automatics. Good thing, as neither of us can drive a manual vehicle.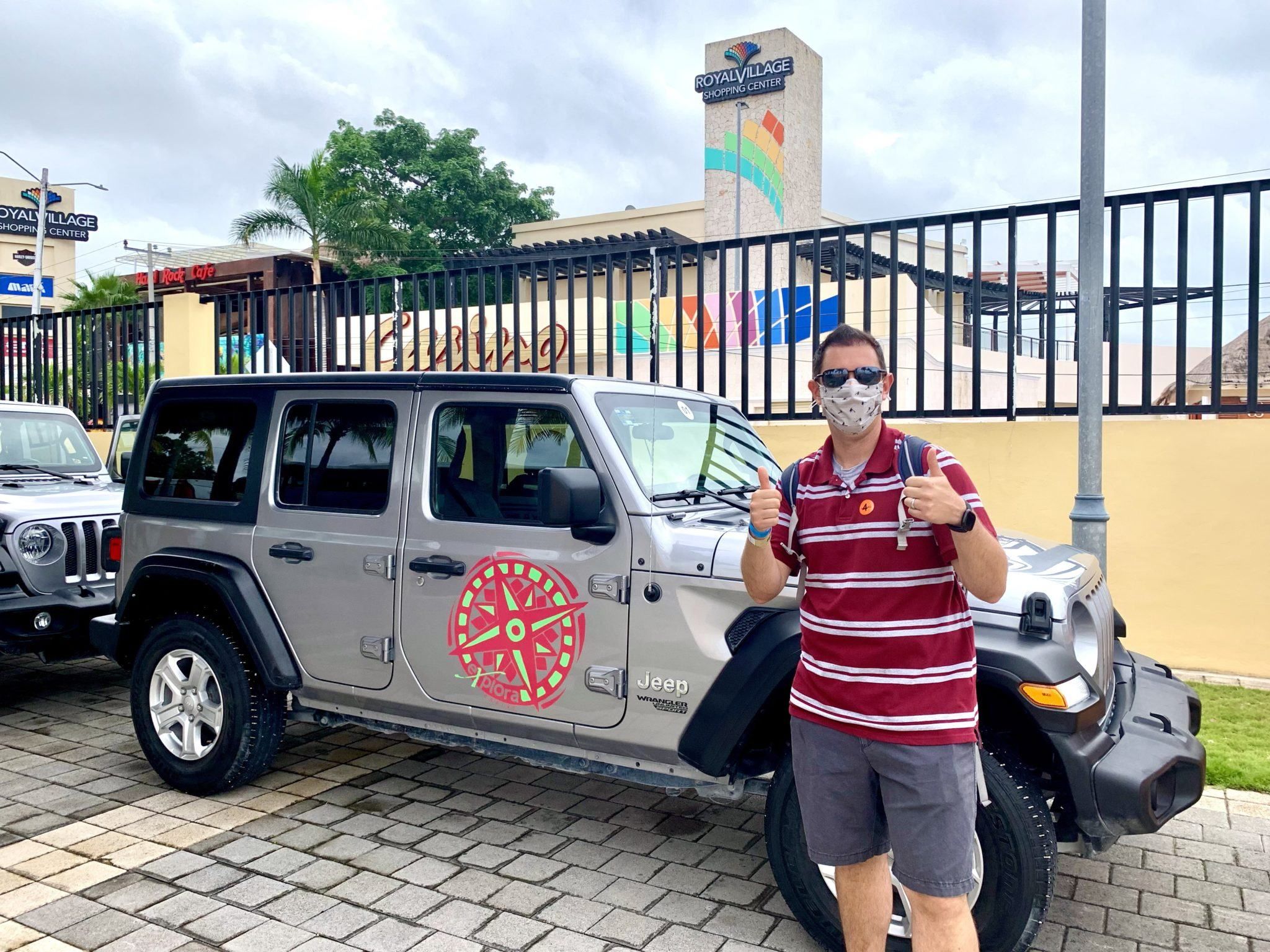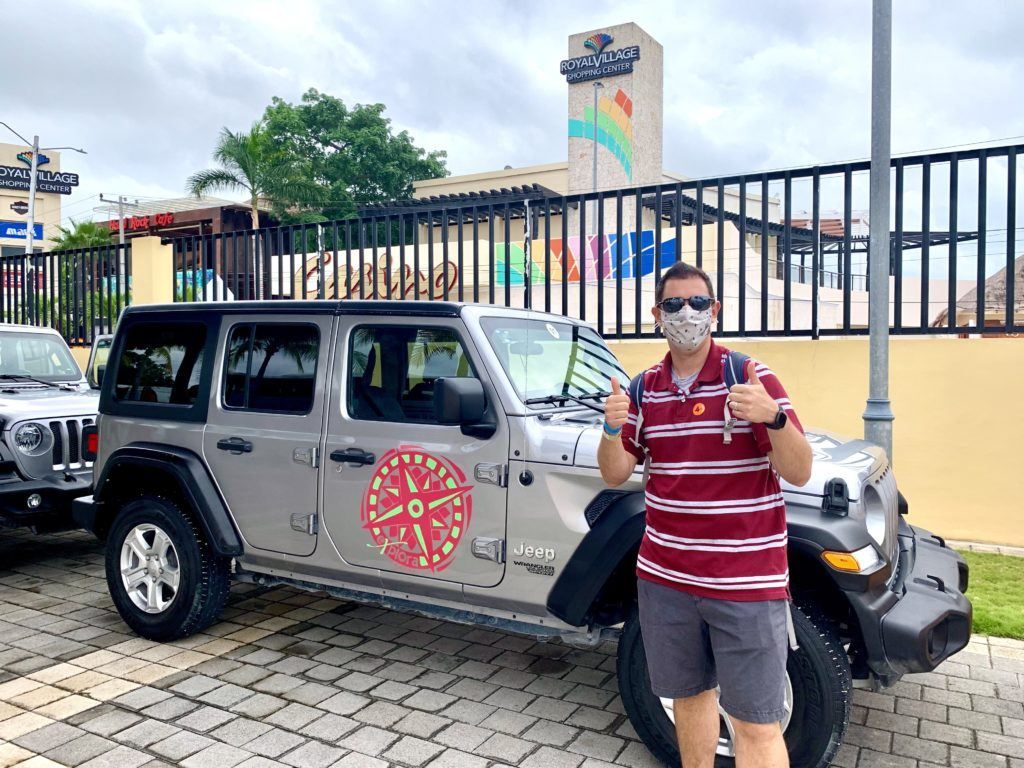 The great condition of the vehicles was matched with just the right amount of time during each of our stops. Often times, tours can feel rushed.
Our tour began with a Jeep caravan drive to Punta Sur. Here, we had a two hour beach break. During this stop, there was an optional guided snorkeling opportunity and then time for lunch to purchase at our own expense.
The beach break was followed by stops at other attractions in the park. These included the lighthouse and tequila tasting/marketplace, as well as the lagoon and a small Mayan ruin.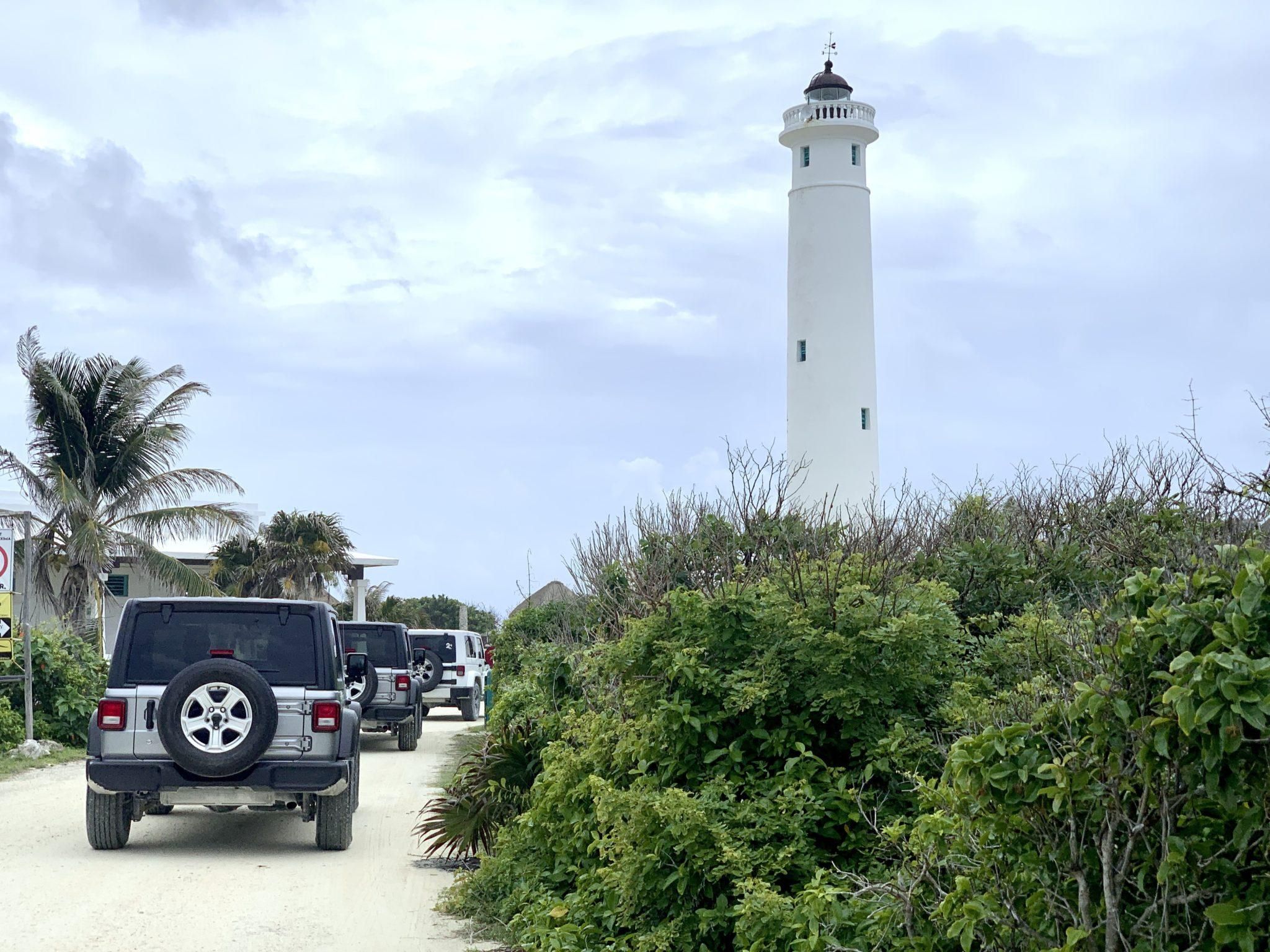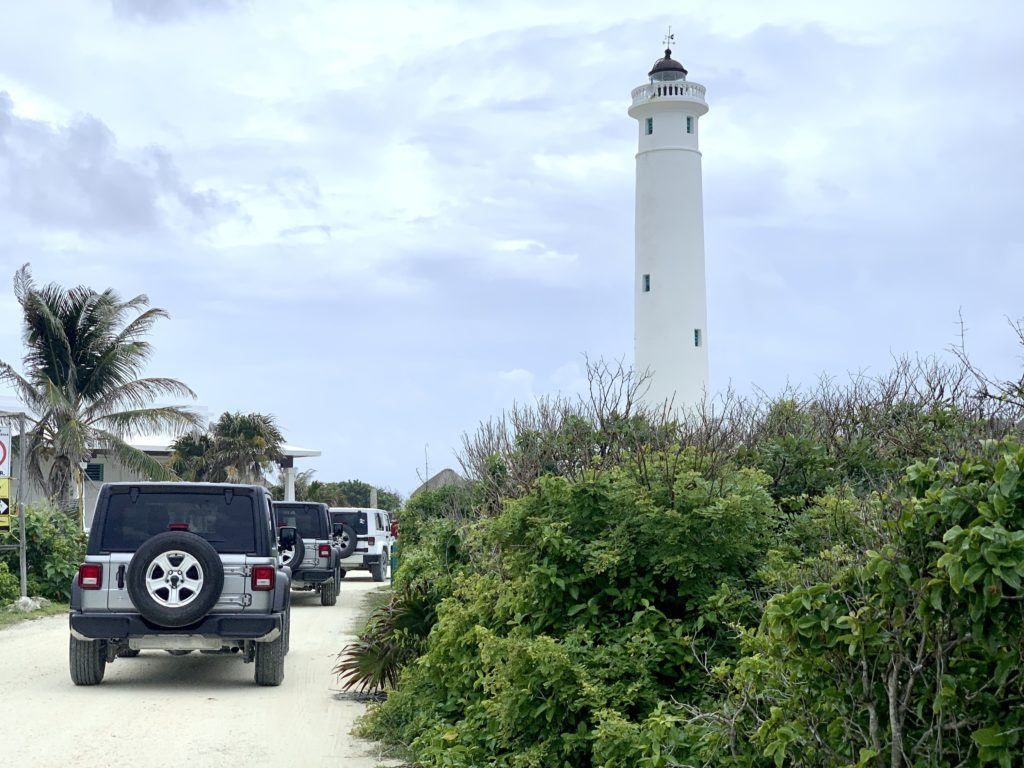 The drive to and from the cruise port was about 45 minutes. Plus, you got just enough "off-road" terrain around the park to warrant using a jeep.
Overall, we had a fun day, even if the weather did not always cooperate during the trip. I guess that's just summer in the Caribbean!
While we did have a short amount of time, and permission, to go through the shops and restaurants at the cruise terminal, we opted to head straight back to the ship. Good thing, as it started to downpour as we were walking up the pier.
Preparing for a Long Night
Back onboard the ship, we dried off with some coffee and a sweet treat from Cafe al Bacio. Given the weather was no longer conducive to enjoying some time on the pool deck, we just headed back to our room to relax for a bit.
Dinner tonight was at Cosmopolitan. This "American" themed restaurant offers the least interesting Exclusives menu of the four complimentary dining rooms.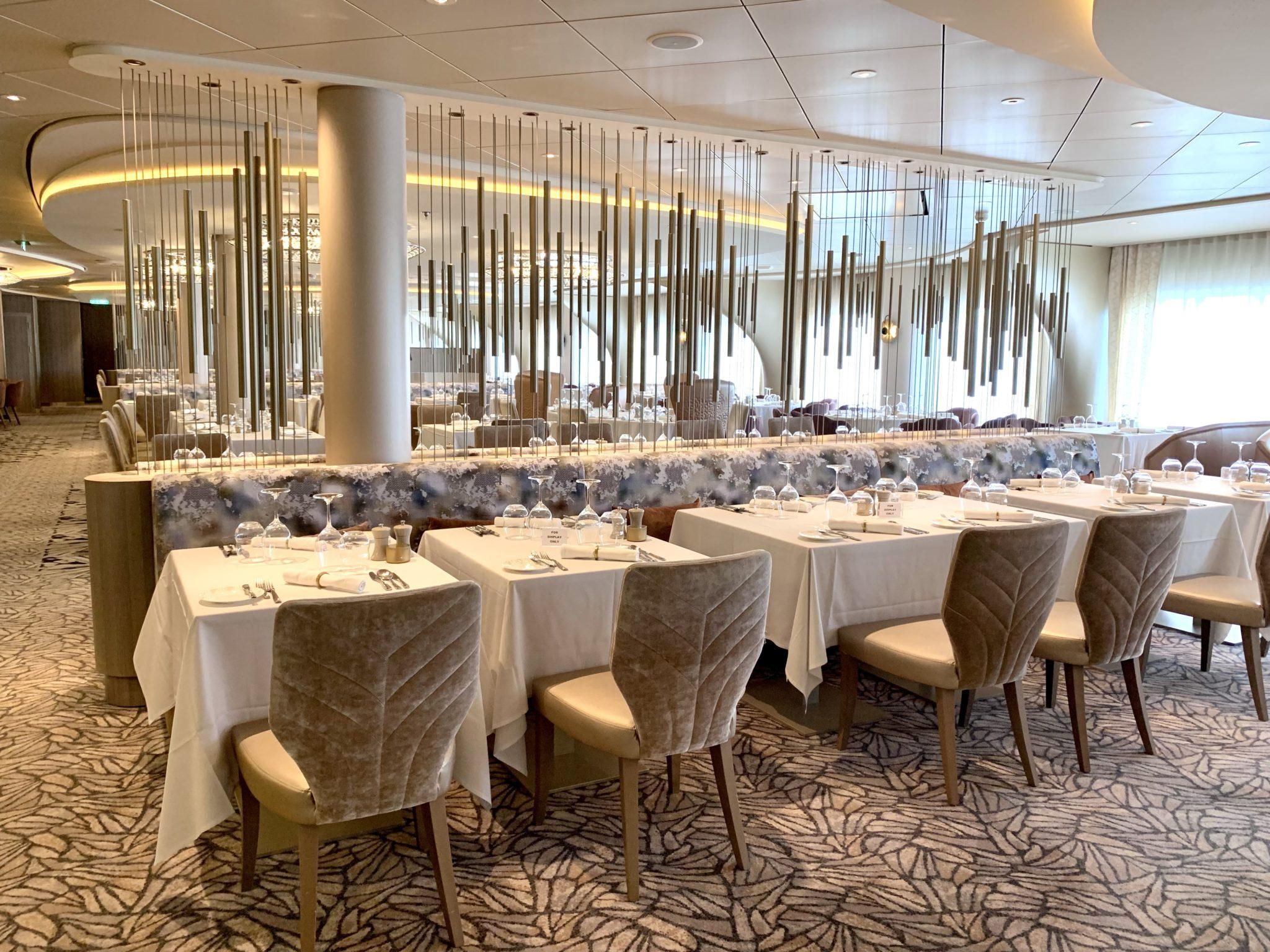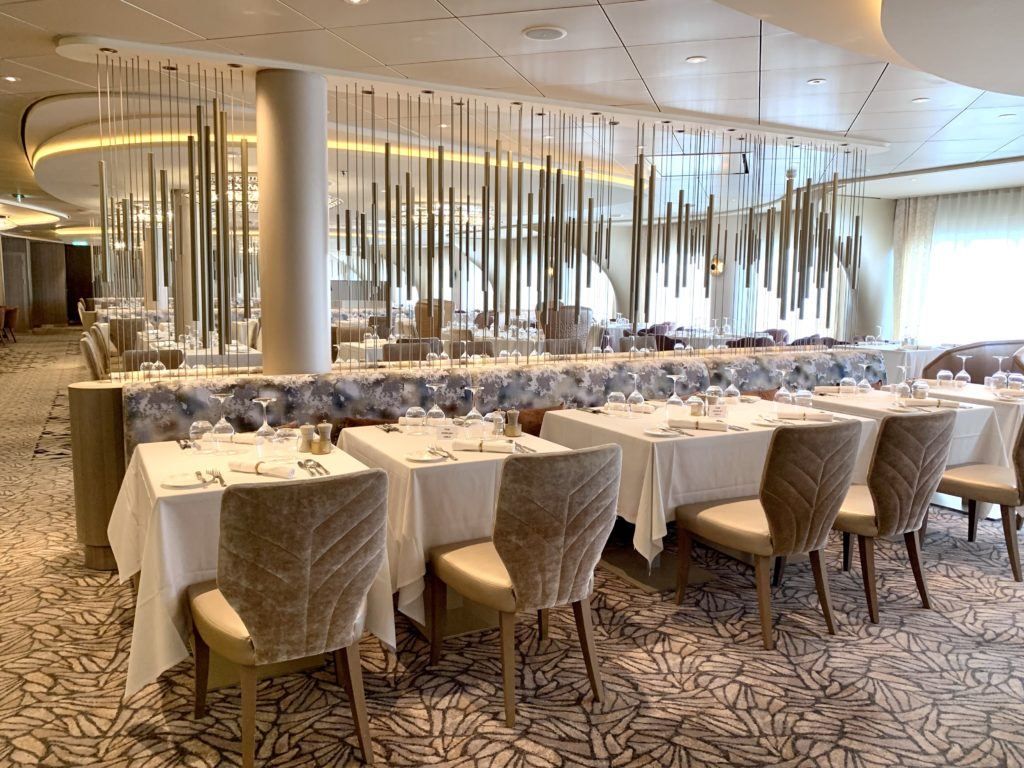 Arriving a few minutes early for our 6:30 pm reservation, it was also the quietest of our dining experiences. This meant that our waiter was overly attentive. He was quick to ask our order, clear plates, and bring out our next courses.
This dinner was certainly the quickest we had all cruise. Going through the three courses, we were out of the restaurant in about 75 minutes.
Tonight, I went with the beef carpaccio and braised beef short rib. The wife's dessert, the apple tart tatin off the signature menu, was the clear winner.
A Late Night on Celebrity Edge
For once, we had some time for a pre-show drink. Snagging a table on Deck 5 near the café, we spotted Captain Kate behind the Martini Bar.
Putting two and two together, we realized she would be making a guest appearance during the chandelier show at 8 pm. So, we were able to capture her doing an impressive martini pour alongside the other bartenders at this central hub of the ship.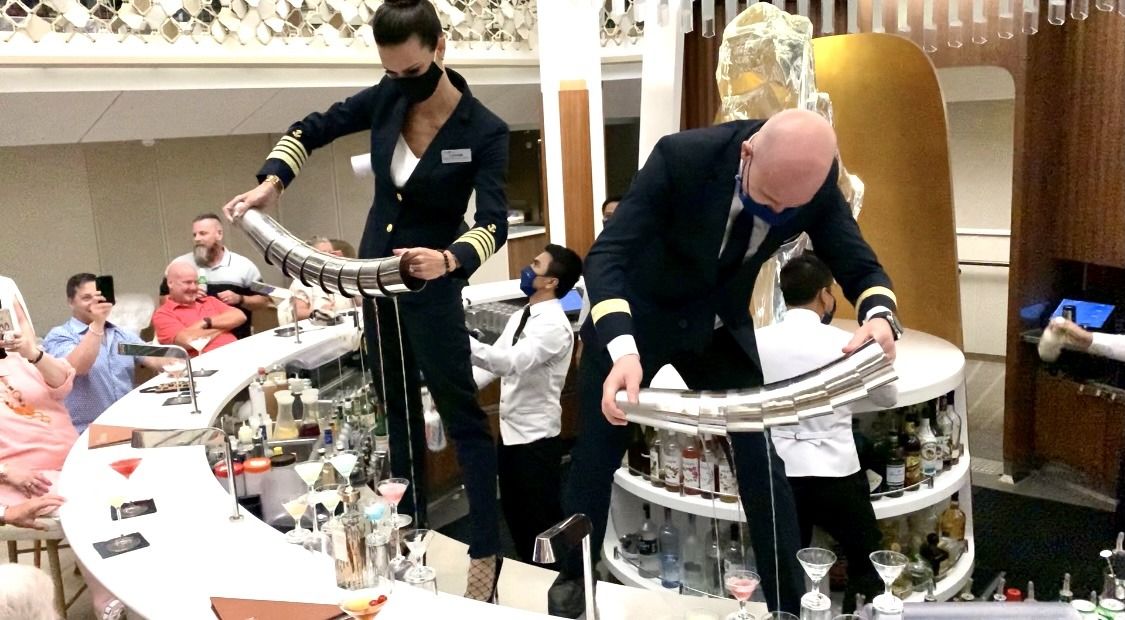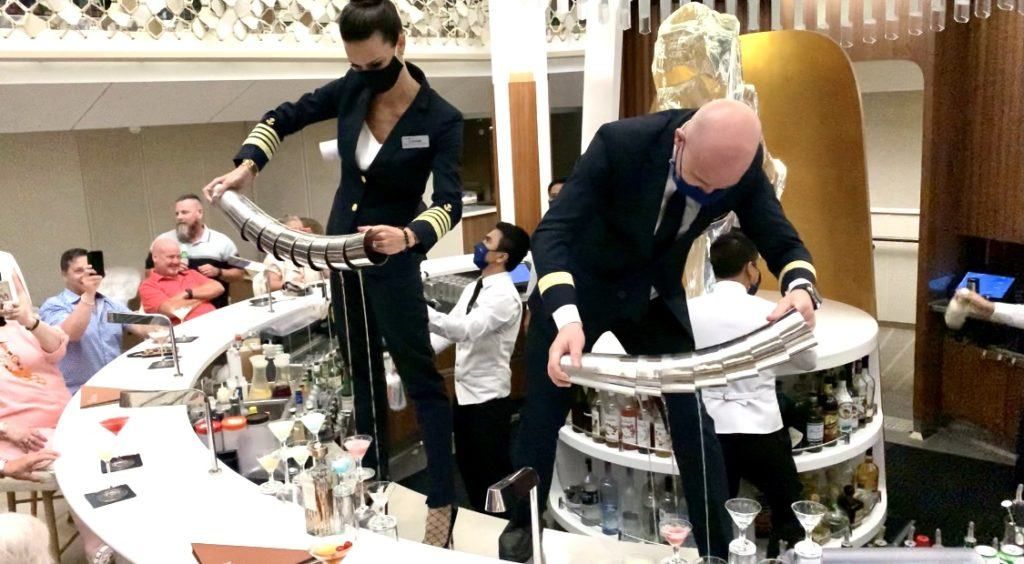 Finishing up our drinks, we headed to the theater around 8:40 pm for tonight's headliner. Similar to the other shows, the theater was relatively empty.
This evening featured an illusionist, Jason Bishop. Actually, we saw him on our first ever Celebrity sailing, an Alaska cruise on Celebrity Solstice. So, it was fitting that he was performing on this first cruise back with the line.
His illusions were rather typical, but he did have a quick, snarky sense of humor which gave this magic show a fresh and fun atmosphere. He focuses on close up magic, which included doing some card tricks as well as slight of hand where he changes the denominations of dollar bills.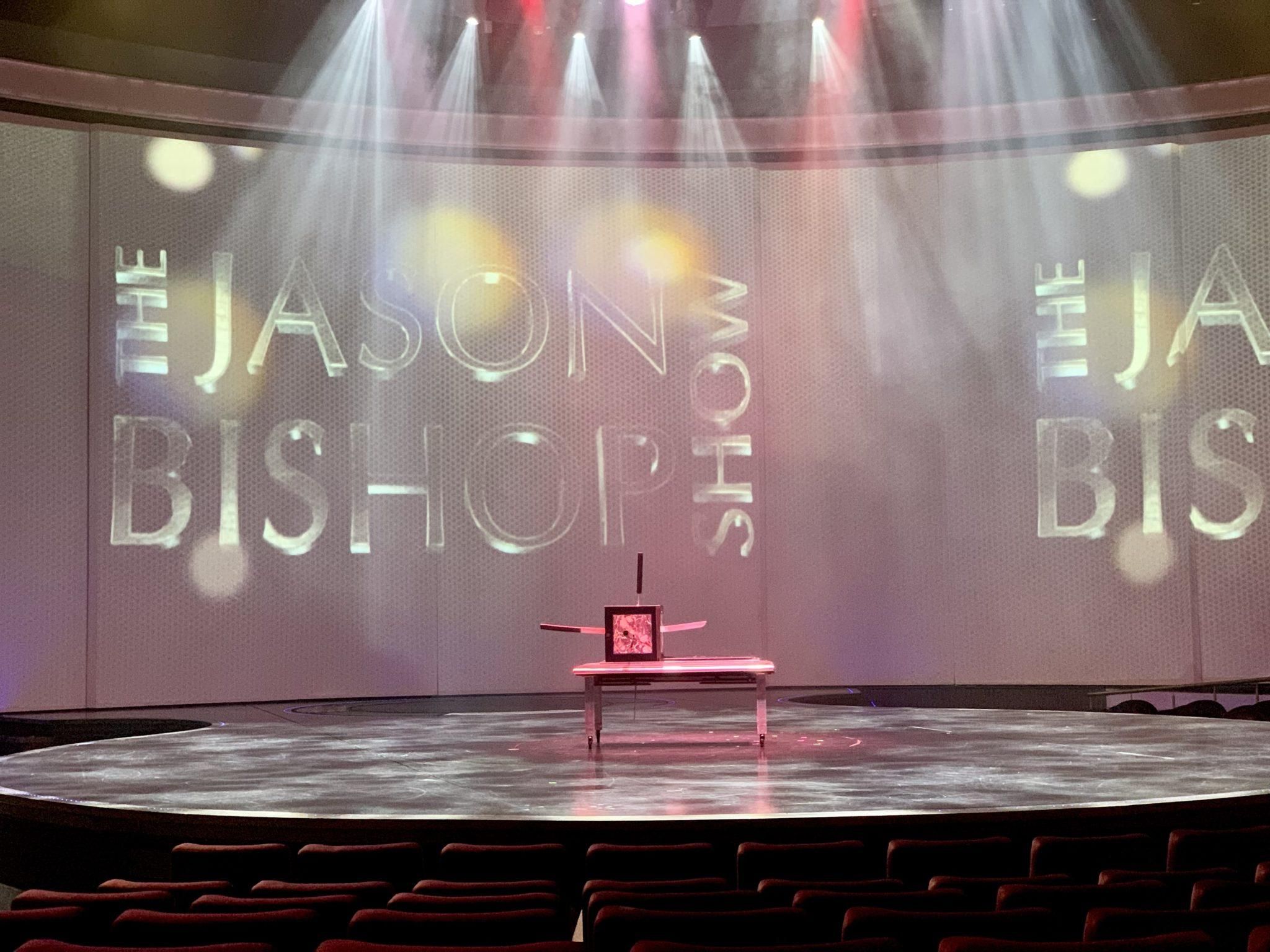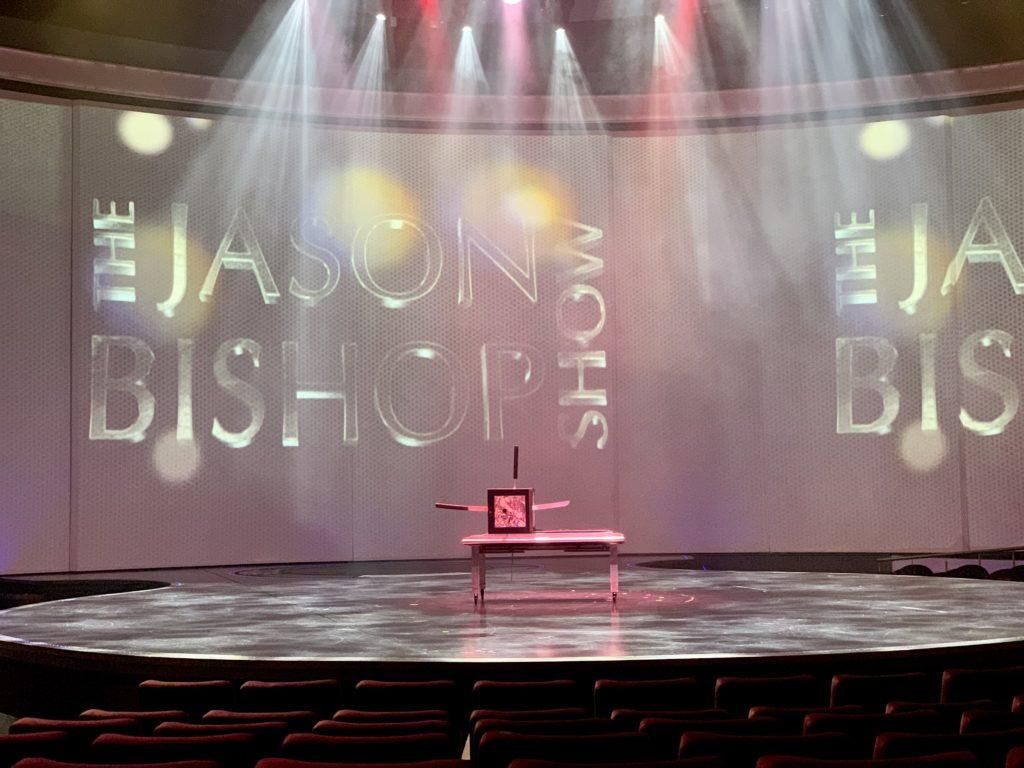 Following the show, we found our way to the casino. We had noticed the previous day that the ship still had a bank of the Princess' favorite slot machine. So, she tried her luck at the machine.
Losing this round with the one arm bandit, we returned to the theater after 10:30 pm for late night comedy. This second show of the evening featured comedian AJ Jamal from earlier in the cruise.
This "adults-only" show was much milder than other similar shows. We both agreed that we actually preferred his first "family" show earlier in the cruise.
Finishing up at 11:30 pm, we opted to skip our normal nightcap and headed straight to bed. Even though tomorrow was a sea day, we would be losing an hour sleep tonight.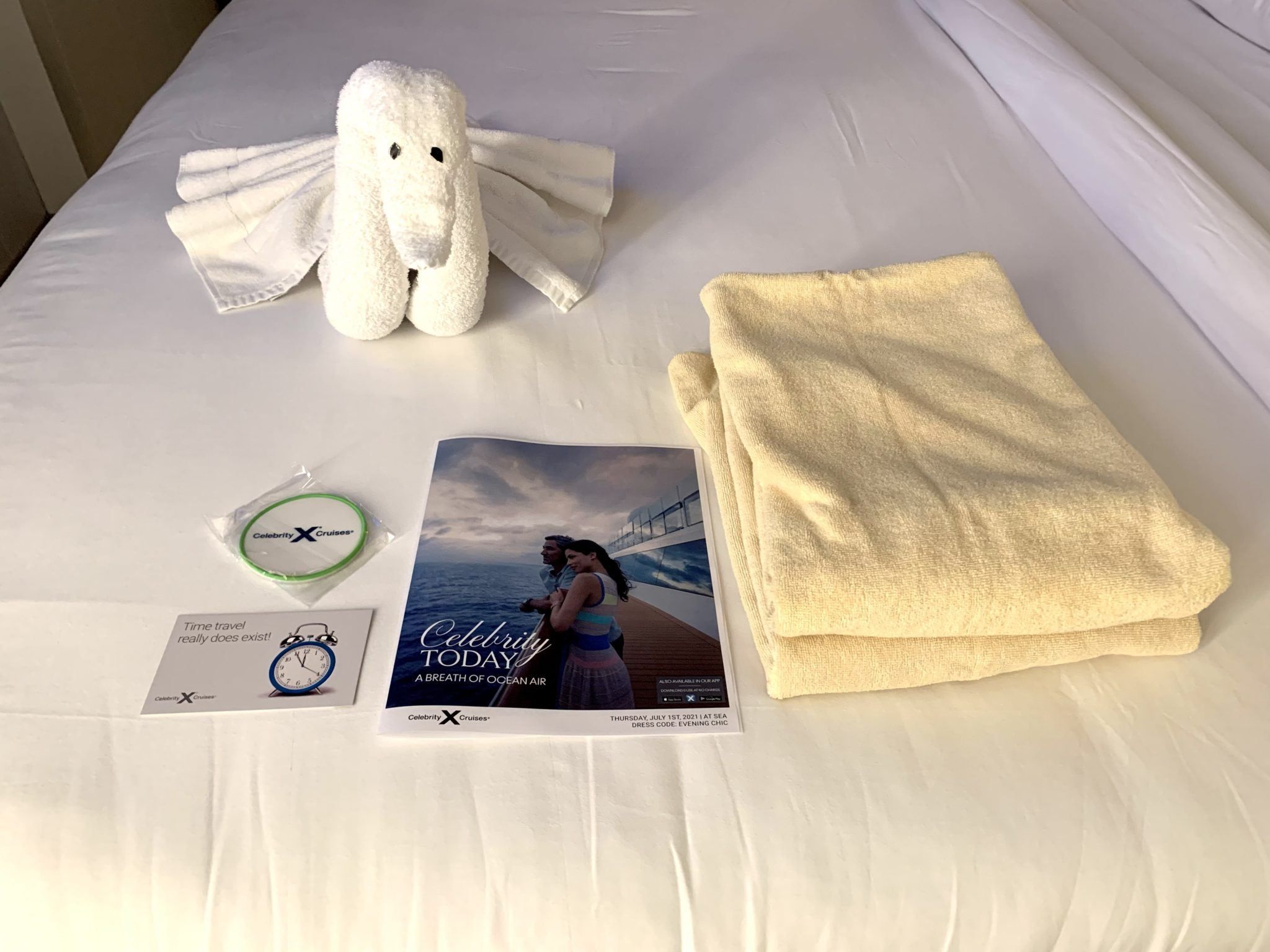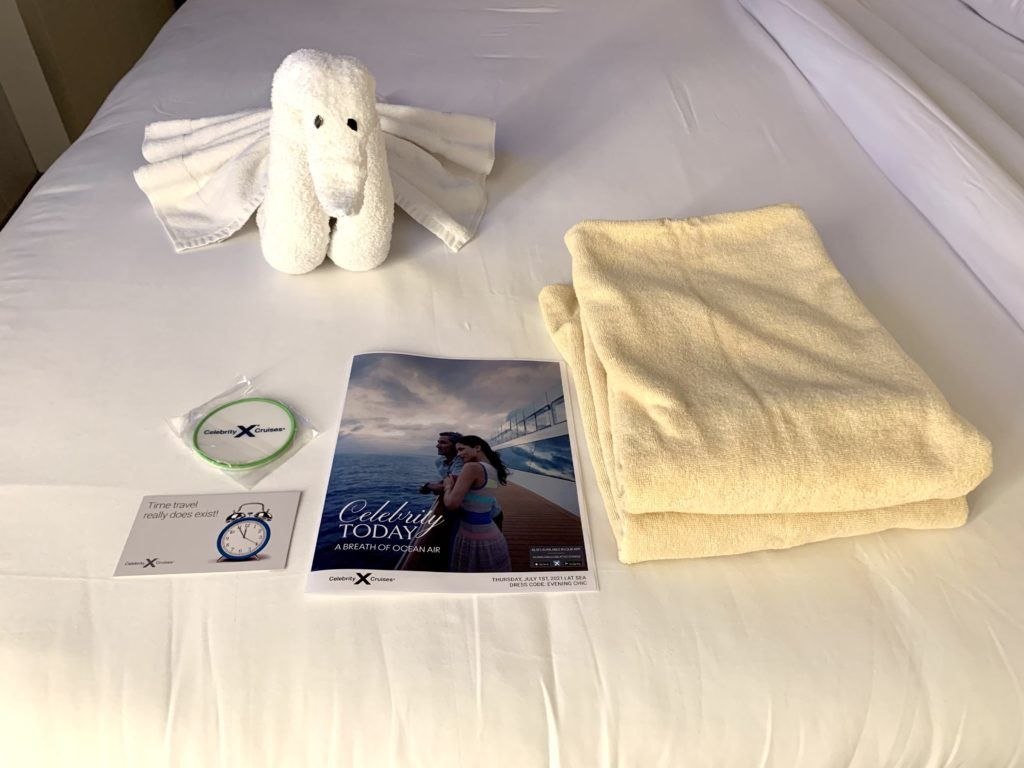 Related Post: Celebrity Edge Dining and Restaurant Guide
Celebrity Edge Cruise Review- Day 6
A Celebrity Morning
On the final sea day, it always seems like we are trying to tie up loose ends. This trip even more so given it was the first cruise out of the United States.
Also, I had to work my full time job a few days this week, including today. Needless to say, there was plenty to do today.
Our alarm was set for 6 am. First on the list was to get breakfast at the Oceanview Cafe. The Princess likes to sample all of the dining venues on a cruise.
Breakfast was actually a bit disappointing. Across the items sampled, it seemed like all the food had been sitting under the heat lamps for a bit too long. Oh well, given the amazing food we had up to this point, we will give the ship a pass on this meal.
After breakfast, I had some meetings to attend and work to do back in the room. Meanwhile, the Princess went to the Conversations with Celebrity featuring Captain Kate at 10 am. There was also a follow-up trivia regarding her cat, Bug, at 11:15 am.
No, I am not making this up. Am I the only one who didn't know that this hairless cat is a social media star with over 51K Instagram followers.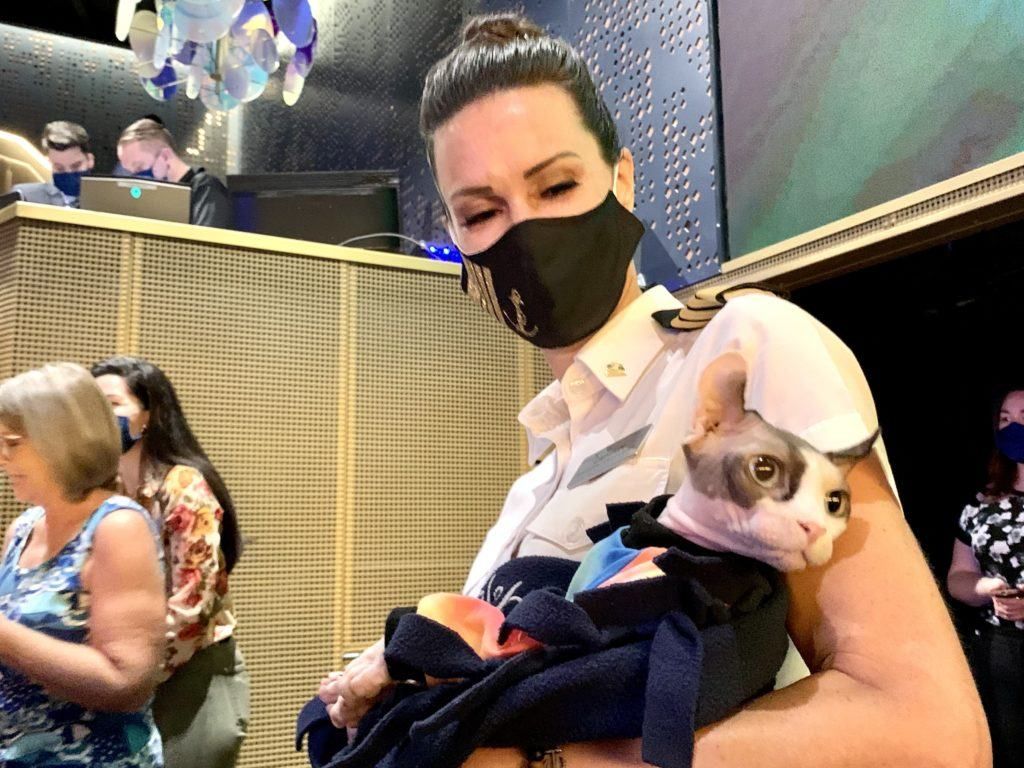 I was multitasking in the Club during this jam-packed trivia session. On the other hand, the Princess was enthralled with the cat and taking pictures.
An Office With a View
Sitting around on our devices all day meant neither of us were hungry for our noon lunch reservation at Le Grand Bistro. Still, we somehow found room for our baguette sandwiches and profiteroles.
Currently, Le Grand Bistro is a $20 pp upcharge for lunch. While a bit steep for what we ordered, the restaurant does feature more upscale menu items like mussels, escargot, and steak frites.
Lunch was done by 1:30 pm, which gave us a few minutes to win back some of the money the Princess lost the night before in the casino. Good thing we were on a time limit as she ended up ahead when I had to return to work at 2 pm.
At least the weather was sunny enough for me to do work on our balcony this afternoon.
At 3:45 pm, we met a friend staying in the Retreat to show us around some of the public spaces.
With the skies clearing from a passing shower, we snagged some seats and a round of cocktails from the Sunset Bar.
But We Don't Dance
As the second Evening Chic night of the cruise, we did have plans to take a second series of photos. Unfortunately, we had to pass on the photo studios this evening as we weren't ready in time.
Dinner tonight was at the final complimentary main dining room, Normandie. Similar to the night before, this restaurant felt very quiet.
Tonight, the signature menu featured the traditional formal night lobster tail. With several trips planned over the summer, I went easy with just one tail. Also, I sampled the lamb chops. The Princess raved about the potato and gruyere tart and the baked brie appetizers. For desserts, we both ordered the baked Alaska, and it did not disappoint.
Dinner was closer to 90 minutes. This gave us some time to watch another game show in the Club. The Whisper Game was essentially a game of telephone, and it was quite hilarious to watch.
The game show ended by 8:30 pm. At which time, we headed to the theater. Good thing, as this show was by far the best attended main theater performance of the cruise.
This musical act consisted of three members of Uptown. Singing R&B and Motown hits, it sounds like every other cruise show. However, don't let the description fool you.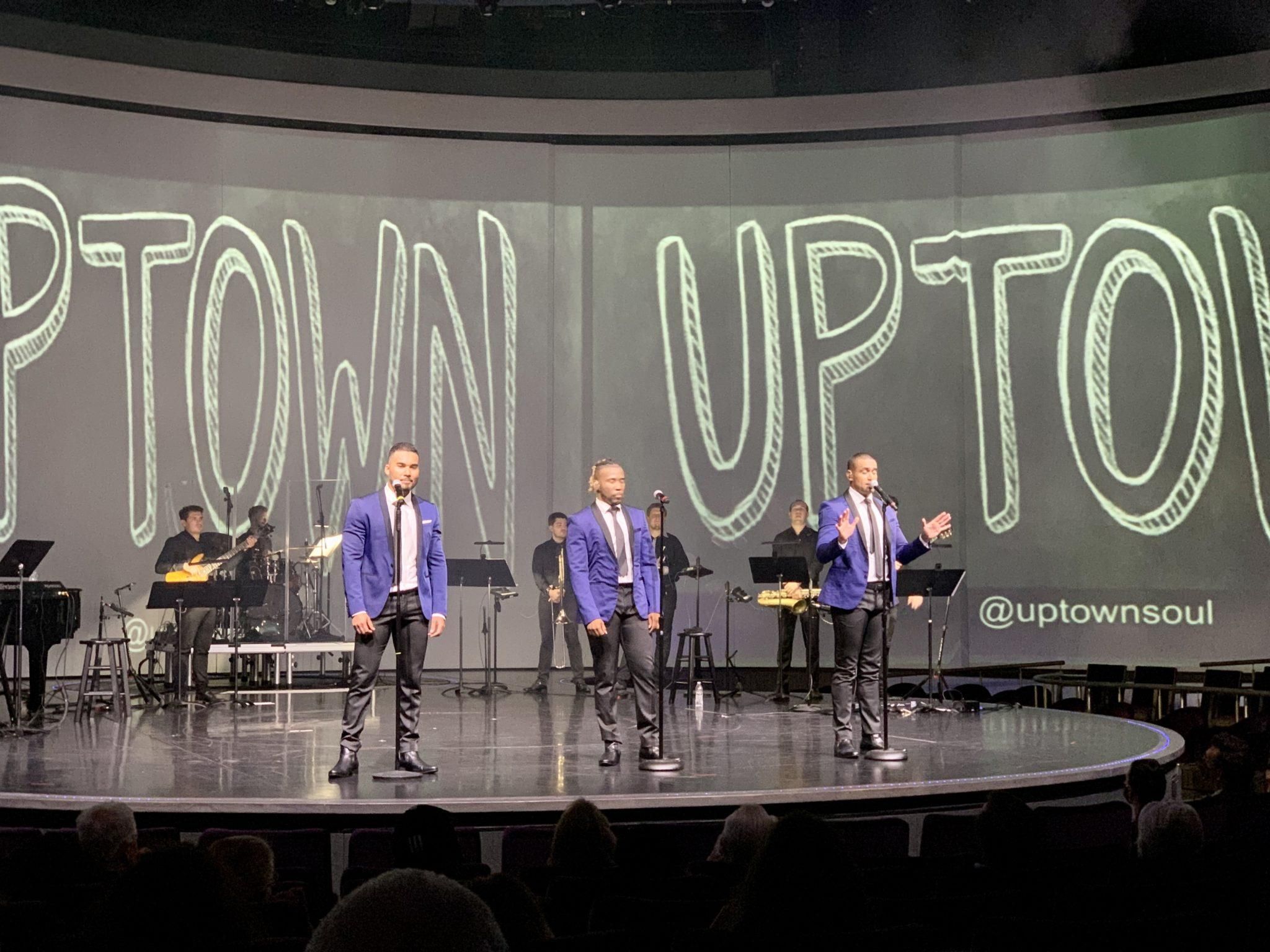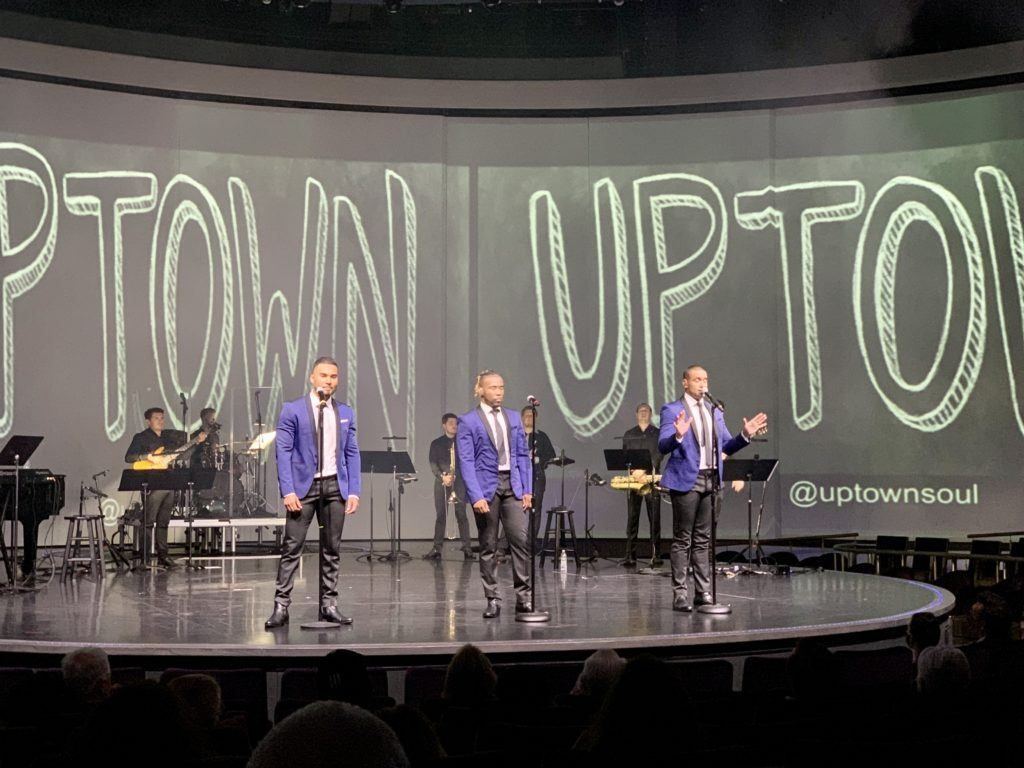 The three performers had powerful and soulful voices, along with dance moves and audience banter. So, while the band focused on hits that are 60+ years old, the show did not feel dated or stale at all. With a packed house getting on its feet for the last two songs, it was certainly the liveliest show all week.
The liveliness continued to the atrium where the second silent disco was about to begin. Again, this was a packed house on the deck 3 dance floor and surrounding upper decks. Featuring three DJs, including the cruise director Lauren, it felt like the entire ship was here.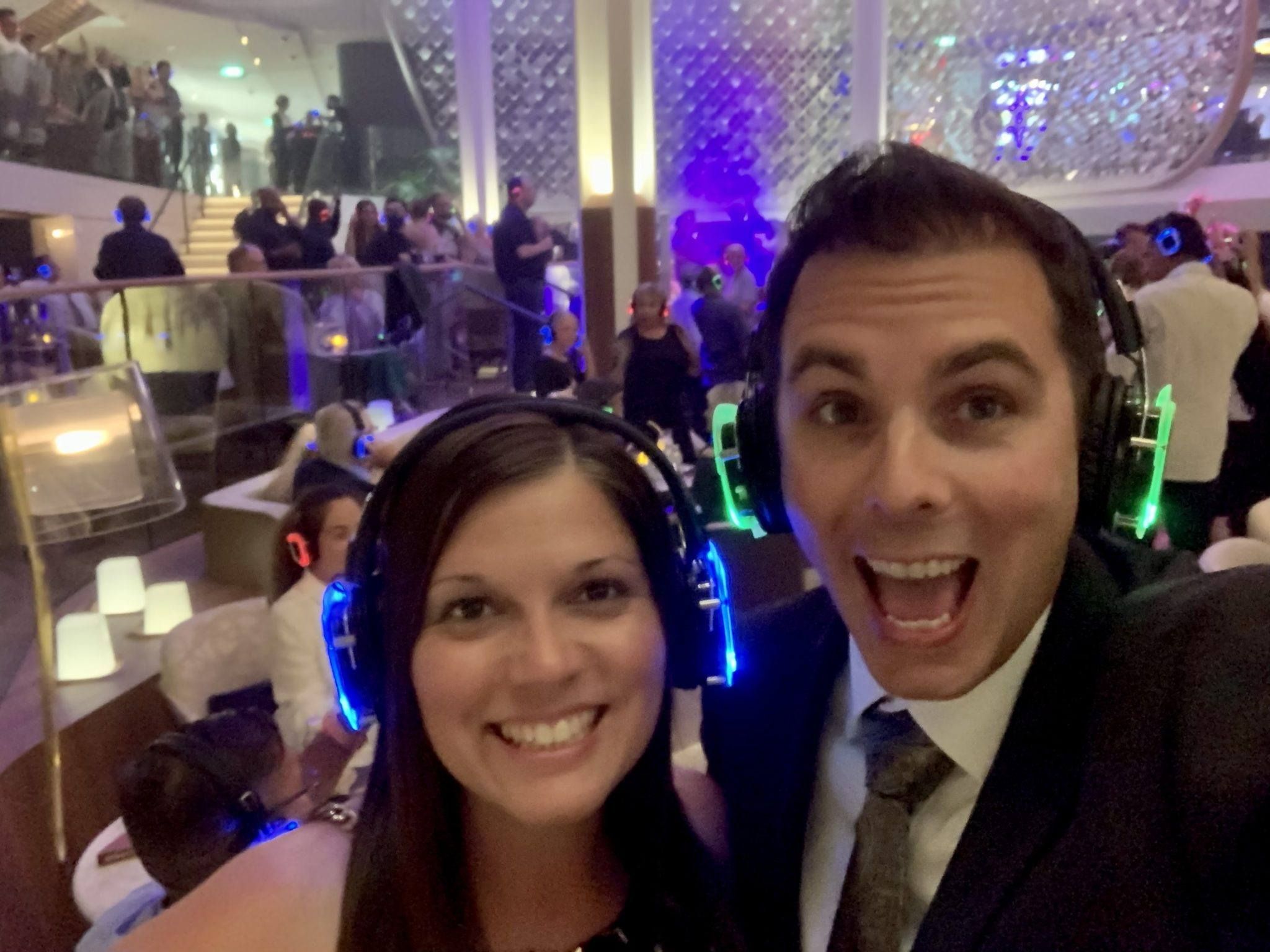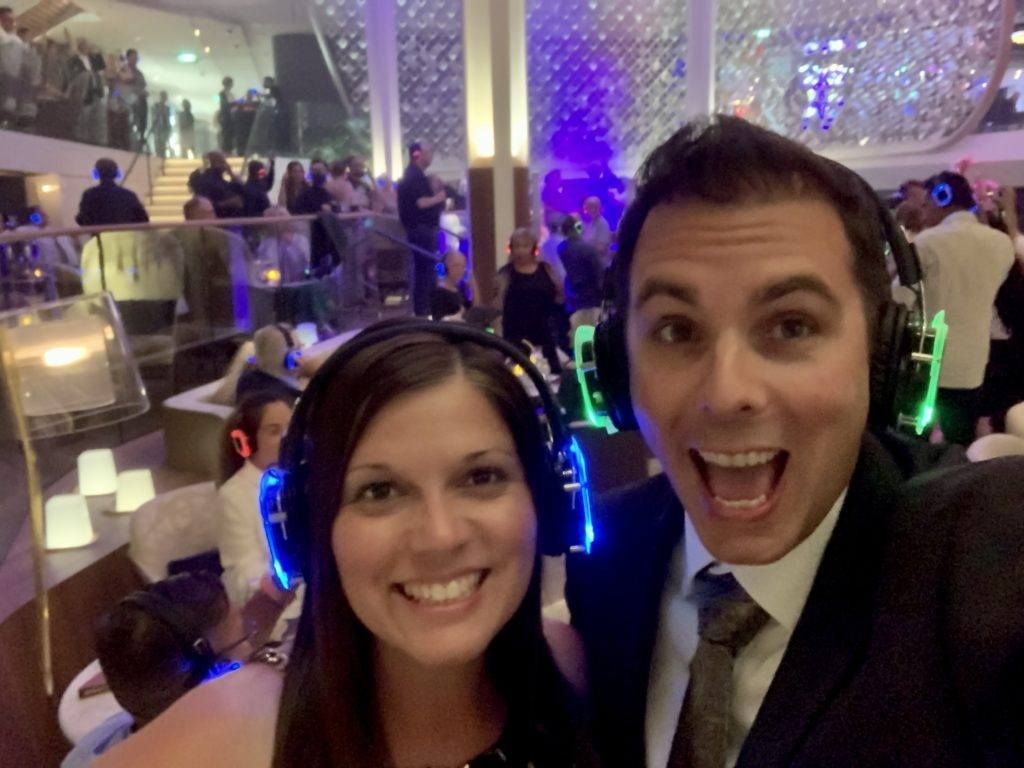 The party ended around 11 pm, and we opted to call it a night. With tomorrow being our final day on the ship, and plenty still left to do onboard, we needed our rest!
BOOK NOW: Celebrity Edge is Sailing This Summer!
Celebrity Edge Cruise Review- Day 7
Back in the Bahamas
Our last and final day of this Celebrity Edge cruise review brings us back to the Bahamas. Given that we had just visited a few weeks prior, we had already made the decision to stay on the ship today.
Pulling into Nassau in the morning, we were greeted by Crystal Serenity and Grandeur of the Seas out of dry dock.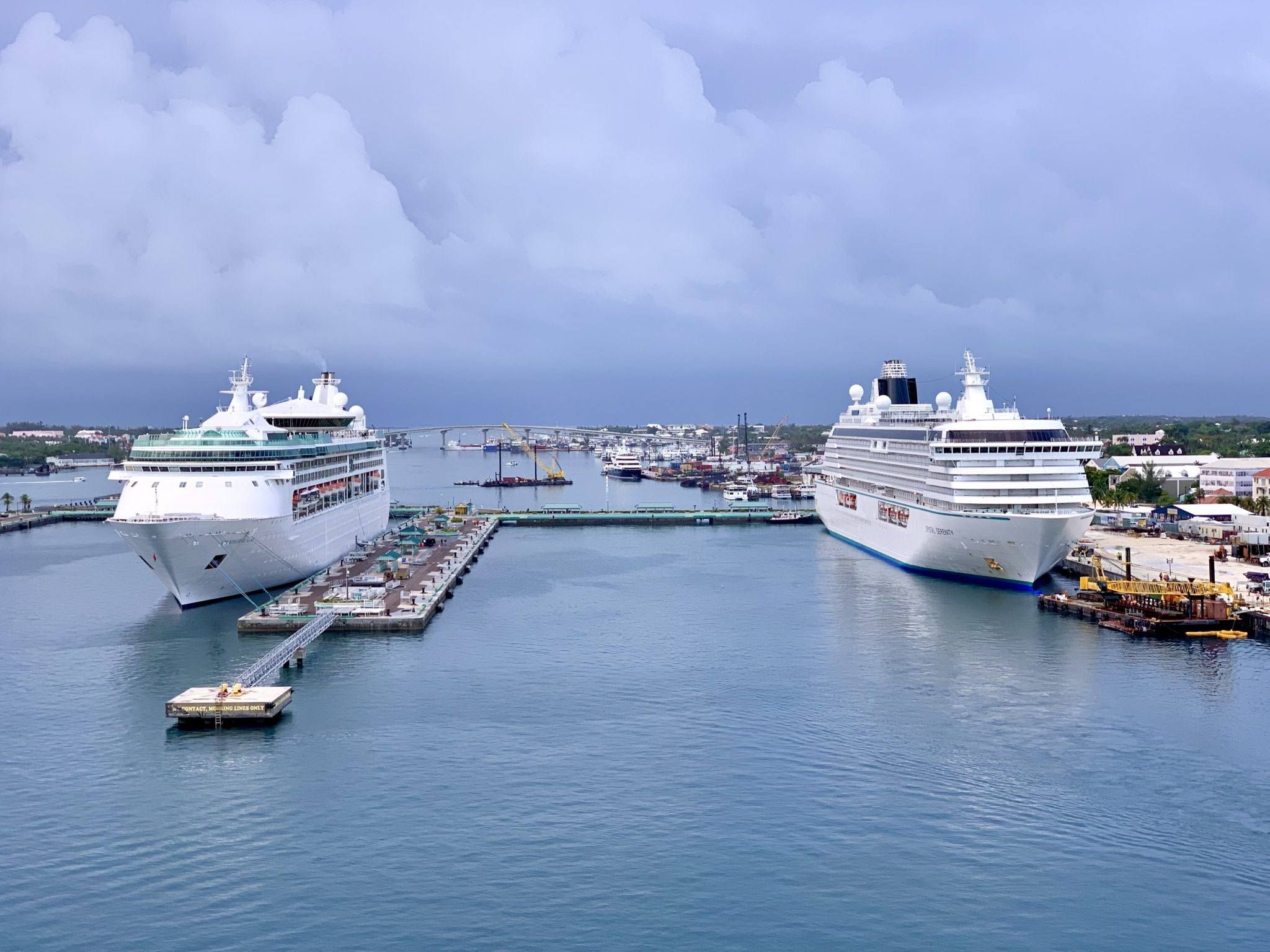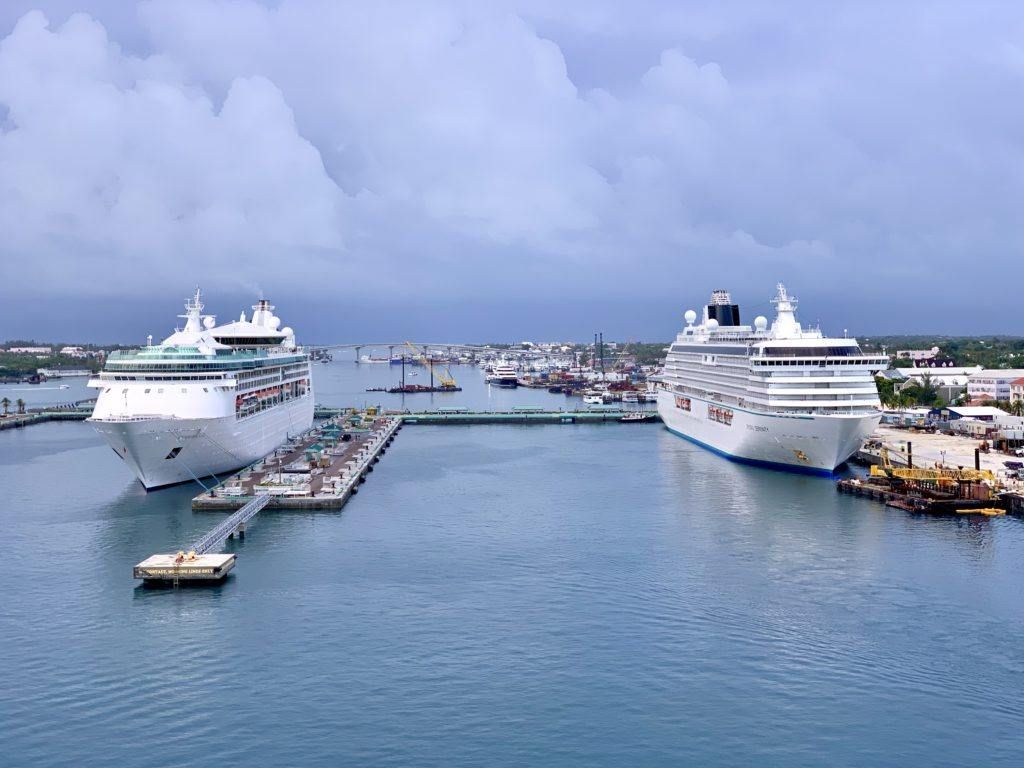 We decided to grab breakfast in the main dining room this morning. Heading down around 8:30 am, the venue was relatively quiet. We were actually sat at a table very close to another couple. So, we chatted about our travels over breakfast.
We then headed up to Eden to find a quiet place to relax and do some work. We scored some aft facing seats, so we could see what was happening on the pier. Watching cruisers come and go, we were actually glad that we did not get off the ship as it rained pretty steadily for a while.
Working for a few hours, we then sampled some of the sandwiches at the Eden Café for lunch. I went with the daily carved sandwich, which was quite tasty, while the Princess ordered the chicken pesto sandwich.
Once the weather cleared a bit, we headed outside to enjoy some of our last moments on the Resort Deck of Celebrity Edge. Along the way, we stopped in for a round of drinks at the Magic Carpet.
It was here that we noticed the bar servers were no longer wearing masks. One of the crew members indicated that they no longer had to wear masks while outside.
Around 3:30 pm, we grabbed our afternoon coffees and headed back to our cabin. Tonight's dinner was a bit earlier tonight, Le Petit Chef and Friends at 6 pm. Plus, we needed to pack.
We Are Family
While in our room, Captain Kate came over the intercom to inform cruisers that Celebrity Edge would be meeting up with her sisters, Celebrity Equinox and Reflection, following sail away.
This was certainly a sight to behold. I made sure that I was ready for dinner early and headed up to the top decks to capture some photos and videos of the occasion. The Princess was still getting ready, so she was able to witness the event from our aft balcony. It was actually nice to have two different vantage points.
After much sounding of the horns and water cannons, we set sail back towards Ft. Lauderdale. Celebrity Equinox followed behind us.
Dinner and a Show
Given the timing of this ship meet-up, we made it to dinner just on time. Le Petit Chef is an up-charge, digitally enhanced dinner which includes a four-course meal and a "show".
The show plays out on your dinner plate as the tiny chef and his friends compete in a cooking competition. The delivery of the food courses is perfectly timed with the animation for a truly one of a kind experience.
It is a set menu, but there is an alternative menu as well. The food and the experience are equally enjoyable.
Wrapping up dinner just before 8 pm, we made our way to the Club for the nightly game show. Tonight was Majority Rules. It's a good thing that we didn't play, as we were not in the majority with most of our answers!
As creatures of habit, we then made our way to the theater for the final production show of the cruise. This show, Colors of Life, is new since we last sailed on the ship back in 2019.
To be honest, it was just okay. I thought Kaleidoscope was the better of the two production shows. The Princess missed A Hot Summer's Night Dream. We are not sure if they are in the process of getting rid of this show, or if it was just too technically complex to get up and running for this first cruise on Celebrity Edge.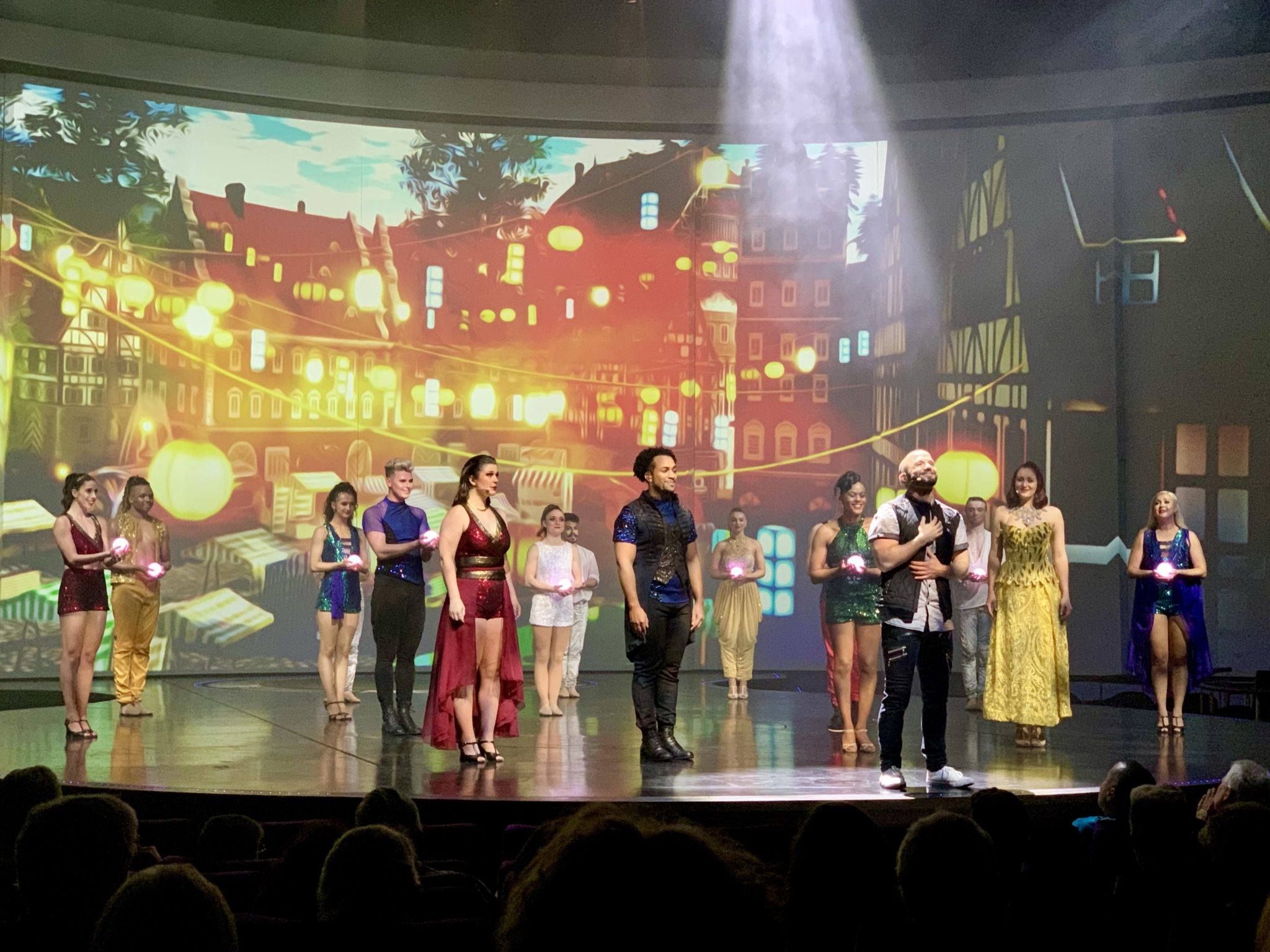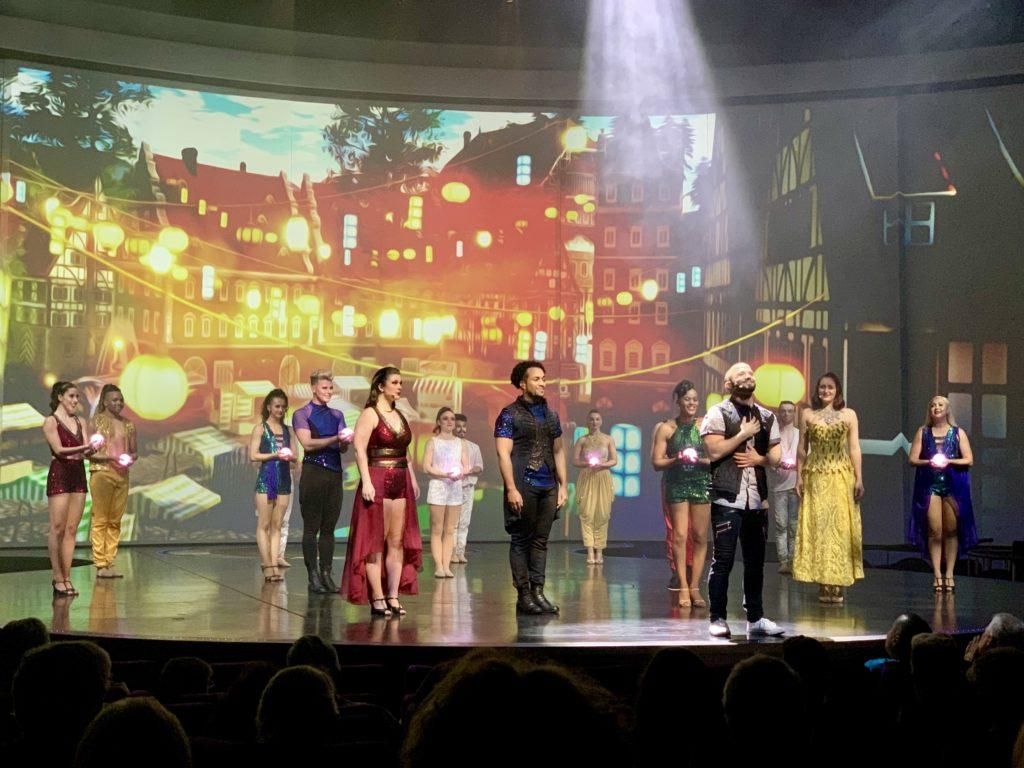 Following the show, most cruisers made a b-line to Eden. One of the headliners from earlier in the cruise, Charity Lockhart, was performing an unplugged show in this venue. Given her amazing vocals, it's no surprise that the show was well-attended.
Unfortunately, our cruise on Celebrity Edge was coming to a close, but not before one last visit to the Martini Bar. We officially called it a night around 11:30 pm.
Related Post: Things You Can Only Find on Celebrity Cruises
Celebrity Edge Cruise Review- Disembarkation
Disembarkation was no different than an ordinary cruise. Unfortunately, the improved process on Adventure of the Seas did not carry over to sister brand, Celebrity Cruises. On Adventure of the Seas, we enjoyed that cruisers were allowed to stay in their staterooms until their numbers were called. At that time, you could proceed directly to the gangway with no lines or waits.
We opted to complete self-disembarkation which began at 7:20 am. This meant that we did not leave any of our bags outside the night before.
With an early alarm, we got ready, finished packing, and were able to grab some great early morning shots of our ship pulling into Port Everglades. I also made sure to get some much needed caffeine along the way.
We headed down to deck 5, with all our luggage, around 7:10 am. We knew we had it easy on Adventure of the Seas when we scored an empty elevator on disembarkation day. That was not the case this time around. While we didn't wait long, the elevators were packed.
Rounding the corner from the elevator, we saw that the disembarkation line spanned all the way down the hallway towards Eden. Here, we waited about 10 minutes before we were cleared to get off the ship. While not as smooth as our trip 2 weeks ago, the whole process still only took about 20 minutes.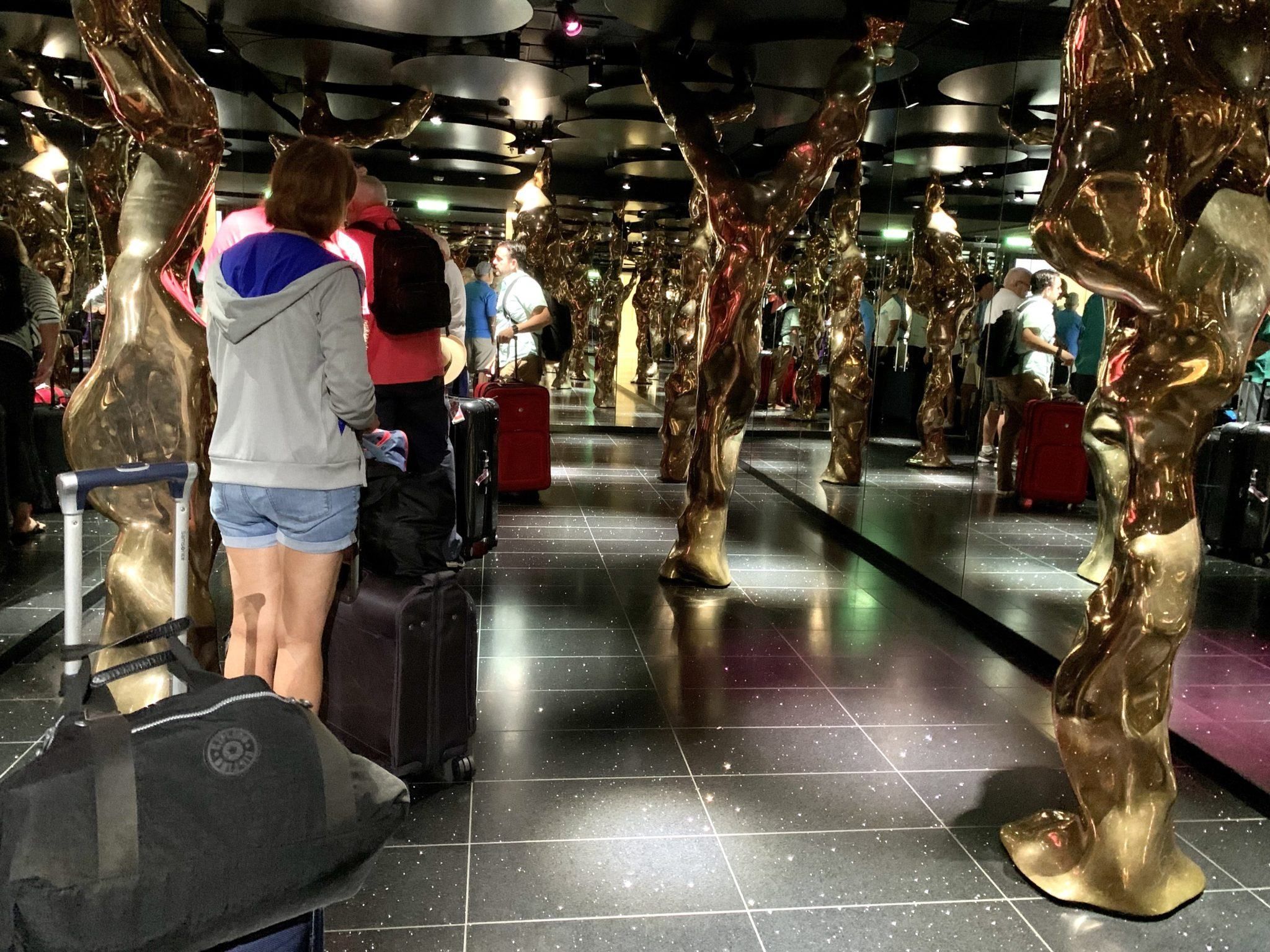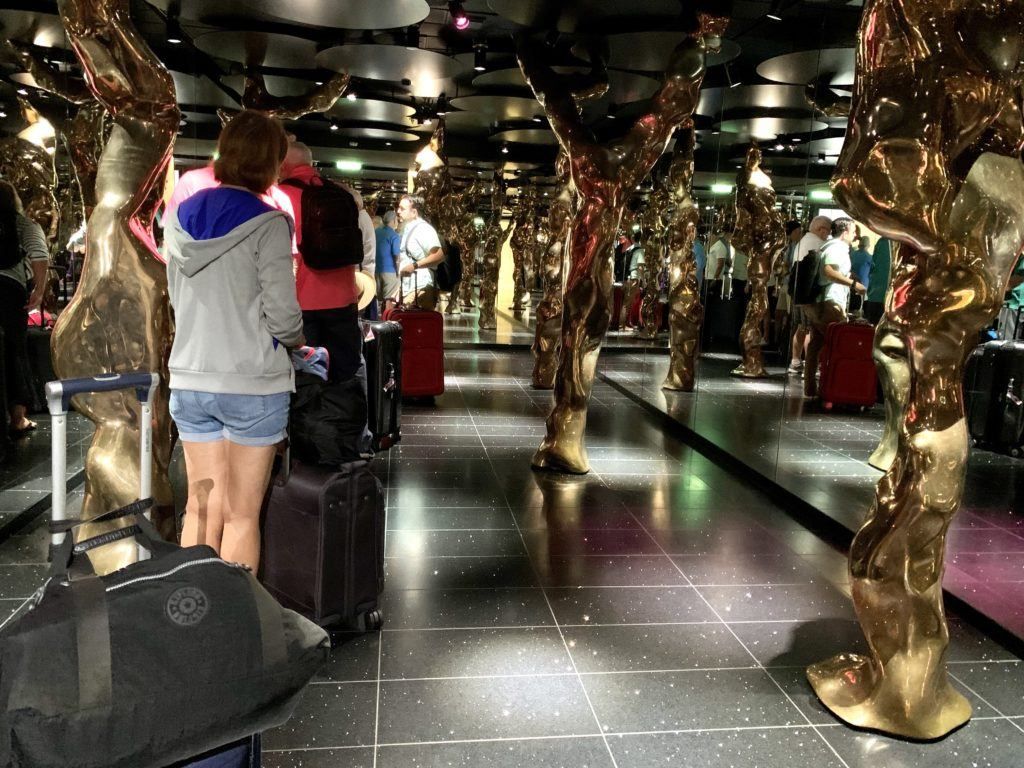 We were then in an Uber and on our way to the Fort Lauderdale airport. It wouldn't be a flight home without some delays, but that's another story.
Overall, this first cruise on Celebrity Edge from the U.S. was a success! Next up, the Iceland's Natural Beauty itinerary from Viking in under a week. Yes, this will be a busy, but amazing, summer. Stay tuned.
Comments
Do you have a Celebrity Edge cruise review to share? Have you sailed on this ship? Drop us an anchor below to share what you love about Celebrity Cruises.