When thinking of things to do in Ft. Lauderdale, venturing out on the Intercoastal Waterway should top that list. Yes, even though you are about embark on a cruise, it doesn't mean you can't hit the water early when spending a pre-cruise day in Ft. Lauderdale. After returning from a recent trip up and down this scenic waterway, we are glad that we decided to spend our pre-cruise day with Jungle Queen Riverboat company. After our adventures, it was easy for us to create this list of the 7 reasons you should take a Jungle Queen Riverboat cruise.
7 Reasons to Take a Jungle Queen Riverboat Cruise
A Variety of Tour Options
No matter when you visit Ft. Lauderdale, you are sure to find a Jungle Queen cruise that fits your needs. With morning, afternoon, and evening 90 minute round-trip cruises, to the mid-day cruises with a stop at their private isle (see below), and even dinner cruises, there is no excuse not to take one of these tours. Tours start at $23.95, and you can even score some special deals. For a complete schedule of tour options see here.
7 Reasons to Take a Jungle Queen Riverboat Cruise – Ticket Counter
Be a Part of History
Jungle Queen Riverboat company has been sailing the waterways of Fort Lauderdale since 1935. Yes, that is over 80 years of expertise. The experience really shines when it comes to treating guests, navigating the sometimes tight river ways, and providing an entertaining atmosphere. Besides all that history, they also have some of the best looking tour boats on the water. The ratings speak for themselves- Jungle Queen Riverboats have been rated among the top shore excursions in Fort Lauderdale on TripAdvisor.
7 Reasons to Take a Jungle Queen Riverboat Cruise – Our Ride for the Day
A Bird's Eye View of the Water
We recommend arriving early for your tour so you can score seats on the second deck of the boat. Don't worry, this area is covered. Perched higher than many of the other "tour" boats, you can get much better views, and pictures, as you sight see along the waterways. Hint: Sit on the starboard side (right side facing forward) to get the best views heading toward the Private Island. On the way back, the Port side (or left of the boat) provides better "picture" taking views.
7 Reasons to Take a Jungle Queen Riverboat Cruise – Nothing Blocking this View
See Millionaire's Row
The main section of the tour, near the New River, is home to some of the most amazing and expensive homes in Florida. These homes are reserved for the ultra rich; rightfully so, it should be called billionaire's row. From television producer Michael Mann, who created the hit show Miami Vice, to the heir of Kohl's department stores, some of the most wealthy individuals in the world have showcase homes here. Not to mention, yachts from Steven Spielberg and the like are also viewable.
7 Reasons to Take a Jungle Queen Riverboat Cruise – Michael Mann's House
You may not recognize the names of some of these rich and powerful people, such as Wayne Huizenga, who co-founded companies including Blockbuster, Auto Nation, and Waste Management, but their massive multi-million compounds are worthy of admiration and plenty of photos during your Jungle Queen Riverboat Cruise.
7 Reasons to Take a Jungle Queen Riverboat Cruise – Huizenga Estate with it's Own Bell Tower
Expert Guides
With decades of experience sailing up and down the Intercoastal Waterway, these expert guides will certainly make your trip informative and memorable. The guides are knowledgeable and quick as they give you details about the surrounding homes, boats, and other noteworthy landmarks, adding in a bit of humor along the way. Don't be afraid to ask questions either. Why risk taking a tour of this "Venice of America" that "might" have a knowledgeable guide onboard?
You Can Sip and Sail
You are on vacation after all! These fully equipped river boats come stocked with onboard bars. Along with seeing some amazing sights, you can sip on beer, wine, or even a mixed drink from the comfort of the boat. There is also bottled water, soda, and Powerade available. All drinks are additional costs but are reasonably priced. Exploring the Ft. Lauderdale waterways is bound to make you thirsty. Luckily, you can quench that thirsty in style when you take a Jungle Queen Riverboat cruise.
7 Reasons to Take a Jungle Queen Riverboat Cruise – Preparing to Sail (Bar in the Background)
Explore the Jungle, Well…Sorta
Looking to add more adventure and excitement to your Intercoastal Waterway tour? Then, a mid afternoon cruise with a stop at Jungle Queen's private isle is a great way to spend an afternoon. Not exactly as grand as a cruise ship's private island, this little inlet does offer a few interesting exhibits including birds, monkeys, an alligator show, and more.
Jungle Queen Private Island at Night – Courtesy of Jungle Queen Riverboat Company
If you are going to be in Fort Lauderdale during the evening hours, the Jungle Queen also offers a Dinner Cruise that stops at this private isle. Along with a tour of the extravagant homes and yachts, you also receive a complete "all you can eat" dinner on the island. Dinner is a traditional barbecue with ribs, chicken, shrimp, and sides served family style. Along with the food, there is also live entertainment. The cost for this tour is $52.95 a person.
Comments
Have you taken a Jungle Queen Riverboat Cruise? We would love to hear about your experiences sailing along this famous waterway. Drop us an anchor below to share your top reasons to cruise with Jungle Queen.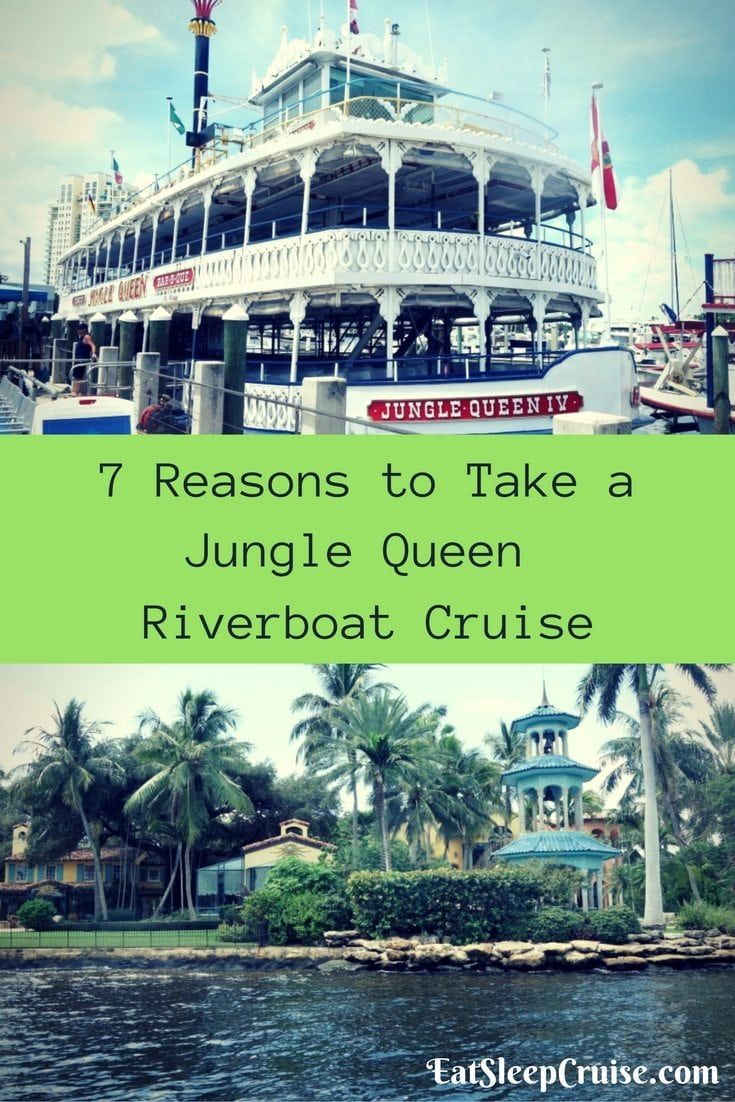 Disclaimer: We received two complimentary tickets on the Jungle Queen Riverboat cruise in exchange for this post. As always, the opinions in this post are 100% our own.