SCROLL DOWN TO WATCH OUR VIKING OCEAN CRUISES REVIEW!
As the third ship in Viking's ocean fleet, Viking Sky set sail in 2017. This 45K gross ton ship is essentially identical to its sister ships. Holding just 930 guests with 9 public decks, Viking Sky sails to various destinations across the globe. We have just returned from a full week sailing on this ship as part of Viking's Welcome Back to the World series of cruises in Iceland. Did this ship truly let us "explore the world in comfort"? Find out in our exclusive Viking Sky Cruise Ship Scorecard Review.
Viking Sky Cruise Ship Scorecard Review
Embarkation/Disembarkation
Luckily, Viking provides transport to and from the ship for embarkation and disembarkation as part of airfare purchase with the cruise line.
Arriving at the international airport in Reykjavik, we met a Viking representative who took our luggage and then escorted us to a bus. The 45-minute ride from the airport to the Harpa concert hall, our check-in location, came complete with a narrated tour.
Given the additional measures in place during the embarkation process, our group did have to wait about 30 minutes before we could proceed inside to the check-in area. From there, the actual check-in took only about 15 minutes. We had our temperatures checked, were given our room key cards, and were assigned a contract tracing device. The cruise line even provided an Icelandic breakfast for guests.
With a short ride to the ship after that, we were ready to board by 12:45 pm.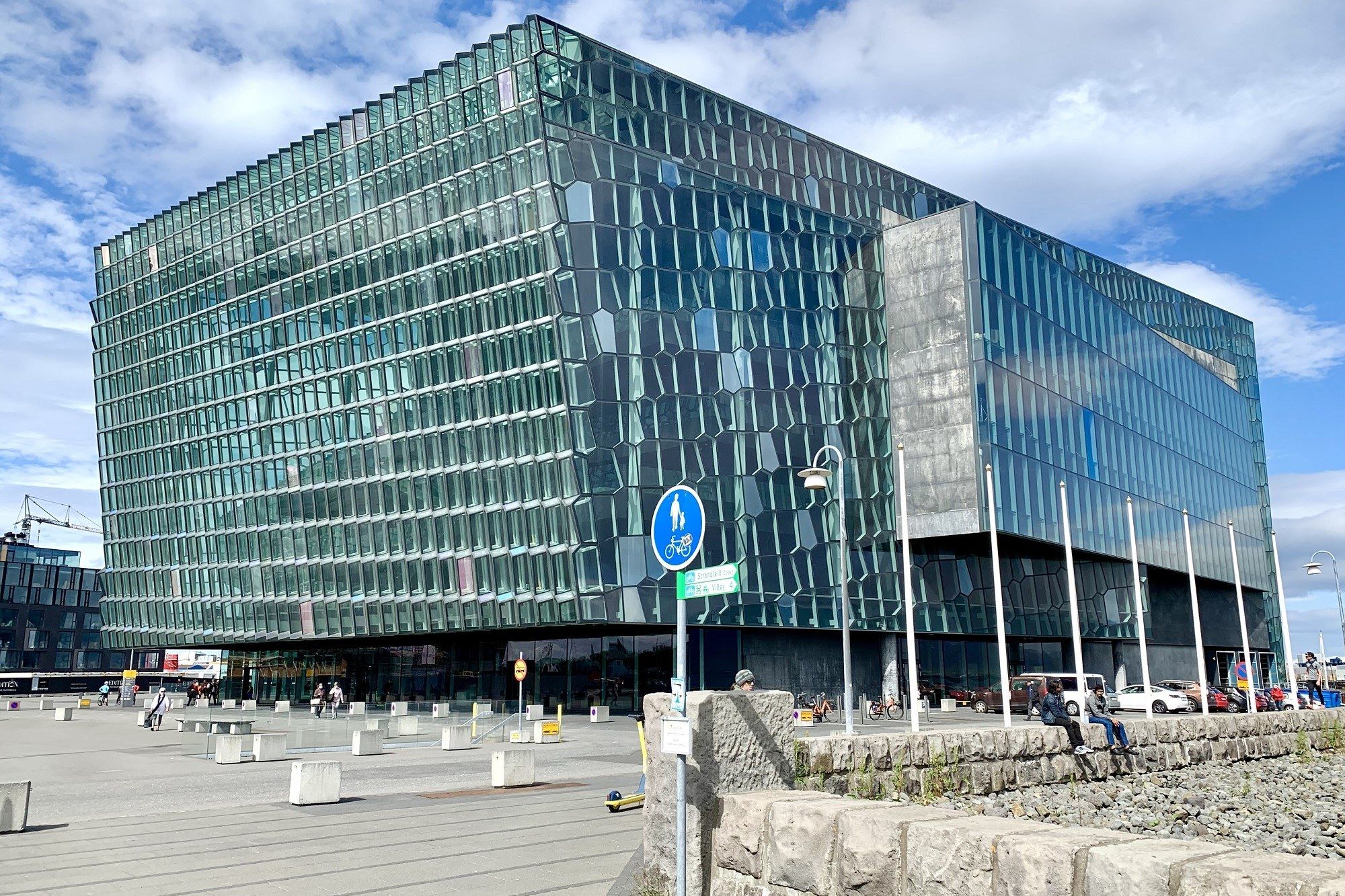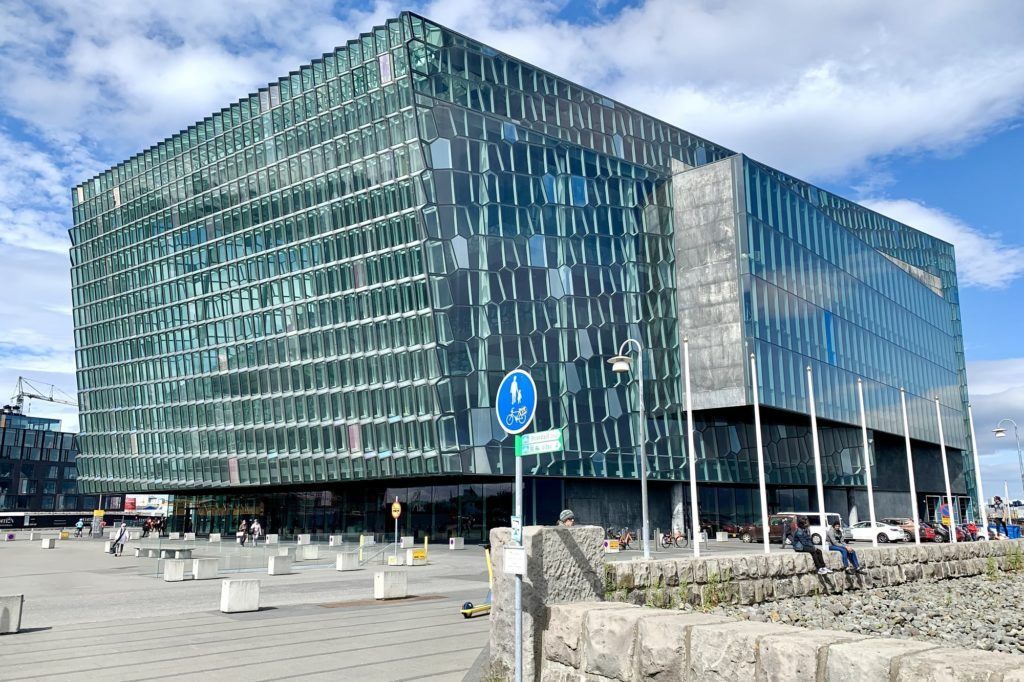 Disembarkation was similarly efficient. Our transportation to the airport was scheduled for 6 am. Using the issued luggage tags, we left our bags outside of our stateroom the night before departure.
The entire disembarkation process took no more than 15 minutes from leaving the ship, grabbing our luggage, and boarding a bus to the airport.
Exclusive Savings: Score a Great Deal on a Viking Ocean Cruise
Pool Deck
Viking Sky has two pools. The main pool is a mid-ship indoor pool located on Deck 7. There is also a small hot tub next to the pool. For a ship of this size, the Pool Deck was more than sufficient.
While we did get some unexpectedly warm days this trip, we never found the time to relax in the pool or adjacent loungers. The pool was never that busy though. Even on a sea day, you could always find some lounge chairs in the area.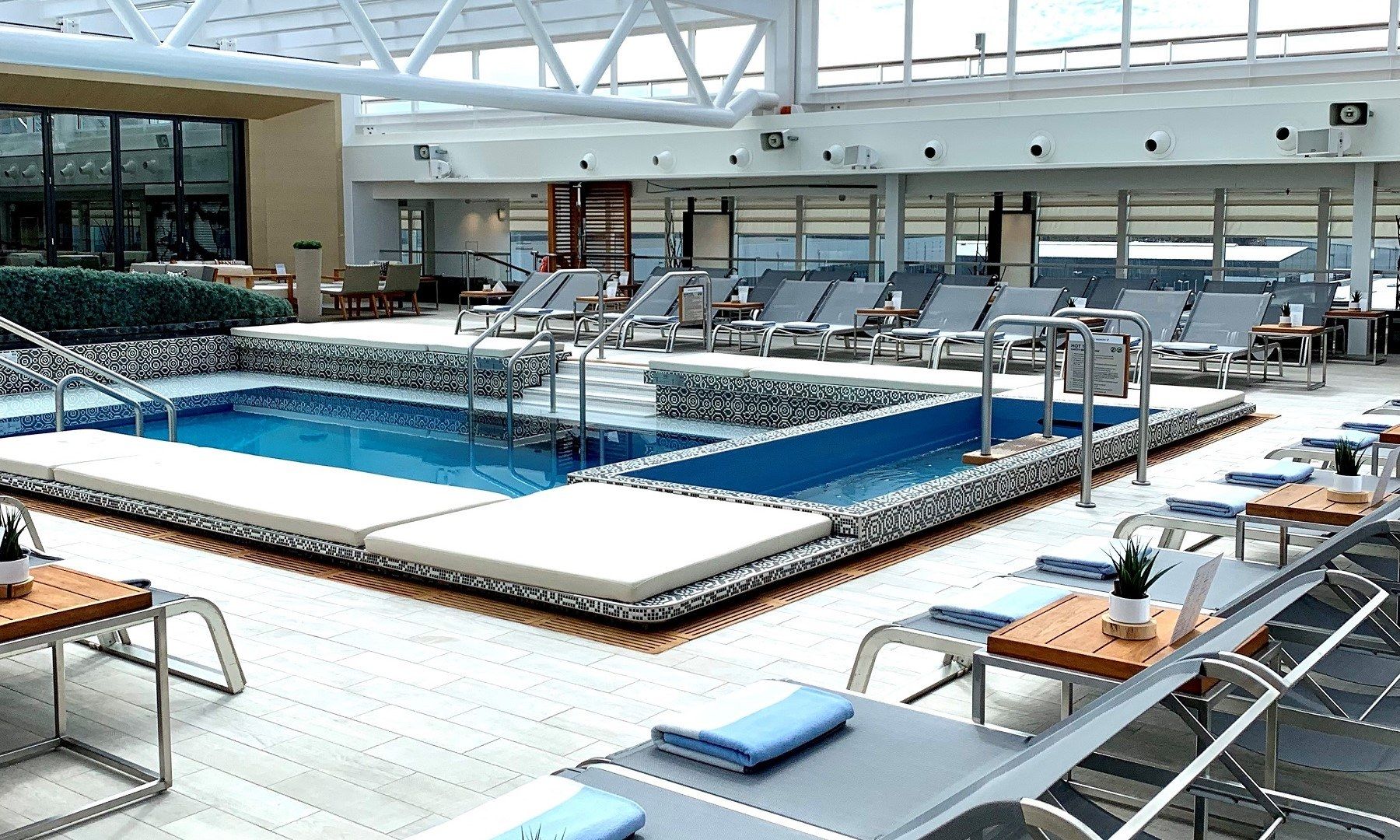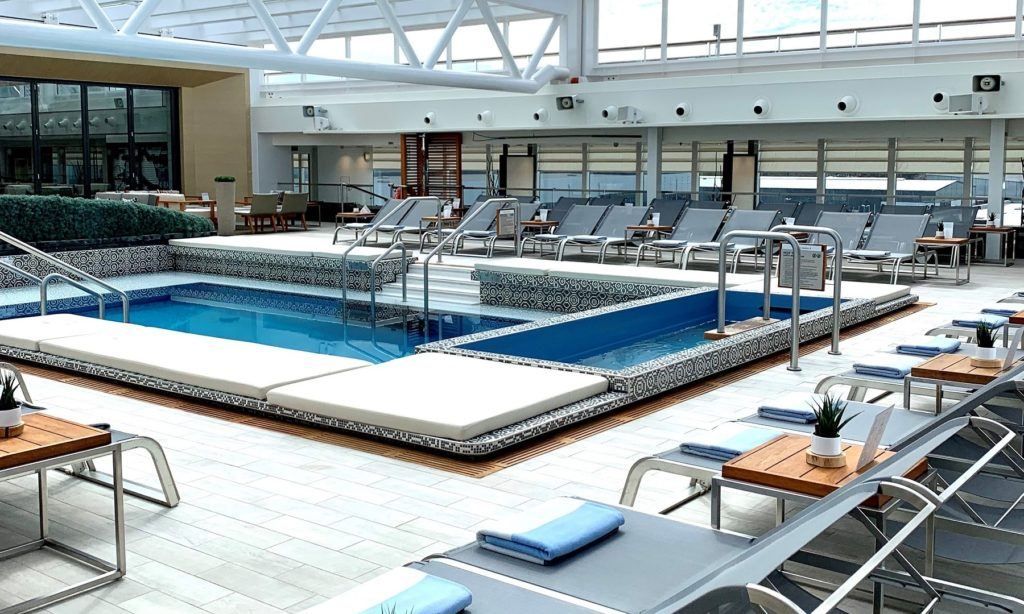 Aft of the ship, there is also an infinity pool. For those looking for Instagram-worthy photos and great wake views, you will want to check out this pool. There is a small hot tub here as well.
Currently, the cruise line is restricting pool capacity as part of the Viking health and safety protocols. However, we never found this to be an issue on our Iceland's Natural Beauty cruise.
Of note, the thermal suite is complimentary for all guests on Viking cruises, with an additional therapy pool located here for even more options to take a dip. Currently, the thermal suite does require reservations, and the total capacity during our sailing was limited to 6 people.
Related Post: What's Included on Viking Ocean Cruises
Daily Activities
Admittedly, Viking focuses on its destinations. With that being said, our 7-day cruise had 7 ports of call on the itinerary. With an included tour at each port, and several up-charge excursions also available to book, there are plenty of options to spend your days ashore.
Thus, it is not too surprising that the cruise line offers few organized activities during the day. Offered events include a variety of lectures from one of the various guest speakers on the ship and afternoon trivia.
Of course, cruisers looking to make their own fun could use the outdoor sports deck, the digital table games located on deck 2, the thermal suite, or the pools as well.
Further, there are some Viking artifacts on display in the "Museum" and several other pieces of art scattered throughout the vessel. So, cruisers might want to take a guided tour using narration found in the Viking Voyager app.
With our unexpected sea days, we found ways to occupy our time, even if there were less options than a contemporary cruise line.
Service
There is only one word to describe the service on Viking Sky, exceptional.
While the service on our two other cruises this year has been above and beyond our expectations, staff on Viking Sky took it to another level.
With a staff to passenger ratio of 1 to 1.8 for our sailing, there was always someone available to take care of requests.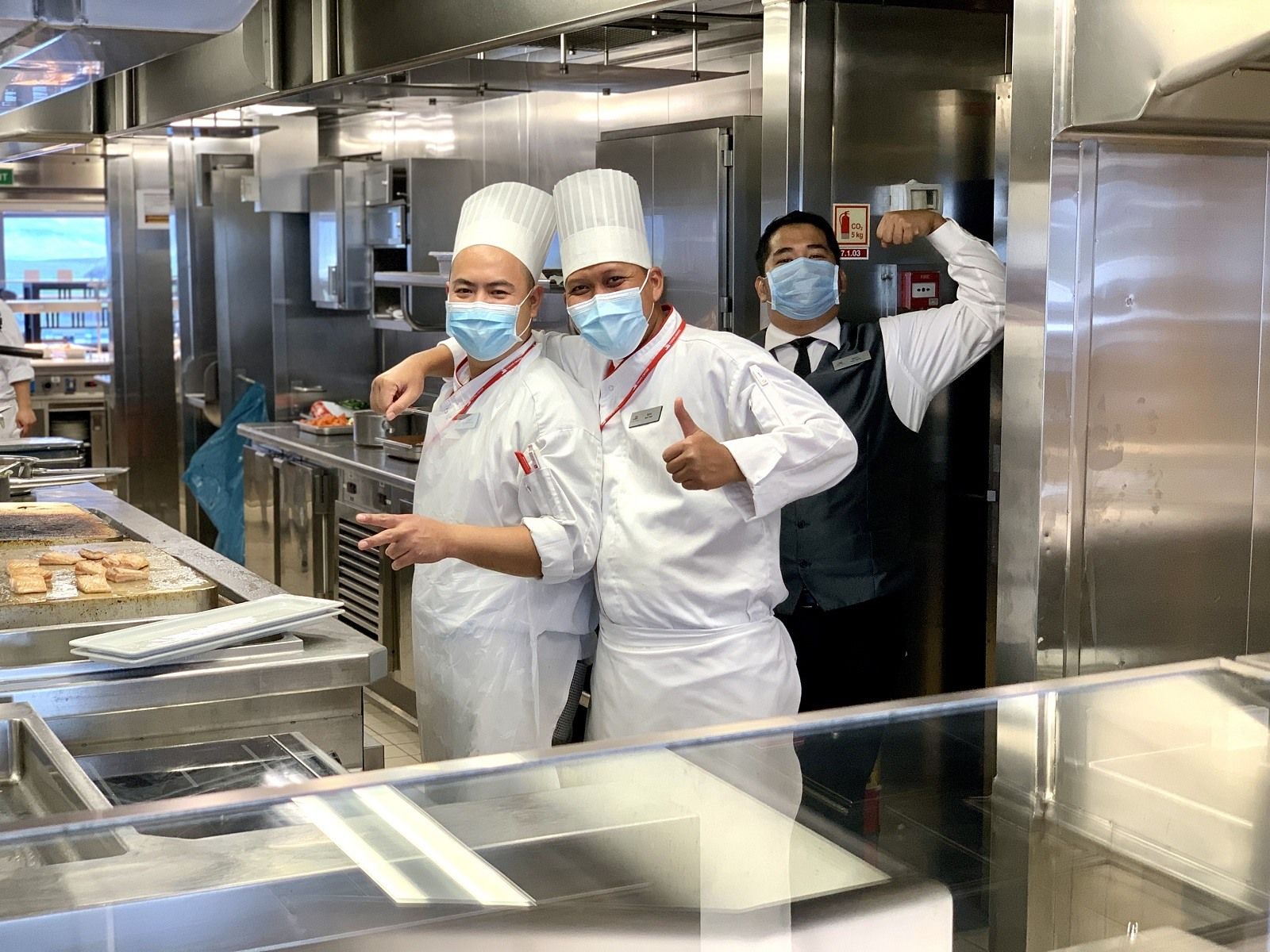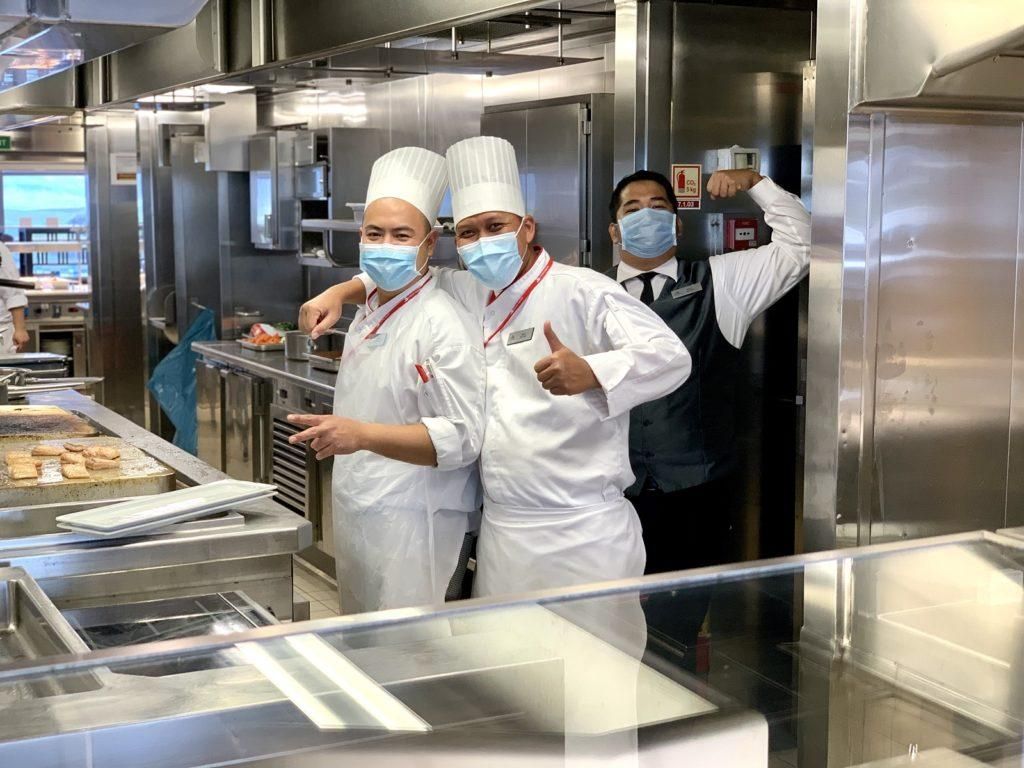 Whether it was getting a coffee or drinks from the Viking Bar or food service in the World Café, the staff was fast and friendly.
The same is true for the staff in the main dining room. On our several visits to the Restaurant, there was a team of waiters and assistants making sure we had the best possible dining experience.
Fortunately, we got to know several staff members throughout the trip, and they always seemed to remember our orders and preferences. You could tell that the staff was genuinely happy to be back.
We felt extremely spoiled all week. It reminded us of what it is like to sail with a luxury cruise line.
Main Dining Room
The main dining room offered dinner every night of our cruise, as well as breakfast and lunch Days 2 through 7. While you could make reservations ahead of time for dinner in the Restaurant, they did not seem to matter much as it was usually first come, first serve. Though, we never waited more than 5 minutes for a table.
We found the food in the Restaurant to be on par, or perhaps slightly better than a contemporary cruise line. Some of our favorite dishes included the linguine with clams, the lasagna, and the beef wellington.
When comparing our dining experience on this ship to our Celebrity Edge sailing a few weeks prior, we would say it was pretty equivocal.
However, the service in the main dining room was more attentive and personalized than our two other cruises this year.
We did not visit the main dining room for breakfast or lunch during our cruise. So, we can not comment on the food or service during these meals.
Related Post: Viking Ocean Cruises Restaurant Menus and Guide
Specialty Dining
Viking Sky has two specialty restaurants which are included in the standard cruise fare.
Depending on your stateroom category, you are able to make reservations at these venues pre-cruise. During our 7-night cruise, we dined twice at each specialty restaurant.
Manfredi's offers rich and authentic Italian dishes. The menu is the same each evening, with a nightly pasta special.
Oddly enough, the service at this venue was perhaps the least personable. Compared to our previous experience at Manfredi's on Viking Jupiter, the food was a little less consistent too.
Still, the wife's chicken parma was a crispy and cheesy entrée encompassing the entire plate. The homemade pasta was al dente and satisfying, and my steak rivaled upscale steakhouses on land.
The Chef's Table offered three different menus during our cruise. Each dinner also comes with a complimentary wine pairing.
For our visits, we sampled Lotus and Xiang. Speaking to the restaurant staff ahead of time, they were able to customize the meals for Heidi's dietary request without hesitation.
Overall, our two meals at this venue rank as my favorites. With a mix of great food, amazing service, and a very elegant 90-minute 5-course experience, we would highly recommend this venue, even for picky eaters.
Casual Eats
The main casual restaurant on Viking Sky is the World Café. This buffet is open for breakfast, lunch, and dinner. While it might offer a more limited menu than contemporary cruise ships, the food was certainly well-prepared and fresh.
Breakfast offered the usual fare, while lunch had a deli, salad bar, a pizza station, several warm entrees, and a signature sandwich.
Near the pool, the Pool Grill offers classics like chicken wings, hamburgers, hot dogs, and other hot sandwiches. Of course, they come complete with fries and onion rings.
The Pool Grill is perfect for lunch or a late afternoon snack as it is open from 11:30 am to 5 pm each day.
Also, cruisers can find snacks at Mamsen's, including the line's signature Norwegian waffle available for breakfast and lunch. It also offers select Norwegian pre-made sandwiches for lunch, cake and cookies, and other late-night options.
Similar offerings are also available at the Viking Bar. These snacks rotate throughout the day with breakfast, lunch, and evening light fare.
Finally, if you are looking for an afternoon affair, you will want to head to the Wintergarden. Offering tea service, along with snack towers and scones, this is a not-to-be-missed event.
Booking Bonus: Get Additional Perks When You Book Your Next Cruise Now!
Nighttime Activities
Unlike the ships that we typically sail on which are destinations themselves, Viking ships are the backdrop to the destinations. Still, there was some nightly entertainment that was pretty standard for a cruise.
During our 7-night cruise, the cruise line's foursome of singers offered three revue shows. These shows did feel a bit dated, and the music featured hits from 1950 to the 1970s, catering to the clientele.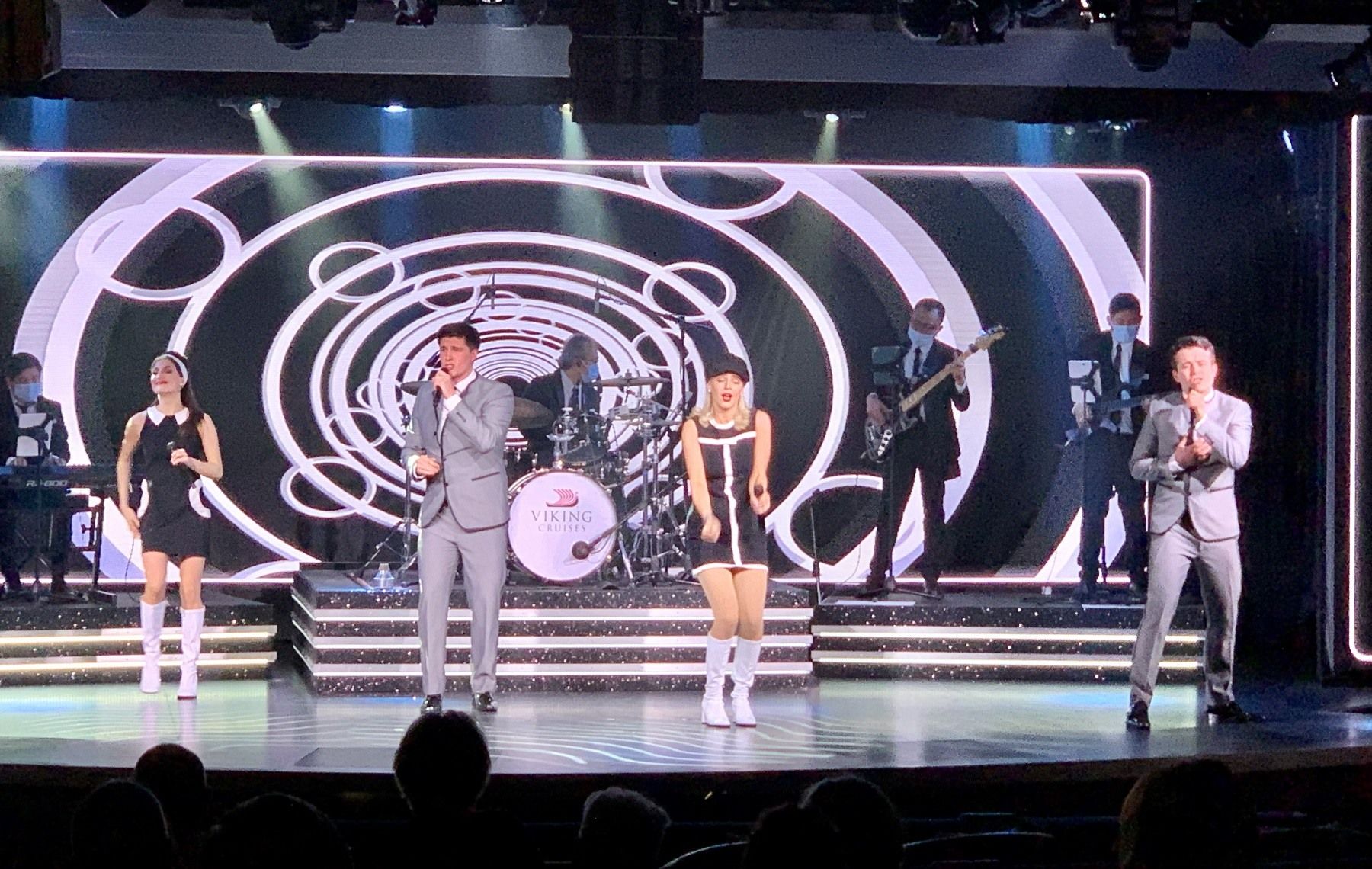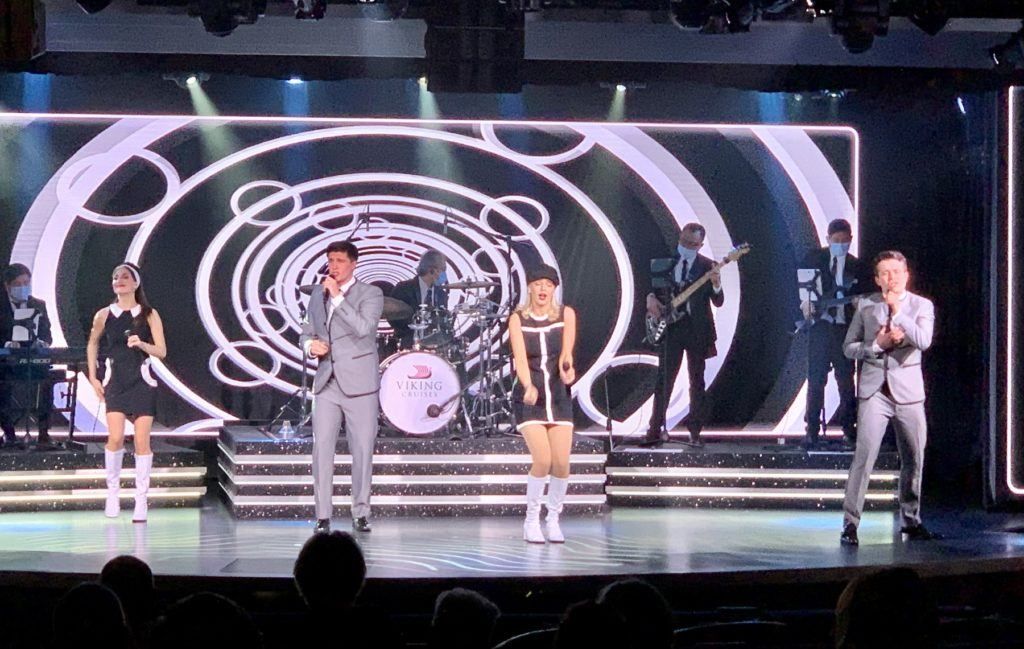 There is also live music which rotates through three venues. These showplaces include the Atrium, Torshavn, and the Explorers' Lounge.
During our cruise, the musical acts included an acoustic guitarist, a strings duo, the resident pianist, and the Viking Band Synchrony.
For the most part, these public venues were relatively empty by 10 pm. With long days ashore, this did not really bother us.
Related Post: What It's Really Like Cruising on Viking Ocean Cruises Right Now
Bars and Lounges
Viking is all about simple elegance. So, while the cruise ship offers 5 different bars, they all have a very similar menu. The good news is that the Viking Silver Spirits beverage package covers nearly every cocktail and spirit at every bar, with a few exceptions in Torshavn.
So, picking your favorite bar has more to do with the atmosphere.
Our favorite was the Explorers' Lounge. Located all the way forward on Decks 7 and 8, this venue features stunning views, comfy seating, and quick service.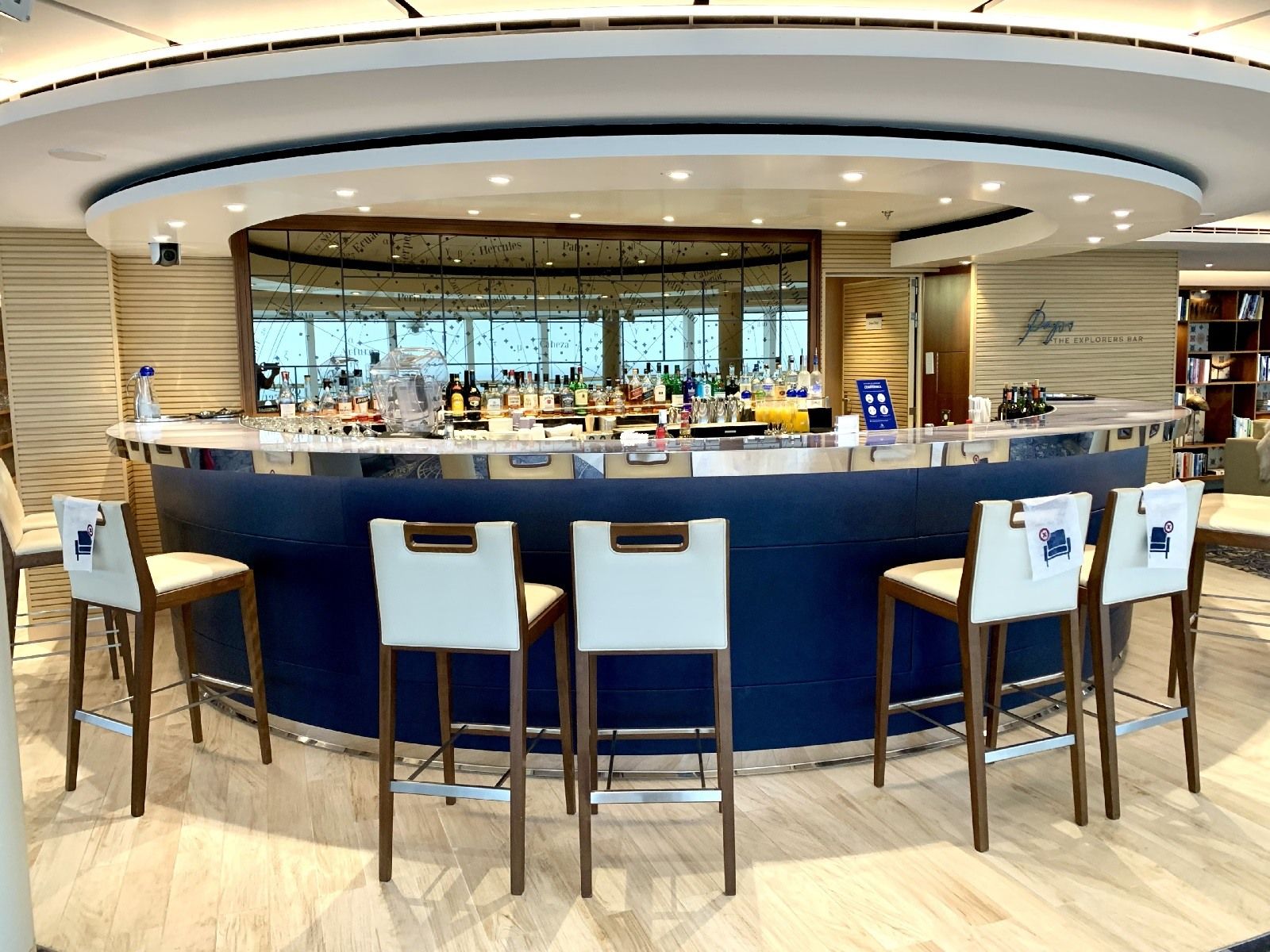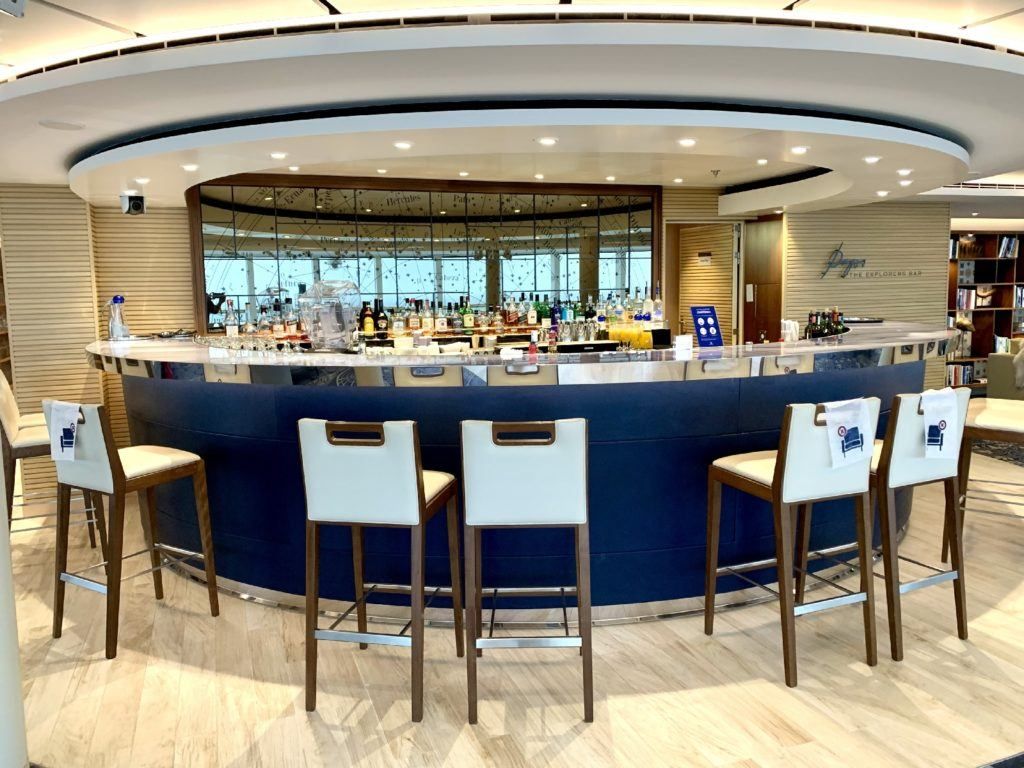 The Viking Bar is perfect for a pre-dinner cocktail or after dinner drink while listening to some classical music. This was our go-to spot for espresso martinis.
During the day, the Pool Bar is a good option for classic cruise drinks, like pina coladas or daiquiris. The Aquavit Terrace Bar couples drinks with aft views and al fresco seating right next to the infinity pool.
The cruise ship's nightclub, Torshavn, does feature a distinct menu for the late night crowd. Unfortunately, a few select cocktails at this bar are not covered in the Silver Spirits beverage package. So, if you opt for one of these libations while you dance the night away, you will pay full-price.
Stateroom
We stayed in a penthouse veranda on deck 5, stateroom 5016. At 338 square feet, this stateroom was close to 25% larger than the veranda cabin we had on Viking Jupiter.
This forward-located cabin was a short walk to the stairwell and elevators. With only a couple of flights up to the Explorers' Lounge and World Café and a couple of flights down to the restaurants, it was an ideal location.
Upon entering the room, the closet was to our right (facing forward) and the oversized bathroom to our left (facing aft). The cabin boasted plenty of storage and closet space, even for us over-packers.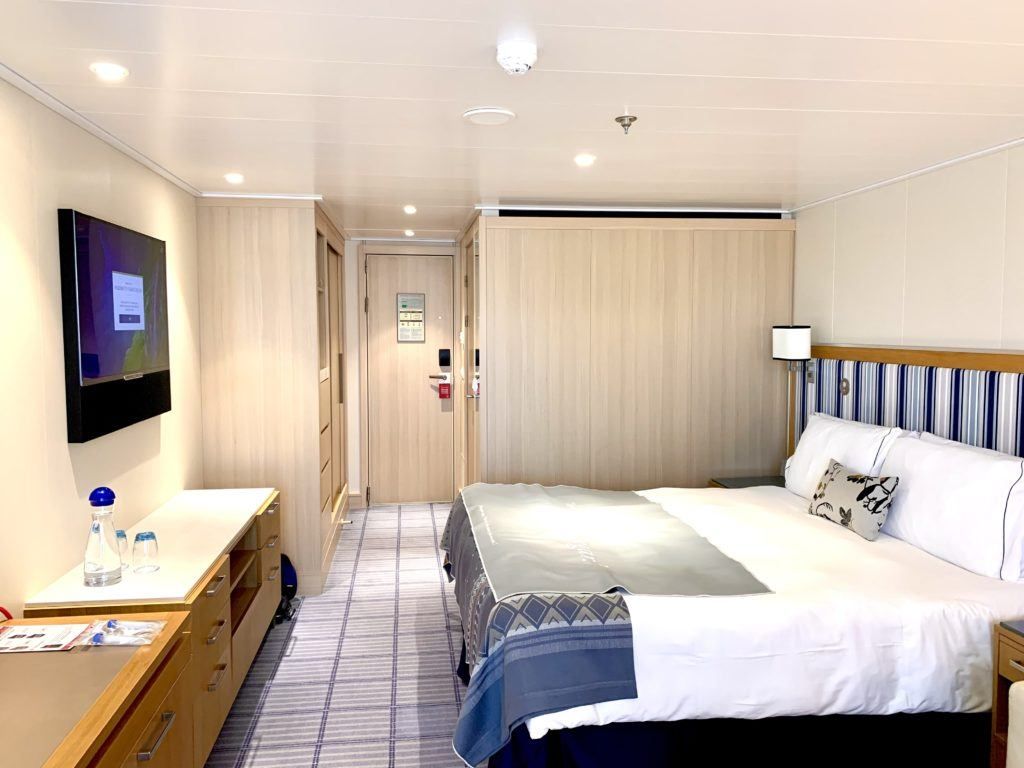 The size of the cabin itself offered plenty of room as well for us to work and relax. It was the perfect home away from home for the week.
Among some of the additional features not typically found in cruise ship staterooms were a true king bed, a coffee machine, heated tile floors in the bathroom, an included mini-bar, and a sitting area with both a chair and love seat.
The 60 square foot balcony size felt about average. This outdoor space had just enough room for the two chairs and table.
Viking Sky Cruise Ship Overall
Viking Sky welcomed us back to the world in style and comfort. This voyage delivered an experience that exceeded expectations.
Without too many options or flashy distractions, Viking Sky succeeded in letting the natural beauty of Iceland shine.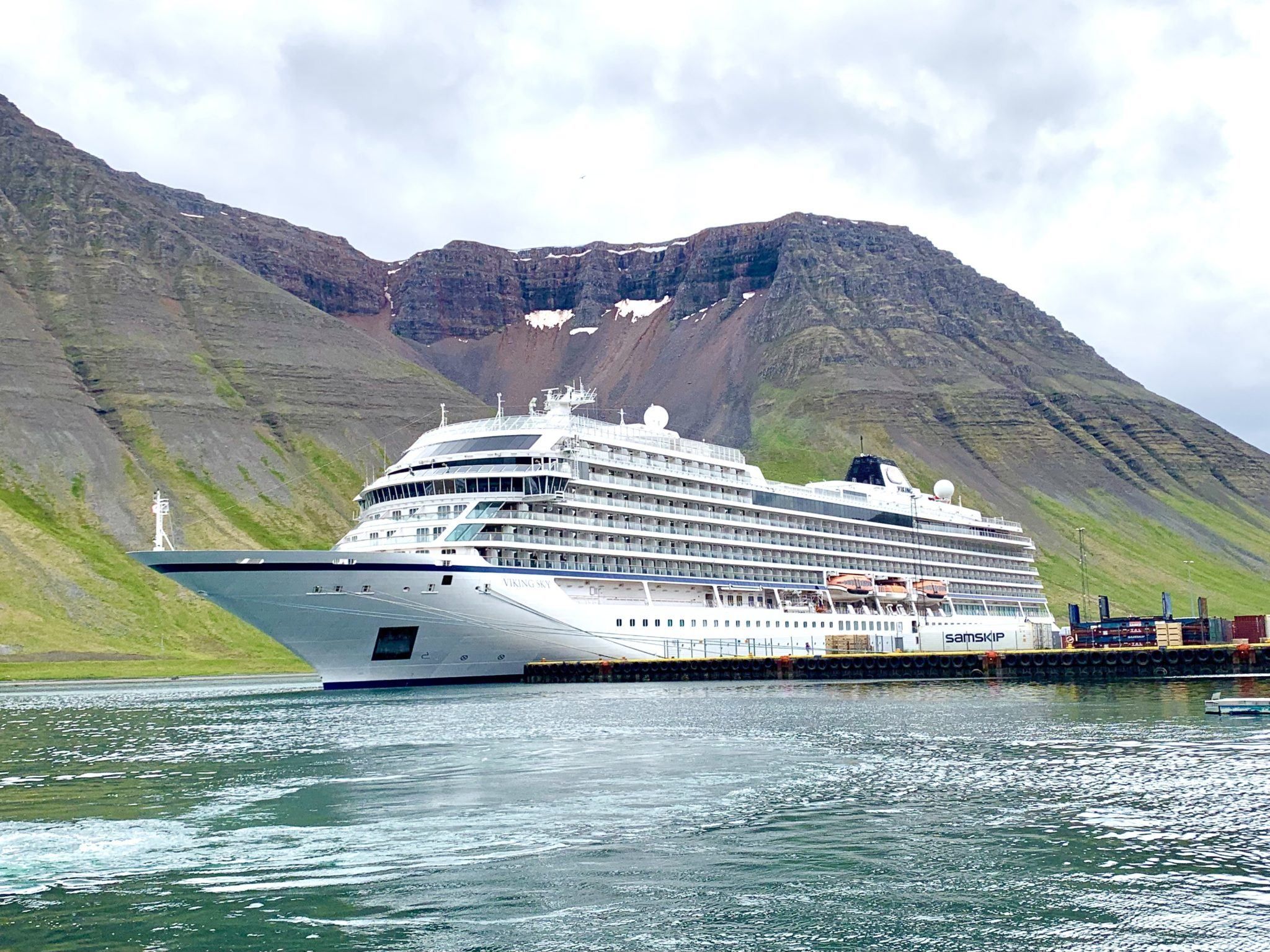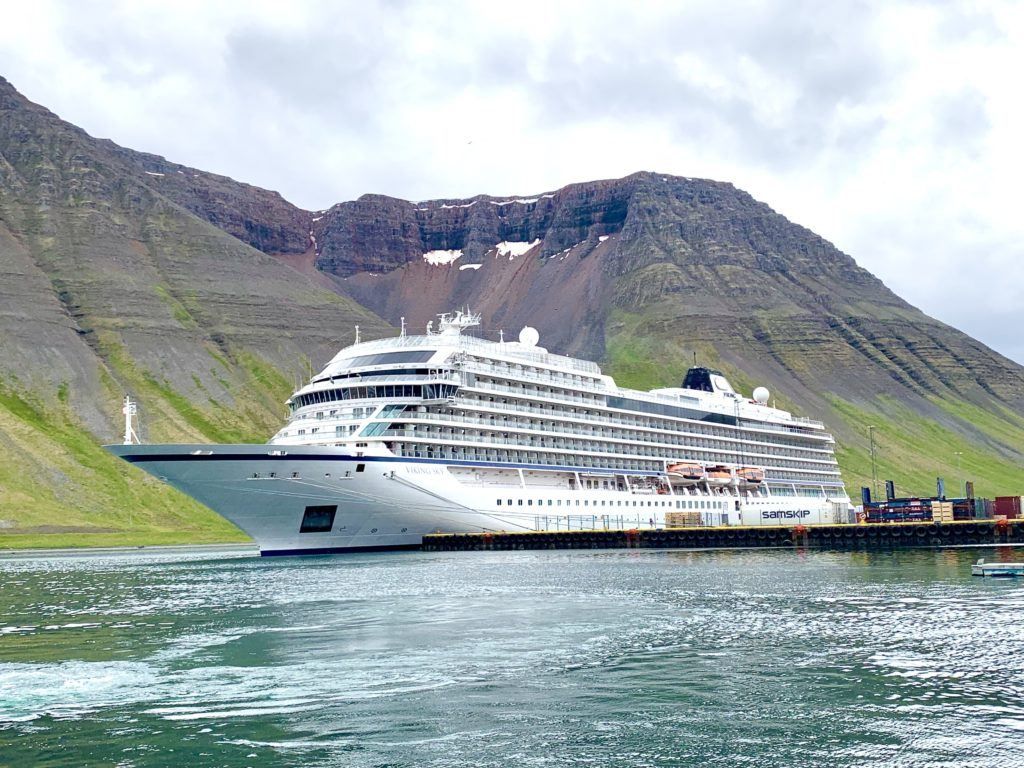 Whether we were off-roading on a black sand beach or birdwatching on a remote island, we could count on exceptional service, amazing food and drinks, and some enlightening enrichment or entertainment once back onboard the ship.
There is no nickel and diming by the cruise line either. With beer and wine included at meals, cocktails that cost half of what they do on contemporary cruise lines, and no up-charges for specialty dining or the thermal suite, Viking provides all the luxury without the stuffy atmosphere.
Certainly, we love Viking for its port intensive cruises, visiting unique regions around the world. The cruise line provides many of the aspects we love about mega ships but also the ability to visit new and exciting destinations that are inaccessible on larger vessels.
Even when issues arose during our trip, Viking handled the situation swiftly, proving the health and safety protocols in place do allow for the safe resumption of cruising.
Comments
Have you sailed on Viking Ocean Cruises? Do you agree with our Viking Cruise Ship Scorecard Review? Drop us an anchor below to share what you love about this luxury cruise line.