SCROLL DOWN TO WATCH OUR BRAND NEW CELEBRITY EDGE CRUISE SHIP REVIEW VIDEO!
Celebrity Edge ushered in a brand new style of cruising for Celebrity Cruises when she debuted in 2018. This 130K gross ton ship launched with several new amenities and features, as well as some "firsts at sea". As the first ocean cruise ship to sail from the U.S. in over 15 months, we could not wait to board the vessel again. How did the cruise ship compare to our previous sailing? Find out as we review the ship in our exclusive Celebrity Edge cruise ship scorecard review.
Celebrity Edge Cruise Ship Scorecard Review
Embarkation/Disembarkation
Boarding at Terminal 25 in Fort Lauderdale felt like old times. We arrived at the terminal about 10 minutes before our assigned check-in time of noon. Thankfully, we were allowed to begin the check-in process right away.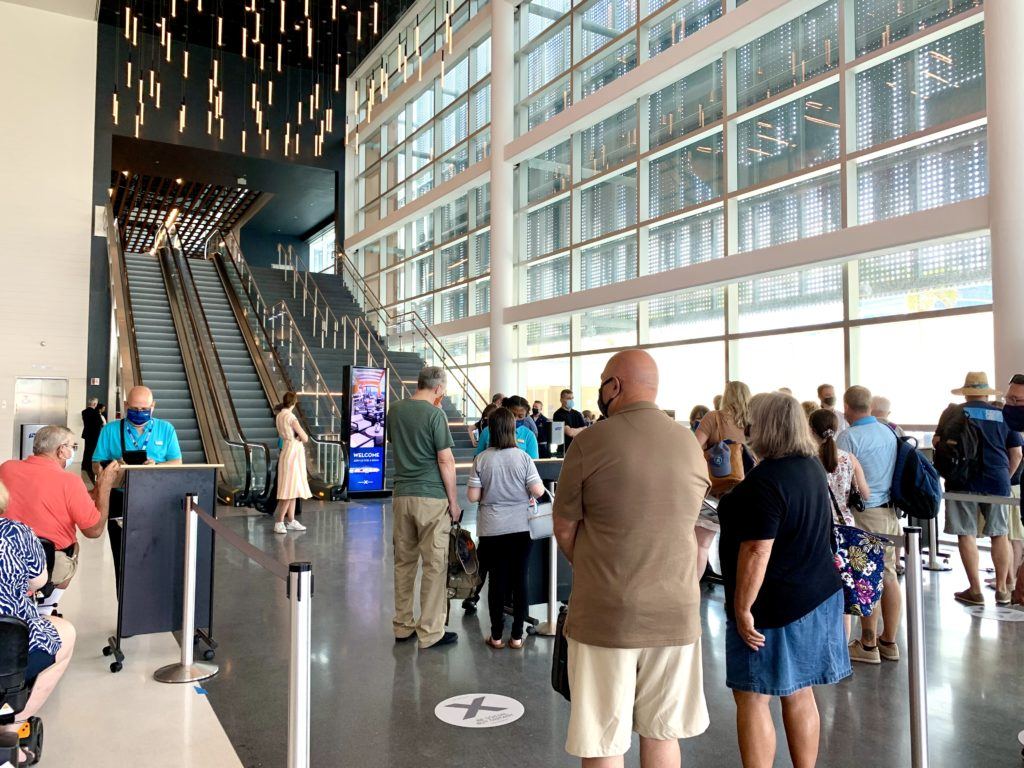 Despite a few additional steps, this process was smooth and efficient. We were asked to voluntarily present our vaccination cards along with our passports. From curbside to gangway took only about 15 minutes.
Disembarkation felt much like normal times, though different than the process we experienced on Royal Caribbean's Adventure of the Seas a couple weeks prior.
We did self-checkout which was scheduled for 7:20 am. When we headed down a few minutes early, we were greeted already by a line forming.
Thankfully, the authorities cleared the ship soon after and the entire process took about 20 minutes from walking off the ship to requesting an Uber.
Related Post: 8 Things That Surprised on the First Cruise on Celebrity Edge
Pool Deck
Like an upscale resort on land, the Deck 14 Resort Pool offers the ideal place to enjoy a sea day. Featuring live music and poolside activities, this pool was lively with fellow cruisers enjoying the atmosphere.
There were plenty of socially distanced deck chairs, so we never had an issue finding a space to catch some rays no matter the time of day. With the ship sailing at 36% capacity, this was not too surprising.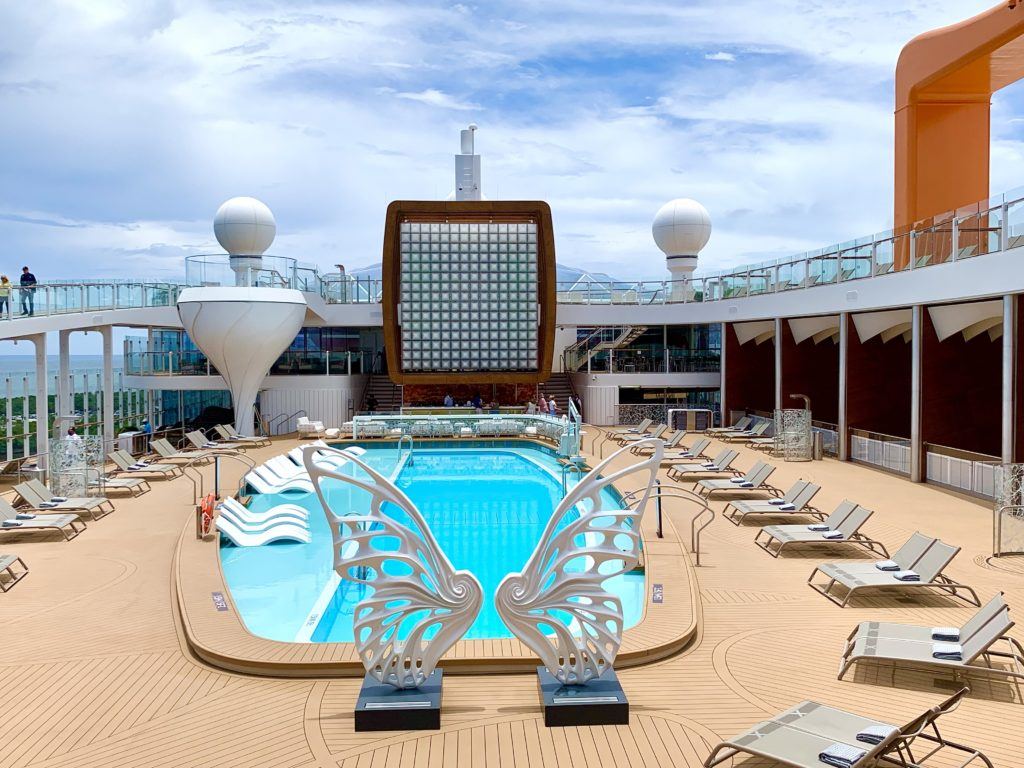 The adults-only indoor solarium is located slightly forward from this main midship pool for those looking for something a bit more low-key.
Additionally, guests staying in a suite have access to an exclusive pool deck. This Retreat area includes plenty of loungers, a pool, a hot tub, and a private bar.
For those wanting to relax but still enjoy the outdoors, the tranquil Rooftop Garden offers a quiet space. With cozy seating and quick access to the Sunset Bar, it is a great alternative for a more relaxing sea day.
EXCLUSIVE SAVINGS: Latest Celebrity Cruises Deals and Special Offers!
Service
Like our previous cruise on Adventure of the Seas, the crew were just as happy as the fellow passengers to be cruising again. This enthusiasm started with cheers welcoming us onboard the ship. This also included the jubilant Captain Kate greeting passengers at the gangway.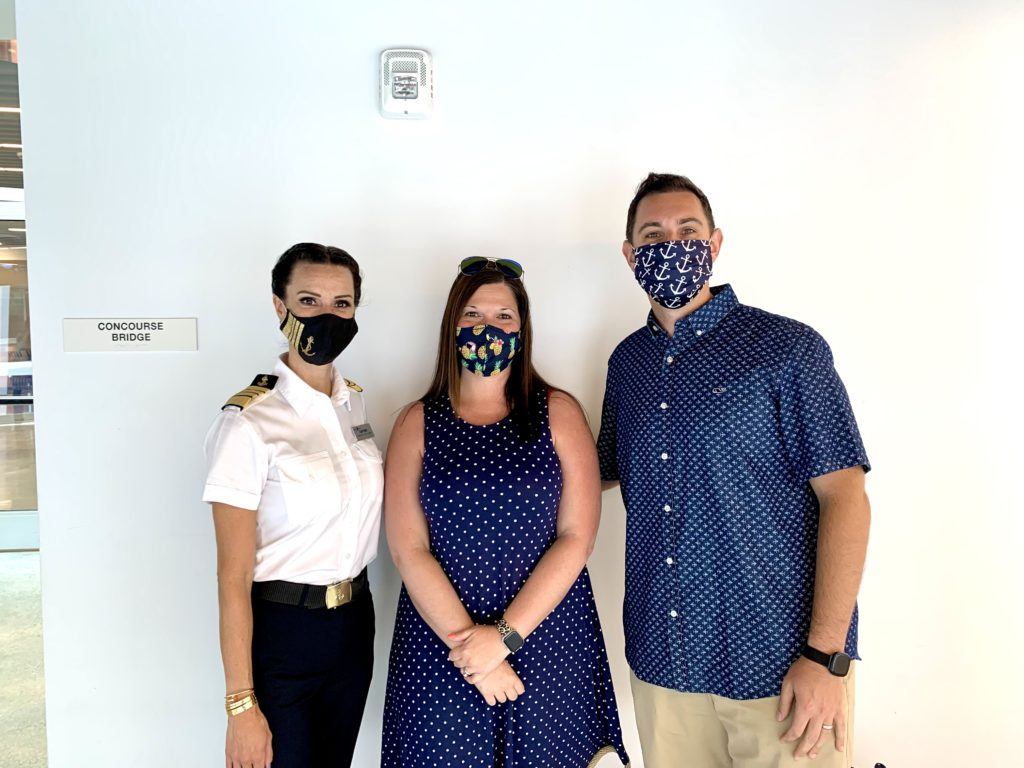 This excitement really was felt throughout the cruise ship. From the talkative bartenders eager to mix up your favorite drink to the impeccable waitstaff , the service was extremely personable.
We dined at all four complimentary restaurants as well as 3 specialty restaurants, and dinner was always timely and delicious.
We have always thought Celebrity Cruises' service was superb, but this trip even surpassed our expectations.
Kudos to Celebrity Cruises for delivering a memorable restart to cruising!
Daily Activities
We were surprised that the cruise director Lauren and her activities staff offered all the usual cruise activities, unlike our previous Adventure of the Seas trip.
These included daytime events like dance classes near the pool and regular outdoor games and sports. You could also find live music throughout the ship, including the Resort Deck and Rooftop Garden during the day.
Further, you could learn more about nature or history with one of two guest lecturers hosting regular Beyond the Podium talks throughout the cruise. There was also relaxation coloring, game shows, and trivia competitions during the cruise.
Main Dining Room
Celebrity Edge offers four complimentary main dining rooms. Each restaurant features an Exclusives menu along with the rotational Signatures menu.
On most nights, the service took around 75-90 minutes, which felt well-paced.
We sampled items from all four menus as well as some of the signature items which were all fantastic. Some of our favorites included the baked brie and the Alsatian potato and gruyere tart appetizers in Normandie. We both really enjoyed the pasta entrees in Tuscan as well. Personally, one of my favorite entrees was the lamb shank tagine in Cyprus.
While cruise desserts never impress us much, we did both enjoy the baked Alaska and the apple tart tatin.
Related Post: Celebrity Edge Restaurant Menus and Dining Guide
Overall, the food was much better than we remembered. The dishes were served hot and fresh, as well as artfully plated.
Pairing restaurant quality menu items with exceptional service, each night in the main dining room was a superb experience that made us remember why we love cruising so much.
Specialty Dining
On 3 nights of the cruise, we dined at specialty restaurants. These were equally impressive, serving upscale dining that was worthy of the cover charge.
First, we visited the Fine Cut steakhouse. This second visit was just as delicious as our first venture two years ago. My steak was well-seasoned and cooked to an ideal medium rare. The side dishes were just as enticing with bacon mac and cheese and sautéed mushrooms making the ideal accompaniments.
Then, we dined at the Rooftop Garden Grill. While we were not overly impressed with this restaurant during our first visit, we decided to give it another shot.
This menu did change a bit from our last visit, and thankfully, we were happy with our food selections this time around. The filet was lightly seasoned and fresh off the grill, and the warm cookie dessert was the perfect ending to the meal.
On the final night of our cruise, we did the dinner and show experience, Le Petit Chef. I went with the wine pairing for an extra $15 up-charge. We thought it was a great event with exquisitely prepared dishes and an entertaining digital show.
Casual Eats
For casual options, Celebrity Edge really only offers two dining venues. We have always raved about the Celebrity Cruises' buffet. Our lunch experiences lived up to these high expectations. With a variety of themed stations, pizza, sandwiches, and desserts, there were plenty of delicious items to sample.
However, our one breakfast experience in the Oceanview Cafe did not prove to be the same. The food was overcooked and appeared to have been under the heat lamps for too long.
The only other casual option is the Eden Café. Serving a selection of small bites and breakfast sandwiches in the morning, as well as salads and sandwiches for lunch, it is a quiet alternative to the buffet.
We especially liked the carved sandwich and the chicken pesto handheld for lunch. For breakfast, I enjoyed the steak and egg bagel, and the Princess was a fan of the bacon, egg, and cheese on ciabatta. While there, you can't pass up a freshly baked cinnamon roll either.
For a quick snack, Café al Bacio serves breakfast pastries in the morning and sweet treats like tarts, cookies, and cakes throughout the rest of the day. All of these options are delicious and pair well with the specialty coffees also available.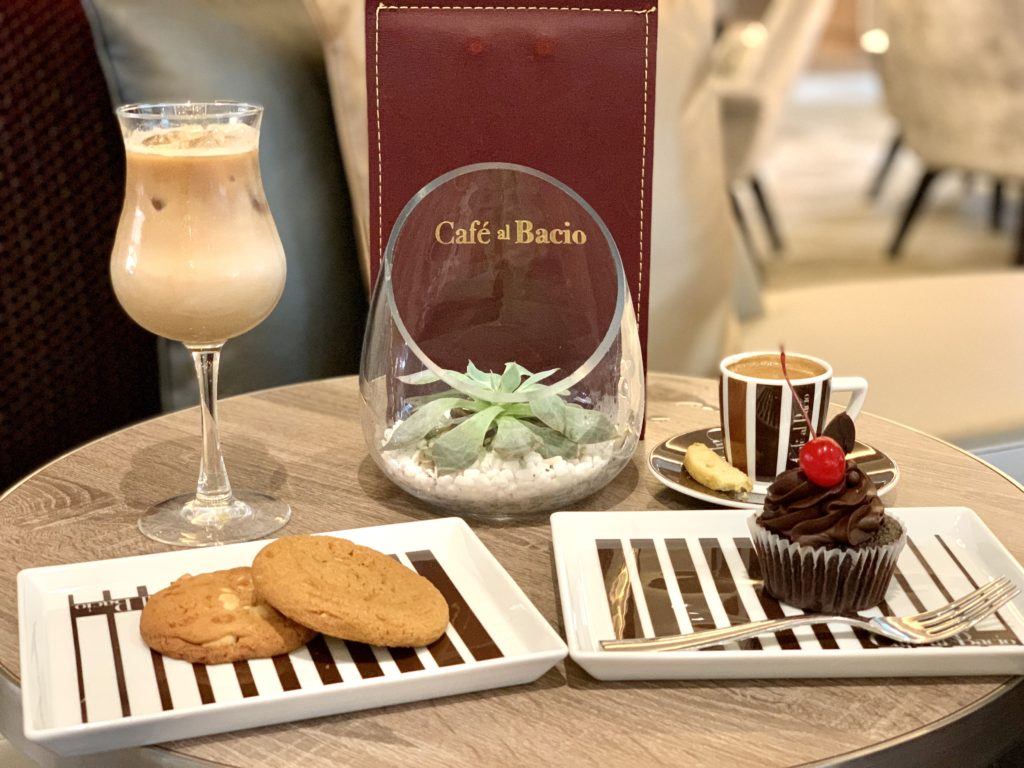 Nighttime Activities
For the first cruise from the U.S. in over a year, we were shocked by all of the nighttime entertainment options, especially when compared to our previous trip on Adventure of the Seas.
There was live music across several venues including acoustic performers, guitarists, and two DJs who took turns spinning. There were also game shows like the Whisper Challenge and Majority Rules each night in The Club.
The main theater featured a new headliner or production show each evening with two showtimes at 7 pm and 9 pm. Among the standouts were soloist Charity Lockhart, the musical trio of Uptown, and illusionist Jason Bishop.
Of the two production shows, we both agreed Kaleidoscope was our favorite.
On this Celebrity Edge sailing, there were even parties like the Silent Disco and the White Party. These events were very popular, and fellow cruisers didn't seem to mind the crowd.
Bars and Lounges
Celebrity Edge features several uniquely themed bars, with many offering a signature menu. For outdoor venues, the Sunset Bar serves up sangria and refreshing cocktails along with great aft views. The Magic Carpet and Pool Bar also have menus that feature signature cocktails.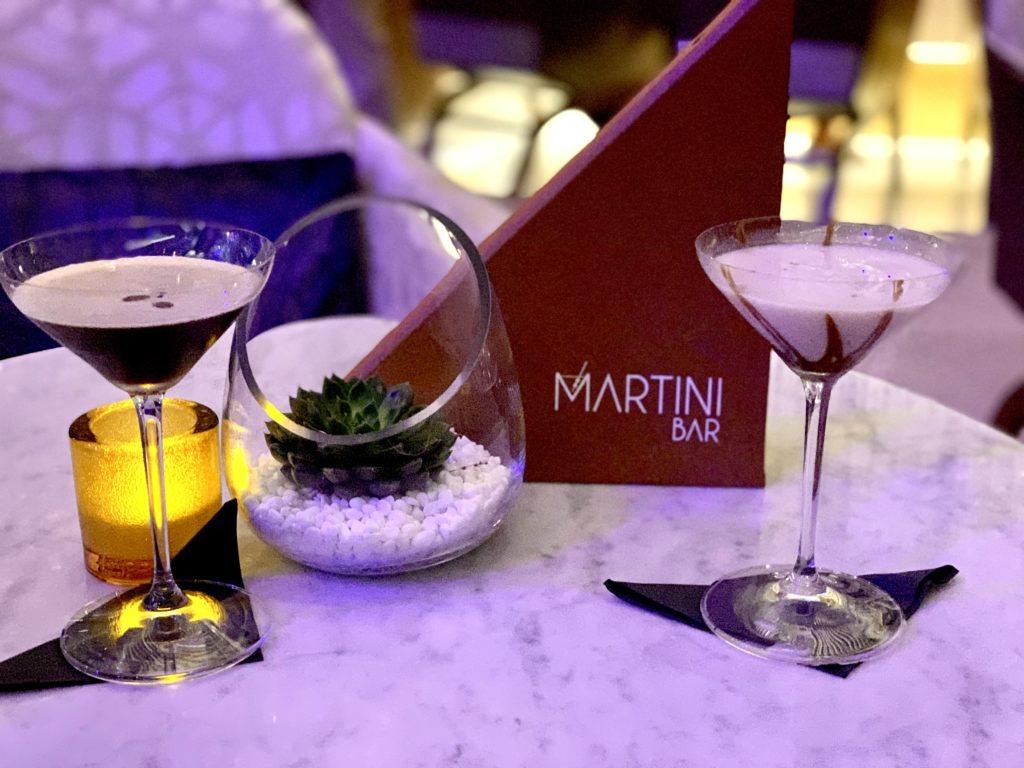 The centrally located Martini Bar is the hub of nighttime activities. With live music, a distinct martini menu, and talented bartenders, you will likely find yourself congregating here often. The Eden Bar and The Club also offer a signature cocktail menu.
While we liked the different venues and theming, the cocktails did fall a bit short for us. Besides the Martini Bar, many of the other venues had drinks that were tart or not well balanced.
Still, we made good use of our premium drink package upgrade.
BOOKING BONUS: Score Exclusive Perks When You Book Your Next Cruise Now!
Stateroom
On our previous cruise, we stayed in a Celebrity Edge infinite veranda stateroom and did not love the setup.
So, this time around, we booked a sunset veranda. Located on Deck 12 aft, this room was outstanding. The extra-large balcony offered amazing views and plenty of room for doing work, enjoying a drink, or just relaxing.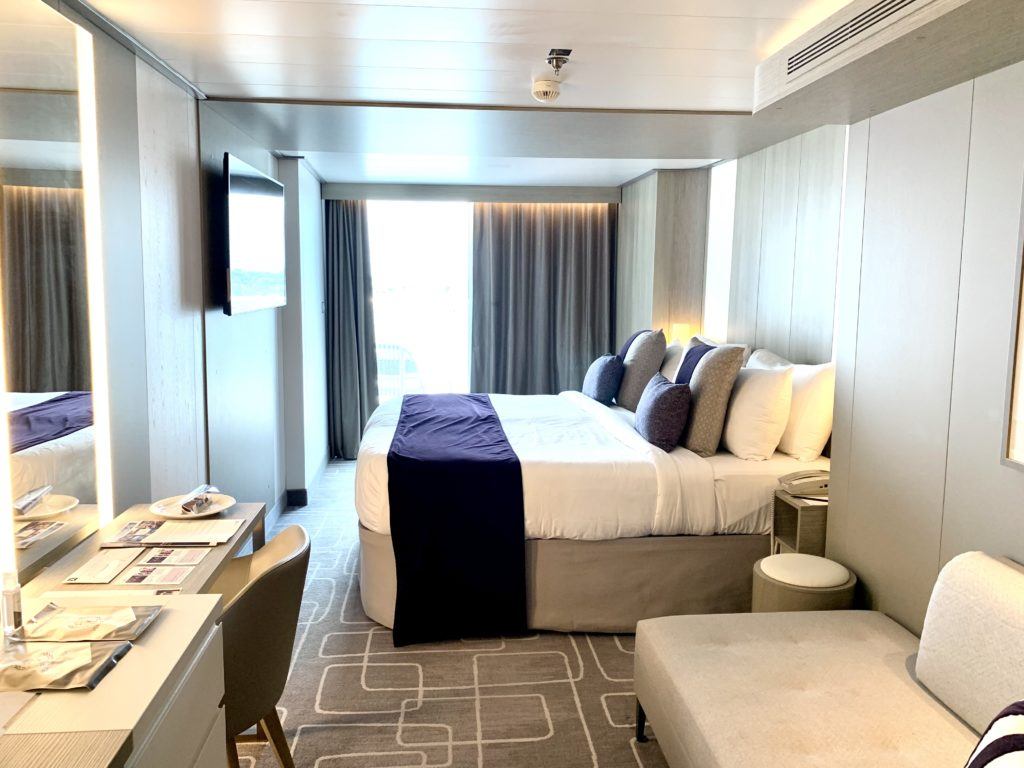 The interior space offered slightly more room as well. The setup was more like a hotel than your typical cruise ship cabin featuring elegant colors and décor.
There was plenty of storage too with uniquely designed closets and drawers tucked away from plain sight.
The upgraded bathroom with marble finishes, a larger than normal shower, and upscale bath products were much appreciated.
Overall Celebrity Edge Cruise Ship Scorecard
While Celebrity Edge is over two years old now, the ship looks and feels brand new. We love the ship's trendy, sleek design and newly added features. For a mega ship, the vessel is easy to navigate and thoughtfully designed to provide intimacy and privacy even on a vessel that can hold close to 3,000 passengers.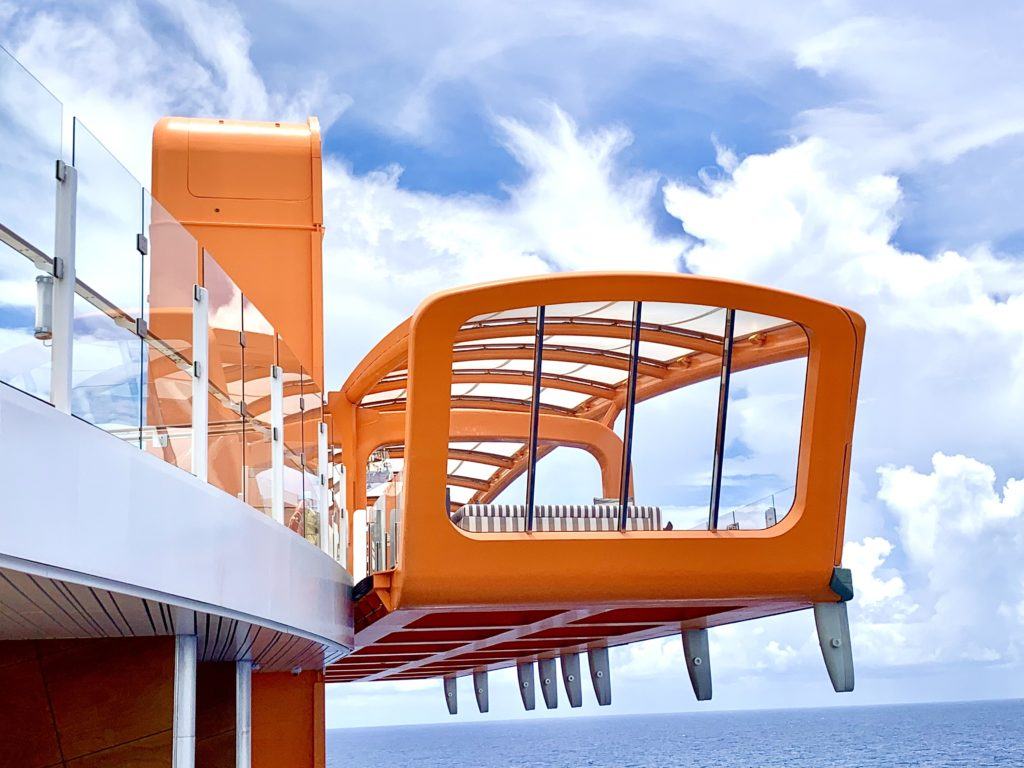 All the Celebrity favorites can be found on Celebrity Edge with a slight twist, including Cafe al Bacio and the Martini Bar.
For the first cruise back in the United States, Celebrity Edge offered cruisers a typical Celebrity Cruises experience. While we didn't know what to expect with the new health and safety protocols, this cruise felt just like any other sailing with the brand.
With an amazing staff, plenty of space (as we were sailing at only 36% capacity), and all of the cruise staples, we feel like this Celebrity Cruises cruise restart was a smashing success.
With impeccable service, outstanding food, cutting edge entertainment, and sleek staterooms, Celebrity Edge was the ideal ship to usher in the returning of cruising to the United States. Now, we can't wait to test out her sister ship, Celebrity Apex, when she debuts in Florida.
Comments
Do you agree with our Celebrity Edge cruise ship score card review? Have you sailed on this vessel before? Drop us an anchor to share what you love about sailing with Celebrity Cruises.