Welcome Back to the World. Viking has restarted operations in many destinations across the globe. Currently, the cruise line is offering sailings for U.S. travelers in Iceland and Bermuda. With a cruise on Royal Caribbean and one on Celebrity Cruises already under our belts, each with very different protocols in place, we were not sure what to expect on Viking. Well, the wait is over, as we are currently sailing on the Iceland's Natural Beauty itinerary with this luxury cruise line. Thus, we can now share what it's like on Viking ocean cruises right now.
What It's Like on Viking Ocean Cruises
Getting Ready for the Cruise
Leading up to the trip, Viking emailed several communications to cruisers detailing the timeline for completion of each "travel milestone".
First and foremost, this cruise was only available to fully vaccinated adults. To ensure that all passengers met this requirement, cruisers needed to register using the VeriFly app 10 days prior to their sail date. After providing the necessary information, the app promptly verified that our vaccination status was approved.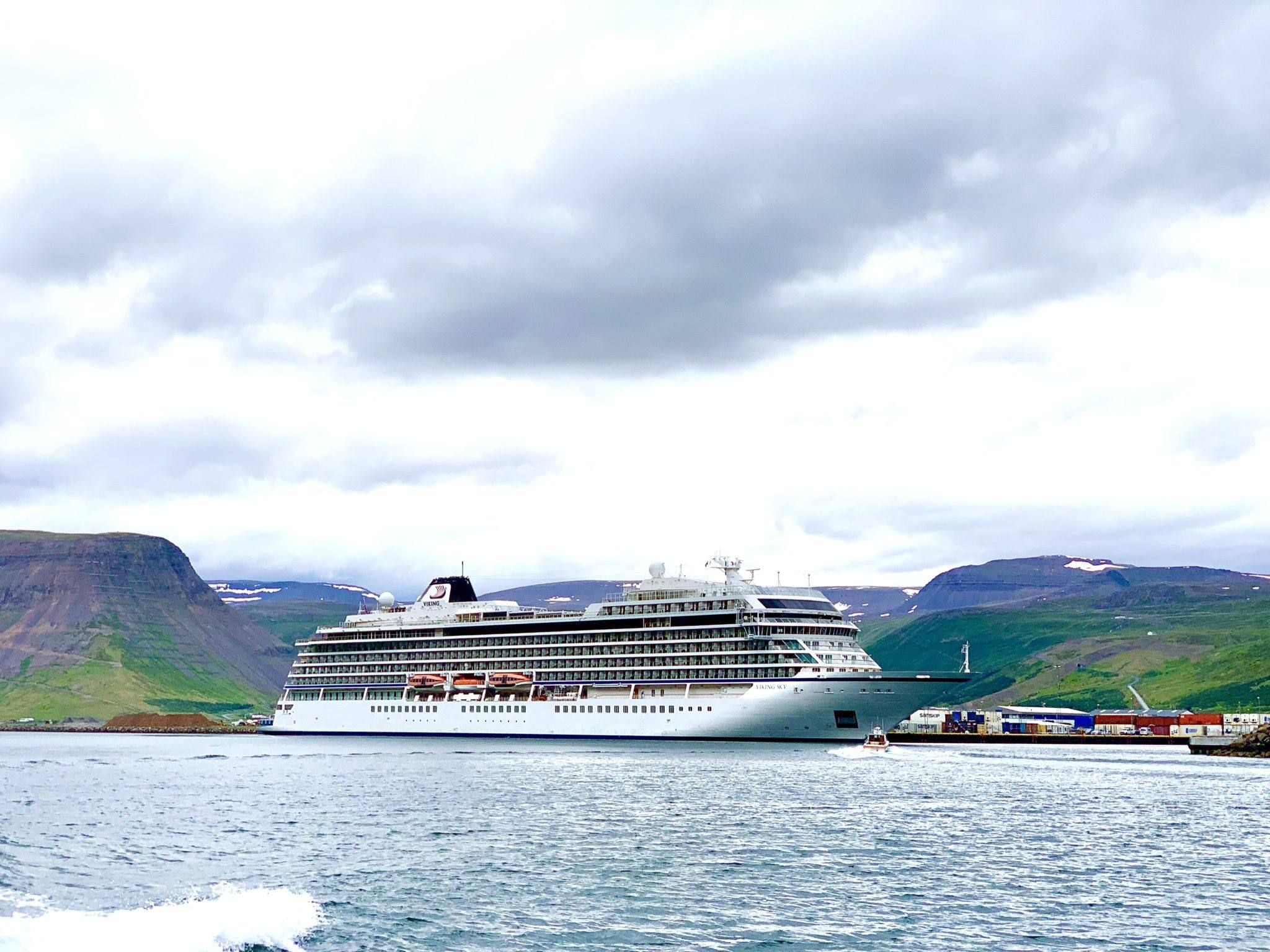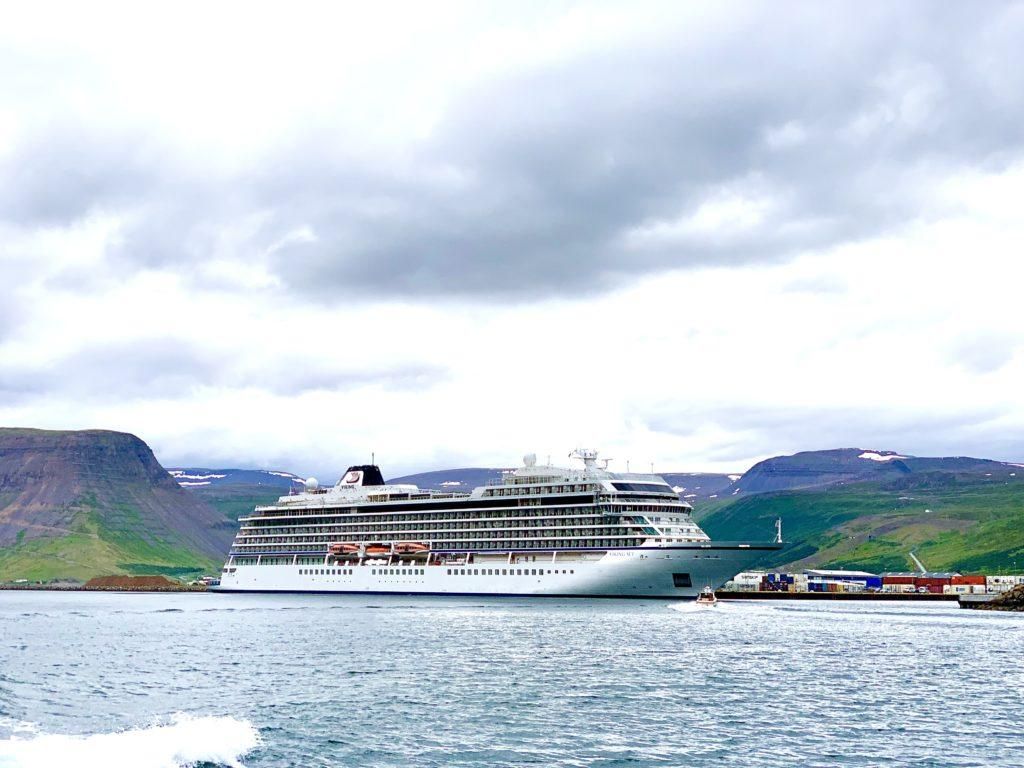 Then, guests need to complete an online health questionnaire 7 days prior to sailing. Finally, Iceland requires a pre-registration within 72 hours of arrival. This was simple to complete online and did not cost an additional fee. Upon completion, we received our registration bar codes which exempted us from quarantine and testing upon arrival in Iceland.
Embarkation Day
Embarkation for this Viking cruise was efficient, but it did include a number of steps and took quite a while.
Once we arrived and cleared customs at the Keflavik airport, we met a Viking representative who directed us to our shuttle. Honestly, the airport area was quite full of fellow travelers.
Once onboard the bus, we had a 45 minute ride to the check-in destination, the Harpa concert hall in Reykjavik. In true Viking fashion, our transfer included a guide who provided us with some historical information along the way, including pointing out the ongoing volcano eruption.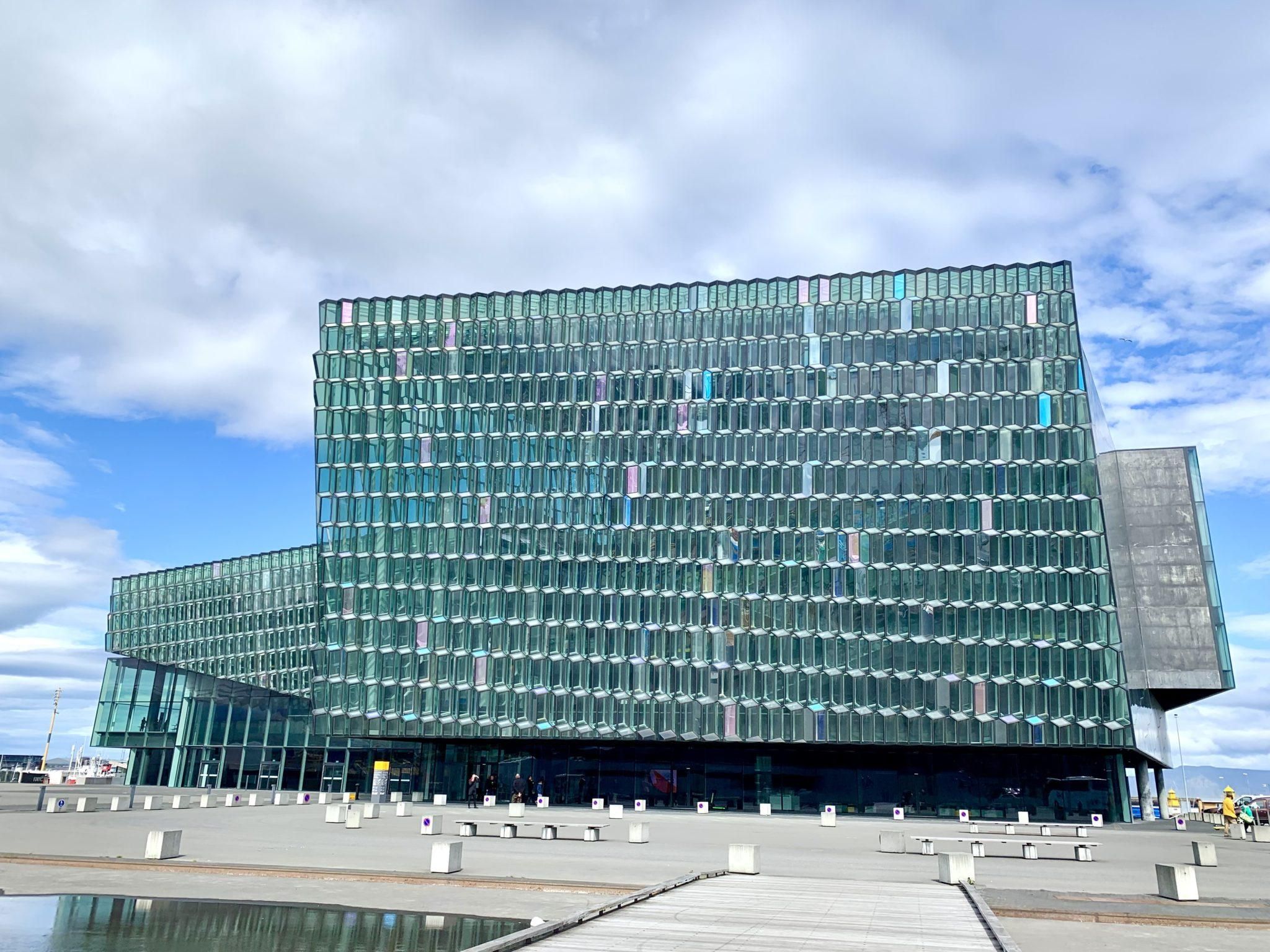 Upon arrival at the concert hall, we waited in the bus for over 30 minutes before we were allowed to disembark to begin the check-in process.
From here, it was a quick 15-minute check-in. Similar to our other cruises following the pandemic, Viking did request a physical copy of our vaccination card along with our passports. We also underwent temperature checks, had our photos taken, and were issued our key cards. Additionally, we received contact tracing devices that would need to be worn for the duration of the cruise.
Viking provided an Icelandic breakfast in the hall as well, as we had about 30 minutes until our shuttle would escort us to the ship.
Finally, we arrived at our home away from home for the week, Viking Sky. We were able to scan onto the vessel, go through security, and officially embark by around 12:30 pm.
Muster Drill
On the previous two trips, we were able to complete a virtual muster. While Viking does have the Viking Voyager app, they do not have this technology yet. Still, muster was quick, and we were able to complete this as soon as we boarded the vessel.
Passing through security, crew directed us to muster station A, which was on deck 2 in the Star Theater.
Crew members greeted us in the theater and instructed us to watch a short video. Prior to setting sail, we also needed to attest to attending the safety briefing on our stateroom television.
Also prior to sail away the following evening, the cruise director conducted a ship wide emergency announcement.
Overall, the muster process was efficient and avoided crowding.
EXCLUSIVE SAVINGS: Save With the Latest Viking Ocean Cruise Deals
Entering Our Stateroom
We are staying in a Penthouse Verandah, cabin 5016.
The simple luxury and elegance of public spaces on Viking ships extend to the cabins as well. This balcony stateroom offered ample space with well appointed furnishings. Along with a standard sofa and desk, there was an additional chair, king bed, and a number of upgrades.

All Viking cabins include heated bathroom floors, upscale bath products, a coffee maker, and binoculars.
After settling into the cabin, our stateroom attendant, Josephine, came by to introduce herself and review some of the features in our cabin which was a nice touch.
Like our previous experiences with Viking, the stateroom provided all of the comforts of a luxury hotel and was the perfect place to retire after a long day ashore.
Viking did provide disposable face masks and hand sanitizer in the staterooms. This is in addition to the daily test tubes left for saliva samples.
Dining on Viking Sky
The food on Viking is some of the best at sea. So far, Viking Sky has not disappointed when it comes to the quality of food in several dining venues. The service has been equally impressive during the trip as well.
So far, we have had dinner in the Restaurant and one specialty restaurant, the Chef's Table. We also have plans to dine at the Italian restaurant, Manfredi's, later in the cruise. The main dining room as well as the two specialty restaurants are all included in the cruise fare with no additional up-charges.
While we are not huge fans of buffets, Viking Sky has offered some outstanding lunch and breakfast items in the World Café. Viking offers a more select buffet menu, with higher quality ingredients and exquisite preparation.
Oddly though, there is no social distancing in any of the restaurants, even though there are seats blocked off in other bars and lounges. Most nights at dinner, we were seated in very close proximity to another table of 2.
The ship is currently sailing at about 75% capacity, so it makes sense that there is probably not enough space to distance cruisers in these venues. However, Viking is currently limiting table size to 6 guests.
Entertainment
Viking focuses on its itineraries and destinations. So, honestly, there has not been much entertainment over the first three days of the cruise.
On night 3, the Viking Sky singers performed their first show, a Tribute to ABBA. Of course, there is also live music at several venues throughout the ship.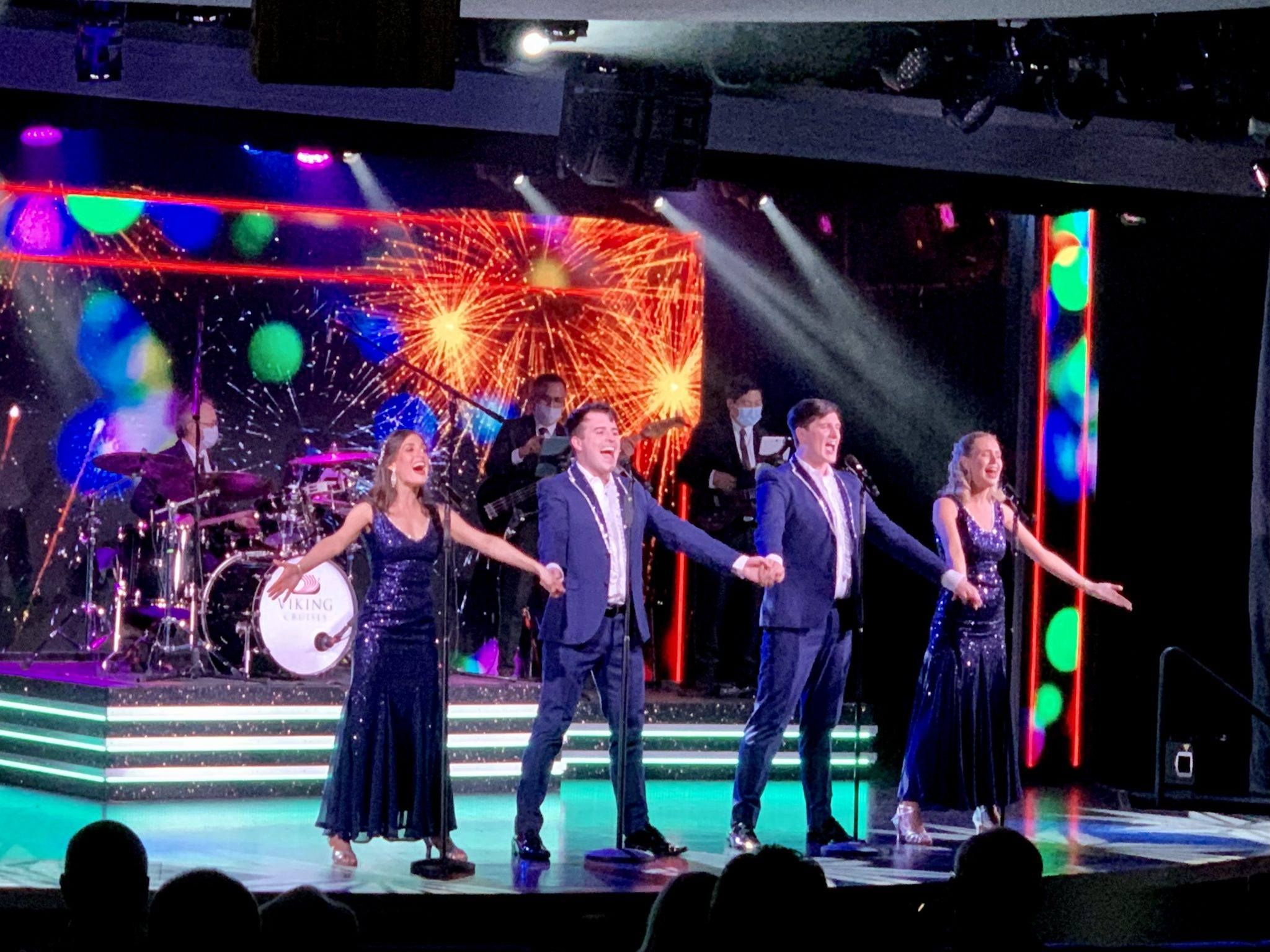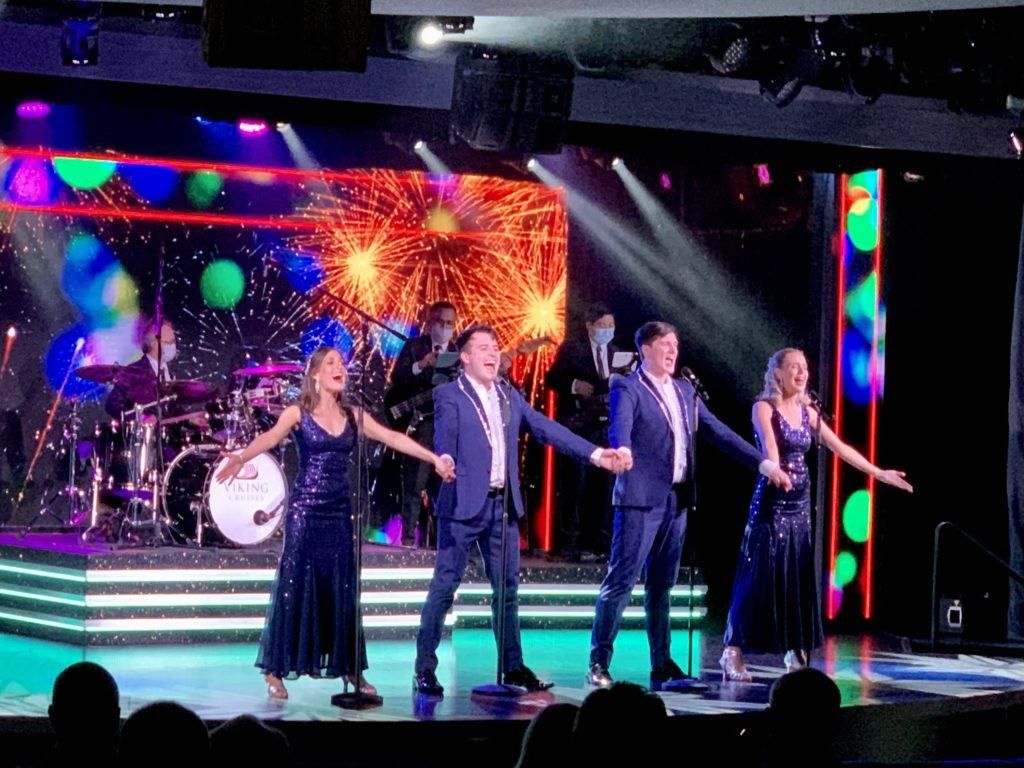 Instead of headliner acts or production shows, the main theater on Viking features enrichment talks and guest lecturers in the late afternoon and evening. Some of these speakers include the ship's resident historian, a geologist, and a naturalist. We did catch one talk so far by Russell Lee on Norse mythology.
Strangely, there is no social distancing measures in the theater either. In addition, even though cruisers need to wear masks when moving about the ship, they can take them off once seated in the theater.
This does seem a bit counterintuitive to us, as shows and dinner are probably the two periods of time that you will spend the most time next to the same individuals.
Cruise Ship Activities
In line with entertainment offerings, Viking does not have your typical cruise schedule of daily activities. There are no games shows, silent discos, or the belly flop contest.
There are some events, like trivia, as well as table games that cruisers can enjoy at their leisure. In addition, there is an outdoor sports deck all the way forward on deck 9. It includes shuffle board, lawn bowling, and a small putting green.
Again, there are also several musical acts that perform until about 10 pm. These included an acoustic guitarist, a pianist, and a strings duo.
For the "late night" crowd, the nightclub, Torshavn, features the Viking Band and signature cocktails.
Of course, you may just need the time to rest up for your next port of call, as most Viking itineraries are port intensive.
Time Ashore
Given the country's high rate of vaccination, Iceland no longer has any COVID restrictions in place. Still, Viking requires guests to wear masks when on shore excursions.
For the most part, this policy is enforced when on a bus. Most of these tours are close to sold out, so the bus transfers are not socially distanced.
However, most of the tours currently offered are outside. So, when it comes to exploring outdoors or walking tours, masks are not necessary.
A tour guide explained that some of Viking's tours have been modified due to COVID, eliminating stops that included food. There are also no intimate or privileged access tours available currently, at least for this itinerary.
While Viking does offer included tours and other up-charge shore excursions, cruisers do not need to book with the cruise line. Cruisers are free to explore the Icelandic ports of call on their own.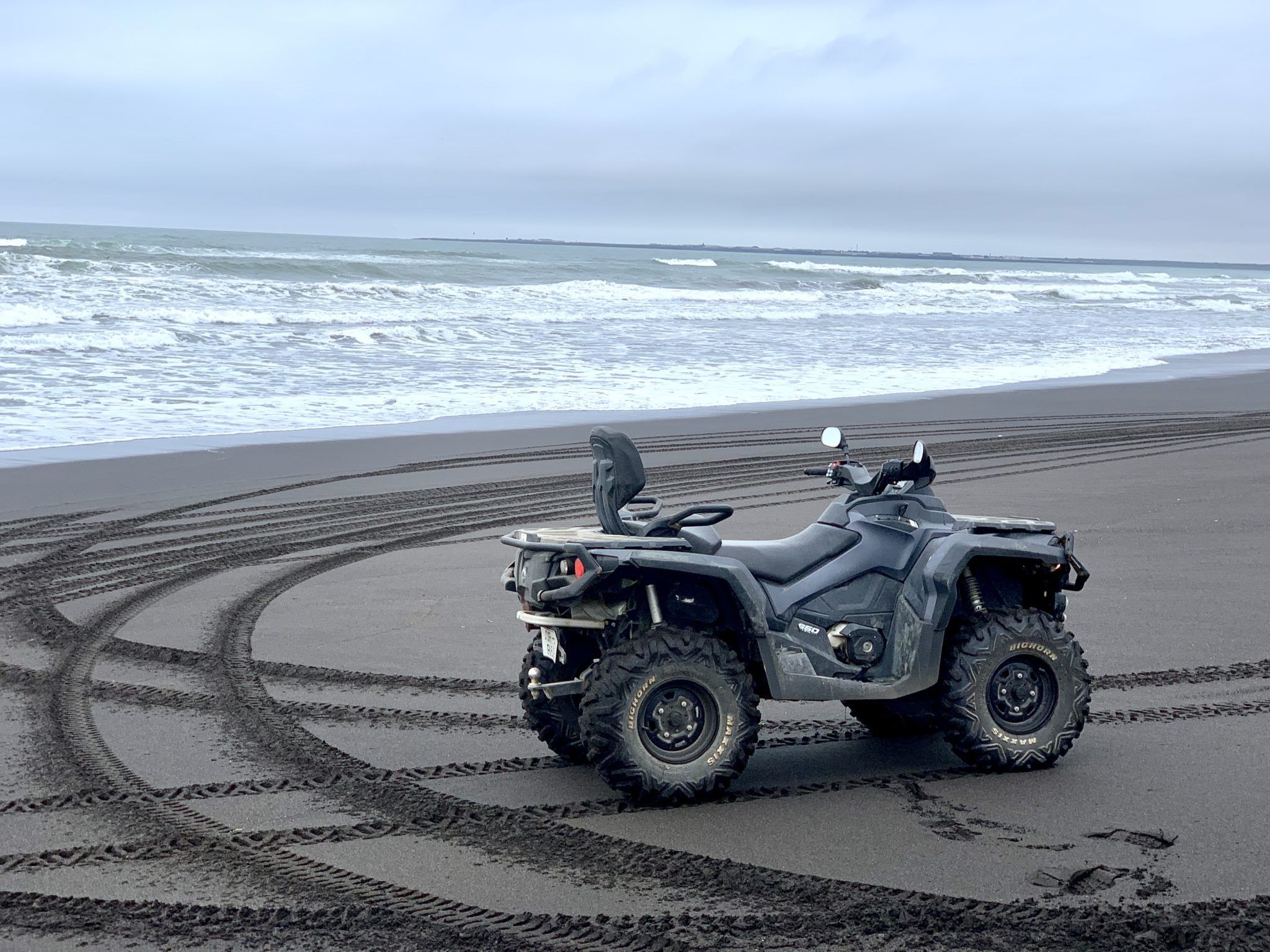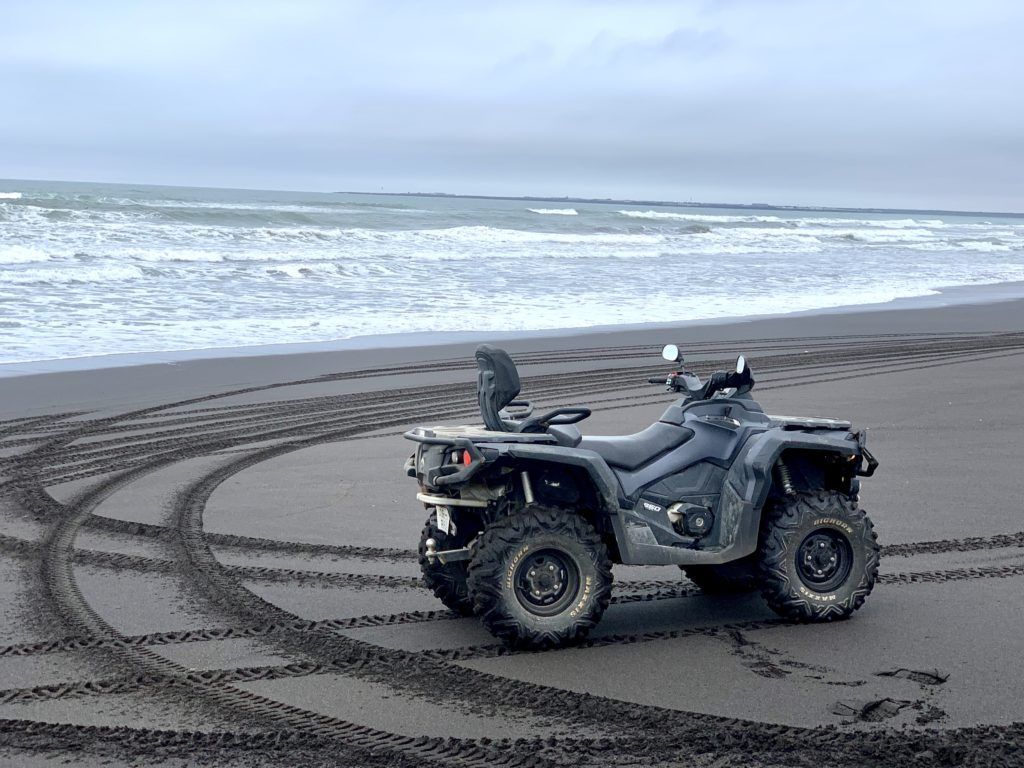 Thus far, the selection of shore excursions offered by Viking has been diverse. We took an ATV ride on a black sand beach in Reykjavik and have other tours like whale watching and a zodiac ride to a glacier booked for later in the week.
Related Post: What's Included on Viking Ocean Cruises
What It's Like on Viking Ocean Cruises Right Now
Of the 3 cruises we've taken so far, Viking certainly has the most health and safety protocols in place. This is partly due to the fact that not all crew onboard have received their second COVID-19 vaccine dose yet.
Along with wearing masks when moving about the ship, we also need to complete daily temperature checks and submit daily saliva samples for PCR testing.
Further, there is social distancing in many of the public venues, with the dining rooms and theater being exceptions. Despite such measures, we have not had issues getting seats.
Viking also provides all guests with a contact tracing device. Cruises need to wear this at all times when moving about the ship and on shore excursions. This device records data when travelers come in contact with one another for more than 15 minutes.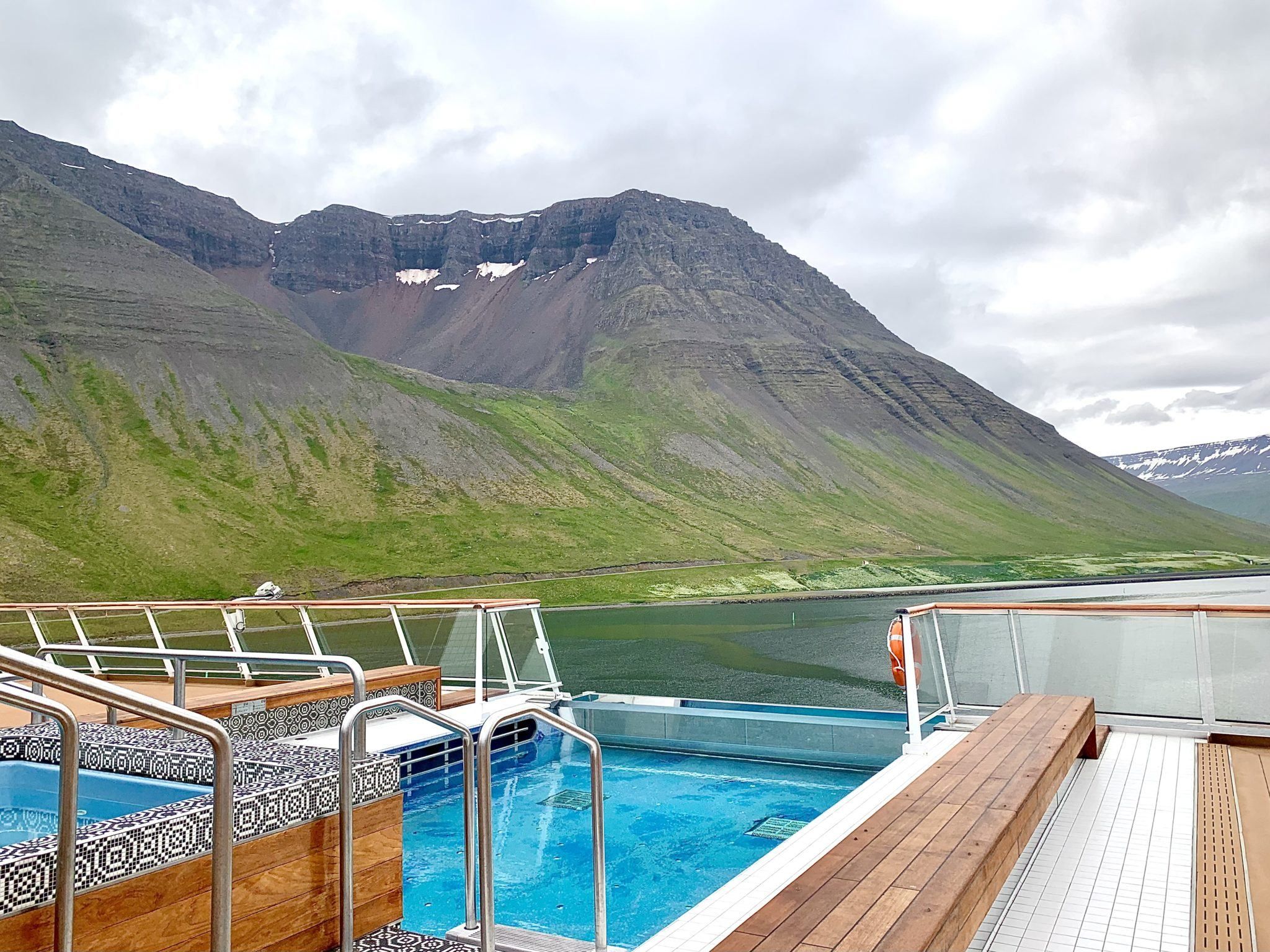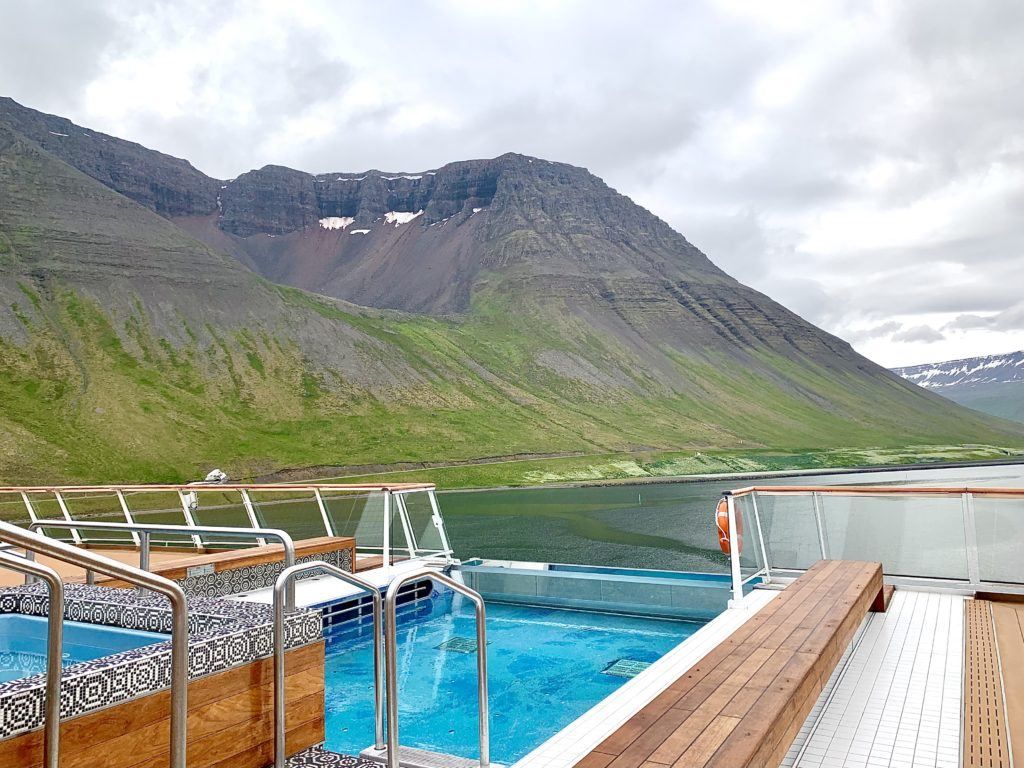 We do believe that there needs to be some measures in place for travel and cruising to resume safely. Although, a daily saliva sample and the contact tracing devices do feel like a little overkill to us, given that all passengers are fully vaccinated.
Still, these minor changes have not impacted our cruise experience in any way. Cruisers are being compliant with these health and safety measures, while Viking is allowing us to explore the world in comfort once again.
With first rate shore excursions and tour guides, we have been able to truly admire the natural beauty of Iceland. Onboard Viking Sky, the crew have been delivering a personalized cruise experience. The amicable staff go above and beyond to provide exceptional service in all venues.
The food has been top notch as well, with just the right amount of variety for quick service options, casual snacks, and exquisite three course meals in the main dining room and specialty restaurants.
With more areas of the world opening back up to travel, Viking is planning to expand its ocean cruises lineup and resume river cruises in several parts of the world. Viking is happy to welcome you back to the world. For us, this is an invitation we are more than happy to accept.
Disclaimer: We are sailing as guests of Viking, but as always, all opinions in this post are our own.
Comments
Do you have upcoming travel plans with Viking? Do you have more questions about what it's like on Viking ocean cruises right now? Drop us an anchor below to share your experiences with this luxury cruise line.