We have just returned from one of the first Viking Ocean Cruises on Viking Sky. Come along as we share every moment of the trip with our exclusive day-by-day Viking Iceland's Natural Beauty Cruise Review.
SCROLL DOWN TO WATCH OUR BRAND NEW VIKING OCEANS CRUISE REVIEW!
Viking Iceland's Natural Beauty Cruise Review
Cruise Ship Overview
Viking Sky was Viking's third ocean cruise ship when it debuted in 2017. Similar to its sister ships, the vessel is just under 48K gross tons and consists of 9 passenger decks. With 465 cabins, all with balconies, the vessel has a capacity of 930 guests.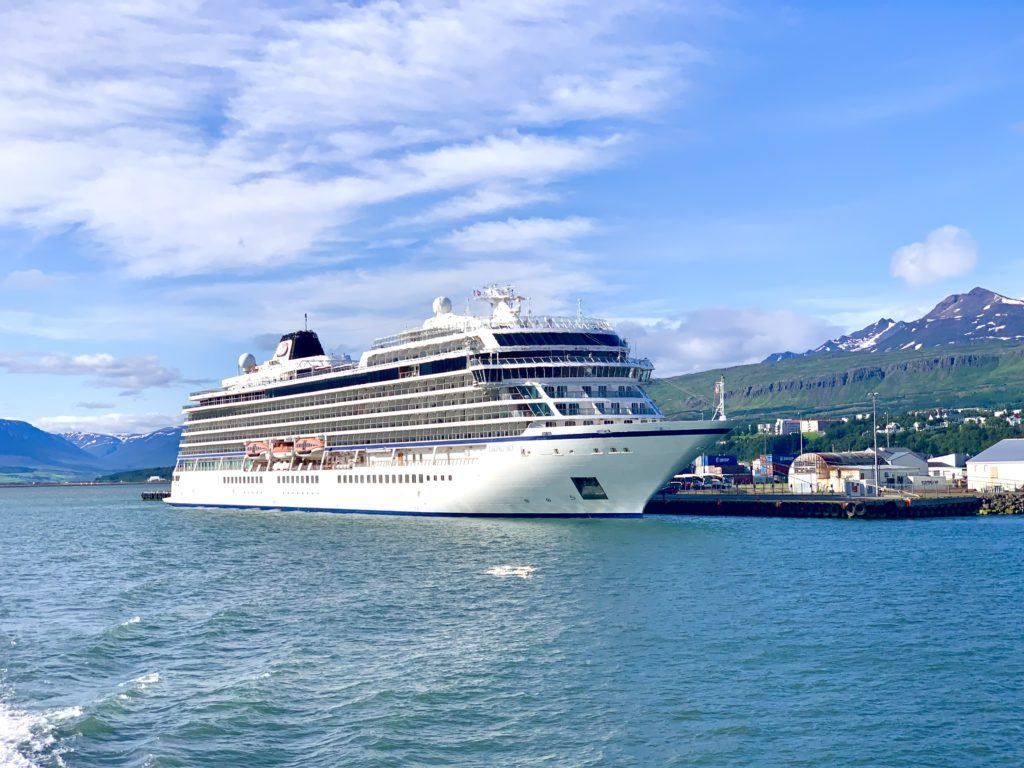 Like all Viking cruise ships, this luxury vessel has a simplistic, yet elegant design. With public venues that are inviting and warm, such as the aptly named Living Room, the ship welcomes passengers to relax in style and comfort.
Viking focuses on its destinations, so enrichment is at the center of its cruise experience. Thus, there are several lecturers onboard offering a variety of talks from history to geology. Further, the Explorers' Lounge offers not only an amazing bar and live music but a cultivated collection of reading directly related to each itinerary.
Dining on Viking Sky is also upscale. Similar to other luxury cruise lines, all restaurants are complimentary, including the specialty Italian restaurant Manfredi's and the Chef's Table.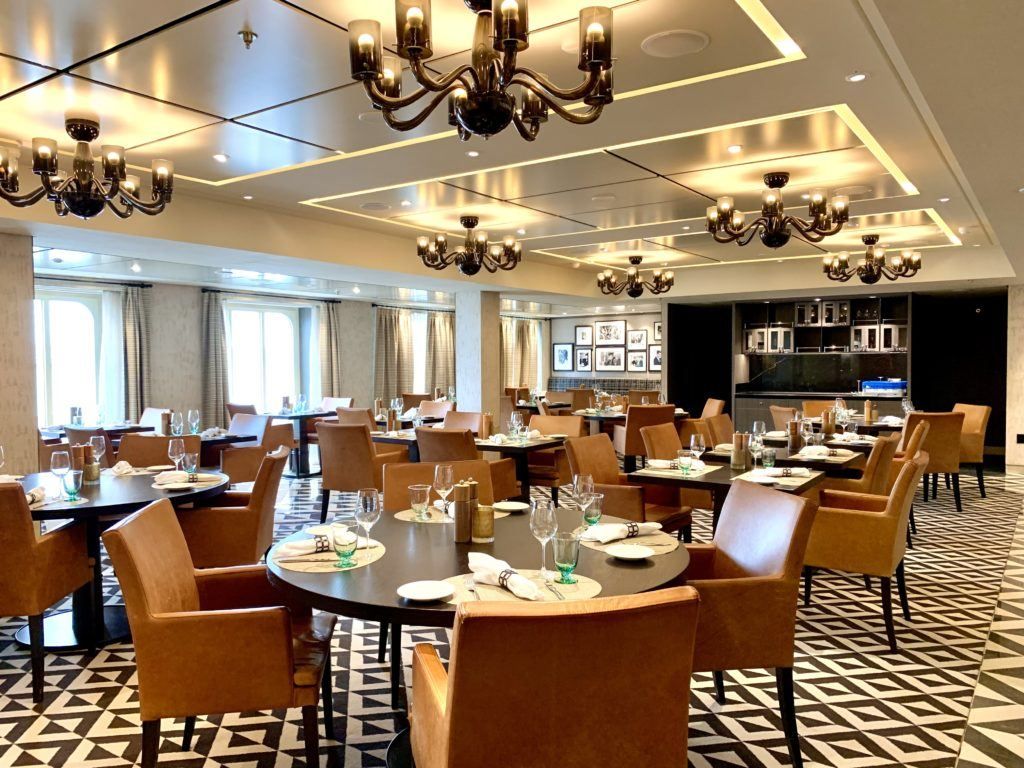 With two pools, a small sports deck, and al fresco dining, Viking Sky still offers the staples you expect to find on ocean cruise ships. Not to mention, all guests have complimentary access to the Thermal Suite, nightly live music and entertainment, and beer and wine included at meals.
Viking Sky was the perfect backdrop to our explorations around the entire country of Iceland during the course of the week.   
EXCLUSIVE SAVINGS: Get Deals on Viking Ocean Cruises Now!
Day 1 – Viking Iceland's Natural Beauty Cruise Review
A Long Morning
With less than a week at home, getting ready for this Viking Iceland's Natural Beauty cruise felt more rushed than most of our trips. Somehow, we managed to get everything packed, our work and home life situated, and be on our way to the airport Friday evening.
Given the 4 hour time change, Viking arranged an evening flight for us that had us arriving at the ship's homeport of Reykjavik, Iceland around 7:30 am on embarkation day.
Of course, with flight delays in the U.S., a back up at the Keflavik airport, and lines at Icelandic customs, we did not actually get on a Viking transfer until after 10 am.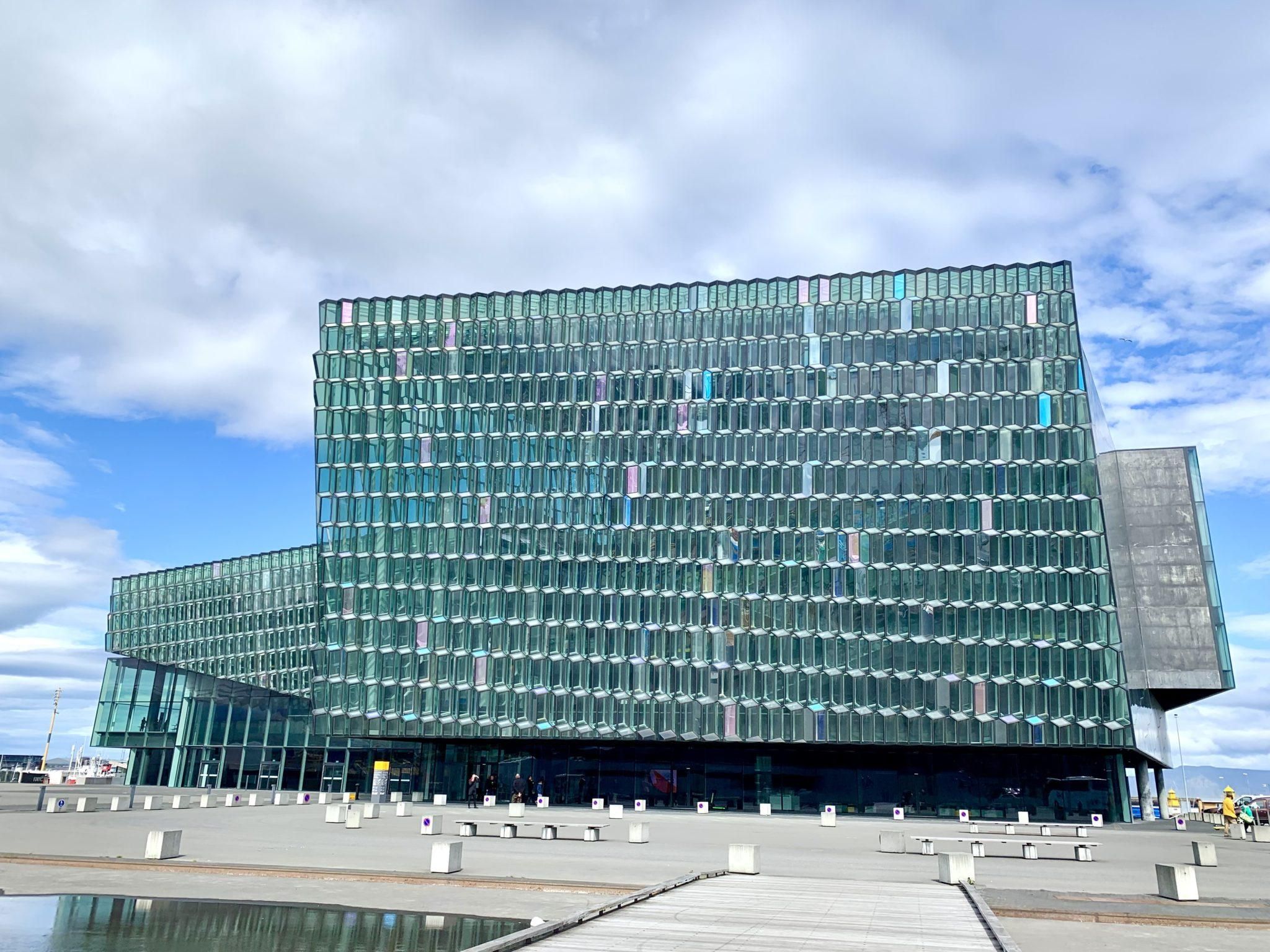 The ride from the airport to the check-in point at the Harpa concert hall in downtown Reykjavik is approximately 45 minutes. With essentially all flights from the U.S. arriving at the same time, we also encountered a back-up of tour buses waiting to enter the concert hall for check-in.
Once allowed to disembark the bus, we were able to complete the check-in process in less than 15 minutes. As part of the check-in, Viking requires proof of vaccination along with other typical documents. Along with our key cards, we were also provided with a contract tracer. Cruisers must wear this device at all times during the cruise.
Our shuttle was scheduled to depart the concert hall for transfer to the ship at 12:05 pm. This gave us just enough time to grab a cup of coffee and sample a few bites of the Icelandic breakfast provided.
Finally, we arrived at the ship by 12:45 pm. With a quick temperature check and security scan, we were officially onboard Viking Sky.
A Viking Sky Ship Tour
Luckily, our stateroom was ready upon embarkation. But first, we did have to complete our mandatory muster drill.
While not as high tech as Muster Drill 2.0 on our other cruises, this modified version was also quick and simple. At our muster station, which was the Star Theater, we had to watch a short instructional video. We also had to complete an attestation on our stateroom television at some point before sail away the following day.
On our way to our stateroom to drop off some gear, we met our stateroom attendants Josephine and Chris. With most of our luggage already at our door, we took some photos and video of this Penthouse Suite cabin on Deck 5, cabin 5016, and then did a little unpacking.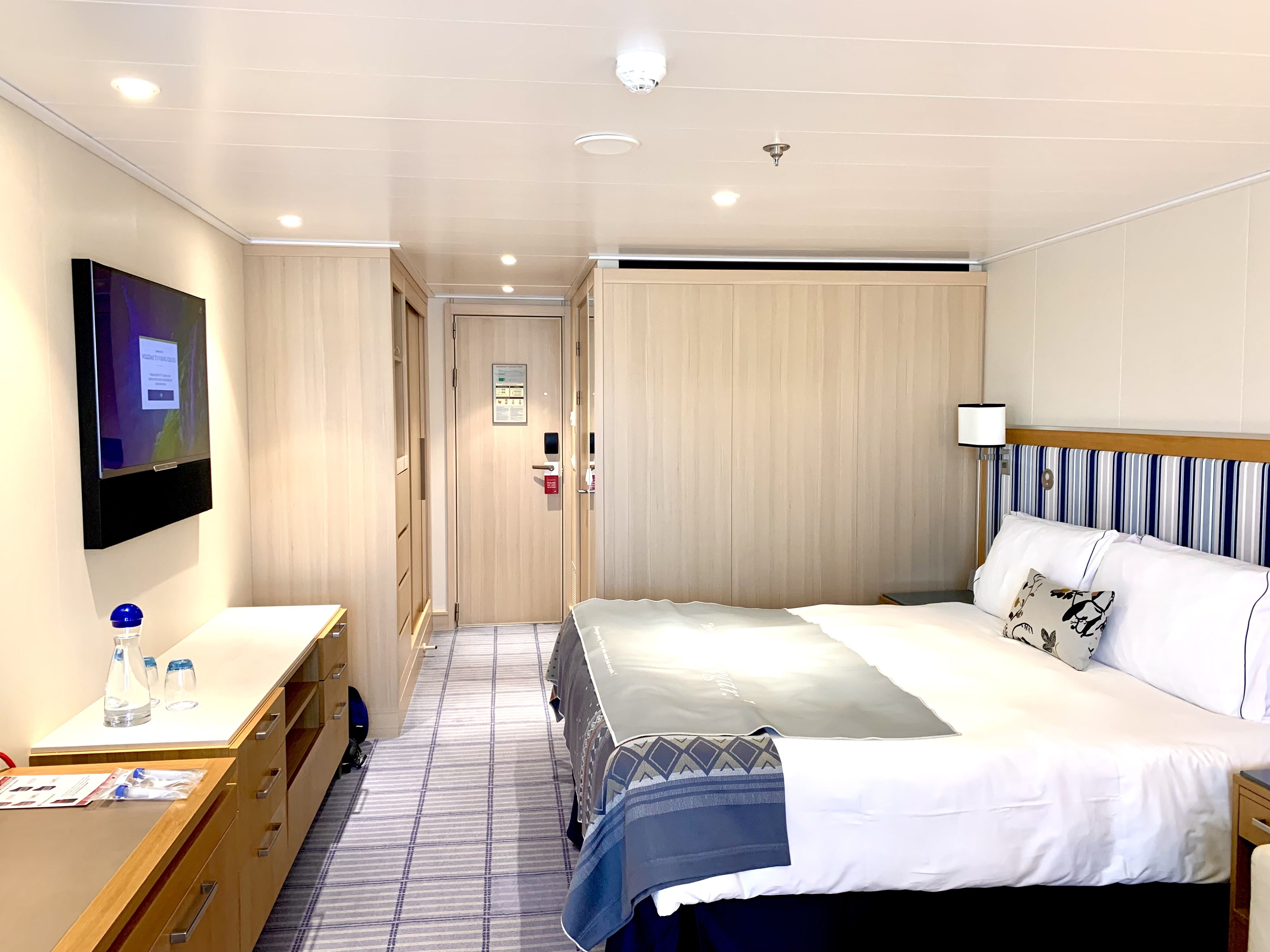 Now, it was time to explore the ship. Well, I actually headed out on this ship tour myself. The Princess was tired and had a headache from a long day of travel and lack of sleep. So, she was in need of a nap if she was going to make it through the rest of the day.
Of course, I found some time for a quick snack at the World Café as well. Similar to our previous experience with Viking, I found the buffet to be among the best of any cruise line. This snack took a bit longer than expected as I struck up a conversation with the couple next to me, so it was nearly 2 hours before I returned to our suite to wake the Princess from her beauty rest.
Somewhat rejuvenated, we returned to exploring the ship capturing more photos and video along the way.
Calling It an Early Night
Prior to the cruise, we made a 7:15 pm reservation at the main dining room on the ship, the Restaurant. While later than we normally dine, this time worked to our advantage.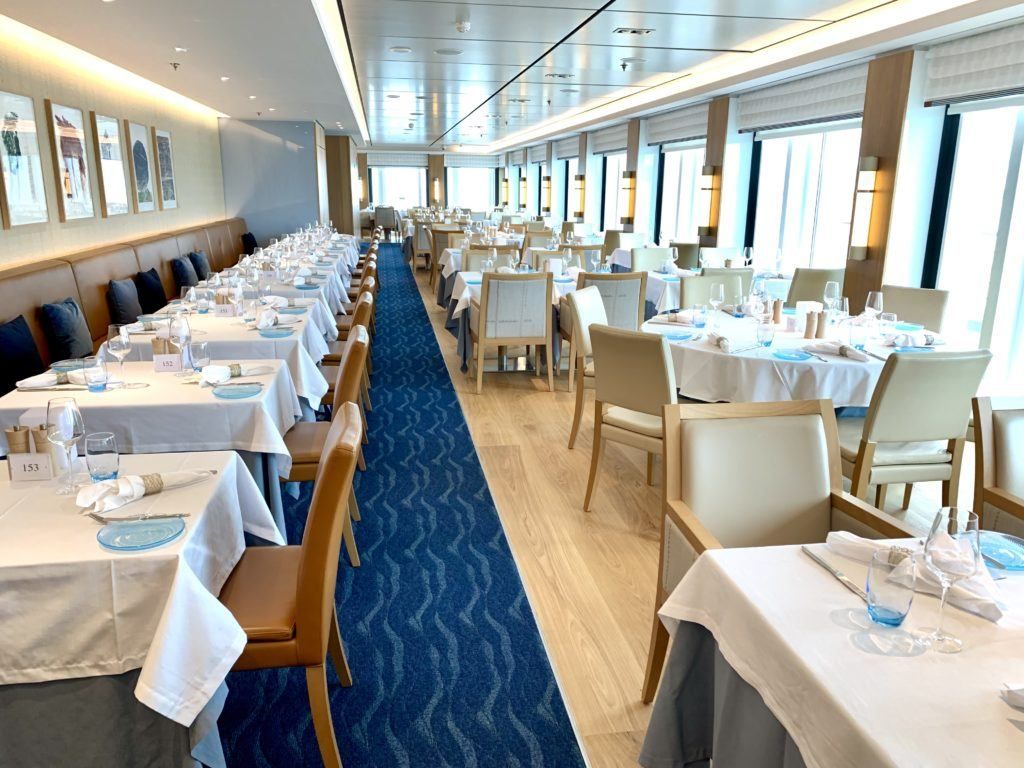 Back to our suite, we both showered and got ready for dinner.
With a few cruisers ahead of us, we waited approximately 10 minutes to be sat at an oceanview table for two at the very aft of the restaurant.
Service in the Restaurant tonight was very attentive and friendly. The formal, yet amicable waitstaff seemed to anticipate our every need. From delivery of the bread and water, to the sommelier pouring glasses of wine, we were spoiled for the next 75 minutes with our three course feast.
The Princess opted for the linguine and clams entrée, and I ordered the salmon off the Destination Menu.
Finishing up dinner after 8:30 pm, we debated going to the talk at 9 pm in the Star Theater. Instead, we grabbed drinks from the Viking Bar and just retreated back to our cabin for the evening.
After a bit of work, we retired to bed before 10 pm. Both of us were beat, and with a 7:50 am tour meeting time the next day, we needed our rest.
Day 2 – Iceland's Natural Beauty Cruise Review
Just Another Day Off-Roading on a Black Sand Beach!
With the jet lag now behind us, we were going to make the most of our second day of the cruise. Having spent two days in Reykjavik before on an Ireland/Iceland cruise itinerary on Celebrity Eclipse in 2018, we decided to take a tour that was off the beaten path, literally.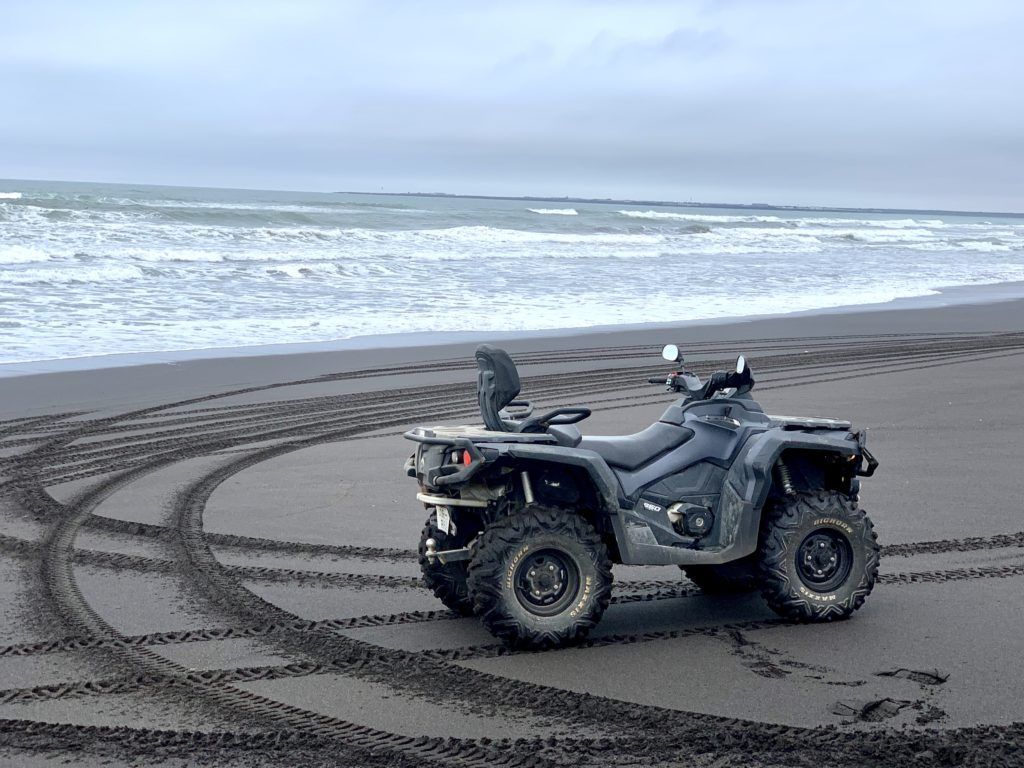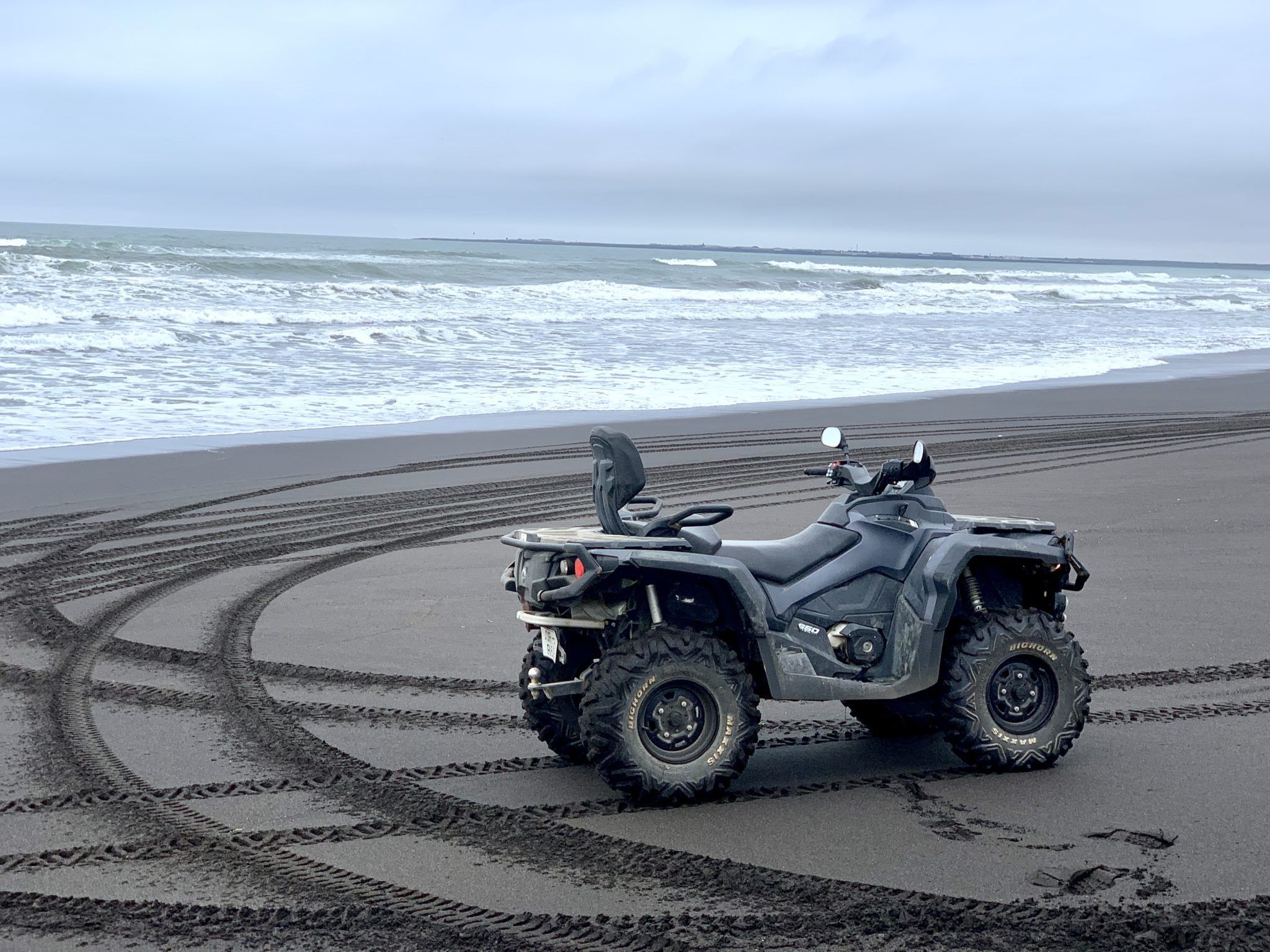 Since we had already visited Blue Lagoon and the Golden Circle sites, we scored tickets for an ATV ride on a black sand beach and lava tube exploration for this stop in the capital city.
Up around 5:45 am, I was able to capture some photos and footage of indoor venues while the Princess got ready. With coffees in hand, I returned to the room to get ready myself.
In Iceland, you need to prepare for unpredictable weather. With extra layers, raincoats, and the rest of our gear, we were at our meeting spot in the Chef's Table right on time.
Our Viking representative escorted us off the ship right around 8 am. On Bus #5 with our tour guide Elsa, we headed out for our morning adventure. While there was some confusion about the meeting spot, our bus eventually arrived at the tour company's headquarters.
Getting a brief safety and operational overview first, we then set off on an exhilarating adventure traversing the trails and black beaches of the rugged Icelandic coast. Reaching speeds of close to 50 MPH, we sped through this picturesque landscape stopping occasionally to take photos along the way.
For our next stop, we plunged 350 meters into a 5,000 year old lava tunnel with our guide David. He explained the formation of this natural wonder as we ventured into the complete darkness. Good thing we had spelunking helmets for this journey.
Making up for lost time, we were back to the pier only 15 minutes late.
We toyed with the idea of heading into the city of Reykjavik for a few hours as Viking was offering shuttle service every 30 minutes. Of course, we could not decide on a plan of action for this jaunt. So, we decided to stay on the ship for the afternoon instead.
A Luxury Cruise Ship All to Ourselves
Once we were back onboard around 1 pm, we grabbed some lunch. We opted for another round at the World Café buffet on Deck 7. Again, the food and service did not disappoint.
I went for some Asian-inspired menu items, and the Princess had some pizza. Neither of us could resist the ice cream or cookies either.
Viking Sky felt relatively empty. So, we walked the entire jogging track on Deck 7 and the Sun Deck twice for good measure.
Taking a break, we stopped in for some afternoon coffee at the Living Room.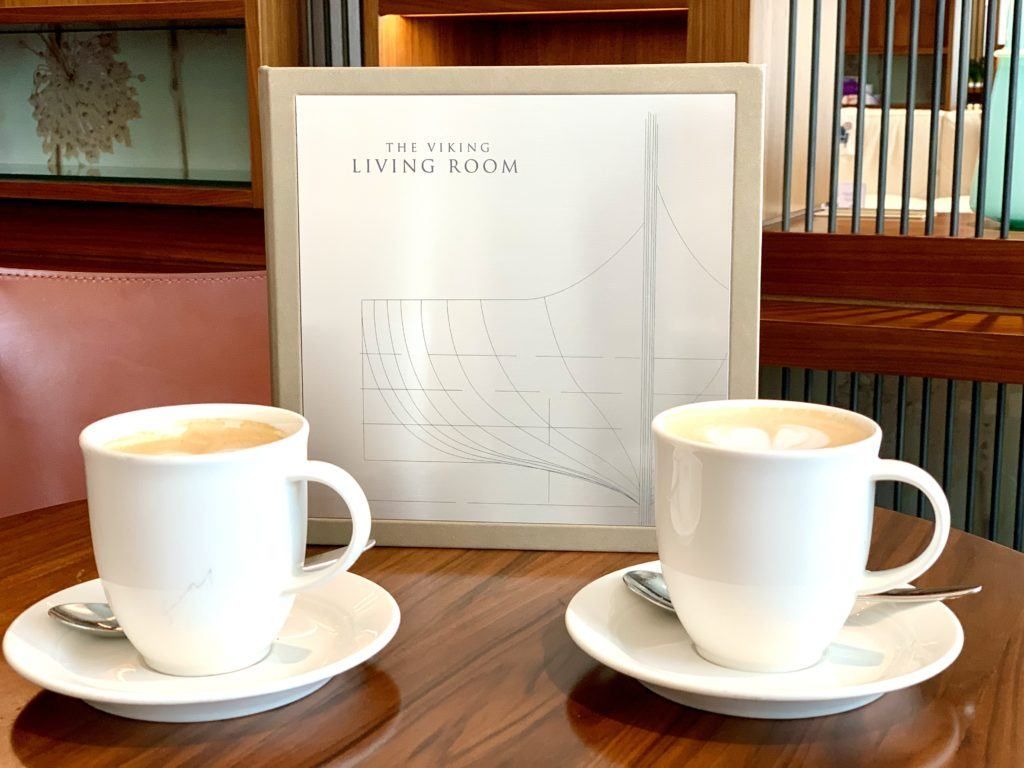 Tonight, we had dinner reservations for the main dining room at 6:30 pm. Although, after speaking with the staff, we learned that the reservations at this venue were not really necessary.
Prior to sail away from Reykjavik, the cruise director completed a traditional safety announcement and briefing. She read through the typical script about procedures and played the emergency signal. This was in addition to the short muster that we completed the previous day.
A Luxurious Night Onboard
While we had reservations in the Restaurant tonight, it was also the cruise line's signature Feast of the Sea. I was among the first in line around 5:45 pm when the World Café opened.
Perfect, I could grab all the photos and video I wanted. You didn't really think I was going to eat two dinners, did you?
Honestly, I could not resist a small sample of the tempting fried calamari.
We were about to head to dinner when the ship signaled it was time for sail away. How could we miss this milestone event? So, we grabbed our devices to capture our sail out of the harbor from our balcony. This meant we were about 25 minutes late for our "reservation". This didn't seem to matter. We were seated at a table for 2 immediately after checking-in.
While our waiter was not as attentive as Rommel on night one, the rest of the service team was timely. Our water glasses (and wine glasses) were never empty. Our plates were cleared and the various courses were served with precision.
Tonight, I ordered the beef wellington as my entrée. It was tender and cooked to an ideal medium temperature. The petite portion of orecchiette pasta with sausage was just right as a side dish. It was rich but not overpowering. Even the Princess' vegetable lasagna met her approval.
With some time to kill before the 9:15 lecture, we grabbed two espresso martinis at the Viking Bar.
Greeted by the cruise director and her staff, the theater was quiet when we arrived around 9 pm. This evening's talk was on Norse mythology. While I did like the connections made to the Marvel cinematic universe, as well as connections to legends from other cultures, the talk did feel a little all over the place.
It was obviously well researched, but the "story" seemed to get a little lost. It was certainly a lot of information to process for the close to 50 minute presentation.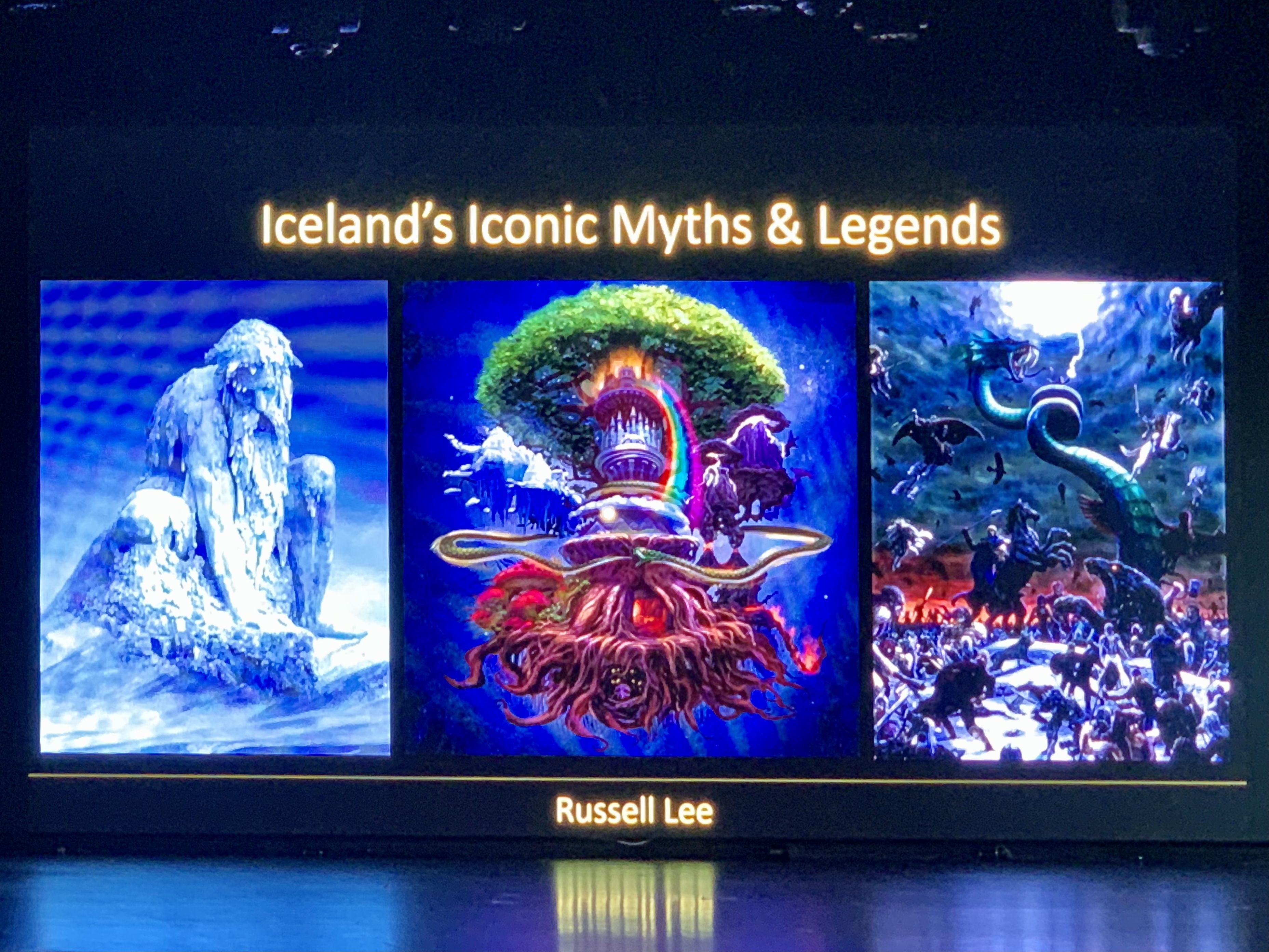 With the talk done a little after 10 pm, we perused the shops onboard. The wife was set on picking up some souvenirs she missed out on during our other Viking trip. Sadly, there were only two gnomes left, and neither met her approval. So, instead, we picked up a few Viking logo items. You can never have enough cruise attire in your wardrobe.
Unfortunately, the thick fog tonight denied us the opportunity to get some midnight sunset photos.
Related Post: What It's Like on Viking Ocean Cruises Right Now
Day 3 – Iceland's Natural Beauty Cruise Review
Two Tours in a Single Bound
Today's stop was Isafjordur, Iceland. Given this was a new port for us, we got a little ambitious. Ahead of the trip, we secured one of the complimentary city tours and a second afternoon tour to nearby Vigur Island. This location is great for bird watchers, and more importantly puffins.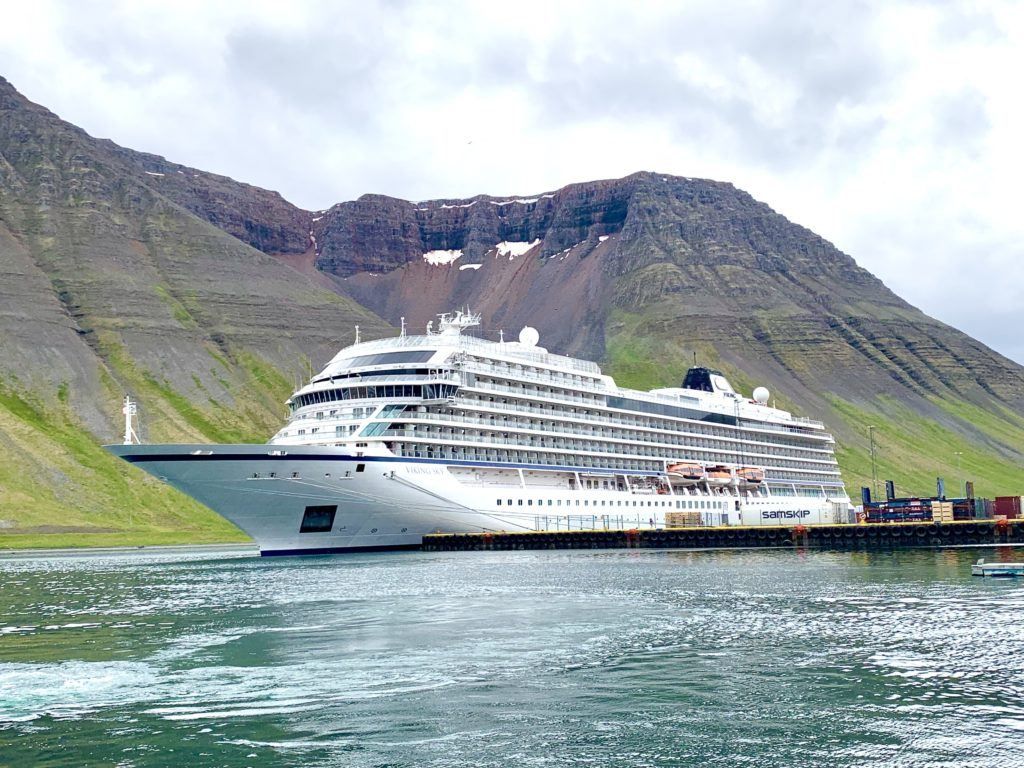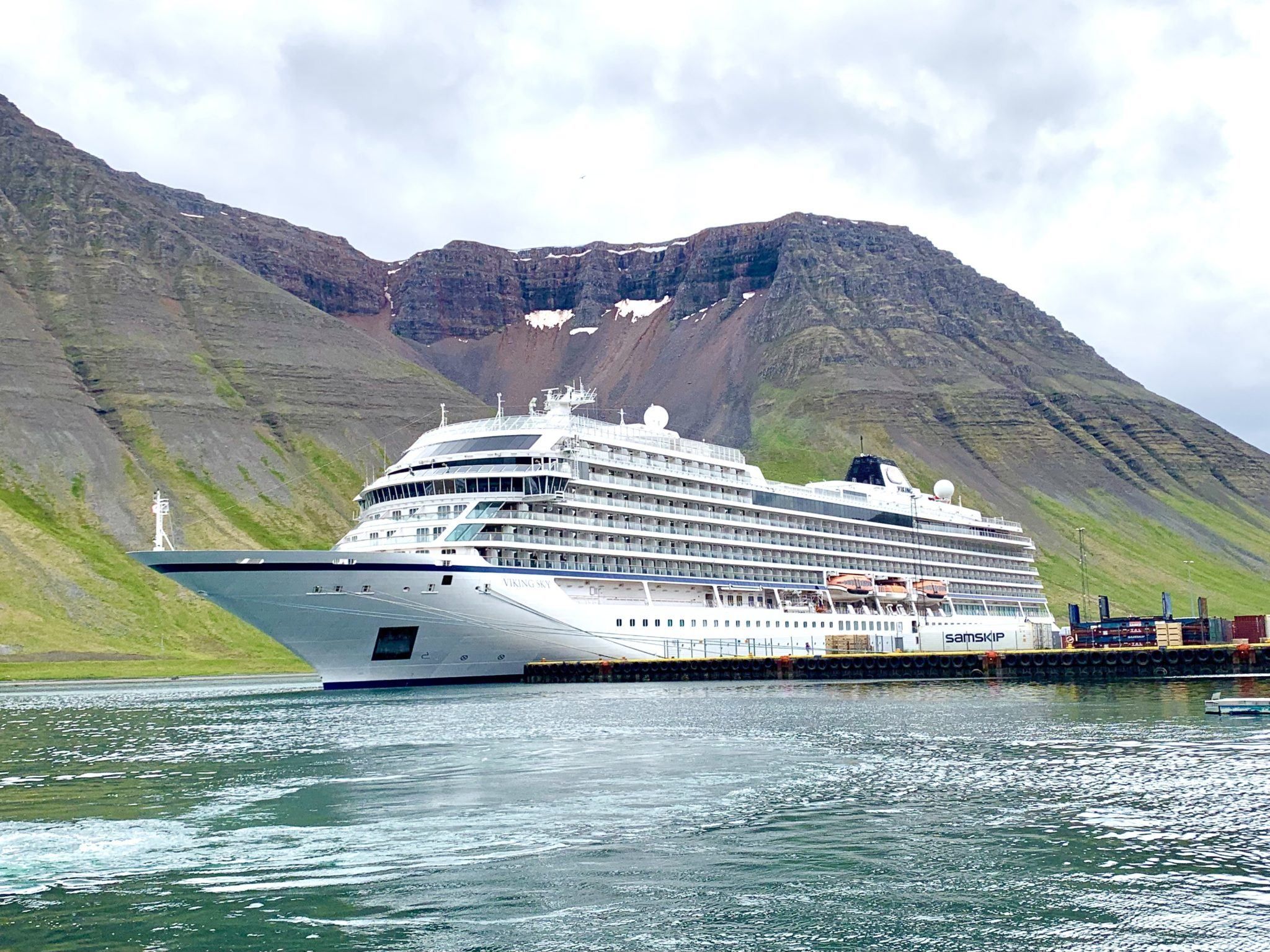 With our first tour scheduled to meet at 8:25 am, we were up around 6 am. After getting ready, we made a quick dash to the World Café for a short breakfast.
Back at the room, we grabbed our bags and tickets, along with with our quietvox, and we were to our meeting spot in Manfredi's just in time for our tour bus number to be called.
This complimentary tour was only 90 minutes with two stops, a replica fishing outpost and a small waterfall. During the tour, we drove through the town and got an excellent narration by our tour guide. She did mention that this tour used to be 3 hours, but due to COVID restrictions, it had been altered.
Back onboard Viking Sky by 10:30 am, it was time for our second coffee of the day. We used the next few hours to get caught up on some work. Around 12:30 pm, we packed up our gear for the second tour of the day.
Where Did All the Puffins Go?
Our second tour of the day was an boat ride to Vigur Island. This small island is inhabited by much aviary life. Taking the approximately 45 minute boat ride to this tiny isle in the fjord, we were greeted by the husband and wife who operate the island.
They provided a tour of the area showcasing the 19th century buildings and windmill, as well as the wildlife. We were able to get up close and personal (with a zoom lenses of course) with several species of birds including puffins, eider ducks, arctic terns, and black guillemots.
While not huge bird watchers, our main goal was to see puffins on the trip. We almost missed our chances, as the first puffin sightings were way off in the distance.
Although, after our coffee and rhubarb cake break, we noticed several others cruisers congregating atop a hill. So, we decided to venture up too, and we hit the jackpot. A large colony of puffins! Mission accomplished.
The total shore excursion, including the boat ride to and from the island, was about 3.5 hours.
Somehow We Fit it All In
Catching up on some work and changing up for dinner, we were to the Chef's Table for our 6 pm reservation. Pre-cruise, the only reservation we could get was 8:30 pm; however, I spoke with the restaurant reservations desk on the ship who was able to get us a table for 6 pm. Also, I had them note that the Princess only eats chicken, which they said could be accommodated.
Dinner, with the premium wine pairing, was delicious. The potato chop was crispy and airy, the soft shell crab spicy, and the rack of lamb tender with just the right mix of spices. Even the dessert was just the right sweetness to end the evening.
The staff did a fabulous job modifying two of the dishes to meet the Princess' picky palette. With the informed wine pairing and the friendly waitstaff, this was the best dinner of our trip.
Lasting exactly 90 minutes, we had just enough time to get to the front of the ship for tonight's first stage performance. Aptly named the ABBA Songbook, the 40 minute show was an assortment of the mega-band's biggest hits. Honestly, the foursome of singers was average at best.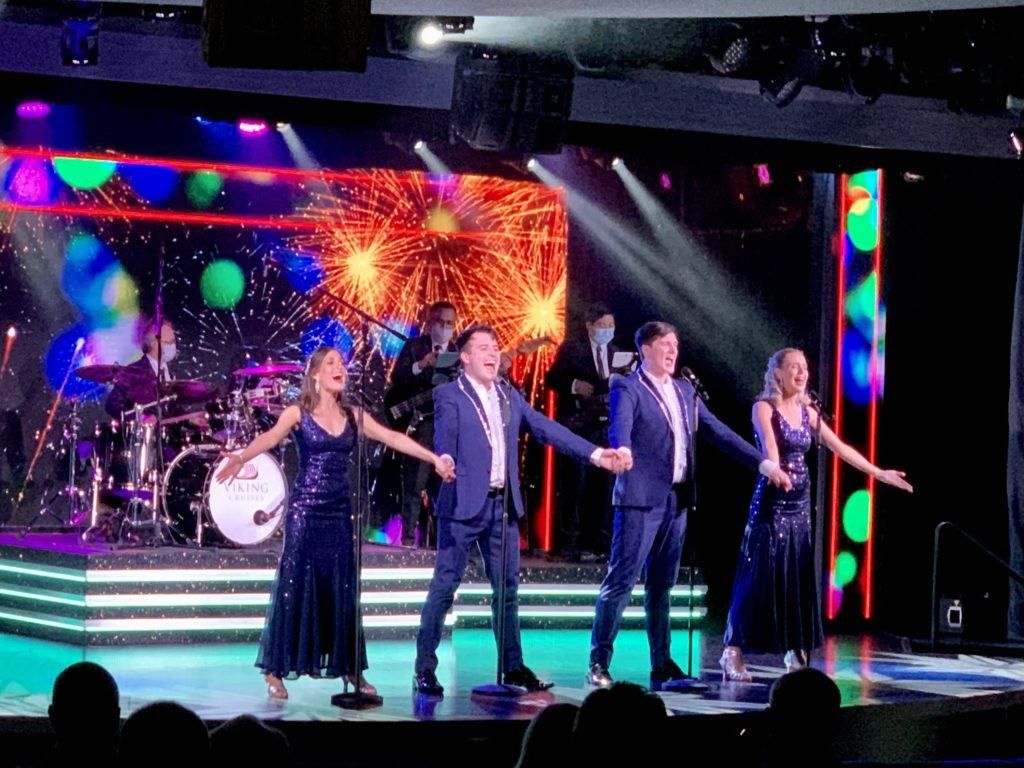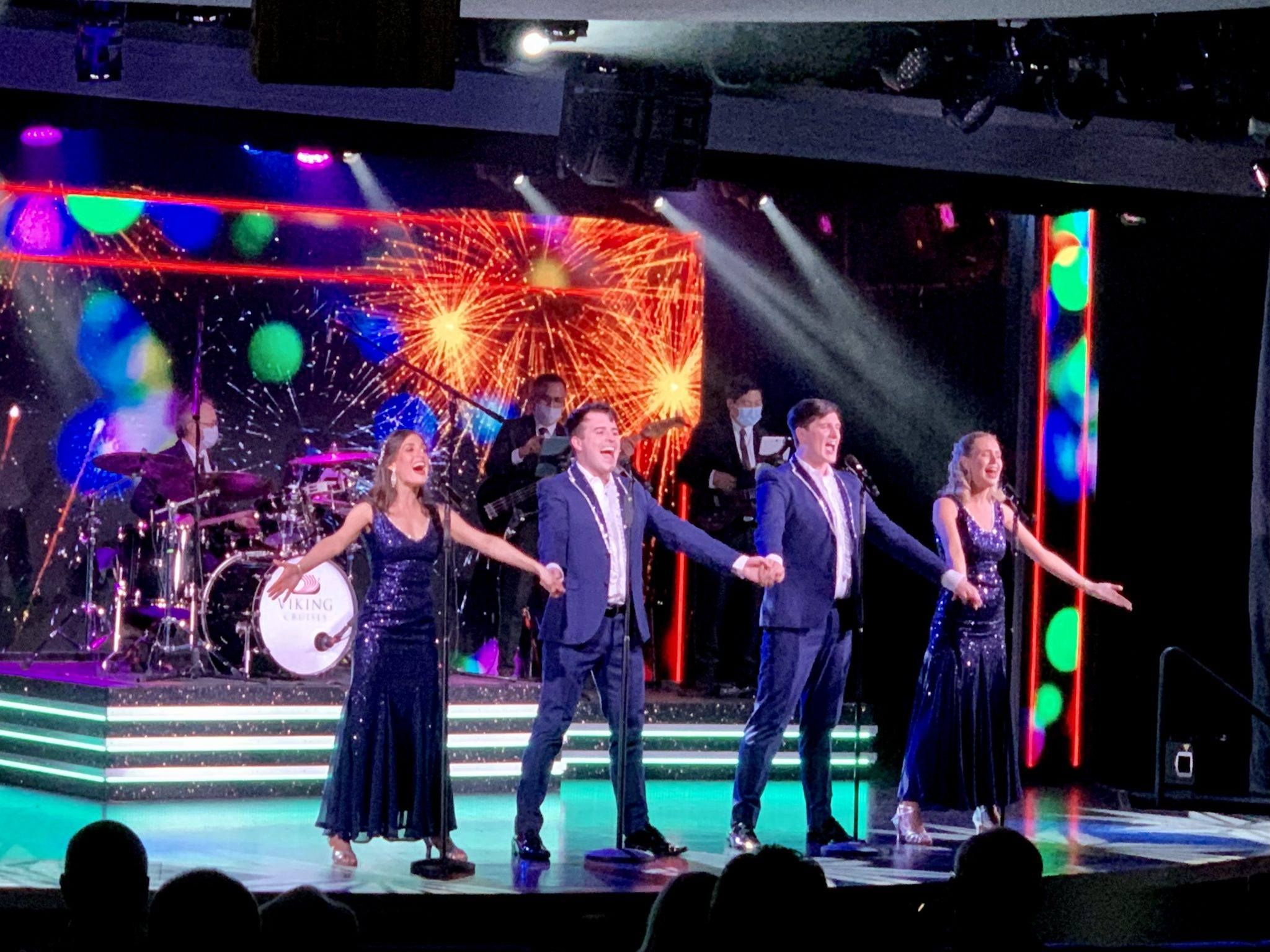 After the show, we headed back to the room to finish some work. Struggling with the WiFi signal, we were finally able to get everything done.
Another long day of two shore excursions awaited us in Akureyri tomorrow.
Day 4 – Viking Iceland's Natural Beauty Cruise Review
I Think I See Something
Today's picturesque port was Akureyri. Somehow, each stop on this cruise seemed to get more beautiful. On our previous trip to the country, we did the most popular tour, the Jewels of the North. For this stop, we opted for a whale watch in the morning and the included Panoramic Akureyri for the afternoon.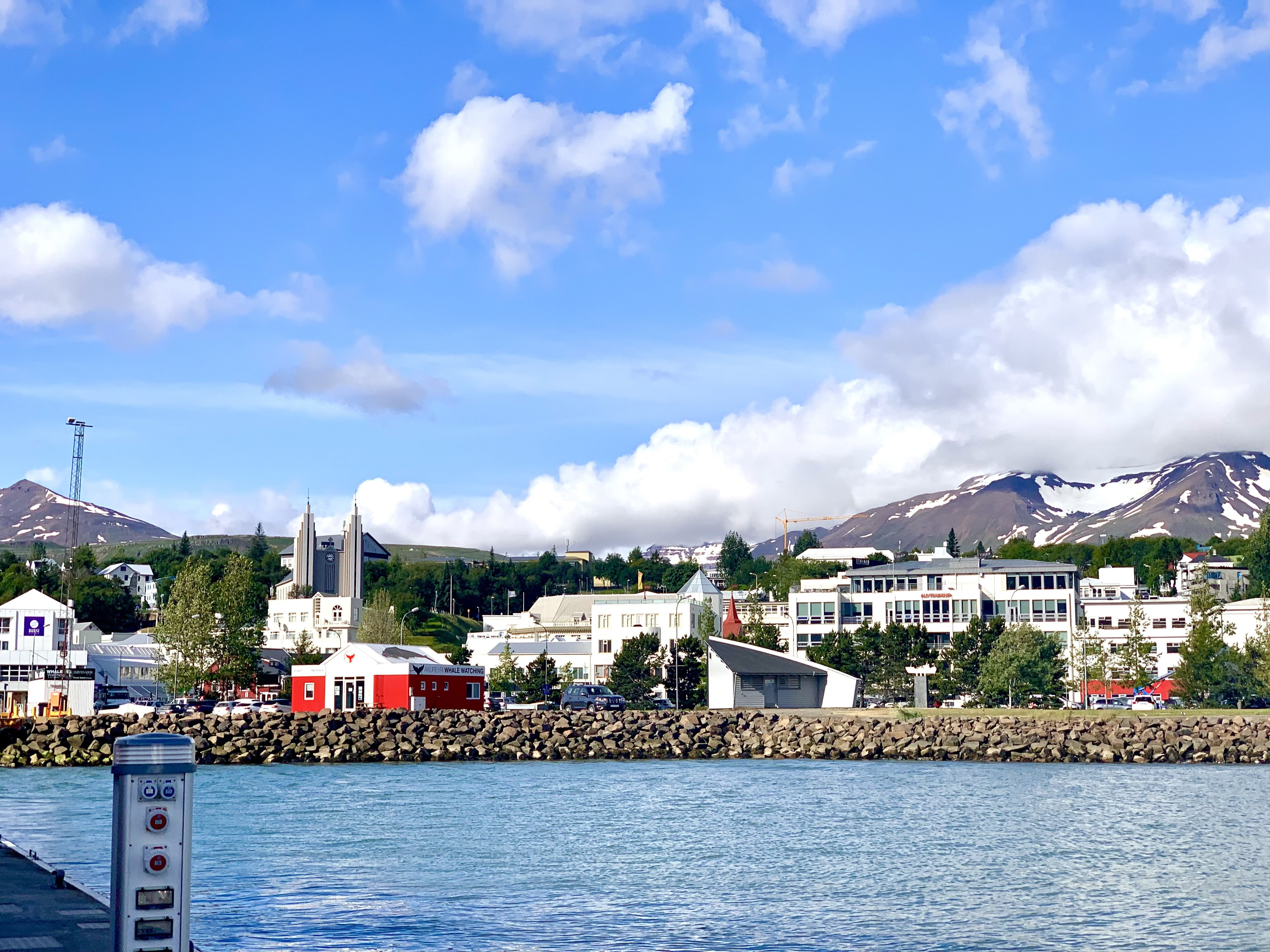 With an 8:25 am meeting time, it was another 6 am wake up call. This time around, we grabbed coffee and some breakfast pastries from the Viking Bar to start our day.
Back to the room to change up and grab our gear, we were at the ashore meeting location just in time to load a bus. It was a beautiful, sunny day. We were getting very lucky with the weather this trip.
The less than 5 minute bus ride took us to another pier where we boarded a vessel with Whale Watching Akureyri.
Our expedition lasted a little over 3 hours. We had two brief minke whale sightings and a large pod of dolphins. So, we did have some success with the trip, but we weren't able to time any good photos.
Afternoon Views in the Sun
We had about 90 minutes between our two tours. This was just enough time for a second latte and a cookie.
Meeting our group right at 1:20 pm, we boarded a bus for a close to two hour ride around the city. Like typical "city tours", it included driving by some historic buildings and other notable city landmarks.
This tour also included two stops. The first was the Akureyri Botanical Gardens. Here, we had about 30 minutes to explore. About 20 minutes later, we ascended the local mountain for a stop at the ski resort area. We were able to get some amazing panoramic views of the entire city, with Viking Sky off in the distance, and the mountains.
Our tour arrived back to the ship just before 3:30 pm. Tonight, we had an early dinner at Manfredi's at 5:30 pm, as this was the only time available.
A Late Night on Viking Sky
Arriving to our dinner reservation a few minutes late, the matre'd escorted us to a lovely table for two with a window at the aft of the venue. Like our previous visits to this restaurant, the food did not disappoint.
The freshly made bread was crusty, the calamari tender and crispy, and the steak seared to medium temperature. Not to mention, the chicken parm and pasta were great too. Finishing with a requisite limoncello and dessert, the churros won out over the profiteroles tonight.
I had a work call for 7:45 pm, which gave us just enough time for an after dinner drink at the Explorers' Lounge. Also, this gave us some time to check-in with our media contacts and converse with some fellow writers on the trip.
Following my work call, we headed to the theater for the 9:15 pm show. This evening's performance by the onboard singers was entitled Coast to Coast. It was a mix of popular American songs, mostly from the 50's and 60's. It featured songs from the likes of The Jackson 5, Elvis Presley, Neil Diamond, and Frank Sinatra, among others.
Finishing up around 10 pm, it was time to party. Well, party like a Viking. This meant going to the cruise ship's nightclub, Torshavn, to listen to the ship's band.
First, we caught the last 20 minutes or so of Paolo, the ship's acoustic guitarist. The Viking Band consisted of a male and female singer performing a very diverse set list including Ed Sheeran, Whitney Houston, and the Eagles. While these acts were entertaining, we did think the counterparts from our Viking Jupiter trip in 2019 were better.
Two rounds of drinks later, we were among the last couples to leave around 11:45 pm. Back in the room, it was around midnight when we spotted some dolphins following along the ship as the sun set.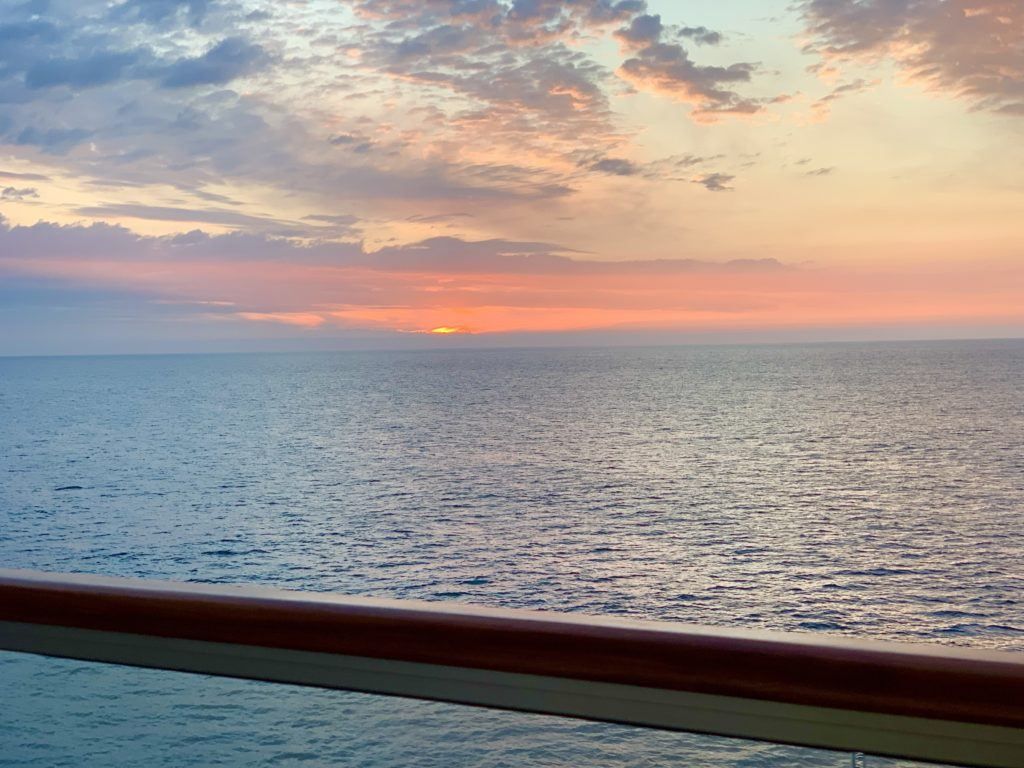 Related Post: Everything Included on Viking Ocean Cruises
Day 5 – Iceland's Natural Beauty Cruise Review
An Unexpected Morning
Viking Sky was calling in Seydisfjordur today, a remote small fishing village of around 700 people. All along, this was our planned "catch-up" day on the cruise. Plus, I was officially working my full time job. Thus, all we booked was the included walking tour.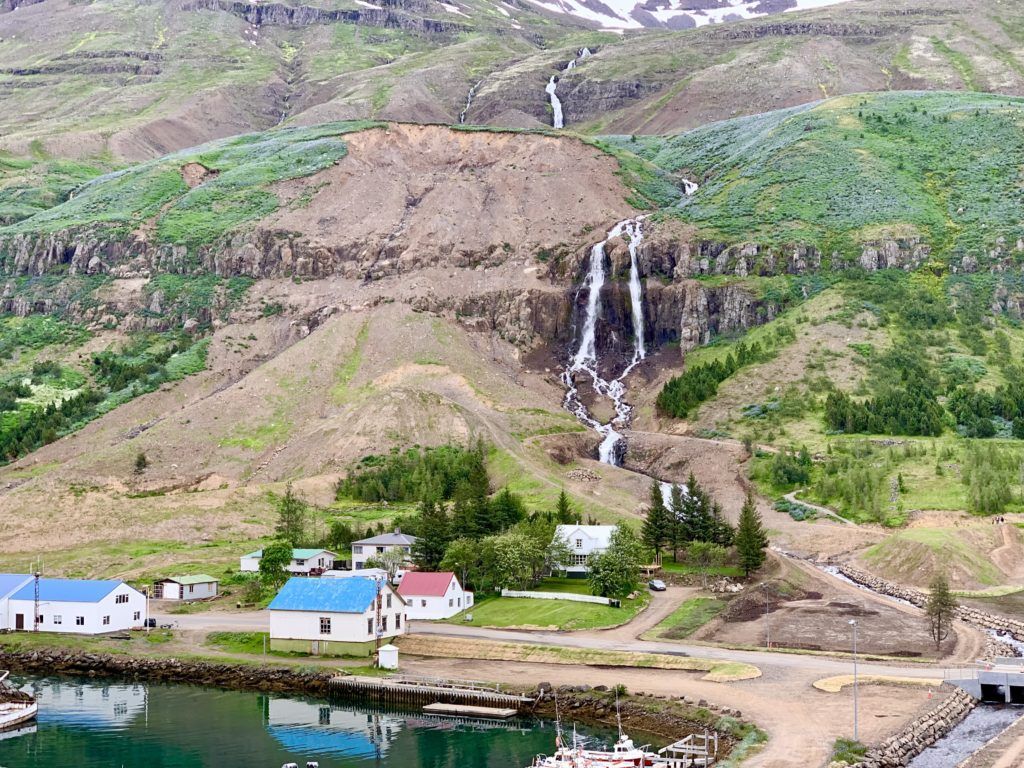 Our tour's meeting time was ashore at 8:55 am. Having skipped breakfast the day before, we left ample time for waffles at Mamsen's this morning.
Up to Deck 7 at the Explorers' Lounge before 8 am, there were only a few other couples enjoying this signature Norwegian treat. Just as we remembered from our previous trip, the waffles were fresh, hot, and delicious.
Meeting our tour guide shoreside, she began giving the general overview of what we would be visiting during our tour. As our group was ready to exit the port, we were stopped by immigration officials.
Quickly, we learned from Viking staff that the local authorities were not letting anyone off the ship due to a possible "contamination" and that we needed to return to the ship.
Back onboard in the Explorers' Lounge, the Captain made an announcement around 10 am. He indicated that there was a positive COVID-19 case that was discovered during the daily testing. This passenger was vaccinated, asymptomatic, and was already isolated.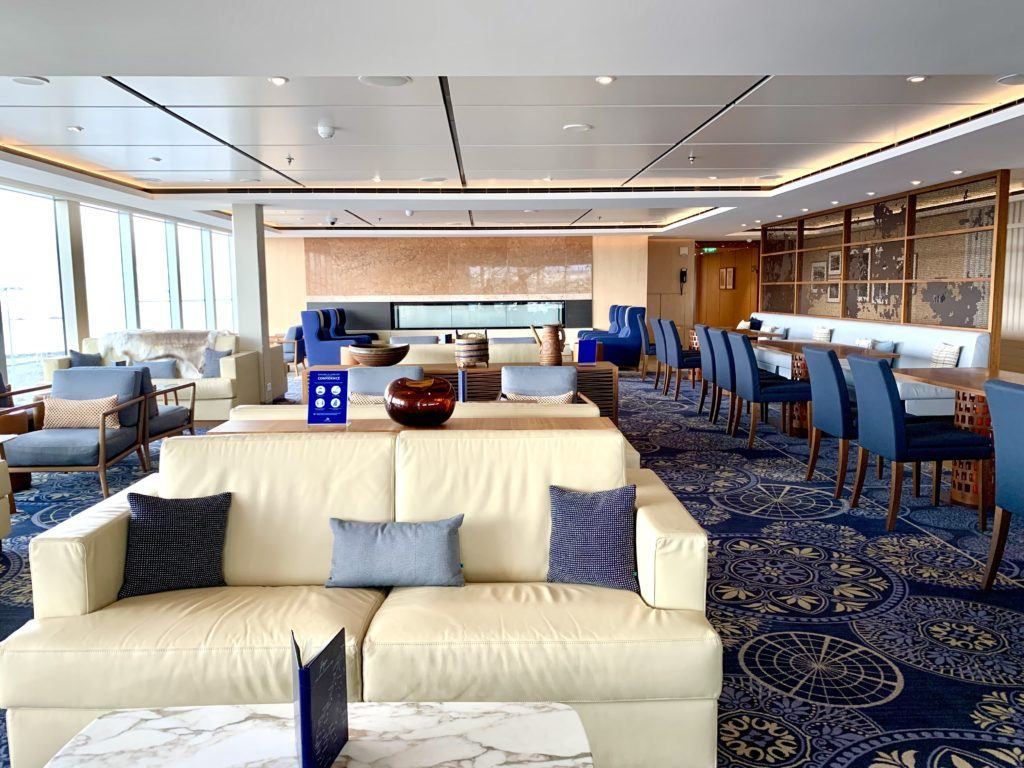 Now, the cruise line was working with Icelandic health officials about our next steps.
Subsequently, the Captain later announced that the local authorities were not going to let us ashore today but that the rest of the cruise should go according to plan. So, it was going to be a sea day.
The weather outside got worse as the day progressed, but the spirits onboard the ship remained positive.
Finally, Able to Get Something Done
What else is there to do on a sea day besides eating and drinking?
After a second latte of the day in the Explorers' Lounge, we headed to the World Café for lunch.
After a few more hours of work, it was on to the Wintergarden for afternoon tea time at 4 pm. However, the Wintergarden was already full and the overflow was being directed to the Explorers' Lounge. We guess everyone else had the same idea.
Finishing up before 5 pm, I had a work call at 6 pm, so we decided to head back to the room. Following the call, we did a quick change and headed down for dinner.
What Else Should We Do?
Upon our arrival, The Restaurant was not very busy at all. While there were plenty of empty tables, we were sat right next to two already occupied tables of two. Unlike our previous trips, there was no social distancing in the restaurants.
I particularly liked the jumbo shrimp and Szechuan style beef from tonight's menu. The service was a bit slow, but we were informed that the computer systems were down for a little while which apparently backed things up in the kitchen.
With dinner done around 8:30 pm, we got two seats and two espresso martinis at the Viking Bar. The strings duo was finishing up their set, so we listened to some light classical music.
The pianist came on around 9 pm, and we stayed for a few songs. Looking for a change in background music, we slipped into Torshavn. The venue was even less busy than it was the previous night. This was partially due to the competing lecture on volcanoes occurring in the main theater.
After about an hour, we retreated to our room for the evening.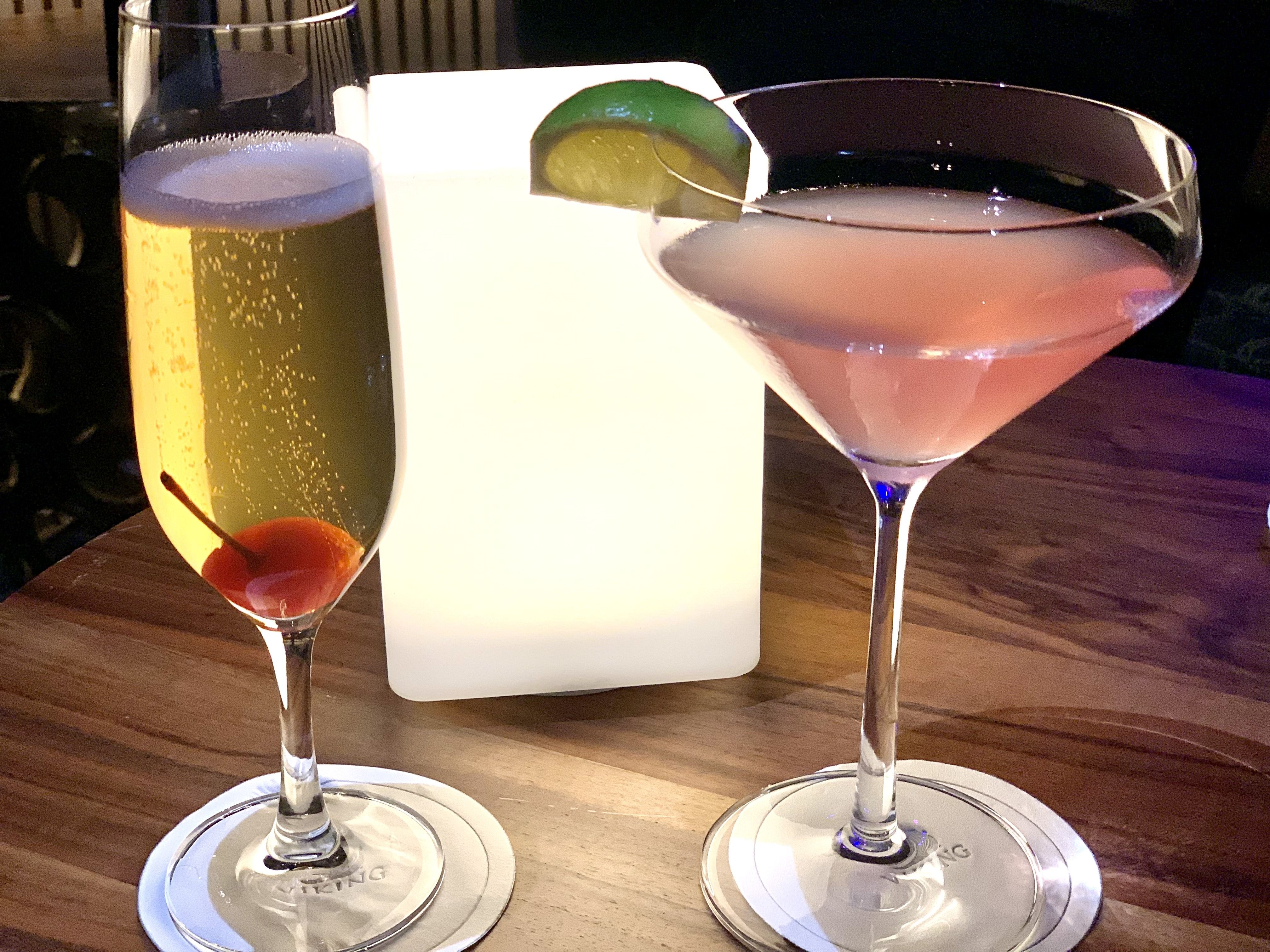 There was a letter left at our door indicating that the zodiac portion of our ice lagoon excursion for tomorrow was being cancelled. The tour would still take place with modification though.
It was also unclear what time the tour would depart as our arrival into port was going to be delayed. A call down to Guest Services was no help either. So, we decided to wake up early just in case.
After all, we were hopeful things were going to turn around tomorrow.
Day 6 – Iceland's Natural Beauty Cruise Review
Off to a Beautiful Start
Since we were uncertain about when our tour would officially start, we ordered some room service for breakfast and got ready early. Our meeting time was 7:50 am, but according to the daily, shore excursions would not start until 9 am and/or once we got clearance to go ashore.
Today's port was Djupivogur. This town was even smaller than the previous stop, with only 300 residents.
Shortly after breakfast, the Captain made an announcement that we were cleared to go ashore. Our stateroom attendant also delivered a revised shore excursion schedule while collecting our daily saliva samples. The sheet indicated that our excursion would meet in the atrium for 10:20 am to tender ashore.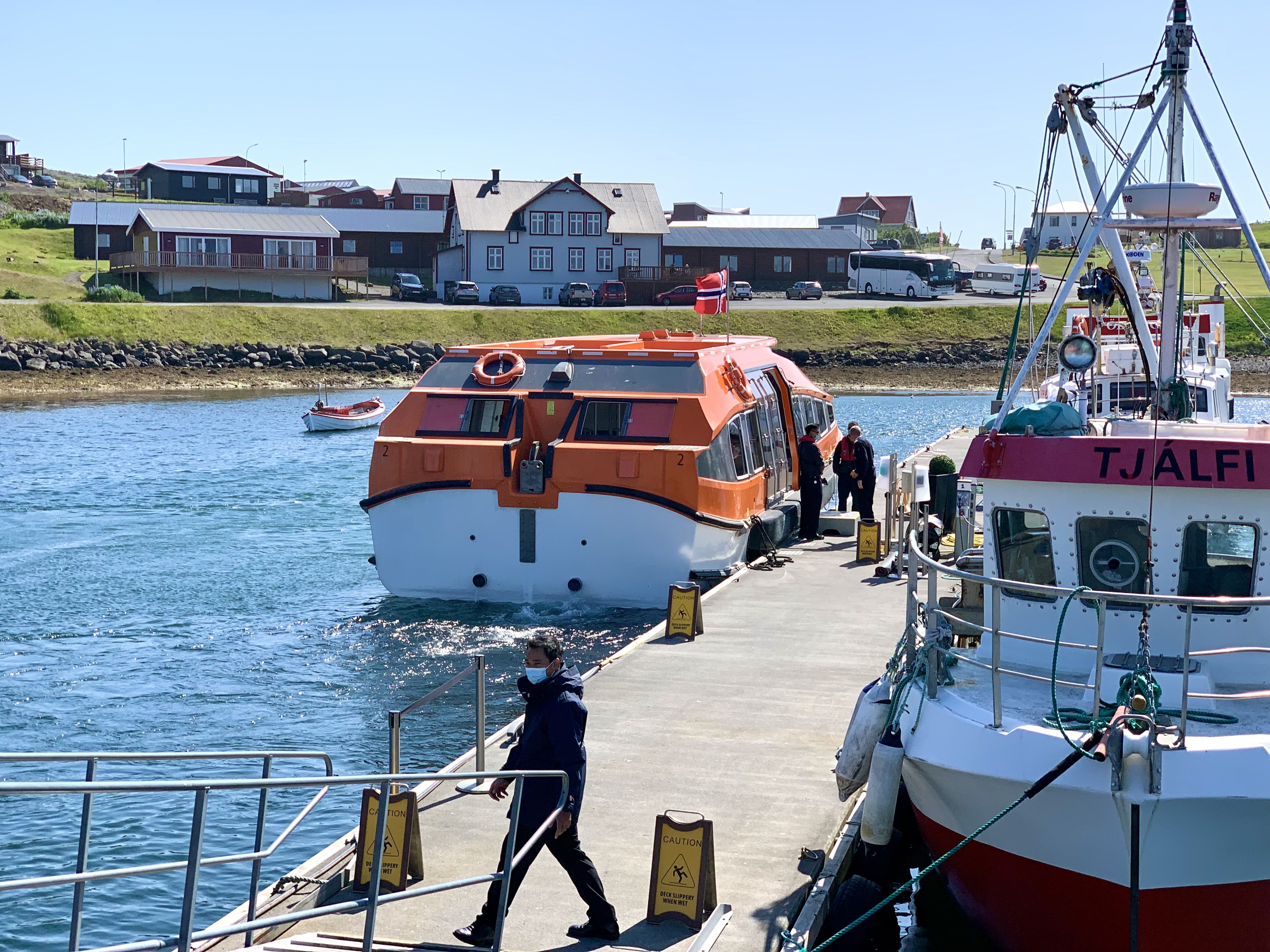 Our tour was called at exactly 10:20 am, and we headed onto on a socially distanced tender. The water was choppier than we expected, and the ride to shore lasted close to 20 minutes. Checking in with our bus #1, we were all aboard and heading to see Vatnajökull, the largest glacier in Europe.
Not Again?!?
The tour included an over 2-hour bus ride to the glacier and lagoon. So, our knowledgeable tour guide gave the usual talk as our travels began. She pointed out several of the geological features and unique landscapes, interspersed with Icelandic history. She was a school teacher and a well-versed tour guide.
We drove over one lane bridges, passed glacial rivers, and viewed recent landslides. While a long ride, the sunny weather and narration was keeping us in good spirits. That is, until about 90 minutes into the ride when a phone rang.
After some discussions in Icelandic, our guide provided us with the update. The ship was asking us to return to the pier. This could not be happening again!
At a restroom stop, our Viking representative informed us that there were no new cases onboard the ship. Rather, the country's coast guard overruled the national health agency and was not allowing passengers ashore.
So, we turned around and started the 1.5+ hour drive back to the ship. In true form, the tour guide continued with her narration. We even made one quick sightseeing pitstop for a breath of fresh air on the way back.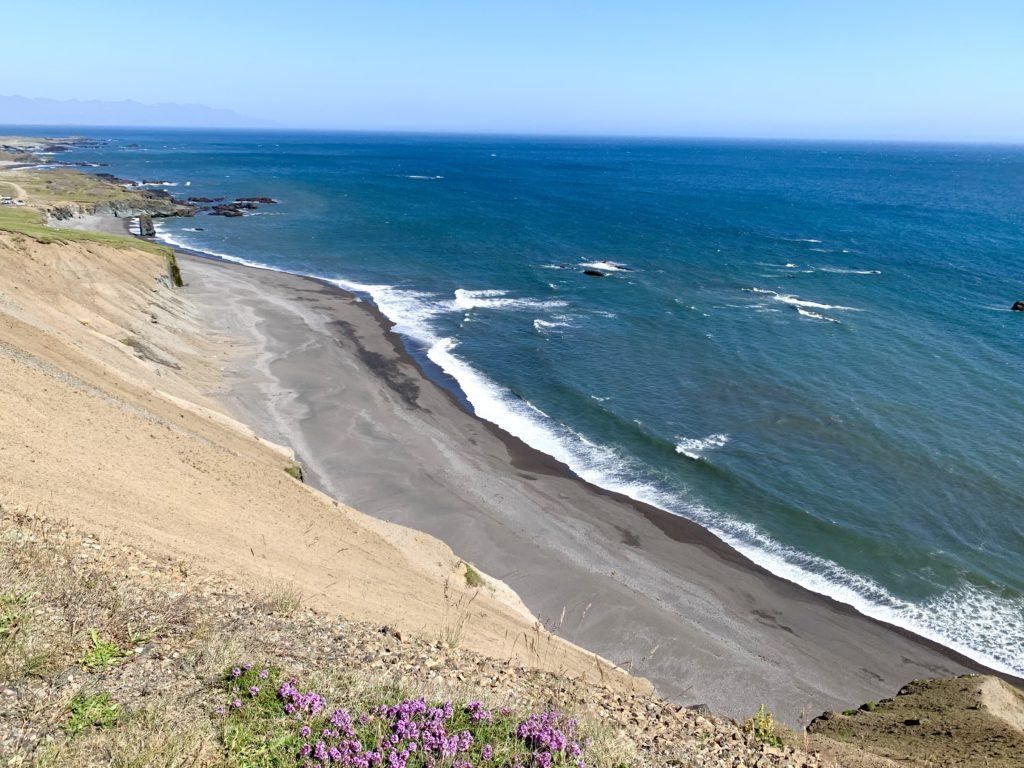 What About Tomorrow?
Given our bus was the furthest out, we were the last tender back to the ship.
Back onboard before 3 pm, we were puzzled and hungry. The World Café was already closed, so we headed to the Pool Grill for sandwiches and fries.
Dinner was 6 pm tonight at the Chef's Table. With the nice weather, we did some work on the balcony. It was then that we noticed the ship was beginning to sail away.
We were sailing at a good clip for about an hour before the Captain made any announcement. Unfortunately, the Icelandic coast guard was requiring the ship to return directly to Reykjavik. We would be missing our last stop and arriving back at the capital late tomorrow afternoon.
It really baffled us that all this was happening due to one asymptomatic case that was quarantined. With daily testing, this is sure to happen. However, this was the first time this had happened, and it was clear that the country was not sure how to handle it.
A Normal Night on the Ship
Instead of worrying about what was out of our control, we decided to have a normal cruise night, continuing with the stringent health and safety protocols in place from day 1.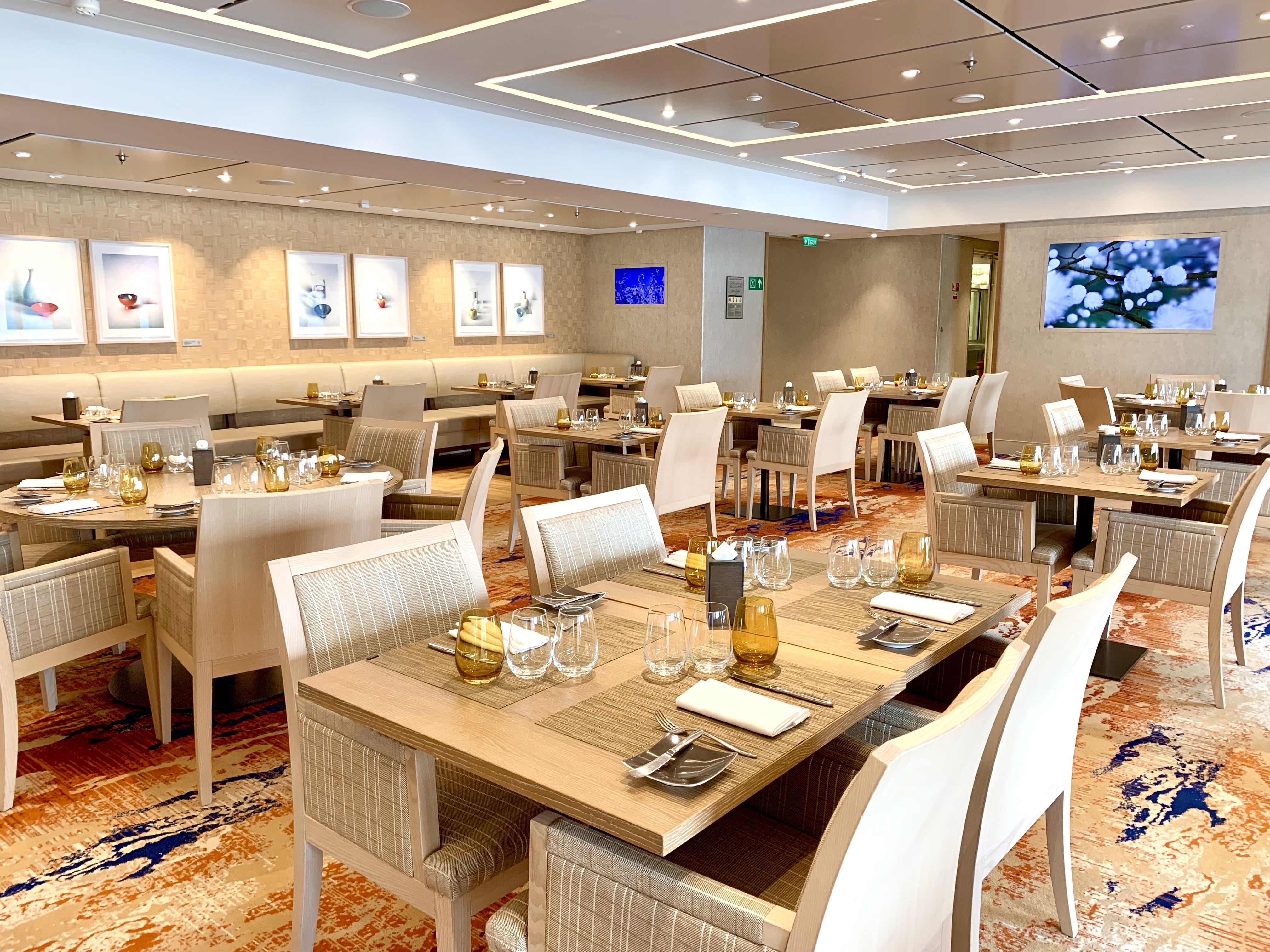 Tonight's menu at Chef's Table was Xiang, a more traditional eastern-Asian cuisine. Again, JP made some customizations for Heidi's select food preferences.
Again, the menu items, wine pairing, and attentive service were phenomenal. With two visits now, this restaurant was my favorite overall experience of the trip.
Dinner lasted closer to two hours tonight, still giving us time to grab a cocktail at the Explorers' Lounge.
We also learned that Viking would be refunding all optional shore excursions and giving everyone a 50% future cruise voucher given the circumstances.
Tonight's theater show was the Beatle's Songbook, featuring the ship's singers. It included a number of the legendary band's hits, but the ship's foursome just did not seem to come together on many of the ballads.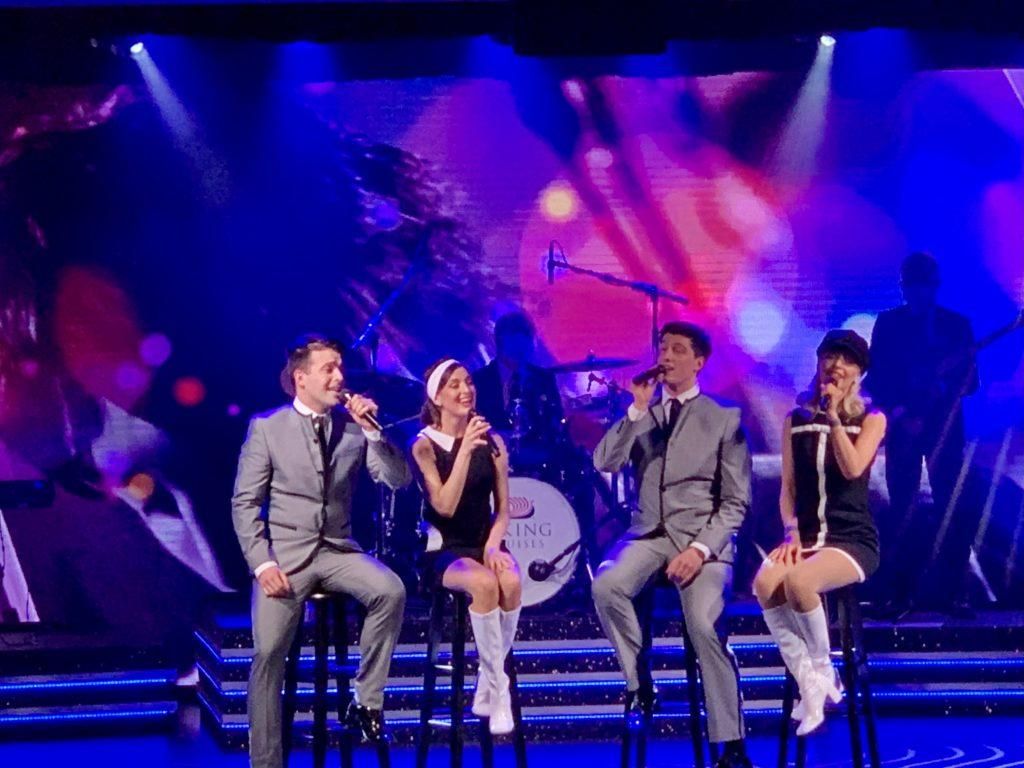 After the show, we headed back to the room. I put on the previous day's talk on Icelandic volcanoes. All the Viking lectures in the theater during the course of the week were recorded and loaded to the television.
With no official plans now until 2 pm tomorrow, we shut the alarm clock off and decided to get some rest.
Related Post: Viking Ocean Restaurant Guide
Day 7 – Iceland's Natural Beauty Cruise Review
A Foggy Morning
With some uncertainty about what the day (or the next) would bring, we needed a break from the early wake-up calls.
Still, we were up by 7:30 am, and I was able to slip into the Thermal Suite for a few quick photos and video before it officially opened.
This morning's agenda included mostly work. The gray clouds and light fog meant we would need to work mostly indoors. So, we headed up to our favorite spot on the ship, the Explorers' Lounge, for our last Mamsen's waffle of the cruise.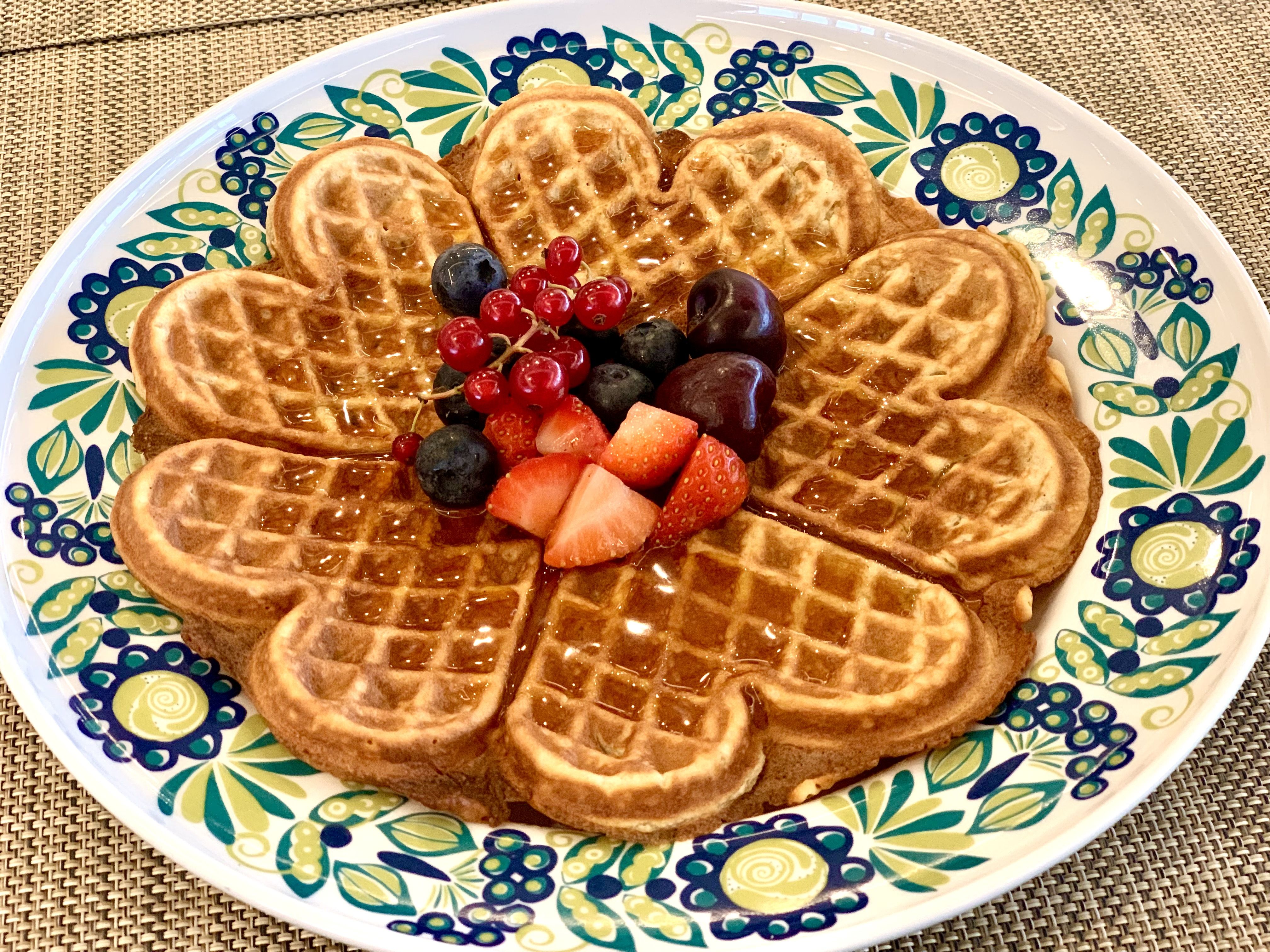 We stayed at the lounge working until trivia started at 12 pm. Grabbing our devices, we went down to the Living Room for another coffee and some more work. By 1 pm, we decided to drop off our stuff in the cabin and grab lunch before our Thermal Suite reservation at 2 pm.
The World Café was rather busy, but we found a table for two to enjoy our last lunch on the ship.
This gave us just enough time to get back to the room to change up for our Spa visit.
What Exactly Do We Do?
Now, we don't frequent spas. In fact, the only time we visit thermal suites or a spa is on a cruise ship.
Access to the thermal suite is included in the cruise fare with Viking. In pre-COVID times, individuals could come and go as they pleased in the thermal suite. Now, you do need to reserve a one-hour reservation. This is capped at a total of 6 guests each hour. So, we would have the entire place essentially to ourselves.
Upon arrival, the staff walked us through the process. Luckily, we knew one of the other couples in the thermal suite, so the hour flew by.
I was able to complete a "traditional Nordic bath" which included a rotation of the sauna, plunge pool, and the snow grotto. We also relaxed in the heated loungers and spent time in the soothing thermal pool.
It was a rejuvenating experience.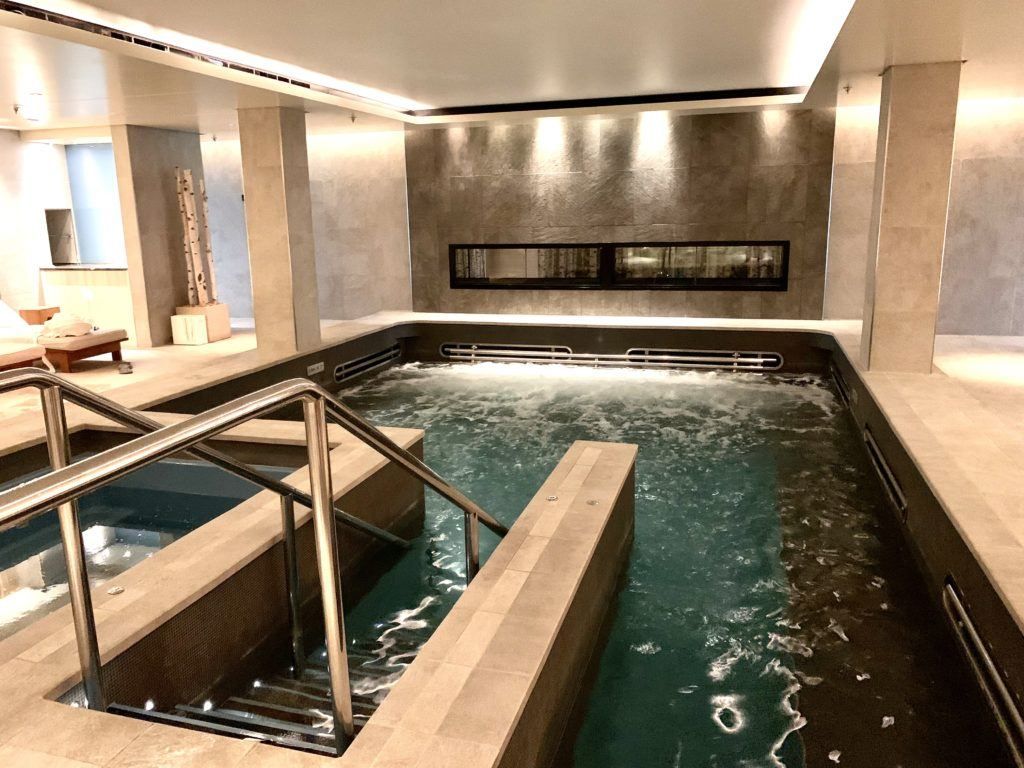 Done by 3 pm, we went back to our room. With four hours until our dinner reservation, and the ship still heading to Reykjavik, we opted to stay in our loungewear for a while.
First on our list of things to do was pack! Yes, it was time for the dreaded last day of the cruise ritual. With 4 pieces of luggage, yes 4, we planned to put our two larger suitcases out this evening as part of the disembarkation process.
Docking in Reykjavik around 4:30 pm, we were waiting anxiously to see what would happen. Would we be able to disembark the ship to head home tomorrow?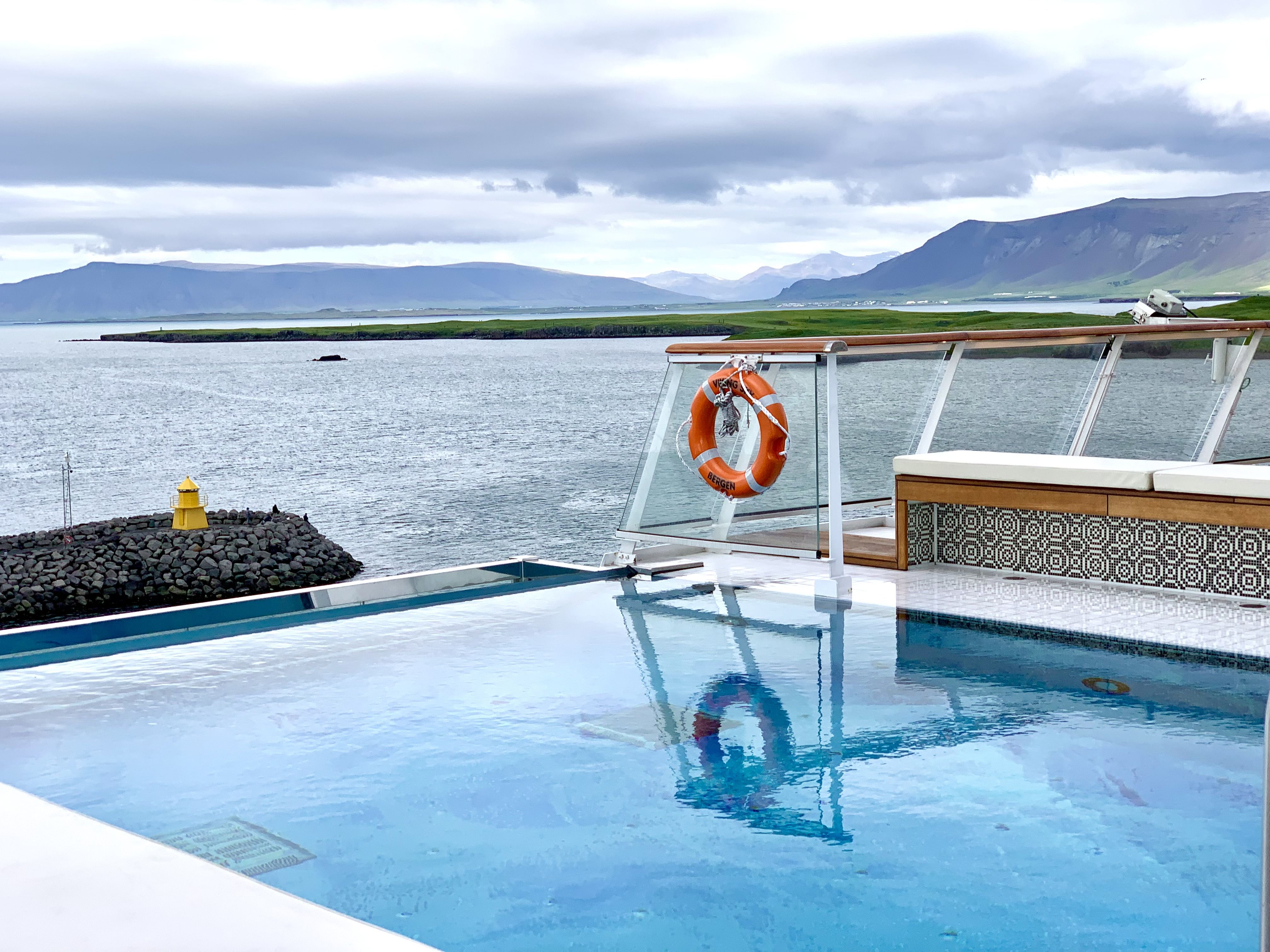 Finally, by 6 pm, our cruise director informed us of the good news. Local authorities cleared the ship, and they were even letting passengers go ashore this evening. The cruise line was offering a shuttle to town up until midnight.
It seemed like Viking and the government officials had finally worked things out. At least those looking for more exploration could spend their last night in the capital city.
A Rather Low Key Night
We opted to stay on the ship to enjoy our last dinner in Manfredi's at 7 pm.
Ready early for once, we stopped at the Explorers' Lounge for a pre-dinner cocktail. On our way out, we ran into our stateroom attendants for a final goodbye. Josephine and Chris were excellent, and we made sure they knew how much we appreciated their efforts all week.
Up to deck 7, we found seats near the fireplace for a round of predictable drinks, a cosmo and a sidecar.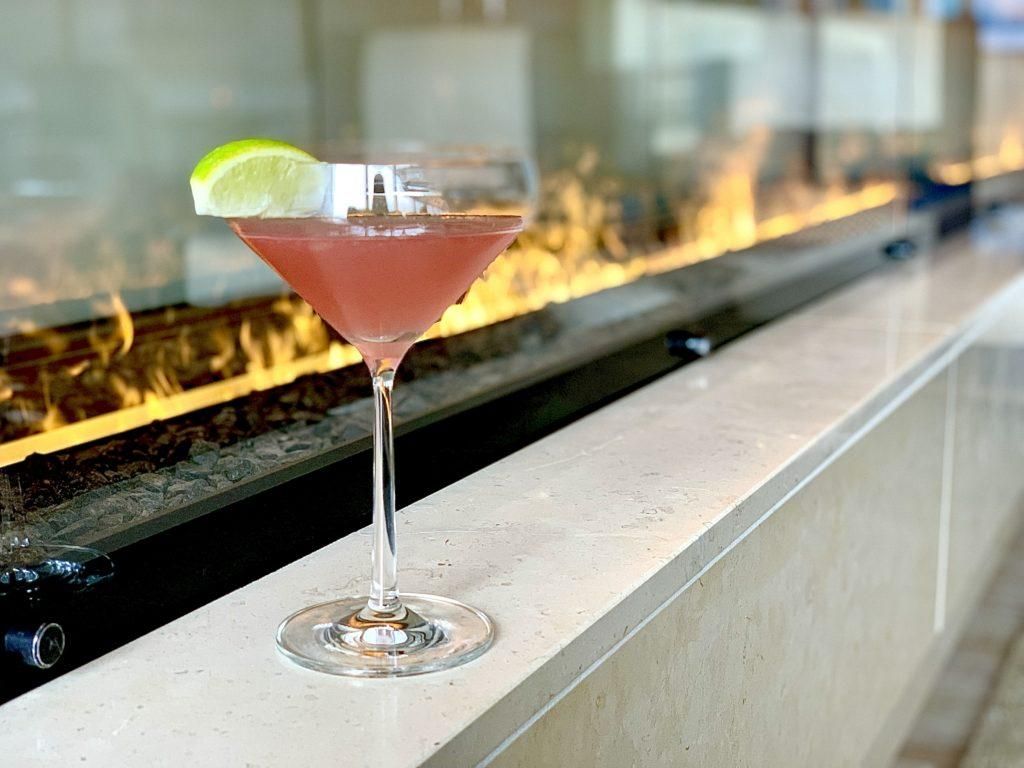 Not seeing any of our colleagues, we just enjoyed the views until it was time for dinner. Upon checking in at the restaurant, staff informed us to leave our tracers with the host.
We were then escorted to the back of the busy restaurant. Sadly, this dining experience was similar to our first at this venue. The waitstaff seemed rushed and not very personable.
Of course, the food was still good, with my Osso Bucco being the clear winner of the evening.
The entire experience lasted about 90 minutes, which meant we had to wait for Torshavn to open at 9 pm for our farewell drink.
So, we listened to some of the piano music in the Atrium which included an interesting mix of classical and contemporary hits.
Among some of the first people in Torshavn when it opened, we listened to the Viking Band's first set while sipping espresso martinis.
Not seeing anyone else out and about as we walked the ship, we decided to call it a night around 10 pm. We put our luggage out and slipped into bed. That 4 am alarm clock was going to go off rather early.
Disembarkation – Viking Iceland's Natural Beauty Cruise Review
With our flights and transport arranged by Viking, we had a 10:15 am direct flight to Boston. In the disembarkation literature we received on night 5, we were assigned white tag #3. This meant our meeting time was 6 am.
This gave us some time in the morning to grab coffee and pastries from the Viking Bar before heading to the Atrium.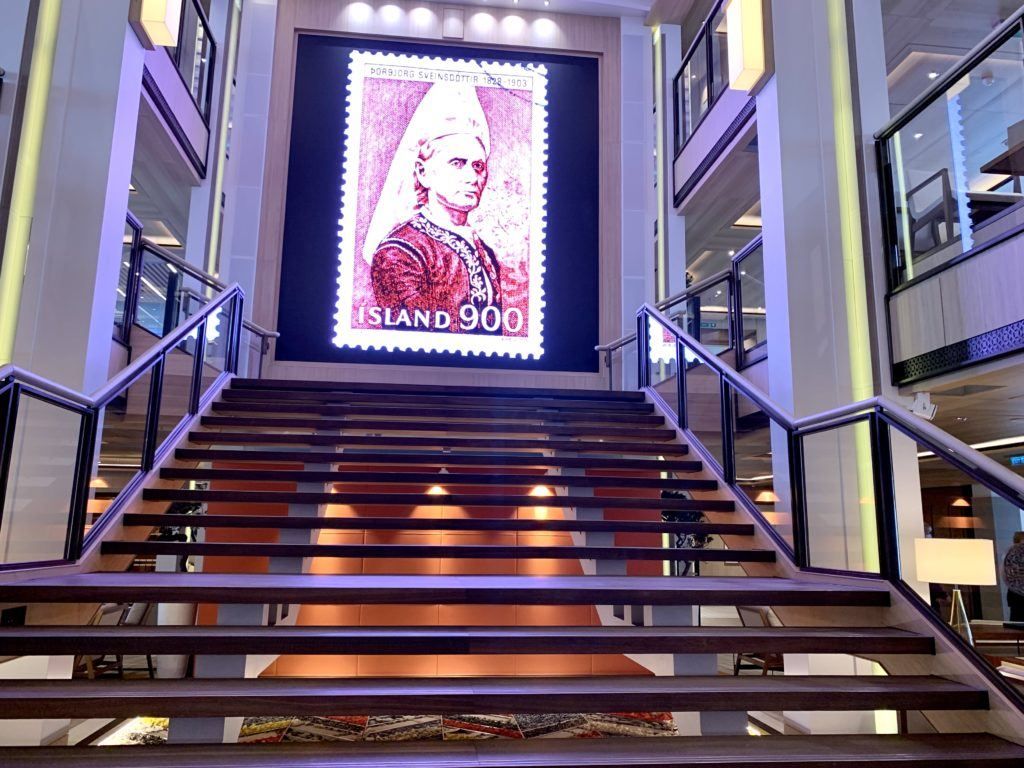 All cruisers had to be out of their staterooms by 8 am. Those with late day flights were able to utilize a holding area in a local museum to hang out for the day.
Checking the room one last time, we grabbed our carry-ons and walked to the Atrium. We arrived a few minutes late, so I went to ask a representative what tags had been called. He said 1, 2, and 3, and was just going to call 4.
Great! We proceeded to scan off the ship and grab our bags from the luggage holding area. Here, a Viking representative indicated that our number actually hadn't been called yet, so our bus had not arrived.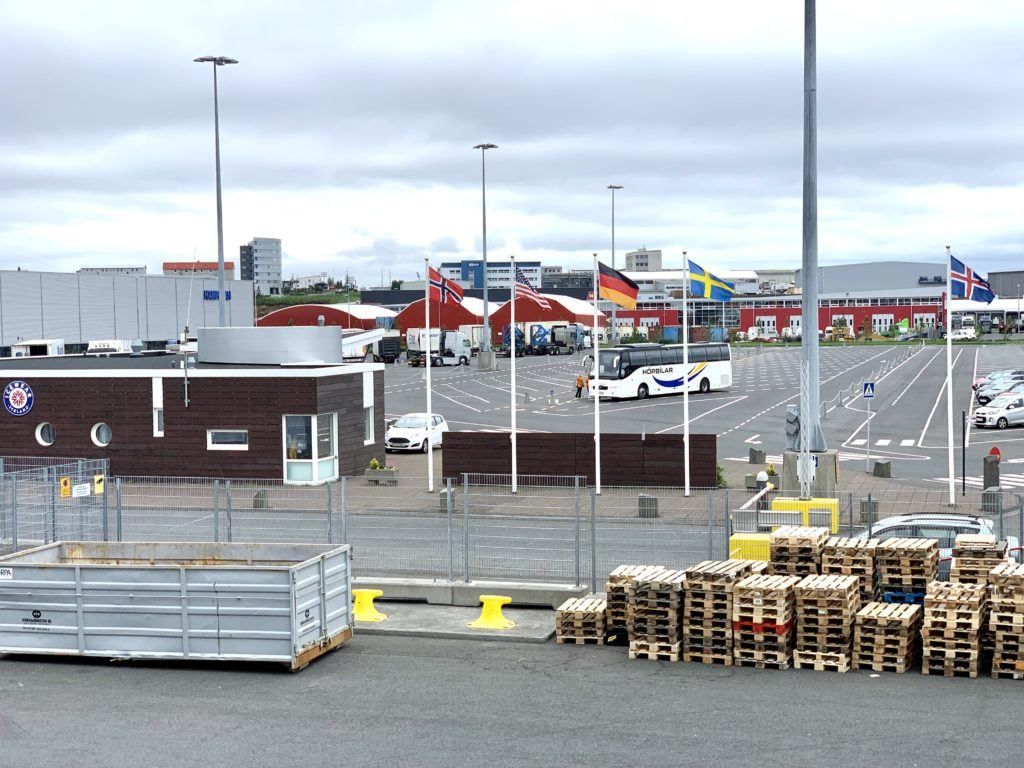 Apparently, I should have been more specific, as GREEN luggage tags 1-4 were called, but they were only on #1 for WHITE luggage tags.
Either way, Viking put us on a different shuttle within a few minutes to begin the 45-minute ride to the airport.
Arriving 3 hours before our flight time, we spent close to an hour at the Delta check-in line but then sped through immigration and security in about 30 minutes. So, we were at the gate doing work with plenty of time to spare.
Luckily, there were no delays this time around. We arrived back in Boston around noon local time. It would be a mere 8 days until we were back at it with our next adventure!
Viking Iceland's Natural Beauty Cruise Review – Viking Protocols
Having cruised with three different lines so far since the cruise restart, Viking certainly has the most stringent protocols in place. Chief among these protocols are daily PCR tests, contract tracing, and face mask requirements.
The cruise line leaves a small test tube in your stateroom each evening for you to collect a saliva sample in the morning. Each morning the onboard lab runs these samples. On our cruise, this testing did flag one positive asymptomatic, vaccinated guest.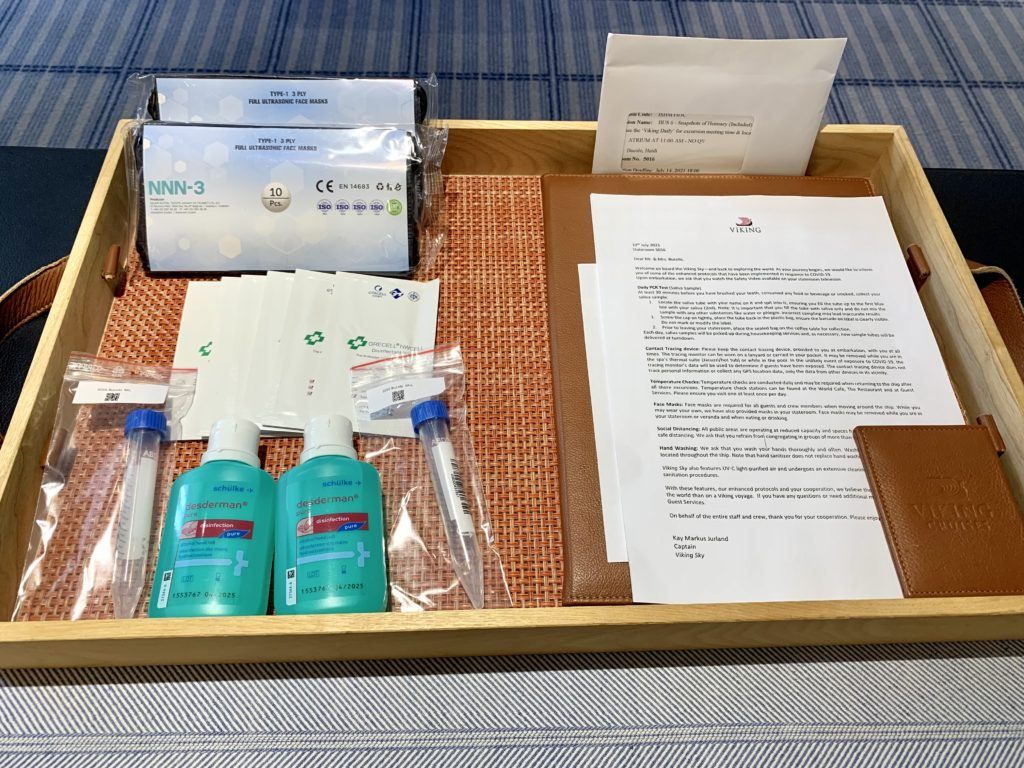 This individual was immediately isolated and contract tracing went into effect. This process was possible due to the small tracing device that is issued to each guest at embarkation. This device must be worn at all times during the cruise and collects data in the event of exposure. Luckily, all individuals flagged by the process subsequently tested negative.
In addition to testing and contact tracing, Viking does require daily temperature checks. Guests can complete this at various locations on the ship, like prior to entering a dining venue or at guest services.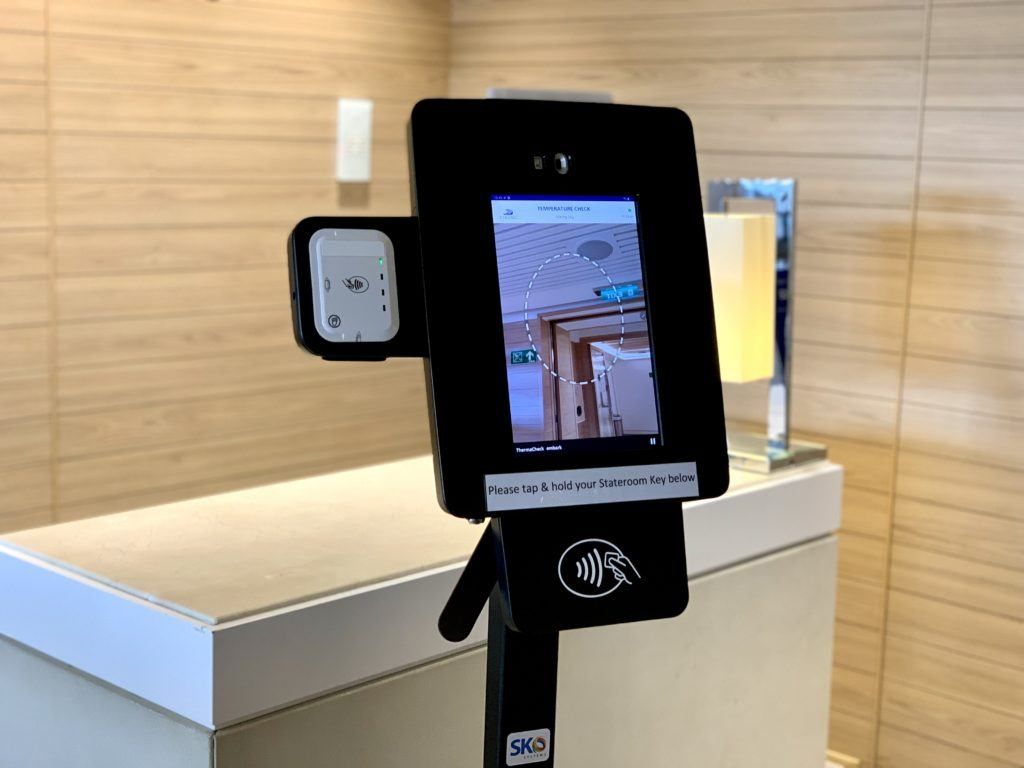 Viking also requires that guests wear face masks while moving about the ship. Guests can remove their masks once seated in a venue and/or while outside. Despite Iceland lifting all COVID restrictions, Viking guests needed to wear masks on shore excursions as well.
Of course, increased sanitation measures are also in place. These include extra hand sanitizing stations around the ship, fogging of venues in between use, and a UV-C robot used overnight in public venues.
Finally, there is social distancing on the ship; however, this protocol was a bit inconsistent. Yes, there was signage at the elevators and seats blocked off at bars and in lounges. Although, there were no skipping of tables in the Restaurant or other specialty restaurants. There were also no seats blocked off in the theater or on tour buses.
Despite this minor inconsistency, these Viking health and safety protocols made us feel very safe on the cruise. When a positive case arose, we saw the protocols work firsthand and demonstrate the ability to quickly and efficiently manage further spread.
We are sure these protocols will evolve over time, but right now, we give the cruise line two thumbs up. We are so happy that Viking is finally welcoming its guests "back to the world".
Disclaimer: We were guests of Viking on this sailing, but as always, all opinions are our own.
Comments
What do you think of our Viking Iceland's Natural Beauty Cruise Review? Have you cruised with this luxury line before? Drop us an anchor below to share what you love about Viking Cruises.