All of the cabins on Viking Ocean cruise ships feature a veranda. For our recent sailing on Viking Jupiter, we were placed in a Deluxe Veranda, category DV2. Room 5046 served as our home away from home for eight nights as we sailed the Baltic Sea as part of the Viking Homelands itinerary. We are back to share our impressions of this cabin in our Viking Ocean Cruises Veranda Cabin Review.


Viking Ocean Cruises Veranda Cabin Review
The staterooms on Viking Ocean ships are mainly located on Decks 3 through 6. Although, there are also some suites on decks 7 and 8 forward.
For the most part, many of the standard veranda rooms feature the same amenities. What mainly separates the categories are additional perks such as being able to book shore excursions and specialty dining pre-cruise at earlier times. In addition, our room came outfitted with a coffee maker and binoculars.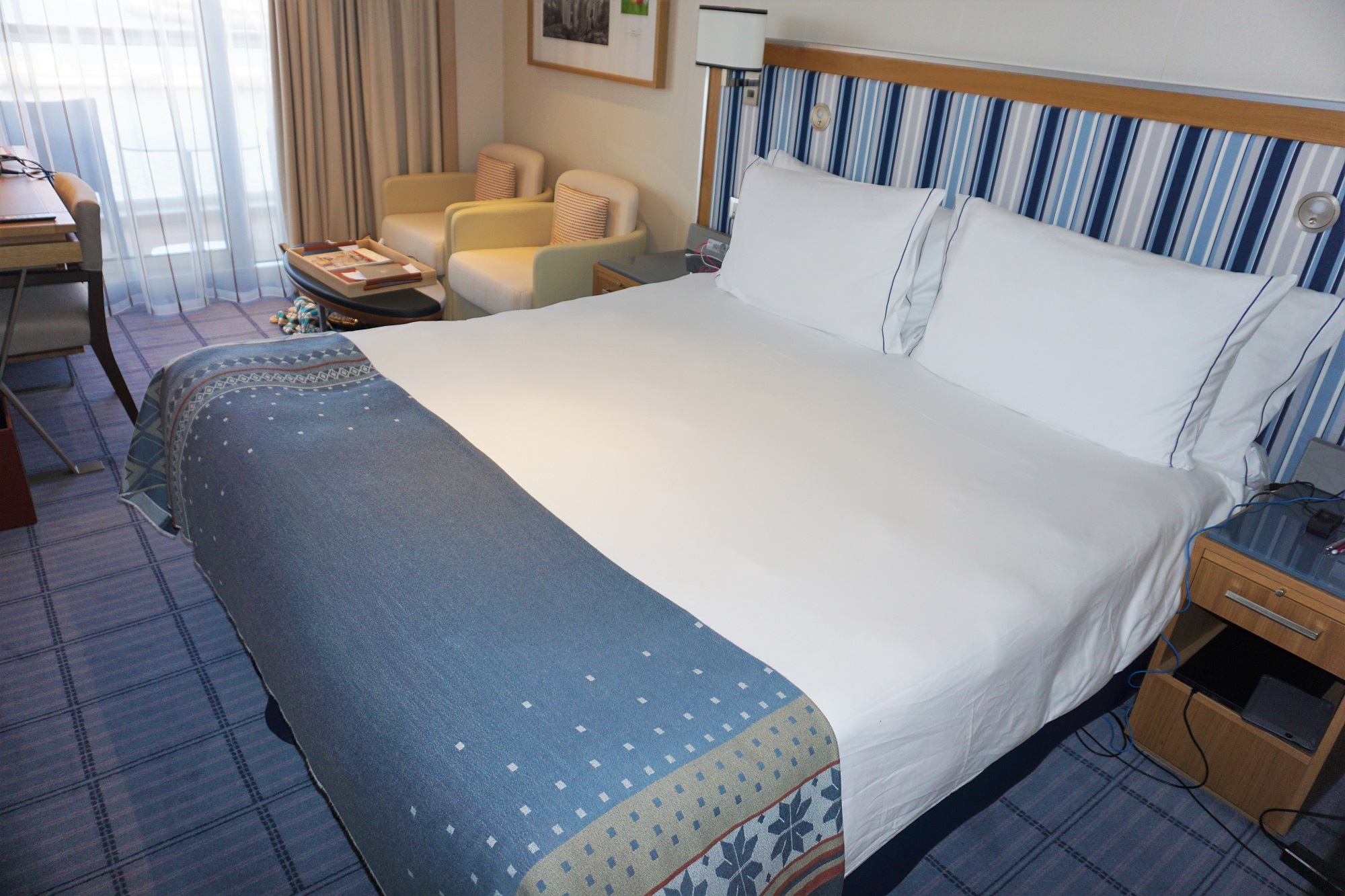 This meant that with our DV2 Deluxe Veranda room we could book our shore excursions a week earlier than a traditional veranda room, at 67 days out from our sailing. We also had priority booking for spa treatments at 60 days.
With our cabin, we were also entitled to one pre-cruise reservation at each of the specialty restaurants. We could book those 60 days before the cruise. With a few tech issues on the Viking website, we secured one dining spot at the Italian restaurant Manfredi's for night 6.
Related Post: What's Included in Viking Ocean Cruises
Inside the Veranda Cabin on an Viking Ocean Cruise Ship
Upon entering the room, you are greeted with a pretty typical cruise cabin layout. Similar to the public venues throughout the ship, this room is designed in a functional, yet elegant manner. The furniture is streamlined with a muted color palette. Still, it is comfortable and maximizes space.
While the website claims the cabin is 270 square feet, we did not find it to be much roomier that cruise balcony cabins on other lines. Most of the additional space is likely found in the bathroom and depth of the cabin.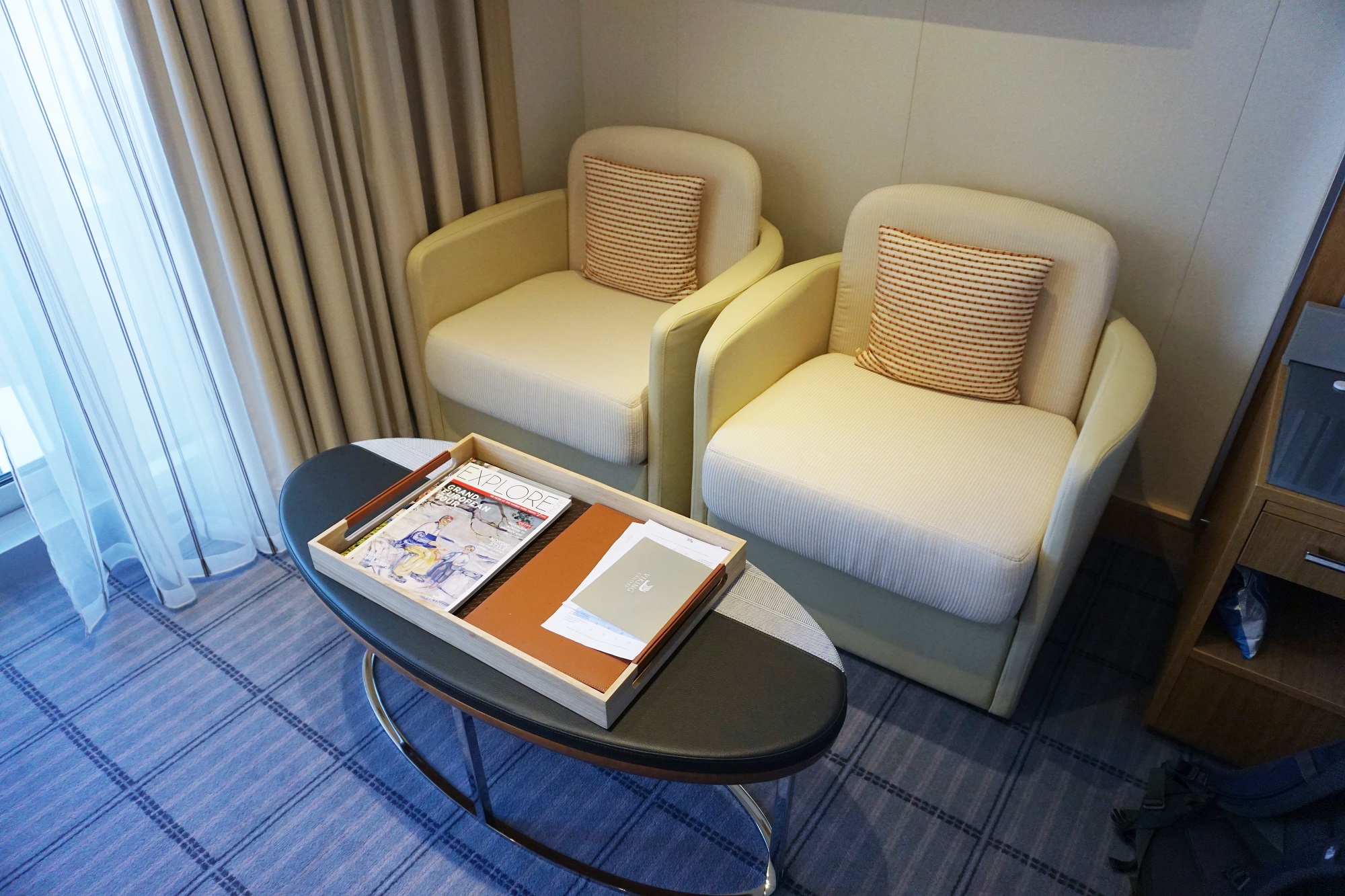 Our setup had the bed closer to the door, with a small seating area featuring two chairs and a table near the balcony. The bed was comfortable, and was lined with premium linens. The seating was functional, though it ended up becoming mostly a storage area during our trip.
Immediately past the bathroom door is a small storage area housing the safe, four drawers, and a coffee maker. This area ended up being my designated storage area for clothes. Admittedly, we are over packers, but for 8 nights we had to get creative to store all of our clothing.
Closet space in the room was pretty standard as well. About half the closet included a full length clothes rack, while the rest had a clothes rack with a dresser consisting of four drawers below. Those were all taken up by the Princess' belongs, including her abundance of shoes.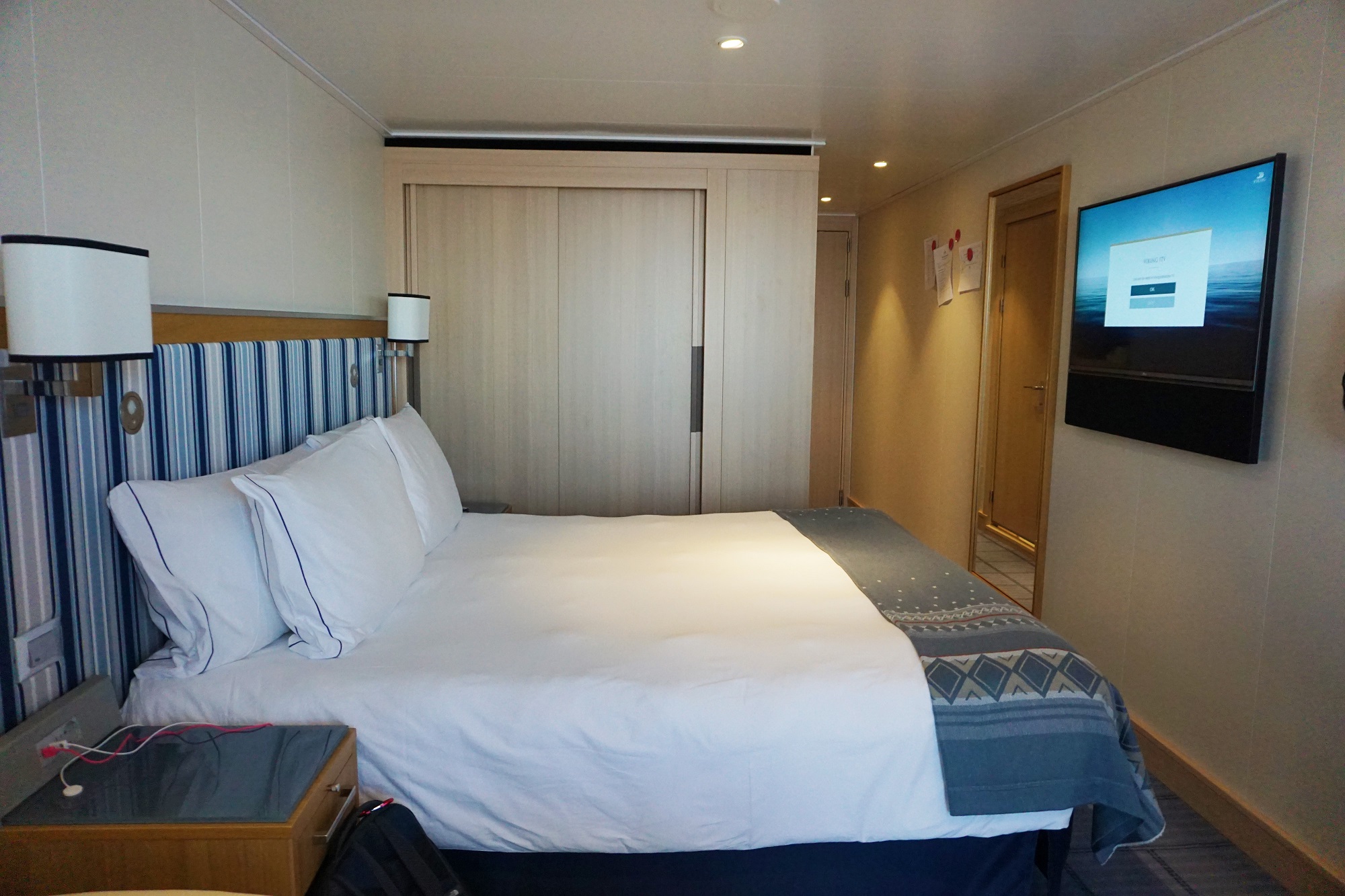 The desk was also claimed by the Princess. While it had limited storage, including the mini-fridge, she used this area to do her hair and makeup. That was fine as I was able to use my night stand as our traditional tech-center. On both sides of the bed, Viking Jupiter featured two USB outlets, one 220 volt outlet, and one 110 outlet. This was a definite bonus!
Related Post: Viking Jupiter Ship Scorecard Review
Upgraded Features in Viking Ocean Cruises Veranda Rooms
What separates this cabin from those found on contemporary cruise lines is certainly the bathroom. It is considerably larger than typical stateroom bathrooms, with a roomier shower. This tiled bathroom and shower made you feel like you were staying in a luxury hotel, not some cramped cruise cabin.
These bathrooms also featured a large mirror and premium, over-sized Freyda toiletries which were replenished as needed by our room steward. Perhaps the Princess' favorite feature was the heated tile floors. This is a nice touch when retreating to the room in the evening or when getting ready during those chilly, early mornings.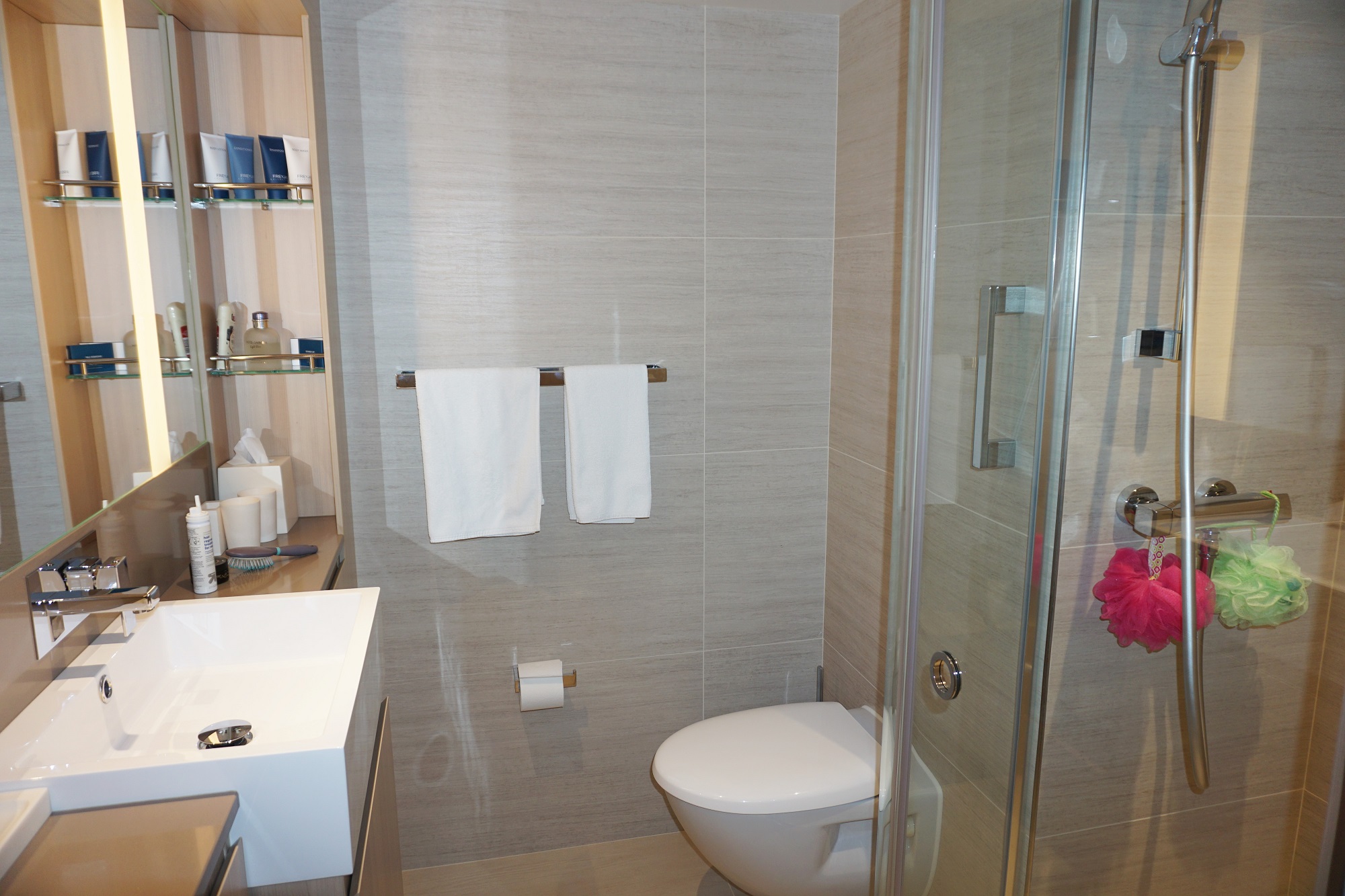 The veranda too was full sized. There was plenty of rail space along with two full sized chairs and a table. Unlike some newer ships on other lines, the veranda on Viking Jupiter was an ideal size for watching sail away. Or, you could snuggle up in the morning with some room service breakfast and watch the sunrise. We wish we had more time to utilize the veranda. Although, with long days in port, there were only a few instances when we used this outdoor space.
Recap of the Veranda Cabin on Viking Ocean Cruises
Our deluxe veranda cabin on Viking Ocean cruises was certainly anything but basic.
The room provided plenty of comforts and makes you feel right at home during your cruise. Given the size and layout, the cabin might not exactly have the same feel as a luxury hotel room, but it was among the most pleasant veranda staterooms that we have seen on a cruise ship.
The additional add-ons in the bathroom, the premium bedding, and the additional electronic outlets were all welcomed additions. Like other aspects of the ship, it is the little things that separate Viking Cruises from the rest of the cruise lines. Offering full-sized shower products and having a simple to use remote and entertainment system all align to the company's core mission as well.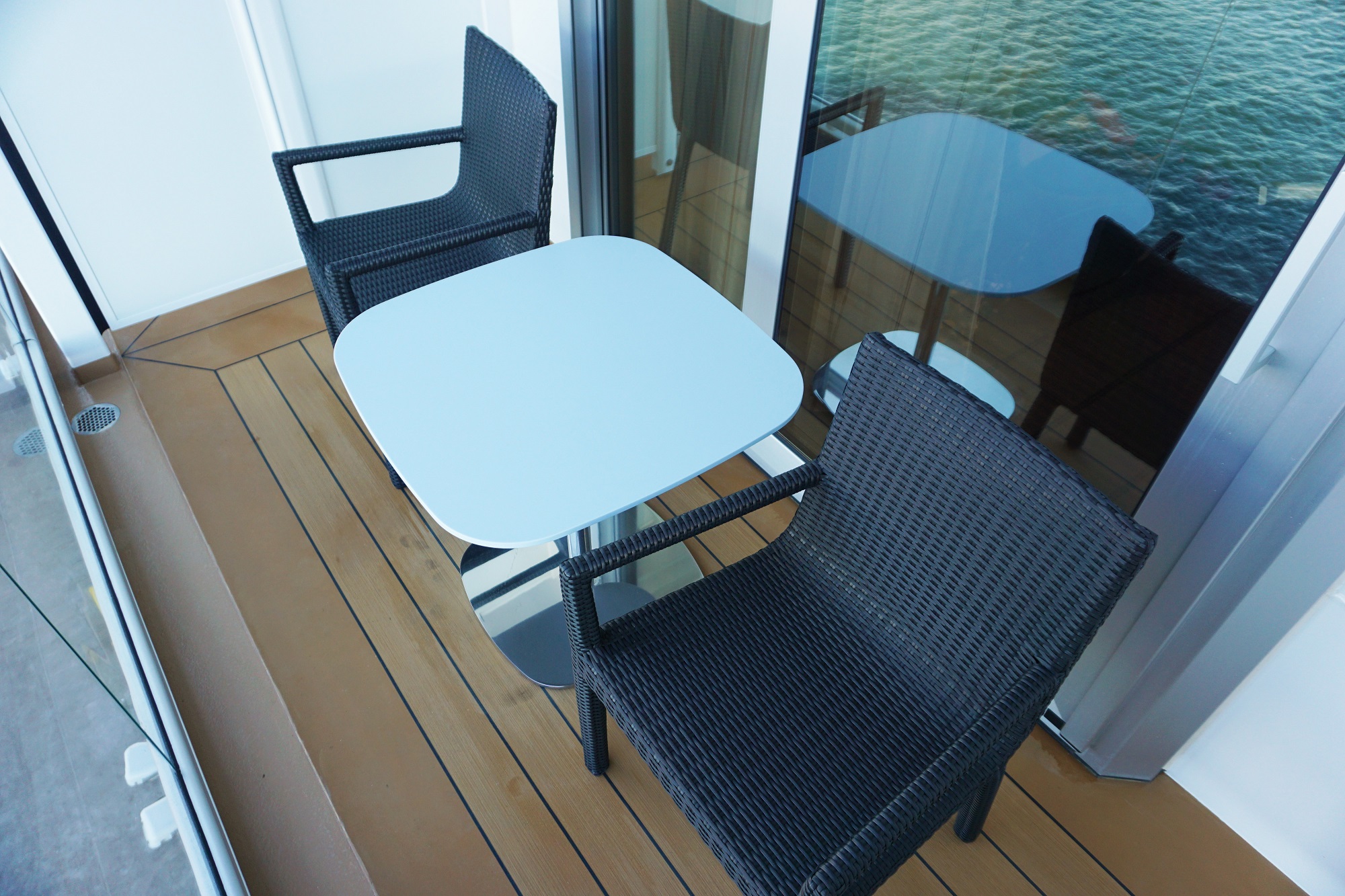 While the room itself does not differ much from the lowest tier veranda cabin, upgrading to a deluxe cabin might be worth it. Having the ability to pre-book specialty dining is a nice perk. In addition, getting a head start at securing shore excursions ensures you get your ideal start times. When we cruise on Viking Ocean Cruises in the future, we would certainly book a Deluxe Veranda stateroom as it included everything we needed and then some.
Comments
Have you sailed with Viking Cruises? Have you stayed in a deluxe veranda stateroom on a Viking Ocean Cruise ship? Drop us an anchor below with your review of this popular cabin category.