Onboard all Viking Ocean cruise ships, specialty dining is included with your cruise fare. One of the most popular dining venues is the Italian restaurant Manfredi's. During our Viking Jupiter cruise, we dined at the restaurant twice. Now, we are back to share our honest review of Manfredi's Italian Restaurant on Viking Ocean Cruises.


Review of Manfredi's Italian Restaurant on Viking Ocean Cruises
Before You Dine at Manfredi's Restaurant
Cruisers who reserve a Deluxe Veranda or higher stateroom category can pre-book at least one dinner at this specialty restaurant prior to cruising.
For our cruise, we were able to book our restaurant reservations 60 days in advance. By the time we logged into the Viking site, other higher category rooms had already booked many of the earlier, more desirable dinner times and days. However, we were able to secure an early spot on night 6. We were also invited to join a group dinner on night 8, which was our last night on the ship.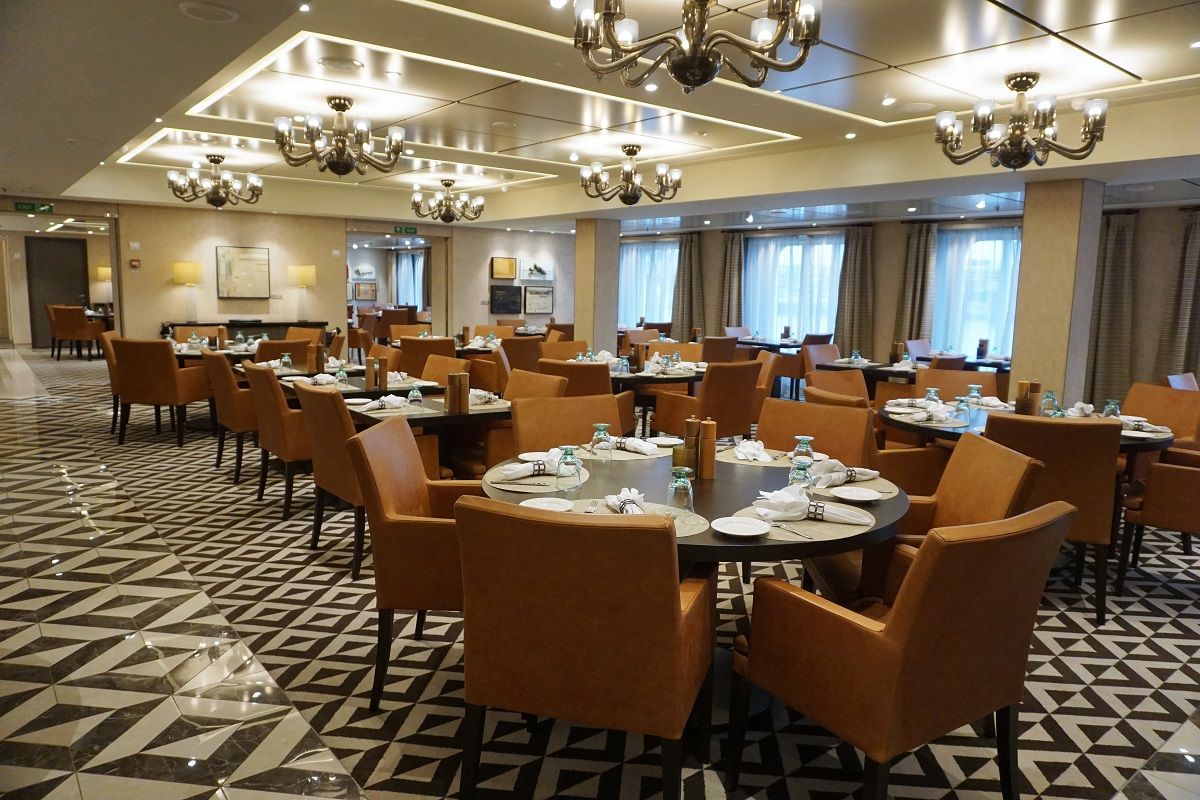 If you do not have reservations before boarding the vessel, you can reserve them once onboard your Viking Ocean ship. You will find a reservation stand in the World Café on Deck 7 aft. Either way, you will need reservations to dine at this popular restaurant.
Manfredi's is located on Deck 1 aft, on the starboard side. The décor is simple yet elegant. It is warm and inviting with rich colors and wood tones. There are several different table arrangements to accommodate various sized parties.
Upon entering the restaurant, you can not help but notice the homemade pasta machine. When open, the chefs are hard at work making pasta and creating the bread baskets. This somewhat open kitchen gives the restaurant a distinct look and feel.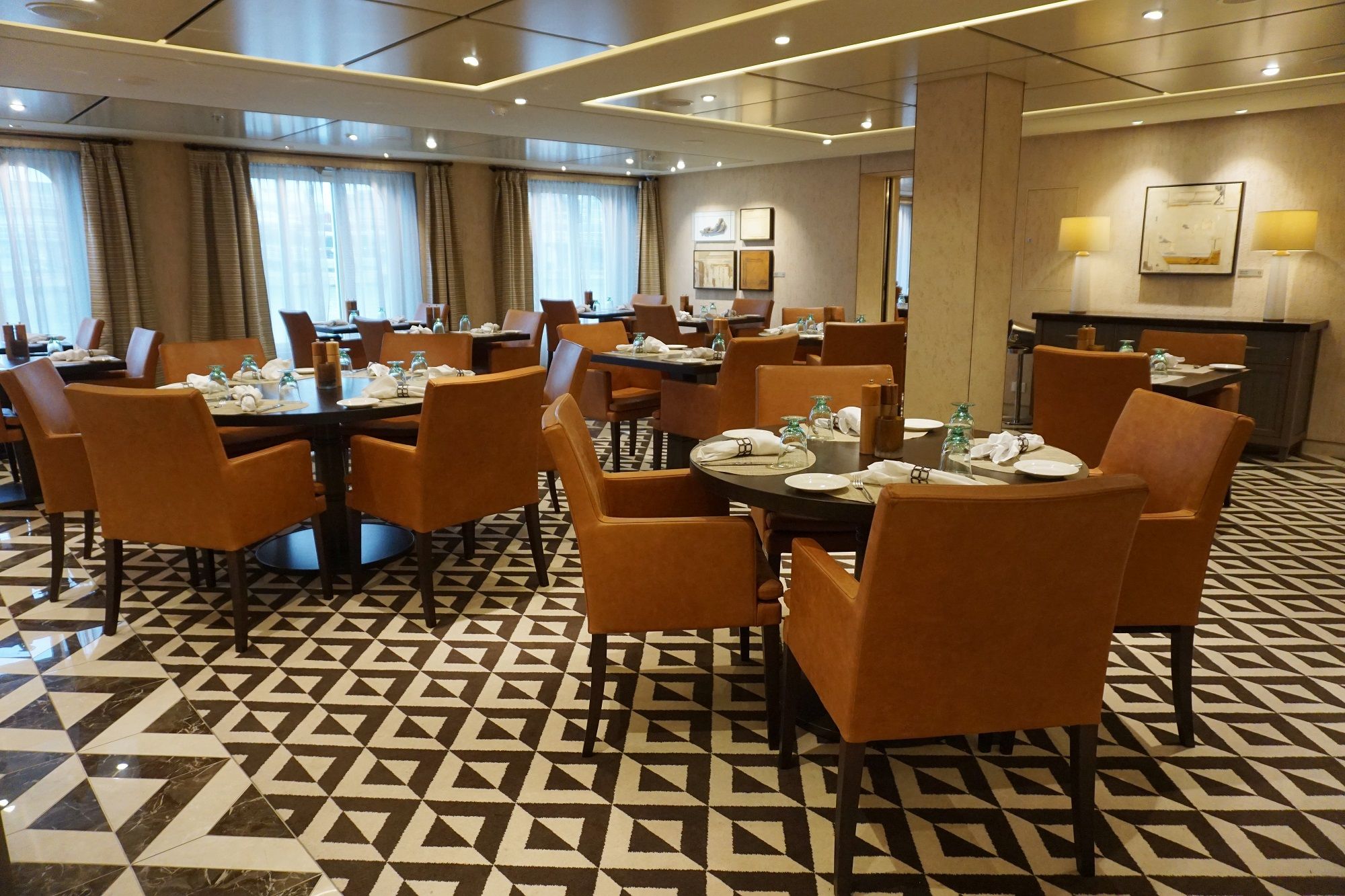 Related Post: What's Included on Viking Ocean Cruises
Dining at Manfredi's Italian Restaurant on Viking Ocean Cruises
When compared to other cruise ship specialty restaurants, Manfredi's certainly shines when it comes to the food and service.
As a fan of Italian cuisine, I have come to make quick first impressions of a restaurant based on the bread served. This homemade bread basket was delivered with a wide selection of breads and did not disappoint.
One was more mouthwatering than the next, and we did sample them all of course. The garlic knots were the perfect texture with a slight sprinkle of salt. I couldn't put down the crusty Italian bread either, or the focaccia for that matter. Accompanying the bread was a dipping oil with balsamic and fresh Parmesan cheese.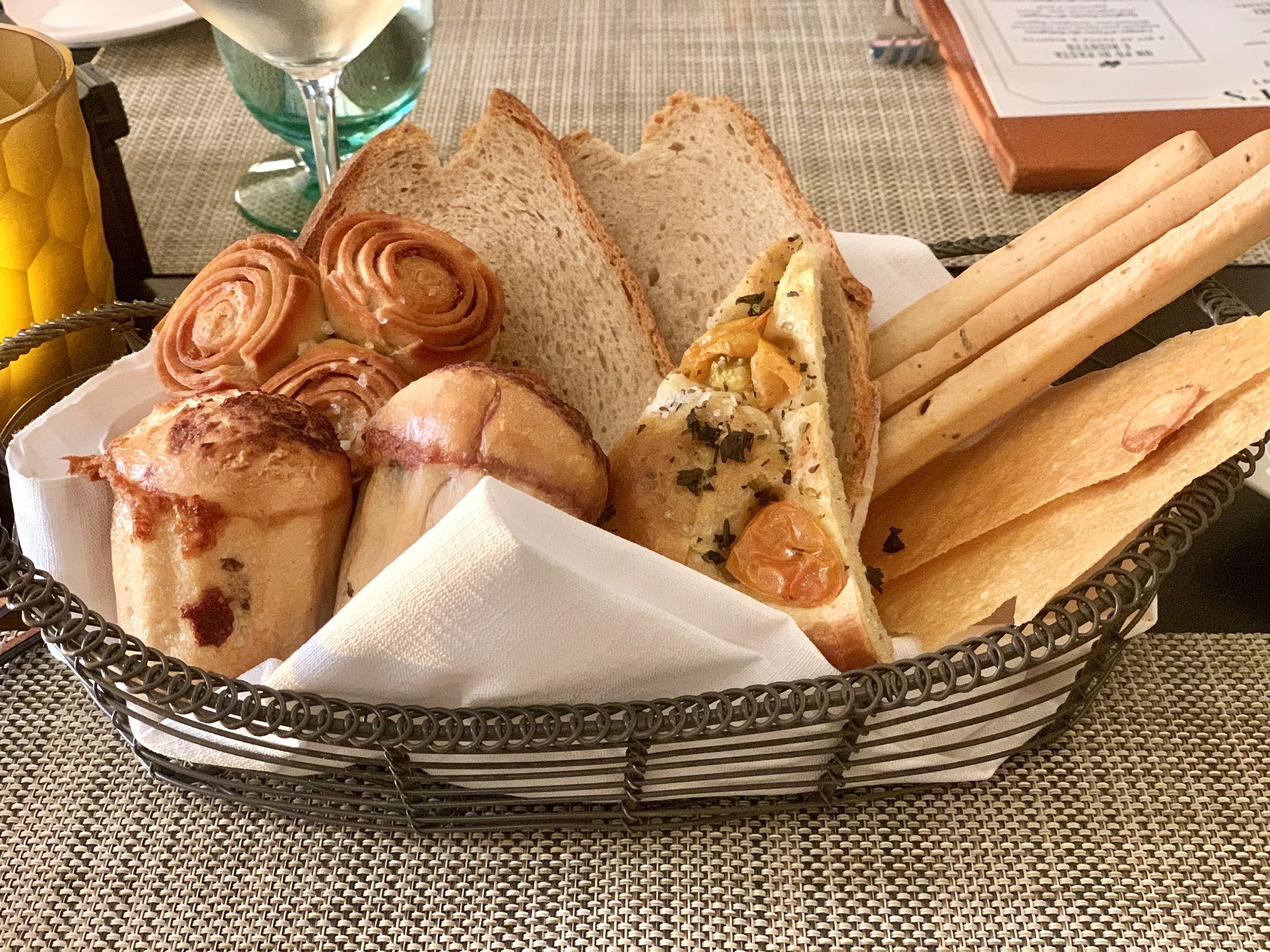 As beer and wine are included at meals on Viking cruises, the bar servers were quick to fill our glasses with the featured house pours of red and white wine. When compared to the main dining room, the service at Manfredi's was certainly more personal and timely during both our visits.
The timing of our whole dining experience was well coordinated, and the three course meals were spaced perfectly.
The Meals at Manfredi's Italian Restaurant on Viking Ocean Cruises
Now, let's get to the important stuff- the food. Over the course of both our visits to the restaurant, we sampled a variety of menu options for starters and entrees.
Surprisingly, the seafood on Viking Jupiter was excellent. The calamari was crispy and served with a mayo-based dipping sauce. The frutti de mare was a mix of mussels and clams in a red broth that had plenty of flavor with just a hint of heat. The portions were a good size but left enough room for us to enjoy the remaining courses.
Other starters that were equally enjoyable were the bruschetta and eggplant parmigiana. The Princess actually ordered the bruschetta twice during our visits to Manfredi's Restaurant.
For dinner, the Princess ordered a half order of Chicken Parmigiana and a half order of the penne. Our waiter warned us that the Chicken Parm was large, and he was not kidding. Even the half order was at least half the plate. It was a thin cutlet, breaded and served in a traditional style. The Princess thoroughly enjoyed both dishes.
I ordered the Osso Buco and a half order of the gnocchi. Again, the waiter warned me that the gnocchi was small, as I had originally planned that to be my meal. Good thing I listened to him. The Osso Buco was flavorful and fell right off the bone. It was much better than the version that was served in the main dining room. I could have devoured the entire order, but I had to save room for dessert.
Sampling More of the Menu at Manfredi's Italian Restaurant
For our second dinner at Manfredi's, we both went a little lighter on entrees. The Princess was able to have the chef swap veal for chicken in the Marsala dish, which came with a light mushroom gravy. I did the pasta special of the day, which was essentially a baked veal and sausage Bolognese pasta with cheese. Yes, it was as mouthwatering as it sounds.
For dessert, we only tested two options. You can't go wrong with tiramisu at an Italian restaurant. This version was not served with the traditional composition. Still, it was flavorful, and I appreciated that it is was not overly sweet. The Princess ordered the profiteroles. While this is normally a French dessert, this rendition suited her sweet tooth all the same. Of course, we had a scoop of gelato and some limoncello on the side!


Recap of Manfredi's Italian Restaurant on Viking Ocean Cruises
As an included specialty restaurant, Manfredi's delivered exquisitely prepared meals, featuring fresh ingredients and special menu items that you can only find at this restaurant. During both visits, the chef was more than happy to customize our orders. We appreciated the kitchen staff meeting our requests without any hesitation.
The homemade pasta is certainly a highlight of this venue. The other entrees and starters should not be overlooked either. There were several additional options we wanted to try, but we only had so many nights on the ship. And, only so much room in our stomachs!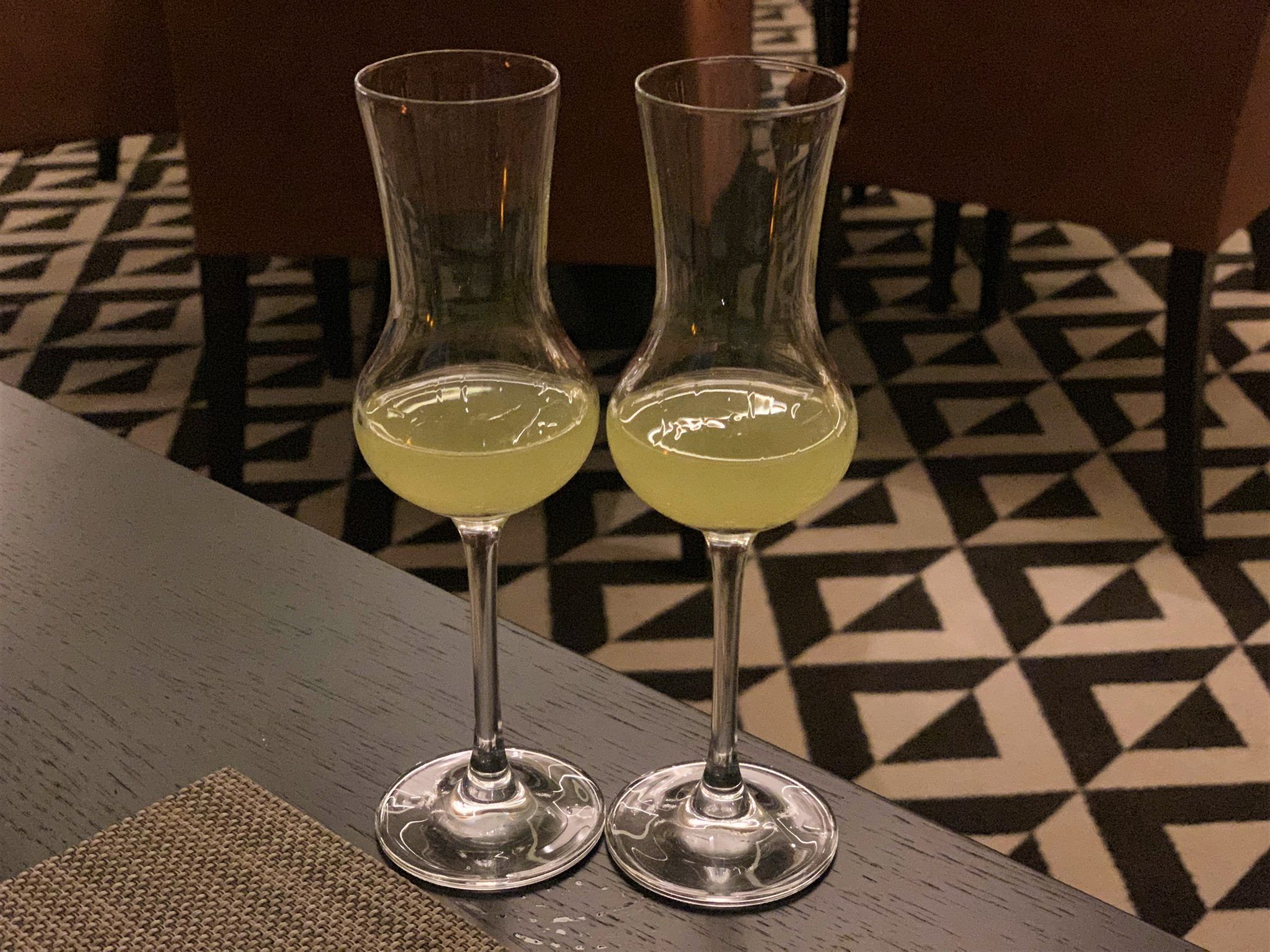 Another feature of this restaurant is the rib-eye, which is marinated for 72 hours in a dry rub. While I can not speak from first hand experience, several diners indicated it was the best steak they had all cruise. I think we will take their word on that rating.
This restaurant would easily be a $30+ up-charge on other cruise lines. So, the inclusion of this restaurant is a great value on Viking Ocean Cruises.
Dinner for the two of us took about 90 minutes, which is on par with our other specialty dining experiences. With the larger group of 14, we experienced a 2+ hour dining time. However, service was friendly and top-notch on both occasions.
Overall, we highly recommend Manfredi's Italian Restaurant on Viking Ocean Cruises. We can't wait to get back onboard one of these ships to sample more of the menu.
Comments
Have you dined at Manfredi's Italian Restaurant on Viking Ocean Cruises? What are some of your favorite menu items? Drop us an anchor below with your restaurant review.