Odyssey of the Seas is now sailing the Caribbean! As the second Quantum-Ultra Class ship, Odyssey features many familiar favorites in addition to a few new features of her own. Weighing in at 168K gross tons, there is plenty to do, see, and eat onboard this innovative new Royal Caribbean vessel. In this post, we give you our picks for the top things to do on Odyssey of the Seas.
Brand New Cruise Review for Odyssey of the Seas!
Top Things to Do on Royal Caribbean's Odyssey of the Seas
Immerse Yourself in the New Virtual Adventure Zone
Odyssey of the Seas debuted a new virtual reality experience. This interactive, digital attraction is unlike anything currently on a Royal Caribbean cruise ship.
For this fully immersive 4D virtual reality experience at sea, you will gear up for your adventure at the interdimensional headquarters, Zone Zero. During this 30-minute experience, your team will work together to solve puzzles, defeat enemies, and save reality.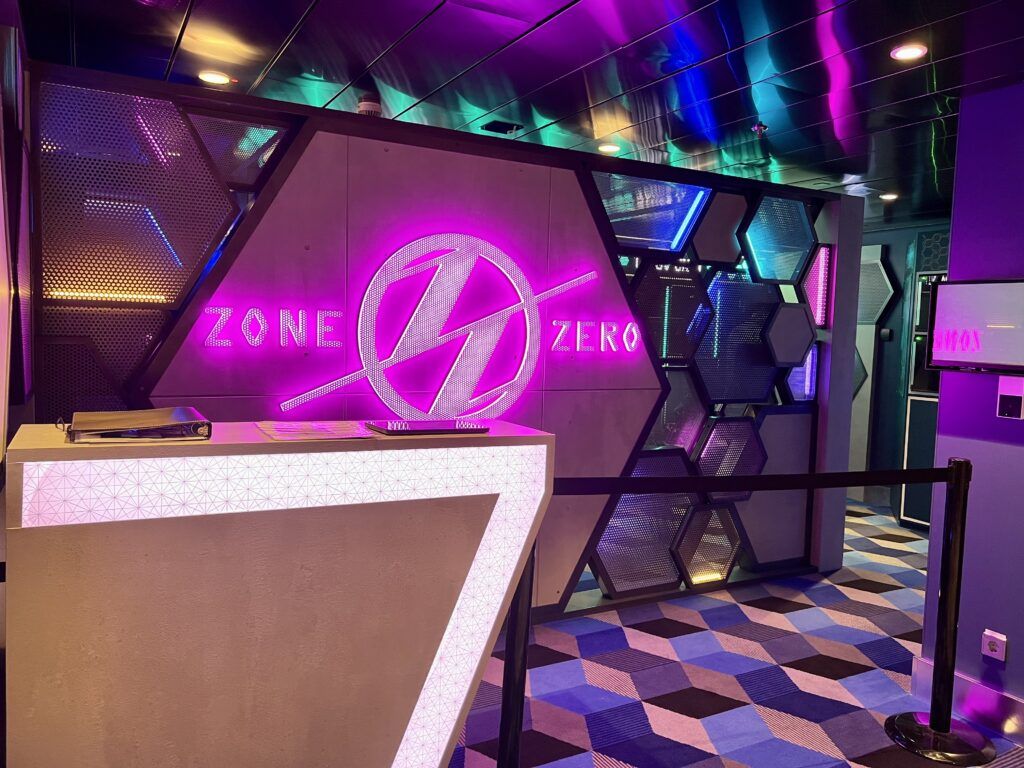 Players wear virtual reality headsets during the experience and are able to "freely roam" and "physically interact" with the environment. So of course, this out-of-this-world experience is a must try on Odyssey of the Seas.
This virtual adventure is an up-charge of $18, and guests need to be 13 years of age or older to participate. Unfortunately, it was not open during our sailing, so we did not get to test it out for ourselves.
Try Some Teppanyaki
New ship, new restaurant! Odyssey of the Seas also debuted a new restaurant for Royal Caribbean, Teppanyaki. This new dining venue is similar to teppanyaki experiences on other cruise lines, or to Izumi Hibachi on some ships in the fleet.
For a set price, cruisers are treated to an energetic dinner and show. At Teppanyaki, you get a front row seat while the chef prepares your multi-course feast on an open grill paired with some comedic entertainment.
The meal includes a salad and miso soup to start. You are then treated to fried rice and grilled vegetables before your entrée. Entrée selections include combinations of chicken, beef, and seafood.
Finally, don't forget to save room for dessert. Dessert selections include the popular mochi sampler and crispy sesame balls.
EXCLUSIVE DEALS: Save Money on Odyssey of the Seas Cruises By Booking Now!
Be a Kid Again in the SeaPlex
Where can you play a game of basketball, archery, and bounce around in bumper cars? At the largest indoor sports complex at sea of course!
The SeaPlex is a revolutionary indoor space on Royal Caribbean Quantum Class ships that provides plenty of indoor entertainment options for "kids" of all ages.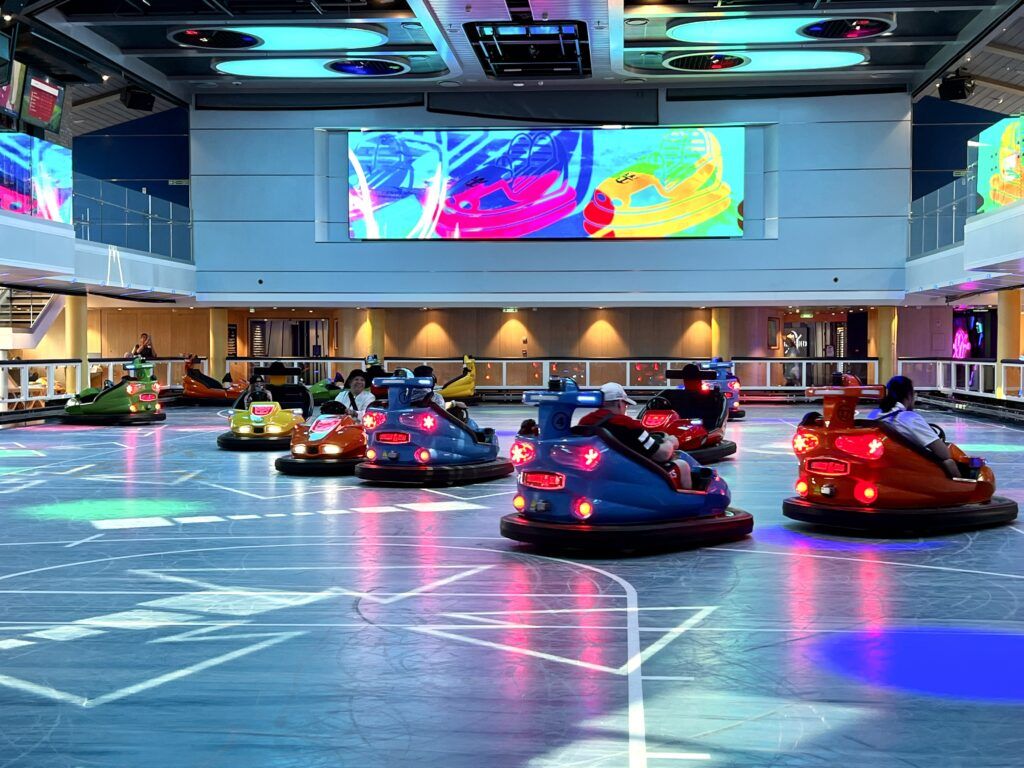 This space transforms to offer different activities, so be sure to check the Cruise Compass for activity times.
The SeaPlex is also home to interactive games and the fan favorite sports bar Playmakers.
Cheer on Your Home Team at Playmakers
That's right, Playmaker's Sports Bar and Arcade has also made its way to Odyssey of the Seas. We really like this new location on deck 16 overlooking all the action in the SeaPlex.
Offering a selection of beers, the signature Playmakers burger, wings, and other tasty menu items, these a la carte offerings are certainly worth the up-charge.
Playmakers is also home to some tabletop games and plenty of televisions, making it the perfect place to hang out with some friends and cheer on your home team.
Take a Ride in North Star
With Royal Caribbean's North Star, you can rise up to 300 feet above sea level for a bird's eye view. Riders are given 360 degree views of the surrounding port of or call, or you can enjoy a ride on the North Star while your ship is cruising to its next stop.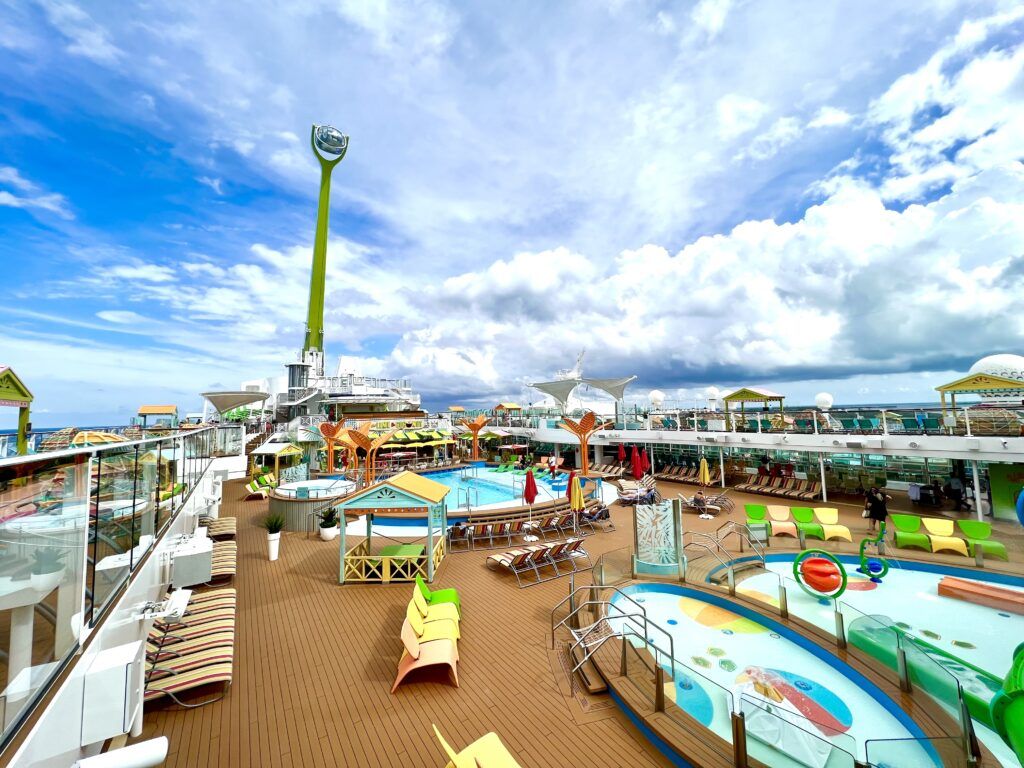 On Odyssey of the Seas, a ride in this aerial gondola is complimentary on port days. Though, it will cost you $29 on sea days for an extended experience.
Reservations can be made once onboard the ship and do fill up quickly. You can go standby, but with only 4 guests allowed in the capsule at one time right now, you might be waiting a long time.
Go Sky Diving
On Royal Caribbean's Quantum Class ships, you can can literally fly while cruising the Caribbean. This skydiving simulator is one of the most hair-raising experiences you will find on any cruise ship.
A ride on the line's signature Ripcord by iFLY will surely be one of the highlights of your cruise.
On Odyssey of the Seas, cruisers can enjoy a 60 second complimentary flight on port days. Or, you can choose to pay $49 per person for an extended session on sea days.
Again, reservations are highly recommended and can be made once onboard the ship.
Related Post: Guest Review of Odyssey of the Seas
Enjoy the Signature Entertainment
Royal Caribbean is known for having some of the best entertainment at sea, and Odyssey of the Seas continues to deliver.
From the highly technical performances in Two70, to the rock vibes in the Music Hall, and several other parties, musicians, and activities around the ship, you will never have a lack of things to do on Odyssey of the Seas.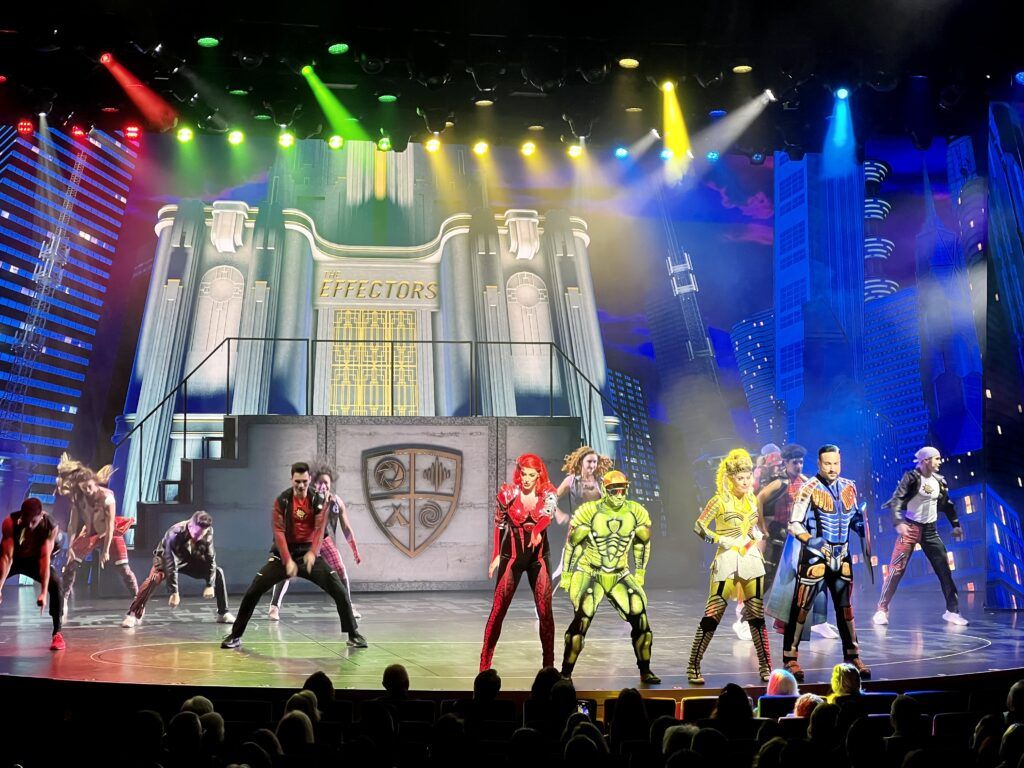 The main theater also features nightly entertainment including signature productions. Showgirl, found on other Royal Caribbean ships, is one of the revue shows. Also, the Effectors is a brand new show that should not be missed.
This signature production show features a group of heroes who go head-to-head with their enemy to save the show and the world.
The combination of talented performers and digital effects, complete with drones, make this one of the most technically advanced performances at sea.
Get Some Air Time in the Sky Pad
In addition to all the other high flying feats, Odyssey of the Seas also features the unique Sky Pad. This outdoor bungee trampoline experience gives you the opportunity to get some serious airtime.
This activity includes VR headsets with different games that immerse you in an out of this world adventure, aligning with your movements to make you feel like you are part of the virtual world.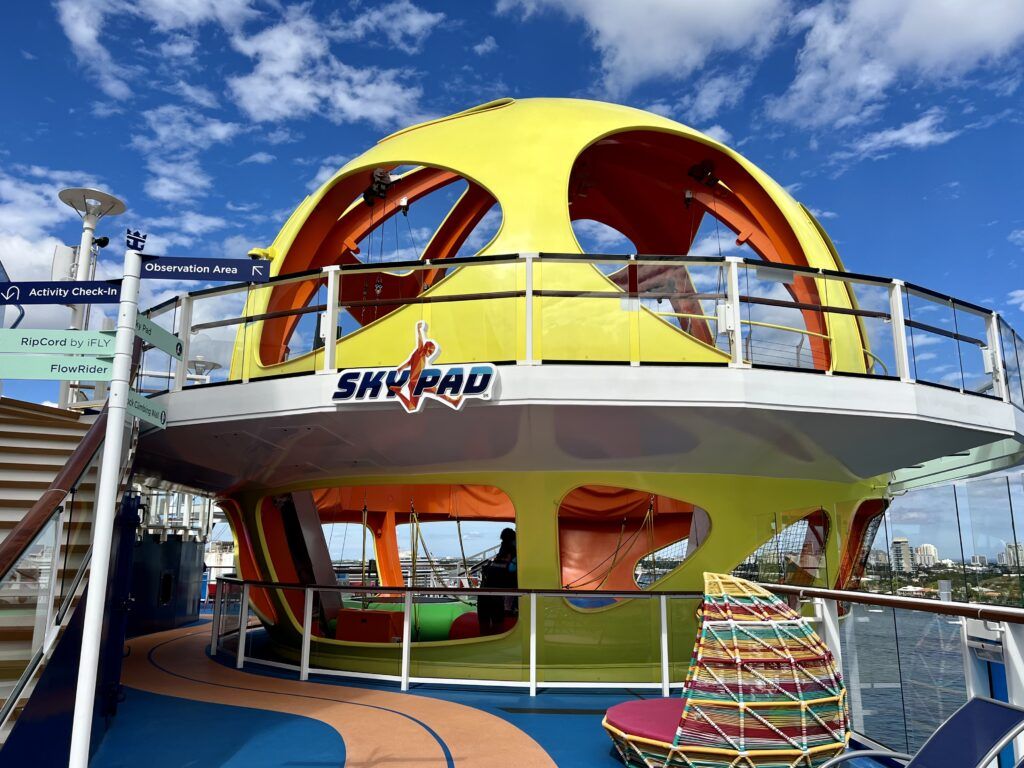 The Sky Pad on Odyssey of the Seas is complimentary. Cruisers must be at least 7 years old to participate and at least 13 years of age to jump with the VR headset.
Hang Ten on the Flowrider
Loyal to Royal fans will also find the cruiser favorite, Flowrider surf simulator, on the sports deck of Odyssey of the Seas. While this is not a new activity, it's always a good time.
Even if you do not know how to surf, you can try out some "boogie boarding". Private lessons are available for a fee, or you can just brave it on your own. What's the worst that can happen?
Even if you aren't up for the challenge yourself, the Flowrider makes for a great spectator sport as well.
Be Amazed in Two70
Two70 is a digitally enhanced venue with transformative 12K vistaramas and roboscreens that become part of the action. This venue takes on many shapes throughout the cruise.
By day, this venue serves as your living room at sea, but at night, signature production shows captivate with a mix of the latest digital technology, music, dancing, and acrobatic performances.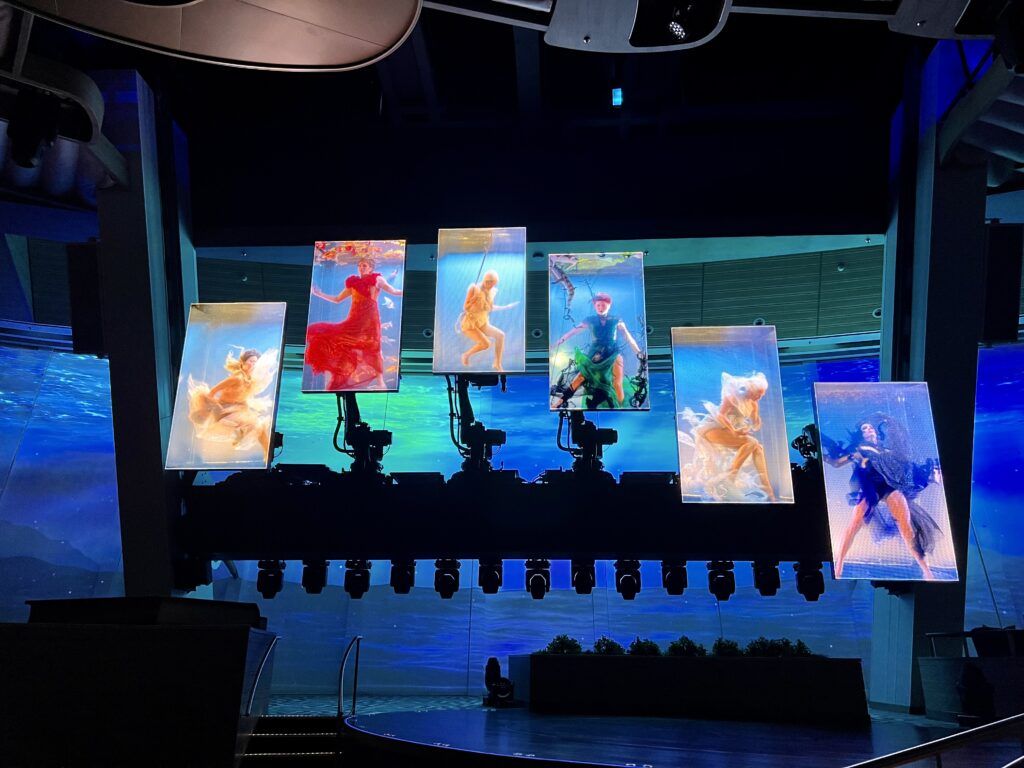 Oceanides is a roboscreen creation that can be viewed in Two70. This vignette tells the story of a Japanese pearl diver, using groundbreaking technology and impeccably choregraphed aquatic dance.
The Book is the signature production show that takes place in this venue. The Book: Seven Chapters, One Adventure brings storytelling to life with cutting-edge technology, aerial feats, singing, and dancing.
Rock Out in the Music Hall
If you love rock and roll, then you will love the Music Hall. The Royal Caribbean Quantum Class of ships debuted this first concert venue at sea.
This 2-story venue features first class tribute bands and a musically inspired signature cocktail menu. So, be prepared to rock out to songs from all your favorites like Bon Jovi, Journey, AC/DC, and more.
Of course, the Music Hall also hosts other events throughout the cruise and offers self-leveling pool tables to enjoy.
Take in a Pool Day
With all this action on Odyssey of the Seas, you're going to need a relaxing pool day to recover!
Perhaps our favorite area on Royal Caribbean's new (and newly amplified) ships is the Caribbean pool deck. This resort-style pool deck makes you feel like you have already arrived at the tropical Caribbean islands.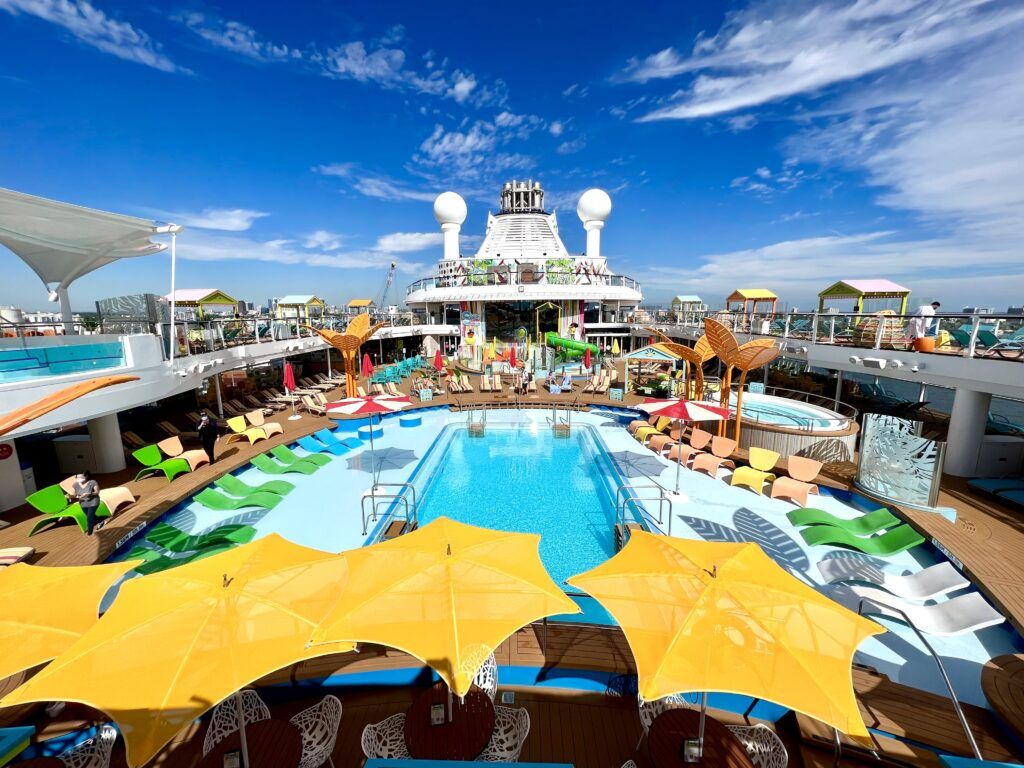 With island theming, pops of color, and a variety of seating options, this is the perfect spot to spend your sea days. This spruced up pool deck adds more deck space, a new splash pad for kids, daybeds, and shaded casitas (for an up-charge on this ship).
You won't have to go far for food or drinks either. The poolside El Loco Fresh is your go-to spot for a quick service lunch with tacos, burritos, quesadillas, and a custom salsa bar.
Of course, there is also the Lime and Coconut Bar. This spot has easily become the new standard for cruise ship pool bars. It's easy to get on island time with this venue's signature Caribbean cocktails.
If you'd prefer to stay out of the sun, there is also the well appointed, adult-only Solarium, which features its own bar as well.
Dine at a Specialty Restaurant
Odyssey of the Seas is home to some great specialty restaurants including the classic Chops Grille, Izumi Sushi, Wonderland, and Giovanni's Italian Kitchen, among others.
These restaurants do all have up-charges; though, they make for a special night out during your cruise. If you plan to dine at a few of these venues, the Unlimited Dining Plan is a good value.
In addition to Teppanyaki which is brand new on Odyssey of the Seas, the completely re-imagined Giovanni's Italian Kitchen is a fairly new offering as well. This restaurant is a new take on a guest favorite.
This rustic venue serves up all the Italian classics. The menu features made-to-order pizzas prepared in an open kitchen concept, classic pasta dishes, delicious desserts, and complimentary limoncello.
Giovanni's Italian Kitchen is definitely one of the best Italian restaurants at sea!
Make Your Own Bar Crawl
Further, there are plenty of bars and lounges on Odyssey of the Seas to compliment the gourmet food offerings. Many of these venues feature signature drinks and live music. So, why not create your own bar crawl?
Our personal favorite bar on Royal Caribbean ships is the Schooner Bar. This bar features our favorite signature martinis, the lavender daiquiri and sidecar, as well as live piano music.
There is also Boleros with a distinct Latin theme and the pub with live guitar music. The Bionic Bar is your futuristic bar at sea where robotic bartenders will prepare your order. Then, Giovanni's Wine Bar is a new addition replacing Vintages in the Via on Odyssey of the Seas.
Of course, you can also find signature cocktails at previously mentioned locations like the Lime and Coconut, the Music Hall, and more.
Related Post: What's Included on Perfect Day at CocoCay
Spend a Perfect Day in CocoCay
To extend your fun beyond the ship, Odyssey of the Seas' Caribbean sailings visit Royal Caribbean's private island in the Bahamas, Perfect Day at CocoCay.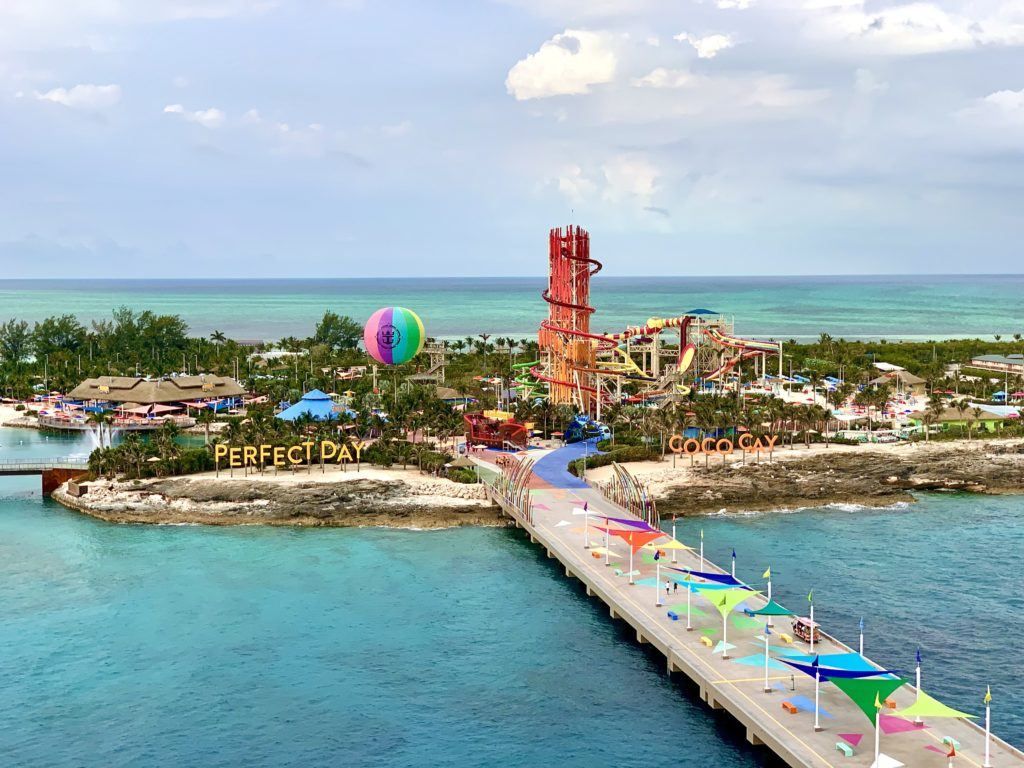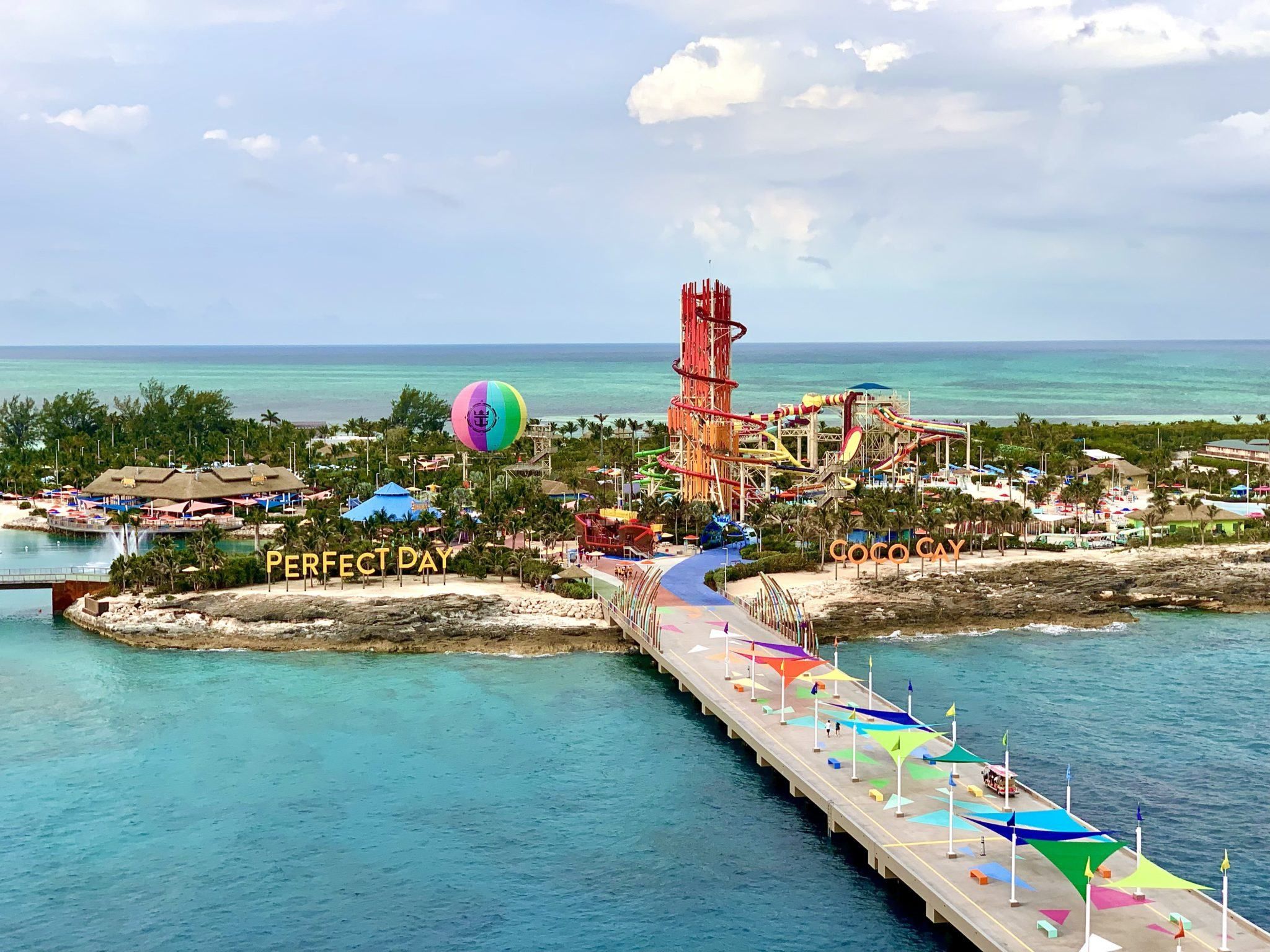 This private oasis features several attractions like a waterpark with the tallest waterslide in North America, a tethered helium balloon ride, a zipline, a large lagoon style pool, and the exclusive Coco Beach Club with the first overwater cabanas in the Bahamas.
Not to mention, CocoCay offers sprawling beaches, plenty of loungers, great food, and the signature Coco Loco drink.
Comments
Do you agree with our list of the Top Things to Do on Odyssey of the Seas? Do you have plans to sail on this new Royal Caribbean cruise ship? Drop us an anchor below to share what you love about Odyssey of the Seas.