One of the many great things about cruising is the abundance of dining options on today's mega-ships. Even though there are plenty of complimentary options, there are also several signature options to enjoy during a cruise. Earlier this year, Royal Caribbean International released its new Unlimited Dining Plan. This new option was essentially an update to the former Ultimate Dining Package. This new unlimited plan provides cruisers access to virtually all of the specialty dining restaurants on Royal Caribbean ships. Now, cruisers can truly dine at any venue, as much as they like. On our recent Navigator of the Seas cruise, we tested out this new offering. We are back to provide all of the delicious details in our Royal Caribbean Unlimited Dining Plan Review.

Royal Caribbean Unlimited Dining Plan Review
Basics of the Unlimited Dining Plan
Like the drink packages, the Unlimited Dining Plan needs to be purchased for the entire length of the cruise. For short 3-day cruises, Royal Caribbean advertises the package as low as $29 a day, per person for the plan. 
With the package, cruisers can eat at all of the specialty restaurants onboard, minus the Chef's Table, as many times as they want during the trip. In theory, you could eat at multiple restaurants for each meal. Although, getting reservations that overlap are not usually permitted.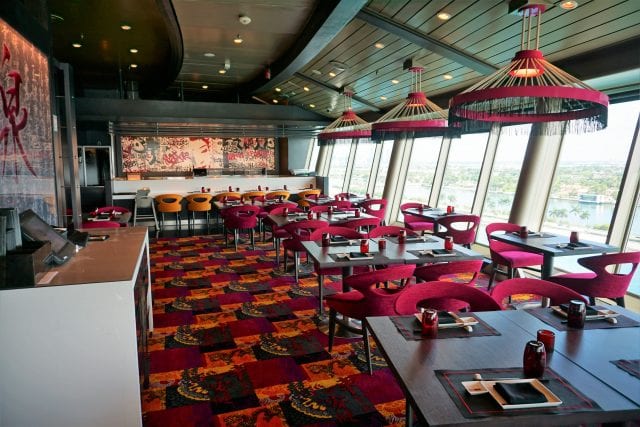 For restaurants with a flat fee (e.g., Chops Grille or Jamie's Italian), the plan entitles you to all the starters and desserts you want to order. Restaurants like Chops Grille or Hooked Seafood charge additional fees for a second entree.
At a la carte restaurants, like Izumi or Playmakers Sports Bar and Arcade, you receive a food credit for up to $35.
Unfortunately, you are not able to make reservations pre-cruise once you purchase the package. A complimentary reservation is made for the first night at your preferred dining time.
Once you board the ship, you will want to head to a restaurant to make your remaining reservations and/or alter the complimentary reservation made on your behalf for the first night of the cruise. Remember, prime dinner times do fill up quickly, so we suggest making these reservations early on embarkation day.
Related Post: Complete Guide to Royal Caribbean Beverage Packages
Using The Unlimited Dining Plan
For our sailing, we took advantage of a pre-cruise sale and received 20% off the list price of the package, paying a total of $69 each. This breaks down to $23 per person, per day. When booking the package, we selected our preferred dining time of 6:30 pm.
We always board the ship early. So, once we were done taking pictures and exploring, we stopped in to speak to the hostess at Jamie's Italian.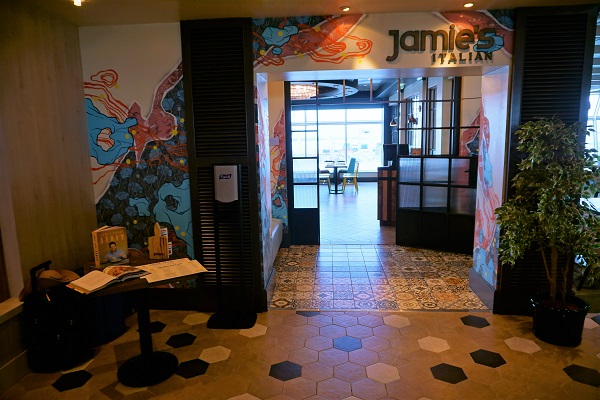 As luck would have it, we were assigned to dine at that restaurant for night 1 at our preferred time of 6:30 pm. We were also able to make reservations at the other two specialty restaurants at the same time for the two remaining days of the trip with no hassles.
So far, our review of the Royal Caribbean Unlimited Dining Plan was getting a big thumbs up. Still, on a larger ship or a longer sailing, we suspect that it might not be as easy to get reservations in popular spots like Chops Grille or Wonderland. For this cruise, we had no complaints though.
One reason we decided to test out the Unlimited Dining Plan on Navigator of the Seas was the addition of all the new restaurants to the ship. Along with Jamie's Italian, the ship also received a Hooked Seafood, a Johnny Rockets Express, and a Playmakers Sports Bar and Arcade.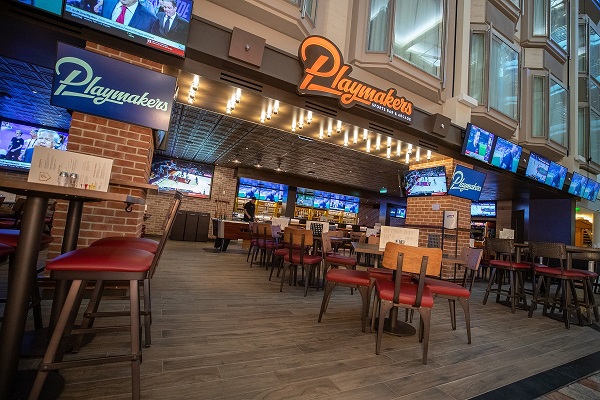 Related Post: Navigator of the Seas Cruise Review
Cost/Benefit Analysis of the Unlimited Dining Plan
We started our specialty dining "research" with an embarkation day lunch at Playmakers Sports Bar and Grill. We went relatively light here with an order of nachos ($7), a dozen chicken wings ($8), and the chicken sandwich ($9). Our total, including the 18% service charge, would have been $28.32.
Later that evening, we ate at Jamie's Italian. The pre-cruise price was $34.99, per person. When you book pre-cruise, you are not charged the 18% service charge that you would be charged if you booked onboard the ship. At dinner, we certainly made sure to sample a little bit of everything. We each ordered one appetizer, a pasta dish, an entree, and a dessert.
With the Deluxe Beverage Package as well, we enjoyed some cocktails with dinner and a limoncello to cap off the evening. 
On the second day of this cruise, we spent all morning and afternoon on Perfect Day at CocoCay. So, the only specialty dining meal was our dinner at Chops Grille.
This Chops Grille experience on Navigator of the Seas ranked pretty average at best in terms of food quality. I ordered a filet and the Princess enjoyed her chicken dish, along with a starter and dessert each. If we had paid the cover charge, it would have been $42.99 a person, pre-cruise.
To make up for our under-performance on day 2, we decided to use our plan for both lunch and dinner on day 3. Although we did need to wait a while for Johnny Rockets Express to open in the late afternoon, we ordered two sides of fries ($2.99 each), a classic hamburger ($4.99), and an order of chicken tenders ($3.99).
Our total out of pocket costs for this meal would have been $17.65.
Our last stop for dining on this weekend cruise was Hooked Seafood. This was our least favorite of the specialty dining experiences on Navigator of the Seas. Still, it costs $39.99 per person, pre-cruise to dine here. I ordered two apps, an entree, and a dessert. The Princess ordered one item from each category.
Of all the selections that we sampled, we were fond of the oysters, the clam chowder, and the whoopie pie dessert. The other items, including the lobster tails, were not much better than what we would expect from the main dining room.
Related Post: Guide to Royal Caribbean Ship Classes
Final Verdict on the Royal Caribbean Unlimited Dining Plan
In total, we had five specialty dining sessions (two lunches and three dinners) during this 3-day cruise. The total costs for these meals if we did not have the Unlimited Dining Plan would have been $281.91. Booking the package pre-cruise at sale pricing, we paid a total of $138.00. This saved us over 51% by having the meal plan. 
We would say that was a good deal! Now, did we need to dine at specialty restaurants for all of these meals? Yes and no. We knew that we wanted to dine at Jamie's Italian for dinner regardless. We also knew that we were going to stop in at Playmakers Sports Bar and Arcade at least once during the cruise.
Plus, the Princess had been hinting that she wanted to dine at Johnny Rockets for a "snack" one day. 
Factoring that into the equation, purchasing the dining package was only about $12 extra, per person. So, we essentially paid that difference to dine at Chops Grille and Hooked Seafood, the two most expensive restaurants on the ship.
We are normally fans of the main dining room, but on a short cruise like this, booking the Specialty Dining package provided us with more options. Though, we are not sure if we would opt for the plan on a seven night cruise. However, on this trip, the Unlimited Dining Plan was a huge cost savings.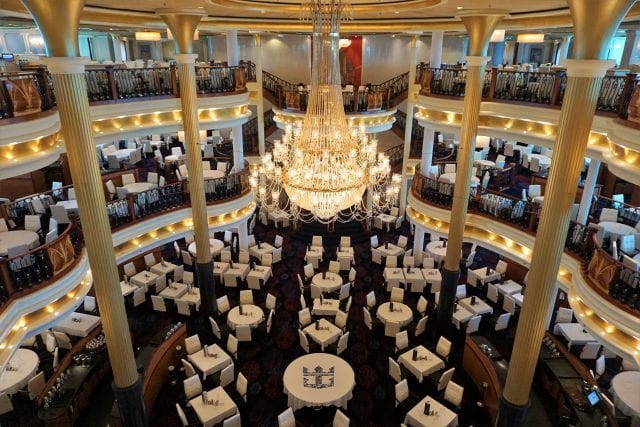 We would certainly consider booking this package again, especially if it goes on sale pre-cruise. If you do opt for the plan on a longer voyage, you would most likely need to eat about 5 of the 7 dinners in a specialty restaurant to get your value. Any lunches or snacks would provide you with additional cost savings.
Comments
Would you purchase this specialty dining package? Do you have a review of Royal Caribbean's Unlimited Dining Plan? Drop us an anchor below with your thoughts on this newly updated dining package.