We are happy to share a guest post from loyal Royal Caribbean cruiser, Nick Vitani. Nick just returned from one of the first sailings on the cruise line's brand new ship. In this post, he shares his First Impressions of Royal Caribbean's Odyssey of the Seas.
Nick is not only an avid cruiser, but he's also a Royal Caribbean Travel Partner with All Travel and Cruise Center, Inc. For inquiries on booking your next Royal Caribbean cruise, you can contact him at his personal email at flexnick@yahoo.com or message him via Instagram or Twitter @nickvitani.
What's It Like to Cruise on a Brand-New Ship: First Impressions of Royal Caribbean's Odyssey of the Seas
I was lucky enough to wind up being on the second voyage of the brand new Odyssey of the Seas. I was originally booked on another ship and was switched to Odyssey because of redeployment. As a further bonus, I was upgraded from an interior stateroom to an Oceanview Balcony on Deck 8 on Odyssey.
This cruise was a six-night Western Caribbean sailing out of Fort Lauderdale on August 8, 2021. It was the 2nd voyage ever for this ship. The ports of call were Cozumel, Costa Maya, and Coco Cay.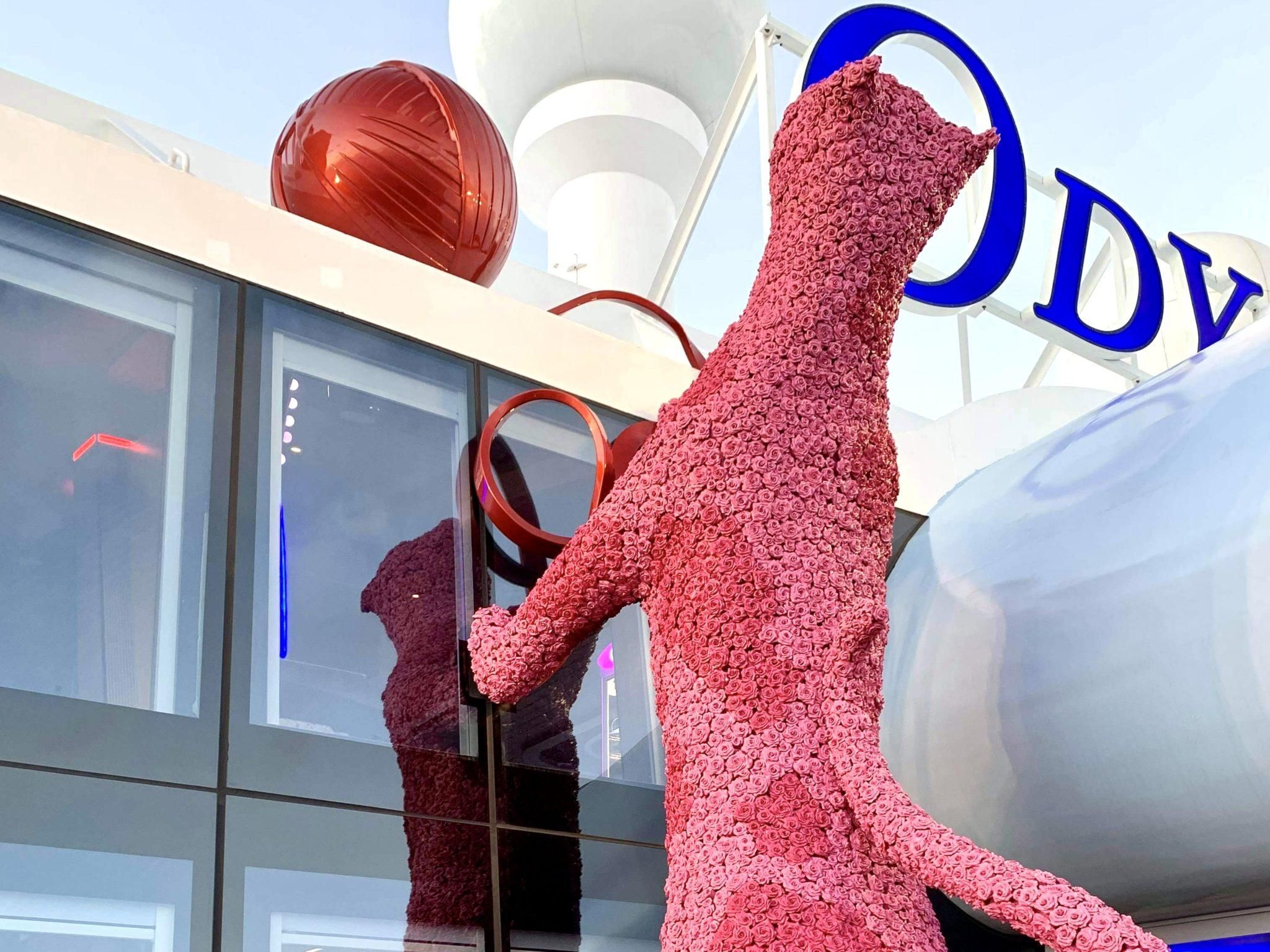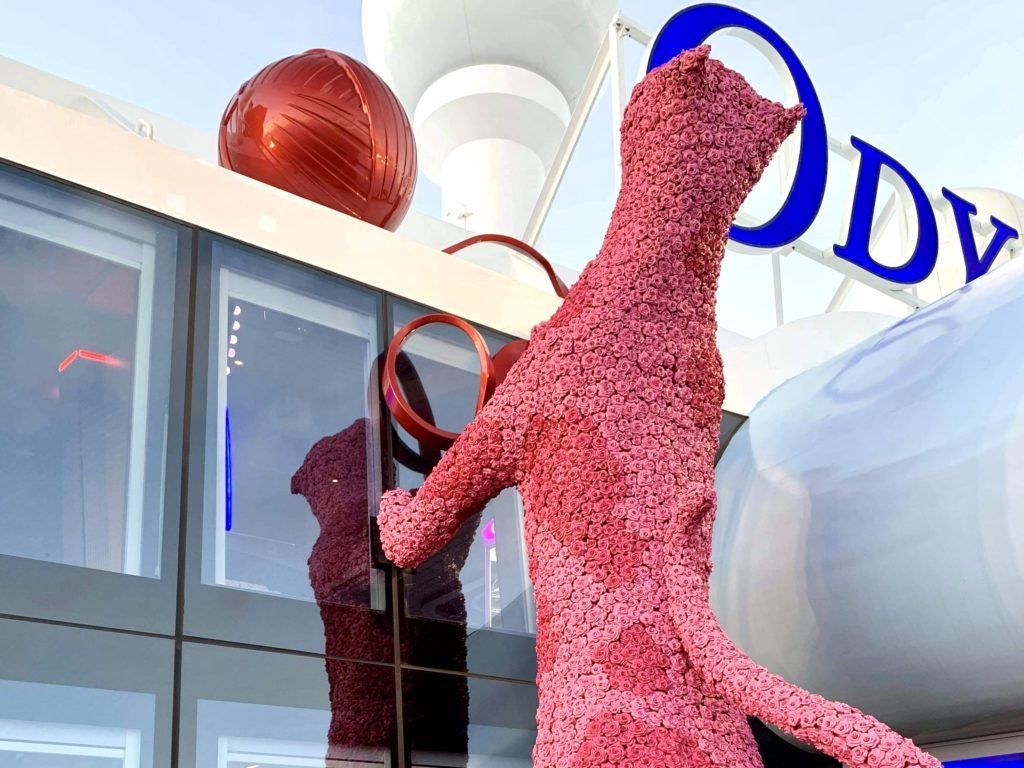 I have sailed on a lot of cruises (I quit counting after 100), mostly on Royal Caribbean and some Celebrity. I've been on all classes of ships, new and old. So, I was really looking forward to seeing this brand new "Quantum Ultra" class ship to see how it compared to the one other Quantum class ship I've been on, Anthem of the Seas back in its 2015 inaugural season.
Overall Impressions of the Ship
I was excited to see a new ship for only the 2nd time. My first impression of the ship was how similar it is to the Quantum class.
The layout, deck plans, and décor were almost identical, but as I wandered around the ship I did see some subtle differences. One major difference is the main dining room is a grand dining room. It is not divided into individual venues like on Anthem for the "Dynamic Dining" concept. I really loved the Dynamic Dining when it first appeared. Too bad they could not make it work.
Other differences I noticed were a couple of venue changes. For example, at the location of Jamie's Italian on Anthem was Giovanni's Italian Kitchen on Odyssey. They also have a Giovanni's Wine Bar next to the restaurant.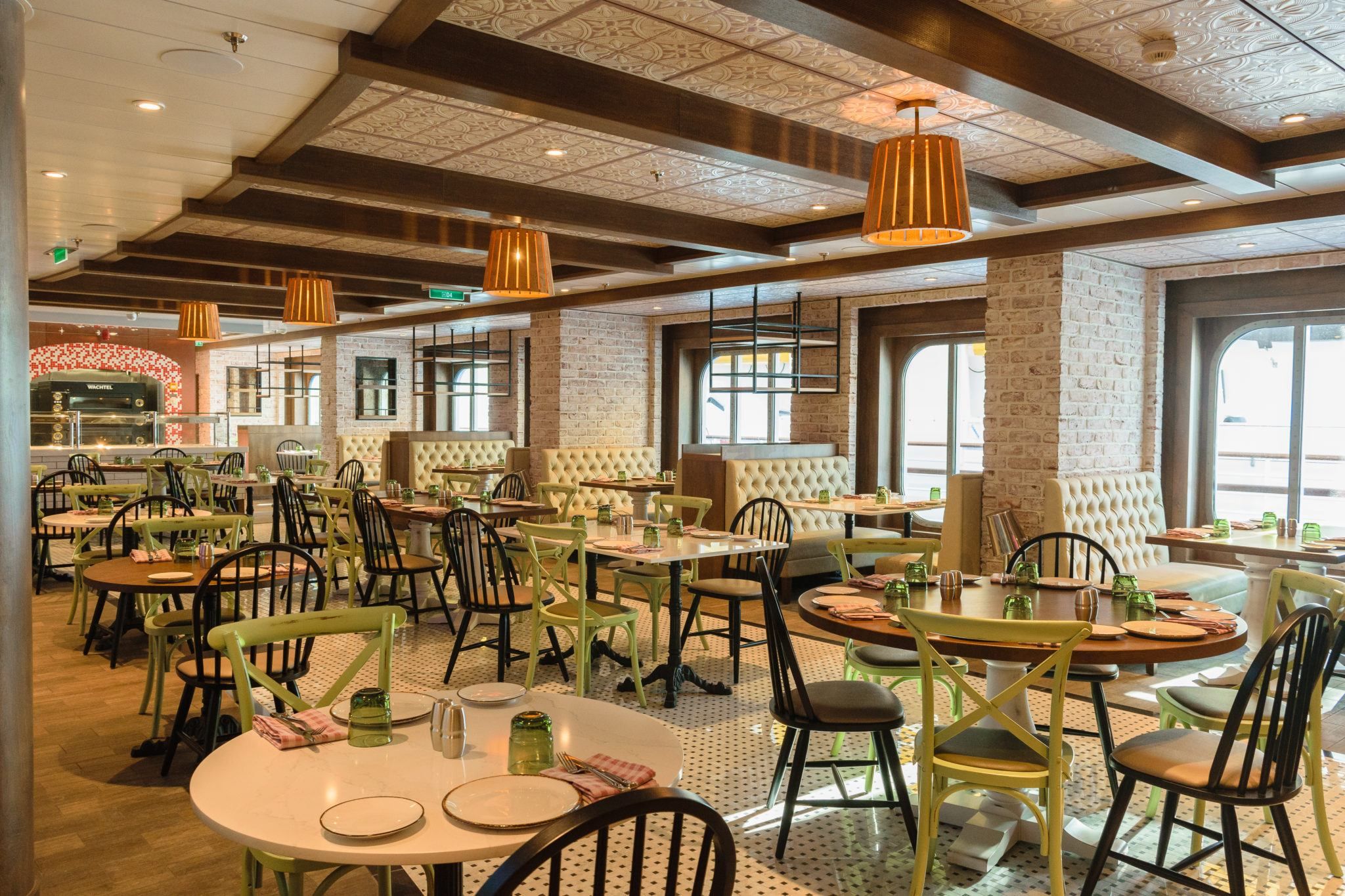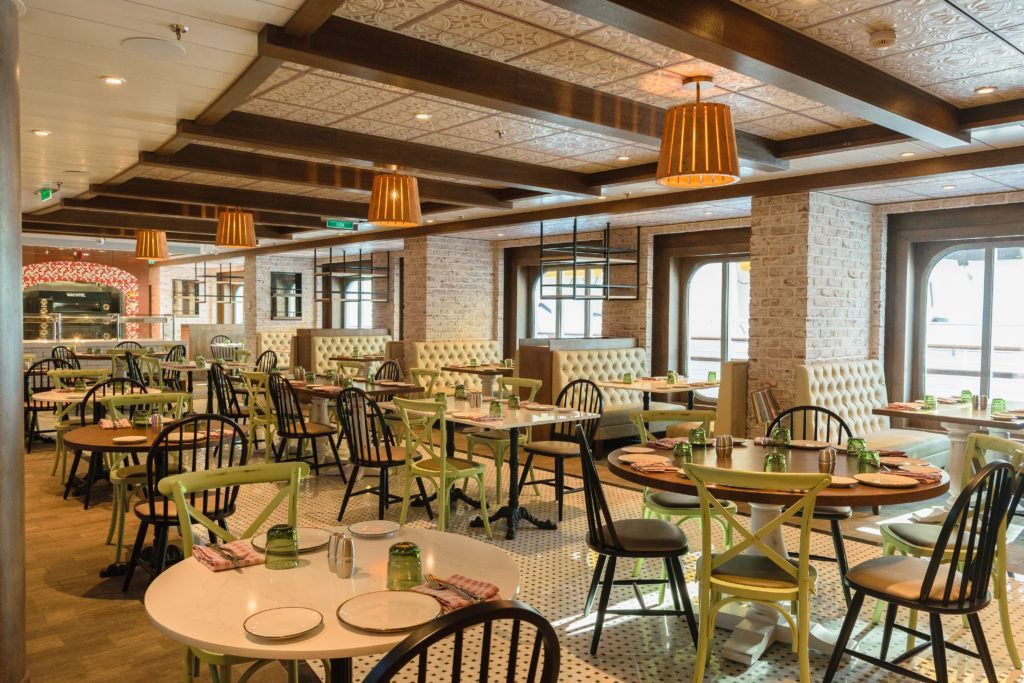 On the Royal Esplanade, there is a Crown and Compass Pub where there used to be a Michael's Genuine Pub originally on Anthem (but they have since changed the concept on that ship).
As this is a new ship, everything was in tip-top shape. They had fancy new carpeting everywhere. There were also some really cool interactive digital art boards on Deck 4.
Something I haven't seen before were touchless controls for the elevators. You don't have to touch the buttons- just hover a finger near the button and it lights up.
Odyssey of the Seas is a great compliment to all of the other ships in the fleet. Although this was a brand-new ship, it felt just about as clean and fresh as any other ship in the fleet. The most obvious difference though is the ship exterior. There is no mistaking Odyssey of the Seas is a brand-new ship by looking at the exterior. It's flawless.
Related Post: Guide to Royal Caribbean Ship Classes
First Impressions of Odyssey of the Seas: Healthy Cruising Protocols and Observations
This ship sailed out of Fort Lauderdale, Florida. Like all Royal Caribbean Group (RCG) sailings, guests need a pre-cruise COVID test, regardless of vaccination status. Guests needed a negative COVID test taken no more than 3 days prior to sail date.
I signed up for an antigen test at the local CVS on Wednesday for the Saturday cruise. I got the results in 20 minutes. All guests were not required to be vaccinated due to a new Florida law prohibiting business operating in the state from requiring vaccinations.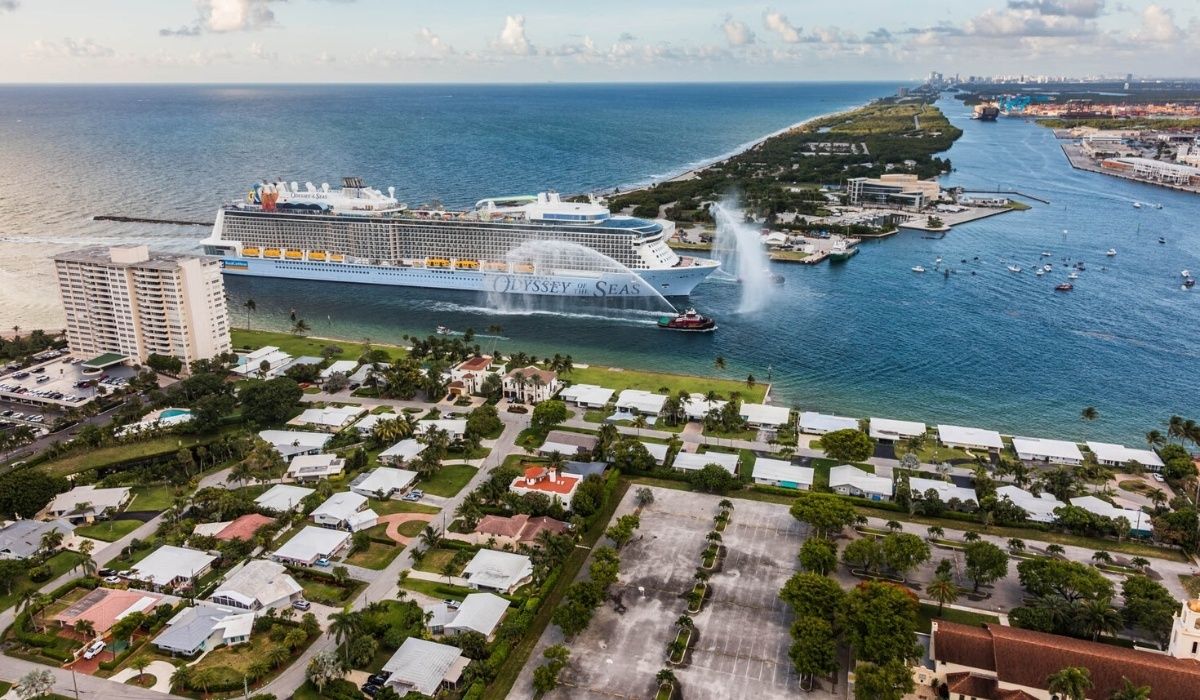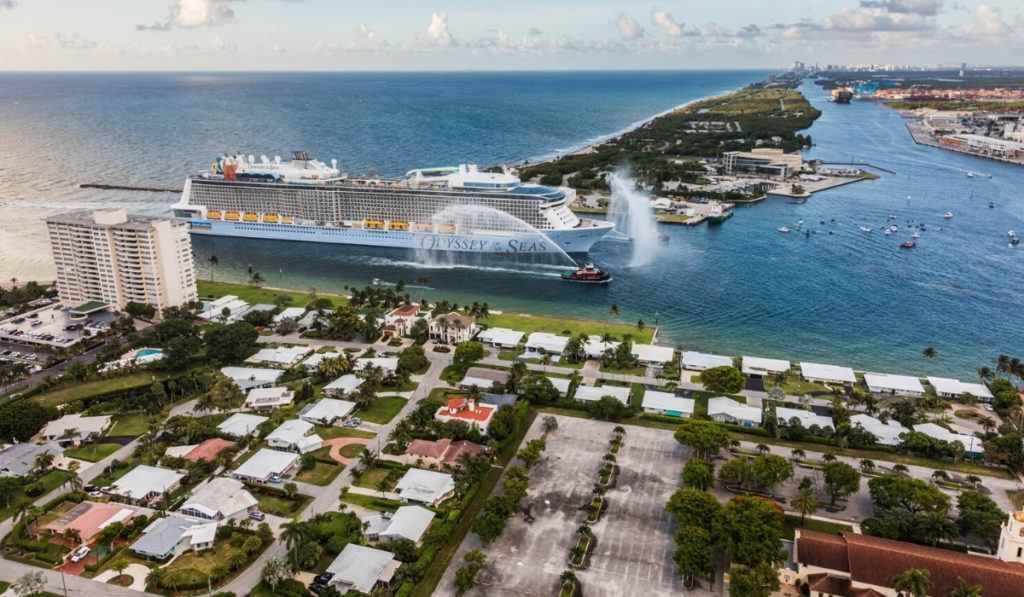 Although, unvaccinated guests ages 12 and older needed to undergo additional antigen tests at check-in, mid-way through the cruise, and at the end of the cruise (at a cost of approximately $174 per person). Children under 12 did not need to pay any additional fees.
In addition, there were certain venues and showtimes open to vaccinated guests only. Shows were available for all guests, just at different times for vaccinated/unvaccinated guests. In some cases where there are 2 levels of the venue, unvaccinated guests would be at the upper level and vaccinated guests would be at the lower level. An example of some venues open to vaccinated guests only include the casino and the Crown and Compass pub.
ALL guests needed to wear masks inside the ship in all public spaces. The only times guests could remove masks indoors were at venues designated for vaccinated guests only, and while seated and actively eating or drinking. Guests did not need to wear masks out on the pool decks.
I am happy to report that just about everyone I saw did comply with the mask requirement.
Due to local requirements, guests needed to wear masks in Mexico as well. So, everyone exiting the ship at these ports needed to mask up. Guests did not need to wear masks at Coco Cay. However, ALL crew wore masks at all times (except the Flow Rider staff).
It was interesting to see that they had a UV air sanitizer in each elevator. Further, the elevators were limited to 4 guests at a time. Crew also sprayed each hallway of every deck with air sanitizer between 2 and 3 AM each day.
Of course, throughout the ship, they promoted social distancing by blocking off seats, tables, etc. There was no social distancing to speak of in the casino as it was a vaccinated only venue.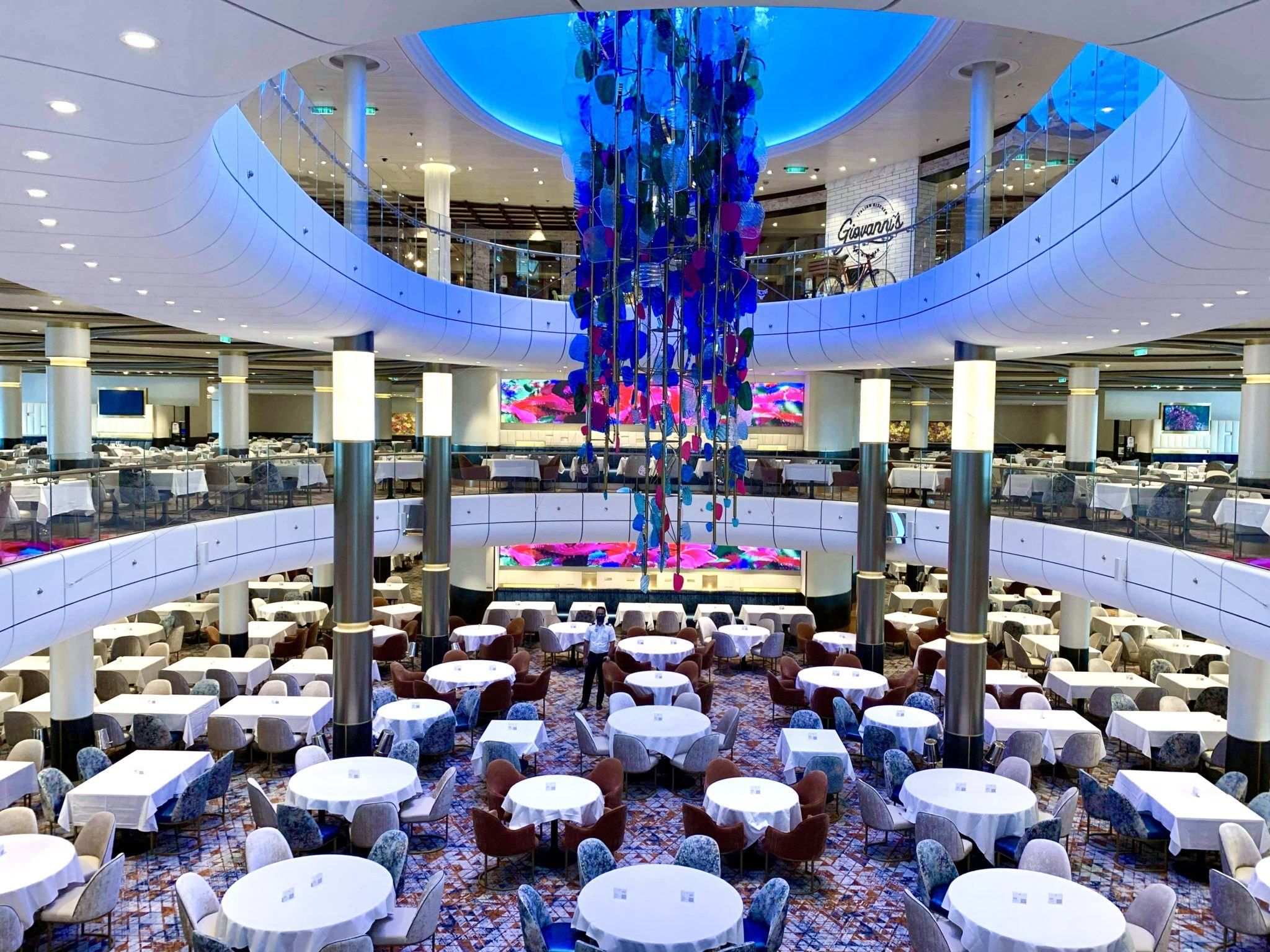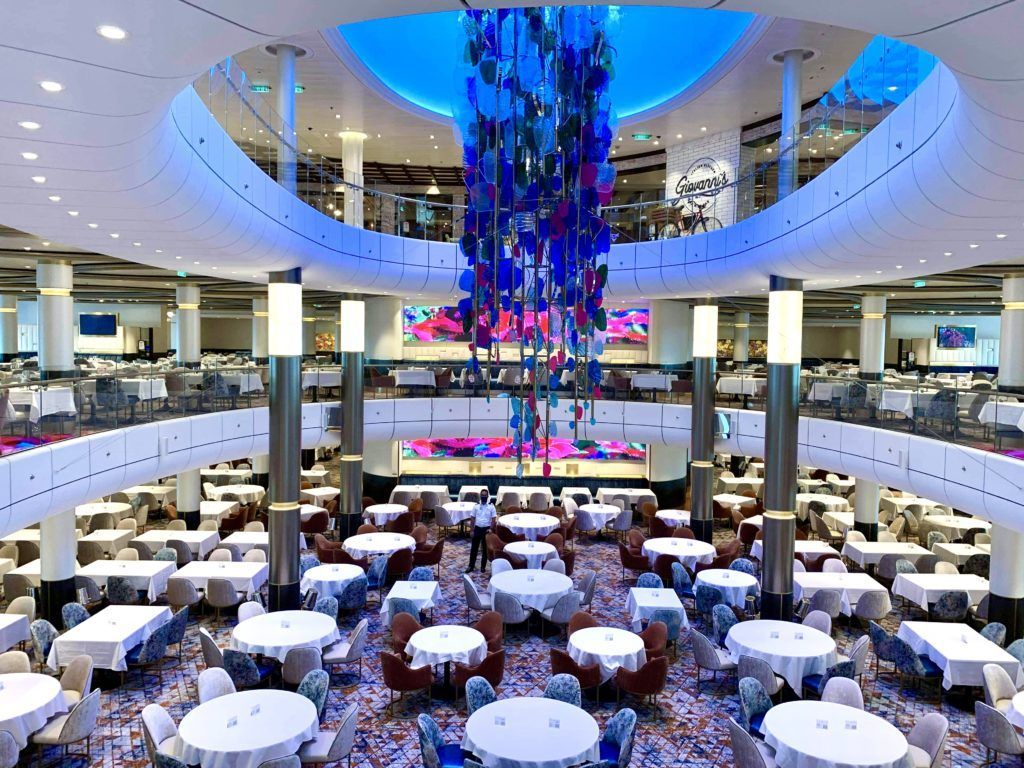 The Diamond Lounge was open and limited to 24 guests. I never did see it come close to that number though. There were still coffee and snacks in this lounge; although, a crew member served us, like in the Windjammer.
The Windjammer Marketplace was open only for breakfast and lunch, and the crew plated our food. No more guests handling the serving utensils. I like this because now I can carry a drink and my plate. It's much easier (and sanitary) than before.
Finally, it is interesting to note that Royal Caribbean ships are currently sailing at around 50% occupancy or less. This enables social distancing. Our ship was around 37%. Strangely, there were times it felt like more than that, but the guest count was around 1,600-1,700 guests.
Related Post: Masks and Testing for Cruises Are Back
Muster Drill
The muster drills of old have been replaced by e-Muster which is one of the best changes ever.
All you have to do is watch the short safety video on the Royal App and visit your assigned muster station anytime before 6 PM on boarding day. They scan your card, and you are done. You can even bring a drink!
None of the venues shut down like before. It really makes it seem like we get more time cruising now on Day 1.
Disembarkation
At the end of the cruise, disembarkation is easy. Now, we just wait in our staterooms and watch the TV. Once it indicates your luggage tags are being called, you just head to the exit.
I wish they actually announced it over the TVs once a new luggage tag could disembark. For now, you have to just keep watching the TV until your status changes, indicating its time to depart. This procedure prevents groups of people from gathering together.
First Impressions of Odyssey of the Seas: Entertainment
Two70 Lounge
The signature venue on Quantum Class ships is the Two70. This multi-use space is home to shows, trivia, captain's corner, and even the 70's Disco Inferno party. Adjacent is the Café Two70. It's convenient to get some food, coffee, and snacks (complimentary) from this café and sit in the Two70 for daytime views, trivia, or just relaxing.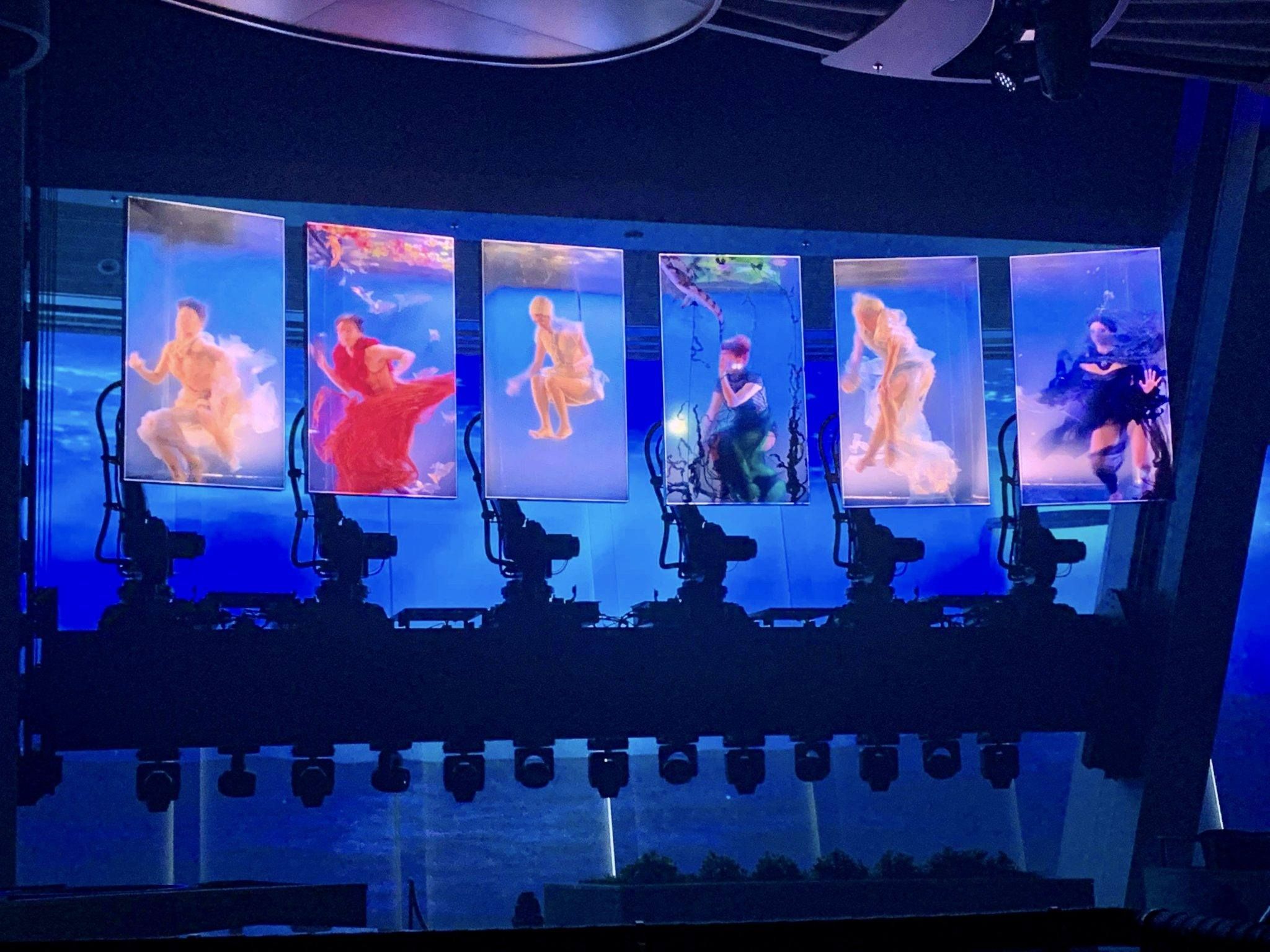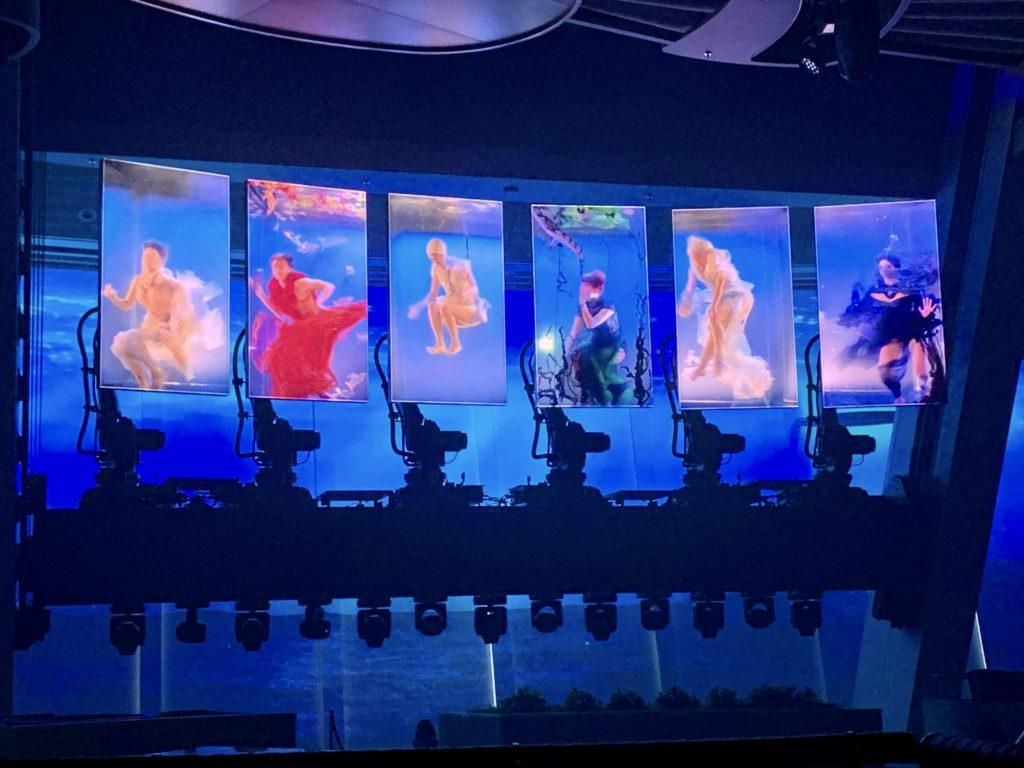 It seems the café is closed around showtimes. I think it is to avoid people going back and forth from the café to the lounge and also to prevent people from bringing food into the lounge during shows.
There is one signature show on Odyssey, The Book: Seven Chapters, One Adventure. It was fantastic with all the aerial acts, dancers, singing, and even a contortionist. Don't expect a plot or story line. There is an overall "theme" or meaning, but it's not like a regular show.
There is also a "demonstration" type show, "The Two70 experience", that the Cruise Director hosts. He explains all the capabilities of the technology and shows a new vignette called "Oceanides". This demonstration is a must-see.
Interesting Facts About Two70
The cost to build this space was $37 million dollars (I remember when the same lounge on Anthem was built in 2015, they said it was around $25 million).
The lounge is the same on all Quantum class ships, but each new build takes advantage of newer technology. Imagine how much better iPhones are today compared to 2015. Was the iPhone 5 the hot new phone back in 2015?
The feature screens are the Vistarama, which is the projection surface across the entire 270 degree windows. The projection onto this screen is 12K resolution! For comparison, the crisp resolution of IMAX is 4.5K.
Then, there are the 6 robotic screens. Each screen has 6 axes, and each axis has 36 additional axes for virtually unlimited maneuverability. These robotic screens cost a total of $7 million dollars.
RCG spared no expense for this venue. In fact, the engineer who designed the software for this lounge is the same man that developed the software for the Mars Rover.
Related Post: Our Adventure of the Seas Bahamas Cruise Review 2021
Main Theater Shows
There is no "Broadway" show on Odyssey, just yet anyway. The production show for the 6-night sailing is "Showgirl: Past, Present, and Future". This is the same show that is on Navigator of the Seas and at least one other ship in the fleet. I've seen it several times, so I did not go to see it on Odyssey. Then, there are the typical comedian/juggler, musical, and magician acts. These may vary per cruise. I also did not see any of these shows this time.
Activities
Odyssey of the Seas has no shortage of activities. There is a Flow Rider surf simulator and a simulated sky diving experience called Ripcord by iFly. There is also the North Star observation capsule which lifts you up 300-feet above sea level and the Sky Pad virtual reality bungee jumping experience.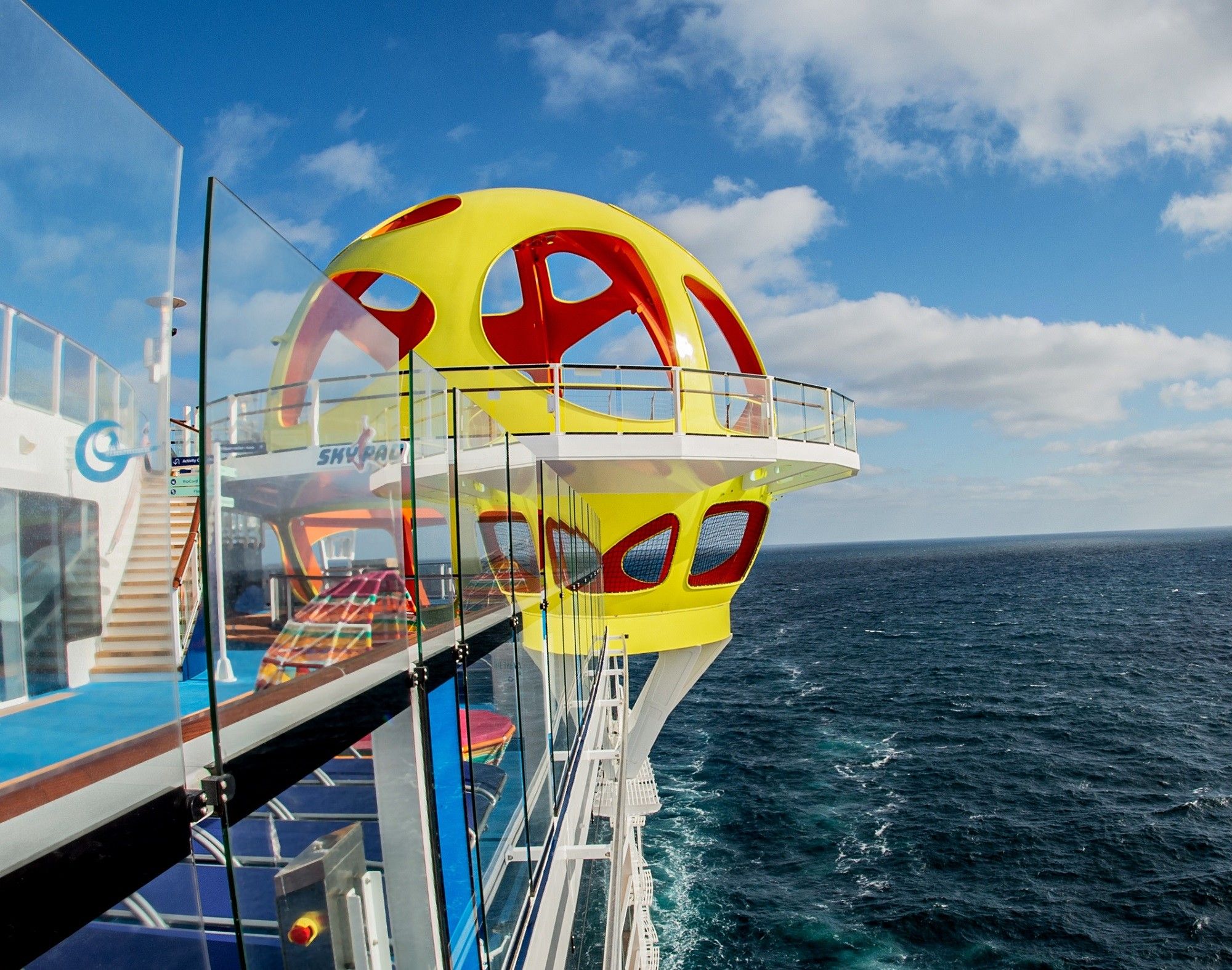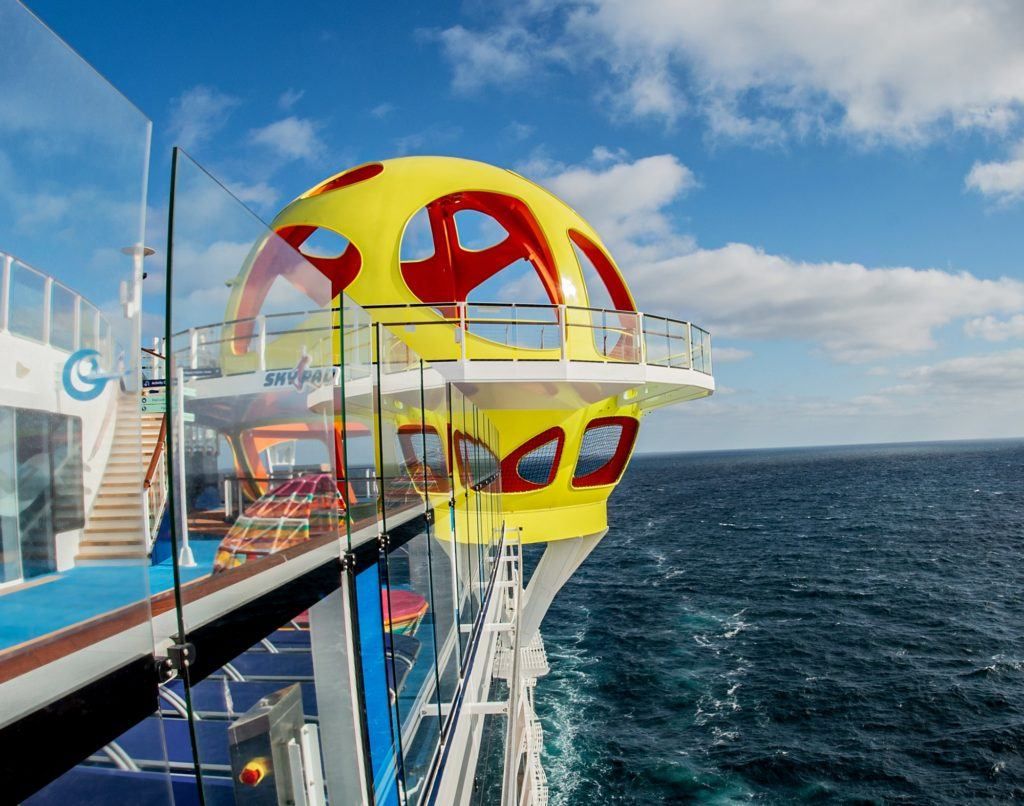 Not to mention, there is the Sports Plex which is a multi-use space featuring bumper cars, basketball, pickleball, table tennis, Club Red party, and other uses. There are also numerous X-Box consoles with large screens.
Overlooking the Sports Plex on the upper level is the Playmaker's Sports Bar and Arcade.
One of the most unique and newest activities is a 4-D Virtual reality experience, Zone Zero. Unfortunately, by the time I attempted to sign up for Zone Zero, it was fully booked. I will be back on this ship next month, and I will make sure to sign up as soon as I get onboard.
People commonly ask "what are the charges for these activities?". I will discuss only the activities which have a cost associated with them.
The Ripcord is free on port days and $49 on sea days. When it's free you get one minute of flight time. When you pay, you get an "extended experience", which I'm not sure what that means.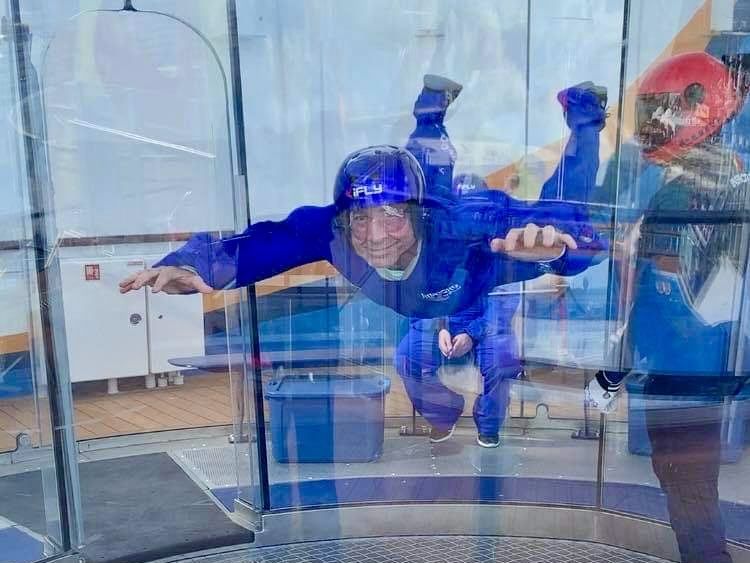 The North Star is free on port days and $29 on sea days. It seems to me they would want to reverse the days they charge. I would be more interested in going up while the ship is in port so I can see the port better.
The Zone Zero was free during my sailing but that's only because they were still testing it out. They indicated that the charge would be $18 for this experience at some point, possibly the next voyage.
First Impressions Odyssey of the Seas: Food!
There are lots of food options on this ship. Complimentary options include the Main Dining Room, Coastal Kitchen (only for Suite and Pinnacle guests; Junior Suite guests can access this for dinner only), El Loco Fresh (poolside), Solarium Bistro, Sorrento's Pizza, Café Promenade, Café Two70, and room service (continental breakfast only).
Specialty dining includes Chops Grille, Giovanni's Italian Kitchen, Giovanni's Wine bar, Izumi Sushi, Teppanyaki, Chef's Table, Wonderland, and Playmaker's Sports Bar and Arcade. There's also a stand-alone full service Starbucks on the Royal Esplanade.
I will review the places where I ate.
Coastal Kitchen
First up- Coastal Kitchen. As a Pinnacle Club Member, I had access to this restaurant. I ate most of my lunches and dinners here. The first night, the venue offers filet mignon. It was one of the best steaks I've ever had. It could not have been any better.
Most of the other nights, I opted for salmon or other fish because I don't eat a lot of fish at home. Everything was excellent.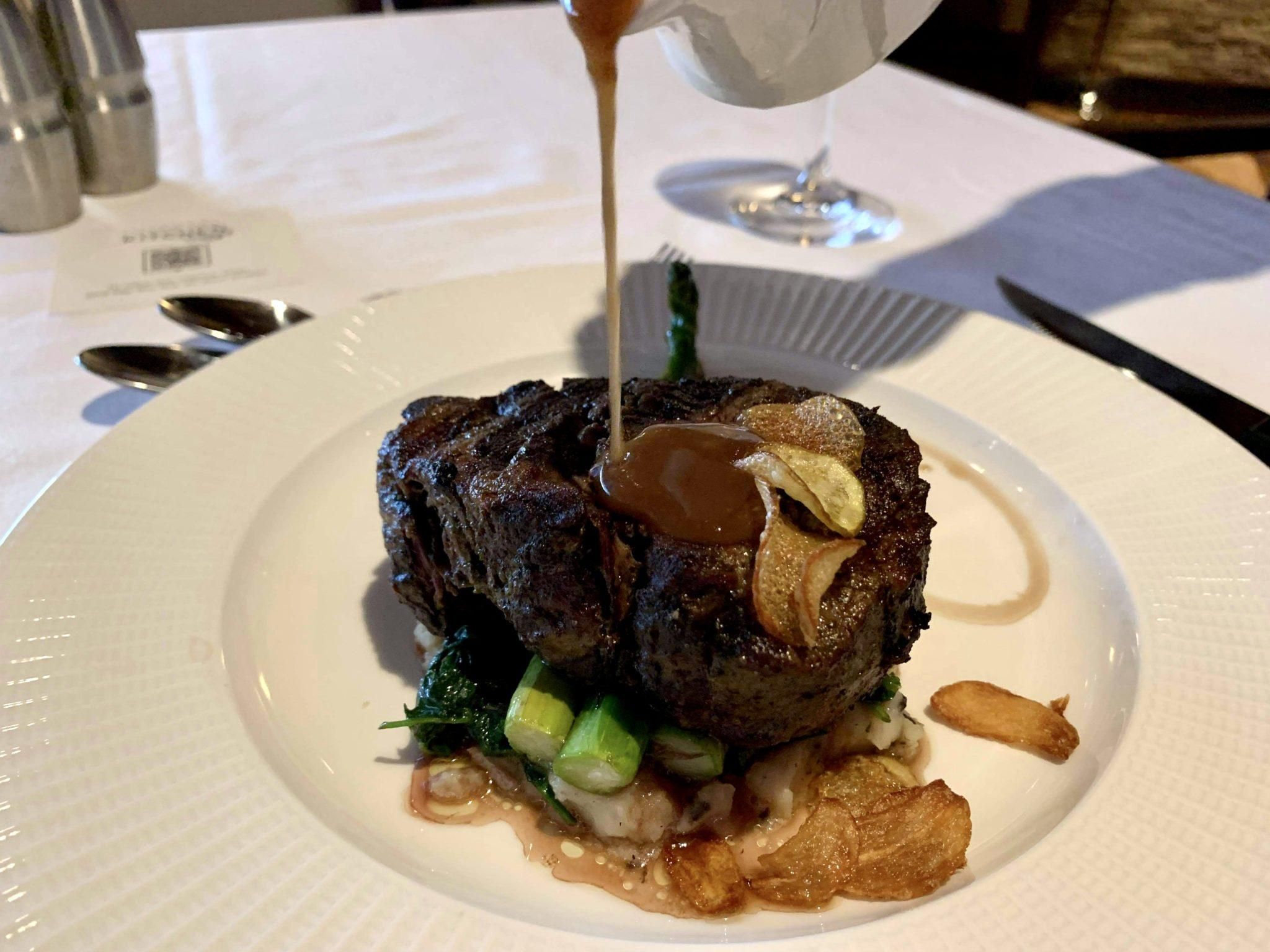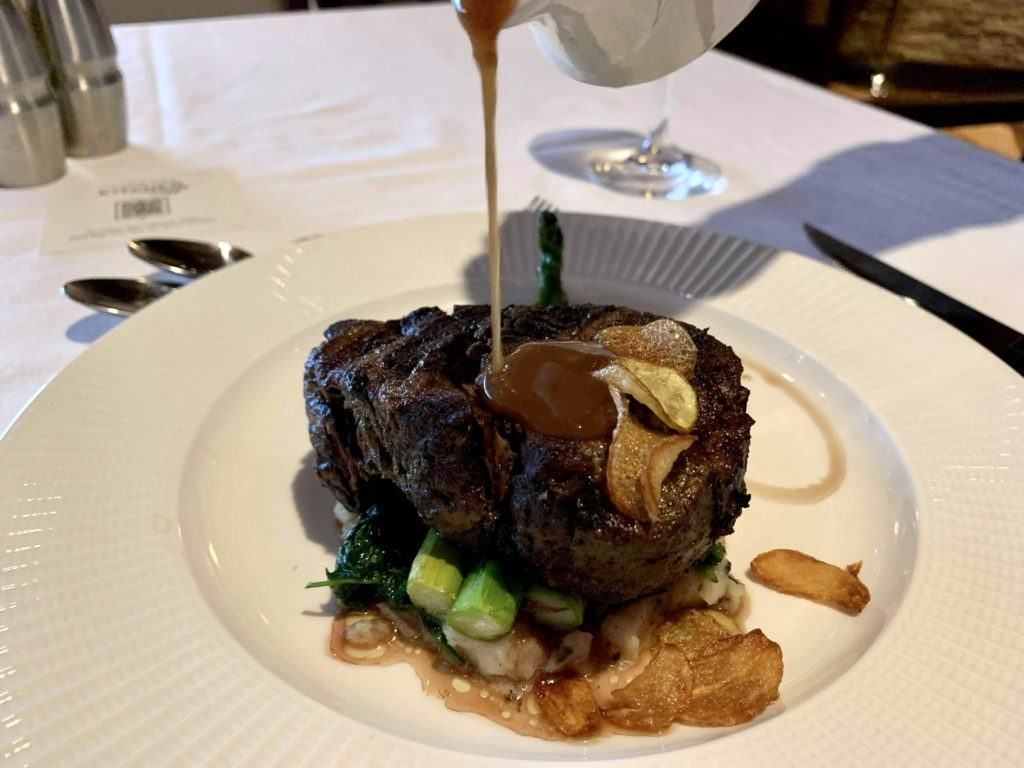 Although Coastal Kitchen is complimentary, I still felt the urge to leave a cash tip after very meal. The crew were amazing here and everywhere for that matter.
I have to mention a couple of standouts at lunch as well, the Serrano Ham-Wrapped Dates and the Flatbread (pizza). The Ham-wrapped dates are one of my favorite appetizers of all time. They are served warm with Manchego Cheese, and they are the perfect combination of savory and sweet. It may sound different, but you must try these if you ever eat lunch at the Coastal Kitchen.
Next up is the flatbread pizza. I was disappointed in the preparation of the flatbread. It was very different than I had at Coastal Kitchen on other ships. It's supposed to have a thin crisp bread and not a pizza crust. It's also supposed to be light, California Coastal cuisine. What they served me was very different.
I take photos of all the food on all the ships. So, I showed the chefs what it's supposed to look like. They tried again, but it was only a little better. The next day, they tried again. THIS time they came very close. That was a great gesture to make it right for me.
Giovanni's Italian Kitchen
The only specialty dining I tried was Giovanni's Italian Kitchen. The décor reminded me of the Jamie's Italian on Anthem of the Seas. The chairs were padded, unlike the hard chairs on Anthem. The menu was brand new, and features the very first pizzeria-style pizza in the Royal Caribbean fleet (I don't count Sorrento's as real hand made pizza since the crust on that is pre-made).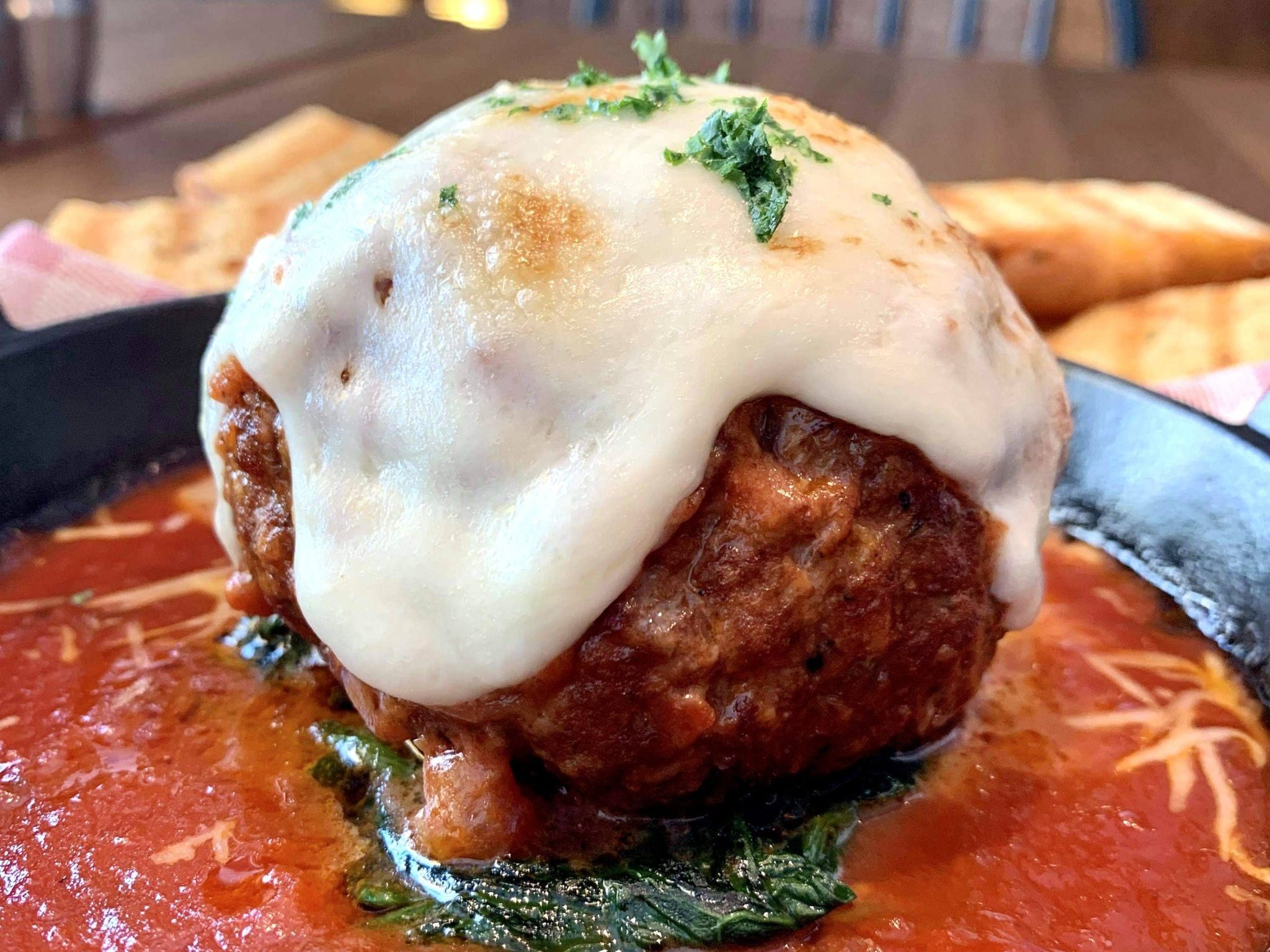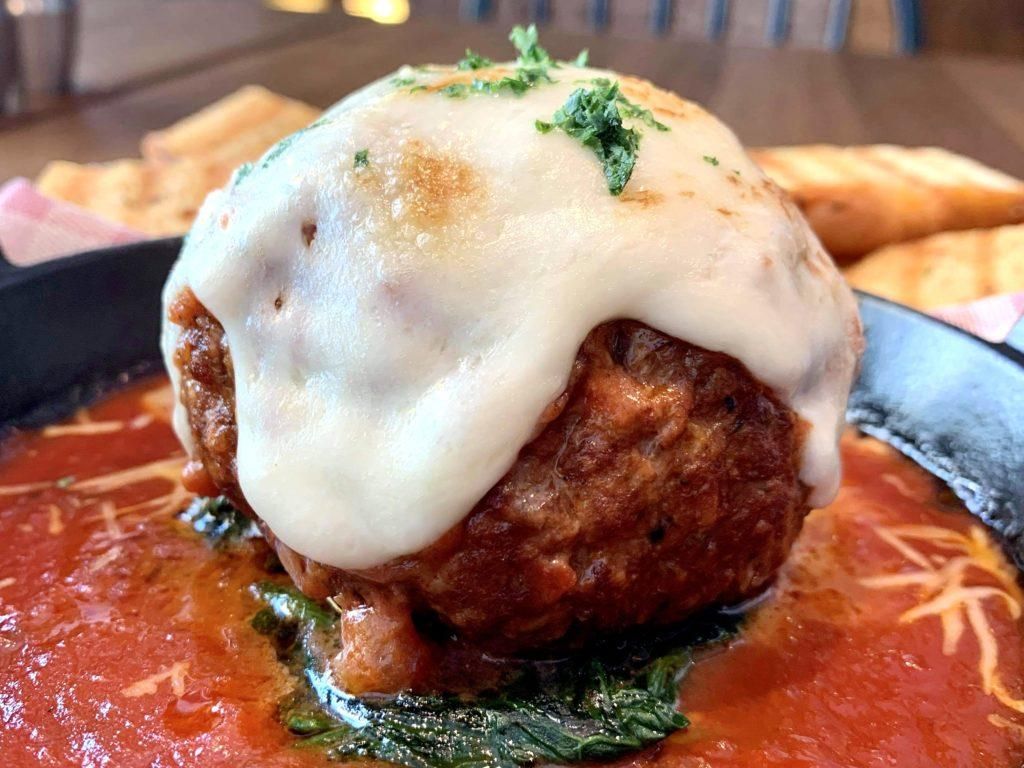 I dined here for lunch and decided to try several items. The "Gigantic Meatball" appetizer was certainly big enough for two. It was a miss in my book. First, it was covered with a thick layer of sliced mozzarella cheese. Further, the meatball itself was just ok to me. I am Italian and grew up with my Mom cooking those homemade Italian meals.
My entrée was lasagna. I always love to sample lasagna at the Italian restaurants I visit. I didn't like this dish at Jamie's Italian because it was always swimming in a pool of sauce.
The lasagna at Giovanni's Italian Kitchen was baked in its own bowl and topped with more layers of sliced thick mozzarella cheese. This lasagna was also an effort (and a mess) to try to eat. The taste and texture was just ok. Though, I wouldn't order this again at Giovanni's.
I also just HAD to try one of the pizzas to see if there really is an authentic hand tossed pizza at sea. I ordered the Giovanni's Pizza that had mozzarella and ricotta cheeses and pepperoni. This pizza was a little better than the kind served at Sorrento's. The crust was a little better and was foldable. The toppings were also pretty good. I would order another one of these pizzas next time, just a different variety.
For dessert, I tried three of them- Cannoli, Chocolate Ravioli, and Tiramisu. I consider myself a connoisseur of cannolis and Tiramisu. The cannoli was good. Not the best I've had, but if I'm craving a cannoli, I would order this again. The big hit though was the Tiramisu. This was what I would call a "proper" Tiramisu. I can't imagine a Tiramisu could be any better than this one.
I don't know if it's because they liked me or I was the only one there, but they gave me a complimentary Lemoncello at the end of the meal. Oh, I forgot to mention they have Peroni and Birra Moretti Italian beers on this menu as well. I had the latter. It was good.
Related Post: Best Restaurants on Royal Caribbean
Sorrento's Pizza
For snack time late at night, I had the small sandwiches from the Café Promenade (with a little dessert) and also pizza from the Sorrento's located adjacent to the Café. This is on Deck 4, on the Royal Esplanade. None of the snacks here disappointed. The pizza was on par with the other ships.
Café 270
Café 270 is what I call a hidden gem. It should not be overlooked for snacks, lunch, or breakfast. It's home to the famous Kummelweck Roast Beef Sandwich and specialty coffees. At breakfast, it serves a variety of breakfast burritos. Everything here is good, and this venue offers a nice change from the Café Promenade.
Solarium Bistro
The Solarium Bistro serves breakfast, lunch, and dinner, though not all meals on all days. Breakfast is the typical buffet with made-to-order omelets also. I never dined here for lunch, but for dinner, they have the same items every night. It's all buffet-style with mainly Greek/Mediterranean foods. Salmon, lamb, hummus, babaganoush, baklava, and some other foods I can't pronounce or remember. It is a nice change of pace though. The times I went, the venue was relatively empty.
Recap: First Impressions of Odyssey of the Seas
The ship is amazing! There is so much to do onboard Odyssey of the Seas. There are plenty of shops, activities, parties (they had Club Red and 70's Disco Inferno but did not have "The Quest"), trivia, and games.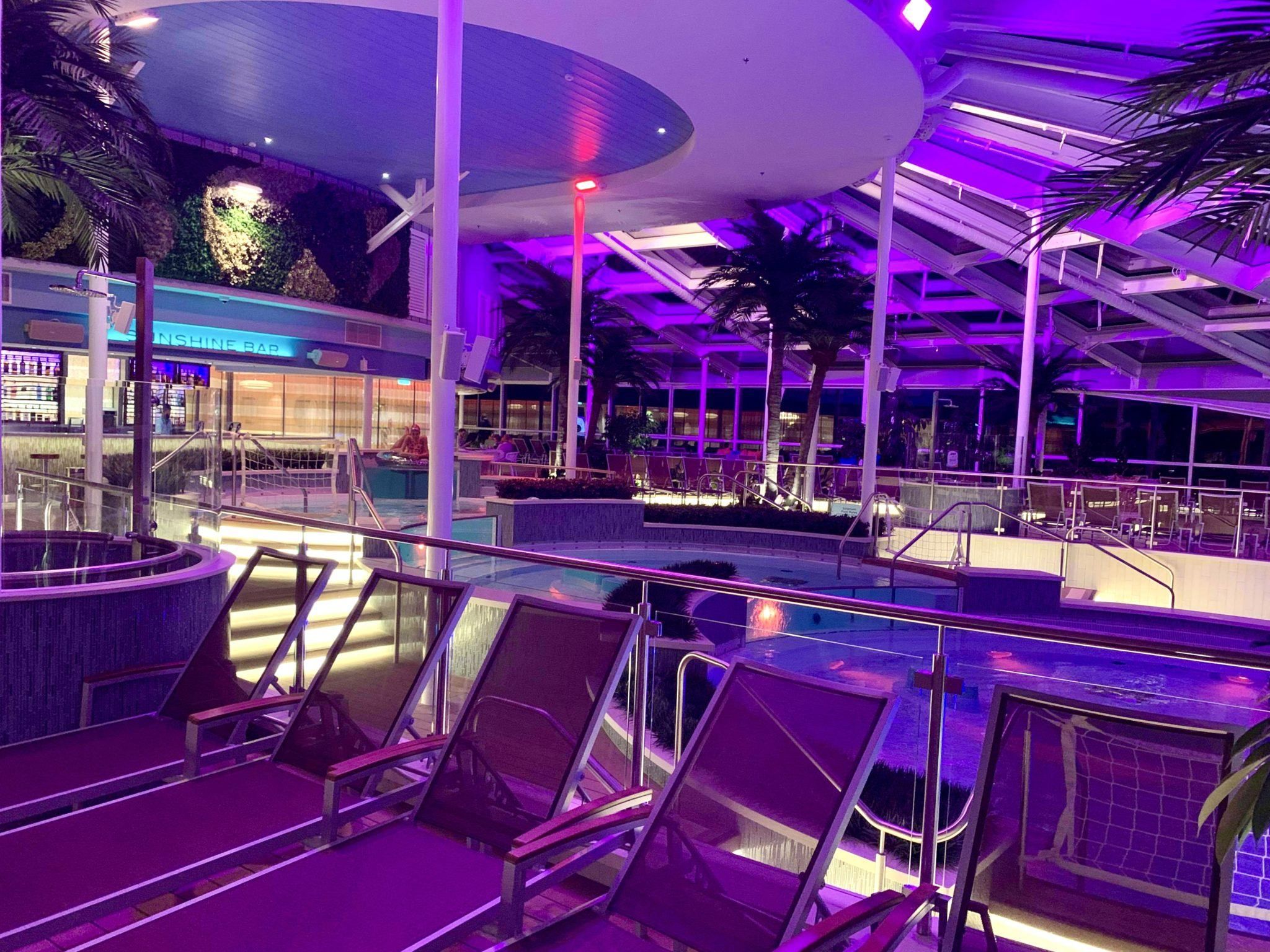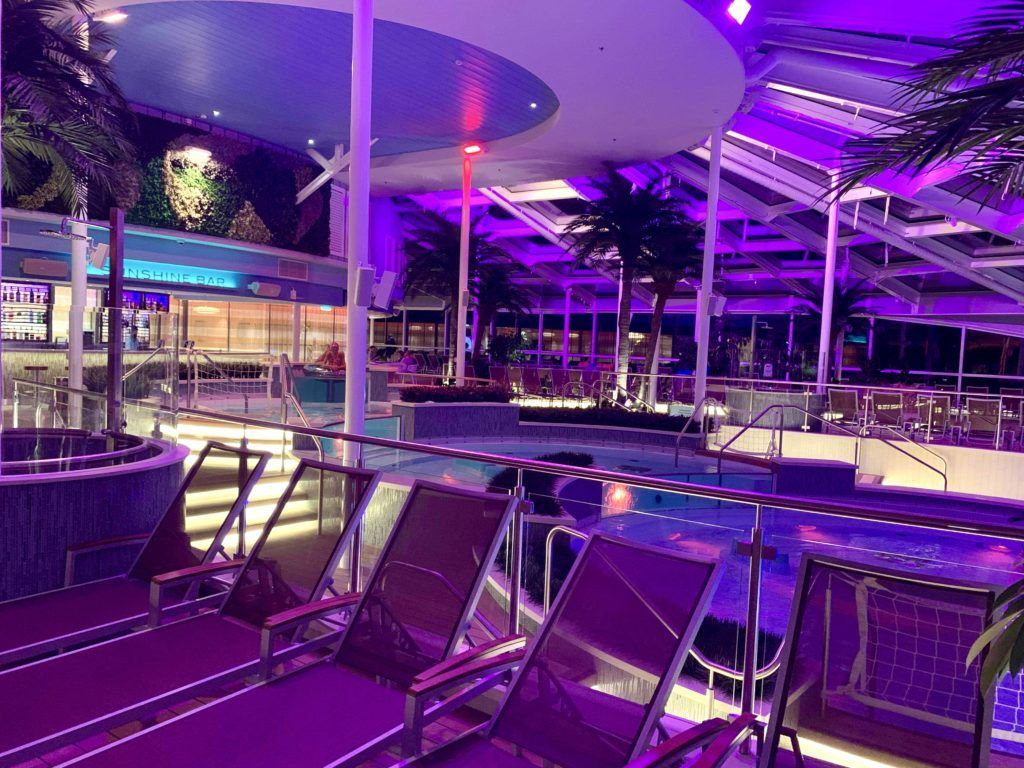 The casino is huge, and I was in there more than I should have been. The good news is that I didn't notice any smoke. The host told me there is no smoking while the casino is closed. Smoking is only allowed for people actively playing in the designated smoking side of the casino.
I was working in my stateroom remotely for 4 of the days. Thus, I wasn't able to participate in a lot of things, but I did do the Ripcord and surfed a few hours on the Flow Rider (this Flow Rider is a new "inflatable" design with these raised seams which really impeded the way I ride. My board kept hitting these seams and making me fall; I will be making a comment about this to the company).
One of the changes I forgot to mention since the return to service is the new Crown and Anchor drink vouchers. To promote social distancing and over-crowding of the Diamond Lounge, Diamond members now get 4 drink vouchers per day good on any drink at any bar, just like a drink package. Diamond Plus members get 5 drinks; Pinnacles get 6 drinks. I call this the free "mini drink package".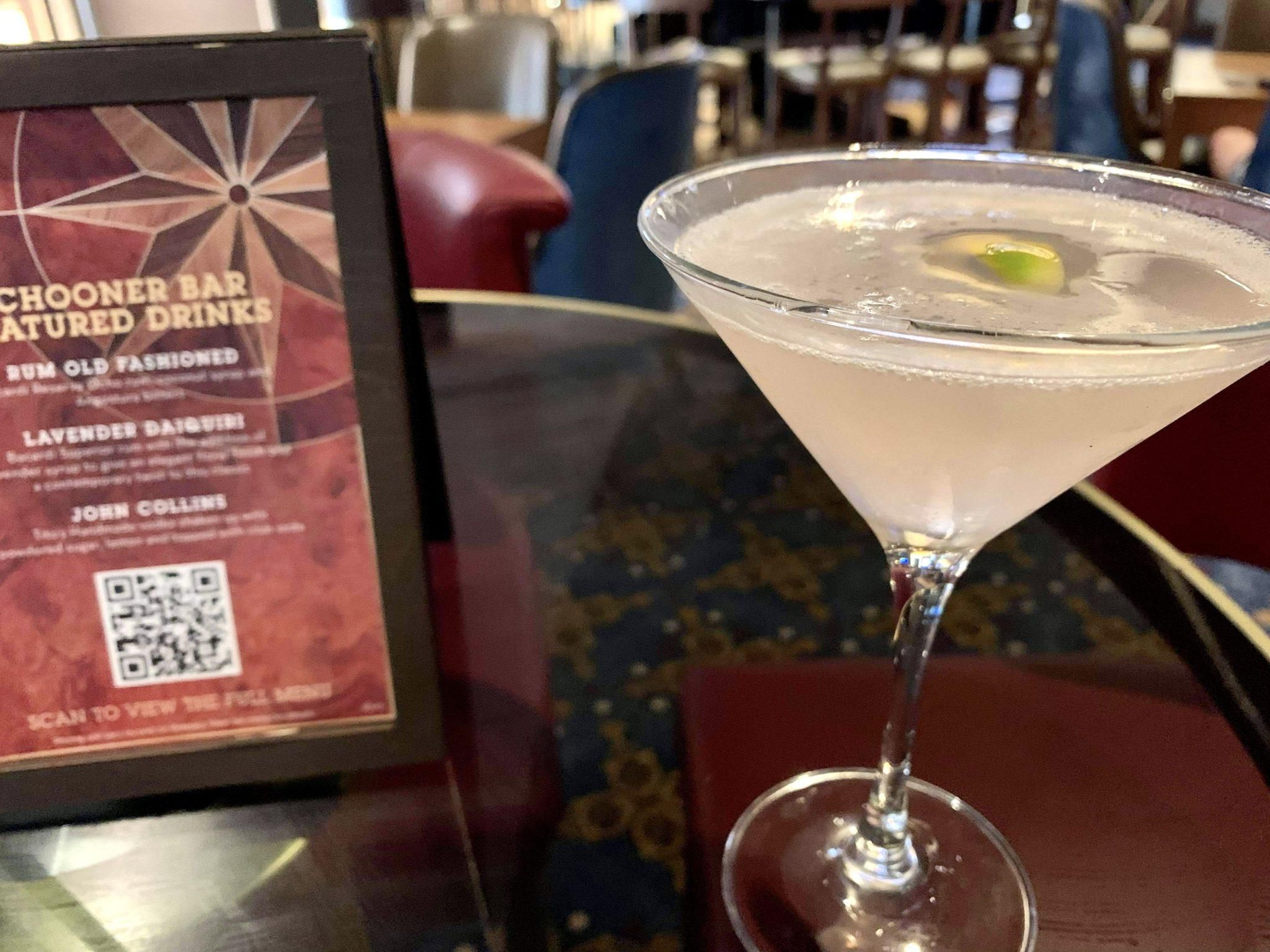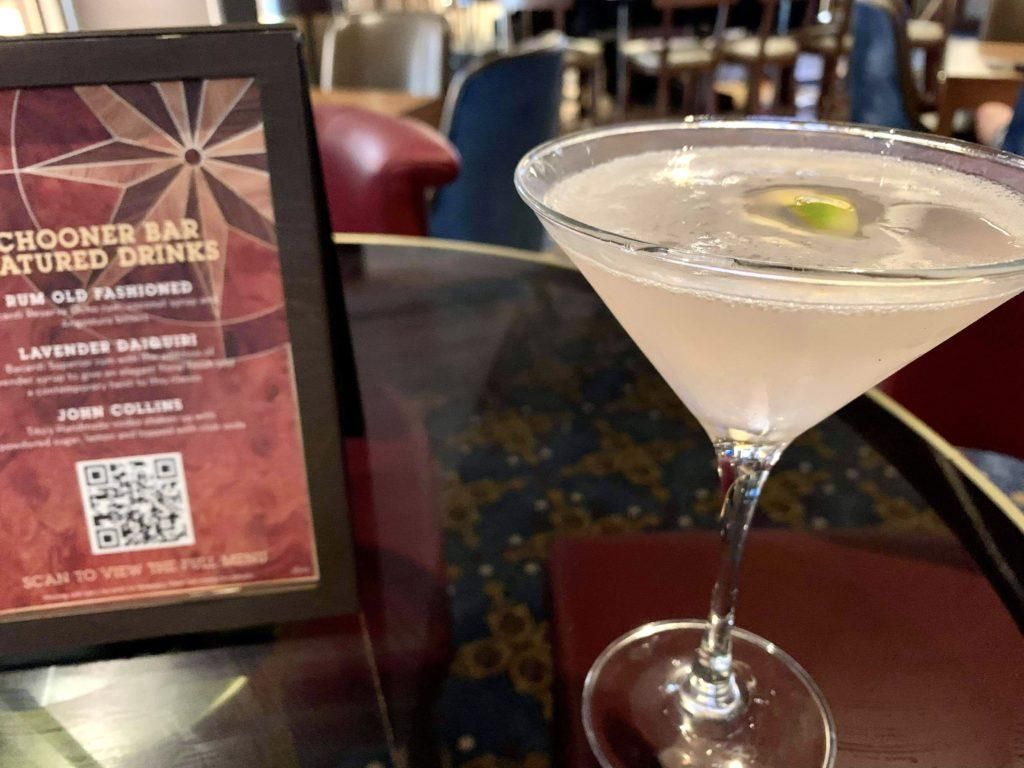 I enjoy trying the signature drinks at each bar with this new benefit. The Lavender Daiquiri at the Schooner Bar is my favorite. This benefit is now fleet-wide, and I really love it.
Related Post: Guide to Royal Caribbean Drink Packages
If you get a chance, book Odyssey of the Seas! The ship offers 6 and 8-night itineraries currently out of Fort Lauderdale and will be heading to Europe for a season in 2022. The 8-night itinerary visits Aruba, Curacao, and Coco Cay, so there are plenty of sea days on that itinerary to enjoy this ship.
Comments
What do you think of Nick's first impressions of Odyssey of the Seas? Do you have plans to cruise on this brand new Royal Caribbean cruise ship? Drop us an anchor below to share your favorite features on Odyssey of the Seas.