We have just returned from a sailing on Viking Ocean Cruises newest ship, Viking Jupiter. The sixth ship in the brand's ocean fleet, this vessel offers several of the same features as its predecessors. If you are debating whether you should book a cruise on this luxury brand, we have put together this list of the 20 things you need to know before taking a Viking Ocean Cruise.


The 20 Things You Need to Know Before Taking a Viking Ocean Cruise
Most Cruisers Can Pre-book Specialty Dining
Viking Ocean Cruises offers two specialty dining alternatives to the main dining room that are included in the cruise fare. These include an upscale Italian restaurant, Manfredi's, and the Chef's Table. Those who book a Deluxe Veranda (D2) or higher can make reservations at each restaurant pre-cruise. How far in advance you can make reservations and how many reservations you can make at each restaurant is dependent on your cabin category. The Chef's Table has up to 5 different menus that rotate every 2-3 days depending on the length of the sailing. You can also make additional reservations, depending on availability, once you board the ship.
You Need to Reserve Complimentary Shore Excursions
One of the great values of Viking Cruises is the inclusion of one shore excursion at each port of call. These excursions are typically walking tours or city bus tours. While these tours are complimentary, you do still need to make reservations. These tours are usually offered at multiple time slots throughout the day. Again, the booking time frame is based on your stateroom category. For our 8-night trip, there were 5 included shore excursions. We were able to book these 67 days before our sailing as we were staying in a deluxe veranda stateroom. Viking also offers additional shore excursions that you can purchase pre-cruise. Remember, there is limited space, and the popular tours and/or time slots do fill-up quickly.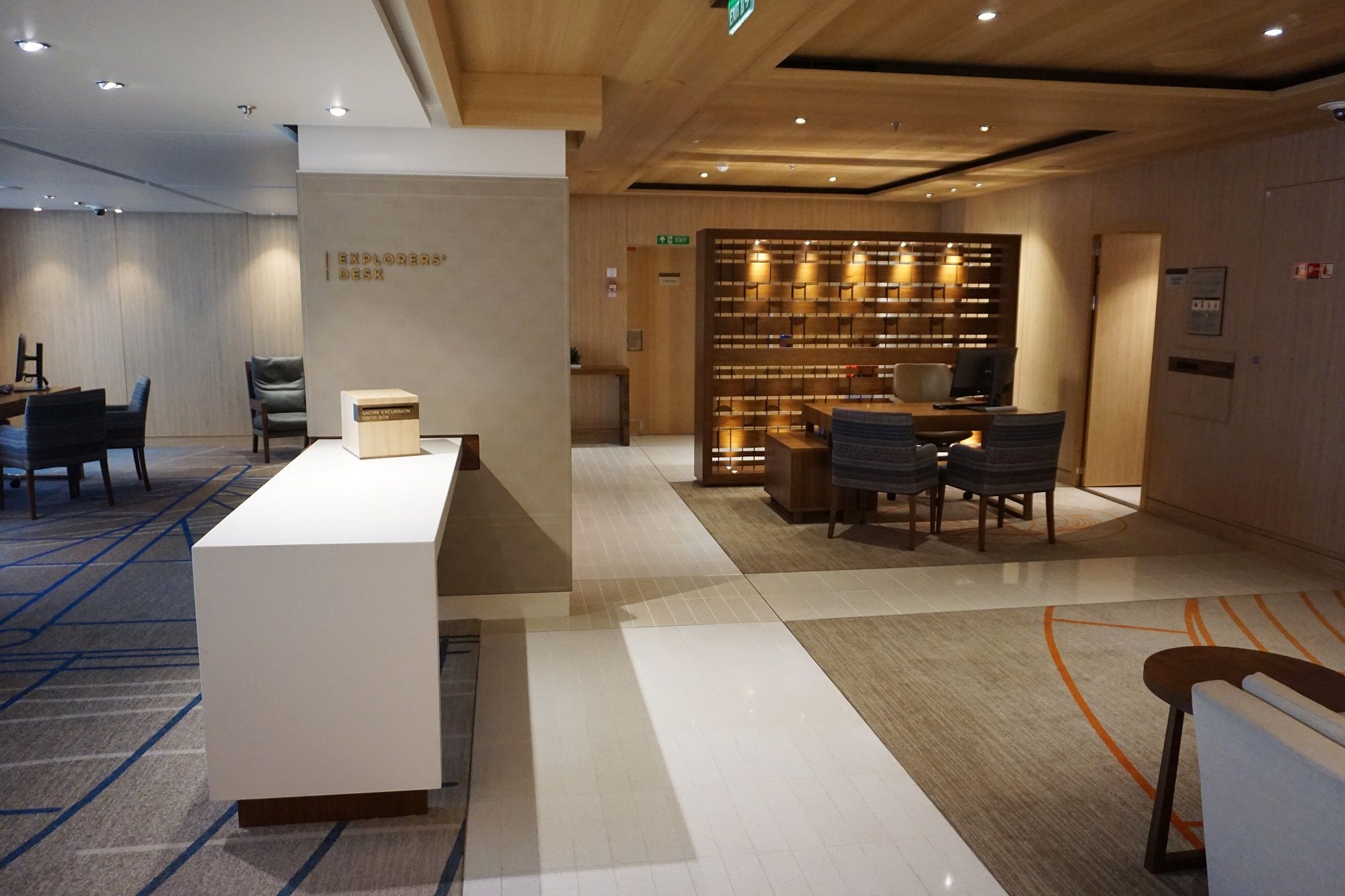 The Cruise Line Mails You Luggage Tags
Viking Ocean Cruises is one of the few remaining cruise lines that still mails your luggage tags to you. In fact, we only realized this when we went to the website to try to print them out a few days prior to our cruise. Unfortunately, we never received our luggage tags in the mail, but the airport transfer staff were able to assist in assuring that our luggage got delivered to the proper stateroom. The luggage tags are supposed to arrive around 30 days prior to your sailing date. So, keep your eye out for them. If you do not receive the tags, contact the cruise line.
Embarkation is Casual
Boarding a Viking Ocean cruise is different than your typical mega-ship embarkation process. Depending on your departure point, there may not even be a cruise terminal. Often times, boarding will occur ship side in tents or temporary buildings. We used the Viking airport transfer and were dropped off right at the ship. There was a quick passport check, and we were then ushered into a small line to receive our key cards, shore excursion tickets, and other necessary information. With a pass through security, we were onboard the ship with a champagne glass in hand within less than 15 minutes. This was definitely the most laid back embarkation that we have ever experienced.
All Rooms Have Balconies and Upgraded Amenities
Every stateroom on a Viking Ocean cruise ship features a balcony. The balcony is a good size and includes two chairs and a table. All rooms also have additional amenities, including premium toiletries that are regularly replenished by your stateroom attendant, larger showers, and heated bathroom floors. You also have a writing desk, plenty of outlets, including USB ports on each side of the bed, a flat screen television with simple controls, and a coffee maker.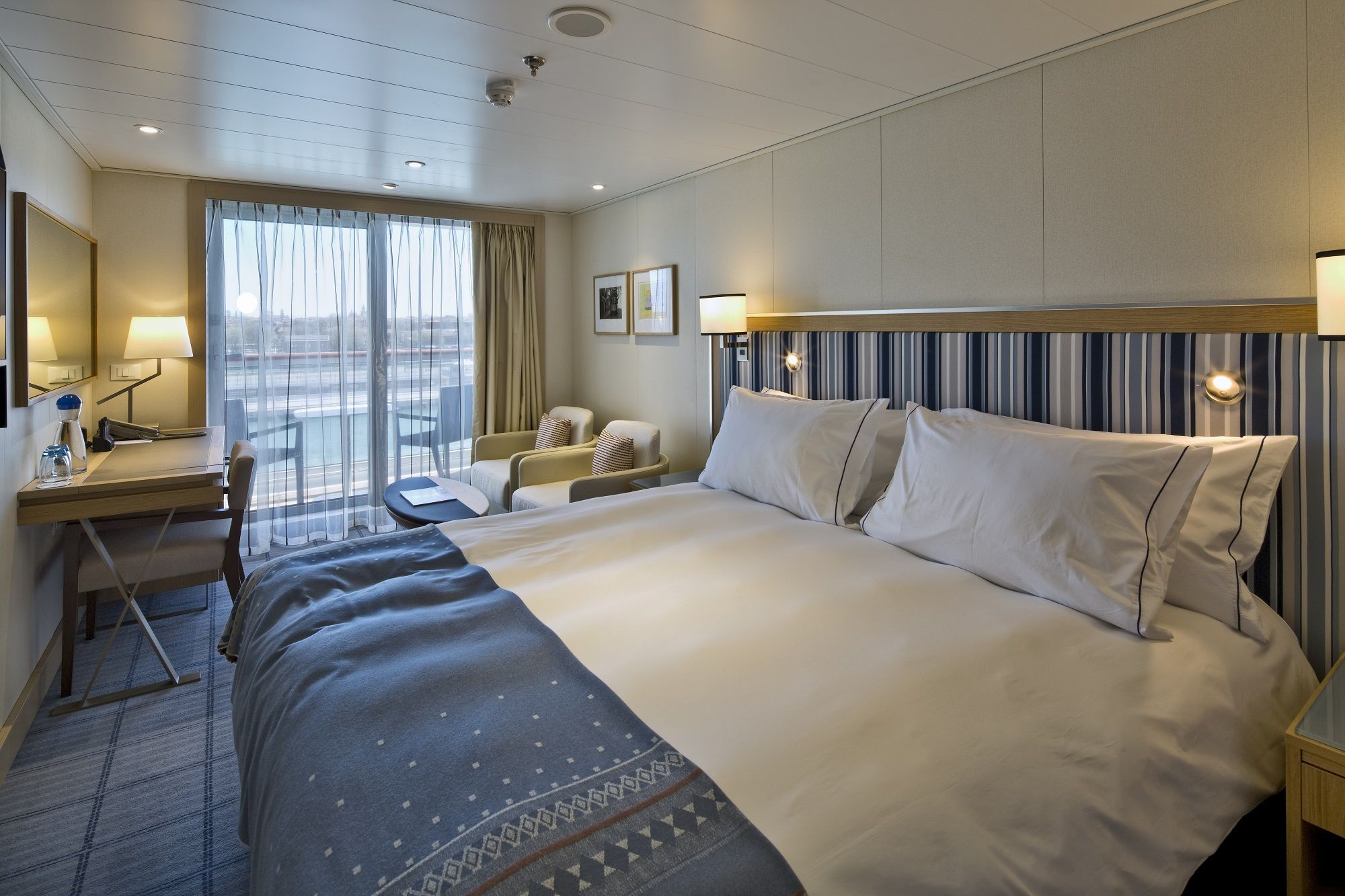 Most Itineraries are Port Intensive
Viking Cruises certainly lets you see the world in comfort. With a port almost every day and late day or even overnight stops at some ports, you will be going from sunrise to sunset. This enables you to gain a greater appreciation for the charming locations that you will visit, getting to immerse yourself further in the history and culture than you would on other contemporary cruise lines. However, this also means that you will probably be tired. We kept ourselves going with plenty of coffee (Good thing it's included!), and went to bed earlier than we typically do on a cruise.
Shows Are First Come, First Serve Seating
The main theater on Deck 2 will feature entertainment most nights of your trip. For our 8 nights, there was a Captain's Reception, a headliner act on two separate evenings, a local opera ensemble one night, an ABBA tribute, and a variety show on another evening. All of these shows are first come, first serve (no reservations are needed). Doors open 30 minutes prior to showtime. If you arrive about 20 minutes early, you should have no problem finding a seat.
Many Daily Activities Are Focused on Enrichment
The daytime activities on Viking Cruises will be very different than what you are used to on mainstream cruise lines. Some of these activities include a daily port talk, as well as enrichment seminars and lecturers. On our cruise, we had a historian, an astronomer (literally, a retired NASA engineer), and a cultural expert. These different experts offered a variety of talks and smaller Q&A sessions. Also, the onboard library is cultivated with selections that match the ship's itinerary, and there is even a planetarium onboard the ship. You will occasionally find a trivia session, but there will be no Bingo or belly flop contest on these cruises.
It is Open Seating in the Restaurant
Dinner is served from 6:00 pm to 9:00 pm every night in the main dining room. The Restaurant on Deck 2 has first come, first serve seating. You can not make reservations ahead of time. We did hear many cruisers trying to request certain tables or sections to have the same waitstaff, but it is not always possible. We usually dined around 6:30 pm and waited only about 5-10 minutes to be seated. At peak times, the line can be a bit longer, but the dining room is quite large for a ship of this size.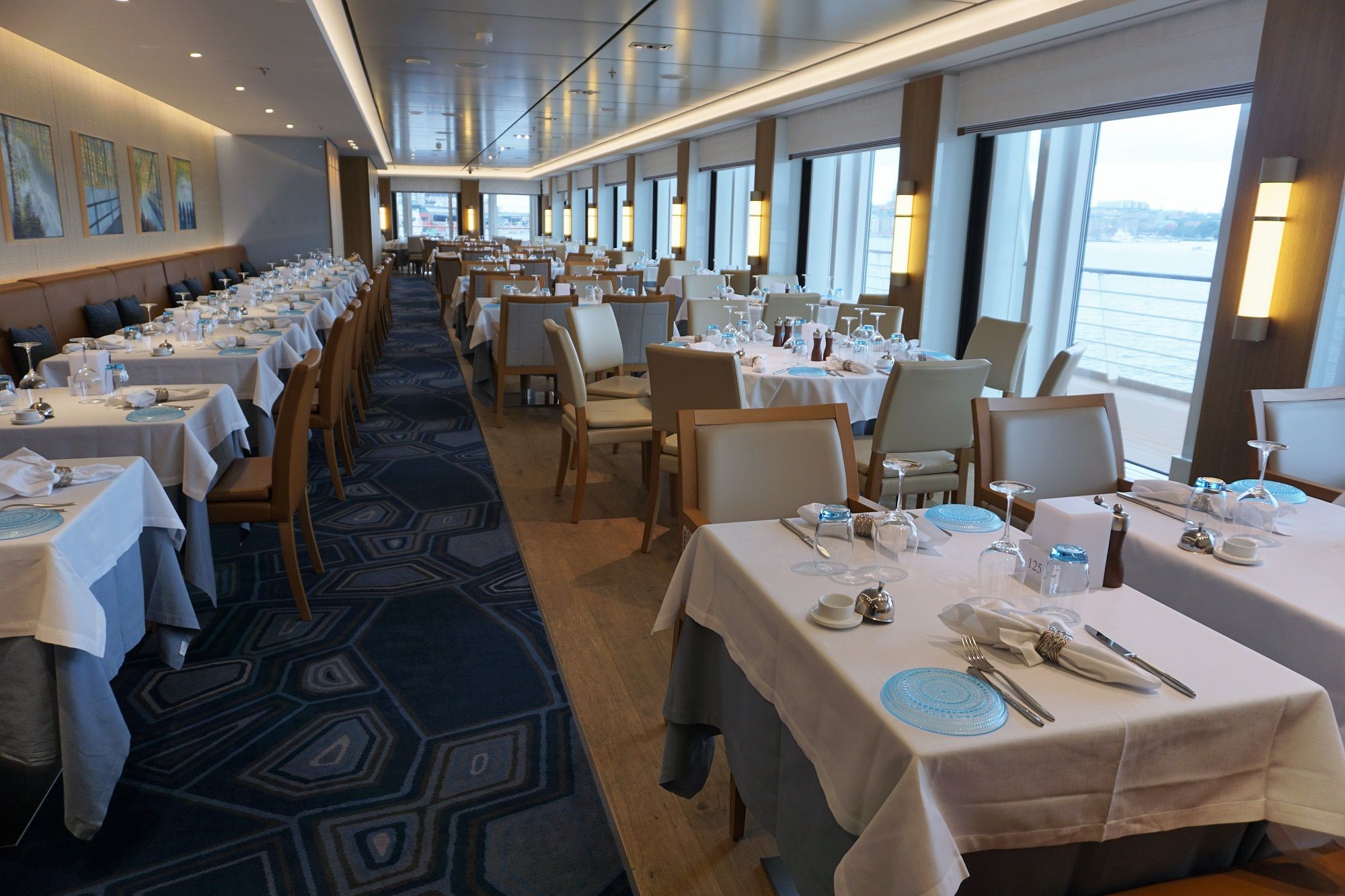 Beer and Wine Are Included at Lunch and Dinner
During lunch and dinner, house poured wines and beer are available as part of the cruise fare. There was usually one white wine and one red wine, which did vary from day to day, and the draft beer Carlsbad. Soda is also available during meal times. Other drink options can be purchased from the bar. Or, if you opt to purchase the Silver Spirits Beverage package, you can have cocktails or beers and wine up to $15 a glass any time of day. This covers essentially all drinks except specialty cocktails in Torshavn.
Related Post: What is Included in a Viking Ocean Cruise
There is a Recommended Dress Code for Dinner
It has been a while since we have seen most cruisers dressed up for dinner. Before sailing on Viking Ocean Cruises, you do need to know that there is a recommended dress code for dinner. Jeans or shorts are not recommended for the dining room. So, pack a pair or two of khakis and some collared shirts for men or some dressy outfits for woman. We did actually see many gentleman in sports coats, but it is not necessary. Business casual attire was the norm, as the atmosphere is laid back. So, leave the tuxes and evening gowns at home. For longer cruises, don't go overboard with the packing as there are self-service launderettes available for use.
You Can Go Swimming in Every Port
You should certainly pack your swimming attire, no matter what region of the world or time of the year you are cruising. On Viking Ocean Cruises, it is always possible to have a pool day. The main pool on the ship has a retractable roof. For our early fall cruise in the Baltic Sea, the roof was always closed. There is also the infinity pool located at the aft of Deck 7. On the one warm and sunny day of our cruise, a few folks did snag loungers and take a dip in this outdoor pool. Of course, there is also the therapy pool located in the thermal suite of the spa. This thermal suite is accessible to all guests for no additional costs.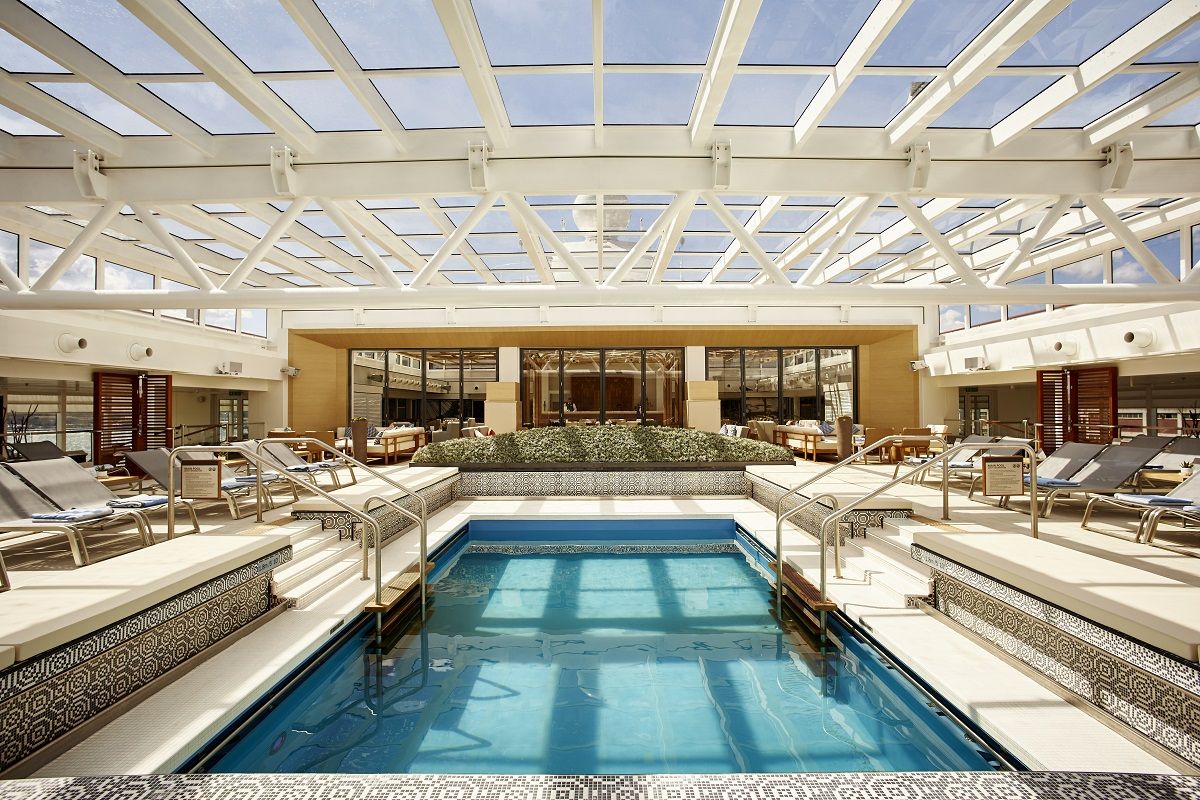 You Won't Use Your Key Card Much on the Ship
Your room key card is needed to enter and exit the ship. You will also need it for entering your room. But, you will not need it for anything else on the ship. When you enter a restaurant, the waitstaff simply asks for your stateroom number. The same is true for ordering drinks at the bars and lounges. Even when purchasing items at the onboard shops, we only needed to provide our stateroom number. You can also just enter the Thermal Suite and the fitness facilities with no key card. This really makes it feel more like a luxury resort than a cruise ship.
No Additional Gratuities on Purchased Beverages
While many cruise lines charge high prices for drinks and then hit you with a 15% to 20% additional service charge, Viking is different. When you purchase a drink from a bar or in the main dining room, the stated price is the price you pay. There are no additional service fees or gratuities. Further, most drinks are priced between $6 to $9. That is close to half the price of drinks on contemporary cruise ships which often charge upwards of $10 to $15 for mixed drinks and cocktails.
Specialty Cocktails in Torshavn Not Included in Silver Spirits Package
For those who are looking for entertainment past 11 pm, the nightclub Torshavn will be your go-to spot. Along with the standard drink menu, this venue features specialty cocktails, many with champagne or cognac. None of these drinks will be covered in the Silver Spirits Package. You will also pay full price for these drinks, unlike most cruise lines where you only have to pay the overage of the drink package allotment. Luckily, we had onboard credit that we spent sampling some of these premium options.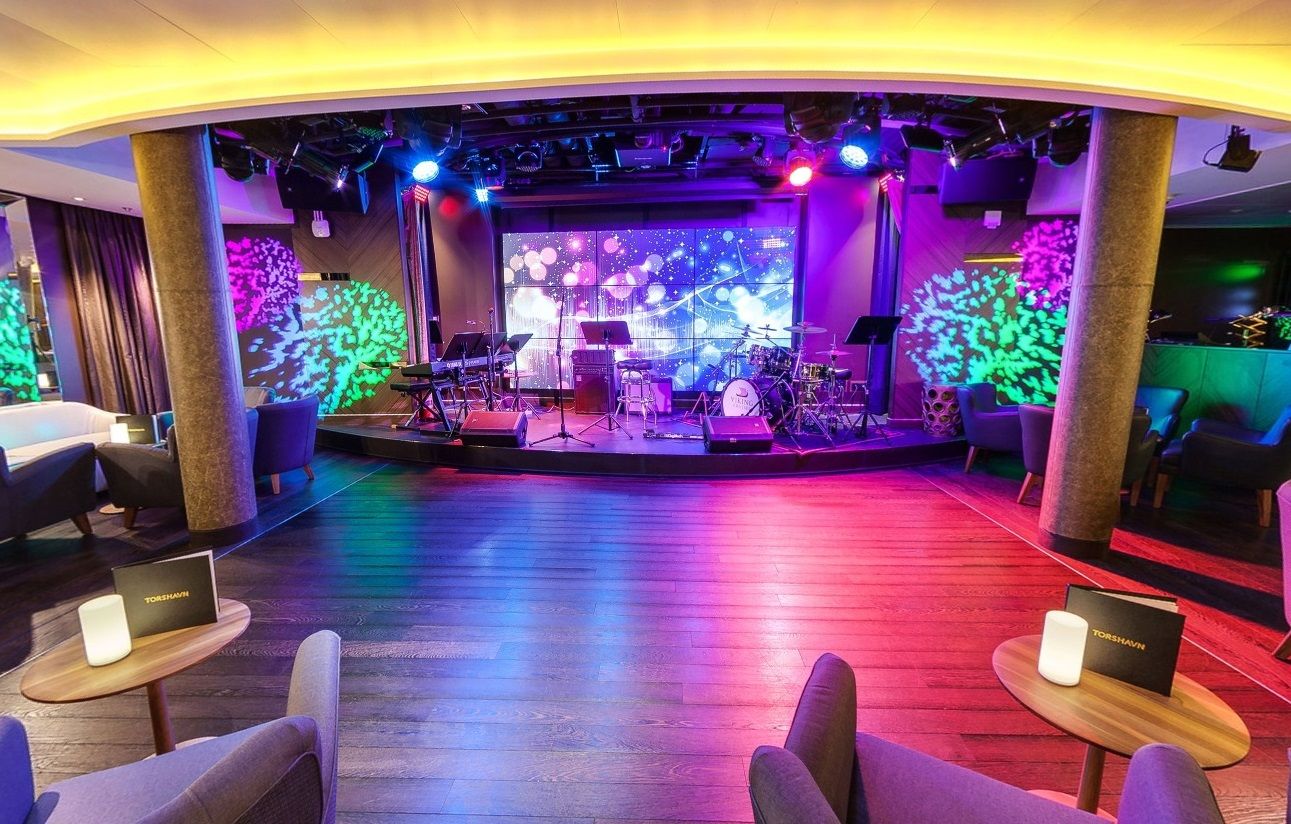 The Staff Will Learn Your Name and Order Quickly
Our stateroom attendant Jackie referred to us by name from day one. The regular bartender at the Viking Bar knew our names and morning coffee order by about the third day. Vincent, one of the other bar servers around the ship, somehow also learned our names before we knew his name. He was always quick to find us in the theater to grab us drinks. This is one advantage of small ship cruising with a crew to passenger ratio of 1 to 2!
The Thermal Suite is Included
The Spa is located all the way forward on Deck 1. While you can certainly purchase a massage, facial, or other treatment, don't forget that the thermal suite is complimentary for all cruisers. There are separate male and female entrances which include a changing room, sauna, and plunge pool. The thermal pool and whirlpool, as well as a steam room and snow grotto are open to both men and women. There are also a limited number of heated loungers for the ultimate relaxation experience. The hours for our sailing were 8:00 am to 8:00 pm everyday.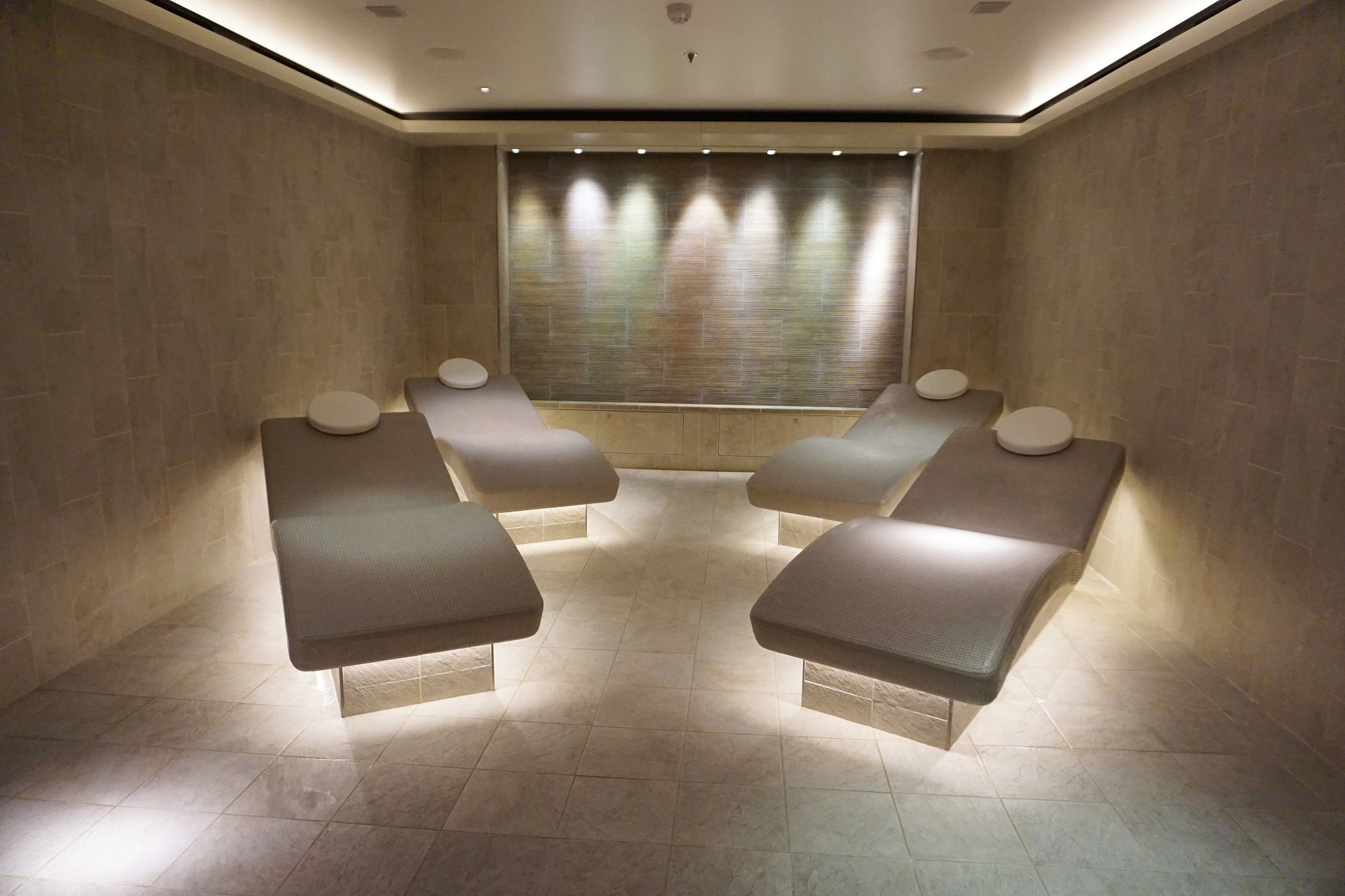 Booking Explorers' Dome on New Ships
The Viking Orion, Viking Jupiter, and soon to be released Viking Venus, all feature a new complimentary experience called the Explorers' Dome. This planetarium holds 26 individuals and offers 3 different 2D and/or 3D shows during the cruise. You can book these shows only once onboard the vessel. We highly recommend booking them on Day 1 as they do fill up quickly. Each show is unique and worth seeing. Our favorites on Viking Jupiter were the Aurora Experience and Hidden Universe.
Don't Miss Afternoon Tea
Every day from 4 to 5 pm in the Wintergarden on Deck 7 is tea time. This complimentary activity is a fun way to unwind and chat about your day's adventures with new friends. A wide selection of teas are featured each day. There are also small treats and finger sandwiches as well as light music to complete the experience. This is something you should not miss during your trip. It's too bad that this venue is not open more during the cruise as it is a very inviting space.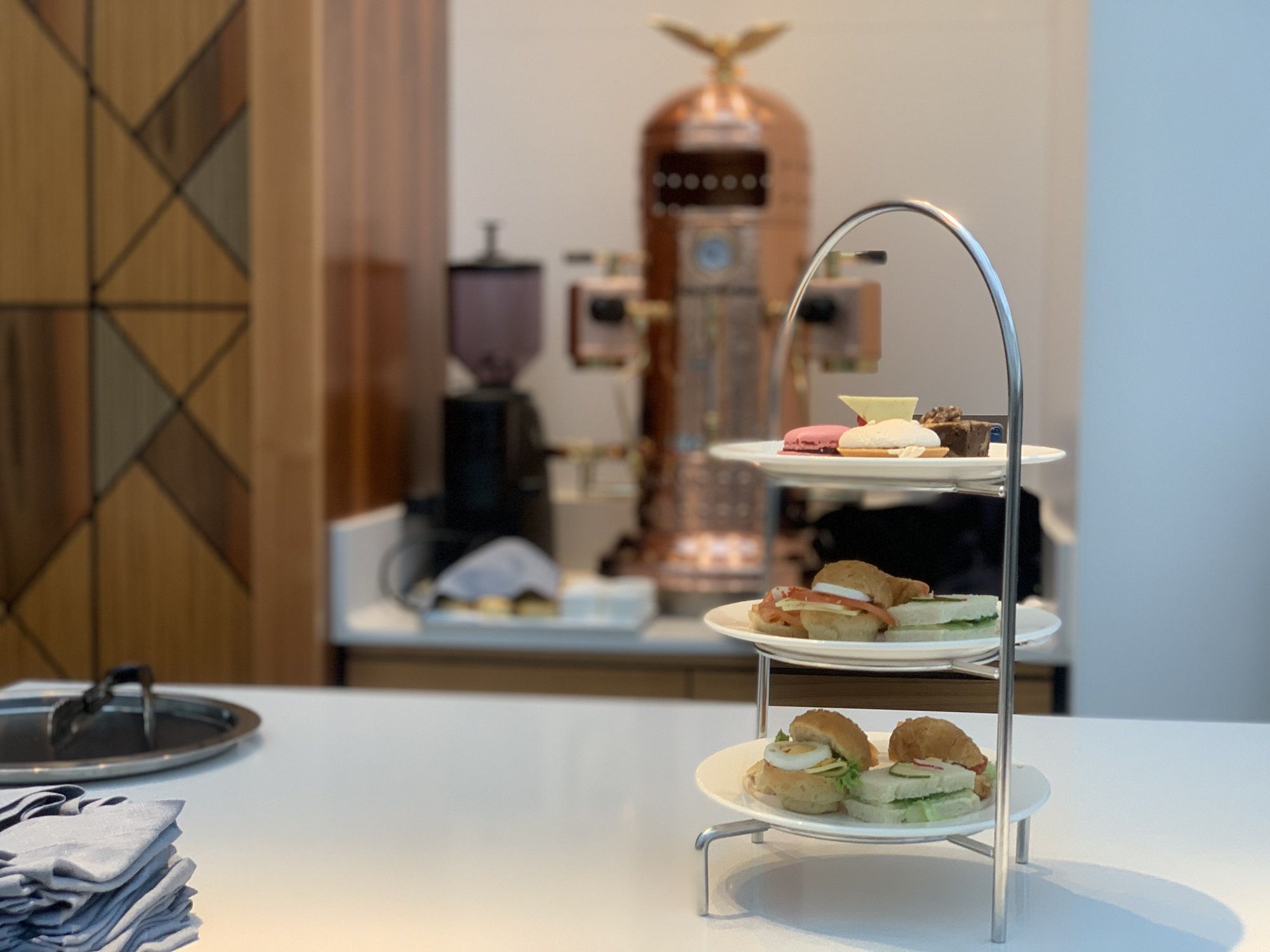 There is a Daily Service Charge
While the cruise fare does cover quite an extensive list of amenities and dining, there is still a daily service charge for each guest. When taking a Viking Ocean cruise, each cruiser will be charged $15 a day for the entire length of the cruise. We recommend checking for promotions or travel agent perks, as you might be able to score a deal that includes gratuities, onboard credit, or some other perks, if you time your reservation appropriately.


Comments
Have you sailed with Viking Cruises? Do you have any tips to share with those planning a Viking Ocean Cruise? Drop us an anchor below with your tips for cruising on this luxury line.