Royal Caribbean is one of the most popular cruise lines. With over 25 cruise ships sailing the globe, the cruise line offers a variety of experiences for all types of travelers. We have cruised on 16 voyages with Royal Caribbean. In fact, our first ever cruise together was on a 7-night Caribbean cruise on Legend of the Seas. See why many remain "loyal to Royal" with our 7 reasons to cruise on Royal Caribbean cruise ships in 2020.


7 Reasons to Sail on Royal Caribbean Cruise Ships in 2020
Several Classes of Ships
The Princess and I tend to sail on the world's largest cruise ships. Royal Caribbean offers a variety of these mega-ships.
Of course, the cruise line is home to the largest class of ships, the Oasis-class. This includes the world's current largest ship, Symphony of the Seas. These massive vessels are so big that they even have their own neighborhoods, including the Boardwalk and Central Park. Each area has its own theme, decor, and staple venues. These ships are fun for cruisers of all ages with a focus on family-friendly activities and events.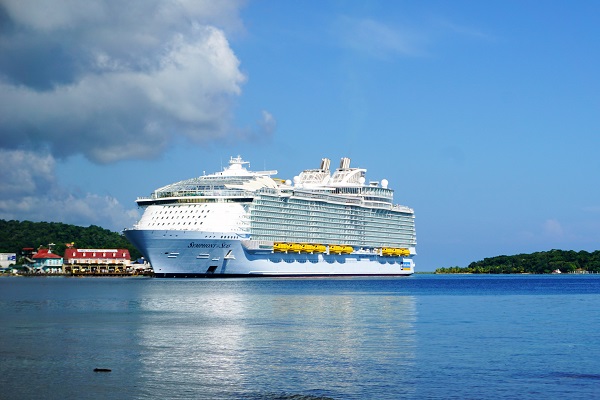 The second largest class of Royal Caribbean ships is the Quantum-class. These ships are unique, featuring several amenities and attractions not found anywhere else in the fleet. The elegant design of these ships is combined with dynamic spaces like Two70 and the SeaPlex to offer a one of a kind cruise experience. This class is one of our favorites.
There is also the newly updated Voyager-class of ships like Navigator of the Seas and Mariner of the Seas. Featuring new pool decks, updated bars and restaurants, and signature attractions, these ships offer quick getaways to the Bahamas. With a focus on high-energy fun, packing in as much as possible in only three or four days, these short cruises are among the best on the market.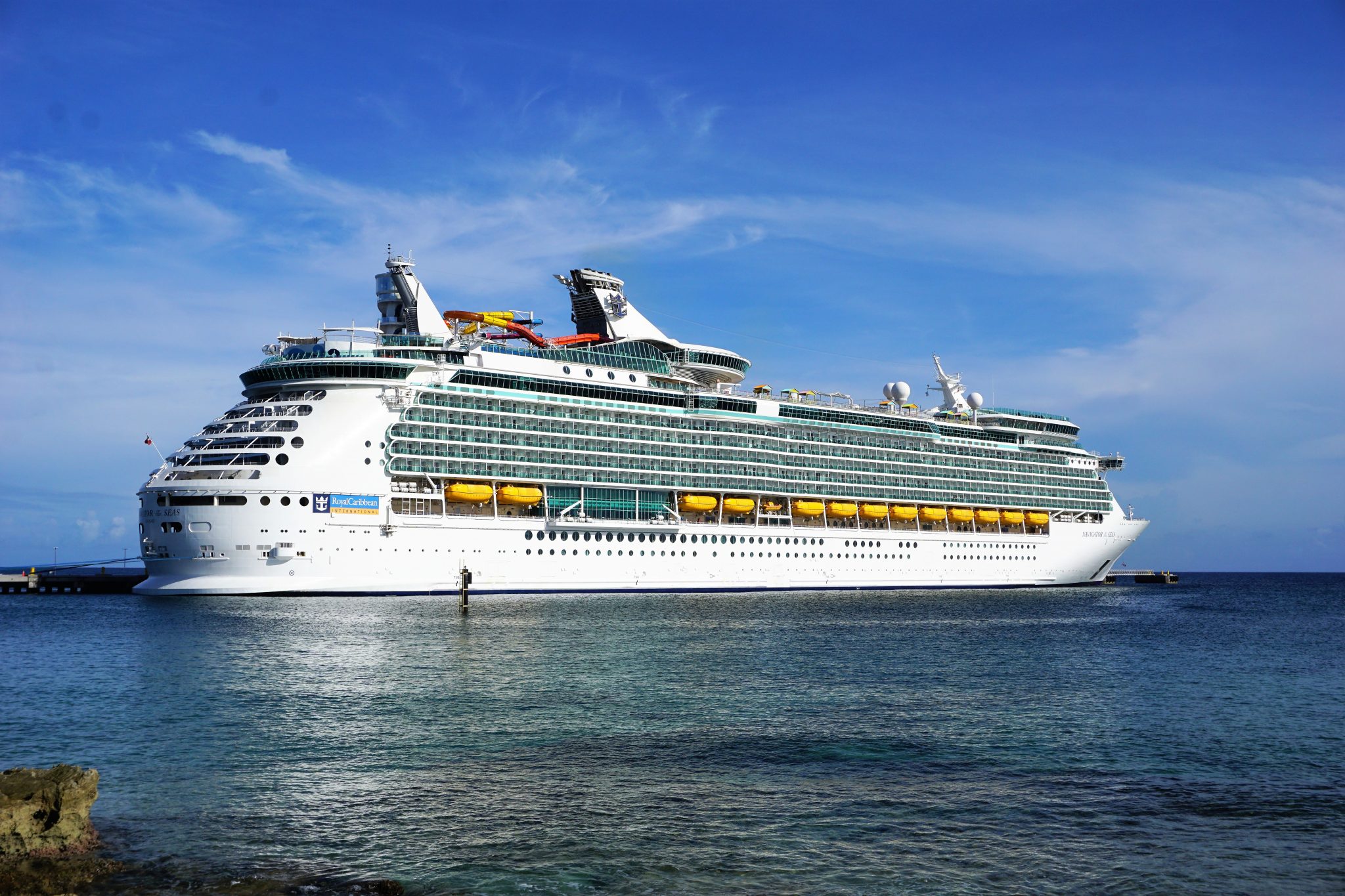 Of course, there is also the Freedom-class and Radiance-class of ships offering some unique amenities of their own. Needless to say, there is a class of Royal Caribbean ships to suit all types of cruisers.
Signature Attractions
The Quantum-class ships offer two high-flying attractions that you will not find elsewhere else at sea. The line's Ripcord by iFLY is an indoor skydiving simulator offering one complimentary flight during a typical week long cruise. Or, you can reach new heights, up to 300 feet above sea level, in the signature North Star. This aerial gondola gives you a 360 degree view of the port of call or ocean surrounding you.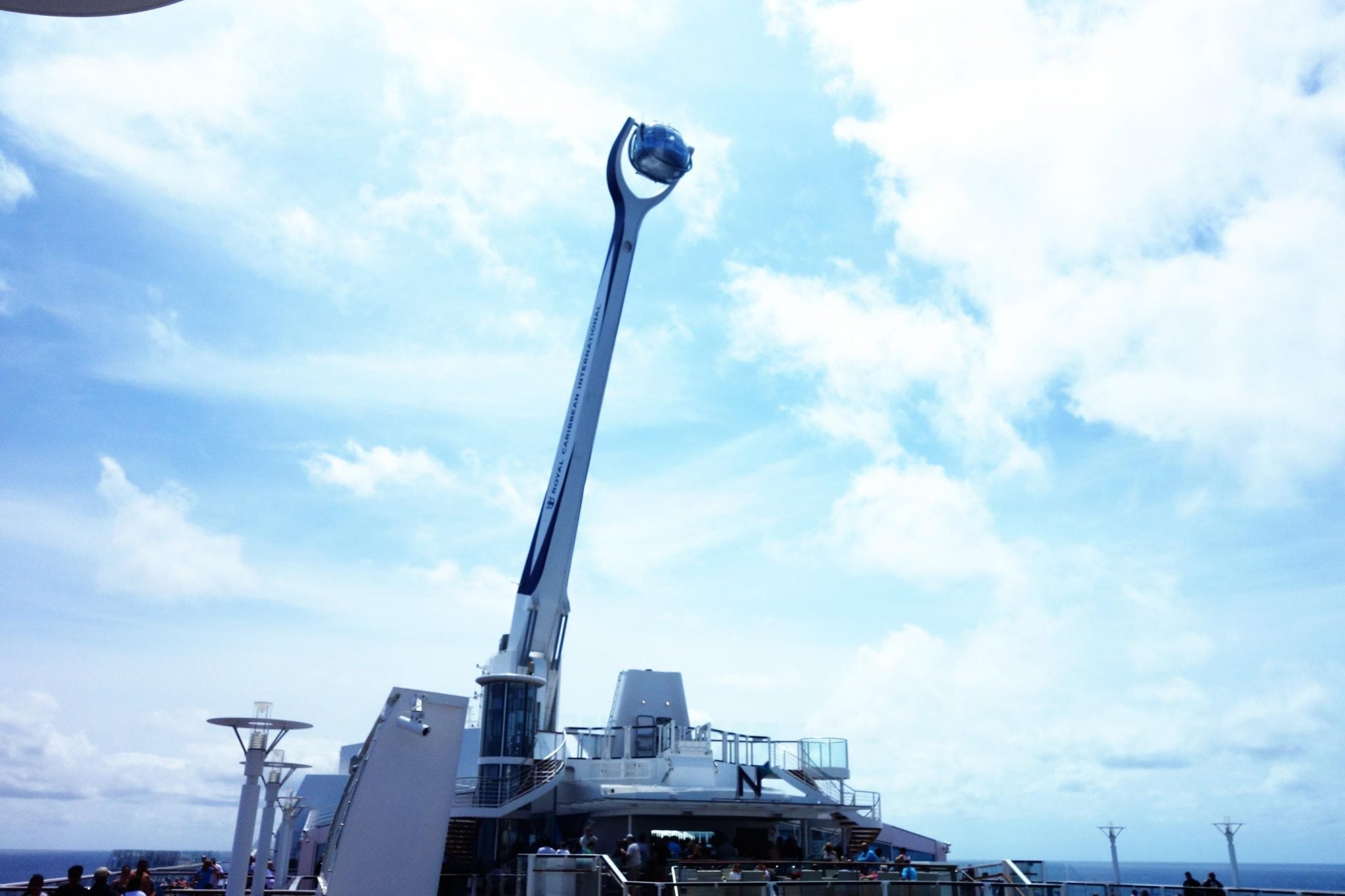 Debuting on Mariner of the Seas, and currently on Spectrum of the Seas and Independence of the Seas, is the cruise line's signature Sky Pad. This outdoor bungee trampoline experience is a complimentary attraction that gives cruisers the opportunity to get some serious airtime. You can even go digital by enhancing the experience with a virtual reality headset.
Royal Caribbean also boasts some of the most unique slides at sea. These include the only boomerang slide at sea on Liberty of the Seas and the one of a kind waterslides on Navigator of the Seas. Or, you can plunge 10 decks on several Oasis-class ships on the Ultimate Abyss.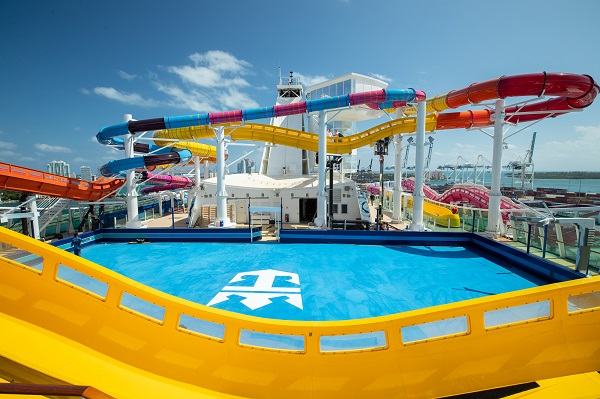 Also unique to Royal Caribbean, you can don a pair of ice skates on Voyager, Freedom, and Oasis class ships at Studio B, the indoor ice skating rink. Or, go rollerskating or take a spin in some bumper cars on Quantum-class ships in the SeaPlex.


Included Activities
Another reason we love Royal Caribbean cruise ships is that most of the onboard amenities are included in the price of the cruise fare. Unlike other cruise lines that charge for signature attractions, you can speed down the waterslides, surf on the Flowrider, or zip over the Boardwalk for no additional charges.
In addition, there are various poolside activities, deck parties, and outdoor movie nights that occur when the weather permits.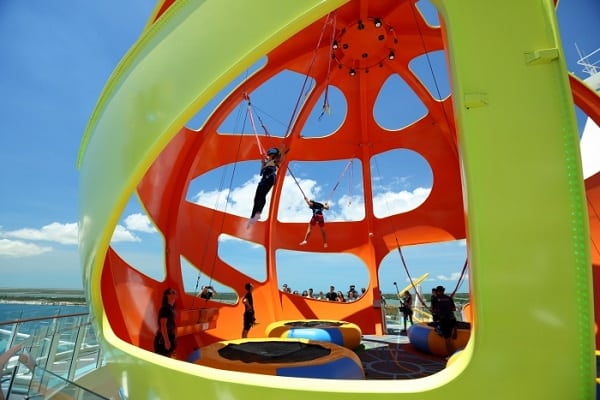 Other complimentary attractions are the aforementioned Sky Pad, North Star, and iFLY. On select ships, cruisers can go head-to-head on bumper cars or play a round of laser tag with no additional fees either.
Not to mention, Royal Caribbean also hosts other events like trivia, game shows, and dance classes that will not cost you a dime.
At night, your ship comes alive with music at several venues. The Schooner Bar is your ship's piano bar. Along with a signature cocktail menu, this is the ideal spot for an after dinner drink. Other popular bars and lounges include the Latin-themed Boleros and the ship's English pub which usually hosts a guitar soloist.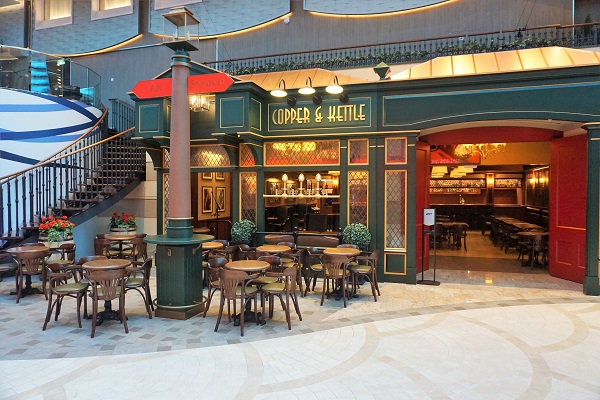 Many ships even have additional venues such as the Music Hall on Quantum-class ships. There is also Dazzles on Oasis-class ships and additional spots for karaoke that are free for all cruisers to enjoy. While there is no live music, the Bamboo Room and Playmakers Sports Bar are also popular venues on some Royal Caribbean ships. Of course, drinks will cost you extra money.
Main Theater Productions
All cruise lines offer nightly entertainment options, but Royal Caribbean cruise ships feature a variety of award-wining productions and Broadway shows. Some of the shows playing in the main theater on select ships in the Royal Caribbean fleet are Mamma Mia, Hairspray, Cats, and Grease. You do need to make reservations for these signature productions.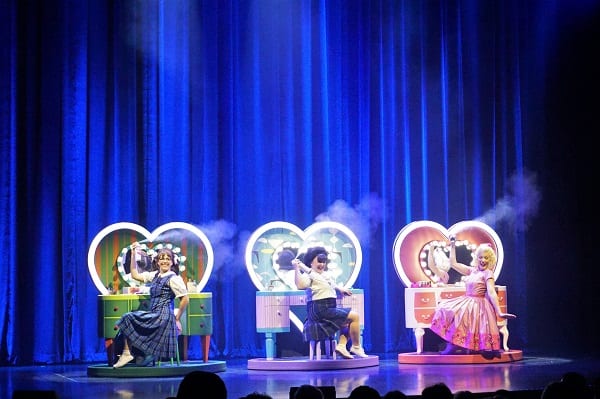 In addition, many of these same ships feature original, high-tech productions such as Flight on Symphony of the Seas and Starwater or Spectra's Cabaret in Two70 on Quantum-class ships.
While many of these productions are found on the newer and larger ships, Royal Caribbean offers nightly entertainment in the main theater on smaller vessels as well. The line's exclusive productions include original shows with themes ranging from country westerns, to rock and roll operas, classic revivals, and everything in between.
Having sailed on a variety of cruise lines, we feel that Royal Caribbean cruise ships offer some of the best entertainment in the industry.
Diverse Entertainment Venues
Not only are the shows amazing, but the diversity of entertainment venues is truly one of a kind on Royal Caribbean cruise ships.
On the four Oasis-class ships, you will find the Aqua Theater. This outdoor venue features a high-tech pool which comes to life for unique water-based entertainment with divers, synchronized swimmers, and other acrobatics. Each of the four ships in this class showcases a unique diving show.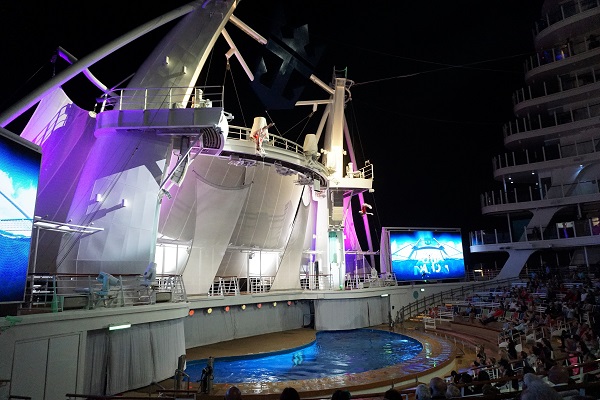 Found on a dozen Royal Caribbean ships, the Studio B ice skating rink is home to a variety of production shows featuring world-class Olympians and national skaters.
On the three Quantum-class ships, cruisers will be entertained by shows in the Two70 Theater. This digitally enhanced venue features transformative HD vistarama screens and robo-screens. These signature production shows captivate audiences with a mix of the latest digital technology, music, dancing, and acrobatic performances.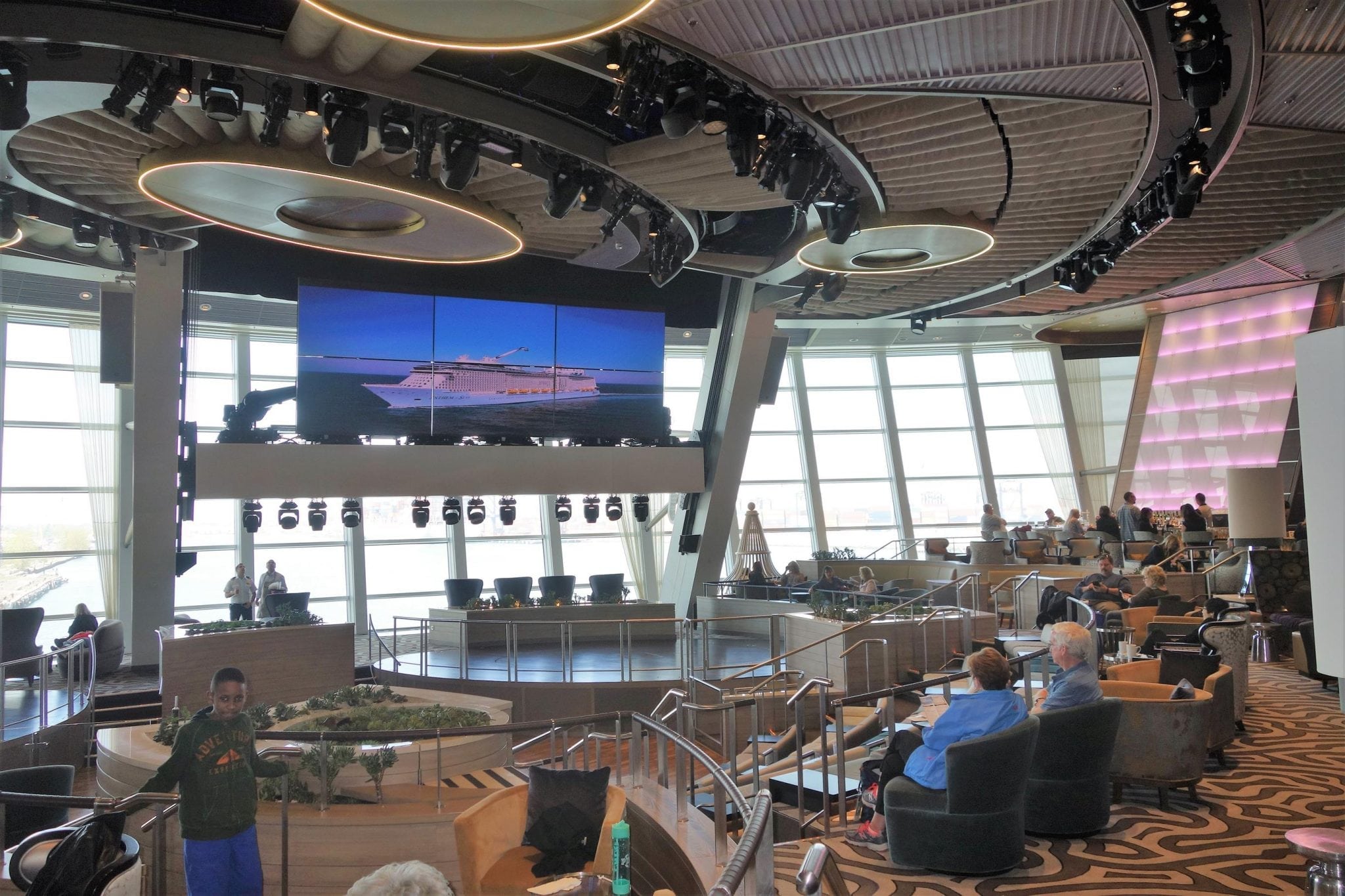 In addition to these dynamic venues, some Royal Caribbean cruise ships also feature comedy clubs, tribute band performances in the Music Hall, and so much more.
Variety of Dining Options
We love to eat, and perhaps one of the best parts of cruising with Royal Caribbean are the variety of dining options. During the day, there are several casual options to enjoy breakfast or lunch. Of course, there is the Windjammer Cafe offering a pretty standard cruise ship buffet.
One of our favorite casual dining spots is the Park Cafe. Found on several vessels, this venue offers sandwiches, salads, and light fare that is perfect for those who want something quick and delicious. It is home to the famous Royal Kummelweck roast beef sandwich sliced fresh and made to order.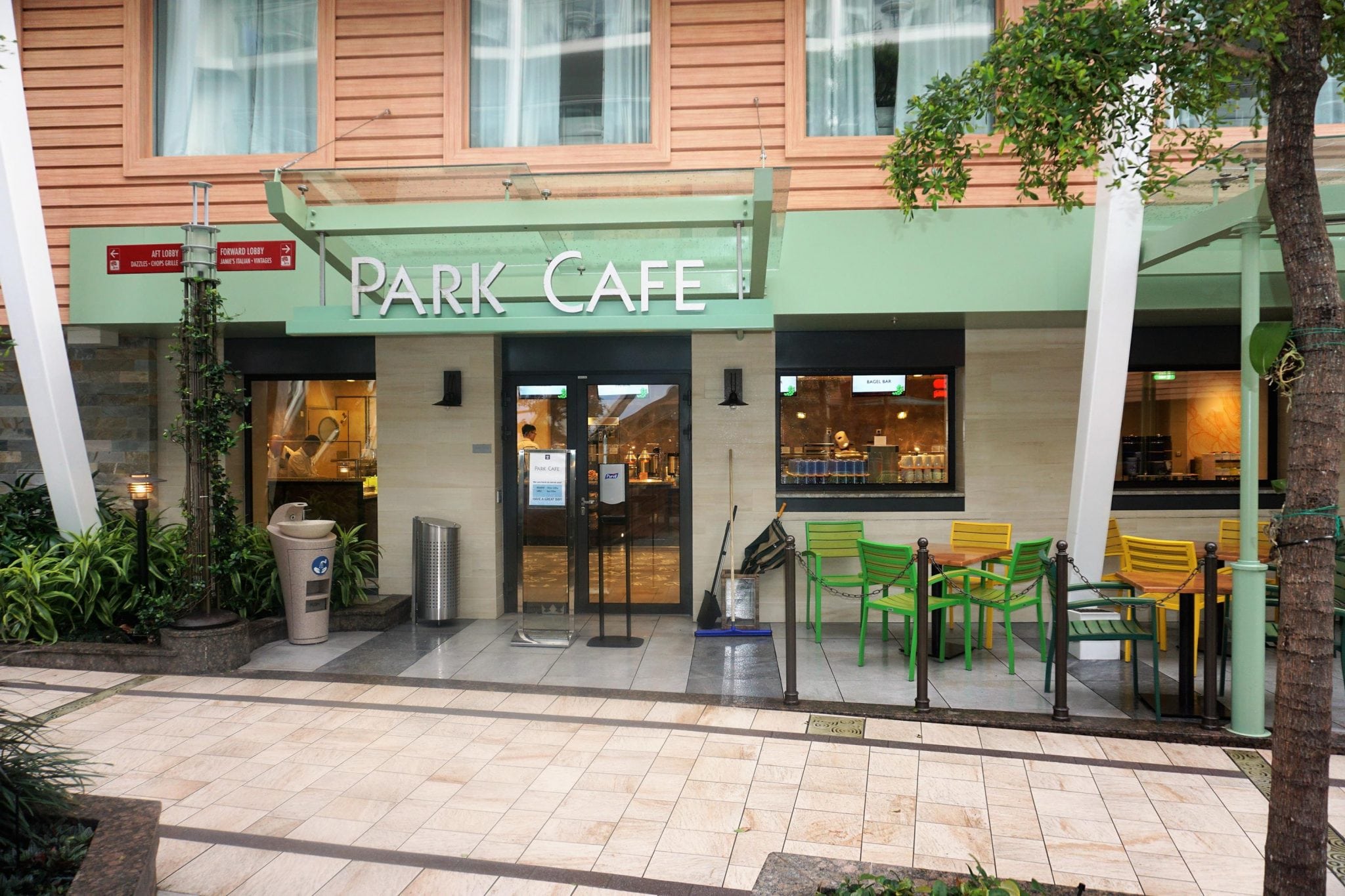 Other favorites include the Boardwalk Dog House with several sausages from around the world and El Loco Fresh. This Mexican-inspired venue offers custom made tacos, burritos, and a salsa bar.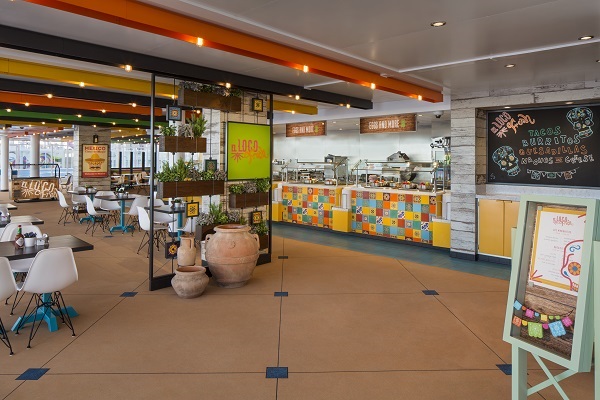 For a small up-charge, Johnny Rockets is also available for a slice of Americana and freshly grilled hamburgers. The newest pub, Playmakers Sports Bar and Arcade, serves an a la carte menu featuring some of the best wings at sea!
When it comes to dinner, we are traditionalists at heart. On Royal Caribbean cruise ships, we usually spend a majority of our nights in the main dining room indulging in a three-course meal. Personalized service, well prepared meals, and the entire dining experience are some of the reasons we are fond of cruising with the brand.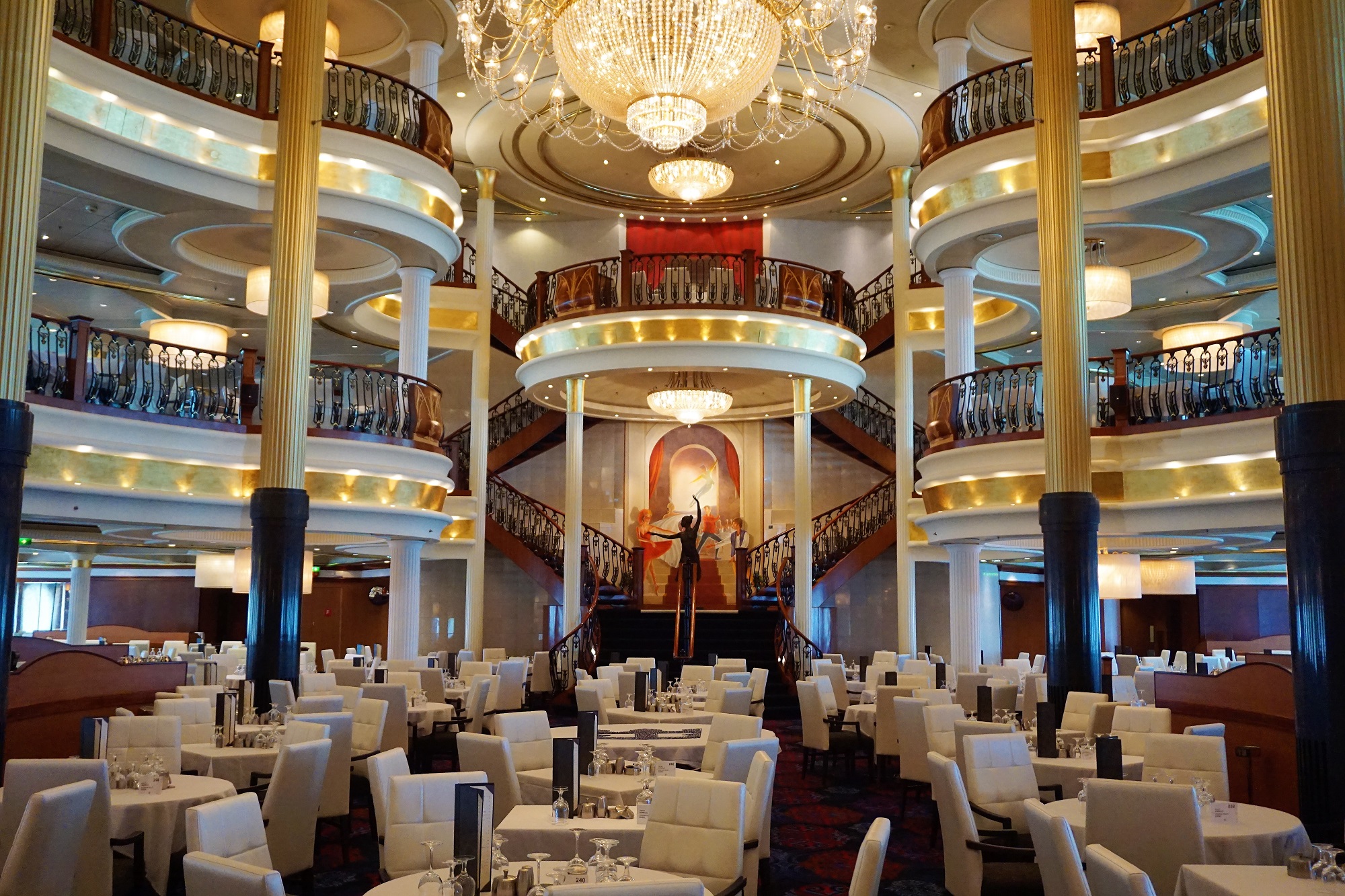 Of course, there are also specialty restaurants for cruisers to enjoy at up-charge pricing. These include everything from the whimsical Wonderland to the signature steak house Chops Grille.
Private Destinations
Royal Caribbean offers cruises to all corners of the globe. Popular stops include regions such as the Caribbean and Bahamas as well as seasonal ports like Alaska or Bermuda. There are more diverse offerings in the Mediterranean, Australia, and the Pacific across the fleet. While the breadth of places Royal Caribbean cruise ships visit is reason enough to cruise with the line, it's the private destinations that are among our favorites.
At the cruise line's private island Labadee, Haiti, you can choose relaxation on the stretches of sandy beaches. Or, if you are an adrenaline junkie, you can test the limits with the longest zip line over water or the Dragon's Tail Coaster. Not to mention, the island is home to one of our favorite frozen concoctions, the Labadoozie.
For another slice of paradise, you will want to head to Royal Caribbean's other private island, the newly updated Perfect Day at CocoCay in the Bahamas. There is so much to do on Perfect Day at CocoCay that some cruises now make two stops at the island. The Thrill Waterpark is the largest in the Bahamas and offers the tallest slide in North America as well as several family-friendly attractions.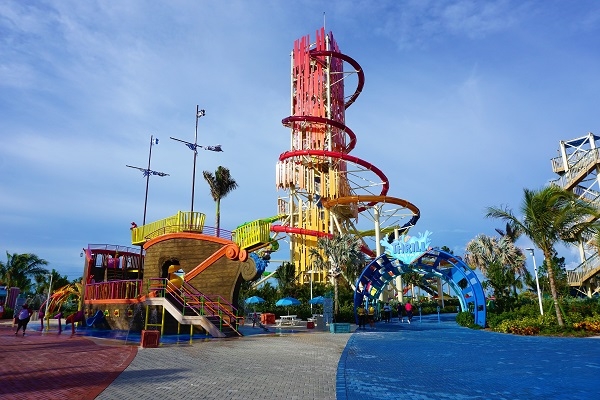 This island is also home to a large lagoon-style pool with party vibes, several beaches for a more tranquil experience, and plenty of other tours and island amenities. With its new pier, any Royal Caribbean cruise ship can now stop at this private destination for a day of fun in the sun.
As you can see, there are several very good reasons to sail on a Royal Caribbean cruise ship in 2020. The only thing left to determine is when you will leave!


Comments
What are your reasons for sailing with Royal Caribbean? What do you love about the cruise line? Drop us an anchor below with your top reasons to stay "loyal to Royal".