Royal Caribbean's new private island Perfect Day at CocoCay offers travelers a variety of options. Even if you have been to CocoCay, Bahamas in the past, you may not recognize this updated and enhanced destination. With a variety of ships now calling on the island, including some of the largest ships in the world, you need to be prepared for your time spent ashore. After spending a full day on the island, we learned a thing or two. To help you have a truly perfect day, we have put together this insider guide with 20 of our best Perfect Day at CocoCay Tips and Secrets.

Top 20 Perfect Day at CocoCay Tips and Secrets
Book All Excursions Pre-Cruise
Before setting foot on Perfect Day at CocoCay, you should book all your shore excursions in your cruise planner. We have found the rates for these tours to be significantly lower before the trip. We watched prices escalate during the months leading up to our cruise and even more once onboard the ship. For big ticket items, like the Cabanas, prices rose hundreds of dollars.
You Don't Need Tickets
Don't worry about losing shore excursion tickets. Everything is loaded to your SeaPass card. So, it is essential that everyone in your party have this card with them at all times on the island. You will also need your SeaPass card to pay for things on the island, like alcoholic beverages, other rentals, or logo merchandise.
Although, You Should Bring Some Money
While your SeaPass card will take care of most transactions, there is a Straw Market on the island that only accepts cash. So, if you would like to do some shopping for local Bahamian-made goods, having some cash on hand will be useful. These vendors accept USD.
Related Post: An Honest Review of Perfect Day at CocoCay
You Can Walk Ashore
Tendering is a thing of the past. On Perfect Day at CocoCay, you will be able to walk ashore. Or, you can take the transportation provided to the entrance of the island. Do know that it is also possible that there will be more than one ship in port. CocoCay has the capacity for two ships to be docked at the island at the same time. So, using these tips will especially come in handy if there are more people on the island!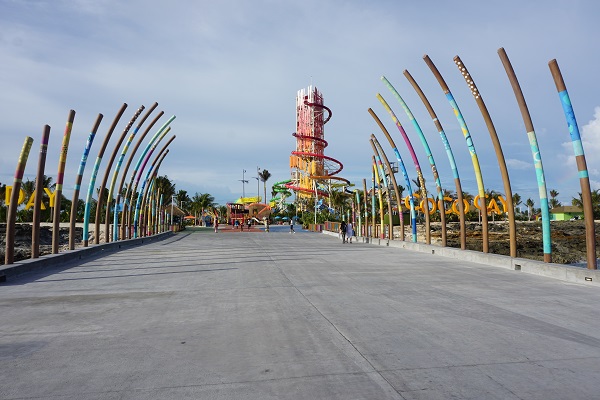 Head Ashore as Early as Possible
Upon arrival at the island, it takes the staff about an hour to unload supplies before gangways open for guests. Regardless, one of our most crucial Perfect Day at CocoCay Tips is to start the day early. We were ready to get off the ship as soon as the announcements were made. We had the island virtually to ourselves for a couple of hours before other cruisers finally made it to shore. The early bird gets the best loungers and beach spots.
Know the Height and Weight Restrictions for Different Activities
Before you purchase shore excursions, you should probably know some of the restrictions.
In the Thrill Waterpark, all rides have a single rider weight limit of 300 lbs. For family raft slides, the maximum combined weight is 550 lbs. Most slides have a minimum rider height of 48″. The only two exceptions are the Manta Racers (40″) and the Splash Speedway (42″). All children less than 48″ tall must wear a swim vest in the Adventure Pool and Wave Pool in the park.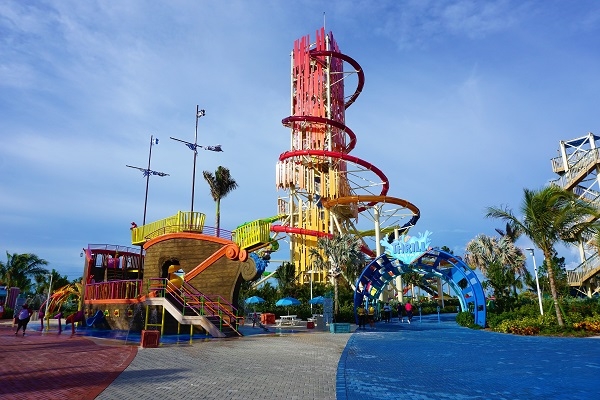 For the zip line, cruisers must weigh between 75lbs and 270lbs. Believe us, they do weigh you in on these attractions to ensure you are not exceeding the stated limits.
Outside the waterpark, the Splashaway Bay attraction is complimentary, and children up to 42″ and 200lbs are able to use the area.
Use the Royal Caribbean Provided Map
New visitors to the island will want to explore all the island offers. The cruise line provides you with a map to Perfect Day at CocoCay. Feel free to download the PDF ahead of time so you can start planning your day ashore. We are over planners too, so we won't judge you. The map is also available on the Royal Caribbean app.
Use the Walkways and Signage to Get Around
Part of the island updates were some added paved walkways. These encompass the areas near the entrance to Chill Island, the Oasis Lagoon Pool, and areas near the Splashaway Bay. On Chill Island and South Beach, the cruise line has regraded and combed the pathways leading to the beach as well as to the Up, Up and Away Helium Balloon ride. This makes getting around easier and faster.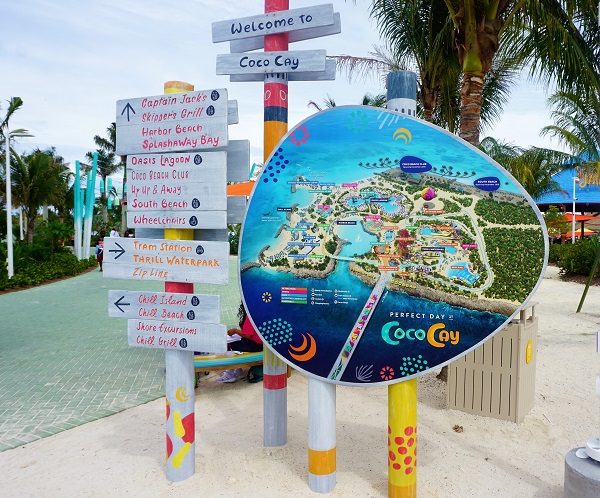 Or, You Can Take the Free Tram Around the Island
For those with mobility issues, or those who just don't feel like walking, there is a tram to get you around the island. The current tram stops include near the Zip Line/Waterpark Entrance, the Oasis Lagoon, the Up, Up and Away Balloon, and Chill Island. For those who need more assistance, beach wheelchairs are available to help get around the island.
You Will Need to Bring Towels from the Ship
One inconvenience about Perfect Day at CocoCay is that you will need to bring towels from the ship with you to the island. Royal Caribbean scans your card to track your towels. Once on the island, you can swap your wet towels for new ones, but you will still need to return towels to the ship after your day on the island. The cruise line charges $25 for non-returned towels. So, whatever you do, make sure to bring them back and have your Seapass card scanned once you are through security.
Pack Essentials in Your Day Bag
To ensure your day is as ideal as possible, you want to bring only necessary items in your day bag. Among the musts are bathing suits, sunscreen, sunglasses, and hats. Depending on your plans, you might also need close-toed shoes for excursions. You may also want to bring other items such as books/magazines, your cell phone, tablet, or snorkel gear.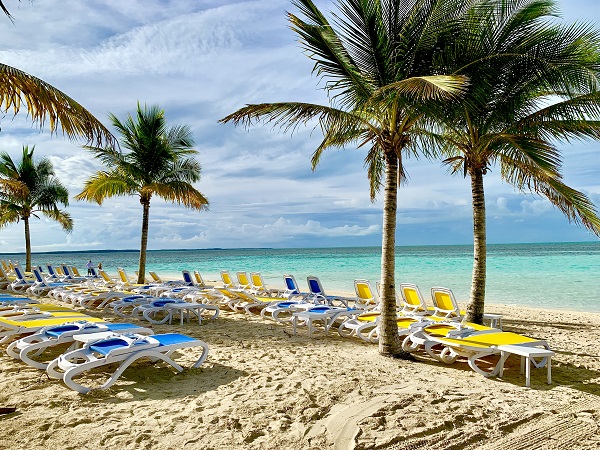 Be Smart When Documenting Your Day Ashore
Royal Caribbean does allow cruisers to wear action cameras, such as GoPros, on many of the attractions. You CAN use them on all waterslides. You can also adhere a wearable action camera to yourself when doing the zip line. However, you are not allowed to bring phones on either attraction. Also, drones are prohibited and will be confiscated by the cruise line.
Your Voom WiFi Package Works on Perfect Day at CocoCay
Yes, your electronic devices will have connectivity once on the island if you purchased the cruise line's onboard Voom Internet package. While at the island, you will be able to login and access the internet and social media apps. Do know that some parts of the beach are advertised as having limited reception. Although, we had no issues throughout our day at various locations on the island.
There Are Free Lockers for Storage Throughout the Island
Royal Caribbean has updated its policies to now provide free locker rentals on Perfect Day at CocoCay. There are lockers near the Entrance of the Thrill Waterpark and the ziplines. Lockers can also be found on Chill Island. These are first come, first serve. So, make sure to get there early. Another great option is to purchase a CoolGen Beach Bag. This is what the Princess uses to pack all our gear and make sure it is secure.
All Loungers and Umbrellas are Complimentary
Throughout the island, you will find beach (or pool) loungers. There are plenty available along the beaches and surrounding the Oasis Lagoon Pool. Loungers are also found in the Thrill Waterpark. Several are located near umbrellas or palm trees for shade. All of these are complimentary. Of course, they are first come, first serve. We do not recommend saving too many for family and friends as no one likes a chair hog.
Almost all the Food is Complimentary…And Delicious
Other inclusions are almost all of the food on the island. There are two dining options. You can chow down at the island's buffets, which were open from 11:30 am to 3:00 pm on our trip. A wide selection is available here, including barbecue items, paninis, tacos, and a salad and fruit bar. For something quicker and "to-go", there are two Snack Shacks. Open later than the buffet, these venues offer small bites such as chicken sandwiches, hamburgers, fries, mozzarella sticks, and funnel cake.
For an extra special treat, add two mozzarella sticks and marinara sauce to the chicken sandwich to make it Chicken Parmesan. Delicious!
Also, Your Deluxe Drink Package Works on Perfect Day at CocoCay
Another great perk of Perfect Day at CocoCay is the included beverages. If you opt for the Royal Caribbean Deluxe Drink Package, then all of your alcoholic beverages on the island will be free. The package works at all bars, including Captain Jack's. There are some new bar menus too with a few signature drinks. Whether you are enjoying the party atmosphere of the Oasis Lagoon's swim-up bar or just throwing a few back at the Wacky Seagull, everything is covered.
Related Post: Complete Guide to Royal Caribbean Drink Packages
Best Time to Visit the Waterpark is Early or Later in the Day
The waterpark gets busy in the middle of the day, from 11 am to 2 pm. So, we recommend heading to the slides first thing in the morning to ride the most popular attractions. Then, relax in the pools or grab some food midday, and return to the slides later in the afternoon. This will help you ride the slides multiple times with the least waiting.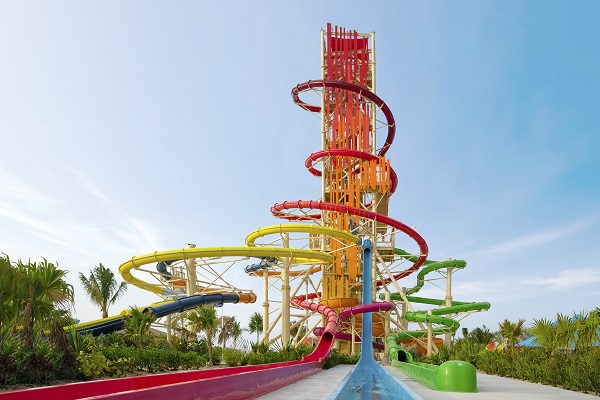 Additional Gear Can Be Rented on the Island
If you are relaxing near the beach and want to enjoy some fun in the water, you can rent several water toys. These include kayaks, floating mats, and snorkel gear. These are available to purchase pre-cruise as well, and are often cheaper if you buy them before your sailing. Still, if you decide to rent them once on Perfect Day at CocoCay, they are usually available.
There are Several Cabana Options
If you are looking for something more luxurious than a lounger, you can opt for one of the more premium offerings. At South Beach, cruisers can rent Beach Beds and Beach Bungalows. (Reports indicate that these will be moved to Chill Island once construction begins on South Beach.) The prices on these vary greatly depending on your sailing date and ship. Rentals include all day access to a private beach area. The beds can be reserved for 4 guests; the bungalows accommodate up to 6 guests.
Related Post: Beach Bungalow Review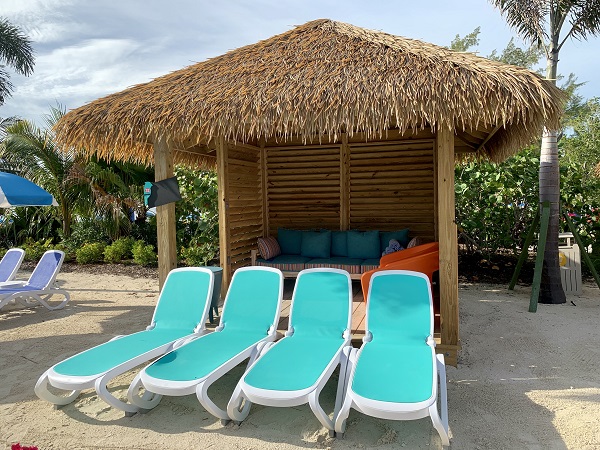 There are also several new Cabana areas on the island. At the Oasis Lagoon Pool, up to 8 guests can have a private Cabana providing them shade and the ideal spot to enjoy the pool and lively music. In the Thrill Waterpark, up to 6 guests can snag a Cabana that also includes admission to the waterpark, along with other benefits. Finally, Chill Island also has Cabanas providing you direct access to the beach for up to 8 guests.


What Are Your Perfect Day at CocoCay Tips?
If we have missed something, let us know. We are always eager to hear other travelers' insider secrets or tricks for making the most of a day spent on this new island.
Comments
Drop us an anchor below to let us know what you did during your Perfect Day at CocoCay!