Food is a big part of cruising, and we know our fellow cruisers are always eager to see what is available at the different restaurants. So, we are just back from a 2023 Bermuda sailing on Norwegian Cruise Line, and we have all of the most up to date information for every restaurant in this Norwegian Joy Restaurant Guide With Menus.
Call to Book Your Next Cruise Now: 1-855-228-5584!
Norwegian Joy Restaurant Guide With Menus
Norwegian Joy Specialty Restaurants
Known for its Freestyle approach to cruising, Norwegian Joy features a number of complimentary dining options as well as several specialty restaurants. These specialty restaurants do all have up-charges. Though, they are certainly worth it in our opinion.
Reservations for most of these restaurants can be made pre-cruise or once onboard the ship. The exception is Food Republic which cannot be booked online.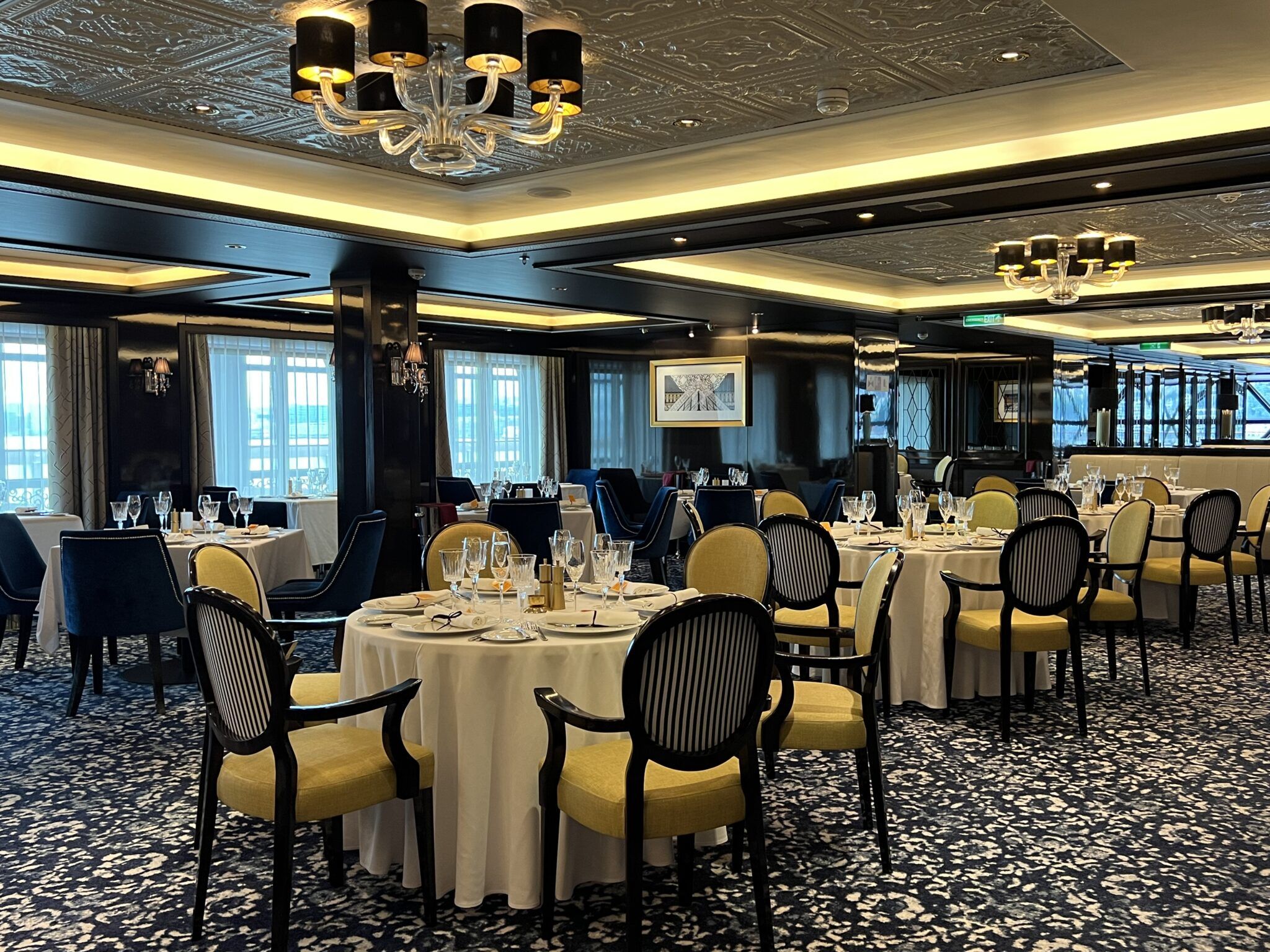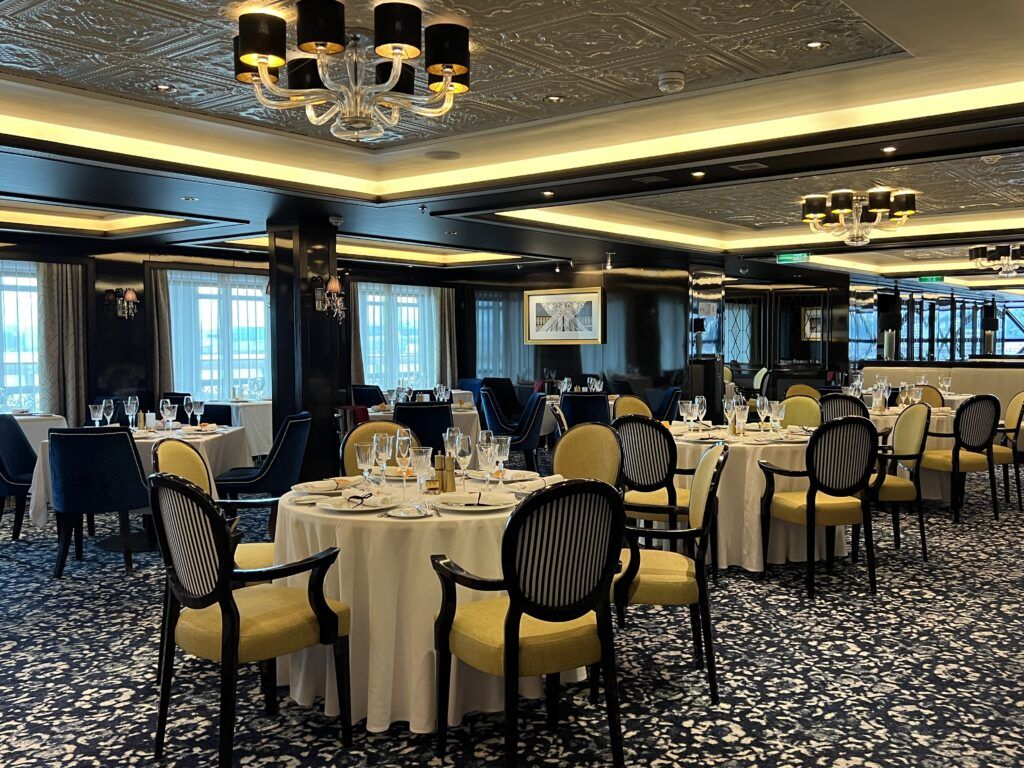 Further, most of the specialty restaurants are priced a la carte on Norwegian Joy with the exception of Teppanyaki. Alternatively, cruisers can use meals from their specialty dining packages to dine at these venues. Luckily, most cruisers booking during the popular NCL Free at Sea promotion will score at least one free specialty dinner.
Teppanyaki – Deck 6
This Japanese-style hibachi steakhouse is a specialty restaurant that is a staple on Norwegian Cruise Line. The restaurant offers a multi-course menu with a flat fee price of $59 (+20% service charge).
Entree selections range from chicken, steak, and shrimp. In addition, all meals include soup, salad, fried rice, grilled vegetables, and dessert. Whenever we have dined at Teppanyaki, the food is as good as the culinary show!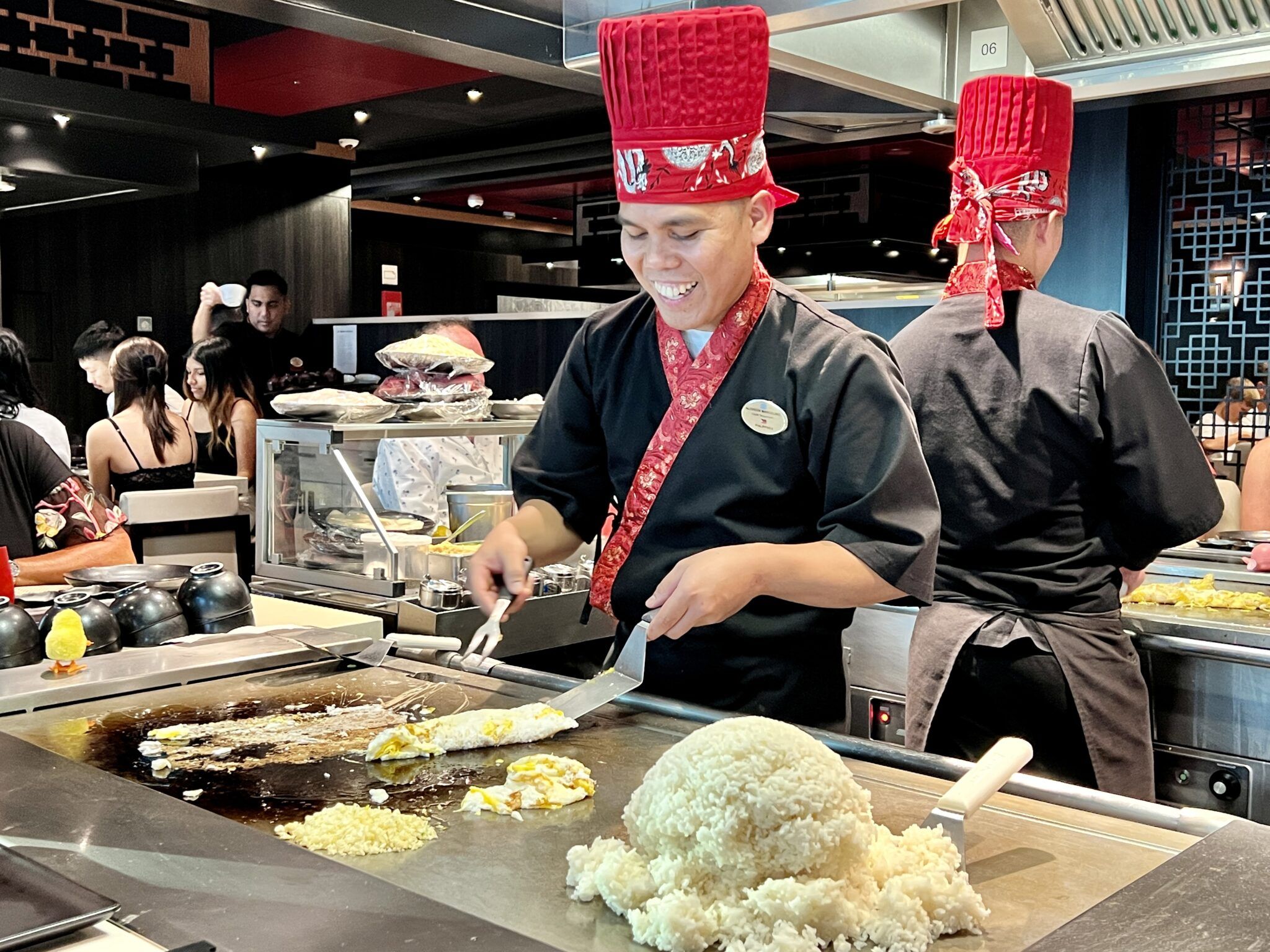 Teppanyaki is open nightly for dinner from 5 to 10 PM.
Starbucks – Deck 6
The Starbucks menu on Norwegian Joy offers all the drink items that you would expect to find at the coffee house on land, including lattes, espressos, drip coffee, and even some pastries and snacks.
Unfortunately, none of the beverages here are covered in the Premium Beverage Package that comes standard with the Free at Sea Promotion. So, if you are a Starbucks addict, you may want to consider upgrading to the Premium Plus Beverage Package.
Further, all of the food is also an up-charge with advertised a la carte pricing.
Q Texas Smokehouse – Deck 6
What goes best with some southern style BBQ? How about some live country music. At Q Texas Smokehouse, you can enjoy savory menu options like smoked beef brisket, pork spareribs, mac and cheese, and banana pudding. You'll also want to try the smoked peach margarita on tap.
Then, you can join in on the fun with some singing and dancing. There is often live music during dinner time, and the venue also hosts various other activities during the cruise.
Q Texas Smokehouse is open nightly for dinner from 5:30 to 9:30 PM.
Drink Menu | Dinner & Dessert Menu
Cagney's – Deck 8
Cagney's serves up premium cuts of beef alongside delicious starters, side dishes, and desserts. On Norwegian Joy, Cagney's offers both al fresco seating on the Waterfront and indoor accommodations.
Of note, the Surf & Turf does have a supplement of $25 when using the dining package.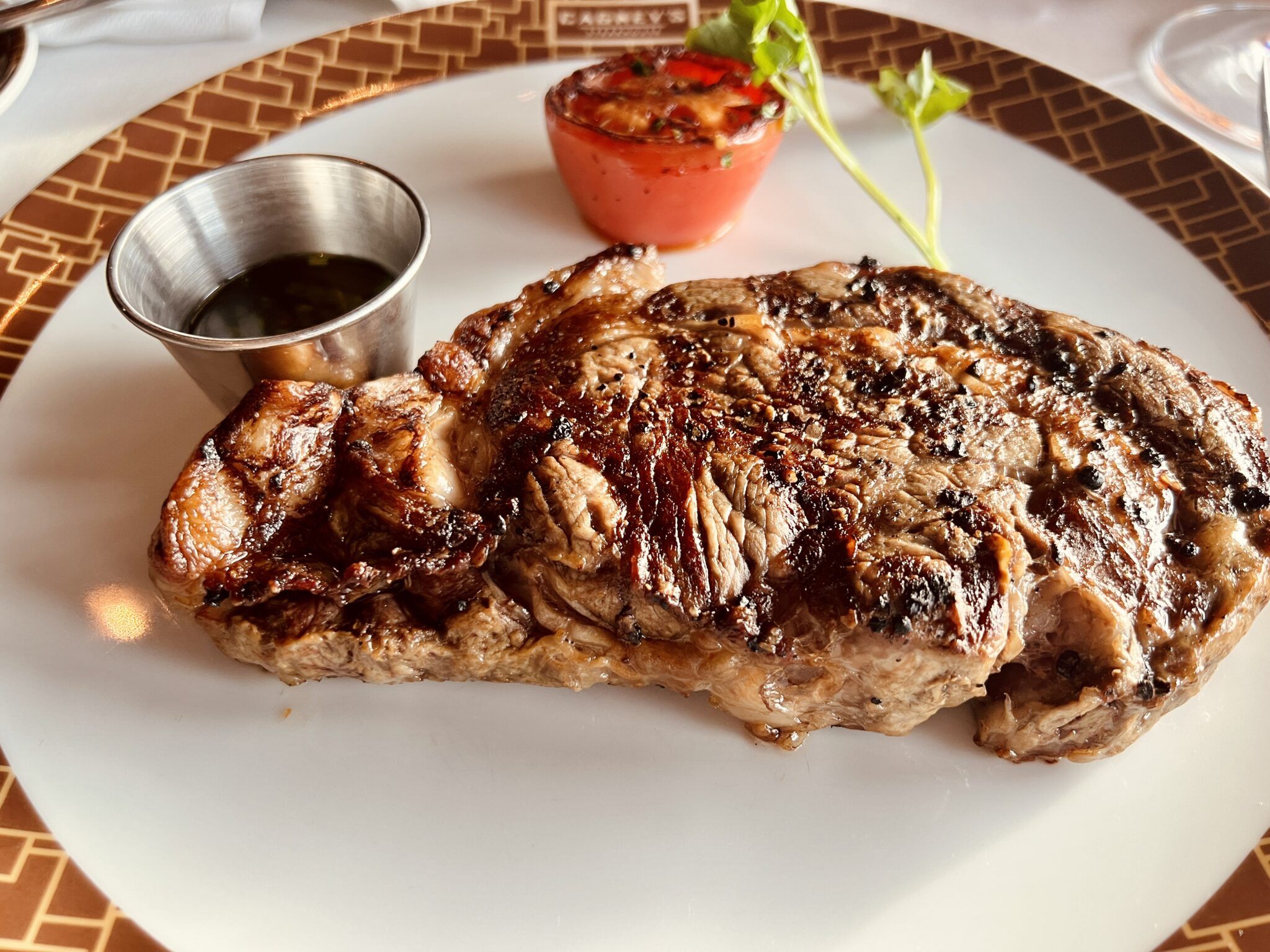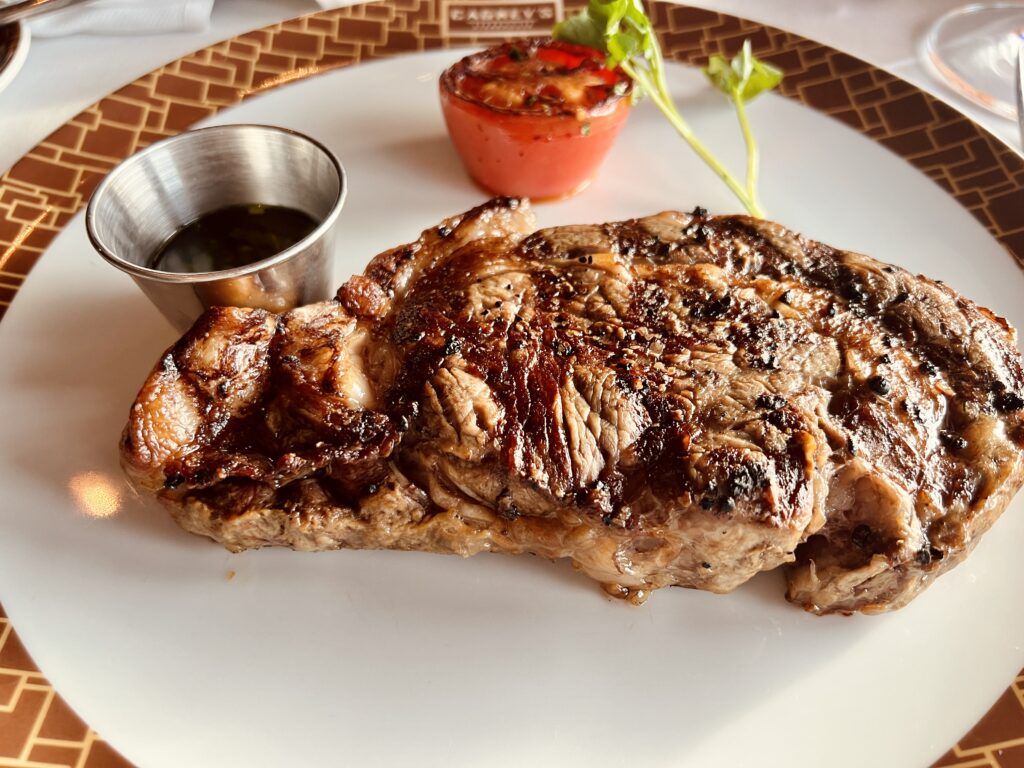 Cagney's is open nightly for dinner from 5:30 to 9:30 PM and is a great choice for an elegant night out on Norwegian Joy.
Le Bistro – Deck 8
French cuisine with some great ocean views are available at Le Bistro. In a different location than sister ships, Norwegian Bliss and Encore, Le Bistro on Norwegian Joy is located on the Waterfront. Thus, cruisers have the option of indoor or al fresco dining for a romantic evening at sea.
The menu includes French favorites like Coq Au Vin and escargot, as well as lobster thermidor for an extra $25 dining package supplement.
Le Bistro is open nightly for dinner from 5:30 to 9:30 PM.
Ocean Blue – Deck 8
Fresh seafood and ocean views come together for one epic night out at Ocean Blue. This was perhaps our best specialty meal during our Norwegian Joy cruise. Among some of our favorite menu items were the clam chowder, gumbo, and the cioppino.
Cruisers can dine with or without the Specialty Dining Package at this elegant and nautically themed venue. However, if you choose to use the dining plan, there is an additional $25 supplement for some items on the menu like the surf and turf and whole lobster.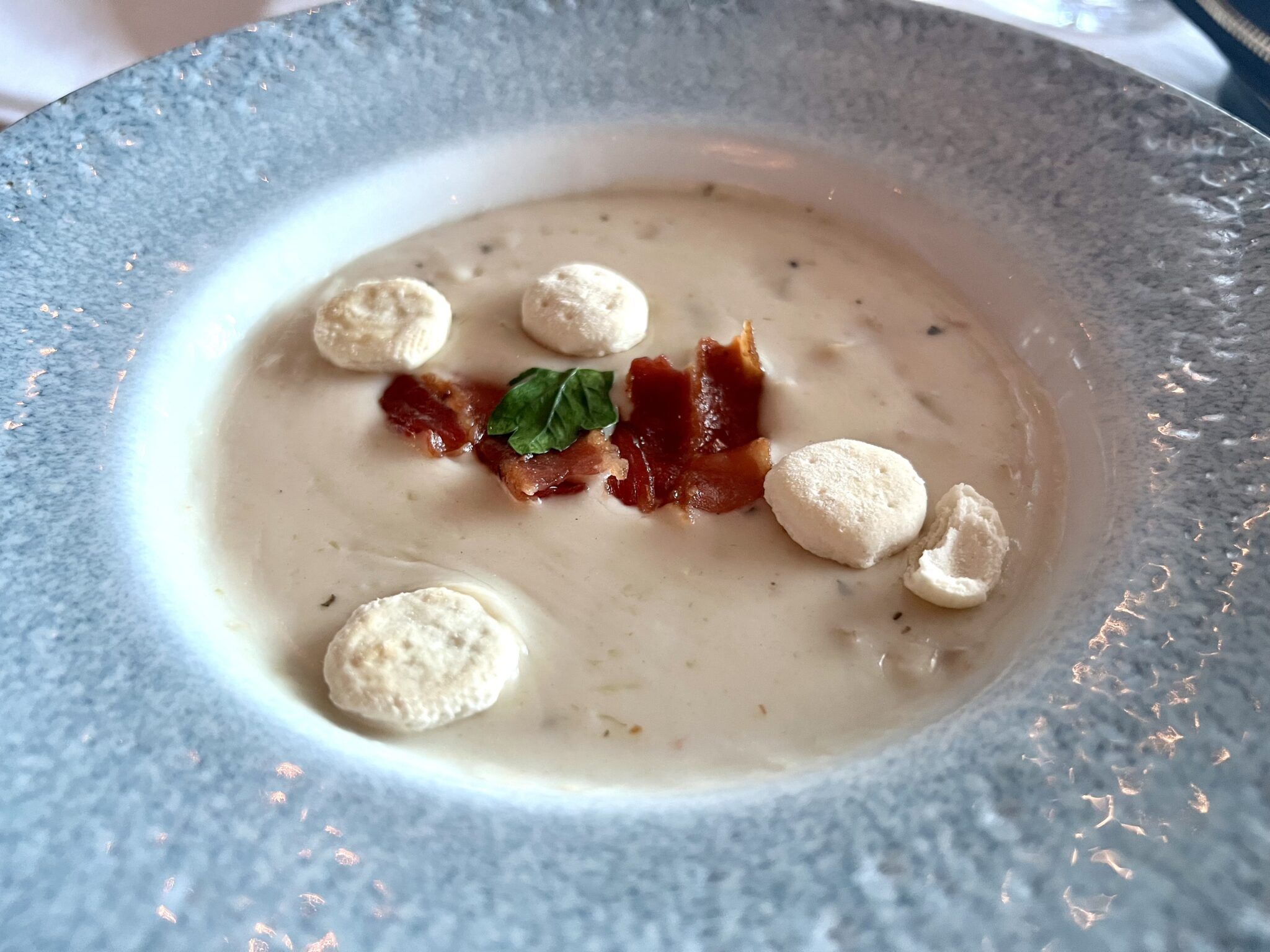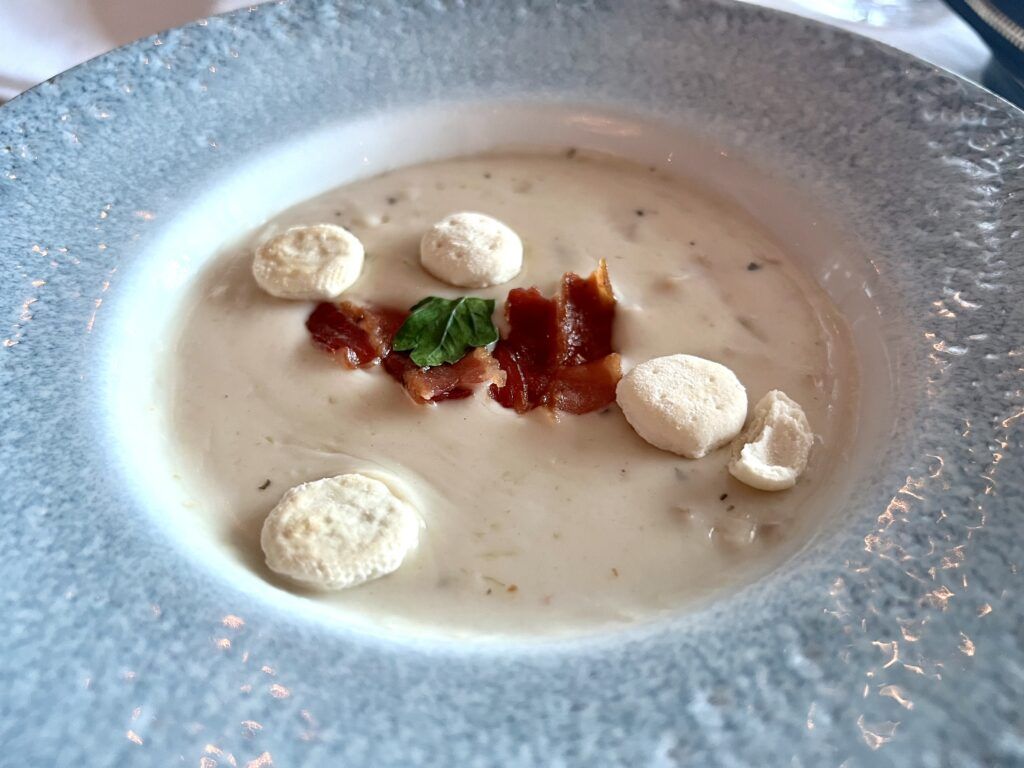 Ocean Blue is open nightly for dinner from 5:30 to 9:30 PM.
La Cucina – Deck 8
The line's signature Italian restaurant, La Cucina, offers several courses that are inspired from the various regions of Italy. Diners on Norwegian Joy can start with classics like fried calamari, an antipasti plate, or pizza. They can then continue with a pasta course, followed by a featured entrée, and finish the meal off right with a piece of tiramisu or ricotta cheesecake.
While the options were good at La Cucina, we do prefer the Italian restaurant Onda by Scarpetta found on newer ships in the fleet.
La Cucina is open nightly for dinner from 5:30 to 9:30 PM.
Food Republic – Deck 8
One of our favorite restaurants on Norwegian Cruise Line is Food Republic. This fusion restaurant combines different culinary traditions and cooking styles. The items range from sushi and handheld bites like firecracker shrimp or Korean chicken. In addition, the menu features shareable plates, a grill, and noodles and rice.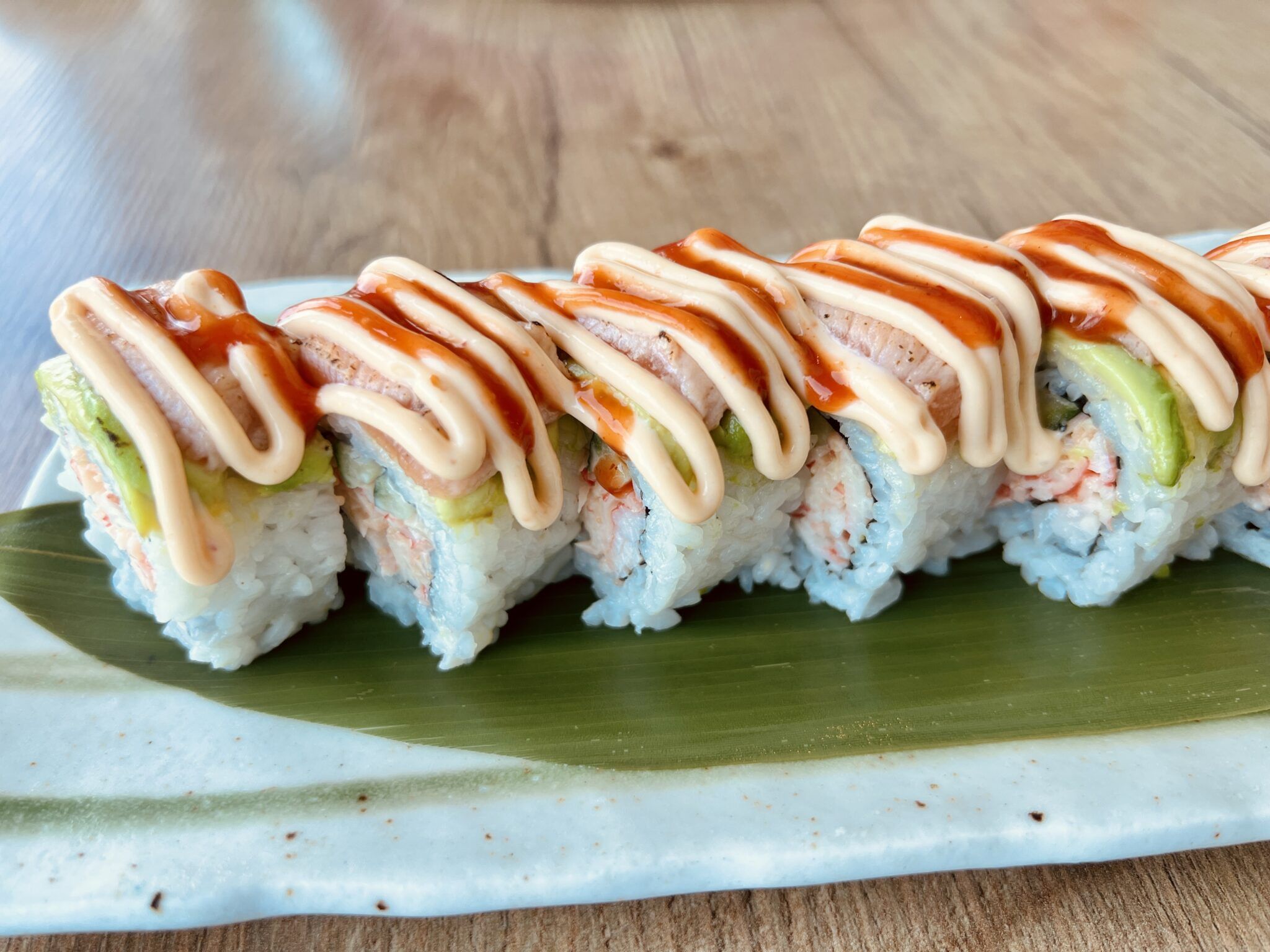 Most importantly, guests using a Norwegian Cruise Line Specialty Dining Package at Food Republic can order up to four items each. Additional items will be charged a la carte.
Food Republic is open nightly for dinner from 5:30 to 9:30 PM as well as select days for lunch from 12 to 1:30 PM.
American Diner -Deck 17
The American Diner is the most casual specialty restaurant on Norwegian Joy. It actually debuted on this ship, taking the place of the Margaritaville at Sea restaurant on previous ships in the fleet. American Diner is an a la carte restaurant big on nostalgia.
The menu offers a wide variety of comfort foods along with Americana décor. For instance, you can nosh on some sliders, a cheeseburger, or southern fried chicken paired with a milkshake.
This partially enclosed outdoor venue is the perfect spot to grab lunch while still enjoying ocean views. Though, it is only open on select days from 1 to 5 PM. It is also used as an overflow complimentary breakfast venue from 8 to 11:30 AM.
Of note, milkshakes are an additional fee if using a specialty dining package credit.
EXCLUSIVE SAVINGS: Get Deals on Norwegian Joy Cruises!
Norwegian Joy Complimentary Restaurants
In addition to the specialty restaurants, Norwegian Joy does offer a variety of complimentary venues that are open for breakfast, lunch, and dinner. These range from casual options like The Local to the upscale Manhattan Room.
Savor & Taste – Deck 6
On Norwegian Joy, you can dine wherever you want, whenever you want. There are three main dining rooms which all offer the same nightly menu. Savor and Taste are located aft on Deck 6.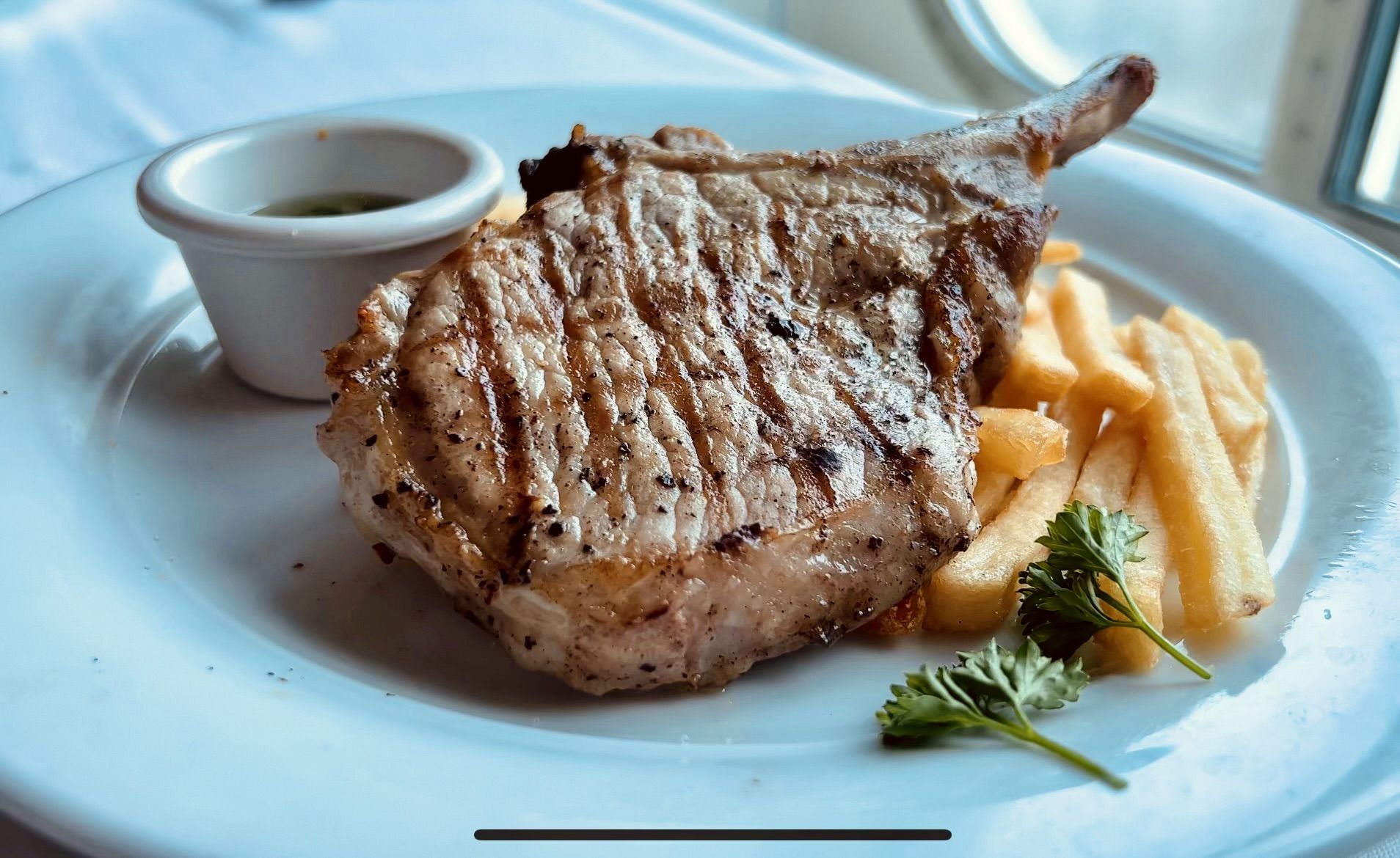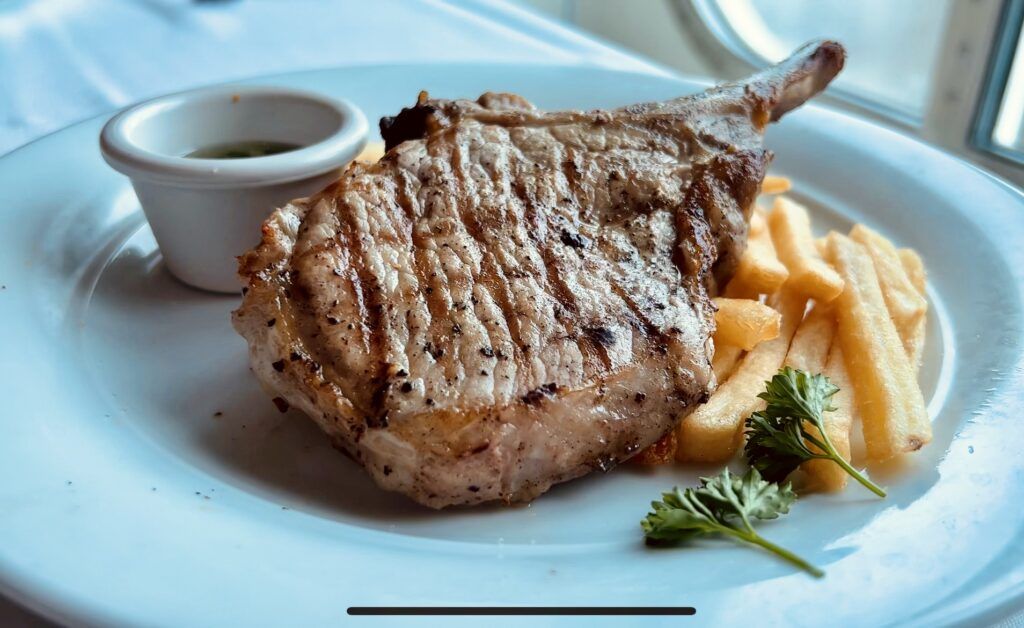 Unlike Norwegian Prima, the MDR menu selections still change each evening with a list of standard options available every night.
Savor and Taste are open for breakfast and select days for lunch, as well as nightly for dinner. Breakfast is served from around 7/7:30 to 9/9:30 AM. Lunch is served from around 11:30/12 to 1:30 PM. Dinner is between 5:30 and 9:30 PM.
Manhattan Room – Deck 7
The more upscale main dining room is the Manhattan Room which is located aft on Deck 7. This venue features the same menu as Savor and Taste. However, this restaurant is only open for dinner.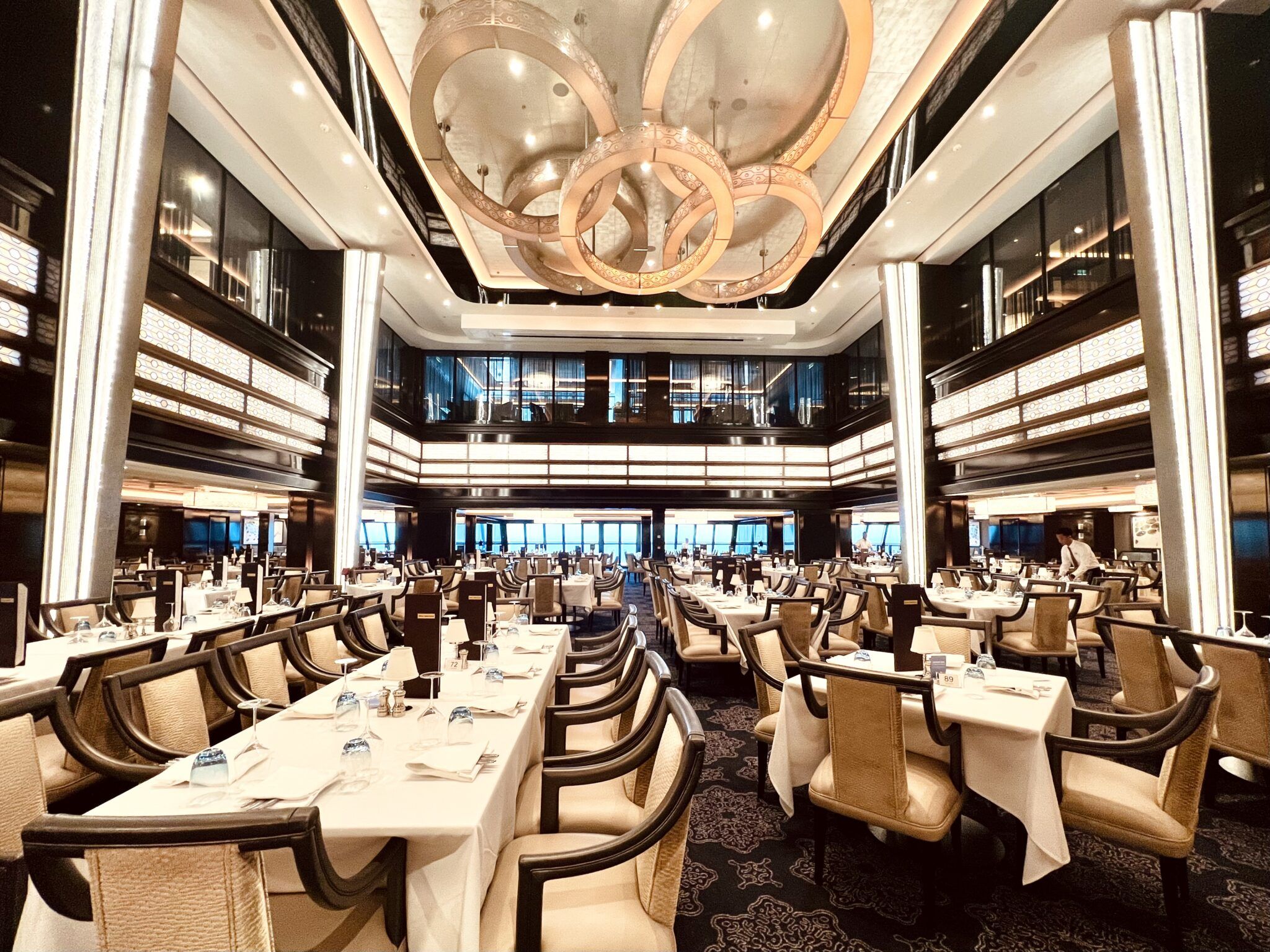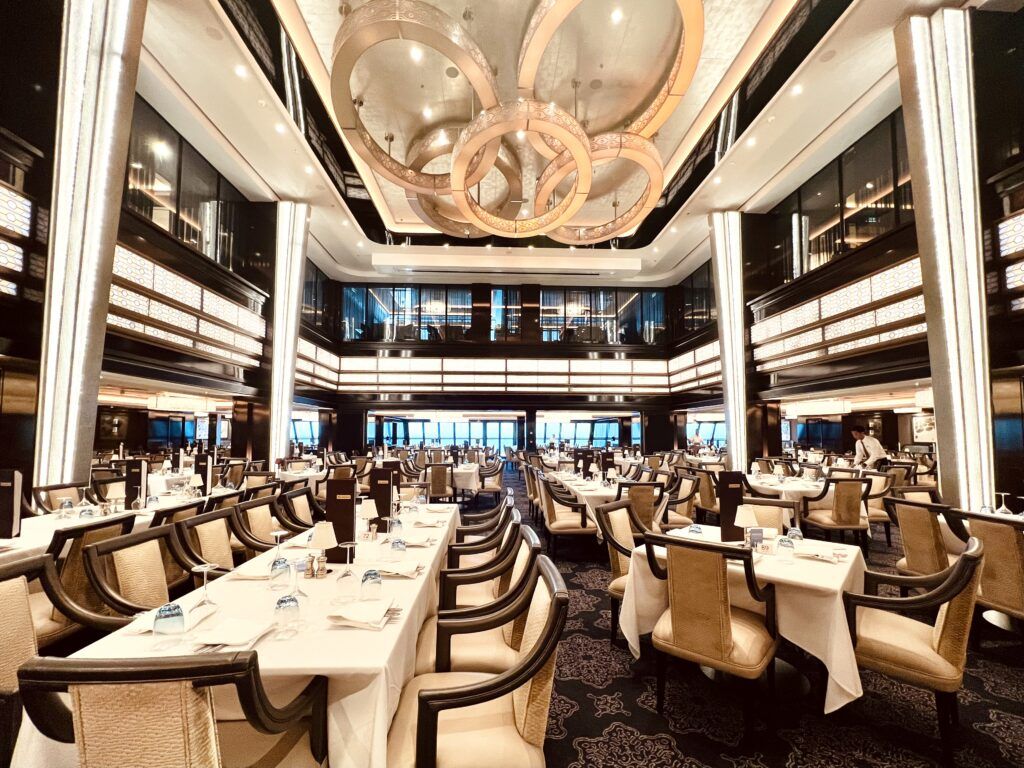 Reservations can be made in advance, or you can choose to just walk up whenever you want to dine. Keep in mind, there might be a short wait like any restaurant on land. The Manhattan Room is open nightly for dinner from 5 to 9 PM.
Breakfast | Lunch 1 | Lunch 2 | Lunch 3 | Dinner 1 | Dinner 2 | Dinner 3 | Dinner 4 | Dinner 5 | Dinner 6 | Dinner 7 | Wine List
The Local – Deck 7
If you are looking for a casual spot for breakfast, lunch, or dinner, the Local Bar and Grill is your table service destination. This complimentary venue is an updated take on the brand's popular O'Sheehan's Pub, with a menu that showcases similar offerings like the Fish and Chips, Chicago Style Hot Dog, and chicken wings.
The venue is open 24 hours a day serving up slightly different menus depending on what time of day you choose to dine. It serves breakfast from around 5 to 11:30 AM, lunch and dinner from 12:30 to 9:30 PM, and late night snacks from 9:30 PM to 4 AM.
Breakfast Menu | Lunch and Dinner Menu | Late Night Menu
Observation Lounge – Deck 15
This forward-facing venue on Norwegian Joy is a large space with plenty of comfy furniture and great views. It's the perfect spot to relax on a sea day or admire the scenery. Luckily, there are also snacks available if you get hungry.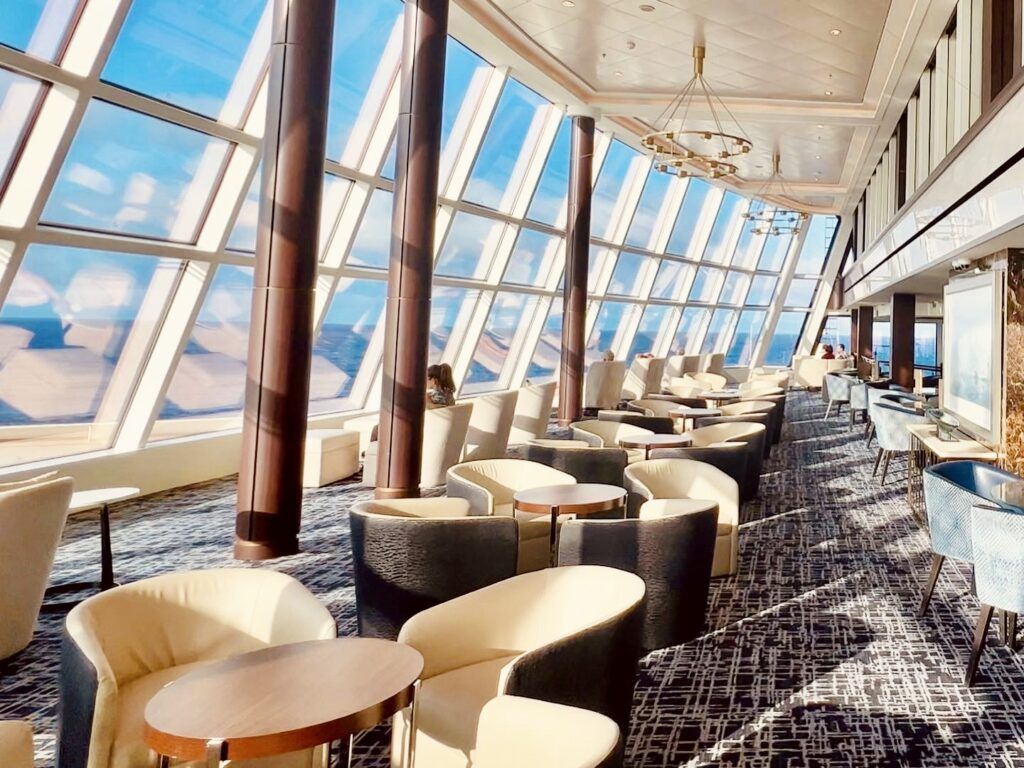 Light breakfast is available from 5:30 to 11:30 AM, and light lunch is available 2:30 to 5 PM. These snacks include items like small breakfast pastries, finger sandwiches, and desserts.
Garden Café – Deck 16
The Garden Café is the cruise ship's casual buffet which is open for breakfast, lunch, and dinner. Food selections include American, Indian, Asian, and Central American cuisines. The menu options rotate regularly with some standard offerings.
For dinner, there are often themed selections. On our sailing, they included Prime Rib, Roasted Leg of Lamb, Country Western, Grill Extravaganza, and Oriental.
The Garden Café is open for breakfast from between 6:30 and 7 AM to 10:30 AM. It reopens for lunch from around 12 to 3 PM and for dinner from 5 to 9:30 PM.
Room Service
Norwegian Cruise Line does offer room service for an upcharge as well. For breakfast, cruisers can choose continental items, as well as hot breakfast selections like omelets. No matter how much you order, breakfast is $4.95 (plus 20% gratuity). Breakfast is available from 6:30 to 10 AM. Cruisers can order via the stateroom television or using a door hanger menu.
For the remainder of the day, cruisers on Norwegian Encore can order from an all day menu via the stateroom television. The cover charge for room service from the all day menu is $9.95 (plus 20% gratuity) with drinks at current bar prices.
Breakfast Menu | All Day Dining
BOOK NOW: Get Exclusive Savings on Your Norwegian Joy Cruise!
Comments
Do you have a cruise planned on Norwegian Joy? Which of the Norwegian Cruise Line restaurants is your favorite? Drop us an anchor below with any questions about this Norwegian Joy Restaurant Guide.