We are back from a trip on Norwegian Cruise Line's newest ship, Norwegian Bliss, and have all of the restaurant menus to share. Feel free to share these Norwegian Bliss Restaurant Menus and Guide on social media; we just ask that you credit EatSleepCruise as the source when posting the menus elsewhere.

Norwegian Bliss Restaurant Menus and Guide
Deck 6
Teppanyaki
This Japanese-style hibachi steakhouse is a specialty restaurant that offers a multi-course menu with a flat fee price of $29.95 (+20% service charge). Entree selections range from chicken, steak, and shrimp, with all meals including soup, salad, fried rice, grilled vegetables, and dessert. This is a staple Norwegian Cruise Line restaurant. Whenever we have dined at Teppanyaki, the food was as good as the culinary show!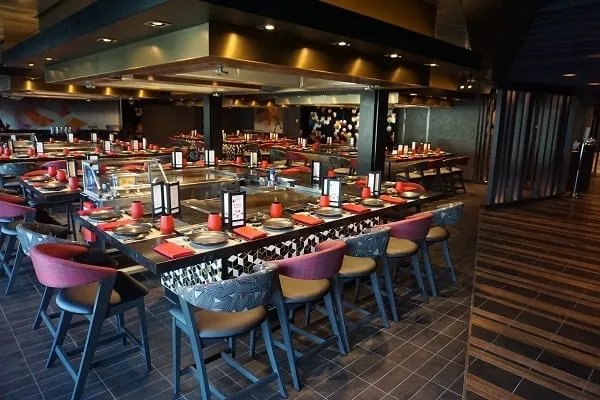 Starbucks
Norwegian Cruise Line's first Starbucks at sea is right at home in the ship's homeport of Seattle, WA. The menu is what you would expect to find at the coffee house on land, serving lattes, espressos, drip coffee, and even other pastries and snacks. Unfortunately, none of the beverages are covered in the Ultimate Beverage Package, and all of the food is an up-charge with advertised a la carte pricing.
Cocos
Chocolate lovers have a new place to indulge in all things sweet on Norwegian Bliss. At Coco's, your confectionery favorites come in all varieties including bonbons, crepes, outrageous milkshakes and sundaes, and even a chocolate fondue fountain. You may have to show some self-restraint because you could simply lose yourself in these sweet surroundings. Coco's a la carte menu is an up-charge, and the restaurant is open most days until late.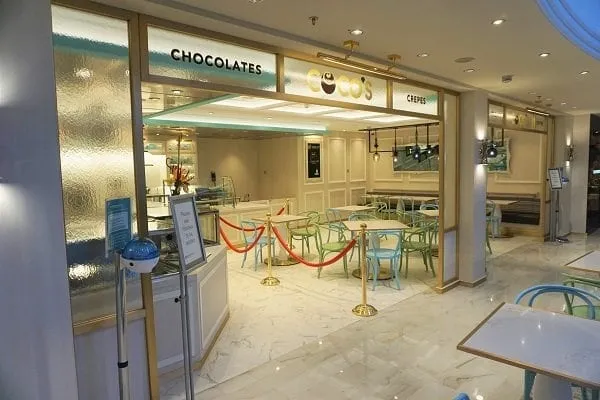 Bonbons, Candy, & Gelato | Milkshakes 1 | Milkshakes 2 | Shareable Drinks | Sundaes 1 | Sundaes 2 | Crepes | Fondue | Coffee
Q Texas Smokehouse
What goes better with some southern style brisket or baby-back ribs? How about some live country music. At Norwegian Cruise Line's newest dining concept, Q Texas Smokehouse, you can enjoy down-home comfort food, then join the hoedown afterwards with some good ole' country tunes and dancing. This specialty restaurant is part of the Specialty Dining Package and offers a la carte prices. With savory selections like smoked beef brisket, pork spareribs, mac and cheese, and banana pudding, the costs are certainly worth it. See our Q Texas Smokehouse dining review to learn more about this new restaurant.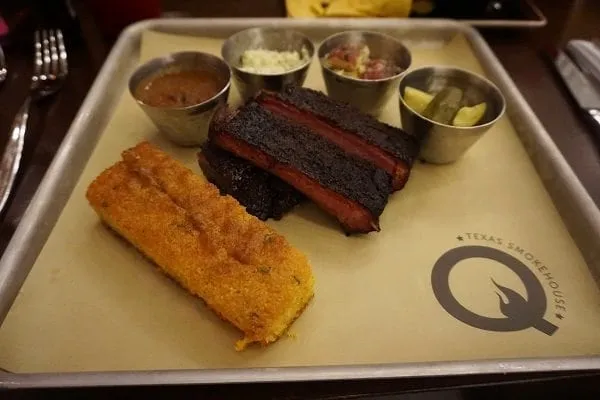 Deck 7
The Local Bar and Grill
If you are looking for a relaxed, casual spot for breakfast, lunch, or dinner, the Local Bar and Grill is your table service destination. This complimentary venue is an updated take on the brand's popular O'Sheehan's Pub, with a menu that showcases similar offerings like the Fish and Chips and Chicago Style Hot Dog, with some new additions like the Tortilla Bowl. The venue is open 24 hours a day serving up slightly different menus depending on what time of day you choose to dine.
Breakfast | Cocktails | Beer and Soft Drinks |  Lunch & Dinner | Dessert
Deck 8
Cagney's Steakhouse
Norwegian Cruise Line's signature steakhouse is a carnivore's go-to specialty dining restaurant. Part of the Specialty Dining plan (or you can choose to pay a la carte), Cagney's offers both al fresco seating on the Waterfront and indoor accommodations. Menu items like the perfectly seared filet, veal chop, or jumbo shrimp cocktail are paired with a wide selection of sides and desserts. We have never left this venue hungry, and we doubt you will either.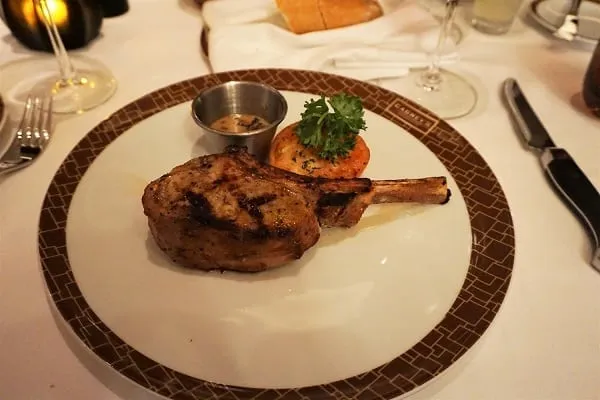 The Bake Shop and Dolce Gelato
If you like petite pastries or perhaps a scoop of smooth Italian-style ice cream, then you might stop in at the Bake Shop during one of your afternoon strolls along the Waterfront. This ocean-side venue on Norwegian Bliss is the perfect place to take a midday break with the family and indulge in a treat. After all, you are on vacation. These items are priced a la carte.
Los Lobos
Another new addition to the Norwegian Cruise Line line-up is the upscale Mexican restaurant, Los Lobos, that first appeared on Norwegian Dawn after the ship's refurbishment in 2016. The menu highlights classic Mexican dishes with a modern twist, such as guacamole prepared table-side, Grilled Mahi-Mahi Tacos, and Mesquite Smoked Chicken Quesadillas. The specialty dining plan is accepted at the restaurant or you can pay a la carte. Couple the exquisite menu with handcrafted cocktails, and you have one festive night out whether you choose to dine indoors or al fresco.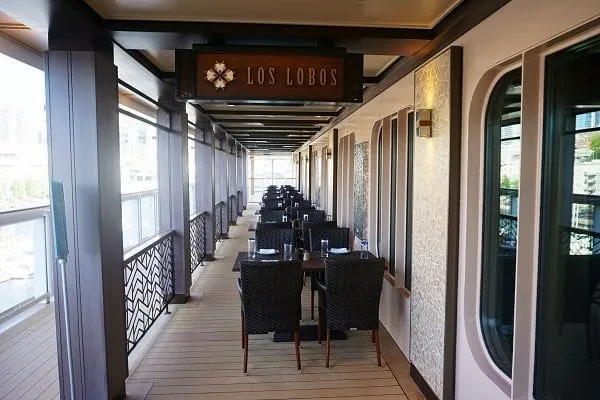 Ocean Blue
Fresh seafood from both the Atlantic and the Pacific come together for one epic evening at Ocean Blue on the Waterfront. With selections of cold and hot appetizers like baked clams casino and Pacific clam chowder, to entrees such as swordfish steak and pan-seared scallops, there are plenty of options to tempt your taste buds. Dine with or without the Specialty Dining package in style and class with an elegant nautical design as your backdrop. Note, if you choose to use the dining plan, there is a $10 surcharge on top of using the meal credit.
Wines and Oysters | Starters and Entrees
La Cucina
The line's signature Italian restaurant offers several courses that are inspired from the various regions of Italy. Diners on Norwegian Bliss can start with classics like fried calamari or an antipasti plate. Continue with a pasta course, followed by a featured entree like DB's preferred Osso Bucco, and finish the meal off right with a piece of tiramisu. It's a good thing that the Specialty Dining Package is accepted as you will want to sample selections from every course. For a more romantic evening, you should consider dining on the Waterfront.
Food Republic
One of our favorite restaurants on Norwegian Cruise Line, Food Republic is a fusion restaurant that combines different culinary traditions and cooking styles. The bright, funky design offers patrons ocean views while dining at the restaurant. Food Republic is not covered in the dining package. With items ranging from sushi and handheld bites like the firecracker shrimp, to shareable plates, a grill, and noodles and rice, it easy to rack up quite a bill. Oh, you will need to save room for the green tea jar too, one of the sweetest treats on the ship.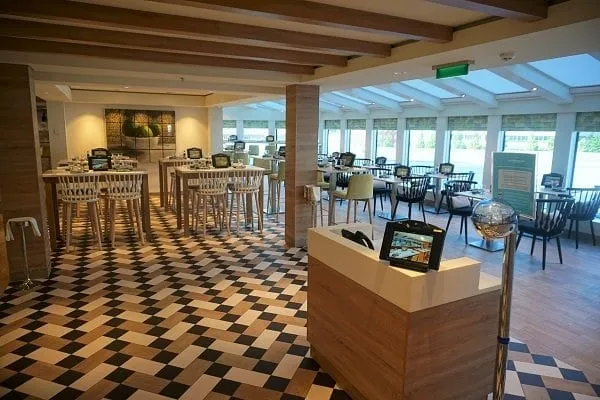 Drinks, Sushi and Dessert | Handhelds and Shareables | Rice, Noodles, and Grill
Deck 16
Garden Café
The cruise ship's casual buffet is open for breakfast, lunch, and dinner and offers a variety of food options. International selections include American, Indian, Asian, and Central American cuisines. Norwegian Bliss also features a seafood buffet one evening that has everyone on social media a buzz. We missed the display on our sailing, but we will be sure to check it out when we cruise again on the ship in August. The menu options rotate regularly, so tracking an official menu is almost impossible.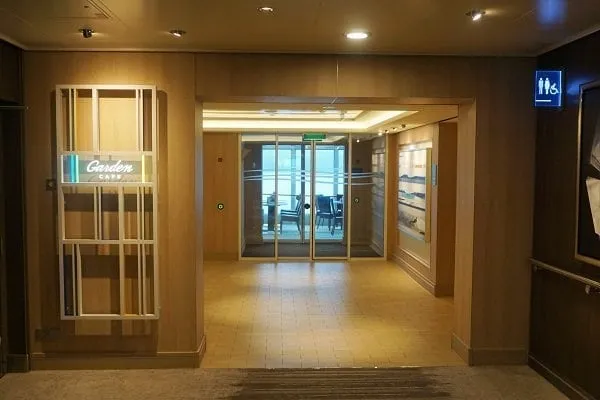 Deck 17
Jimmy Buffett's Margaritaville
Parrotheads have another new home onboard Norwegian Bliss, the fifth Margaritaville at Sea serves up the brand's iconic beverages and food. Pick from the Volcano Nachos or a Cheeseburger in Paradise, then wash these down with some signature margaritas like the Who's to Blame Margarita or the Uptown Top Shelf Margarita. The restaurant is open during lunchtime hours and has a flat fee charge of $14.95, plus 20% gratuity. While you can use the Specialty Dining Package at the venue, the cost-benefit analysis suggests you are better off paying the flat fee.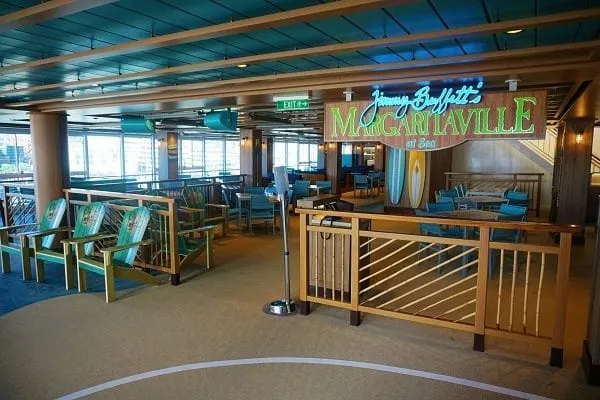 Le Bistro
French cuisine with some of the best views of the ocean are available at Le Bistro. The restaurant received a new home on Norwegian Bliss, being lifted up 11 decks from its home on other Breakaway and Breakaway-plus class ships. This new home provides a more open, yet intimate space for cruisers looking to celebrate a special evening. The menu has been updated but still includes some of the restaurant's favorites like the Coq Au Vin. Whatever you choose for dinner, make sure to save room for the profiteroles for dessert. The Specialty Dining Package is accepted and is a great value as dinner can be quite pricey at this a la carte restaurant.
Comments
What is your favorite restaurant on Norwegian Cruise Line? Which restaurants are your top picks for dining on Norwegian Bliss? Drop us an anchor below to share your restaurant reviews from this new ship.