There is a lot to love about the dining on Royal Caribbean ships. Across its fleet, there are a variety of complimentary, casual dining spots included in the cruise fare. There are also several signature specialty restaurants that serve up some mouthwatering meals, not to mention the three course feasts in the main dining room. In this post, we share our picks for the Top Royal Caribbean Restaurants.
Do you agree with our choices?
Top Royal Caribbean Restaurants
Specialty Restaurants
Chops Grille
Chops Grille is the Royal Caribbean signature steakhouse. This specialty restaurant is found on most ships in the fleet.
If you are looking for a perfectly seared cut of beef, then this is your spot. Even though the location of this restaurant may differ by the class of ship, the menu consistently offers top-notch selections of meat, poultry, and seafood. Not to mention, you can enjoy appetizers like shrimp cocktail, crab cakes, or black pepper bacon, and decadent desserts like the popular red velvet cake.
Chops Grille is the perfect venue to celebrate a special occasion or to enjoy during one of the cruise formal nights. Advanced reservations are highly recommended as this restaurant does book up quickly.
Giovanni's Italian Kitchen
Perhaps one of our favorite new additions to Royal Caribbean ships is Giovanni's Italian Kitchen. This re-imagined venue debuting on the amplified Freedom of the Seas is a new take on a guest favorite.
This rustic venue serves up all the Italian classics. The menu features made-to-order pizzas prepared in an open kitchen and baked in the new pizza oven. Cruisers can also enjoy classic pasta dishes, delicious entrees, and complimentary limoncello. 
Related Post: Top Foods on Royal Caribbean
You will also find Giovanni's Italian Kitchen and Wine Bar on the soon to debut Odyssey of the Seas. Other ships in the fleet still offer classic Italian dishes in other specialty venues like the traditional Giovanni's Table and Jamie's Italian.
EXCLUSIVE SAVINGS: The Latest Deals on Royal Caribbean Cruises
Wonderland
This whimsical restaurant will transport you and your taste buds on a magical journey. At Wonderland, the dining experience is part food and part show, with some exquisitely created dishes that are just as entertaining as they are delicious. 
If you are willing to venture down the rabbit hole, you can enjoy dishes off the tasting menu like liquid lobster or the bird's nest paired with out-of-this-world cocktails.
You might even have a visit from the Mad Hatter himself.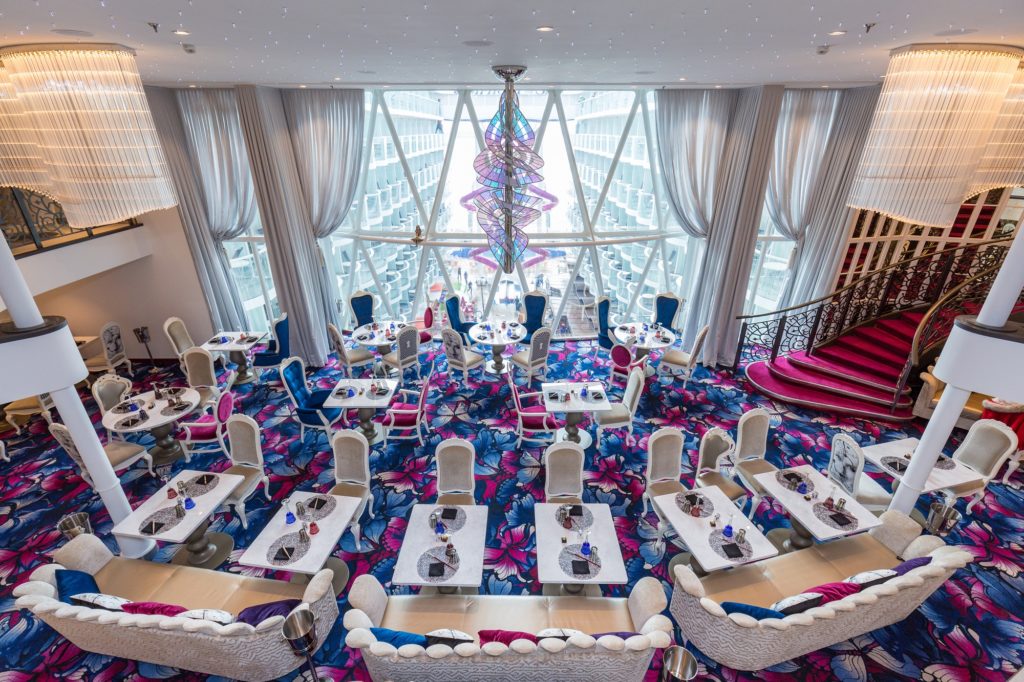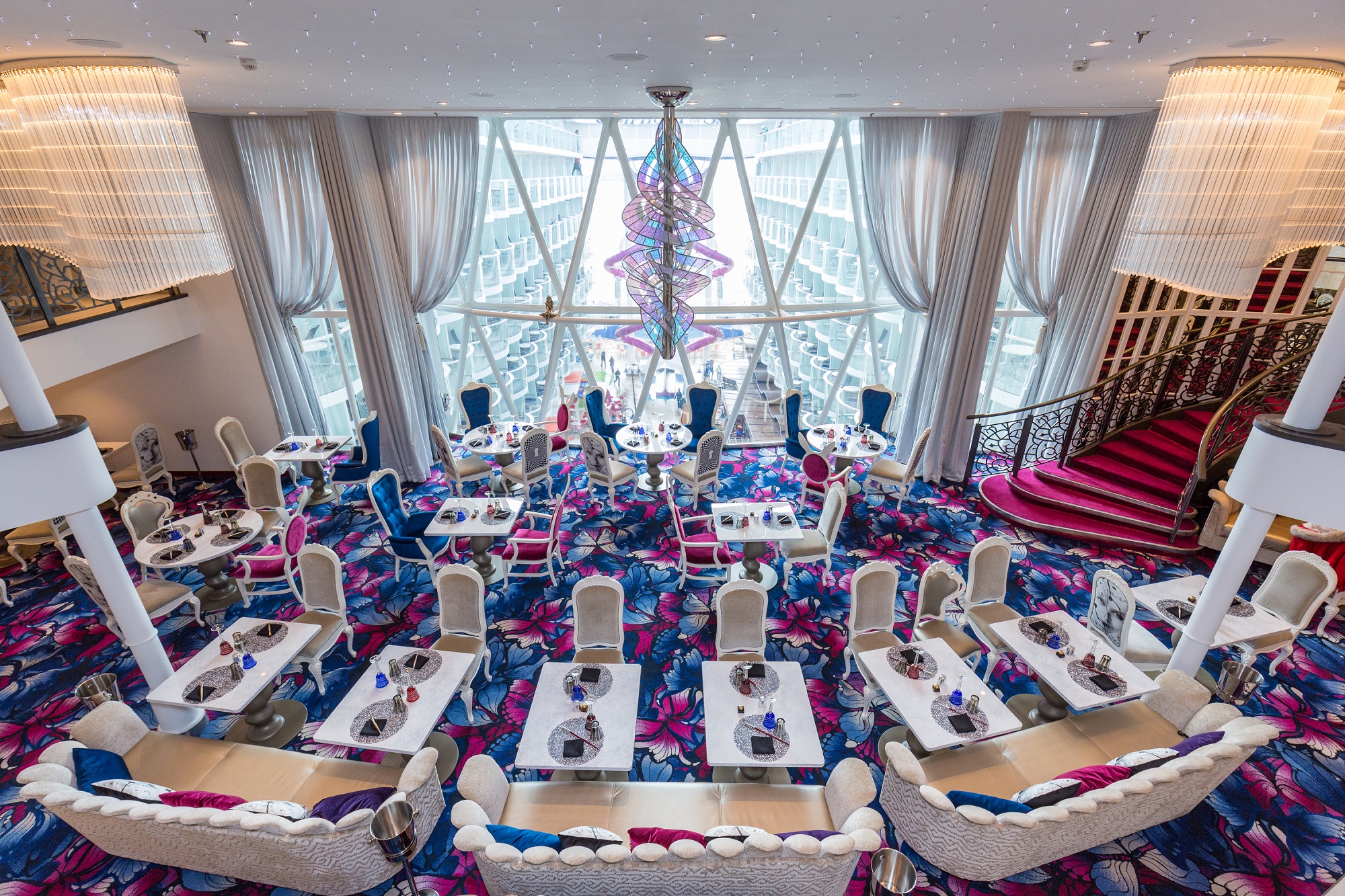 Wonderland can be found on Quantum-class ships as well as some of the Oasis-class ships. On Harmony of the Seas and Symphony of the Seas, this is a two-story venue with a dedicated bar and fantastic evening views out onto the Boardwalk.
Playmaker's Sports Bar and Arcade
Not all specialty restaurants are created equal. At Playmaker's Sports Bar and Arcade, you won't need to dress up for dinner. Instead, you can grab a handcrafted brew and watch a game on the big screens while enjoying pub favorites.
With popular options like chicken wings, nachos, an onion ring tower, and the signature Playmakers burger, you can't go wrong. You can even top it off with a touchdown sundae.
Related Post: Navigator of the Seas Cruise Review
Playmaker's Sports Bar and Arcade first debuted on Symphony of the Seas, but can also be found on other amplified ships in the fleet. Navigator of the Seas, Mariner of the Seas, and Freedom of the Seas all offer this pub, so you and your friends can really weekend like you mean it.
Izumi
Izumi is another Royal Caribbean fan favorite offering an authentic Asian meal. Located on many ships in the fleet, Izumi features several sushi options.
A newer addition on some of the amplified ships is Izumi Sushi and Hibachi. This venue features the popular dinner and a show teppanyaki experience. The sushi menu can be purchased a la carte while the hibachi experience is a flat fee.
While we don't like sushi, the hibachi gets two thumbs up from us. The interactive experience and watching the chef prepare your meal tableside is not to be missed.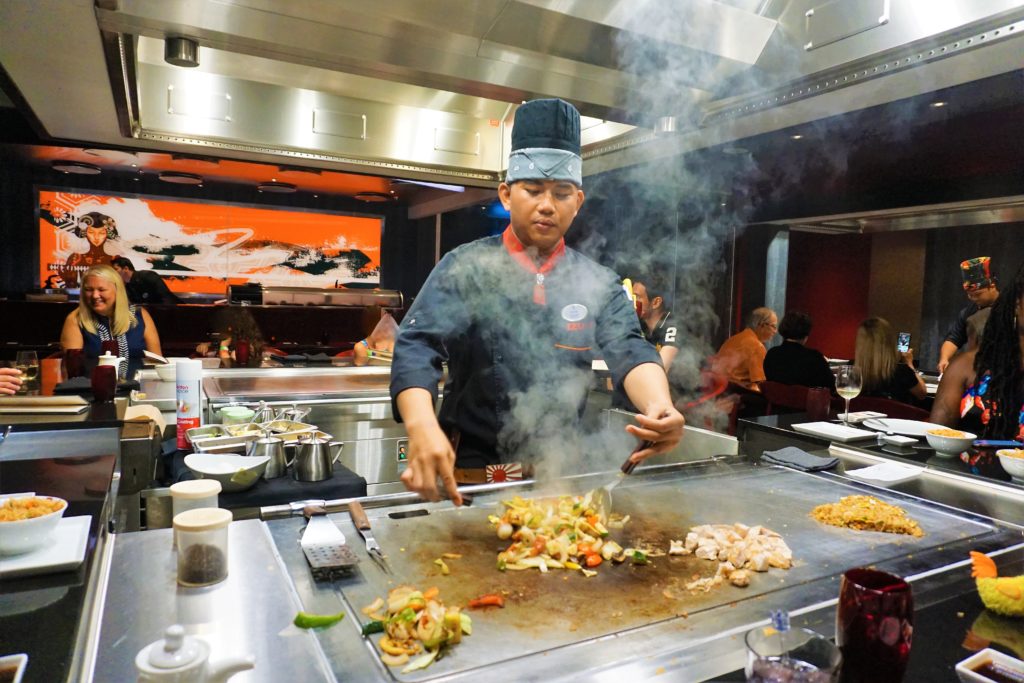 Johnny Rockets
Those back on land will recognize this 1950's inspired hamburger shop. The Johnny Rockets on Royal Caribbean ships have the same look and feel of the full-service restaurants.
Items on the menu include hamburgers, chicken fingers, french fries, and milk shakes. This up-charge venue can be found on several ships in the fleet, though the location does vary.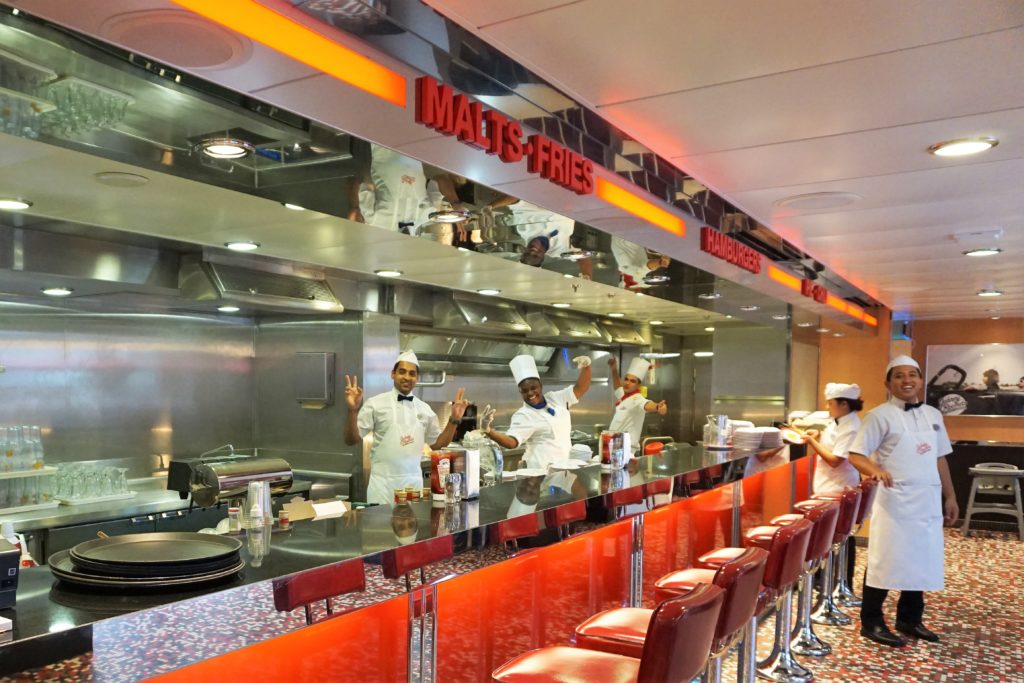 On Oasis-class ships, cruisers can enjoy Boardwalk views while dining at this venue. On this class of ships, Johnny Rockets also serves a complimentary breakfast. So, that's twice as many opportunities to watch the staff perform a little doo wop.
Related Post: Complete Guide to Royal Caribbean Drink Packages
Complimentary Restaurants
Main Dining Room
If you are looking for a complete dining experience, then you will want to visit the main dining room. The MDR offers a complimentary multi-course dinner that changes every night of your cruise.
There is traditional early and late seatings as well as My Time Dining. The main dining room also serves breakfast daily and lunch on sea days.
Cruisers can enjoy unlimited appetizers, entrees, and desserts in the main dining room. Some standout dishes include the roasted lamb shank, broiled lobster tail, and the braised short rib. With meals this good, there really isn't any reason that you need to pay extra for food on a cruise.
Windjammer
If you have cruised on Royal Caribbean before, then you are very familiar with the Windjammer. This casual, complimentary buffet is open most of the day. On both sea and port days, the Windjammer serves breakfast, lunch, and dinner.
For breakfast, the Windjammer offers your typical fare, with a custom-made omelet station, pastries, pancakes, waffles, and a variety of breakfast meats.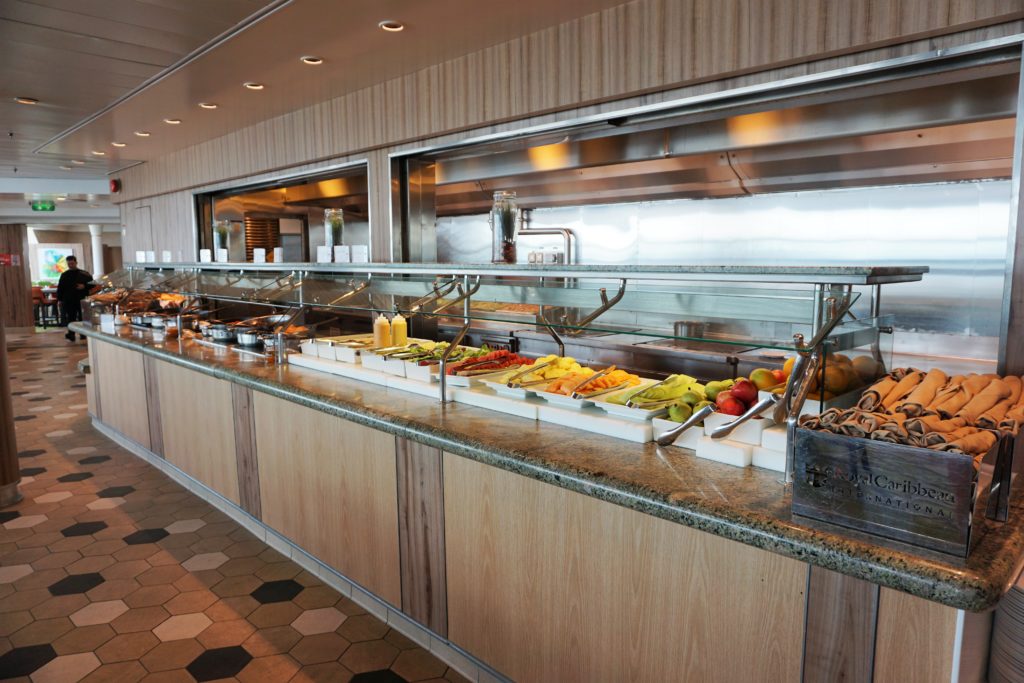 For lunch, the grill is open, as is the custom pasta station. A complete salad bar and other international warm entrees are also available. For dinner, you can expect a variety of different seafood, beef, and poultry options, along with similar stations that are also open during lunch. 
Related Post: Unlimited Dining Package on Royal Caribbean
Park Cafe
Open for a quick service style breakfast or lunch, we liken the Park Cafe on Royal Caribbean ships to a Panera Bread at sea. For breakfast, you can enjoy hot sandwiches, oatmeal, a make your own bagel bar, fresh fruit cups, and more.
In the afternoon, you can enjoy fresh paninis, custom salads, or the famous Royal Kummelweck roast beef sandwich. This venue is the perfect alternative to the busy Windjammer buffet.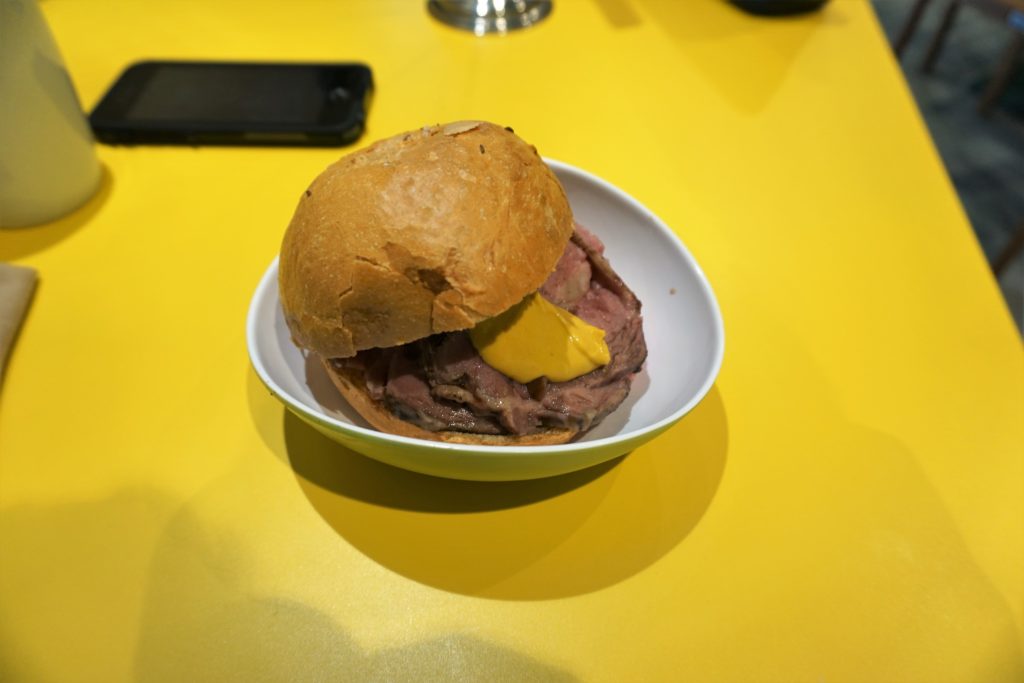 Park Cafe can be found on select ships in the Royal Caribbean fleet, including in Central Park on Oasis-class ships. On Quantum-class ships, Cafe Two70 provides a very similar menu. We highly recommend you check out these venues if they are offered on your ship.
El Loco Fresh
An up and coming favorite, El Loco Fresh debuted on Symphony of the Seas. El Loco Fresh is a Mexican-inspired venue offering tacos, burritos, quesadillas, and nachos with a custom salsa bar.
This venue also serves breakfast on select ships with offerings like like Ranchero Eggs and Salsa Rojo, breakfast meats, and pastries.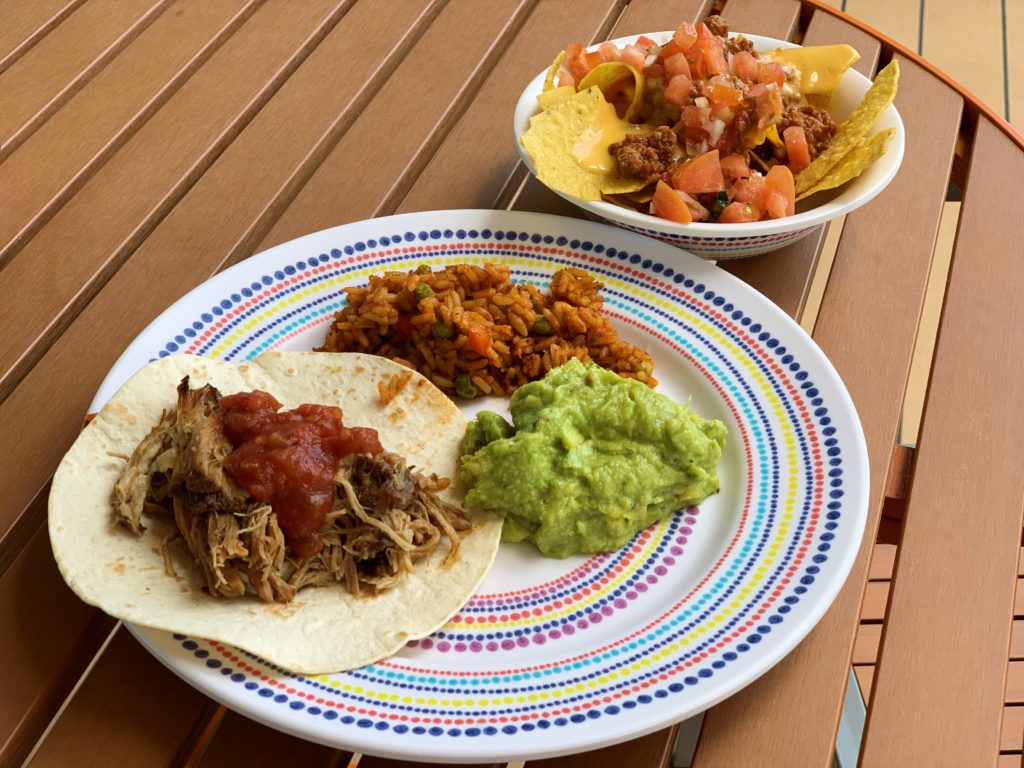 On newly amplified ships in the fleet, like Navigator of the Seas and Freedom of the Seas, this venue is located poolside. This quick-service location is the perfect spot to grab some snacks while lounging near the pool and is another great alternative to the Windjammer buffet.
Related Post: What's Included on a Cruise with Royal Caribbean
On Freedom of the Seas, there is even a full-service bar with tequila to complete your fiesta!
Dog House
If you love dogs, the Boardwalk Dog House should be your go-to stop for a casual lunch or a quick snack. This stand, located on the Boardwalk of course, is home to 4 varieties of dogs and sausages. 
A similar food truck cart is also located in the SeaPlex on Quantum-class ships. Additionally, the amplified Mariner of the Seas even has a Dog House on the pool deck.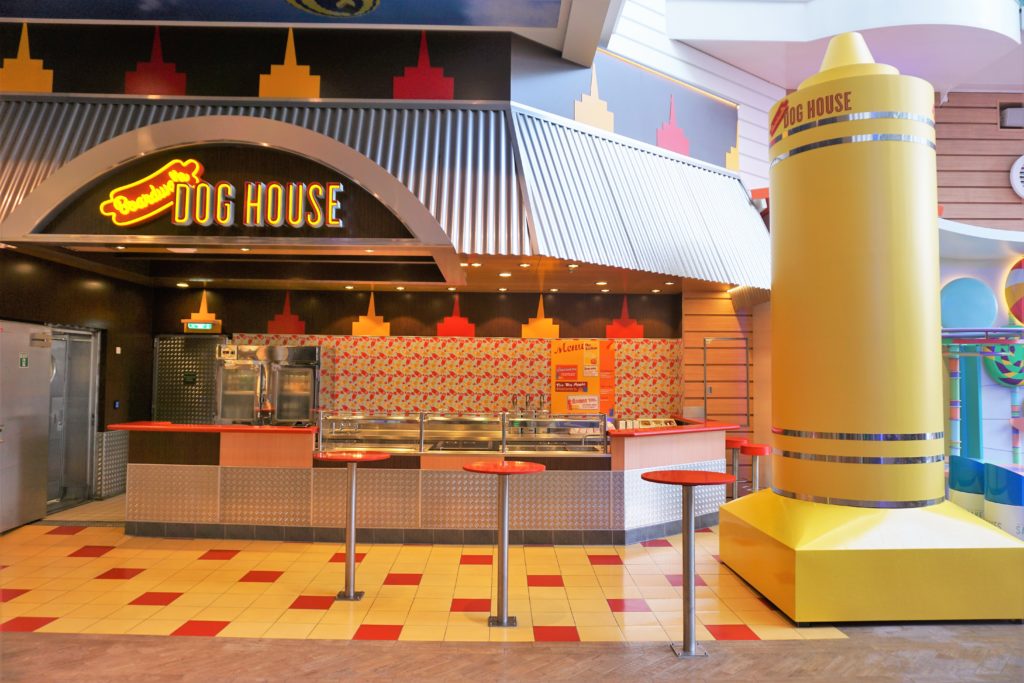 This venue serves up classic Coney Island hot dogs as well as the pork-based Smokehouse, the German, and the Big Apple chicken sausage. These dogs can be customized with condiments and a toppings bar. You can even get some potato salad or cole slaw on the side.
Which dog is your favorite?
Sorrento's
Sorrento's is your onboard pizza parlor. Located on the Promenade of most Royal Caribbean ships, this venue serves up slices of classic favorites like pepperoni and cheese in addition to daily specials.
On some ships, there is also a small antipasto bar with a variety of appetizers to compliment your pieces of fresh pie.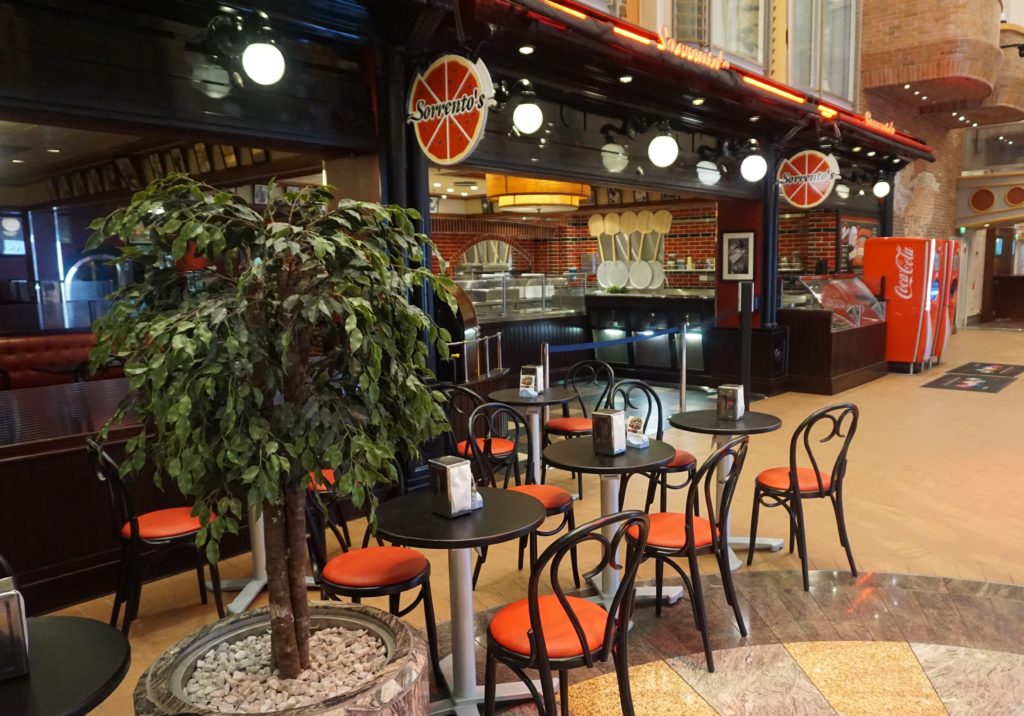 Sorrento's is open most days from lunch time through the wee hours of the morning. So, whether you want to grab a quick snack during the day or you get the late night munchies, you can't go wrong with a few slices of pizza from this venue.
Comments
Do you agree with our Top Royal Caribbean Restaurants? Do you have a venue that you think should have also made our list? Drop us an anchor below to share your favorite spots to eat on Royal Caribbean ships.