Symphony of the Seas, Royal Caribbean International's newest ship, has stolen the record from her older sister, Harmony of the Seas, as the world's current largest cruise ship. This world record breaking vessel offers plenty of onboard activities for all types of cruisers. With such a plethora of offerings, how will you decide what you want to accomplish during your cruise? Well, we are here to help. After just returning from a cruise on this new mega-ship, we have come up with our list of the Top Things to Do on Symphony of the Seas.

Top Things to Do on Symphony of the Seas
Breeze Through Terminal A
Being the world's largest cruise ship, Symphony of the Seas accommodates over 6,000 passengers. The good news is that the brand new, state-of-the-art Terminal A offers a seamless and speedy embarkation despite the number of eager cruisers. With improved processes, technology, and plenty of staff, our entire check-in process took only a few minutes. Be sure to download the new Royal Caribbean app, complete your check-in process ahead of time, and arrive at the terminal with your set sail pass in hand (print or digital copy acceptable) to avoid any delays. That way, all you will have to do is admire the beauty of this new Miami terminal.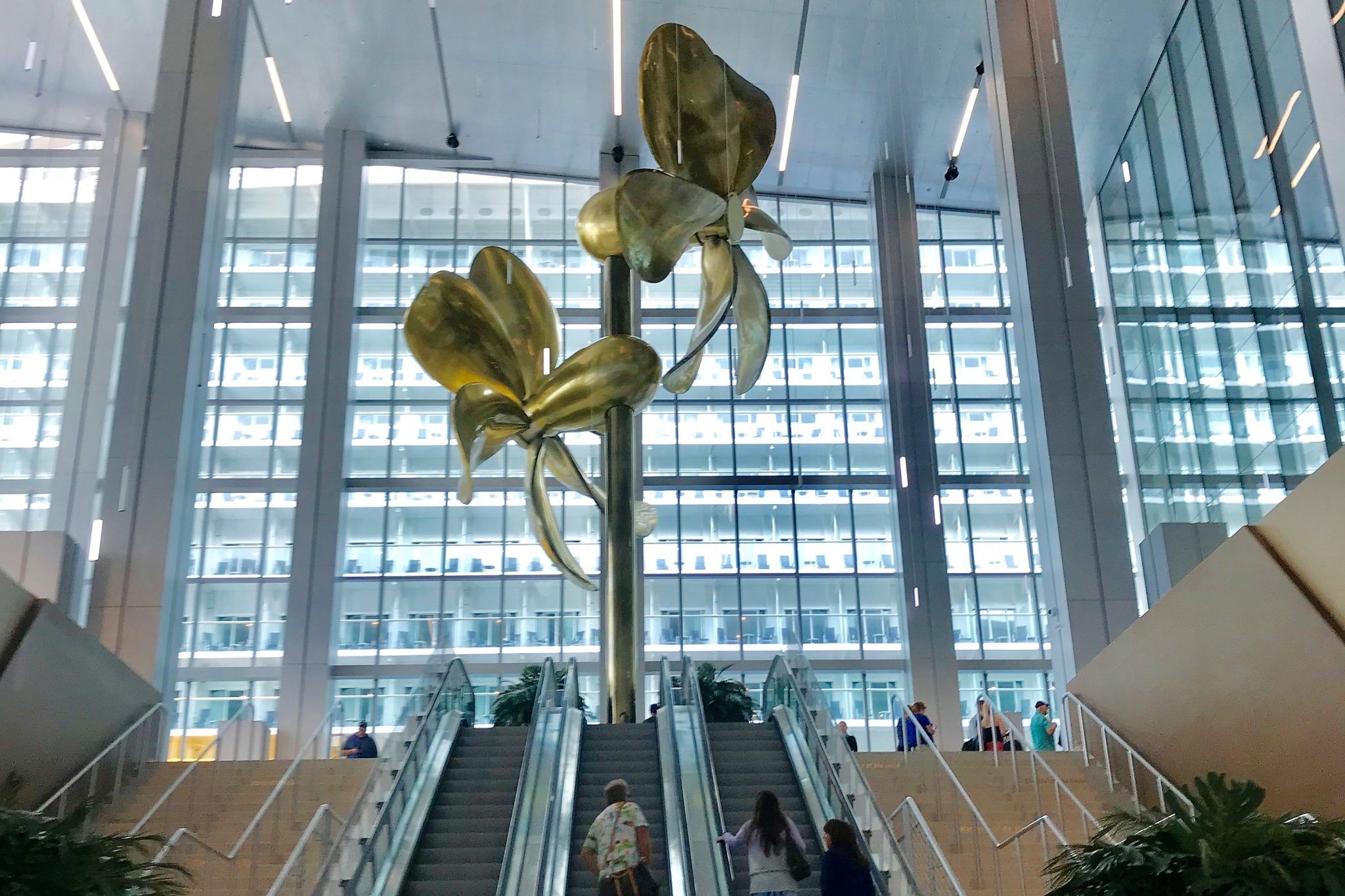 Take a Ride on the Ultimate Abyss
A first of its kind at sea, the Ultimate Abyss which debuted on Harmony of the Seas has been enhanced for Symphony of the Seas. This 10 story slide towers 150 feet above sea level, twisting and turning its way from the Sports Deck all the way down to the Boardwalk. Brave the glass launching platform, take a seat on your riding mat, and enjoy the ride complete with visual and audio effects. Admittedly, the entrance is the scariest part of the slide, so don't let all the hype scare you away from trying this novelty experience. You will need a sleeved-shirt to ride.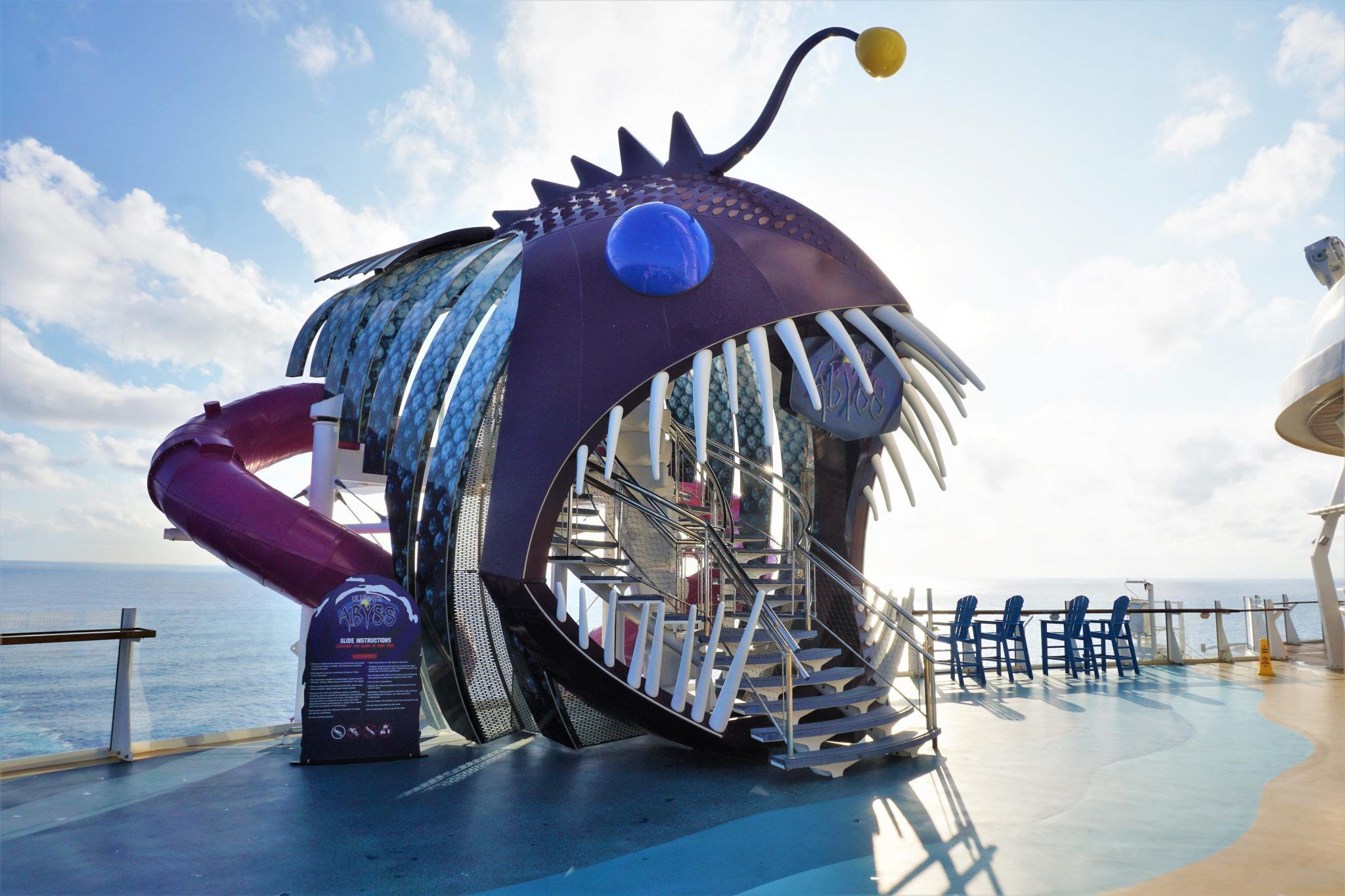 Compete in a Friendly Game of Laser Tag
A new addition to the Oasis-class is laser tag. A growing trend in the cruise industry recently, this game of laser tag is an out of this world, glow in the dark version held in Studio B on select days and times. Gear up with your laser blaster and get ready for a family friendly competition as you go head to head in the Battle for Planet Z. Will the Aliens or the Robots come out victoriously? Laser tag is a complimentary activity included in your cruise fare so be sure to give it a try. Be warned that the lines and wait times can get quite long especially on sea days, so be sure to arrive early.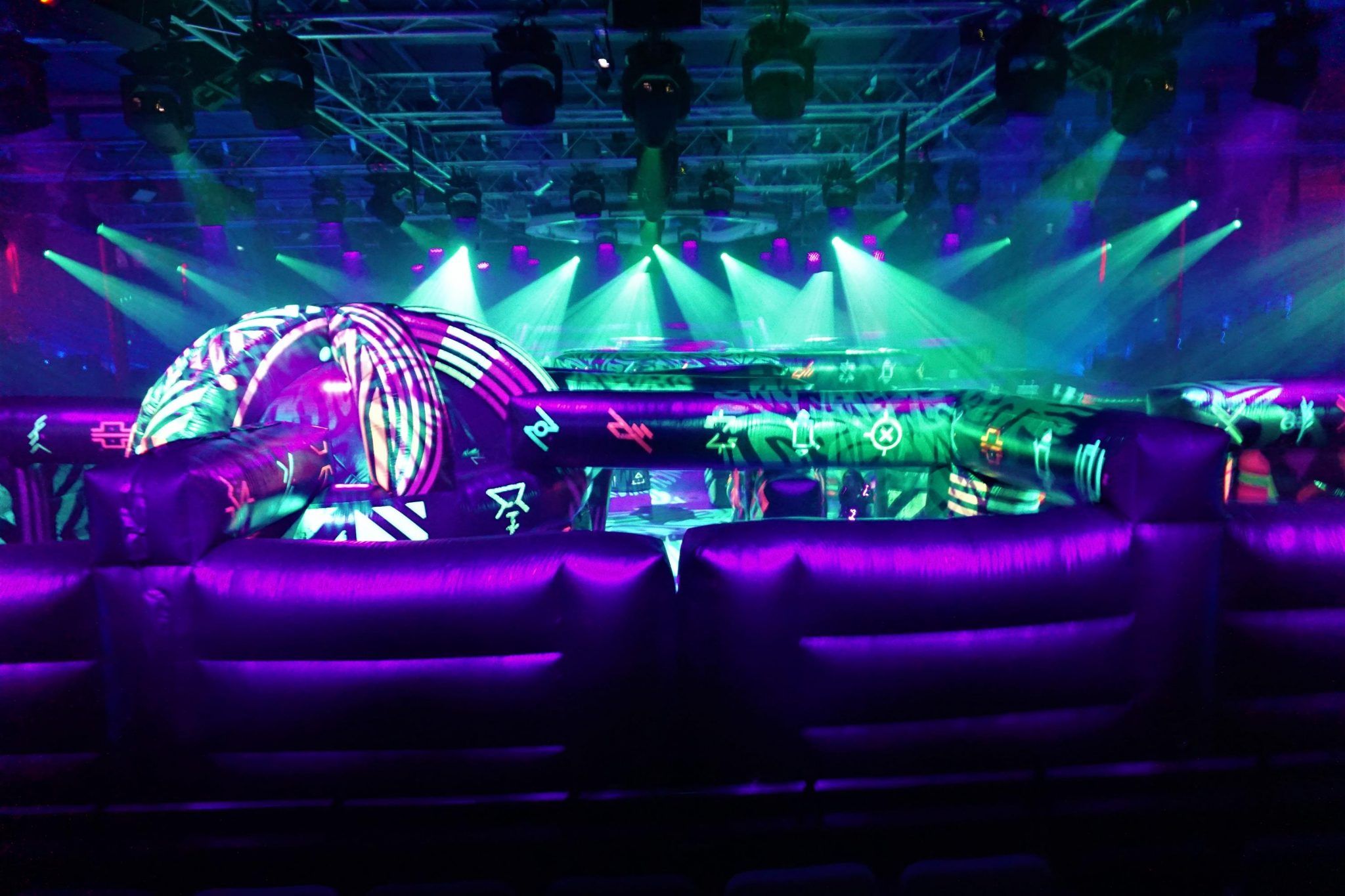 Make a Splash on the Perfect Storm
Royal Caribbean has hopped on the waterslide bandwagon recently. Symphony of the Seas is now also home to the trio of waterslides called the Perfect Storm. These waterslides are sure to provide some wet and wild fun during those hot Caribbean days. Whether you choose to swirl around in the Champagne bowl slide or whiz down the dual racer slides, you are bound to have a swimmingly good time. Just remember to remove all jewelry and leave all personal belongings down on the pool deck, so you don't get turned away at the top after waiting in line. If waterslides aren't your thing, there are 4 pools for you to enjoy as well.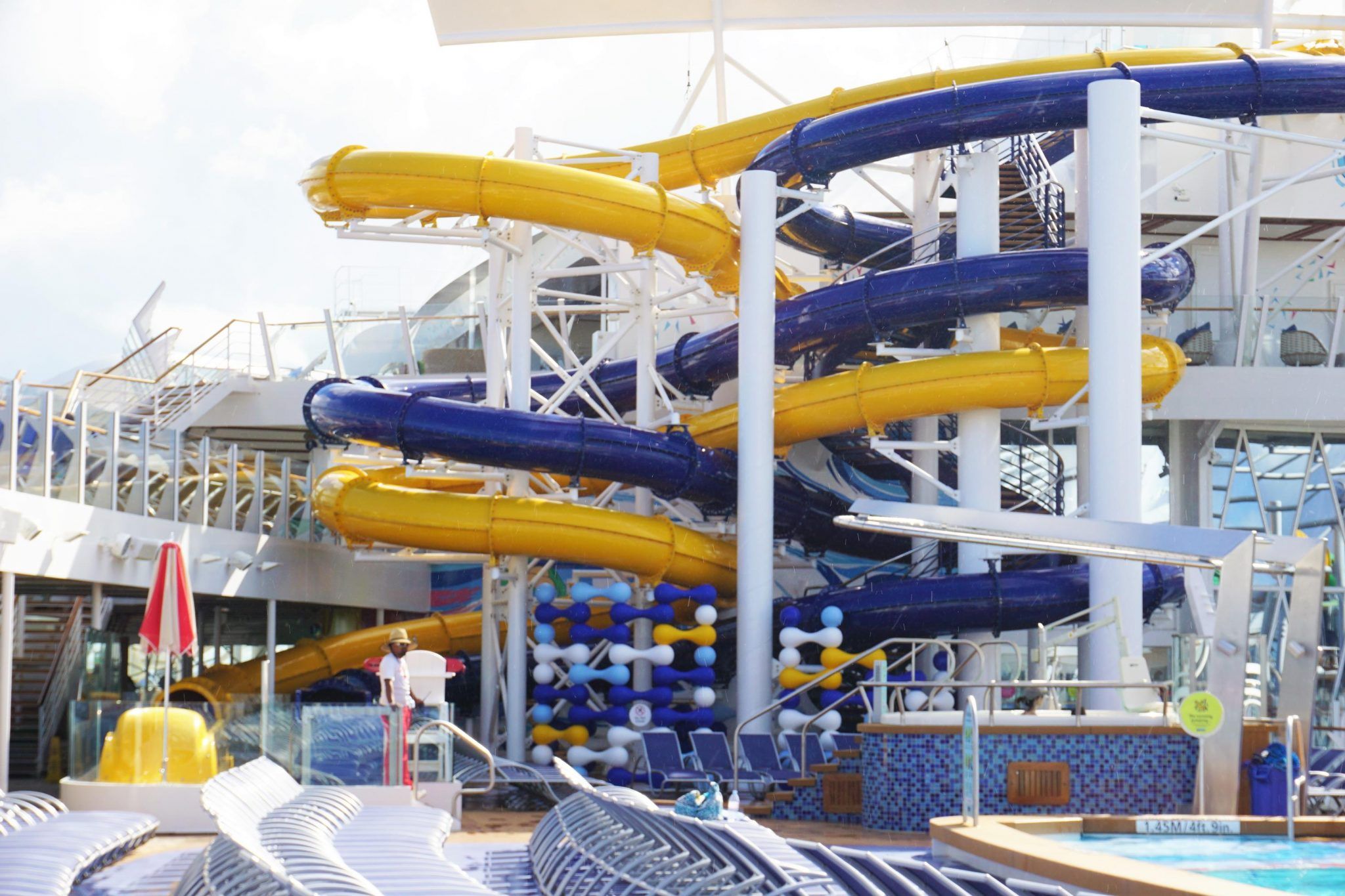 Related Post: Guide to Royal Caribbean Ship Classes
Zip Across the Largest Ship in the World
Following in suit with the other Oasis-class ships, Symphony of the Seas also offers a zip line at sea. Thrill seekers will certainly want to gear up and soar 9 stories above the Boardwalk on this one of a kind adventure. Earn some bragging rights by zip lining across the largest cruise ship in the world! Take in the sights, pose for a picture, or let out a scream; how will you choose to take flight? This experience could serve as the perfect test run for an exhilarating zip lining excursion in one of your wonderful ports of call.
Take in a Show
Royal Caribbean still outshines competitors when it comes to cruise ship entertainment. The Broadway show Hairspray was top notch and one of our favorite musicals found at sea. The Royal Caribbean original production of Flight was spectacular as well with several state-of-the-art stage pieces that truly enhanced the show. The airplane that flies right over the audience is not to be missed. Along with two ice shows, two Aqua Theater productions, and comedy shows, the seven nights of your cruise will be packed with high-quality entertainment. We recommend pre-reserving your shows ahead of time using the online Cruise Planner.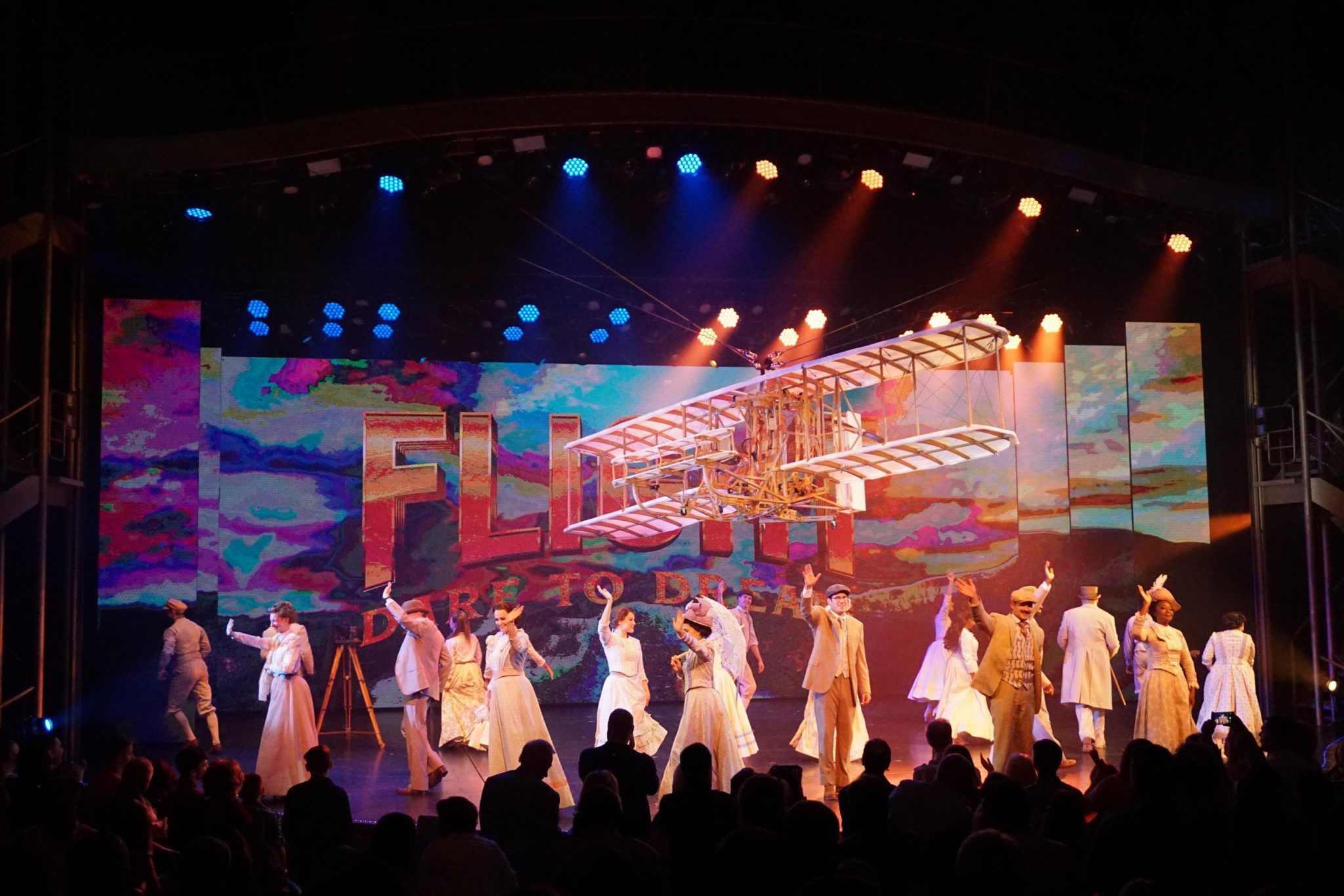 Attend a Party
When not attending one of the amazing signature shows, there is still plenty to keep you entertained on Symphony of the Seas. Offering plenty of live music at various venues as well as themed parties throughout the week, you might wonder when you will be able to sleep. From the midnight balloon drop in the Royal Promenade on embarkation day, to our favorite 80's Party, to the RED Party nightclub experience occurring in Studio B, or the Silent Party taking place in The Attic you can dance to the beat of your own drum!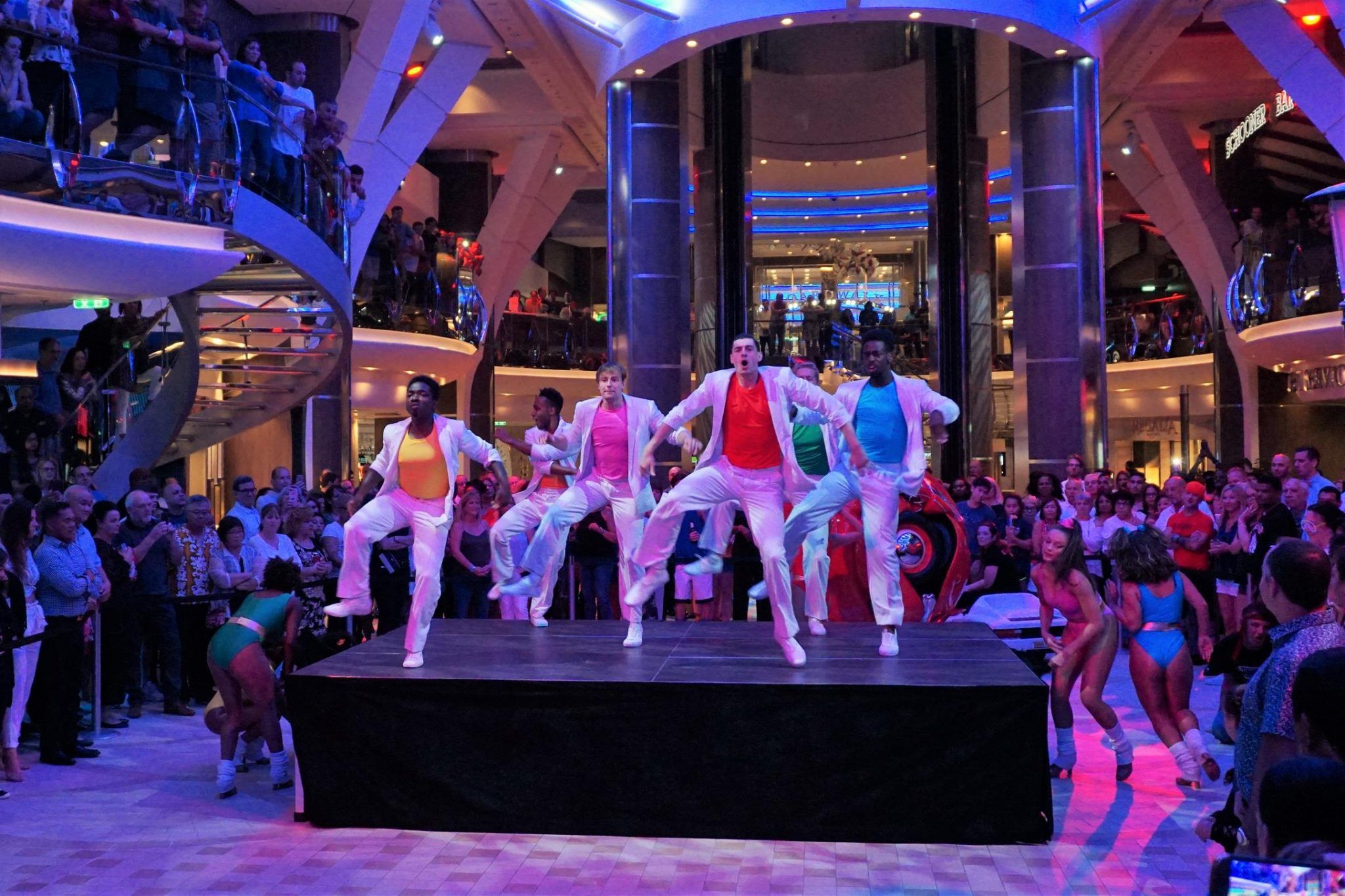 Related Post: Guide to Royal Caribbean Drink Packages
Partake in a Pub Crawl
Being the largest cruise ship in the world, Symphony of the Seas certainly has plenty of diversity when it comes to bars and lounges. From Royal Caribbean classics like the Schooner Bar featuring live piano music and Boleros with its Latin vibe, to the Bionic Bar where you can order a drink from a robot bartender and the Rising Tide Bar where you can elevate your experience, quite literally, by ascending 3 decks from the Promenade to Central Park, there is a bar on Symphony of the Seas to suit all tastes. With so many choices, we like to partake in our own pub crawl. Make it your mission to grab a drink in every bar on the ship during your cruise. Mission accepted?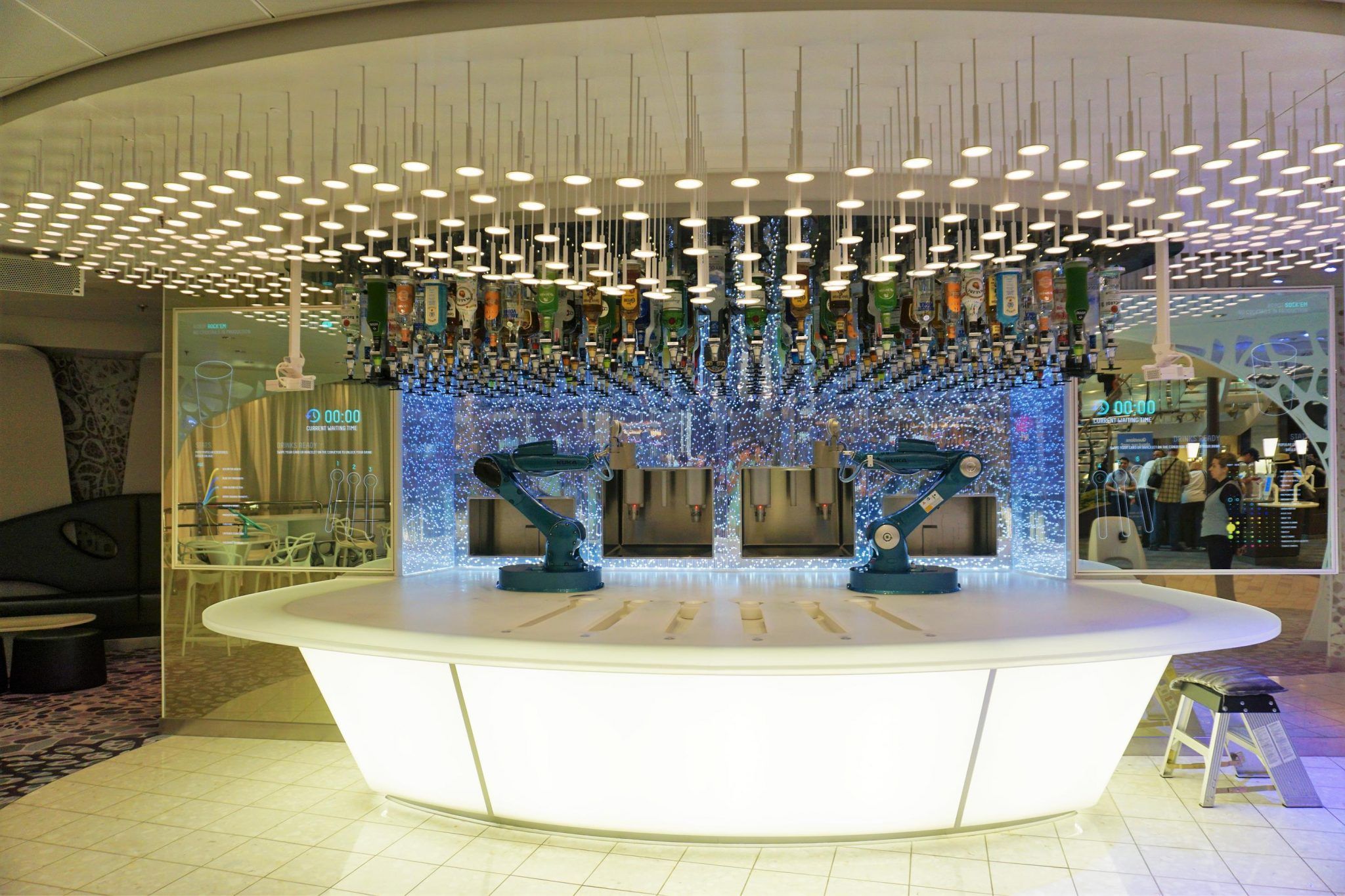 Get Imaginative at Wonderland
Making its first appearance on Quantum of the Seas, Symphony of the Seas features a two-story Wonderland restaurant. Venture down the rabbit hole into this Alice in Wonderland inspired venue complete with your very own host, the Mad Hatter. With an imaginative menu and equally unique decor, this restaurant is unlike anything you have experienced before. Step out of your comfort zone and get creative with your menu selections; you only live once! Wonderland is a specialty restaurant that requires a cover charge to dine and reservations are recommended.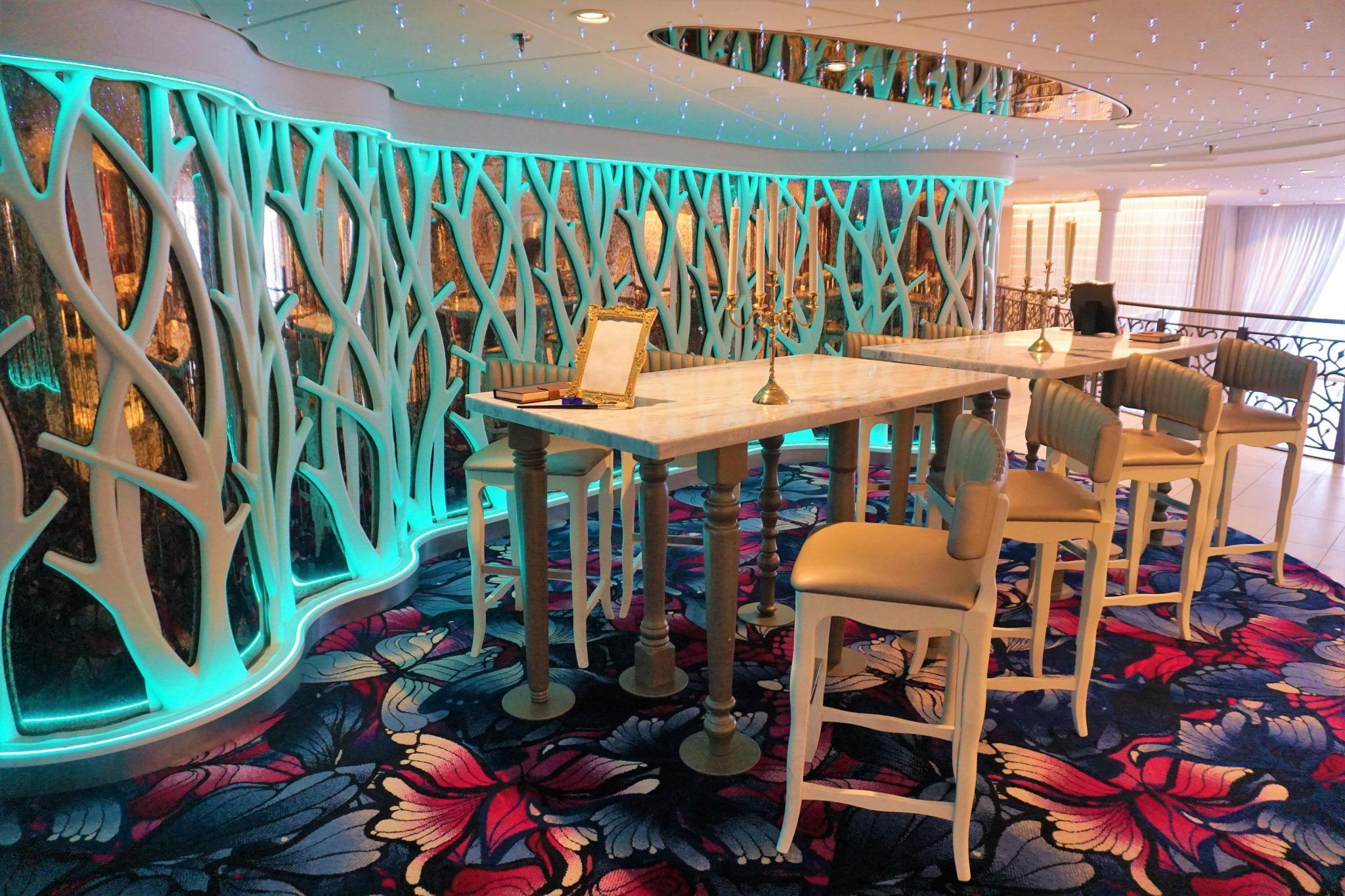 Related Post: Symphony of the Seas Restaurant Guide
Watch a Game at Playmakers
Royal Caribbean's new sports bar has debuted on Symphony of the Seas. Playmakers Sports Bar and Arcade is located in the heart of all the action on the Boardwalk and boasts multiple high-definition TV screens so you can catch your favorite game. At Playmakers, you can cheer on your home team, partake is some arcade games, and even snack on some pub favorites. While everyone can enjoy this open-air sports pub, the arcade games and food will cost you extra money. The food is definitely worth the price though.

Enjoy an Evening in Central Park
Central Park, nestled in the middle of deck 8, is certainly one of our favorite locations on Symphony of the Seas. With its lush greenery and tranquil vibe, it's a great spot to spend an evening. Dine al fresco at one of the many specialty restaurants here, just take a leisurely stroll, or grab a drink from the Trellis Bar and relax under the stars while listening to some classical tunes. You could even take it one step further and book a Central Park view balcony. Then you could spend the whole night, quite literally.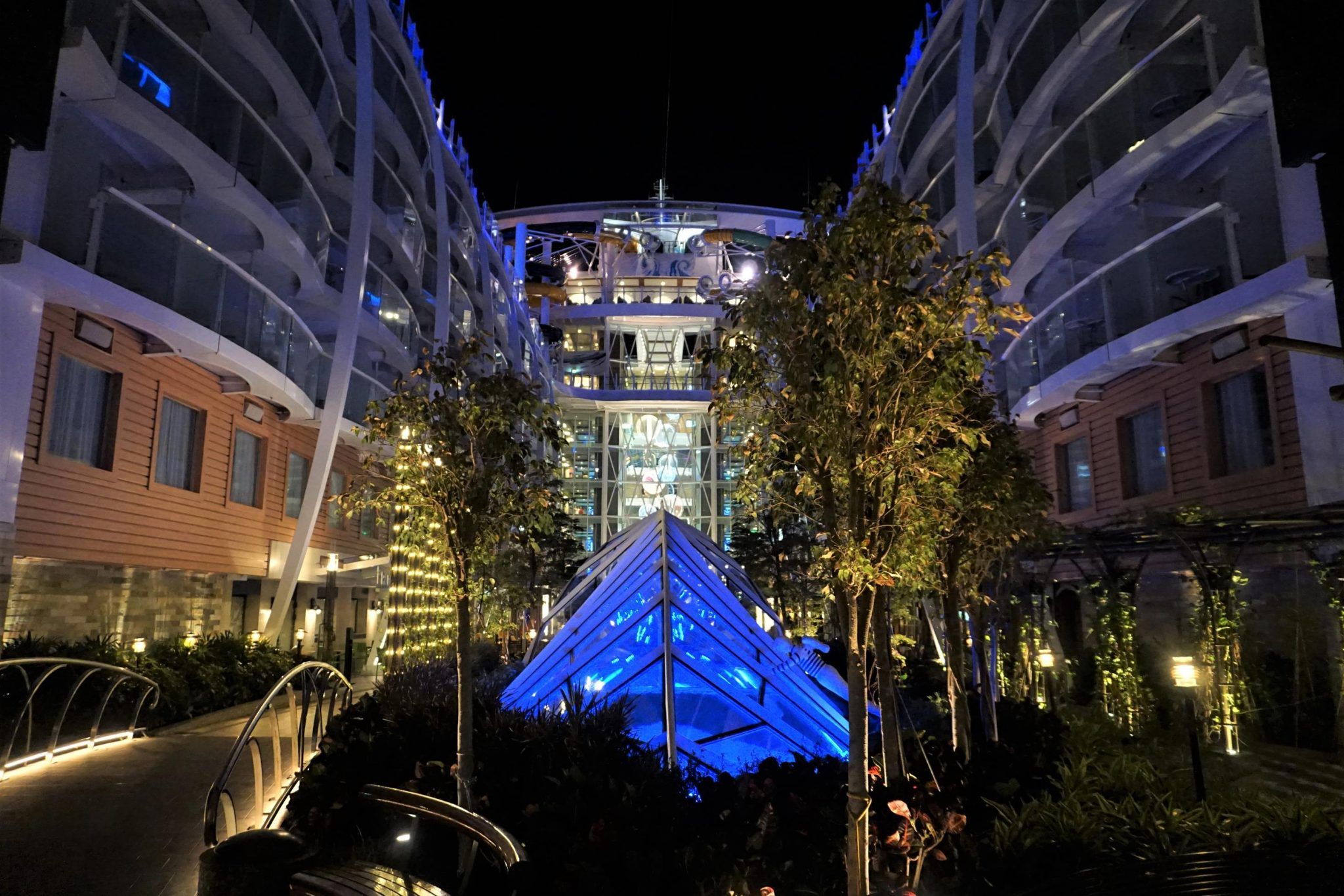 Related Post: Everything Included on Royal Caribbean
Take a Spin on the Carousel
Be a kid again on the Boardwalk. This unique Oasis-class neighborhood is home to Sugar Beach candy and ice cream shop, a hot dog stand, and even a carousel! This theme park styled attraction is fun for kids of all ages! So, pick your favorite hand-carved horse then sit back and enjoy the ride. Don't forget to capture the moment by snapping a few selfies. You will want to show your friends back home how much fun you are having on this largest cruise ship in the world.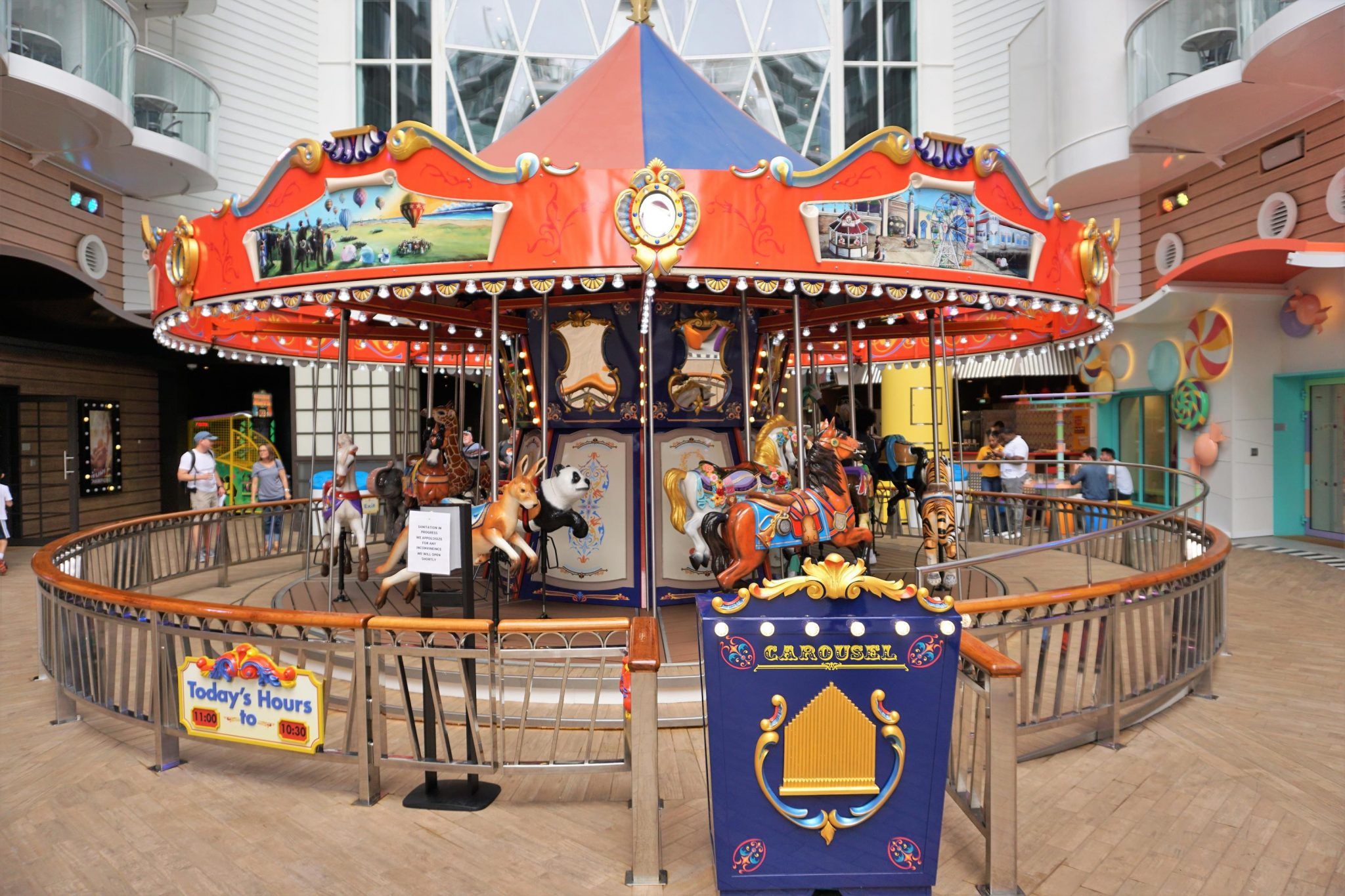 Track Down the Stowaway
Make it your mission to track down the elusive Stowaway Piano player on Symphony of the Seas. This piano player transports himself throughout the ship playing for guests in a street performer type style. You never know where he might show up- in an elevator, on the Boardwalk, or basically wherever you can fit a piano. So, be on the lookout for yet another unique entertainment option onboard the newest and biggest cruise ship in the world.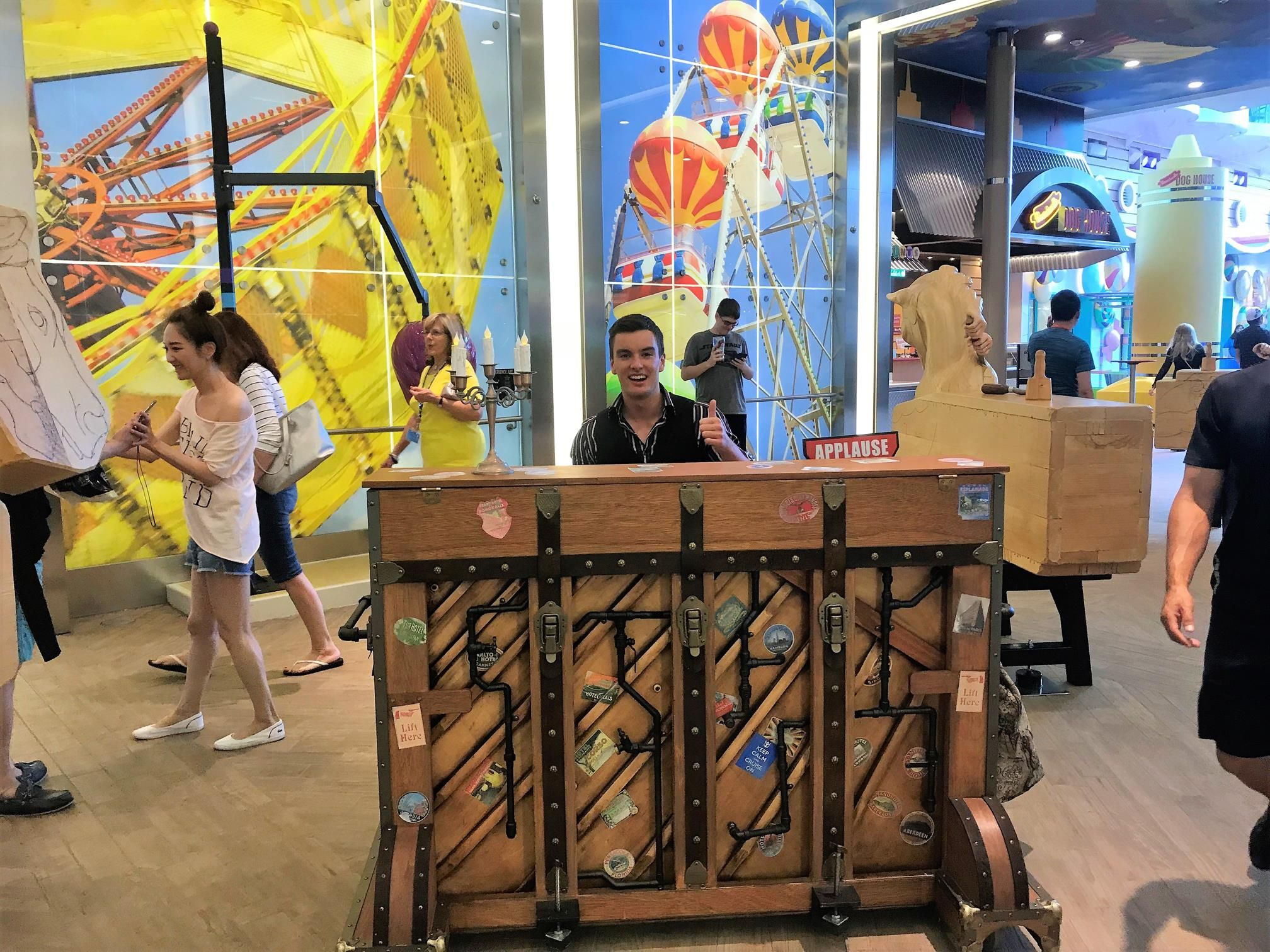 Skip the Buffet
With so many unique and tasty casual eateries on Symphony of the Seas, you could certainly go the entire week without stepping foot into the Windjammer. The new El Loco Fresh is a nice replacement for the old Wipeout Cafe offering burritos, a salsa bar, and other Mexican favorites. We also enjoy the Park Cafe with its famous kummelweck sandwich and the Boardwalk Doghouse, as well as the new and improved pizza at Sorrento's. Even during peak times, these restaurants never had long waits for breakfast or lunch. The best part is that they are all included in your cruise fare.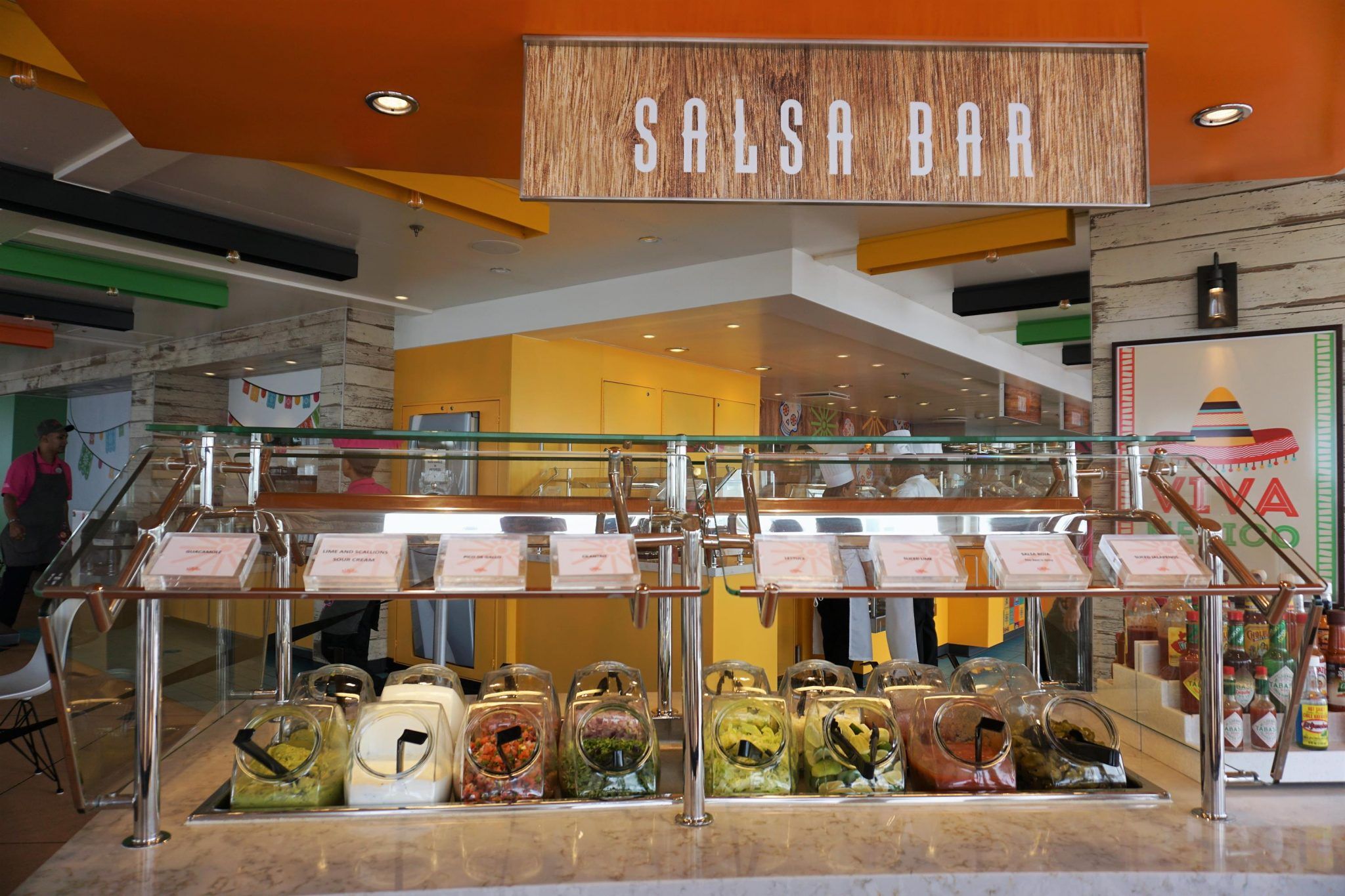 Related Post: Top Foods on Royal Caribbean
Take Advantage of a Unique Cabin
Symphony of the Seas has some unique cabin types, such as the Central Park View and Boardwalk View rooms and balconies. For ultimate pampering, you can opt for one of the ship's Royal Suites. Staying in one of these suites will entitle you to additional perks which may include special access to a private restaurant, the Suite Lounge, and even a Royal Genie. If you really want to splurge, you can book one of the new Ultimate Family Suites which are exclusive to Symphony of the Seas. This high-tech stateroom comes complete with a personal cinema featuring an 85 inch 4K television, an in-cabin slide, table games, a Lego wall, a wrap around balcony, and even a personal whirlpool!
Be the King of the World
Okay, it's not really the Titanic, and you aren't really Leonardo DiCaprio, but pretending for a moment is just as fun. Head to the bridge wings located on deck 14, all the way forward off the Solarium, for amazing panoramic vistas. You will want to check out the view from both the port side and starboard side wings as they are different. The port side wing has a clear panel that allows you to gaze all the way down to the ocean. Nothing beats this view! It can get quite windy here on sea days, but port days are just lovely.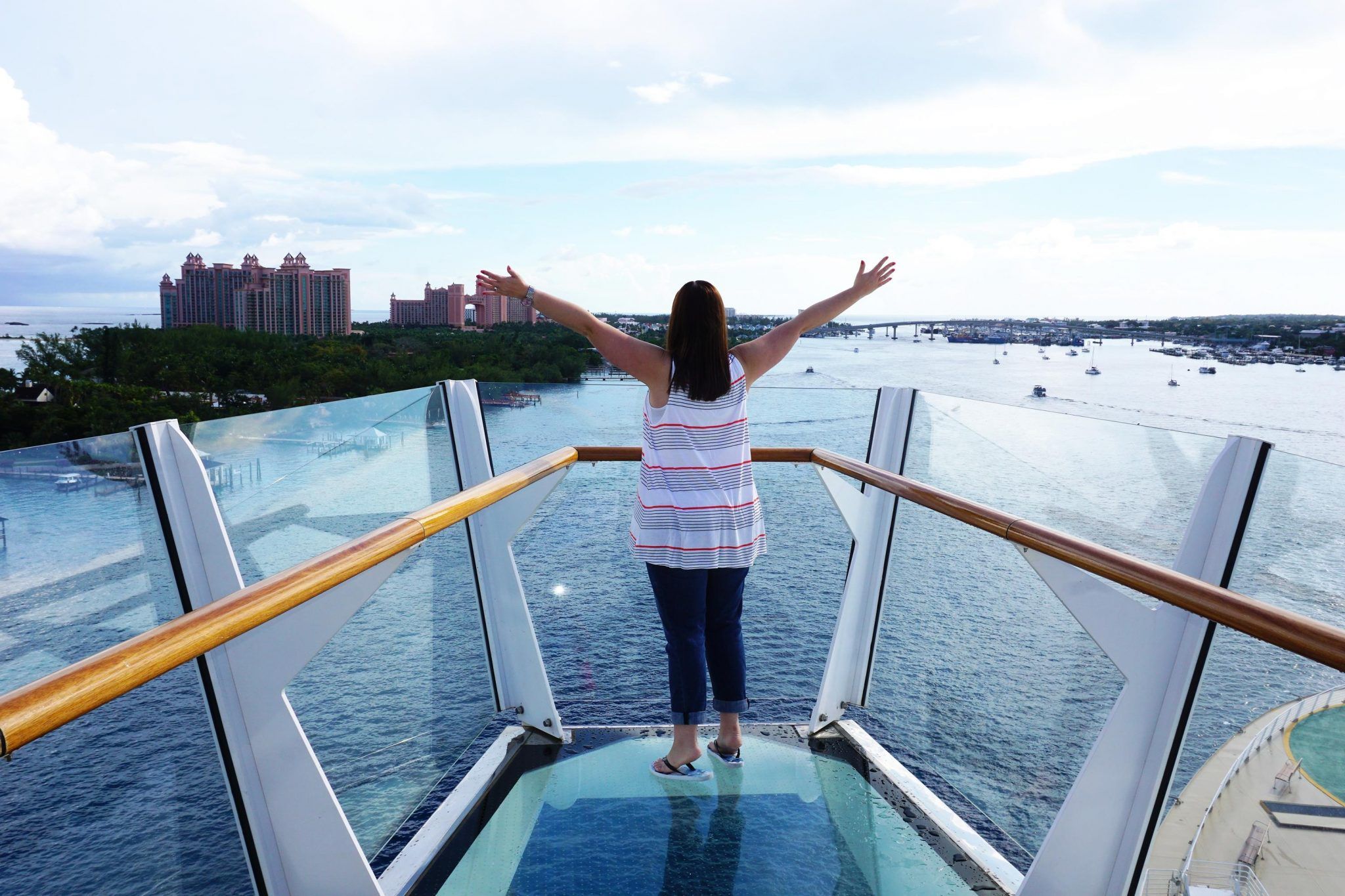 Relax in the Solarium
Sometimes you just want a tranquil retreat while on vacation. That is why the Solarium, an adults-only area, is your oasis at sea on Symphony of the Seas. With the Solarium Bistro cafe serving complimentary meals for breakfast, lunch, and dinner, a full bar, some comfy lounge furniture, a partially covered roof, and a one of a kind expansive art piece, you can spend hours here relaxing sans children. Being all the way forward of the ship, the Solarium offers unaltered views of the ocean and your ports of call, so a few mornings or lazy afternoons in this sanctuary are definitely a must.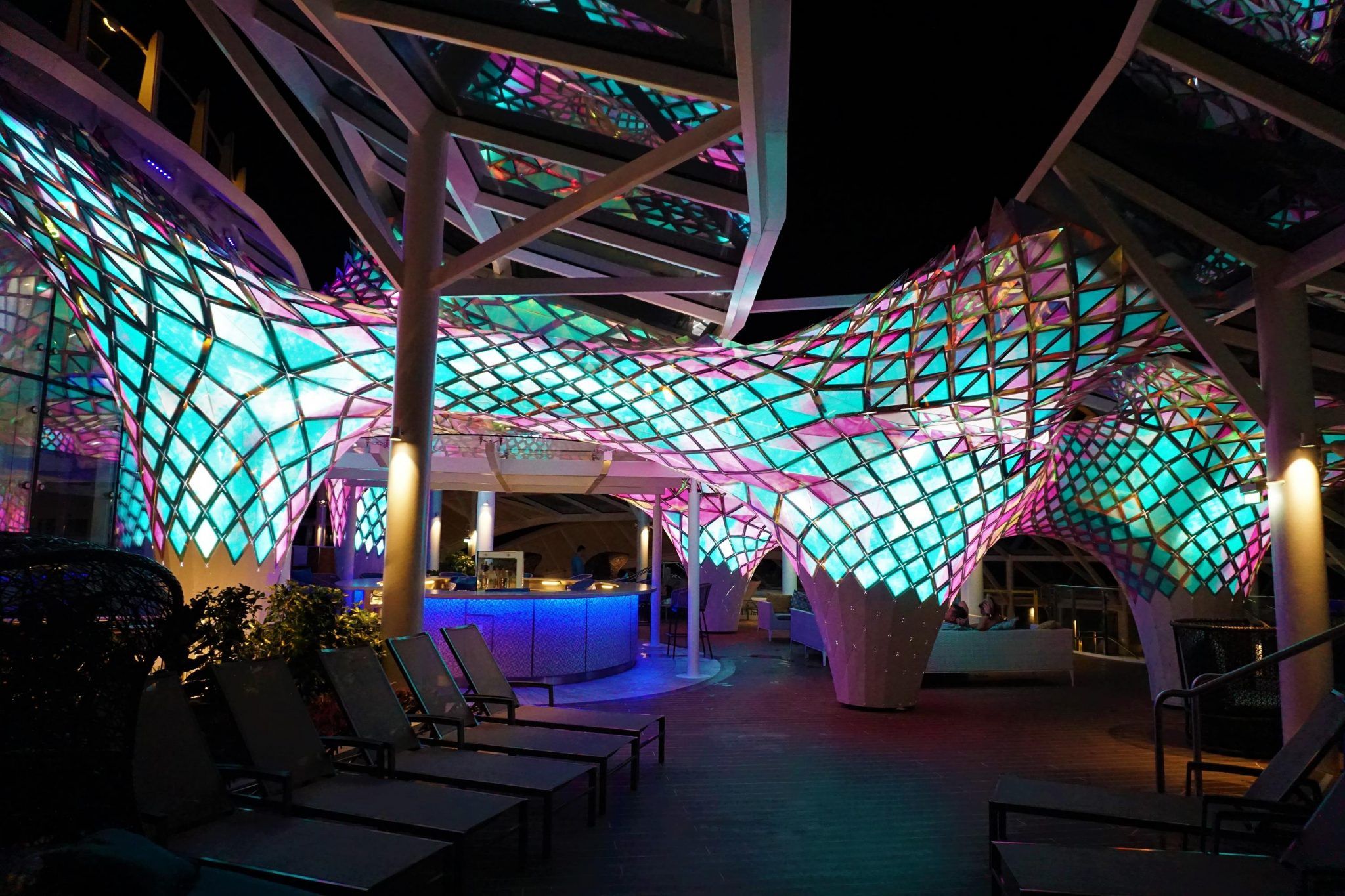 Compose Your Own Music
Did you know that you can create your own musical masterpiece on Symphony of the Seas? That's right, taking interactive art to the next level, Symphony of the Seas is home to a musical staircase. Located off the pool area, leading up to the Windjammer, each step in this flight of stairs has sensors that create musical notes in response to your footsteps. Here, you can get creative with your fancy footwork to compose your own masterpiece…or at least a video that will keep your family and friends laughing for hours!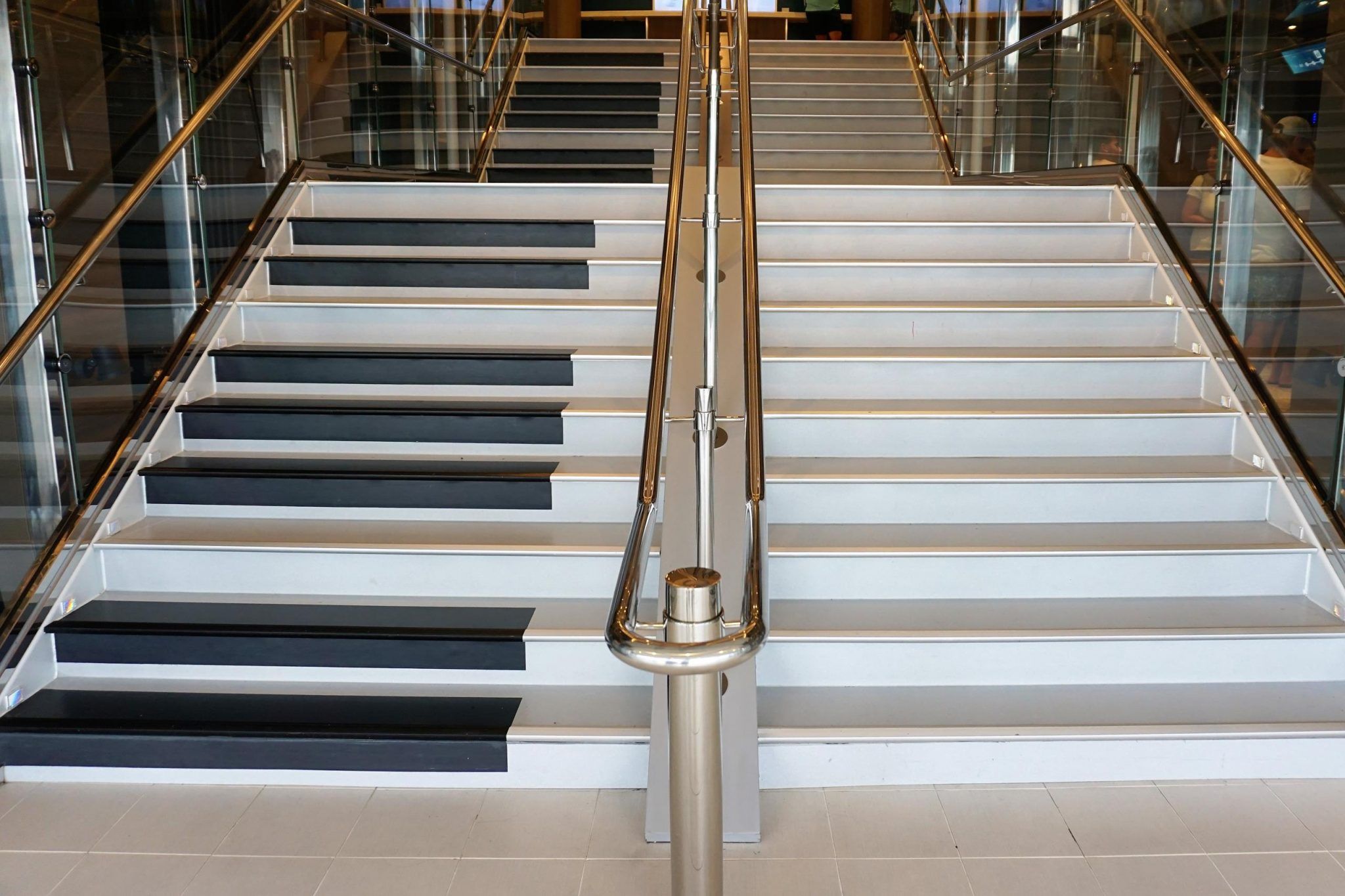 It's Happy Hour
If you want to experience the ambiance of Wonderland or sample some of the seafood at the new Hooked restaurant but don't want to pay the cover charges to dine at these venues, you might want to take advantage of the Happy Hour specials onboard Symphony of the Seas. Between the hours of 5pm and 7pm, Wonderland offers drink specials at its bar. Wouldn't you be curious about drinks called Down the Rabbit Hole or the Cheshire Cat Cosmo? During these same hours, Hooked offers a unique special each night like the Lobster Roll and Pint for just $10.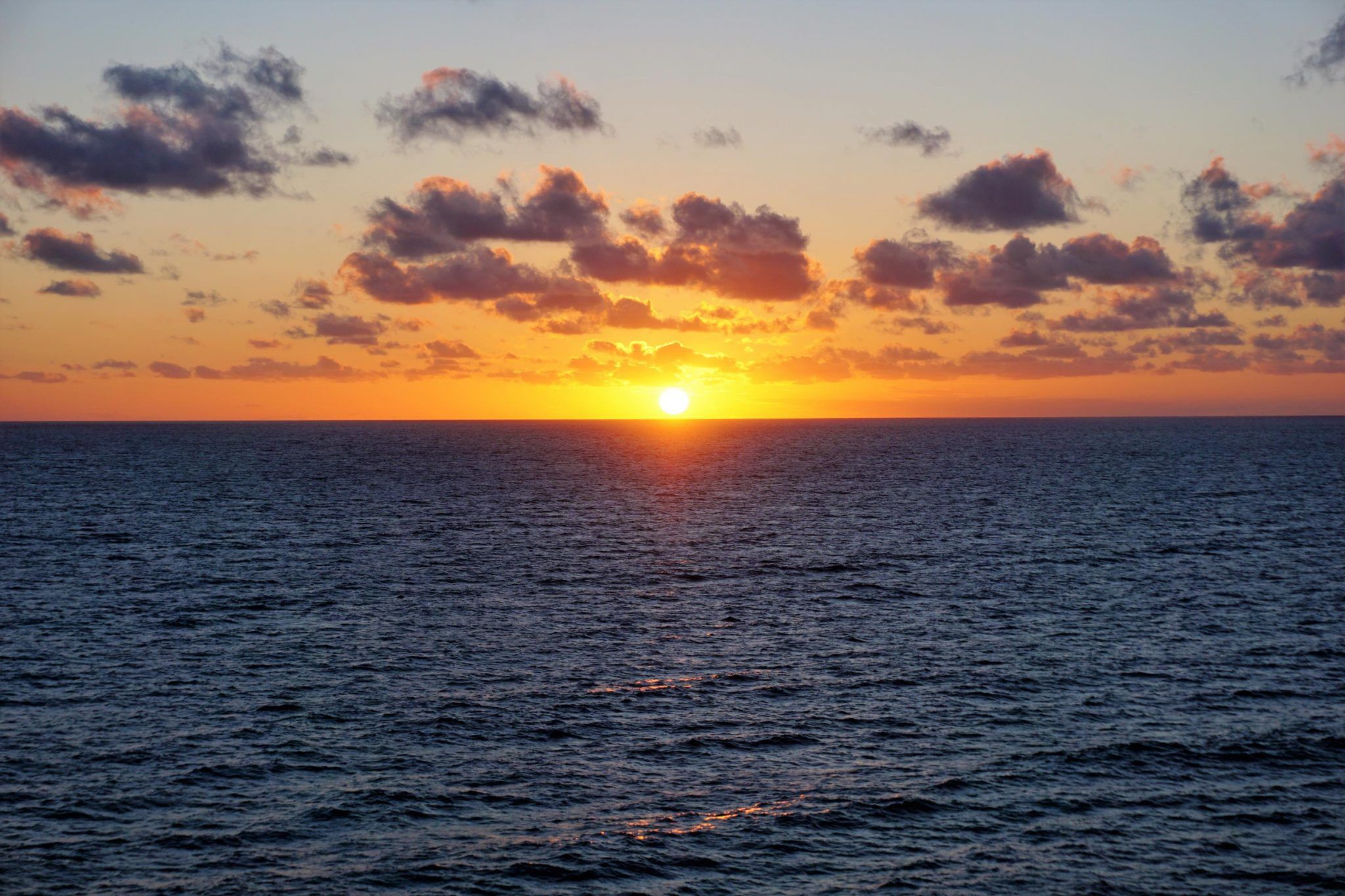 Related Post: Symphony of the Seas Bar Guide
Enjoy a Sunset at Sea
Admittedly, you can enjoy a sunset at sea on any cruise ship, but there is something to be said about being able to do so on the largest cruise ship in the world! Whether it is from your cabin balcony, on the open air decks with the wind blowing your hair, or while dining at one of the specialty restaurants, take some time to sit back and enjoy the view on Symphony of the Seas. The radiant glow of the sun setting on the horizon never gets old. It also makes the perfect picture backdrop, so grab your friends and family and capture the moment!
Comments
Have you cruised on this brand new ship yet? What makes your list of the Top Things to Do on Symphony of the Seas? Drop us an anchor below to share your experiences sailing on this world record holding vessel.