We are back from a trip on Royal Caribbean's newest ship, Symphony of the Seas. This world's largest cruise ship offers plenty of complimentary and specialty dining options. We managed to grab all of the restaurant menus to share with you. Feel free to share these Symphony of the Seas' Restaurant Menus on social media; we just ask that you credit Eat Sleep Cruise as the source when posting the menus elsewhere.

Symphony of the Seas Dining Guide
Complimentary Dining
The Main Dining Rooms
Symphony of the Seas has not one but three main dining rooms. Found on Decks 3-5, these venues offer a complimentary multi-course dinner that changes every night of your cruise. There is traditional early and late seatings as well as My Time Dining. Some of our favorite menu items included Roasted Lamb Shank and Chicken Marsala.
One deck of the dining room is open every morning for breakfast for 2 hours. On sea days, there is also a sit-down lunch in the main dining room. For our menus, Day 6 and Day 7 were switched for Thanksgiving. Lobster night will regularly occur on Day 6 for a Western Caribbean Itinerary.
Breakfast | Lunch 1 | Lunch 2 | Dinner 1 | Dinner 2 | Dinner 3 | Dinner 4 | Dinner 5 | Dinner 6 | Dinner 7 |
EXCLUSIVE SAVINGS: Royal Caribbean Cruise Deals
Deck 5
Sorrento's
Sorrento's, your onboard pizza parlor, is open most days from 11:30 am to 3 am. This venue serves up pre-made slices of classic favorites like pepperoni and cheese in addition to daily specials. The lines here do get long, especially around all aboard times during port days. On Symphony of the Seas, there is also a small antipasto bar with a variety of vegetable appetizers to compliment your pieces of fresh pie.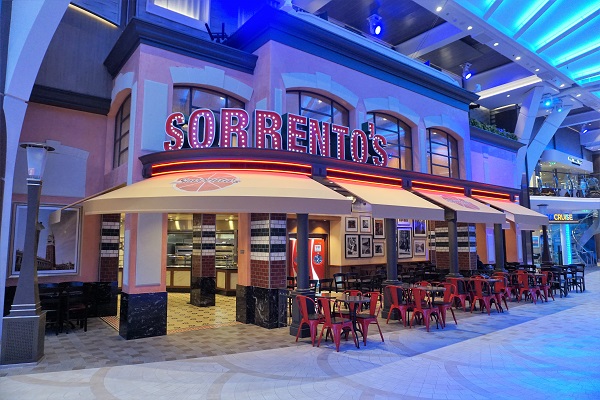 Cafe Promenade
Located on the Royal Promenade, this cafe is open 24 hours a day. In the morning, selections include small breakfast pastries and bread, which are perfect for a quick meal to go. During the day and evening, small sandwiches, including the King Arthur roast beef sandwich, are available. Cookies and small pastries are also here for most of the day, along with coffee and tea for that extra pick me up.
Deck 6
Boardwalk Dog House
One of my favorite stops for a midday snack is the Boardwalk Dog House. This stand, located on the Boardwalk, is home to 4 varieties of dogs and sausages. Open most days from 11 am to 5 pm, it serves up these favorites with select toppings and small sides like potato salad. The real draw is the hot and juicy Smokehouse and the Big Apple.
Related Post: Guide to Royal Caribbean Drink Packages
Vitality Cafe
This venue, located in the Spa, offers healthy complimentary and a la carte items. These include homemade granola bars, small muffins, and finger foods during the day. For those health conscious cruisers, the fresh juices and smoothies might be exactly what you need as a pre or post workout meal. The Vitality Cafe also offers Powerade, Vitamin Water, and Red Bull which are covered in the Deluxe Beverage Package.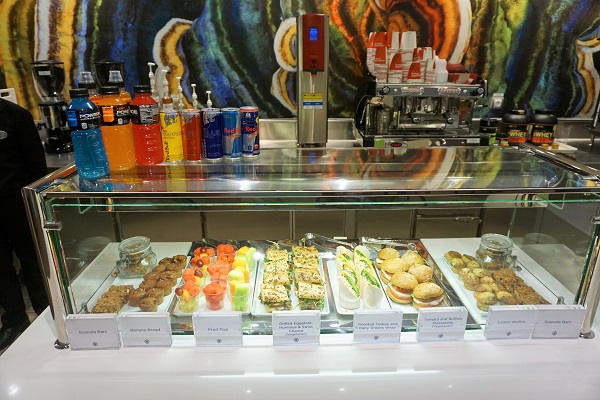 Deck 8
Park Cafe
Open for a quick service style breakfast or lunch, we liken the Park Cafe to a Panera Bread at sea. For breakfast, you can enjoy hot sandwiches, oatmeal, make your own bagel bar, fresh fruit cups, and more.
In the afternoon, you can enjoy fresh paninis, custom salads, or the famous Royal Kummelweck roast beef sandwich. This venue is the perfect alternative to the busy Windjammer buffet. Park Cafe is open most days for breakfast from 7 am to 11 am, and for lunch from noon to 6 pm. 
Deck 15
Solarium Bistro
This specialty restaurant is both healthy and included in your cruise fare. That is a win-win if you ask us. With a set menu, you can make reservations pre-cruise to dine here. It takes a while for other cruisers to discover this restaurant which features an appetizer buffet and a Greek-inspired menu.
During the day, the Bistro offers an also complimentary breakfast and lunch buffet, which serves most of the same fare found in the Windjammer.  
Solarium Bistro Dinner Menu | Solarium Bistro Wine List
El Loco Fresh
Offering a variety of Tex-Mex favorites complete with a salsa bar and outdoor seating, everything about this daytime venue is fresh. You can even spice up breakfast with a few unique offerings, like Ranchero Eggs and Salsa Rojo, along with scrambled eggs, breakfast meats, and pastries. For lunch, there is a make your own fajita bar, freshly wrapped burritos, or you can customize a salad with beef, pork, or chicken. We enjoyed this venue as another great alternative to the buffet.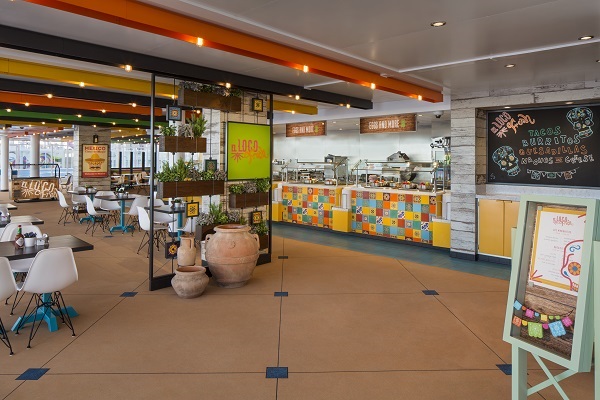 For breakfast, the venue opened between 7 am and 8 am and closed by 10 am. For lunch, El Loco Fresh was usually open from noon to 5:45 pm.
Related Post: Guide to Royal Caribbean Ship Classes
Deck 16
Windjammer Cafe
Open for breakfast, lunch, and dinner, this casual buffet restaurant has it all. For breakfast, the Windjammer offers your typical fare, with a custom-made omelet station (all the way aft), pastries, pancakes, waffles, and a variety of breakfast meats. For lunch, the grill is open, as is the custom pasta station. A complete salad bar and other rotational warm entrees as part of the International corner change regularly. For dinner, you can expect a variety of different seafood, beef, and poultry options, along with similar stations that are also open during lunch. 
Specialty Dining
Deck 4
Izumi
This Japanese eatery is a staple on many Royal Caribbean ships. On Symphony of the Seas, you can choose to just dine at the restaurant or partake in the Hibachi experience. The sushi menu is priced a la carte, while the Hibachi experience has a flat fee for the four-course meal of $45 (plus 18% service charge). We tested out this new experience on Mariner of the Seas, and thought it was a great addition to the RCI Specialty Dining line up.
Sushi Page 1 | Sushi Page 2 | Hibachi Starters | Hibachi Entrees
Deck 6
Playmakers Sports Bar and Arcade
This sports pub that debuted on Symphony of the Seas is home to a large collection of flat-screen televisions showcasing games from around the world. It also serves up a great selection of game time favorites. The a la carte menu features items like buffalo wings, nachos, and the ultimate dessert served in a helmet. The drinks here are included in the Deluxe Beverage Package, so paying for some grub is well worth it come kick-off.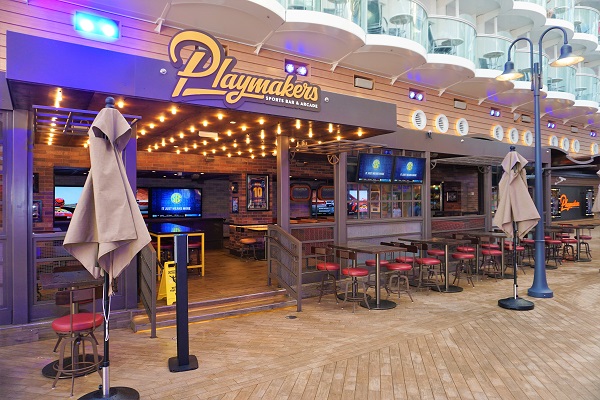 Johnny Rockets
This American classic serves up fresh off the grill hamburgers. Add a side of french fries and a milkshake (now part of the drink package) and you have the recipe for a slice of Americana. On Symphony of the Seas, lunch and dinner have a flat fee of $10.95 (plus service charge) which includes as many burgers and fries as you want.
BOOK NOW: Bonus Perks for Royal Caribbean Sailings!
For breakfast, you can dine here for a complimentary made to order meal, just make sure to arrive early as this little secret gets out fast.
Breakfast Menu | Lunch and Dinner Menu
Deck 8
Jamie's Italian
Celebrity chef Jamie Oliver brings his modern take on classic Italian dishes to the world's largest ship. This restaurant, located in Central Park, is one of our favorites when we are looking for an alternative to the main dining room. This specialty restaurant has a flat fee which is $45.99 a person for dinner. The venue also opens for lunch on sea days with a smaller menu for $23 a person.
Drinks Menu | Lunch Menu | Dinner Menu | Dessert | Kids Menu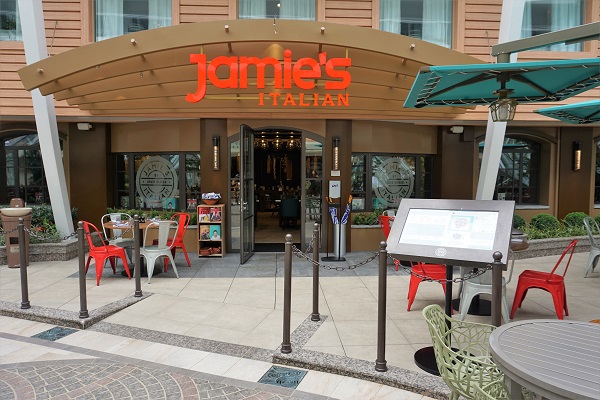 Related Post: Read our Jamie's Italian Review from Mariner of the Seas
150 Central Park
150 Central Park is just like New York City, an eclectic mix of different styles. Blending culinary traditions and ingredients from around the world, the impressive entrees and desserts are paired with an equally stylish dining room. 150 Central Park offers a slimmed down menu since the restaurant is no longer associated with chef Schwartz. Dinner at the venue is a flat fee of $39 (plus service charge) per person.
Wine List 1 | Wine List 2 | Starters | Dinner
Chop's Grille
If you want a perfectly seared cut of beef, then this ship's steakhouse is your stop. One of the most popular specialty restaurants in the fleet, Chop's Grille offers top-notch selections of meat, poultry, and seafood. At $52.99 (plus service charge), it is a bit pricey on Symphony of the Seas. If you want to sample a selection of the menu, a lunch is served from noon to 1:30 pm on sea days. It will run you $19.50 a person, but it is worth every tender bite.
Lunch Menu | Dinner Menu | Dessert
Related Post: What's Included on a Royal Caribbean Cruise
Deck 12
Wonderland
This whimsical restaurant will transport you and your taste buds on a magical journey. Here, the dinner experience is part food, part show, with some exquisitely created dishes that are just as entertaining as they are delicious. A flat fee of $54.99 (plus service charge) will transport you down the rabbit hole to this Alice in Wonderland themed venue where your waiter will expertly guide you through the tasting menu that includes items such as liquid lobster and short ribs.
Drink Menu | Dinner Menu | Kids Menu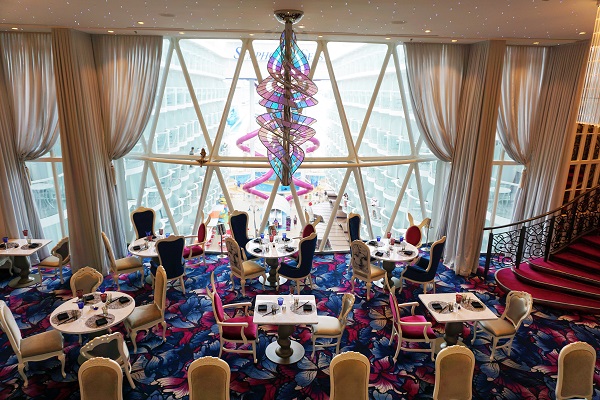 Related Post: A Trip Down the Rabbit Hole in Wonderland on Symphony of the Seas
Deck 16
Hooked Seafood
Brand new to Symphony of the Seas is this seafood restaurant. Located all the way forward at the top of the Solarium, Hooked gives you unaltered views of the ocean from the front of the ship. For $39, you can dive into selections including calamari, New England clam chowder, and yes lobster. If you need to try out the famed lobster roll, this new venue is also open for lunch on sea days with a cover charge of $19. If you want a little taste of the venue but don't want to pay the cover charges, the Happy Hour bar menu might interest you.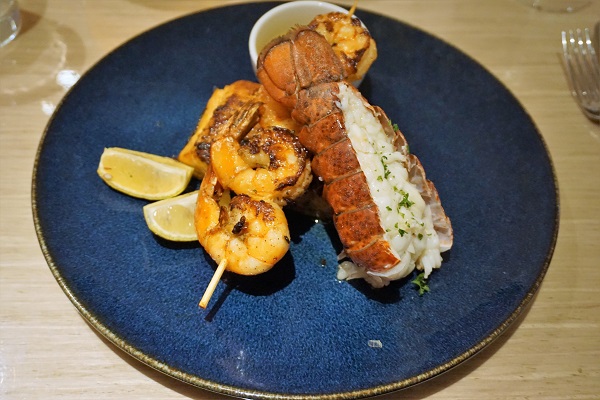 Drink Menus | Lunch Menu | Dinner Menu | Happy Hour Menu
Comments
Have you cruised on this brand new vessel yet? Which restaurants on Symphony of the Seas are your favorites? Drop us an anchor below to share your top choices for the best places to eat on this ship.