Symphony of the Seas Cruise Review Western Caribbean
11/17/2018-11/24/2018
Summary:
The Ship
The world's largest cruise ship is home to a wide range of dining, activities, and entertainment. With an eclectic range of options, the ship appeals to all types of cruisers. As the newest of the Oasis-class, Symphony of the Seas offers many of the same venues found on the three previous vessels, including the seven different neighborhoods and several complimentary and specialty dining options.
On Symphony of the Seas, the additions include a new signature Aqua Theater show, HiRo, and two main theater productions, Hairspray and Flight. New venues include a laser tag course in Studio B, a new specialty dining restaurant, Hooked, Playmakers Sports Bar and Arcade, as well as several new and interactive art installations.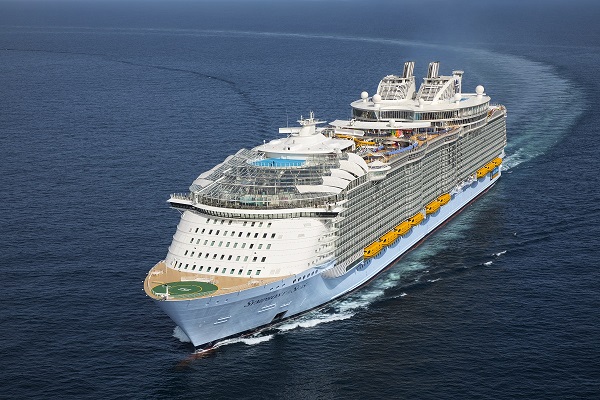 Weighing in at over 225K gross tons, there is a lot of ship with plenty to do, see, and eat. Fitting everything into seven nights might feel like a challenge, but we were able to accomplish everything we wanted to do and still find time to relax.
Itinerary
This maiden 7-night cruise included the typical Western Caribbean stops of Roatan, Honduras, Costa Maya and Cozumel, Mexico, as well as a stop in Nassau, Bahamas. Given the size of Symphony of the Seas, there are only so many ports that can handle this ship's sheer size.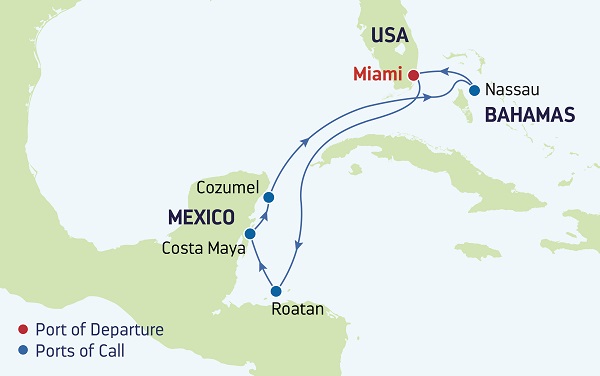 We mainly booked this trip for the ship, so we did not make too many plans for our days ashore. For our time in Roatan, we did an island tour that included an animal encounter with monkeys and sloths and a beach break. In Cozumel, we booked an all-inclusive beach-break at Nachi Cocom, which perhaps was the longest amount of time I got to spend on a beach!
Highlight
Royal Caribbean continues to one-up itself when it comes to entertainment. Not only were the shows some of the best that we have seen at sea, they even revival any Broadway musical or theater production that you would see on the Las Vegas strip. Among the main theater productions was the original show Flight. With advanced staging and special effects, it was hands-down our favorite show.
Add in the Broadway hit Hairspray, the new Aqua Theater production, two ice shows, hilarious stand-up comedy, and other cruise line favorites like the 80's Party, entertainment on Symphony of the Seas can't be beat. With so many great shows, making reservations is a must, and pre-booking is highly recommended. Even with reservations, make sure to arrive at least 20-30 minutes prior to showtime for these often standing room only performances.
What's Missing
Being the world's largest ship means there are a lot of details and room for error. With so much onboard, it did feel like the ship missed the mark on some of the smaller details. For instance, the ship's app and the Cruise Compass sometimes had conflicting information. The oddly shaped cup holders in the main theater don't fit many of the cups used by the cruise line. The crew is mostly amicable, but a ship of this size often lacks personalized service that you expect on a smaller ship.
Signage is also an issue, especially with the requirements for certain activities. For example, required clothing for the Ultimate Abyss is not posted anywhere near the slide or listed in the Compass (a shirt with sleeves in required- no tank tops are allowed). These are all minor points that could be easily rectified, so it is surprising that after 6 months at sea these issues still persist.
Main Takeaway
We are all about going big. So, of course, we were going to get on one of the first sailings in the Caribbean on this new ship. If you are a fan of mega-ships like us, then a sailing on Symphony of the Seas is almost mandatory.
Fans of the previous Oasis-class ships will be pleasantly surprised at this ship's execution of your favorite restaurants, venues, and other onboard activities and will enjoy the new additions. Cruisers who enjoy nightly entertainment will want to book a trip on this ship ASAP, as it boasts the best entertainment at sea.
Cruisers who are looking for a more low-key or less structured cruise might think twice about booking Symphony of the Seas. While the shows are marvelous, you do need to make reservations in advance, as most shows are booked up by the time you board. Also, there are often queues for shows and events, so be prepared to do some waiting during the trip.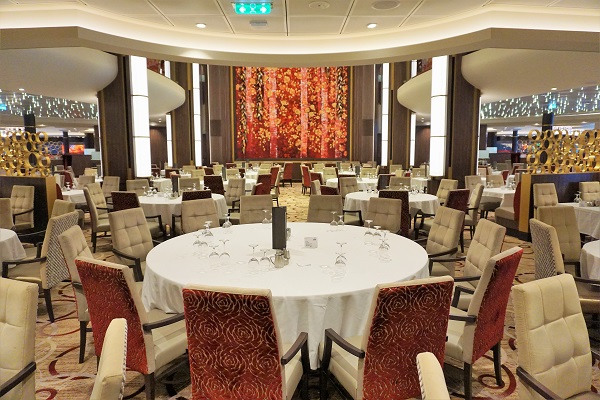 The ship is designed for travelers of all ages. From couples to families and groups, there is something for everyone on Symphony of the Seas. So, as long as you are aware of the bit of extra planning for your trip and are prepared to be on a ship with 6,000 other guests, Symphony of the Seas delivers an amazing cruise experience worthy of the title "record-breaking ship".
Read our detailed, day by day Symphony of the Seas Cruise Review below…
Symphony of the Seas Cruise Review
A New Terminal and New Ship
After experiencing some bad weather and flight delays the day before, we had arrived in Florida and were up by 7 am to start our day. The beautifully appointed EPIC Kimpton hotel provided us with a partially obstructed view of the new Symphony of the Seas. There were also several other ships in port including Norwegian Bliss. With the beautiful weather, we knew this was going to be a great embarkation day.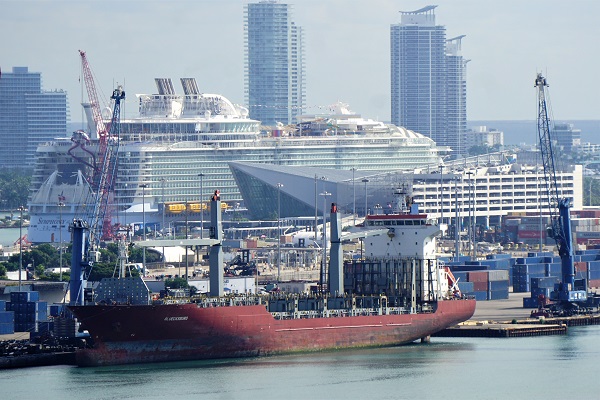 While the Princess went through her morning ritual, I took some pictures of the hotel then found the nearest convenience store and Starbucks for some bottles of water and our morning coffee. Back to the hotel, we switched places and were ready to leave by 9:45 am. We thought this would give us plenty of time to get to the port ahead of other cruisers.
A combination of poor cell service and a malfunctioning app meant it took our Uber driver 30 minutes to arrive at the hotel.
The short drive to the port went relatively smoothly, even though there was a ton of traffic.
Finally arriving at the new Terminal A, it was an effortless journey from here. From dropping our bags off with the porter, to security and check-in, it took less than 10 minutes. After experiencing such a well executed embarkation process, we shudder to think about going back to the old way of waiting in lines!
We found seats in the terminal and had just enough time for a quick bathroom break and a few pictures of the marvelous new terminal area.
Welcome Aboard
At about 10:45 am, Diamond, Diamond Plus, and Pinnacle cruisers were called to board the ship. With no sea pass cards issued in the terminal, you are required to show your set sail pass using either the app or paper copy. It was a bit crowded at first, but the staff quickly organized everyone, and we were onboard in no time.
As we have done for the past 15 cruises, we headed up to the top decks to begin taking pictures. While I would get pictures of many of the venues at other times, the weather was ideal for some Sports Deck and Pool Deck shots today.
During our travels, we bumped into Matt from the Royal Caribbean Blog who was waiting to rope drop the Windjammer.
We first booked the cruise not knowing a group cruise for his site was also on the ship. Working with his travel agent, we were able to switch our booking and become part of the 100+ group. As fans of the blog, it was great to get to cruise with him and other avid Royal Caribbean fans such as Cruise Habit Bill and his wife.
Testing Out New Things
As the morning spilled into early afternoon, more and more cruisers were coming aboard and cluttering our photos! Since it was approaching 1 pm, we decided it was time for lunch.
We decided to skip our usual stop at the Park Café to test out the new casual spot, El Loco Fresh. With a small buffet area, the restaurant was busy, but not crowded. With a mix of different Tex-Mex entrees, like burritos and quesadillas, we were both pleasantly surprised. The only disappointment was that they were out of flour tortillas and did not serve nacho chips even with a salsa bar!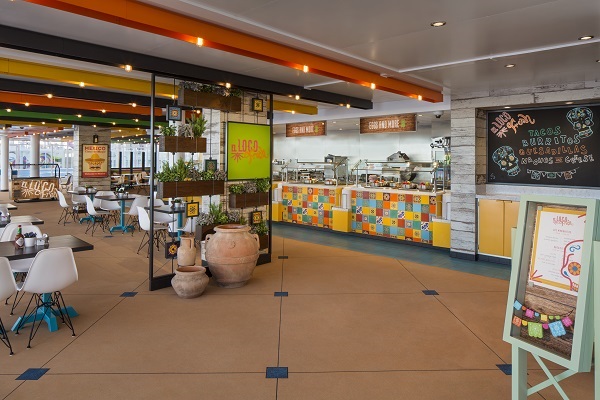 Finishing up lunch, the announcement was made that the rooms were ready. As we walked to our room, 11210 on the port side, we spotted two of our three bags. Carrying those to our room, I would later find our third bag further down the hallway.
Unpacking and rearranging our room took us right to 2 pm. Perfect timing as this was the scheduled Welcome Aboard meet-up for our group in Boleros. Meeting some of the other cruisers in the group, we stayed at Boleros for about 45 minutes.
With muster scheduled for 3:30 pm, this gave us some time to call home and check-in with our family before sail away. Our muster station was in Studio B, so we headed down there around 3:15 as the crew began clearing out the open air decks.
A quick and uneventful muster had us up to Deck 16 for sail-away by 4 pm. It was more crowded than usual, with the more scenic port side of the ship packed.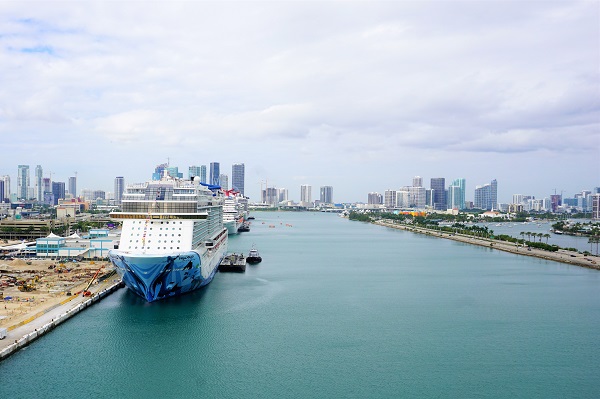 As the other ships began to sail away, we moved up to Deck 17 and grabbed our first "drink around the ship" drinks from the Wipeout Café. Having the 6 pm traditional dinner meant that we had to head back to our room around 5:15 pm. On our way back, we meet our room steward, Chito. He was a very pleasant and attentive attendant all cruise. His towel animal skills were also above average.
Does Anything Go as Planned?
You are probably thinking that there is no way we made it to dinner on time given the Princess' getting ready rituals. You would be right. We were down to dinner around 6:20pm, but there was actually a reason for this tardiness. Earlier in the day, we learned that we were assigned a table of 10, not a table of 2 as requested.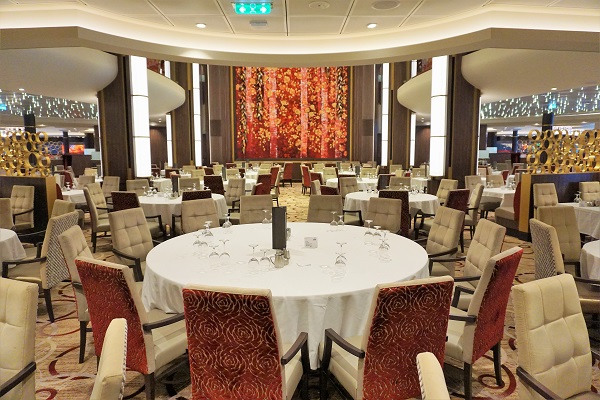 So, the head waiter informed us to come late and request a table of 2, so that is what we did. While the scene at the Deck 3 Main Dining room was cluttered, we explained this plan to one of the hosts who had a waiter escort us to a table of 2.
Starting late, dinner was paced well for Night 1, but with a rather reduced menu than the typical  MDR menu (It had been about a year since we cruised a 7-night sailing with Royal Caribbean). The food was slightly disappointing as well including my Seared Tuna and the oddly crafted Baked Alaska.
As you would expect, we pre-booked all our signature shows. For this evening, we had a 10:30 pm ice show, 1977. When we boarded earlier today, we found out that Mo5aic was going to be the headliner with only two shows playing tonight! This meant we now had two shows to hit up, along with our other first night tasks.
On the top of the list was getting our cruise ship ornament and an inaugural t-shirt. The logo store on the Royal Promenade is very tiny. In fact, it is the location of the Cupcake shop on other Oasis-class ships.
Fighting our way through the claustrophobic store, one of the staff brought us out of the shop to the middle of the promenade which ended up having all of the same stuff as inside and was more spacious. Acquiring our necessary mementos, it was up to the room to drop everything off and back down to the main theater for 8:15 pm.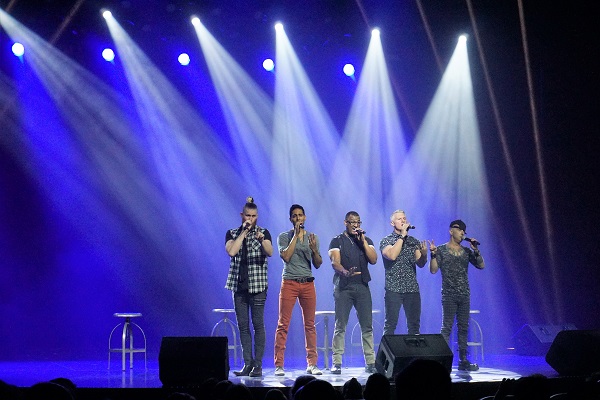 The crowd was sparse, even for the first night, so we were able to get our typical port side seats. The acapella group was the headliner on one of our previous cruises, and we both remembered really enjoying their performance. While they were good this time around as well, we felt the song selections and performance were not as great as we hoped.
The show was over at 9:30 which gave us time to get our first drink at the Schooner Bar. The fabulous Billy Pando was playing traditional piano tunes as we walked in. He was the main act at the Schooner Bar during our sailing on Mariner of the Seas and is a versatile and engaging performer.
While we ordered our usual cocktails, a Lavender Daiquiri and Sidecar, we were informed that the bar did not have the standard Schooner Bar menus…yet.
We enjoyed the music and our drinks until 10 pm when we started to make our way down to Studio B on Deck 4. Doors usually open thirty minutes early, so we were surprised when we were greeted with closed doors. The staff was informing everyone that there was a small technical issue, so it was unclear whether the show would run.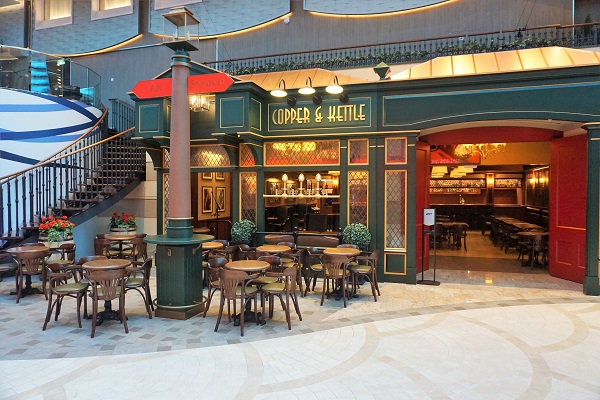 Well, you know where this was going. The issue was never resolved, and the show was officially canceled and rescheduled to another night. Great, already throwing a wrench into our well thought out and organized plan!
With nothing to do, we joined some of the group cruise members at the pub for a few rounds until the balloon drop at midnight. This is a new Night 1 event that kicks off your cruise. While it is a bit late, the party atmosphere and New Year's Eve vibe is a great way to end the night.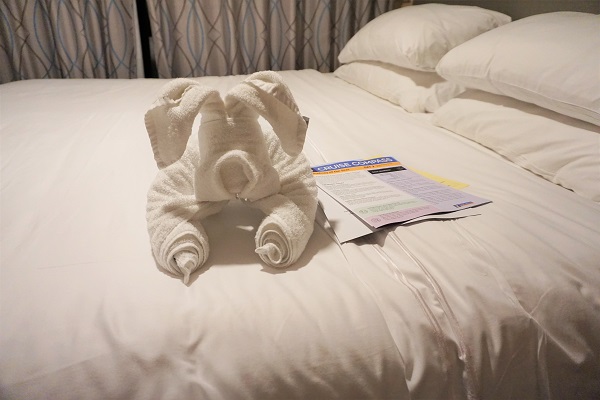 Returning to our room slightly after midnight, Chito did not let us down and had a furry friend waiting for us on the bed.
Symphony of the Seas Cruise Review
Day 2
A Relaxing Morning
According to the Princess, this was going to be one of our more "relaxing" cruises. So, our first sea day had some low key plans. Sleeping in until 7:30 am, I was up taking more pictures and video of public venues including the Royal Promenade and the Boardwalk.
With the drink package, the coffee and lattes from Café Promenade are included. So, even with the Starbucks onboard, I was able to convince the Princess to get her morning java from the included venue. I was back to the room by 8:30 am with lattes in hand.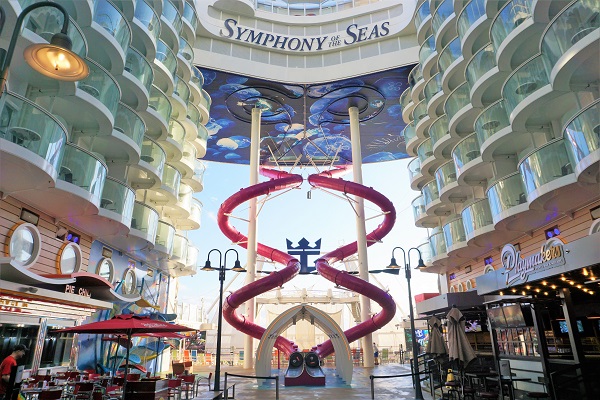 Showering and changing up, we were down to Johnny Rockets for 9:30 am. On Oasis-class ships, this venue is open for a complimentary, made to order breakfast. It is one of the hidden gems we enjoy. Our al fresco breakfast was well prepared, with quick and friendly service.
Finishing up before 10:30 am, we braved the pool deck to see what the lounge chair situation was like given that it was already mid morning.
We are happy to report that we were able to find some great seats near a pool. Sunny and comfortable, we stayed out in the sun until about 1 pm. There was a slight breeze that made it very enjoyable and manageable for the Princess.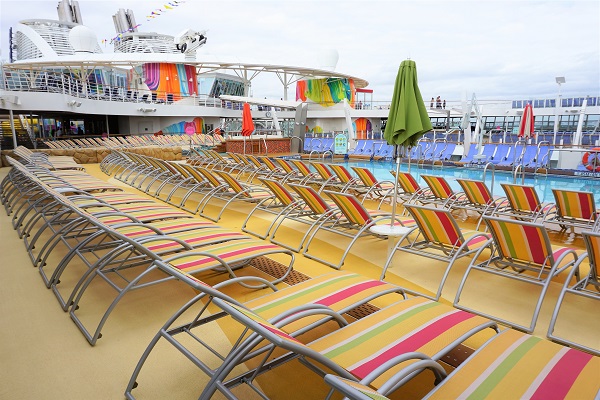 Where Did the Day Go?
By 1 pm,  it was time to get moving. First, we needed to get some lunch.
Avoiding the Windjammer at all costs, we trekked down to the Park Café on Deck 8. Again, while it was a prime lunch time, this venue was manageable. I devoured two of the Royal Kummelweck sandwiches while the wife did a salad and grilled cheese.
As part of our afternoon plan, we would join the Group Cruise Pub Crawl. We arrived at the Bionic Bar a little early but were soon joined by about 30 to 40 other cruisers. Making some new friends and grabbing drinks at two more bars, we parted ways around 3:30 pm.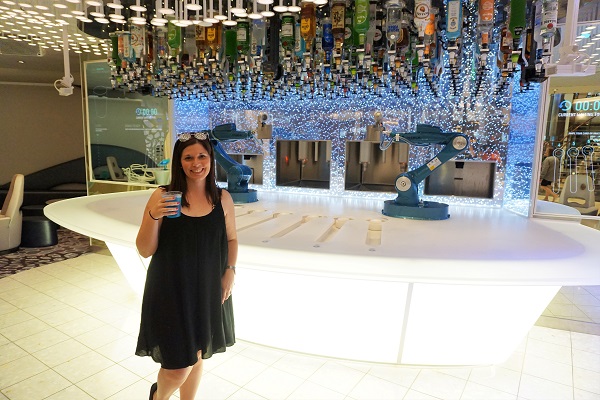 Tonight was a formal night, and a day in the sun meant we had to shower and change up. Pre-cruise, we booked Wonderland for the evening, but the only reservation we could get was at 5:30 pm. Even our attempt to change it on the first day of the cruise was unsuccessful.
So, doing some social media and blogging while the Princess got ready, we were to the restaurant for 5:30 pm. With our early dinner time, this meant we did not take any formal portraits.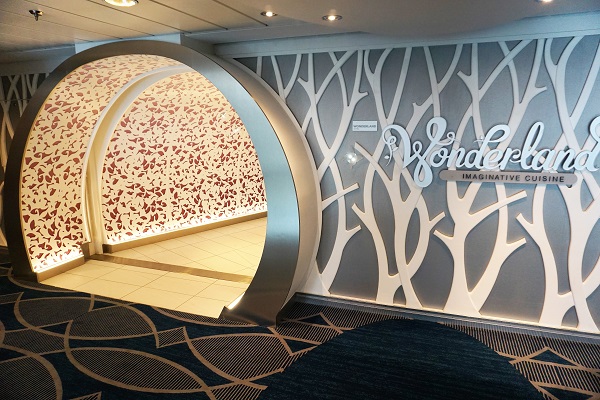 While the setup is the same as Harmony of the Seas, with a second floor bar that overlooks the main dining room, this Wonderland had some different menu items. Also, a lovely addition to the experience is the "Mad Hatter". He is a host who walks around the venue interacting with guests and really transporting you down the rabbit hole.
As for the food, it was probably the weakest of our three visits to this specialty restaurant. On a more positive note, all four of the new specialty cocktails at the venue were excellent. These are all included in the beverage package. Or, if you don't have the package, you can get half-priced cocktails from 5 to 7 pm as part of the restaurant's happy hour.
Dinner was done at 7:30 pm, which is to be expected at this interactive venue.
You Can't Stop the Beat
This gave us just enough time to get down to the Royal Promenade for the captain's reception. We grabbed outdoor seats at the pub, so we had a front row view of the speech. Of course, we also ordered some drinks. The Captain has a very interesting delivery when speaking, so listening to him do the address was quite entertaining.
Finishing up his remarks around 8:30 pm, we walked over to the main theater for tonight's show, Hairspray. I was not really sure if I would like the show, but we both really enjoyed it. The cast was phenomenal.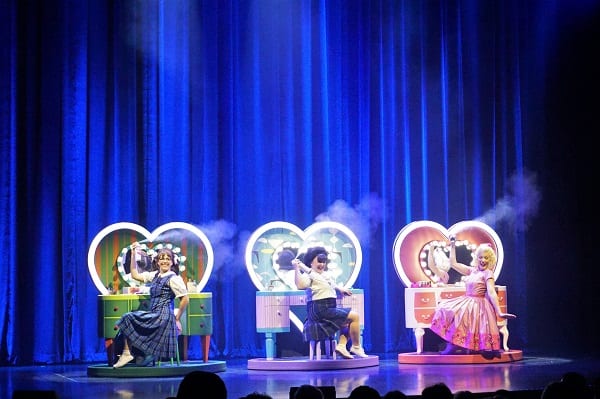 Finishing up around 10:30 pm, we went for a walk outside to enjoy the evening beauty of Central Park.
While there, we decided to get a glass of wine at Vintages, checking this venue off our list. The Compass claimed it was Sangria night; however, we quickly learned that every night was sangria night. Still, it is well worth a visit.
By 11 pm, we decided to call it a night. The next day was our first port of call, Roatan, Honduras. We had a full day tour booked with a local tour guide and had an early morning wake up.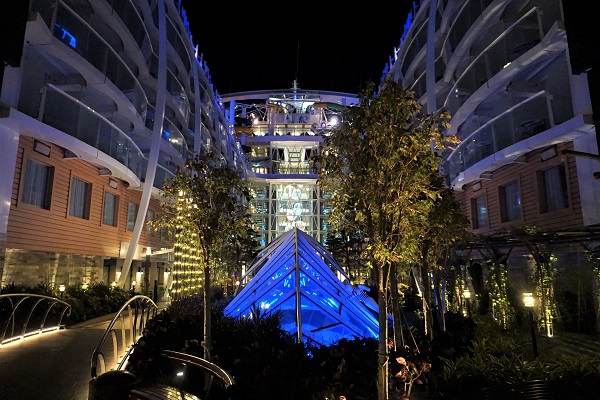 Returning to our room, there was a towel animal and a note to remind us to stay on ship time as the island would be one hour behind.
Symphony of the Seas Cruise Review
Day 3
It's Time to See the Island
The ship was set to dock at 8 am this morning, and our tour was scheduled to leave at 9 am. Our 6 am wake-up time allowed us to get coffee, a quick bite to eat at Park Cafe, and our day bag ready all by arrival.
We last visited Roatan, Honduras in 2017, so we knew it was a small port. Still, we gave ourselves enough time to walk around and browse the area. We had just enough time to look through some of the shops and get pictures of the ship before our tour took off.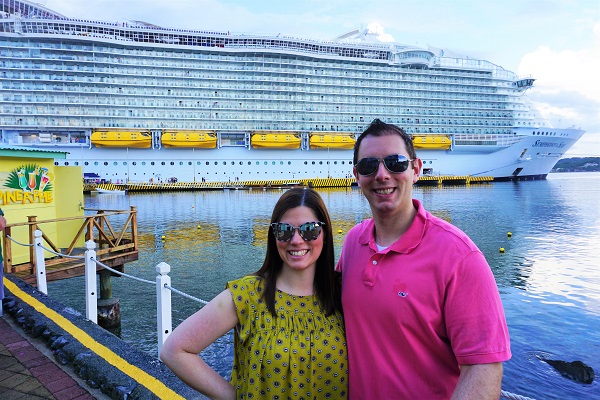 The advertised 4-5 hour tour lasted over 6 hours. This complete island tour included some stops at some of the island's notable spots on both the east and west side of the island. We can safely say that the west side is much more picturesque. On our last stop here, we visited Gumbalimba Park.
As part of this tour, we visited an animal sanctuary where we got to interact with some creatures including sloths and monkeys. While this was very cool, the time spent here felt rushed and not well executed. Our full-day itinerary also included a two-hour beach break at West Bay, meaning we arrived back at the ship by about 3 pm.
Of course, all of this action meant we did not eat anything all day, So, back on the ship, we grabbed some light snacks. Dividing and conquering, I got the smokehouse dog from the Boardwalk Dog House and the Princess some pizza from Sorrento's.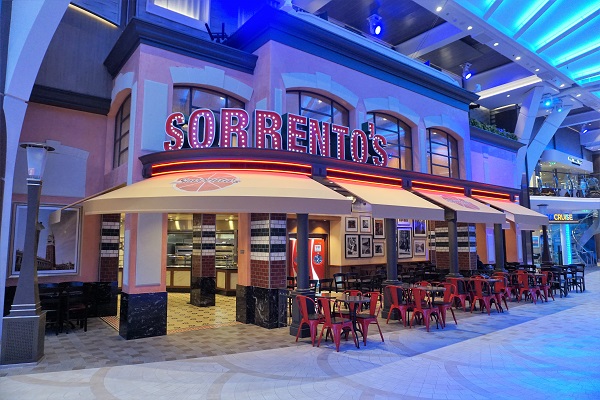 After grabbing some coffee, we headed back to the room. As the Princess got ready, I went to grab some bottles of water and Powerade for the room, which are included in the drink package.
Now Back to Our Regularly Scheduled Main Dining Room
Getting down to diner a bit after 6 pm, we were escorted to our new table assignment and met our new waitstaff Maricica and Sebastio at Table 326. Our waitstaff did an admirable job during the duration of the cruise, even if the service was a bit scattered at times.
The quality of the food tonight was much better. I went with the Lamb Shank, and the Princess ordered the Chicken Marsala. With the smaller selection of desserts on these "new" menus, I went with the New York Cheesecake. We left this very filling meal around 7:30 pm.
This was just enough time for the Princess to quickly lose $50 in the casino.
While our ice show had been rescheduled to Day 5, we decided to go standby tonight. We were not alone as the line quickly grew behind us. As more and more cruisers entered Studio B, I thought we would never get a seat. Somehow, we ended up with decent seats portside of the arena.
The seats were not great for taking pictures but had a good enough vantage point for watching the show. Having seen many ice shows, 1977 was one of our favorites, complete with a drone light show at the beginning of the performance.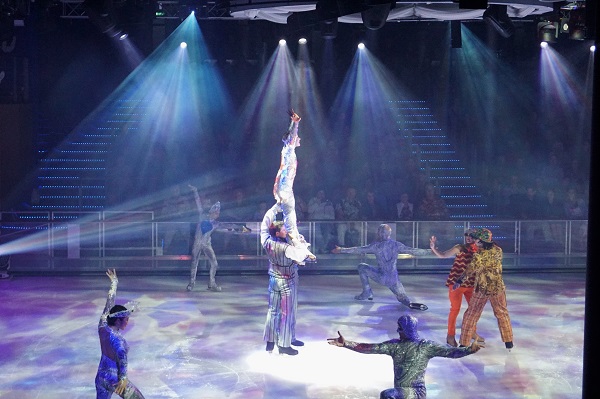 The show finished up at 9:20 pm, giving us about an hour before our second show of the evening, the comedy show in the Attic.
This was enough time to get up to Boleros and grab a drink for our drink around the ship. We stayed here about 30 minutes and listened to the band. I went with the Kiwi Caipirinha and the Princess the Lime Daiquiri.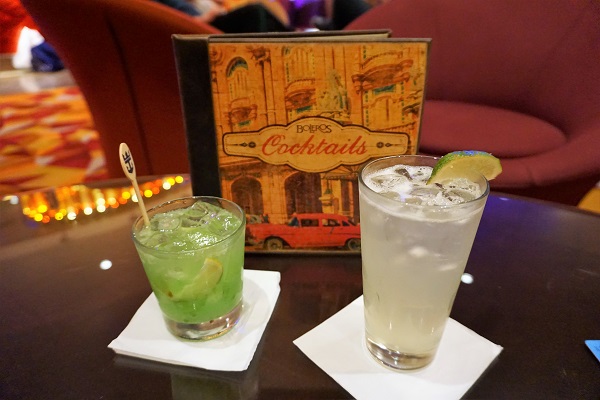 Back down to Deck 4, we were in line a few minutes until the Attic opened up for the show. Compared to other comedy shows, the venue was rather empty. It didn't matter to us as one of our favorite comedians was onboard, Simeon Kirkiles. He has performed on two of our other Royal Caribbean trips and his silly sense of humor is often better than the headliner.
This was the case tonight as he had some great jokes and a dead-on Trump impersonation. The headliner was Robbie Printz and was okay.
Finishing up the show a bit before 11:30 pm, we called it a night and returned to find this rather serious towel animal.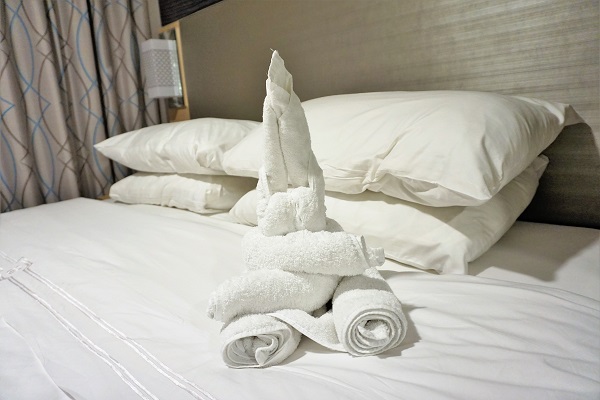 Symphony of the Seas Cruise Review
Day 4
Deciding to Change Things…Again
Originally, we had booked an excursion for today to the Lost Mayan Kingdom Adventure Park; however, given some work obligations, we decided to cancel the excursion and spend the day on the ship.
I did my normal coffee run and snapped a few photos and videos along the way. By this time, our ship was already docked, so we were able to catch the Carnival Dream pulling into port. Later, we would find out that the Carnival Miracle was docked on the starboard side of us. So, a rather busy day in port.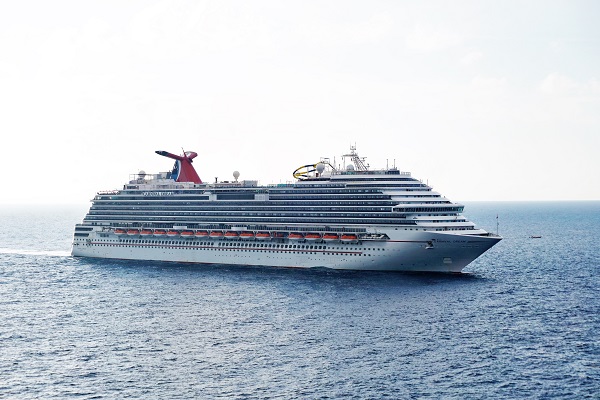 This morning, we tried the breakfast at El Loco Fresh. Again, we were impressed with the different offerings. There were still a few typical buffet items, but we agreed that this venue was much better than the Wipeout Café which is in the same spot on other Oasis-class ships.
Letting the other passengers with early excursions off the ship first, we decided to browse the port around 9 am.
While many people don't like this "fabricated" port, we like that it is new and nicely organized. Merchants are not pushy, and everything is clean.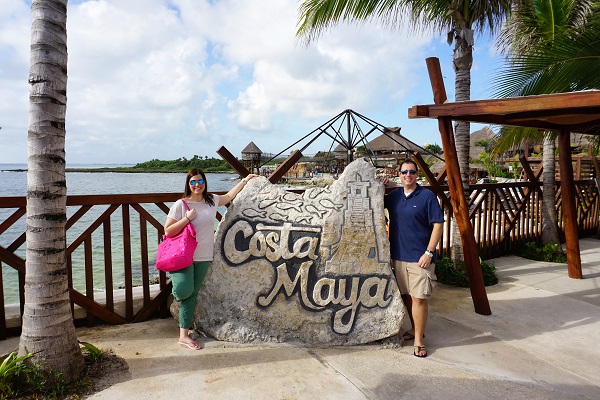 Walking around for about 90 minutes, we made a few purchases and watched the dolphins for a bit.
Back onboard the ship at 11:30 am, it was a ghost town. So, we snagged some pool chairs near the Princess' favorite pool- the Beach Pool.
Given the small lines, I also decided to test out the waterslides. While these are a great addition to this class of ship, I still think the slides on NCL are the best cruise ship slides.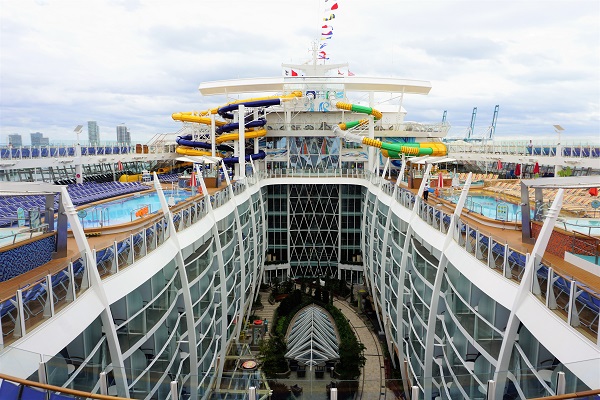 By 1 pm, we were getting a bit sun tired and hungry. It was no better time than now to do our one trip through the Windjammer. We have to say, it was even more disappointing than we expected. We both agreed that the buffet lacked diversity. We still give Celebrity Cruises the award for best cruise ship buffet.
Cruisers at Work
Our lunch was over by 1:45 pm, so it was back to the room to do some work and conference calls for me. Luckily, the Voom internet on Royal Caribbean is true high-speed internet. The WiFi calling worked perfectly, and I was able to knock out everything I needed to get done in about three hours.
Needing caffeine around 4:30 pm, I grabbed us some iced lattes. Tonight was our second specialty dinner at Hooked.
Given our original plan to spend all day in port, we had made the reservation at 7 pm. Now that we did not do the excursion, we were ready early. Luckily, we arrived at 6:15 pm and were able to be seated early. The venue was steady, but there were a few open tables throughout the evening.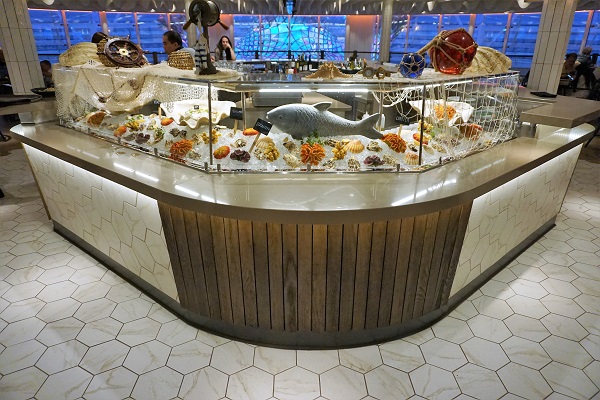 Hooked is located on Deck 16, overlooking the Solarium Bistro. The décor is nautical and reminiscent of a typical New England style restaurant.
Overall, the food was just average for us New Englanders. The Princess did give her approval to the New England clam chowder, and I enjoyed the calamari. The lobster tail in the captain's platter also passed my test. Some of the other items missed the mark though. All in all, we have never been impressed with the seafood on a cruise ship.
It is Going to Be a Long Night
Given our several courses, dinner tonight was a solid 90 minutes. During our pre-cruise planning, we assumed that tonight would be a headliner in the main theater, so we didn't make any show reservations.
Of course, we were wrong with that assumption, and there was actually a movie playing in the main theater this evening.
Although, there was another ice show tonight, iSkate 2.0, which was first come, first serve. We got down to theater about 15 minutes early for the 8:30 pm show and snagged some premium seats.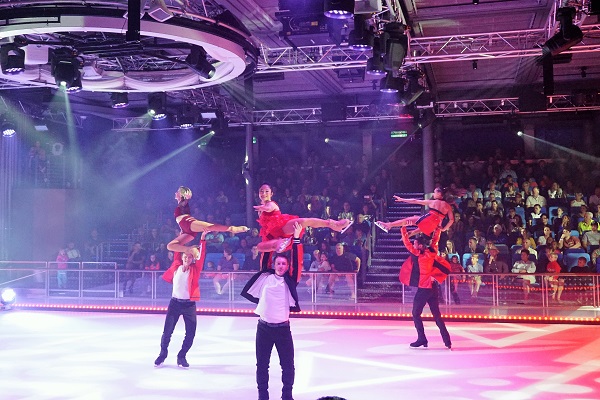 This show was high energy. What it might have lacked in a story, it more than made up for with the choreography and stunts.
Finishing up by 9:30 pm, we had some time to kill before the 80's party in the Royal Promenade at 11 pm. So, it was time to test out a few more of the bars and lounges.
On tonight's list was the Jazz Club, conveniently located near Studio B. The ship's orchestra was performing tonight. We listened for about 45 minutes to a rather entertaining set, even if it isn't exactly our type of music.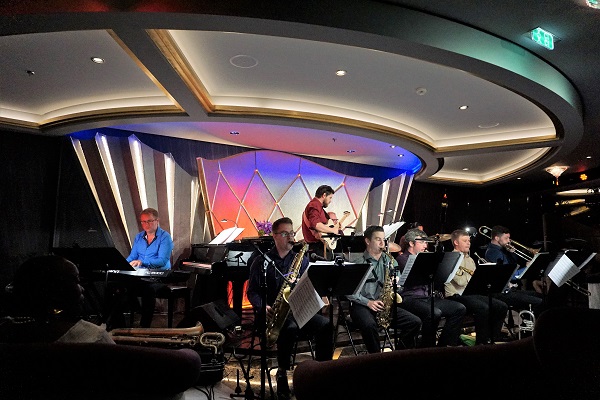 After walking around the indoor areas and checking out some of our pictures in the Photo Studio, we were able to get seats in the pub for another round of drinks. The guitarist played up until a few minutes before 11 pm. That is when we made our way out to the middle of the Promenade for the 80's party.
Our cruise director Abe was the emcee of the party. As cruise directors go, he was not very memorable.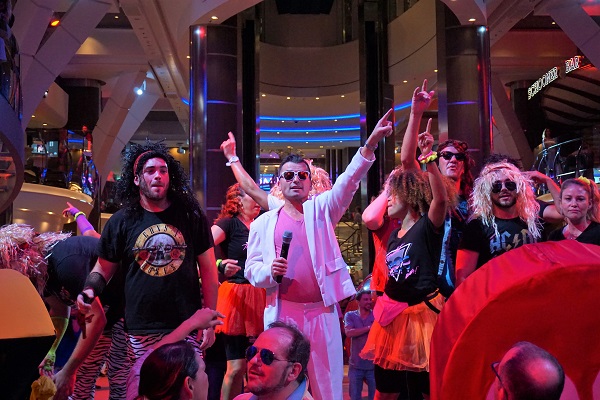 As parties go, I feel that other cruise lines do a better job of getting people involved.
The show lasted until midnight with your typical mix of 80's songs including the Princess' favorite Bon Jovi. With the party over, it was bedtime. Tomorrow was our third port of call in a row. This of course meant that we had to be up early and off the ship for our beach break excursion in Cozumel.
Symphony of the Seas Cruise Review
Day 5
Finally Getting Off the Ship
With our several stops in Cozumel over the past few years, we often decide to stay onboard the ship. This time, we decided to try something different.
There is so much to do in Cozumel that it was time we tried out one of the many options. We ended up booking an all-inclusive beach break at Nachi Cocom.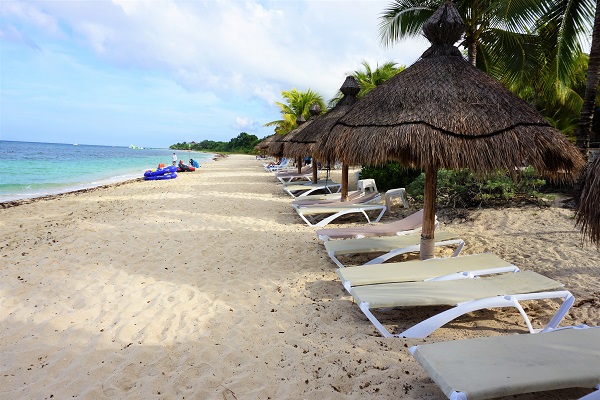 The beach resort's website indicated that it opened at 9 am, so we worked backwards in planning our morning. Up at 6:30 am, I grabbed some bottles of water and iced lattes for our morning routine. Then, we headed down to our go-to Park Cafe for a light breakfast. There were quite a few other cruisers who also had the same idea this morning.
By this time, the ship had already been cleared, so we did not anticipate a crowd at the gangway.
Finishing our breakfast, I ran up to the pool deck to get towels, while the Princess went back to the room to gather our belongings. We were off the ship at 8:45 am. For a ship with 6000+ people, you almost never felt the crowds.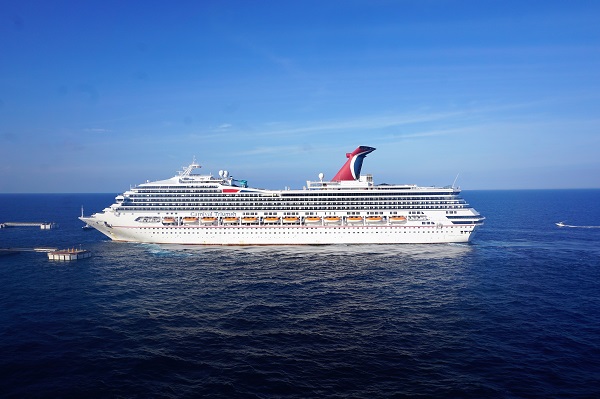 A few Carnival ships and a HAL ship were docked at the nearby port, and in the distance, we could see MSC Seaside docked downtown. Getting a picture or two of the ships, we walked through the port area, which is a maze of shops, on our journey to the taxi stand.
Missing the morning rush of cruisers getting off the ship, we were swiftly ushered into a cab for the 15-minute ride to Nachi Cocom which cost $17.
Now This is a Private Beach
We arrived at the beach club by 9:30 am, and it was relatively quiet. A few couples (from our ship) were on the beach and a few kids were in the pool. The club limits the number of guests, and they did not even hit their max today with a reported 90 people at the resort.
Having some shade as well as access to plenty of water and food, we stayed at the resort for a record amount of time for the Princess, 5 hours. Our waiter called a taxi for us around 2:30 pm, and we were through security and back on the ship by 3 pm.
Back Onboard
After a long day in the sun, we joined the queue at Cafe Promenade for a round of iced lattes.
Unlike most port days, we were not hungry as we had plenty to eat at the all inclusive! Back to our room to enjoy some air conditioning, we did some blogging and social media until 4:30 pm. Ushering up the strength to get ready for dinner, we arrived around 6:15 pm.
Dinner was fine, but nothing was stand out, and our staff was again quite flustered with the tables they had to serve for the evening.
Out of dinner at the very reasonable time of 7:30 pm, we strolled the Royal Promenade for a bit. This evening, we had scheduled Hiro at 8:30 pm. Heading to the Boardwalk a little bit after 8 pm, the cruise staff was already letting people in with reservations.
Thankfully, the theater was relatively empty, so we got excellent seats.
Nothing Goes As Planned!
The show started out fine, and the performances were underway; however, about halfway through, there was an obvious technical glitch and long pause in the show.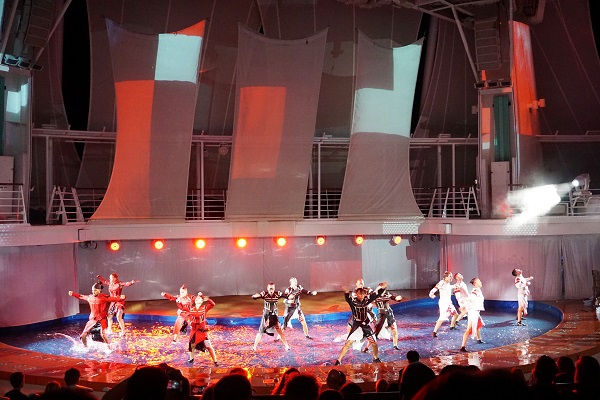 We had not really noticed that the ship's movement had changed, but the water in the pool was definitely rocky.
Eventually, the cruise director came out to say the changes in sea conditions meant the show would have to be canceled and rescheduled.
Oh well, another aqua show cancellation due to sea conditions. Now 9:30 pm, we had some time to kill before our next planned stop at the Love and Marriage show. With the weather outside comfortable, we pulled up a chair at the Trellis Bar for a few drinks. Central Park was relatively quiet and the perfect spot to escape.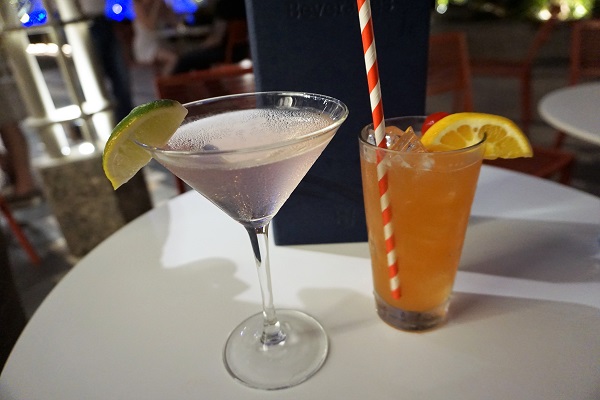 After spending about a half hour at the Trellis Bar, we slowly made our way down to the theater. Grabbing seats near our normal viewing position, the show started around 10:45 pm.
It was your typical Love and Marriage show. The cruise director Abe was certainly not the funniest host that we have ever seen. As usual, the couple married the longest was by far the funniest and came out victoriously.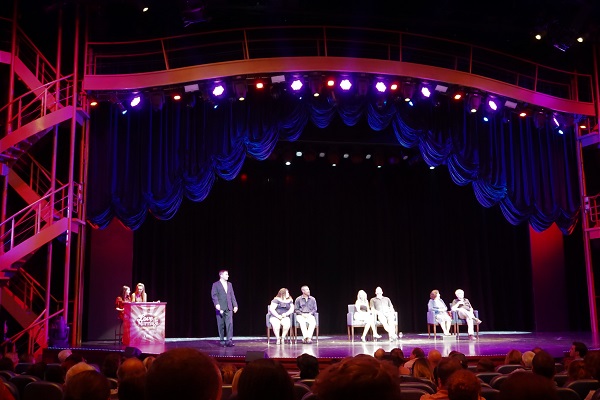 Even though it was approaching midnight, the Princess wanted to check out the Red Party, which had already started in Studio B.
We are not quite sure what the party's theme is supposed to be, but like previous cruises, it was not very busy. The entire ice rink turns into a dance floor with a DJ spinning a mix of pop music and traditional dance tunes, but when we arrived, hardly anyone was dancing. So, we listened to a few songs and people watched for a bit, but left by 12:15 am.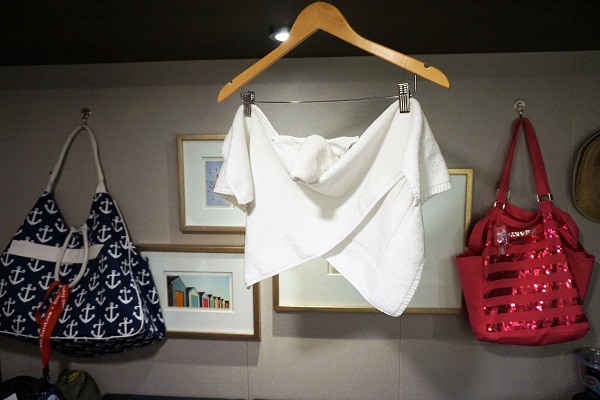 Back to the room, we almost missed the stealthily positioned towel animal soaring above us. Tomorrow was Thanksgiving and also our second to last day of the cruise. Boy, where did the week go?
Symphony of the Seas Cruise Review
A Sunny Thanksgiving Morning
While the rest of the family was dealing with the record cold temperatures back home for Thanksgiving, we were enjoying the Caribbean sun. No, we did not really feel that bad about it!
Getting to "sleep in" until 7 am, I went for a stroll while the Princess got ready.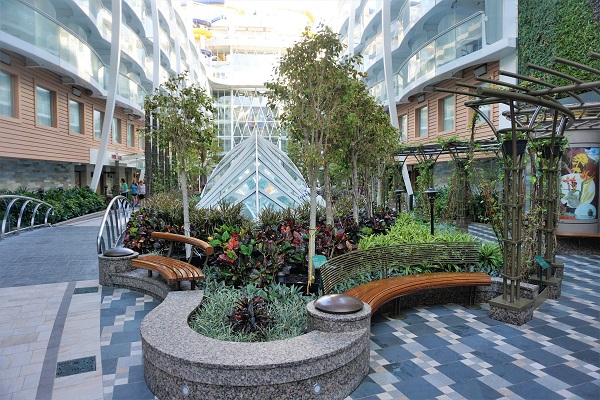 Grabbing us iced lattes along the way, I was back to the room to change and get ready for the day. The Princess opted for another al fresco breakfast at Johnny Rockets this morning. At this point, I could have easily skipped breakfast, so I was just along for the ride.
Our breakfast was rather quick, so we were done before 10 am and in line to ride the carousel and get some selfies.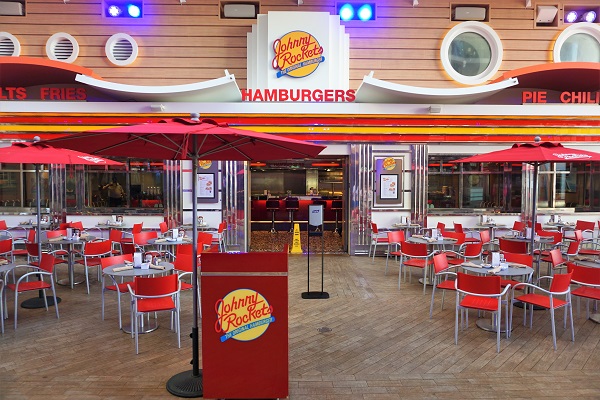 Next up was a round of mini-golf and the Ulitmate Abyss. Our timing was just right on mini-golf as we squeezed in a game right before the mad rush of families.
Next, we moved over to the Ultimate Abyss, which did not have a long line either. Unfortunately, there was not proper signage, so the Princess was not able to ride as she was wearing a tank top. I took the plunge and would say it is about the same as Harmony of the Seas, maybe a bit faster. Not a bad ride, but not all that thrilling either.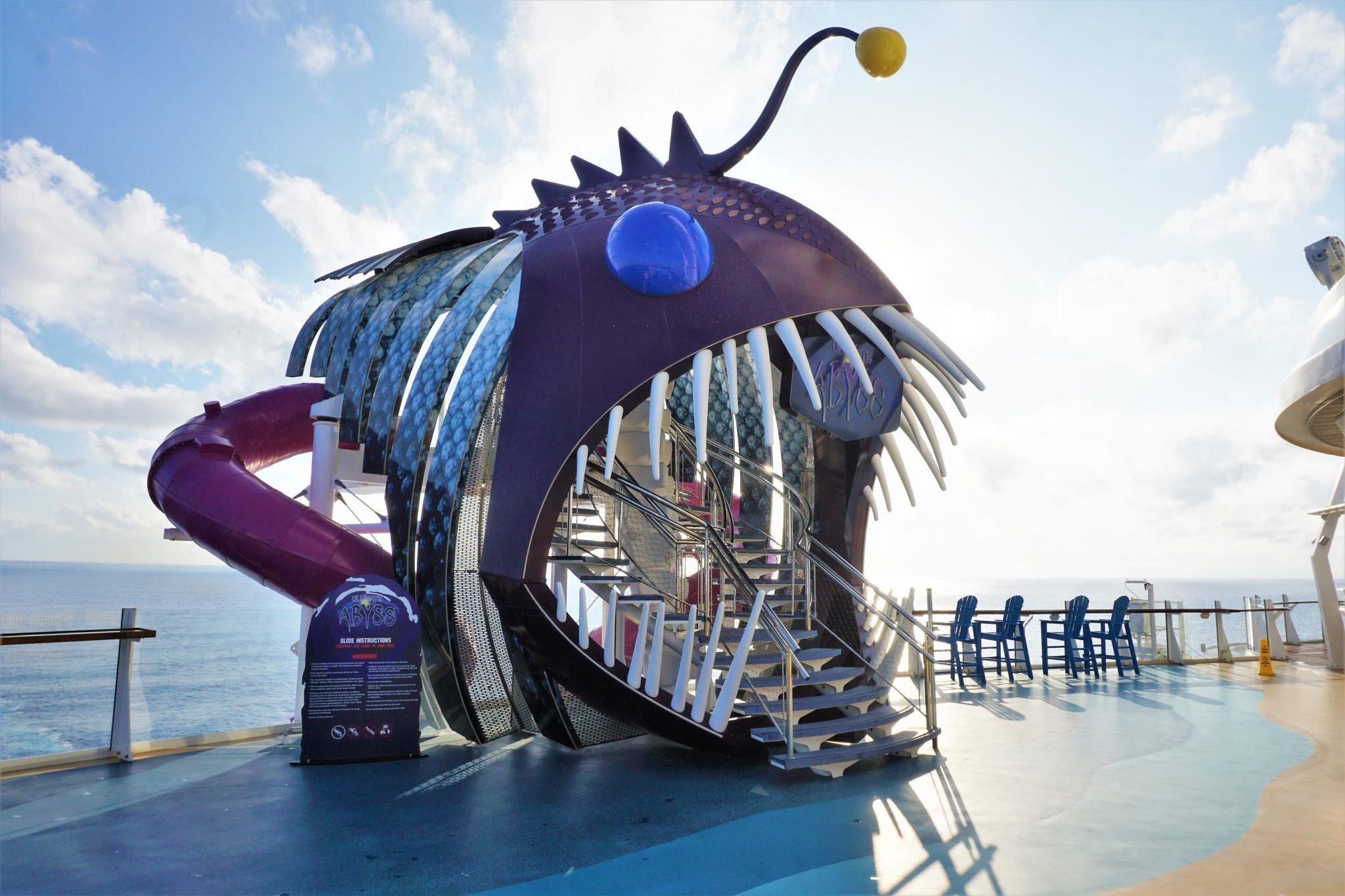 Checking More Off Our List
Next, we decided to try out laser tag. In retrospect, I don't know what we were thinking, as we got down to studio B around 11:15 am, a solid hour after the venue opened. Upon arriving ,we were greeted with a massive line.
After waiting about 10 minutes, we came to the realization that we were not going to get to play. Oh well!
Walking around getting a few last pictures and menus for the blog, we were up to our scheduled lunch at Hooked a little before 12:30 pm. Again, the restaurant was not as busy as expected.
The food this time was a bit better than dinner. I enjoyed the lobster roll and my dessert. The Princess' clam strip sandwich was not exactly what she expected as it was saturated in mayonnaise.
With lunch finishing up at 1:30 pm, we had a few more items to check off the Princess' list, then we were able to score some lounge chairs in the Solarium by 3 pm.
Finally, some time to relax on this Thanksgiving holiday!
Getting two of the Drink Specials, the Cranberry Ice, we enjoyed this quiet space for an hour or so.
Tonight was a formal night and Thanksgiving. This time, the Princess wanted to be ready to ensure we had some time to take formal photos.
A Formal Thanksgiving
Changing up and getting ready, we were down to the photo stations on Deck 5 at 5:30 pm. Since we have plenty of photos with the overused backdrops, we now target only different or unique photo stations. For Symphony of the Seas, this meant we did 2 stations near the art installations before heading down to dinner.
Promptly at the main dining room for 6 pm, tonight was an altered menu. With some Thanksgiving specials and many items typically found on the night 7 menu, our head waiter assured us that tomorrow night would be "lobster night".
The Princess went with the typical Thanksgiving turkey dinner, and I broke tradition to have prime rib.
Getting out of dinner right at 7:30 pm, we were up to Dazzles to make it just in time for the Champagne Toast with our group cruise and to join another photo op with many of the group members.
Chatting with some of our new friends, we neglected the time a bit and had to hustle down to the main theater when we realized it was cutting it close for our show. This evening's show was Flight, and we arrived just a few minutes before standby was let in.
This "late" arrival meant we had to settle for seats outside of our "normal" seats. Still, it was prime seating for one of the best shows that we have ever seen on a cruise ship. Perhaps, one of the top theatrical performances that we have witnessed on land or at sea.
From the story, props, and performances, we were sold from the opening act where the stage simulates taking off in a rocket. Perhaps too "Disney" for some, but both of us agreed that the show is not to be missed!
Fitting More In
Finishing up right at 9:30 pm, we made a b-line to the back of the ship for the second aqua show, Aqua Nation. This show is first come, first serve, and we got there in time to find some seats all the way on the starboard side.
Perhaps not the best location for photos, but a fine viewing spot for the show. What the show lacked in story, it made up for in sheer talent, with all of the cast performing some amazing stunts and feats of balance and skill. Good thing we decided to watch the show as it was high energy.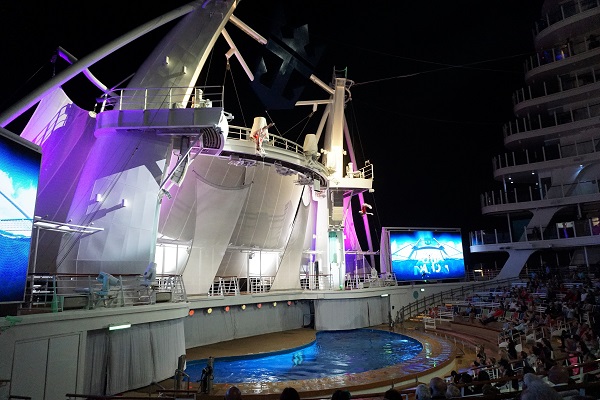 Next up was a ride in the Rising Tide bar. As you would expect, the signage indicating "flight" times were not accurate. So, we secured some of the last seats in the bar while it was stationed at the Royal Promenade around 10:30 pm.
Our flight up and down, with accompanying special cocktails of a French Martini and the Let's Get Fizzical, was completed by 11:10 pm.
Bedtime yet? Nope, this time it was the casino bar. It was also a convenient way for the Princess to test her luck at a different slot machine.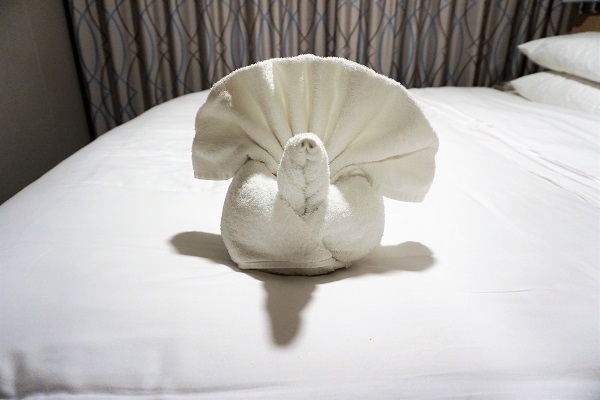 Back to the room after midnight, we found this celebratory towel animal welcoming us back home on this holiday. It certainly beats making a turkey and all the holiday stress at home. Perhaps we should cruise more often during the holidays?
Symphony of the Seas Cruise Review
A Final Day
This last day onboard Symphony of the Seas was a stop in Nassau, Bahamas. All along, we had decided that we would stay onboard to tie up loose ends.
This morning's compass indicated that the activity staff added an additional game of laser tag. We have been burnt before with inaccurate information in the compass, so we were skeptical. Still, we budgeted in time to see if this game was actually going to occur.
Getting up around 7 am, I took my morning stroll while the Princess got ready. Trying to avoid the Windjammer, we decided to check out the Solarium Bistro for breakfast.
This stylish venue was packed, so it took some searching to locate a table. Perhaps on a future cruise, we would consider trying the Greek-inspired dinner menu as an alternative to the MDR.
The breakfast food was essentially the same as the Windjammer, and the Princess was able to get a custom omelet which is delivered to your seat.
With the Laser tag set for 10:30 am, we took a walk outside before getting to Studio B for 10:15 am.
Luckily, it was open, and there was only a small line. Again, the Princess did not have closed-toe shoes, so only I was able to compete. Overall, the game was fun but a little unorganized. As a complimentary activity, it is great for families. However, when compared to other laser tag games at sea, it does not really measure up.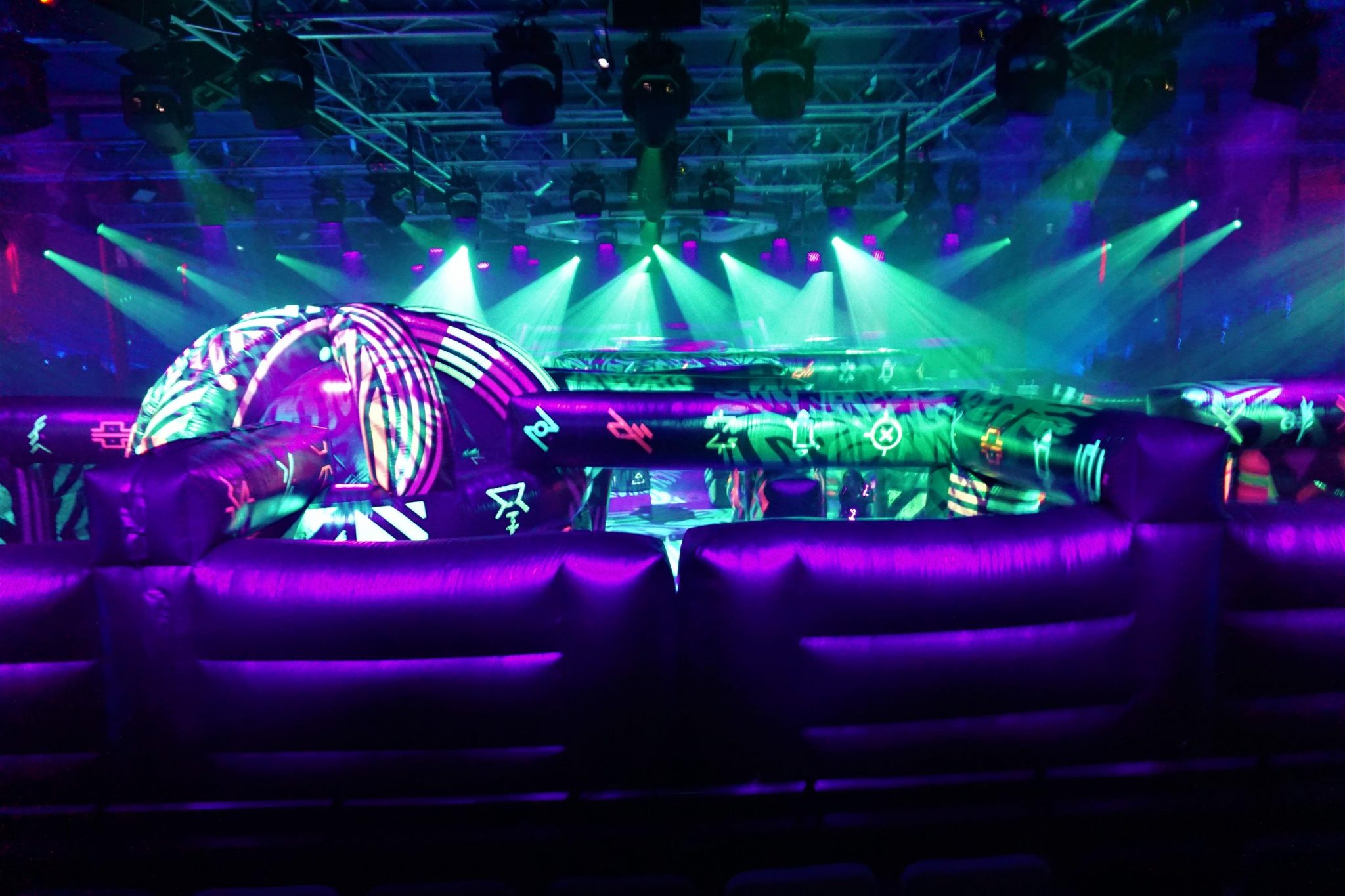 Our Last Chance at Sun
I was able to convince the Princess to change into bathing suits and lay in the sun for a while. Being Black Friday, she obliged as she could do some shopping from her phone while I indulged in the last few hours of the Bahamian sun.
With most of the ship out at port, finding premium seats at our preferred Beach pool was not a problem. While taking in the sun, we also ordered a round of frozen drinks, checking the Pool Bar off our drink around the ship.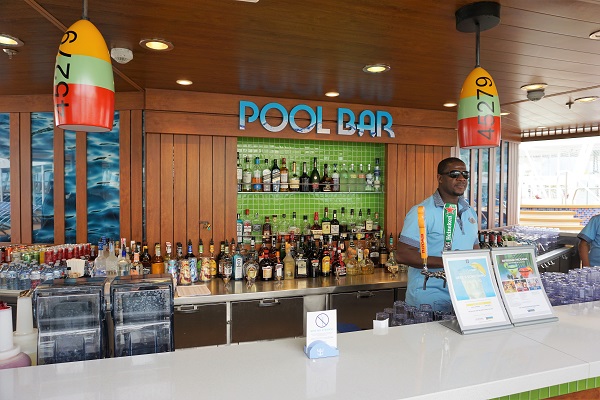 While I can easily stay out in the sun all day, the Princess has a limited tolerance to the heat. After about two hours, it was time to head off. This time, it had to do with dining, so I didn't mind saying goodbye to my lounge chair since it meant I could get something to eat.
The final specialty restaurant that we wanted to try was Playmakers. We did test out the venue on Mariner of the Seas, but of course, there were more menu items to be sampled.
Being among the first individuals at the restaurant for 1:15 pm, we indulged in a few apps and the cookie dessert. The chicken wings are delicious and well worth the up-charge, as was the dessert. The potato skins, on the other hand, were a disappointment.
Next time, we would definitely get an order of nachos instead. Did I mention we are health fanatics?
Service was extremely slow though, and our waitstaff appeared to speak very little English. The meal lasted close to an hour and forty-five minutes- for lunch! Leaving the Boardwalk, we attempted to order our free Diamond photos, but the kiosks were closed.
Making our Final Rounds
Getting some coffees, we went back to the room to rest up. With a shower and costume change, we were to dinner promptly for 6 pm. We couldn't miss a minute of lobster night.
For some reason, the Princess loves to force me to top my lobster tail record, which is a respectable 4 tails.
Tonight, I was only feeling two tails, and it was a good thing that was all I ordered. This had to be the most disappointing lobster tail night. They were some weird species of lobster and were dry and difficult to eat.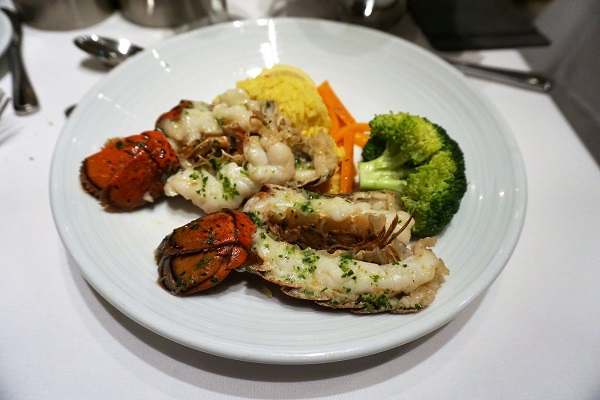 Even though we had given ourselves time to say goodbye to our waitstaff and make it out of the dining room to see the final parade, we ended up with an obstructed viewing spot for most of the parade.
With the parade over, we slipped into Boleros for a final cocktail at this venue. Our original plans were late night comedy, but now we had to switch that so we could see the rest of our rescheduled Hiro show in the Aqua Theater.
So, we opted for the family-friendly comedy show at 8:30 pm in the main theater. Again, Simeon had some hilarious material.
The show was over at 9:15 pm, and we headed to the Boardwalk. I also grabbed us a round of drinks from Playmakers.
This performance of Hiro went off without any interruptions, and it was excellent. Again, we can't say enough good things about all the entertainment on the ship.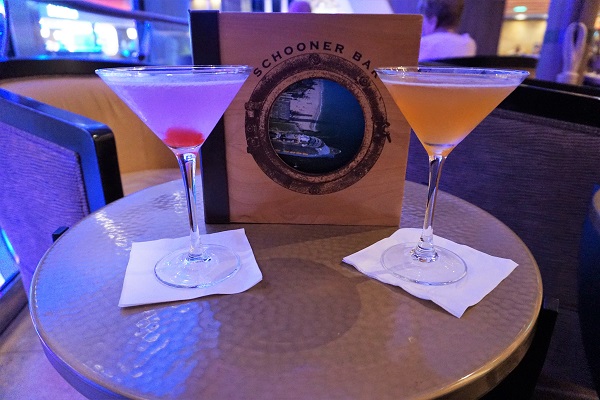 As tradition on Royal Caribbean, we decided to make our last drink of the cruise at our favorite venue, the Schooner Bar. We listened to Billy play some popular tunes and called it a night by midnight. On our way back to the room, we bumped into a few of the group cruisers near the pub. Saying goodbye, we were eventually back to our room around 12:30 am.
The next morning, disembarkation was a breeze. We ended up in a shared ride, as we had some Uber app issues again. Still, we were to the airport in plenty of time for our flight. Back home, we had plenty of unpacking and sorting to do, as well as planning our next cruise on Celebrity Edge which is only a short time away!
Comments
Have you sailed on Symphony of the Seas? What do you think of our Cruise Review? Drop us an anchor below to share your experiences onboard this brand new ship.